2 days Marrakech travel testimonial by blonde girl
Women traveling alone tend to be afraid of coming to Marrakech or traveling alone in Morocco.
On this page I post a travel testimonial given to me by my friend Andreia Machado.
She traveled alone to Marrakech in July 2011.
Apart of staying 2 days in Marrakech she also went to Ouarzazate and further south to Sahara Desert.
Andreia, a 20 year old blond girl made her travel to Marrakech very cheap, so this testimonial is written by someone traveling on a short budget.
You can see how easily it is to spend 2 days in Marrakech by your own.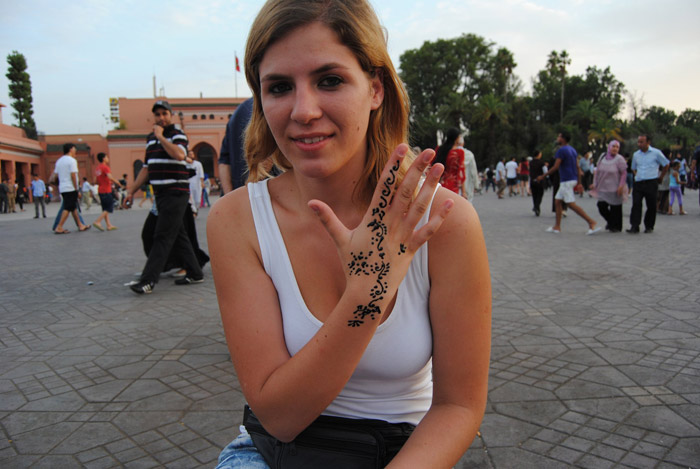 1st day in Marrakech
1st day in Marrakech summary: Airport Bus until Jemaa el-Fnaa; search for a Marrakech cheap hotel; a blonde woman alone in Marrakech; Dinner at Jemaa el Fna restaurant; entertainment at Jemaa el Fnaa square.
The first hour spent in Marrakech was too hot I have to say! My trip was in July 2011, so you can imagine how was being in Africa during summer.
The official currency of Morocco is the Dirham, for those who do not know, one Euro roughly equals to 11 Dirhams and you can change money at Marrakech airport upon arrival.
Right out the gates of the airport, I searched for a bus to the city center.
There are buses that make the route Marrakech Airport to the city of Marrakech.
There are more or less one bus every 20 minutes and round trip ticket costs 30 dirhams being valid for two weeks.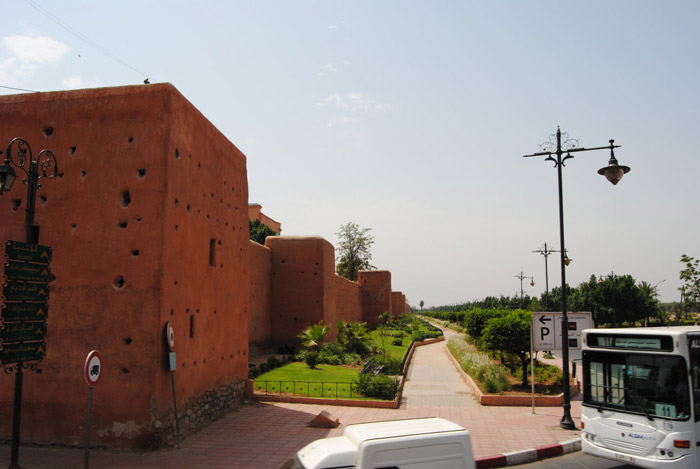 Photo of Marrakech rampart or castle wall on the way to the city center
After 15 minutes I found myself in front of the most famous mosque of Marrakech, the Koutoubia and in front of the exotic Jemaa el-Fnaa square.
In the square and all streets there is a real chaotic buzz, a confusion of people, bikes, horses with carriage, people walking.
The atmosphere in Jemaa el-Fnaa is frenetic, constant party with hawkers, snake charmers, dancing groups of Moroccans that sing very loud Moroccan music and Moroccan women who make the famous hand henna paintings.
Women traveling alone like me, do not worry because here no one will trade you for camels although many Moroccans do try to talk with tourists.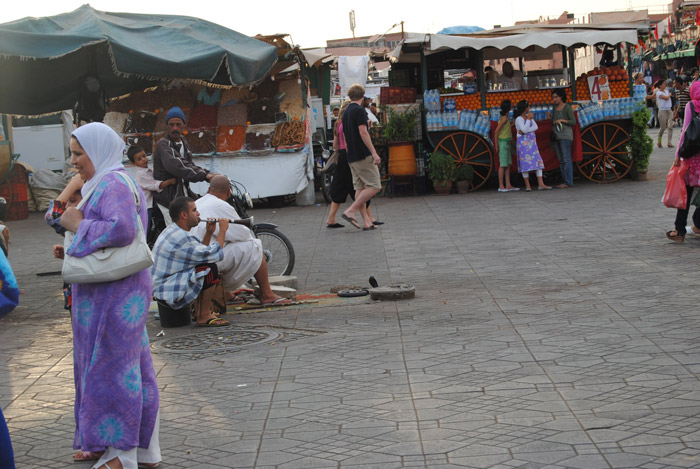 Photo of snake charmers in Jemaa el-Fnaa main square in Marrakech
I was looking for my hotel but it was not easy!
I then asked a gentleman in the square and then he guided me through some streets and took me to a hotel… that was not the one I wanted.
He eventually held out his hand to ask an euro but I only gave him 50 cents and said that was what I had.
Luckily, my hotel was just beside that one.
In this Marrakech hotel called Hotel Medina I paid 80 dirhams per night for single room with shared bathroom.
And, after asking the hotel owner, I found out about another street that was much easier to get to the hotel.
I went to the main Marrakech square for dinner and went to the restaurant Chez Aicha.
I had dinner in this restaurant in the middle of the square and ordered couscous with chicken and an orange juice, I paid 35 dirhams.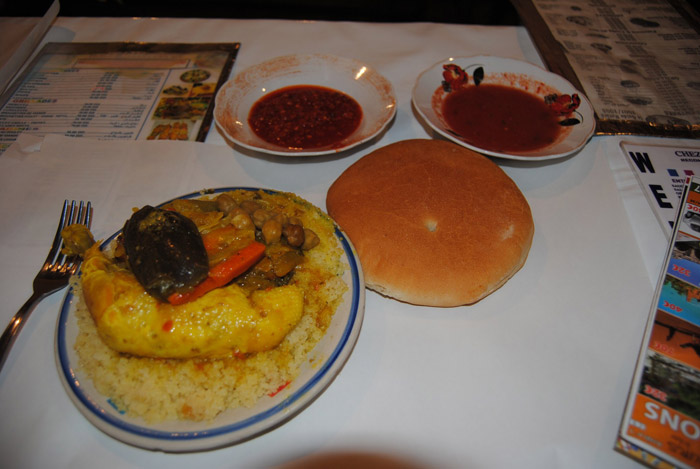 Photo of full meal at Marrakech Jemaa el-Fnaa main square
2nd day in Marrakech
2nd day in Marrakech summary: Orange juice in Jemaa el-Fnaa; walk in Marrakech souks; tour in Marrakech sightseeing bus; buy tickets for the bus trip from Marrakech to Ouarzazate.
I woke up early and went to Jemaa el-Fnaa square to drink the best orange juice I ever had.
The square has many sellers of orange juice and cost 4 dirhams each.
Then I walked myself in search of the famous Marrakech markets called souks but as it was still too early many shops were still closed, then a gentleman spoke to me in English and said he didn't want any tips or money from me…
In Marrakech, it is normal for some Moroccans to speak with tourists and ask if you need help with a final obvious tip or in order to receive commissions from local shops where they take you to buy things.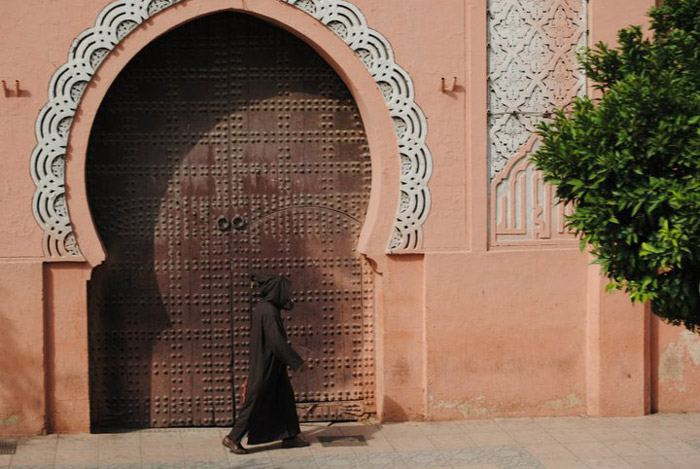 Photo of architecture in Marrakech, a beautiful door on the souk streets
After some conversation he then took me to the interesting Marrakech tanneries, the place for dyeing fur of animals.
It was great partly because I had never seen anything like that but then I must say that the smell was not the most pleasant.
I went with him, and in the end he asked me for a 50 dirhams tip (I already knew he was going to ask for a tip) but I gave him 20 and said I had no more money, this was always my trick though I had more money with me.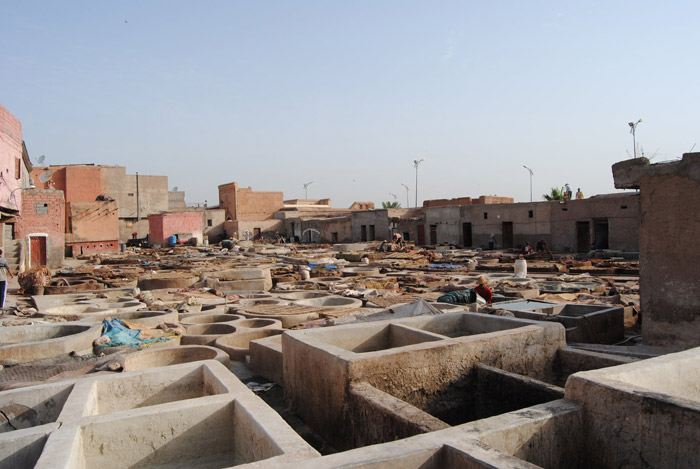 Photo of the Marrakech tanneries at Bab Debagh
Back to the square I decided it was better to buy a ticket for the Tour Bus Sightseeing Marrakech to avoid losing time and to explore and get to know some parts of Marrakech more easily and to find the places I wanted to visit.
I paid 145 dirhams for a 24 hours bus ticket.
The tour bus in Marrakech has two routes: the historic route – with all the most famous sightseeing sites in Marrakech including the Jardin La Ménara, Theatre Royal, La Koutoubia, Palais Badii, Palais la Bahia, among others; and the Oasis route: passing by Marrakech palm grove called Palmeraie, the Majorelle Gardens, and others.
I jumped out of this Marrakech Sightseeing Tour Bus close to Marrakech train station to buy my ticket for the Marrakech to Ouarzazate bus trip the next morning.
The bus ticket office is aside the train station.
I took Supratours bus company and it is very important to buy the ticket the day before. The bus ticket from Marrakech to Ouarzazate costs 80 dirhams.
Marrakech and the city center near the Koutoubia mosque and Jemaa el-Fnaa square is really interesting and beautiful.
The lights of the Koutoubia by night are very nice.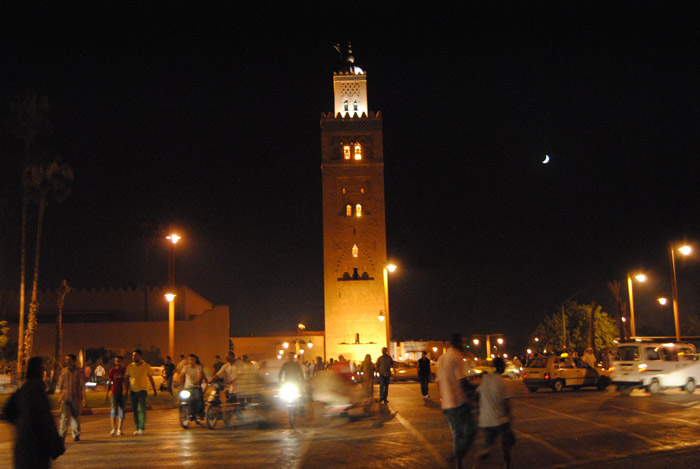 Photo of Koutoubia Mosque minaret lights by night in Marrakech
Related posts that you might also be interested: