Different Architecture Styles in old Marrakech
Marrakech hosts different types of architecture styles that can be easily visited. On a short 1 hour walk you can explore Marrakech medina and get to know some of the city's best old architecture styles that still remain throughout history.
Some people say Marrakech is only for shopping but indeed they neglect its important and ancient history in cultural and architectural aspect. Marrakech has a remarkable number of gorgeous building from different reigns, different times, and indeed – dating from many centuries ago.
On this page I'm showing you some of Marrakech most important architecture styles. All these examples can be visited while in Marrakech. For display on this page about Moroccan architecture I have chosen the Almoravid Koubba; the Almohad Koutoubia Mosque; the Marinid Madrasa Ben Youssef; the Saadian Tombs.
Almoravid Koubba – Almoravid Architecture Marrakech (11th to 12th century)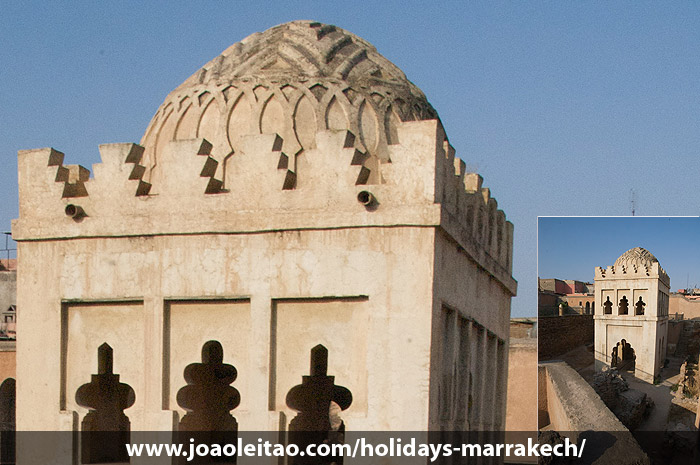 Photo of Almoravid Architecture Marrakech
It was only during the reign of the Almoravid that the Moorish style came into Morocco. This was the famous Andalus style (from Iberian-Maghrebine Empire). The Almoravid Koubba Ba'Adiyin is the only remain example of this type of Moroccan architecture. The dome of the Koubba is on top of a rectangular basin and the beautiful interior is decorated with floral patterns and calligraphy. The Almoravid Koubba Ba'Adiyin was built in 1117 and was used for ablutions before prayer and belonged to an Almoravid mosque complex.
Almohad Koutoubia Mosque – Almohad Architecture Marrakech (12th to 13th century)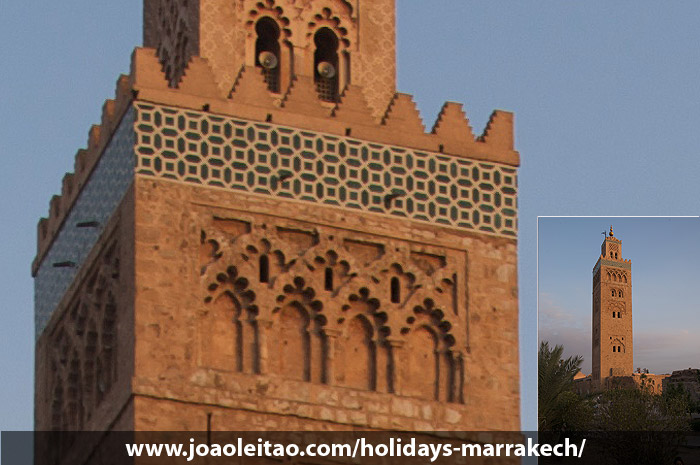 Photo of Almohad Architecture Marrakech
The Almohad architecture style was immortalized by the fact that the Iberian-Maghrebine Empire was at its best moment. In fact this type of architecture influenced many styles of upcoming architecture both in Spain and other church towers in Eastern Europe. The Koutoubia minaret tower is 69 meters / 221 feet high.
The Koutoubia Mosque architecture design was used as the model for the Giralda of Seville in Spain and for the Hassan Tower in Rabat, the capital city of Morocco.
Marinid Madrasa Ben Youssef – Marinid Architecture Marrakech (13th to 15th century)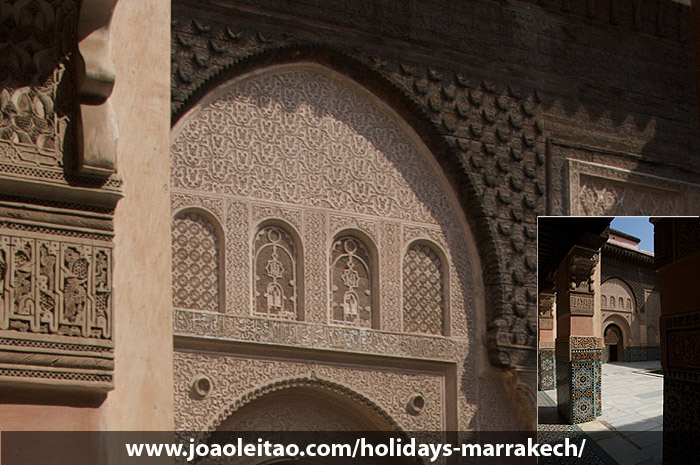 Photo of Marinid Architecture Marrakech
It was in during the Marinid period that most madrasas were built in Morocco. This way you have several cities with the same type of Marinid architecture. Marrakech Madrasa Ben Youssef is one of the most architecture examples of this dynasty in Morocco.
Basically the structure follows the same logic of the previous Almohad style, but, the decoration is taken to an extrem of perfection by an exquisite ornament both carved in wood and in stone. For the first time in Moroccan architecture we have the pyramidal roof sing green tiles.
The Madrasa Ben Youssef is the largest Medrasa in all of Morocco and was actually one of the largest theological Islamic colleges in North Africa and housed around 900 students. Near the dormitory student cells there is a courtyard richly carved in cedar, marble and stucco.
Saadian Tombs – Saadian Architecture Marrakech (16th to 17th century)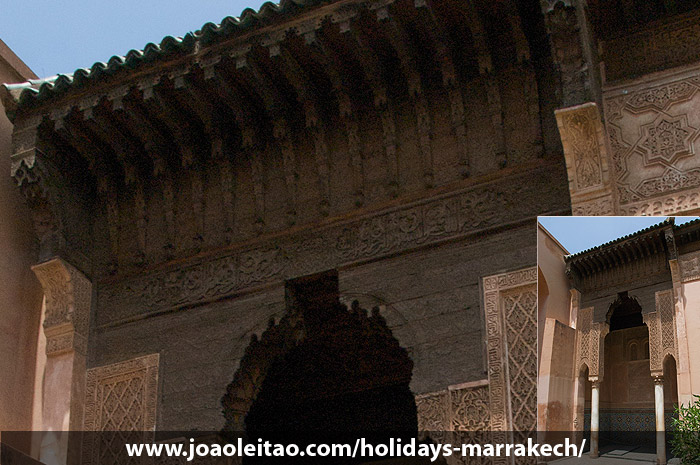 Photo of Saadian Architecture Marrakech
Andalus architecture traditions now deeply rooted in Moroccan architecture gave birth to the best examples of this style in the Saadian reign. The Saadian Tombs are in perfectly conditions to appreciate this beautiful style. Lots of decoration and carved Italian Carrara marble and stucco. All the mausoleum wall are totally carved with floral motives.
The Royal Mausoleum can be visited as one of the best Marrakech monuments. This is a fine example of a building from the Sultan Ahmad al-Mansur era. A very intriguing yet interesting aspect about this mausoleum is that the tombs were only discovered in 1917, being in secrecy during so many centuries.
Inside this mausoleum there are the corpses of sixty members of the Saadi Dynasty, separated into different sections and rooms. All rooms and tombs are very well decorated.
Related posts that you might also be interested: