Cheap hotel in Marrakech
Marrakech offers different ridiculous cheap hotels. Most online guides don't tell you this so that you end up staying at some mid-range hotel in Marrakech. If you do search for something cheap around 10 Euros per night, I have the perfect place for you. On this page I will give you my personal tip to get affordable accommodation in Marrakech.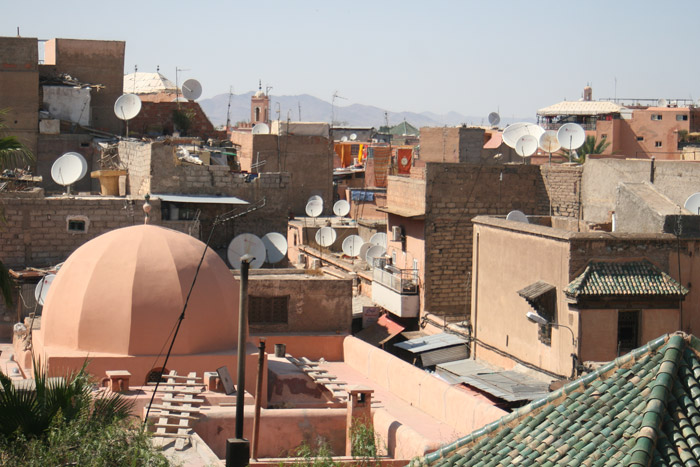 Photo of Marrakech roof tops at Riad Zitou Kedim district
When I came first time to Marrakech back in 2000, I slept on the rooftop of a hotel called Hotel Medina in the Riad Zitoune Kedim district in the old city of Marrakech. I remember how cool it was to sleep in the terrace and pay 20 Dirhams back then. The experience of hearing the night mouezzin call to prayer was insanely interesting and made part of my travel experience as a backpacker on my latest teenager years. During many years I always stayed in this little family hotel as they also have single rooms, double rooms and tripple room.
Video of the The call to prayer (adhān) in Marrakech, Morocco

Finding a cheap hotel in Marrakech is not hard. In one of the Jemaa el-Fnaa entries to the souks there is a street called Riad Zitoun Kedim. You can go inside this street and after the first arch (after the hammam), turn right into a alley. On the corner of this alley there's another hotel called Riad Mogador. Just down the road you have several hotels being the first the Hotel Medina.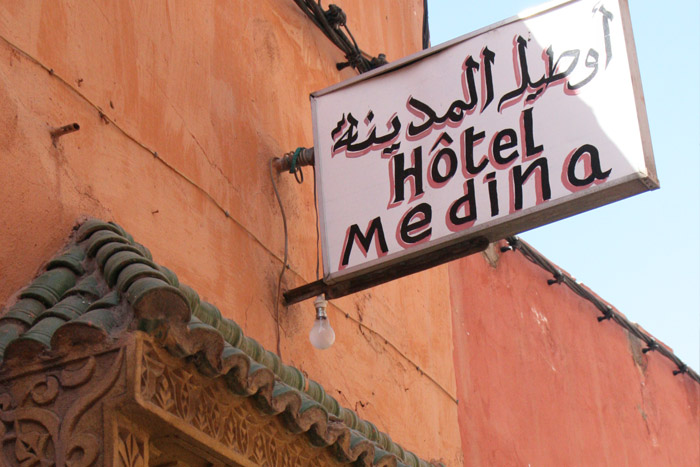 Photo of Hotel Medina door sign in Marrakech
Hotel Medina is a small hotel, 3 floors, many bedrooms with cozy atmosphere, small yet sufficient. Bathrooms and showers are outside the rooms. All is very clean and good conditions. Hotel staff is very friendly. A double room cost 10 Euros – 5 Euros per person, or a single room for 10 Euros. Tripple room costs 15 Euros. Once all hotels were fully booked, and they didnt have any single room, so I end up paying a full tripple room all for myself, with 3 beds for 15 Euros. Still was cheap and the best hotel solution for me at that time at night.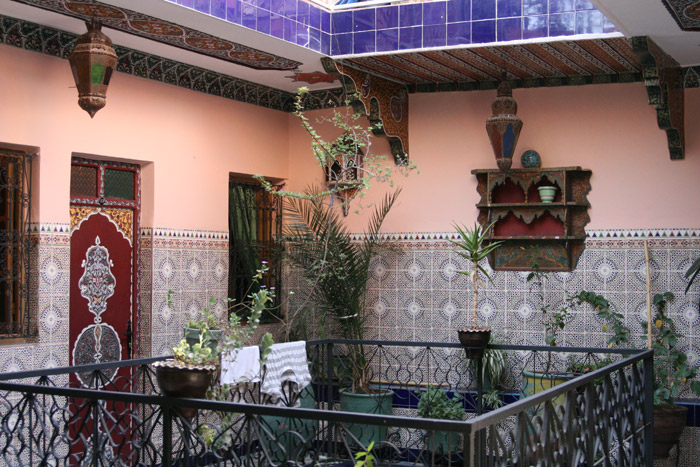 Photo of the inside patio of Hotel Medina, a Marrakech cheap hotel
Jemaa el-Fnaa is just 2 minutes away and you'll be in the heart of the city. To get here you cross a busy street with show shops, handicraft shops, barbers, restaurants and street cafés. Very nice part of the medina of Marrakech.
If you're looking for a cheap hotel in Marrakech look no further, chose this one. If this hotel has no available rooms, also try the Hotel Aday, just 5 metres away. Prices are the same and belongs to the same family.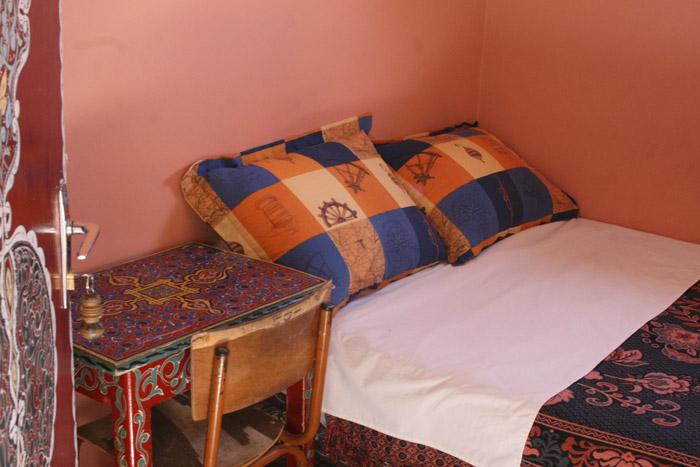 Photo of Hotel Medina cheap bedroom in Marrakech
Clean, friendly and pretty good value, with an English-speaking proprietor and hot shared showers (5dh). In summer there's also the option of a cheaper (30dh) bed on the roof. Price: 100-150dh. Hotel Medina 1 Derb Sidi Bouloukat, Medina Marrakech Morocco +212 524 442 997. You can check out the official website of Hotel Medina here: Hotel Marrakech
Related posts that you might also be interested: