Vegetarian restaurant in Marrakech medina
For those looking for a vegetarian restaurant in Marrakech I tell you the perfect place to have lunch. This vegetarian restaurant is called Earth Café and has now 3 locations spread around the old city. This way you can eat healthy while you're in Marrakech.
Earth Cafe – Vegan and Vegetarian restaurants locations are: Earth Cafe 1 – Derb Zeouak, Riad Zitoun el Kdim; Earth Cafe 2 – Derb Nakous, Riad Zitoun Jdid next to Dar Si Said Museum; Earth Cafe 3 – Rue Kasi Ayad nº7 (the lane way in front of pharmacy).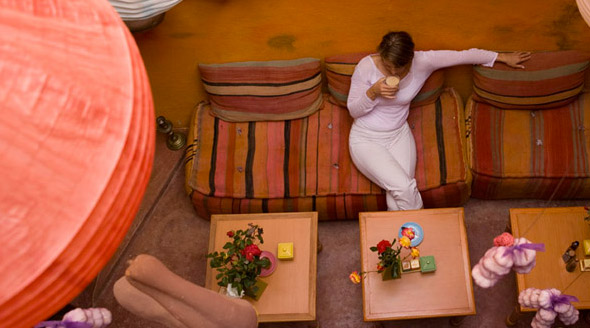 Photo of Earth Cafe in Marrakech
Earth Cafe is the first ever vegetarian / vegan restaurant to open in Marrakech back in 2007. The restaurant is located in a traditional Moroccan house type called riad. Earth Cafe is of very easy access from Jemaa el-Fnaa on a short 3 minute walk there through Riad Zitoun Kedim street in the old medina.
This restaurant project was put together by a Moroccan guy that lived in USA and Australia. His selection of dishes are great and food is indeed tasty. You pay around 60 Dirhams for main plate. Some dessert and drinks available. Try the fresh squeezed variety of fruit juices. Most produce in the restaurant are from Organic farming. Healthy stuff!
You can visit Earth Café official website here: Vegetarian Restaurant Marrakech.
Related posts that you might also be interested: