Can you please explain me what a Riad is?
I bet you've been talking with your friends and on the conversation someone mentioned something abour riad, or i stayed in a riad, or my riad was, a riad inside the medina, riad in Marrakech, best riad I stayed. Now, your question to me is: Can you please explain me what a Riad is? of course!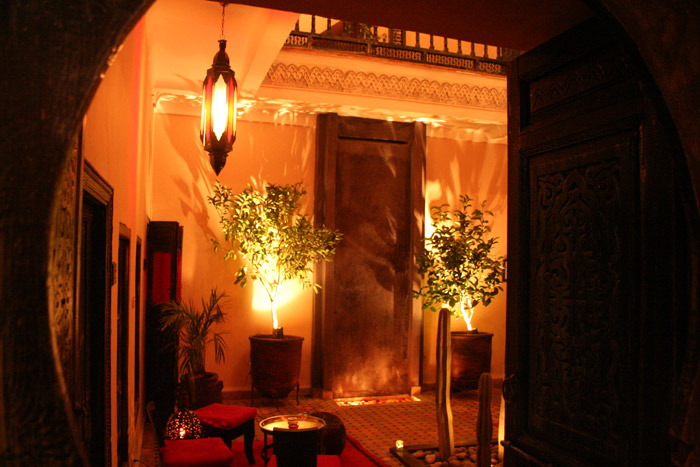 Photo of central patio of Riad Paula in Marrakech
A riad is a Moroccan house. Yay now you know! But the special thing about these Marrakech riads is that these houses were converted to guest houses and bed & breakfast. So basically it means you can chose a riad for your accommodation in Marrakech.
Riads have usually great intimate atmosphere, perfect for your romantic holidays, or just to chill out after a busy day exploring the old medina of Marrakech. While searching on the internet you can use words as: guest house marrakech, marrakech riad, riad marrakech, riad medina marrakech, riad hotel marrakech, riad in marrakech, best riad – all the searches will show you results about the same type of houses.
Riad Dar Thania promo video:

Prices of riads are different depending of the house quality and services. You can easily get an awesome riad in Marrakech starting from 70 Euros poer night per double room with breakfast included. Many other riads are more expensive and also some other cheap riads in Marrakech are to be found, although quality is not the same. For me, the price around 70 or 80 Euros is the perfect stay for accommodation in Marrakech.
Many websites on the internet have a great selection of places to stay in terms of riad accommodation in the site. These riad guides select some for you. On this website I point out some riads in Marrakech, but if you're interested check out many other on 31BEST Marrakech Travel Guide here: riad Marrakech.
A riad is usually composed by several floors, living room, terrace, hammam, some have jacuzzi in the terrace. All riads usually have air conditioner and private bathrooms inside the bedroom.
Some of my favorite riads in Marrakech are: Riad Jona, Riad Paula, Dar Thania, Riad 107 and Dar Bounouar.
Riad Jona promo video:

Related posts that you might also be interested: