Difference between grand taxis and petit taxis
Marrakech has two types of taxis (like in all Moroccan cities). On the streets of Marrakech you will find grand taxis and petit taxis, basically saying big taxis (big Mercedes 240D or 250E) and small taxis (small Peugeot 205, Fiat Uno or Dacia Logan).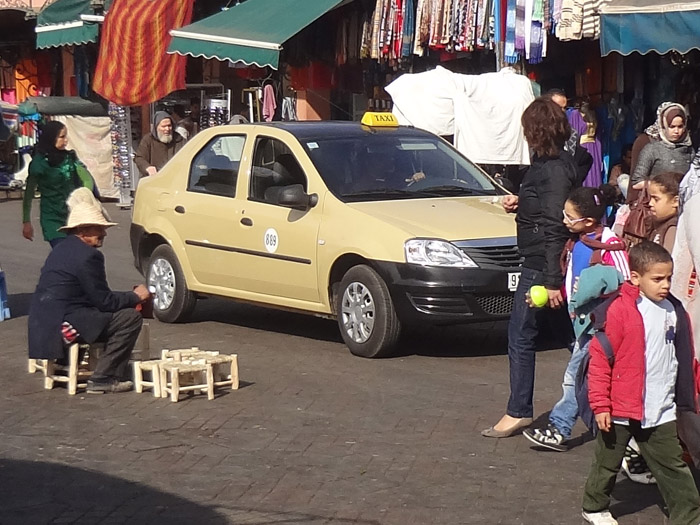 The difference between grand taxis and petit taxis is that by law, petit taxis can drive you inside the city limits, and grand taxis can drive you out of city limits. Although grand taxis can take you from inside the city to the outside, they cannot drive you in small trips inside the city like petit taxis do. So, if you want to go from Marrakech to Ouzoud Waterfalls or Ourika by your own, you should get a grand taxi (discuss and bargain prices before of course).
Also a big difference between them is that by law petit taxis can only take maximum of 3 people and grand taxis can take up to 6 people. You as a tourist will be offered many times to ride a full 6 place grand taxi, so expect to pay the full amount. Petit taxis should be (so ask for it!) fared by taximeter. All taxis have this little machine so you can try your luck and get a taxi that switched this machine for your ride. Most taxi drivers do this but some as soon as they see a foreigner will try to get a few more Dirhams out of him.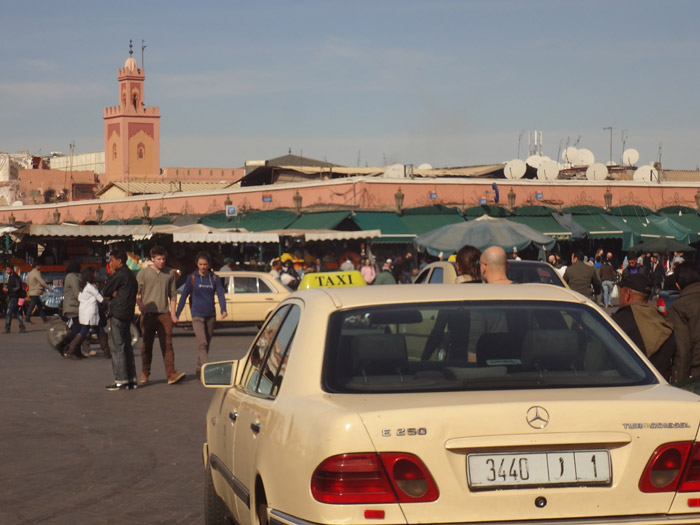 From the city center near Koutoubia to the airport shouldn't be more than 30 Dirhams on a petit taxi. A small trip inside the city, like lets say from Koutoubia to Gueliz, shouldn't be more than 13 Dirhams. It is also normal that when you get a taxi, other people will join you and pay their own trip. All taxis in Morocco are shared taxis.
Video Petit Taxi in Marrakech departing from Jemaa el-Fnaa square and Koutoubia Mosque:

Related posts that you might also be interested: