Visit Oman – 25 Amazing places to travel in Oman
Have you ever wanted to visit Oman?
The Sultanate of Oman is a fascinating country located on the eastern tip of the Arabian Peninsula. Oman is a mysterious nation since we don't hear people speaking about it very often.
Visiting Oman is easy because it's very safe and full of very friendly and hospitable people.
On this page, I make a list of 25 Amazing Places which are undoubtedly the country's major tourist attractions.
Visit Oman
1- Ras Musandam Fjords
Ras Musandam peninsula is separated from the rest of the country. It is famous for its breathtaking fjords of desert mountains and waters of a beautiful shade of blue.
---
Quick facts about Musandam:
---
A governorate of Oman
Located on the Musandam peninsula
Is an exclave, separated from the rest of the country
Kumzari is the language around Kumzar
There is a fast ferry service between Musandam and Muscat
Four provinces: Khasab, Bukha, Dibba Al-Baya, and Madha
Khasab is the capital city of Musandam
The Musandam Peninsula is sinking
Frequently called the "Norway of Arabia"
Portuguese built Khasab at the beginning of the 17th century
Telegraph Island, abandoned in the mid-1870s is a reminder of the British Empire
2- Khasab Fortress
The capital of the region called Ras Musandam is the city of Khasab and is more accessible coming from the United Arab Emirates. To get there, you can also take the fastest ferry boat in the world, connecting to the capital Muscat. This fortress was rebuilt and looks stunning.
---
Quick facts about Khasab Fortress:
---
Located near the Old Souk
Built by the Portuguese in 1623
Large wooden dhows stand outside
Serves as the Traditional Musandam Culture Museum
3- Muscat – the capital of Oman
Muscat, the capital of Oman has a very beautiful historic district. Buildings with Eastern African wooden balconies and several seafront fortresses make Muscat a peaceful and relaxing destination. It's worth spending there a couple of days visiting the markets, museums, forts, mosques and areas near the sea.
---
Quick facts about Muscat:
---
Capital city of Oman
The city lies on the Arabian Sea
Muscat dates back to the 6th millennium BCE
The Portuguese maintained Muscat for over a century
The fastest diesel ferry in the world connects Muscat to Khasab
4- Masirah Island
Masirah Island is a desolate and deserted destination. If you like having the feeling of being in the middle of nowhere, and in a place where hardly anyone goes, then you'll love this island off the coast of the Indian Ocean. There are several deserted beaches where you can see turtles laying eggs.
---
Quick facts about Masirah Island:
---
Biggest settlement is Ras-Hilf
Located on the coast of Oman, in the Indian Ocean
Location of a major air base for the Oman Air Force
Many shipwrecks along the remote stunning beaches
Located 18km distance from the mainland
Masirah Island is one of the eleven provinces of Oman
The island is about 95 kilometers long and 14 kilometers wide
✕
Read the page: Masirah – a desolated island on the coast of Oman
5- Jebel Akhdar Mountain
Crossing the Jebel Akhdar was one of the best moments of my Oman trip. I drove up departing from Al Hamra until Ar Rustaq, on the other side of the mountain. These tracks are to be made with a 4wd, but I drove a regular city car. If by chance you also do it (I mean, without a 4WD), I advise you to drive very carefully. Landscapes are amazing. Everything is breathtaking.
---
Quick facts about Jebel Akhdar:
---
Its name means "the Green Mountain"
Jebel Akhdar is part of the Al Hajar Mountains range
Jebel Shams is he highest point 3,000 metres/9,800 feet high
It extends about 300 km/186 mi northwest to southeast
Mostly inhabited by the Bani Riyam, an ancient Arab tribe
Newly stablished as the "Jebel Akhdar Sanctuary for Natural Sceneries"
6000-year-old rock art sites can be found in the mountains
6- Tomb of Job
Job is a biblical character, from the Book of Job of the Old Testament. In this place, one can visit his tomb, and in the outer zone is a small box where there's his footprint (it's a huge foot mark, but that's what people say). The whole area is a complex of Muslim pilgrimage. In Islam, Job is considered a prophet, and his name is known in Arabic as Ayoub. This site is located on the mountain in Salalah region.
---
Quick facts about Job:
---
Job is the main figure of the Bible's Book of Job
Job is a prophet in the Abrahamic religions
7- Taqah Castle in Mirbat
Taqah Castle dates back from the nineteenth century and is situated at the entrance of Mirbat. It was built to be the permanent residence of Sheikh Ali bin Al Ma'shani Timman. Very well preserved, this castle has an interesting ethnographic museum, showing various aspects of life and culture from the region.
---
Quick facts about Taqah:
---
Well-preserved castle built in the 19th-century
Taqah is a coastal town in the Dhofar governorate
Shaikh Al-Afeef is the name of Taqah mosque
Taqah grew as an exporter port of myrrh
Fishing and agriculture are the main resources of the population
Taqah has two forts, one of which has been restored.
Mazoon al-Mashani, the mother of the current Sultan Qabus ibn Said, is a native of this region
8- Shisr – ruins of the lost city of Ubar
Shisr archaeological ruins are not exactly the most spectacular I've ever visited because there is not much to see. But it's difficult to get there. You have to drive through desert tracks and arrive at an isolated village. You will notice camels, goats, and walls written with "the Lost City of Ubar" phrase. It's exotic enough for me to have enjoyed going to this historic site. At the end of the village, there is a small farm with lots of animals, including several camels you can make friends with.
---
Quick facts about Shisr:
---
The most common being names given to this city are Ubar, Wabar and Iram
Nicholas Clapp claimed that Shisr is the site of Ubar, mentioned in the Quran
9- Sumhuram ruins
The ancient port of Sumhuran dates from the third century BC to the fifth century AD. This is one of the most important places of the region's pre-Islamic time. This was one of the great centers of Frankincense production of South Arabia. The ruins are spectacular, with the amazing surrounding scenery.
---
Quick facts about Sumhuran:
---
Sumhuran is also known as Khor Rori
Khor Rori is an Early South Arabian archaeological site near Salalah
The small fortified town was founded around the 1st century CE
Khor Rori was an outpost for the kingdom of Ḥaḑramawt
Sumhuram was discovered by James Theodore Bent in the late 19th century
10- Al-Baleed ruins
Al-Baleed ruins are a huge archaeological complex on the coast, near the city of Salalah. Ibn Batuta visited this site in 1329 and reported its beauty. Most of the buildings of the citadel would be built in a typical architectural style of the region of Dhofar, mixing wood and stone.
---
Quick facts about Al-Baleed:
---
Al-Baleed it's a UNESCO World Heritage site
There is also a museum there called Frankincense Land Museum
Ancient Middle Age settlement al-Baleed, named from al Balad, meaning town
Al Baleed was a settlement during the Iron Age
Founded in the 11th century AD, it became a frankincense trade commerce centre
11- Samail Castle
Samail Castle was undoubtedly the most beautiful castle I visited in Oman. The Samail Hosn, or Samail Castle, is surrounded by mountains and huge palm trees. A real oasis in the desert mountains. A few kilometers before Samail there is another small fort. This is known for its watchtowers which overlook the entire valley.
12- Incense Markets in Salalah
Salalah is a city of great importance in the trade of frankincense. Here, there are two markets with shops selling incense and good quality products made from resin. I bought 4 kg and sent it home by mail. It still burns and smells great. Salalah also has a beach area that you can visit and the huge mosque of Sultan Qaboos (ask to visit the interior of the mosque).
13- Telegraph Island
Telegraph Island is a small piece of land in the middle of the Musandam Peninsula's waters. In the nineteenth century, there was a station here. It used to boost the British telegraph messages along the Persian Gulf cable line, which was part of the London – Karachi telegraph wire. Nowadays there are only a few non-interesting ruins, but the place is very nice to do snorkeling.
14- Nizwa
Nizwa is one of my favorite cities in Oman. It has many places to visit such as the animal and vegetable market, the castle with old Portuguese cannons, the potteries, and the old town. The view from the top of the castle is fantastic. In Nizwa you can also visit the famous Falaj canal system. It supplies water to the oasis listed by UNESCO as a World Heritage site.
15- Village Haat
Haat is a village lost in the mountains of Jebel Akhdar Mountains. Here, several stone houses are protected by palm trees. There is a small river, falaj irrigation system, and a water tank. It is protected with an AK-47 by a member of the village which is always present. There is also a small pool of natural water coming from a mountain spring. The children are very friendly and can "play" with the goats.
16- Jabrin Castle
Jabrin Castle is an excellent example of military architecture in the region. It was built by Imam Sultan bin Saif Al Ya'arubi in 1670. Exploring the interior of this massive castle is fantastic. You can enjoy the views from the top of the tower and also discover the fabulous ceilings of many rooms and halls inside.
17- Bahla Fortress
Bahla Fortress is one of the historical forts near the Djebel Akhdar. The castle dates from the thirteenth century and is well-preserved after being closed for renovation for several years. This building is surrounded by an oasis with some fantastic views. This place is listed by UNESCO as a World Heritage Site.
18- Al Hazm
Al Hazm is a place with lots of history. Al Hazm has a large fortress and various ruins of an old village. It even has an ancient tomb at the top of the hill. The scenery is charming, mixing green palm trees and desert mountains.
19- Sadah Coast
Driving to Sadah Coast is fantastic. The landscapes are amazing and of unique beauty. Sadah is a small village by the sea. The surrounding mountains are made of black rock and "invaded" by sand from the beach.
20- Dunes of Ramlat as Sahmah
The Dunes of Ramlat the Sahmah are basically the end of the Great Desert of Rub Al Khali in Saudi Arabia. Here, orange dunes of fine sand delight desert lovers like me. You can climb to the top and enjoy the fantastic views.
21- Oil wells in Fahud
Fahud is a major oil center of Oman. In the desert, there are large infrastructures to extract oil and gas. The combination of towers and pipelines make this environment a bit surreal. To get here, you need to drive into the desert on a dirt road. At one point I found out that it was forbidden to be there, so I ended up with a military escort during 30 kilometers.
22- Omani Family Homestay
To be received by an Omani family is a unique experience because these people are very friendly and excellent hosts. I was offered a lot of food and, to my big surprise, they gave me a set of traditional clothes and a turban. When someone invites you home to drink tea, coffee or eat… accept the invitation.
23- Rima Petrostation
The landscape in Rima is dry with desert mountains and a large valley of huge cliffs. There is a large oil field with machines that operate 24 hours a day to get the "black gold" from the earth. The sound of these machines is strangely attractive.
24- Abandoned boats in Ras-Hilf
Ras-Hilf is the capital of Masirah island. Although the city itself does not have much interest, its beaches with many shipwrecks are always a beautiful "landscape" to enjoy and take pictures. You can also go up the abandoned boats.
25- Chasing crabs on Ras Madrakah beach
Beach landscapes in Ras Madrakah are quite beautiful. Thousands of crabs make from the wild beach their territory, and it's amusing running after them towards the water. However, they do not let themselves get caught… It's wonderful to hear the symphony of waves, running back and forth with Nature.
✕
NOTE: If you want to visit Oman, this blog will definitely help you organize your trip. The choice is big, and there are a few hotels in Muscat. You can do as I did, and rent a car in Muscat to drive around the country independently.
Booking Online Kit
«
Booking accommodation?
Find the best hotel deals with
Booking.com
»
«
Rent-a-car?
I always get rental cars through
Rentalcars.com
»
«
Better safe than sorry?
Get your travel insurance from
Worldnomads.com
»
«
Join a group!
7 days in Morocco 430 euros from Marrakech to Sahara Desert with
Marrocos.com
»
«
Jump the line and get tickets online?
Plan your trip in advance at
Ticketbar.eu
»
«
Internet on the road?
Get your 3G & 4G hotspot from
SkyRoam.com
»
The Author of this Blog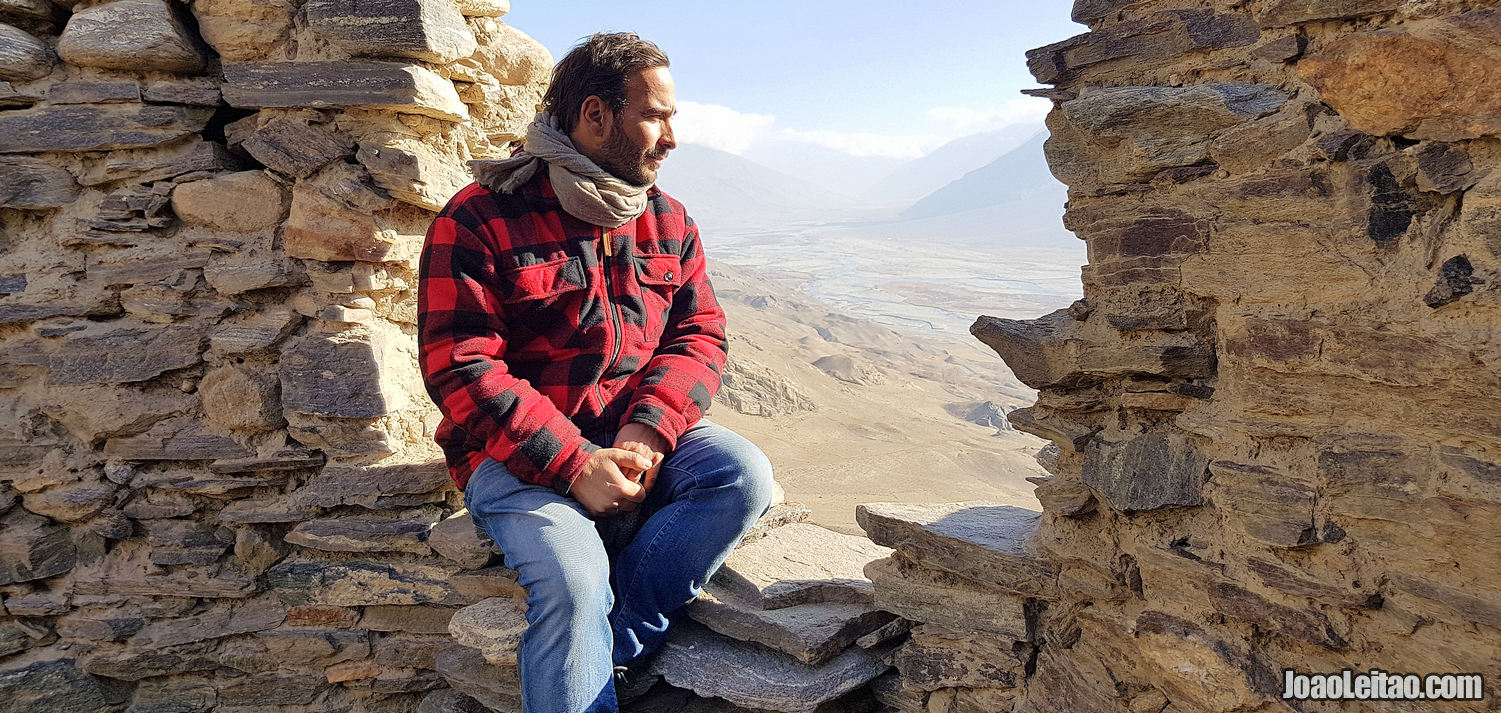 HI! I'm João Leitão. Traveling independently since 1999, I explored more than 130 countries and territories in Africa, Antarctica, Asia, Europe, North & South America and Oceania. Welcome to my
adventure travel blog
, where I gathered useful information and inspiring narratives to motivate you to travel more. Follow on
Facebook
,
Twitter
,
Instagram
,
Pinterest
e
YouTube
.
« Follow Nomad Revelations on Instagram @joaoleitaoviagens »