10 Best Things to do in New York City

Photo view of new york city nypd police in action somewhere in new york city usa
I love New York City and the reason why I created this travel guide is to share whatever I learned from this city with you. Why do I share something that you could also do for yourself? well, I lived in New York city for almost 1 year so I got to know places better then the normal tourist.
On this page I'll show you my favorite things to do while visiting New York City. Basically all of these New York attractions are located in Manhattan.
If you will travel to New York and have no idea where to go and what to visit, just stick to this list and you'll see one of NYC's best sites. I'm pretty sure I made a good selection, trust me.
Visit the Empire State Building

Photo view of the empire state building and fashion avenue in new york city usa

Empire State Building: you must not miss to go up the observatory on top of the incredible Empire State Building. From here on the 84th floor you can have an astonishing panoramic view of New York city.
Incredible to learn a bit more about the city's geography as you can have a clear view of where is Brooklyn, Queens, Bronx outside the island, but also have a different notion of where is Downtown and Uptown, Central Park and Harlem.
Being on top of the Empire State Building gives you a great possibility of seeing the city from above. A must!

Photo view of midtown manhattan from the top of the empire state building in new york city usa
Visit the Statue of Liberty

Photo view of statue of liberty in liberty island new york city usa
Statue of Liberty: Go to Battery Park and take the hourly ferry-boat to Liberty Island where you can visit the place where the most famous landmark of New York City is located. On this amazing boat ride you can have an amazing view of Downtown Manhattan. You can also visit Ellis Island as the boat takes you to both places on the same ride.
Visit Times Square

Photo view of times square by night in new york city usa
Times Square by night: Just don't miss a long walk along the incredible Times Square area and amaze yourself for its charisma, neon lights, theaters, people, street animation, concert venues. Times Square is also the perfect place to chose a Broadway show to spend a different evening in New York.
Visit New York Museums

Photo view of les demoiselles d'avignon oil painting by the spanish artist pablo picasso in moma museum new york city usa
Art Museums: even if you are not that interested in art, I advise you to emerge in the world of New York City art museums.
There are more then 200 museums spread around the city.
For me, the best ones and the ones you should not miss are:
the Metropolitan Museum of Art also called and known as MET;
the Museum of Modern Art also known as MOMA;
the Guggenheim Museum;
and the Whitney Museum of American Art.
If you visit all these 4 museums I advise you to, you'll be a specialist about the NYC art museum scene. (if you want to know more about this subject I have another page on this guide about it – click here: Museums New York).
Make Helicopter Flight in New York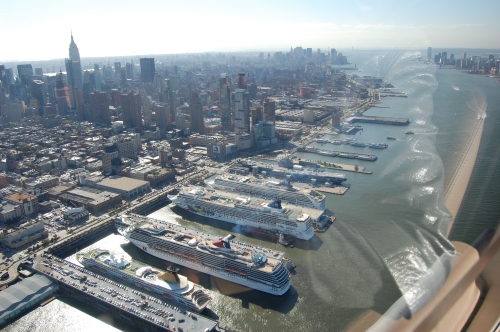 Photo view of Helicopter ride in New York City.
Helicopter Tour: OK just forget about everything you heard. Just go to Manhattan and take an helicopter tour above Manhattan and be amazed by the beauty of the city.
The fact you're flying on a helicopter you'll be able to see the city on a very exciting and thrilling way. Be adventurers and take a tour on a helicopter!
Come on go by be, this is a good advise! if you want to know more about this subject I have another page on this guide about it – click here: Helicopter Tour New York).
Visit South Street Seaport

Photo view of south street seaport and peer 17 in lower manhattan new york city usa
South Street Seaport: go to this place and be amazed by the beauty of old ships and sky scrapers. The South Street Seaport is a historic area in Manhattan and are many restored 19th century buildings are still intact. You can appreciate a very nice view of Brooklyn Bridge and go inside the Fulton Fish Market, but, the most impressive thing is that you can visit the amazing Peer 17 where a open air Maritime museum were old vessels and historical ships are parked. Most ships are from the 1800′s and early 1900′s.
Visit St Patrick's Cathedral

Photo view of st patrick's cathedral in midtown new york city usa
St Patrick's Cathedral: you just have to visit this amazing piece of unique architecture built between 1858 and 1878 right in the hearth of Manhattan. It is incredible how you have such a beautiful church in the middle of so many modern billing and sky scrapers. Incredibly each year, more than 5.5 million people visit St. Patrick's Cathedral located on Fifth Avenue between 50th and 51st Streets in midtown Manhattan.
Visit Brooklyn Bridge

Photo view of brooklyn bridge pedestrian way in new york city usa
Brooklyn Bridge: crossing the Brooklyn Bridge by foot is one of the city's top experiences. Walking through this NYC landmark will make you enjoy a different view of Lower Manhattan. The bridge itself is built with a very interesting and unique architecture. I personally crossed it during Sun rise and loved the experience. One of the times I crossed this bridge I saw actress Jane Seymour (from TV series Doctor Quinn) jogging. This is one of the oldest suspension bridges in the United States of America and was completed in 1883.
Visit Harlem district

Photo view of martin lutter king avenue in harlem uptown new york city usa
Harlem district: Manhattan "infamous" district is definitely Harlem located in Uptown. This is the Afro-American district and visiting it is very interesting as you see the city through different perspective. You can take the subway up to 125th street and cross the famous Martin Luther King Avenue. Don't miss the Apollo Theatre where many known American artists such as Michael Jackson started their careers. Watch out for this New York neighborhood during night time.
Go to a Live TV Show
Live TV Show: New York City is all about show business, and you probably already follow some American talk show on TV. One of my visits to New York I made an effort to find out how could I possible participate in the Late Night Show with Conan O'Brien. I when to the studios in Rockefeller Center and gave my name so that in the next morning I could pick-up a free ticket / entrance to the show the day after. I loved it, and it was so exciting being part of the crowd of such a well known and famous TV show from CNBC.
You will also like - Other pages on this website: