Hotel Hussein in Khan el Khalili Cairo Egypt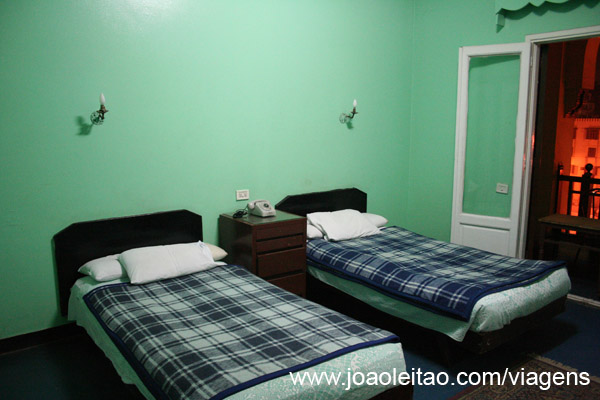 Hotel Hussein is an old hotel but clean and the rooms painted again. I was in the room with the best views that led to the same square where are the cafes and ancient mosques. The gentlemen who work there are super friendly and attentive. There is a gentleman in the elevator that always expects a small tip-baksheesh "). The rooms have en-suite bathroom. As I said, the whole hotel is a little old man, but its location is great. It is worthwhile to stay and enjoy this area so warm, so strong, so full of movement, shops, all within the area of medieval Cairo.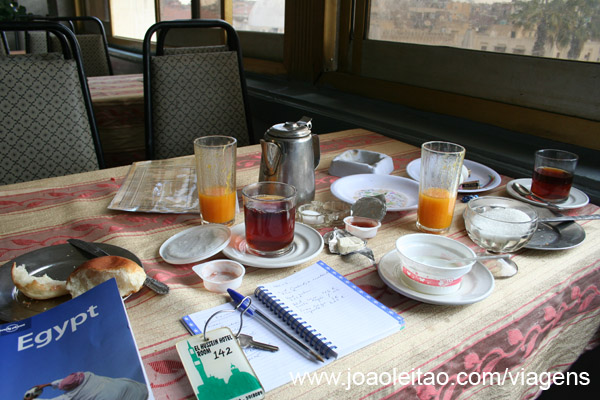 The prices of this hotel in Cairo is of 150 LE = 8.18 Euros for a Double room twin (2 beds) + en-suite bathroom + window to Hussein Square + breakfast. The price includes breakfast which can be taken in the hotel cafeteria on the 5th floor of the building. The view of the square is simply divine. If you're looking for more hotel options in Cairo I advise you to have a look at this page showing all hotels in Cairo: Hotels in Cairo.
The hotel has a cafe / restaurant on the upper floors. The view over the square and the city are fantastic, but seeing all the medieval city of Cairo. The hotel also has a terrace decorated with giant mirrors reflect mosques nearby. Climb upstairs to the roof if you can, try to find the same staircase that leads to the highest part of the building after the terrace (access from the cafeteria).
Hotel El Hussein is located on Hussein Square, (Khan El-Khalili bazaar in the old city of Cairo. Phone number are 0020.25918089 and 0020.25918664.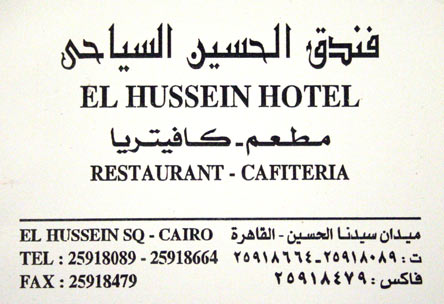 João Leitão - Author of this website
| | |
| --- | --- |
| | "HELLO! I'm João Leitão, originally from the city of Lisboa, the capital of Portugal. Since 1999 I've been traveling on a 6 months year average. I now count 4 full passports, more then 80 countries and regions and I've lived in places such as Kazakhstan, Finland, USA, Turkey, Ukraine & Morocco (where I permanently have my house since 2006). On this website I share useful travel info and advice." |
Follow me on

Facebook,
Twitter,

Google+,

Flickr,

Instagram,


Youtube, sign my

Newsletter.
Leave your comment here
▲
BACK TO TOP OF PAGE