For some time I was curious to travel to the United Arab Emirates. Finally I organized my life in order to visit places that I had heard so much about. Places such as Dubai, Abu Dhabi and the oasis city of Al Ain, or even the southern oases of Liwa.
Then and during the summer months of 2011 I visited this country a few times since it served as a stopover point for some flights I made for some other countries low cost airline company called Air Arabia – which is based in Sharjah, the emirate right next to the emirate of Dubai.
Then I had the opportunity to visit the UAE for the duration of two weeks, and visit all the existing Emirates: Abu Dhabi, Ajman, Dubai, Fujairah, Ras al-Khaimah, Sharjah and Umm al-Quwain. How did I do this? Well it was very simple, I rented a car in Sharjah, bought 2 maps and drove around freely, going where the wind took me. No plans. Just driving in United Arab Emirates.
Apart from these locations, I also drove down to the area of the dunes along with the border with Saudi Arabia in the oasis of Liwa, very beautiful and warm (I was in the month of August). Great experience.
Entry visa to the United Arab Emirates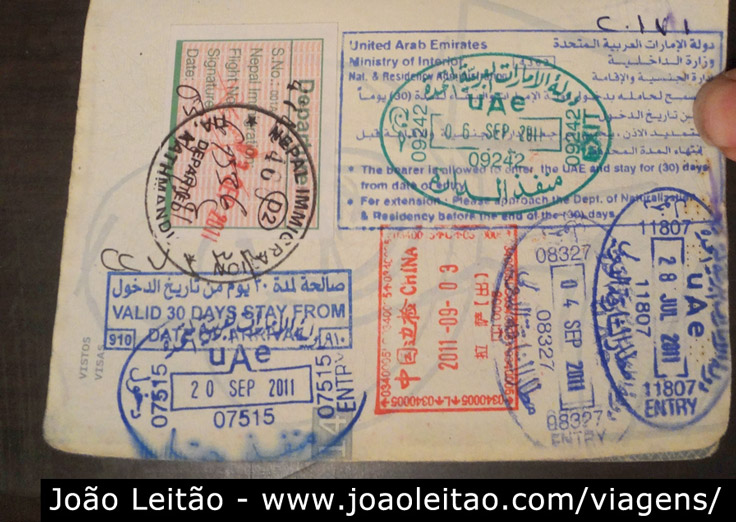 Photo of my passport with stamps from the United Arab Emirates, you can see that they give a large stamp with instructions of temporary emmigration, and another with the entrance date.
Most western citizens do not need a visa to enter the UAE. Just have a valid passport and you'll have a free entry at any land border or airport. A single stamp of stay of 30 days. This stamp may be extended by 30 days at an additional cost. Other citizens that need a visa to the UAE, please contact the UAE Embassy in your country and also visit the official website of the Emirates for more information on how to proceed to get a visa from the Emirates the easy way, click here: visa United Arab Emirates.
Searching for a hotel in Dubai? Compare prices and photos here: Hotels in Dubai