Dangers in Marrakech
Most people have the wrong idea about security matters in Morocco.
Apart from big cities where some criminal activity exists, all the rest of Morocco is pretty much safe.
I mean, really really.
Marrakech has hundreds of undercover policemen taking care of the streets.
This way thieves can be watched and the general ambience of the city is rather safe.
I don't advise you to explore inner parts of the medina after mid-night, also the Jewish district by night is not advisable.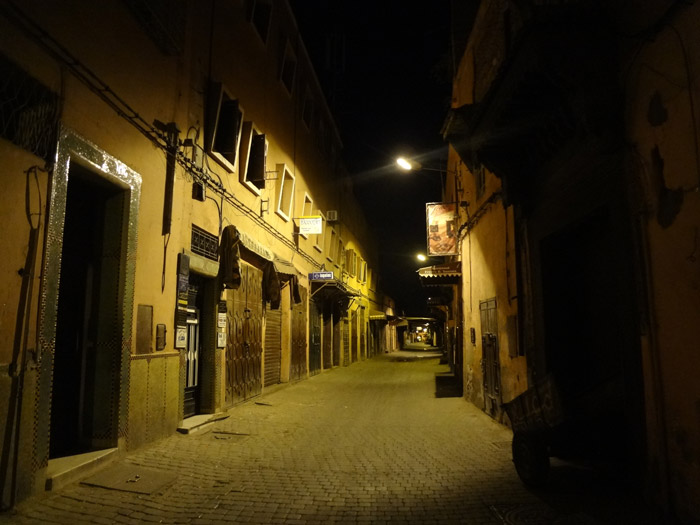 Photo of a Marrakech street in the old medina by night
Watch out for nice people talking to you and offering you drugs, and invitations for private parties, as this can end up you being drugged.
This goes for boys and girls as some raping happens for both men and women.
You can go into some people's house for a party and they can drop some drugs inside your drink, or mix haxixe smoking with light pills in drink and next thing you remember is to wake up raped.
Jemaa el-Fnaa main square is full of crazy people (a bit like all inside the old medina).
So take in consideration that you might have a 1st degree encounter with a mentally ill person in Marrakech.
Just maintain calm, don't establish eye contact and move away.
I mean, this is normal stuff you should do anywhere in the world.
Watch out for monkeys.
Guys thats own the monkeys will trick you and put the monkey on your shoulder.
Some monkeys go wild and pull your hair off or might even bite you.
If you're coming near the monkeys, pay attention and unless you really want to make a picture with them (and pay), just stay calm and say no, go away.
Video of acrobat monkeys in Marrakech Jemaa el-Fnaa square:

Avoid conversations with drunk people, as they normally turn violent on you.
The same applies if you sense any person affected by light drugs like marijuana aka haxixe.
During the night, watch out for professional pick-pockets.
Always carry your bag close to you.
If you usually use your wallet on the back pocket, temporarily change it to the front pocket during your trip in Marrakech.
And you will be fine.
Marrakech Jemaa el-Fnaa square is full of both undercover police but also dozens of normal police.
Actually, in on of the edges of the square you even have a police station.
Also in front of the Bank Al-Maghrib you have several police vans and guards.
While walking in the souks, watch out for crazy motorbikes that will madly pass you almost hitting everyone walking by.
If you hear a "bip-bip", just move away.
Watch out for donkey carriages passing in the medina tiny streets.
Often the only way to transport goods in the medina is by donkey carriage.
They often don't stop and people say "balek balek". So, move away.
Anywhere you go in Marrakech, watch out crossing the road.
Drivers don't stop on zebras and many motorcycles don't stop on red lights.
So you better watch out and cross the roads carefully while in Marrakech.
Video of crossing the road in Marrakech by night:

If someone approaches you to sell t-shirts, and they put the t-shirt close to your stomach, watch out if you have a waist purse or something that can be robed with the other hand you don't see, because it is hidden by the t-shirt he is showing you.
I had someone doing this to me.
I noticed him pulling the zipper of my waist bad and just put my fingers on his neck and told him to back off.
Before you buy something, ask in 2 or 3 other shops.
This avoids you being ripped off and payed 10 times more the real price.
Take your time and ask around before you buy. Good luck!
Related posts that you might also be interested: