Do you need a Morocco visa?
Morocco is a very easy country to travel and very straight forward in terms of visitor's visa.
In fact most Western countries don't need a Morocco visa as a 3 months entry stamp is given at any entrance border to the country, either airport of land border.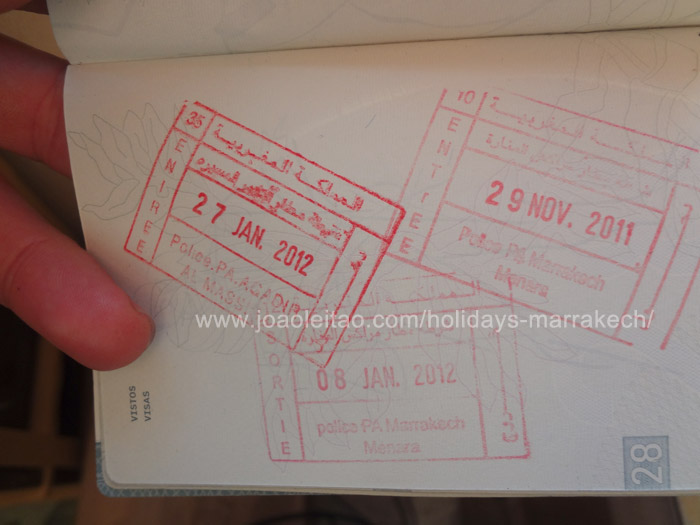 Photo of Moroccan entry stamps in Passport
British, Australian & New Zealand, Canadian, USA, European Union countries, Turkey, Brazil, Japan don't need a Morocco visa, but other countries such as Israel, South Africa, Zimbabwe and Ukraine for example, do need a Moroccan visa before arrival. These countries that need a visa to Morocco can apply for a three-month single-entry visa that will cost around $30 US.
Also citizens of Andorra, Argentina, Bahrain, Chile, Republic of Congo, Ivory Coast, Guinea, Hungary, Iceland, Indonesia, Korea, Kuwait, Libya, Liechtenstein, Mali, Malta, Mexico, Monaco, Niger, Norway, Oman, Peru, Philippines, Puerto Rico, Qatar, Romania, Saudi Arabia, Senegal, Singapore, Switzerland, Tunisia, United Arab Emirates and Venezuela can enter Morocco without a visa.
Although most countries don't need visa to Morocco, they all need to bring their passport with a validity os expire at least 6 months after their visit to Morocco.
Check out your passport expiration date and if it will expire on a 6 months time range after your travel to Morocco the passport control police in Morocco might not let you in – sometimes they do though.
So if you're preparing your visit to Marrakech and are coming by airplane, once you get to Marrakech airport you will deliver your passport to the control police, they will put your information in the Moroccan border computer system, they will stamp you in and they say thank you and welcome to Morocco, you see! No Morocco visa! Very easy indeed.
Very important is that if you're flying to Morocco from Mali in West Africa for instance (I did this trip once back in 2008), you have to bring your International Certificate of Vaccination for Yellow Fever.
Related posts that you might also be interested: