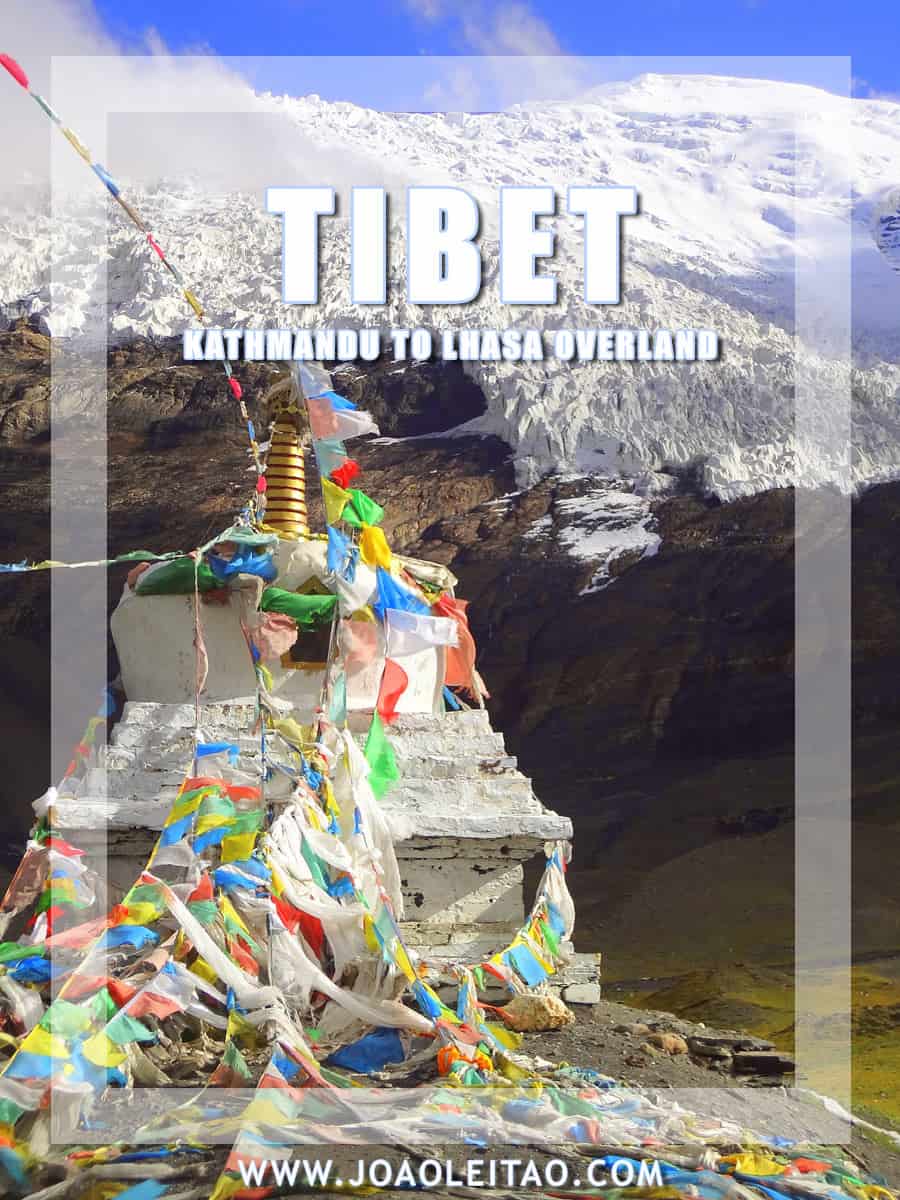 I traveled from Kathmandu to Tibet in the month of August. As I was in Kathmandu the capital of Nepal, I decided to take the opportunity of being so close to visit Tibet, an autonomous region in China.
To visit Tibet, all travelers need to buy a guided tour from a credited travel agency. So I purchased an 8-day Tibet tour from Kathmandu to Lhasa called – Roof of the World.
The trips to Tibet can be made alone or in a group. But, you must always have a guide for you and a jeep/minibus, i.e., even if you choose to go alone you have to travel with a guide.
In my case, I got the cheaper option and went with a group by minibus. In my group, there were ten interesting and very friendly travelers from different countries.
Tibet is an autonomous region of the People's Republic of China, situated right in the southwestern Chinese border of Nepal, Bhutan, Burma, and India.
I loved the mountain landscapes since Tibet is the highest region in the world, with almost all of its territory located above 13123 ft / 4000 m altitude. For this reason, Tibet is known as the "Roof of the World."
I made the trip along the famous Friendship Highway from Kathmandu to Lhasa. This 497 mi / 800 km journey took me some impressive Buddhist monasteries filled with magic and spirituality.
Tibet is a mysterious Buddhist land famous for its friendly and smiling people. On this page, I'll describe step-by-step all the destinations I visited and give detailed information about the 8-day travel to Tibet along the Friendship Highway.
I bought my trip to Tibet in Kathmandu. Tibet is a mysterious, magical, spiritual place, and one of the most remote areas in the world. Nearly all Tibetans follow Tibetan Buddhism, also called Lamaism.
Indian Buddhism influenced Tibetan Buddhism in its early stages, but, over time, Tibetan Buddhism has developed its distinct characteristics and practices. One example of this difference is that Tibetans believe that there is a Living Buddha, i.e., there is a live reincarnation of the Buddha himself.
To travel to Tibet, you must have a special permit from the Chinese government, and you need to buy a "tour package" at a travel agency so that they handle your transportation, accommodation, guide, and formalities.
---
Friendship Highway Map
---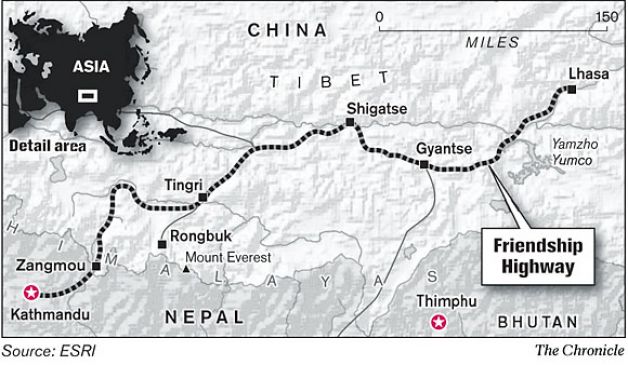 ---
How to travel in Tibet
---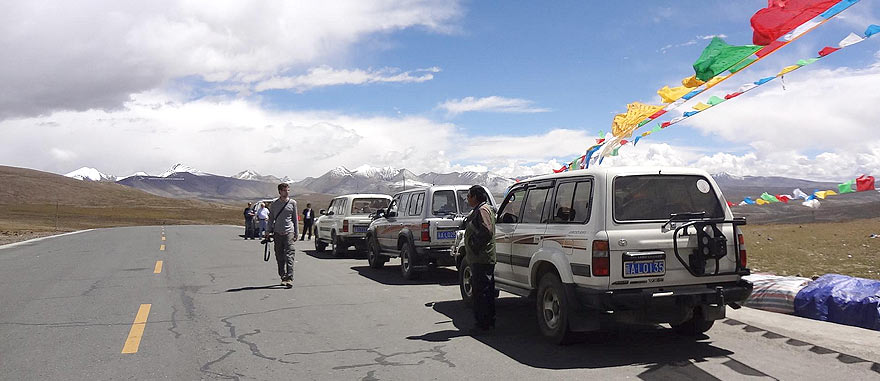 How to go to Tibet?
You can only travel to Tibet with an organized tour bought to a credited travel agency. Between cities, you always have to be with a guide. The travel agency books transportation and hotels. Inside the towns, you're free to explore alone. You can choose to get a 4X4 and go alone or with a group of people by minibus for a lower price. This last option is perfect for those who want a low-cost budget solution to travel in Tibet.
When to go to Tibet?
The best time to go to Tibet is in summer when temperatures are warmer; thus you can travel to high altitudes with sun and enjoy stunning views of the mountains. Winters are cold with an average temperature of -2°C / 28ºF in January, but there is not much snow. Summer has hot days with intense sun, but cold nights.
From where to go to Tibet?
You can choose to visit Tibet from Nepal departing from Kathmandu city, or from China. I made the overland trip along the Friendship Highway from Kathmandu to Lhasa and back to Kathmandu by plane over the Mount Everest. This route of the road N318 is breathtaking and has stunning scenery.
How much does it cost to go to Tibet?
An 8-day tour with accommodation, breakfast, transportation in private minibus with a driver, English-speaking guide, all entrances to monasteries and flight back to Kathmandu cost from 1000 to 1200 dollars. This price also includes the Nepalese guide and transportation in private minibus from Kathmandu to the border with China. A 4X4 tour is more expensive but you can split the price with more people. The cheapest and the best budget solution is the one I chose – in a private minibus with 10 other travelers.
How to get a visa for Tibet?
To visit Tibet from Nepal you don't need a Chinese visa. Coming from Nepal and returning to Nepal, you only need a travel permit from the Chinese government that authorizes you to travel in this region for the specified time of the tour to Tibet. The travel permit to enter Tibet costs $30 dollars. The travel agency in Kathmandu will arrange everything for you.
Who goes to Tibet?
If you travel with friends you already have company, but if not, you can always go with other travelers as I did. In Kathmandu's hostels, there are many travelers searching for a tour operator. You can manage to get a small group and try to persuade the agency to make you a group discount. I booked my tour from Kathmandu to Lhasa alone through a travel agency located in Thamel. They put me on an organized tour. I was lucky to go with a very friendly group of people: 1 German guy who traveled by bicycle from Germany to Nepal; 2 Polish girls, 1 Swedish girl; 1 Austrian girl; 2 Chinese girls; 1 German couple; 1 German girl and 1 Spanish girl from Barcelona.
---
Tibet 8-Day Tour
---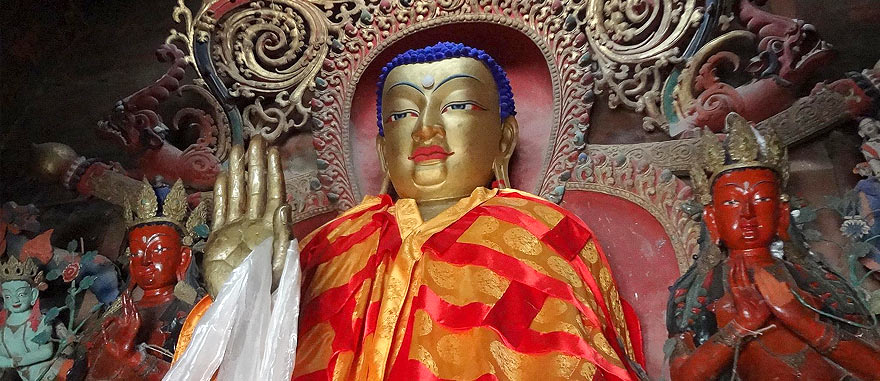 ---
Day 1: Kathmandu – Zangmu – Nyalam
---
Kathmandu 1400 m – Zangmu 2300 m – Nyalam 3750 m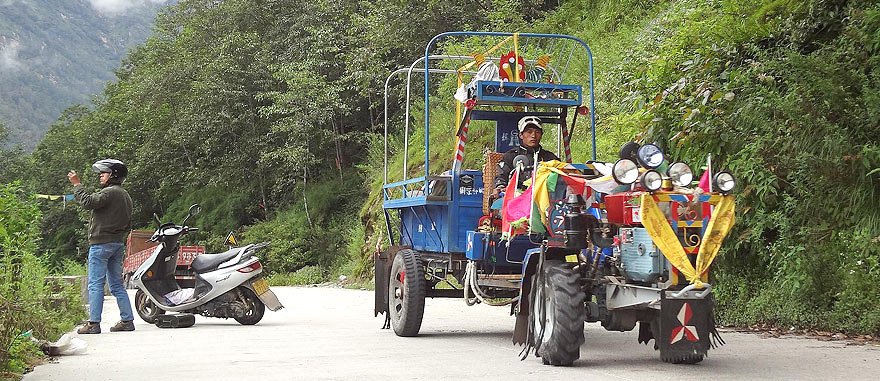 This part of the journey is made from Kathmandu all the way to Kodari (total 123km). Crossing the Friendship Bridge and showing documents and luggage to Chinese authorities. Get to know the Tibetan guide for the first time.
Continuing up the mountain to have lunch in Zangmu and furthermore to overnight in Nyalam (total 30km). To reach the small village of Nyalam, there is the crossing of the Bhote Koshi River, deep in a valley with vegetation and many waterfalls.
---
Zhangmu at 2300 m
---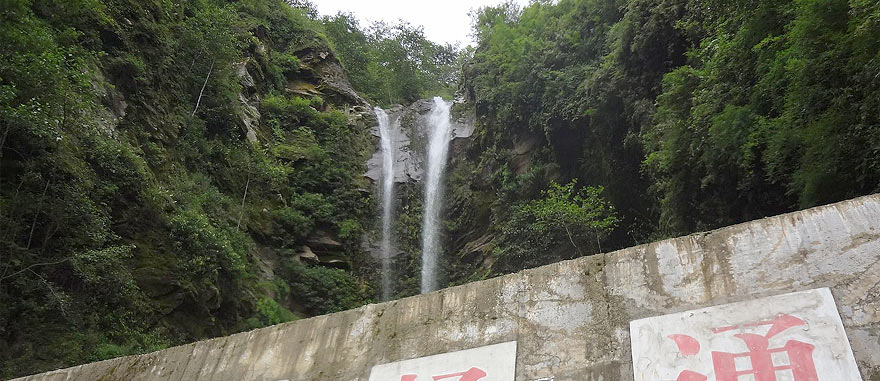 This was the first Tibetan town where I stopped for lunch. It was also here that I made the first contact with the Tibetan people, which were very friendly right from the start. I ate a very tasty bowl of noodles with tofu and vegetables. I was in the kitchen of the restaurant to see how they prepared my entire meal.
---
Nyalam at 3750 m
---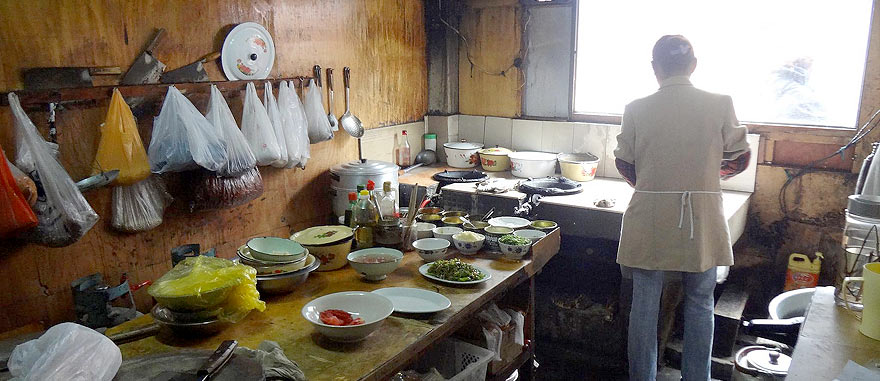 During the first night of the trip, I had shortness of breath because we were four sleeping in the room and the windows were all closed. This happened due to the altitude oxygen concentration that is much less than normal.
---
Hotel Nga-Dhon in Nyalam
---
I stayed one night at this hotel. The Nga-Dhon is next to the road in an area of shops and restaurants. The village of Nyalam is very small and is the base for all overnight travelers going from Kathmandu in Nepal. The hotel is decorated with Tibetan style, they offer double and dorm rooms. I was in a room with 4 beds and slept in the room with 3 other people who came with me on the trip. Breakfast was in the restaurant on the ground floor. We had tea, omelet, bread, and jam. The mountain view from the rear of the hotel is very beautiful.
---
Day 2: Nyalam – Lhatse
---
Nyalam 3750 m – Lhatse 4050 m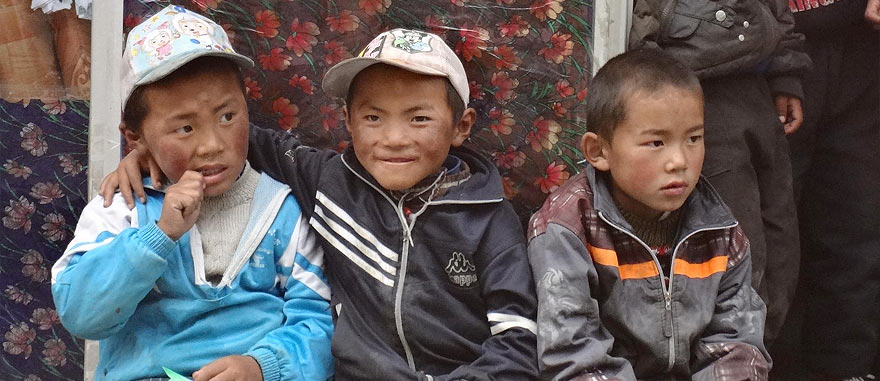 In the morning we crossed the mountain pass of Nyalam overlooking the Jugal Himal. Then we continued moving through Lalung La Pass at 16568 ft / 5050 meters altitude. At this point you can enjoy one of the best views of the Himalayan range:
Mount Xixapangma 26289 ft / 8013m, Mount Cho Oyo 26906 / 8201m, Mount Makalu 27769 ft / 8464m, Mount Lhotse 27939 ft / 8516m and the famous Mount Everest at 29029 ft / 8848m, the highest mountain in the world.
---
Lalung La at 5050 m
---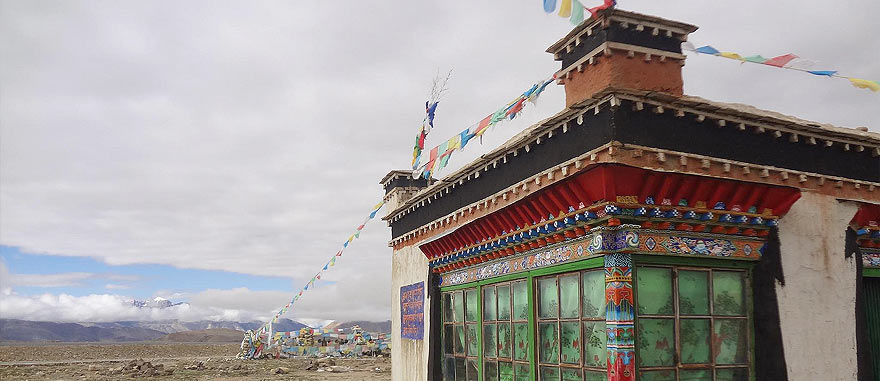 Perfect sunny day and blue sky on the Kathmandu to Lhasa road. It was here that I felt the altitude for the first time as the mountain pass is at an elevation of 16568 ft / 5050m. Thousands of Buddhist prayer flags and a small stupa decorate the whole mountain pass.
---
Tingri at 4348 m
---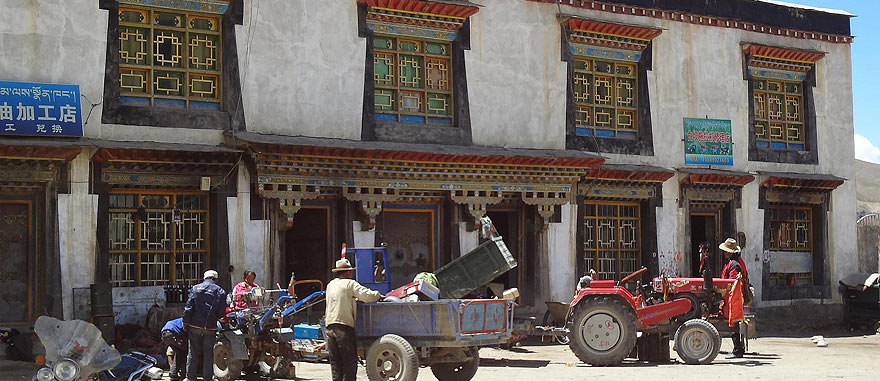 We paused here for lunch. Again I went into the kitchen of the very friendly Chinese couple from the nice restaurant to check how they prepared my meal. They had a perfect noodles preparation technique. The city is charming with Tibetan architecture and buildings all surrounded by beautiful mountains. I also visited a local flour mill.
---
Day 3: Lhatse – Shigatse
---
Lhatse 4050 m – Shigatse 3850 m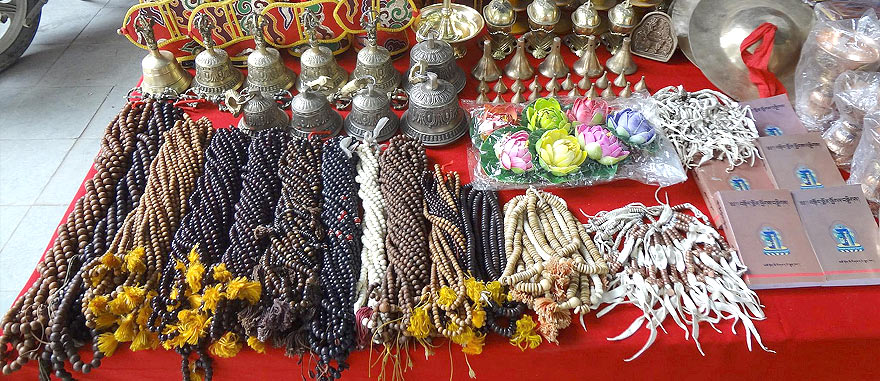 After traveling a few hours along the river we reached the city of Shigatse, the site of the famous Tashilhunpo Monastery.
The city of Shigatse is stunning. Besides the monastery, you can also visit the fortress and the old town area. Take a look at the market as well. In this monastery remained the Panchen Lama until his death in 1989. That's why Tashilhunpo Monastery is an important pilgrimage site for Tibetan Buddhists.
---
Gyatso La Pass at 5248m
---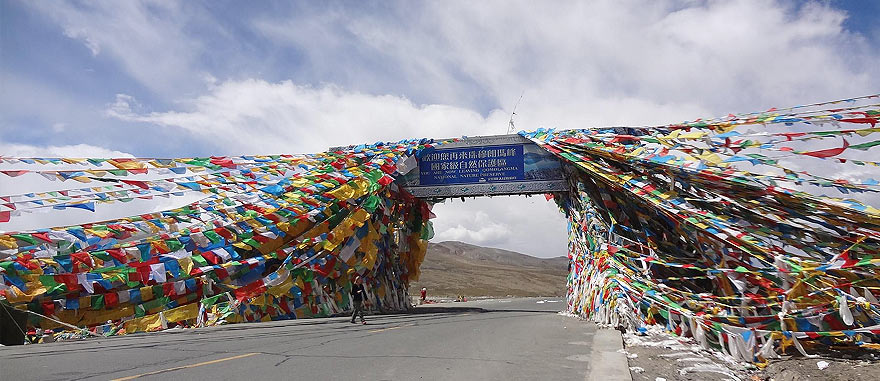 Gyatso La Pass is the highest point on the N318 road from Kathmandu to Lhasa – also known as the Friendship Highway. Here we cross the mountain to the other side. The landscape is breathtaking, and it's full of Tibetan Buddhist prayer flags everywhere.
---
Shigatse at 3850 m
---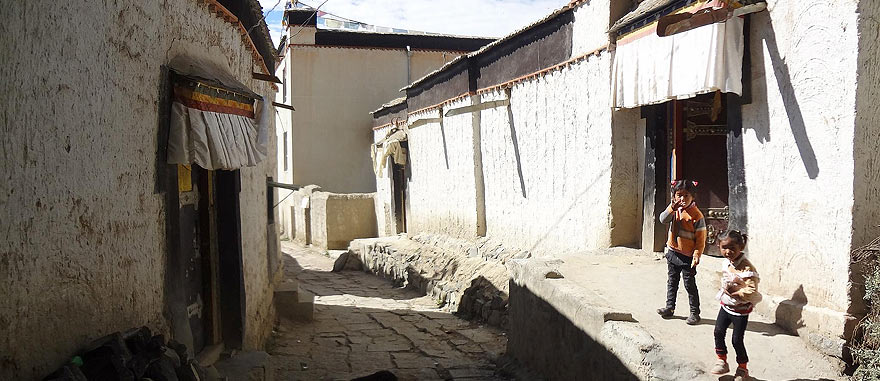 I stayed 2 nights in Shigatse. The city is very beautiful and has so much to discover and visit. The great Tashilhunpo Monastery in Shigatse is the second largest monastery in Tibet, founded in 1447 by Gendun Drup, the First Dalai Lama.
---
Hotel Qomolangma Friendship in Shigatse
---
I stayed for two nights at this hotel. The Hotel Qomolan Ma Friendship is located near the center of the new town and right next to Dechen Palace. The hotel has a reception with Tibetan decoration. The rooms are very well equipped, very clean, with TV and en-suite bathroom.
We were supposed to stay here just one night, but the previous day was changed for two nights in Shigatse instead. The simple reason for this change was because there are more things to visit in Shigatse.
---
Day 4: Shigatse
---
Shigatse 3850m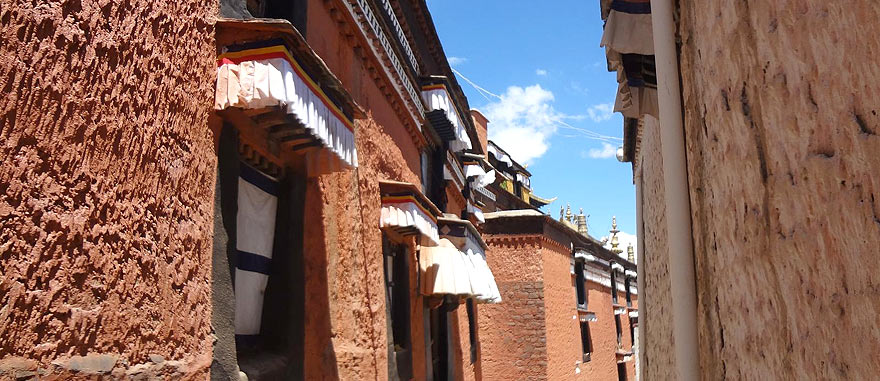 After breakfast, we visited the Tashilhunpo Monastery. The monastery is the most important place of the Gelukpa tradition of Tibetan Buddhism. The Tangka wall at one end of the monastery is clearly visible and an impressive site. In the city, you can still visit the fortress, the old town, and the market.
---
Day 5: Shigatse – Gyantse
---
Shigatse 3850 m – Gyantse 3975 m
---
Kharola Glacier
---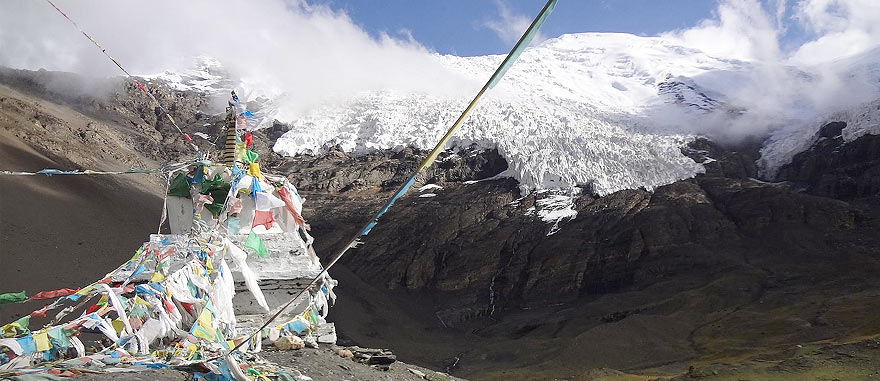 This spectacular glacier was a total surprise. Kharola glacier is perched on top of the mountain 18241 ft / 5560 meters above sea level and is a gorgeous place. At the foot of the mountain, there is a Tibetan style house built in stone. There are also many animals called yaks and a small Tibetan stupa with prayer flags.
---
Yarlung Zangbo River
---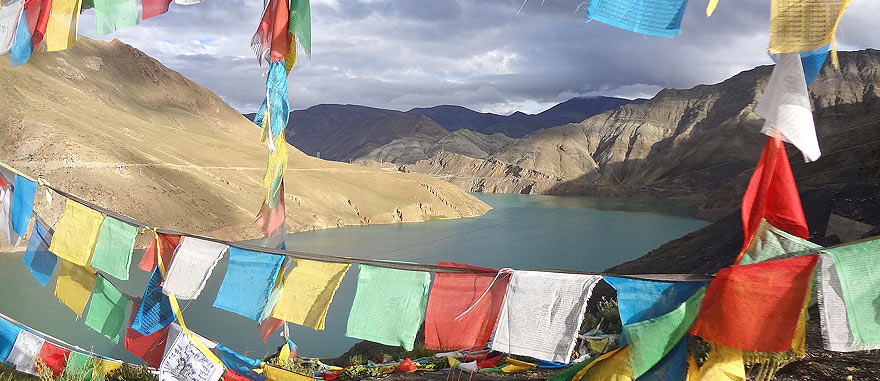 This river runs along much of the Friendship Highway. At one point we stopped to take photos in a beautiful setting with magnificent views of the river. This site is sacred and has many Buddhist prayer flags.
---
Gyantse at 3975 m
---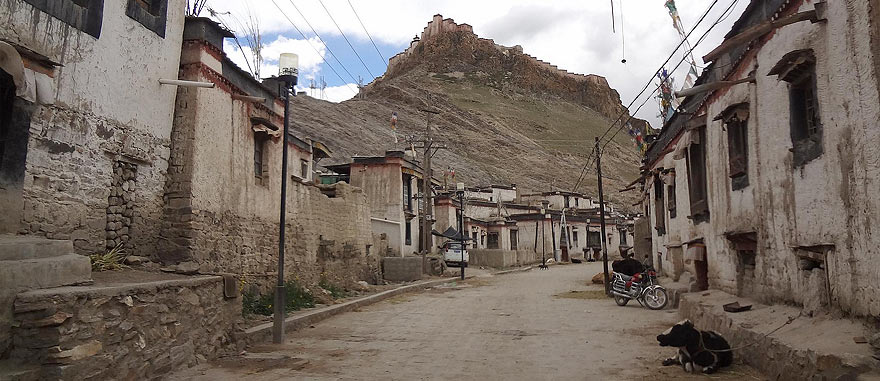 I spent the night in Gyantse and had the opportunity to climb the fortress and have breathtaking views of the Gyantse city and its surroundings. I loved the old town, with typical Tibetan houses.
---
Hotel Zong Shan in Gyantse
---
I stayed one night at this hotel. The Zong Shan Hotel is located in the center of the new city and beneath the Gyantse fortress. The Monastery Palcho is just down the street. This hotel is really clean and looks very new. It has double and triple rooms available. I stayed in a double room with a German gentleman who was in my group. A double room in this hotel costs 520 YUAN close to 63 Euros per night with breakfast included. The buffet-style breakfast is in the restaurant upstairs: tea, omelet, bread with jam and much more. The view from the windows of the rear of the hotel is very beautiful because it gives directly to the Fortress of Gyantse. The reception staff was very friendly and attentive. It is really a good hotel in Gyantse.
---
Day 6: Gyantse – Lhasa
---
Gyantse 3975 m – Lhasa 3490 m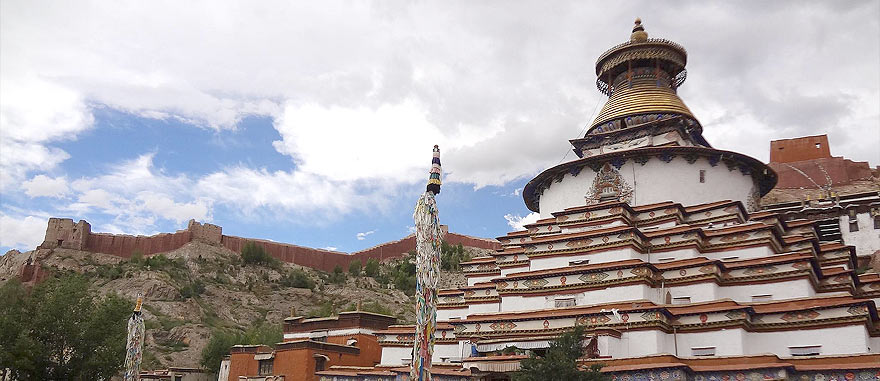 This day begins with a visit to Palcho Monastery where we can explore the amazing Kumbum, which is a multi-story mandala shaped building. Kumbum is the most revered of Tibetan stupas and has 112 chapels inside of which 23 are open to the public.
It takes 6 hours to cross the 15728 ft / 4794m Karola Pass on the road to Lhasa, the capital of the Tibet region. On this trip, we also pass the Yamdrok Tso Lake, which means Turquoise due to the color of its waters. After passing by River Brahmaputra, we finally arrived at the city of Lhasa.
---
Lake Yamdrok at 4441 m
---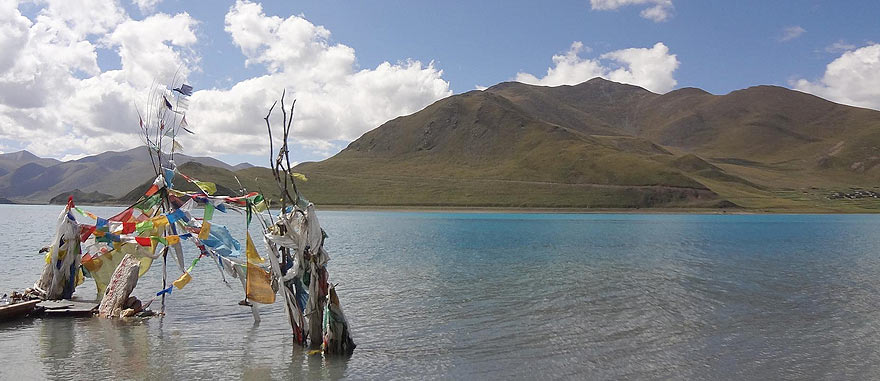 This lake of turquoise water is amazing. Yamdrok Lake is one of the three largest sacred lakes in Tibet. With about 72 km of road along the Friendship Highway, this lake is surrounded by many snow-capped mountains. There are several places to stop and take pictures and admire the views.
---
Hotel Trichang Labrang in Lhasa
---
I stayed for two nights at this hotel. The Trichang Labrang Hotel in Lhasa was undoubtedly the most beautiful and best hotel of my entire trip to Tibet. With a beautiful central courtyard, and a fantastic interior, full of symbolism and Buddhist Tibetans objects. The hotel's terrace is also very good for an evening talking with fellow travelers.
This hotel in Lhasa is in the old quarter of the city, about 10 minutes from the Jokhang Palace, UNESCO World Heritage site and its famous square full of people and animation.
The rooms are fully equipped with TV and en-suite bathroom. The price for a double room with breakfast is 580 YUAN, close to 70 Euros per night. The hotel is located on a typical Tibetan house, with several courtyards, stairways, and corners. Very good hotel. The breakfast is a buffet style with several things you can eat.
---
Day 7: Lhasa – City Tour & Monasteries
---
Lhasa 3490 m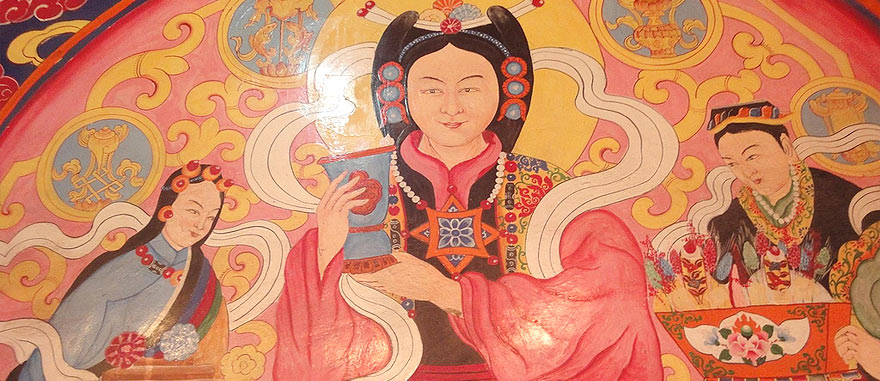 On this full-day in Lhasa, we visited the most famous places in the city including the Potala Palace, Jokhang Monastery, and the Barkhor Market.
In the morning there are two trips out-of-town to visit the Drepung Monastery and Sera Monastery, places from where you can enjoy incredible landscapes of the Lhasa Valley.
The Potala Palace is spectacular with huge rooms decorated with Tibetan paintings, Mandala and many Buddhist statues.
---
Lhasa at 3490 m
---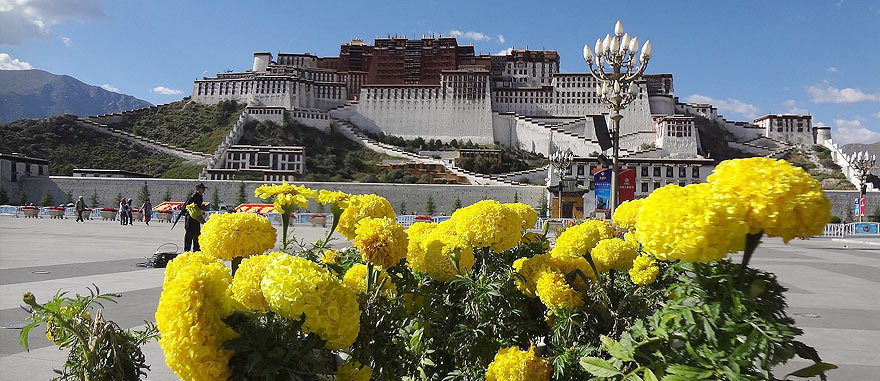 Lhasa is the capital of Tibet. Well known mainly for its famous Potala Palace. Yet there is plenty to see in the city apart from Potala Palace. The old Lhasa city center is very beautiful, with traditional houses and the impressive and mystical ancient Jokhang Monastery. Lhasa is a blend of traditional Tibetan style with Chinese modern sophistication.
---
Drepung Monastery
---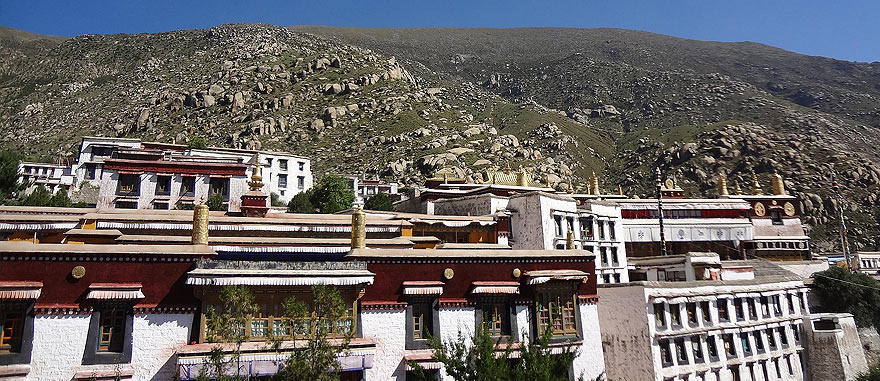 This incredible Tibetan Buddhist monastery is located at the foot of Mount Gephel, a few kilometers away from Lhasa. The Drepung Monastery is one of the three great monasteries of the Tibetan Buddhist University. In the first half of the twentieth century Drepung was the largest monastery in the world with about 10000 monks. The Drepung Monastery was founded back in 1416 by Jamyang Tashi Choge Palde. In this monastery, we can watch the monks debating, as they clap their hands and talk loudly discussing Tibetan affairs.
---
Sera Monastery
---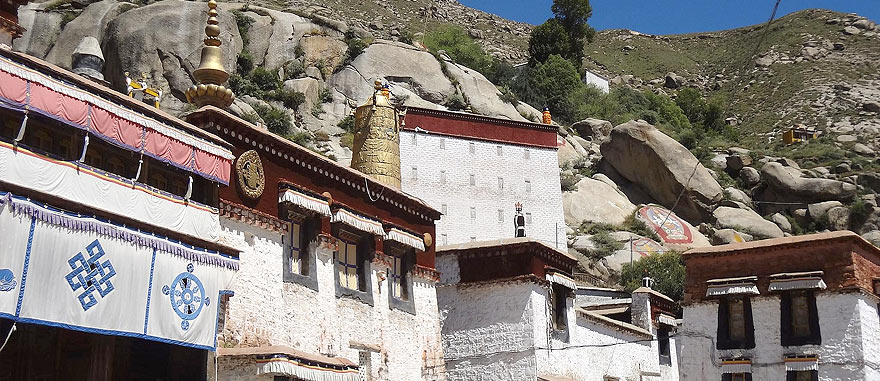 Sera Monastery is a religious complex with a Tibetan Great Assembly and three colleges. Sera Monastery was founded in 1419 by Sakya Yeshe of Jamchen Chojey, a disciple of Tsongkhapa. This monastery is also one of the three great monasteries of Tibetan Buddhists and is situated a few kilometers away from Lhasa.
---
Day 8: Lhasa – Kathmandu by airplane
---
Lhasa 3490 m – Kathmandu 1400 m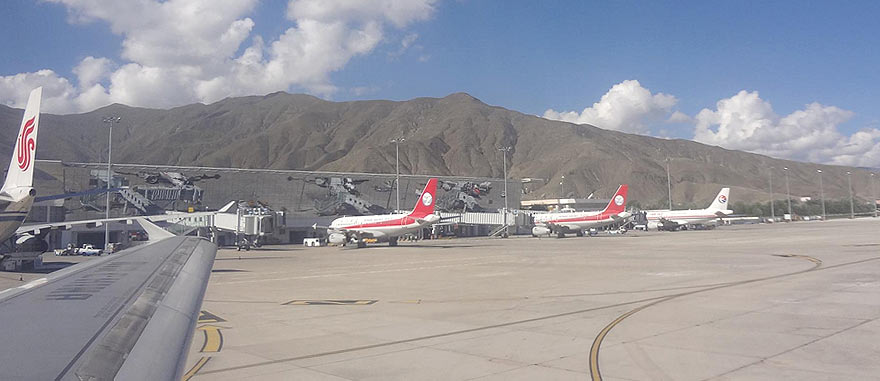 After breakfast, we went back to Kathmandu by taking the train from Lhasa railway station to Lhasa airport. Lhasa airport is 1 hour 30 minutes away. The Train Station of Lhasa is 30m away.
---
Flying over Mt. Everest
---
My trip to Tibet ended with an incredible flight from Lhasa to Kathmandu. I was lucky that the plane went over Mount Everest. The sunny day was perfect for spotting the highest mountain in the world but seen from above. Flying over Mt. Everest is on my list of best travel experiences!