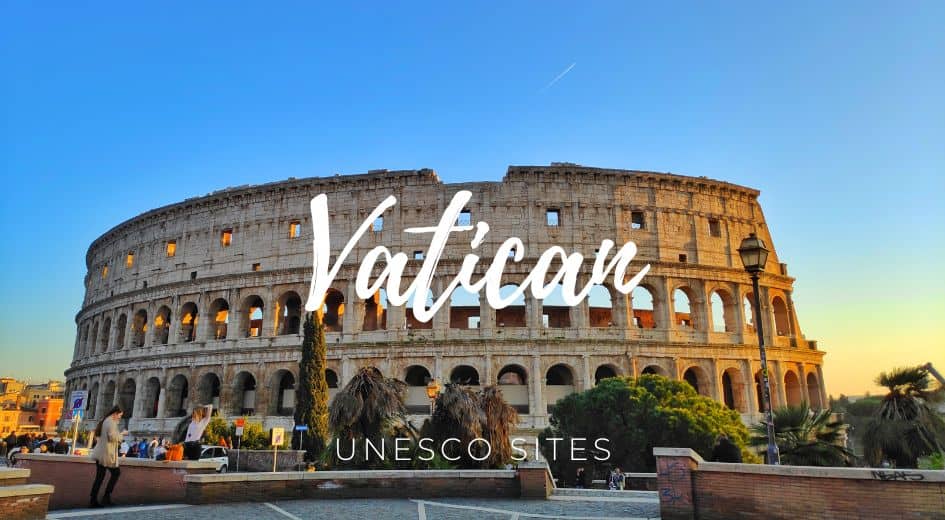 Vatican UNESCO has registered 2 sites on the World Heritage list and 0 on the tentative list.
Some places are so interesting that it's relevant to keep them for future generations. This is why UNESCO has built a list of crucial classified properties in which superb places stand out for their aesthetic, natural, artistic, or cultural significance.
More than a thousand places are registered as Unesco's World Heritage worldwide. Due to my interest in visiting World Heritage sites, I compiled the UNESCO list in the Vatican and the corresponding map.
Vatican UNESCO list
Historic Centre of Rome, the Properties of the Holy See in that City Enjoying Extraterritorial Rights and San Paolo Fuori le Mura
Vatican City
Vatican UNESCO Map
Click on the blue pins to view more relevant information about each World Heritage site in the Vatican.
Description
Historic Centre of Rome: This UNESCO World Heritage Site includes some of the most iconic landmarks and monuments of Rome, such as the Colosseum, the Pantheon, and the Roman Forum. The site reflects the city's rich history, from its origins as a small village to its development as a center of power and culture during the Roman Empire.
Vatican City: This is the smallest independent state in the world and is located within the city of Rome. It is the spiritual and administrative center of the Roman Catholic Church. It has many important religious and cultural landmarks, including St. Peter's Basilica, the Vatican Museums, and the Sistine Chapel. Vatican City is governed by the Pope, who is also the head of the Roman Catholic Church.
UNESCO World Heritage Sites in the Vatican have protected places for their cultural and natural importance.
---
The Vatican has no properties inscribed on the UNESCO World Heritage List.