Join my group tours in Iran, Iraq, Afghanistan, Morocco, and Syria. Great prices and best quality. These group tours are fully legal and made through my own tour operator // travel agency. Not through third parties. My local partners are trustworthy, and I know all the places, hotels, and guides these tours go to. I have more than 20 years of organizing tours and leading expeditions.
Welcome to my adventure travel company! I'm thrilled to have you here. I started RJ Travel with the mission to bring adventure tours within everyone's reach. You see, for too long, exotic destinations and thrilling adventures have been reserved for the wealthy and privileged. I wanted to change that, and bring these experiences to everyone, regardless of budget.
Our motto, "Adventure tours within everyone's reach," embodies our commitment to making off-the-beaten-path destinations accessible and affordable for all. We offer a variety of small-group tours, private trips, and expeditions that are tailored to your needs, and allow you to experience the local way of life in countries such as Iraq, Iran, Syria and Yemen for example. We believe that everyone should have the opportunity to explore the world and create unforgettable memories, and we're dedicated to making that a reality.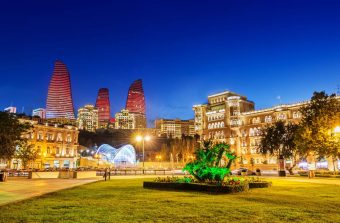 With over 145 UN+ countries under my belt, I bring a wealth of experience and knowledge to the table and am dedicated to making your travel experience hassle-free. All you need to do is land at the airport, and we'll take care of the rest!
We specialize in exotic destinations, and our tours take you to some of the most fascinating places on earth, from Azerbaijan to Antarctica, Iran to Iraq, Kyrgyzstan to Lebanon, and beyond. Whether you're looking for an adrenaline-fueled adventure or a relaxing getaway, we have something for everyone. Our affordable travel packages make these trips accessible to all, and we guarantee you'll have an experience of a lifetime.
So, join us on an adventure! Explore the world, challenge yourself, and create memories that will last a lifetime.
Small group tours » Scheduled departures
Check out our small group tours for solo travelers. Going on a group trip is an excellent way for solo travelers to see the world. We've got carefully selected local operators with guides who can't wait to reveal their country.
Who is behind RJ Travel
I'm João Leitão, a seasoned travel expert running this adventure travel blog, and tour leader with over 20 years of experience in the travel industry. In 2006, I opened a marketing agency specializing in content creation and marketing for hotels and travel agencies. In 2011, I opened hotel in Ouarzazate with my sister, a boutique hotel called Dar Rita. In 2018, I founded RJ Travel, a tour operator and DMC specializing in Adventure Holidays to exotic destinations such as Azerbaijan, Bosnia & Herzegovina, Iraq, Kyrgyzstan, and more. I also opened Dar Digital Nomad, a co-working and co-living space in south Morocco. With my travel experience and direct contact with customers and suppliers, I strive to provide the best service and adventure tours at affordable prices.
Contact information
RJ Travel LLC – Travel Agency & Tour Operator

Address:

Sharjah Media City (Shams), Sharjah – United Arab Emirates
Telephone: +971-523-549-709
Email: info@rjtravelagency.com
Website: www.rjtravelagency.com
My travel business experience
For those who wish to read a bit more extended version of myself and how I build my own adventure travel company.
Back in 2001, I involved myself in organizing and leading overland expeditions from Portugal to north Africa, so I've been in the travel business for more than two decades now. For all those years that I gained tour leader experience, along with my travels around the world, I got to be a travel expert.
In 2006, in the city of Erfoud, I opened my marketing agency, specializing in creating content and marketing campaigns, websites, and photography for hotels and travel agencies. After 7 years of working in this field, I gathered around 70 clients.
In January 2011, along with my sister as my business partner, I opened a hotel called Dar Rita in Ouarzazate. Dar Rita is a seven-room + two-bedroom apartment boutique guest house. Fully equipped bedrooms with private bathroom, air-conditioner, and free Internet WIFI.
In 2014, my sister and I bought the most desired domain name, Marrocos.com (geo domain name for Morocco in Portuguese). Since then, we have sold tours in Morocco as travel agents through a renowned Marrakech travel agency.
In 2018 we decided to bet on our own business and opened a tour operator. DMC is called RJ Travel, which specializes in Adventure Holidays to destinations such as Azerbaijan, Bosnia & Herzegovina, Iraq, Kyrgyzstan, Lebanon, Morocco, Persia, Syria, and Uzbekistan. RJ has an easy platform to use when you're online shopping for any tour packages you're looking for.
In 2019, we opened the first Digital Nomad co-working/co-living space in south Morocco, called Dar Digital Nomad. The house is designed as a coworking space, with four desks and four comfortable office chairs. The apartment has a kitchen and a bathroom, a washing machine, a television, a refrigerator, and a coffee maker.