Let's interview the travel manager and traveler Ali Shabani and learn about his fascinating journeys. First time in Austria he wrongly got a subway animal ticket, and the result was a 100 euro penalty.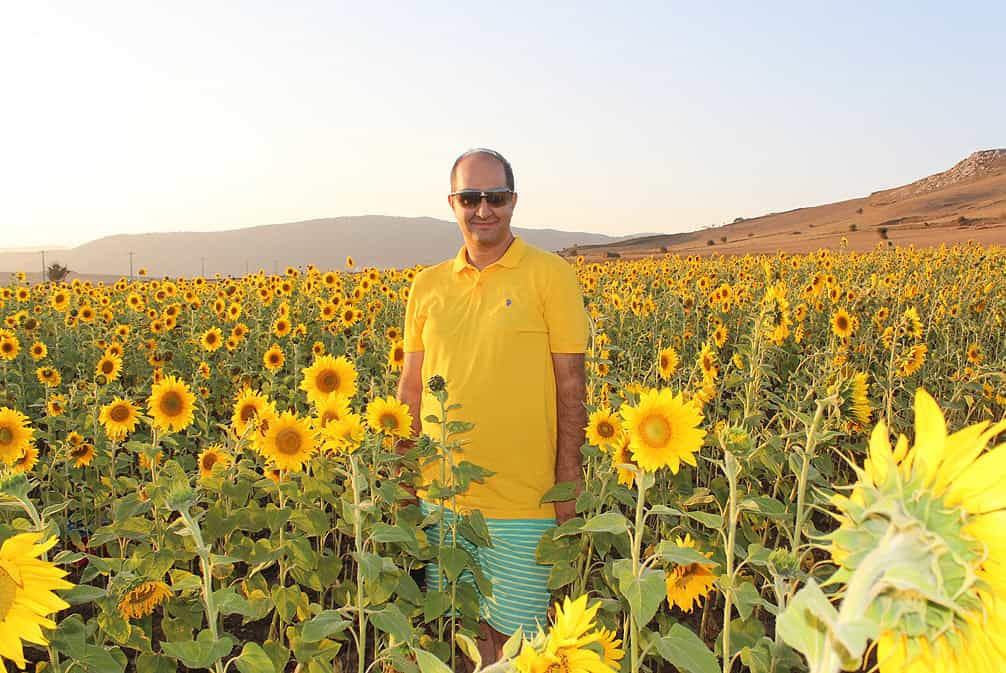 ---
Ali Shabani
---
| | |
| --- | --- |
| Full name | Ali Shabani |
| Place of birth | Tehran, Iran |
| Year of birth | 1986 |
| Occupation | Travel manager |
| Home | Tehran, Iran |
| Visited countries count | 20 countries |
| Continent count | 3 continents |
| Favorite way to travel | It depends on the destination. I prefer to travel by train within Europe, between continents by airplane, and inside Iran by bus. |
| Favorite food | In Greece musaka, in Indonesia nasi goreng, in Sri Lanka kottu, in Turkey kofte and pide. |
| Favorite color | Blue |
| Favorite band | Ricky Martin |
| Favorite fruit | Mangos |
| Favorite book | 10 Minutes 38 Seconds in This Strange World by Elif Shafak |
| Live to travel or travel to live? | Live to travel |
| Fell in love with someone on the road? | Yes, myself. |
| Fluently spoken languages | English, Turkish, Persian |
| Favorite hotel | Hotel Quirinale in Rome, Italy. Luxury palace in a wonderful location, and very kind staff. |
---
Quick Top 3
---
Wish list
---
Will go back to
India
Greece
Turkey
Beautiful people
Italy
Turkey
China
---
Interview with Ali Shabani
---
What is your relation with traveling? What do you want to find or what are you searching for while visiting other countries?

The story of my journeys started back in 2013. Due to the difficulty in getting an entrance visa for Iranians, caused by sanctions against my country, I still managed to go out and start traveling.

At first, I was excited to visit historic sites with a particular interest in museums. Still, after a while, I became interested in nature as well.

Besides, I love gastronomy tourism, as I love cooking. About the language, I always started to get familiar with the local lingo before the travel. For example, before I go to Italy, I took a three months course in the Italian language. That decision was beneficial in communicating with people during my stay.

Many travelers are strongly affected by previous journeys, certain people they met, the different cultures they encounter, and special experiences on the road. What is your most memorable trip and why? You can write about more than one trip if you wish.

Traveling to Austria was my first experience in Europe. It was much more different than other countries that I had visited before. I think it was the strict regulation that affected me the most. My first experience wasn't so good.

My sister and I bought two subway tickets from a vending machine that was in the German language. Based on the graphic, we choose the appropriate cards, and surprisingly we did not notice why it was so cheap.

Then we got onto the train, and a man started to check all passenger tickets. Proudly, we showed ours, and tragedy happened. Those tickets were specific to animals, and the result was a 100 euro penalty.

The most remarkable experience for me was the European's civilized behavior in their daily life. Like eating healthy foods and being worry about their health. Respecting other's priority in public transportation or, in general.

Some people need to be encouraged to leave home, to lose their fear of traveling. What advice can you give to someone who wants to start traveling but doesn't know how, when and why?

It was so hard to start traveling alone at the beginning. I remember my first international journey to Malaysia.

I think the first travel is enough to fall in love with exploring different places. You need to forget everything about your home country and focus on the destination with an open mind. Travelling is like an addicting game.

You need to make decisions for every element while on the road.

Being well aware of the different aspects of travel itself. Do you want to relax, adventure, or history? Take into account your personality and preferences.

Choosing your travel partners. Who would you like to travel with? On your own? With your family? With your partner? With your friends?

Choosing the way of travel and then booking proper accommodation.

Have you lived in a different country for more than six months? If so, where was it, and what were you doing there. Also, tell me what you learned from your experiences abroad.

I haven't been somewhere for more than two weeks.

Choosing a favorite landscape can be very difficult. But try to choose a landscape that will remain in your memory forever. What did you feel at that time?

It was fabulous to see the rice fields of Tegallalang in Bali. It was like heaven. Blue sky and green fields, walking through grass in absolute silence. I will keep this moment in my mind forever.
---
Follow Ali
---
---
Do you want to be interviewed?
Want to be included in my traveler's interview archive? Please feel free to send a quick message to my WhatsApp +212696132468 – so that I send you the file. If I find your profile interesting and adequate for my blog, I will publish it.