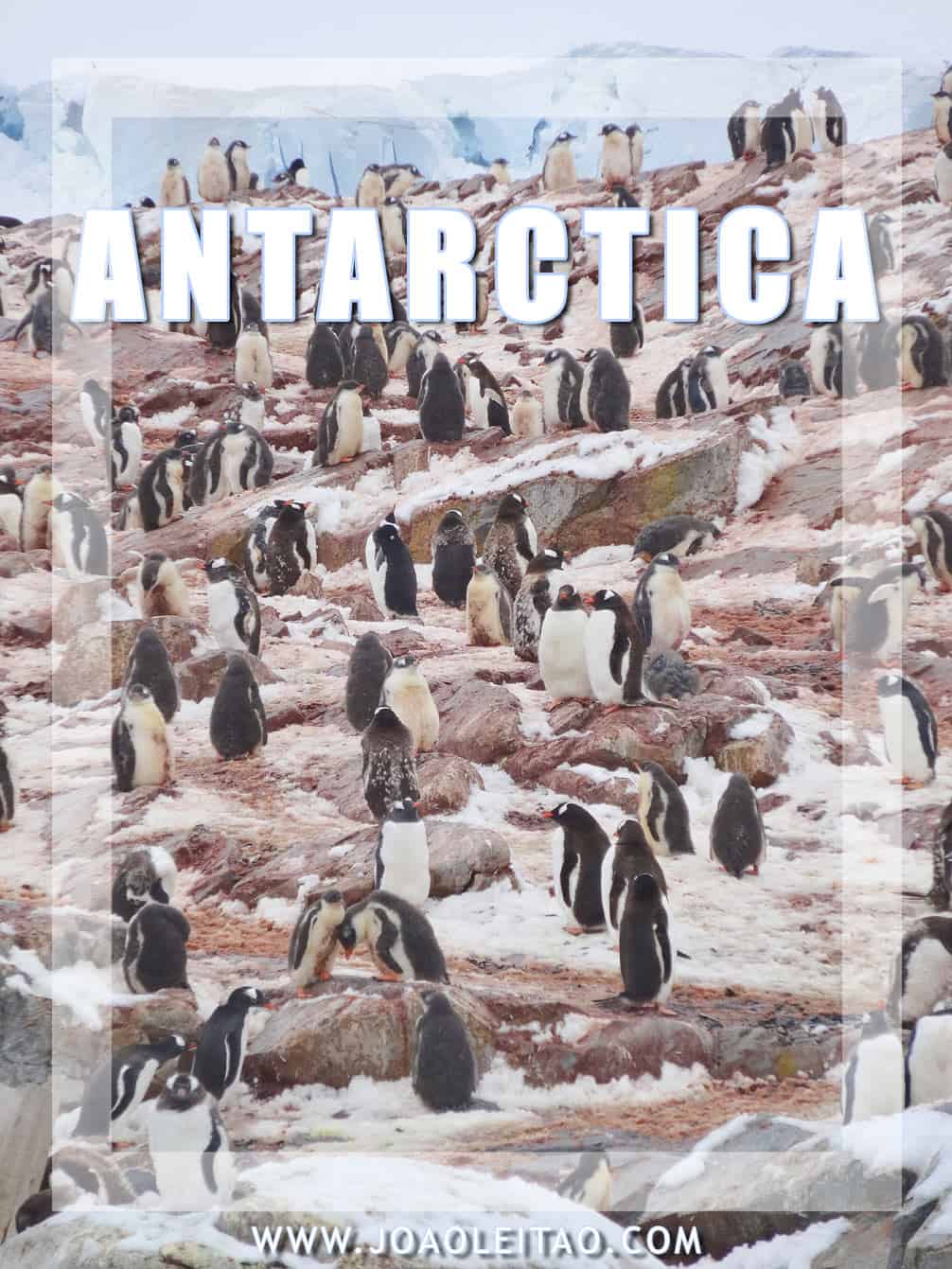 Anyone who's been bitten by the travel bug and feels adventurous is undoubtedly fascinated by Antarctica. Once there, any traveler feels small, taking the pulse of Nature's real power, thoroughly understanding the meaning of "remote." It's our Planet's supreme expression of grandeur: the white vastness of snow and ice, the contrasting deep dark blue of the ocean, the proximity to the wildlife that practically roams freely.
It's no wonder that there are so many travel enthusiasts who want to visit Antarctica despite the challenges: the high cost of such a trip, the rough sea crossing, and the weather that even in the summers can be quite unkind.
---
Antarctica Cruise Ship Expedition
---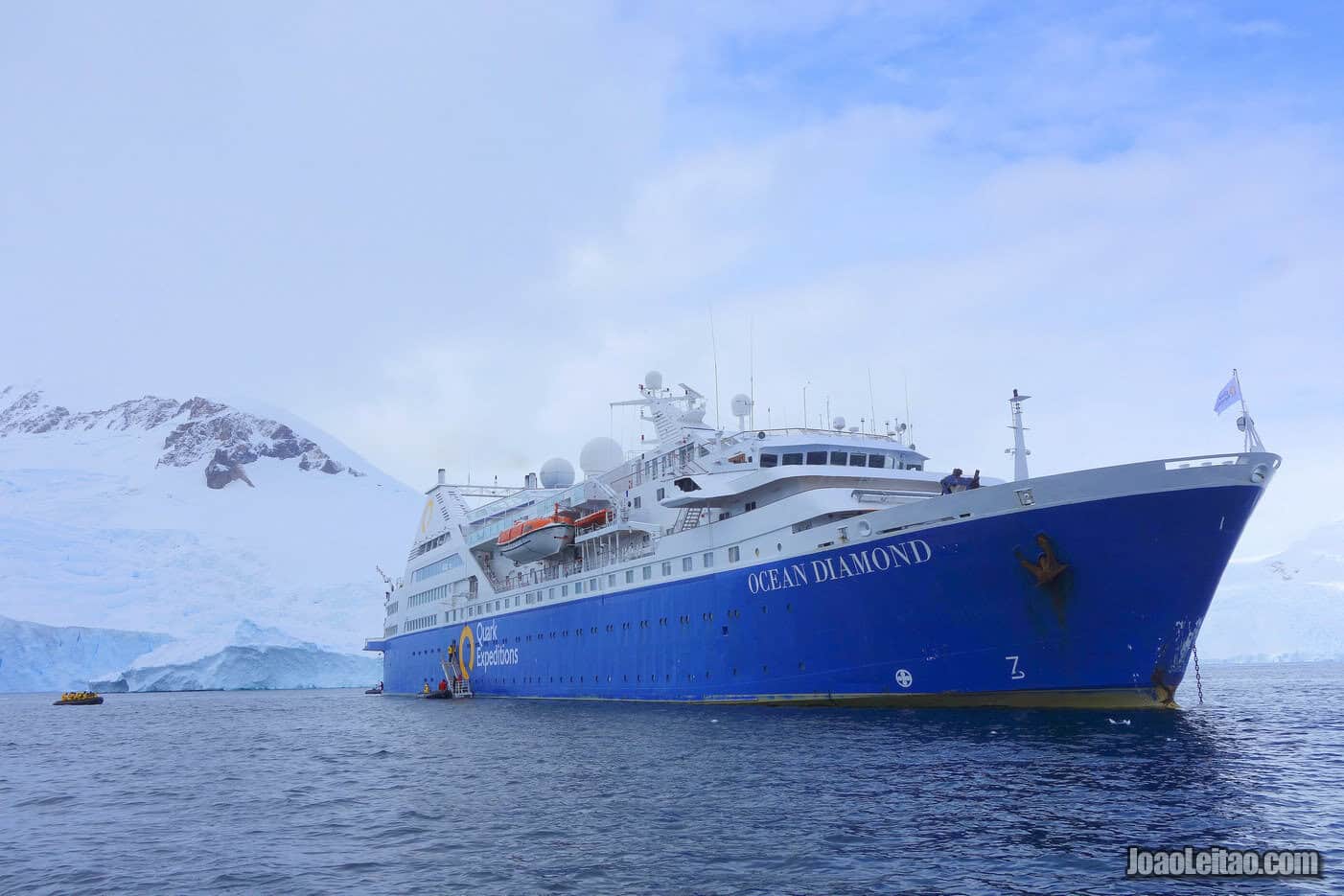 Traveling the least explored of the continents on board of a cruise ship is a dream for many. Antarctica is a continent located in the southernmost tip of the globe, which contains the South Pole.
Antarctica is technically a continent. A landmass larger than Europe, almost entirely covered in ice, centered on the South Pole, perhaps the most remote location of planet Earth.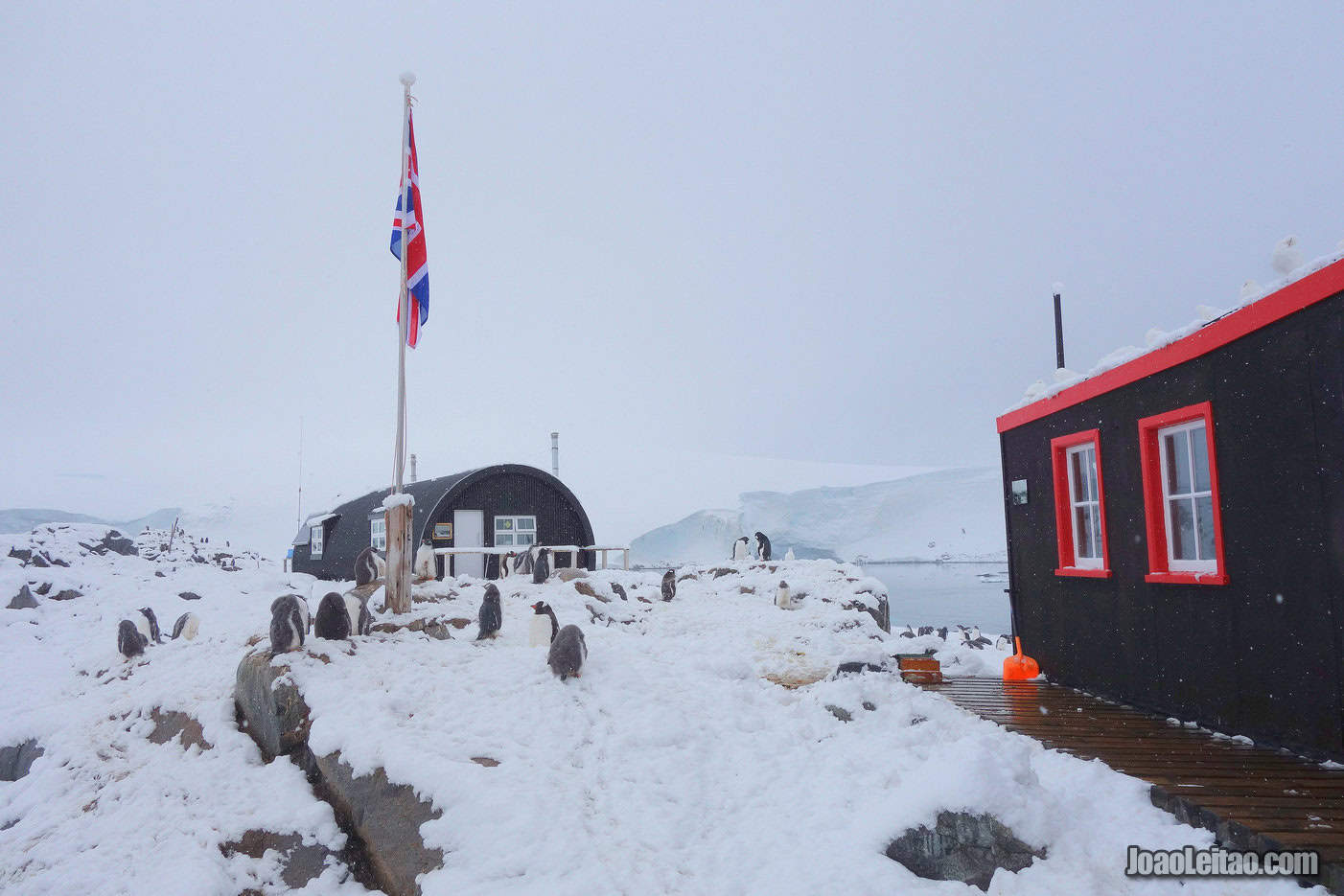 Antarctica is surrounded by three oceans: Atlantic, Pacific, and Indian. It's a completely different scenery from what you'd see in the Arctic (which is actually a frozen ocean surrounded by continents).
Practically unknown and unexplored until the end of the 19th century, it began to be explored and studied in the 20th century. It doesn't belong to any country and it's administered by the institutions created after the Antarctica Treaty System in 1959, signed by countries that intended to claim parts of the territory.
---
My experience in Antarctica
---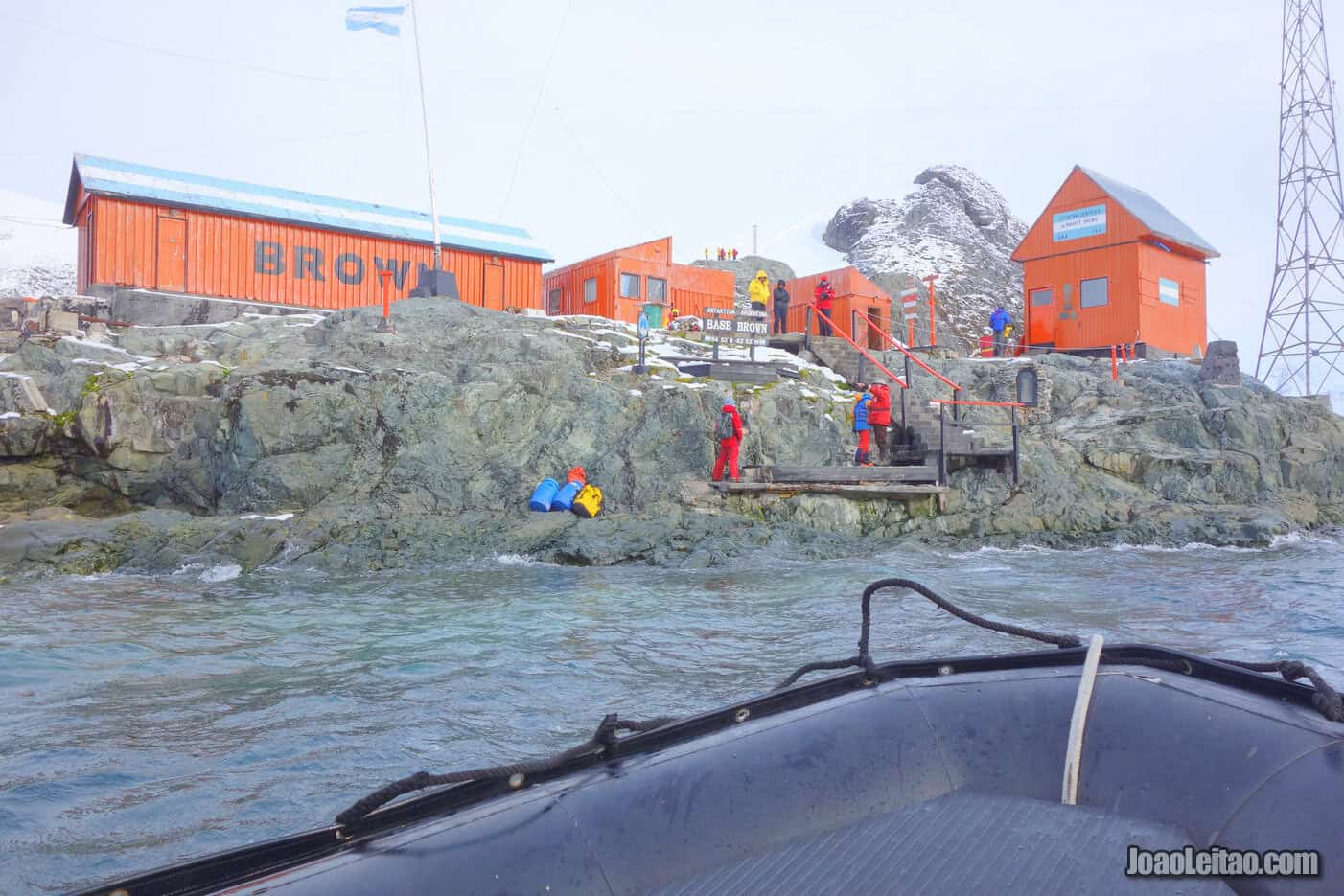 I visited Antarctica in February. Going on such a trip is a unique experience that I wish all of you can experience at least once in your lives. And I hope to contribute to that helping you with the information I'll gather here. It's not complicated to plan a trip to such a remote destination, but you have to do some research and, considering I've done it already, I've decided to help you with part of that work.

This Antarctica Cruise Ship took me to the Antarctic Peninsula and the South Shetland Islands for 15 days, leaving the Argentine city of Ushuaia across the Drake Passage, down to 68°11 S 67°00 W in Stonington Island, beyond the Antarctic Circle.
I spent a reasonable amount of money, of course, because there isn't a truly affordable way to explore the frozen continent. But the return I got from each cent I invested on that trip was absolutely worth it.
My Antarctica Expedition was on board the Ocean Diamond, a cruise ship prepared for the ice, which has hundreds of trips both in the Arctic and Antarctic regions.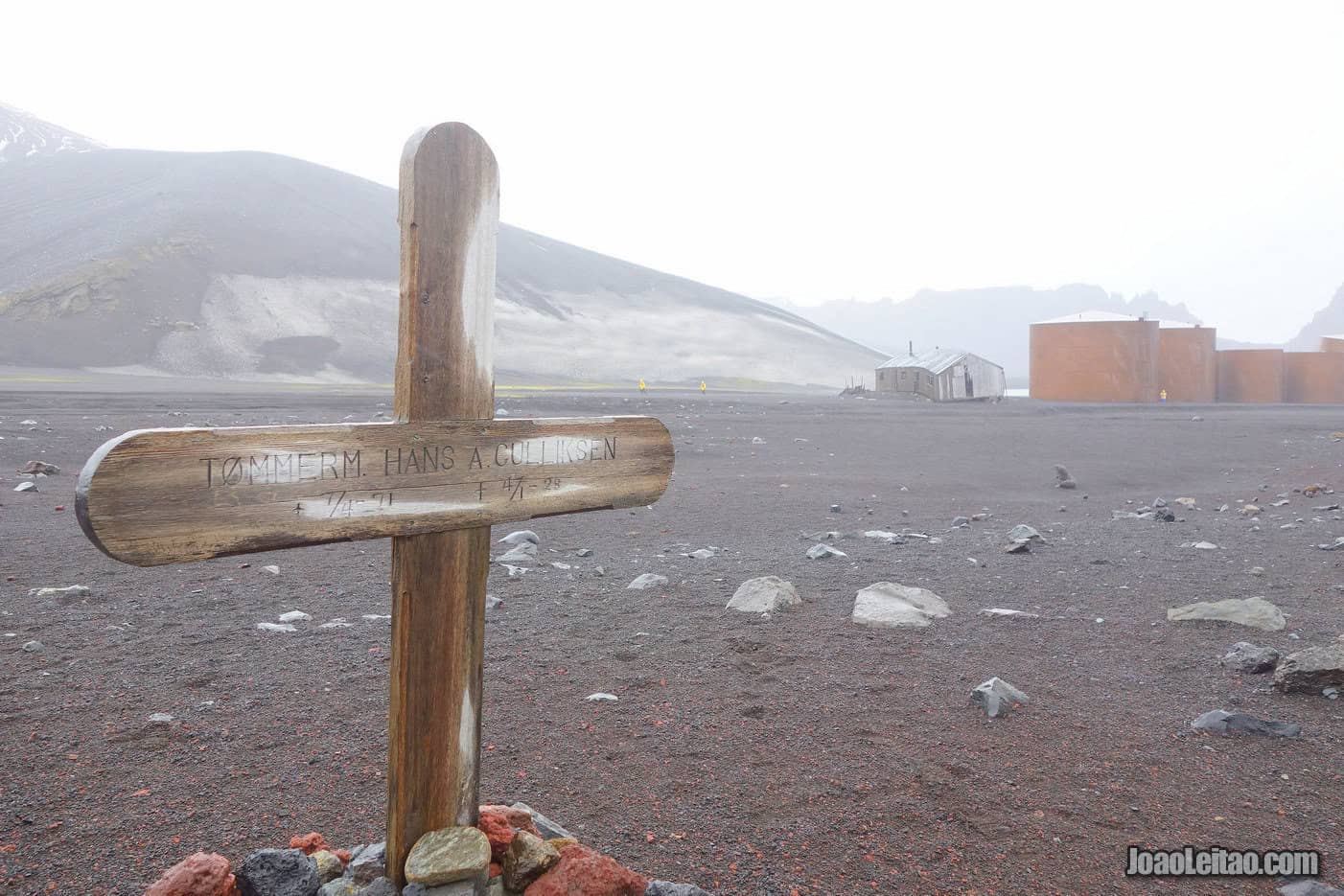 During the Antarctica Cruise, I visited many places around the Peninsula region and also the South Shetland Islands. The trip itself was wonderful, exceeding all kinds of expectations.
Stunning scenery and indeed an adventure expedition. Besides land incursions and several trips by speedboat across the continent, I still had 15 days of learning about Antarctica. Onboard the ship, I had daily lectures and conferences to develop knowledge about Antarctica, its geology, history, flora, and fauna.
Besides the team of experts, onboard the Antarctica Cruise I yet had the pleasure to have been traveling in the company of Falcon Scott (grandson of explorer Robert Falcon Scott) and Jonathan Shackleton (cousin of the explorer Ernest Henry Shackleton).
---
Itinerary of 15 days Antarctica Cruise
Day 1 – Ushuaia, Argentina
Day 2 – Embarkation in Ushuaia, Argentina
Day 3 – Crossing the Drake Passage
Day 4 – At Sea to Antarctica
Day 5 – The Circle & Horseshoe Island
Day 6 – Stonington Island
Day 7 – Petermann Island
Day 8 – Port Lockroy & Cuverville Island
Day 9 – Neko Harbour & Paradise Harbour
Day 10 – Danco Island & Wilhelmina Bay
Day 11 – Cuverville Island
Day 12 – Deception & Half Moon Island
Day 13 – The Drake Passage to Ushuaia
Day 14 – The Drake Passage to Ushuaia
Day 15 – Disembark in Ushuaia, Argentina
---
Antarctic Circle
---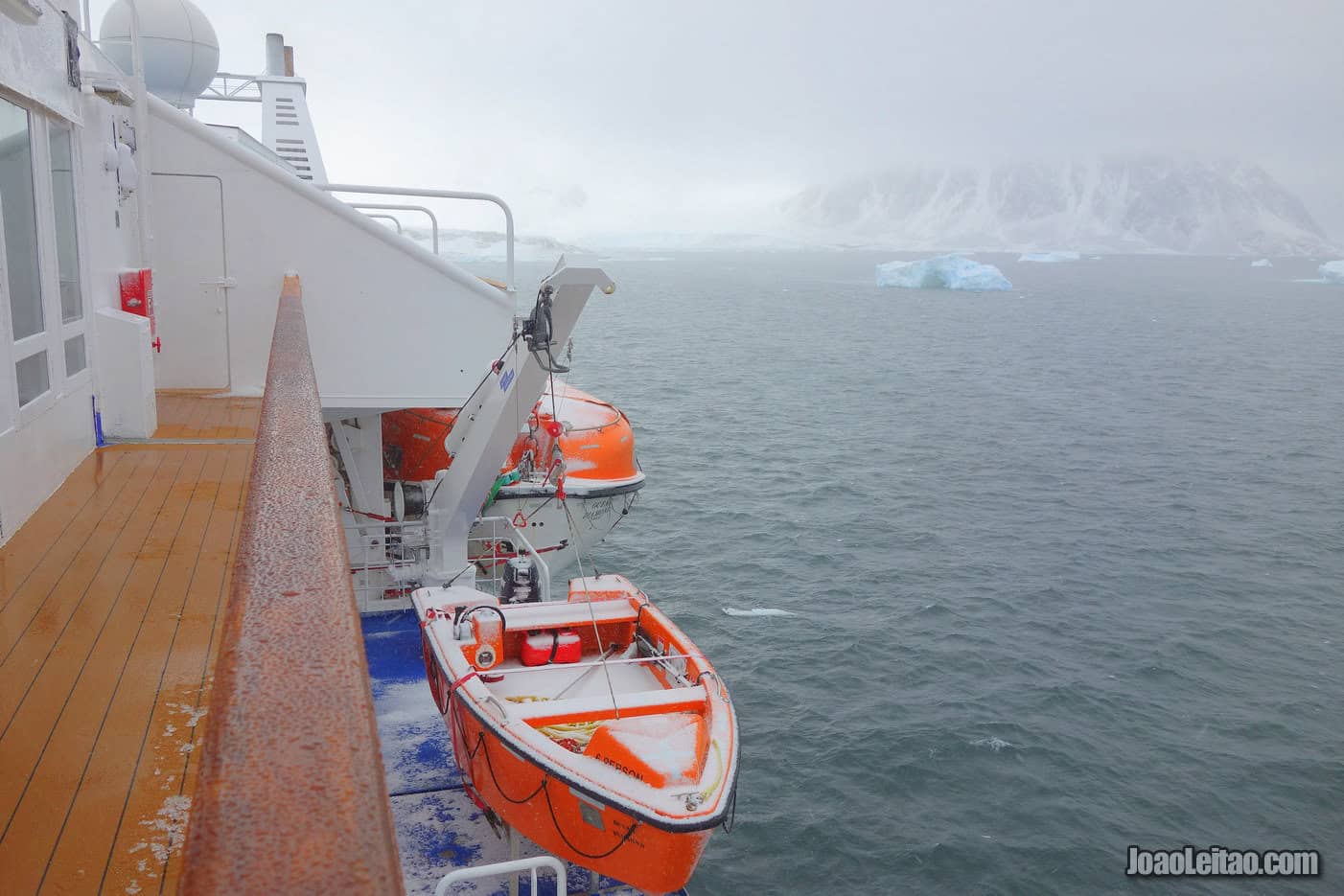 During the Antarctica expedition, I crossed beyond the 66º South ie, the imaginary line that enters the so-called Antarctic Circle. The southernmost I went was down to 68º in Stonington Island, southeast of Adelaide Island in Marguerite Bay.
At the exact moment crossing 66º, around 5:30 am, there were 2 large icebergs floating through the Southern Ocean, just aside the ship. Amazing.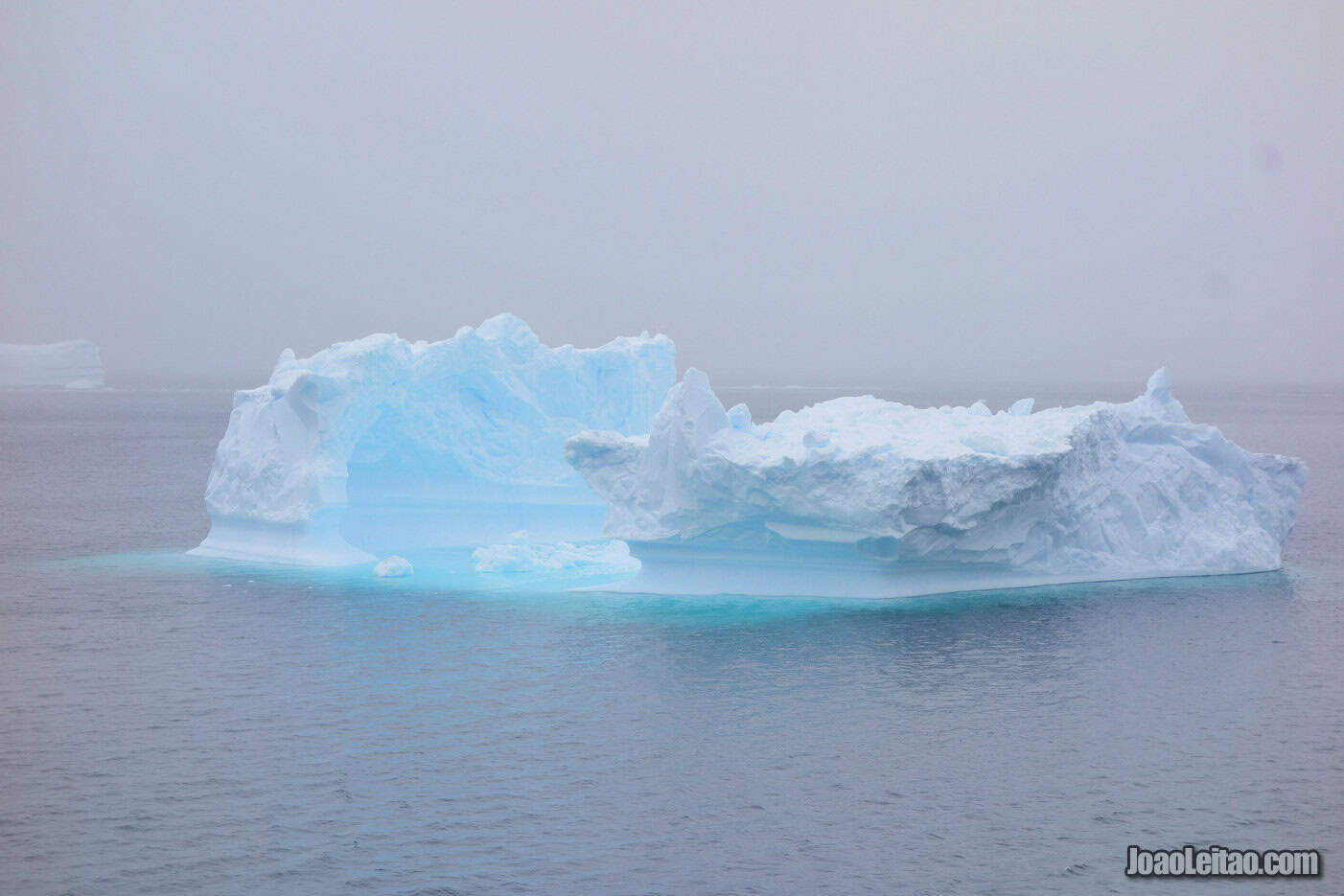 The best time to take a cruise to Antarctica is during the Antarctic summer months, ie during the months of December, January, and February. Before or after these dates is a little out of season to have good weather and see many animals.
---
Animals in Antarctica
---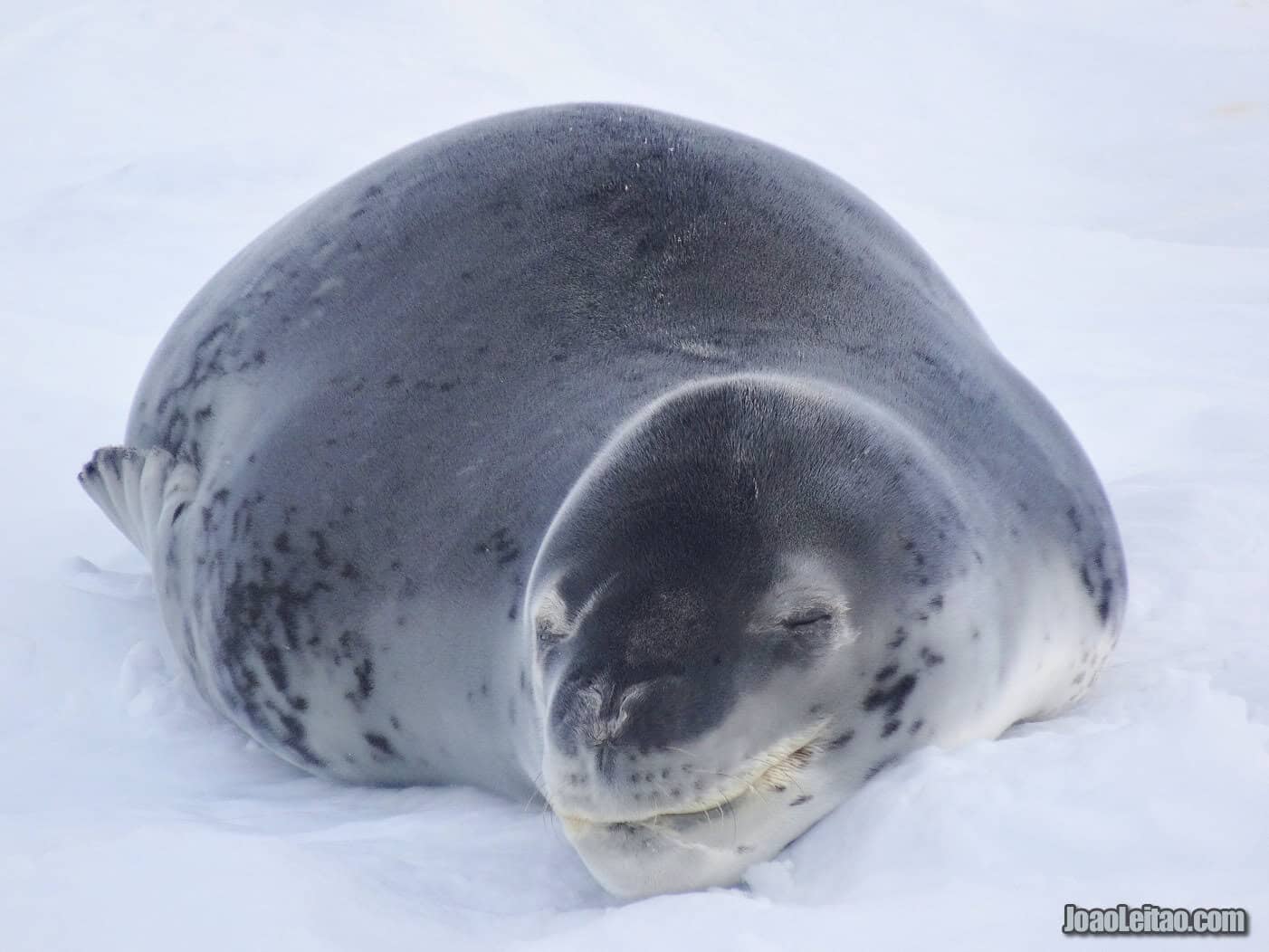 I love animals, and during this 15 day Antarctica Cruise I saw many beautiful wild animals in their natural habitat.
My favorite is leopard seals, but whales and all sorts of penguins are also amazing.
During the trip to Antarctica I was fortunate enough to be able to spot all these animals: Antarctic fur seal (Arctocephalus gazella), Humpback whale (Megaptera novaeangliae), Crabeater seal (Lobodon carcinophaga), Leopard seal (Hydrurga leptonyx), Weddell seal (Leptonychotes weddellii), Adélie penguin (Pygoscelis adeliae), Gentoo penguin (Pygoscelis papua), Brown Skua (Stercorarius antarcticus), Snow petrel (Pagodroma nivea), Kelp Gull (Larus dominicanus), Chinstrap penguin (Pygoscelis antarctica), Antarctic prion (Pachyptila desolata) and killer whale (Orcinus orca)
---
Onboard of Ocean Diamond
---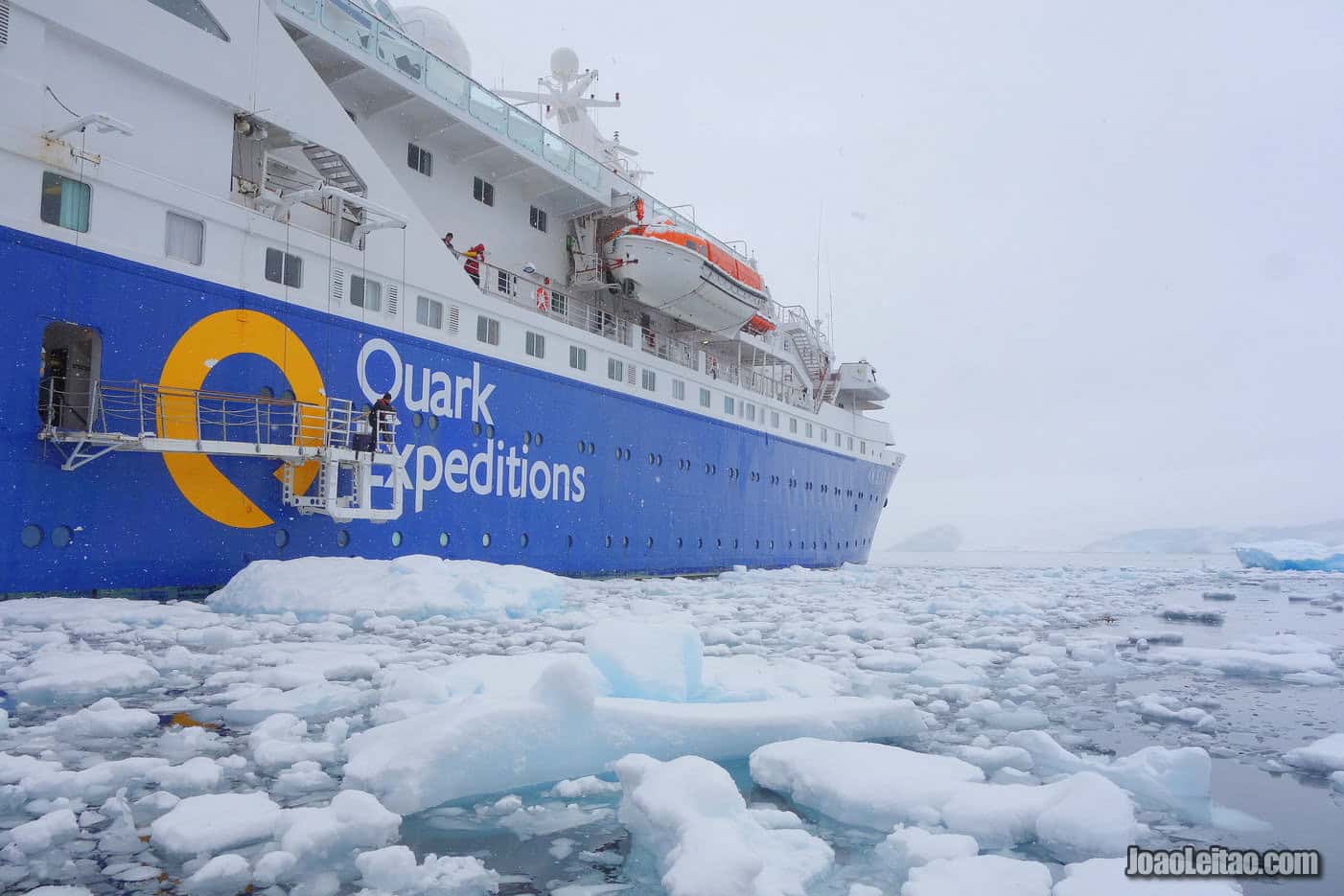 My trip to Antarctica was on board of the ship 124 m / 406 ft length, Ocean Diamond. This ship is operated by Quark Expeditions to make trips both in the Arctic and Antarctica. The cruise ship departed from Ushuaia in February 2014. The original tour I bought to Quark Expeditions was the 15 Days Crossing the Circle Southern Expedition. But since the first day is in Ushuaia, and I was there already, my trip only really started the next day. I got a Last Minute Cruise to Antarctica in Ushuaia one week before departure.
Ocean Diamond is an Eco cruise ship that offers certified Carbon Neutral voyages. Although it takes 189 passengers, you don't really feel there's that much people on board. It's actually not that much people really, comparing to other huge cruise ships carrying 4000 people. Onboard of Ocean Diamond there's one restaurant, one souvenir ship, the biggest floating polar library in the World, a theater-style auditorium, a clinic with licensed doctor and a Gym Center. Now you have some photos of the ship's different decks.
1. Stern view in Captain's Deck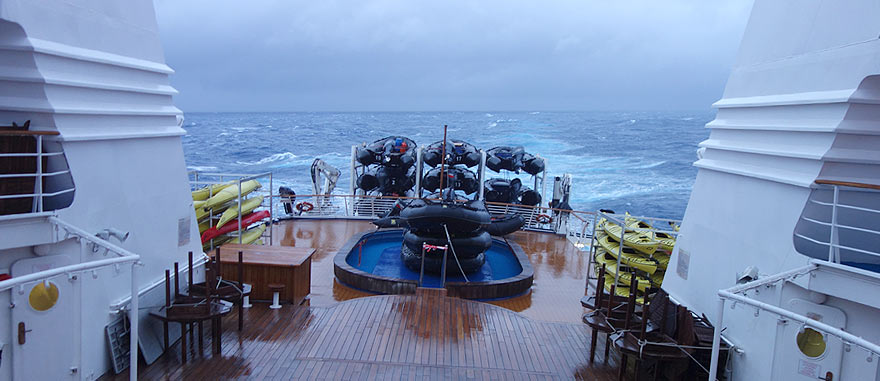 2. Observation Deck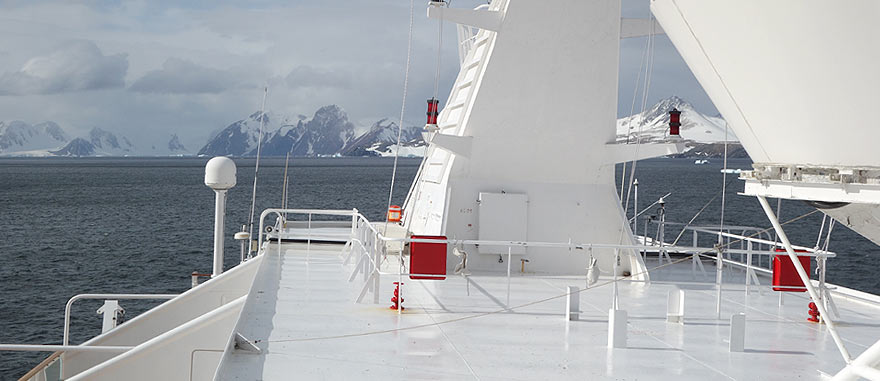 3. Restaurant in Lower Deck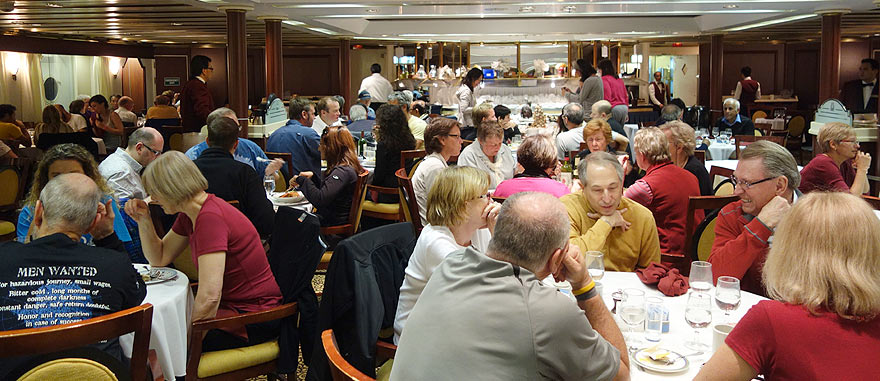 4. Side view in Upper Deck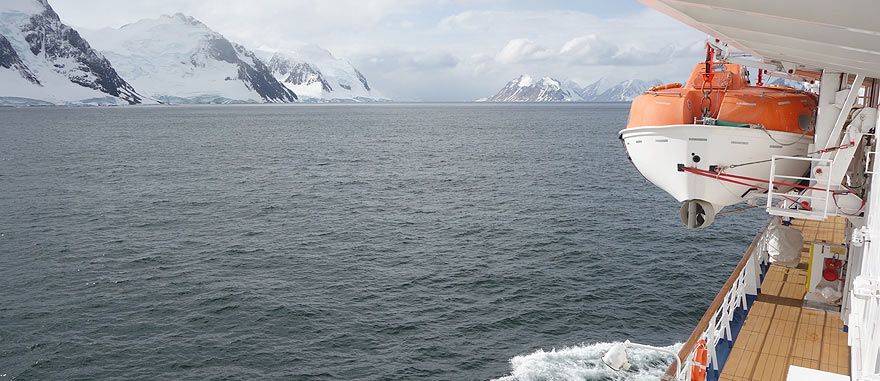 5. Reception in Main Deck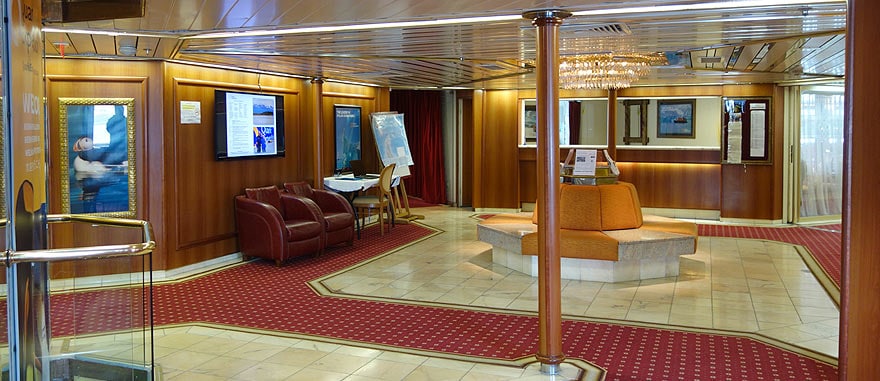 6. Lounge and Bar in Main Deck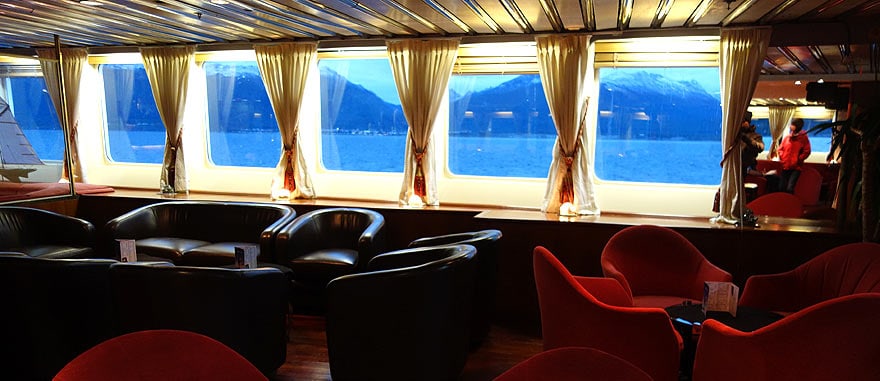 7. Porthole Double Room in Lower Deck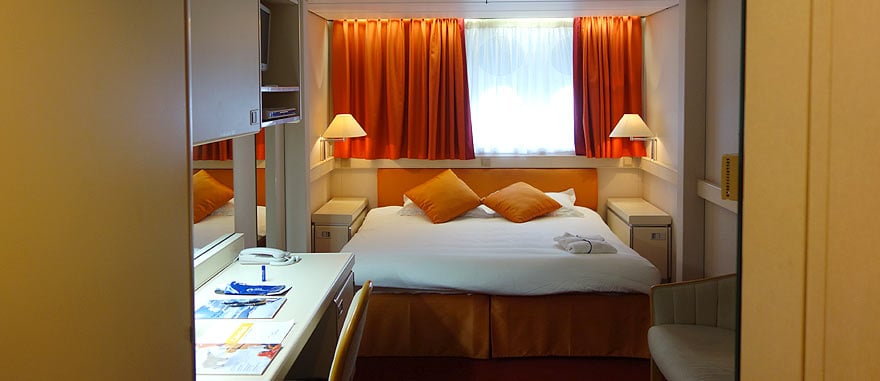 Lecture Theater in Upper Deck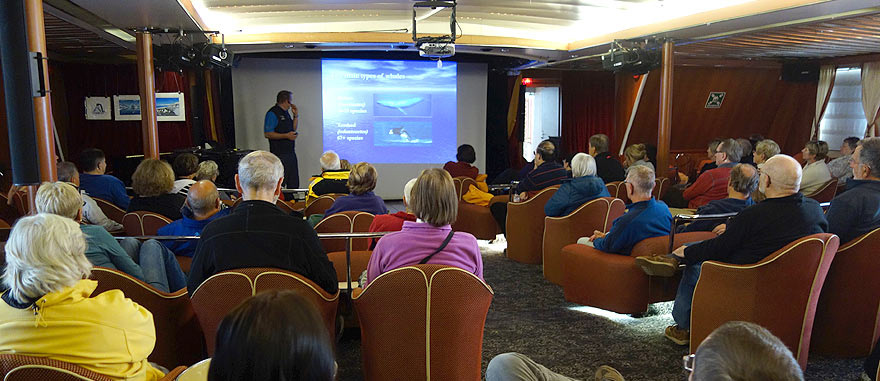 NOTE: This is NOT a sponsored post and I didn't get anything in return for writing this travel article. Consequently, all content and opinions are entirely my own.