Antarctica travel guide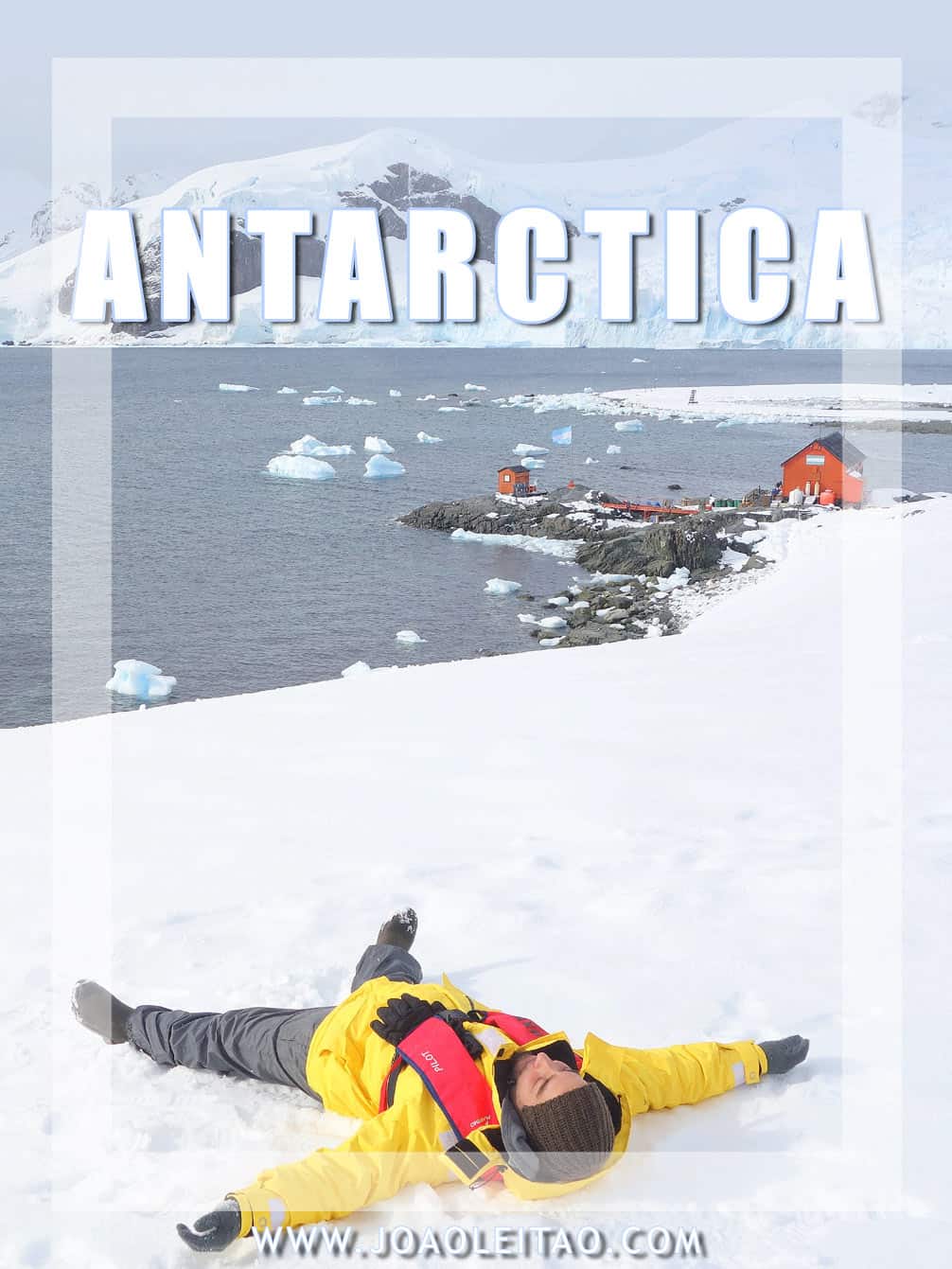 Antarctica is an astounding travel destination, though most people would love to go there but don't know what experiences are possible within the Antarctic continent itself.
Traveling 15 days inside an Antarctica cruise ship gave me superlative insight of its geography, regional flora and fauna, and its history. On this page is a list of Antarctica's best destinations.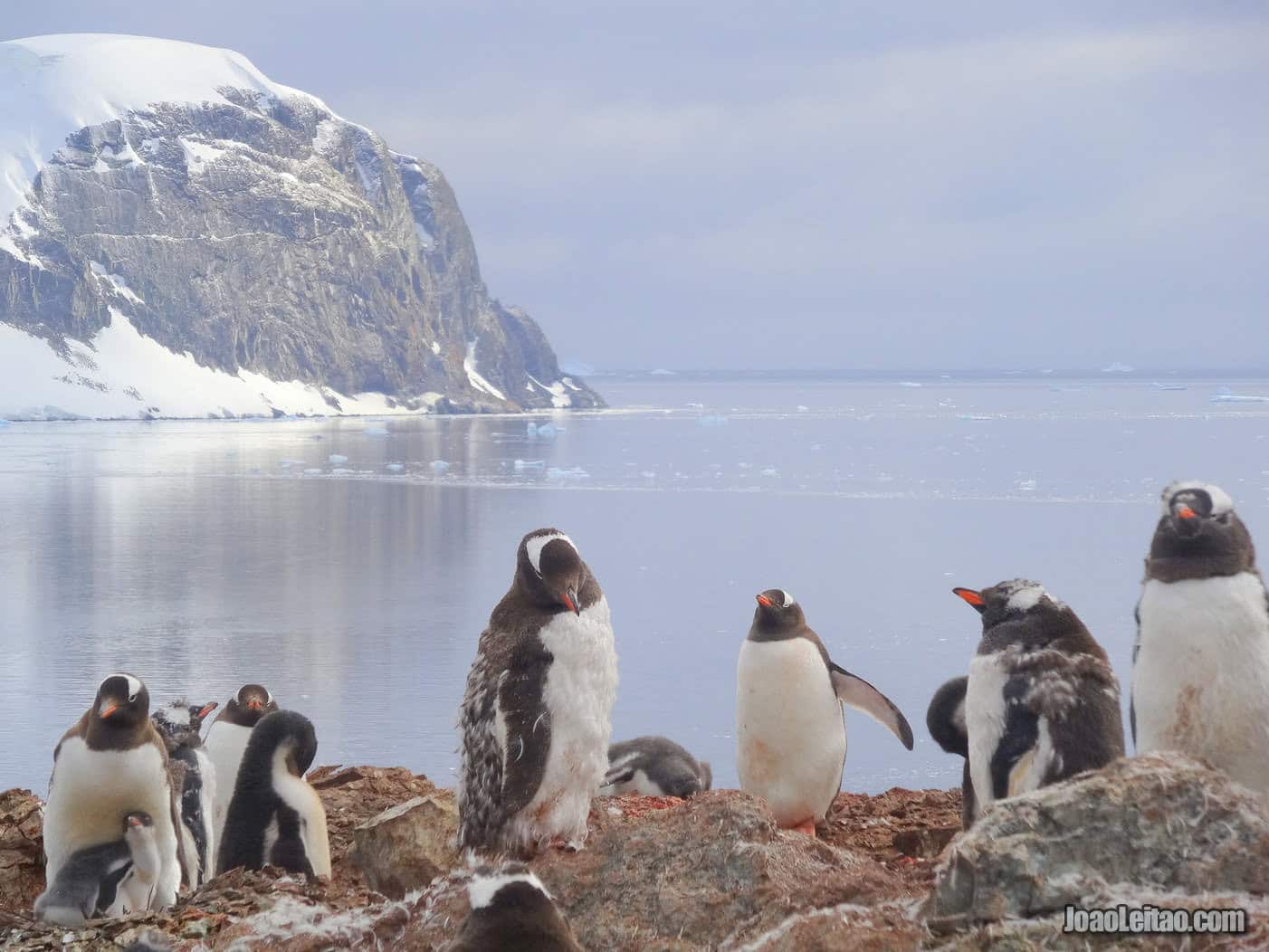 How to get to Antarctica, when to go, what to pack, how to choose the best trip for you, what to see there, what experiences to have. Those are some of the topics you'll have to research before embarking on your grand adventure, and I have the answers to all those questions.
Antartica continent profile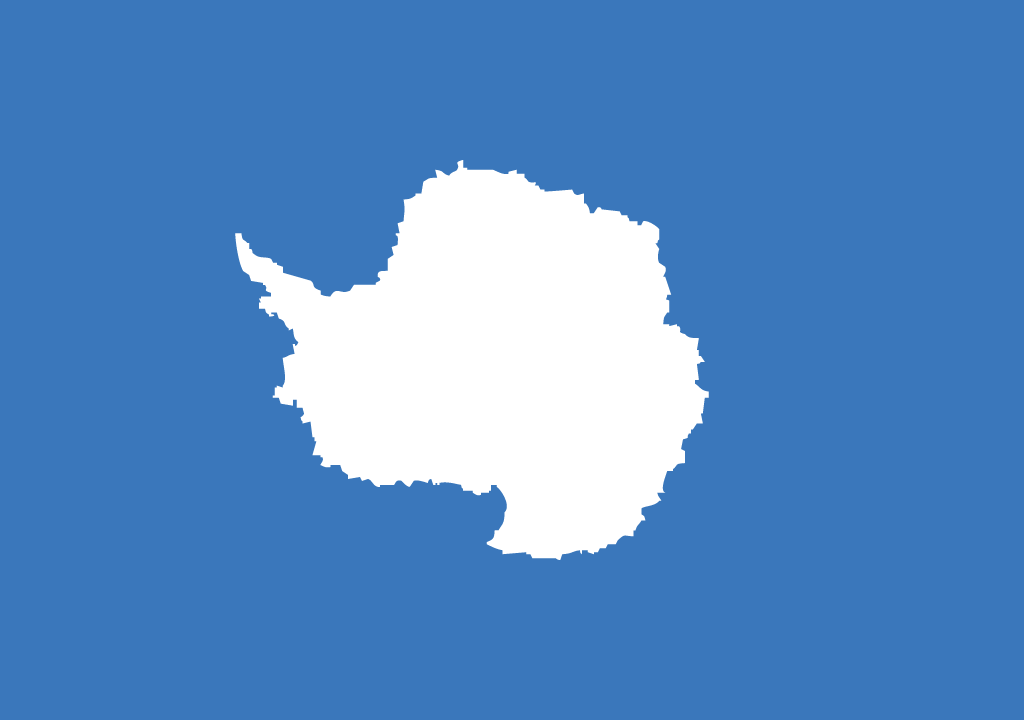 Location: Antarctic region in the Southern Hemisphere
Borders: Surrounded by the Southern Ocean
Sub-regions: British Antarctic Territory, Ross Dependency, Adélie Land, Peter I Island, Australian Antarctic Territory, Queen Maud Land, Chilean Antarctic Territory, Argentine Antarctica and the Marie Byrd Land (not claimed)
Area: 14,000,000 km2
Population: 1,000 in winter – 5,000 in the summer
Discovered: First sighted in 1820 by the Russian expedition of Mikhail Lazarev and Fabian Gottlieb von Bellingshausen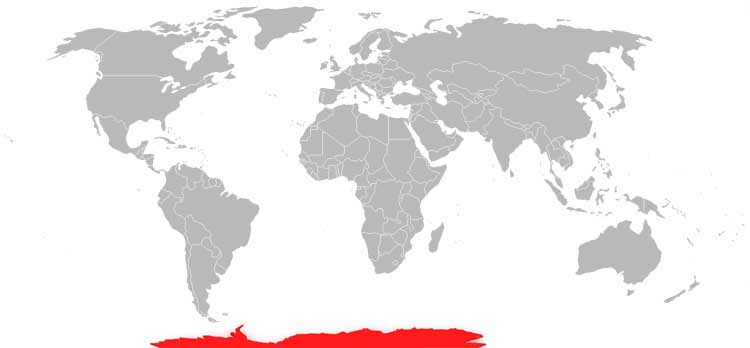 How to get to Antarctica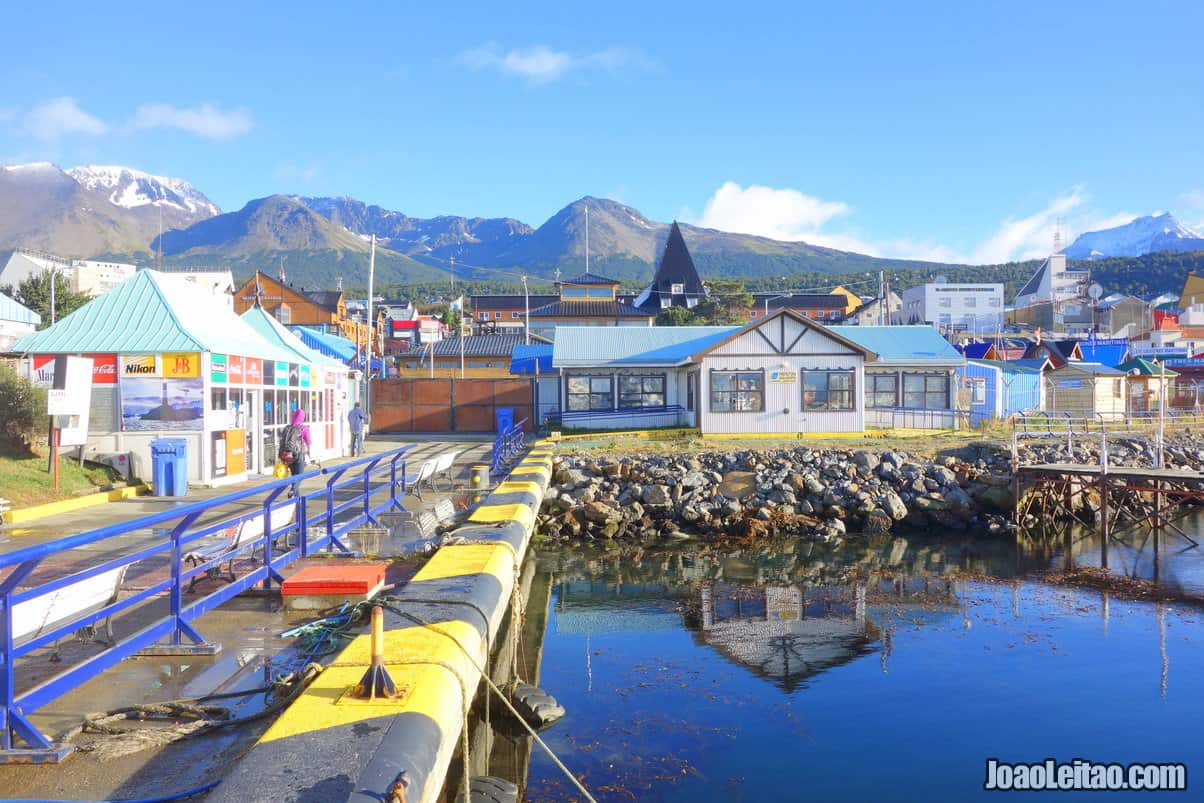 To visit Antarctica, you first have to reach one of the ports from where cruise ships depart to the frozen continent.
Some cruises depart from other locations, such as Australia and New Zealand, but they're long trips and extremely expensive for most of us.
Most people travel to the most southern point of South America and board a cruise ship from there, reaching Antarctica in about two or three days.
In Chile, ships depart from Punta Arenas, but trips to Antarctica are more frequent from Ushuaia, in Argentina.
That said, you first have to travel to the capital city of one of these countries, most likely Buenos Aires. You can fly to Ushuaia from there. A one-way ticket costs about 100 to 150 Euros. You can also travel by bus, across different regions in Argentina including Patagonia. You'll travel 3,100 Km in about nine days if you wish to hop off the bus to enjoy the journey. The bus trip will probably be more expensive than the flight, but it's a more memorable experience.
If you prefer to travel non-stop to your destination, the trip is about 48-hours long including a bus change in Rio Gallegos and a border crossing (you have to enter Chile and exit again to enter Ushuaia).
Once you reach Ushuaia or Punta Arenas, take some days off to relax and visit the area. These are uniquely beautiful destinations, with a lot of activities. Keep in mind that accommodation and food are not exactly cheap around here.
When to Visit Antarctica?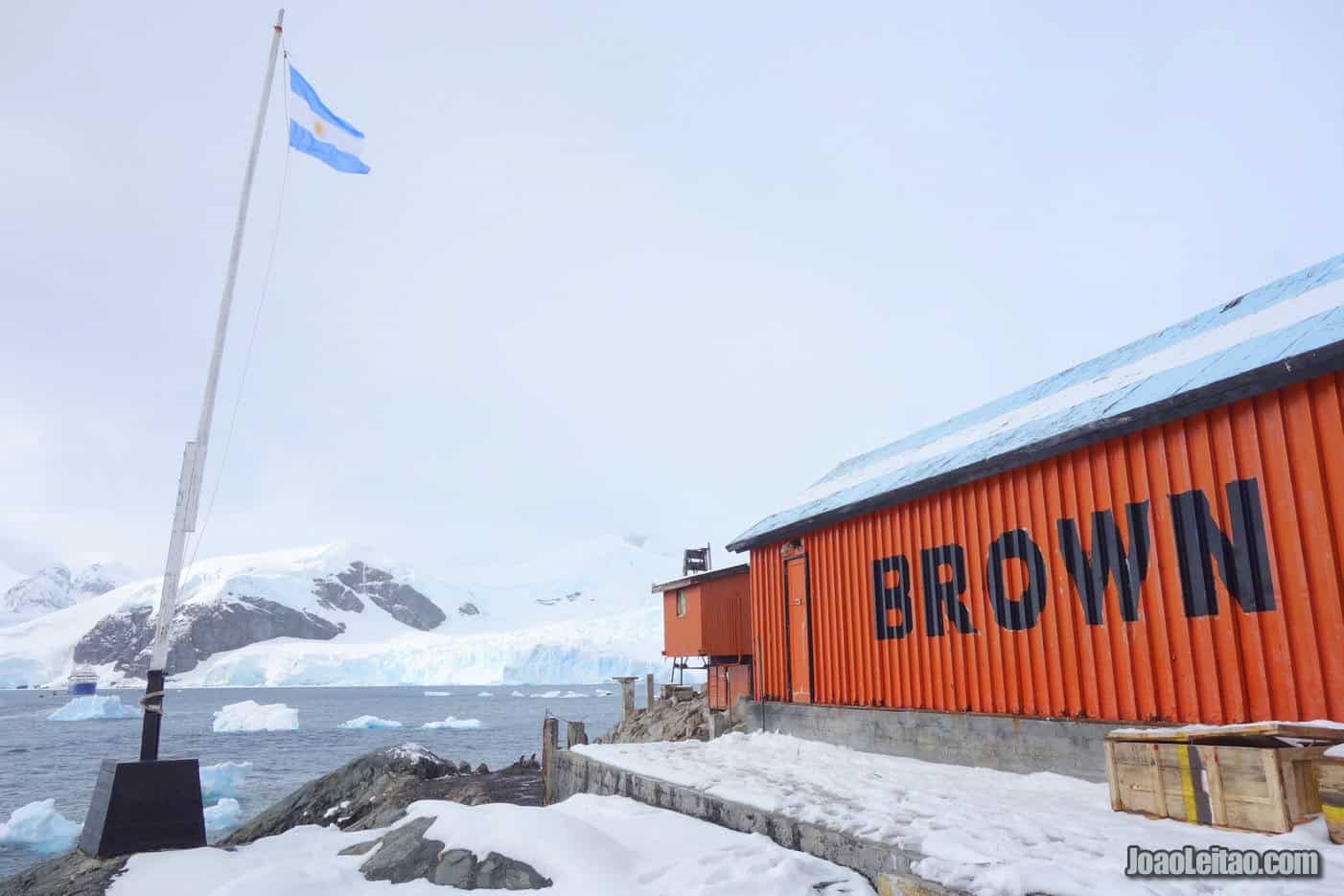 You can't visit Antarctica all year long. There's a rather small window from November to March, when is summer in Antarctica. That's the only time of year when ships can travel through the ice, although there are some cruises making a few trips in October.
Within this time frame, choosing the best time is a matter of personal preference. In December and January, days are longer, and the sun shines for about 20 hours.
What's the Weather Like in Antarctica
Weather in Antarctica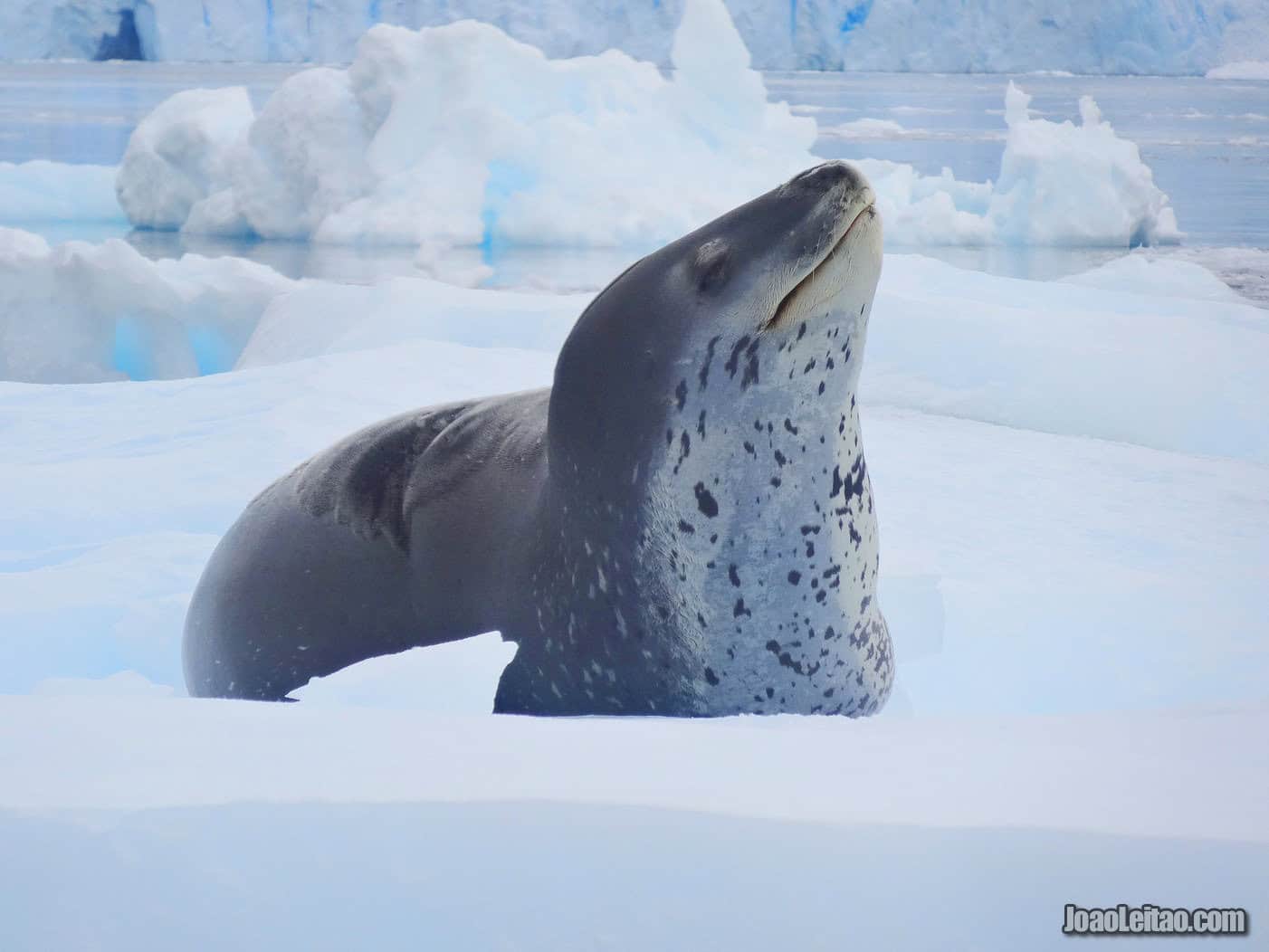 Most people are afraid to embark on an adventure because of their preconceptions of what's the weather like in Antarctica. I should clarify that in the summer the weather can be quite pleasant there and definitely bearable for most people.
On the Antarctica coastal areas, the ones you'll visit, the average yearly temperature is -10 degrees Celsius. But remember this is an average, influenced by the -40 degrees Celsius you'd experience in the winter and other temperatures recorded further south from where you're traveling to.
Besides, all the expeditions happen during the Antarctic summer, when the temperature is sometimes a mild 12 degrees Celsius and subzero temperatures are practically unheard of.
The days are long and, if you're lucky, mostly sunny. In fact, the Antarctica skies are clearer the further you travel inland. Considering that the expeditions usually travel around the coast, expect cloudy skies with the occasional opening to see some blue and some sunlight.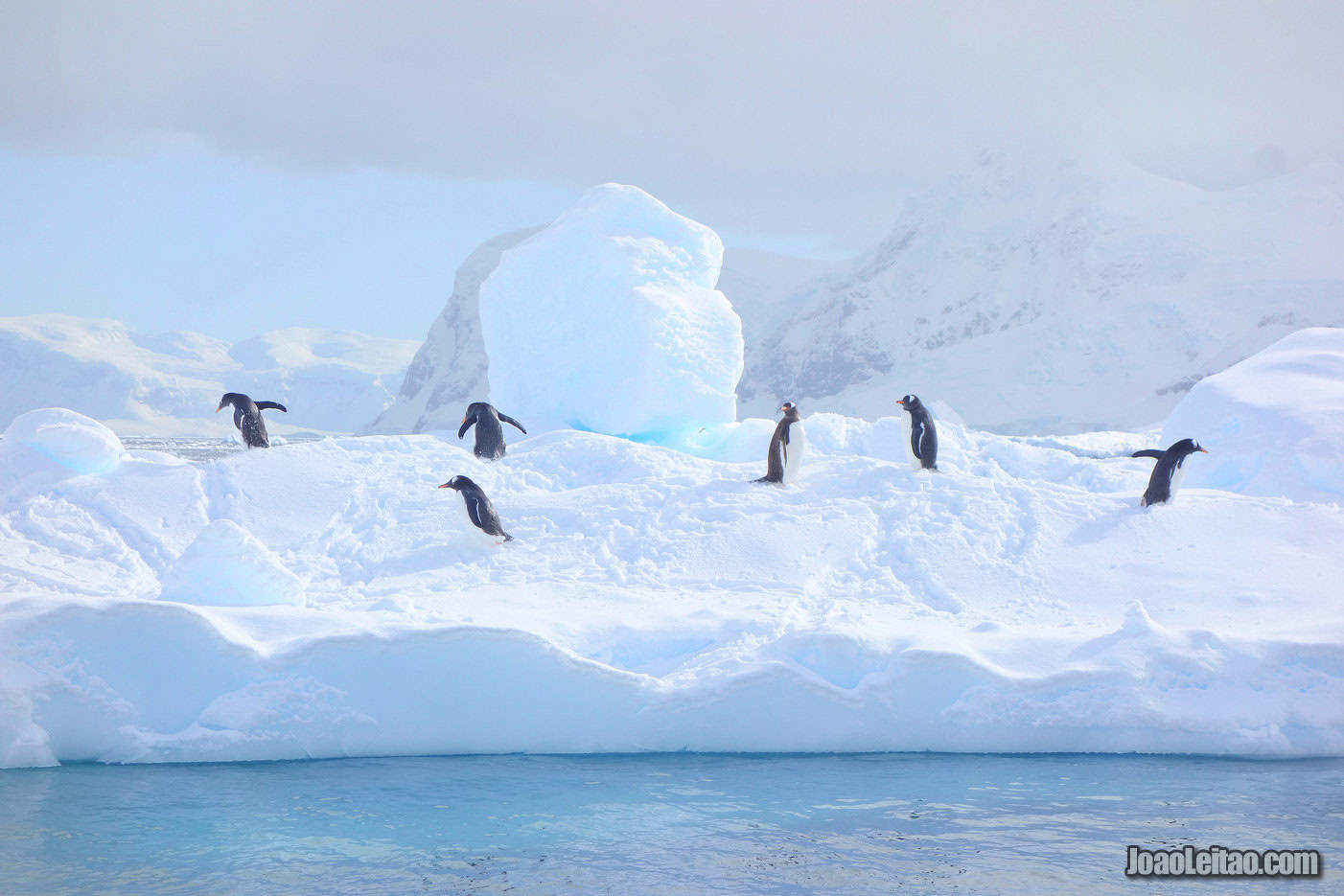 The good thing about Antarctica, weather-wise, is you'll have great visibility. Weather permitting, you can spot mountains over 500 km away! The low temperatures and strong winds keep the atmosphere clean and bright and also enable exceptional acoustics.
Out of curiosity, the average yearly temperature is -60 degrees Celsius in the highest parts of the continent! Can you imagine? In average! And by the way, the Antarctic holds the record for the lowest temperature ever recorded. At the Vostok Station, on 21 July 1983, the thermometers registered -89.2 degrees Celsius.
Visit Antarctica in November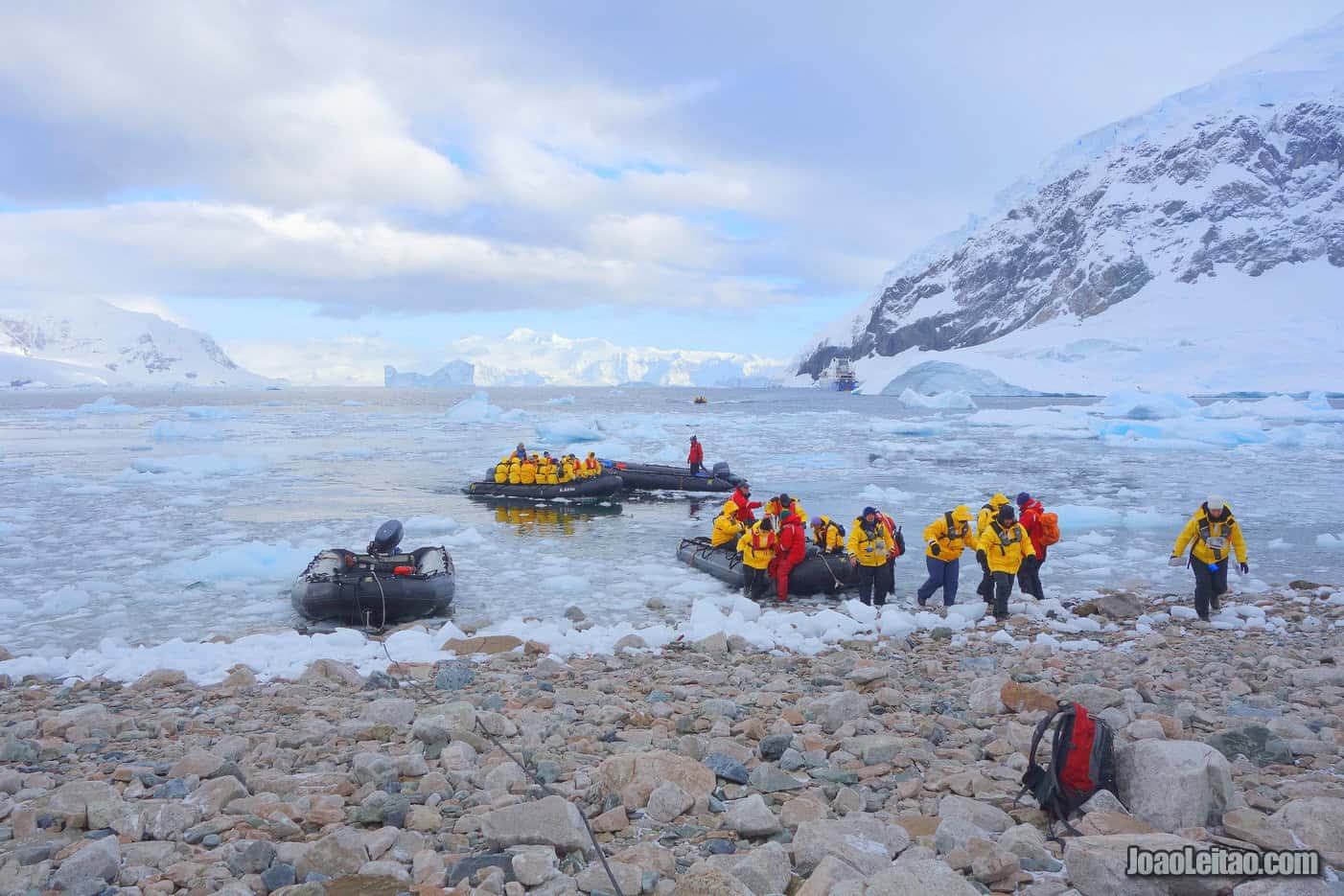 If you're fascinated by icebergs, November is the best month to travel to Antarctica. This is the time when the glaciers are at their prime shape, without traces of mud that will show up later. December and January aren't bad months to see these vast masses of ice, but November is the best one.
November and March are the most affordable months to travel to Antarctica, especially in the beginning of the month.
On the other hand, the cold is intense, and you won't see much of the wildlife. It's mating season for penguins and sea lions, and you might spot a few penguin chicks and sea lion pups.
The ice is still thick, which makes traveling to some locations impossible before the peak of summer. On the other hand, the places you will be able to visit are clean and untouched, which will change as the season moves forward. At that time, it will be covered in mud and footprints.
It's the best season if you want to take part in some overland expeditions, climbing the Vinson Massif (4,892 m) for example or camping to observe emperor penguins.
Visit Antarctica in December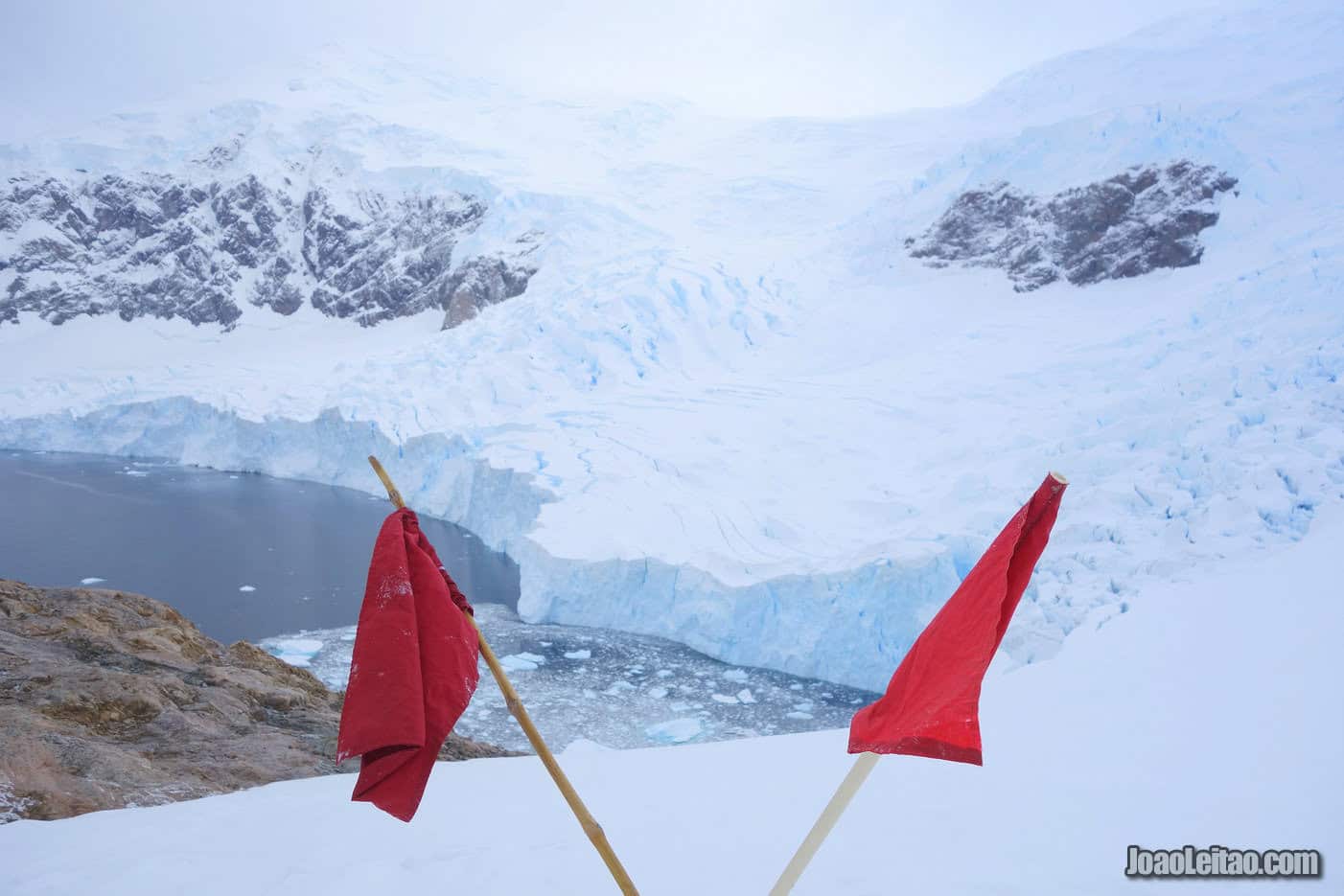 As of the start of December, temperatures slowly rise to above zero levels. Icebergs are still spectacular and days grow longer, giving you more time to observe nature around you.
From mid-month, you'll start noticing the young penguins. Chances of spotting them increase in December and you'll also be able to see some sea lion pups.
A lot of people say December is the best time of the year to visit Antarctica, especially around the second half, when the intense cold practically disappears. However, it's also the time of year when prices increase and a last-minute trip can cost too much, and when there are more people visiting and more ships at sea.
Visit Antarctica in January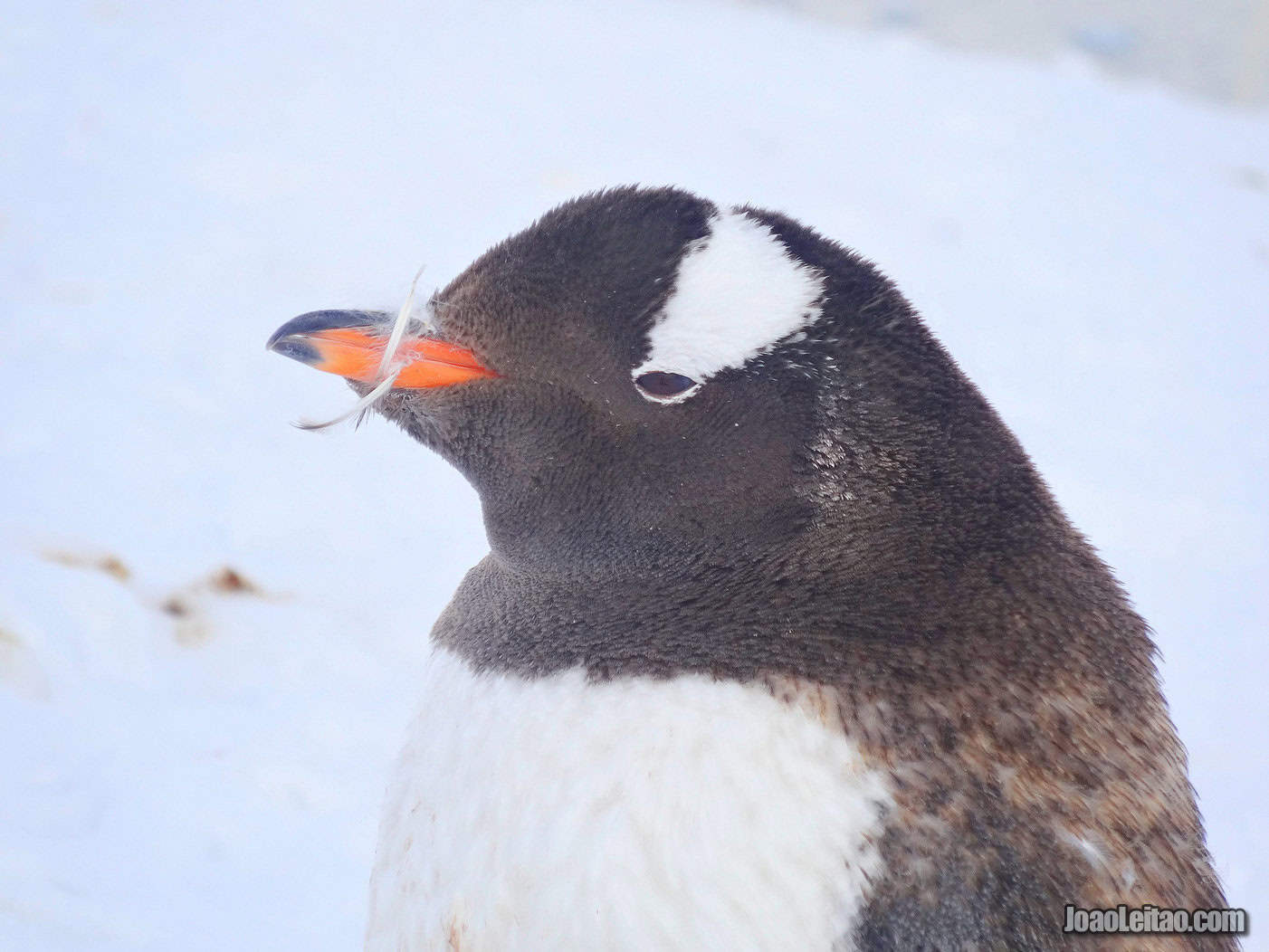 In January you'll still be able to see massive icebergs. You'll spot more penguin chicks and probably some young seals too. It's a great time of year for increased chances of spotting whales traveling in large herds.
Temperatures are usually above zero degrees, and the sun shines for 20 hours a day. Ice is not a problem to navigate, and you can reach the top must-see places without hassle.
January is one of the most expensive months to visit Antarctica because alongside December, it's known as the best time to travel to this part of the world.
Places you can visit on land become crowded, and the busy wildlife leaves their mark in very noticeable ways. The smell will be intense, so factor this before traveling if you're sensitive to unpleasant scents.
Visit Antarctica in February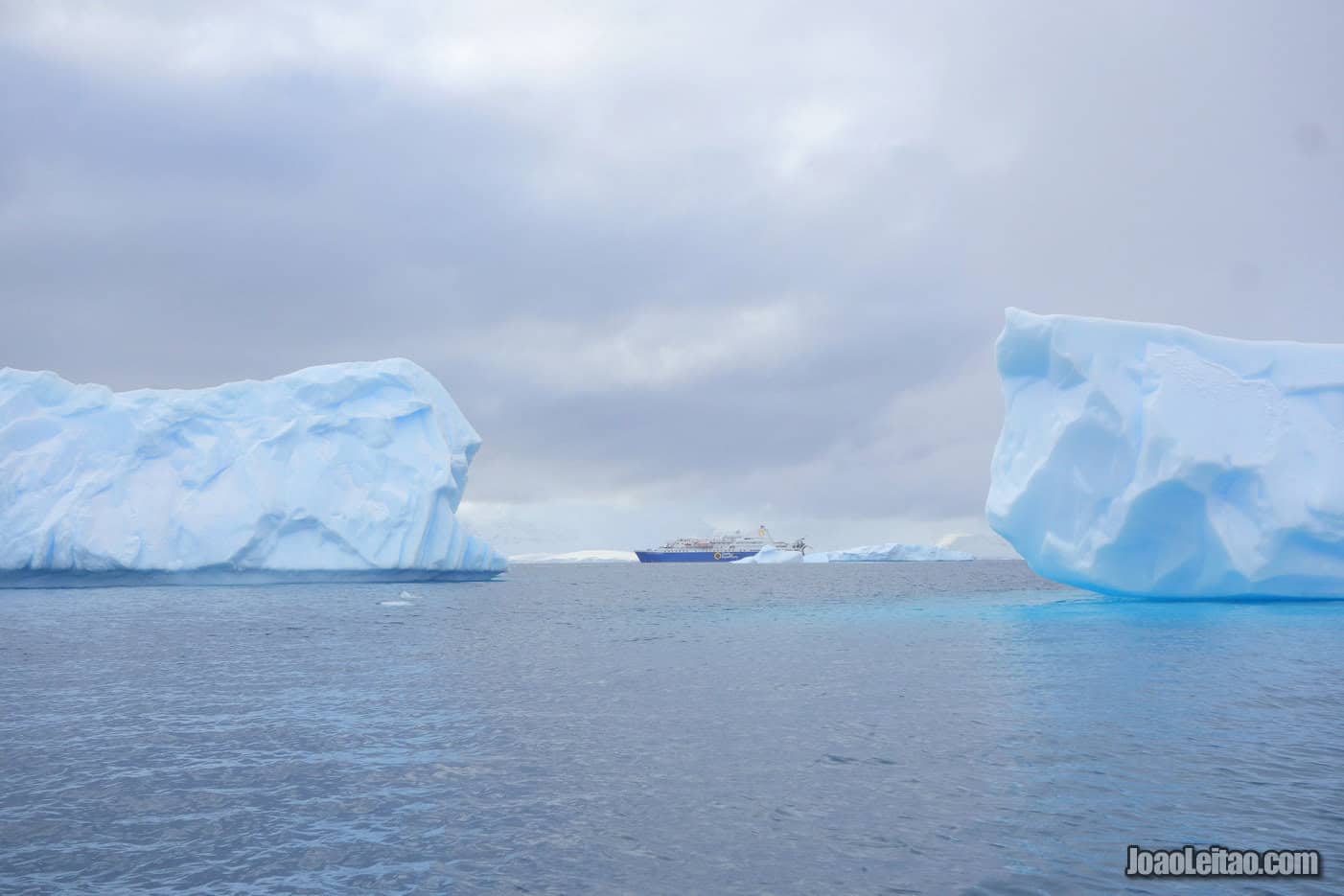 February marks the beginning of the end of the Antarctic summer, the transition season, the beginning of a new year. Days become shorter and colder, especially in the second half of the month.
February is a fabulous month to observe penguins. The newborn chicks need all the care and attention from their parents, busy running around looking for food for their young ones. This is also a good month for whale watchers. In fact, this is probably the best time of the year to spot whales before they begin their long migration. It's a good time to see seals and their pups goofing around too, pure entertainment for travelers.
If you're planning to cross the Antarctic Polar Circle, it's easier in February when you'll have much better conditions to do so.
Visit Antarctica in March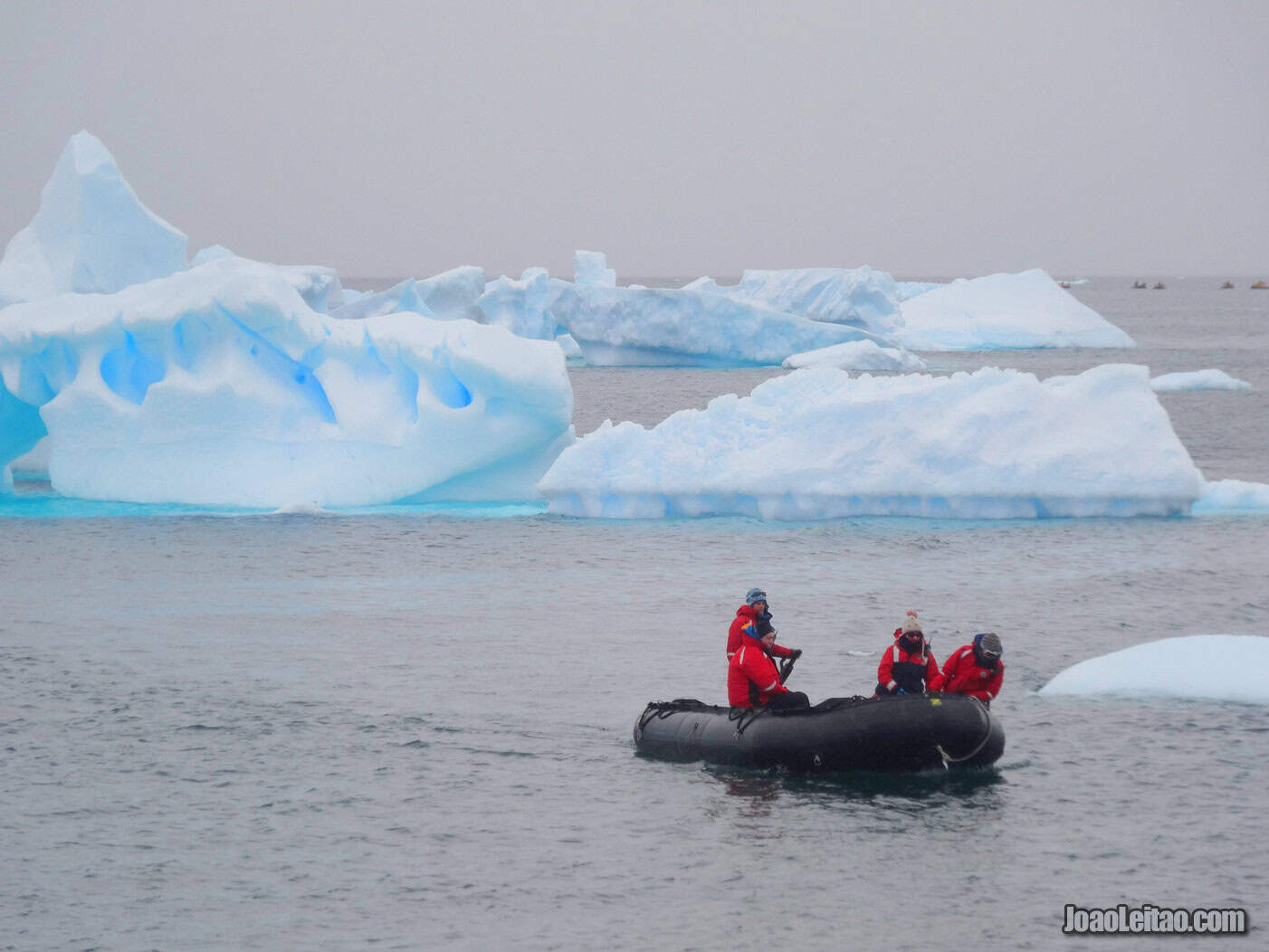 March is the last month you can travel to Antarctica. Everything changes after that: the unbearable cold takes over the frozen continent, the night takes over the day and there's little sunlight, and local wildlife reduces its activities to almost a full stop.
However, you can still visit Antarctica in March. The trip will be the cheapest you'll ever get, and you'll positively see whales. From March to April, it's the best time of year to see whales.
How to Visit Antarctica on a Budget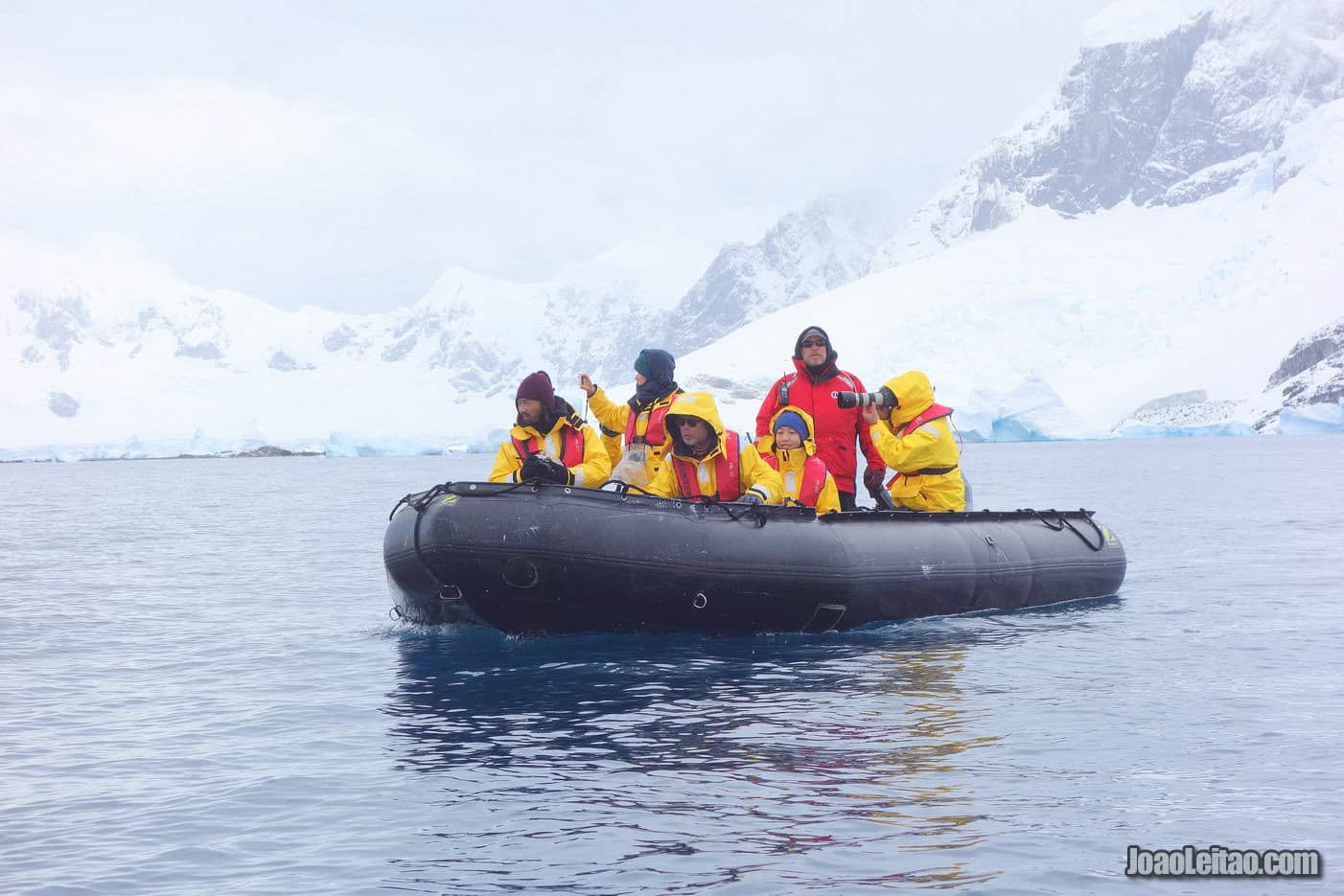 There's no workaround, trips to Antarctica are indeed expensive. They will always cost more than any other trip you take.
First, you have to remember that it's a remote destination and that we have to travel to the cruises' departure ports, which are also on remote locations especially if you're traveling from Europe.
Second, there are only two ways to reach Antarctica, and none of them is cheap: either by flying (on a plane or a helicopter) or by ship.
Naturally, considering these circumstances, the cost is a source of concern for the bold traveler who dreams of seeing those incredible frozen landscapes and the fascinating resident wildlife one day.
There's only one way to score a cheap trip to Antarctica: risking getting a last-minute package. And if you manage to get one for the first or last days of the Antarctic summer, even better. A last-minute deal could mean savings of 30% to 60%.
Okay, but what exactly do I mean by last minute? Well, it's not literally one hour before departure, nor a day before. When it comes to trips to Antarctica, last-minute deals happen one to two weeks before the expedition starts.
You can browse the Internet for these promotions, but you'll have better chances if you go straight to one of the travel agencies in Punta Arenas or Ushuaia – assuming you'll depart from there to explore the frozen continent.
There's also a chance that your accommodation keeps a board updated with the best and most recent promotions.
Please note that it will still be an expensive trip, considering the discount is on the most expensive products: cabins with fewer passengers or cruises that last longer or have more activities.
The downside of this strategy is not knowing when you're traveling. You should reach the departure port a few weeks ahead and actively search for the best deals, without knowing if you'll ever find something that matches your budget or your expectations. Especially if you're traveling during high season.
This is not a recommended option if you're pressed for time or if you've already booked your return flight.
Finally, you must weigh the costs of an extended stay at the departure port. Ushuaia, for example, is an expensive city. You'll have to account for food and accommodation, which is still a cost even if what you save in the end is worth it.
Antarctica Last-minute deals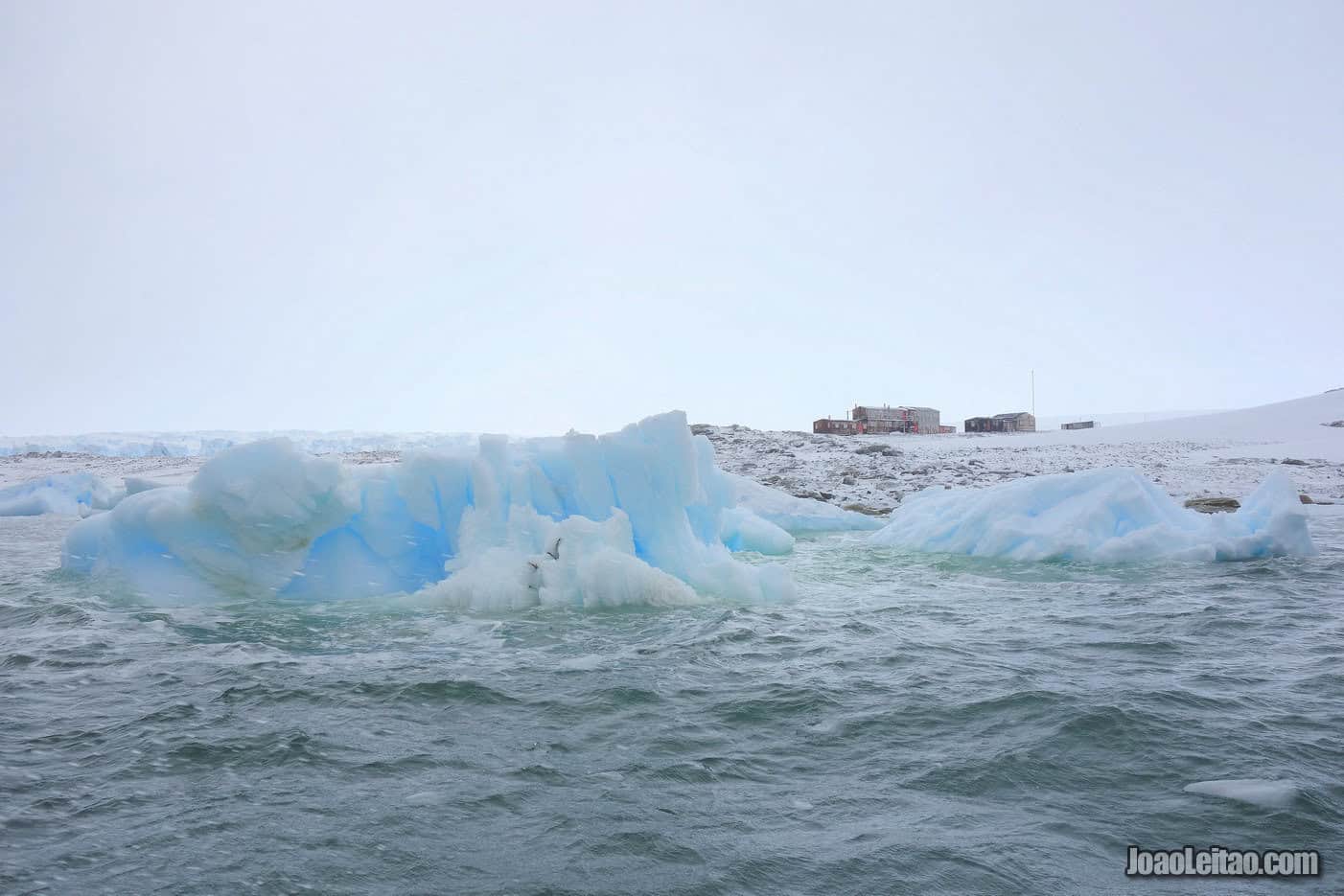 If you have your mind set on a last-minute deal, here's a method you can follow:
Reach Ushuaia or Punta Arenas in mid-October or early February. Keep in mind that travel agencies put up their last-minute deals 15 to 10 days before departure date.
Find affordable accommodation.
Define what kind of trip you're looking for and how much you are willing to pay for it.
Establish a daily routine of going to travel agencies, the tourist office, and talking to people at your accommodation.
If nothing changes, I suggest you try it again one week before your preferred departure date. If your dates are in November, you have lower chances of getting a cheap trip.
On the other hand, you can look for a last-minute deal without traveling to the departure port too far in advance. Some people say you'll lose money, but it's not that different.
Where to look?
On Polar Cruises, for example, where you can do a general search of the cruises leaving to Antarctica.
Other agencies you can contact:
And here are some shipping companies you can contact directly. Try subscribing to their mailing lists. But beware that the best deals are sold out quickly and never be included in that mailing list.
If you want to plan ahead, you still have some chances to score a deal. Subscribe to mailing lists a few months before the Antarctica cruise season. Sixty to thirty days before operations start, there's usually a wave of promotions that might include what you're hoping for.
Don't forget
Keep in mind that although cruise itineraries are planned in advance and approved by the territory's administration, in Antarctica it's the weather that makes the rules. So be prepared for changes or even having activities and tours canceled.
Keep in mind that a cheaper trip doesn't always mean it's the best option. For example, if you bought a six-day trip but the ship is slow and takes four days to reach Antarctica, you'll only have two days left to explore and visit the continent. If the weather is terrible, you might not even be able to go on land.
My tip is to buy a carefully chosen package that's a little more expensive and with the larger number of days possible
Try selecting a costly expedition for a lower price.
The Explorers of Antarctica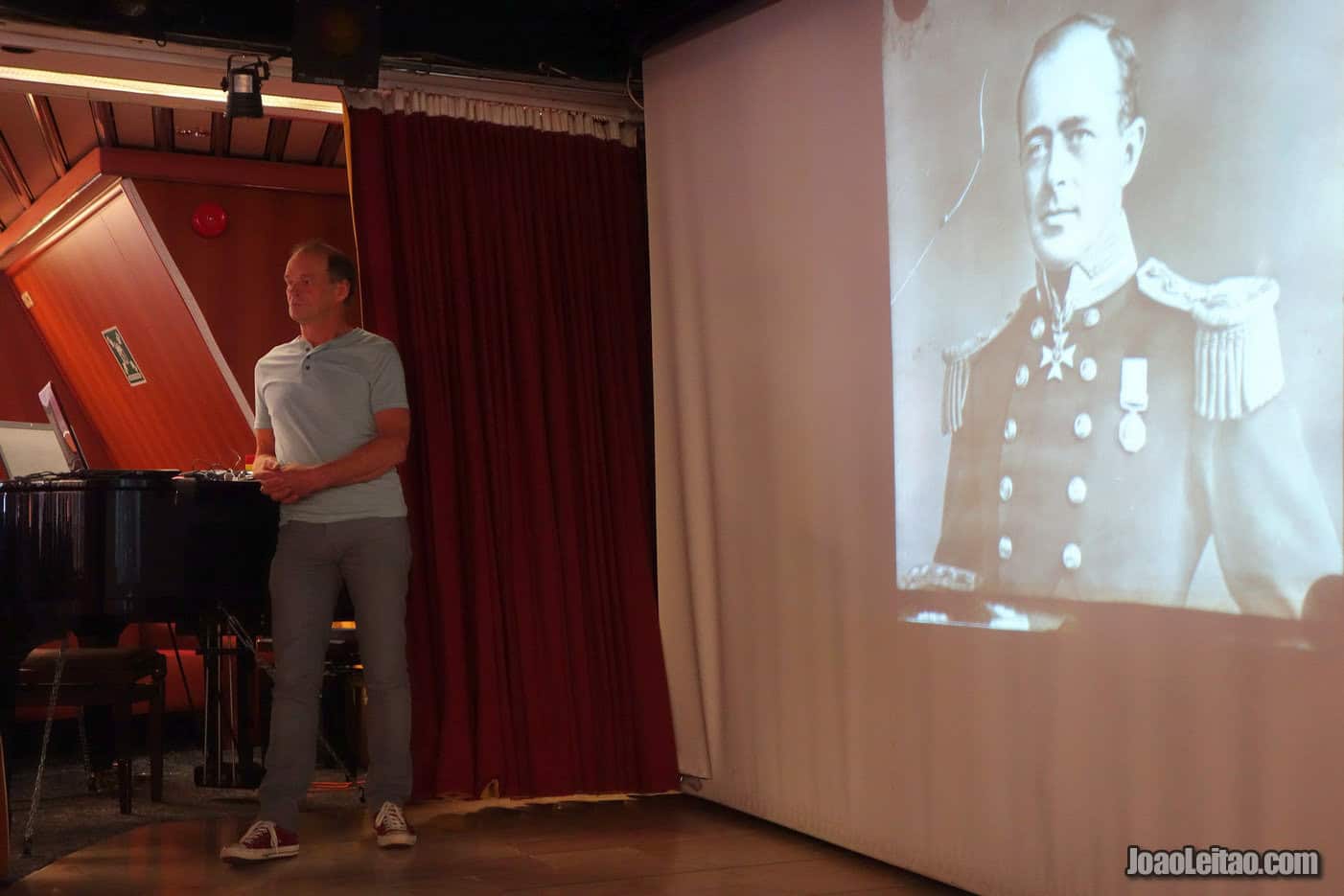 We'll never know for sure who was the first person to reach Antarctica. Most likely the Polynesian indigenous people, whose achievements are narrated on the folk tales that pass on from generation to generation.
Throughout the 17th century, several European voyagers touched Antarctica, including some Portuguese. But Captain James Cook was the first to cross the Antarctic Polar Circle and to complete a trip around the frozen continent between 1772 and 1775.
Discovering new lands, never before seen by anyone or challenging to reach by local people, became an obsession during the 19th century, known as the explorers' golden age. The scientific community was on fire then. Geography societies grew and spread across Europe, the mysteries of Africa's inland territories, the depths of the ocean, the secrets of the deserts. All those topics stirred intellectual conversations all over Europe and North America. Jules Verne's work and books such as "Around the World in 80 Days" are a perfect example of that state of mind.
The extremely hostile weather of Antarctica, and the Arctic as well, meant that those vast areas would be the last to be explored, mapped, and studied.
Dr. John Murray's presentation in 1893 kickstarted the great age of exploring Antarctica. At his conference called "The Renewal of Antarctic Exploration," at the Royal Geographical Society in London, the scholar pointed out that studying the frozen southern continent should be a priority for the international scientific community. Shortly after that, an expedition departed from Belgium, led by a local Navy officer, Captain Adrian de Gerlache. His ship, Belgique, was stuck in ice and the Belgian crew became the first to, involuntarily, spend one winter in that hostile land. Their journey took them to unchartered places, many of those accessible to most tourists that nowadays visit aboard modern cruise ships.
The British Southern Cross Expedition was another remarkable excursion that departed in 1898 and traveled for two years. The crew spent the winter in the frozen continent and used dogs and sleds to explore vast Antarctica, becoming the first group of men to reach further south and pinpoint the exact location of the magnetic pole.
Then the Discovery Expedition followed, led by Robert Falcon Scott, also known as Captain Scott, who traveled in Antarctica between 1901 and 1904. He reached further south than the men before and charted many geographical features for the first time.
In addition to those consecutive British expeditions, other countries organized scientific exploration journeys at the beginning of the 20th century. Germany sent a ship in 1901, that got stuck in ice and couldn't travel or explore further. A Swedish expedition's boat shipwrecked and the crew was saved by an Argentinian ship. France sent their first expedition in 1903, led by Jean-Baptiste Charcot, successfully mapping the region. Between 1908 and 1910, a second French expedition resumed the excellent work of their forerunners, discovering new places such as Marguerite Bay (or Margaret Bay) and the islands of Charcot (or Charcot Land), Renaud, and Rothschild.
1910 was a particularly outstanding year in the history of explorations in Antarctica. Two expeditions left Europe with the ambitious goal of reaching the South Pole. One of them was Norwegian, led by Roald Amundsen, an experienced explorer who had been a part of the Belgian expedition and the Southern Cross Expedition. The other one was British and led by Captain Scott.
It was clear this was a competition, an actual race to the South Pole. The Norwegian won, arriving on 14 December 1911, and returning safely but under brutal weather conditions.
As for the British, they arrived 33 days later but tragically died on their attempt to return home, probably of hunger and extreme cold.
More expeditions followed, exploring the area, reaching places that had never been reached before, improving the scientific community's knowledge of the frozen continent. Countless explorers had incredible experiences, and the stories about drama and survival multiplied.
In 1922, the Shackleton–Rowett Expedition ended abruptly with the death of Shackleton. That would be the end of the golden age of exploring Antarctica, also known as the Heroic Age.
Not much happened for some time, and it wasn't until 1927 that an important step was taken forward to "conquer" Antarctica: the first exploratory flight over the continent. That marks the beginning of the Mechanical Age.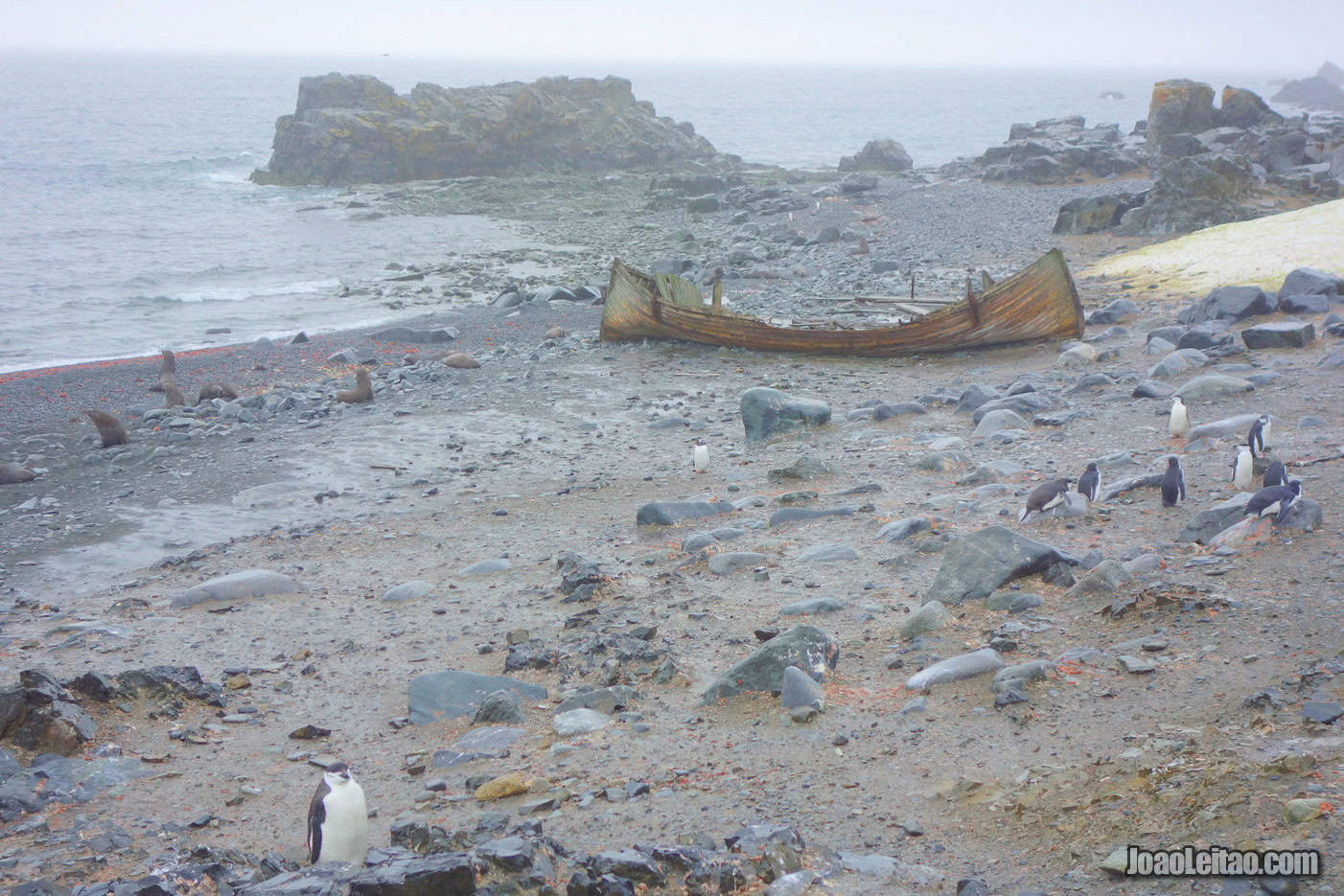 Many territorial claims over Antarctica happened in the years between the two World Wars. World nations used the same colonial logic on Antarctica, especially the United Kingdom that followed an ambitious policy, without much opposition from France, Germany, and Norway. This was a source of concern to the South-American countries closer to Antarctica, Chile and Argentina, that weren't pleased with the way things were unfolding.
Both countries took advantage of the beginning of World War II to establish bases in Antarctica and mark their territorial aspirations.
During World War II, the United Kingdom considerably strengthened its presence in Antarctica, fearing the Chilean and Argentinian claims, and the use of the territory by the Germans. An unfounded concern that, nevertheless, made the country create a network of bases that were eventually abandoned or converted into scientific stations after the war.
The end of the world war didn't end the frictions between the United Kingdom and the South-American countries, though, and one more country would join in to stir the pot: the United States of America.
Between 1957 and 1958, the Commonwealth Trans-Antarctic Expedition led by Dr. Vivian Fuchs made the first continental crossing of Antarctica. The 12 men in the expedition traveled 3,473 km in 99 days, using six mechanical vehicles (three Sno-Cats, two Weasels, and an adapted Muskeg truck).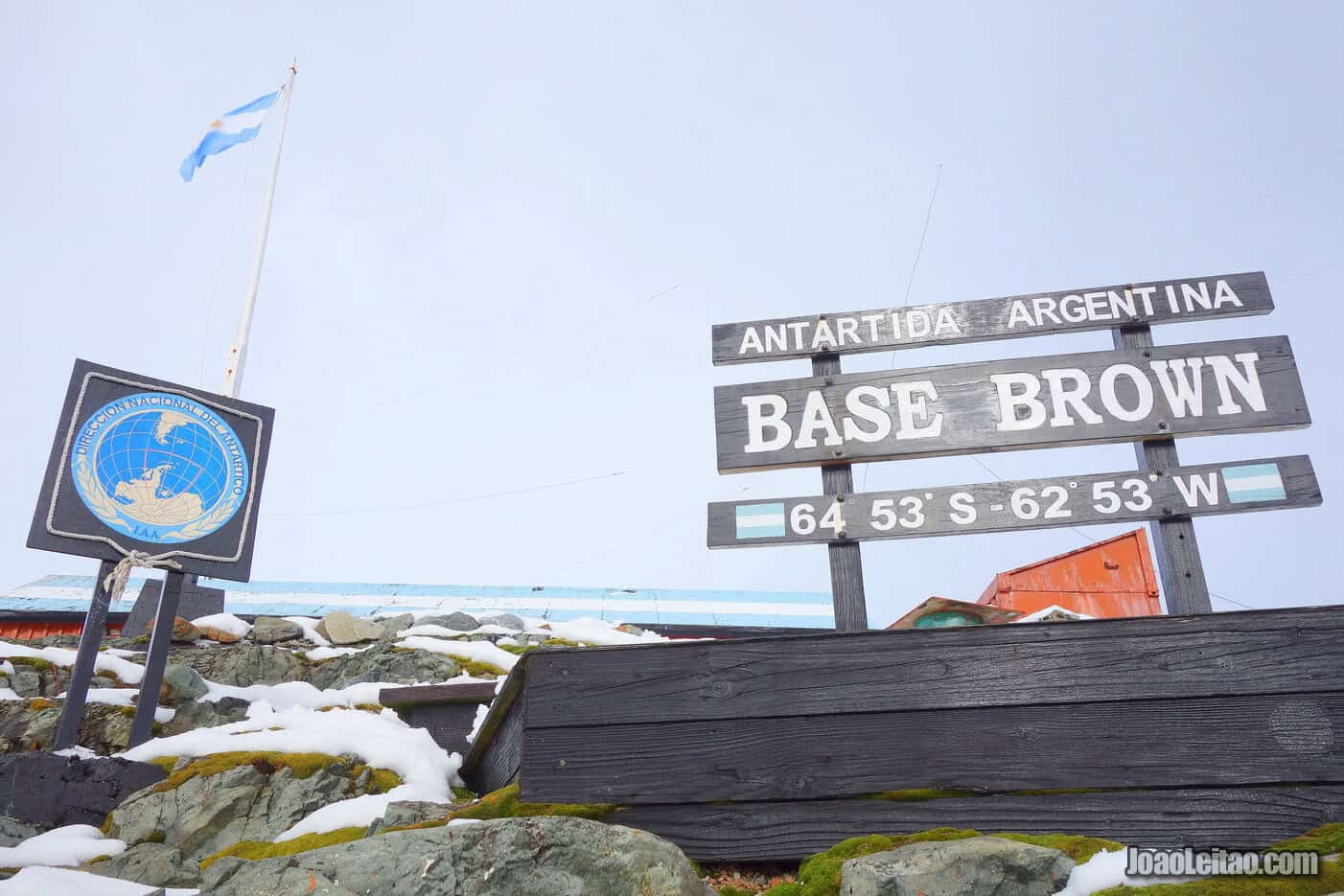 As for the political tensions, it was fortunately under control and led to the Antarctic Treaty in 1959 (also known as the Antarctic Treaty System or ATS, for short). It was signed by the 12 countries with an active presence or a strategic interest in Antarctica: Argentina, Australia, Belgium, Chile, France, Japan, New Zealand, Norway, South Africa, USSR, United Kingdom, and the United States of America. Those countries had established 50 bases in ice-cold Antarctica in total. There are currently 53 countries involved in the treaty, including Portugal, holding different statuses.

Antarctica Practical Tips – Before you go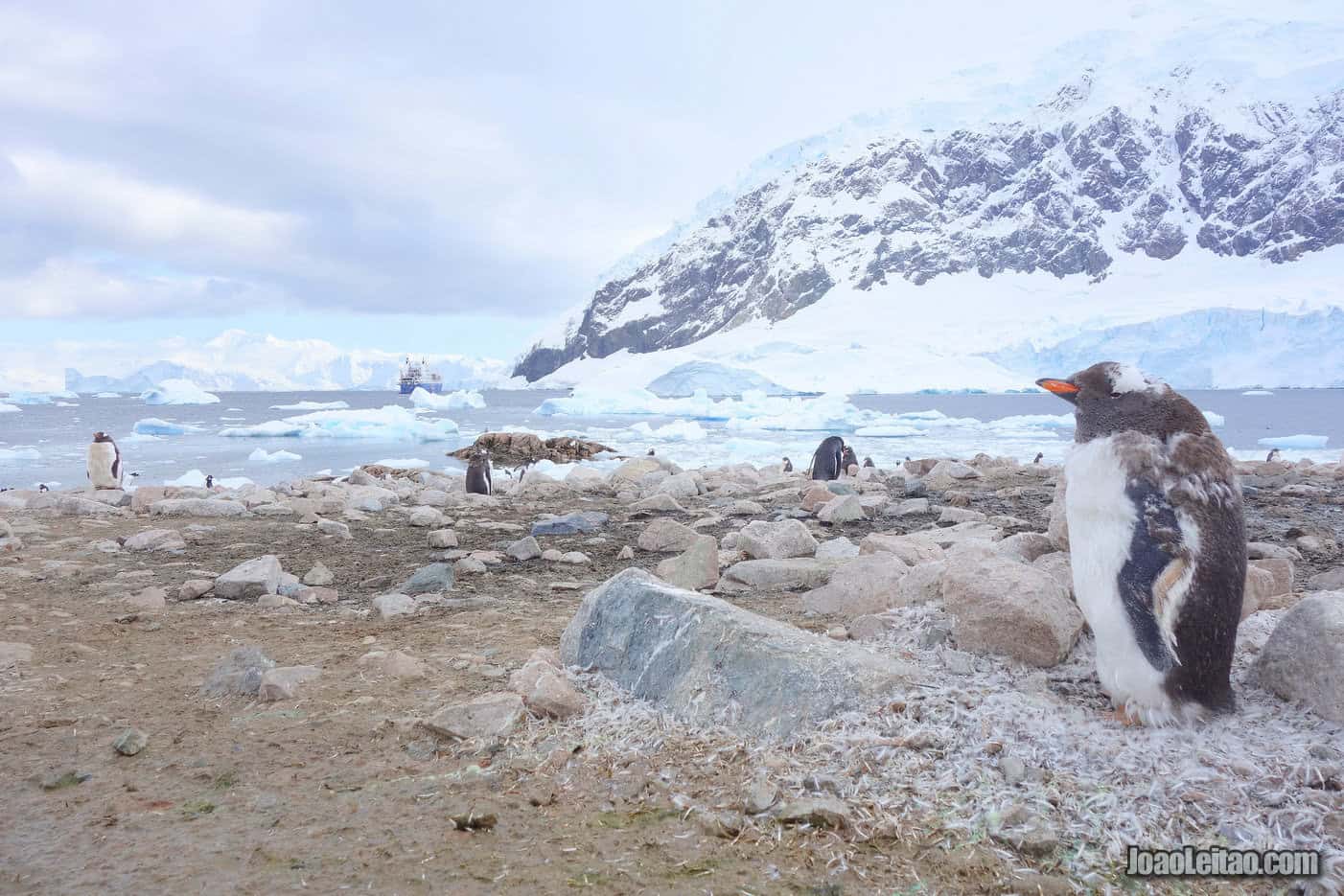 1. What to Wear in Antarctica
For first timers, coming up with an Antarctica Packing List can be hard. It's only natural to feel overwhelmed when it's time to pack for such a unique trip. After all, for most travelers, this is a one-time adventure and they're not quite sure what they'll be up against.
One of the most common misconceptions is to picture Antarctica as an unwelcoming frozen land, where it's always cold, and you'll constantly worry about freezing to death. Well, it is all that but not when you're visiting. That's another Antarctica, one that's more remote and described like that in the winter. What you'll find is a much more welcoming land, with temperatures around 0 degrees Celsius. Not much different from what you experience in the north of Europe in the fall or winter, if you've traveled there before.
Please note that there are like two parallel universes on a trip to Antarctica: the comfortable ship and your cabin, and the stark environment on deck and when you go out to observe wildlife.
What to pack on your trip to Antarctica
Let's begin with a packing list that, of course, you should adjust to your needs. Think of it as an idea, a source of inspiration for your own packing list. And remember to check if there's a baggage allowance on the ship where you'll be traveling to Antarctica.
Windbreaker. You can pack one, but the tour organizers will most likely give you one for free. A bright-colored one so you can stand out in the ice.
Everyday clothes. Let's start with some good long johns, preferably made of merino wool. They're more expensive, but the quality is worth the money. Ideally, pack two pairs. Pack enough t-shirts to change every day, or whatever you can carry. Long sleeve t-shirts to wear under heavier coats and sweaters. Remember you'll be on the ship for most of your time, where you can dress casually. Pack comfortable clothes that you'd wear at home, like jeans and comfortable shoes.
Warm clothes. Pack as many warm socks as you can, just in case. Socks get wet quickly and keeping your feet dry and warm is crucial. One cap or two just in case, to prevent heat loss through your head, which is essential to keep warm in cold weather. Waterproof gloves and a scarf big enough to protect your neck and your face. I suggest you pack double the number of items you had in mind. Losing one of them can drastically affect your comfort, whereas packing extras won't add much weight.
Galoshes. Useful when it's time to go on land. Speed boats get wet, and you'll spend some time in a damp environment. In addition to that, you might also step on water when getting off the ship. If you choose to pack your own galoshes, make sure they're good quality with reinforced isolation. It's most likely that the tour organizers will provide passengers with galoshes, but make sure you double check with them first. My boat had boots available so I didn't need to worry about this.
Waterproof pants. Not only passengers might get wet while traveling in the speed boats, but ice is water and Antarctica is all ice. And no one wants to travel around with wet legs. Some people prefer snow pants, but they're not easy to put on and take off. Light waterproof pants are more flexible.
Sunscreen. Many people forget something as important as sunscreen when they take this trip. They are indeed traveling to the land of cold and ice. However, the sun here is the same sun in a tropical destination, even more intense when it bounces off the white surface.
Photo equipment. Your choice of camera, be it an SLR, a compact, or a mirrorless. Even a good quality smartphone will do to capture the unforgettable moments you'll most likely experience in Antarctica but remember you won't get a second chance, so invest in something that you won't regret later if something doesn't go according to plan. Tip: bring something for the worst-case scenario, like losing the charger or the battery, or dropping your camera in the water. Being unable to photograph this unique experience will be even worse than the material loss.
A waterproof bag to carry the essential stuff for your very wet expeditions.
Thermal protection for your water bottle. You won't want to get ice instead of water when you feel thirsty, although in the warmer months you won't likely need it.
Binoculars to observe wildlife, be it from the ship or during the expeditions on land.
Sunglasses, because the sun in Antarctica is glaring and intense for many hours, amplified by all the white around you. Ski goggles are a good idea.
Swimwear. Consider packing a swimsuit. You might want to do something crazy in the ice or enjoy the hot water pool in your ship if it has one.
A basic medical kit that fits your needs, but don't forget to include seasickness pills. I recommend a couple of Stugeron boxes to help to cross the rough seas between the port of departure and Antarctica.
Moisturizer. The air in Antarctica will dry your skin.
What NOT to pack on your trip to Antarctica
Although a trip to Antarctica sounds incredibly adventurous, it's not as extreme as you think. You'll be traveling on a safe and comfortable ship, where everything is prepared for you by a team of experts. Forget all those things that come to mind when you think of outdoor adventures, like flashlights and compasses.
You'll be able to rent some of the things on this list, especially the bulkier ones like the galoshes, in case the tour organizers don't provide you with a complimentary pair.
Formal wear. Although you're traveling on a cruise ship, the atmosphere is not the kind you'd expect to find on this type of ship.
Avoid heavy winter clothes, like ski suits that are tough to put on and take off, and you can't easily adapt to the different environments you'll find.
2. What Kind of Ship to Choose?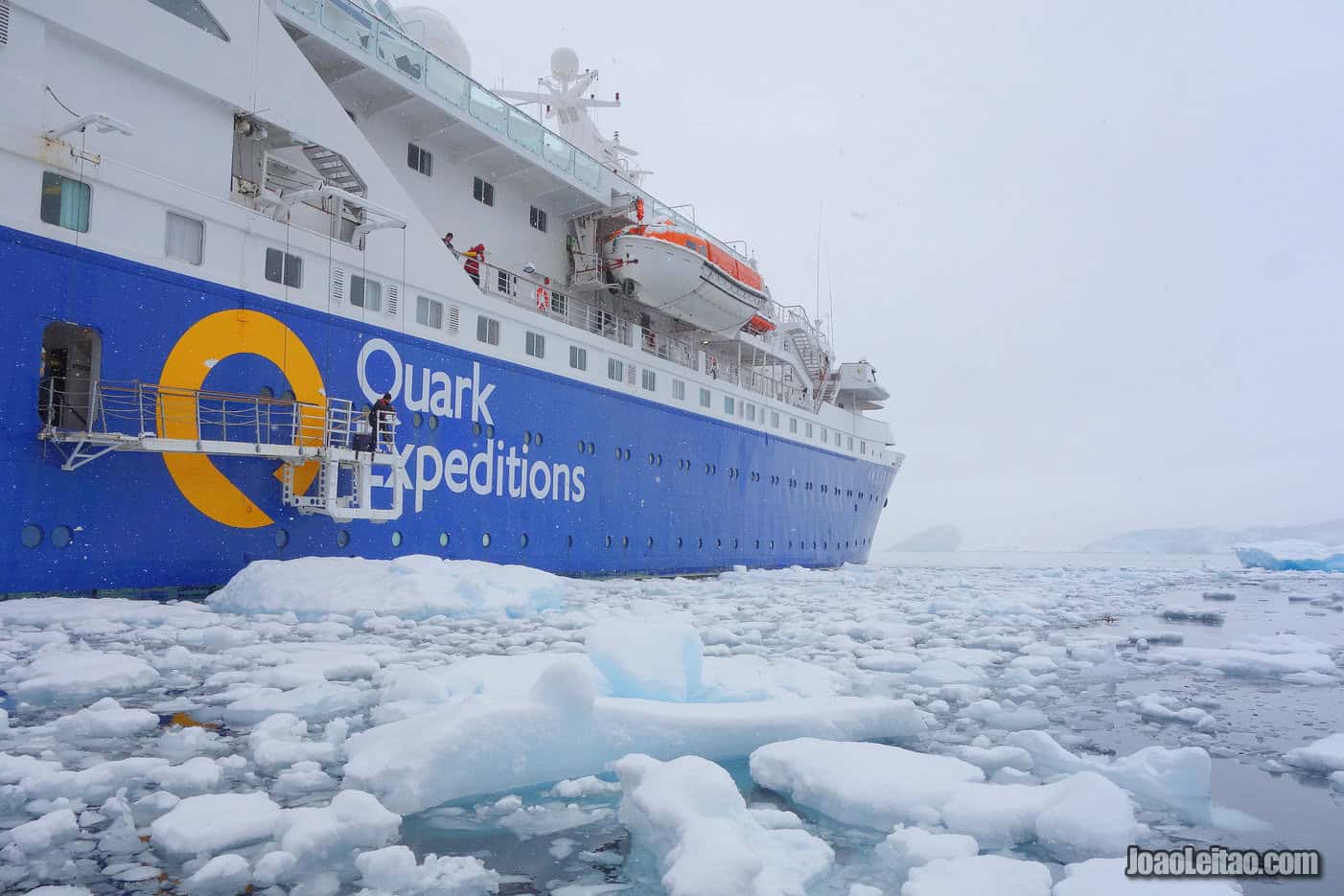 Choosing the best expedition for you can be challenging. You might feel overwhelmed with so many options and so many price ranges, but there's no need to panic. I'll give you some ideas to help you make sense of it all and make an informed decision.
Cruise Ships
We can say there are two major categories of cruises. Those aboard comfortable ships with cruise-type amenities like onboard swimming pools, great meals, spacious cabins with a balcony, drinks included, a real five-star experience. Those ships are more stable for sailing through rough seas, and they're usually bigger, although you can have the same amenities on a smaller ship for a higher price.
And then you have the ones you can refer to as expedition cruises. They're smaller than a conventional cruise ship, most likely built specifically for this kind of trip to Antarctica, and they have good conditions when it comes to comfort, size, and suitability to travel in the area.
The scientific investigation cruises are also named "expedition cruises" by some people. They're former scientific investigation ships, most likely from the former Soviet Union, that have been refurbished for this kind of trip. They're not the most comfortable ships but that probably only makes the experience feel more authentic. They're also the kind of cruises with the most activities included, like canoeing or diving. They're typically small, with room for 50 to 100 passengers.
Finally, the luxury cruises are the most comfortable ships you can imagine, with steep prices to match. The smaller the ship, the higher the price.
Read my page:
Antarctica 15-day Cruise Ship Crossing the 66º Circle
Size of the Ship
Keep in mind that the smaller the ship, the more you'll enjoy the experiences tailored for tourists. Only 100 passengers are allowed off the ship at once. So, the fewer passengers on board, the more chances you'll have to take part in all activities and the longer you can stay on land.
Size also affects the kind of experience you'll have aboard. The smaller the ship, the more you'll bond with your fellow travelers and the more you'll feel part of a community.
On the other hand, smaller ships will have fewer amenities and be less stable on rough seas. Keep this in mind if you're prone to seasickness.
The size of the ship will also impact how it sails in shallow waters or areas with more icebergs. The smaller it is, the more flexibility the captain has to maneuver it around obstacles, which is great for passengers.
Also note, that passengers traveling in large ships aren't allowed on land in Antarctica. If your ship is carrying more than 500 people, your experience of the frozen continent will be exclusively aboard the ship.
What Type of Room to Choose inside your Cruise Ship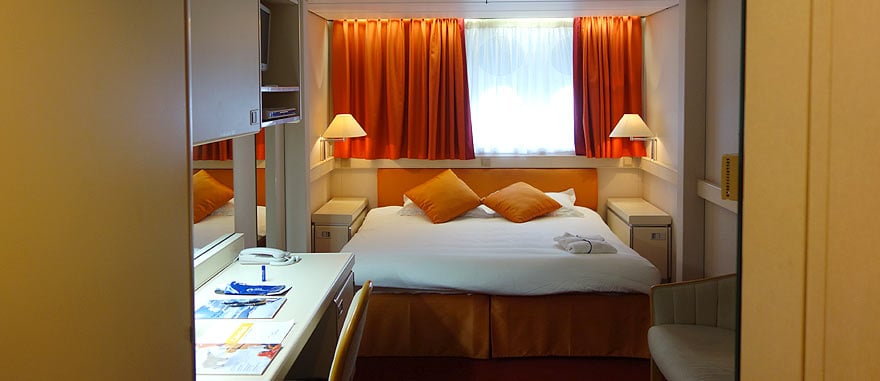 Once you've decided the best expedition for you, it's time to choose the type of room which will influence the final price. Typically, the lower the deck, the cheaper the cabins. The fewer people you want to share a room with, the more you'll pay. Consider your priorities. If you're planning to use the room just to sleep and spend most of the day outside, in outdoor activities, sightseeing from the ship, or socializing in the lounge areas, it probably won't matter how many people you're sharing the room with and if the room has a view.
The cheapest option is the four-people cabins, on the lower decks, with one little lookout, and a shared bathroom outside the room.
Prices will go up from there, according to your budget, up to high luxury on the far end of the scale.
If you're thinking of scoring a last-minute promotion, it rarely covers the cheaper accommodations. The goal is to spend as little as possible and get something better, and not lower the price of something that's already dirt cheap.
3. Where to Go in Antarctica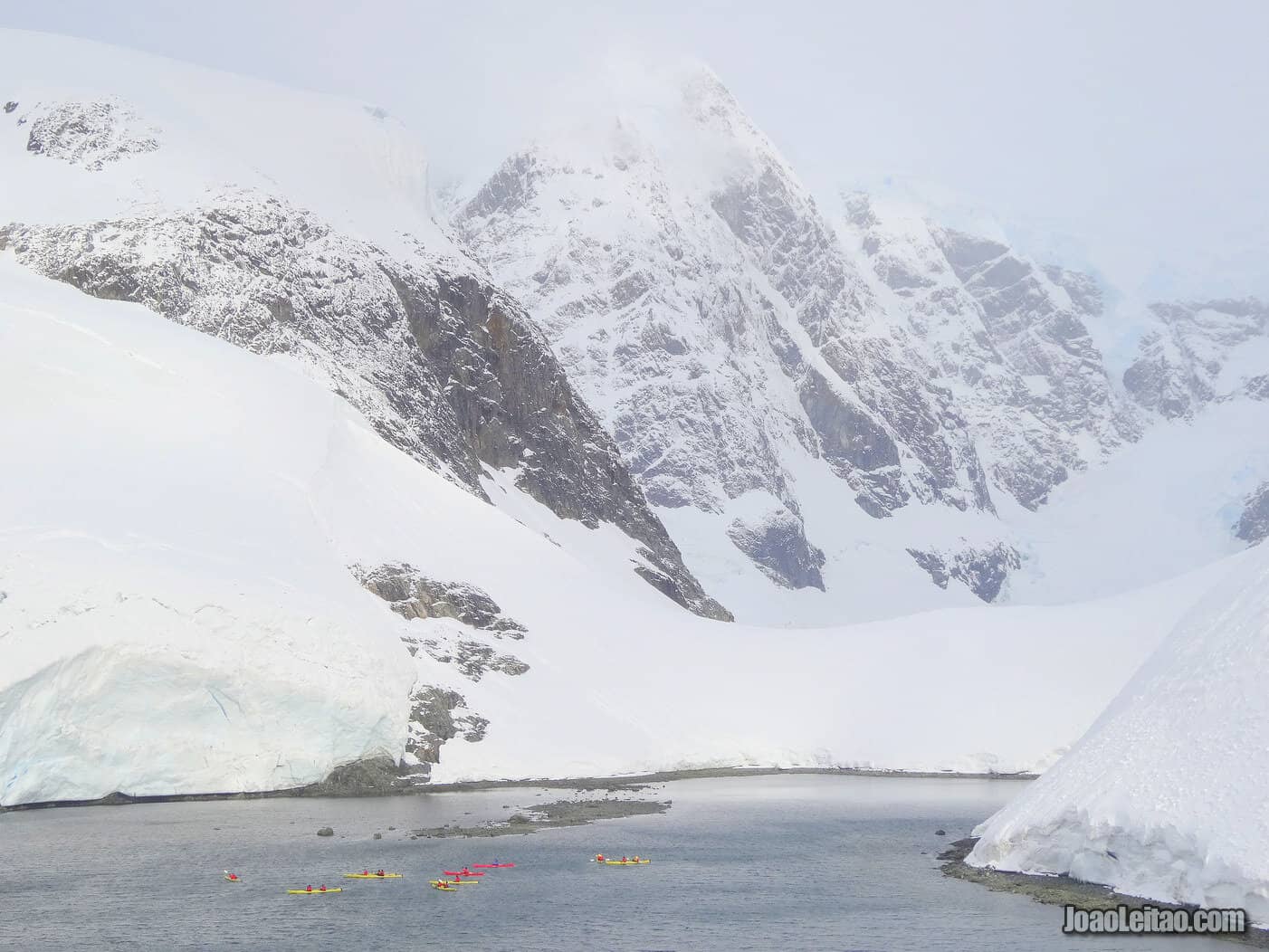 Antarctica is vast and even if you don't cross the Antarctic Polar Circle you wouldn't be able to see all the beauty of this part of the planet on a one- or two-week trip.
Read about the most visited places in Antarctica and pinpoint the area with the most things you'd like to see.
Most cruise ships depart from the southern end of South America to the Antarctica Peninsula, a part of the frozen continent north of the Antarctic Polar Circle. That is a place with a higher concentration of points of interest and where you can visit a lot in a short time. It's also an area with reasonable weather in the summer.
Near the peninsula, both on the mainland and the neighboring islands, must-visit places include Port Lockroy, Deception Island, Neko Harbor, and Half Moon Island, to name a few. In this article, you can read about all the important places that you can visit. After you dig deeper into the different options, make a list of the places you truly want to see and compare it to what the various cruise companies have to offer.
You can even fantasize about traveling to more challenging locations further south and, who knows, even the South Pole. It's a dream that can come true and there are trips to take you to that magical place, but it will be expensive.
If you dream of something big but not as extreme as visiting the South Pole, it's possible to travel across the Antarctic Polar Line, but there aren't many cruises doing it. Those who do it are, of course, expensive.
Traveling to the Falkland Islands or South Georgia means a more extended trip but a completely different experience.
Read my page:
Visit Antarctica – 20 Inspiring Places in the 7th Continent
4. Duration of your trip to Antarctica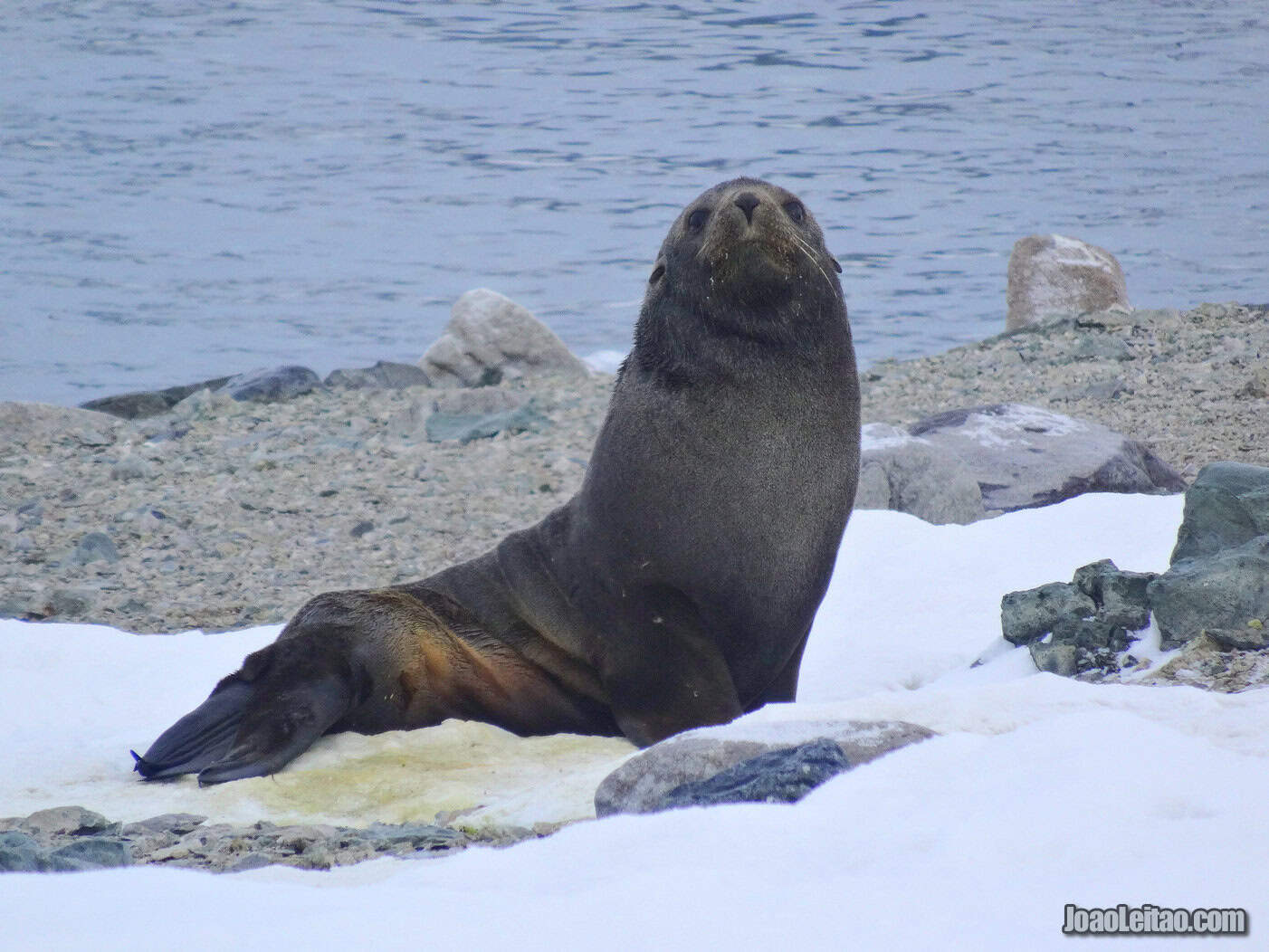 Obviously, the shorter the expedition, the cheaper it will be. However, I suggest you consider if it's worth taking a more affordable trip on a seven-day cruise. Even the most affordable option is still an expensive trip of thousands of Euros. Which means it could be a case of "getting what you paid for." Let's see, you'll need two maybe three days to reach Antarctica and the same amount of days to return. If things don't go as planned, you'll barely have time to enjoy and explore your destination and, best case scenario, you'll be in Antarctica for two or three days.
On the other hand, the cost of a longer cruise is astronomical, and you might not have enough time to explore the area either. Perhaps a 10- to 15-day expedition is the most sensible option. That option gives you time to cross the Drake Passage, and even if the weather is not the best you'll still have plenty of time to visit many places in Antarctica. Money-wise, consider taking a risk and look for a last-minute promotion.
5. Time of Year to visit Antarctica
There's only one best time of the year to visit Antarctica: when it's summer in the southern hemisphere, from November to March. In another section of this article, I explain the pros and cons of each month.
6. Outdoor Activities in Antarctica
If you're looking to do some outdoor activities when visiting Antarctica, check with the trip organizers what's included or if you can opt for a custom-made option.
Read my page:
7. Activities Aboard of Antarctica Cruise Ships
Cruise organizers typically have a program to keep passengers entertained when sailing or when you can't go on land.
In addition to what's expected in a cruise, with quality and quantity depending on the ship and of course what you paid for the trip, they should offer Antarctica related activities such as lectures by scientists and other experts. On my trip, I traveled with the grandson of famous Captain Scott, who lost his life on the first-ever trip to the South Pole, and Jonathan Shackleton, the cousin of one of the most famous explorers of Antarctica.
Another interesting option is to have a specialized photographer with you, whose sole job is to photograph the experience.
8. How much it cost to go to Antarctica
Addressing the budget as a factor to choose the right expedition to Antarctica is difficult when there are so many last-minute opportunities that drastically lower the prices of the trip.
Under normal circumstances, if you need to book your trip as early as possible, your choices will depend on how much you're willing to spend.
9. Ship and Plane Combination
Whether it's about time or comfort, it's possible to take a flight for one portion of the trip to Antarctica, usually from Ushuaia or Punta Arenas. You fly into the Shetland Islands, from where you board the ship to Antarctica.
You'll save four to six days of sailing on the open sea and avoid the distress of crossing the Drake Passage in lousy weather conditions. Sailors think of that ocean trip as the hardest one in the world.
Of course, there's a price to pay for comfort. Check with your expedition organizers about the option and cost of combining a ship trip with flying. Keep in mind that sometimes you can do a mix of both, going one way on a plane but returning by boat.
10. Antarctica Health Insurance
All travelers to Antarctica must have mandatory insurance that covers possible rescue on an emergency. You probably think that your travel insurance covers this already, but the problem is that the minimum coverage for Antarctica starts at USD 150,000 and usually that's too expensive for travel insurances.
Although the insurance is not usually included on your Antarctica travel package, you can buy it from your tour organizer for an extra USD 30 to 40, whether in their offices or on their official websites.
Antarctica Frequently Asked Questions
Can I go to the South Pole?
To easily distinguish the geography between the South Pole and the North Pole, is simple: The North Pole is water surrounded by continents, while the South Pole is a continent surrounded by water.
Boat trips to Antarctica usually don't include a visit to the South Pole, which is too far away from the nearest point you can reach by boat. However, you can technically do it, but it's not an experience that everyone can afford, especially financially speaking.
To be blunt, the extravagance of reaching the point where all 360 meridians meet and where you can travel around the world in one step will cost you around 50,000 Euros. These trips start in South America, for example in Punta Arenas, Chile, and take you to the South Pole in about one week, where you'll briefly visit the Pole. The rest of the time is spent in a base from where the organizers guide tours to points of interest in Antarctica, while you wait for the right weather conditions to fly to the South Pole.
Usually, you return on the same day but if the weather shifts, you might need to stay and spend the night in tents. Flights are four to six hours, each way. If you really wish to spend the night in the South Pole, you can choose an expedition with that option, which will cost you a "little" more.
The base in the South Pole has a small visitor center, created because of tourists' frustration who went all the way there and couldn't get inside the base. Visitors aren't allowed inside the base, but if you're lucky you might find someone willing to take you on a guided tour.
Structures from three different ages make up the base. The first one, known as the Old Pole, was built in 1956 and is made of wood. It was abandoned in 1975, and it's under a thick layer of snow and ice. Access is forbidden for safety reasons. The Dome was built in the early 1970s and used to have several support buildings. It was dismantled in 2010. Only the third generation of buildings is used and visible, the Elevated Station, that started building in 1999.
Fortunately, long are the days when explorers risked and lost their lives to reach such a challenging location. On 14 December 1911, the Norwegian expedition led by Roald Amundsen reached the South Pole for the first time. A little over one month later, on 17 January 1912, a group of British led by Captain Scott arrived too. Tragically, all these men died just 17 km from their rescue point.
Things are easier these days. The visitors arrive by plane, but nothing will save them from the -28 degrees Celsius in the warmest season of the year. If after all this you're still interested in visiting, check the updated information on the official websites of companies traveling to the South Pole.
Terms, prices, and duration of the trip vary often:
What's a crossing the circle trip?
If you see a mention to a crossing the circle trip and you don't know what's it about, it means that cruise includes a trip to cross the Antarctic Polar Circle, much further south from where most commercial cruises to Antarctica will reach.
What's the lowest possible price?
There is never a straight answer to this question — luck matters here as do the exchange rates. And although you can't always expect that, I've seen a last-minute trip on sale for USD 2,200. I paid USD 6,300.