Ushuaia is the southernmost city in the world, located in the far south end of Argentina close to Cape Horn. From then downward you'll find nothing but water until you reach Antarctica.
It's not cheap to travel there and most people who decide to visit this region, known as Tierra del Fuego, choose to take a plane from Buenos Aires.
I'll challenge you to do something different: to travel overland not from the capital city of Argentina, but one of the most iconic cities in Brazil, Rio de Janeiro.
You'll experience many adventures, great moments, times when you want to give up, weariness, fatigue, amazing photographs, and you'll discover parts of the world you never thought existed.
---
Planning the Rio de Janeiro to Ushuaia trip
Visas
U.S., Canada and Australian Citizens need a visa to enter Brazil. If have a European Union or Brazilian passport, you won't need visas for this trip.
Europeans don't need a visa to travel to Brazil, nor any other country in this route, Uruguay, Chile, and Argentina. All you need is a passport valid for six months from the entry date in each of those countries. Brazilians don't even need a passport to all those countries also.
Make your visa online
---
When to Go
The closer you get to Ushuaia, the more extreme the weather gets. In Tierra del Fuego winters are harsh, although temperatures don't get too low frequently. It feels colder than the actual temperature because of the strong and cold winds. In addition to that, the days are extremely short. You'll want to travel there in the summer, which in the southern hemisphere is from December to February. To be honest, any time of the year is a great place to visit such an amazing place. It's just the experiences will be completely different.
---
What to Pack
The biggest logistical problem, let's call it that, will be what to wear. By departing from Rio de Janeiro, you'll be coming from a hot city and you'll begin to feel the cold around halfway of your trip. And in Patagonia, well, in Patagonia we never know what the weather will be like but it will definitely be colder. If you're carrying electronic devices, pack them into waterproof bags and pouches. A good pair of hiking boots is mandatory.
---
Travel Insurance
If on other trips it's a good idea to travel with the right travel insurance, when it comes to Patagonia, because of its remoteness, it's particularly important. In case of an accident or an emergency, the costs to evacuate are very high.
---
The Itinerary
Stage 1 – From Brazil to Uruguay (8 days)
You'll depart from Rio de Janeiro, that you can explore on the days before the beginning of this adventure in case you don't know the city yet.
For the first leg of the trip to Ushuaia, you will travel to São Paulo. You can take a regular bus, which will save you time and money for not spending the night at a hotel.
---
São Paulo (2 days)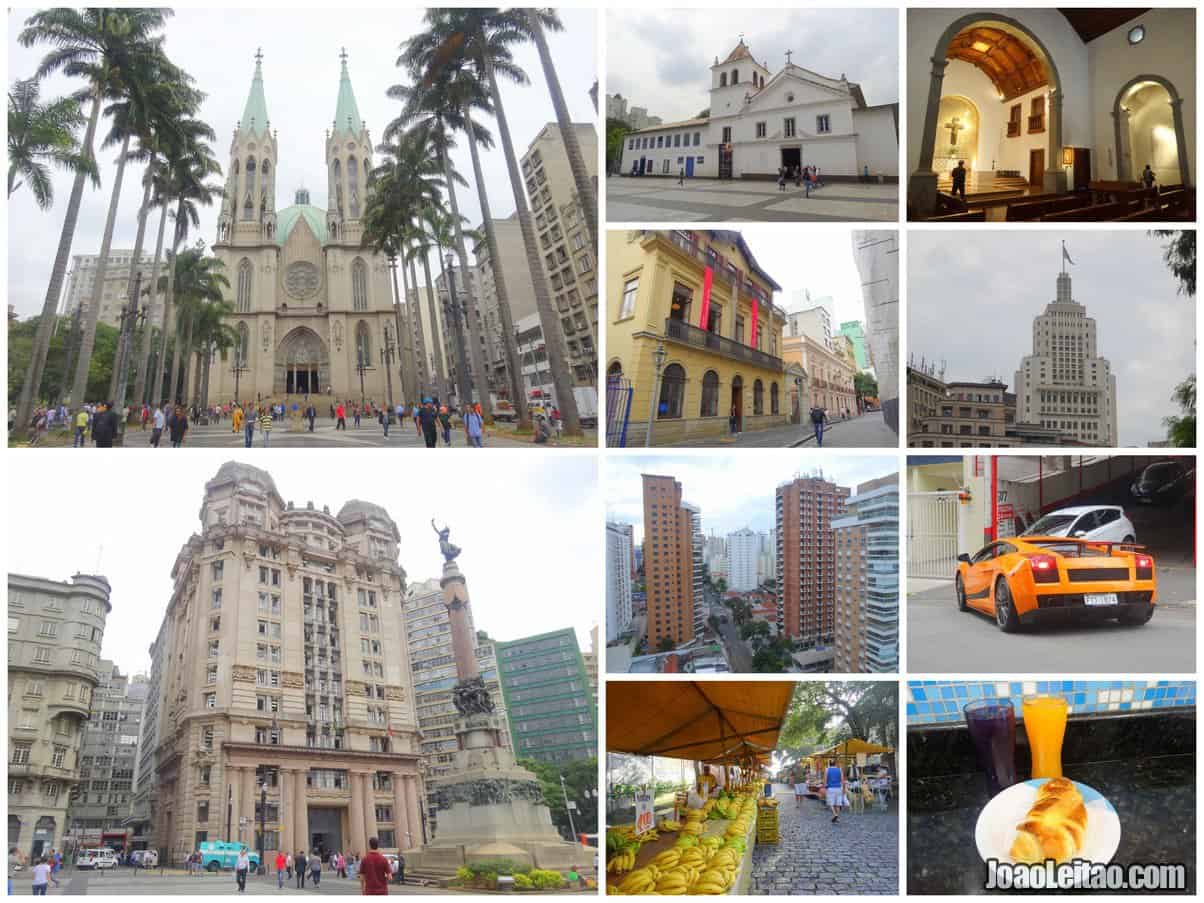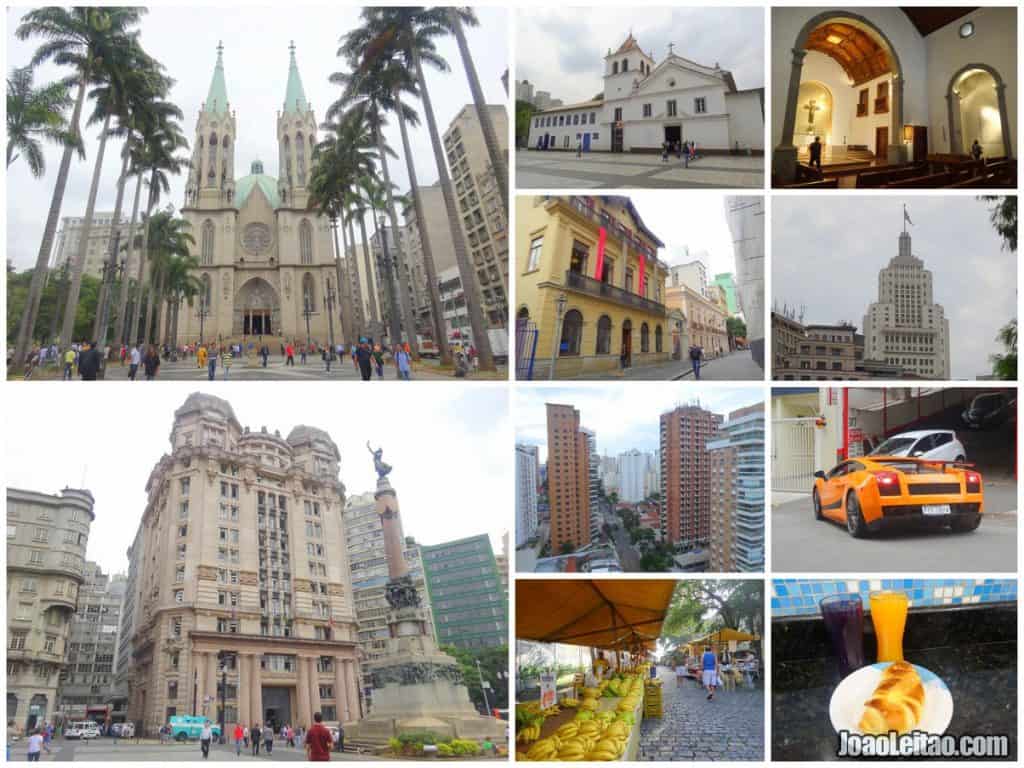 If you choose to spend one day in São Paulo before continuing your trip south, take a stroll at Avenida Paulista, a street that connects the new and the old parts of the city. It's São Paulo's business and cultural center, and where you'll find more shops.
The historic center doesn't look like what most people think of a historic center. There aren't many old buildings and most don't think it's pleasant at all. But that doesn't mean there aren't some truly historical landmarks, like the Teatro Municipal or the Luz train and metro station.
You can plan to stay one more day in São Paulo and visit the neighboring city of Peruíbe, two hours from São Paulo, where you can spend the day at the beach or visit the ruins of what's considered to have been the first church built in Brazil in the 16th century. You may even stop here on your way to Curitiba.
---
Curitiba (3 days)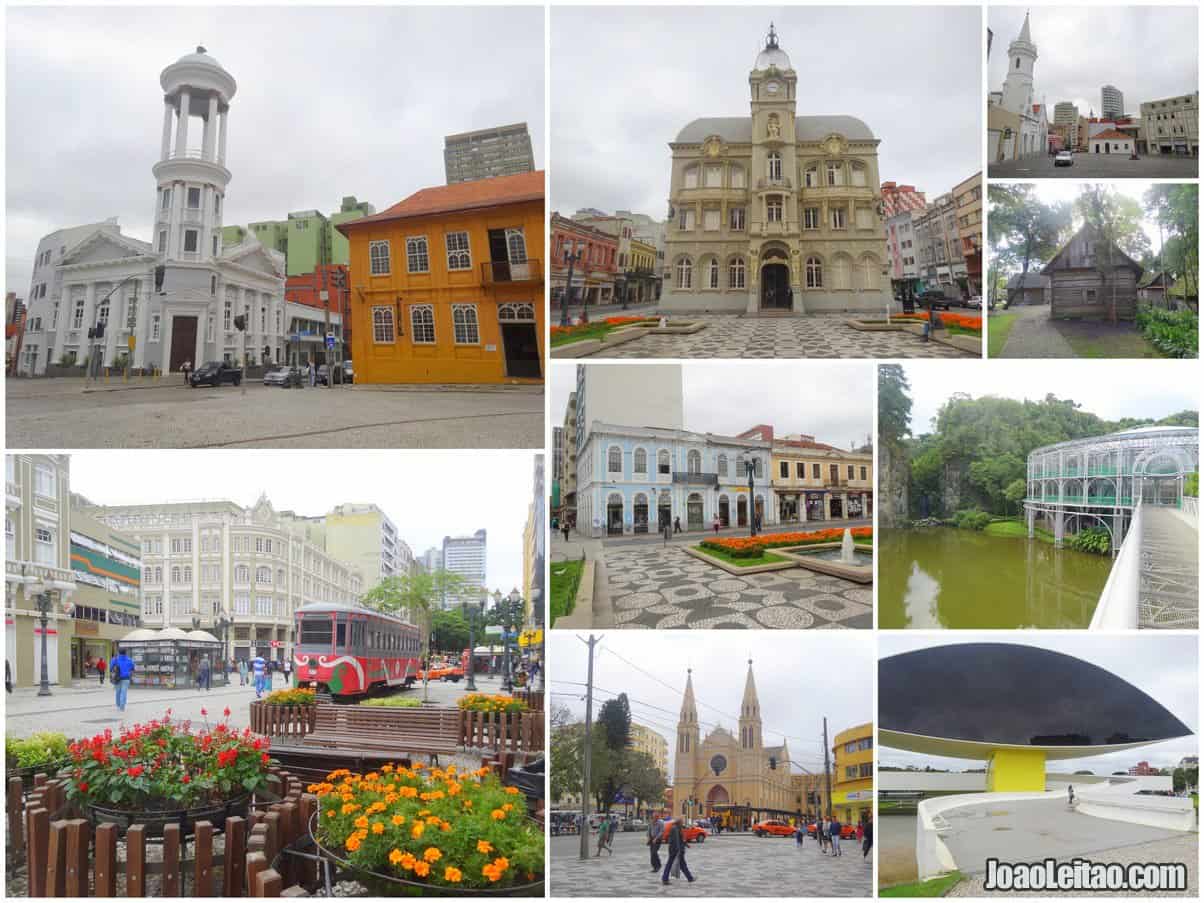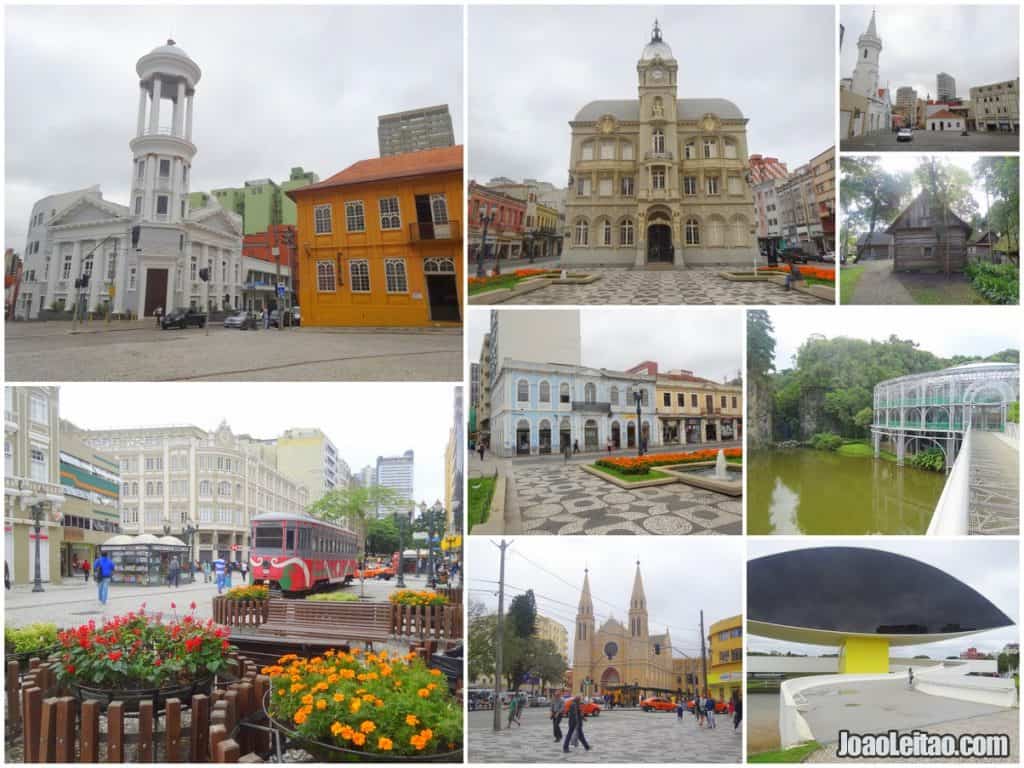 It's one of the largest cities in the south of Brazil, where most people are descendant of Europeans, with blond hair and blue and green eyes. It's slightly cold even in the summers, especially at night, and with frequent sub-zero temperatures in the winter. When you reach Curitiba, you'll feel for the first time that you're traveling further apart from the equator line and closer to the Antarctica region.
You'll probably arrive at the huge train and bus station, a complex with three terminals that connect to every possible destination.
Curitiba has enough points of interest to entertain you for days and you'll probably have to narrow down your list to just a few.
The multi-cultural celebration in Curitiba is quite amazing:
The Arab Memorial, at Gibran Khalil Gibran square, dedicated to the Middle Eastern cultures and where you'll find a specialized library;
Japan square with a Japanese garden and several buildings in a typical Japanese style;
São Cristóvão, where the Italian community gathers to celebrate Festa da Uva (Grape Festival) or Festa do Vinho (Wine Festival);
The German Park dedicated, of course, to the German traditions;
The Portugal Park that celebrates the ties to Portugal;
The city of Curitiba has the second largest Polish diaspora in the world (after Chicago in the USA).
Visit Rua das 24 Horas (24 Hour Street) where the city never sleeps and where there's free WiFi for all. And don't forget to visit the historic center, Largo da Ordem, square Coronel Enéas, and square Garibaldi, with the city's oldest buildings some of them built at the beginning of the 18th century.
You may also include a trip to the botanical garden and see some of Curitiba's most remarkable landmarks like Ópera de Arame, Praça Tiradentes (a square in the heart of the historic center), the Santa Felicidade neighborhood, and the Guaíra theater.
If you'd like to extend your stay, take a day trip to Paranaguá, about one hour and a half away by bus. It's the oldest city in the state of Paraná, and you'll see why at its small and picturesque historic center.
---
Pomerode (1 day)
The reason I include Pomerode in this itinerary is to give you the chance to visit one of the so-called "German cities of Brazil," founded and inhabited by German immigrants and that keeps a lot of the German culture alive.
To have an idea of how well-preserved the historical origin of Pomerode is (founded in 1863 by Germans from Pomerania), watch this video.
If you can, travel here in mid-January to attend the Pomeranian Festival.
---
Florianopolis (1 day)
To avoid reaching Porto Alegre at night, and avoid a transfer and a long trip, stay in Florianopolis for one night and take the opportunity to visit some of the city's main points of interest.
Depending on what you enjoy doing, you can visit the iconic Hercílio Luz bridge (1926), the old city market, the Metropolitan Cathedral (1773), and the Álvaro de Carvalho theater (1875). At the 15 de Novembro square visit the old fig tree, which is over 100 years old. If you enjoy military architecture, you can visit one or more of the four fortresses built to defend the city from Spanish attacks.
If you want to extend your stay or if you have the extra time, you may want to visit a village outside Florianopolis called Santo Antônio de Lisboa, founded by Azoreans and that keeps many of its origin's traces. In addition to historical must-sees, the town also has a beautiful beach.
---
Porto Alegre (1 day)
It's a big, vast city not suitable to explore on foot, so it's a good idea to resort to a tourist bus. The Tourism Line travels 28 km through 11 neighborhoods in Porto Alegre, does five daily tours, has audio guides, and is affordable (about R$25 / 7,30 Eur on weekdays and a bit more on weekends).
The next day you'll be entering a new country: Uruguay.
---
Stage 2 – Uruguay (3 days)
Montevideo (2 days)
Plaza Independencia is the center of Montevideo. To reach there, or one of the suggested accommodations, take a taxi from the bus station (about UYU 150 / 5 Eur), a city bus (UYU 28 / 1 Eur), or just walk. It's about 3.5 km away.
At Plaza Independencia, you can visit Palacio Salvo, definitely Montevideo's most famous building and once the tallest one in Latin America. From there you go into the old city through Puerta de la Ciudadela, from where you can walk to visit Palacio Legislativo (the Parliament) and Cementerio Central.
If you feel like visiting some museums, the Museum of National History is scattered into four historical houses in the city and they're all free entrance.
Across the bay, a bit further from the center, you can visit Fortress General Artigas, known as Fortaleza del Cerro, which is the Montevideo historical center, from where you have amazing views of the city.
Pocitos, a cosmopolitan neighborhood with a vast beach, is pleasant and safe, and a beautiful place to take a stroll at the Rambla, an always lively promenade by the sea where locals go to often.
After spending a few days in Montevideo, it's time to travel to Buenos Aires but you must first stop at Colonia del Sacramento. Not only does this small city has an interesting atmosphere, but it was founded by the Portuguese, something rare in the Spanish-speaking American countries.
---
Colonia del Sacramento (1 day)
Colonia, a UNESCO World Heritage Site, is as charming as it is small. It was founded in 1680 by Portuguese Manuel Lobo and you can see the Portuguese influences in the architecture and layout of the city. You can explore Colonia on foot, or rent a bike or a scooter to get around faster.
Don't worry too much about planning for your arrival because the central bus station is close to the city center and the ferry boat station that you'll use to reach Buenos Aires. It's a quiet city until the tourists arrive, mainly coming from Buenos Aires. It's especially critical on weekends, so I advise you to wake up as early as possible to calmly explore the streets of Colonia.
The next day, if all goes as planned, you'll be leaving for Buenos Aires. Try not to depart on a Sunday, because it might be hard to get a ticket to the 50 km crossing.
---
Stage 3 – From Buenos Aires to Ushuaia (32 days)
Buenos Aires (4 days)
The ferry from Colonia docks at Terminal Madero, right in the center of Buenos Aires with almost direct access to the subway network. If you're going to stay for a few days in the city, it's best to try and get a SUBE card, which can be a challenge.
They're not on sale at stations, some points of sale sell you the card but don't top it off, while other places top it off but don't sell the card. To plan your trips in the city after getting the card, you can use the official website.
Buenos Aires is a huge city and it's normal for a tourist to feel overwhelmed, so I suggest you take a free tour on the first day through Recoleta, for example, or of the Historic Center. These guided tours of about three hours are an excellent introduction to Buenos Aires. They're free but you're expected to tip the guide in the end. I suggest you tip around 5 Euros.
Also visit the Boca neighborhood, a part of the city where the tango culture is especially vibrant and where soccer is taken very seriously. It's the home of the most famous soccer team in Argentina, Boca Juniors, the eternal rival of River Plate, the other big team in the Argentinian capital.
If you want to take a day trip out of the city, I have a great suggestion. Catch bus 57 early in the morning from Plaza Italia to Luján.
Explore this lovely city for a while and don't skip visiting the cathedral. Then take a taxi to Carlos Keen, a small village that grew around a now-closed train station. It looks like time stopped there and it's a refreshing alternative to the big city. If you can, negotiate with the taxi driver to wait while you explore and then take you to Capilla del Señor, a village about 30 km away.
It's full of colonial houses and it's a great way to end the day. From there you can take bus 57 back to Plaza Italia.
---
Buenos Aires – Bahia Blanca – Puerto Madryn (1 day)
You have a long bus trip ahead out of Buenos Aires to Patagonia, across a vast area without many people and not much to see. If you're comfortable with long trips, you can do it nonstop for about 18 hours.
---
Puerto Madryn and Valdez Peninsula (3 days)
Puerto Madryn is the base to explore the Valdez Peninsula, an animal sanctuary classified as a UNESCO World Heritage Site. Unfortunately, there aren't many options to explore the area independently.
Renting a car is extremely expensive, about 80 Eur a day with Hertz. It's better to join a tour that will cost you about 100 Eur plus the admission ticket to the natural park (8 Eur). But it's worth the money just for a chance to spot sea lions, penguins, seals and other animals, and, if you're lucky, whales.
There are several guides and travel agencies offering those tours, but you can check an example here "Discover Valdes Peninsula Day Tour" or here.
If you look at this area's map, you'll notice a place in the peninsula, a tiny village called Puerto Pirámides. Don't try to find a bus to get there expecting to explore the peninsula from that village. You'll simply be stuck in the village because the only thing you'll be able to find there is renting a boat to go whale watching.
The good news: the next leg of the trip is on the Patagonian train that begins in Viedmae and ends in Bariloche. A car with a bed costs about 95 Eur, a regular seat costs half of that.
The bad news: there's only one train a week, on Mondays, and it's a night train, which means you won't be able to appreciate the views of Patagonia from the train. Furthermore, you'll first need to catch a bus to San Antonio. There are several buses departing every day and the trip takes about four hours.
---
San Carlos de Bariloche (2 days)
An interesting city in the shore of Lake Nahuel Huapi, from where you can go on one or more hiking trips. There's a portion of the Huella Andina trail, about 20 km long, that you can walk from here. Contact the Nahuel Huapi National Park for more information.
---
El Maitén (3 days)
It's a small, magical city in an enchanted valley surrounded by unparalleled natural beauty, on the shore of Chubut River. You can stay here and relax for a few days because the plan is to take the train to Esquel and there aren't trips every day.
So, you'll have some time to kill in El Maitén.
There's a crystal water stream coming down from Buenos Aires Chico, a small place outside El Maitén. You can hike next to it, through the woods you'll find there. After walking for two hours, you'll find a magnificent waterfall. If you continue walking, you'll reach the top of Cerro Azul, 2,000 meters high and from where you can see amazing views.
For a less demanding hike, climb Cerro de La Cruz, a path marked by a Vía Crucis with 14 stops.
At the village, visit the Railway Museum and the workshops of "La Torchita" where something is always happening.
---
Esquel (2 days)
La Zeta lagoon is 5 km from Esquel, and further ahead, 10 km away, you'll reach a small village called Alto Rio Percy from where you can go on hikes in the mountains with local guides.
From the city, you can walk up to Cerro de La Cruz following a well-marked trail.
While you're in Esquel you might want to take a trip to Trevelin, a village about 25 km away founded by Welsh people (Trevelin means "mill village" in Welsh). There you can visit the original mills built by the Welsh settlers, one of them turned into a museum.
---
El Calafate – Perito Moreno Glacier (3 days)
There's not much to see in the city in addition to nature around it. It is Patagonia, indeed. But it's a mandatory stop not only because you have to go by it to reach El Chalten but because it's the base to visit the fantastic Perito Moreno glacier.
Doing the math, a one-day trip including transportation to the park, admission fee, and other fees will be around 50 Eur and it's totally worth it. This is one of the most spectacular places not only in Patagonia but in the whole of Argentina.
Go to the El Calafate bus terminal early in the morning, at around 7:30 am and check the schedules and which prices are the best. If you plan on taking the boat tour available at the park, choose a late departure that's usually the cheapest too. The bus trip takes about one hour and a half and it's a wonderful journey. It drops people off at the parking lot from where it will pick them up to return at a fixed time, usually around 4:00 pm.
You can also ask your hostel or others about organized tours. You might get a good deal.
You'll tour the park on several high wood crosswalks to see the glacier from all possible angles. You'll have plenty of time to enjoy the view, so enjoy them and take your time. Don't forget to pack a meal because there's only one restaurant and it is, of course, costly.
---
El Chalten (4 days)
This is one of Tierra del Fuego's best-kept secrets. It's an excellent base for several medium difficulty hiking trails, accessible, and with everything a traveler needs to be comfortable.
El Chalten is great for hiking, Here are some suggestions:
Laguna de Los Tres, 5 to 6 hours departing from Hospedaria Pilar and following a path that can be circular.
Laguna e Cerro Torre, a fabulous hike of about 6 hours as well.
Las Aguilas Mirador is a smaller two-hour hike but with great views of the village and surrounding landscape.
Laguna Sucia is an extension of the Laguna de Los Tres hike but don't do it alone. It's not particularly dangerous but it's very rocky and there aren't many people around, so it's better if you don't risk it.
---
Puerto Natales (3 days)
Some days of the week you reach Puerto Natales at lunchtime but on most days you'll reach late, by dinner time. Of course, it's better to go for the first option.
You can relax for a while at this town with a vibe of a small fishing village. Visit the port, the city museum, check out what the local travel agencies have to offer.
Around Puerto Natales, you have several outdoor activities to choose from, including the Torres del Paine Natural Park where you can see the bizarre rock formations that give the name to the park as well as the Cuernos del Paine.
If you don't have the time, the energy, or the money to visit the Natural Park, walk up to the top of the Cerro de Dorotea (800 meters high) for an amazing view of the village and the Ultima Esperanza fjord. If you're lucky, you'll see one of the condors that live there.
---
Punta Arenas (2 days)
A second stop in Chile before returning to Argentina to reach our final destination: Ushuaia.
You can feel a bit of the community's history by visiting the city's historic cemetery. It's a town that began and grew because of its port and it's always interesting to visit that area of Punta Arenas watching the daily routine at the docks.
If you have extra money to spend, visit the tax-free zone of Punta Arena. Take a look at the city theater and the Muñoz Gamero square. The historical Gran Hotel Cabo de Hornos is also worth a visit.
If you want to travel part of the way by water, there's a local ferry to Puerto Williams (30 hours), from where you'll have to catch a taxi to Puerto Navarino and cross to Ushuaia, just ahead.
---
Ushuaia (5 days)
Maybe Ushuaia is worth more as the result of achieving something, of winning the challenge, then actually being there, at the southernmost city of the world. But it still has to wow the traveler.
I suggest the Prison Museum. To reach, the best way is to take the Prisoners Train that carried the prisoners from 1920 to 1947 and was restored for tourism.
If you still have the energy, go on a 10 km hike to Laguna Esmeralda in breathtaking scenery. The Marcial glacier is another must-see, 7 km from the center of Ushuaia. You can take a cable car to reach there, at least for the steepest part of the way.
From the top, in addition to having an amazing view of the city, you also have a great view of the Beagle Channel. If you're properly equipped, you can continue from the cable car station for two more hours to a viewpoint further up.
But the city itself shouldn't be overlooked. It's great to walk around, seeing life at the port and the old wooden houses, some of them painted in bright colors, which result in great photos.
---
In Ushuaia. Now what?
Now that the adventure of crossing half of South America is over, you might be thinking how do you get out from this wonderful end of the world. There are a few options to consider:
Flying to Buenos Aires with Aerolineas Argentinas, which will cost you around 240 Eur and return home from there with another flight or a combination of flights.
Travel north overland but on a different route, through Chile and then Santiago, traveling home from there or continuing to go up and explore South America.
If you have the budget, you can also take a cruise to Antarctica. It's about 1,000 km on a boat, each way, all the way to the bottom of the frozen continent of Antarctica. There are tours for all preferences and all budgets, with some of them including stops in the Falkland Islands and South Georgia.
Going back overland, nonstop, to Buenos Aires.