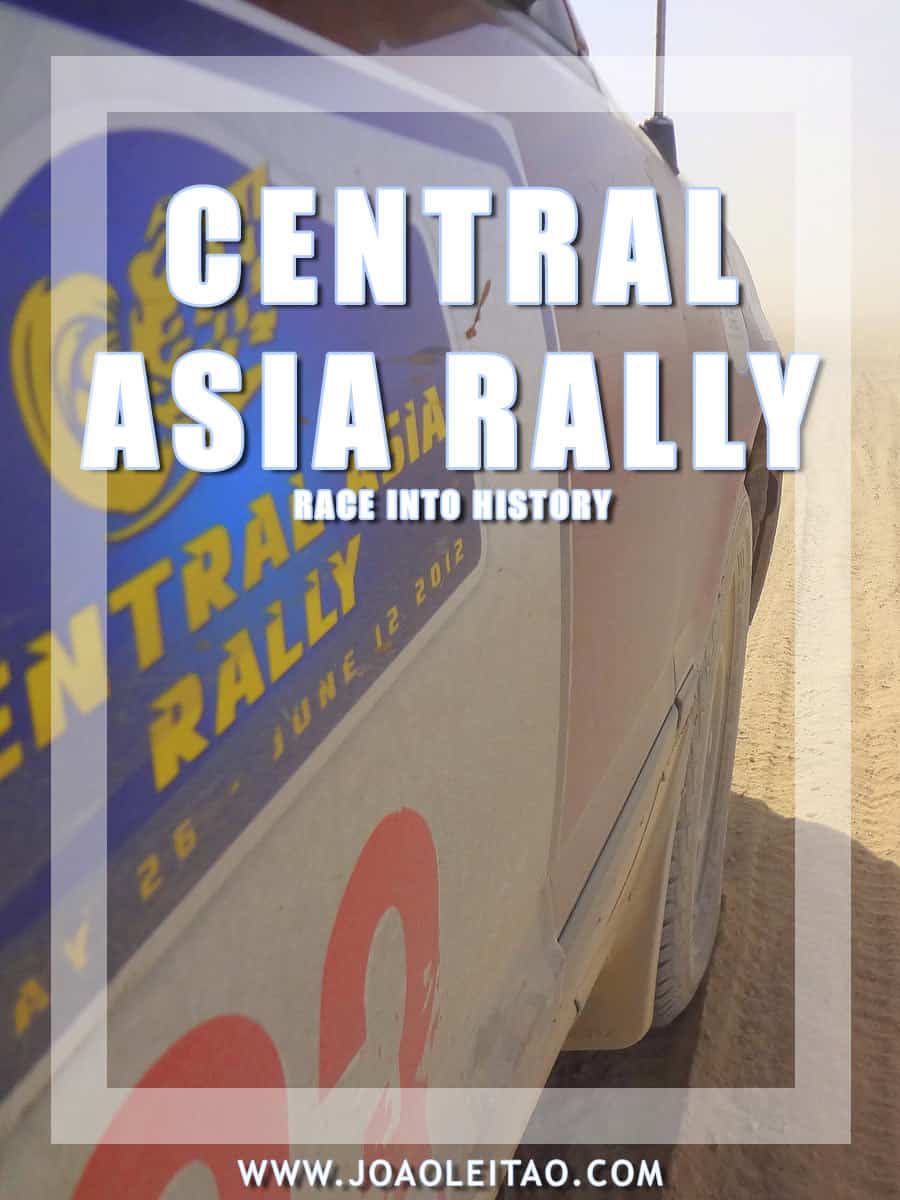 Have you ever heard about a banger rally? Those crazy car rallies that cross a few countries while driving old or funny decorated vehicles? Well, I'm going to give you my personal insight into one of those unique road trips – the Central Asia Rally. Back in 2012, I participated in such a motoring event to go on a road trip adventure from Europe to the heart of the Silk Route.
After participating in the Caucasian Challenge Rally (crossing the Caucasus region at the border of Europe and Asia between the Black and the Caspian seas) a few years before, I ended up participating in another event of the same kind.
I invited my friend João Paulo Peixoto to be my travel partner. He has been to all the countries in the world so, for him, the thrill was the experience and not really visiting these countries again. Personally I also had been to all those countries before, so I was not expecting a touristic trip, rather a crazy adventure driving all the way from Central Europe to Central Asia.
Central Asia Rally receives teams from England, Finland, Germany, Portugal, Ireland, Norway, the USA, Canada, Hungary, etc.
NOTE: The Central Asia Rally has changed its route since the time I participated. This article is based on my experience on a previous route.
---
Itinerary
---
Countries of the 2012 rally
Hungary – start in Budapest
Ukraine
Russia
Kazakhstan
Tajikistan – end in Dushanbe
Countries of the 2021 rally
Russia – start in Astrakhan
Kazakhstan
Uzbekistan
Tajikistan
Kyrgyzstan – end in Bishkek
---
Central Asia Rally by a Finnish team
---
---
General Information
---
The Central Asia Rally mixes adventure, endurance, and navigation.
It's all about adventure since there are many unexpected factors and, based on the characteristics of the rally, there will be moments where you can count only on yourself or on your teammate. I got my car stuck in sand in the Uzbek desert when I was all alone, and our front car suspension broke on an isolated mountainous region of Tajikistan. Expect the unexpected.
It's all about endurance since there are long days and long distances. It can be exhausting at some point.
It's all about navigation as you need to find the right roads or trails in unknown areas, relying only on your paper map, some GPS coordinates, or the help of local people.
If you finish this trip with your vehicle in one piece you can be proud of yourself. 5 countries, 14 days and 6500 km / 4038 mi through bad roads, desert tracks and river crossings – a real challenge for man and machine.
---
250 KM in 4 minutes
---
Driving to Ishkashim along the Afghanistan border in Gorno-Badakhshan Autonomous Region in south-east Tajikistan.
---
Getting stuck in sand in Uzbekistan
---
While my team partner took the epic train – Bukhara Express – from Bukhara to Samarkand I was all alone for a supposedly easy desert drive along the Turkmenistan border. The chances of getting stuck in the sand while in Uzbekistan are not that high, unless you drive off-road. I got stuck in the sand when I decided to go in direction of Dengizkul lake.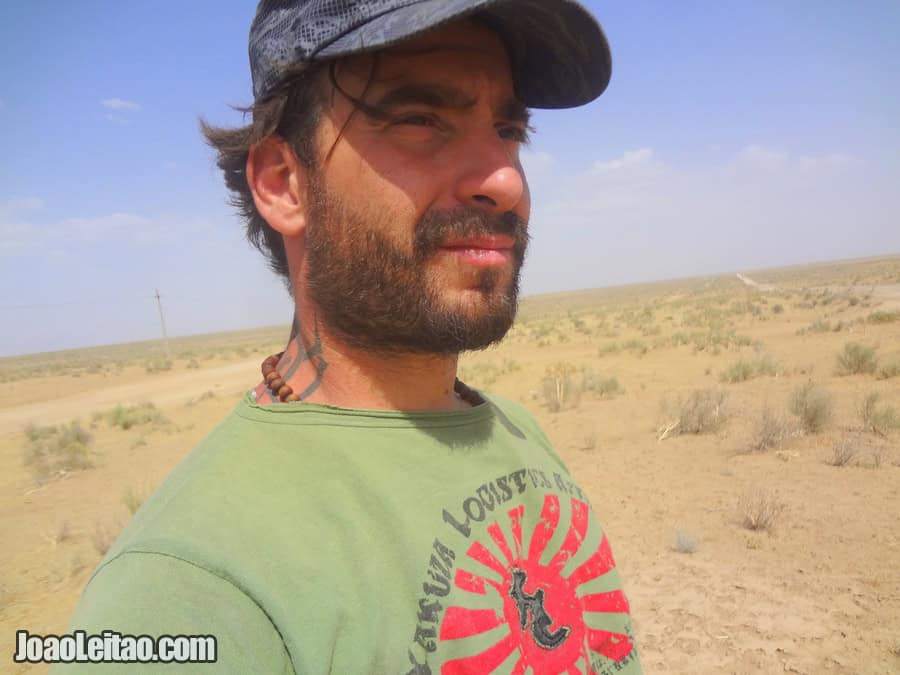 I had to walk back to the desert tracks and after waiting two hours a truck finally passed by and tried to help me out. This heavy truck full of water also got stuck. So we had to wait one more hour until a tractor finally came in our rescue.
Read my page: Driving in Afghanistan
---
Central Asia Rally on the news
---
"You buy an old car in Budapest and drive it 5,000 miles across Russia and the Stans, stopping only to pay the odd bribe. Welcome to the first Central Asia Rally"
"…One day I ride in car six, with Miguel Almas and Miguel Esteves from Portugal. In another world they are a vet and a psychiatrist; in this one they're a pair of hard-drinking, hard-driving (though not always at the same time) desperados on a mission to experience everything they possibly can and to have a bloody good laugh while doing so. Their motto "Why not?" is perplexingly difficult to contradict, even when I really want to. Our drive in their red, 20-year-old VW Passat estate (185,000 miles on the clock) is supposed to be simple, but a few deliberate wrong turns, and a bit of off-roading later ("Why not?") we find ourselves detained by the Uzbek military. After an hour of shared confusion, they send us on our way, but even though we are clearly in the wrong – we strayed into a military zone – they never hint at a bribe…"
Bangers and cash: driving in the Central Asia Rally on The Guardian by Jamie Lafferty.
---
Warning
---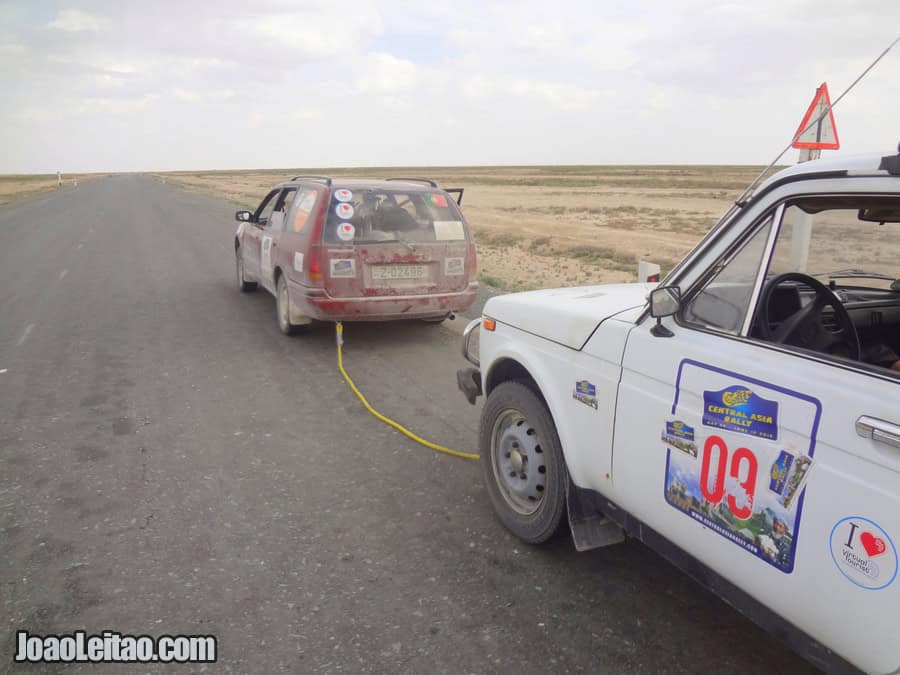 The Central Asia Rally is long – both in time and distance. This can be stressful both physically and mentally. You have to be prepared for everything and you'd better think ahead. You cannot expect help from anyone else just besides yourself and your mates.
---
Things that might happen
---
the need to come to a decision that can generate tension between you and your teammates.
having your vehicle with serious technical problems.
driving all night because you got lost or you had to repair your vehicle.
having your car broke down or just get out of gear (literally).
to be stuck in the middle of nowhere, hungry and in need to solve your situation.
losing your passport and you have no idea where.
having one of your teammates lost his passport and he knows he left it in a restaurant 200 km / 124 mi back.
haven't had a shower for a couple of days and there's no hot water left in the hotel when you get there (or no water at all).
getting stuck in the sand.
your car dying in the river (like it happened to the rally organizer).
getting stuck at the border without the necessary documents.
---
Car Rally Highlights
---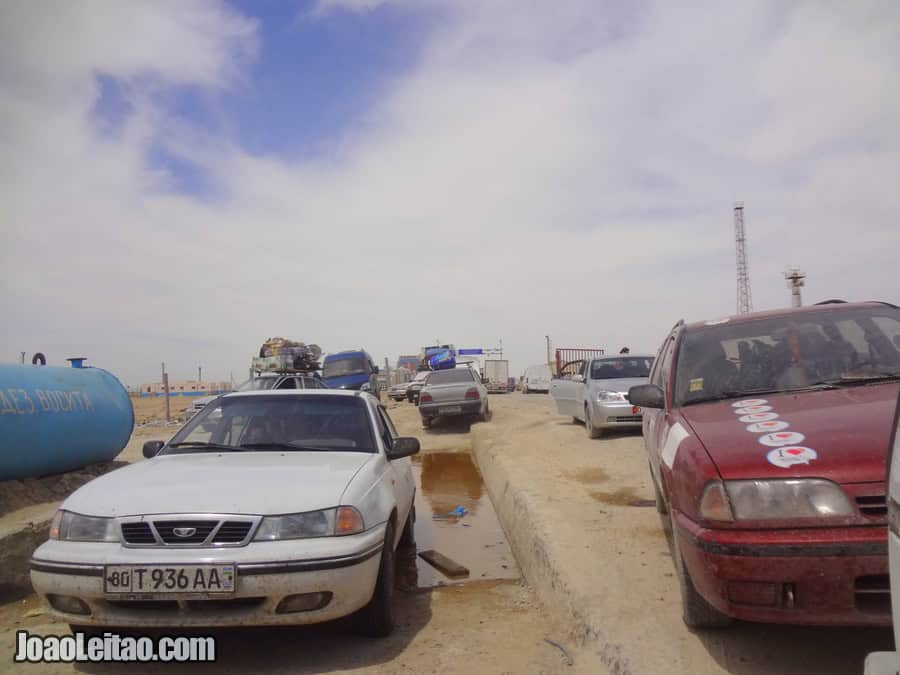 Speed along the banks of the famed Volga River as you cross Russia.
Contemplate divinity (and pray for navigable roads) in Kalmykia, Europe's only Buddhist province.
Explore the ghost-ships of Kazakhstan, forever buried in the sand as the blistering deserts swallow the Aral Sea.
Navigate the crimson sands of Uzbekistan's Kyzyl-Kum Desert, renowned for yielding magnificent dinosaur fossils.
Wander the greatest ancient cities of the fabled Silk Road, including Samarkand and Bukhara (home to Marco Polo).
Brave the cruel twists & stunning peaks of the Pamir Highway – the world's 2nd highest roadway – with portions of the drive above 4600 me / 15,000 ft.
Pop into Afghanistan to visit bustling marketplaces that are kept unchanged in over a thousand years… and then pop right back out again before they even know you were there!
It's a hard road and an exhausting journey so be prepared to weather hardships that include cranky commissars, vodka-and-tea-fueled escapades, baking sun and withering cold, delectable native cuisines, frantic escapes through crowded border crossings, bizarre liquors of questionable provenance, rock slides, probably some brief nudity from your fellow adventurers, dust & sand, and some of the loveliest, most hospitable locals you will meet anywhere.
---
Map of Central Asia Rally 2021
---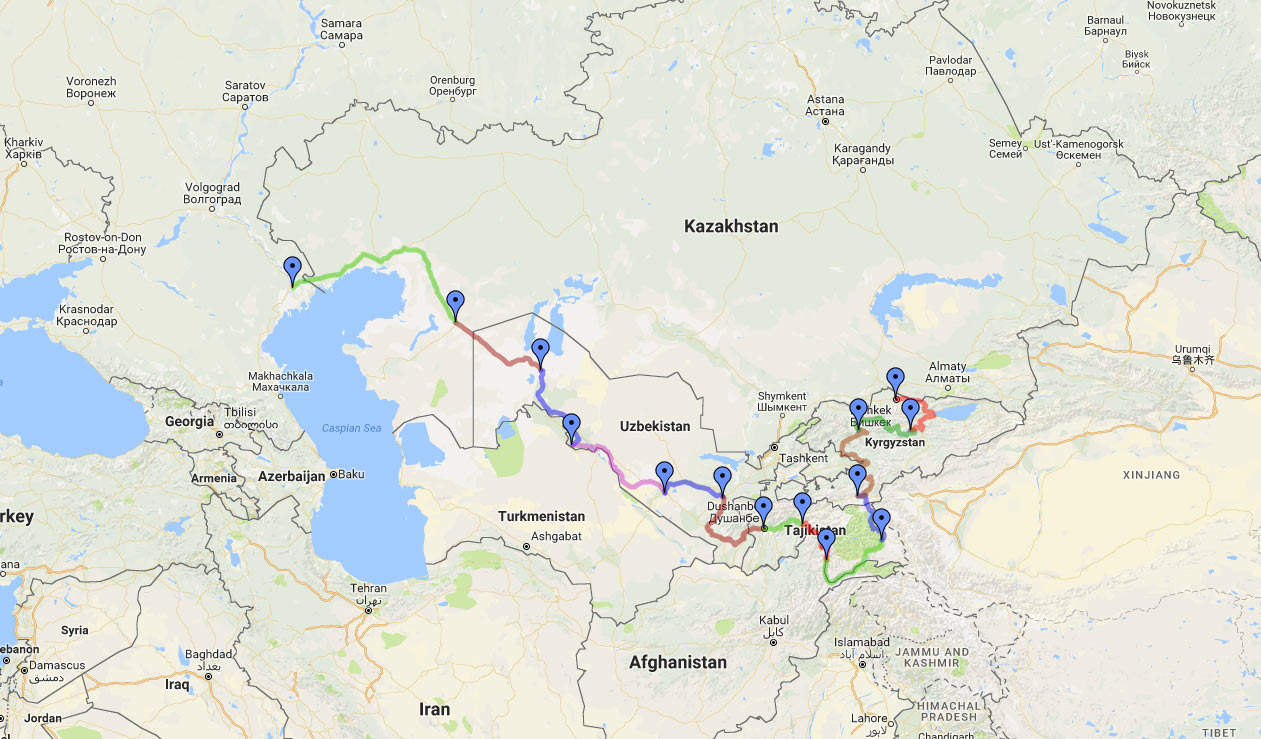 ---
Itinerary Central Asia Rally 2012
---
Day 1, May 26th
Budapest – Rivne
Route: Budapest – M3 motorway – (Nyíregyháza) – Route 4 – Záhony – Chop – Lviv – Rivne
Distance: 790 km / 490 mi
Day 2, May 27th
Rivne – Kharkov
Route: Hotel Sofia – (Zhytomyr) – (Kiev) – (Poltava) – Visoky (Kharkov)
Distance: 800 km / 897 mi
Day 3, May 28th
Kharkov – Volgograd
Route: Visoky – Kharkov – Izyum – Krasnyi Luch – Novoshakhtinsk – Belaya Kalitva –
Morozovsk – Motel Tyhiy Don
Distance: 735 km / 456 mi
Day 4, May 29th
Motel Tyhiy Don – Astrakhan
Route: Motel Tyhiy Don – Bereslavka – (Volgograd) – Akhtubinsk – Astrakhan
Distance: 530 km / 329 mi
Day 5, May 30th
Astrakhan – Beyneu
Route: Astrakhan – Krasnyy Yar – Karaozek – Kotyayevka – Atyrau – Dossor – Kulsary – Beyneu
Distance: 840 km / 521 mi
Day 6, May 31st
Beyneu – Muynaq Camp
Route: Beyneu – Akzhigit –– (Farhat's café) – KC7 – Muynaq
Distance: 437 km / 271 mi
Day 7, June 1st
Muynaq Camp – Khiva
Route: Muynaq – Kungrad – Khojayli – Nukus – Urgench – Khiva
Distance: 450 km / 279 mi
Day 8, June 2nd
Khiva – Bukhara
Route: Khiva – Pitnak – Bukhara
Distance: 490 km / 304 mi
Day 9 – June 3rd
Distance: 0 km / 0 mi
REST DAY IN BUKHARA
Day 10 – June 4th
Bukhara – Samarkand
Route: Bukhara – Quarakol – Jumabazar – Desert drive – Pamuq – Mubarak – Quarshi –
Samarkand
Distance: 523 km / 324 mi
Day 11 – June 5th
Samarkand – Nurek
Route: Samarkand – Shahrisabz – Ghuzar – Termiz – Sayrab – Baysun – Elbayan – Hazarbagh –
Khayrabad – Denau – Sofiyan – Dushanbe – Danghara – Vahdat – Nurek
Distance: 585 km / 363 mi
Day 12 – June 6th
Nurek – Tavildara
Route: Nurek – Naizirak – Vahdot – Ob-i-Garm – Sicharog – Lab-i-Jar – Kala-i-Naun – Tavildara
Distance: 210 km / 130 mi
Day 13 – June 7th
Tavildara – Khorog
Route: Tavildara – Saghirdasht – Kala-i-Khum – Rushan – Khorog
Distance: 280 km / 173 mi
Day 14 – June 8th
Khorog – Bulunkul Camp
Route: Khorog – Jelondy – Pitob – M41 "Pamir Highway" Koytezek pass – Bulunkul (- Alishur)
Distance: 200 km / 124 mi
Day 15 – June 9th
Bulunkul Camp – Murghab
Route: Bulunkul Camp – Alishur – Murghab
Distance: 210 km / 130 mi
Day 16 – June 10th
Murghab – Ishkashim
Route: Murghab – Khargush pass – Langar – Ishkashim
Distance: 345 km / 214 mi
Beware of landmines: The 1200 km / 745 mi long natural border with Afghanistan is the most dangerous zone of the rally. Most parts of the region are still not cleared of land mines. Never stray away from the main road and do not let yourself be tempted by the magnificent and refreshing streams, unless you see the "Cleared of Mines" sign somewhere between the main road and the river bank. Bathing kids and women washing clothes may be a good sign.
Day 17 – June 11th
Ishkashim – Khostav
Route: Ishkashim – Khala-i-Khum – Zigar – Khostav
Distance: 455 km / 282 mi with Afghan sightseeing
Day 18 – June 12th
Khostav – Dushanbe
Route: Khostav – Kisht – Anjirob – Khulob – Vose – Dangara – Vahdat – Dushanbe
Distance: 285 km / 177 mi
---
Caucasian Challenge Rally 2008
---
My video of the Caucasian Challenge – driving across the European Caucasus mountain region.
Caucasian Challenge Rally official website
---
What to Know
---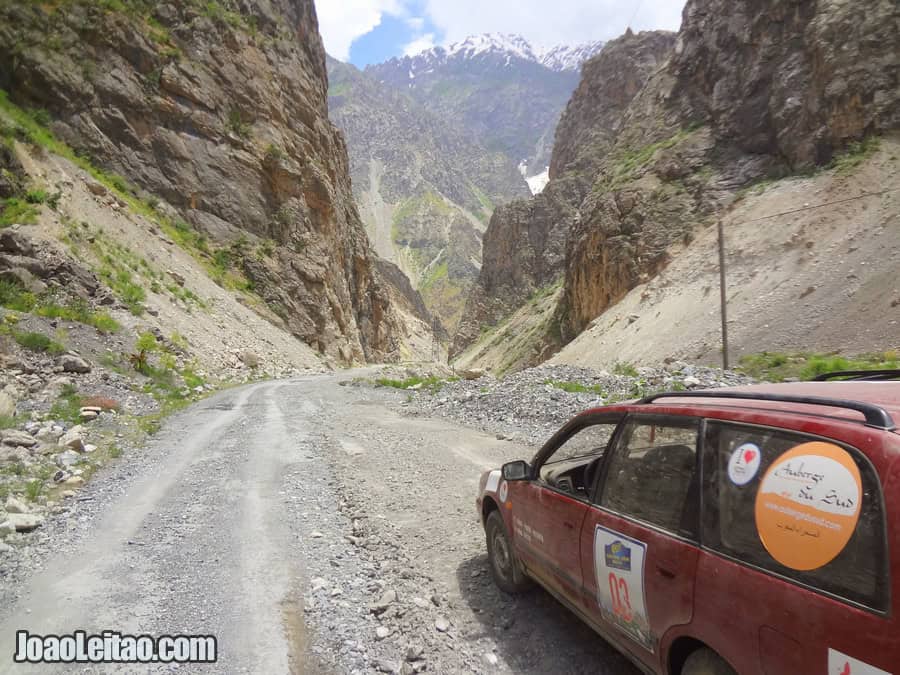 For a tour of this length and with these characteristics you need to be well prepared physically and psychologically. Even if you are someone with an easy-going attitude.
Vehicle check and proper maintenance is a key factor for your success. Doesn't matter if your car is old, but it needs to be checked since 3000 km / 1864 mi out of the 6500 km / 4038 mi will be in extremely mountainous regions.
Car brakes, heating fan, and radiator need to be working properly. Get new car brake pads before you leave and pack the old ones along with you. You can change pads in bigger cities en route if you're desperate. Riding up and down the mountains does make some cars have coolant boiling problems. If you have an older car, clean the radiator thoroughly and make sure the fan works properly.
Expect daily non-asphalt roads and river crossing.
There is a repair shop in every inhabited place along with Central Asia.
Take two extra tires instead of one. If you want to be better off, take three spare tires. Use adequate tires for the trip in both quality and condition. There is absolutely no use taking huge mud tires, you can make the route with normal tires, the chance for mud is small, as you will travel mostly on rocky and sandy surfaces.
Always keep extra water with you. Buy big 5 lt / 1.3 gal bottles of mineral water to store in the car along the trip. Better safe than sorry.
Learn the basics of the Russian language: greetings, basic expressions, and numbers. This will make you go along with police, border officials and local people all over Central Asia. Take a Cyrillic alphabet table along with you, as this will help you read road signs.
You will need to face a lot of terrible roads so check your suspension. My car suspension broke down twice. Once in Uzbekistan and again in Tajikistan.
Check the suspension and the springs. It is a top priority.
If you're not driving a 4WD, get a metal shield (sump guard) under the engine to protect it from the hit of bigger stones – just to be on the safe side.
Take at least one 20 lt / 5.2 gal jerrycan with you (two jerrycans are better if you have enough space), there might be fuel shortage in the Stans.
Pump stations are not too frequent in the mountains. Furthermore, most of the cars (especially in Uzbekistan) run on CNG / natural gas, not LPG.
From Beyneu (KZ) to Denau (UZ) 80-octane or worse fuel is very common (if available at all). There are stages, even outside Uzbekistan, where you won't find fuel stations and if you miscalculate your fuel consumption or forget to fill up your tank, you might be in trouble.
Remove the catalytic converter from your car if you are running on petrol. Bad quality petrol (that can be either low octane from petrol stations or stuff you buy at locals backyard from plastic buckets) can eventually kill your engine due to secondary consequences of fuel impurities.
You might want to take extra air and petrol filter since you drive on dusty roads and petrol quality will be worse than what your engine got used to. Ask your mechanic what he recommends as spare parts for the trip.
---
Quick Tips
---
The rally organizers – Travel Scientists can buy and prepare your car beforehand. I did it this way.
You don't really need to buy an old car. You can bring your new vehicle. Some people do actually bring their own car to the run and return back home with it.
It's better to have at least one person with you on the trip.
Check out what kind of passport you hold since visas are necessary for all the countries in Central Asia.
I paid about €550 euros for my Nissan Primera. I spent a few hundred euros extra to prepare the car mechanically.
After the rally, my wife flew to Tajikistan and we continued traveling by car in the region for two more months.
I sold my car in Bishkek, Kyrgyzstan for $1000 US dollars.
Our sponsors: Dar Rita, IESF, Auberge Café du Sud and Virtual Tourist.