Visit Chernobyl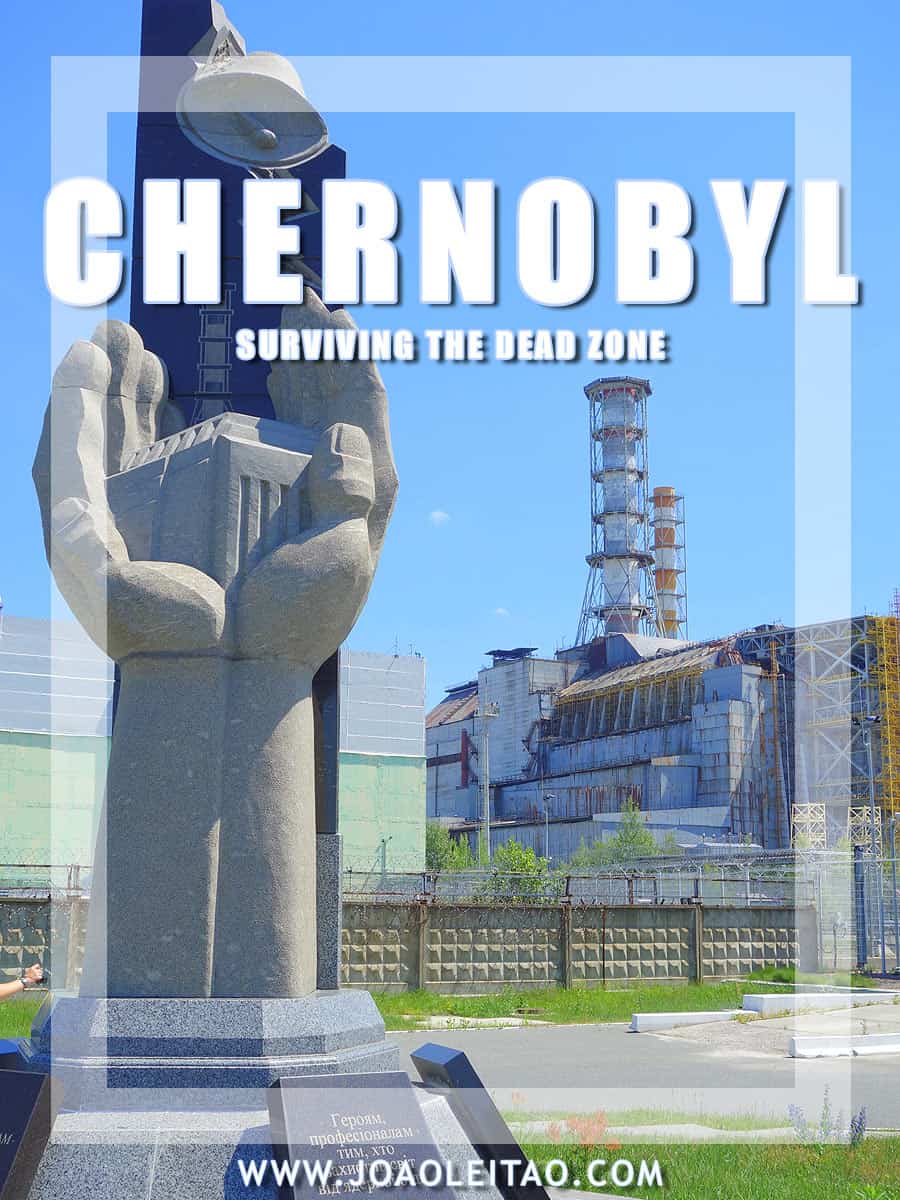 Chernobyl is an infamous place in Ukraine that got the world's attention on April 26th, 1986, when the Reactor No. 4 of its Power Plant exploded.
The worst nuclear disaster in the history of mankind caused 400 times more radioactive contamination than Hiroshima atomic bomb launched by the USA over Japan.
As the old concrete sarcophagus is slowly collapsing (which had already happened in 2013), a new $1.4 billion dollars / €1 billion euros steel sarcophagus is being built over Chernobyl Reactor No. 4. This huge steel arch-shaped construction is 190 m / 623 ft wide and 200 m / 656 ft long.
Top Chernobyl Attractions
Reactor No. 4 Sarcophagus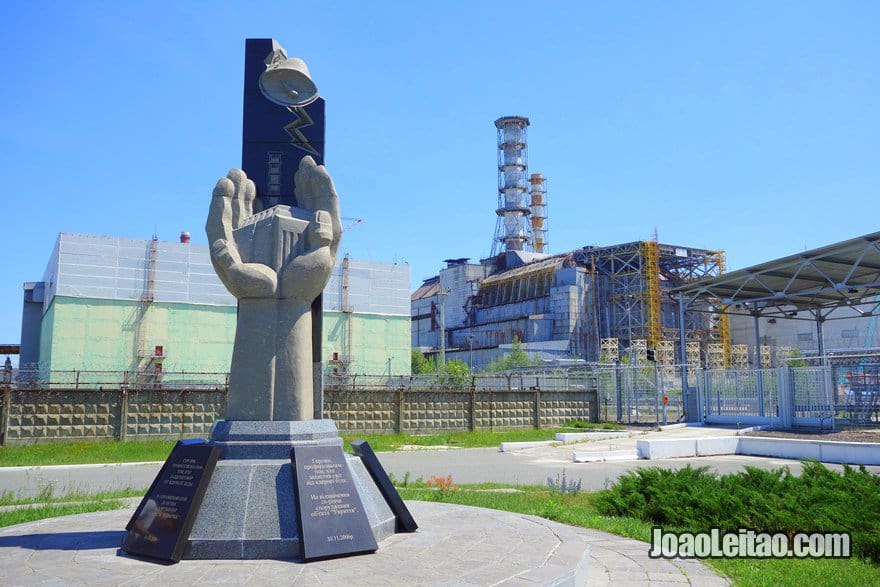 Kopachi abandoned village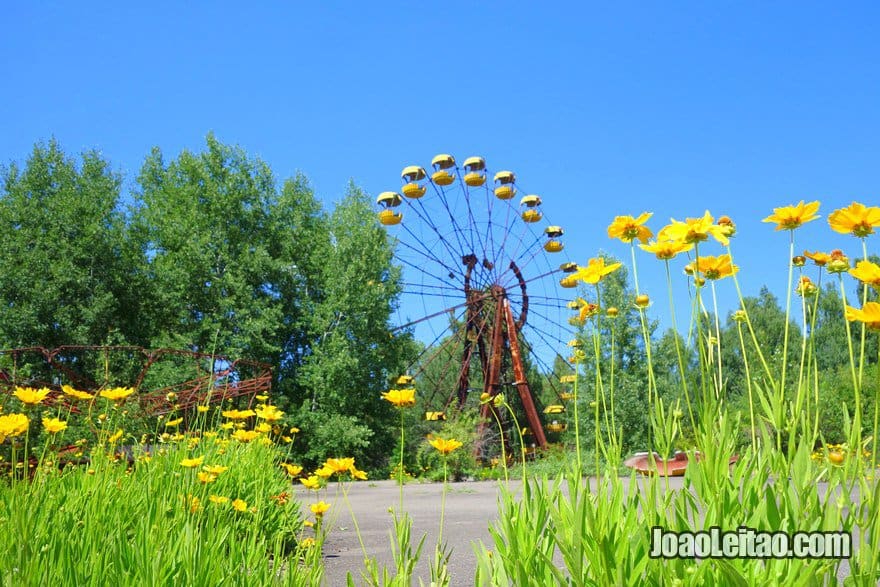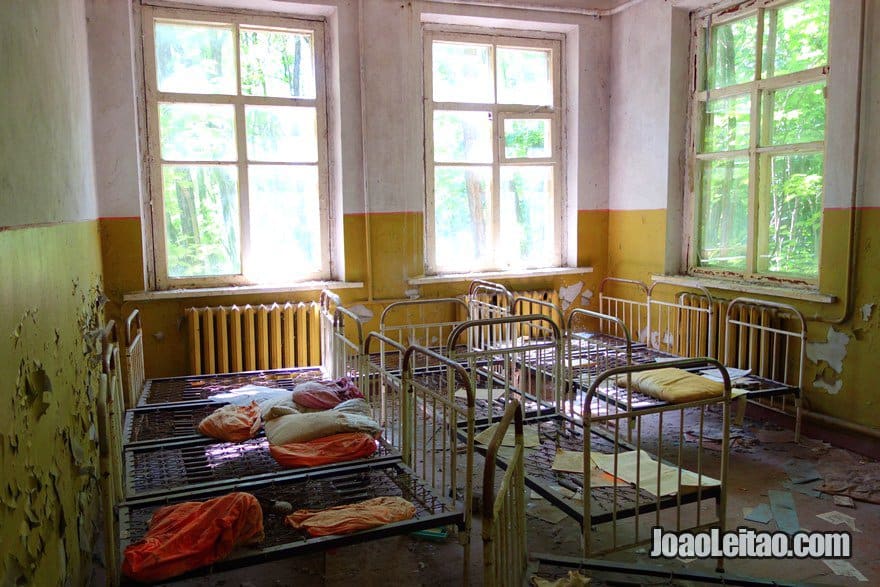 Is it possible to visit Chernobyl?
Today it's possible to visit the site of the worst nuclear catastrophe which affected mankind. Apart from being a sad place to visit, the Chernobyl tour is shocking, ecologically outrageous, yet historically interesting.
Is it safe to visit Chernobyl today?
Visiting Chernobyl is safe. I know this sound very strange, but if you follow the safety rules and don't touch anything, it's impossible to get contaminated. During a Chernobyl tour, you will pass areas with high radiation levels, but you will not stay long, so it will not affect you.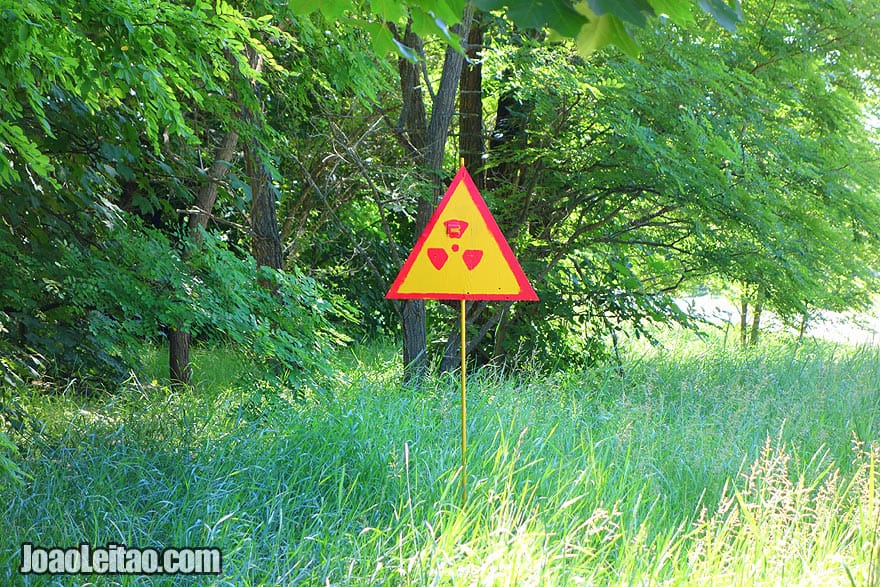 Chernobyl Tour Highlights
This page is about my trip and personal experience inside Chernobyl Exclusion Zone, also known as Chernobyl Dead Zone. If you've ever wondered about how to visit Chernobyl, this page will definitely help you.
1. Radiation hotspots hunting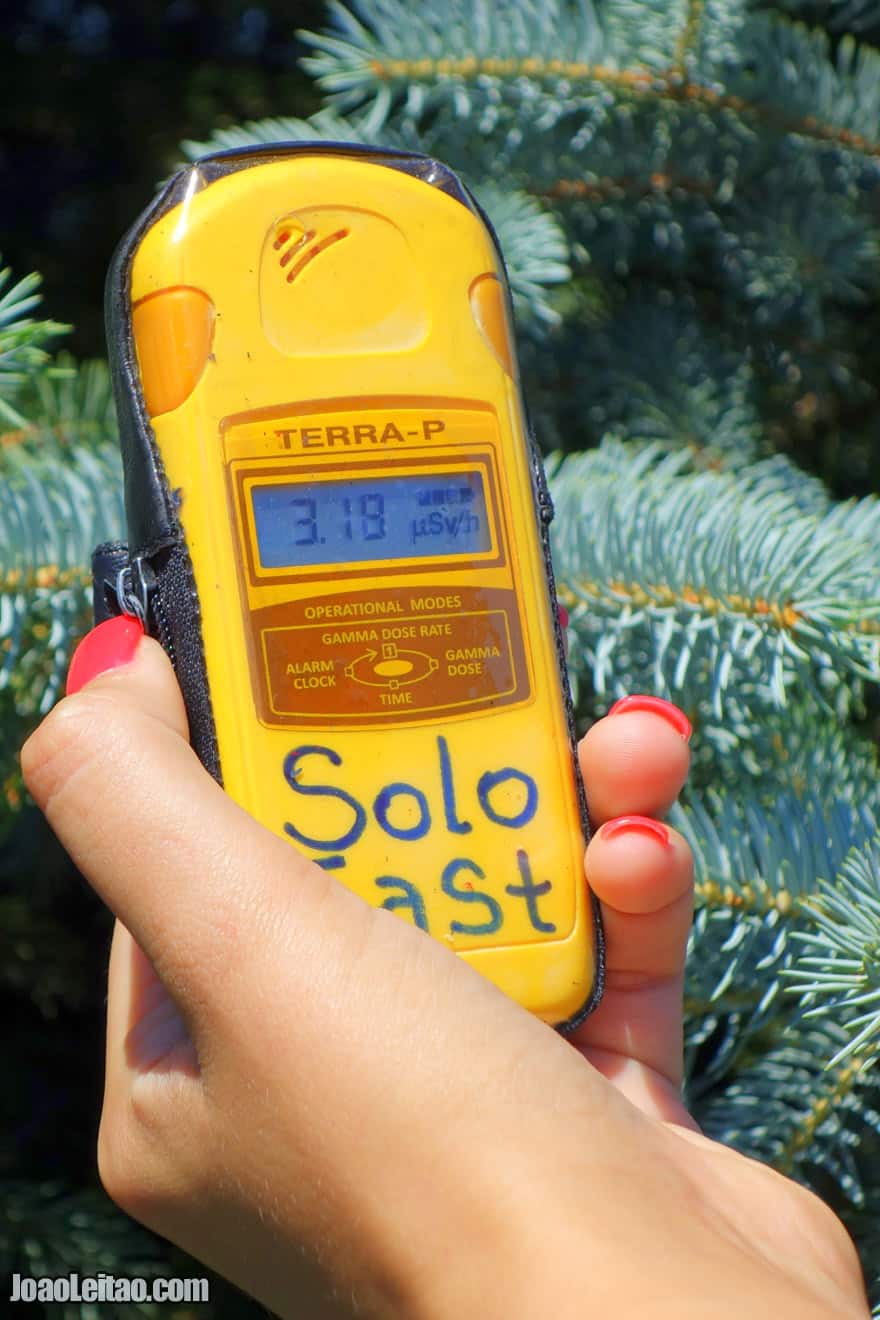 2. Ferris Wheel at Pripyat Theme Park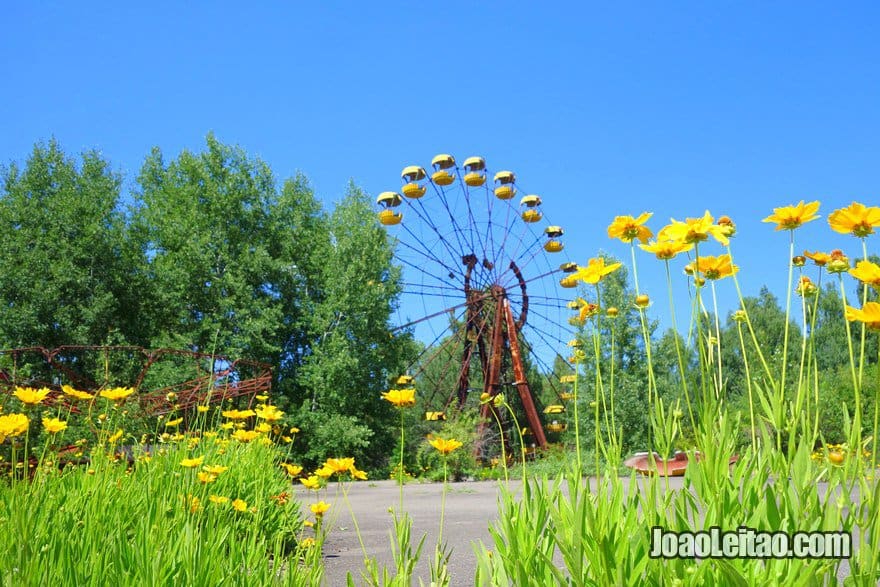 3. Chernobyl Reactor No. 4 Sarcophagus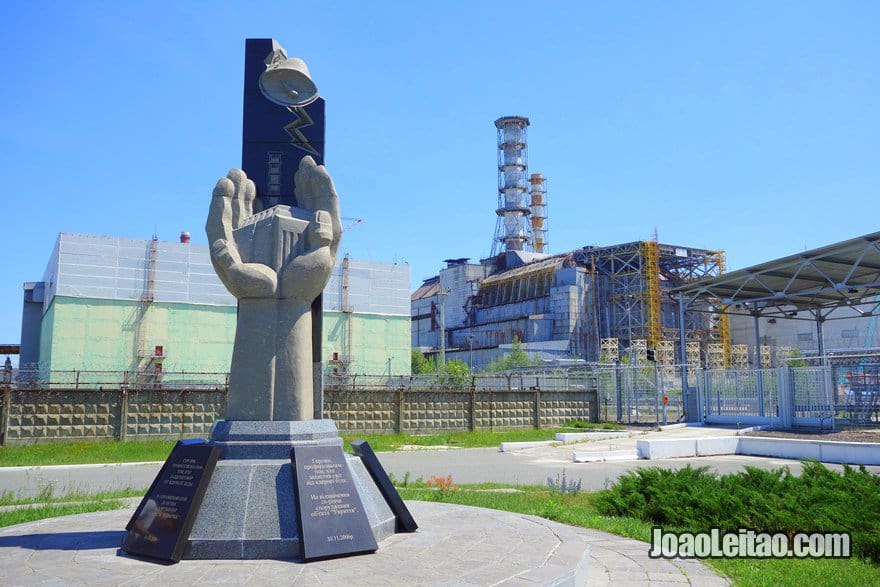 4. Lunch at the Power Plant canteen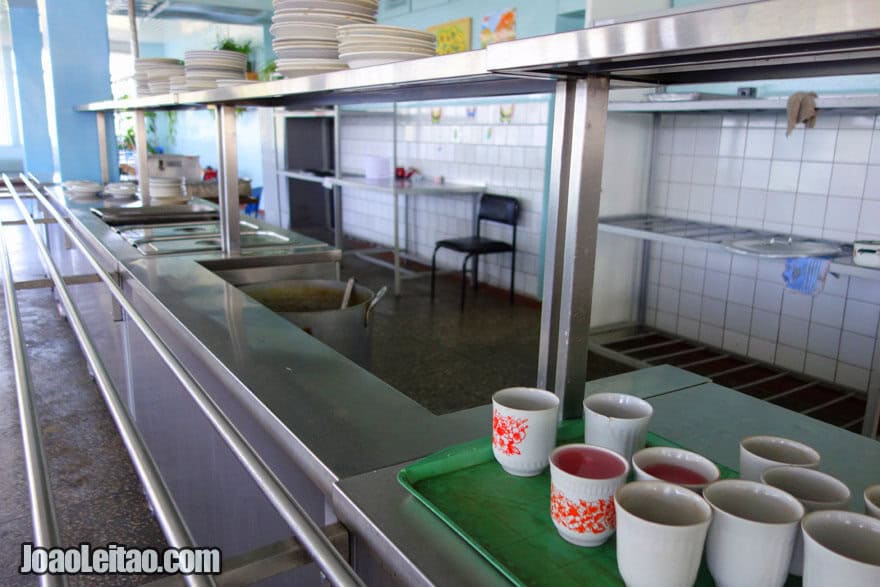 5. Kopachi village abandoned school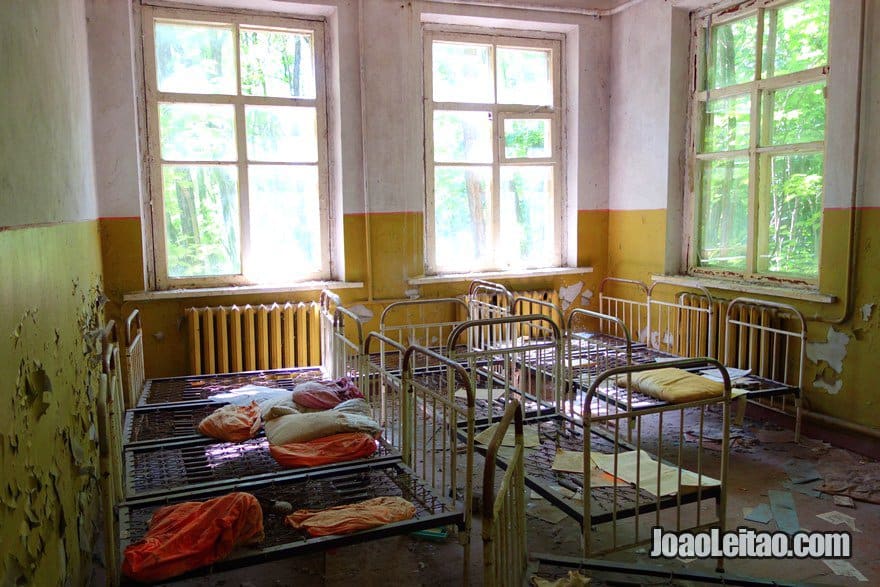 6. Wildlife spotting (deers, cats, wolves, bears)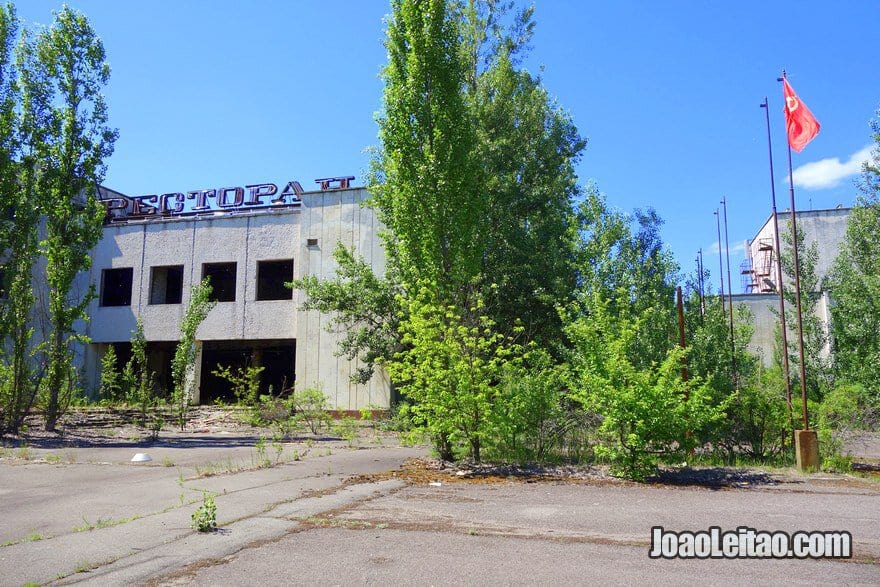 Chernobyl day tour detailed info
Several tour companies from Kiev take visitors on a day tour around Chernobyl Nuclear Power Plant.
I was one of the few people going on those Chernobyl tours departing from Kiev.
We start the tour in Kiev's Maidan Nezalezhnosti central square at 9 a.m.
Visitors are checked for last-minute procedures such as passport verification, dress code and important rules.
Driving from Kiev to Chernobyl takes about 2 hours ( 110 km / 68 mi). During this short bus trip we watch an introductory historical documentary about Chernobyl and its misfortune.
First stop before Chernobyl is exactly at Exclusion Zone KM 30. The Dytyatky checkpoint is the place where passports are checked by Ukrainian authorities.
Entrance to the Exclusion Zone – the adventure begins…
Chernobyl
Arrival to Chernobyl town.
Quick stop at the town's entrance road sign and first radiation measurement with a Geiger counter.
Brief and introductory explanation about the Exclusion Zone regulations and management.
Sightseeing Chernobyl: The Firemen Memorial, St. Ilya Church and Wormwood Star Memorial.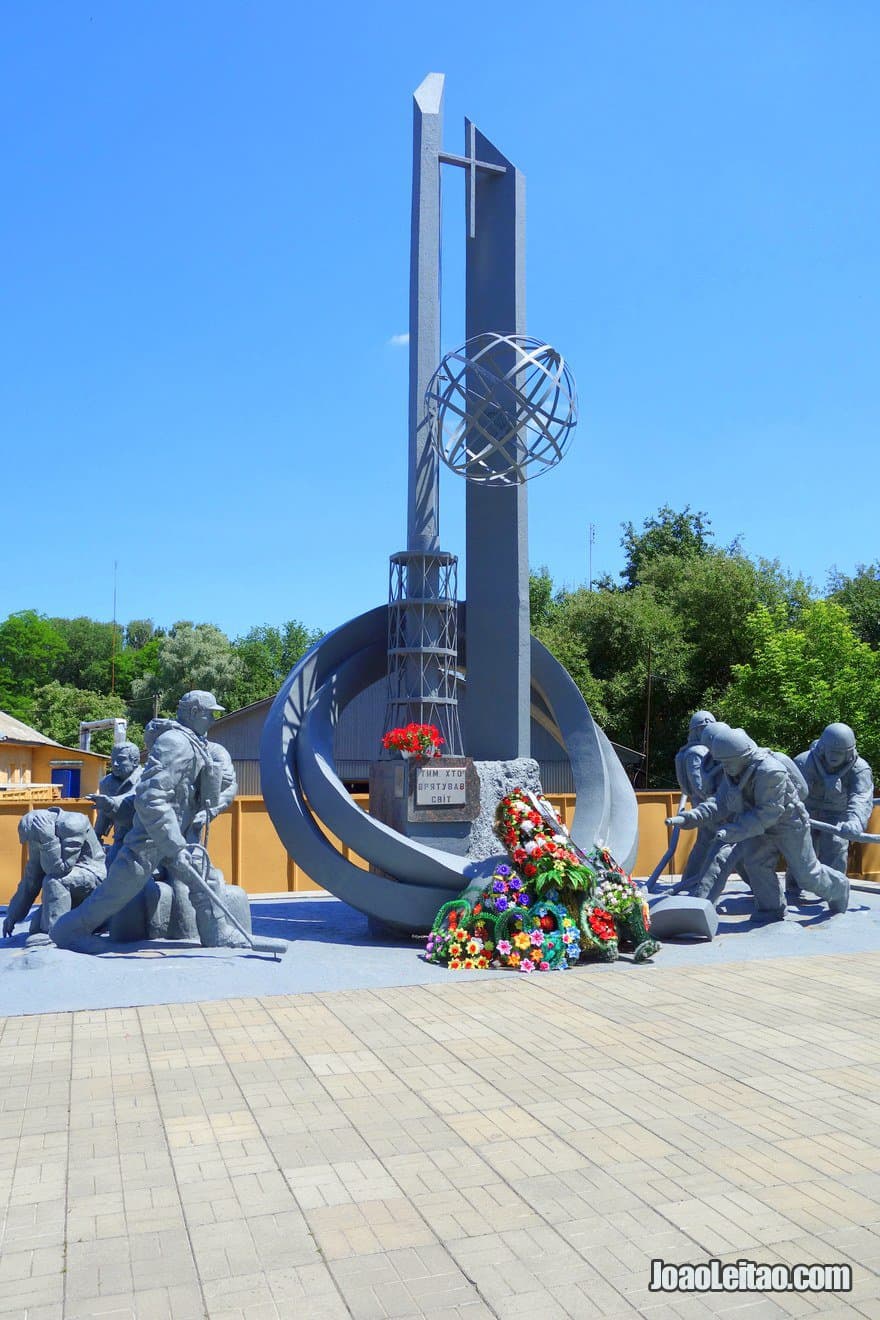 After passing Leliv checkpoint, we go towards the exploded Reactor No. 4.
Entrance to the 10 km Exclusion Zone – the adventure continues…
On the way to the reactor we make an incredible stop at one of the Chernobyl tour's highlight – Kopachi village.
Kopachi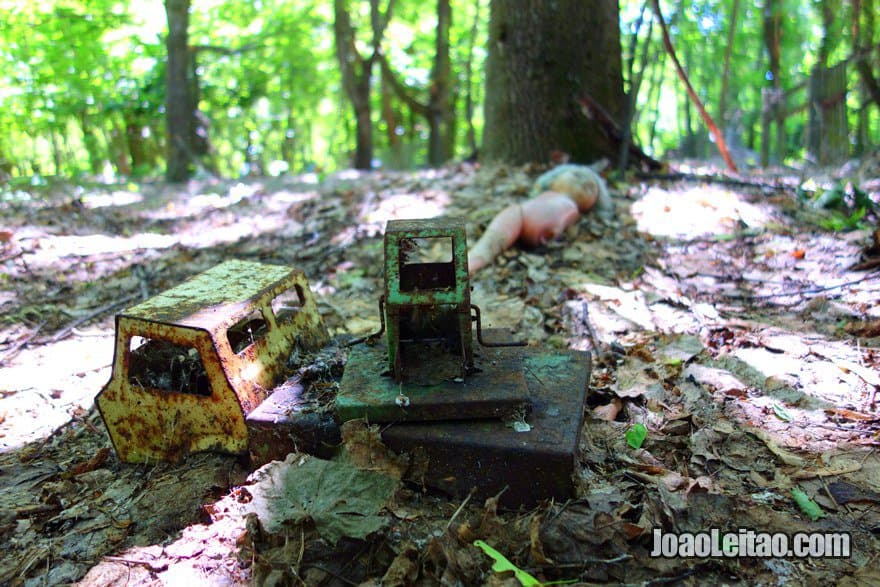 This village inside the Chernobyl Exclusion Zone was totally contaminated back in 1986. After being evacuated it was torn down and buried. It is the only urban zone affected by the nuclear disaster that was demolished by the authorities.
The only building remaining in Kopachi is the local school. We can freely explore the house, classrooms and facilities. Inside this building there is a scent of sadness, forgotten memories and desolation.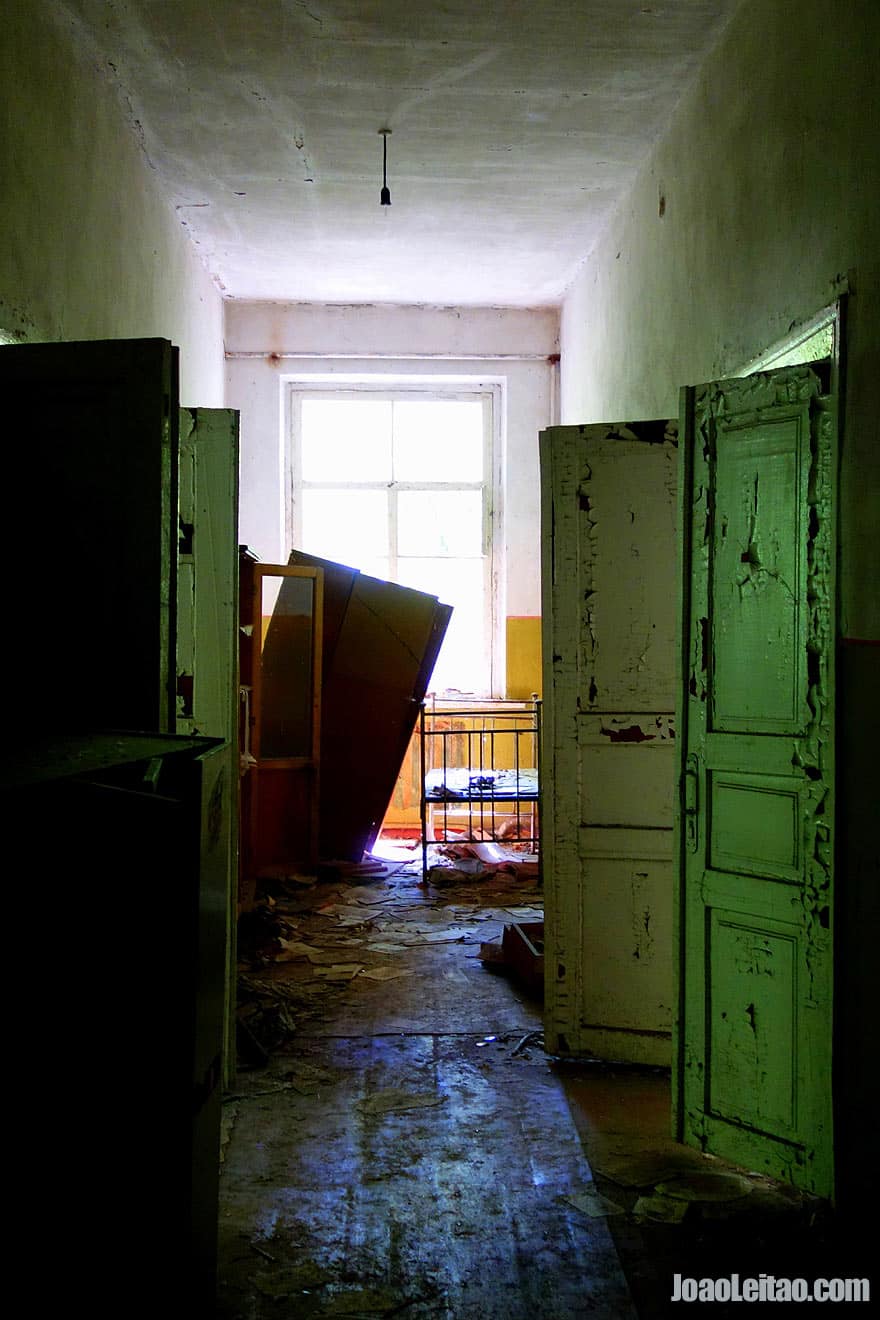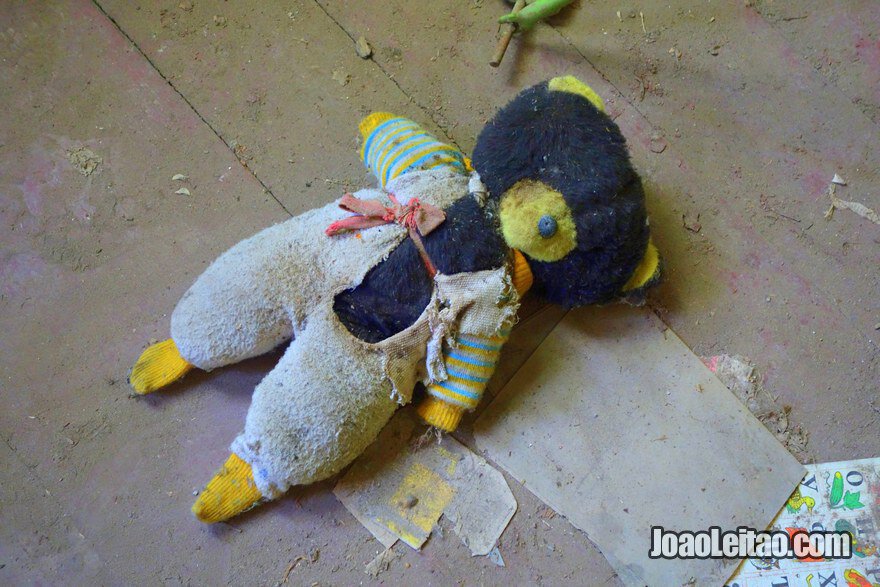 More radiation measurements with a Geiger counter.
After Kopachi we keep on heading to the Power Plant sector, from where we see reactors 2, 3 and 4.
Chernobyl Reactor
Finally we make a 300 m / 984 ft distance stop in front of Chernobyl Reactor No. 4. Due to radiation levels we can only stay here during 15 minutes. We can view the old sarcophagus, the new sarcophagus being built and the Chernobyl Monument Memorial.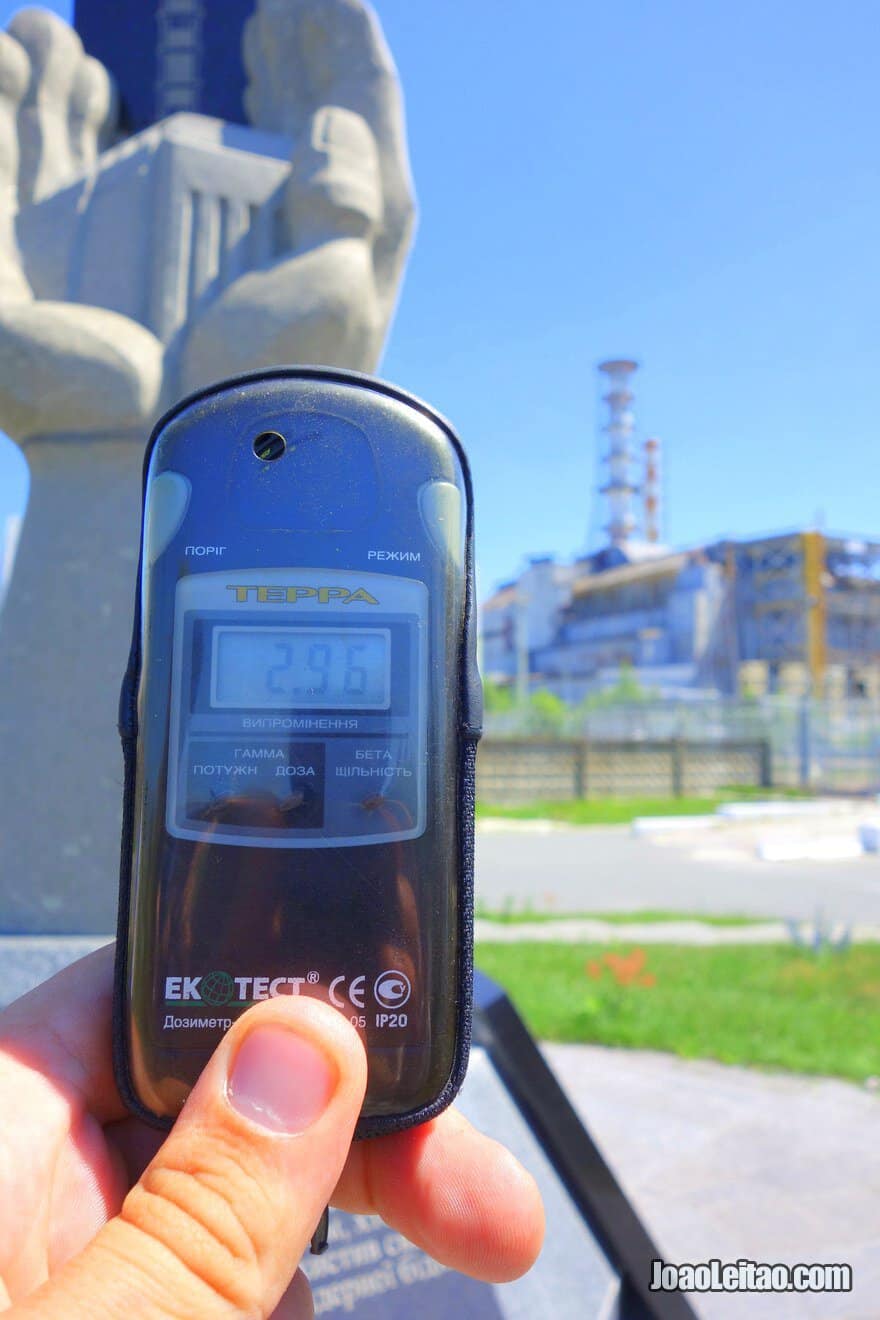 After the visit to Chernobyl Reactor No. 4 we go to Pripyat with a stop near the Red Forest.
Pripyat
Sightseeing Pripyat: the Palace of Culture, along Lenin Street, the enigmatic Polissya Hotel, the famous Wheel inside unopened Pripyat Theme Park, the stadium, the local school and the hospital.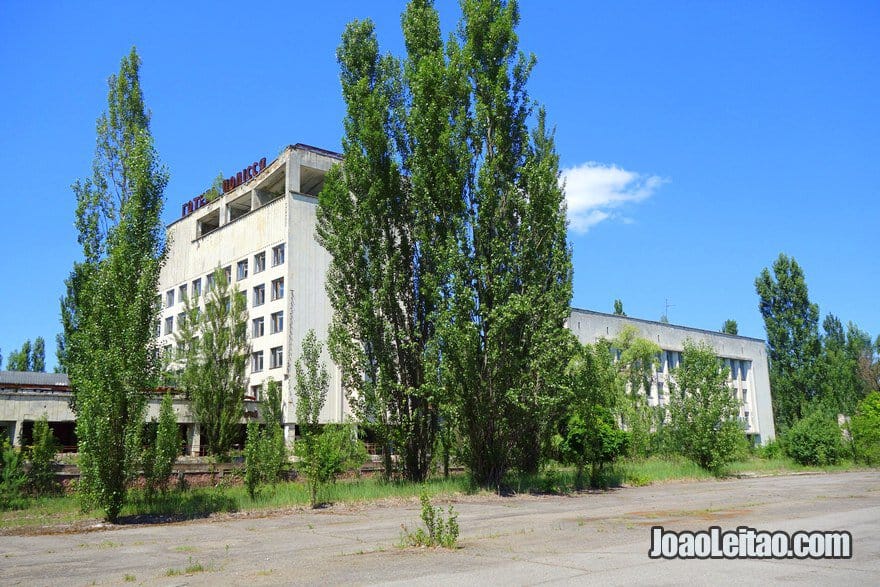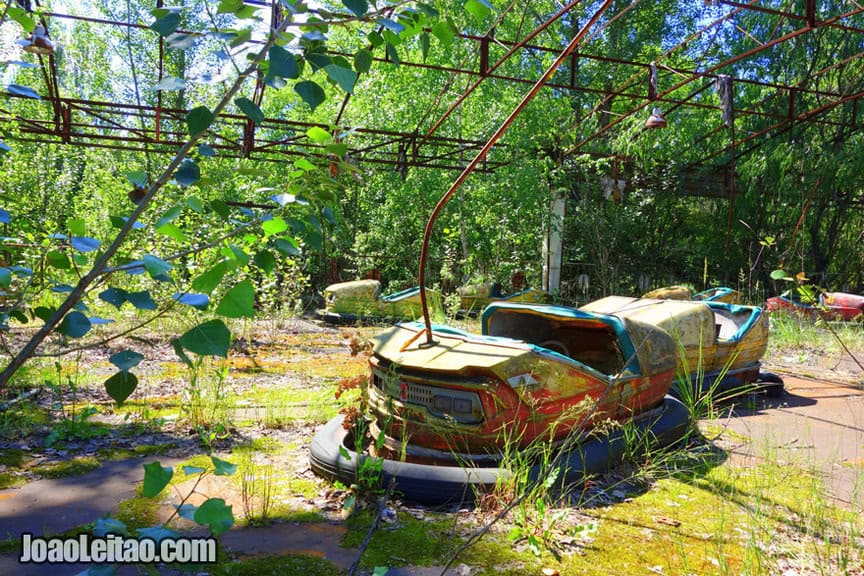 For safety reasons we are not allowed to go inside Pripyat buildings. Some radiation measurement with a Geiger counter shows incredibly high radiation hot spots near the Ferris Wheel Park.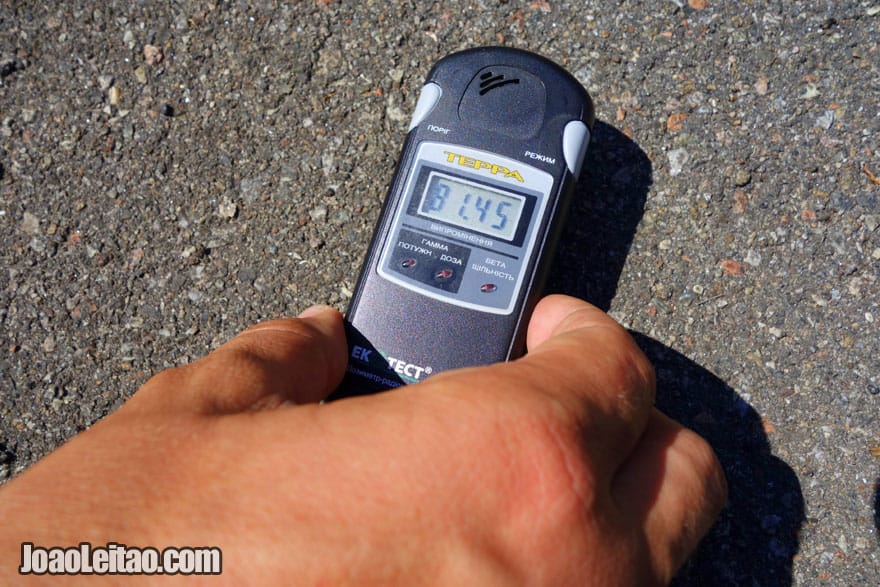 After visiting Pripyat, we had lunch at the Power Plant canteen located in the center of Chernobyl town. It seems that all ingredients are brought from outside the Exclusive Zone.
I ate a delicious vegetarian meal. All the other visitors ate cat fish which made me wonder if it actually didn't come from Chernobyl water canals and reservoirs.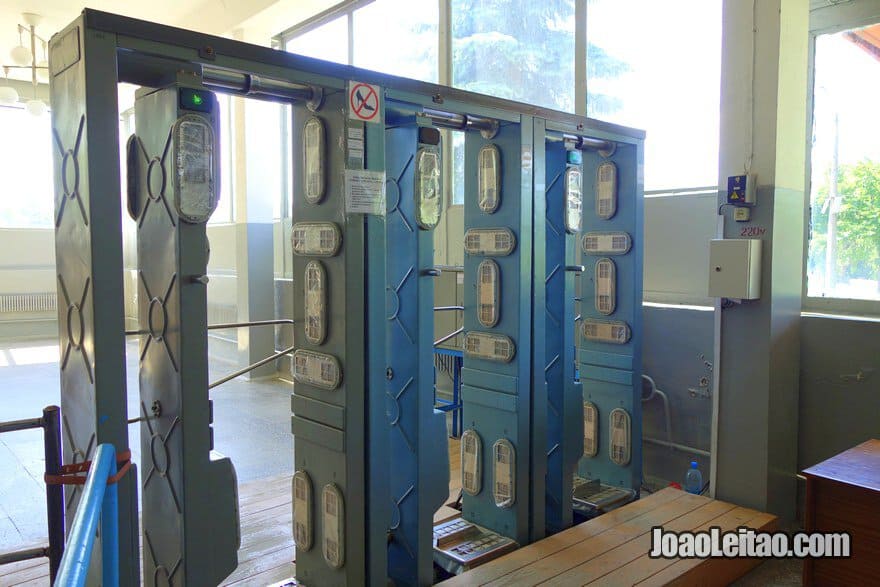 The Chernobyl Tour is over after the compulsory radiation control at Dytyatki checkpoint.
Back to Kiev at around 6 p.m.
Distances of Chernobyl Power Plant
Pripyat Town – 1 km / 0.6 mi
Chernobyl Town – 14.5 km / 9 mi
Belarus border – 16 km / 10 mi
Kiev (capital of Ukraine) – 110 km / 68 mi
Minsk (capital of Belarus) – 386 km / 240 mi
Vilnius (capital of Lithuania) – 575 km / 357 mi
Chisinau (capital of Moldova) – 622 km / 387 mi
Warsaw (capital of Poland) – 745 km / 463 mi
Moscow (capital of the Russian Federation) – 875 km / 620 mi
NOTE: 75% of Chernobyl contamination spread inside Belarus, contaminating and affecting more than 10 million people over the years. The radioactive contaminated cloud went as far as Sweden and Norway.
Chernobyl Wildlife Refuge
Europe's largest Nature Reserve: Animals in danger of extinction are reborn in Chernobyl. After some decades without any humans, European endangered species made this territory their natural habitat. The region of Chernobyl became the largest Nature Reserve in Europe with: moose, roe, red deer, Przewalski horses, storks, wolves, bears, bison, beavers, lynx, wild boar, otters, badgers, eagles and more than 180 breeding species of birds.
Documentary: Chernobyl Reclaimed, An Animal Takeover
Chernobyl Survival Guide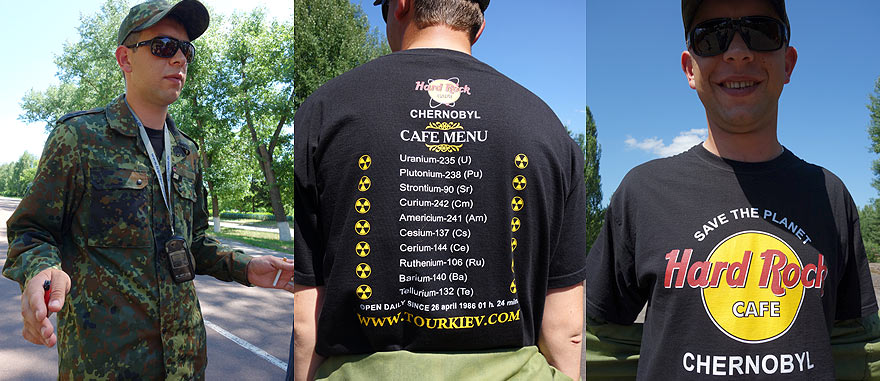 The best time to visit Chernobyl is during Spring time because everything is green, full of blossoming flowers and beautiful nature. During the snow and Winter season the radiation is more constrained due to cooler temperature.
Cover all your skin to avoid radioactive dust. Wear long sleeve shirt, hat, jeans and closed shoes.
While exploring don't touch anything.
While measuring radiation with the Geiger counter gadget, don't touch any objects with your hand. Stay away from them at least 2 cm / 0.7 in.
Don't go out of the marked trails.
Always follow the instructions of your tour guide.
Don't let anything fall on the floor as it can get contaminated with radioactive dust that will be in contact with your skin when you grab it back.
Don't put your backpack on the floor for the same reason of the previous point.
Take old clothes and shoes specially to the tour and throw them to the garbage when you're back to Kiev.
Don't walk away from your group or your guide.
Always respect the tour agency staff, Ukrainian police force and Chernobyl Power Plant security officers.
The price of the day trip was $145 dollars / €106 euros. All included.
The Kiev Agency where I booked the Chernobyl Tour is called Solo East. Apart from Chernobyl, they also have excursions to Soviet missile bases and incredible tank riding trips. You can visit their website here.
NOTE: This is NOT a sponsored post and I didn't get anything in return for writing this travel article. Consequently, all content and opinions are entirely my own.