Visit Portugal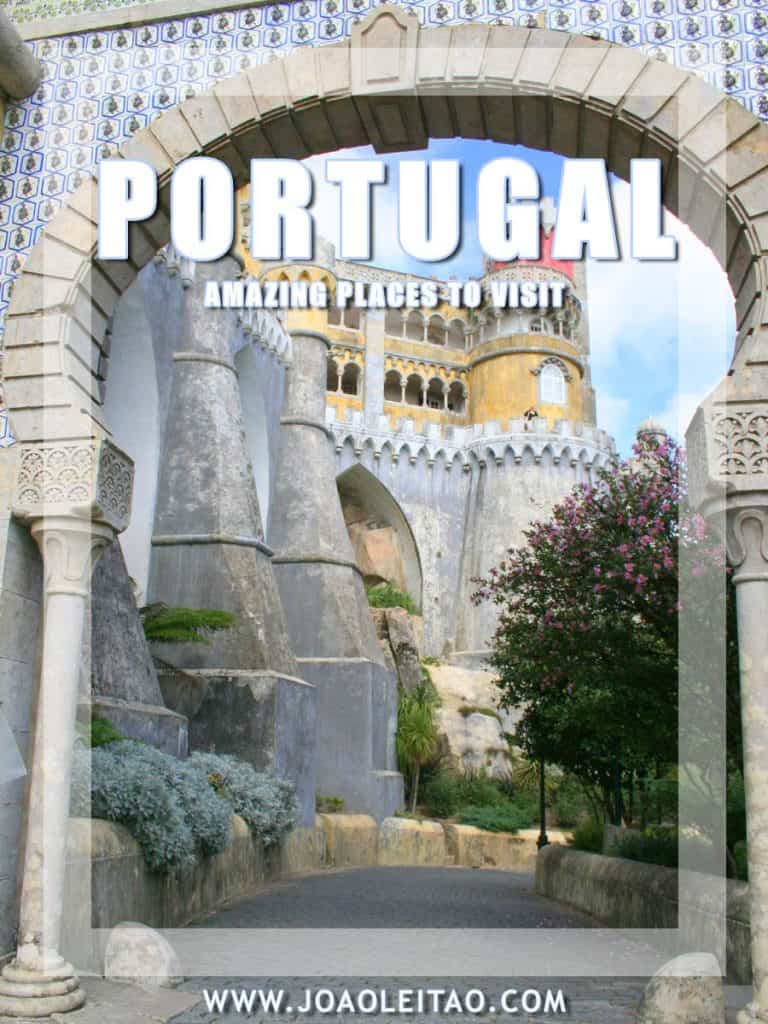 Cradle of world history, Portugal is a unique travel destination.
It is interesting how such a small country offers such a variety of landscapes, history, architecture and gastronomy. To visit Portugal is a great and unforgettable experience.
Portugal tells the history of a country and even a bit of the world, through its historical and archaeological monuments from prehistoric times, with dinosaurs and rock carvings, to the discovery of faraway lands beginning the globalization process through the Discoveries.
Portugal origins by date: The Foundation – year 868, Re-founding – year 1095, Sovereignty – year 1128, Established Kingdom – year 1139.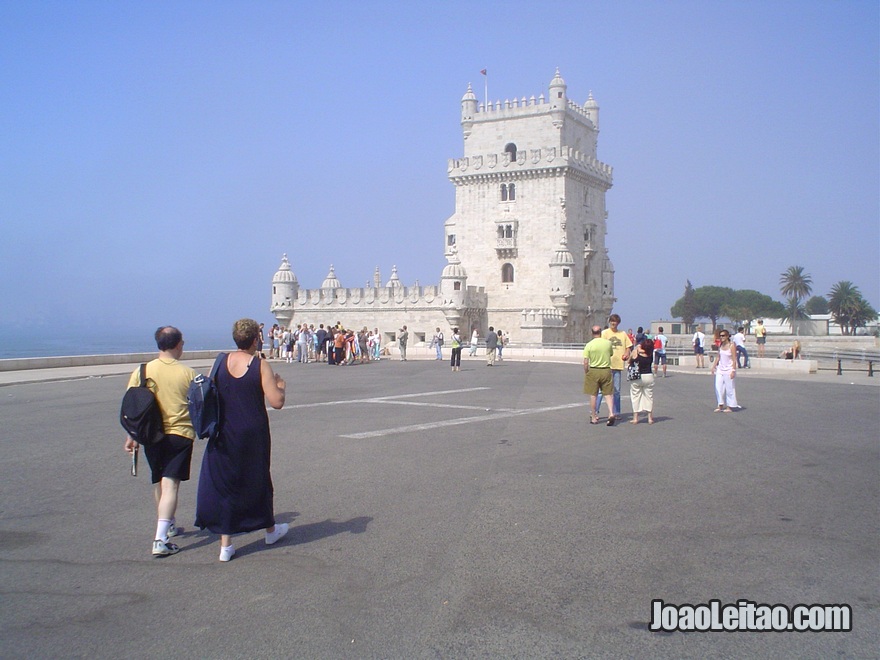 Portugal is a small country located at the westernmost edge of Europe, but it is a nation of great achievements. The more I travel, the more I understand how this country is so rich in landmarks and heritage.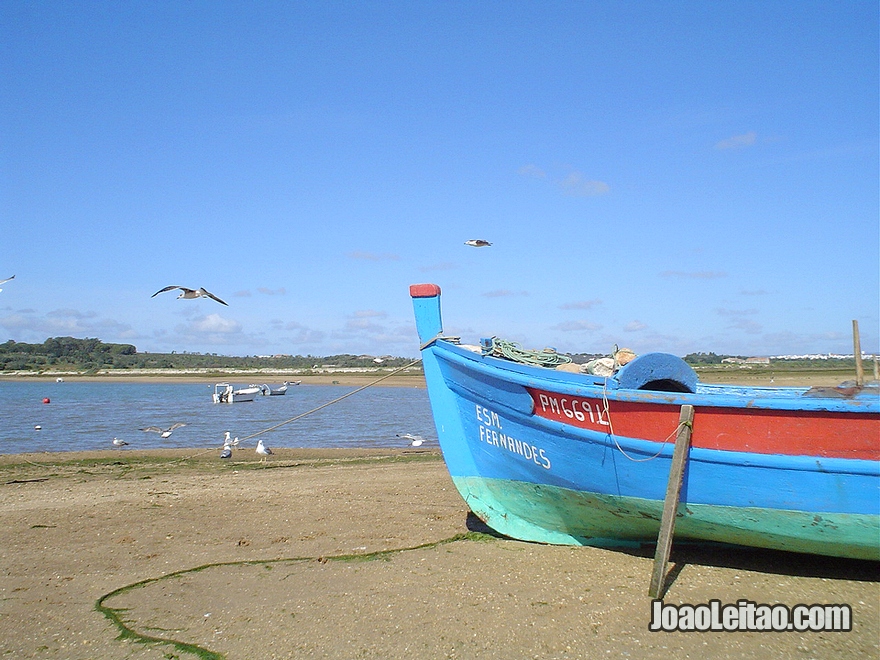 Visit Portugal – 100 of the Best Places
1. Sintra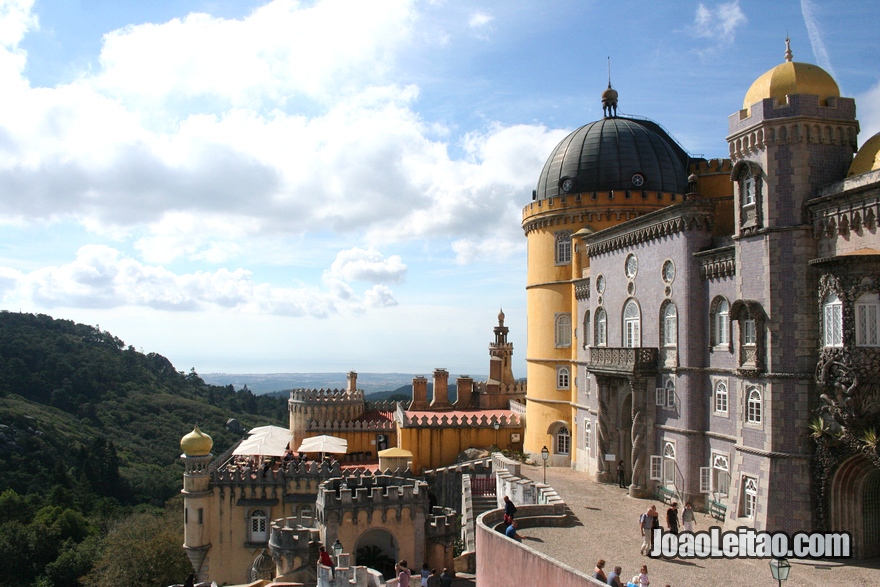 Sintra is a town that seems to have come out of a fairy tale. Sintra's green landscape is featured here and there by majestic monuments. The Palace of Pena in Sintra is one of the most worldwide acknowledged Portuguese monuments which inspired the famous German castle Neuschwanstein, which consequently inspired the castles of Walt Disney.
What to visit in Sintra:
Park and National Palace of Pena
Castle of the Moors
Quinta Da Regaleira
Park and Palace of Monserrate
Palace of Seteais
Adraga Beach
National Palace of Sintra
Sintra Museum of Modern Art
Sintra Natural History Museum
Convent of the Capuchos
Chalet and Garden of the Countess of Edla
National Palace and Gardens of Queluz
Cabo da Roca
Ursa Beach
2. Vinhais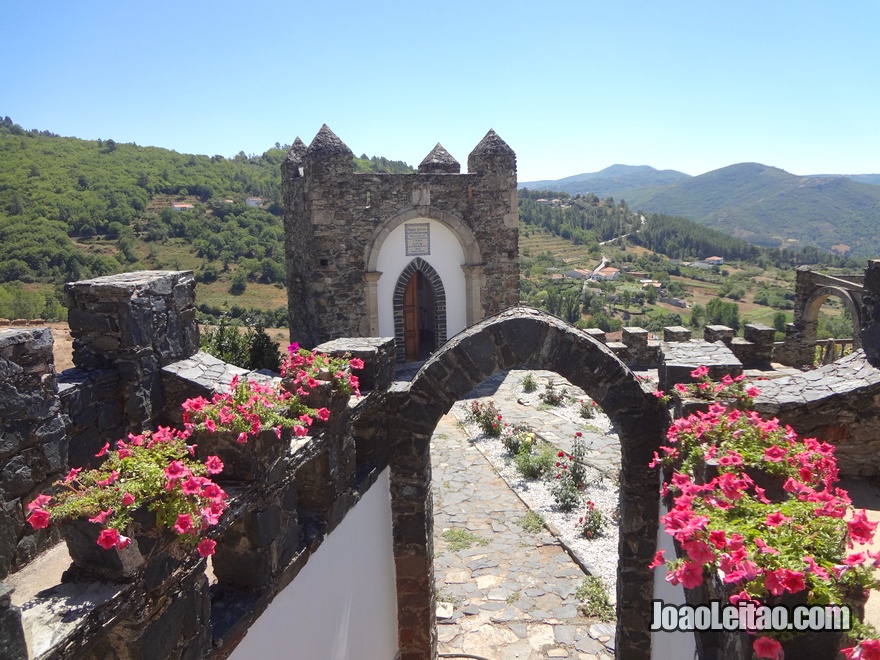 Vinhais is located in the region of Trás-os-Montes, within Montesinho Natural Park area. It is a place to enjoy the natural beauty and stone villages lost in the countryside.
What to visit in Vinhais:
Vinhais Castle
São Francisco Convent
Pillory
Vilar de Ossos Palace
Old Trees Route
Montesinho Natural Park
Corujeira Palace
Town Hall and Former Prison
Counts of Vinhais Palace
Museum of Sacred Art
Alto da Ciradelha Archaeological Site
Charca of Vidoeira Biological Park
Prada Dam
3. Vimioso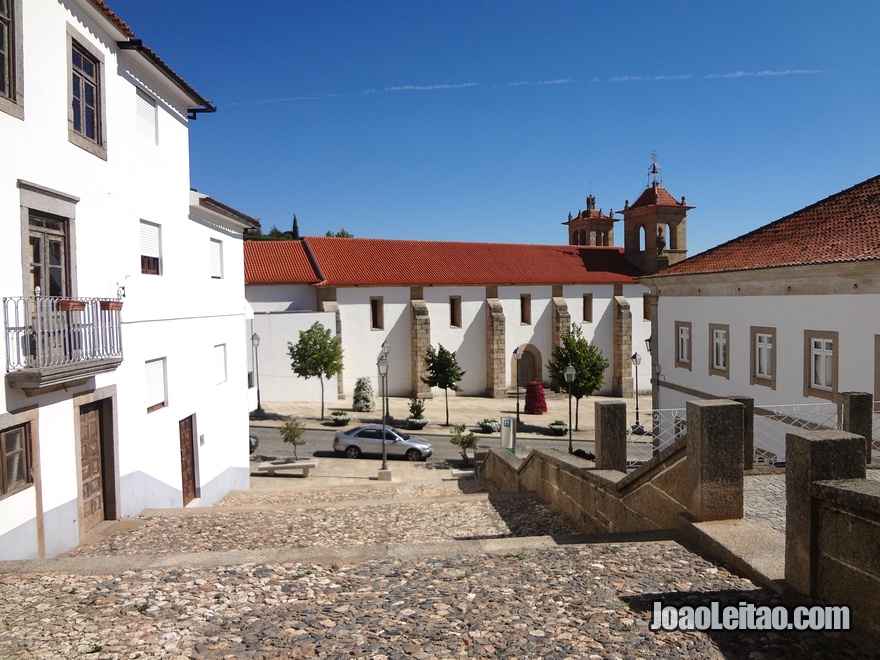 Vimioso is an ancient village with prehistoric remains, which suffered several invasions and has survived throughout the centuries keeping a rich cultural heritage such as the "Mirandês" dialect, which has been raised to the status of Portugal's second official language.
What to visit in Vimioso:
Vimioso Parish Church
Pillory
Castro de Batoqueira Archaeological Site
Vale de S. Miguel Archaeological Site
Casa da Cultura
Atalaia Tower
Market of S. Lourenço
Feira de Artes, Ofícios e Sabores
Town Hall
Nossa Senhora dos Remédios Chapel
Atalaia Chapel
4. Vilar Maior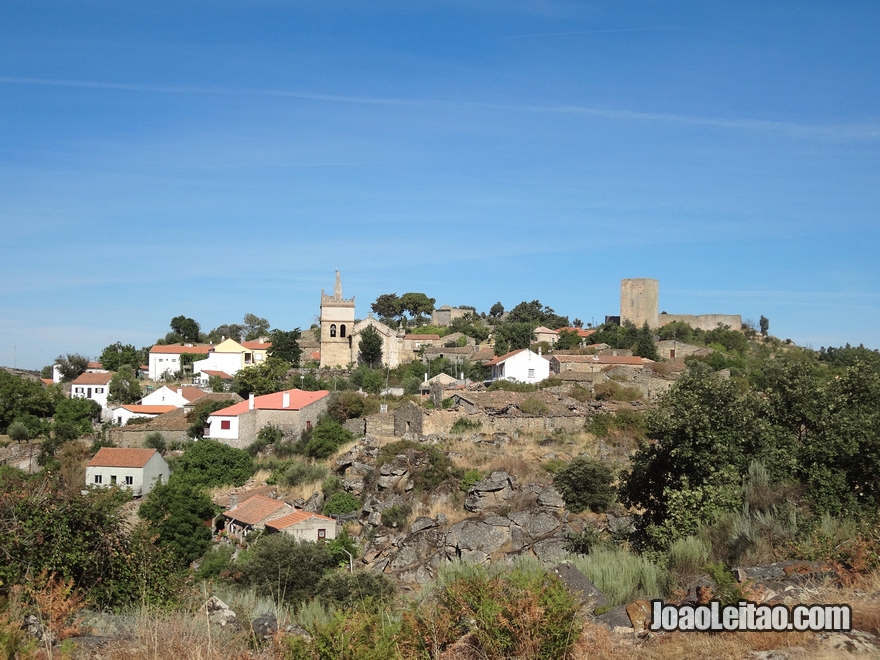 The Castle of Vilar Maior village was an important strategic defense point on the border of Kingdom of León (before being named Portugal). The medieval castle is the highest point of the village which is now sparsely inhabited.
What to visit in Vilar Maior:
Vilar Maior Castle
São Pedro Parish Church
Vilar Maior Pillory
Santa Maria do Castelo Church
Largo da Praça Square
Medieval Bridge
Rebochos Manor House
Cesarão River
Côa River
5. Lagos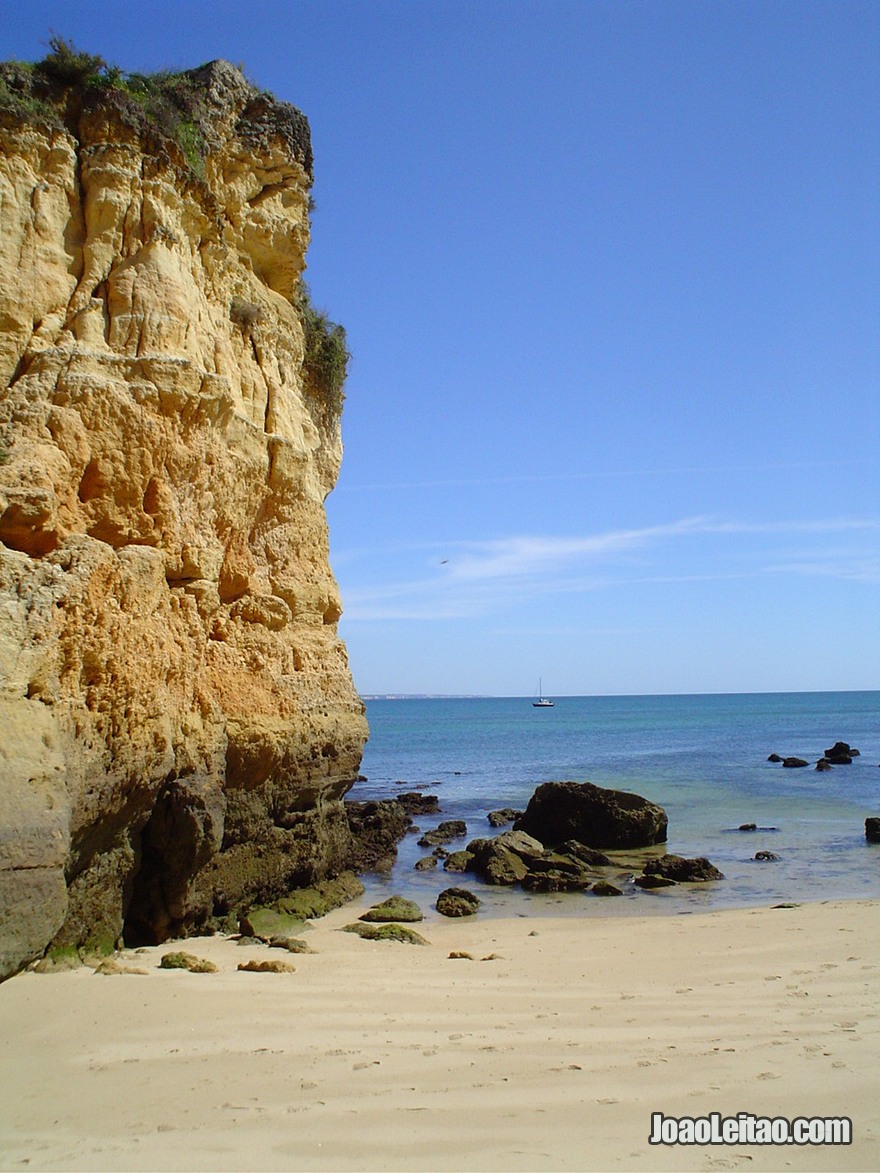 Lagos is the most picturesque city on the Algarve coast. Despite the large flood of tourists, this town did not suffer the loss of character that some cities in the Algarve have experienced due to mass tourism.
What to visit in Lagos:
Santa Maria Church
D. Ana Beach
Ponta da Bandeira Fortress
Santo António Church
Celtic ruins of Lacóbriga
Governors' Castle
Infante D. Henrique Square
Dr. José Formosinho Municipal Museum
Lagos Pillory
Town Hall
Slave Market
Meia Praia Beach
Praia da Luz Beach
Wax Museum of Portuguese Discoveries
S. Sebastião Church
Avenida Municipal Market
King Sebastião Statue
Statue of Explorer and Navigator Gil Eanes
Infante D. Henrique Statue
Marina of Lagos
Nossa Senhora do Carmo Convent
Old City Walls
Regimental Warehouse
6. Zêzere Glacier Valley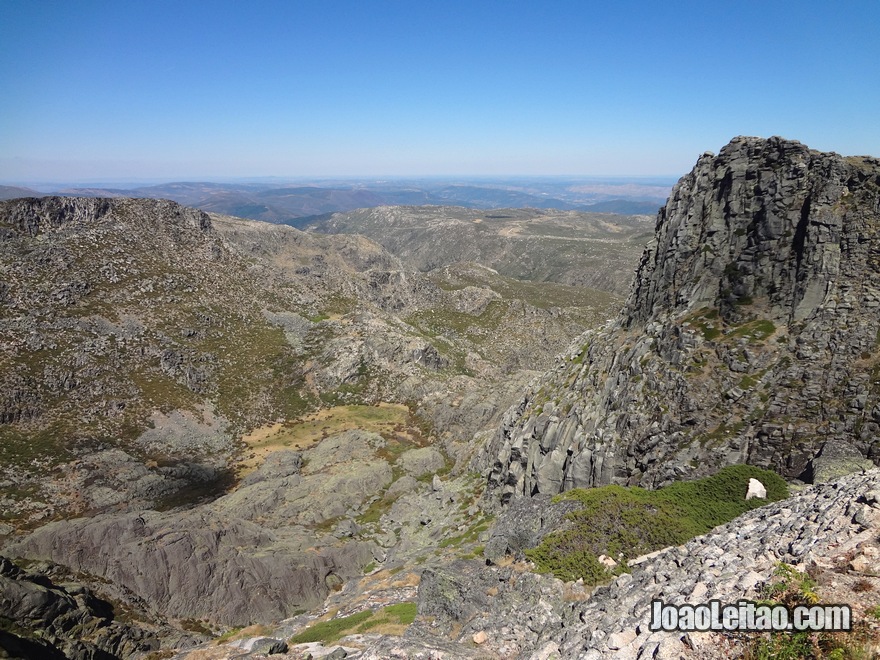 Zêzere Glacier Valley is the largest glacier valley in Europe and stands right in Serra da Estrela National Park. It is ideal for those who enjoy tourism within nature.
What to visit in Zêzere Glacier Valley:
Zêzere Glacier Valley Interpretive Center
Covão d'Ametade Natural Site/li>
Nave de S. António Natural Site
Glacier Route
Spa Town of Caldas de Manteigas
Poios Brancos Route
Palácio do Maciço Central Natural Site
Wild Boar Route
Quartelas Route
Poço do Inferno Route
Reboleira Route
7. Tomar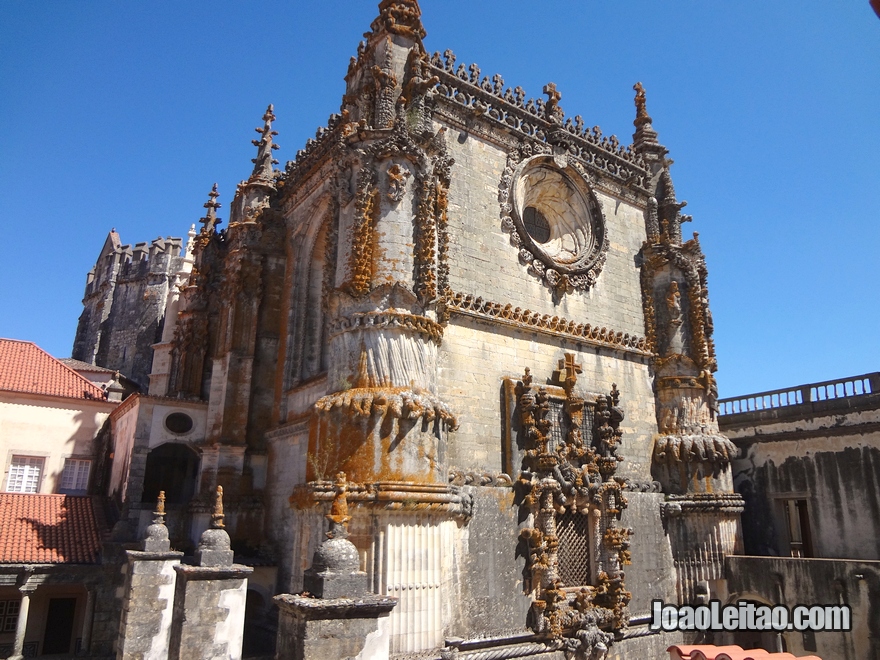 Tomar is known as the city of the Knights Templar, because it was offered by the King D. Afonso Henriques to the Knights Templar, after the conquest of the city from the Arabs in 1147. The Templar Castle and the Convent of Christ (with the famous window in "Manuelino" style) are some of the most important monuments in the history of Portugal.
What to visit in Tomar:
Convent of Christ
Tomar Castle
São João Baptista Church
Tomar Synagogue
Santa Maria dos Olivais Church
Pegões Ancient Aqueduct
National Forest of Seven Hills
Contemporary Art Museum
Castelo de Bode Dam
Nossa Senhora da Conceição Chapel
Casa dos Cubos
Abraão Zacuto Hebrew Museum
Palace of Alvaiázere
Pillory Square
Mouchão Park
Monument with Coat of Arms
8. Sortelha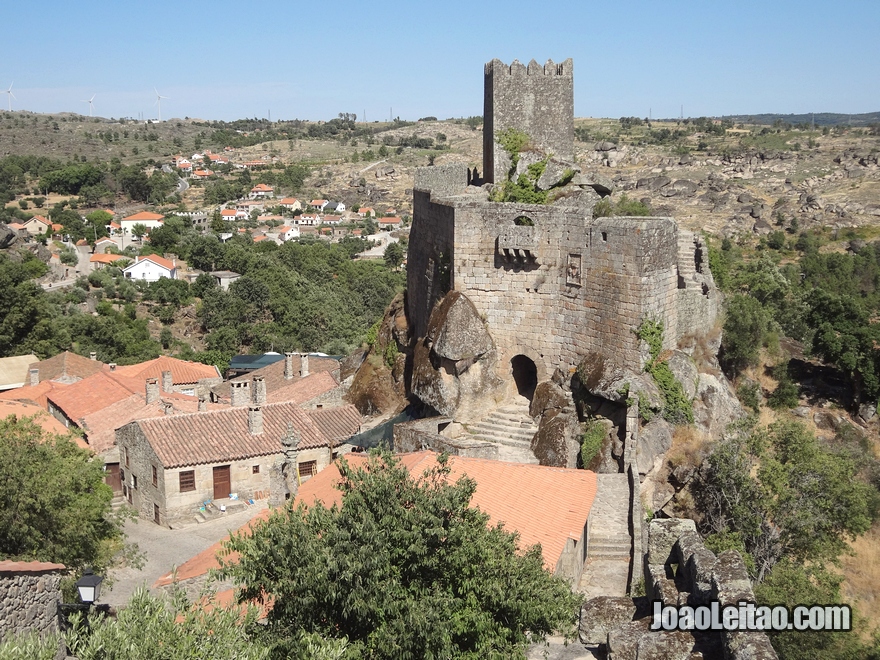 Sortelha is one of the historic villages of Portugal, with granite houses standing within the village outer wall, and the castle on top of the highest hill. Sortelha stands in Sabugal municipality, in the northern Portugal inland.
What to visit in Sortelha:
Cabeça da Velha Rock
Arab House
House with "Manueline" Style Window
Town Hall and Prison
Governor's House
Falcão House
House Number One 1
Castle and Walls of Sortelha
Town Gate
Castle Gate
False Gate
New Gate
Medieval Paving
Azenha Fountain
Mergulho Fountain
Misericordia Hospital Building
Misericordia Church
Sortelha Parish Church
Station of the Cross
Mouchão Park
Pillory
Parish Residence
Anthropomophic Tombs
Facho Tower
Bell Tower
9. Vieira de Leiria Beach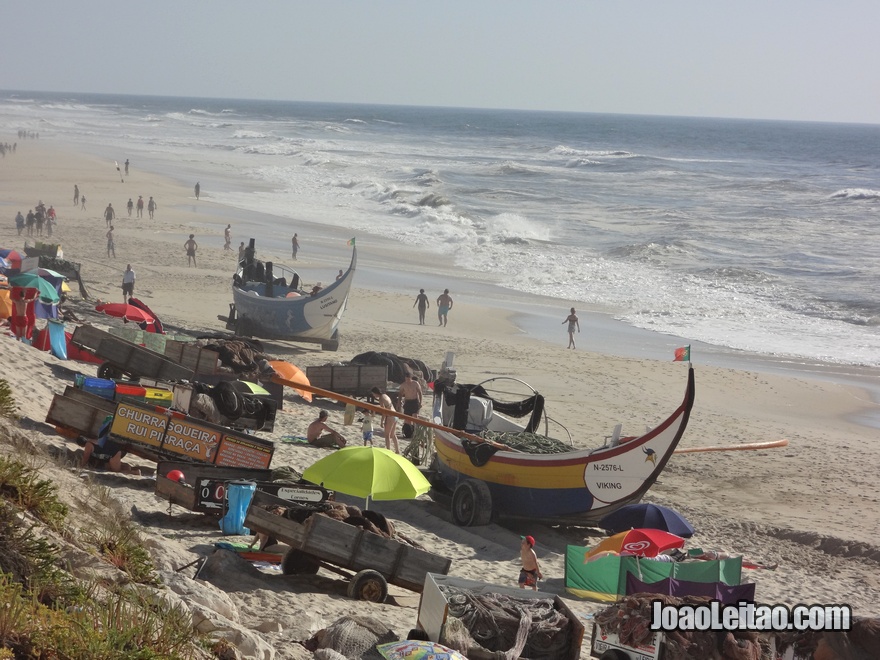 Vieira de Leiria is situated in the well-known Pinhal de Leiria (pine wood forest of Leiria) and it has a beautiful beach. The old fishing village gives the beach its picturesque look, and small fishing boats and traditional fishing equipment can still be seen on the beach. This type of fishing is called "Xávega" art and it uses encircling nets.
What to visit in Vieira de Leiria Beach:
Vieira de Leiria Parish Church
Passagem Chapel
Vieira Beach Chapel
Traditional Houses
Arte Xávega Monument
Fisherman Monument
Glassmakers Monument
Ribeiro da Tábua Natural Site
Lis River
Sardão Fountain
Popular Education Library
10. Soajo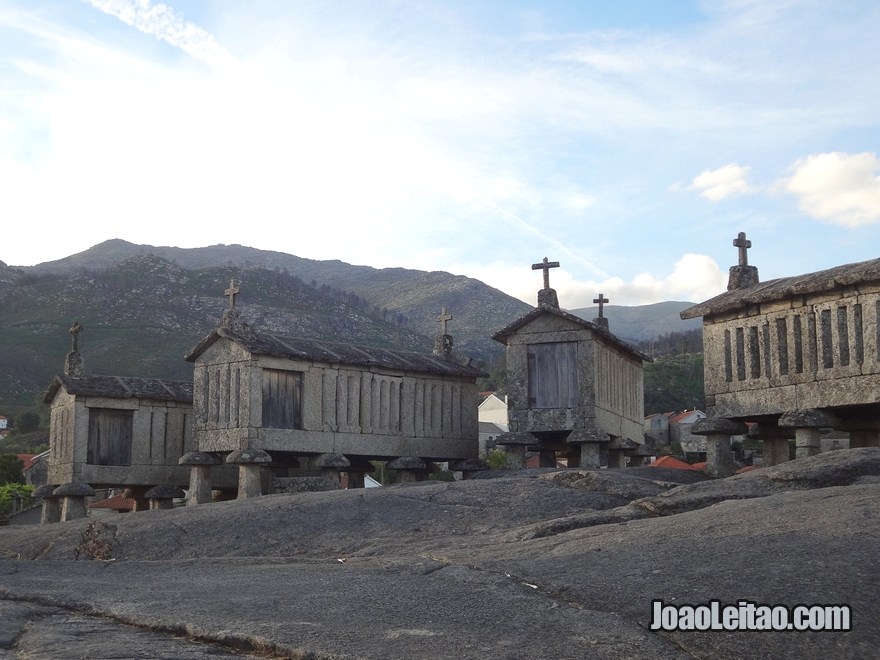 Soajo is a historic village which lies in the outmost north of Portugal, in Ponte da Barca municipality, inside Peneda-Gerês National Park. It is one of the most typical villages completely built of stone and with granaries, interesting stone storages on high stakes that are still used nowadays for drying corn.
What to visit in Soajo:
Soajo Granaries
Souto House
João Fidalgo House
Eiró House
Videiras House
Soajo Parish Church
Mezio Archaeological Site / Gião Interpretive Center
Mezio Picnic Area
Mezio Dolmen
Pillory
Medieval Paving
Adrão River Lagoons
Mezio Gate of Peneda Gerês National Park
11. Silves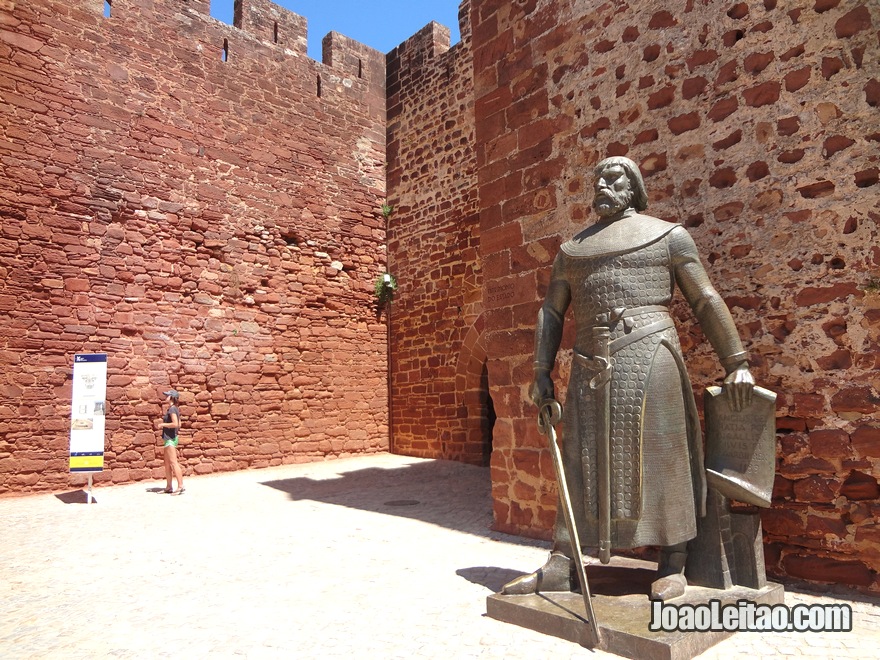 Silves was the capital of the Algarve until the 16th century. It has always been an important town because of its strategic location on the banks of Arade River.
What to visit in Silves:
Silves Castle
Alcantarilha Castle
Silves Cathedral
Silves Old Bridge
Nossa Senhora dos Mártires Chapel
Municipal Archaeological Museum
João de Deus House Museum
House of Islamic and Mediterranean Culture
Armação de Pera Beach
Grande Oeste Beach
Grande Este Beach
Costumes and Traditions Museum
Vilarinho Archaeological Route
Silves Pedagogical Farm
Algarb Islamic Heritage Interpretation Center
12. Serra da Estrela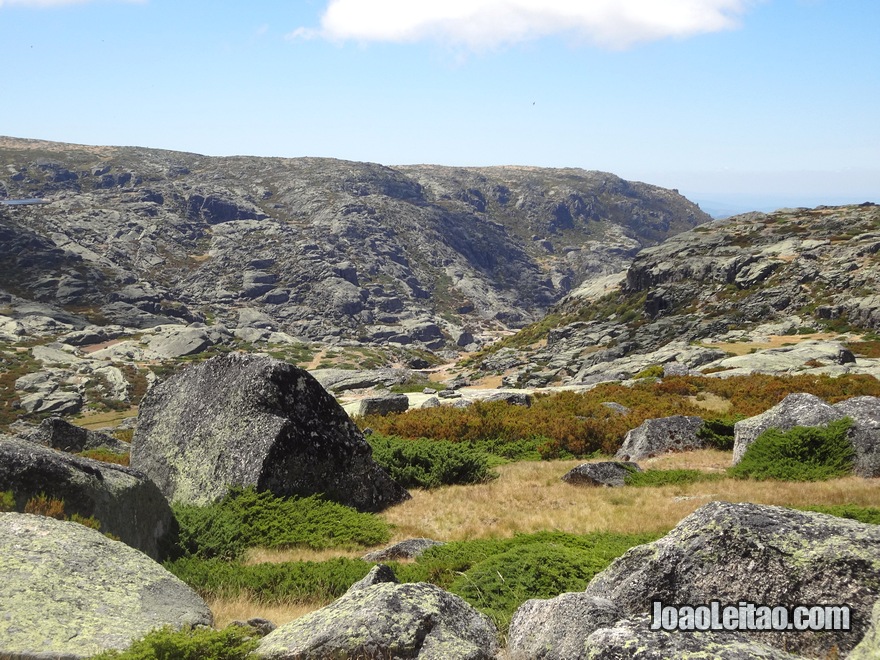 Serra da Estrela means "snow" for the majority of the Portuguese people, since it is the only ski resort in the country. In fact, the snow is a great attraction and during the winter months, when the mountain is covered with a white blanket, it offers breathtaking scenery.
What to visit in Serra da Estrela
Serra da Estrela (Torre)
Estrela Ski Resort
Nossa Senhora da Boa Estrela Image
Casais de Folgosinho Village
Covão d'Ametade Natural Site
Cântaro Magro Natural Site
Cabeço do Velho Natural Site
Cabeça da Velha Natural Site
Folgosinho Village
Valezim Village
Pêro Soares Village
Vide Village
Lapa dos Pinheiros River Beach
Mondego River
Pedra do Urso Natural Site
Rosa Negra Natural Site
Penhas Douradas
Penhas da Saúde
Barriosa Village
Cabeça Village
Casal de Travancinha Village
Manteigas Town
Caldeirão
Vale do Zêzere Glacier
Loriga Terraces
Dark Lagoon
Bear Lagoon
Round Lagoon
13. São Pedro de Moel Beach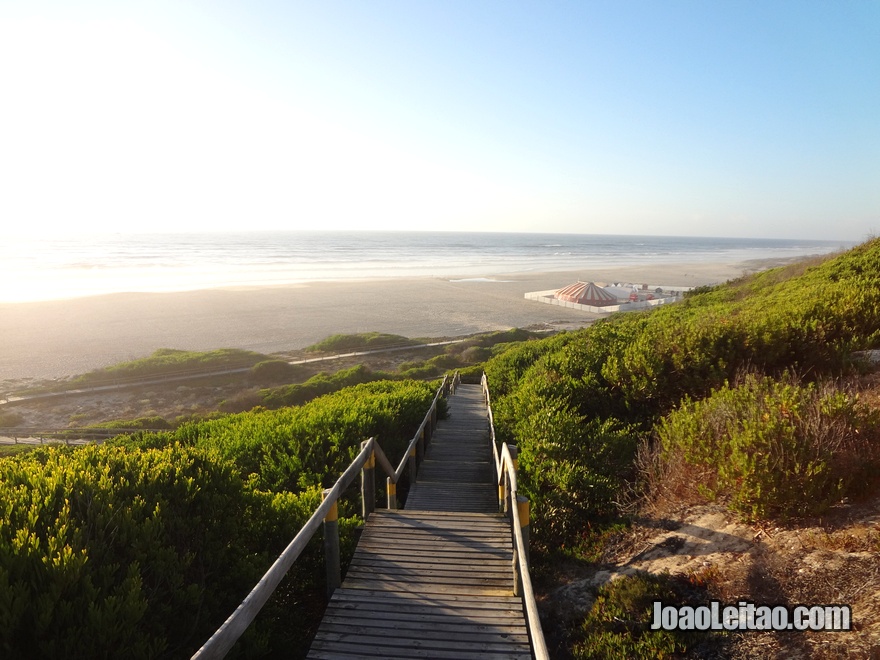 São Pedro de Moel has a long sandy beach and it is a very popular destination during the summer months. It is close to Marinha Grande, a city famous for the manufacturing of glass.
What to visit in São Pedro de Moel Beach:
D. Dinis and D. Isabel Statues
São Pedro de Moel Lighthouse
Garcia Chapel
Amieira Chapel
São Pedro de Moel Chapel
Afonso Lopes Vieira House Museum
Ribeiro de São Pedro de Moel
Vale do Ribeiro Park
São Pedro de Moel Beach
Praia Velha Beach
Samouco Beach
Comboio de Lata Old Trail
Coastline – Pedras Negras Footpath
Coastline – Ribeiro de São Pedro Footpath
14. São João das Lampas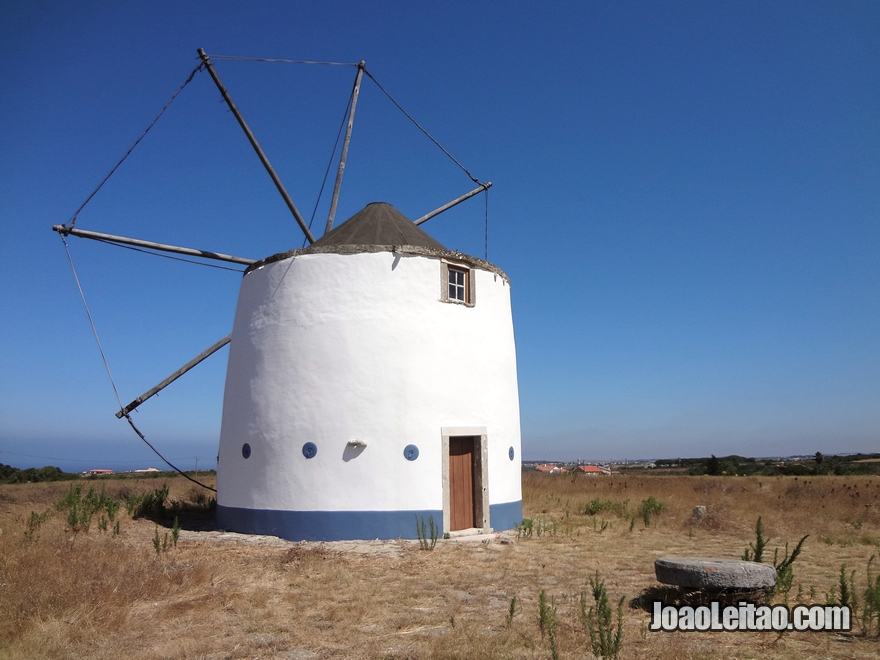 São João das Lampas is a town on the coast, north of Lisbon, in Sintra area. The town stands on top of the rugged coastline overlooking the sea. We can also find beautiful windmills along the coast.
What to visit in São João das Lampas:
Catribana Roman Bridge and Paving
Fervença Waterfalls
Buracas de Armés Archaeological Site
Armés Roman Fountain
Santa Maria Church
Nossa Senhora da Esperança Church
Nossa Senhora de Belém Chapel
Nossa Senhora da Consolação Chapel
São João Baptista Church
Espírito Santo Chapel
São João das Lampas Bandstand
Farmer Statue
Garden Square
15- Sanctuary of Fátima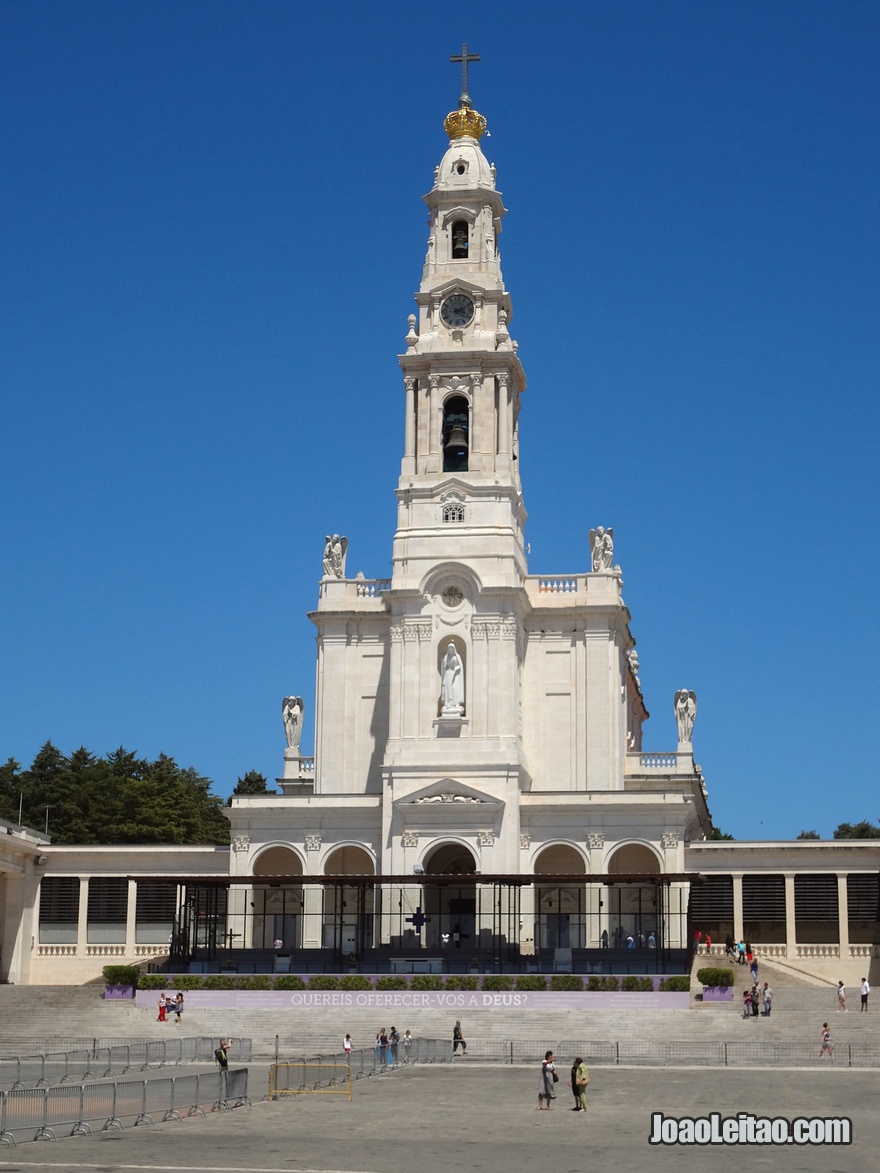 The Sanctuary of Fátima is located in Cova de Santa Iria, where the apparition of Virgin Mary occurred to three children (3 shepherds) on 13th May 1917. Every year great festivities are held there on this day, with millions of pilgrims attending the ceremony.
What to visit in Fatima:
Sanctuary of Fátima
Chapel of the Apparitions
Nossa Senhora do Rosário Basilica
Way of the Cross of Valinhos
Loca do Cabeço Site
Aljustrel House Museum
3 shepherds House
Fatima Parish Church
Museum of the Shrine of Fatima
Casa das Candeias
Moedas Cave
Fazarga Mills
Pio XII Monastery
Santa Cruz Monastery
Fatima Wax Museum
Religious Art and Ethnology Museum
Olive Oil Museum
Casal Farto Chapel
Basilica of the Holy Trinity
16. Santa Justa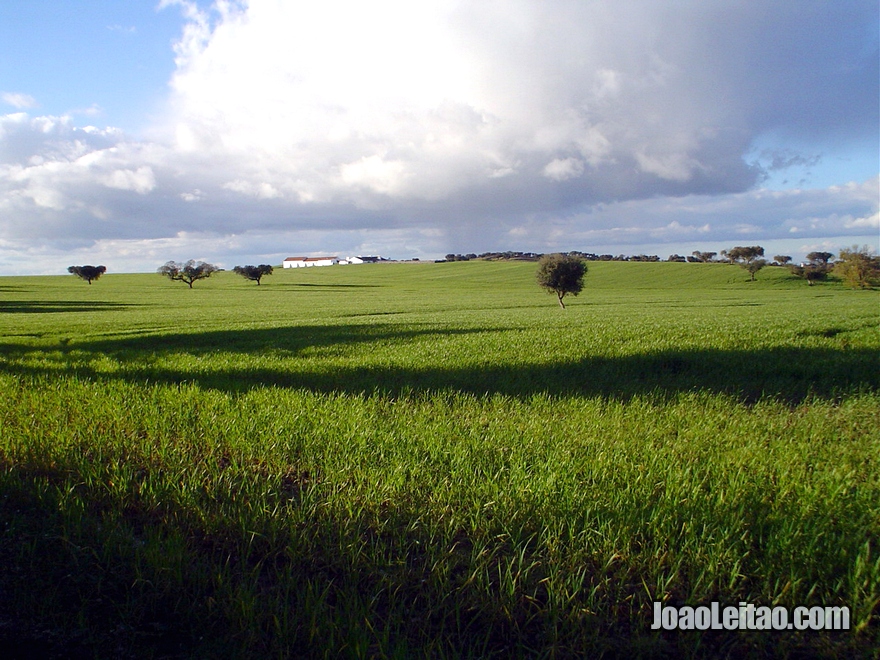 Santa Justa is a off the beaten path village in Alto Alentejo, in Évora district. With an old population, it conveys the typical quiet lifestyle of Alentejo villages. The endless fields, covered with a beautiful green mantle in Spring, feature the amazing landscape of Alentejo.
What to visit in Santa Justa:
Santa Justa Old Parish Church
Old School
Vale do Pereiro Village
Evoramonte Village
17. Sagres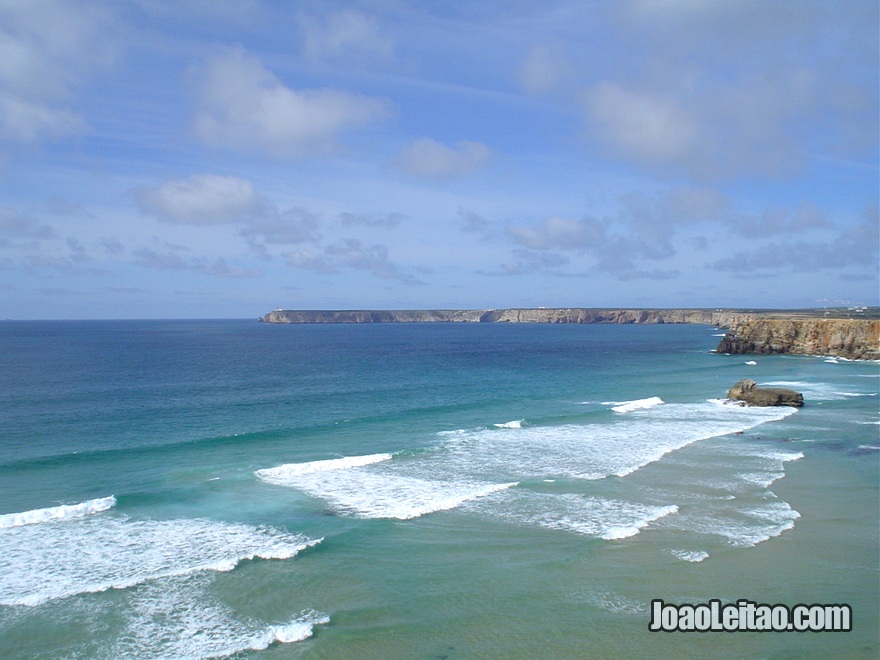 Cape St. Vincent is situated on the most southwestern point of Europe, where the Fortress of Sagres stands. From the top of the promontory we can enjoy the strong sea breeze and listen to the splashing waves.
What to visit in Sagres:
Sagres Fortress
Baleeira Fortress
Santo António de Belixe Fort
Ponta de Sagres Lighthouse
St. Vicent Lighthouse
Nossa Senhora da Graça Church
Sagres Point
Cape St. Vicent
Compass Rose
Martinhal Beach
Roman Ruins of Martinhal Beach
18. Sabugal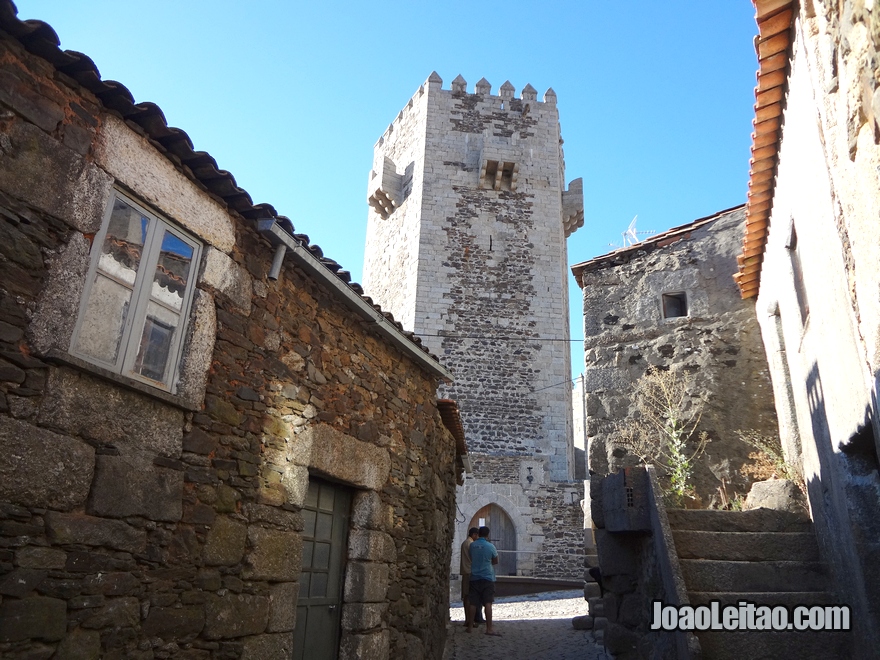 Sabugal is a small village in Portugal inland, near Serra da Estrela. It has a beautiful medieval castle, the only one with 5 corners, where, according to the legend of the miracle of roses, a well-known episode in the history of Portugal took place.
What to visit in Sabugal:
Sabugal Castle and Walls
Pillory
Centenários Calvary Cross
Rainha House
São João Church
Sabugal Museum
Fonte Velha Fountain
Côa River Bridge
Serra da Malcata Natural Reserve
Sabugal Dam
19. Roman Ruins of São Tiago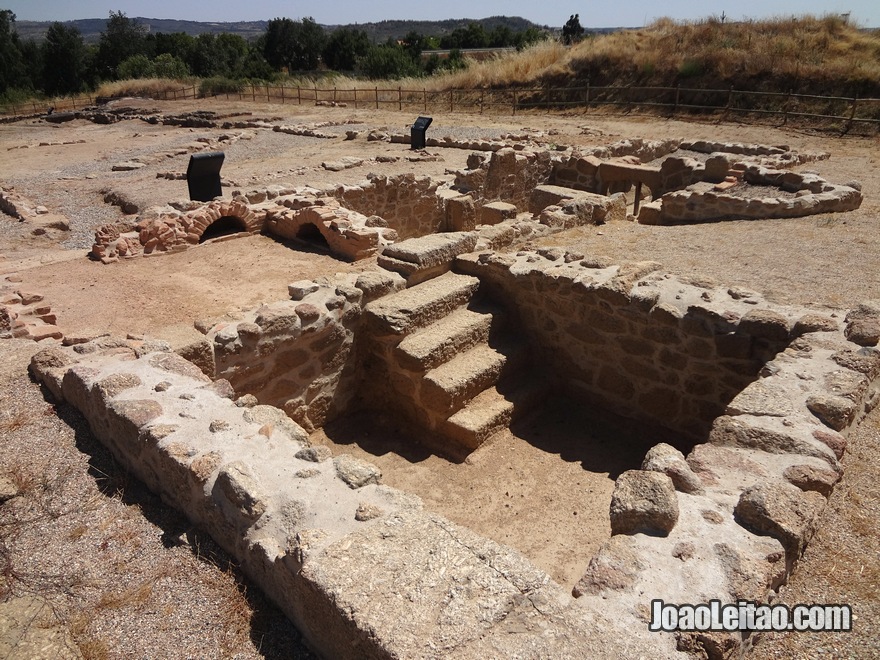 The Roman Ruins of São Tiago Cellas are an archaeological complex located in Alto de Santo Antão, in Belmonte municipality. Although it has been the subject of various legends, there is no accurate information about its history. The tower is the most emblematic building on the site.
What to visit in Roman Ruins of São Tiago Cellas:
São Cornelio Tower
Archaeological Ruins
Belmonte Historical Village
20- Centum Cellas Tower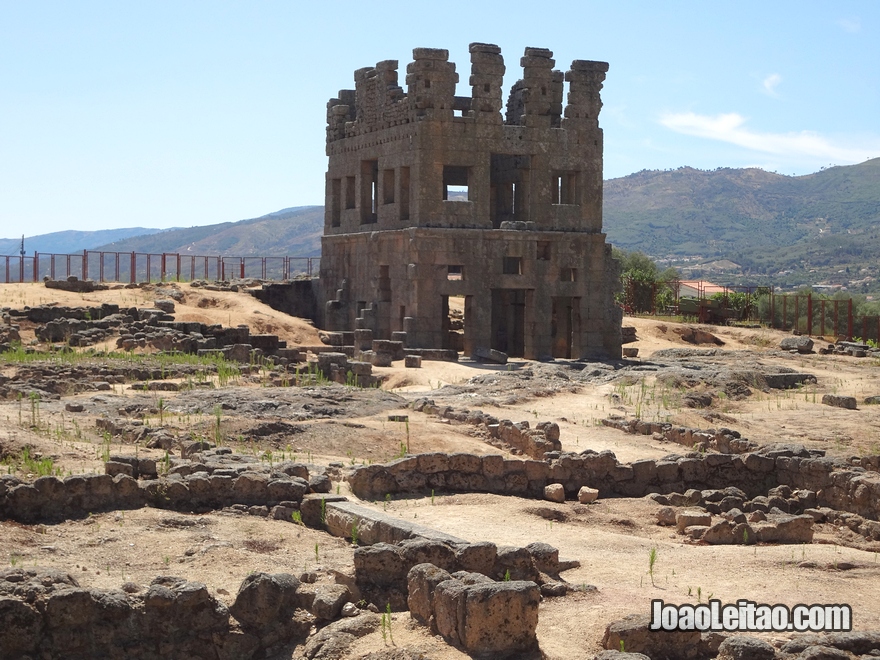 Centum Cellas Tower, also known as St. Cornelius Tower, is the best preserved building of the archaeological complex, so it is what stands out. The Tower, built around the first century AD, is believed to have been part of a Roman villa belonging to a wealthy citizen.
What to visit in Centum Cellas Tower:
São Cornelio Tower
Archaeological Ruins
Belmonte Historical Village
21. Pulo do Lobo Waterfall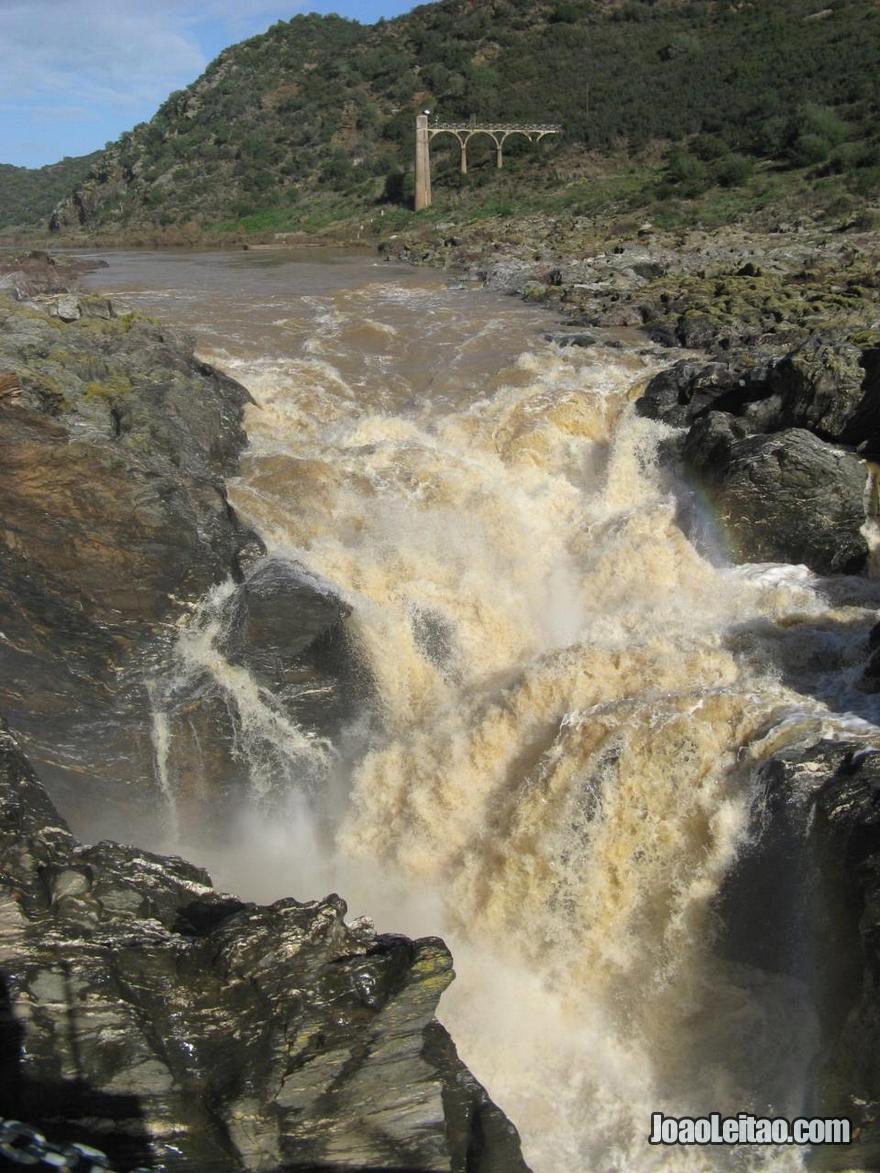 Pulo do Lobo has a waterfall of 20 meters high and stands in Beja district, in the Guadiana River route. It is a natural phenomenon uncommon in the south of Portugal.
What to visit in Pulo do Lobo Waterfall:
Pulo do Lobo Waterfall
Guadiana River
Pulo do Lobo River Beach
Guadiana Valley Natural Park
Mertola Village
22. Guincho Beach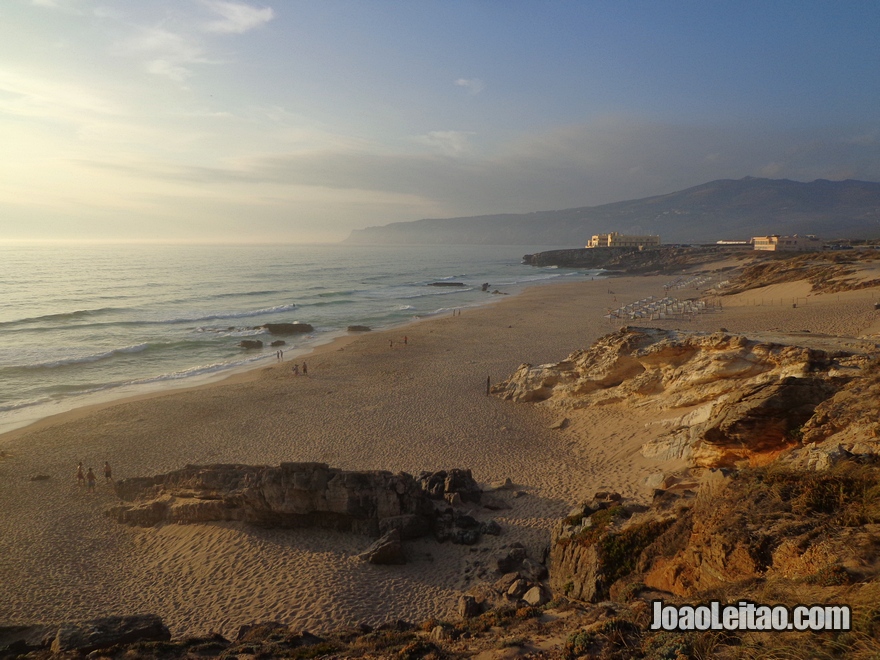 Guincho is known for being the surfers' beach. It lies on the Atlantic coast, north from Lisbon. It has one of the best beaches in the world for surfing, windsurfing and kitesurfing.
What to visit in Guincho Beach:
Guincho Beach
Guincho Fortress
Sintra-Cascais Natural Park
Agua Doce Beach
23. São Bernardino Beach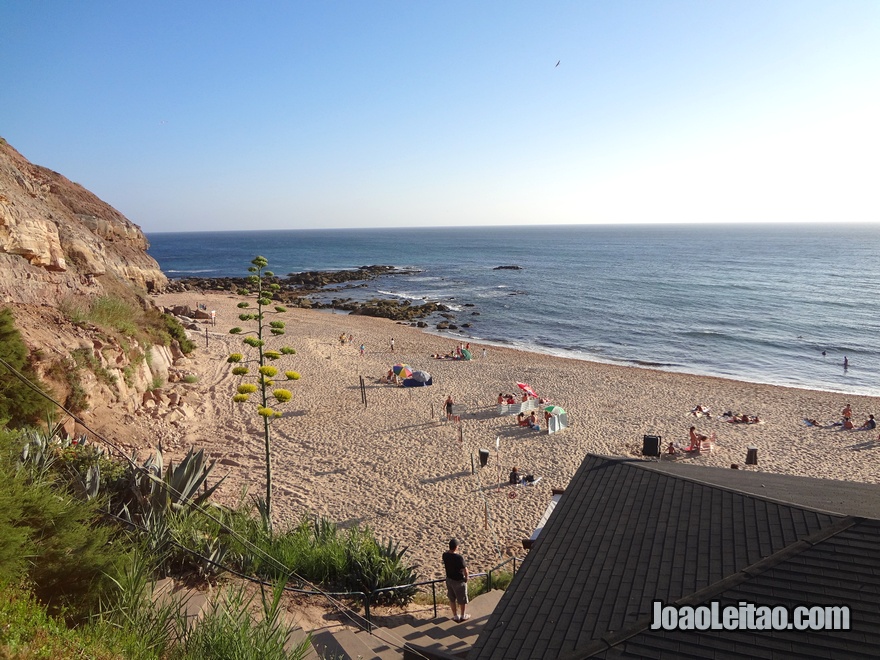 São Bernardino Beach is located on the west coast of Portugal, in Peniche area. Its beach is included in the "Jurassic Route", a marked walking path where you can see footprints of those giants that inhabited our planet millions of years ago.
What to visit in São Bernardino Beach:
São Bernardino Beach:
São Bernardino de Sena Convent:
Santa Filomena Chapel
Frades Beach
City of Peniche
24. Carcavelos Beach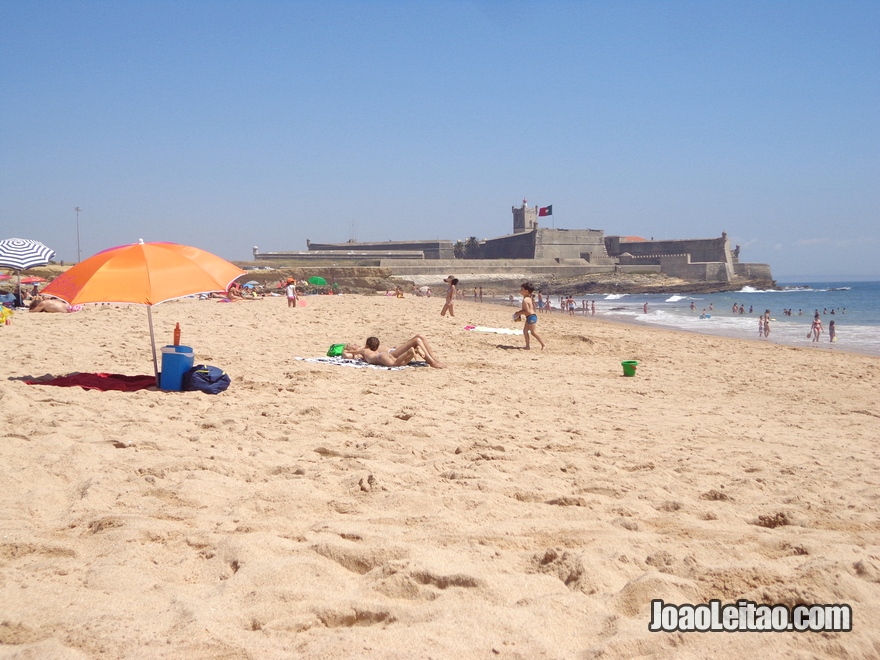 Carcavelos is famous for its beach, located on the Atlantic coast, west from Lisbon (Estoril line). It is a postcard image of Cascais with Fort of São Julião da Barra standing out in the background.
What to visit in Carcavelos Beach:
Carcavelos Beach:
São Julião da Barra Fortress
Torre Beach
Tagus River (Mouth)
Oeiras Marina
25. Torre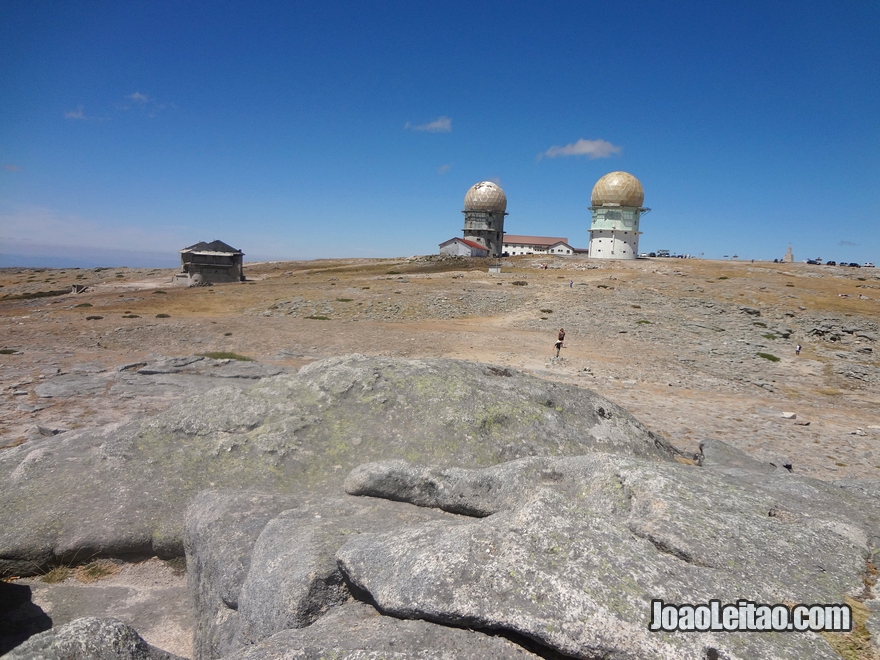 Torre (tower) is the highest point in mainland Portugal. In fact, it is a geodesic mark that indicates the highest point of Serra da Estrela, which naturally reaches 1993m high, but relying on the tower reaches 2000m (6561ft).
What to visit in Torre:
Serra da Estrela Torre
Estrela Ski Resort
Triangulation Station
Serra da Estrela Natural Park
Torre Shopping Mall
Nossa Senhora do Ar Chapel
Torre Chapel
Senhora da Boa Estrela Sculpture
26. Pedras Negras Beach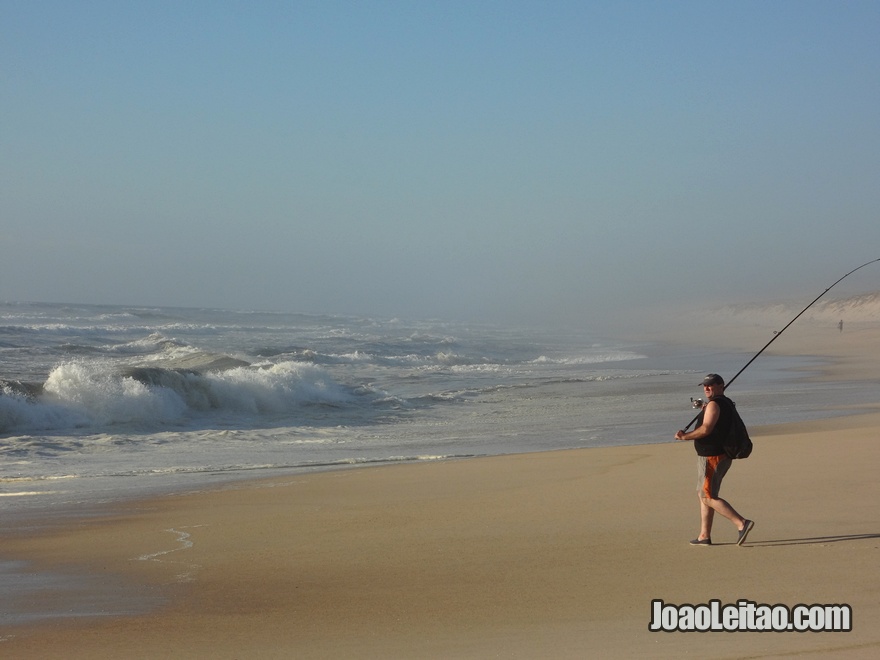 Pedras Negras is located in São Pedro de Moel municipality, and its beach consists of a huge sand area, with a long walkway over the dunes, which allows a pleasant stroll by the seaside.
What to visit in Pedras Negras Beach:
Pedras Negras Beach:
São Pedro de Moel Village
Pedras Negras Walkways
27. Praia das Maçãs Beach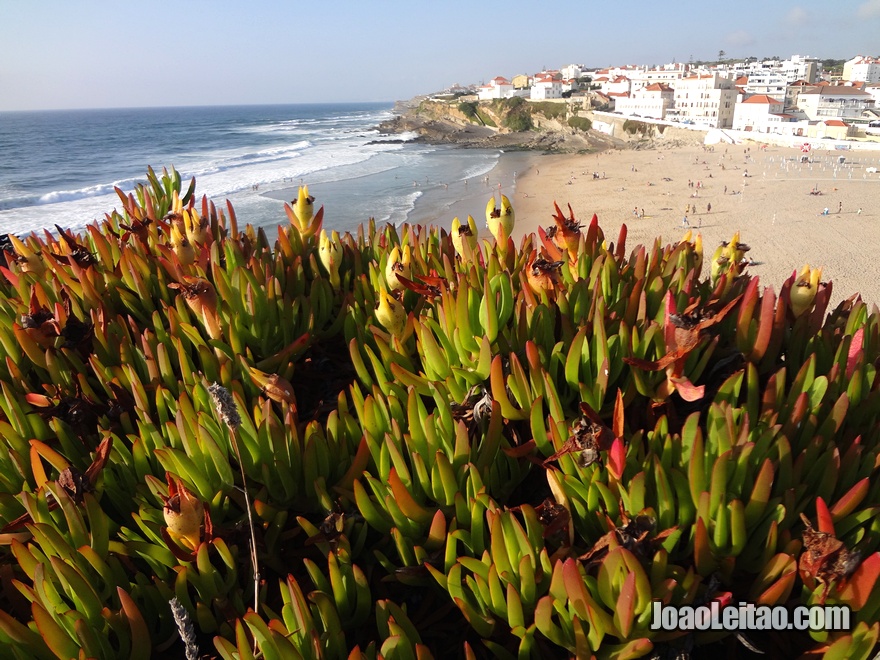 Praia das Maçãs is a well-known beach, where many scenes of classic Portuguese novels take place. As it is the closest beach to Sintra it was the hangout of the Portuguese socialite. It has an old tram that was the connection between the beach and the town of Sintra.
What to visit in Praia das Maçãs Beach:
Praia das Maçãs Beach
Praia das Maçãs Beach Pool
Ribeira de Colares
Praia do Rodizio Small Beach
Sintra Cascais Natural Park
28. Praia da Rocha Beach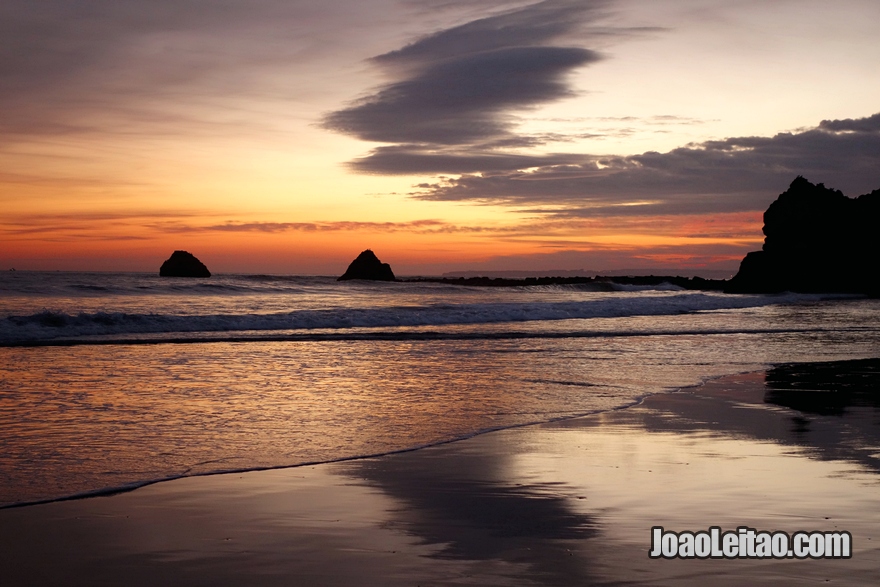 Praia da Rocha is the Algarve beach with the largest sand extension. Strolling the promenade we can see the beach below, with its vast sand area and many bars/ restaurants along the wooden walkway.
What to visit in Praia da Rocha Beach:
Praia da Rocha Beach
Portimão Marina
Santa Catarina Fortress
Praia dos Três Castelos Beach
Arade River
City of Portimão
29. Comporta Beach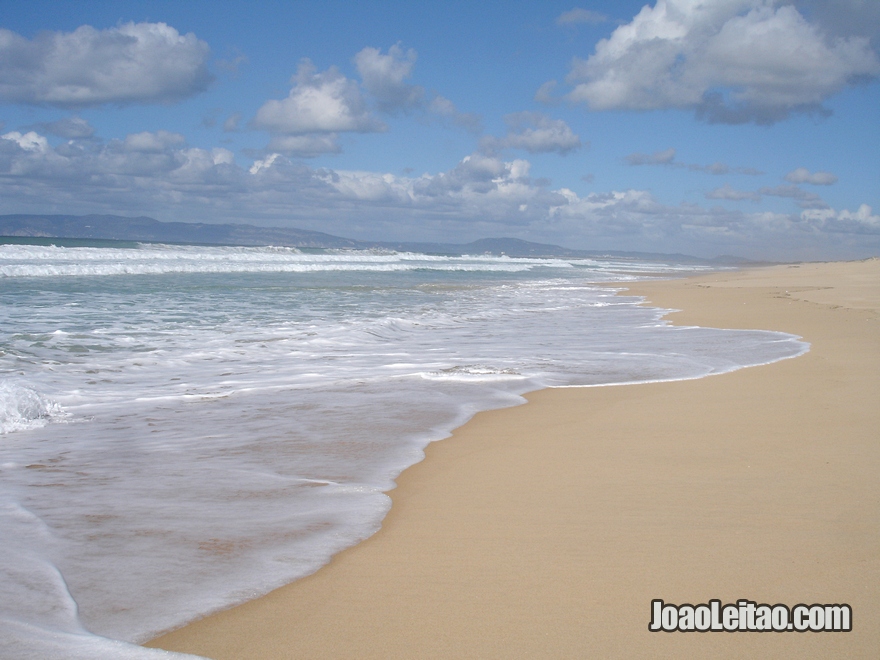 Comporta Beach still keeps its wild nature, in spite of the increasing influx of tourists that has taken place in the past few years, due to the construction of infrastructures to support tourism. It is a prime area near Lisbon.
What to visit in Comporta Beach:
Comporta Beach
Sado Estuary Natural Reserve
Rice Museum
Herdade da Comporta Wine Cellar
Herdade da Comporta
30. Oporto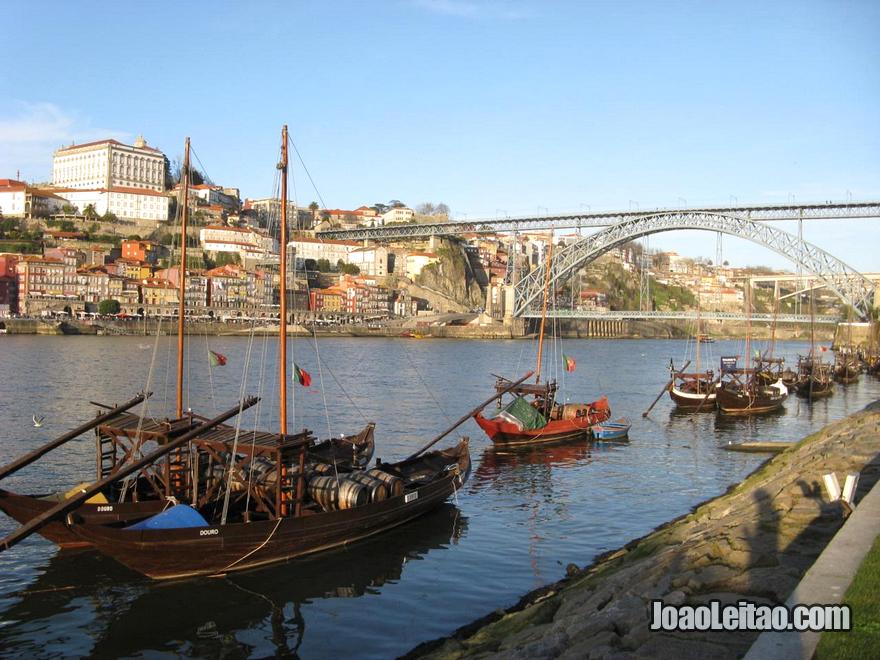 Porto (Oporto) is also known as "Invicta" city (Invincible in Latin) for having resisted the French invasions. Oporto is a unique city on the national scene: it is a large and cosmopolitan city with a village spirit. People from Oporto have strong feelings for their city that you cannot find elsewhere in Portugal. "Being from Oporto" is part of the character of a person who was born here.
What to visit in Oporto:
Porto City Hall
Palácio da Bolsa
Sé do Porto Cathedral
São Francisco Church
Avenida dos Aliados
Kadoorie Synagogue
Clérigos Tower
D. Maria Pia Bridge
D. Luís Bridge
University of Porto Rectory
São João National Theatre
Rua de Santa Catarina Street
Rua das Flores Street
Ferreira Borges Market
Coliseu do Porto
Medieval Walls
Casa do Cabido
D. Pedro de Pitões Tower
Rua das Taipas Fountain
Casa dos Maias
Carlos Alberto Square
Leões Square
Lello Library
Batalha Square
Serralves Foundation
Cedofeita Church
São Lazaro Garden
Casa da Musica
Palácio de Cristal Gardens
Bolhão Market
Ribeira Square
São Bento Railway Station
Porto Wine Museum
Porto Tram Museum
Casa do Infante
Soares dos Reis National Museum
Porto Military Museum
Portuguese Centre of Photography
Alfandega Building
Campo Alegre Theatre
Museum of Transport and Communication
Santa Clara Church
Santo Ildefonso Church
São Nicolau Church
São Lourenço Church
Sacred Arts Museum
National Press Museum
Rivoli Theatre
Sá da Bandeira Theatre
Contemporary Art Museum
Cordoaria Garden
Mouzinho de Albuquerque Square
31. Porto de Mós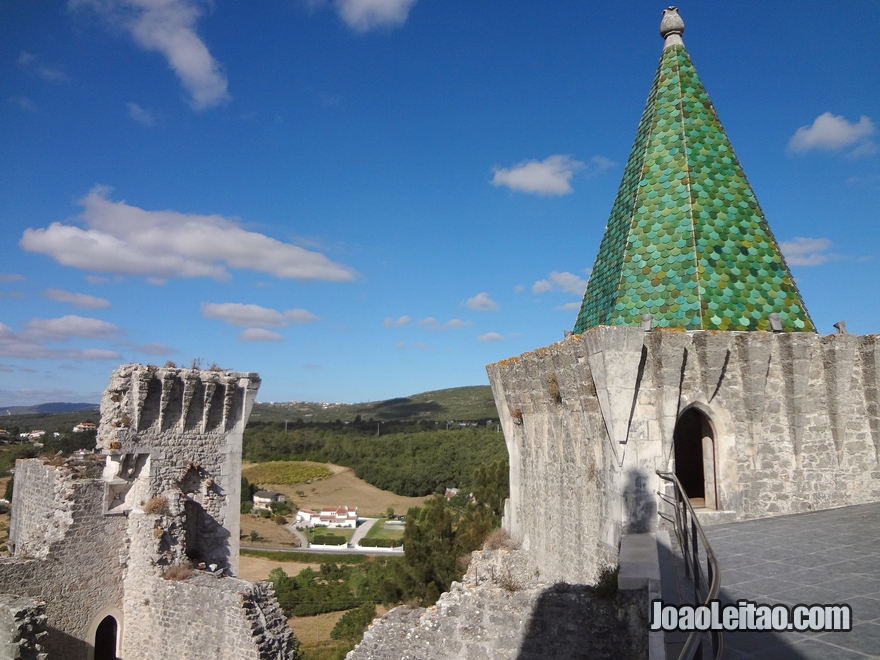 Porto de Mós is a village in the west central region of Portugal. The village landscape is dominated by the castle on the hill around which the settlement lies. The castle has a medieval style with two pinnacle towers, covered by green tiles, which is an unusual feature in Portugal.
What to visit in Porto de Mós:
Porto de Mós Castle
São Pedro Church
São João Church
Santo António Chapel
São Jorge Chapel
Arrimal Lagoon
São Bento Jurassic Beach
São Silvestre Chapel
Mira de Aire Caves
Alvados Caves
Santo António Caves
Aljubarrota Battle Interpretation Centre
Arco da Memória Monument
Fórnea (Chão das Pias) Archaeological Site
Pillory
32. Portimão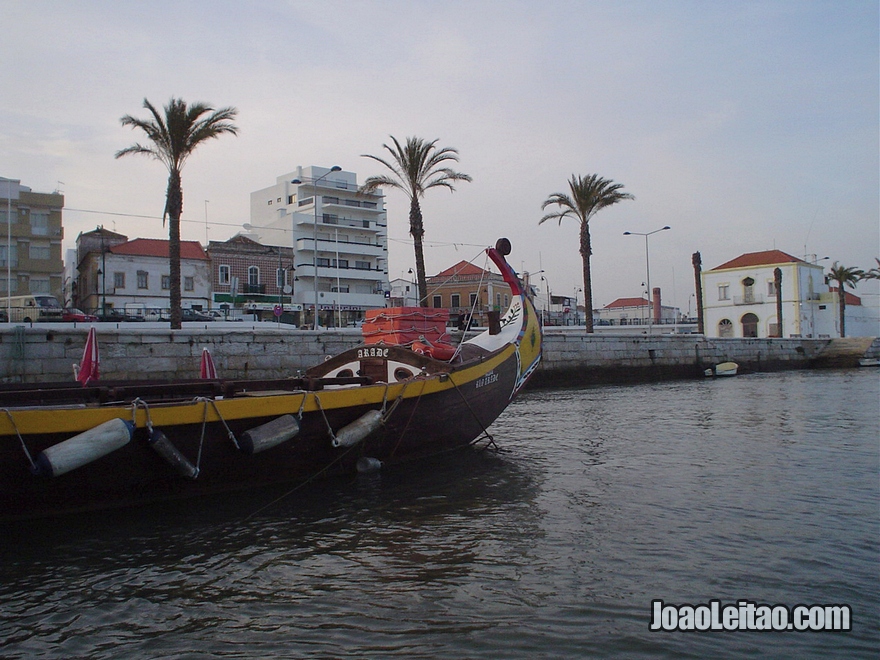 Portimão is a city on the Algarve coast. Despite being a mass tourism destination, it stills keeps more typical features of the Algarve than any other urban center of the region. Fishing is still the main economic activity, right after tourism, and it is the best place to eat the typical charcoal grilled sardines.
What to visit in Portimão:
Municipal Theatre
Mó Square
Portimão Museum
São José Chapel
Senhora do Amparo Chapel
São Francisco Convent
Manuel Teixeira Gomes House
Bandstand
Sarrea Gárfeas Palace
Manuel Teixeira Gomes Square
Santa Catarina Fortress
Alvor Lagoon
Arade River
Ponta João Arens
Portimão Marina
Três Castelos Scenic Viewpoint
Pedagogical Farm
Colégio dos Jesuitas Church
Bivar Palace
Parish Church
Praia da Rocha Beach
Marina Beach
Três Castelos Beach
Careanos Beach
Vau Beach
Alemão Beach
Prainha Beach
Três Irmãos Beach
Torralta Beach
Alvor Beach
Megalithic Monuments of Alcalar
33. Piódão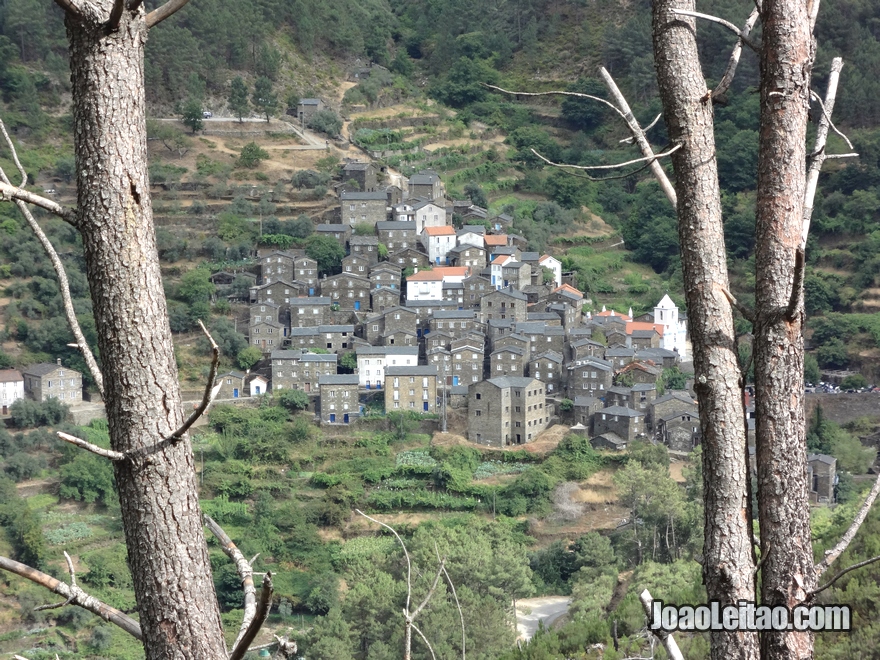 Piodão is a small historic village located in Serra do Açor, in Arganil municipality. The houses are made of shale, with roofs of slabs and blue wooden doors. The houses are organized in terraces on the hillside, looking like a nativity scene.
What to visit in Piódão:
Parish Church
São Pedro Chapel
Almas Chapel
Threshing Floor
Algares Fountain
Tourist Office and Museum
Santa Barbara Chapel
Piódão River Beach
Açor Wind Farm
Nicho das Almas Monument
M. F. Nogueira Sculpture
34. Peniche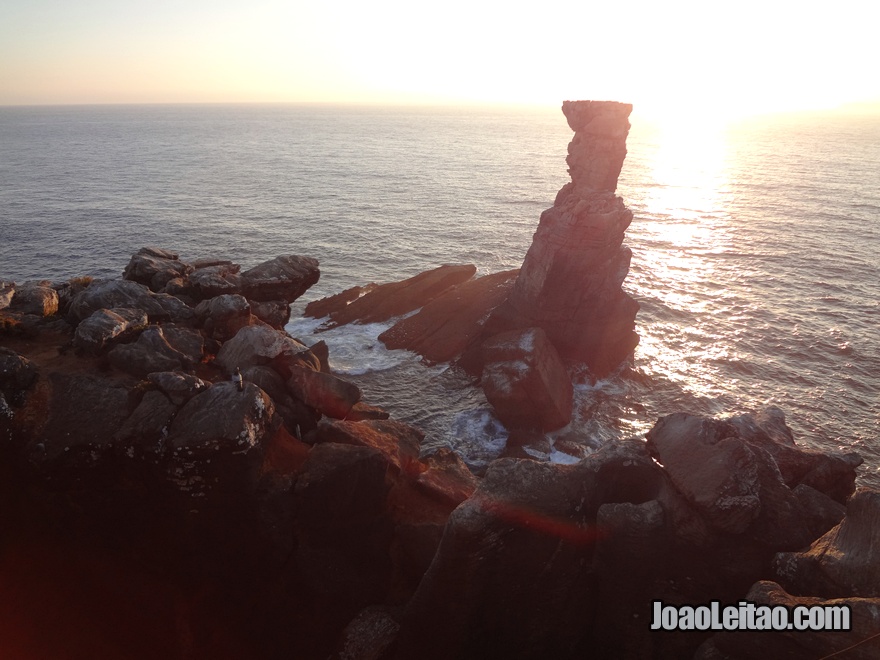 Cabo Carvoeiro, in Peniche, is the westernmost part of Portugal, after Cabo da Roca. The Fortress of Peniche is a mandatory stopover on a visit to this city. Peniche is traditionally a fishing town and it keeps the simple character of its people.
What to visit in Peniche:
Peniche Fortress
São Pedro Church
Nossa Senhora da Conceição Church
Misericórdia Church
Nossa Senhora dos Remédios Chapel
São Leonardo Church
Praça Forte Square
Gothic Fountain
Atouguia da Baleia Pillory
Nossa Srª da Conceição Church
Peniche Walls
Cabo Carvoeiro Cliff
Cabo Carvoeiro Lighthouse
Furninha Cave
Peniche Municipal Museum
Consolação Beach
Gamboa Beach
Baleal Beach
Supertubos Beach
Peniche de Cima Beach
Peniche de Baixo Beach
Berlengas Island
Morracal da Ajuda Archaeological Site
35- Penhas Douradas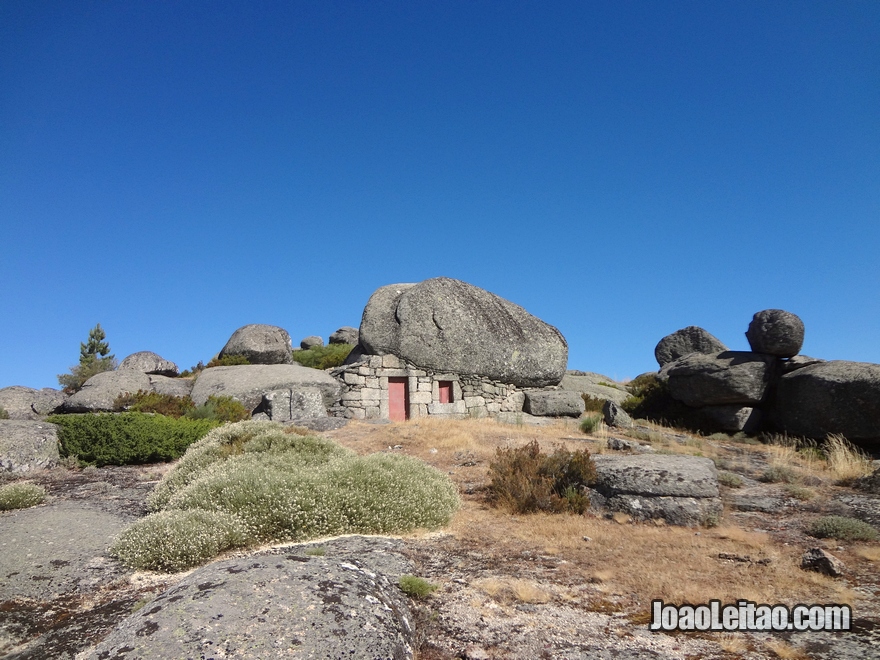 Penhas Douradas is located in Serra da Estrela region and it is a very rocky area, where you can see large granite geological formations (from which derives its name: "penhas" means rocks). The villages in this region are quite isolated from each other and they are camouflaged in the rocky landscape.
36- Penha de Prados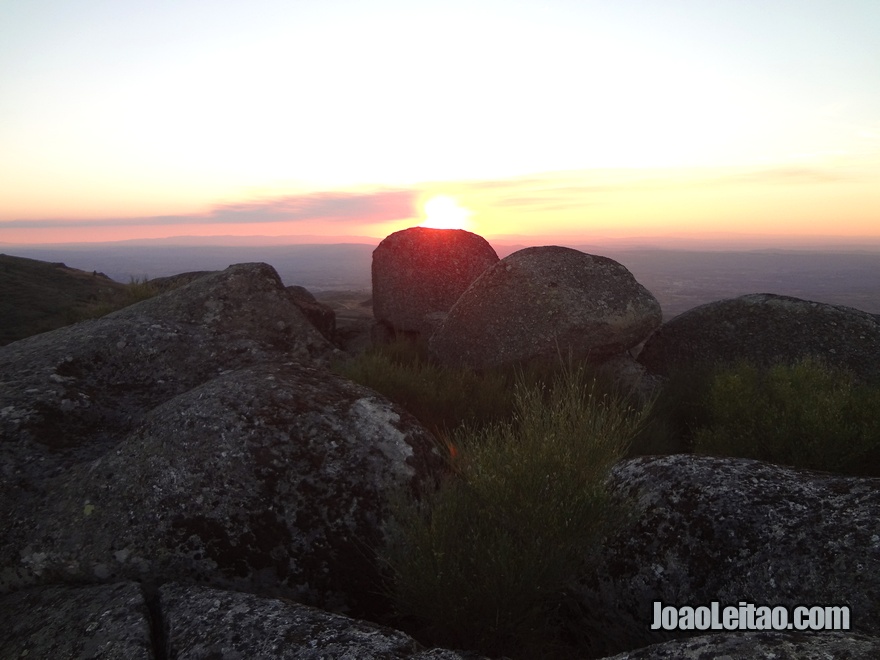 Penha dos Prados stands in Celorico da Beira municipality and it is an excellent natural viewpoint, because the village is at an altitude of 1100m, from where you can see over the Mondego Valley, which stands at about 500m above sea level.
37- Penedo Durão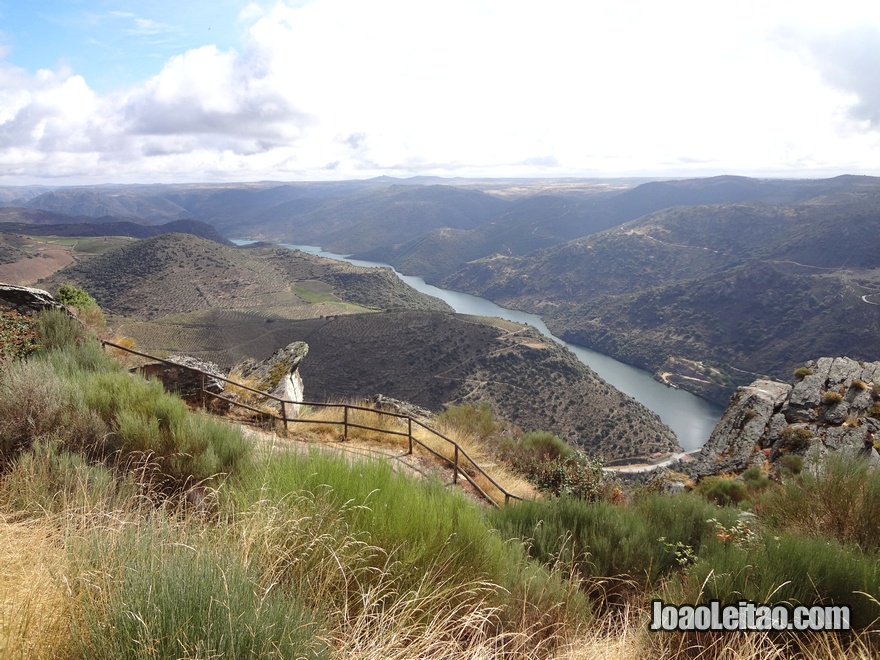 Penedo Durão is situated in Freixo de Espada à Cinta municipality, right in Douro International National Park, on the border with Spain. Penedo Durão is a natural viewpoint with wonderful views over Douro River and it has a terrace structure which enables gorgeous scenery. Birds of prey like eagles, vultures and falcons can be often seen in the area.
38- Penamacor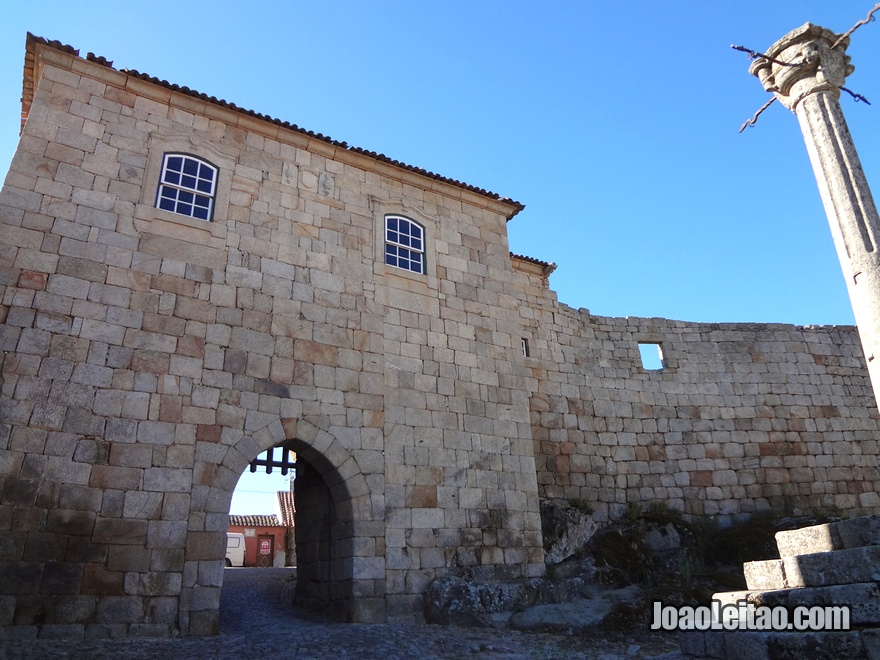 Penamacor is a village which lies in the district of Castelo Branco. The village received its first charter in 1189 by King D. Sancho I and retains some medieval heritage such as the Penamacor Castle, the Dungeon, the Pelourinho and the Misericórdia Church. From the top of the Castle walls, we can have the best panoramic view over the village.
39- Dinosaur Footprints of Serra de Aire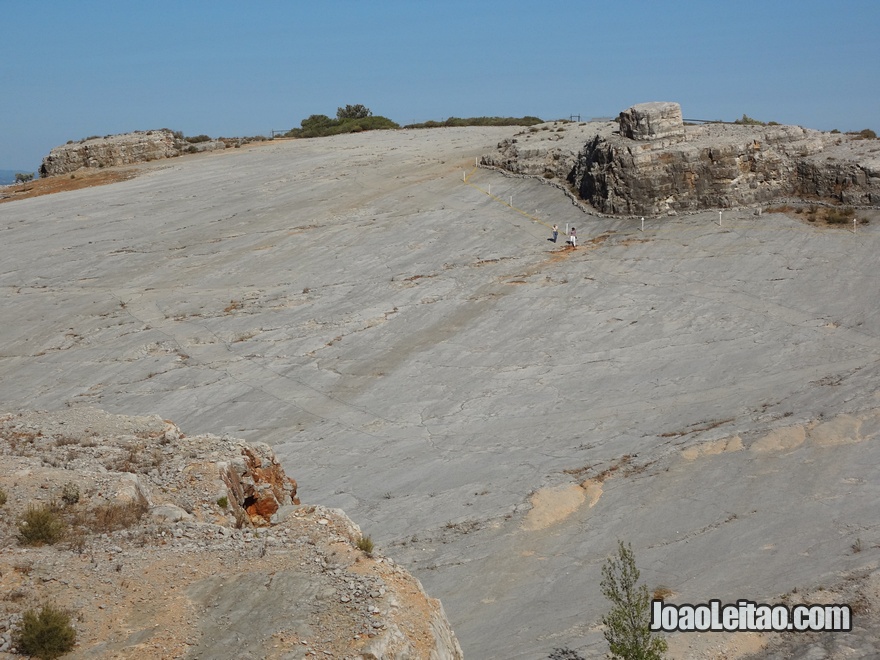 The Natural Monument of Dinosaur Footprints of Serra de Aire is in Serra de Aire e Candeeiros Natural Park, about 10 km away from Fátima. It is an important legacy that remains from the Jurassic period till nowadays. Dinosaur footprints were pressed in a swampy ground that later dried out and left these marks in history.
40- Douro International Natural Park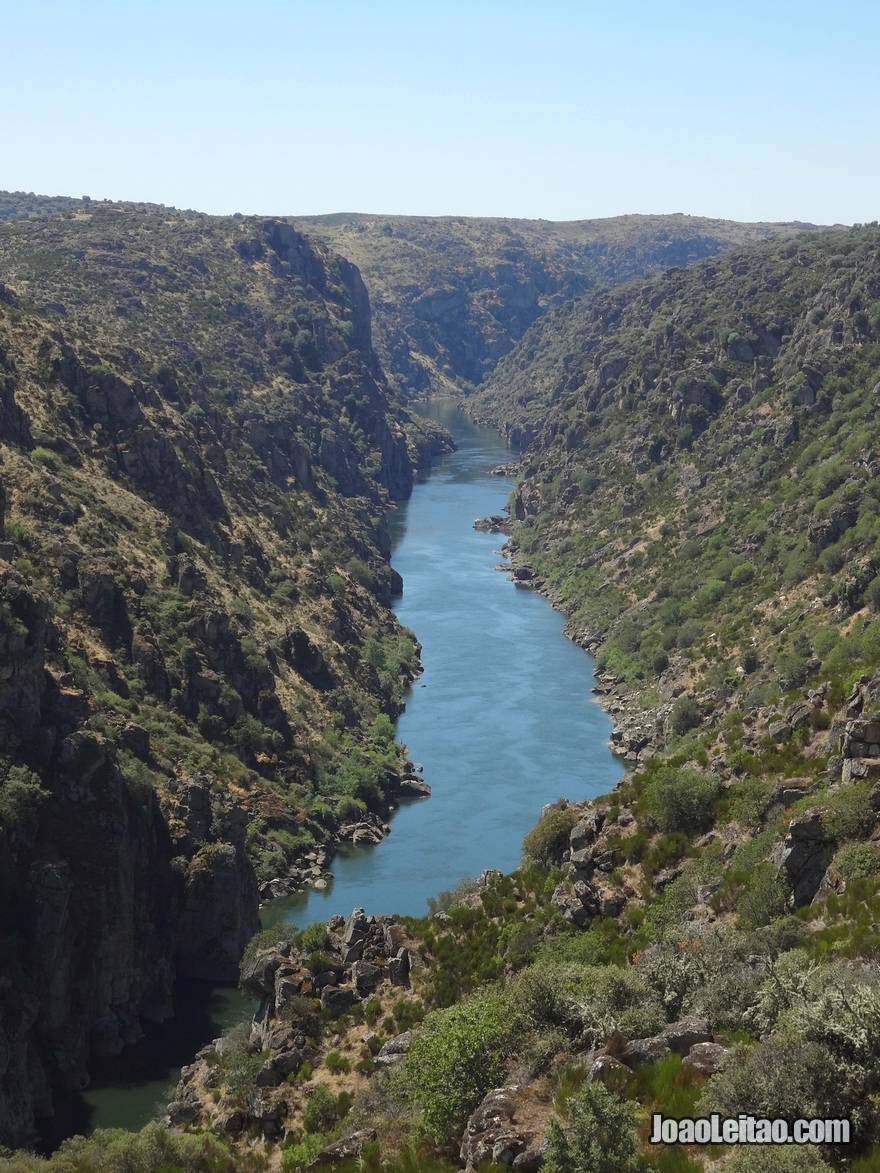 Douro International Natural Park is a natural reserve area and its main attraction is Douro River, which is a natural border between Portugal and Spain. It runs along 122 km in the districts of Bragança and Guarda.
41- Alvão Natural Park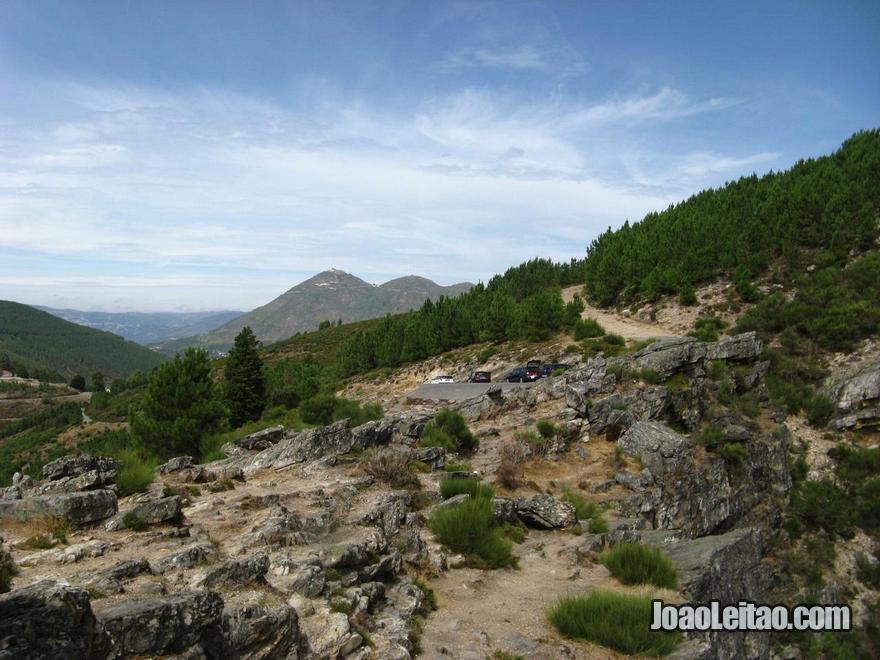 Alvão Natural Park is a nature reserve situated in Vila Real and is one of the many nature destinations Portugal has to offer. In addition to the beautiful mountain landscapes, Fisgas do Ermelo watefall is the highlight of this place.
42- Arrábida Natural Park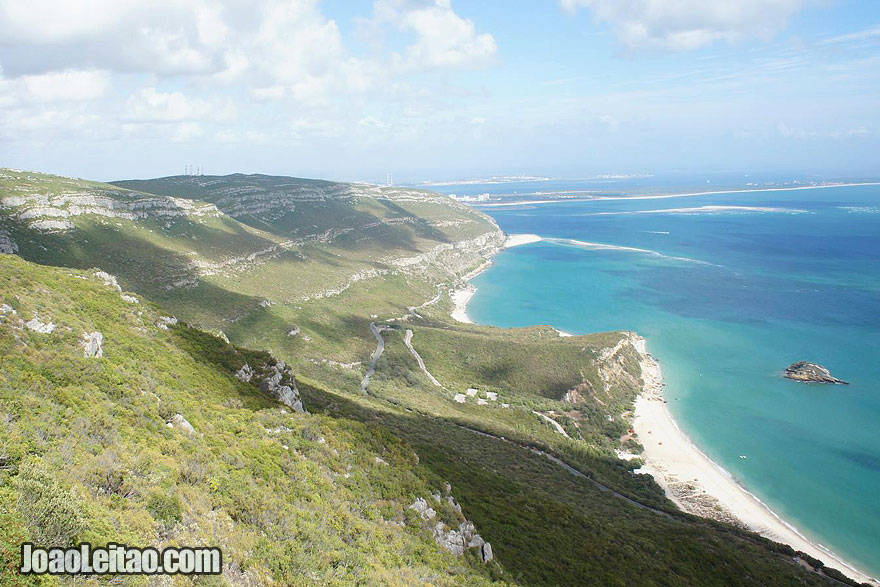 Arrábida Natural Park is a true natural treasure. It combines the most beautiful landscapes of Serra da Arrábida with magnificent beaches such as Portinho da Arrábida. It is considered a paradise right at the gates of the capital city Lisbon.
43- Peneda-Gerês National Park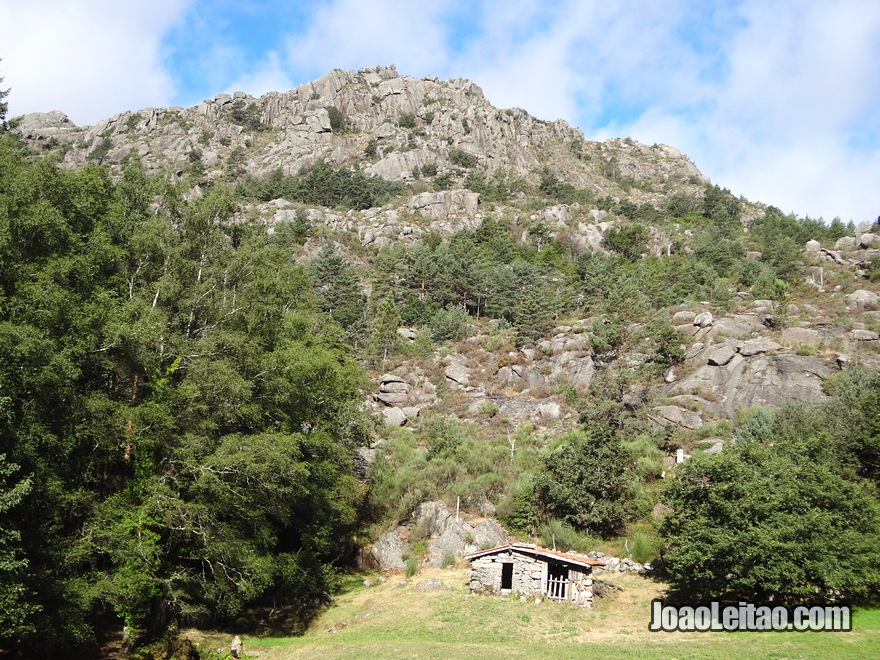 Peneda-Gerês National Park is the largest protected area of the country, stretching over 22 parishes and more than 72,000 hectares.
44- Ourém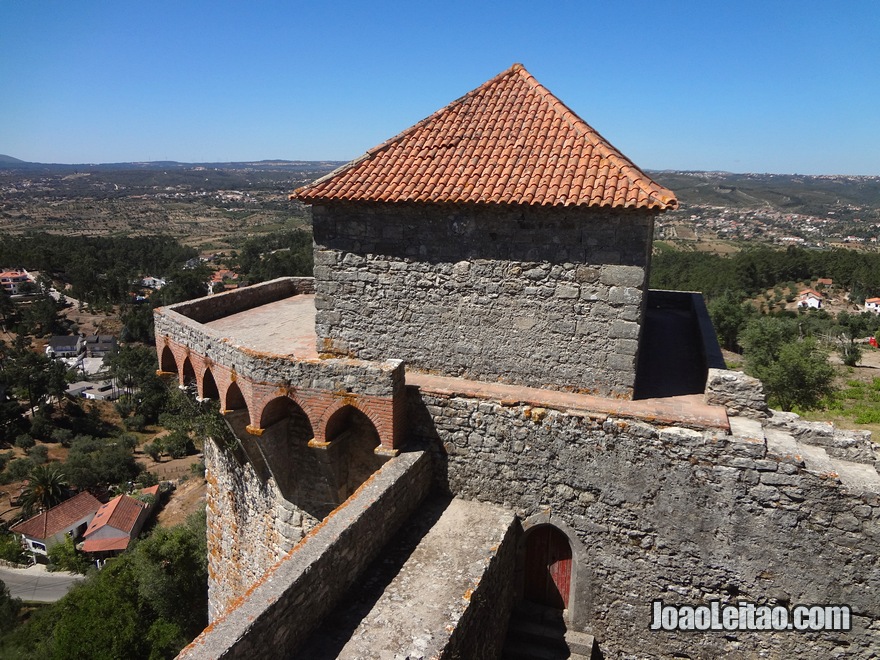 Ourém is located in the central region of Portugal near Fátima, in Santarém district. Ourém Castle is the landmark of the city. It stands alone on top of a hill and has a very distinctive architecture comparing to the most common castles in Portugal.
45- Óbidos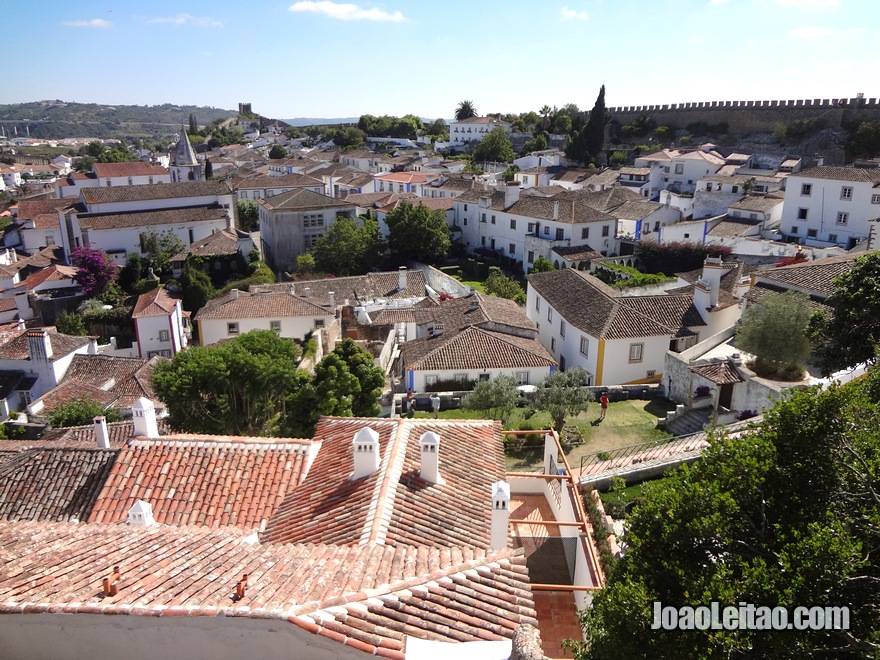 Óbidos is a charming village, within the castle walls. It is one of the most beautiful historic villages of Portugal.
46- Nossa Senhora da Peneda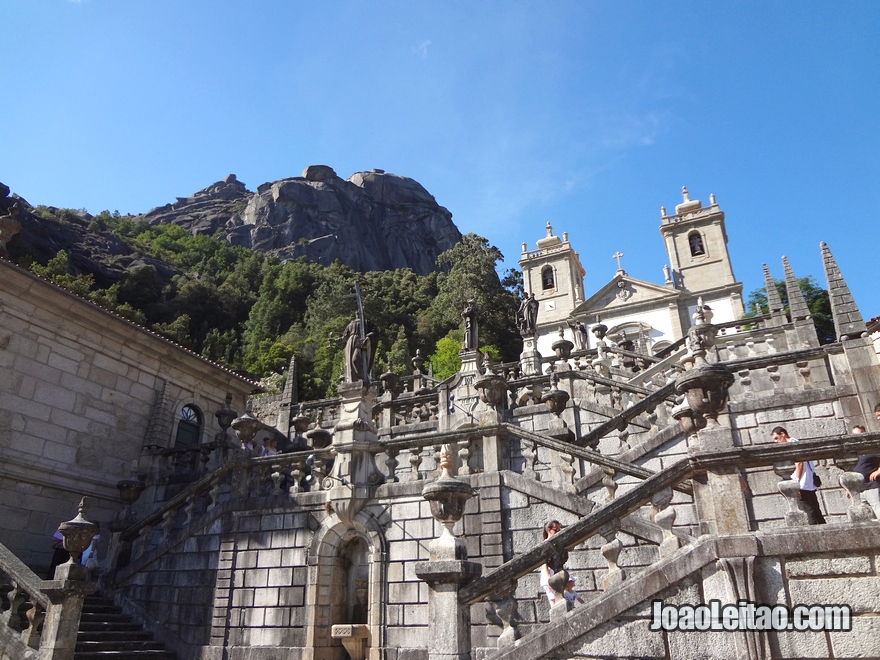 Nossa Senhora da Peneda, located in Ponte da Barca municipality, is famous for its sanctuary. It resembles Bom Jesus de Braga sanctuary with a staircase in the front adorned with statues and fountains in every floor level. Another less prone staircase stretches along 300m, flanked by 20 small chapels with scenes of Jesus's life.
47- Medieval Necropolis of Fernão Joanes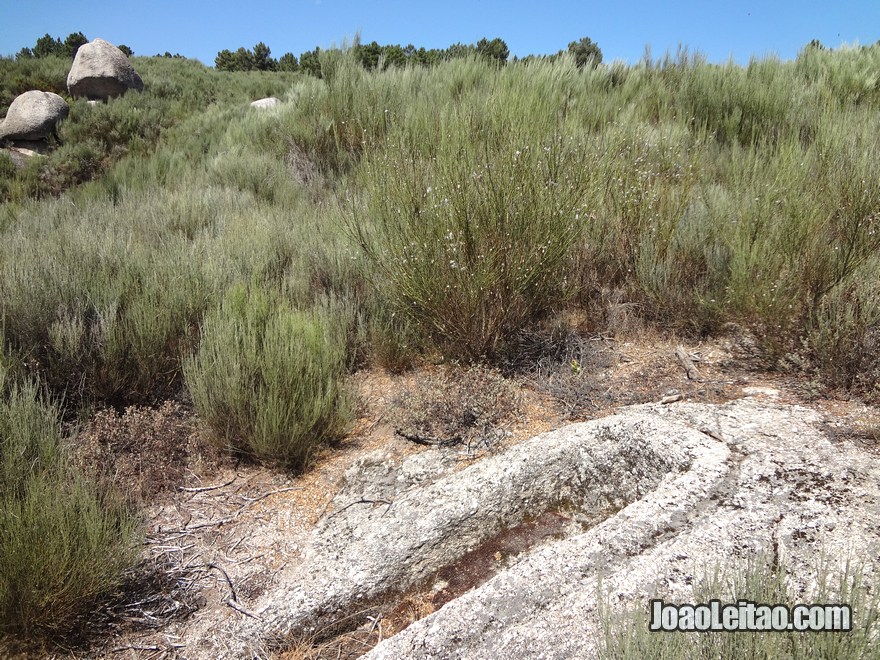 The village of Fernão Joanes stands in Serra da Estrela Natural Park, in Guarda district. Outside the village we can find a medieval necropolis with tombs, some easier to identify than others thanks to its bumps.
48- Nazaré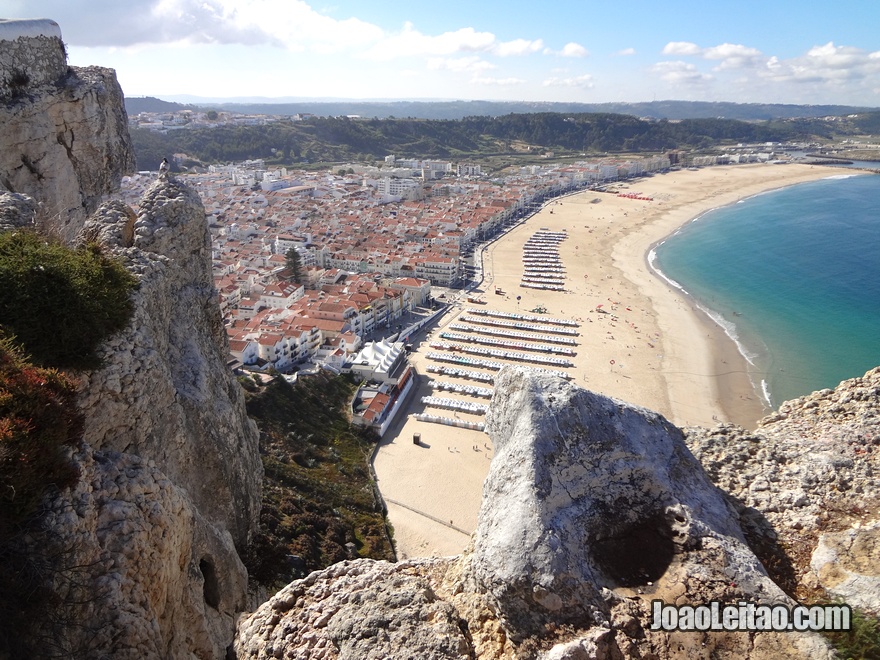 Nazaré lies on the central west coast of Portugal, and it is one of the most traditional fishing villages in the country. The typical costumes of Nazaré women are very peculiar: seven overlapping skirts, all of a different pattern and color. Even today you can see women dressing up like that. Nazaré is also a very popular beach for surfing.
Garrett McNamara Breaks Big Wave World Record in Nazaré:
30m (100ft) rogue wave… Garrett McNamara makes history by breaking the current record of the biggest wave ever surfed while in Nazare, Portugal.
49- Montalegre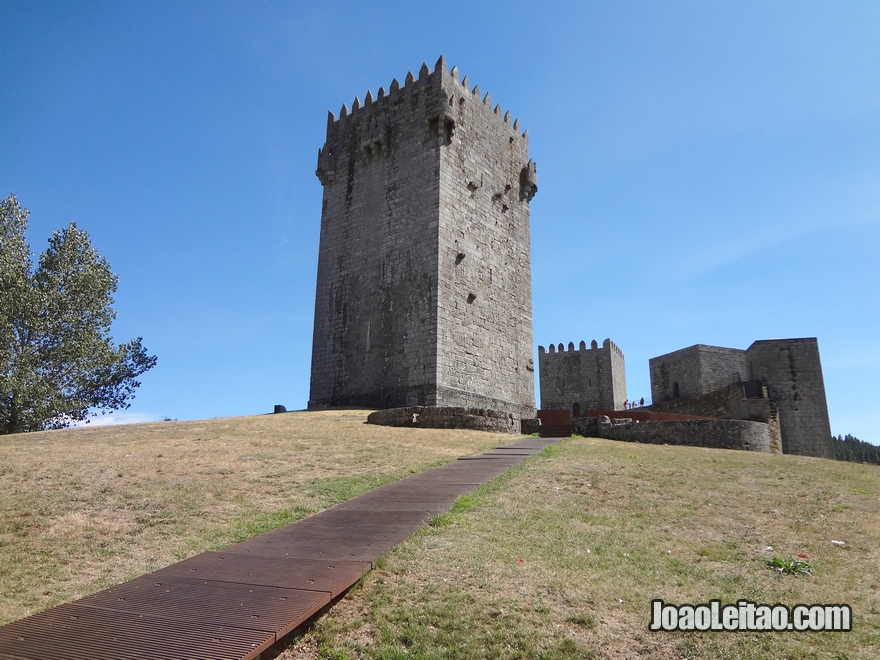 Montalegre is a town which stands in the northernmost region of Portugal, close to Spain. Montalegre Castle stands out in the village landscape. In recent years Montalegre devoted itself to celebration of mysticism. Every Friday 13th offers numerous events and ceremonies which are attended by hundreds of tourists.
50- Monsaraz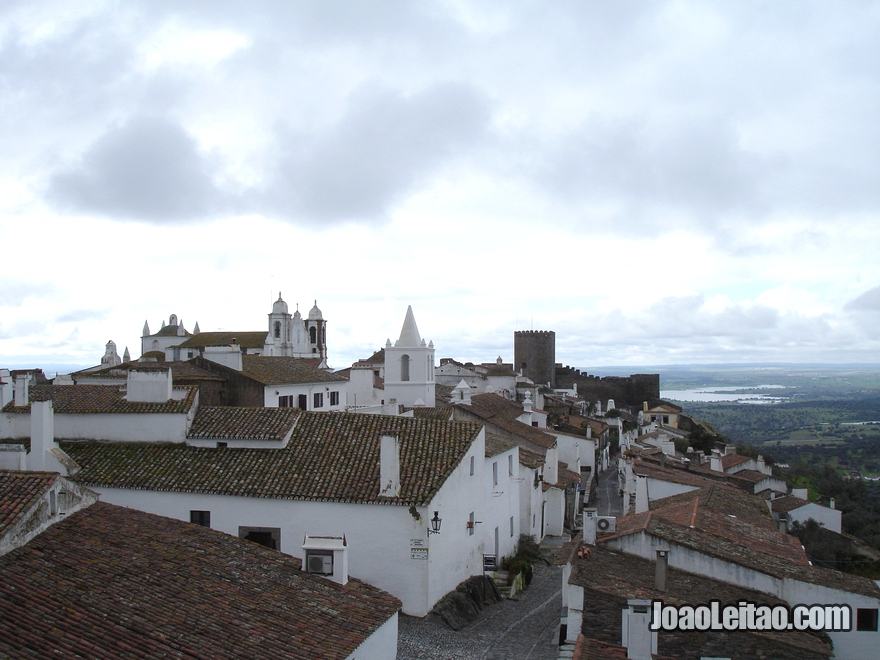 The small village of Monsaraz is located in the Alentejo region, close to the border with Spain. The whiteness of its houses stands out on top of the hill, within the castle walls.
51- Monsanto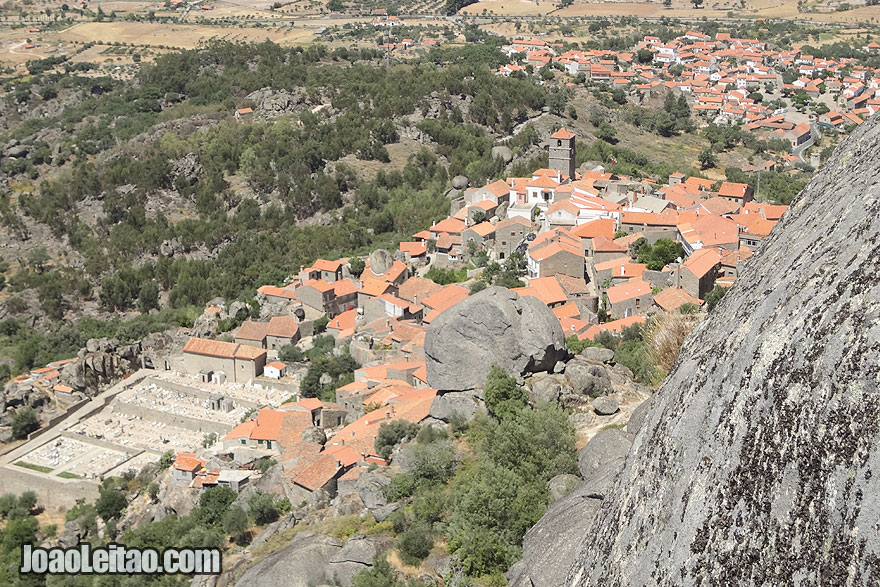 Monsanto is a historic village in the municipality of Idanha-a-Nova, called "the most Portuguese village in Portugal". Small stone houses lean against big rocks that seem to threaten to roll down at any time. The streets are narrow and cobbled.
52- Moimenta da Beira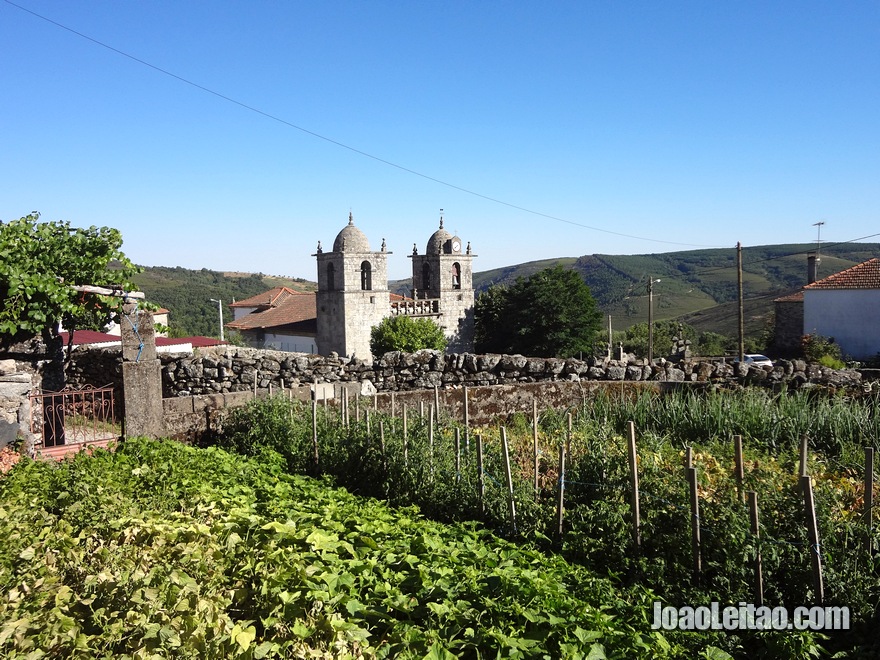 Moimenta da Beira stands in Montesinho Natural Park. It is a countryside village, surrounded by beautiful landscapes. In the village center there is a beautiful church that, despite being originally from the 14th century, shows features mainly from the 17th-18th centuries renovations.
53- Miranda do Douro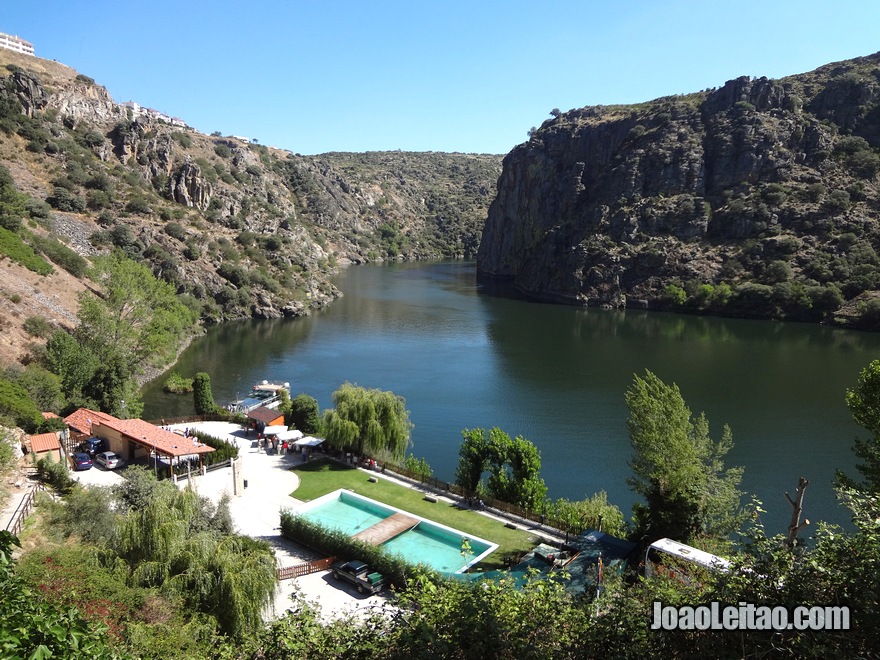 Miranda do Douro is a city in the northeast inland of Portugal, in Bragança district. It is a land of ancient traditions like the famous dance of "Pauliteiros" and it has its own language, the second official language of Portugal: "Mirandês". It stands within Douro International Natural Park, and its major attractions are the landscape and the diverse outdoor activities.
54- Mértola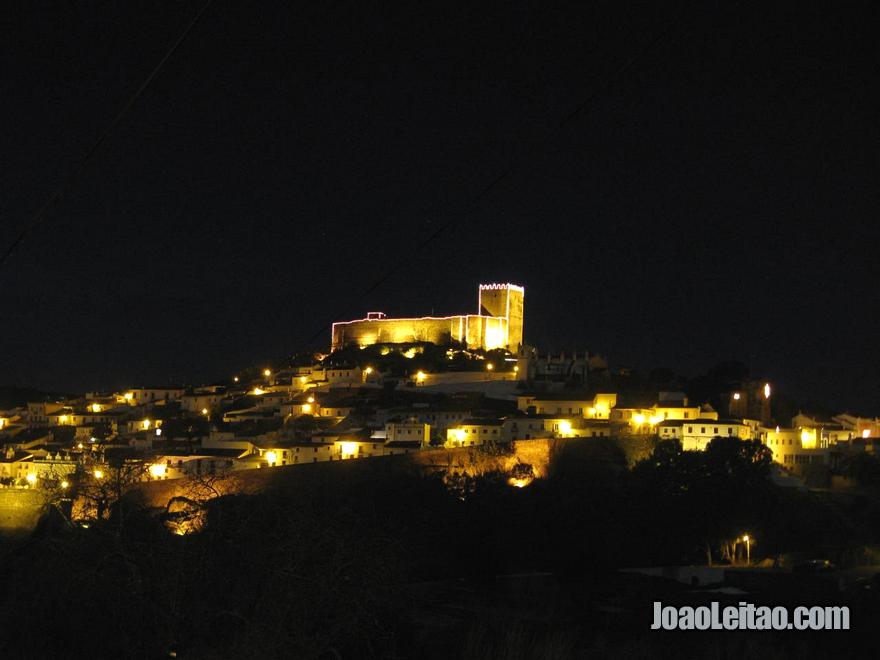 Mértola is a city in Alentejo region on the banks of River Guadiana, which separates Portugal from the neighboring country, Spain. At the highest point of the city stands the castle and in the level below stretches the city of white houses built in the typical style of the region.
55- Marvão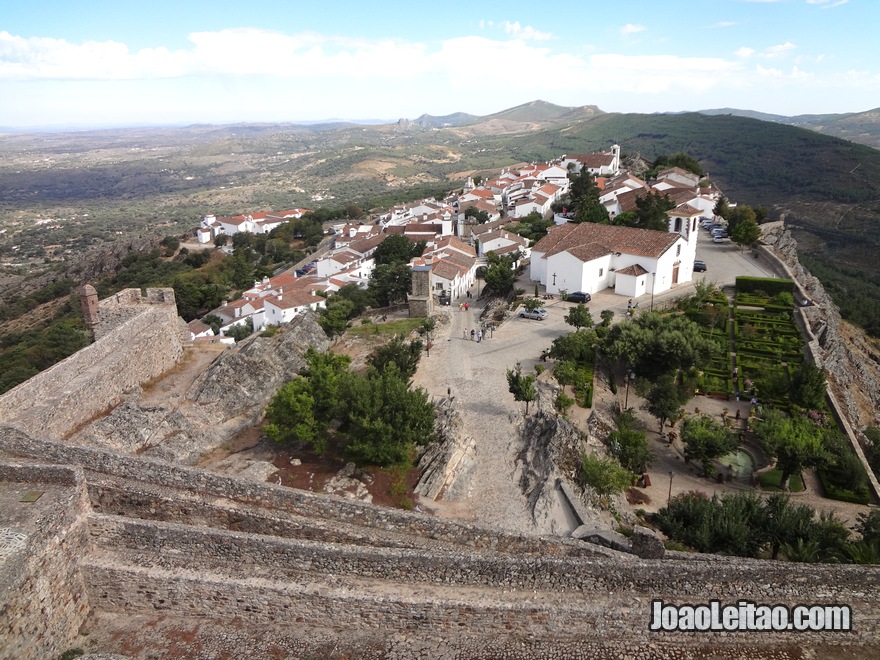 Marvão is a small village located in Alto Alentejo region, near the border with Spain. At the highest peak of Serra de S. Mamede, one can see a village of immaculate white houses, typical of Alentejo. The whole village is protected by the walls of Marvão Castle.
56- Manteigas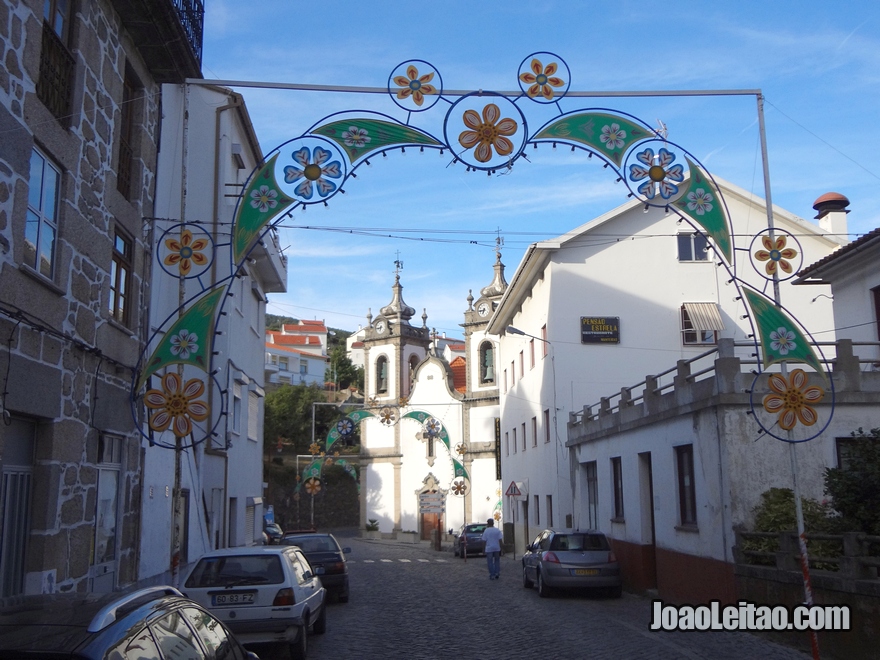 The town of Manteigas stands right in the heart of Serra da Estrela and can be the starting point for exploring the region. As it lies on a valley, you can climb up from there towards the highest points of the mountain, enjoying the natural beauty.
57- Mafra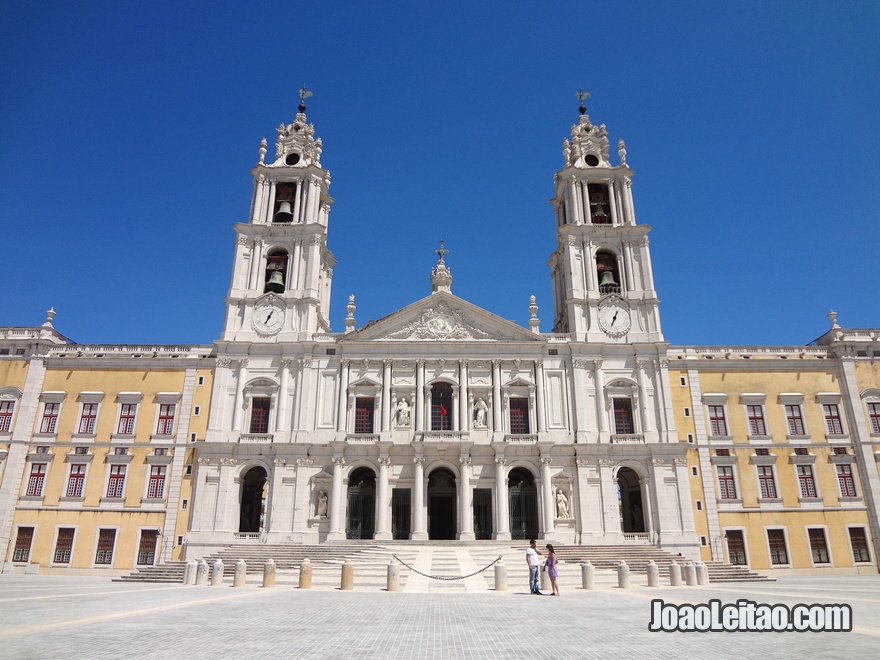 Mafra is situated 40 km north from Lisbon. The Convent of Mafra (or Mafra National Palace) and Tapada de Mafra are the most emblematic spots in town. Part of the Convent can be visited, another part belongs to the Portuguese School of Weapons. Tapada de Mafra is an area of rich forest biodiversity where you can enjoy several activities related to nature.
58- Lisbon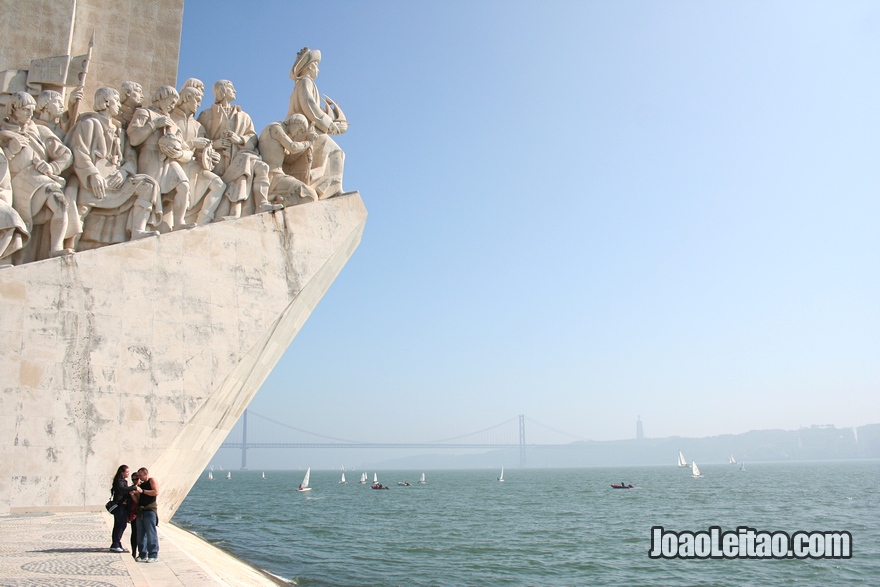 Lisbon is the capital of Portugal, known as the city of seven hills (like Rome and Istanbul) also a unique city that delights tourists from all over the world.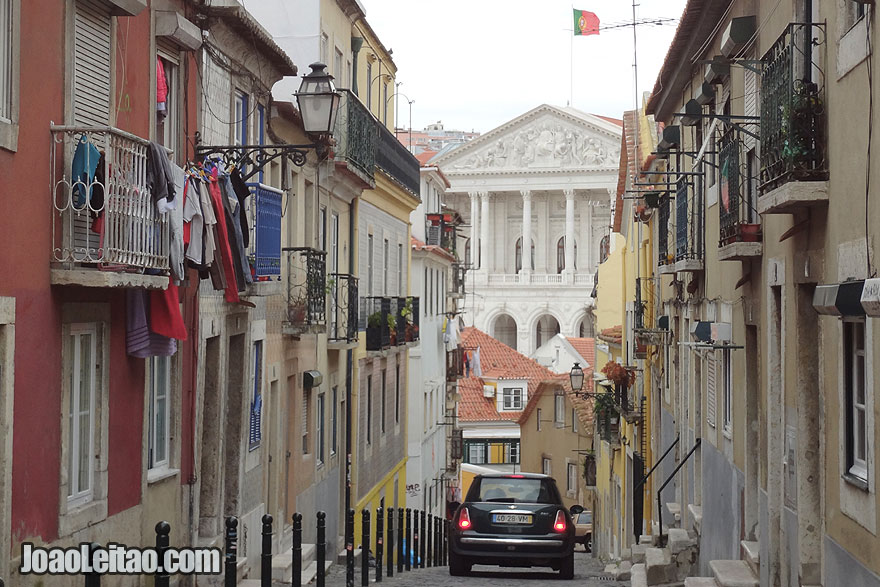 Lisbon is a city to be visited with plenty of time. In addition to the many historic monuments, one must stroll around its picturesque neighborhoods of moorish origin, such as Alfama or Mouraria, to see how people live in this area of the city, in contrast to the frenetic life "out there".
59- Linhares da Beira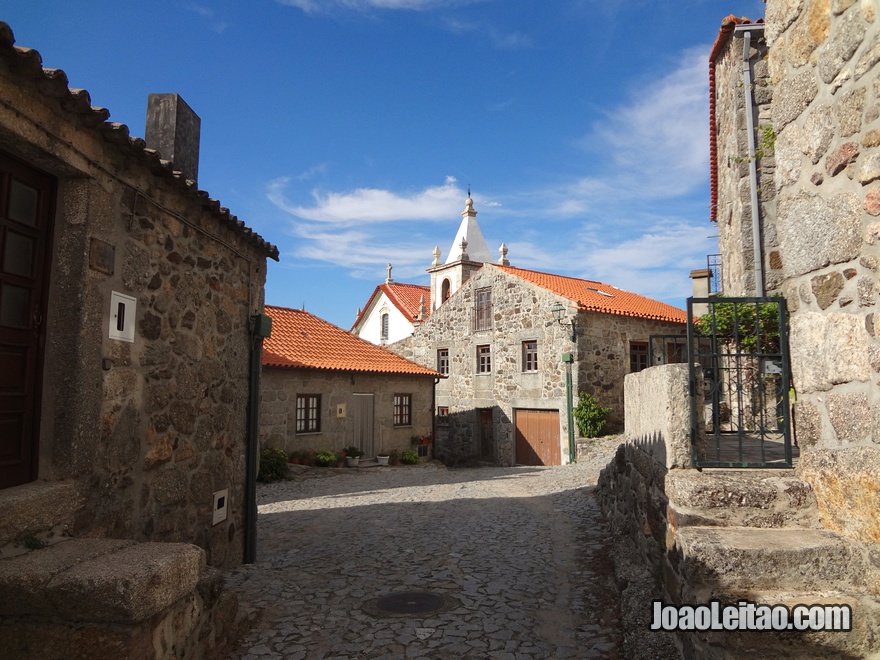 Linhares da Beira is a historic village in Celorico da Beira municipality. The buildings are mostly made of stone and many of them alongside with big rocks that seem to be part of the house. The castle stands at the highest point of the village as if crowning the landscape.
60- Lindoso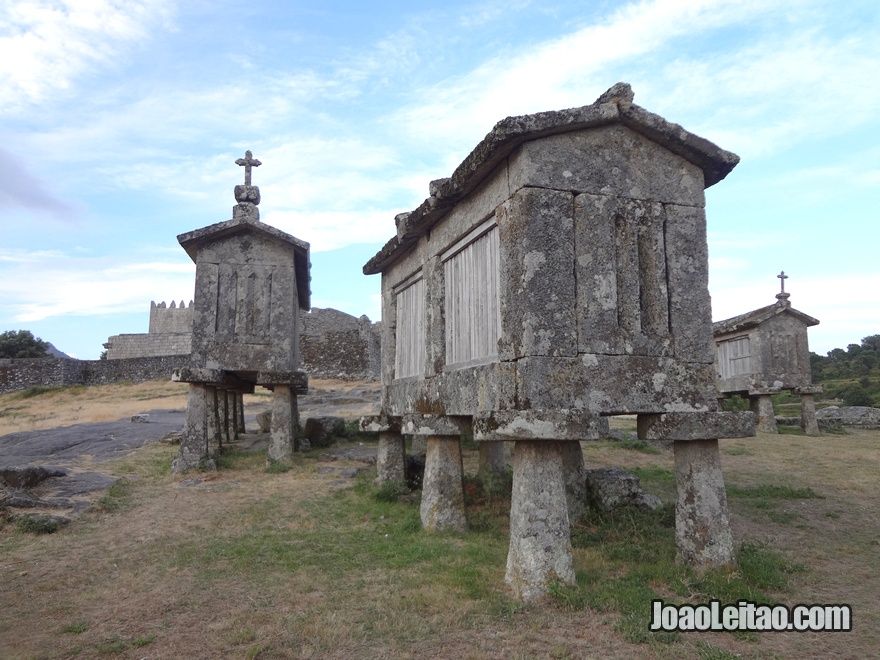 Lindoso is a parish and village in Ponte da Barca municipality in the northernmost region of Portugal. According to the legend, Lindoso name comes from the word "beautiful" in Portuguese, thus classified by King D. Dinis when he first visited the village. But, in fact, it seems that the real name is "Limitosum" meaning boundary, border. Lindoso castle was used to protect these limits of the kingdom for centuries. In the square in front of the castle, there are many granaries, stone buildings that look like little chapels on stilts, and they are still used nowadays to dry cereals and corn.
61- Leiria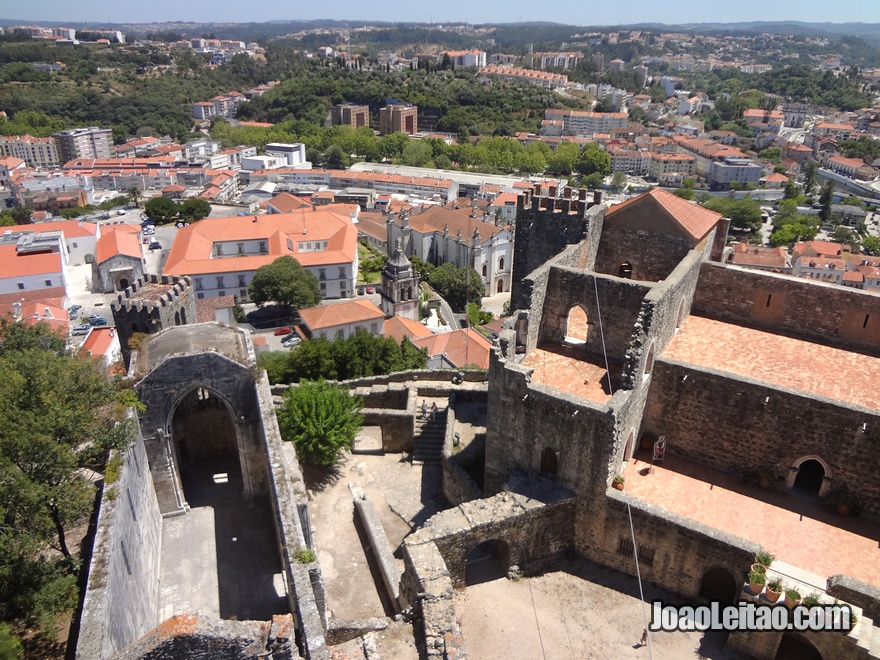 Leiria became a city during the rule of the first king of Portugal, D. Afonso Henriques, in 1142. It stands in the heart of Portugal, near the coast. To protect the coast and the city from seawater and sand moving forward, King D. Dinis ordered to grow the famous Pinhal de Leiria (pine forest), between 1279 and 1325. The castle that stands at the top of the highest hill in the city was built in 1135 but went through many enlargements afterward. The first stones used to build the castle have been taken out from the ancient Roman city, located in that place.
62- Janeiro de Cima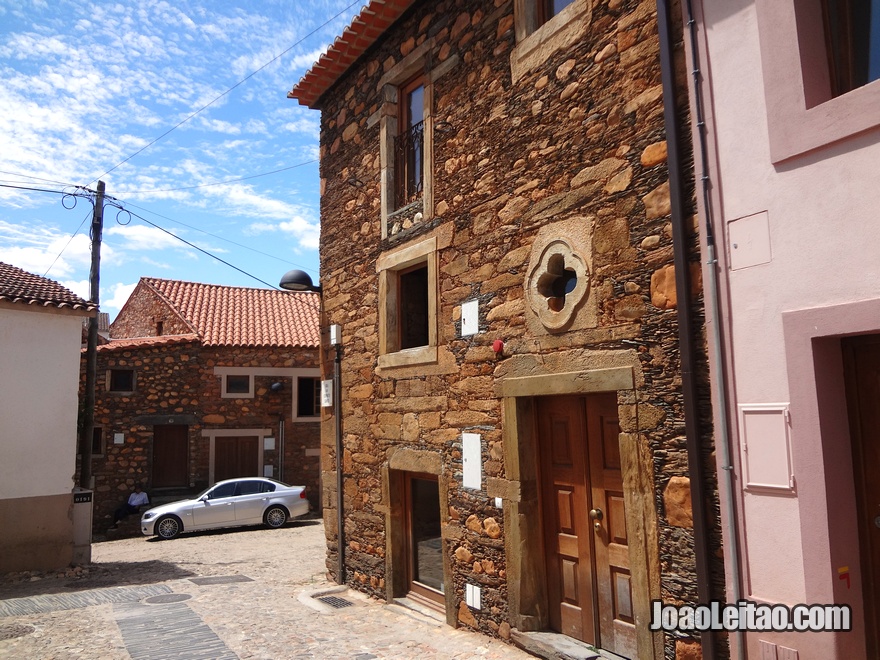 Janeiro de Cima is an ancient village in Fundão municipality. The houses are built of shale speckled with river pebbles, lighter and rounded. The village is included in the so-called "Shale Villages" and it is part of a beautiful countryside landscape along the river. Formerly, the boat was the only way to move to the other side of the river, but at present we can use it for a nice tour.
63- Janeiro de Baixo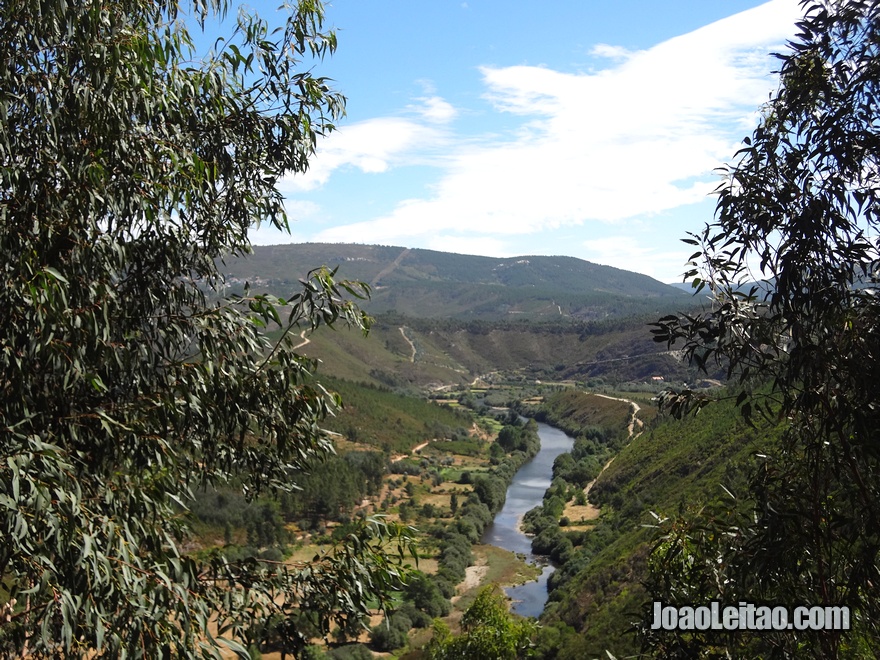 Janeiro de Baixo stands south of Janeiro de Cima, as its name implies, but on the right bank of Zêzere River, in the municipality of Pampilhosa da Serra. It is also part of the "Shale Villages", with its typical houses. The village surroundings invite you to take one of the hiking trails.
64- Igrejinha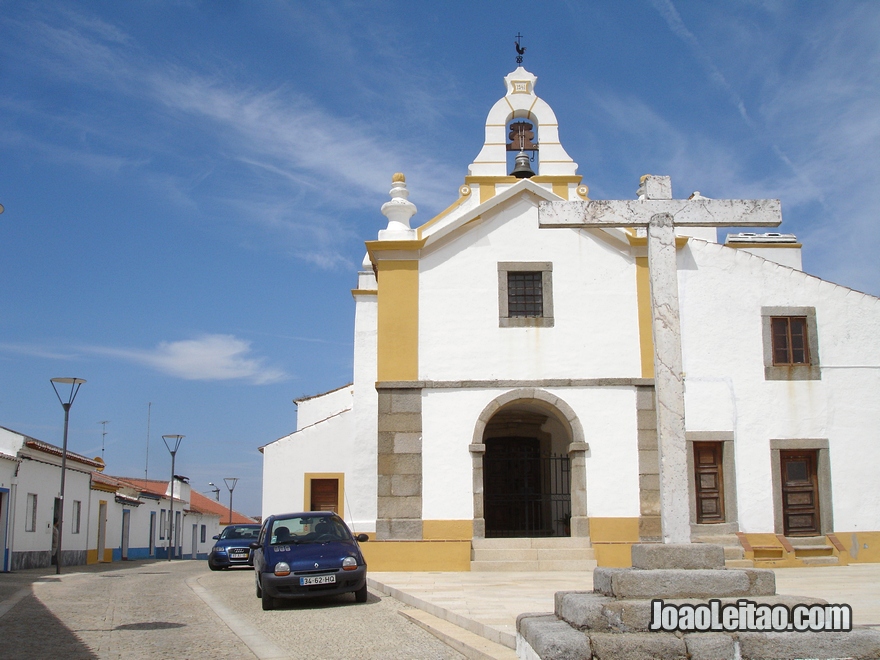 Igrejinha is a village in Arraiolos municipality, in Alentejo region. It is a typical Alentejo village with single storey houses, immaculately whitewashed (now painted) with blue or yellow bars around the doors and windows. 4 km away from the village towards Azaruja, there is a Roman building in ruins, probably dating from the first century BC, called Castelo do Mau Vizinho (Bad Neighbour Castle) or Pontega Castle.
65- Idanha-a-Velha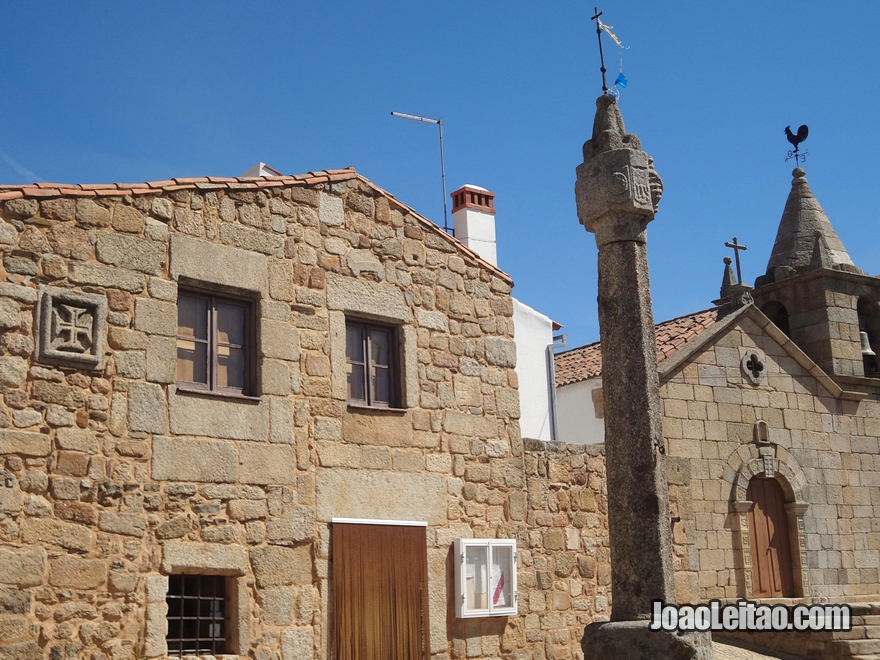 Idanha-a-Velha lies in the Portugal inland, in Idanha-a-Nova municipality. The village had a great reputation during the Roman occupation that began in the 1st century BC. It was later the target of Barbarian invasions in the 3rd and 4th centuries, conquered by the Moors in 713 and finally received a charter in 1206 from the King D. Sancho I. The village itself consists of typical stone houses and several impressive monuments that tell the history of the community, such as the Castle, the Tower of the Templars, the Cathedral, the Bridge over Ponsul River, among others. It is classified as one of the "Historic Villages of Portugal."
66- Guimarães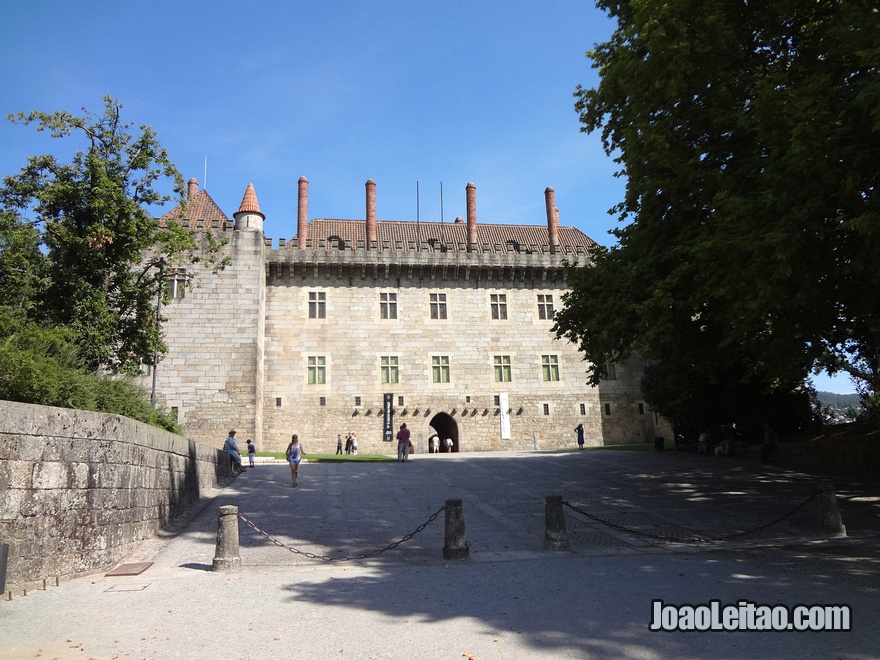 Guimarães is known as the birthplace of Portugal. In fact, on one of the towers of the city wall we can read "Here was born Portugal". It was also in Guimarães that Afonso Henriques, who would become the first king of Portugal, was born. He was responsible for the conquest of the territory that is Portugal nowadays.
67- Mira de Aire Caves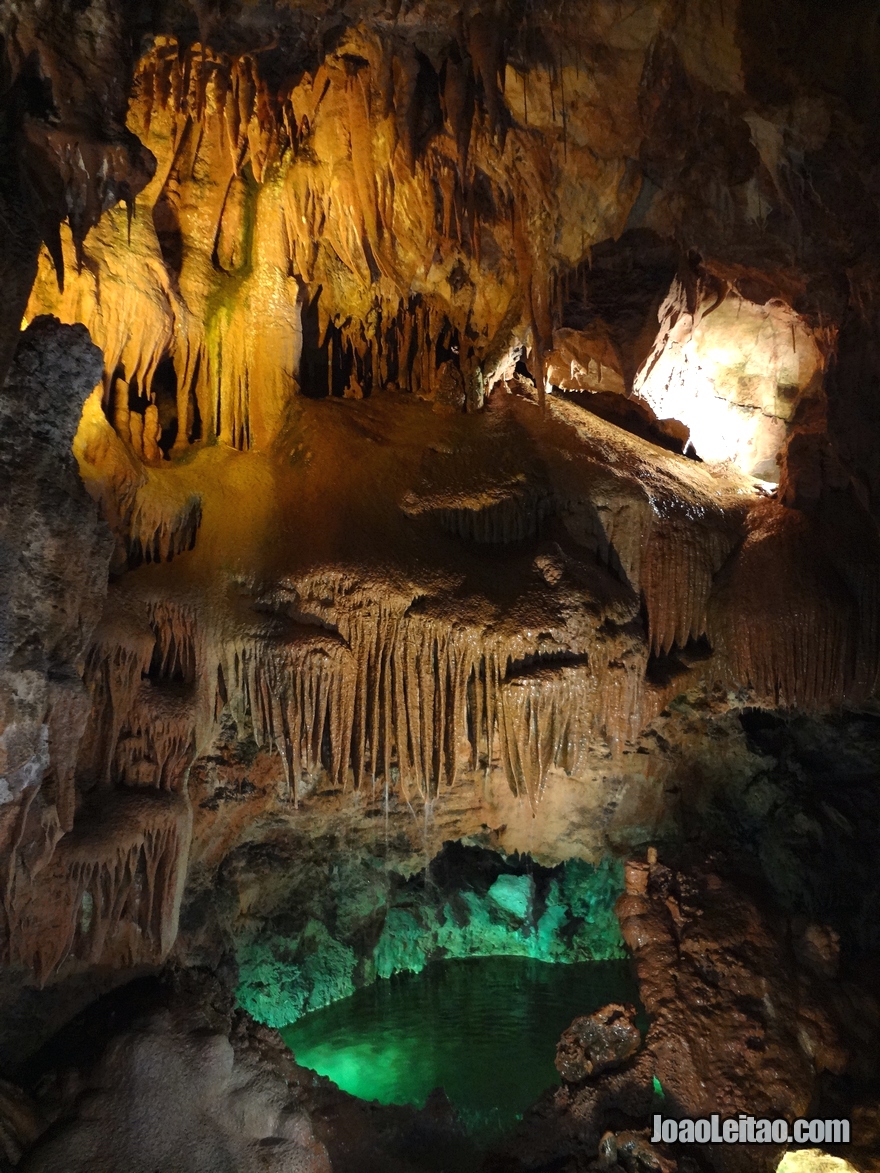 Mira de Aire Caves are the largest complex of caves in Portugal. It was occasionally discovered in 1947 and opened to the public in 1974. Until now, 11 km of caves have been found, but only 600m can be visited. This is is already a considerable extension, and it enables to view the beautiful galleries with underground rivers and massive stalactites and stalagmites. Mira de Aire Caves are in a limestone mountain. Being limestone a highly permeable rock, water does not flow on the surface, it infiltrates almost immediately and runs through streams underground. On the other hand, water wears the limestone, forming the galleries and carving the caves' walls.
68- Vide rock carvings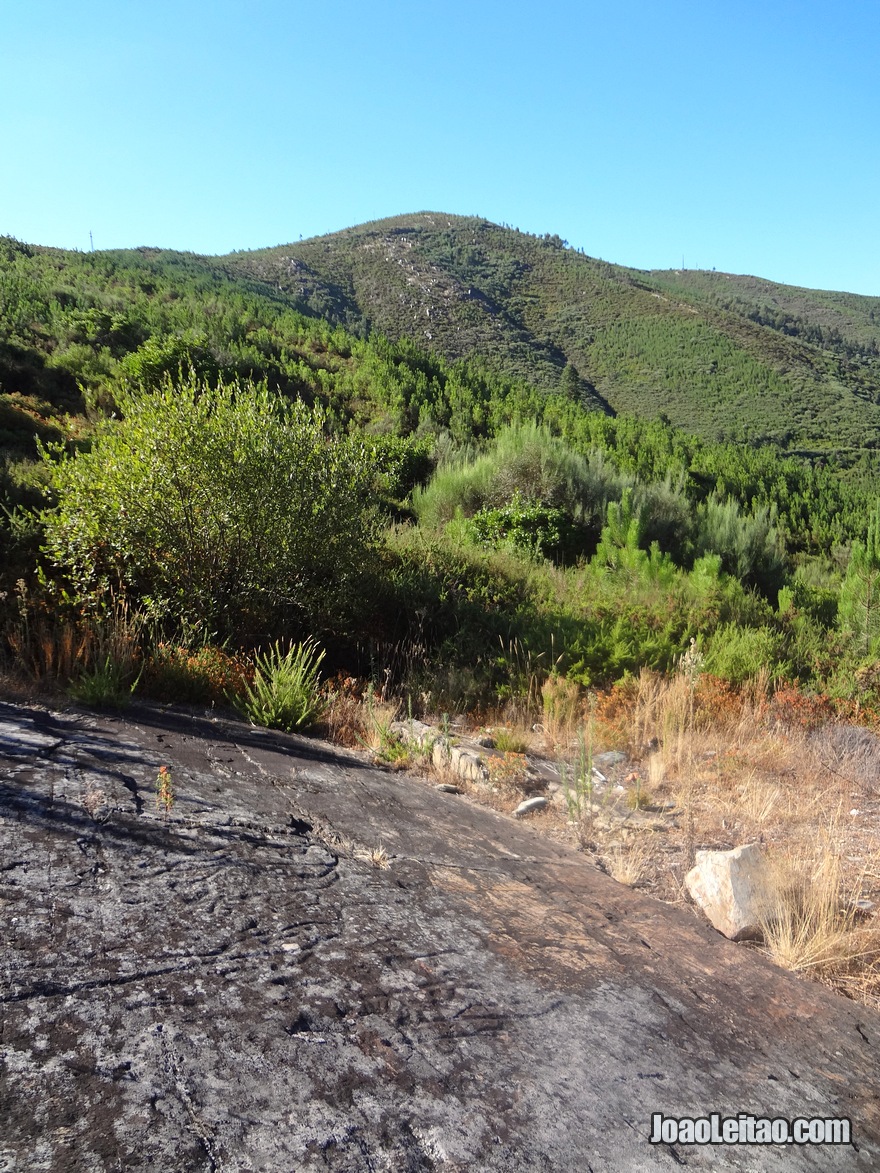 The village of Vide is located in Seia municipality. In the region there are three archaeological sites with petroglyphs (Horseshoes, Carvalhinhos and Cid Fountain). The rock carvings date from prehistory and protohistory (most recent), and in the case of Horseshoe site the rock carvings belong to the Bronze Age.
69- Freixo de Espada à Cinta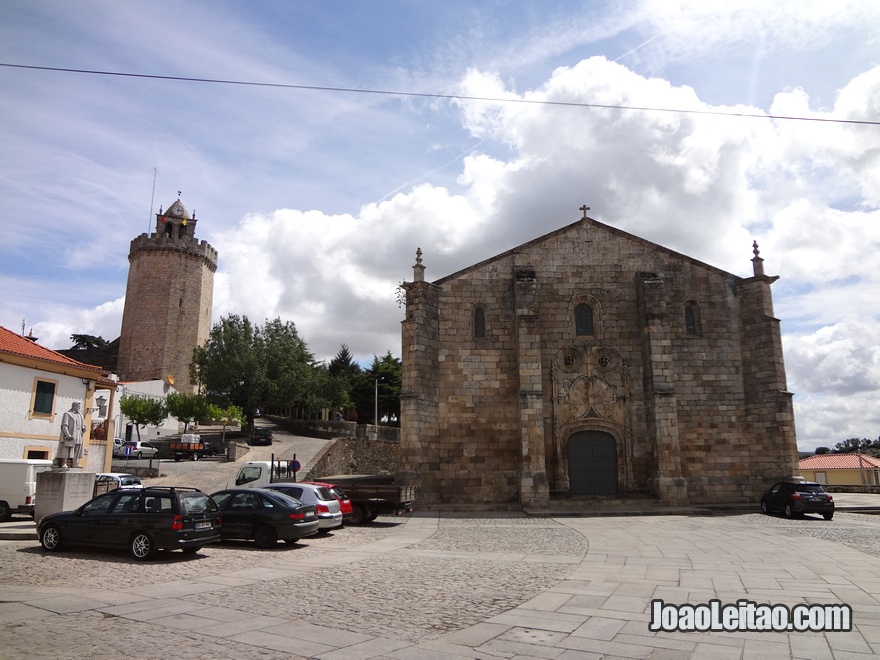 Freixo de Espada à Cinta is part of Douro International Natural Park and belongs to Bragança district. Its location on the border caused it to be a target of attacks from other peoples. Freixo de Espada à Cinta Castle and Roster Tower were therefore important lookout points, and they still maintain their medieval traces. The main church has got a beautiful door in "Manuelino" style which is also present on doors and windows almost everywhere around the village.
70- Three Kingdoms Rock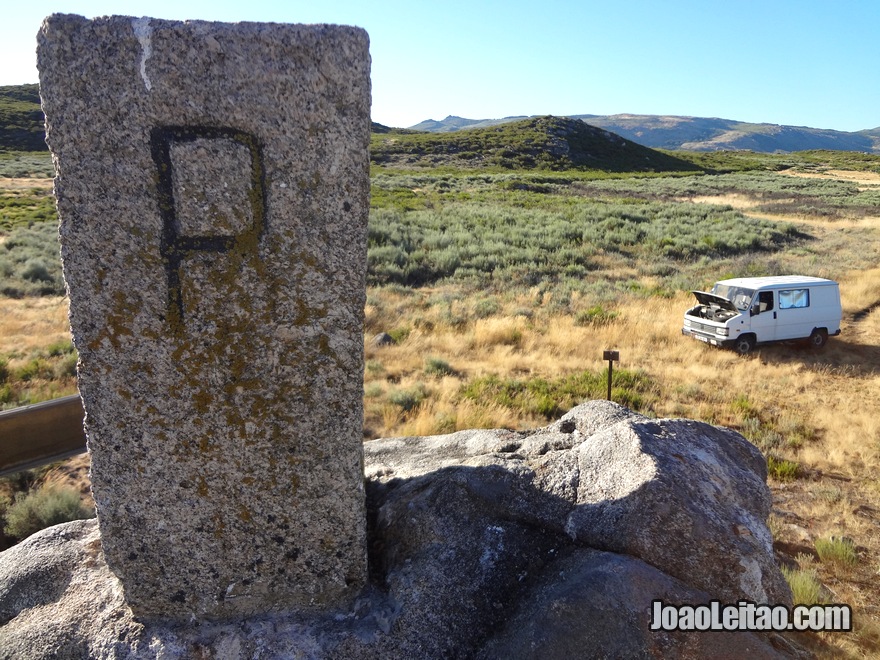 Fraga dos Três Reinos (Three Kingdoms Rock) is a monument consisting of a rock (fraga) with a milestone that indicates the place where the kings of three kingdoms – Portugal, Castile and Leon (Spain still didn't exist by then) – have met to decide on the ownership of a well claimed by the three kingdoms. The monument stands in Moimenta, an inland region on the border with Spain.
71- Foz d'Égua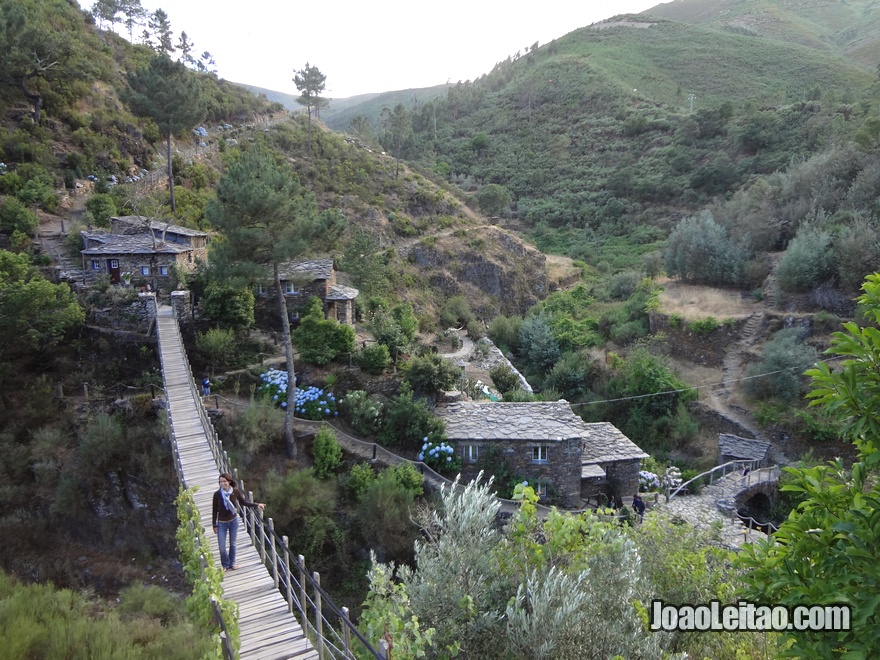 Foz d'Égua is a typical shale village very close to Piódão, in Arganil municipality, and it is one of the well-known "Historic Villages of Portugal". The village of Foz d'Égua is beautiful with its nicely kept shale houses and a breathtaking scenery: a suspended wooden bridge completes the setting of a lost village in the middle of an almost wild nature.
72- Vila Nova de Foz Côa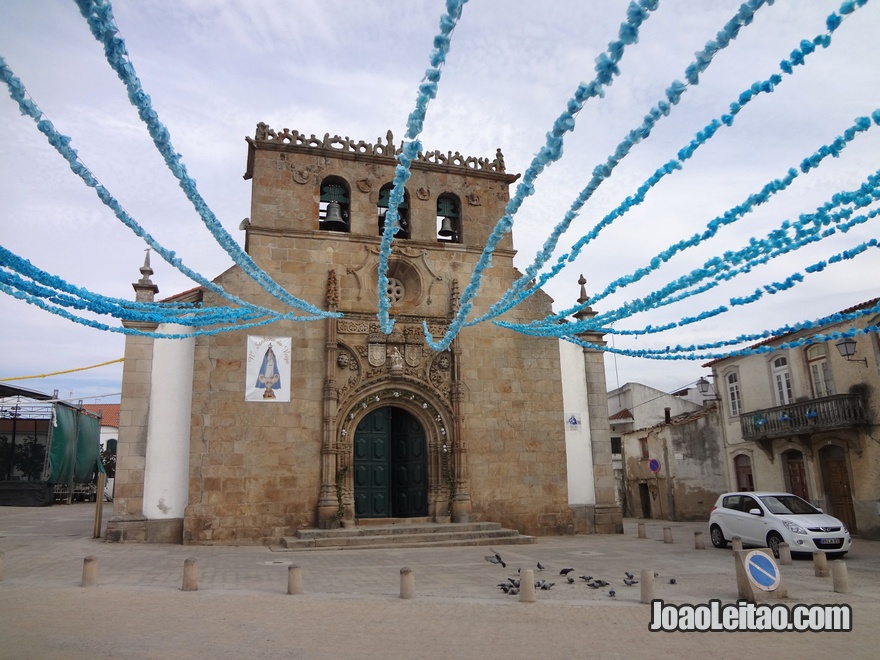 Vila Nova de Foz Côa stands in the northern Portugal inland, in Guarda District. The village received its first charter in 1299 during the reign of King D. Dinis. The national monuments in this village such as Numão Castle (in the neighboring parish Numão), Pelourinho and Vila Nova de Foz Côa Main Church confirm its importance at that time. In the 90s the village has returned to the spotlight due to the discovery, in 1994, of rock carvings in the banks of River Côa, with the highest concentration of rock carvings in the area of Vila Nova de Foz Côa.
73- Archaeological Park of Vale do Côa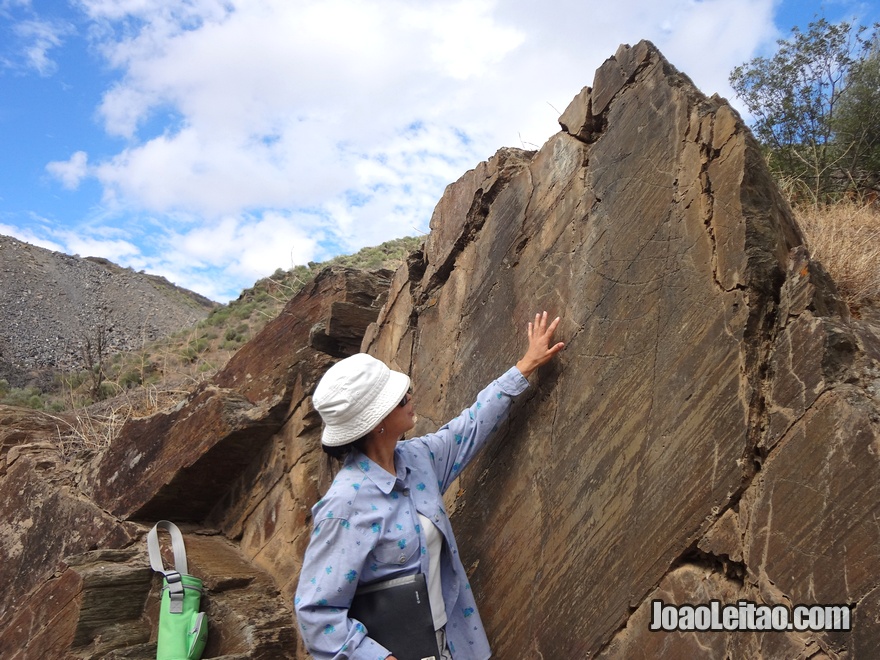 The Archaeological Park of Vale do Côa is one of the most important historic sites in the country. It is an open air museum that stretches along the banks of the Côa River over the last 17 km of this river till it joins Douro River. It is one of the largest archaeological complexes of rock carving in the world. The figures drawn in shale rocks are between 15cm and 180cm, but most are between 40-50 cm and represent animals: horses and bovines. The park was opened in August 1996, and it received the distinction of UNESCO World Heritage Site right after, in 1998.
74- Fontanelas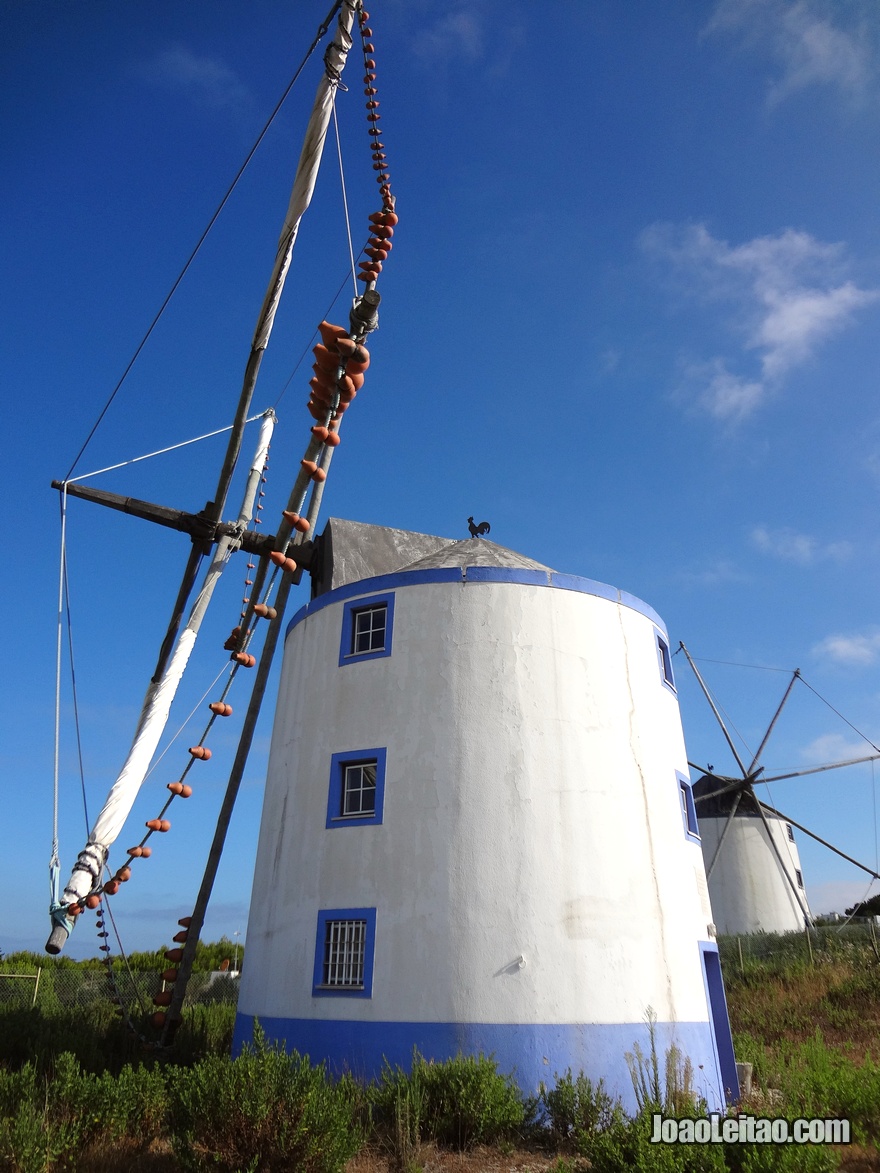 Fontanelas is a small village near the Atlantic coast about 8.5 km from Sintra. Outside the village you can see some beautiful and very well kept specimens of windmills. The proximity of the coast and the abundance of sea wind provided the proper functioning of the mills, and in the 18th century there were about 500 mills in Lisbon area, which guaranteed the production of an average of half a kilogram of bread per person.
75- Fojo do Lobo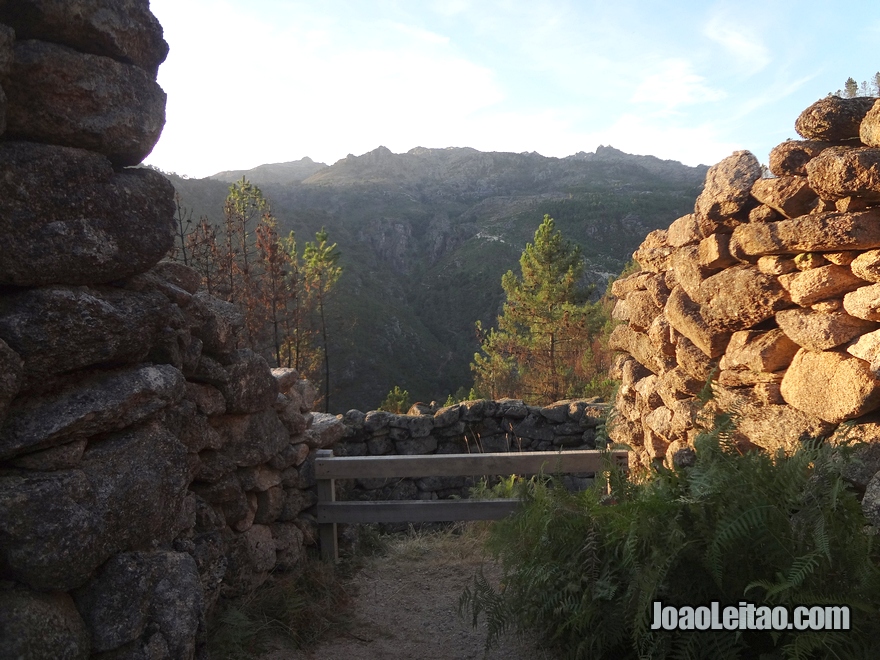 Fojo do Lobo de Fafião – "fojo" is a trap disguised in a cave or shelter, which was used to hunt wild animals, wolves in this case. The stone structure was built in order to trap the wolf. In Fafião village, which lies right in Peneda-Geres National Park, in Montalegre municipality, there are a few of these recently restored buildings.
76- Faro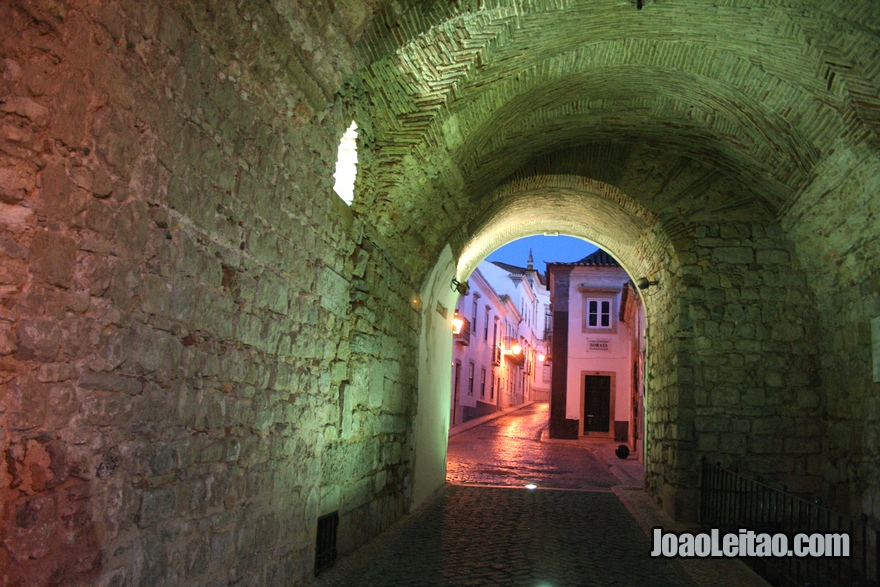 Faro is the capital city of the Algarve, the southernmost region of Portugal. Its prominent location in the western Mediterranean has made it a much-desired territory by several ancient peoples. The first people to arrive were the Phoenicians around the 8th century BC. After came the Romans and the Visigoths between 3rd and 8th centuries AD, then the Moors, who took the city in 713 AD, and only in 1249 D. Afonso III conquered it from the Moors, thus completing the Christian Reconquest and the complete delimitation of Portugal territory.
77- Évora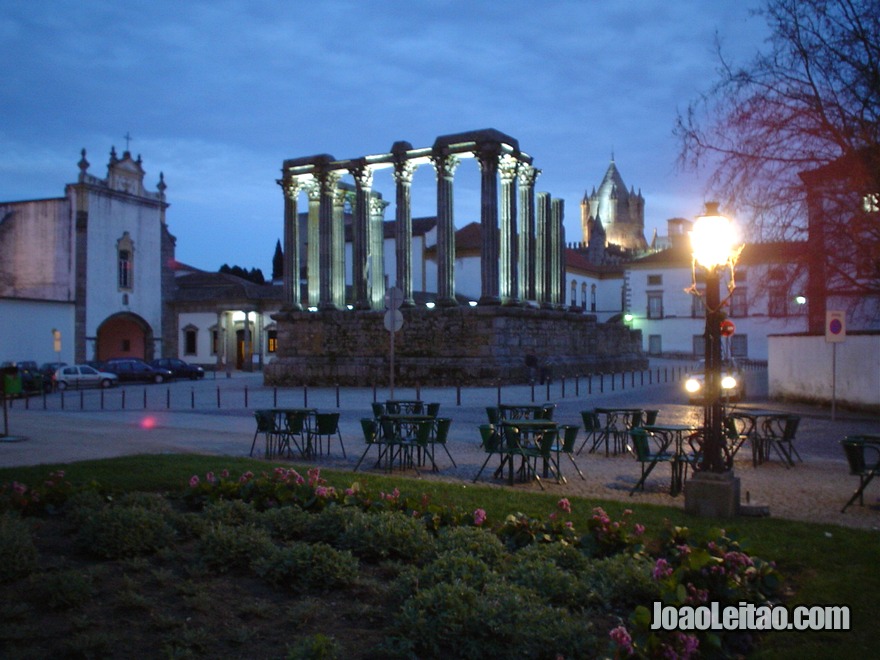 Évora is a very rich city in what concerns history and architecture, and where it is visible the track of several peoples. The Roman influence is the strongest, which remains today in several monuments around the city. The historic center of Évora has been considered a UNESCO World Heritage Site since 1986.
78- Cresmina Sand Dune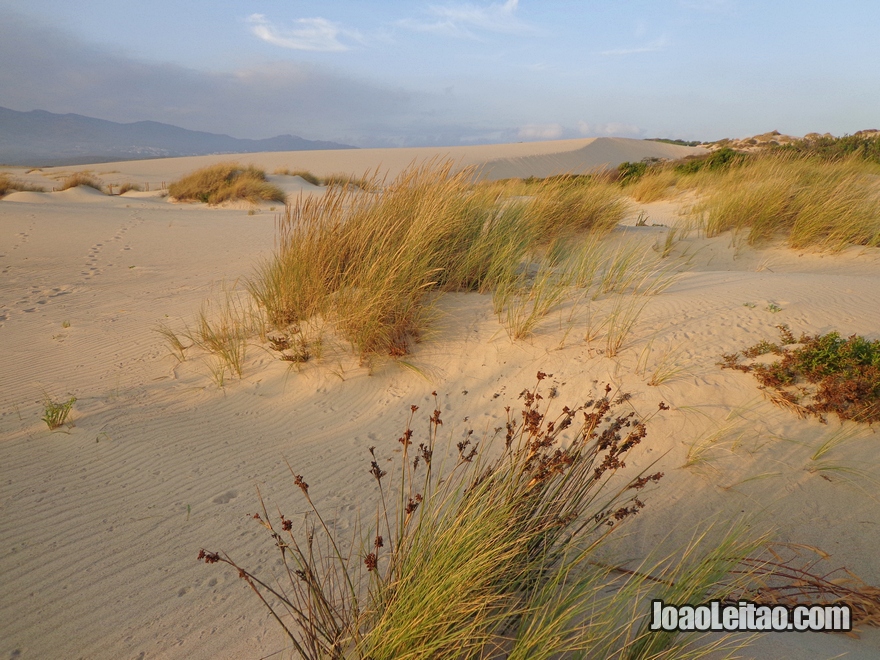 Cresmina Sand Dune is close to Guincho beach, a place of rich biodiversity, where it was recently built a 2km walkway over the dune, which lets you look around the site observing plant species outlined in the so-called "Interpretive Trail". The local fauna is also a subject of interest, but seeing animal species always involves a bit of luck, thus unlike plants they are not standing still waiting for the visitors.
79- Almendres Cromlech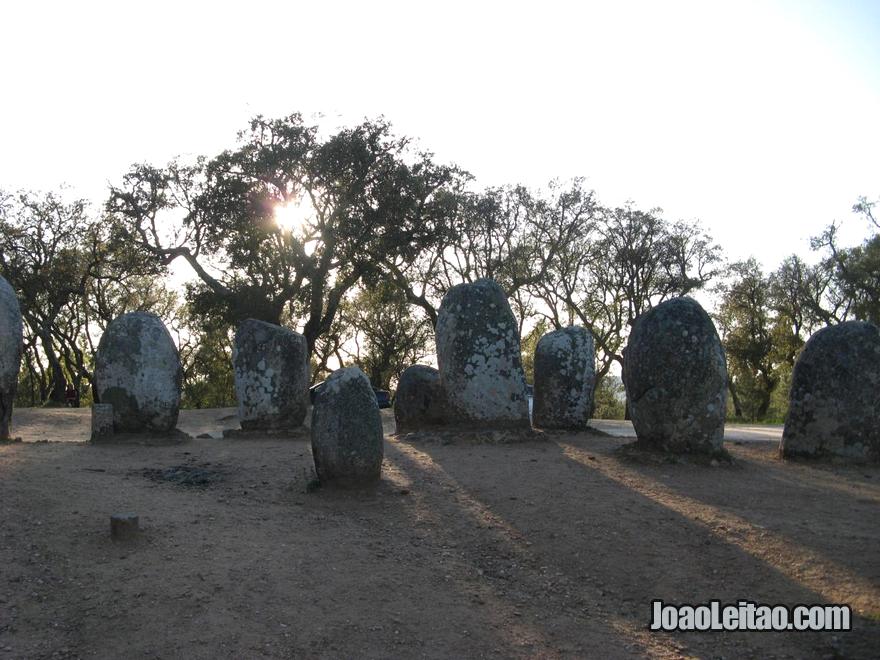 Almendres Cromlech is an archaeological site which stands about 12 km far from Évora. In fact the region of Évora is rich in prehistoric monuments from the Neolithic to the Iron Age. The Cromlech of Almendres is a circle of 95 stone monoliths, and due to its size and conservation status is one of the most important megalithic monuments in the Iberian Peninsula.
80- Costa da Caparica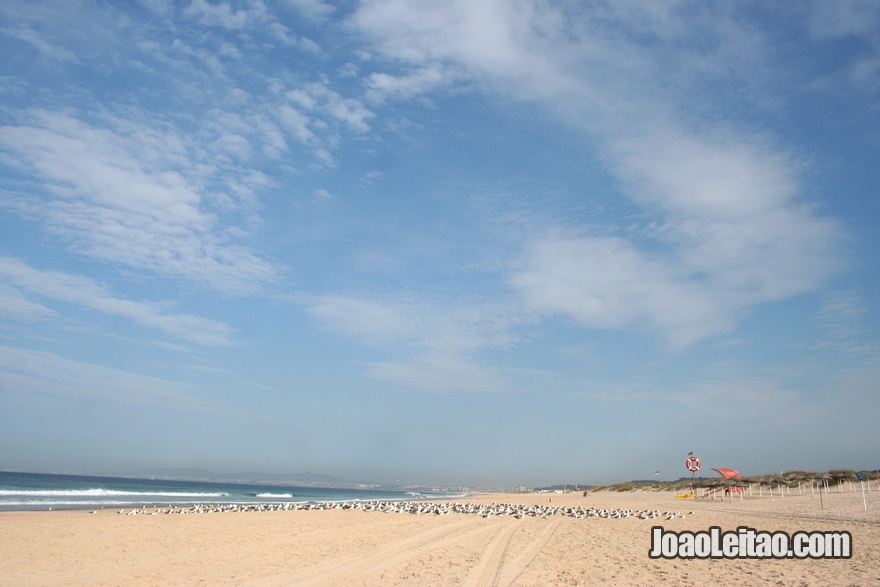 Costa da Caparica is traditionally the beach for those living in Lisbon. It lies on the south bank of Tagus River, just a short distance from the capital and it is the main beach destination due to the proximity and layout: long sandy beaches and good infrastructures. The whole of Costa da Caparica beaches stretch for over 10 km.
81- Chaves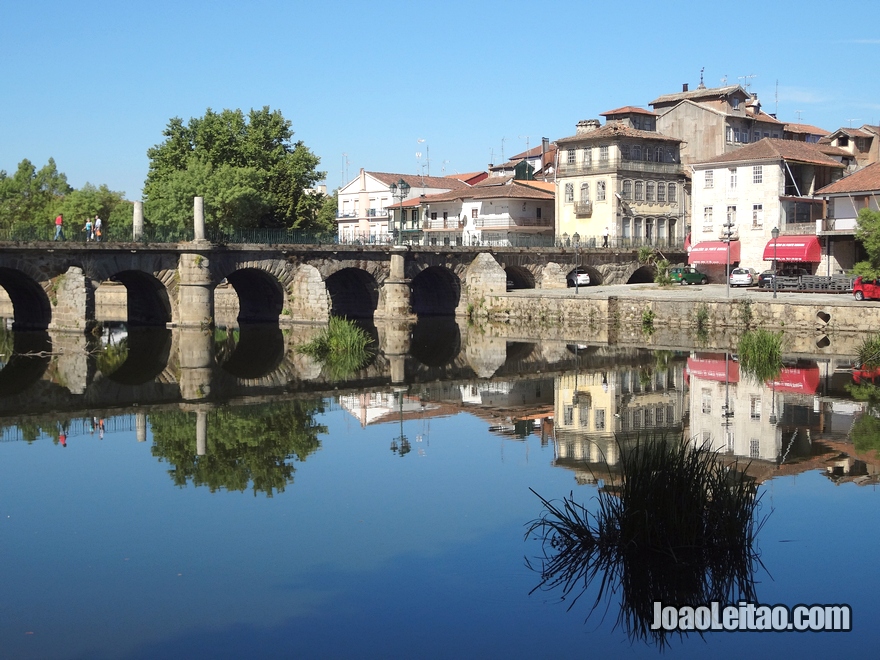 Chaves stands in the northernmost region of Portugal, bordering Spain. Given its position at the border and close to a major water stream, Tâmega River, the city was constantly invaded by Romans, Northern Europe Barbarians, and later by the Moors, until it finally became part of the territory of Portugal in 1160. The Romans left important traces in the city such as its own name – Chaves from the Latin word Flaviae (Aquae Flaviae was the name of the city during the Roman rule and comes from the name of the Emperor Titus Flavius Vespasian). The well-preserved Trajan Bridge remains from this period. Also, the tradition of public baths is still present in the famous thermal waters of Chaves. To defend the city from imminent invaders threats, D. Afonso III built the Chaves Castle in 1258, the same year he awarded the charter to the city. The Old Town of Chaves is beautiful, with narrow streets flanked with houses that preserve the architecture of the region with overhanging wooden balconies, beautifully adorned with flower beds.
82- Castro São João das Arribas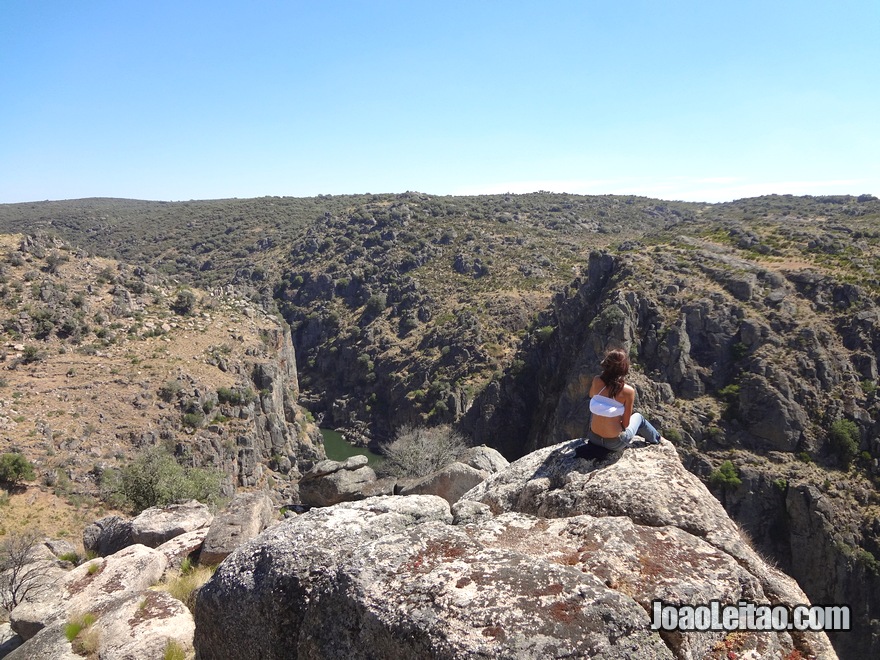 Castro São João das Arribas is in Douro International Natural Park and has a privileged view over the beautiful landscapes of the region. "Castro" means castle or fortress around which the town grew up. The remaining wall ruins must be from the Iron Age, having been rebuilt and used after that by the Romans.
83- Castro Laboreiro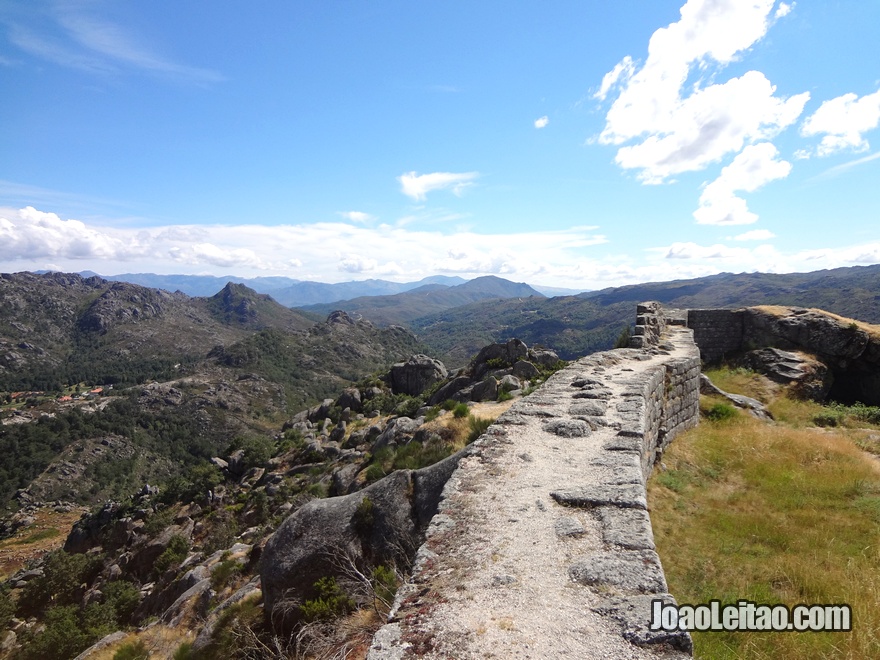 Castro Laboreiro belongs to the so-called roadmap of "typical villages of Portugal". It lies in Serra da Peneda, inside Peneda-Gerês National Park, one of the main natural resources of the country. The castle on the hill offers one of the most beautiful views in the country.
84- Castro do Zambujal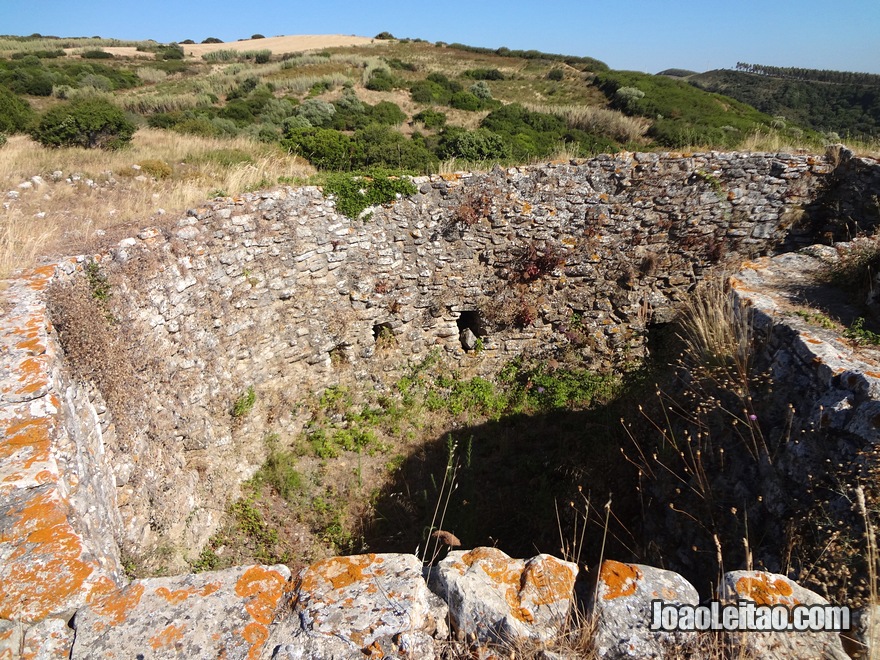 Castro do Zambujal is 3 km away from Torres Vedras, in the region of Extremadura, where there are several similar castles. Castro do Zambujal is a legacy dating back to the 3rd millennium BC. It is impressive how such an ancient historic legacy has remained till today.
85- Castelo Rodrigo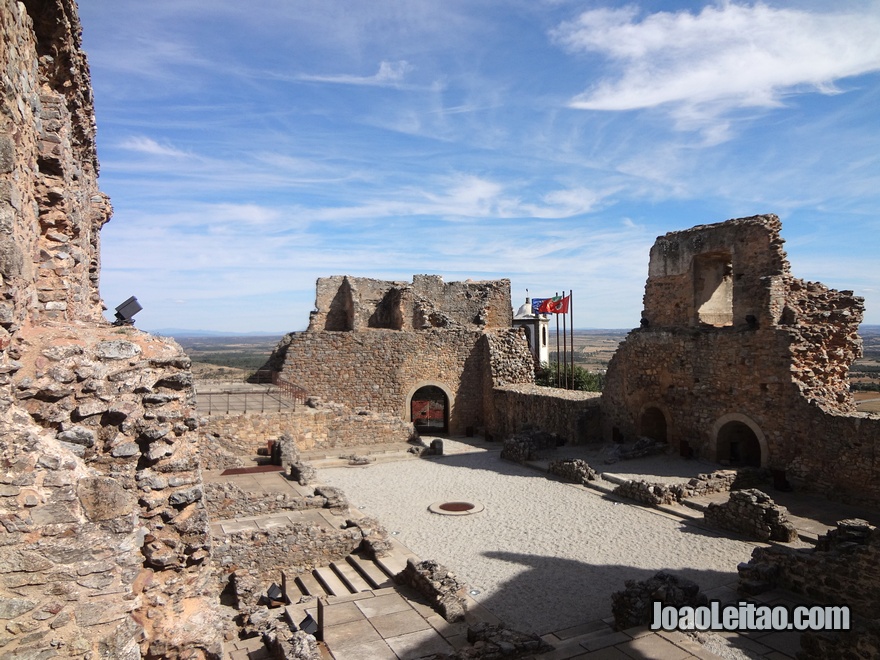 Castelo Rodrigo is a historic village in Portugal inland, in Guarda district, near the border with Spain. Today it belongs to Figueira de Castelo Rodrigo municipality, and keeps a small population within the walls of the Castle. The houses reveal different influences such as "Manuelino" style, which can be seen on the windows and Arabic style arched doorways.
86- Castelo Mendo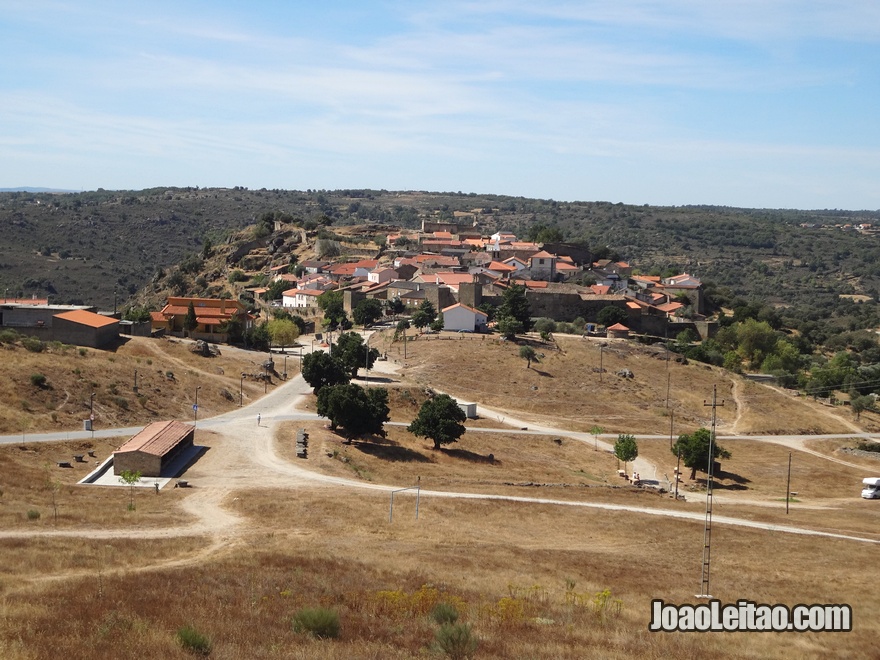 Castelo Mendo is 20 km away from the historic village of Almeida, a region higher than 800m above the sea level, near Côa River. In the village there is a castle from the 13th century, which gives the name to the village. The houses are typical granite buildings with two floors and the ground floor was used to shelter cattle.
87- Castelo Melhor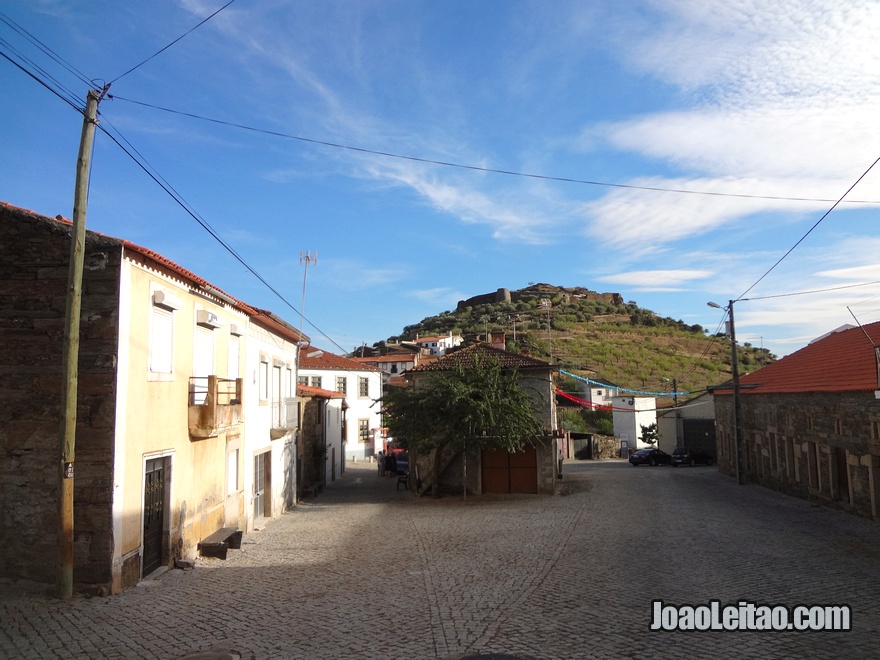 Castelo Melhor is a village north of Castelo Mendo, 13 km away from Vila Nova de Foz Coa. The castle is from the early 11th century (1210), and only the round walls on top of the hill are still standing. The village, which in the Middle Ages was inside the walls, was moved down to the lower lands.
88- Monforte Castle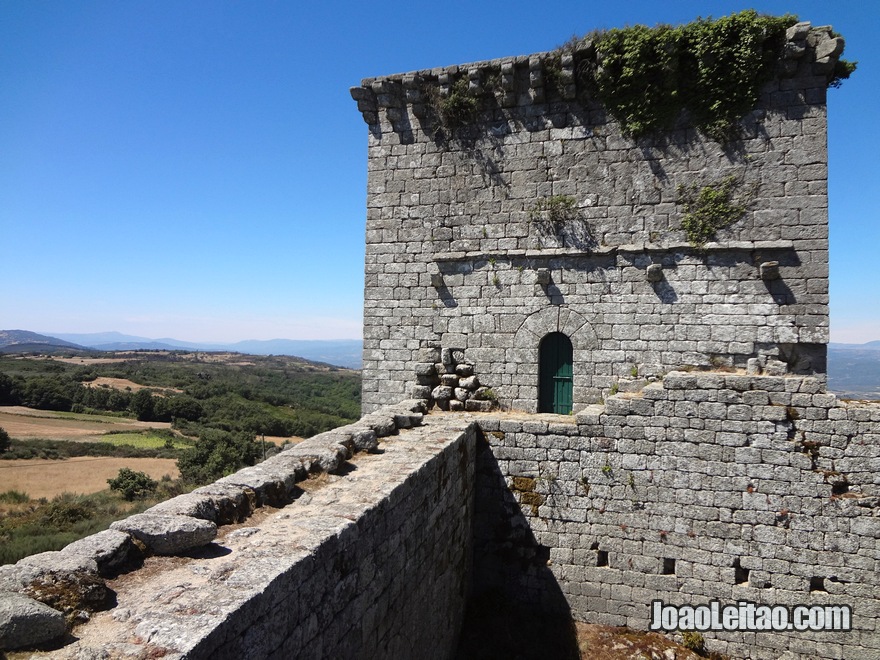 Monforte Castle stands in Águas Frias municipality, in Trás-os-Montes region. Here there was a prehistoric castle which was later recuperated by the Romans. The construction of the castle on top of the mountain allowing to see the entire region from Chaves to Verin in Spain, started in 1273 right after the village received a charter by King Afonso III.
89- Almourol Castle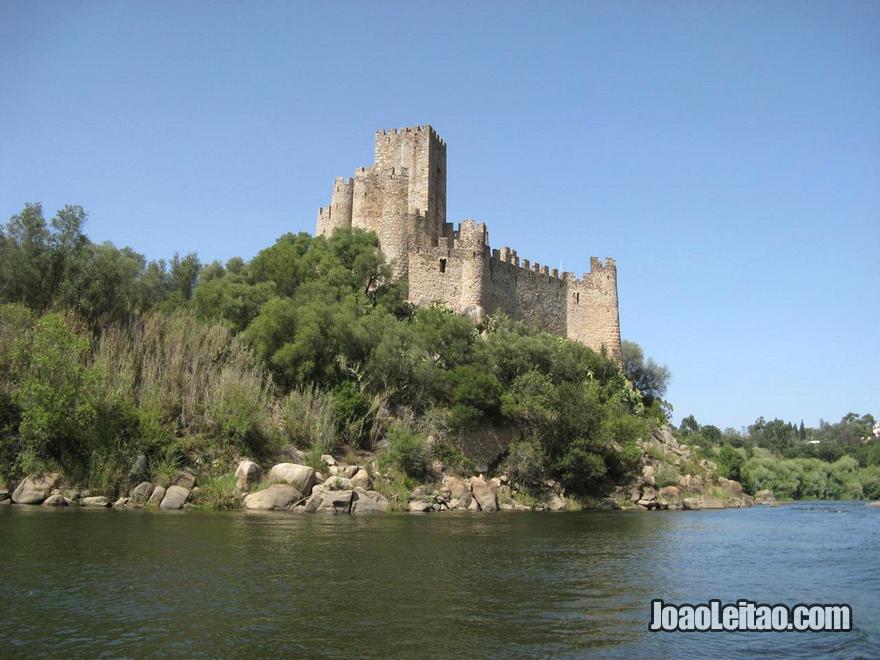 The beautiful Almourol Castle stands in Santarém district, more precisely in Vila Nova da Barquinha parish. Several elements combine themselves to shape up the beauty of this monument. The castle is located on a small islet in the Tagus River, which houses the castle only. All around the castle a water mirror reflects its image, making it a unique monument. Its construction started in 1129 by the Templars Knights, who gave it an austere architecture, which was later changed during the reconstruction after the extensive damages caused by the earthquake of 1755. This castle was the official residence of the President of Portugal during Estado Novo.
90- Portela do Homem Waterfall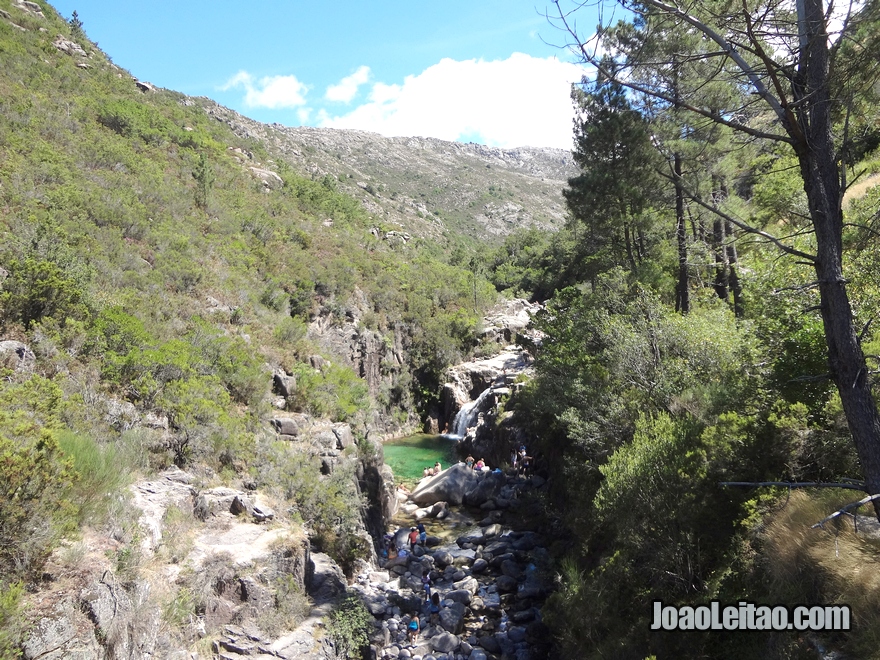 Portela do Homem is situated in Serra do Gerês, between Portugal and Spain. Its magnificent waterfall is a hidden paradise of clear crystal water in the middle of the mountains, close to the border between the two countries. Nearby we can find milestones that show the existence of an important Roman road linking Bracara Augusta (Braga) to Astorga in Spain.
91- Fírvidas Waterfall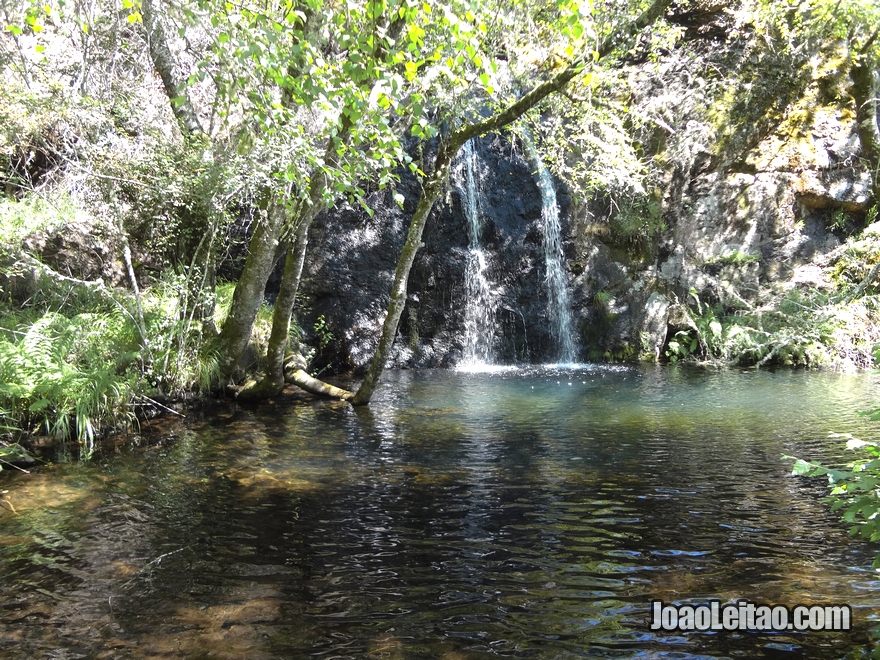 Fírvidas Waterfall is a wild nature paradise in its purest form, a few kilometers away from the village of Fírvidas in Montalegre municipality. The place is difficult to access which makes it even more special since only the most persistent tourists will keep walking through the bush tracks. However there are some plates with directions of the route.
92- Caldas da Rainha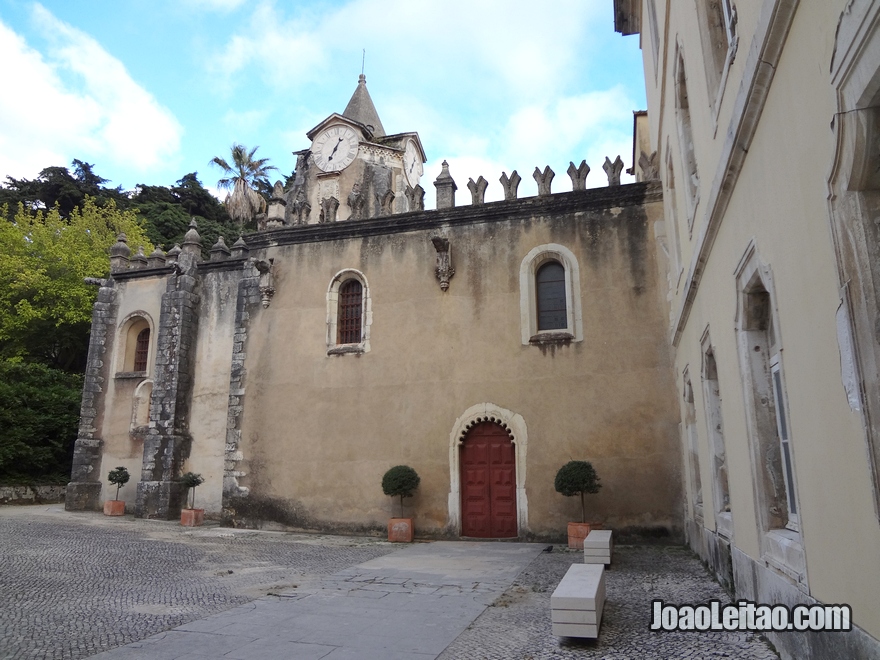 Caldas da Rainha is a city on the west coast, in the district of Leiria. Legends tell that Queen Leonor has stopped by, in the place where is today Caldas da Rainha, on her way from Batalha to Óbidos, and she saw locals bathing in strong smelling waters. As these waters were said to have medicinal properties, the Queen wanted to try it, and she has actually confirmed its healing powers since she got cured of the disease she was said to suffer from, but no one knows for sure what disease it was. Then the Queen ordered the construction of a hospital and granted privileges to those willing to establish themselves in this place. During the 19th century, Caldas da Rainha experienced its apogee, with a spa highly appreciated by wealthy families. Caldas da Rainha is also known as an important faience production center (pottery clay made) such as the famous creations of Rafael Bordallo Pinheiro, which started in Fábrica de Faianças das Caldas da Rainha, between 1884 and 1907.
93- Cabo Espichel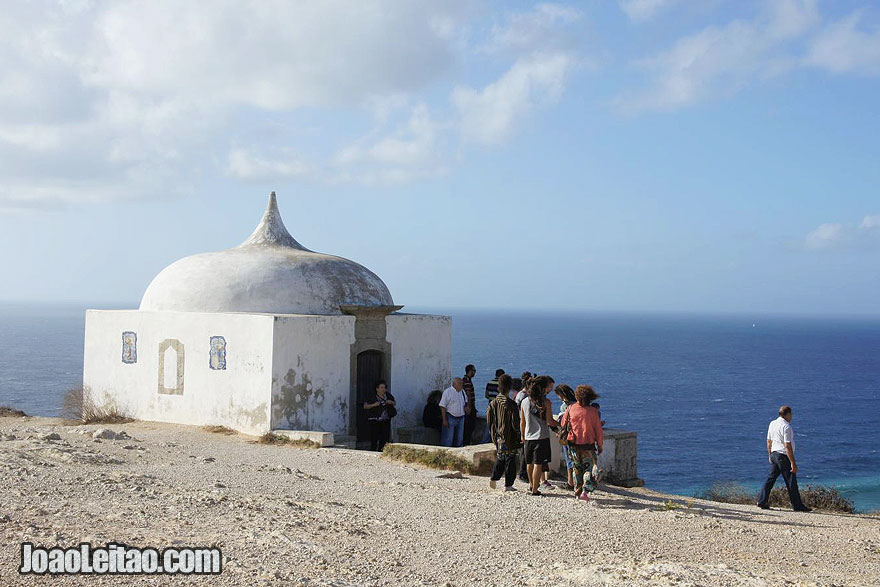 Cabo Espichel is a promontory in Sesimbra Peninsula. In the extreme promontory, there is a small chapel from the 15th century – Chapel of Memory – a white building with a very peculiar rounded dome, which marks the place where a Virgin Mary's figure has been found. This image is now worshiped at the Shrine of Our Lady of Cabo Espichel, also known as the Shrine of Our Lady of Mua Stone, a religious complex located on the cape.
94- Bravães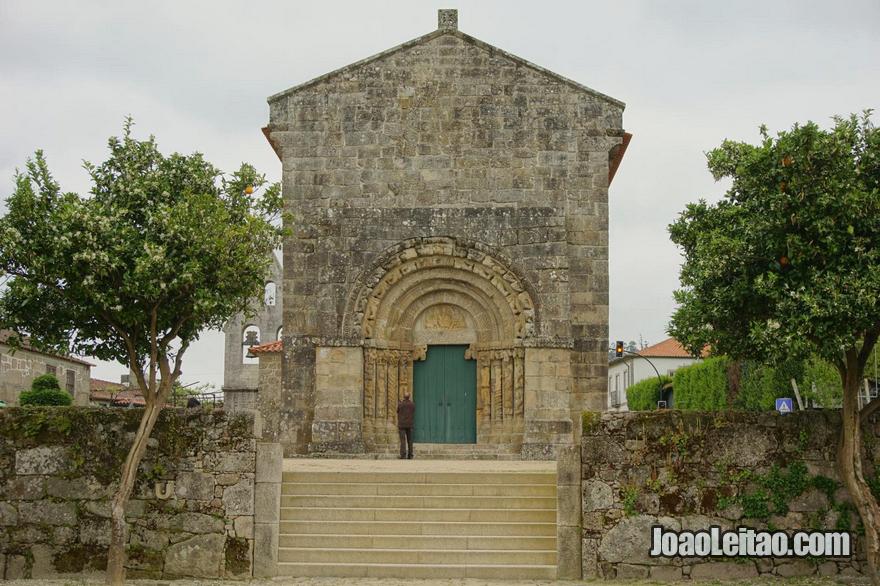 Bravães is a small village in the municipality of Ponte da Barca. The Church of Bravães is one of the finest examples of Romanesque style in Portugal. The church was built in the 12th century in the same place of a previous monastery founded by D. Vasco Nunes from Bravães in 1080, but from which there are no traces remaining. It is a pretty simple building, but the doors are richly ornamented with arches, columns and sculptures.
95- Bragança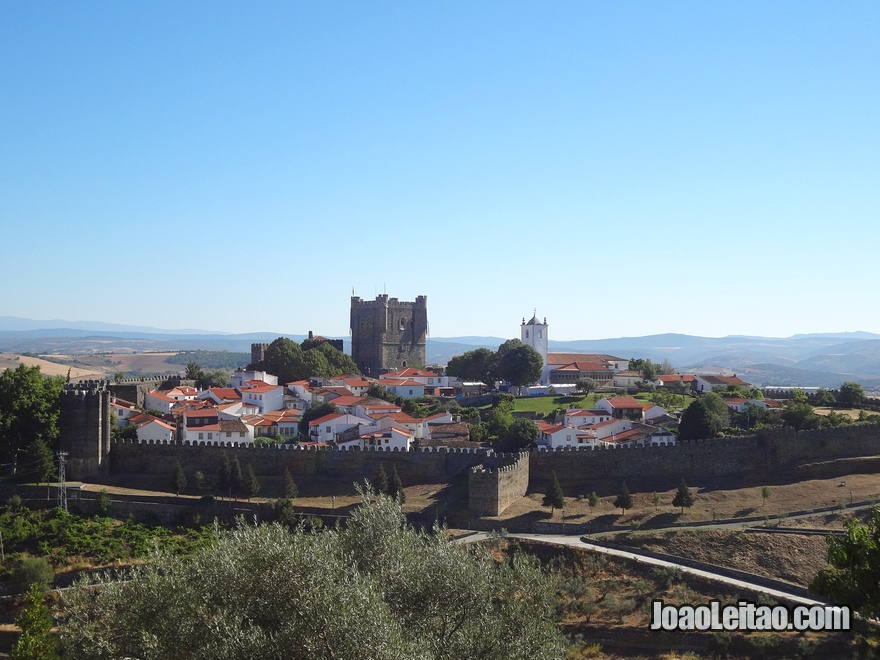 Bragança is the main city at the northeast point of Portugal. It stands in the border with Spain and for that reason it has always been the subject of territorial quarrels. It has a vast historic heritage, noticeable by the remains of several peoples.
96- Braga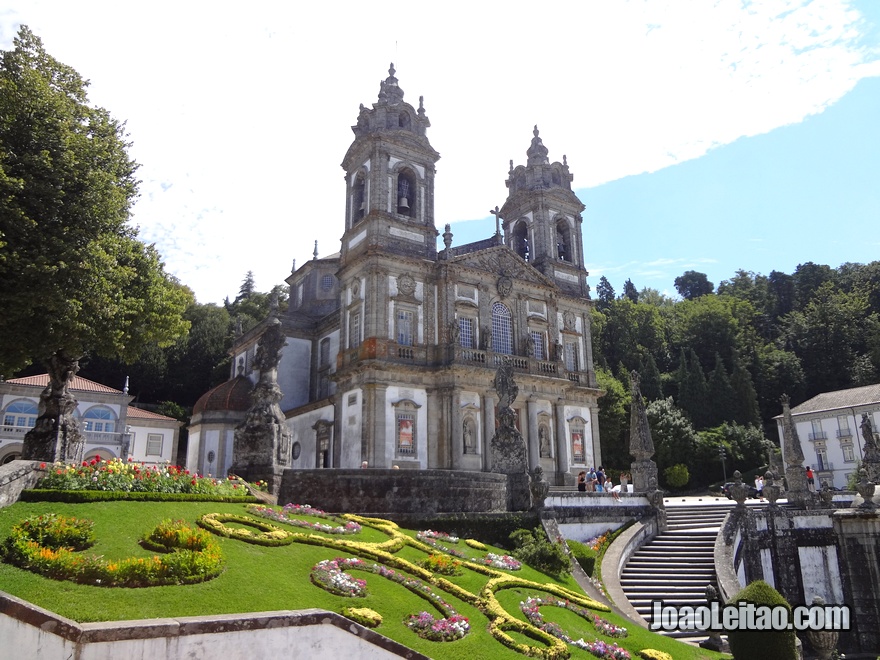 Braga is a city of great ecclesiastical importance and it is known as the city of the Archbishops. In Roman times it was called Bracara Augusta and was the main city of the territory where is Portugal now.
97- Belver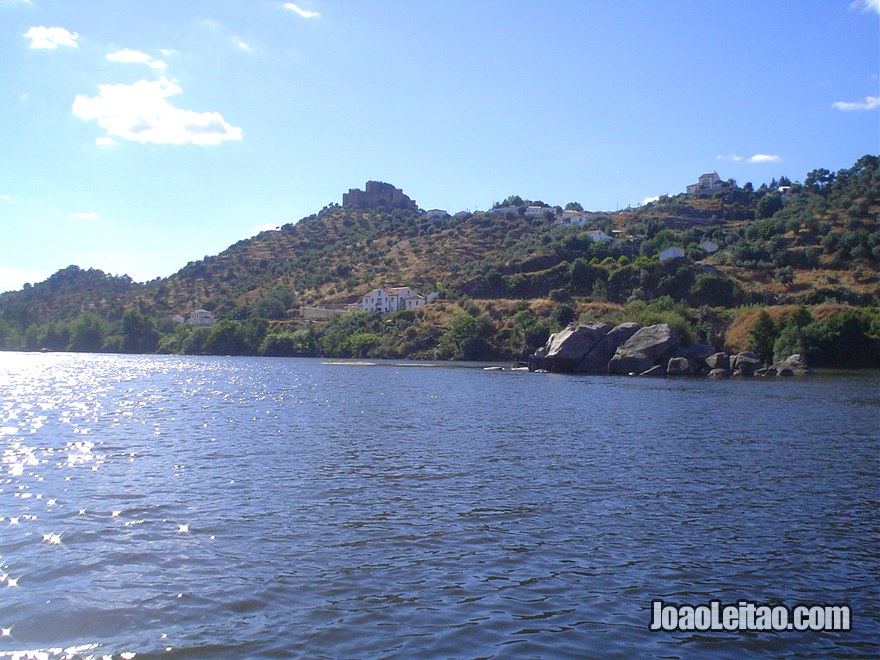 Belver is a small village in the center Portugal, in Portalegre district. It is a typical Alentejo village with its white houses and some of them keep the usual yellow and blue stripes around doors and windows. Belver Castle stands on top of the hill and boasts magnificent views of the Tagus River and the village below. The landscape natural beauty is the biggest attraction, and there are the Outeirinho Lookout and the Birdlife Observatory where you can enjoy the surrounding scenery and bird watching.
98- Belmonte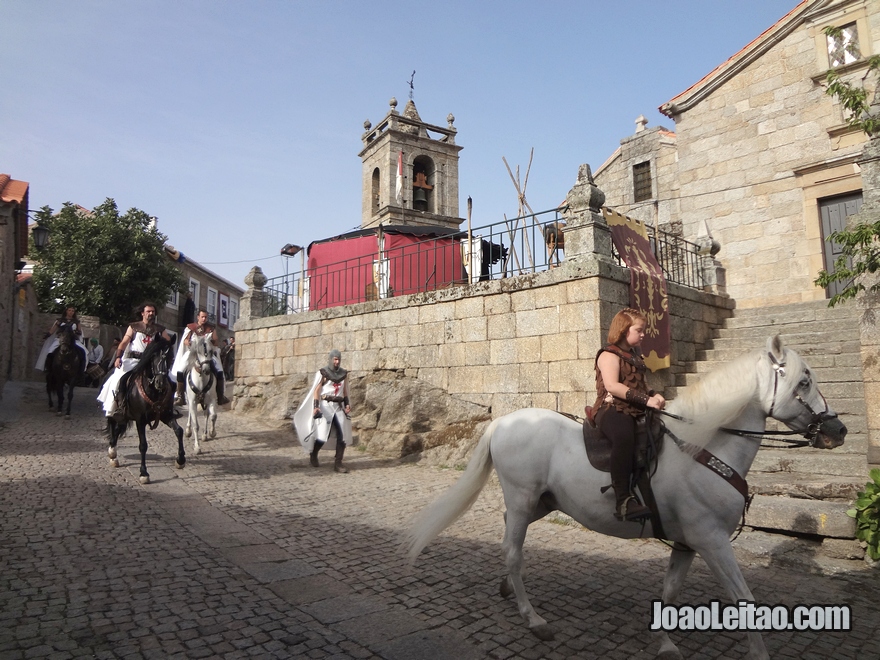 Belmonte is a Portuguese town full of history. It is located in the Portugal inland, in Castelo Branco district. The village received its first charter by King D. Sancho I in 1199, but its history goes further back. It is impressive that the history of this town covers as many historic periods as the Roman rule (Roman Tower Centrum Cellas), the Discoveries (it was the birthplace of Pedro Álvares Cabral, and the Museum of the Portuguese Discoveries is in a property owned by his family) and an important Jewish heritage (Jewish Museum of Belmonte and the Synagogue Bet Eliahu, established in 1996). The Jewish occupation in this village is one of the most important episodes in its history. When the Catholic Kings expelled the Jews out of the country in the 16th century, a group of Jews (nicknamed "Marranos") took refuge in Belmonte and lived there for over 400 years disguising their Jewish traditions to avoid detection. It was only in the 1970's that the Jews of Belmonte revealed their true identity and now they can freely practice their ancestral traditions.
99- Beja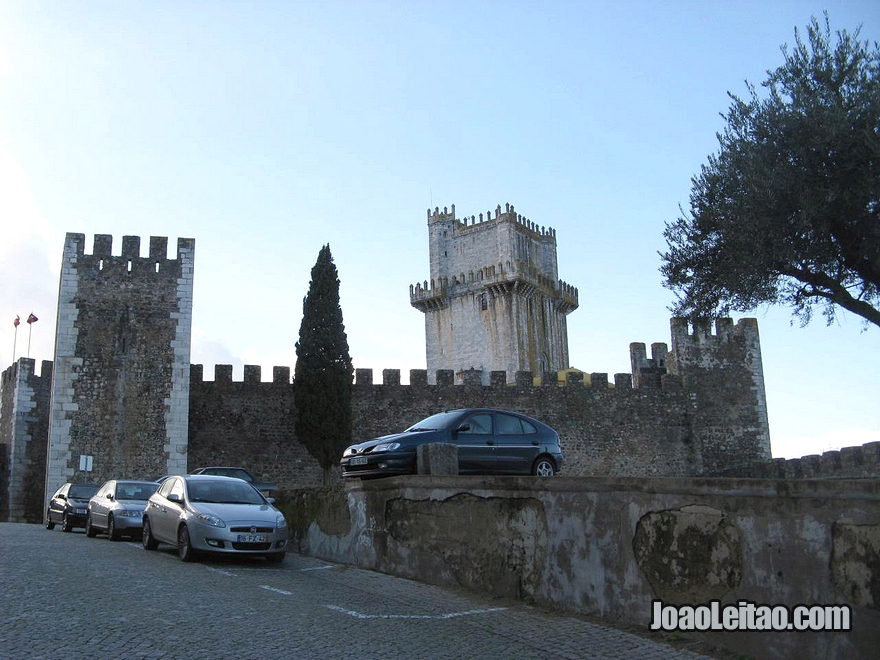 Beja is the capital city of the district of the same name. It stretches for the entire width of Portugal territory and separates the Algarve in the south from Setúbal and Évora in the north. The city has been founded by the Celts in the 1st century BC, then dominated by the Carthaginians before they were driven out by the Romans in the 2nd and 3rd centuries BC. Beja (Pax Julia) was a famous Roman city, as proved by the Roman road that crosses the city. With the fall of the Roman Empire came the barbarian peoples from northern Europe who dominated the city until the arrival of the Moors in 714. The Arabs rule lasted in the region until 1162, during the reign of D. Afonso Henriques when Beja was definitely included into the jurisdiction of Portugal. Alentejo is a flat region, therefore Beja castle, unlike most cities where the castle stands on top of a hill, lies in the town center in the lowland.
100- Batalha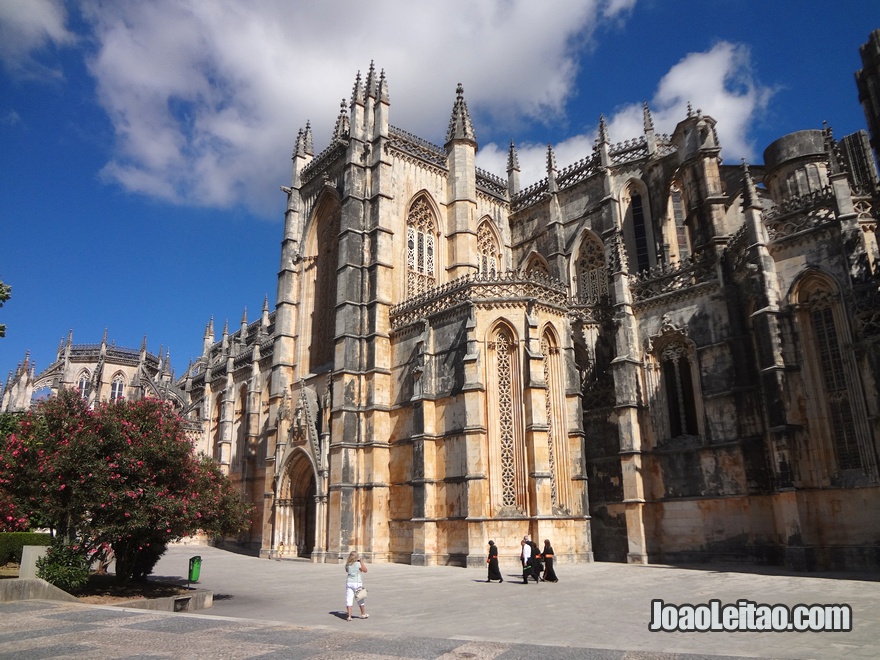 Batalha is a city located about 12 km away from Leiria and grew up thanks to the main monument of the city: the Batalha Monastery (less known by its other name Monastery of Santa Maria da Vitória). The construction of the monastery was ordered by King D. João I to thank the "divine" help in the battle of Aljubarrota (August 14, 1385). Its construction lasted over two centuries between 1386 and 1517. The Monastery is a UNESCO World Heritage Site.
101- Bemposta Dam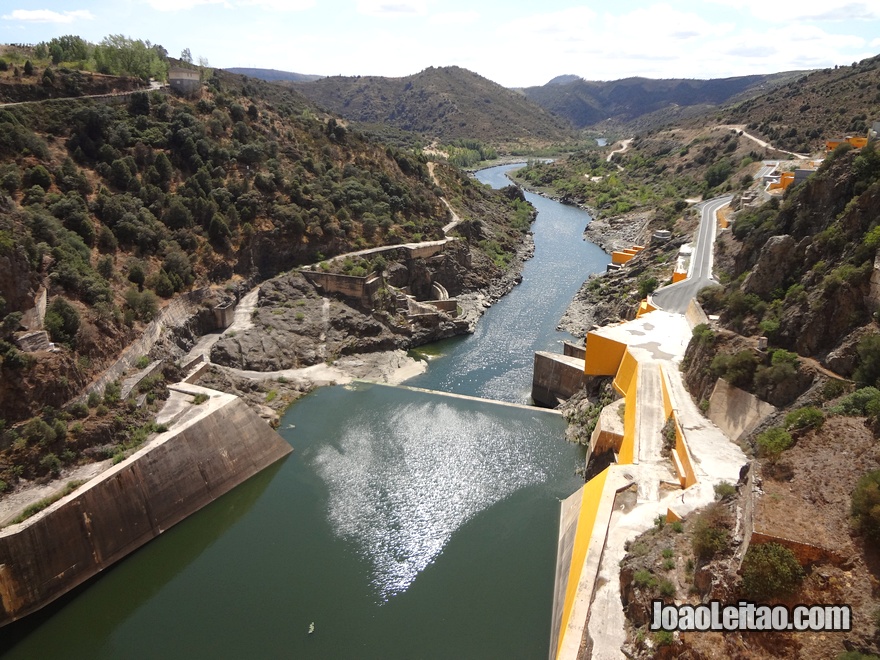 Bemposta Dam is located in Bragança district, right in the Douro International Natural Park. The dam began operating in 1964, making the hydroelectric development of Douro River flow. The dam landscape with its arch structure of 87m high, a basin with the capacity to hold back 129 000 000m3 of water and the surrounding landscape of Douro wine region make this region a magnificent setting.
102- Azenhas do Mar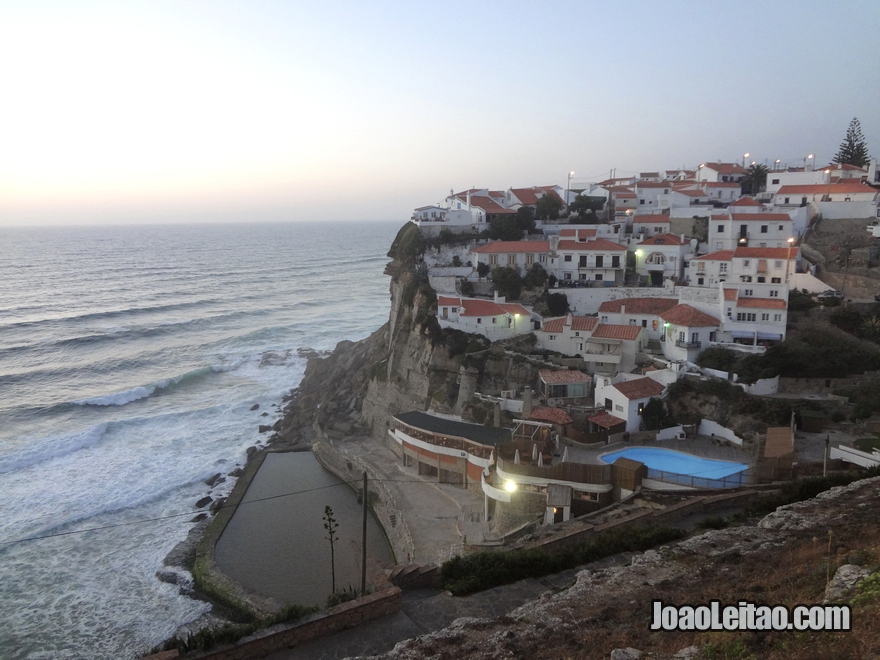 Azenhas do Mar is a village situated in Linha de Sintra (Sintra Route), on the Atlantic coast. The village stands on a cliff overlooking the sea. The village is crossed by a small stream that was used by many mills (water mills) built there, hence its name Azenhas do Mar (Sea Mills). Right on the beach there is a natural pool, which is actually a barrier that traps seawater and during the high tide it is flooded and the confined water is renewed.
103- Avis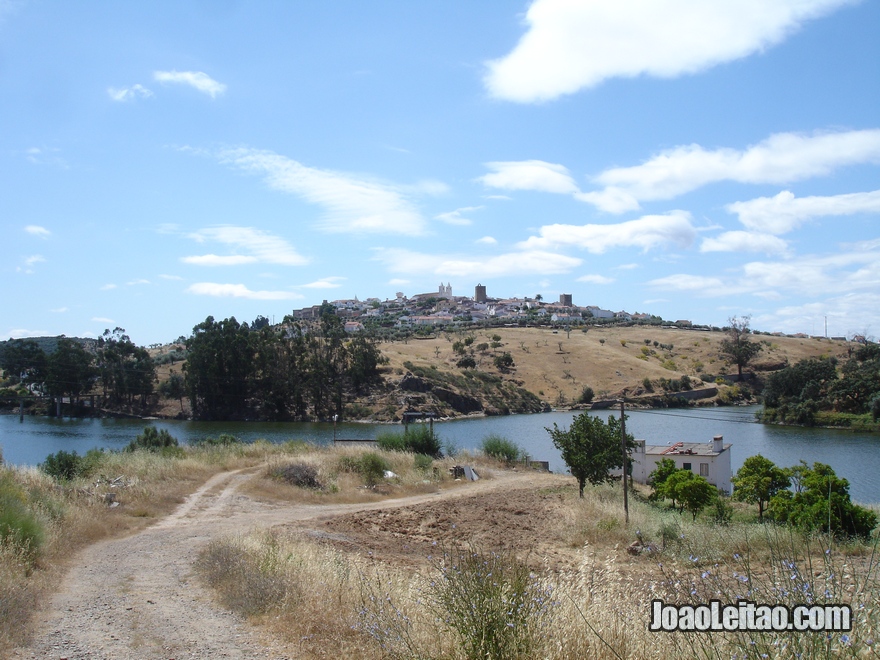 Avis is a village in Alto Alentejo inland, in Portalegre district. Avis was the birthplace of the Military Order of the same name – Avis Order – and it is where they built their castle. According to the legend, when the knights sought for the perfect location for the castle, they saw two eagles on top of an oak. They interpreted this as a luck sign, and thus they built the castle and, consequently, the town of Avis (which means "bird" in Latin) in this place. The village maintains its architecture of white houses inside the castle walls and the arch gate that indicated the entrance to the village itself, is one of the symbols of the village. Around the city, the scenery is breathtaking with Albufeira do Maranhão (a dam) at its feet.
104- Arraiolos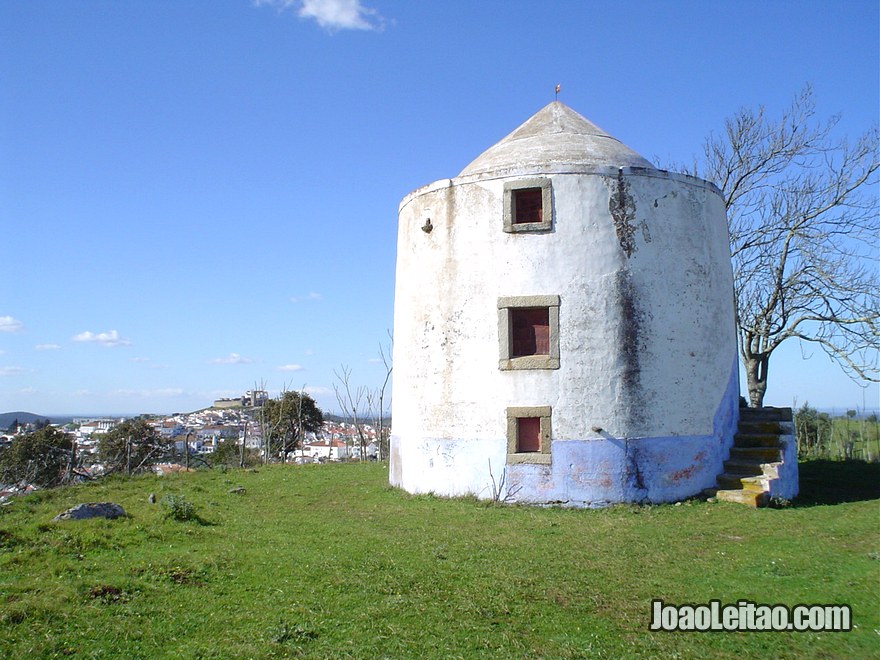 Arraiolos is a typical Alentejo village, 25 km away from Évora, the capital city of the district. Arraiolos is known for the great handmade rugs from this region: the carpets of Arraiolos. Arraiolos Castle stands out with its circular shape on top of a hill and below lies the village with its carefully maintained typical houses. The Church of Mercy, which is in the center of the village is a mandatory stopover to enjoy the beautiful blue and white tiles panels dating from the 18th century, although the church is older than that.
105- Berlengas Archipelago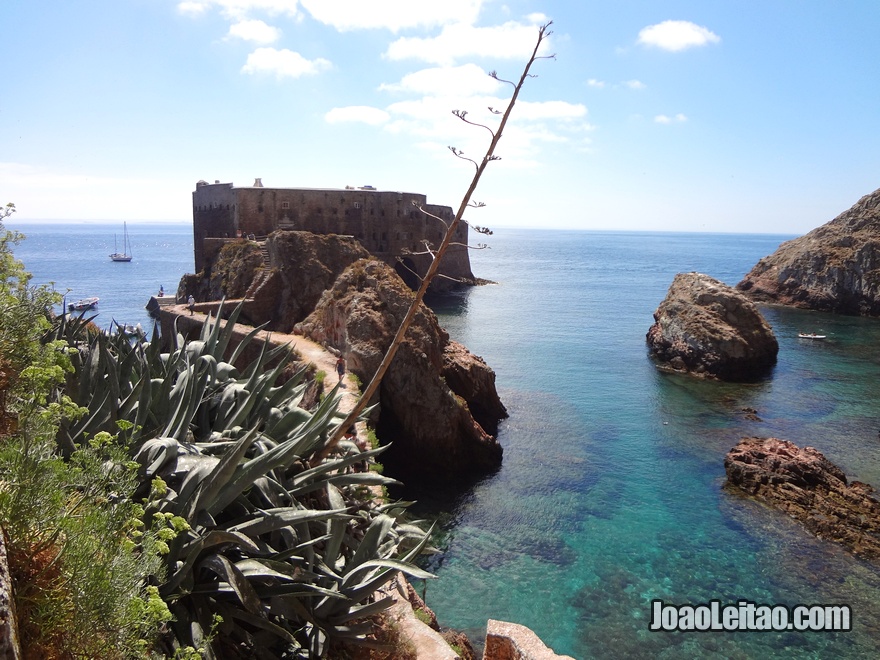 Berlengas is an archipelago of three small islands, but only the largest one is inhabited. It lies off the coast of Peniche from where boats depart during the summer season.
106- Pegões aqueduct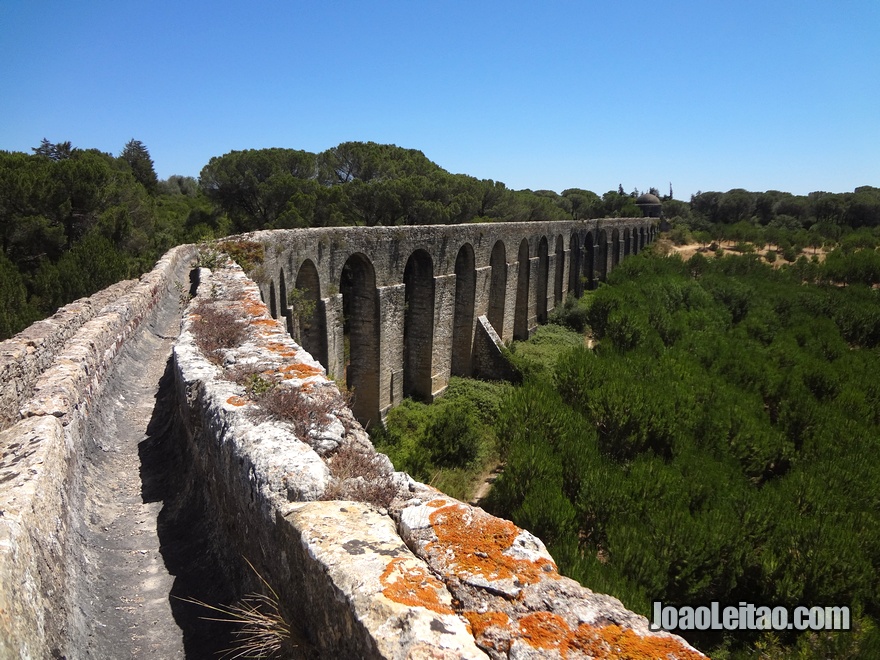 Pegões aqueduct is a great infrastructure, but it is not well known despite its magnificence. It stands close to Tomar in the Ribeira de Pegões Valley. It was built to supply water to Tomar Convent . Its construction began in 1593 and was completed in 1614. The aqueduct stretches along 6 km, with 58 complete round arches over 16 pointed arches supported by pillars. It has a maximum height of 30 meters. And the best part is that you can freely walk on this aqueduct, an amazing walk and a unique experience.
107- Alvor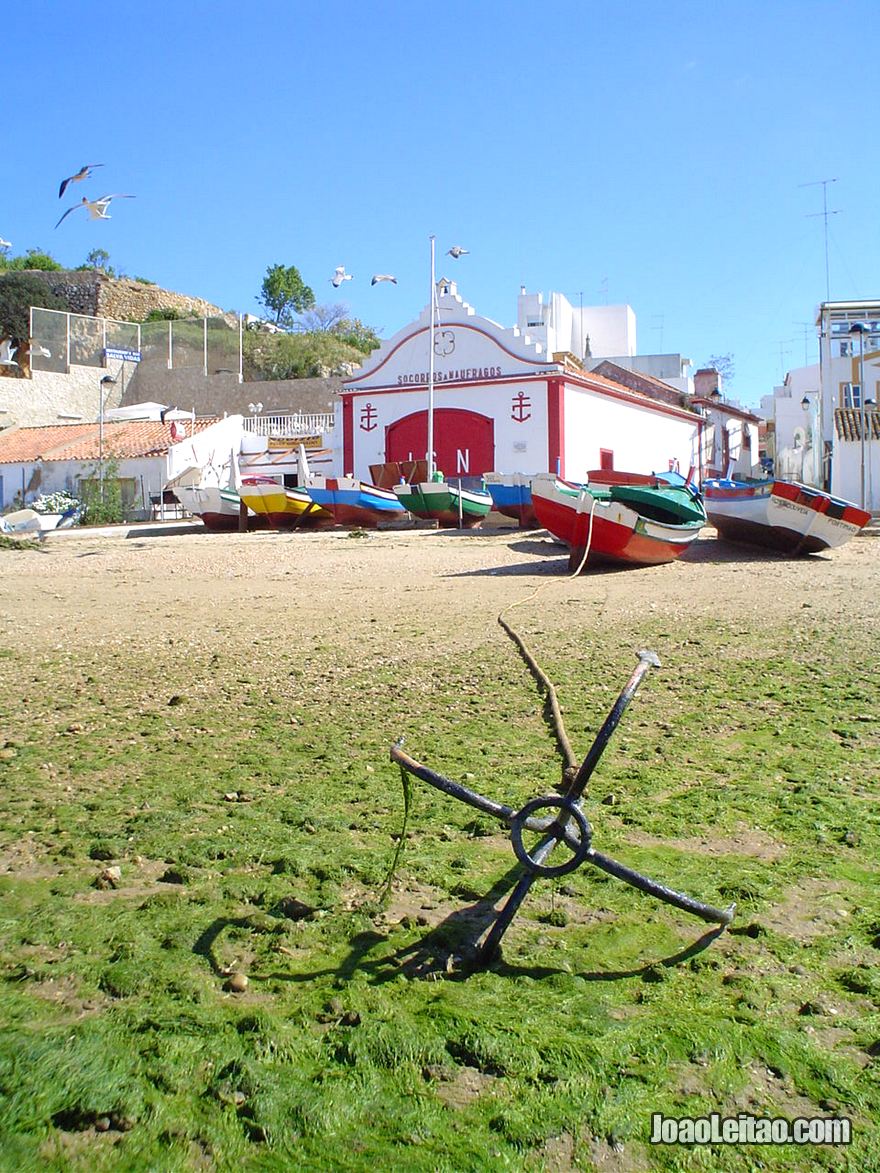 The village of Alvor lies on the western Algarve, near Portimão. Alvor was under Arab rule from 716 to 1250 before the conquest of the Algarve by King D. Afonso III. From the Arab castle there are only a few vestiges of its walls left. It is a traditional fishing village and it keeps its picturesque character with small boats displayed on the beach close to the city center. Alvor is a paradise for those who like to combine a beach holiday with a more traditional setting, away from the mass market tourist destinations of the Algarve.
108- Alto Douro Wine Region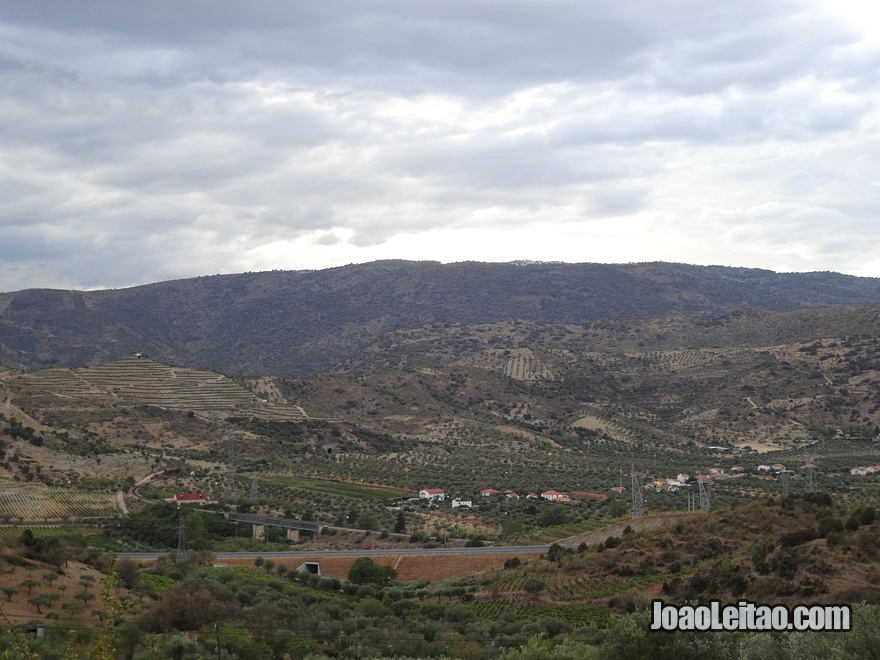 Alto Douro Wine Region is a region in the northeast of Portugal classified as a UNESCO World Heritage Site for its unique landscape. The Alto Douro Wine Region was the world's first demarcated region in 1756 as initiative of the Marquês de Pombal government. In fact this region has been producing wine for over 2000 years, and the world-famous Port wine is one of the main products. The wine-growing tradition has shaped the landscape of the region, with Douro River banks covered with vines carefully lined up in terraces, creating a magnificent setting.
109- Almeida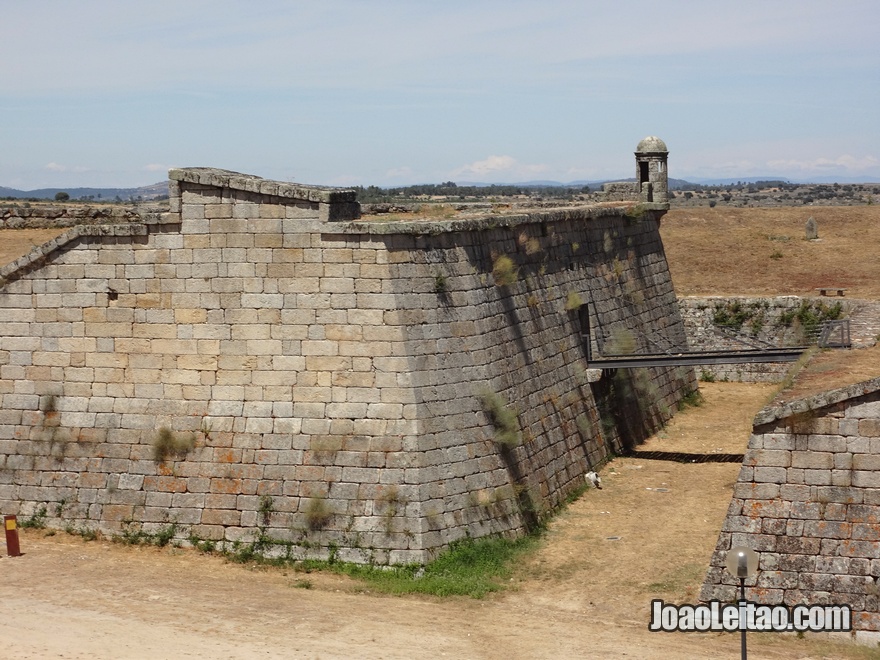 Almeida is a historic town in the northern inland of the country, bordering Spain. This location always led it to be an important spot for border defense. It was only in 1297, during the reign of King D. Dinis that the village definitely became a Portuguese possession. The medieval fortress gave way to a more complex structure built in the 17th century – Praça Forte de Almeida which faced Real Fuerte de la Concepción in the opposite side of the border in Spain. Praça Forte de Almeida is the most important example of military architecture in Portugal, a fortress in an irregular hexagonal plant, with a bastion at each corner and a moat dug all the way around. Almeida village is located within the walls of this fortress. Almeida was on the route of French Invasions on their way to get to Lisbon. Here took place an important episode of the history of Portugal – Almeida Siege – an assault from the Napoleonic troops in 1810.
110- Aljubarrota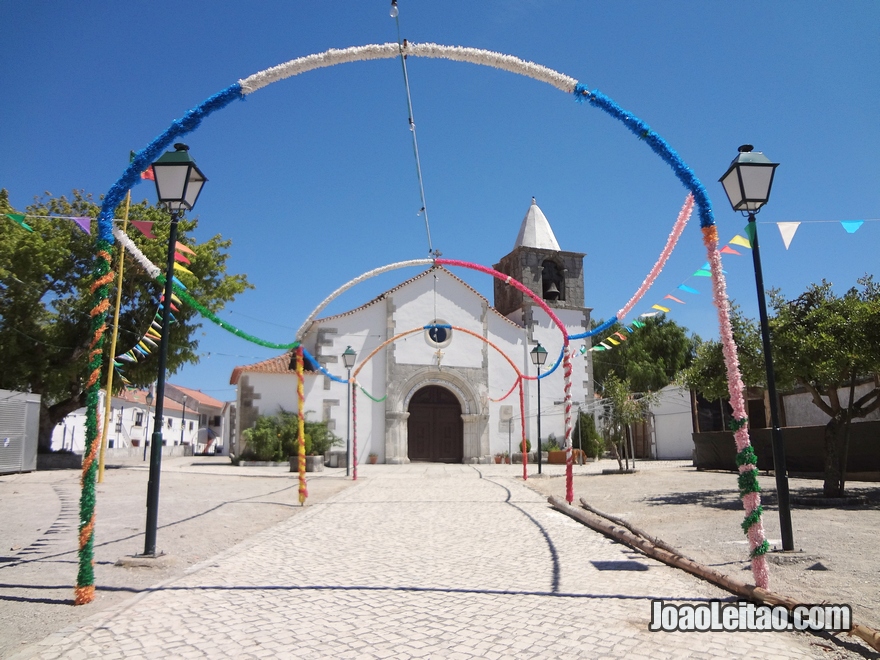 Aljubarrota belongs to Alcobaça municipality and is located in central Portugal. This small village has a huge weight in the history of Portugal. The important Battle of Aljubarrota, considered a symbol of Portugal independence, took place near this village on the 14th August 1385. Also famous is a woman baker, then called Padeira de Aljubarrota (the Baker of Aljubarrota), which has a monument in her honor in the town. According to the legend, this woman (a baker) has killed six Spanish invaders with her baker shovel. Aljubarrota town keeps its medieval look with its white single-storey houses with nice stonework on the facades.
111- José Franco´s Typical Village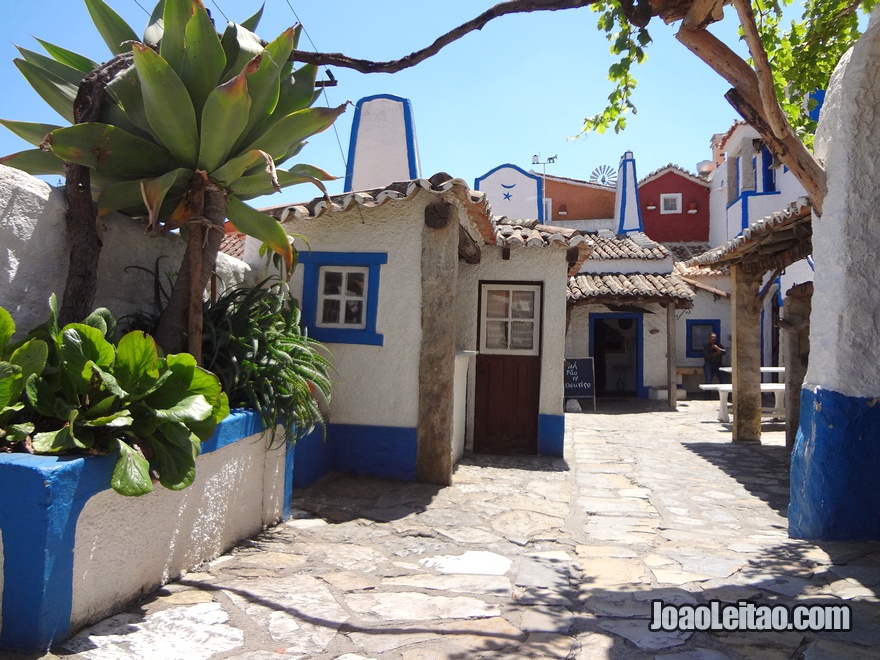 José Franco´s Typical Village, also nicknamed "Aldeia Saloia" (old-fashioned village), is a creation of the sculptor and potter José Franco. In 1945 he decided to recreate scenarios, totally made of clay, of typical Portuguese villages and traditional occupations from the early 20th century. There are life-size reproductions and also miniature recreations of the typical houses from the different regions of Portugal. This ethnographic exhibition started in the backyard of his home, but now covers an area of 2500m2. This village stands in Sobreiro, a town in Mafra municipality.
112- Aldeia de João Pires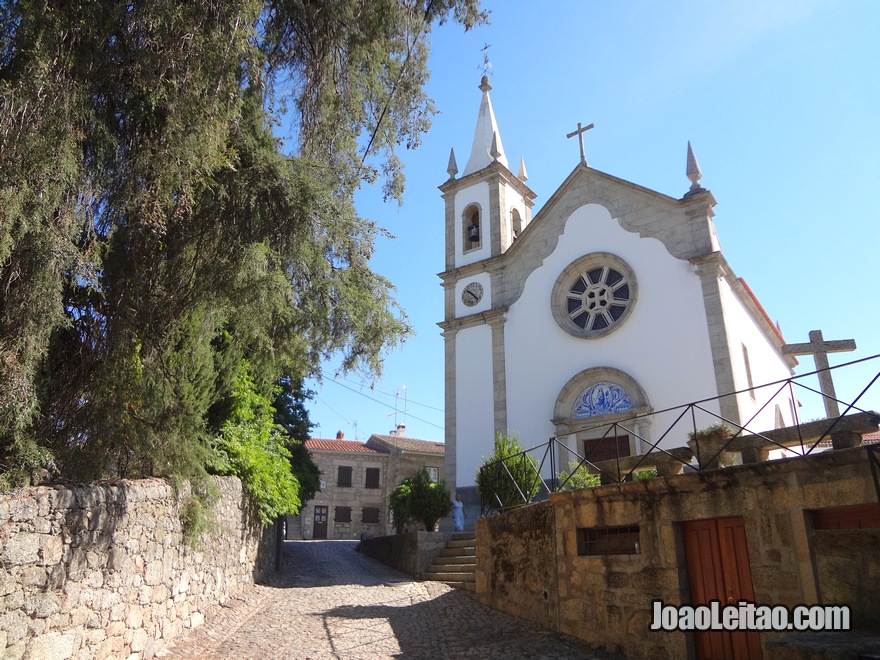 Aldeia de João Pires is a village with less than 200 inhabitants in Penamacor parish. It is a typical village which keeps its houses made of stone carefully preserved. In the village center the beautiful Church stands out, immaculately white contrasting with the stone buildings around. Outside the village we can climb to the highest point – Pena de Águia – and enjoy the panorama over the village.
113- Alcobaça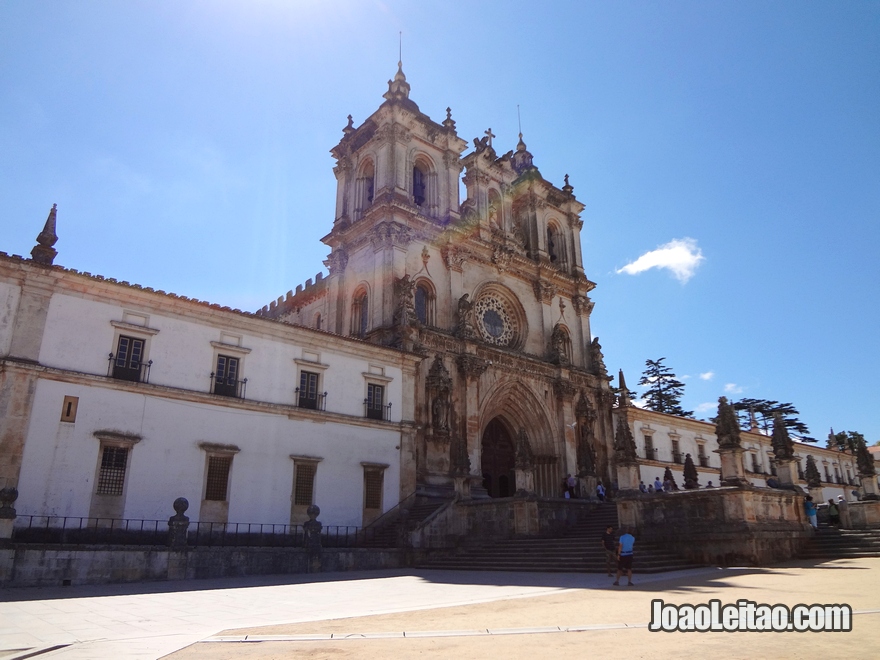 Alcobaça stands in the district of Leiria, at the meeting point of Alcoa and Baca Rivers, hence probably its name Alcobaça. The city is known for the Monastery of Santa Maria (Monastery of Alcobaça), a majestic monument built between 1148 and 1222, originally in Gothic style. The Monastery was rebuilt several times over the centuries and other styles such as the "Manuelino" have been added. The Monastery houses the tombs of the most romantic couple in the history of Portugal: Pedro and Inês de Castro. The tombs are true masterpieces of Portuguese sculpture.
114- Alqueva dam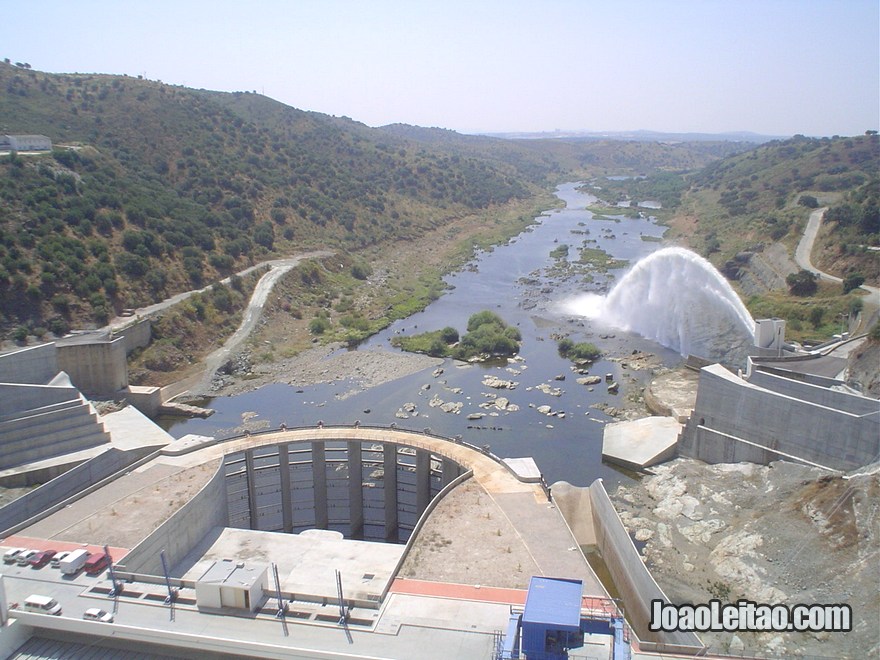 Alqueva dam was one of the most controversial public works in Portugal, in recent decades. It took 30 years for the work to be completed, since the approval of the project in 1975 until the closure of the gates and the filling with water in 2002 there were many controversies between that did stop the work. The dam, located in Alentejo and benefiting of Guadiana River, was considered the solution to irrigate crops in such an arid zone and also to produce electricity. As this work involved the flooding of a village (Vila da Luz), the controversy arose and the issue was only solved with the construction of a new village where the inhabitants of the ancient Vila da Luz were relocated. Alqueva dam is currently the largest dam in Portugal and it has undergone enlargement works to increase the capacity of its hydroelectric power station. The dam brought several tourism related activities.
115- Vilarinho das Furnas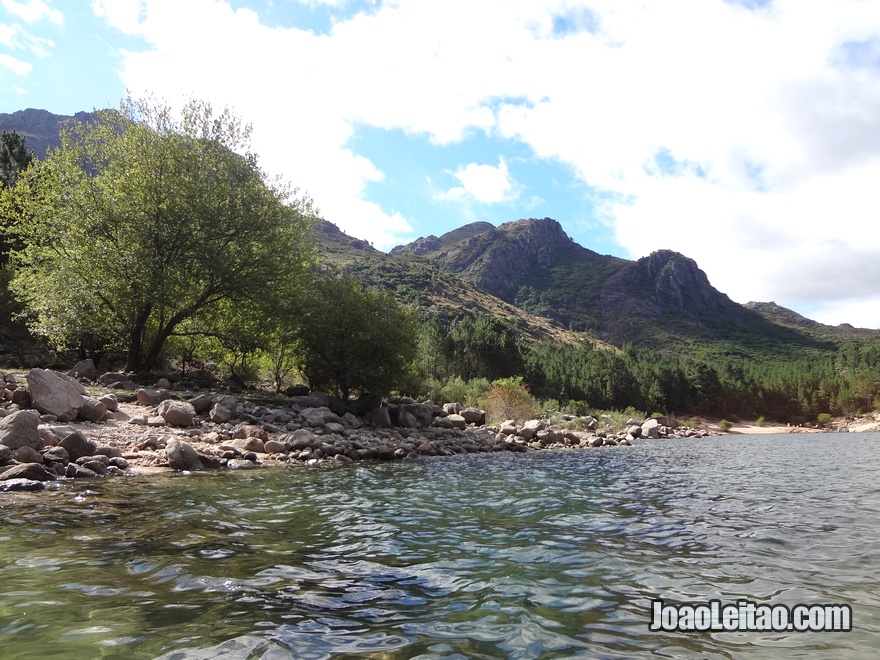 Vilarinho da Furna (commonly called Vilarinho das Furnas) was a village in Terras de Bouro municipality, in Braga district. With the construction of Vilarinho das Furnas dam in 1971, the village was submerged, but in years of extreme drought, with the reservoir in a low level, it is possible to see the remains of the village. Vilarinho das Furnas dam covers an area of 77 km2 and it is surrounded by such natural beauty that makes it a great place to enjoy nature and outdoor activities.