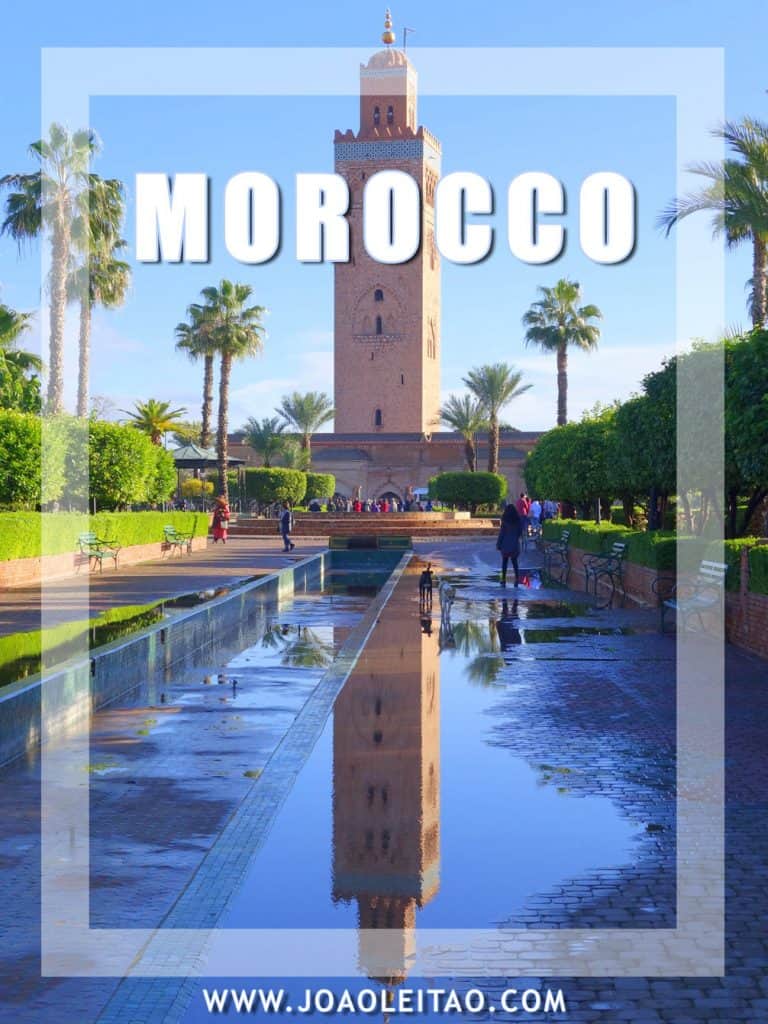 Traveling forever while making a living as a freelancer on the road. That is the dream life for many people, especially the younger generations.
People who feel stuck and limited by a monotonous and routine life, repeating the same tasks every day and who dream of a different kind of work, one with flexible hours that allows them to work from anywhere in the world.
The growth and accessibility of the internet turned what was nothing but a dream a couple of decades ago into a reality. The first people to enjoy a nomad life had remote jobs, typically in the creative and technological fields. Writers, web designers, online shop owners. All they needed to do their job was an internet connection and a computer.
Over time, this became possible for more people. The internet was more accessible and easier to use, which meant people didn't need to have high technical skills to embrace this lifestyle and the number of businesses and jobs that could be done remotely grew.
A few years ago, the first coworking spaces appeared. Those were places for freelancers or employees who worked remotely, where space and work conditions were optimized with comfortable chairs and desks, leisure areas, all the technology needed, a bright and inspirational décor, lots of light and complimentary drinks.
People who use these spaces aren't nomads necessarily. In many cases, they are freelancers who used to work from home but began to use coworking spaces to improve their productivity and minimize distractions.
Many freelancers realized they could work while they traveled, and many adopted a nomad lifestyle, moving from one place to the next while temporarily staying in nice places that offered a balance between leisure and productivity.
Dream destinations like the Greek islands, Bali, or the Philippines with reasonable internet access, affordable, and with good quality of life began to be sought out by these people and the expression digital nomad was born.
That's how someone thought about creating coliving spaces in addition to the existing common coworking spaces. Digital nomads could live in those places for as long as they wanted and enjoy excellent working conditions for these traveling freelancers, which included an area for coworking and living, shared or not. These living arrangements create small communities of people with the same lifestyle and interests.
Map of All Coworking Spaces in Morocco
Traveling and Working in Morocco
Coliving & Coworking Spaces at the Pearl of North Africa
Morocco is the perfect country for the modern digital nomad. The weather is mild for most of the year, local culture is exotic, there is plenty of easy-to-use public transportation, there are great beaches, great people, and good food, cost of living is low, it's a safe country, politically stable, and very accessible. All alluring factors for people who work while traveling.
Here you'll find a great base, with good options when it comes to a coworking space in Morocco and with a few options too when it comes to a coliving lifestyle. So why not spend a few months exploring Morocco while working and enjoying the optimized working conditions to increase productivity?
There are several coworking spaces in Morocco, over a dozen in some cities like Casablanca. Also, the first coliving spaces began to emerge and were enthusiastically welcomed by the digital nomad community.
Here is a list for the best coliving and coworking spaces in Morocco.
Coliving Spaces in Ouarzazate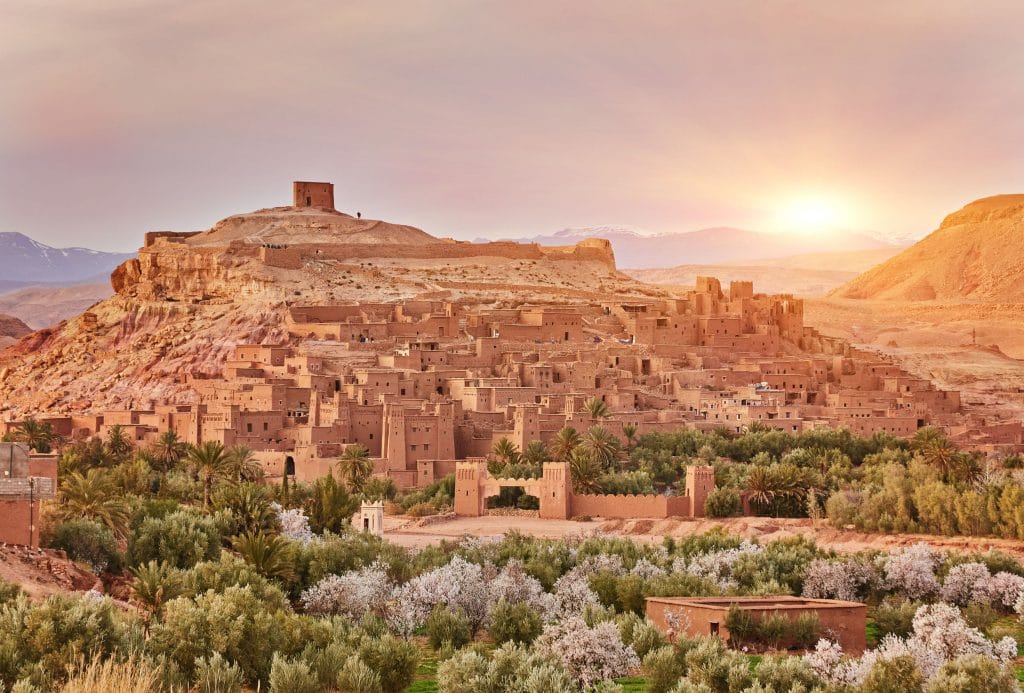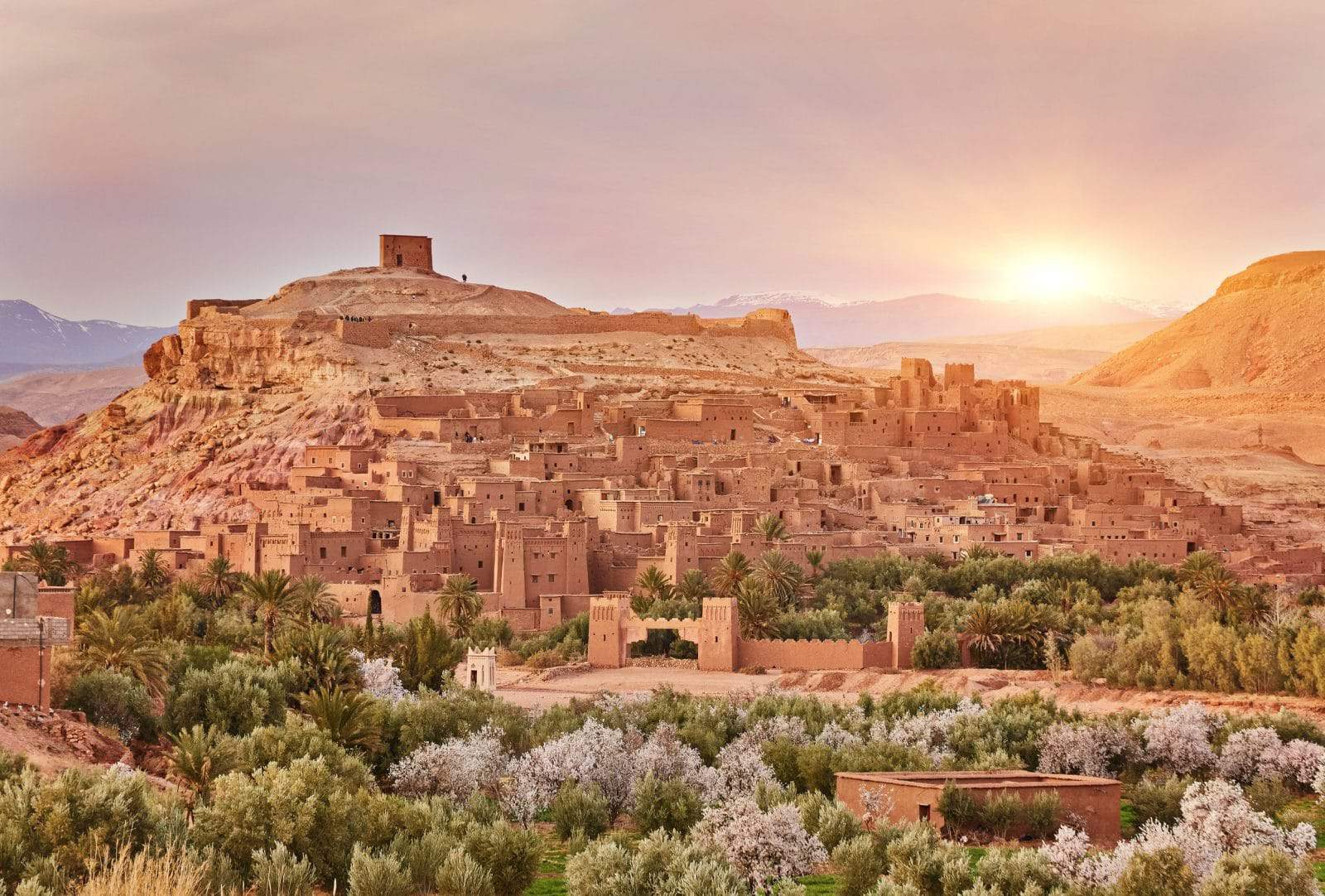 This quiet city is strategically located and a connection hub between Marrakesh, the people at High Atlas, and the ancient trade routes that used to cross the Sahara Desert.
It's an excellent base for those who want to explore the desert and the mountains, escaping for a while from the historical Moroccan big cities.
Kasbah Ait Ben Haddou, a UNESCO World Heritage Site, is nearby but the area is full of many other historical villages and palaces, more secluded and less touristic, and the lovely Fint Oasis.
Ouarzazate is a great option for a Coliving Space in Morocco.
Must-visits in the city include the Kasbah Taourirt and the picturesque district of Tassoumaat. Movie fans can visit two film studios where movies like Lawrence of Arabia or The Gladiator were filmed, as well as some parts of Game of Thrones.
Ouarzazate is a few hours away from Marrakesh by bus and there's a small airport with daily connections to other cities in Morocco and some international routes, namely the ones operated by Ryanair from Madrid, Bordeaux, and Marseille.
Dar Digital Nomad
This is my space. I opened this house in April 2019.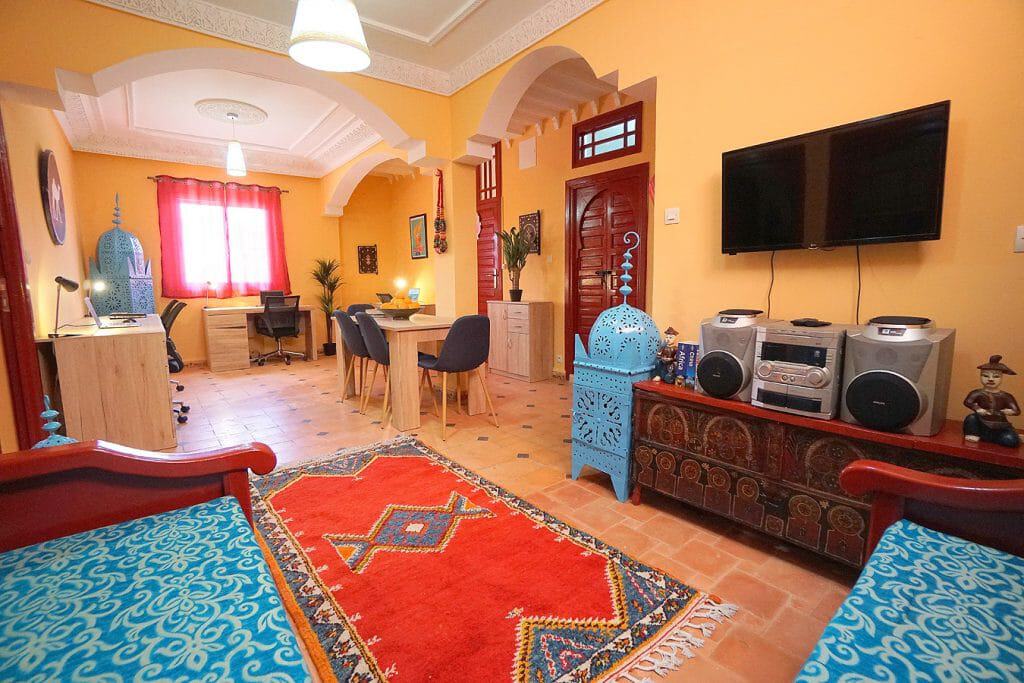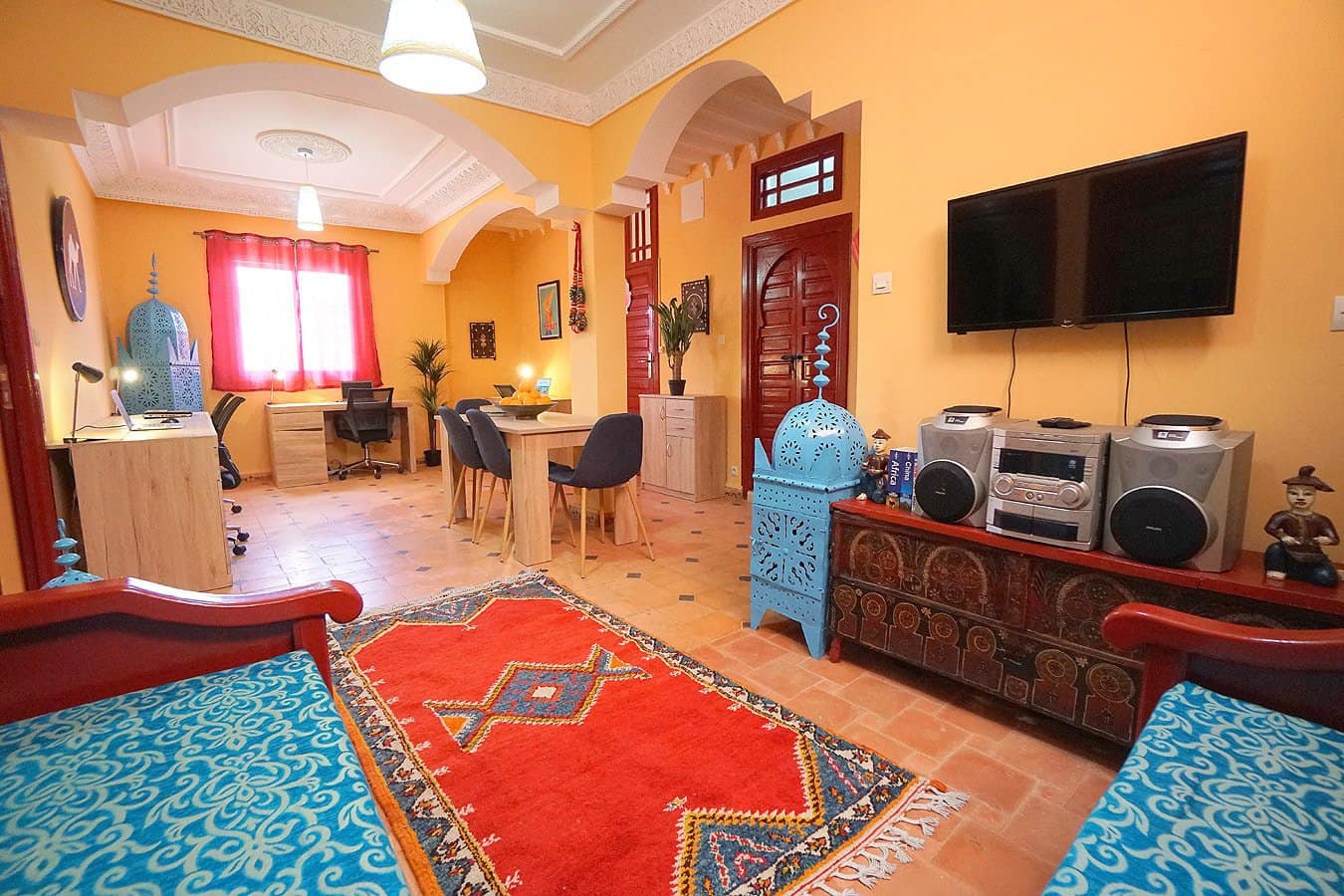 Dar Digital Nomad is a new coliving space. It's located in a central but quiet area of Ouarzazate, within walking distance from the city's main points of interest.
The space was completely renovated and refurbished for coliving. The chosen décor combines the Morocco traditional style with the contemporary touch that the digital nomad expects.
Unlike what happens in most areas, at Dar Digital Nomad the atmosphere is more private with only two shared bedrooms with room for two people each. Each room has spacious bunk beds, one for female residents and one for male residents.
Dar Digital Nomad is a great option for Coliving and Coworking space in Agadir.
The apartment is equipped with a modern kitchen, a common area with a TV, and a work area with four big desks and four office chairs. Internet access is via optical fiber with 100mbps download and 10mbps upload.
Prices
As for rates? Well, the minimum stay is for two weeks and costs 200 Euros. One-month stay can cost 340 Euros, and if you want to stay for longer, there are always ongoing special promotions. This price includes room, office and all house expenses such as electricity, water, gas and Internet.
Coliving Spaces in Taghazout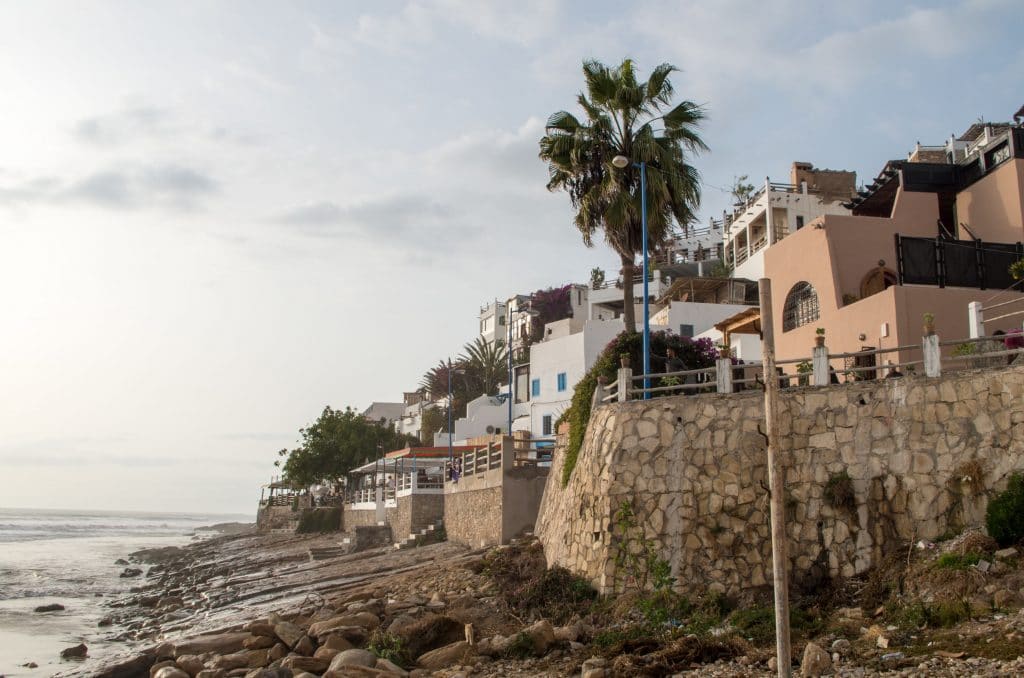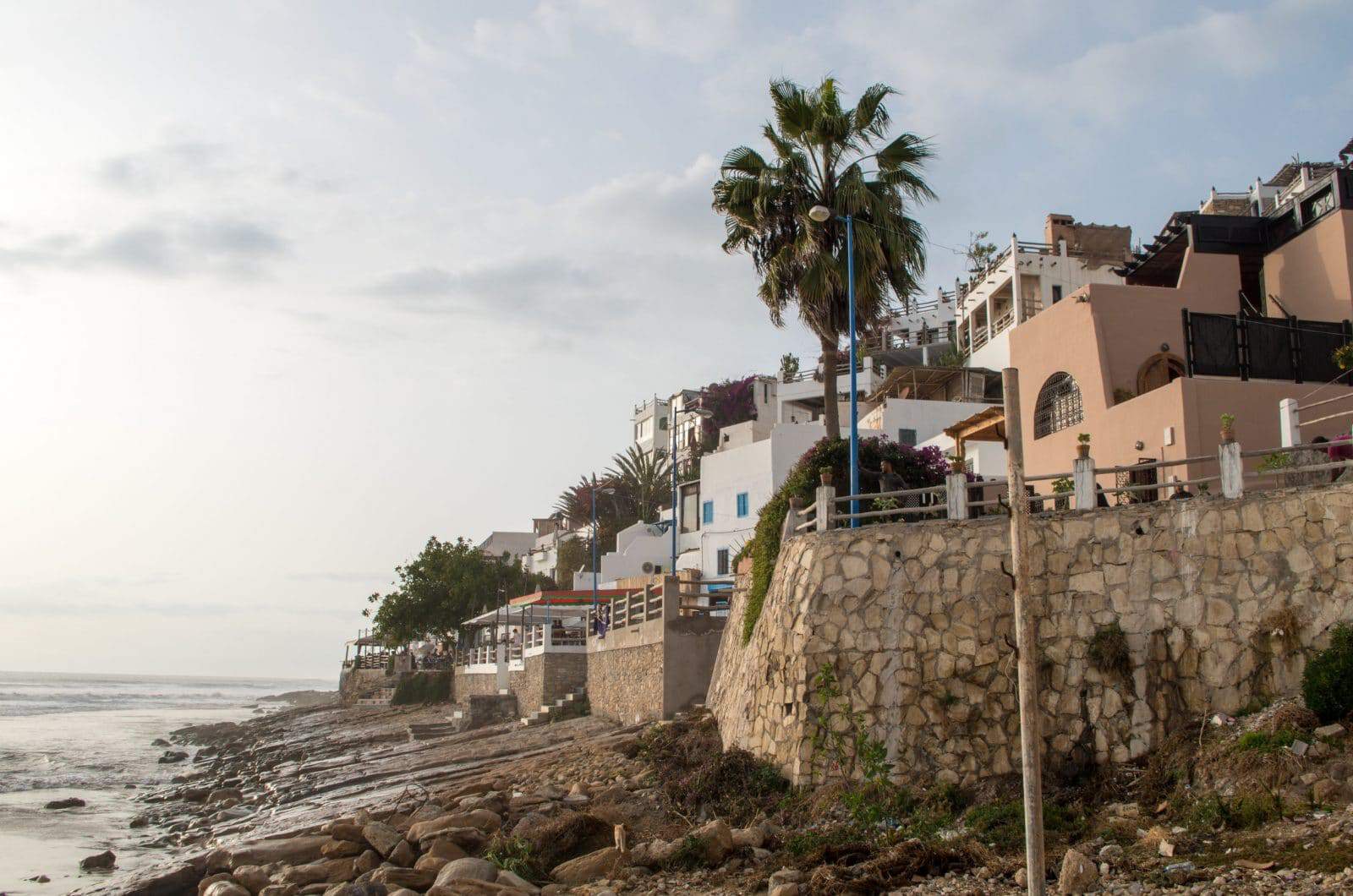 Taghazout is a quiet fishing village with about 5,000 people, mostly Berbers, 20km north of Agadir.
It's famous for its beaches and popular among surfers, which makes it the perfect location for the digital nomads who practice this water sport.
There is nothing better than getting work done in a couple of hours, riding the waves, and spending the rest of the day chatting with other members of the community.
To break the daily routine of Taghazout, you can travel to Paradise Valley, a secluded area with great natural swimming pools.
SunDesk
SunDesk is more than a coworking space. It's a living community of mostly young professionals who spend some time there while on the road, sometimes for a few weeks and sometimes for a few months.
Sundesk is a great option for Coliving and Coworking space in Agadir.
You don't have to live there to access the services available to coworkers, but it's not common to go to Taghazout just to use the coworking spaces at SunDesk.
There are indoor and outdoor spaces and a dedicated room for teleconferences with enough privacy for meetings or remote interviews.
Each resident is entitled to a personal workspace with a desk, a lamp, an ergonomic chair, and a small storage unit. There's a social corner where people can have complimentary tea, coffee, and even fruit.
Fees vary according to time of year, length of stay, and room type (shared or private).
Prices
For example, in the shoulder season, April and May, you'll pay 600 Euros a month for a private room or 455 Euros for a bed in a two-person room. If you want to stay for less than a month, the daily rate is 25 Euros for the private room and 17.50 Euros for a bed in the twin room. Each apartment has one kitchen and two bedrooms.
Those rates include a hearty breakfast, daily housekeeping, a locker for valuable items, access to a fully equipped kitchen and a washing machine. In addition to this, of course, residents have permanent access to the coworking space.
Coliving Spaces in Marrakesh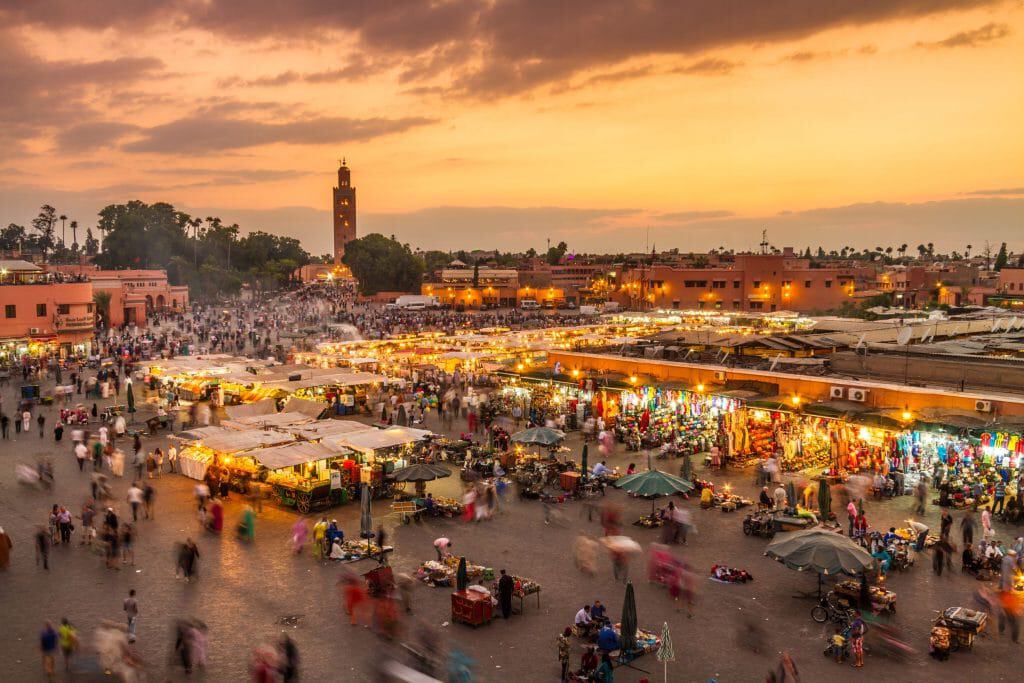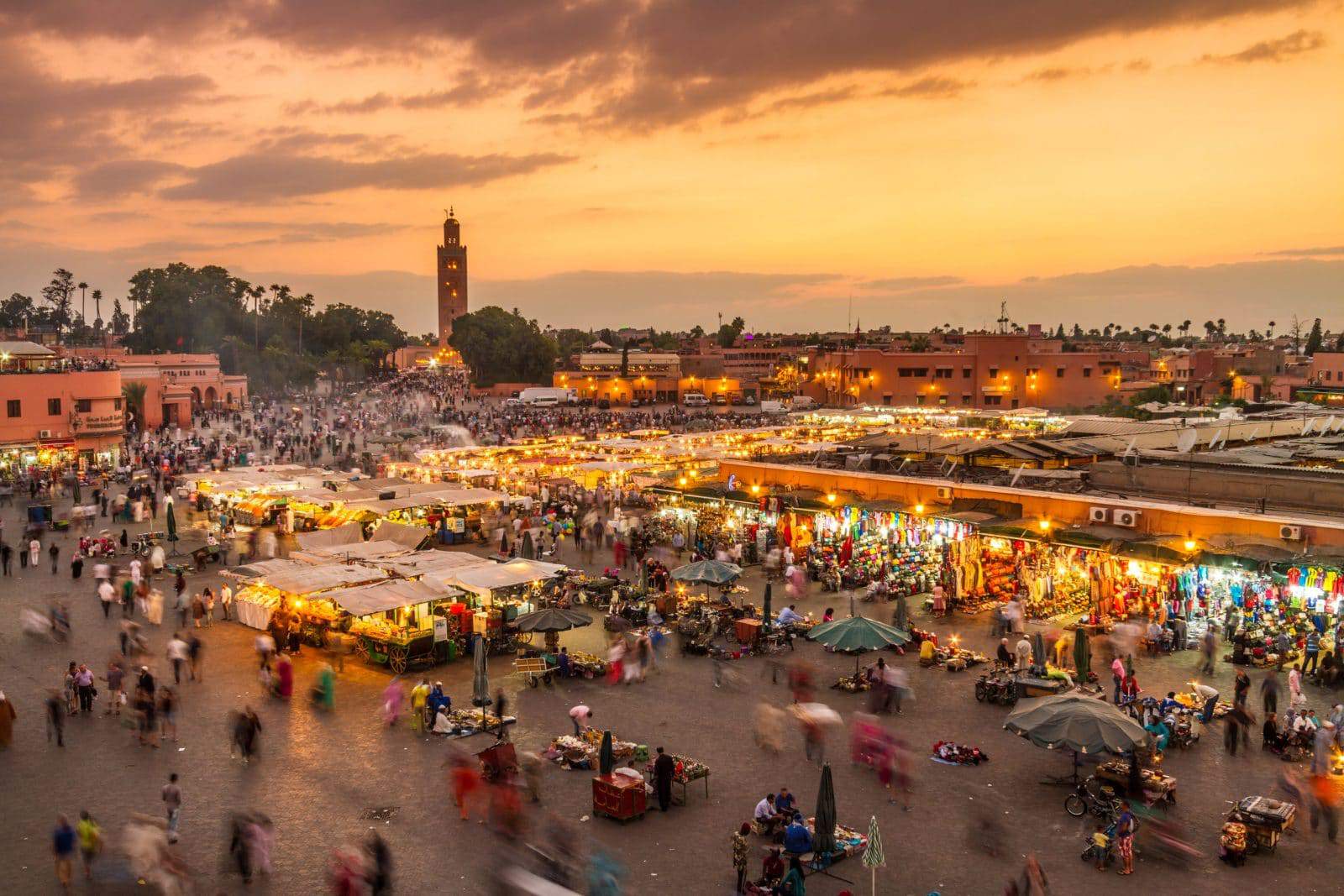 As one of the most popular cities in Morocco, Marrakesh needs no introduction. One of the highlights is the grand square Jemaa el-Fna, where the excitement never ends and peaks at the end of the day. It's a place where travelers can appreciate different activities, including dance performances, boxing matches, storytelling, henna tattoos, and much more. The historical heritage is also vast and includes the Bahia Palace or El Badi Palace, extraordinary museums, and several outdoor spaces like the Majorelle Garden, once a private access garden and now owned by Yves St Laurent.
Even the medina, although not as impressive as the one in Fez, is still full of charming hidden corners and bustling commerce. However, keep in mind that the coliving space is at the Ourika Valley and you'll probably be interested in exploring that region too, including experiencing the Agafay Desert 40 km from Marrakesh.
The Outmakers
The Outmakers is a coliving space with hubs in the French Alpes, Corsica, and Morocco. Here they're established at Ourika Valley in the outskirts of Marrakesh.
Just 15 minutes from Morocco, this is a great option for those who need to focus on work, with a peaceful location and excellent views to the Atlas Mountains. There you'll have all the commodities required for your daily routine, with a bar, a restaurant, a barbecue area, and a nice and spacious swimming pool.
The Outmakers is a great option for Coliving and Coworking space in Marrakesh.
Accommodation style is mainly glamping – luxury tents with exquisite décor and comfort – but they also have more conventional double rooms available.
During working hours, residents can choose one of the several areas, from the pool area to the garden, including some indoor spaces.
So that you have an idea of the size of the coliving space, there are two rooms, four large tents, and four small tents.
Prices
Rates for a tent with a double bed is between 990 and 1290 Euros, depending on the size of the tent. If you choose to rent by the week, the daily rate is higher, between 350 and 490 Euros a week, which is the minimum duration of stay required.
A shared room for two people costs 450 Euros per person per month or 140 Euros per week per person for shorter stays. The rates include breakfast, private bathroom, daily housekeeping, and access to a kitchen.
The Outmakers also has a 10 Euro transfer service to and from the airport. It's a private vehicle that you can hire to go to Marrakesh too for the same price. The car has room for up to six passengers, so the fare can be split between the residents who hire the service.
CocoWork Marrakesh
The Spot is the coworking space in Marrakesh that's part of the CocoWork network. It's located in the Gueliz district, near the train station and not too far from the medina, which you can reach on foot or, if the weather doesn't permit, on a taxi or a bus that reaches the center of the old city in just a few minutes.
It's a joyful space, decorated with bright colors, with wooden tables and desks, with space for 70 people and four private offices and a meeting room.
Prices
As for the rates, access is 140 Euros per month, 40 Euros per week, or 7 Euros per day. The space is available 24 hours a day.
If you need to change locations for a couple of days, there's another coworking space in the area called Fraktal Coworking.
Coliving Spaces in Rabat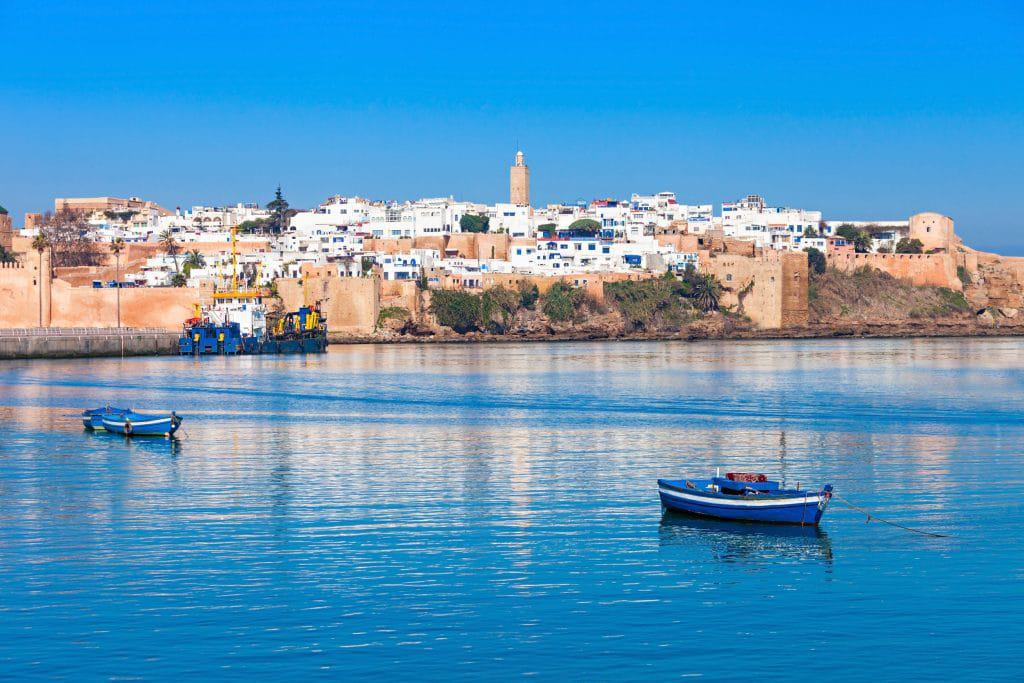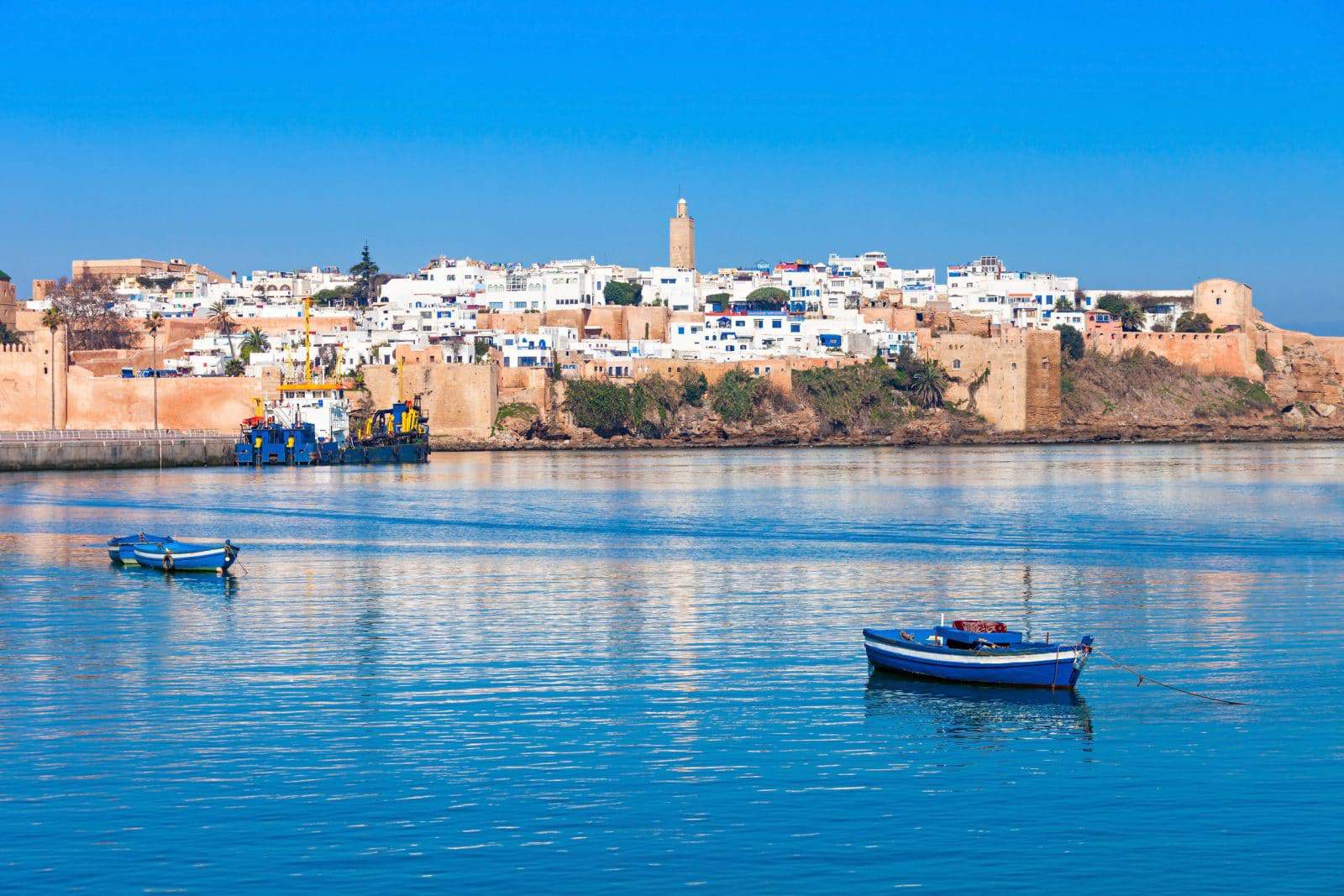 Rabat is one of the so-called imperial cities of Morocco and it's currently the capital city of the country.
In a way, it's overlooked by international travelers who tend to be more interested in Marrakesh or even Fez.
Rabat it's really a city with lots of points of interest, combining the always fascinating heritage of the medina with top-notch modernity that's unusual in the Moroccan nouvelle cités.
Not only can the city keep travelers busy and entertained for a long time, but it's also well connected to the world and the rest of the country, and it's the perfect base for those who want to work in Morocco for a while.
The main attractions in Rabat are Chellah, a fortress lost in the middle of the old city, the King Hassan Tower and the Tomb of Mohammad V, the Oudaias Kasbah, which is the city's historic center, the Andalusian Gardens and the Royal Palace.
Furthermore, Rabat has a beach and there are many more beaches around, so it's the ideal set for digital nomads to have a good time.
7AY
7AY is split into two parts, physically separated and located in different parts of the Moroccan capital. The coliving area is in the center of Rabat, in partnership with a local riad.
The coworking space is a bit further, in a part of the city near the Industrial Neighborhood. You can travel between both areas by taxi, which takes about 15 minutes and costs 2.50 Euros.
The coworking space is housed in an old warehouse and has a total area of 780 square meters. The décor and layout of the area are contemporary, somewhat minimalist, with light colors where white prevails.
7AY is a great option for Coworking space in Rabat.
There is room for 75 people in the spacious common area of the coworking (most desks are designed to accommodate four people), but it also includes private offices, meeting rooms, a multipurpose space, areas to relax and socialize, a well-equipped kitchen, two courtyards, and some surprises like a 100 square meter Berber tent, a rooftop garden, and a panoramic deck with a view to the Boureggreg Valley.
As expected, here you'll have all the needed equipment to work as a digital nomad: printers and scanners, photocopiers, and fast internet, officially 100 Mbps, that you can connect via cable.
In addition to all that, there are locker rooms with showers, a cafeteria serving the drinks you'd expect to find at these spaces, and it's fully climatized with heaters for the colder winters and air conditioning for the hot summer days.
7AY has a strong connection to the Moroccan artistic community and frequently hosts events related to art, from exhibitions and conferences to workshops.
Coliving Space in Fez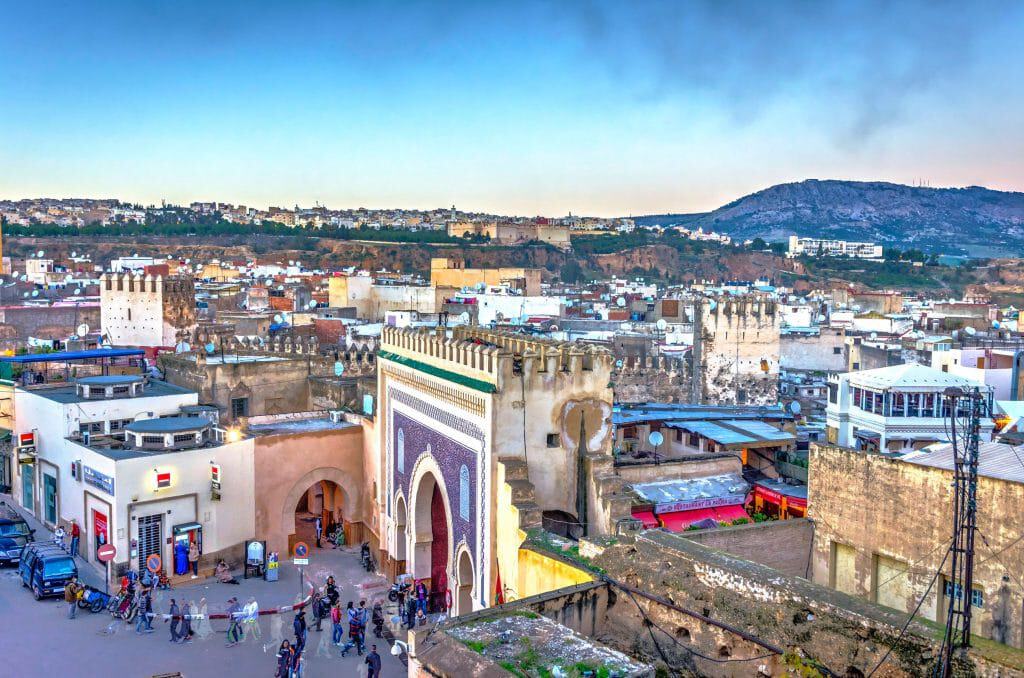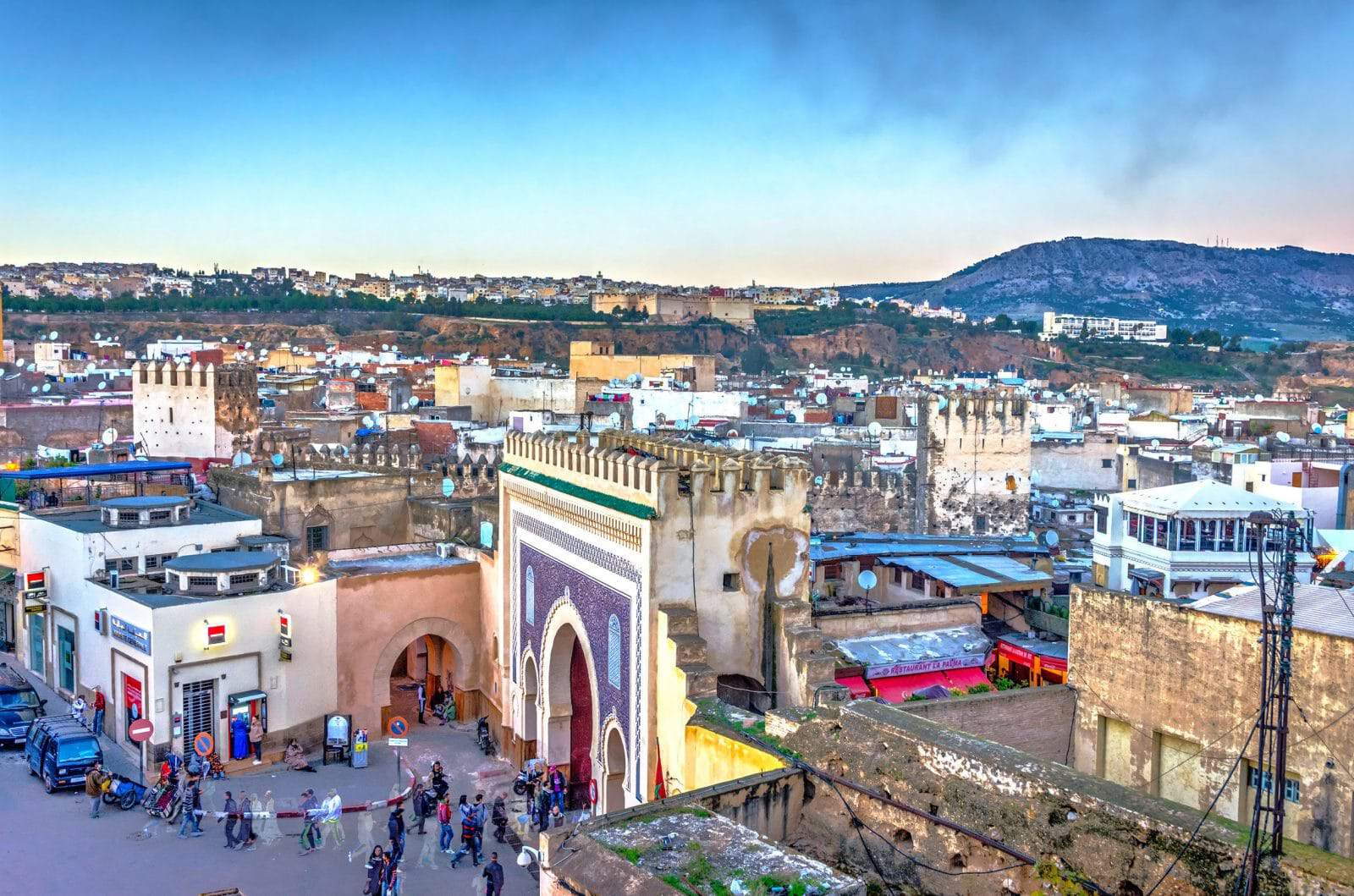 Fez is one of the imperial cities of Morocco and its medina is the largest urban area in the world without car traffic.
It's a whole world to discover, with ancient corners, charming cafes, museums, fairytale palaces, and the legendary area where they dye leather in colorful tubs that are wonderful to photograph.
It's quite accessible too. It's well connected to Morocco railway, and you can easily travel to other places in the country. The local airport also has excellent connections to Europe, usually at affordable prices, namely with Spain and France.
CocoWork Fez
In Fez, the coworking space associated with CocoWork is called Bridges to the Future. It seems to cater mostly to the local community because of some details like the pictures used on their website and the fact that the site is only available in French.
But apparently, it's the only option available in one most consider the most exciting city in Morocco.
CocoWork is a great option for Coworking space in Fez.
Coliving Spaces in Casablanca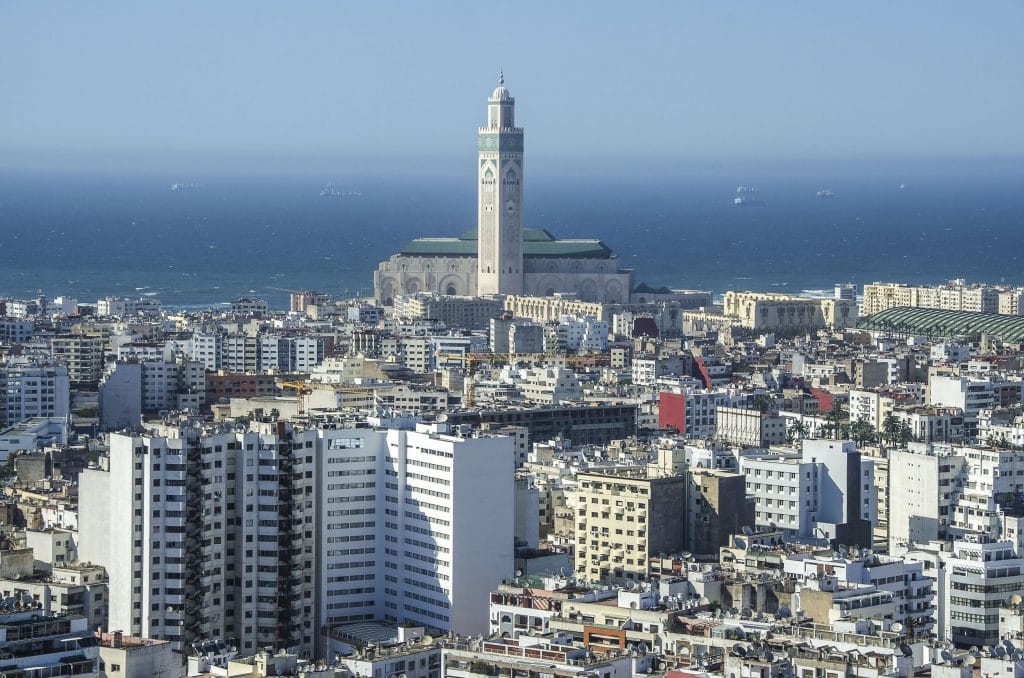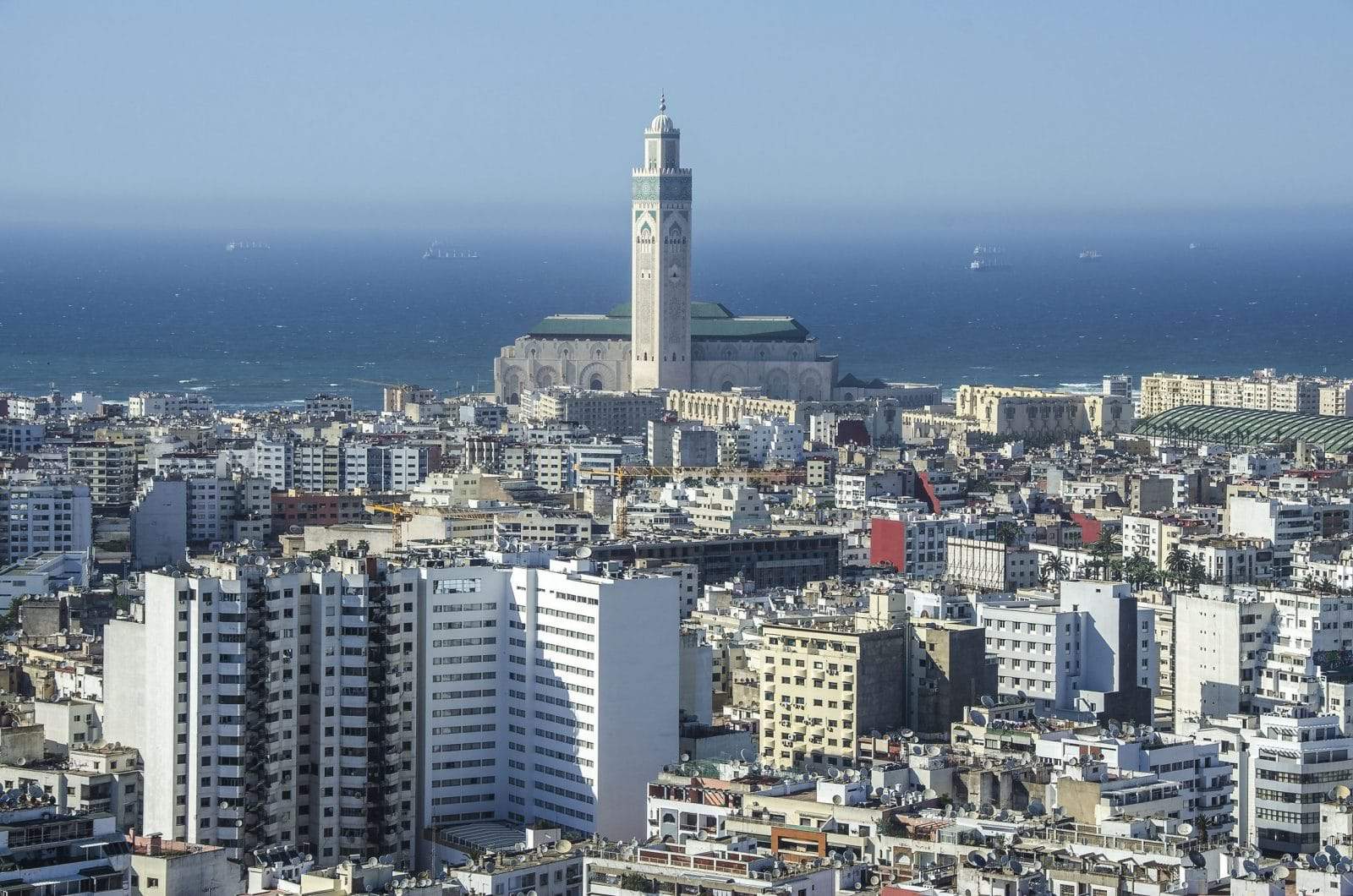 The largest city in Morocco is part of a lot of people's imagination, especially the older generation because of the legendary movie with the same name, one of the greatest films in the history of cinema. However, the real Casablanca has little to do with that romantic atmosphere, and it grew to become a modern city.
Casablanca's historic center is small but very charming. Nearby you can visit the Grand Mosque Hassan II, the largest in Africa and the fifth largest in the world. There are small squares around where the locals hang out, surrounded by small local restaurants, perfect places to people watch and seize the day.
Because of its size, Casablanca is one of the most accessible locations in the country. It's easy to reach the airport by train, from the station in the city center. And from the terminals of Mohammed V International, you can travel to anywhere in the world, including Lisbon, with direct flights operated by TAP and Royal Air Maroc.
CocoWork Casablanca
Common is the main coworking space connected with CocoWork in Casablanca. It's located between La Gironde and Habbous, in an area that has good technical conditions to work but that's a bit far (about 4km) from the most iconic places in the city.
The space is housed in a modern two-floor building, with floor-to-ceiling huge windows that bring in a lot of light and positive energy. Despite the contemporary look, the coworking space managers gave it a traditional touch using mosaics on the walls and adding other décor details that connect the Moroccan culture with the technological changes from the West.
CocoWork is a great option for Coworking space in Casablanca.
Common has a total of 60 work stations, including 30 private offices and four meeting rooms, supported by a suitable computer network, good internet, printers, photocopiers, scanners, and projectors. You can access the space 24 hours a day, and for animal lovers, there is good news too because you can bring your dog or cat to work.
There's a pleasant area outdoors, great to be inspired in the days when the weather is nice, a kitchen, lockers, and the usual complimentary drinks (tea and coffee).
As a bonus, they organize events and workshops dedicated to the topic and the lifestyle of being a digital nomad.
Prices
Access to Common costs about 150 Euros a month or, for shorter stays, about 12 Euros a day.
Although Common is the main CocoWork coworking space in Casablanca, there are other similar spaces in the same area. Netscape is not too far away, on the same avenue. And then, not too far either, you have Capital Desk, Dasthetica, Interface Office Space, New York Lab, Biz Jahiz and Kowork Al Massira. Smart Center is the furthest, in the suburbs north of the city.
Coworking Spaces CocoWork
(in Casablanca, Marrakesh, Fez)
CocoWork's concept is a bit different because they don't offer accommodation. The community gathers at the coworking space but lives temporarily in Airbnb listings selected and suggested by CocoWork.
The options are chosen based on location and the facilities a digital nomad expects to find in a temporary home. Therefore, residents can expect a short commute from their accommodation and the coworking space, as well as an excellent WiFi connection.
In addition to this, they work hard in gathering all information: cafes where you can work for a while, restaurants, cool hangouts, and all the exciting places for a digital nomad. This information is sourced and laid in a digital map and available on the mobile app that members of the CocoWork community have access to.
In some cases, the spaces are independent and have a coliving area that partners with the CocoWork network for convenience, like Sundesk in Taghazout and 7AY in Rabat.