Indian tourist e-Visa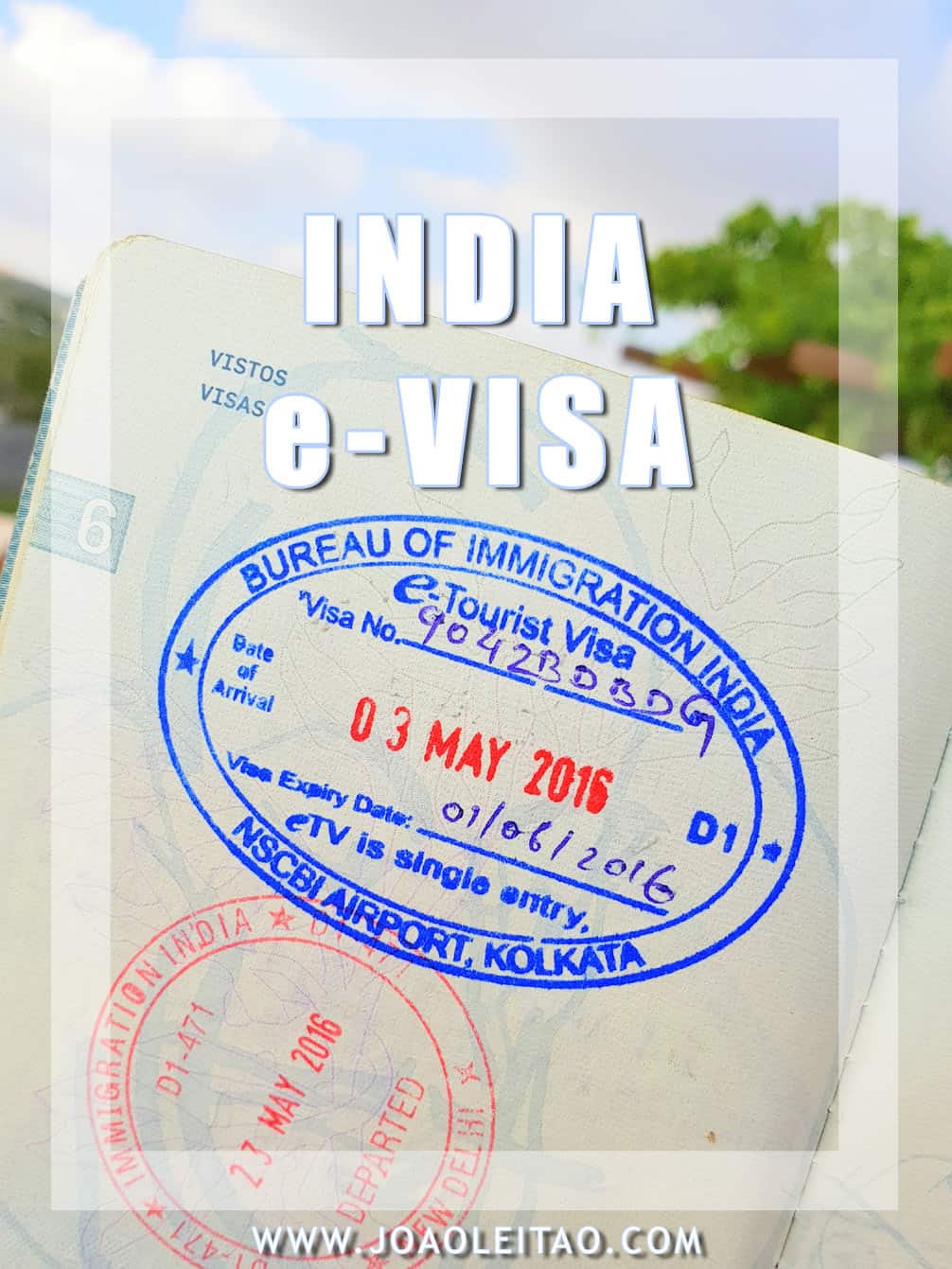 Are you thinking about visiting India? Have you booked the tickets or are you traveling overland? Whatever the way you choose to travel, you need to apply for an India tourist visa to enter the country.
For a long time, getting the precious visa meant at least one trip to the embassy, but since 1 January 2010, the Indian Government made electronic visas available, and you can apply comfortably online.
Initially, only citizens from five countries could apply online, but the number of nationalities included grew and reached 161 countries in 2017.
Naturally, Europeans, Americans, Qataris and Emiratis are part of that list. Except if the citizen is the child or grandchild of a Pakistani. In that case, you can still travel, but you must get your visa at the Indian embassy.
This article will talk about the electronic visa or e-visa for tourists. There are also e-visas for business trips and medical treatment, but those have their own set of rules.
Where to Get the Electronic Visa for India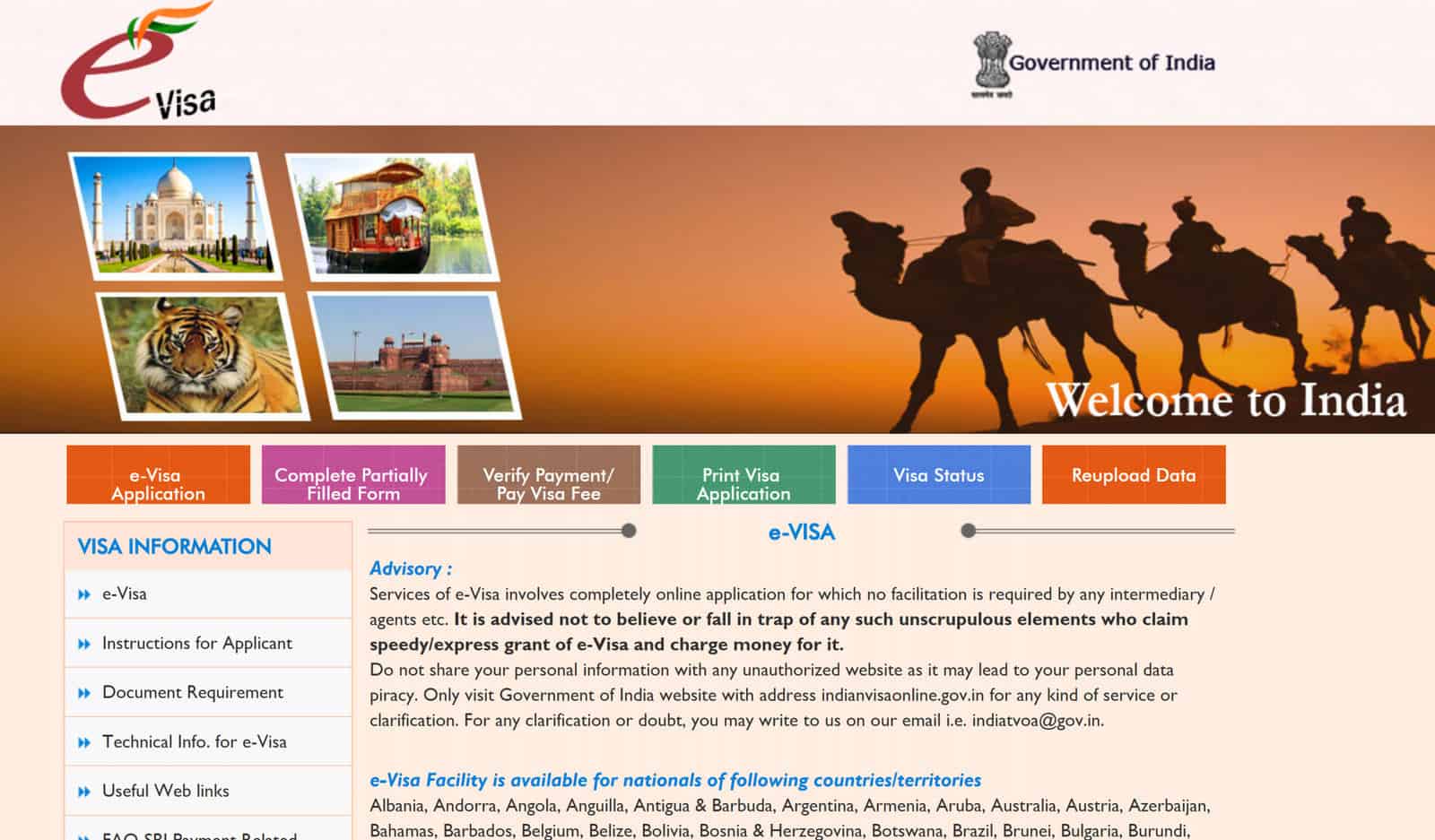 Go to the official website of the Government of India to get electronic visas. It's important that you only use this website to get your electronic visa because there are many fraudulent websites with addresses that look legit but are built to scam inattentive travelers.
Government of India e-Visa official website
What do You Need to Get the Electronic Visa for India

Being the citizen of one of the 161 countries included in the Indian electronic visa program. You can check the full list here.
A passport valid for more than six months from the day of arrival in India;
Return tickets to and from India;
Apply online between 120 and 4 days before entering India;
One digital photo of the traveler, on a white background, sent in a file between 10 kb and 1 MB in size;
Scanned copy of the front page of the passport, the one with the photo and personal information;
Travel itinerary in India;
Not be the child or grandchild of a Pakistani. If that is your case you must apply for a visa in person at the Indian embassy;
The payment is not refunded in case the visa isn't granted.
The price of the visa changes depending on your passport.
The electronic visa is valid for 60 days from the moment you enter India.
Quick Q&A
How much does the electronic visa for India costs?
Tthe standard fee for most nationalities for an India tourist electronic visa is USD 80.
How long does it take the e-Visa to process?
3 to 4 working days, but usually less than that.
Are there any restricted territories?
Please note that the visa doesn't give you access to territories that need a special permit to visit.
How many times can I ask for an electronic visa for India?
Twice in one year, from January to December of each calendar year.
How many times can I enter India with an electronic tourist visa?
Twice. The first time, and after that, you can exit the country and enter again.
Can I ask for an extension of my electronic visa?
No.
What are the odds of having my India visa application denied?
Close to none. If there isn't any situation like having trouble with the local authorities in a previous visit, only people who descend from Pakistanis or send a bad photo or a bad scan of the passport might get into trouble.
Step By Step Guide to Apply for a India e-Visa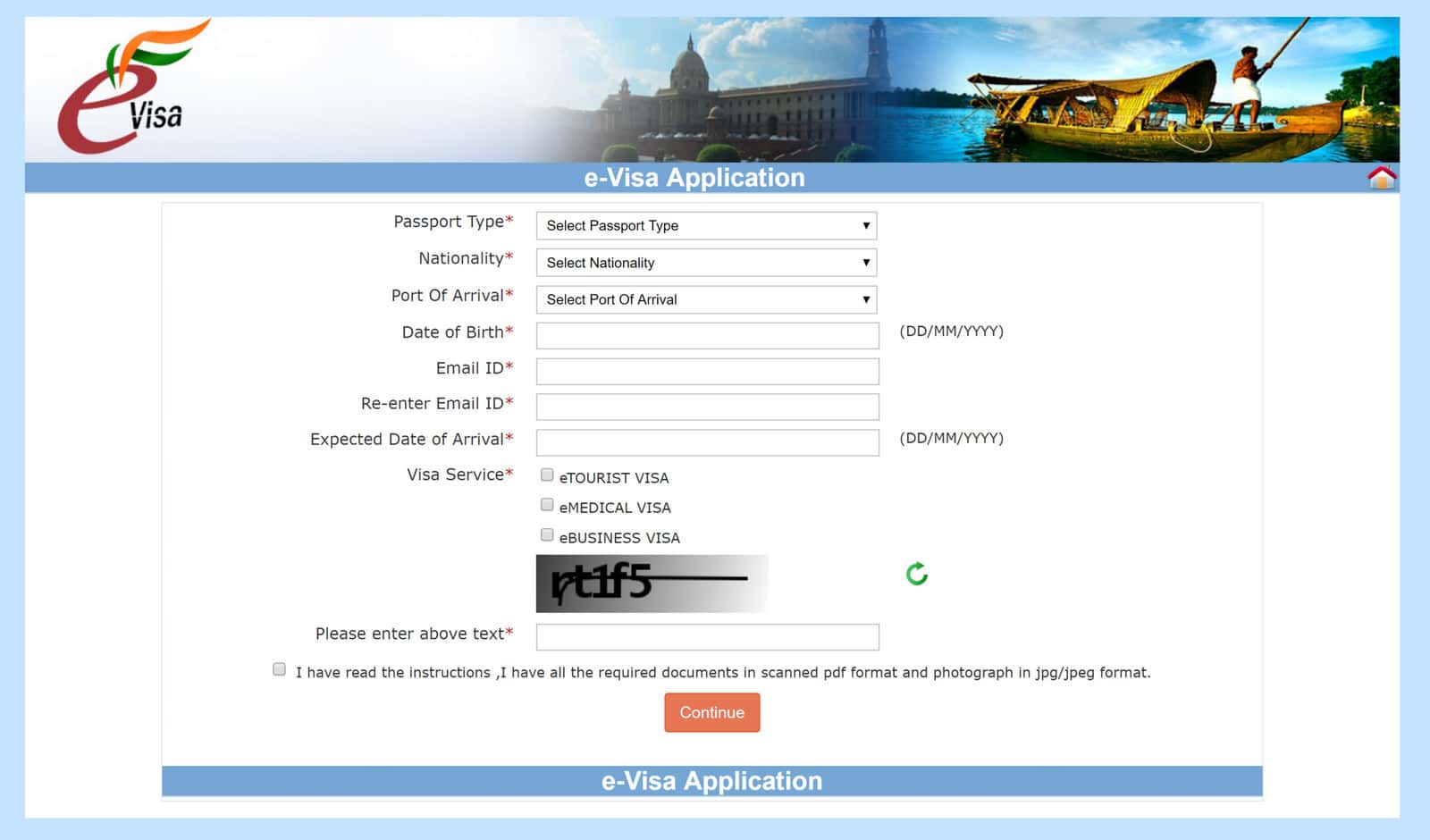 Go here and fill in the form;
Fill the more detailed form on the second page;
Fill one more page with your personal data;
Fill one more page, the fourth one, with your itinerary details;
Send the files with your photo and the front page of your passport when asked;
Pay with your credit card (VISA, Master Card or Maestro. They don't accept American Express);
You'll get an application confirmation via email;
If your application is accepted, you'll receive an email in the next four days with an official document in pdf format, the Electronic Travel Authorization (ETA), that you must print and present when entering India.
You will receive three emails
1st Email
You will receive an email confirming that you have completed the first step of applying for an India e-Tourist Visa (eTV). You will be informed that you have not yet paid, and that the e-visa will only proceed when the payment is made.

2nd Email
You will receive a second email to thank you for filling up the application, and the process may take up to 72 hours until you receive the last message.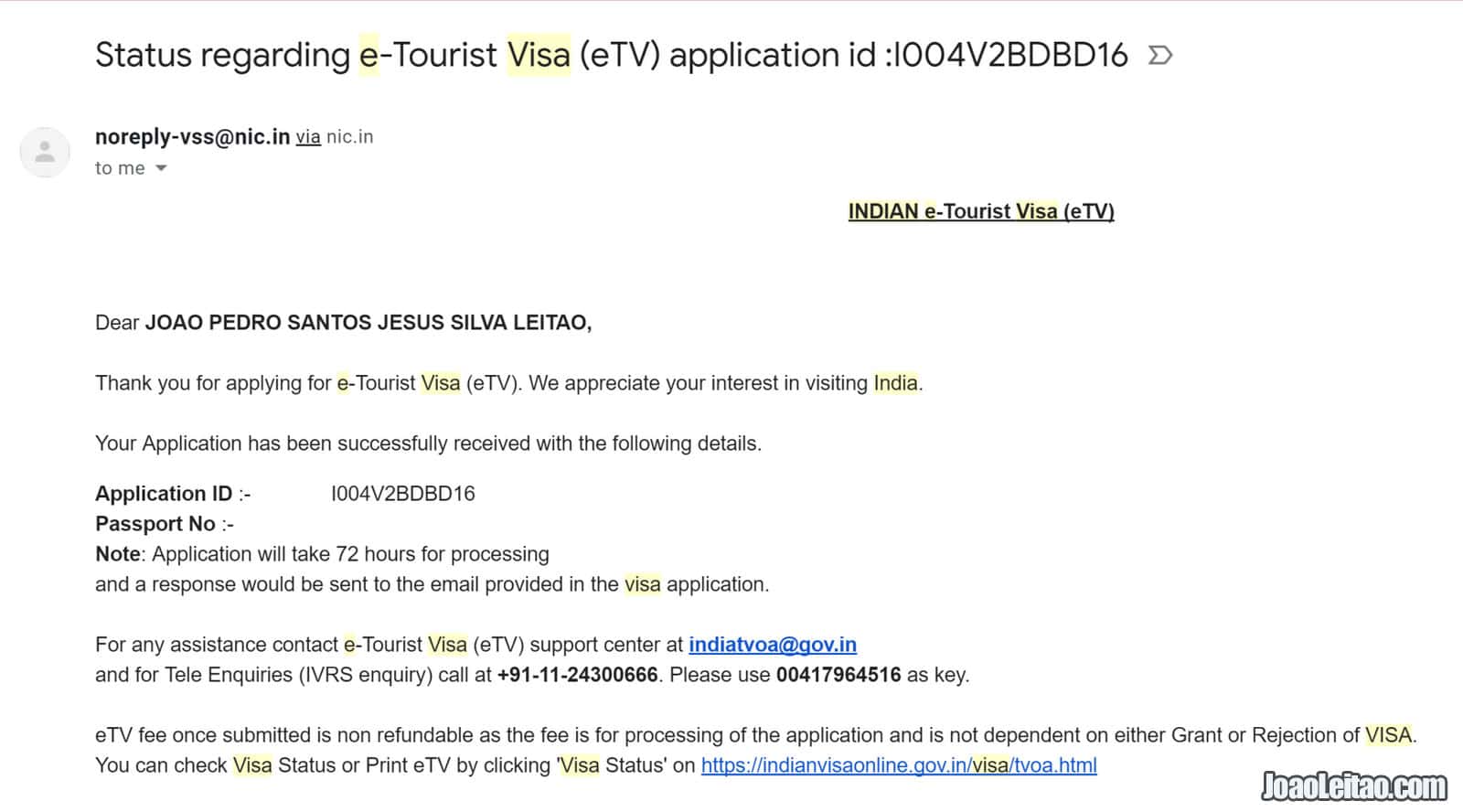 3rd Email
You will receive a third email confirming that your visa has been approved
Application Status: Granted, and possible dates for your entry into India.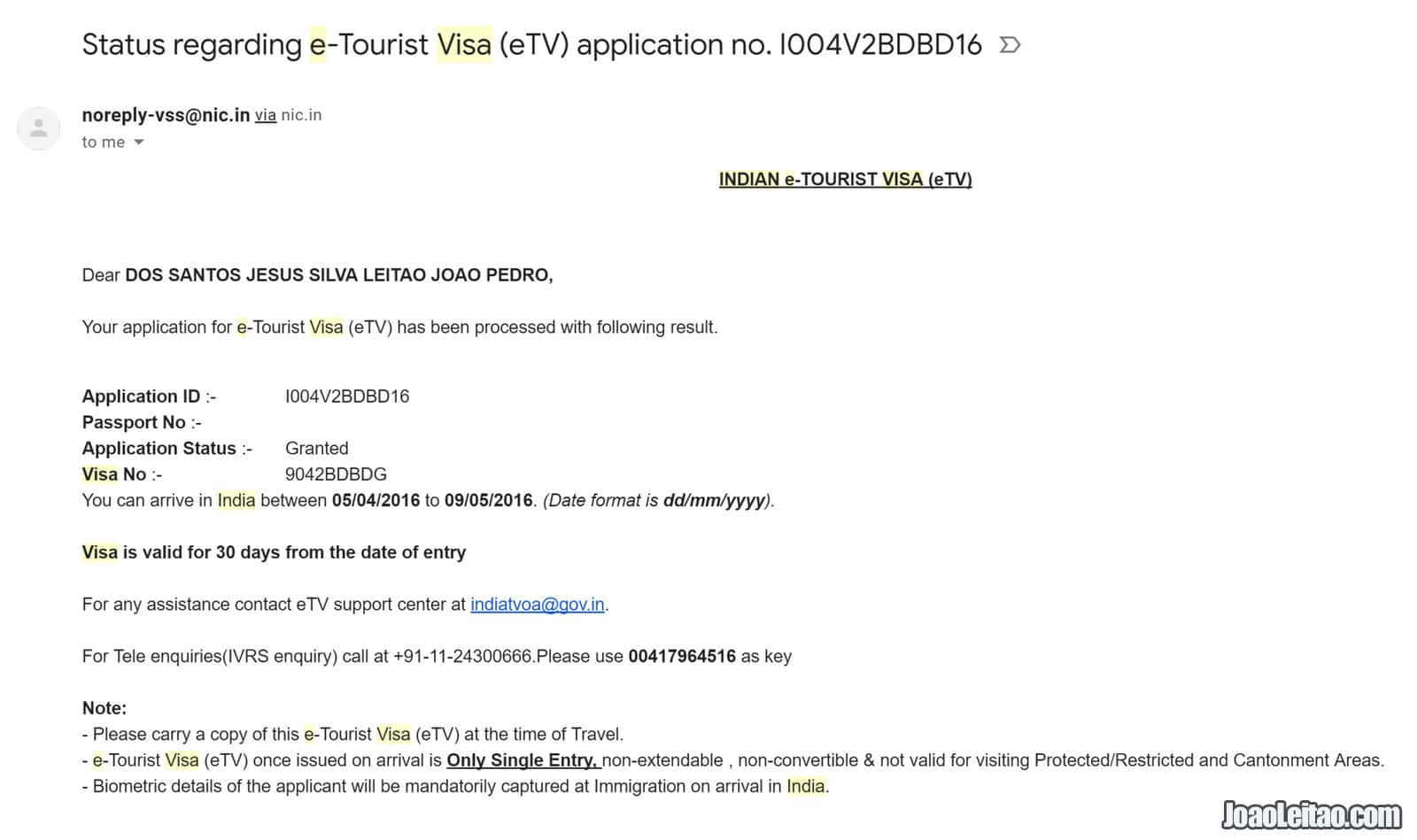 You will now have to print this document to have the visa number with you.
Congratulations, you now have a 30-day India visa.
Arriving in India with an Electronic Visa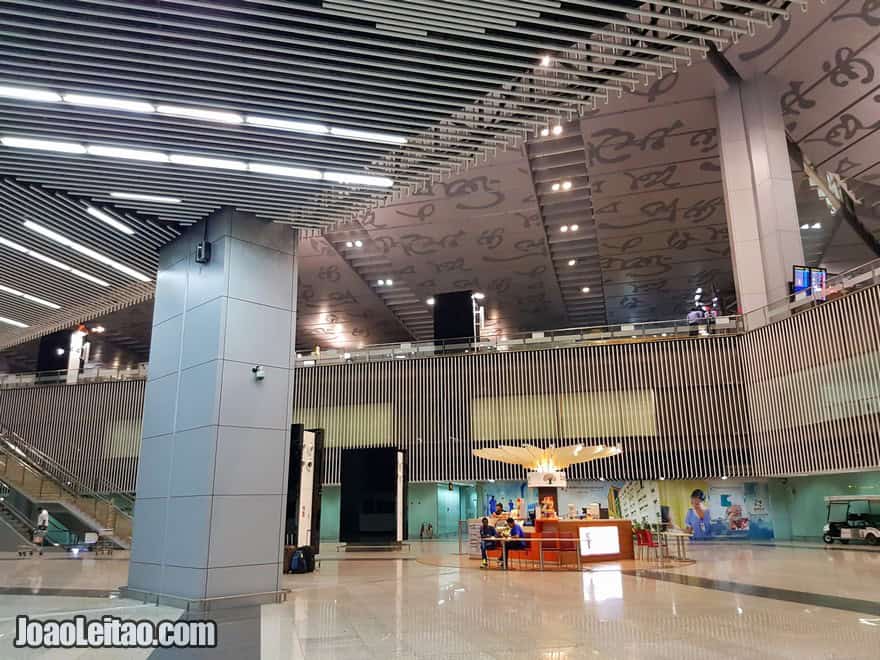 Where can I enter the country with an e-visa?
At the moment you enter India with an electronic visa in the following international airports: Ahmedabad, Amritsar, Bagdogra, Bangalore, Calicut, Chennai, Chandigarh, Kochi, Coimbatore, Delhi, Gaya, Goa, Guwahati, Hyderabad, Jaipur, Kolkata, Lucknow, Mangalore, Mumbai, Nagpur, Pune, Tiruchirapalli, Trivandrum, Varanasi and Vishakhapatnam. Electronic visas are also accepted in some Indian ports: Kochi, Goa, Mangalore, Mumbai, Chennai.
Arriving in India with an Electronic Visa
Before leaving, check that everything is okay with your visa status (Granted status) on the official website. Choose the option Visa Status on the website.
Make sure your country of origin or possible countries you'll be traveling through aren't listed as areas with Yellow Fever. If that is the case, you have to travel with your international vaccination record showing certified vaccination for that disease. Otherwise, you'll be quarantined for six days, which is not a pleasant experience;
Make sure you have a print out of the Electronic Travel Authorization (ETA), the electronic document given by authorities when your visa is granted. Considering how important the document is, I advise you to have more than one copy, stored in different places, and keeping a digital copy of the document on a platform you can easily access online;
Show that document at passport control of your entry point in the country. The officer will collect your biometric data, and you might be asked for a return ticket or proof of funds to support yourself during the trip. The second situation is quite rare and exceptional. However, you might want to have an updated bank statement with you or credit cards.
What if I don't want or can't get an electronic visa?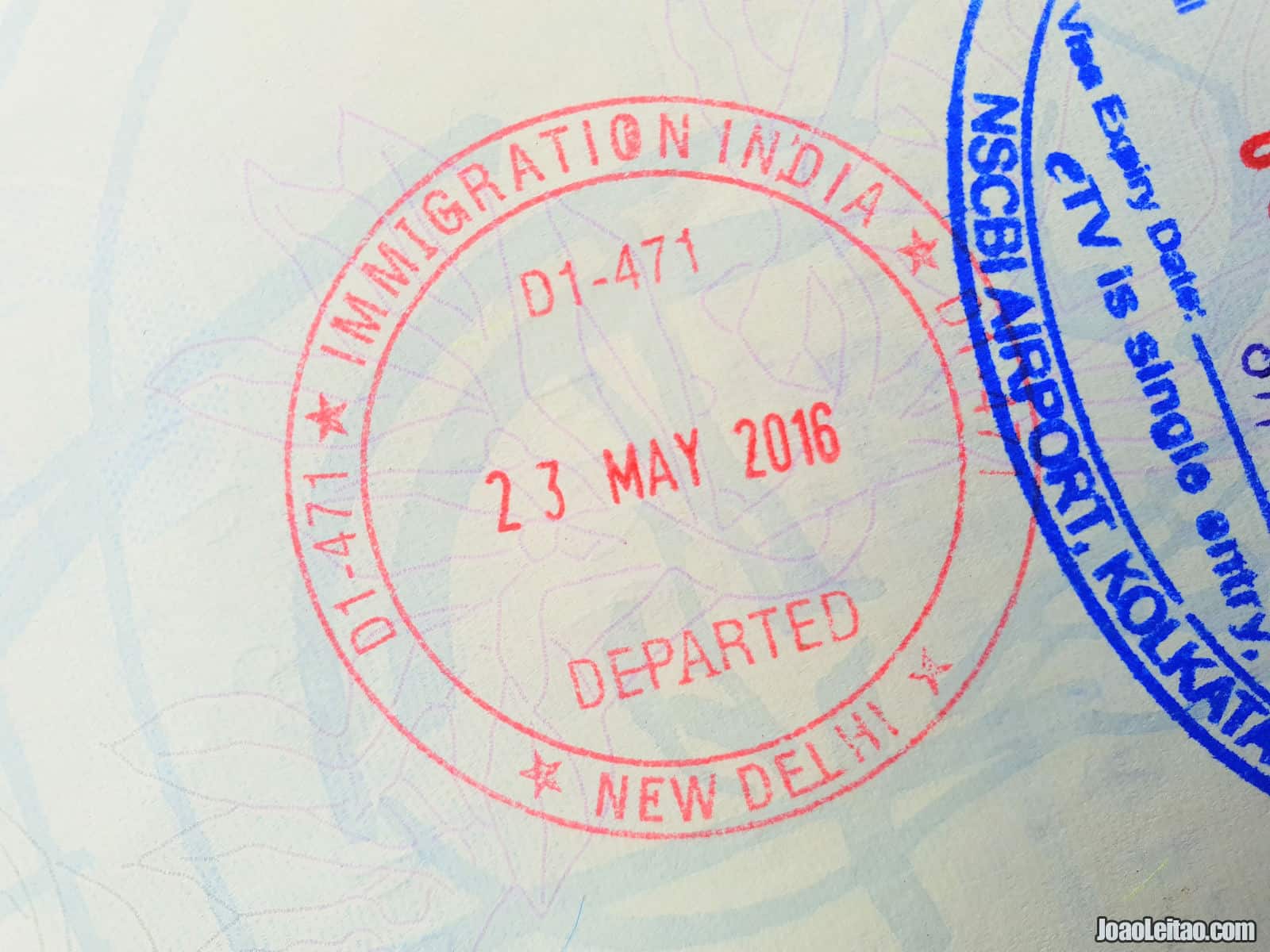 Some people won't be able to get an electronic visa, for example, because they don't have a credit card to pay for the fees.
In that case, you can always go to the Indian embassy or handover the paperwork to a company that specializes in visas.
Besides, a traditional visa has slightly different characteristics that might be important for you. Let's see.
The traditional visa is valid for six months after you enter India and you can request one for 1 to 5 years of traveling, depending on the type of visa. It's more expensive, but it might be worth it for those who want to explore the country often. Not only can you stay for longer, but it will be easier to enter restricted territories, which are out of reach for travelers with the electronic visa.
The traditional visa takes longer to issue, and it usually takes one to two weeks.
The traditional visa allows you to enter India from any border, except overland, while the electronic visa has limited entry points and doesn't include any land border.
To get the traditional visa, you have to go to the nearest Indian embassy. Please note that before going to the Embassy, you must fill the online form.
Once that is done, you must book your appointment with your embassy. If you fill the form until 5:00 pm, you can go to the Embassy the next day. After that schedule, you can only go to the embassy two days later.
It costs 90 Euros for a visa valid for one year or 190 Euros for a visa valid for five years. Add 2.50 Euros to this fee if you wish to have your passport mailed to you.
Alternatively, you can mail all forms and needed documents, which will be mailed back to you. Of course, this has additional costs. In that case, send the form filled and signed, two passport size photos, the passport and a money order for 100.50 Euros paid to the Embassy of India. This was the updated price in 2018, check with the Embassy if the same conditions apply.