Travel to Kyrgyzstan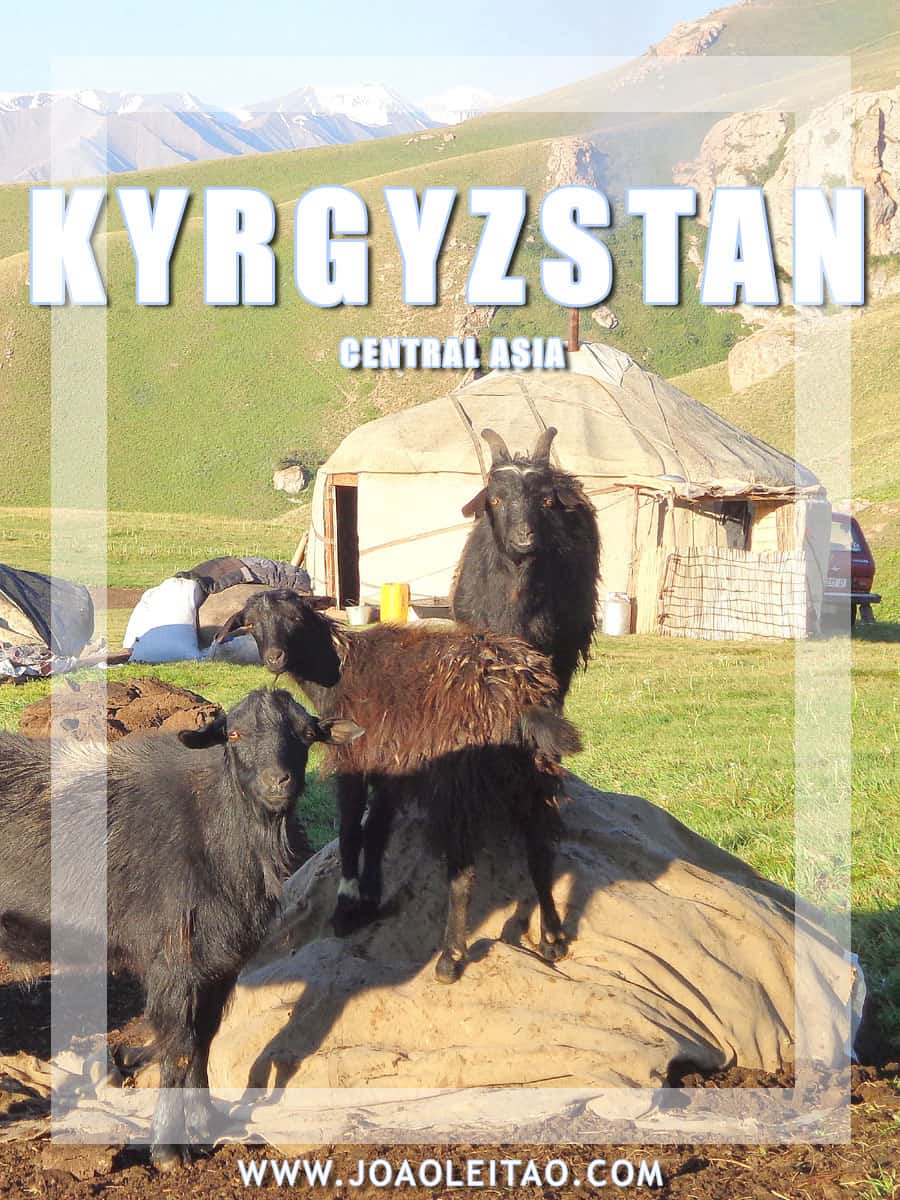 Kyrgyzstan is an amazing, uncommon travel destination, most definitely "off the beaten track". Unique in its cultural richness and unmatched natural beauty, Kyrgyzstan has been home to a variety of cultures, empires, clans, and tribes among one of the lushest terrains in all of Central Asia.
With an incredible display of rivers, waterfalls and nearly 2,000 lakes, its beautiful mountainous landscape has provided the setting for over 2,000 years of history. On this blog post, I'll write about my first visit to Kyrgyzstan.
You can also check my page about my second time in the country:
Why I decided to visit Kyrgyzstan again: 22-day travel itinerary
I spent 10 days in Kyrgyzstan and explored many of its most famous places. After visiting Osh, I explored the Fergana mountain range and moved east along the Chinese border. Finally I headed north to Lake Issyk-Kul, and furthermore to Bishkek, the capital city.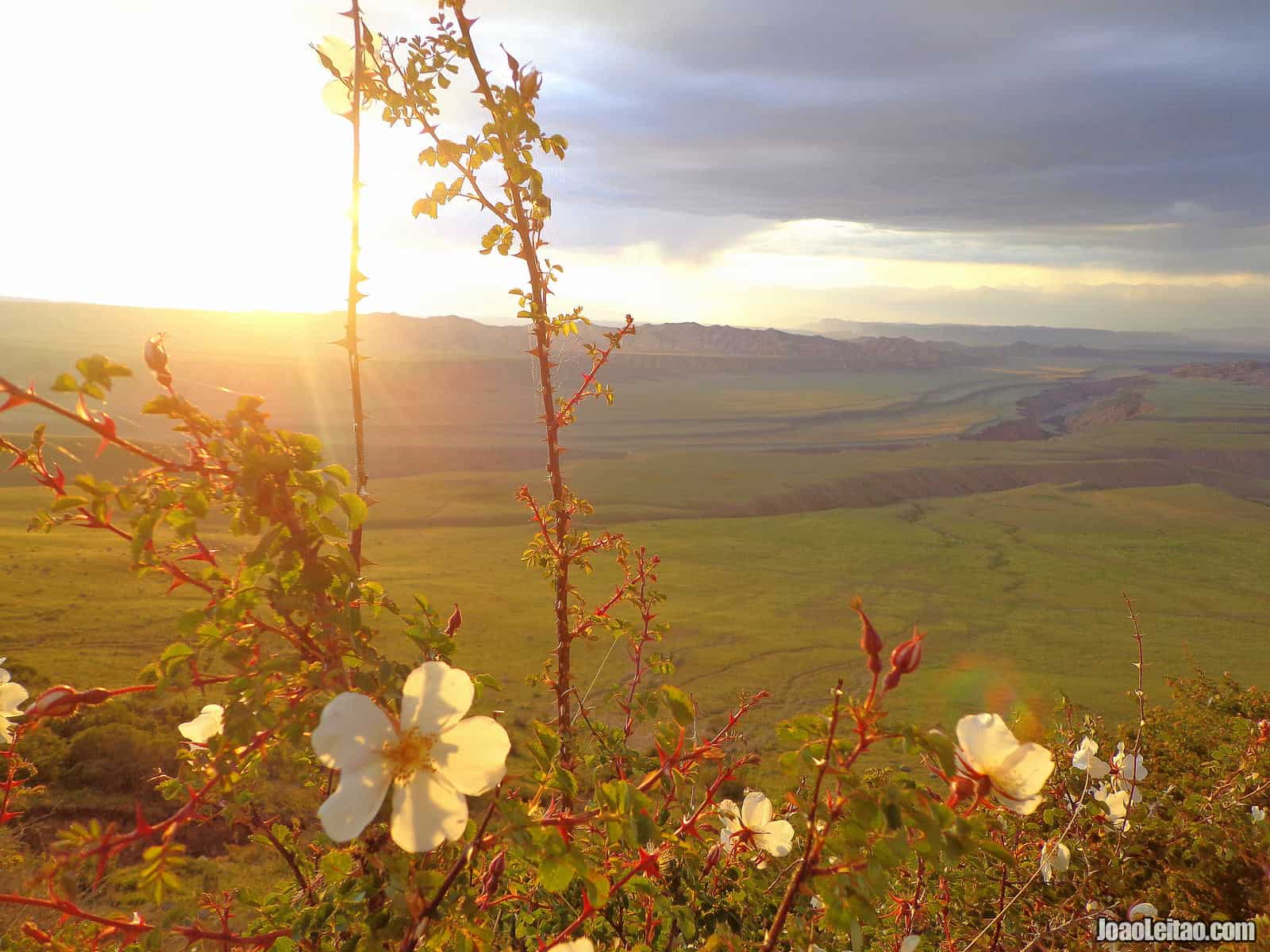 With its many astounding mountains rising to its skies, Kyrgyzstan's peaks continue to attract climbers and adventurers from around the globe. The mountainous Tian Shan region covers over 80% of the country's land with the remainder consisting of valleys and basins. The highest peaks are those of the Chinese border's Kakshaal-Too range with its Jengish Chokusu mountain reaching a lofty 7,439m (24,406ft).
The principal river running through Kyrgyzstan is the Kara Darya, flowing through the Fergana Valley and into Uzbekistan. With less than 8% of its land cultivated, runoff from heavy winter snowfalls is most often used for hydroelectricity rather than farming. Although the territory is landlocked between Kazakhstan, Tajikistan, Uzbekistan, and China, Kyrgyzstan's geographical location along Central Asia's Silk Road has historically made it a less "locked" and frequently navigated, more transitory point between the East and West.
I entered Kyrgyzstan two times:
July 2012 – Border of UZ – fly out to PL
October / November 2017 – Border of KZ to TJ
PL = Poland KZ = Kazakhstan TJ = Tajikistan UZ = Uzbekistan
First time in Kyrgyzstan – Itinerary
Osh
Kazarman
Baetov
Tash Rabat
Koshoy Korgon
Lake Issyk Kul
Tamcy
Tokmok
Bishkek
Second time in Kyrgyzstan – Itinerary
Talas
Manas-Ordo
Sary Chelek Nature Reserve
Uzgen
Osh
Aravan
Kyrgyz Ata National Park
Kolduk Lakes
Sary-Moghol
Lenin Peak Base Camp and Tulpar-Kol Lakes
What to visit in Kyrgyzstan
1. Osh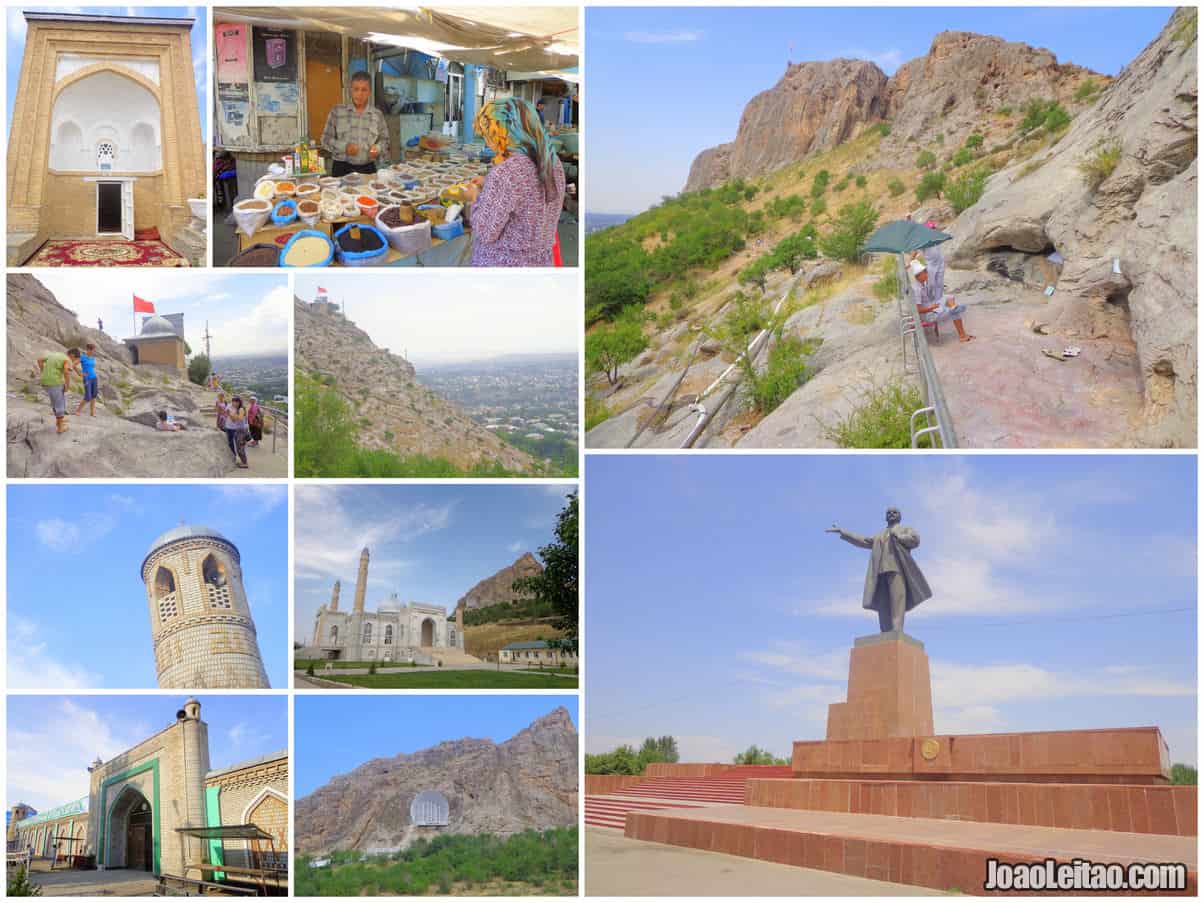 Well worth a few days' pause to experience its rich history and eclectic mix of people, Osh is Kyrgyzstan's second largest city and reportedly the oldest city in Central Asia, dating back about 3,000 years along with several legends of its origin. Near the Uzbekistan border, Osh's favorable location in a fertile valley of the Pamir and Pamir-Alay Mountains made it a prime spot along the ancient Silk Road, securing its development as a major settlement and one of the region's major trading centers. Occupying the eastern edge of the Fergana Valley, the city served as the administrative center of Osh Province since 1939. Despite its prevailing Soviet legacy in architecture, town planning and use of historical and cultural monuments, Osh is a very clean city filled with lush green trees, gardens and fragrant breezes. A modern university town with a distinct openness, its people are also very diverse and proud of their community, giving a lively and unique appeal to the all-around environment. Brimming with culture, history and a true sense of Central Asian hospitality, Osh provides a warm and welcoming energy unlike any other major Central Asian city and remains a top destination on anyone's itinerary in Kyrgyzstan.
Often referred to as the most picturesque and operational bazaar in Central Asia for over 2,000 years, do not pass up Osh's sprawling Jayma Bazaar and its thousands of merchants selling virtually everything along its kilometer-long stretch of the Ak-Bura River. Tourists take delight in the bustling experience while locals consider it an integral part of their daily life. Traders from China, Uzbekistan, Tajikistan and all over Kyrgyzstan arrive with goods, the prices are favorable, and the supply is plentiful. Equally exotic is its diverse meat market featuring, yes, the local delicacy: lamb heads. It is nearly impossible to walk by the bazaar's many ready-made foods: kebab, pilaf, samsa, and beshbarmak. Jayma Bazaar occurs every day of the week, from early morning until around 6:00 pm and is most populated on Sundays. Just north of the bazaar, you will also find the recently renovated, wooden Shaid Tepa Mosque (1910). Crowded and busy, it was the country's largest mosque until only recently.
2. Kazarman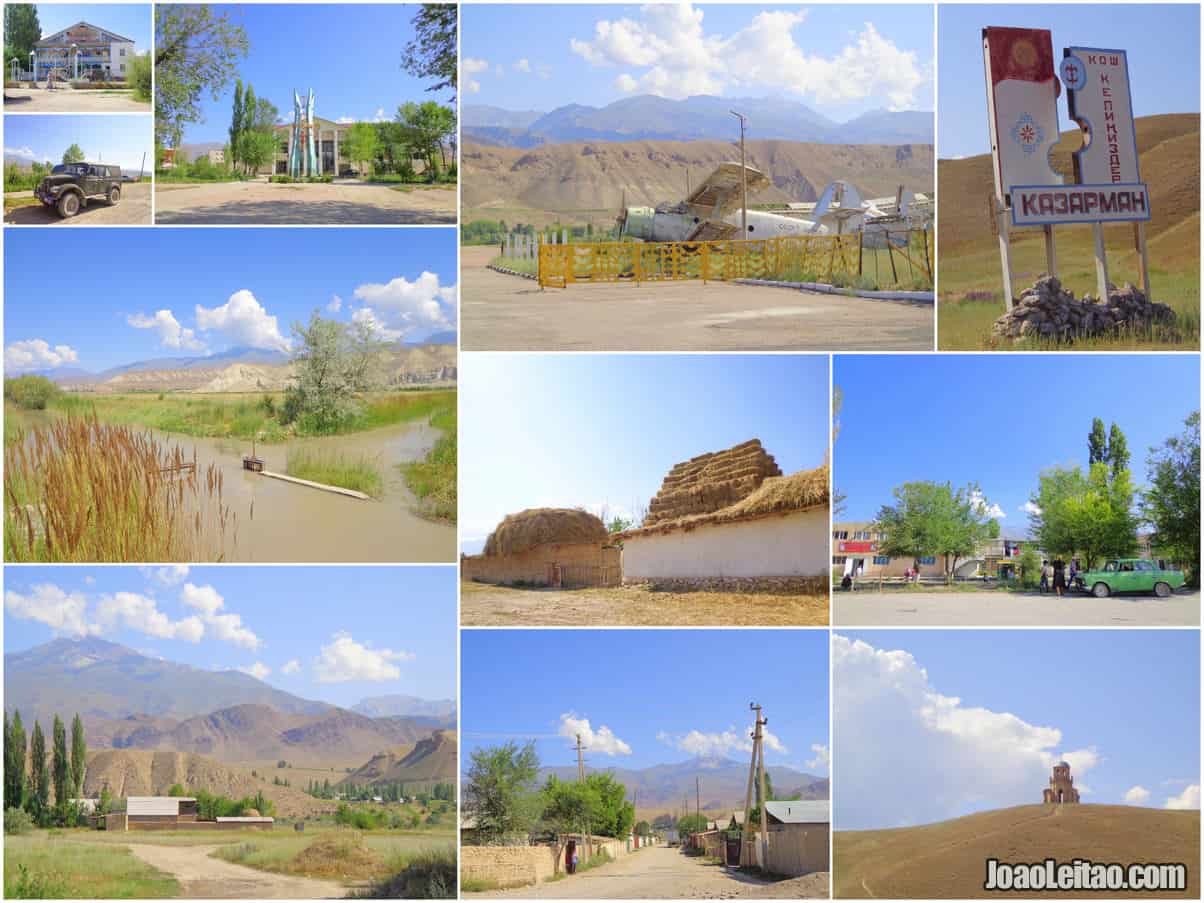 Another intriguing site to visit in the region is Saimaluu Tash, a petroglyph site located 30km (19mi) south of Kazarman village, within two Fergana Range valleys at 3,200m elevation. With over 10,000 rock paintings and sacred offerings of the lower valley's ancient people from the Neolithic, Bronze and into the Middle Ages. It is also said that from the 8th-century BC to the 1st-century, Saka-Usun people settled here prior to the Kyrgyz and Saka priests using the site for sacrifices to their sun god. To this day, the site remains sacred to Kyrgyz people for its spiritual and healing qualities.
While crossing the Fergana Range, I met a few nomad families. You can also check my page about when I learned how to prepare Kyrgyz mountain cheese: Qurut cheese recipe by mountain nomads.
3. Ugut and Baetov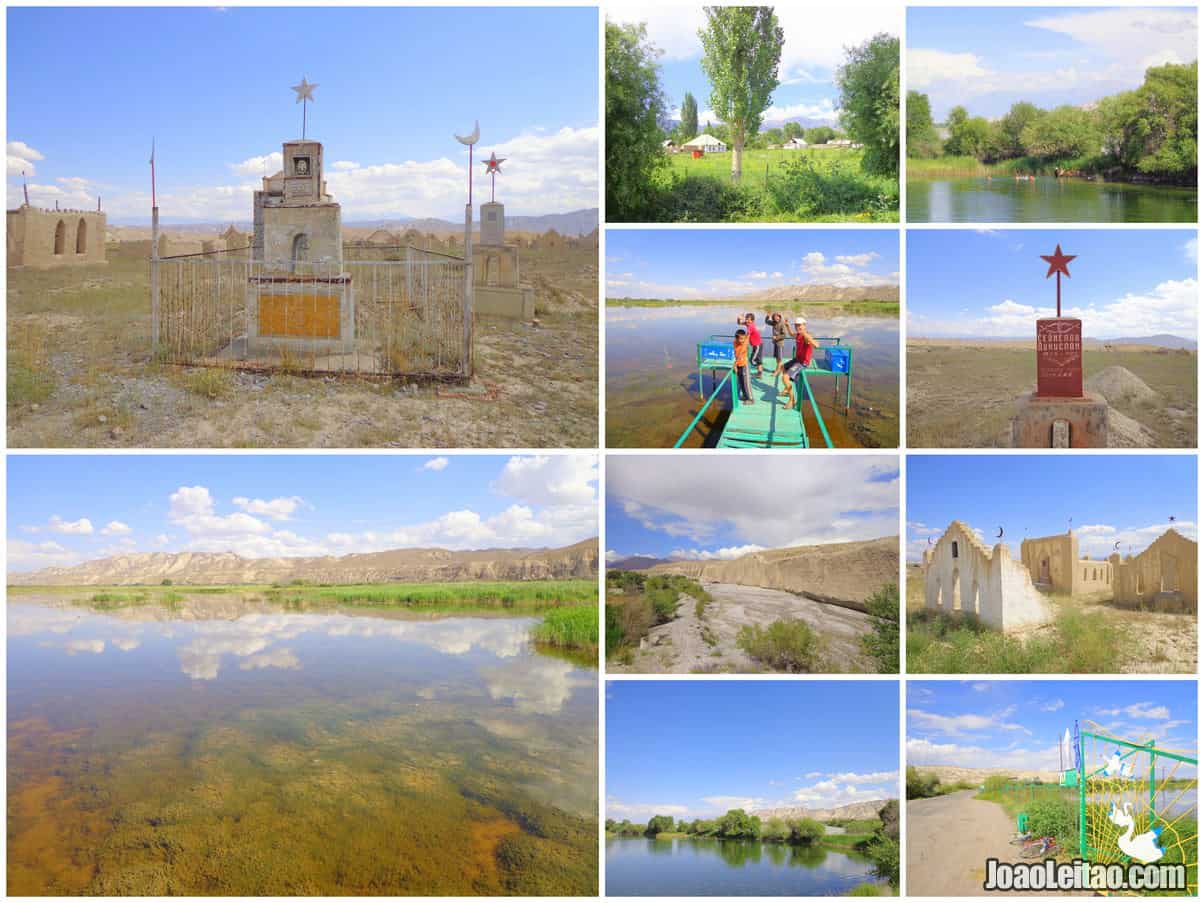 Ugut and Baetov are located in the Naryn Valley of Ak-Talaa region, halfway between Naryn and Kazarman. These small villages have very friendly local people, a small lake with several types of birds and picturesque cemetery, with brick built mausoleums and hundreds of Soviet-era decorated tombs.
4. Tash Rabat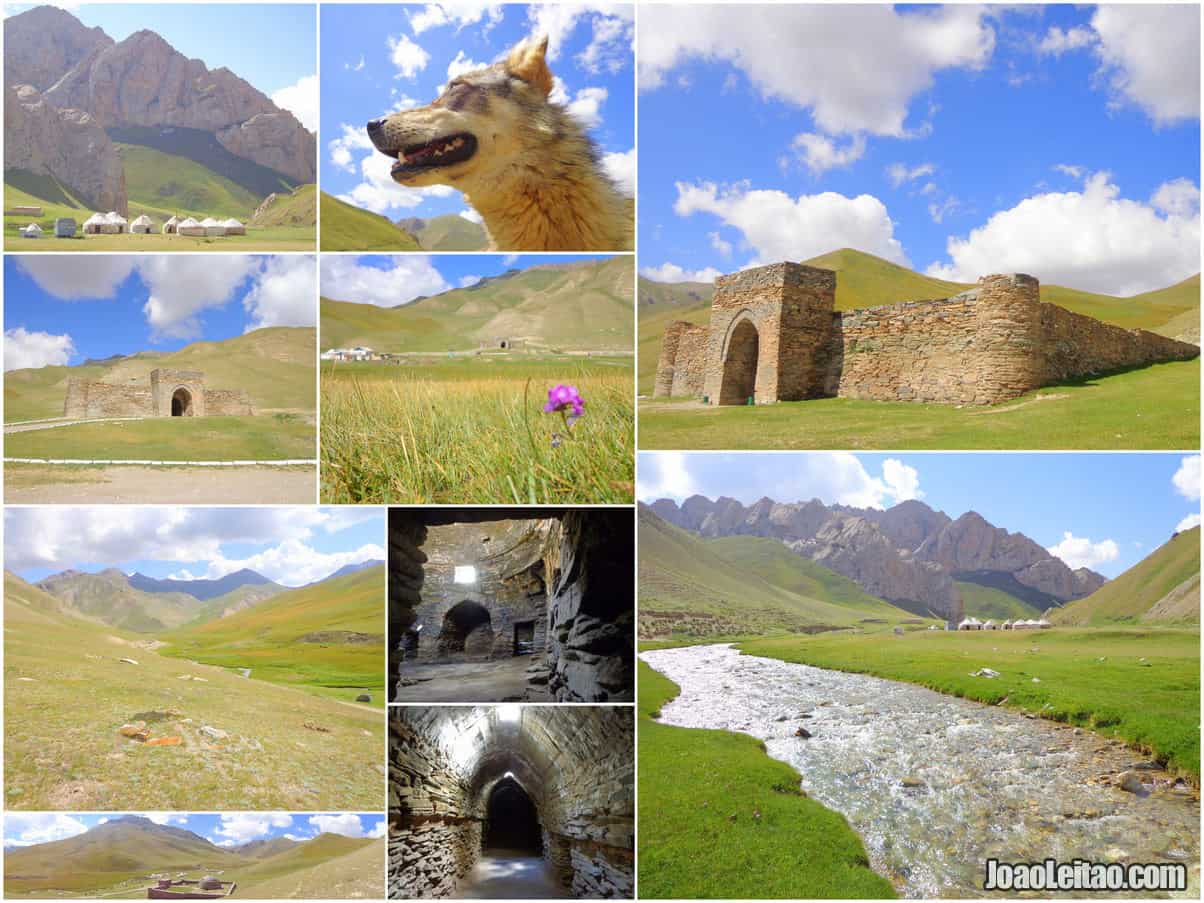 Home to At-Bashy village, the At-Bashy District capital is located 35km southwest of Naryn and is the last settlement before the Chinese border. To its south, the At-Bashy Range extends to Lake Chatyr-Kul, while the At-Bashy River flows through a gorge in the Baybiche-Too range to join the Naryn River. For accommodation in At-Bashy, consider Tash Rabat, east of the main highway and situated at 3,200m altitude. Originally a 10th-century Nestorian monastery, the complex is located within a well-preserved 15th-century stone caravanserai, or inn, offering affordable accommodation to travelers. Its caretakers provide guests with yurts, dome-shaped rooms, and interior chambers. The nearby vicinity is also highly recommended for scenic hiking and horse-trekking in a beautiful natural area.
5. Koshoy Korgon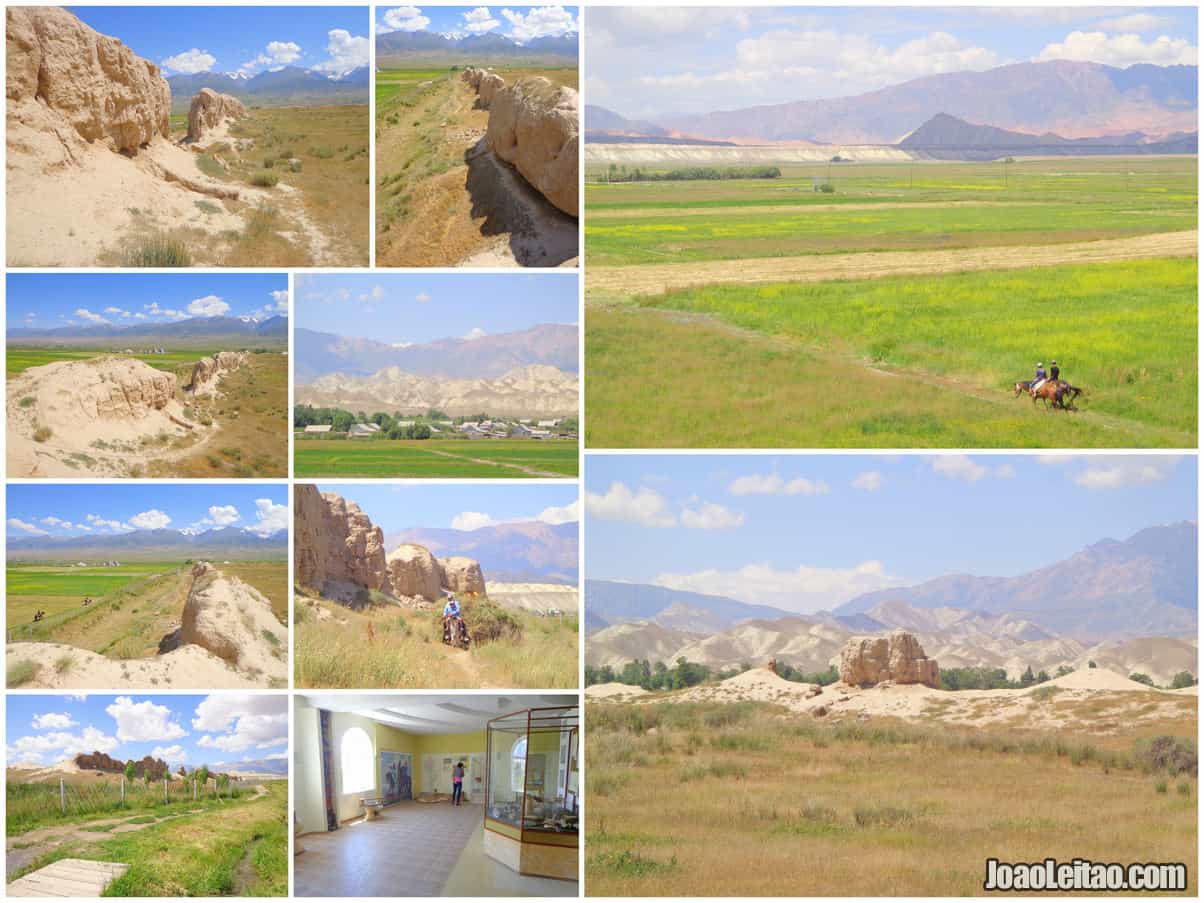 Ancient fortress near the Chinese border. This forgotten place doesn't receive many tourists, and the interesting museum which I had the chance to visit is usually closed. The fortress itself is pretty much destroyed, yet if you climb the walls, you get an astonishing panoramic view of the area with breathtaking views of the nearby mountains.
6. Lake Issyk Kul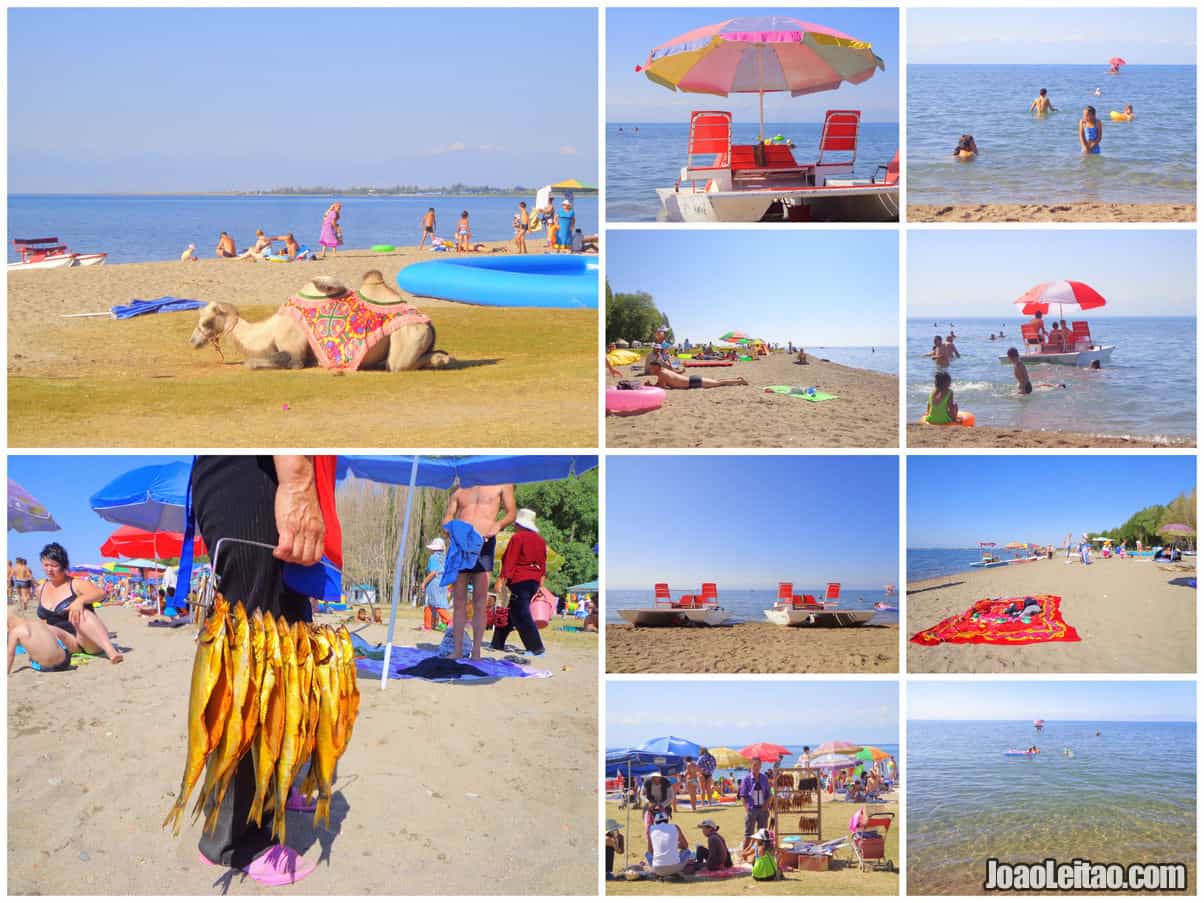 Crystal clear and indescribably beautiful, Issyk-Kul Lake is the true "Pearl of the Tian Shan" mountains. A favorite vacation spot for both locals and tourists relaxing on its golden-sand beaches, it harbors a healthful maritime climate with hotels and guesthouses in resorts offering sunbathing and swimming in the lake's refreshing waters. While there is also a good quantity of research conducted here, due to the lore of the lake containing a submerged ancient city, pleasure-diving trips can also be arranged. Despite the region becoming quite cold in winter, Issyk-Kul Lake's shores run a number of health centers providing many wellness services year-round, or simply a comfortable environment where travelers can enjoy the area's serene, beautiful nature.
Along Issyk-Kul Lake's southeastern shore, in Karakol, there are a number of beautiful landscapes including Tosor town's unusual Skazka "Fairy Tale" Canyon. Named for its bizarre, rocky landscape transformed by wind over many years into creatively shaped, colorful formations such as the Great Wall of China, a hippopotamus, snake, dragon, sleeping giant and even castles. The area makes for an easy hike and is an excellent destination for explorers, young and old!
7. Tokmok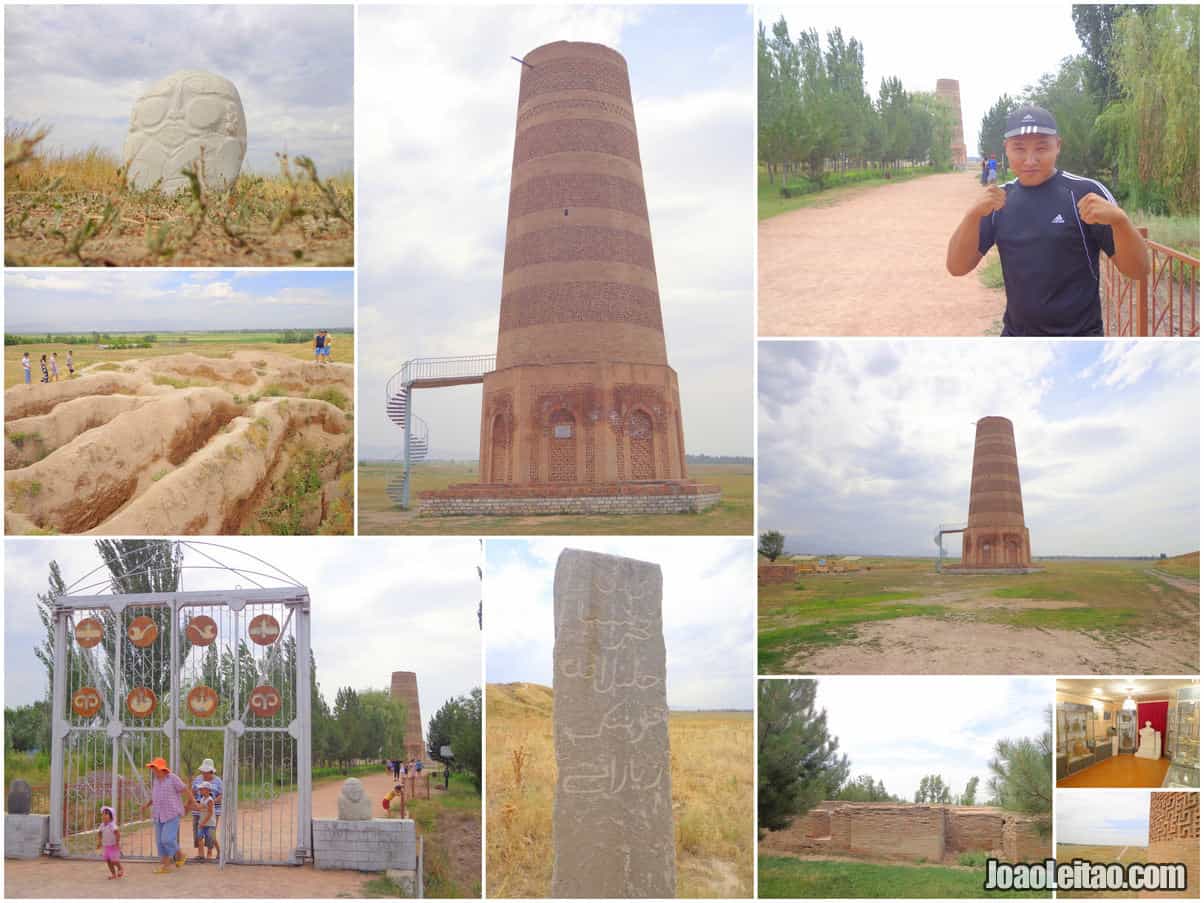 Just east of Bishkek, enjoy a brief pause in Tokmok and its Chuy Valley, midway between the capital and Issyk-Kul Lake. Once a mid-19th-century military outpost, the area was sought by many conquerors throughout history due to its prime location. The ruins of Ak-Beshim, once the capital of the Western Turkic Khaganate, are situated just southwest of Tokmok and, about 15km further south, the 11th-century Burana Tower looms above the grounds of a now absent ancient citadel believed to be the site of the former Kara-Khanid Empire capital, the ancient city of Balasagun. A large collection of ancient gravestones and stele can also be found nearby.
8. Bishkek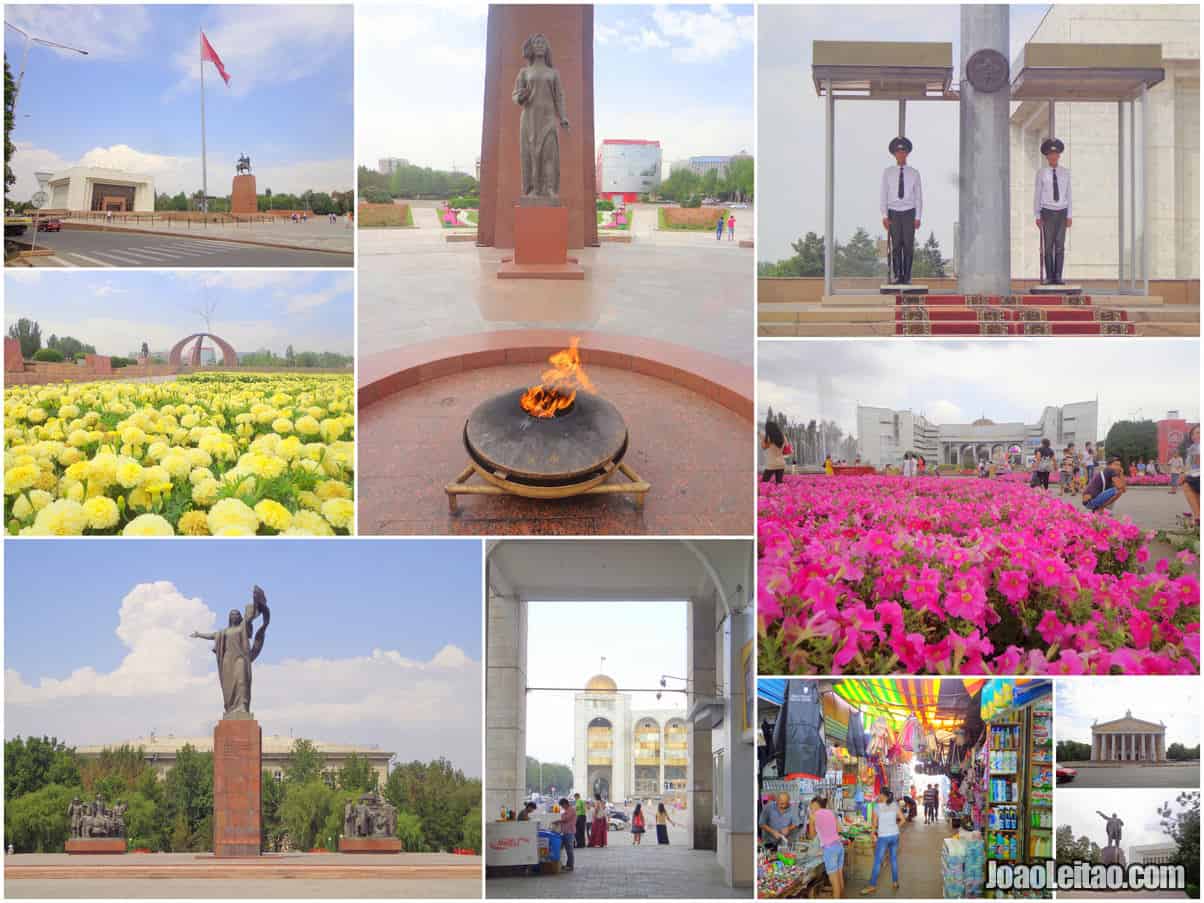 The capital and largest city of the Kyrgyz Republic, Bishkek originated as a 17th-century Khokand fortress built to regulate local caravan routes. After Russian forces destroyed it in 1860, a Russian settlement was developed on the site and established as the capital city, Pishpek. The Soviet Communist Party renamed the city in 1926 and, ten years later, it became the capital of the Kirghiz Soviet Socialist Republic. In 1991, the capital attained its modern name. Situated along the country's mid-northern border with Kazakhstan and just off the northern end of the Ala-Too range, Bishkek's surrounding mountains rise to 4,855 meters (15,928ft) and provide a spectacular backdrop to this wonderfully diverse city. Today's Bishkek is a densely populated grid city with wide boulevards, marble-faced buildings mixed with Soviet-style housing blocks and offers visitors a brilliant cross-section of Kyrzyg culture.
Kyrgyzstan's capital hosts a number of sites to visit and enjoy, ranging from diverse museums, parks, a lively bazaar and many historic monuments. Top of my list of sites to visit in Bishkek is the lively Osh Bazaar, one of the city's largest bazaars and reputed as one of the most picturesque marketplaces in all of Asia. Accessible from the Pamir Highway, tourists and locals meander through its four blocks, finding everything from souvenirs, imports, local foods, meats and spices, household goods, musical instruments and clothing among many other items specific to Kyrgyzstan's culture.
Also in the Bishkek city center, spend some time at Ala-Too Square decorated with fountains, surrounded by beautiful buildings and providing a magical spectacle in the evenings. There is a changing-of-the-guard every hour, under the square's huge state flag next to a statue of Kyrgyzstan's epic hero, Manas. From Ala-Too Square, you will find a number of museums and attractions within a few blocks' distance such as the State History Museum including Soviet murals, an archaeological exposition as well as Kyrgyz-Soviet history and Cold War propaganda; the Museum of Fine Arts, displaying two floors of mostly Soviet-era art and regional woven crafts; the Mikhail Frunze Museum, a military exposition covering USSR history and the life of the leader the capital was originally named after; the recently-renovated Russian Orthodox Holy Resurrection Cathedral; the highly moving new Monument to Those Who Died for Freedom in front of the Presidential Palace; a sports arena and stadium, great shopping, the city's trendy artists' quarters and a beautiful rose garden. Other outdoor sights include Bishkek's Oak Park and, near to the Zoological Museum (1926), Panfilov Park, for the interesting experience of a Soviet-era amusement park.
In 2017, Bishkek also saw the completion of its new Central City Mosque and largest mosque in central Asia, in its southeast city center. The classical Ottoman-style, white marble complex covers a 35-acre (141,640m²) site with a capacity for 20,000 worshippers and features a beautifully decorated 37-meter high dome, 70-meter high minarets, and a grand fountain. Just west of the city center, another important mosque to see is the well-preserved Central Masjid (1886), one of the city's oldest structures with a modest design featuring a large inner courtyard, central dome, and prominent minaret as well as a striking interior.
Surprisingly, just outside of a populated capital city such as Bishkek, there are many beautiful natural sites where travelers can take a convenient day-trip to explore the awe-inspiring landscape beyond, while hiking, camping, trekking and even skiing. With its endless, scenic opportunities, you will find gorges, parks, canyons and resorts embracing the region, ready for the eager adventurer to explore and enjoy!
Tours in Kyrgyzstan
Read my pages:
Why I decided to visit Kyrgyzstan again: 22-day travel itinerary
Vanlife Kyrgyzstan: One-Month Road Trip with a Camper Van