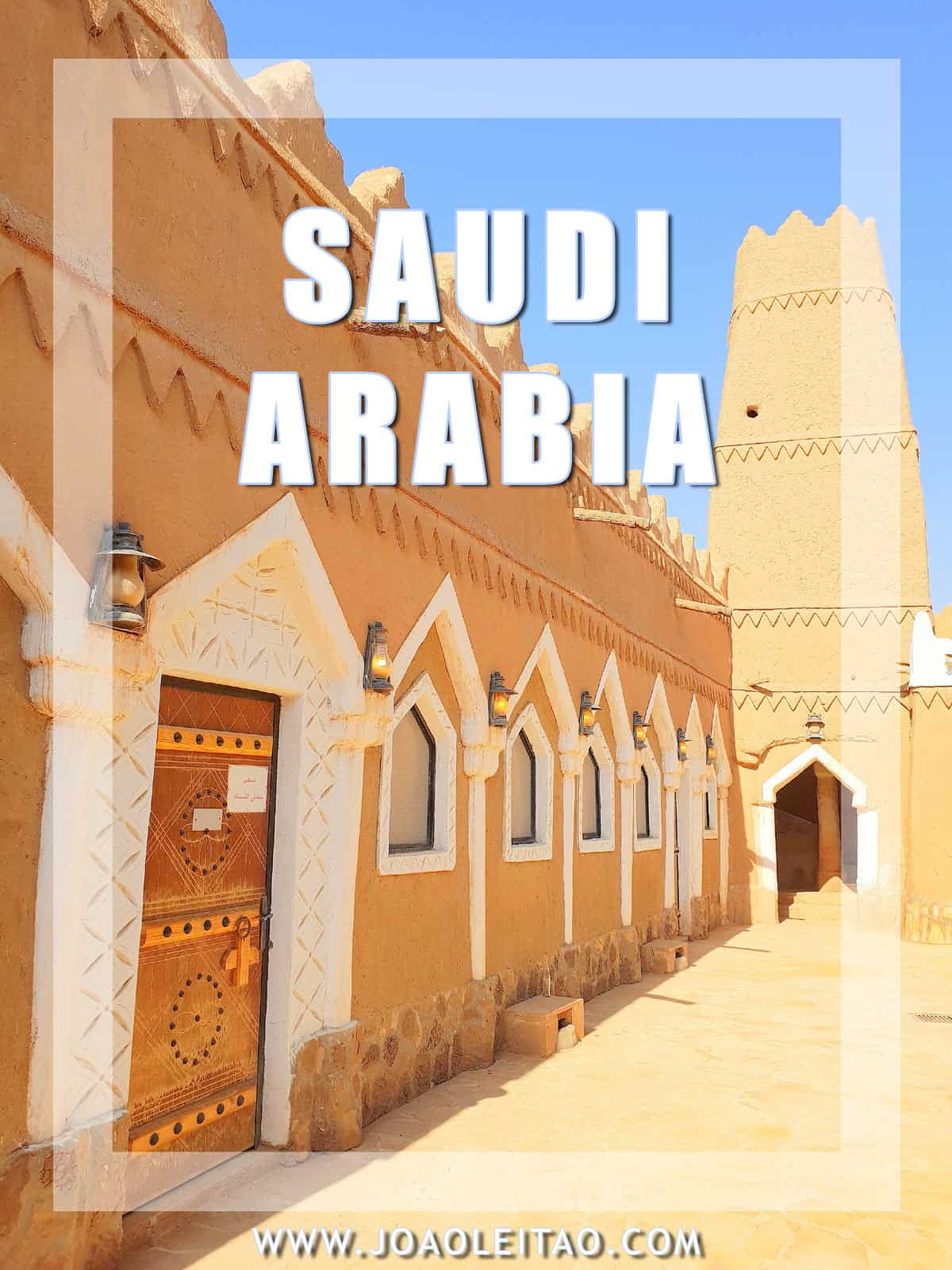 Do you love old mud-brick villages as much as I do?
While traveling, I have a peculiar list of preferences. Give me dusty, abandoned, ruined places and you will get my attention.
Saudi Arabia is in most part a desert nation, and by such, many old mud-brick villages can be found around the country.
During my 2-week Saudi Arabia road trip, I was able to visit some of these ancient places, a few under renovation, some totally forgotten and other brightly finished and ready to receive visitors.
Mud, sundried mud bricks, and wood are the primary materials that were used to build this type of architecture. Water, and often straw or grass, are mixed with the dirt.
I didn't really expect to visit all these places, but as I traveled by a rental car in Saudi Arabia, I was discovering most of these places on the go.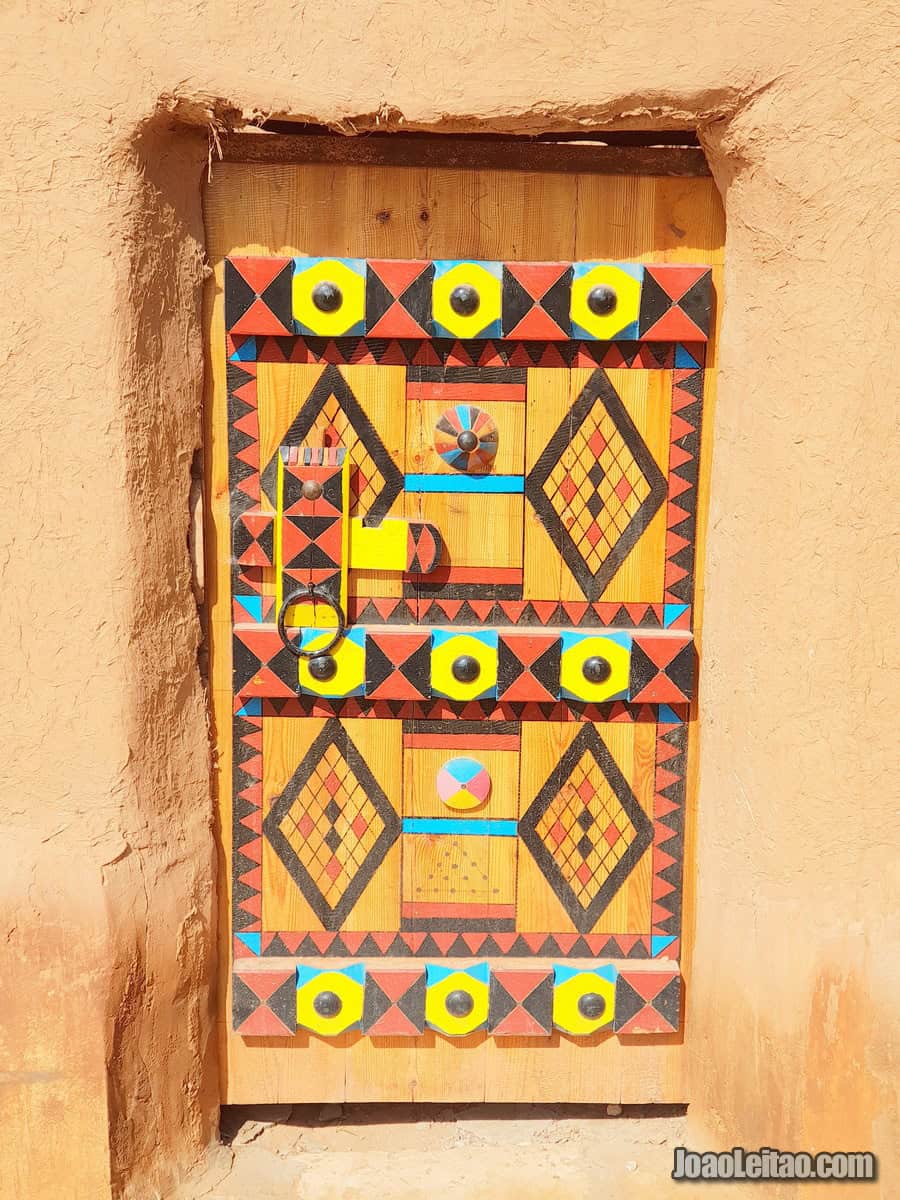 Things that I like about mud villages:
Natural clay earth pigment color
Adobe construction technique
Ruins
Old doors
Empty villages
Desert settlements
Two weeks in Saudi Arabia
Small video of my two-week trip to Saudi Arabia.
Read my page:
Driving in Saudi Arabia: Jeddah to Riyadh Road Trip – Two Weeks/3000 km
Beautiful Villages in Saudi Arabia
1- Al-Ula Heritage Village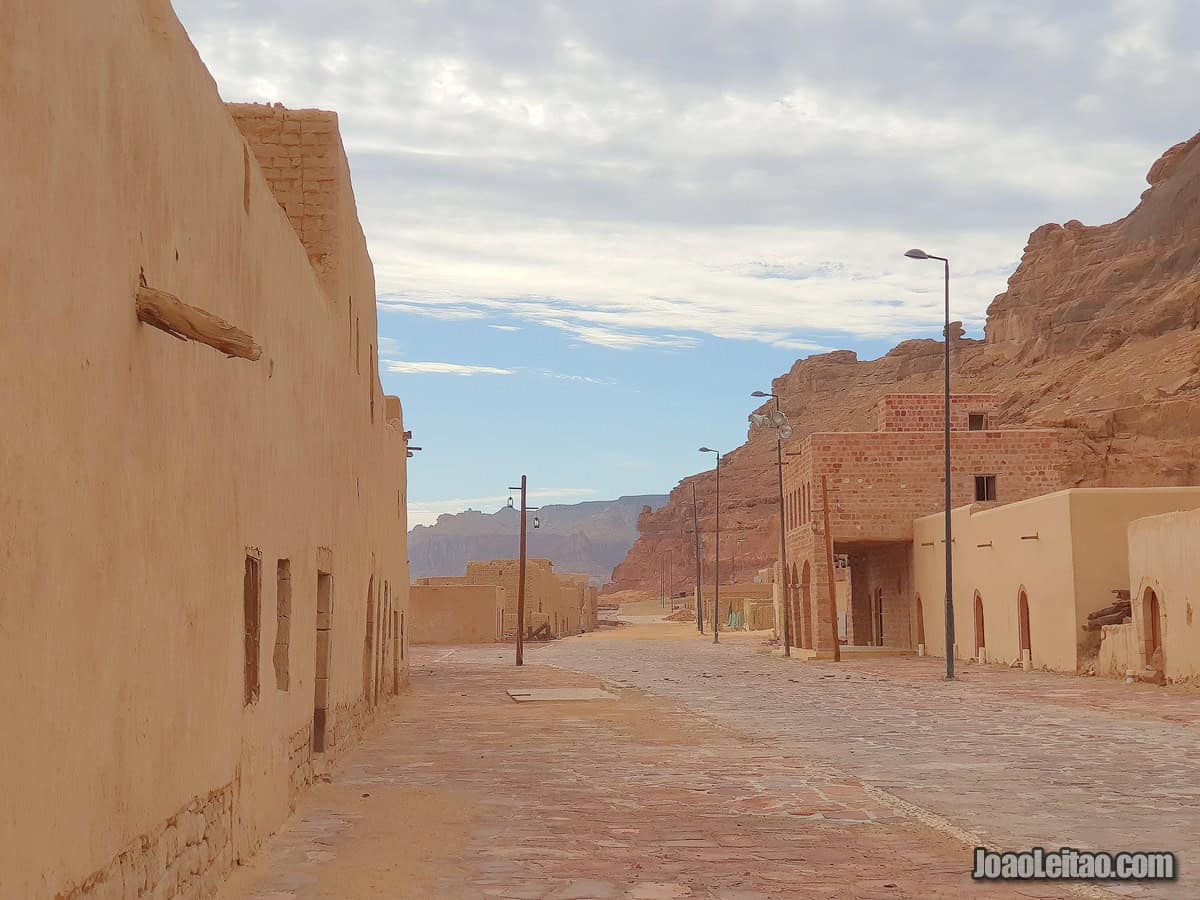 The old village of Al-Ula city in northern Saudi Arabia is called Ad-Derrah. This 800-year-old mud-brick village is built on a rocky mountain slope and gathers more than 1000 houses. It is currently under renovation.
Visit Al-Ula – what to see
Musa Ibn Nusayr Fort
Old village
Aledam Mosque
Old market
Mosque of the Rock – Masjid Al-Sakhrah
Photos of Al-Ula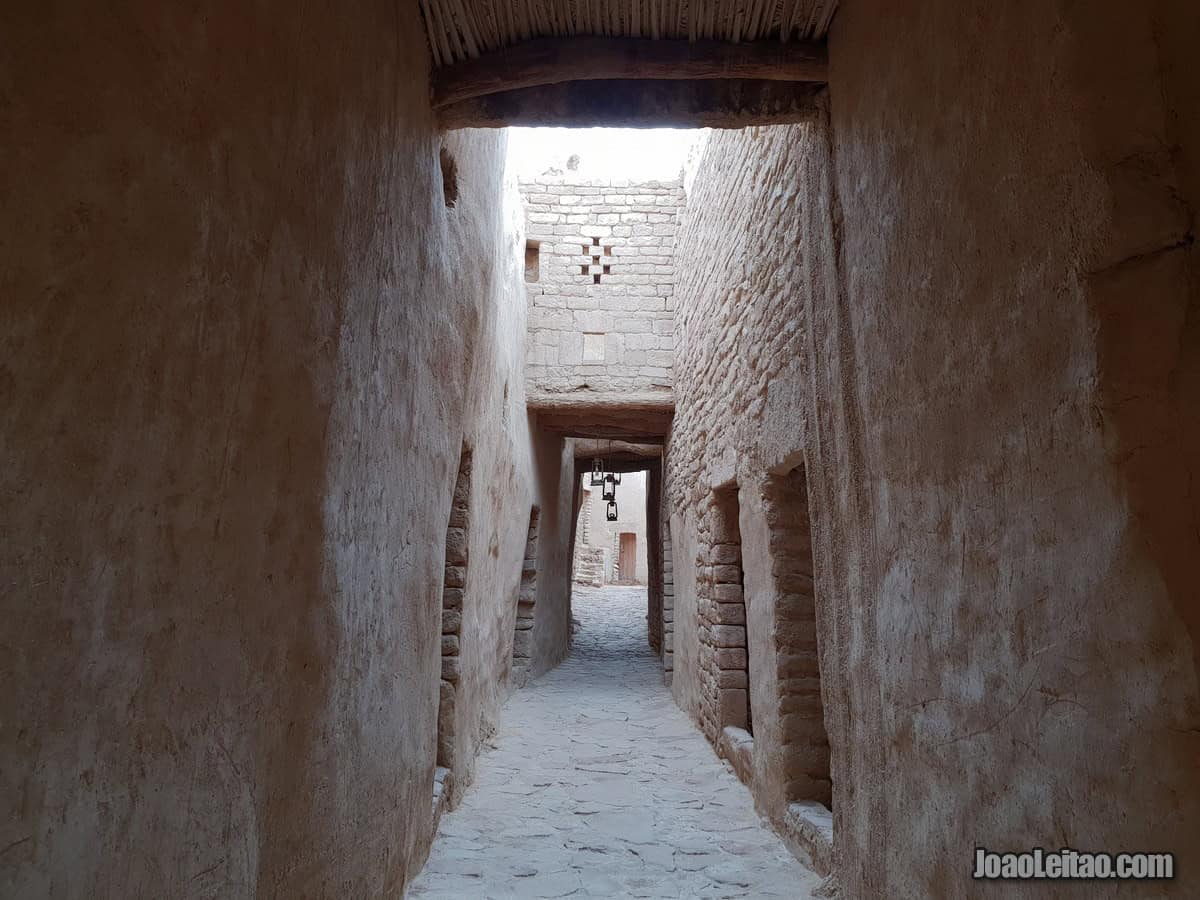 2- Al-Ghat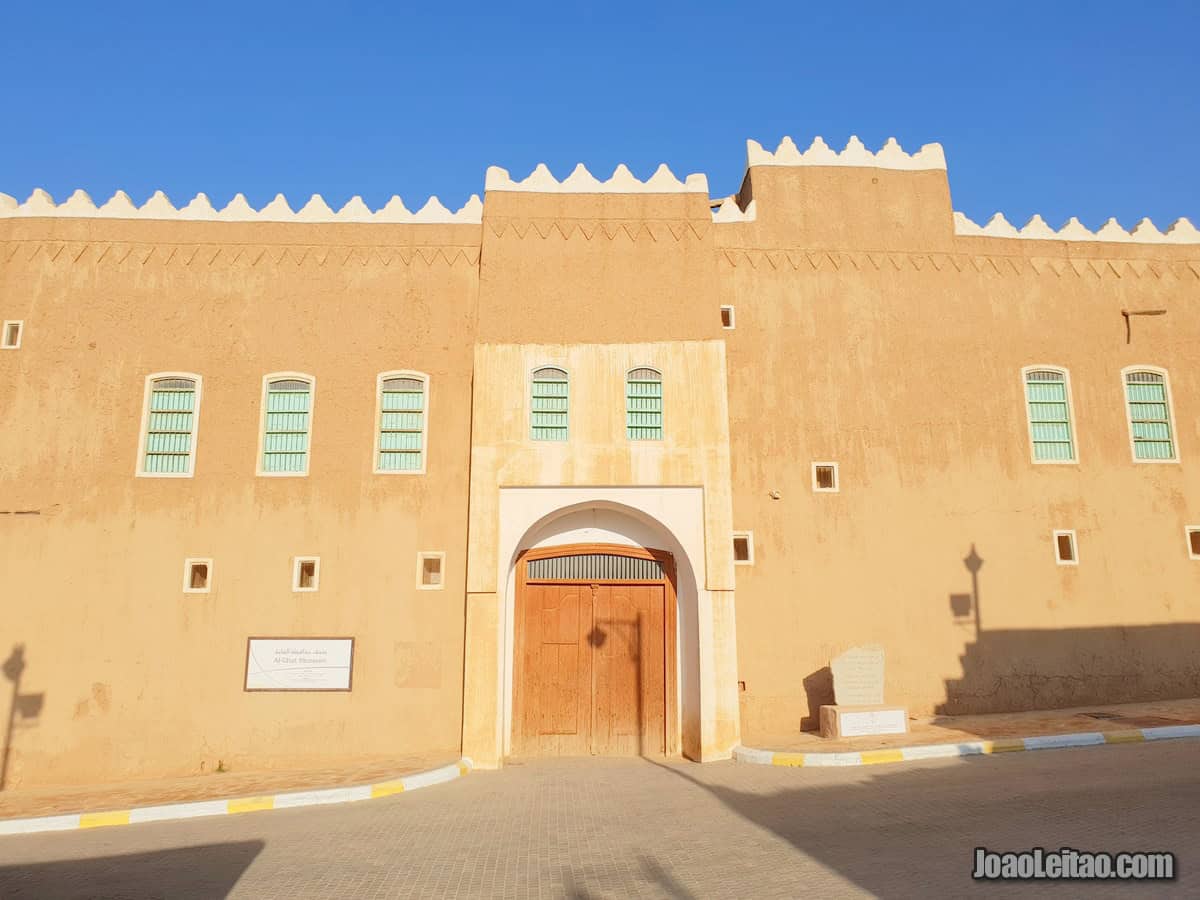 The old village of Ghat holds the beautiful Amara Palace. You can also visit the nearby Moghairan castle with 2900-year-old rock art. I found this village while driving and noticed the road sign.
Visit Al-Ghat – what to see
Ad-Deira Mosque and ancient water well
Ruined houses with wall paitings
Old village
Mosque Ahmad Al Sidiri
Moghairan castle
Amara Palace – Ghat Museum
Photos of Al-Ghat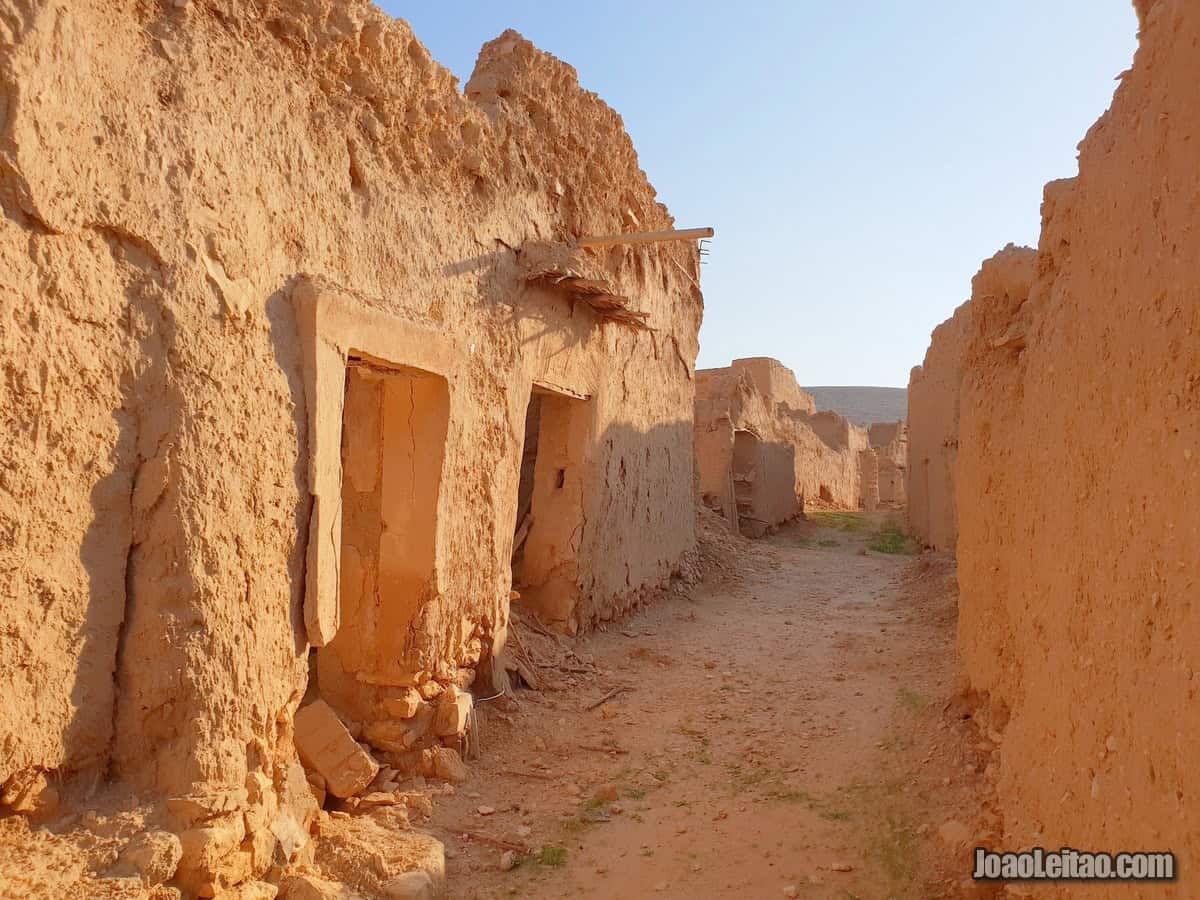 3- Old Ushaiger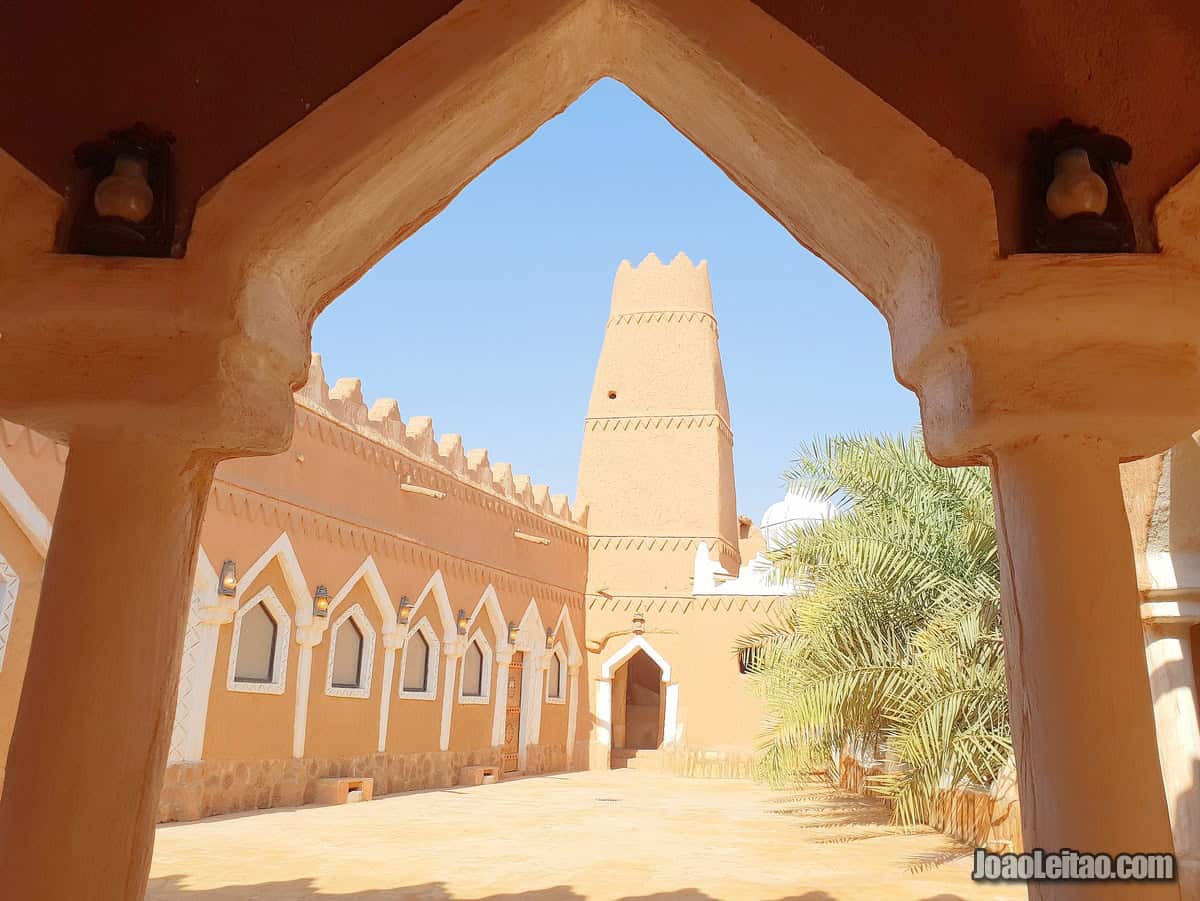 Ushaiger is a well renovated ancient mud-brick village located in the Najd region, just 200 km north of Riyadh, this makes the perfect one day trip out of the capital. Expect to explore tiny picturesque streets with 400 mud houses and 25 mosques. Ushaiger is the birthplace of Muhammad ibn Abd al-Wahhab, a religious leader and theologian who founded Wahhabism.
Visit Ushaiger – what to see
Governor's House
Al-Salem Museum
Al-Nashwan House
Fulaigiyeh Mosque
Colorful painted wooden doors
Gates of Ushaiger
Al-Omar Traditional House
Al-Shenader House
Museum Abdulrahman Al-Shenader
City Market
Photos of Ushaiger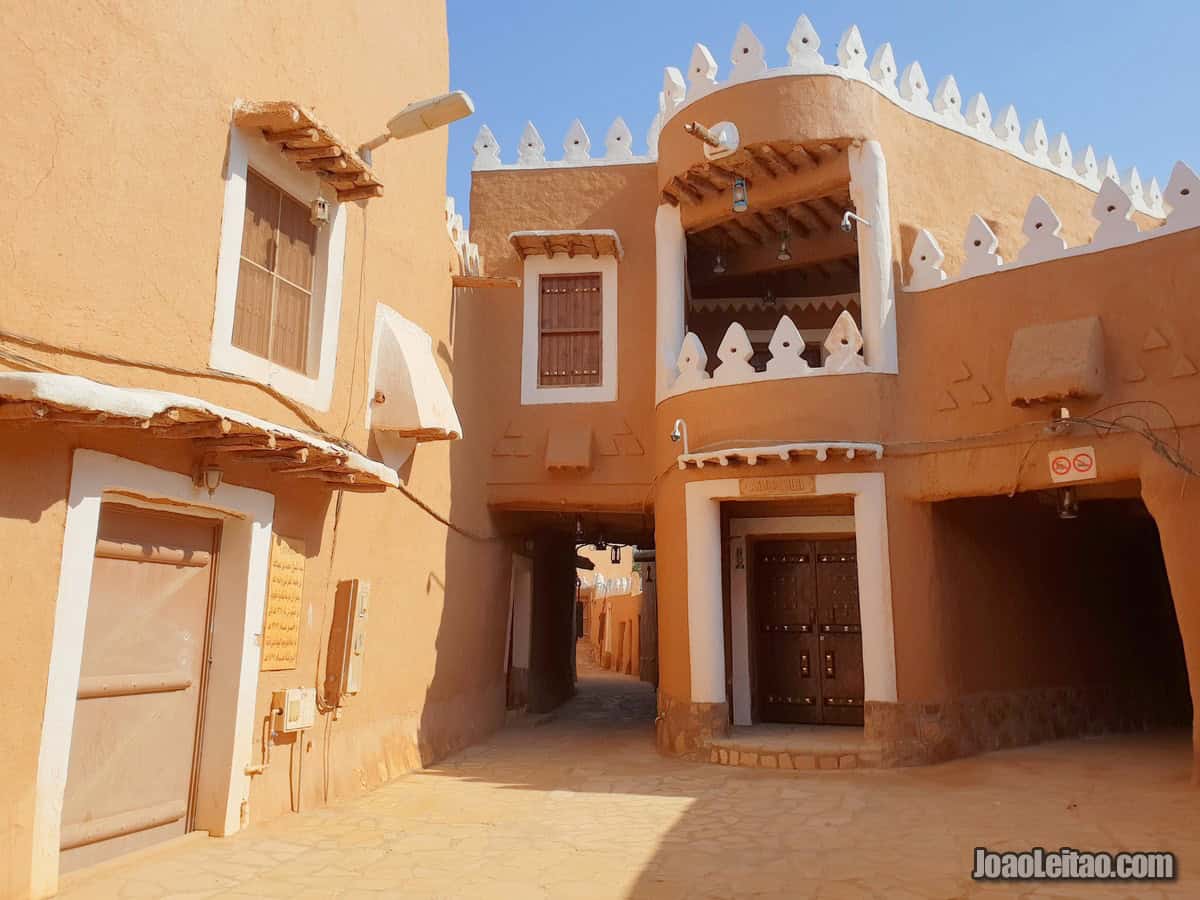 4- Uthaythiya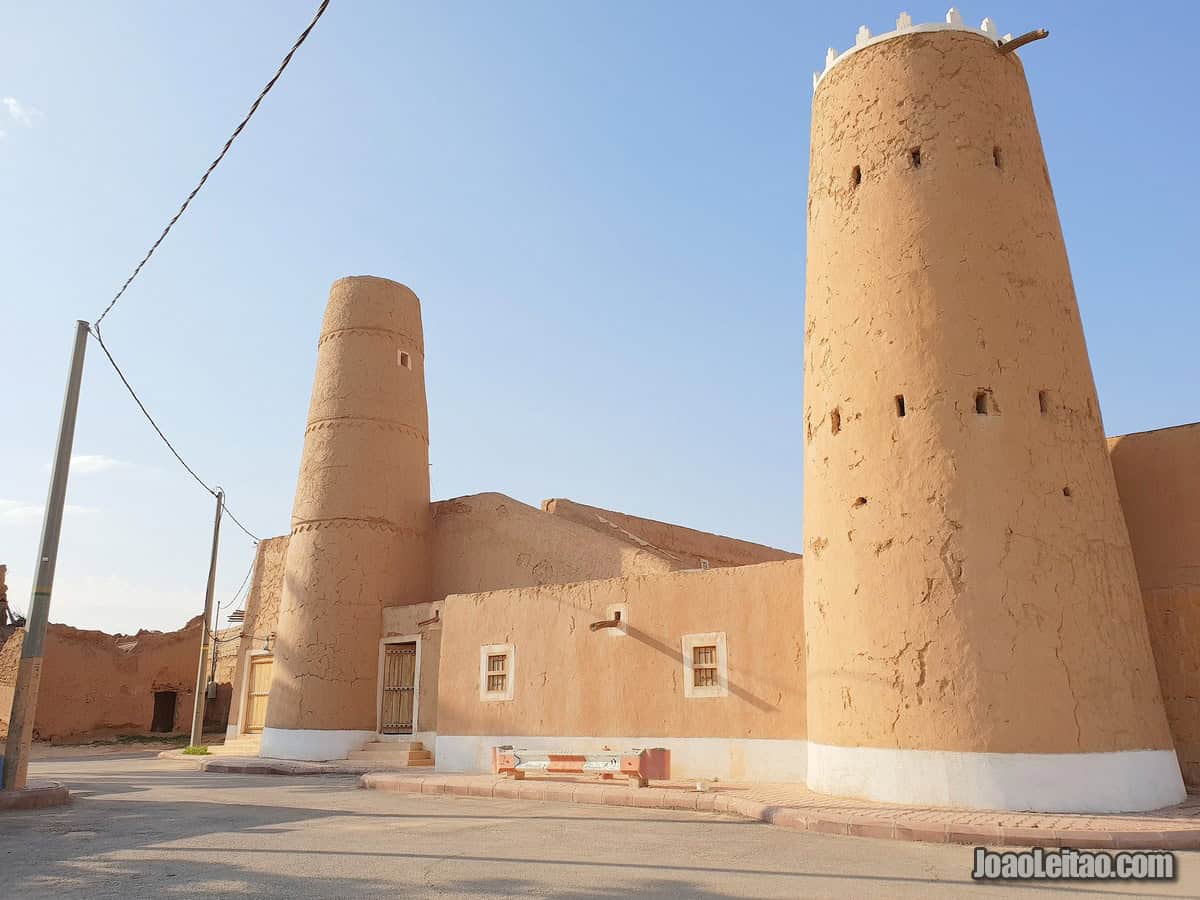 Uthaythiyah is a small forgotten village located 200 km north of Saudi Arabia's capital city, Riyadh. You can walk around the impressive fortress and mosque. The old ruins are very nice, and you can explore deep inside the mud-brick buildings.
Visit Uthaythiyah – what to see
Fort
Old village
Madrassa
Photos of Uthaythiyah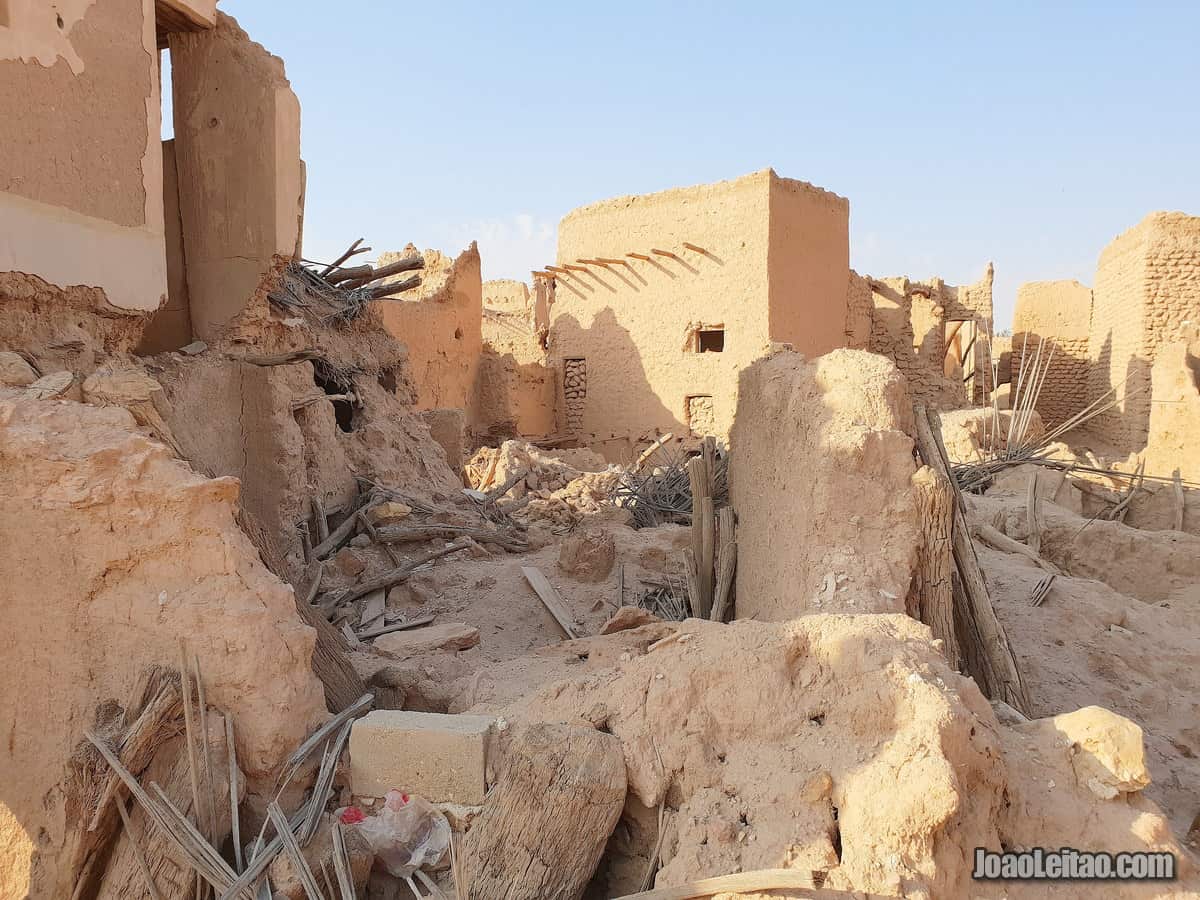 5- Tharmada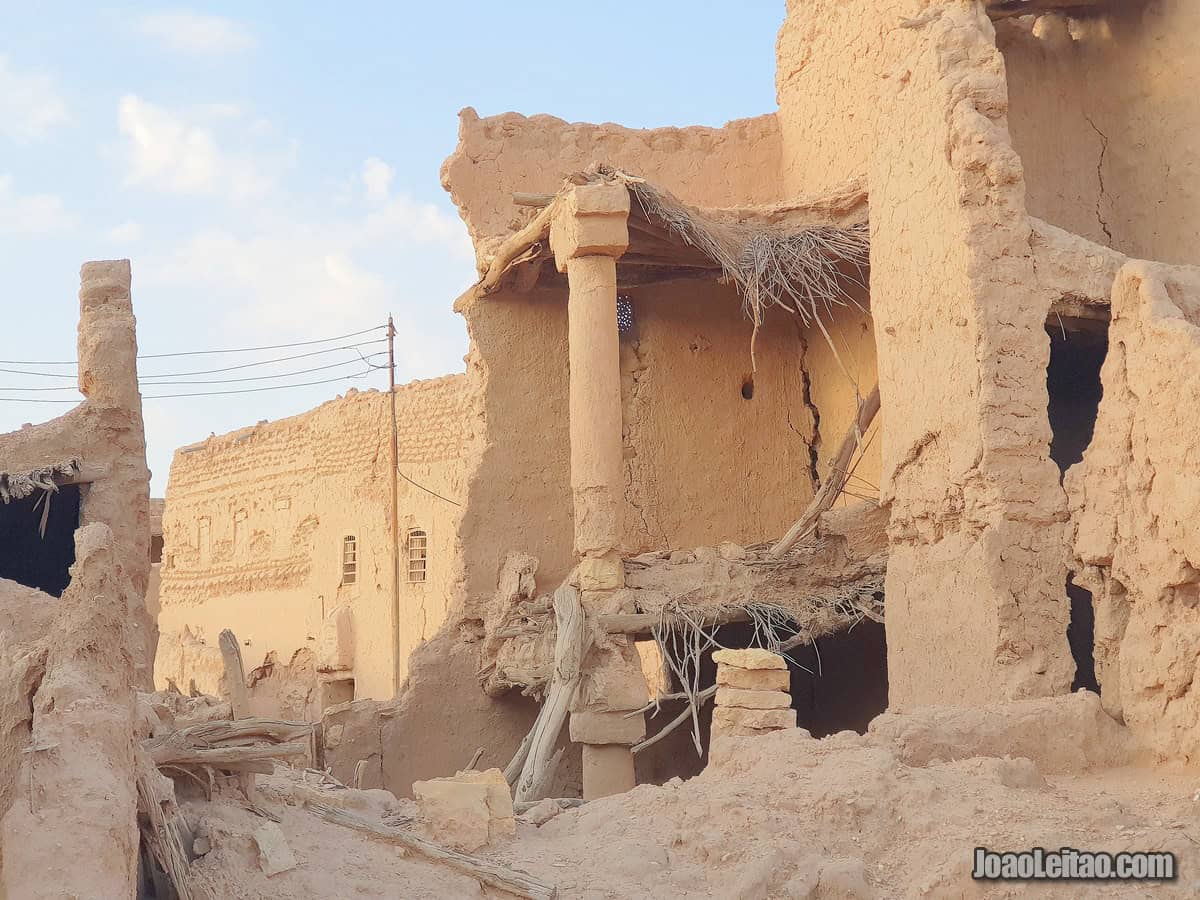 Tharmada is one of my favorite mud-brick villages in Saudi Arabia. The picturesque fortress stands out as soon as we get closer. You can explore around the village where some people still live along the mix of old and new houses.
Visit Tharmada – what to see
Fortress
Old mosque
Colorful painted wooden doors
Old village
Decorated inside walls of houses
Photos of Tharmada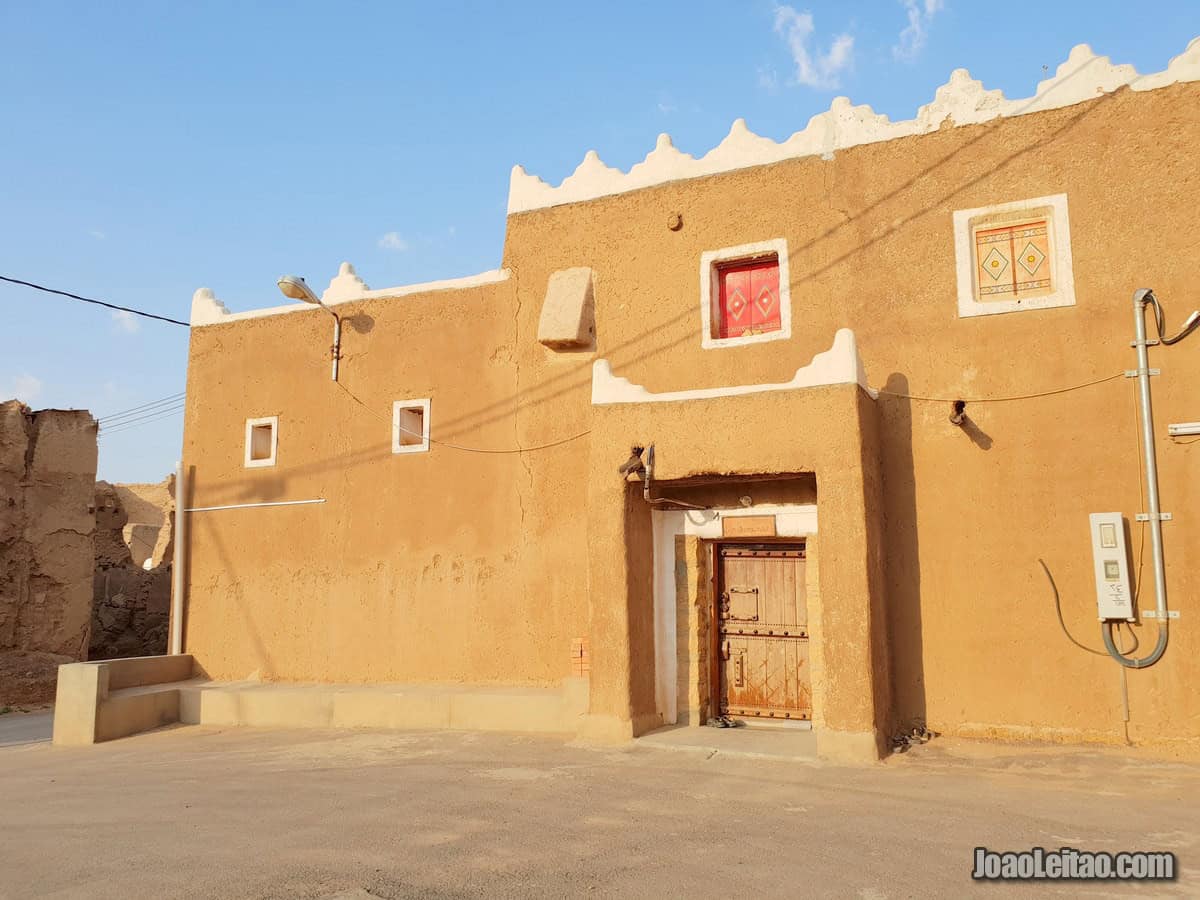 6- Marat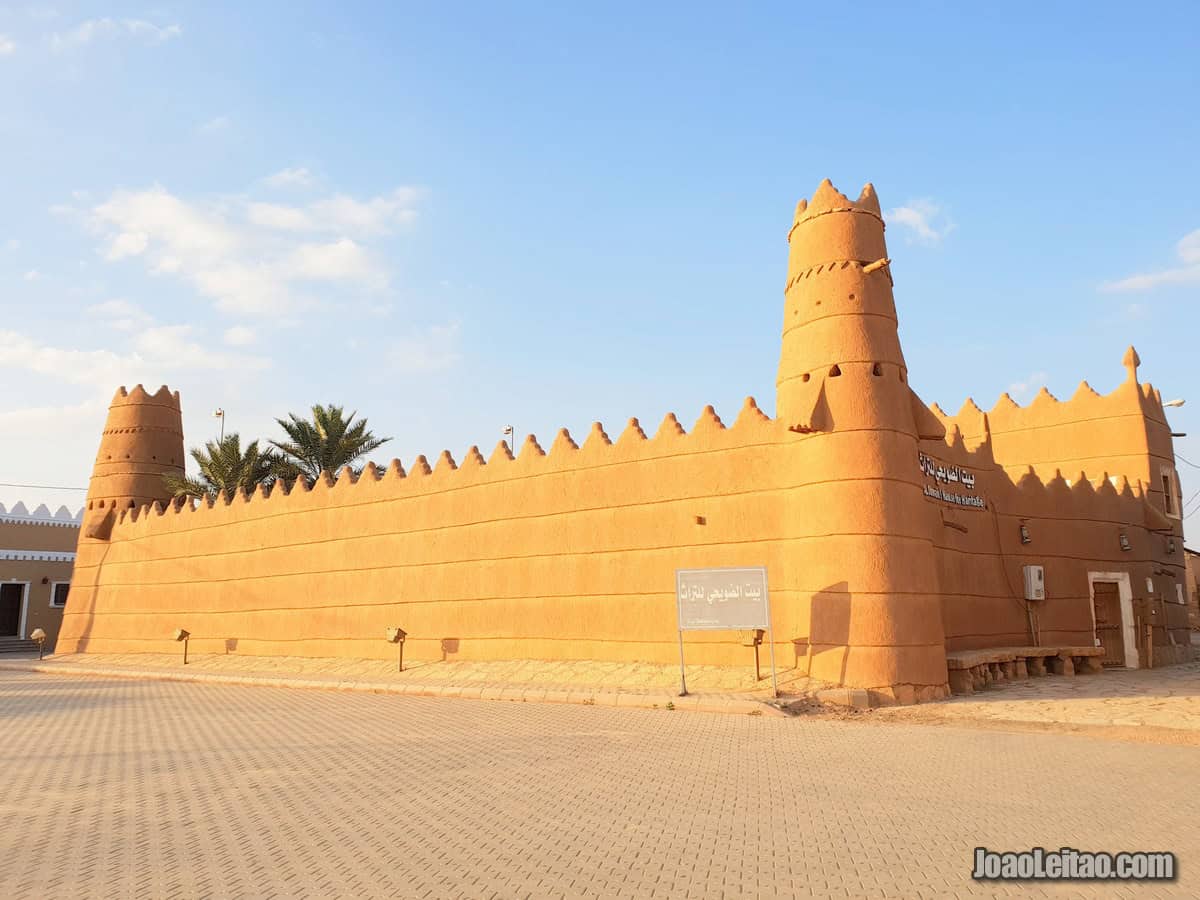 Marat is a small village located 9 km away from Tharmada. The mix of mud-brick houses with white roofs makes it very interesting. The impressive fortress is located in the old village center.
Visit Marat – what to see
Al Shawaihy Heritage House – Fortress
Wooden carved doors
Old village
Central mosque
Photos of Marat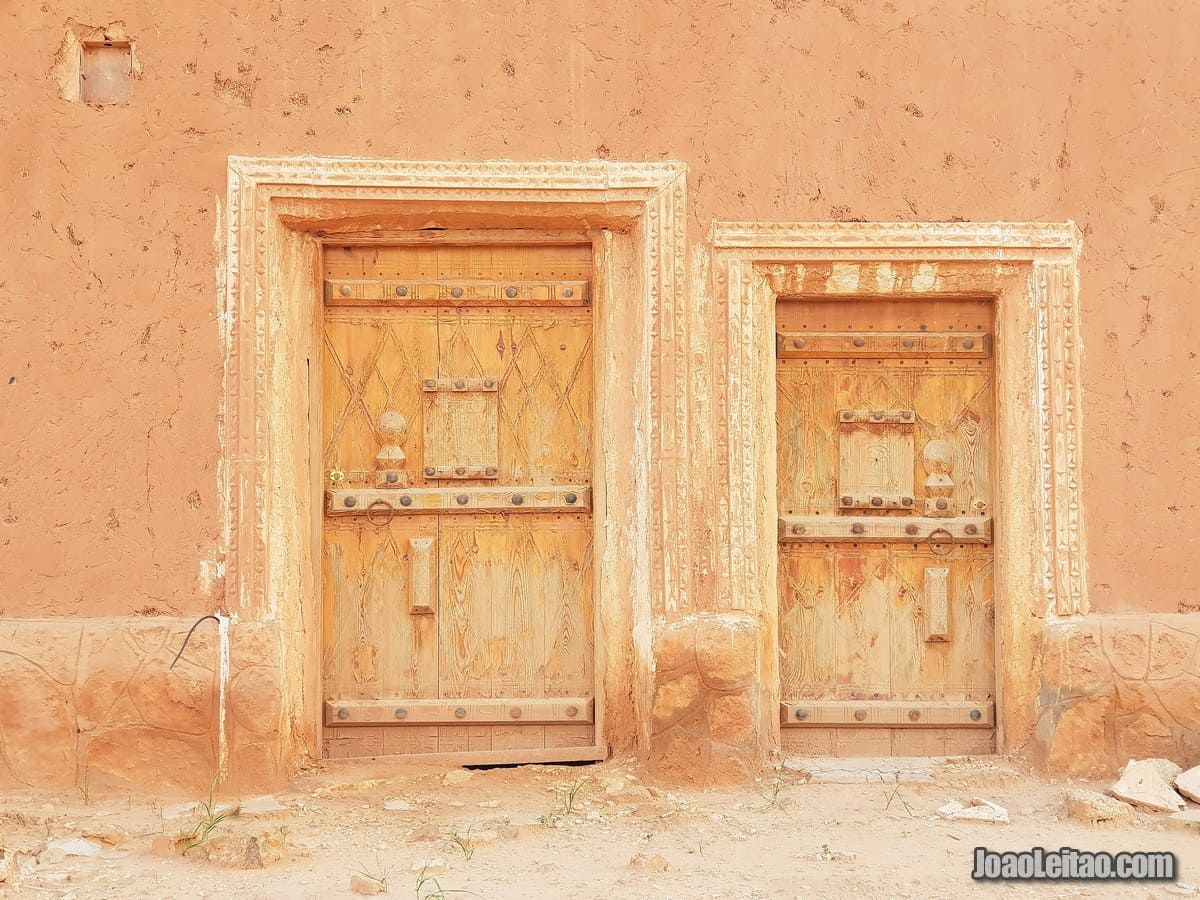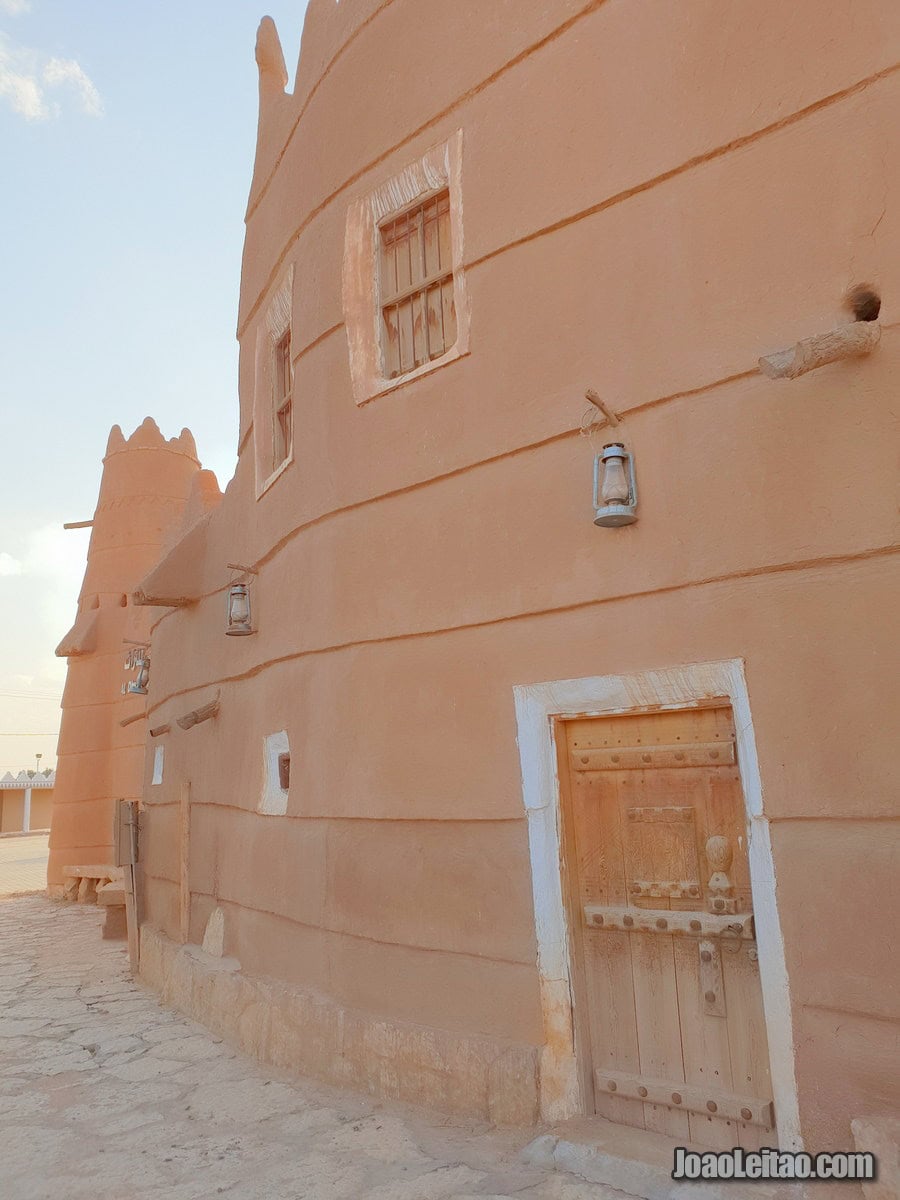 7- Rughabah Old Village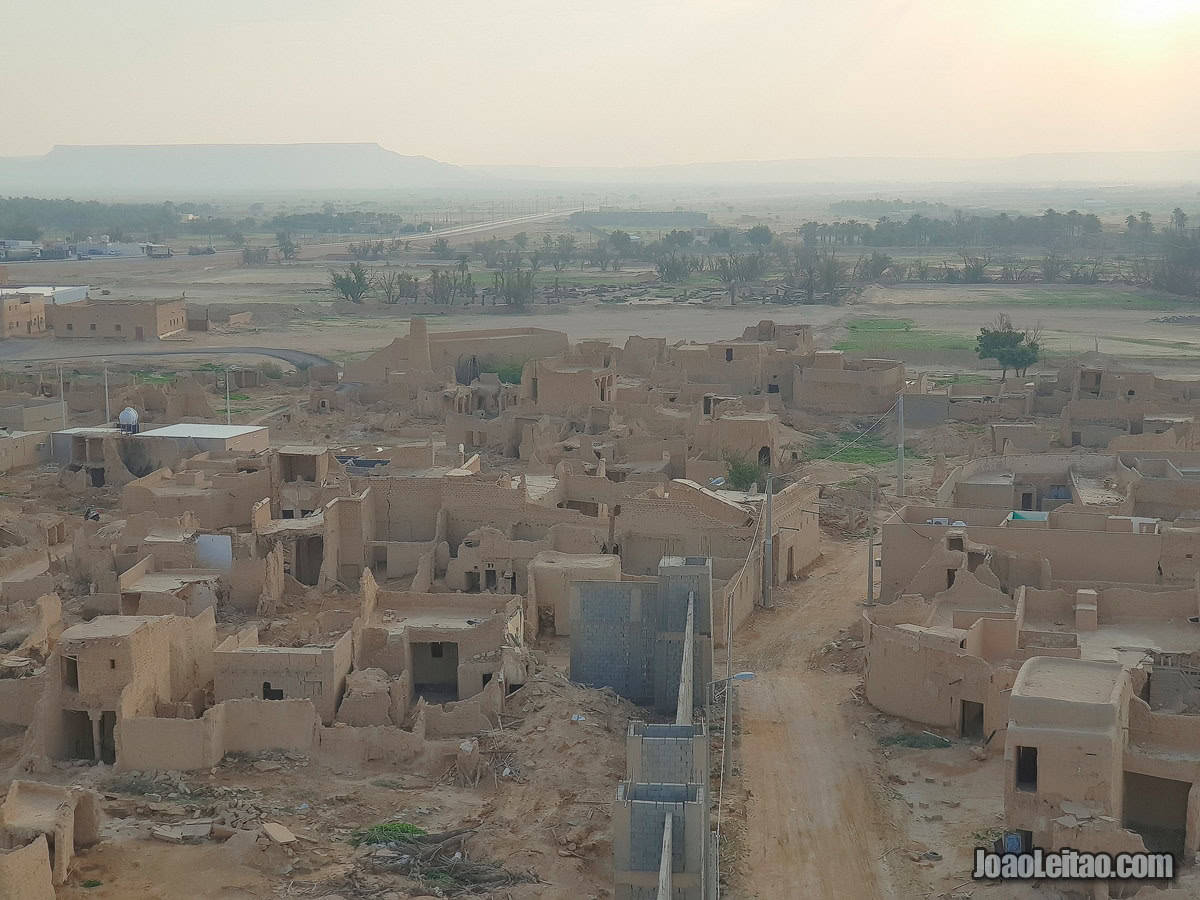 Another unexpected and unusual place I found by pure luck. While driving to Thadiq, I spotted a massive observation tower. It seems it was built in the mid-19th century as a surveillance and security system for the historic village. The view from up is fantastic, and you can spot the 400-year-old settlement.
Visit Al Rughabah – what to see
Al Marqab Tower
Al Tali'i Mosque
Old village
Ruins of Al Hazm Quarter
Photos of Rughabah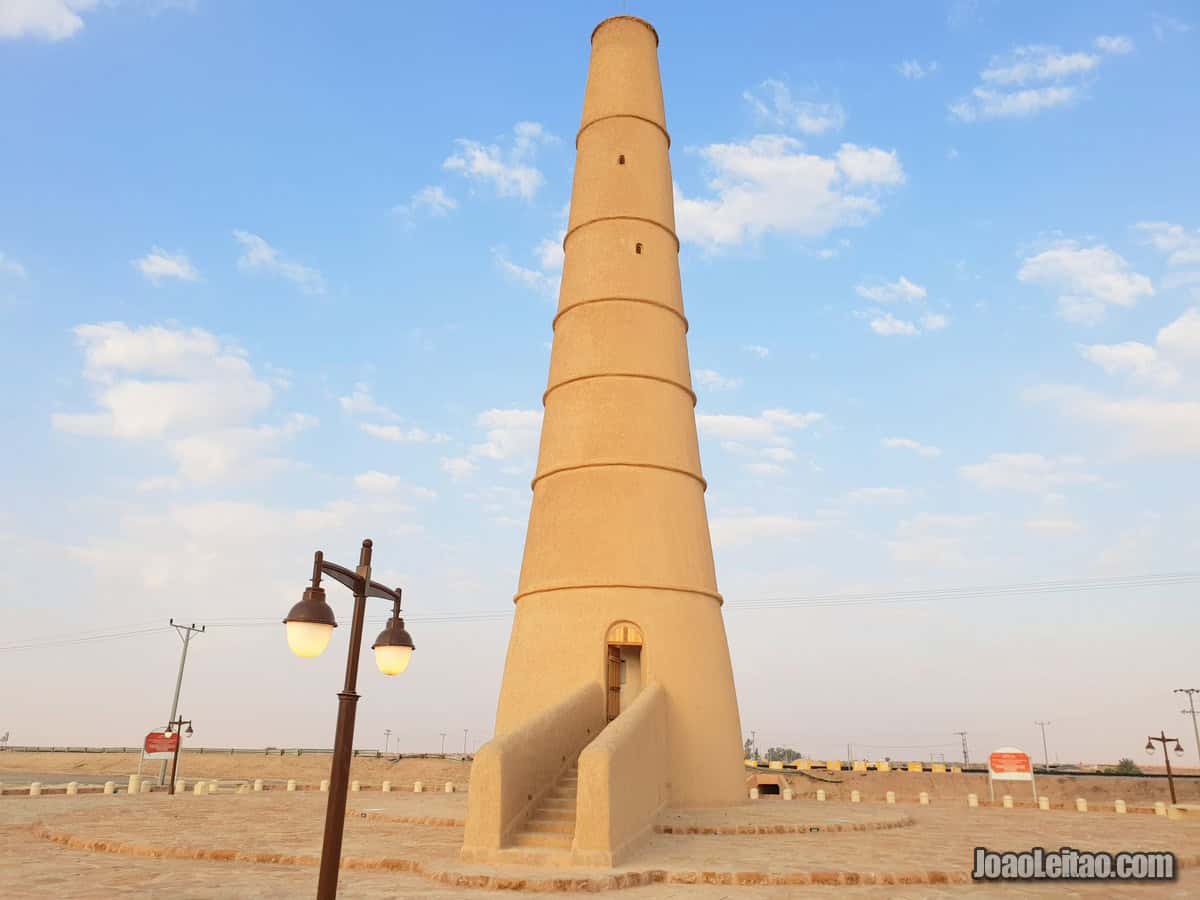 8- Old Thadiq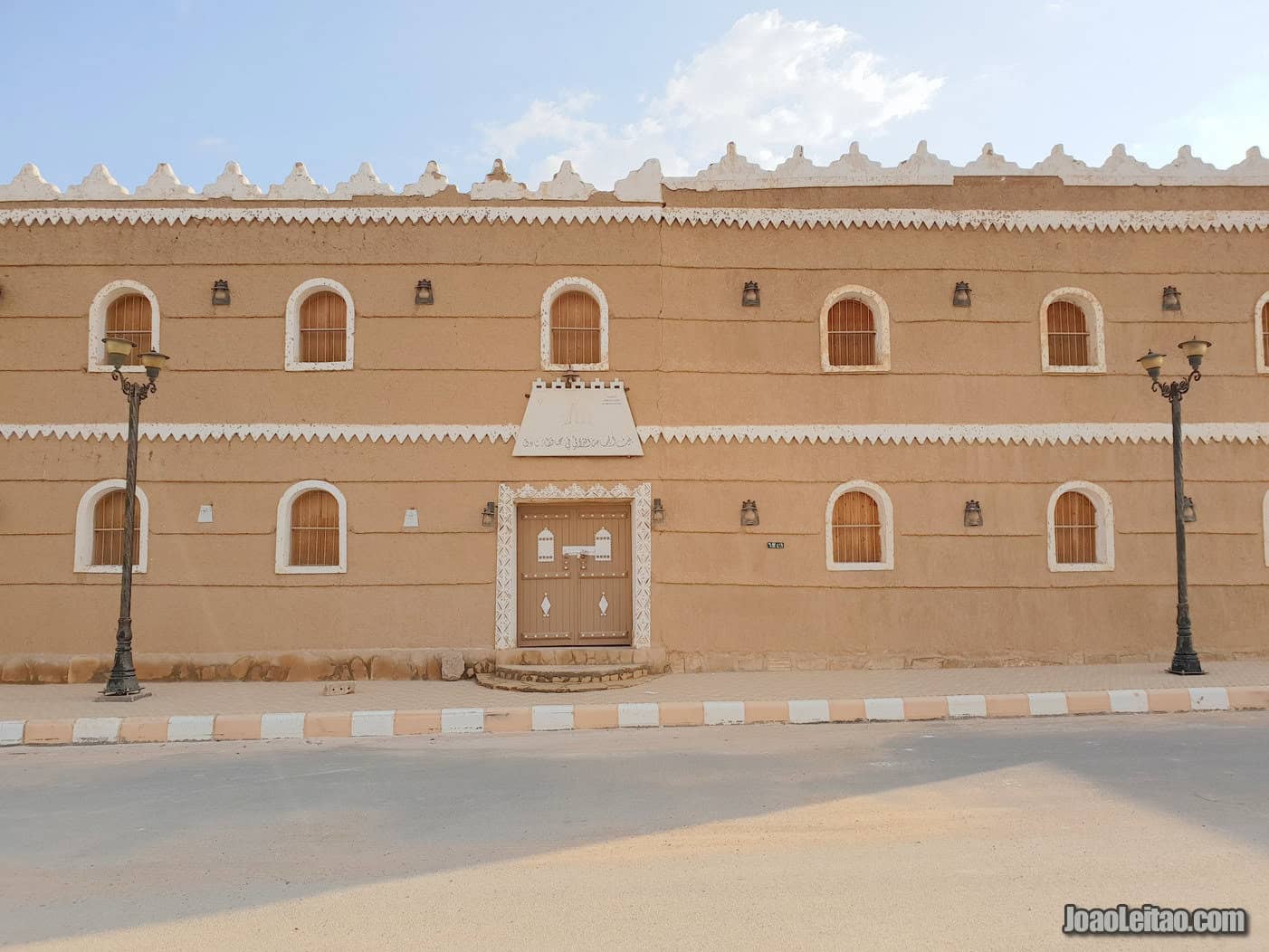 Thadiq is a historical village established about four centuries ago. It is located about 130 km north of Riyadh. The amazingly decorated museum is worth the visit. The old village is enormous, and there is a renovated small path where you can walk and see the ruins.
Visit Thadiq – what to see
Heritage Museum
Old village
Village entranve gate and defense towers
Old wooden decorated doors
Photos of Thadiq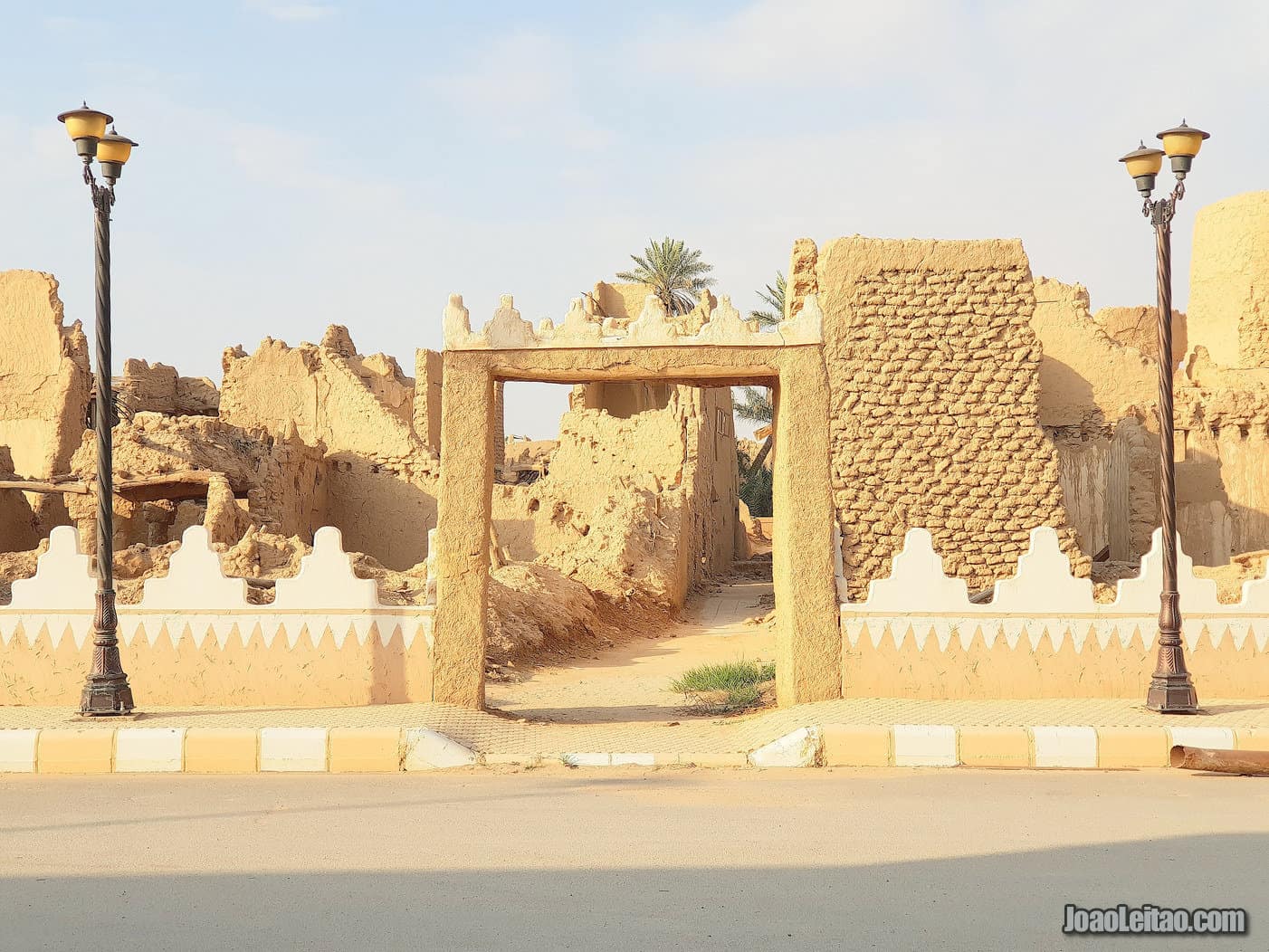 9- Old Mud Village of Sados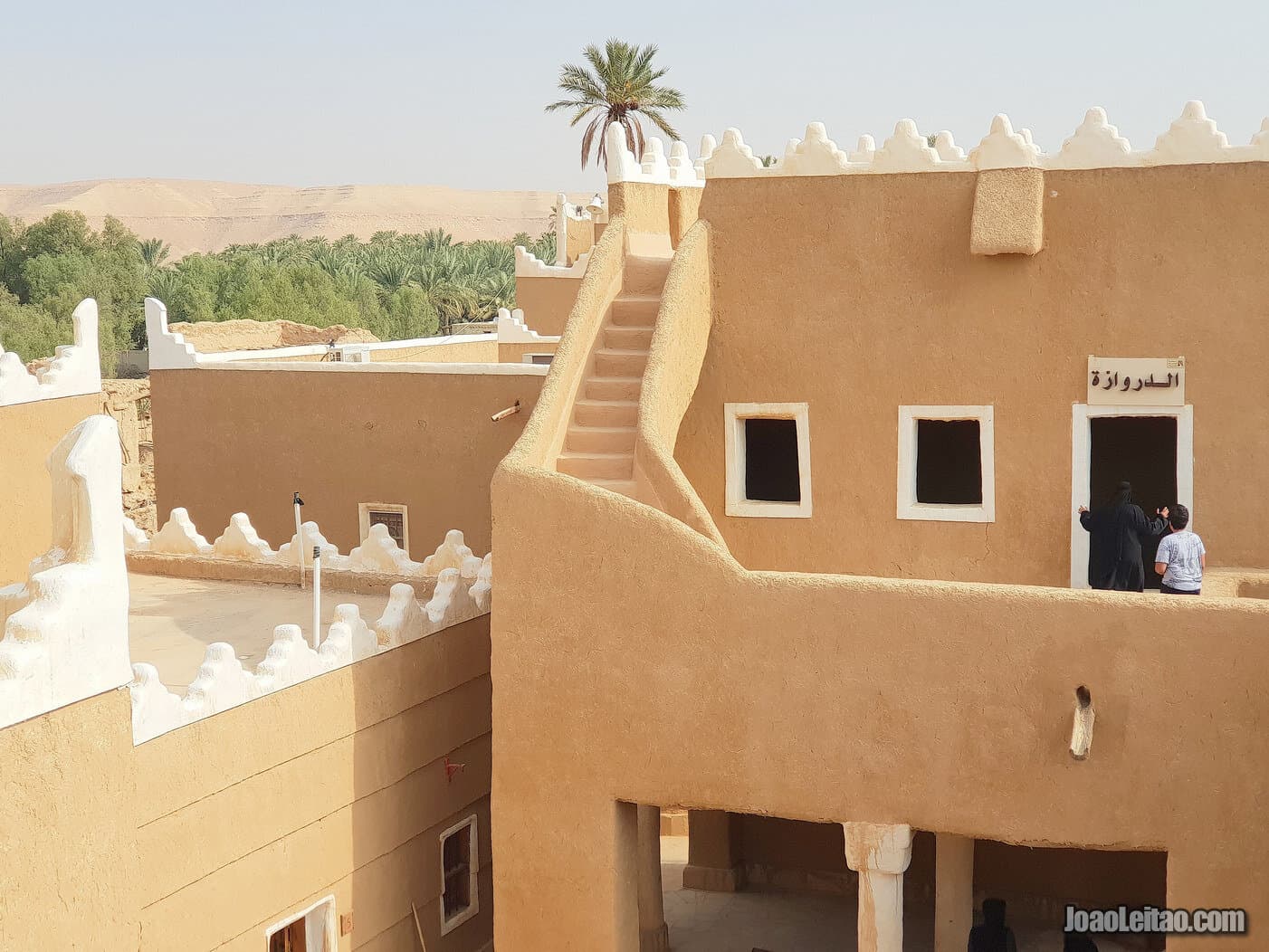 Sados is one of the oldest settlements in Saudi Arabia. The streets are very narrow, and many bridges connect the houses facing each other. The village has about 85 homes, and you can explore everything including up on the roofs from where you have a panoramic view of the whole complex.
Visit Sados – what to see
Old village
Inside the houses
Fort
Houses with decorated interior rooms
Defense towers
Old wooden doors
Old mosque
Photos of Sados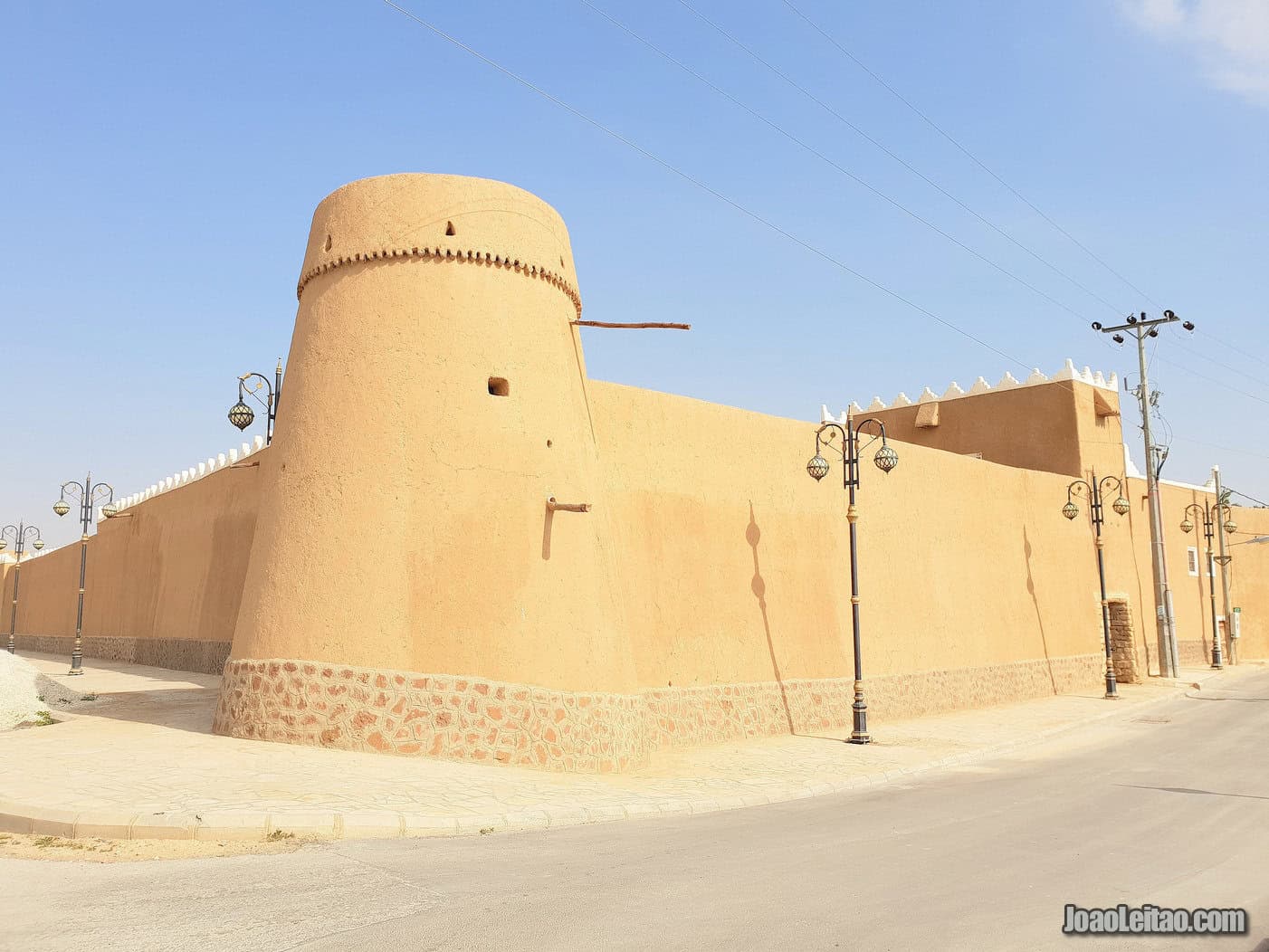 10- Ad-Diriyah Historical Village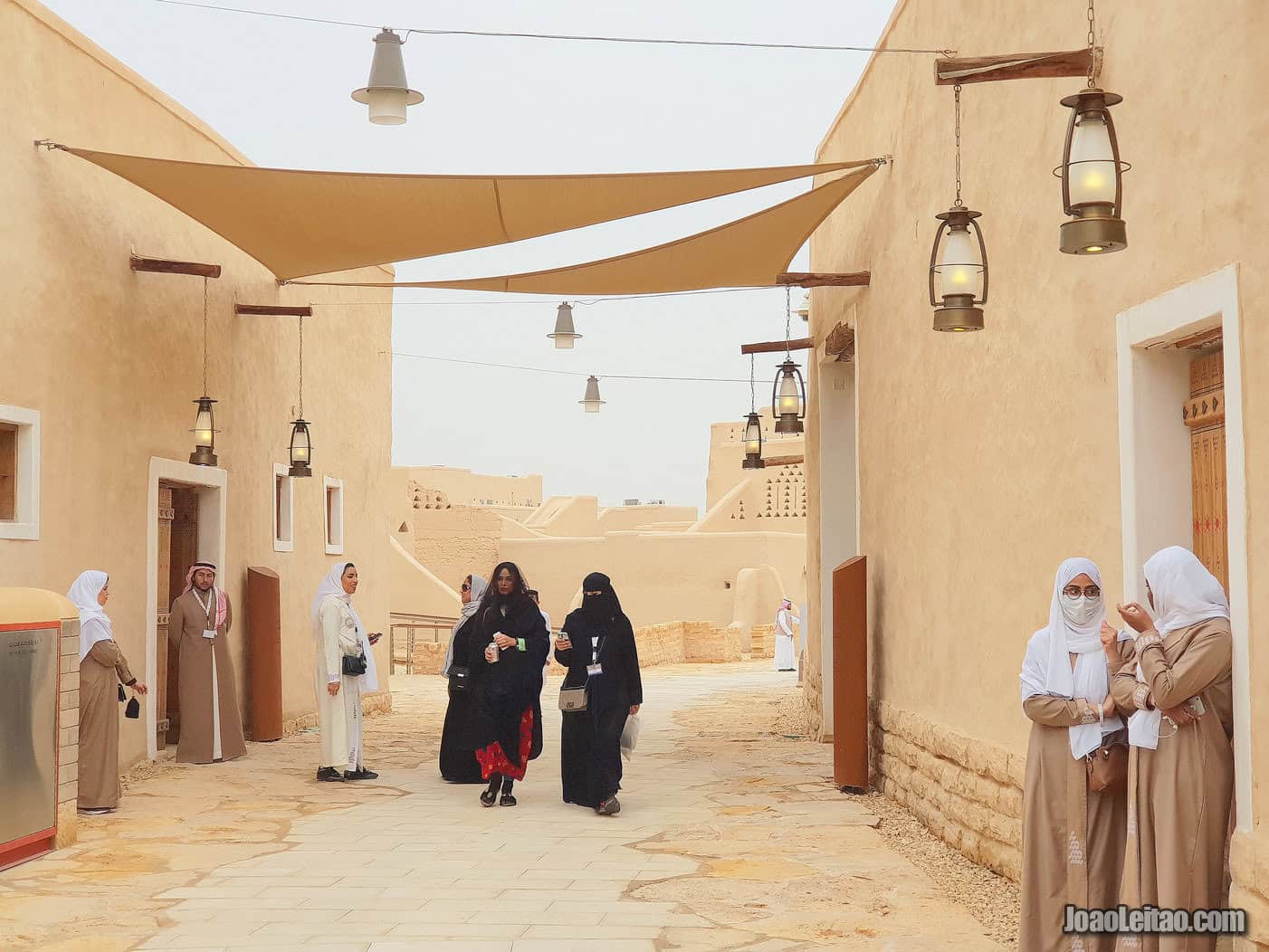 Founded in the 15th century, the old city of Ad-Diriyah is famous because it was where the first Saudi State was established back in 1745. Ad-Diriyah is located just 20 km of Riyadh and is a prime UNESCO World Heritage site in Saudi Arabia.
The At-Turaif District was the first historic centre with a unifying power in the Arabian Peninsula. Its influence was greatly strengthened by the teachings of Sheikh Mohammad Bin Abdul Wahhab, a great reformer of Sunni Islam who lived, preached and died in the city. After his enduring alliance with the Saudi Dynasty, in the middle of the 18th century, it is from ad-Dir'iyah that the message of Salafiyya spread throughout the Arabian Peninsula and the Muslim world.

Quote from « At-Turaif District in ad-Dir'iyah »
Visit Ad-Diriyah – what to see
Al Saud House
Sheikh Mohammed bin Abdul Wahab House
Turaif Quarter
Defensive Towers
Al-Dhwaihrah Mosque
Guest House
At-Turaif Bath House
Al-Imam Mohammad bin Saud Mosque
Salwa Palace
Ibraheem Ibn Saud Palace
Fahad Ibn Saud Palace
Farhan Ibn Saud Palace
Torki Ibn Saud Palace
Museum of war and defense
Horse Museum
Social Life Museum
Commerce and Finance Museum
Ghusaiba Quarter
Bujairy Quarter
AMA Art venue
Photos of Ad-Diriyah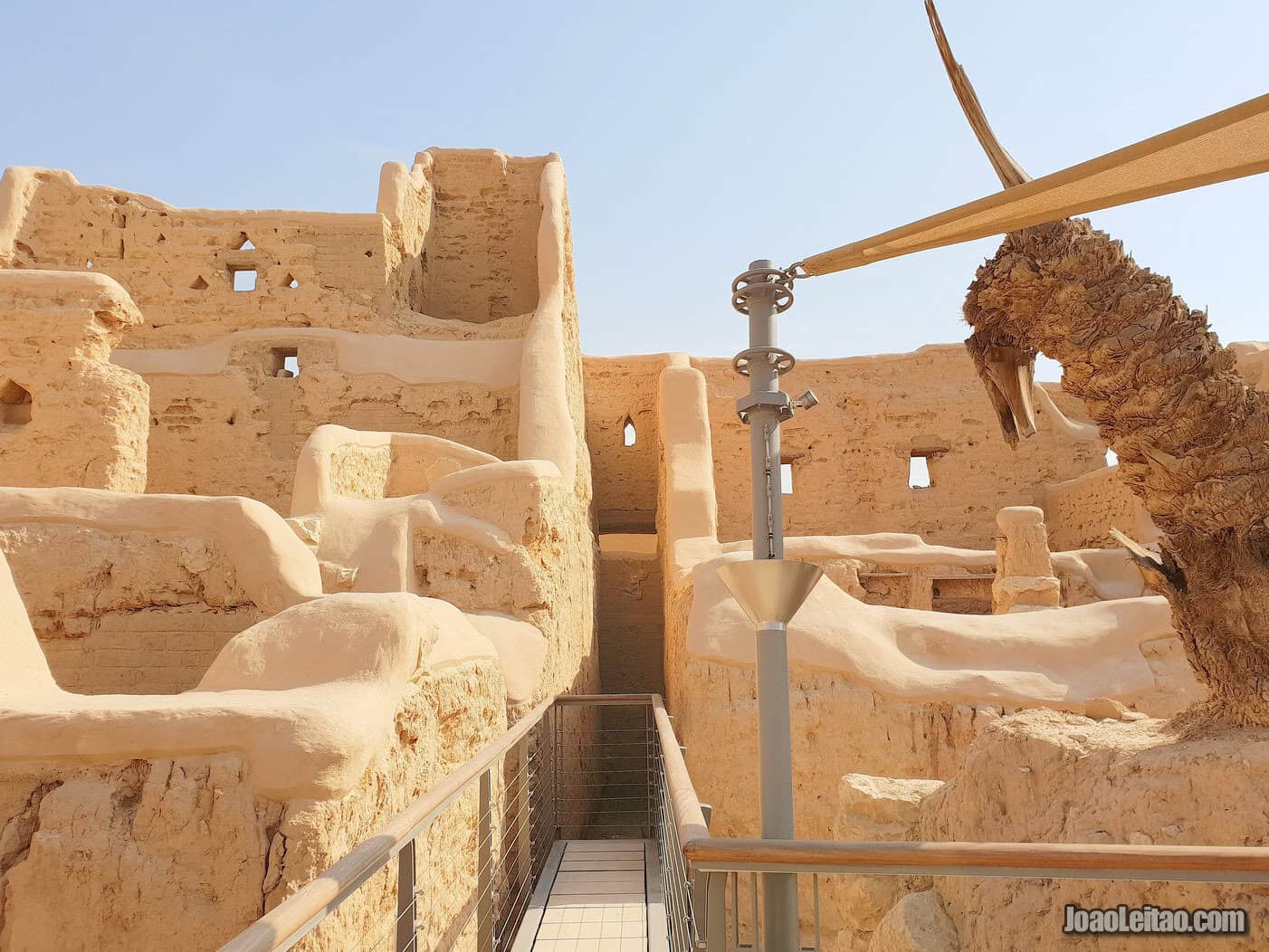 11- Old village of Qusur Al-Muqbil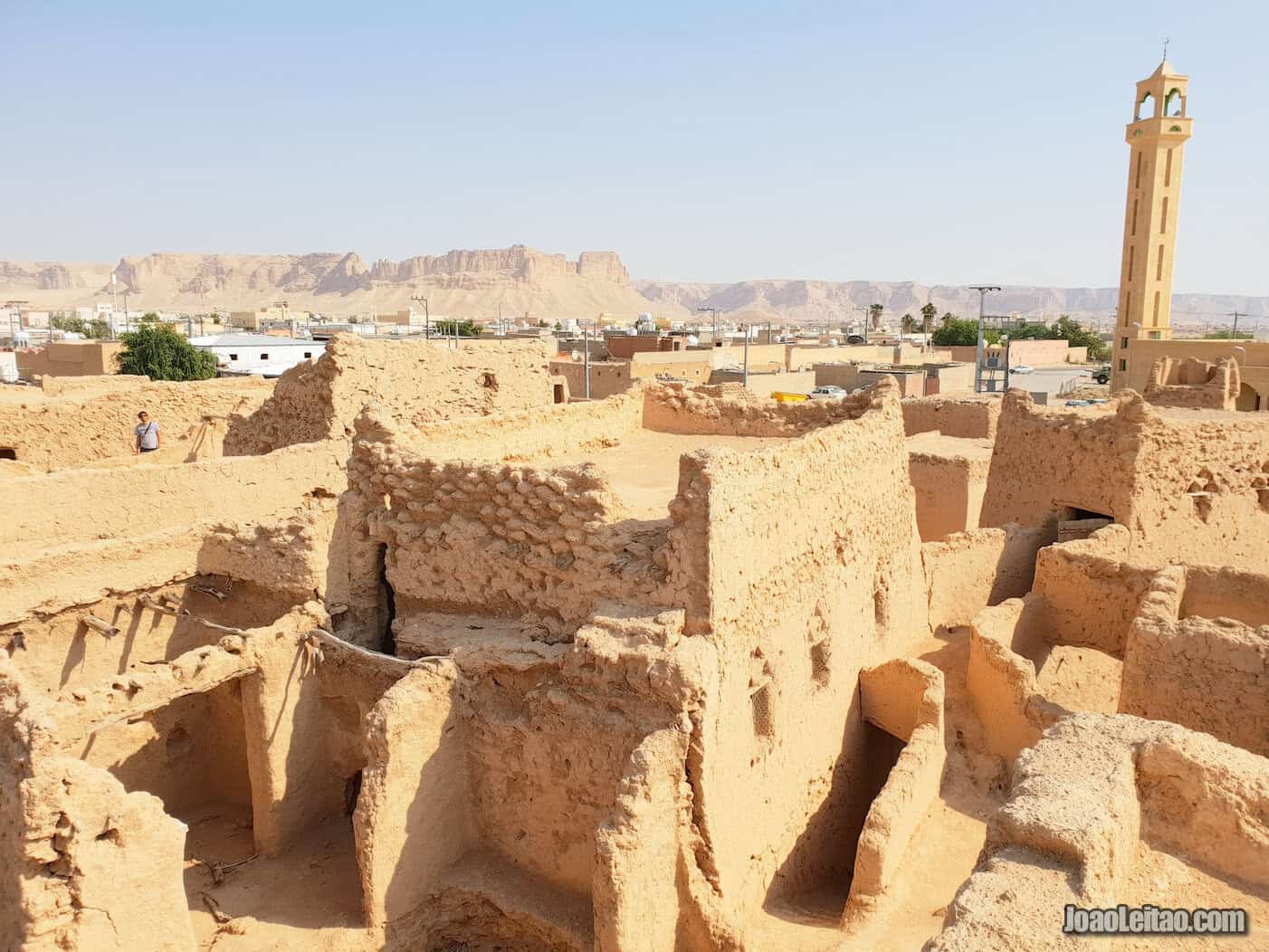 Just following my instinct, I decided to drive from Riyadh to Qusur Al-Muqbil and try my luck regarding finding something interesting to see in this place. What I encountered was a charming village with a palace and an old mosque, just about 70 km south of Riyadh.
Visit Qusur Al-Muqbil – what to see
Mosque with columns
Old Village
Decorated houses
Palace
Old whell
Gate
Defensive towers
Photos of Qusur Al-Muqbil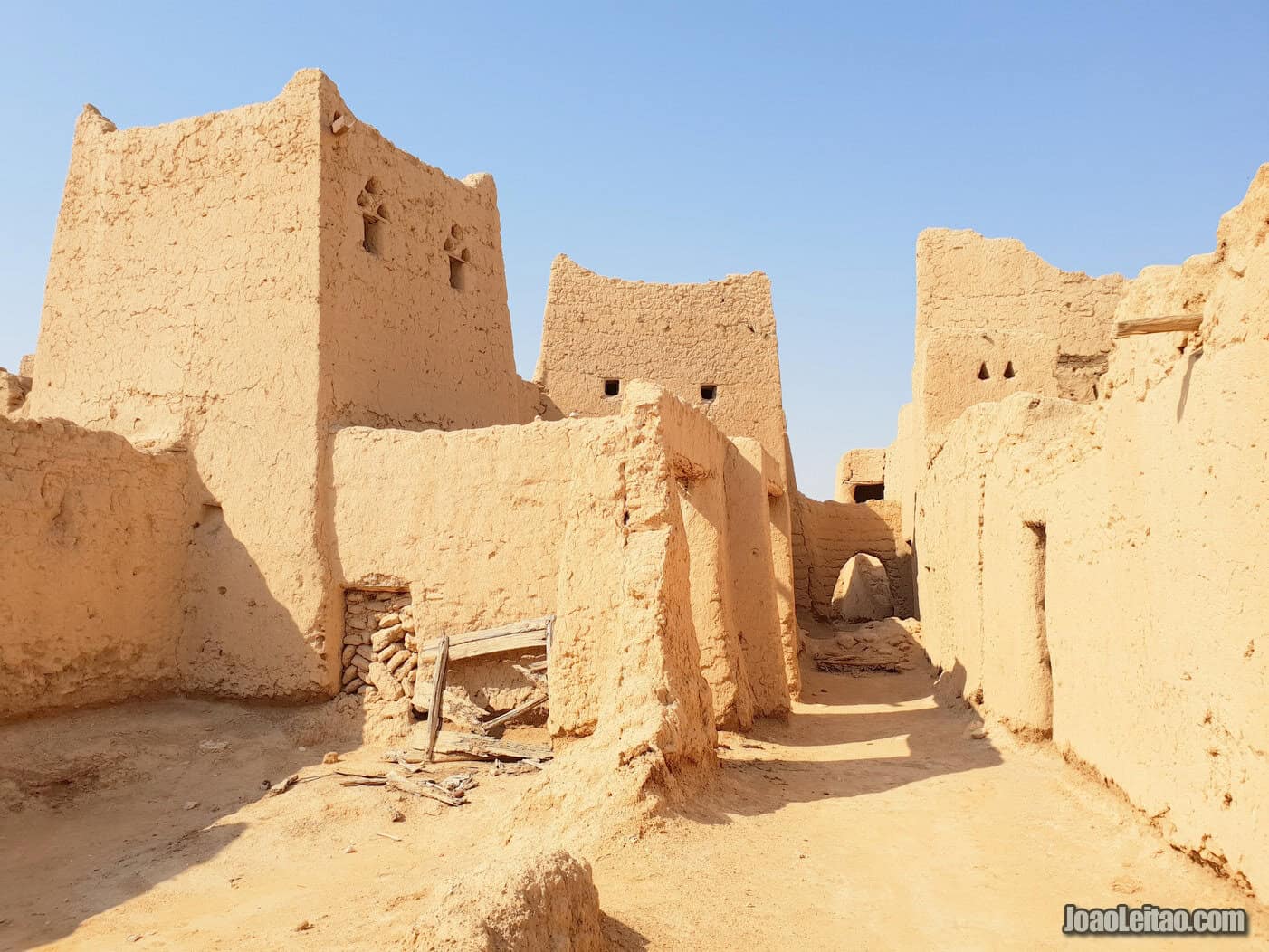 And that's it! I listed all the mud-brick villages I visited in Saudi Arabia. Hopefully, you enjoyed it and found this blog useful to prepare your next trip.
Also read: