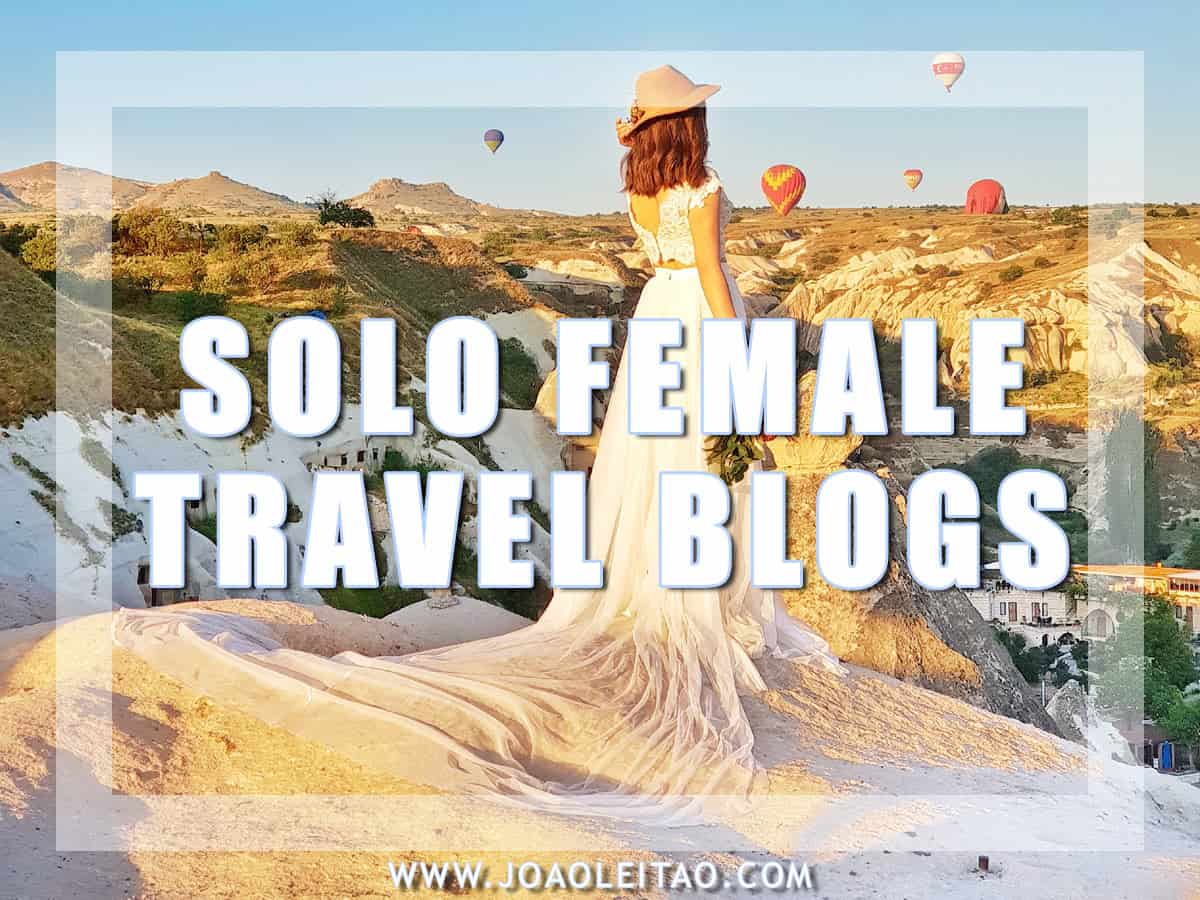 Welcome to my list of Best Solo Female Travel Blogs. Here I made an archive of the best and most prominent 300 solo women travel bloggers.
Best Solo Female Travel Blogs
The Globetrotting Detective – Diana is a Munich-based traveler who writes blogs to help people travel better, easier, and smarter. Her Middle East destinations include Iraqi Kurdistan, Iran, and Jordan.
Global Gallivanting – Anna is a modern nomad and travel addict originally from Suffolk in the UK. She has been on an indefinite journey around India, Southeast Asia, and Australia since December 2012.
World of Wanderlust – Brook Saward, an Australian girl with restless feet and eyes wide open, travels the world solo full time. Check also her YouTube channel.
Adventurous Kate – Kate McCulley is a solo female traveler with a goal to clear the myths about women traveling solo and show you how you can travel the world on your own – easily, safely, and adventurously.
Young Adventuress – Liz Carlson lived as an ex-pat in Spain and now she has moved to New Zealand. Her blog is a space where culture, travel, and misadventure collide.
Just One Way Ticket – Sabrina Iovino, half German-half Italian graphic designer, has made traveling her lifestyle. Find out how to follow your dreams and just take off.
Alex in Wanderland – Alexandra Baackes is a New York native obsessed with photography, scuba diving, and reading guidebooks to countries she has no immediate plans to visit.
The Shooting Star – 20-something Shivya Nath is India's best female travel blogger.
Hippie in Heels – A blonde hippie & girlie girl at times travels around the world. She is now living the beach life in Goa, India.
Breathe Dream Go – Mariellen Ward is a travel writer and India travel expert. The blog also covers meaningful adventure travel to Canada, Costa Rica, South Asia, Ireland.
That Backpacker – Audrey Bergner slowly travels around the world, usually in search of markets, street food, jungles, and beaches.
My Wanderlust – Kami Napora is a Polish solo traveler and blogger, interested in alternative spots, street art, off the beaten path places with difficult history.
Lemonicks – For solo Indian female backpacker, Nisha, traveling is counting a number of memories, and not places.
Keep Calm and Travel – Cle is an Italian travel blogger, sea lover, and globetrotter since the age of 19.
Twenty Something Travel – Travel adventures of Stephanie, twenty-somethings girl who can't sit still. She blogs about travel for twenty-somethings and why your twenties are the best time to travel.
Dangerous Business – Meet Amanda, an Ohio girl, who tries to balance a "normal" life with a desire to discover the world.
The Travel Hack – Monica Stott is a travel addict in search of adventures with a splash of style, that won't break the bank.
Neverending Footsteps – Physicist turned digital nomad/travel writer, traveling full-time since 2011. Author of How Not to Travel the World.
Inside the Travel Lab – Abi is a writer and photographer who swapped a career as a doctor for a life on the road. On her blog she writes about her unusual journeys.
I am Aileen – Aileen from the Philippines is a digital nomad living a sustainable travel lifestyle. She wants to prove that a life of travel is not only for the rich.
Bunch of Backpackers – Manouk is a Korean girl from the Netherlands. On her Dutch-English travel blog she writes about adventure and cultural explorations around the world.
Lakshmi Sharath – A travel blog of an Indian Backpacker who journeys around India, world, people and places.
Travel with Kat – Kat is a writer, photographer and human rights and sustainable tourism active supporter.
My Yatra Diary – A blog focusing on spiritual destinations complete with extensive description, photographs, places to stay and eat, shopping, etc.
Be My Travel Muse – Kristin is traveling the world in the most genuine way possible, always talking to locals and delving deep into the culture.
Bitten by the Travel Bug – Nicole's solo journey around the world in search of adventure, culture and just a little bit of luxury.
Just Travelous – Ivone's motto is "Good girls go to heaven, bad girls go everywhere. Be travelous."
Globetrotter Girls – Dani went nomadic in 2010. The first-hand account of a girl exploring the world.
Women on the Road – Leyla shares her first-hand travel experience to inspire and inform your travels with ethical, practical and fun advice.
The Professional Hobo – Nora is travelling full time in a financially sustainable way. Lots of great financial travel tips.
Mags on the Move – Weird activities and awkward encounters at home and abroad.
Heart My Backpack – Silvia blogs about offbeat travel through 60+ countries, trying to challenge misconceptions we have about countries due to representation in Western media.
No Money Will Travel – An eighteen year old Canadian gal whose planning a backpacking adventure under the idea that to live life is to explore life.
A Lady in London – Expat Californian living in London, with over 100 countries under her belt, bringing you the best of London and the rest of the world.
Curious Cat Expat – Inta has her smile and cameras always with her. Find here travel inspiration, photography, expat diaries and living overseas tips.
Girl vs Globe – Sabina is an international troublemaker, with passion for fashion, travel and food.
My Travel Affairs – The Luckiest Girl in the World aka.Crazy Polish Girl, Marysia tweet about photography, travel and her quirky views on life.
Anna Everywhere – For the last 10 years, Anna has been traveling and living in different places around the globe. On her blog she shares travel advice and expat tips.
Heather on Her Travels – Travel inspiration and information for seasoned traveller and city escapes.
Lash World Tour – Cultural insights, travel tips and stories form 14+ years of Lash on the road.
Blogger at Large – Megan Singleton's travel blog of honest reviews, great advice, photos and video of destinations all over the world.
Bucket List Journey – Annette is a travel writer, restaurant owner and new experience collector exploring the world in search of bucket list adventures.
Eat Sleep Breathe Travel – Hannah, a Canadian travel addict who has been dreaming of adventure since she I first watched Indiana Jones.
This American Girl – Two years ago Camille left her conventional city life for the jungle in Costa Rica. You can follow her travels and adventures through the blog.
Jessie on a Journey – With a focus on adventure, budget, culture and offbeat experiences, Jessie on a Journey provides tips and guides even the most savvy backpackers can appreciate.
Vicky Flip Flop Travels – Victoria is a travel and festival blogger. She travels as much as I can and have good tips on how to make the most of their annual leave, weekends and money.
Emily Luxton – A long running travel blog which combines personal travel stories with lots of reviews and how-to guides.
Pommie Travels – A blog by Victoria, a British girl who has been travelling the world since 2008, living and working remotely.
Crazy Sexy Fun Traveler – A blog by ex-stewardess from Slovakia, who made traveling the reason of her life.
Leah Travels – Leah's a travel and food writer who has as many stories as she does shoes.
Wonderful Wanderings – Sofie is a freelance writer and travel blogger from Belgium. Looking for stories around the world.
This Is My Happiness – Jenna, a California-based freelance writer and ESL instructor, writes about slow travel, art, and culture.
Ashley Abroad – Since graduating college Ashley lived in France, backpacked Europe, India and Asia.
Girl Tweets World – A travel writer from London who blogged her way around 40 countries before turning 30. On this page you'll find inspiration and advice relating to travel and social media.
The Trusted Traveller – Reliable travel tips and inspiration from Australian girl Jenget.
The Russian Abroad – 23 year old travel blogger, born in Latvia, educated in Germany, now living in Ecuador. Nature lover.
Trip Wellness – Elaine travels, writes, podcast and is constantly inspired by the world and fellow travelers.
Cultural Xplorer – 20-something New York City based traveller is exploring world culture through travel, food, and people.
C'est Christine – A blog about solo female travel, stylish packing and creating an intentional lifestyle in New York City.
Wild About Travel – Simon's blog is reflecting her passions of discovering new places, feeling strong emotions and finding inspiration.
Cheryl Howard – Cheryl moved to Berlin…again, where she works as a freelance travel writer and photographer.
Candice Does the World – Candice, from Newfoundland, is travelling the world while doing some freelance travel writing.
PS I'm on My Way – Trisha left her comfortable spot of life to travel remotely and to experience the world through volunteering, teaching, family stay, learning languages and cuisine.
Nomadic Chick – Jeannie is roaming the world since 2010, sharing stories and inspiring the soul.
Solitary Wanderer – Tales and tips of a solo female traveler. Aleah started travelling alone when she was 11.
Voyager for Life – Renuka is an Indian travel blogger, wanderlust soul who travels to discover, learn and grow.
Senyorita – A travel blog of a twenty-something Filipina who aims to conquer the world one continent at a time.
Katie Aune – Katie wonders along the roads less traveled, like spending a year traveling & volunteering in the former Soviet Union.
Nerdy Nomad – Kirsty is joining her two passions: travelling and volunteering.
Adrian's Travel Tales – Adrian Ann started out teaching English in Asia for a year and then jumped into being a full time traveler.
Angie Away – A travel the world with the girl next door, Angie.
Emma's Travel Tales – A twenty-something Scottish girl who's obsessed with travel. Emma is busy making memories around the world.
Flora the Explorer – Flora travels, teaches and volunteers around the world, with the aim to visit each continent twice before she turn 31.
Adventurous Miriam – Miriam's travel adventure, Dutch girl willing to take a risk to experience something new.
A Globe Well Travelled – Ashlea, a colorfully clothed and excitable vegetarian who loves photography and exploring the world.
Seattle's Travels – Seattle Dredge is a 26 year old travel blogger, currently living in Toronto, Canada.
Traveler Folio – Eunice comes form Singapore, on her blog she shares useful travel tips and information of holiday destinations and attractions.
From Shores to Skylines – Katie, a biologist by day, travel blogger by night, with a passion for travel, food, conservation and the ocean.
What A Trip – On her blog Nancy combines her passion for travel with her professional writing career.
Runaway Juno – Juno Kim is an award-winning storyteller: writer, and photographer.
Ali Adventures – Ali is a writer, expat and travel addict – she's been to all 7 continents before her 30th birthday. On the blog she shares her slow travel experiences.
Fearful Adventurer – Torre DeRoche is the author of 'Love with a Chance of Drowning,' a travel memoir that originally began as a blog.
The Quirky Traveller – Quirky tales from a lifetime of travel, sharing what is unusual, inspiring and informative from the world of travel and social media.
Chasing the Unexpected – Angela's personal feelings about places, people and traditions.
This Battered Suitcase – When Brenna is not travelling, she is writing about it.
LL World Tour – Emmy Award winning TV producer leaves behind her "conventional" life to travel around the world.
Traveling with MJ – Mary Jo, travel blogger and publisher who is always packed for the next adventure.
The Travel Chica – Stephanie travels solo through Central and South America following her motto "live simple, consume less, experience more".
Itchy Feet – A travel writer from India blogging on travel since 2003. Her blog is one of India's oldest and most popular travel blogs.
The Culture Map – Shing recently moved to London. Her travel blog specializes in London life, Scandinavia and the Arctic.
Oneika the Traveller – Canadian blogger and vlogger Oneika, a serial expat and travel junkie has travelled to 70 countries on 6 continents.
Indiana Jo – Ex lawyer from London, great resource to help you craft your own travel adventure to see the world on your terms and to your budget.
Solo Friendly – All you need to travel is you! Grey's blog about solo travel.
Caroline in the City – A blog about one girl's adventures in cities and travel tales around the world.
Pinay Travel Junkie – A Filipina backpacker mom with perpetual hunger for adventure.
Kisty – Kisty is a creative free-spirit and lifestyle blogger with a thirst of adventure.
Jetting Around – A travel blog by Chicago-based, Krakow-native Pola. Check her blog for city-focused travel, urban culture worldwide and beautiful photos.
Little Things -Marissa shares tips and stories of her adventures around the world, ultimately focusing on appreciating the little things in life.
The Travelbunny – A travel blog by Suzanne Jones, aiming to inspire wanderlust and culinary curiosity with a dash of adventure.
Blonde Gypsy – Larissa aka The Blonde Gypsy is a travel addict, iPhone photographer, Balkan connoisseur and master of Europe.
Helen in Wonderlust – Helen, a thirty-something, UK-based adventurer and travel blogger with special love for Africa.
Nomadic Chica – Slow traveller from Chile experiencing the world solo from Latina perspective.
This Girl Loves – Sara shares stories and photographs from her travels, along with the best beauty discoveries she's made on the way.
Crazy in the Rain – Anna is traveling solo for 4 years, photographing her journey and replying any travel questions you may have.
Reclaiming My Future – Toni's journey is proving that life happens when we least expect it.
Beyond Blighty – Arianwen has been bitten by the travel bug. Her current adventure: backpacking in Central America.
The Boho Chica – Natasha is a Dubai based travel blogger & writer experiencing the world in cultures, cuisines & hiking trails.
Further Bound – Hannah is a writer and designer slowly house-sitting her way around the world.
Susan Shain – Small town girl who's been traveling and working around the world since 2008.
Globe Guide – Tamara's savvy advice to help plan the perfect trip. Where to go, what to see and how to avoid paying too much.
Treasure Tromp – Discovering life's little treasures one adventure at a time.
Digging Art – A travel writer and photographer sharing her love for art.
The Mochilera Diaries – Leah's blog about backpacking, expat living, and the pursuit of happiness.
According to Zascha – Zascha will soon embark on the adventure of her life, crossing South America and Asia.
Fleeting Life – On Christina's blog you will find funky travel & lifestyle content, with a focus on local culture via music, food, & unforgettable experiences.
Taylor Hearts Travel – A travel lifestyle blog featuring stylish, unique and exciting travel for you, your home and wardrobe.
The World and Then Some – A worldwide travel blog, for the ambitious, adventurous & photography-obsessed.
The Fly Away American – A former Texan turned serial expat. Jess is now living on the coast of England.
Savoir Faire Abroad – Pamela is a travel writer and photographer from Canada. Over the past 3,5 years she has been travelling through Asia and Europe.
Not Without My Passport – Helen blogs about all things travel, food and photography.
Elenas Travelgram – Elena, an expat in France, is having cool adventures on a tight budget.
Explore for a Year – Lily's year of travel around the world and back.
Unbrave Girl – Sally is big scaredy cat, but that hasn't stopped her from doing a lot of things she is scared of. Like traveling the world.
The Traveloguer – Christine is an India-obsessed budget backpacker and cultural explorer.
Where Is Jenny – Jenny travels the world while running location independent graphic design business.
Megan Starr – Megan is on the road in search of good food and beer. She is an expat in Norway.
Isabelle's Travel Guide – Isabelle's practical travel guide to journey around the world.
Gotta Keep Movin – Emma's mishmash of stories about people around the world, herself and her love affair with travel.
Brooke vs the World – For Brooke what started out in 2006 as a simple idea of seeing the world has turned into a career, a home abroad, a love, and a couple dozen countries.
Wanderlass – The lass that wonder's quest to live an extraordinary life.
The Cosy Traveller – Comfortable and stylish UK and international travel tips, combined with a mix of tea, luxury and animals.
Buddy the Traveling Monkey – Buddy is trying to inspire others to travel the world while I figure out how to leave the cubicle life behind so I can travel full time.
Adventure Girl – Dubbed "America's Tweetheart" Stefanie Michaels, living life's adventures.
Chronicles of a Travel Addict – A happily addicted traveler's stories, photographs, and reflections.
The Picktures – Zofia's solo female travel and photography in South Caucasus and beyond.
A Passport Affair – Megan enjoys slow travel, slow food and the joy of discovering something new.
Gutsy Traveler – Marybeth Bond travels solo around the world. She is an expert on women travel.
Ways of Wanderers – A travel and expat blog focused on cultural travel. Jess has been traveling slowly around the world for three years.
Veronika's Adventure – Adventure travel stories from around this beautiful planet by Veronika from Czech Republic.
Daydream Away – A life-long travel junkie journalist who works hard to find adventure in everyday life.
The Further Adventures of Bennett – Bennett's life in China where she worked as an English teacher. She is now in New Zealand.
Hanna Travels – Hanna is travelling, making dreams come true, self-improving and inspiring women to live their life.
Anywhere But Home – A travel photography blog on long-term, budget travel – inspiring you to turn adventures abroad into a full-time lifestyle.
Absolute Travel Addict – Stop travel dreaming and start travel diong with help of April.
Meganotravels – Tales of a traveler gallivanting around the globe.
Poor Explorer – Follow Crystal as she travels around the world in search of big adventures on a tiny budget.
Suzy Guese – Redheaded Suzy travel stories, tips, rants, and information on places all around the world.
The Wandering Orange – Lauren, an artist and comic books lover, traveling the world with her sketchbook for over 4 years is showing you the world in very creative way.
Miss Tourist – A Russian girl discovering our beautiful planet. Join her in the adventure.
Ferreting Out the Fun – Heather is passionate about food, history and animals.
Traveling My Way Home – A blog for everyone who considers themselves to be a world citizien.
Alyssa Writes – Alyssa is a Canadian freelance writer living in London inspiring to travel and living the life of your dreams.
One Girl: One World – Francesca is a tri-lingual travel guru and former expat seeking my next inspiration and adventure.
Just Wanderlust – A discerning, food-loving, & culturally curious road warrior seeks the world's beautiful and bizarre destinations.
Flying Dutch Girl – Hester backpacks around the world until she runs out of money.
One Penny Trip – An adventure oriented solo woman travel blog, about Africa, Middle East and off the beaten path destination.
The Love Assembly – Aubrey is the style-conscious traveller and author for Condé Nast Traveler.
The Pin The Map Project – Nikki shares solo traveling tips, travel hacks, destination guides, food & drink stories and more.
Lola's Travels – Lauren DiMarco is a fun-loving traveler with a flair for finding adventure and spreads humor everywhere she goes.
Dopes on the Road – Meg is a full time traveler and queer travel writer.
Chasing Travel – Cristina blogs and vlogs on local travel and cultural experiences.
Runaway Jane – Jane is a serious travel addict. She wants to inspiring other people to travel and break the stereotypes and preconceived ideas people have about places around the world.
Adventures All Around – In her blog and weekly radio travel segment Amanda combines two things she loves: travel and chatting.
Cubicle Throwdown – A travel/expat blog that chronicles Rika's adventures as a paralegal-turned-dive instructor on an island in the Caribbean.
Mad Travel Diaries – A Trini female world traveller with a serious addiction to globetrotting.
Sarah Somewhere – Sarah is discovering the beauty of an imperfect journey.
To Europe and Beyond – The best of Europe and beyond in the eyes of Canadian.
Going Nomadic – Is an anti-tourist, adventure travel blog that actively seeks out experiences that you can't find in a guidebook.
Nomad Girl – Jasmine's tips on working and volunteering abroad while travelling.
The World Wanderer – Erin loves going out of her comfort zone as often as possible, and experiencing all that life has to offer.
Null & Full – Agata travels around the world with a book in her hand and endless curiosity about places and its people.
The Happy Passport – Inspiration and travel tips for the 30+ solo female travelers from Rebekah Voss.
Travel on the Brain – Annemarie travels the world one country at a time and shares her tips with you.
Borderlass – Travel beyond borders around the world.
Meander the World – A blog about exploring the world through the eyes of a 20 something female.
Traveling Vanilla Bean – Heather is a slow traveler looking for warmth and untrodden paths in the world.
Lights Camera Travel – Michelle has packed up her life in Melbourne to live a life of adventure and to explore the world.
Globetrotter Guru – 30-something eco travelblogger Amy loves mid-range accommodation, culture and wildlife.
Fluent in Frolicking – Maui native girl flirting with adventure one country at a time. Gin drinker, hammock lover, daydreamer, running multiple online business.
Inside Journeys – Proud Jamaican, Marcia Mayne, travels a world full of books, music, art, fun people and great food.
The World's Waiting – Expat humour, travel tips, handy hints, photos and inspiration for travellers.
LatinAbroad – Puerto Rican girl sprinkling Latin spice all over the world.
Scarlet Wonderland – A lifestyle and travel blog for people who are fabulously imperfect.
Blocal Travel – Giulia blogs about unconventional destinations, abandoned places, street art, suburbs, urban landscapes, weird spots and other places she happens to visit.
Rome New York London World – An Italian expat living in London and an urban traveler interested in food and lifestyle.
A Thing for Words – Jenny is an expat in Barcelona and English teacher, focusing on the intersection of language and culture.
Made All the Difference – A blog written by a twenty something American female expat living in West Africa and traveling the world on her days off.
Packing My Suitcase – A blog about traveling, diving, Formula 1, eating and drinking and expat life of Brazilian girl in Germany.
Lucy Smiles Away – Permanently lost, usually smiling, Lucy has been blogging for three years, slowly but enthusiastically exploring the world.
Endlessly Changing Horizon – A 20-something Canadian Miranda didn't have enough money to go on RTW trip, so instead she bought a 1 way ticket to Scotland.
Lines of Escape – Kasha left her sunny home of Cape Town in pursuit of a new adventure.
Kirst Over the World – From exchange student in Australia to travel loving Londoner, chasing the world.
Passport Packed – Liz is travelling the world and blogging about it from a young Kiwi perspective.
The Mellyboo Project – Melissa has a mission to live life on her own terms, doing the things she want to do, and exploring every last inch of the world around her.
Travel Candy – Tasty world of weekend travel. Travel ideas, tips, reviews, guides, news, and inspiration – all tried and tested by Claire.
A Girl and Her Passport – Single expat girl traveling the world from Qatar. Check out her travel adventures, tips and expat musings.
Places People Stories – A twenty-something travel junkie from Norway shares stories and experiences about places she has been and people she has met during 5 years of travels.
Miss Adventure Travel – Personal stories and photos of adventure travel, outdoor adventures and teaching English around the world.
Barefoot Beach Blonde – Oceana is a barefoot budget traveller always looking for a new adventure.
Laura Explorer – Female solo backpacker blog. Budget travel advice and stories from first hand experience.
Travel Chameleon – An adventure Malaysian girl determined to see the world by herself.
Flight of the Travel Bee – An inspirational blog by a deaf traveler Chérie King. She blogs about her experiences and gives tips to ensure that you get the best out of your travels.
Feathery Travels – A blog about some seriously budget travel and the experiences, art and music.
Mapping Words – Daily drawings, illustrations, photographs and writing about life around the world, mainly in South Korea and Colombia.
Live More Happy – Always in search of the next adventure and a deeper meaning in life.
Travel Junkie Julia – Julia Dimon is an adventure travel writer, a TV host and hard-core travel junkie.
The Traveling Scholar – Travels and adventures of a global citizen currently living life in the British West Indies.
Globe Trottica – Free spirit wandering around the world on a budget to find the strange, the beautiful, and the ugly.
Wide Sea No Anchor – Travel blog that unites her passions for adventure, beautiful photography and a bit of writing.
WanderLuce – Lucy is a travel & beauty nomadic blogger from London, currently in Thailand. She is sharing her misadventures and trying to inspire some wander & beauty lust.
Where Is Tara – Adventures of a Kiwi Irish girl. Travel tips, medical advice, and amusing anecdotes from Tara's chaotic life.
Travel Destination Bucket List – Anita's travel hunger and bucketlist is ever-expanding.
Travel Bug Juice – Kelly has been working and traveling across the globe for the last years.
The Blond Travels – Expat English teacher, solo traveler and divorce survivor, trying to find herself in the world. Currently in Thailand.
Sihpromatum – Savannah Grace is a world traveler, she's only 24yr and has visited 100 counries.
Without License – Diana, a Taiwanese-American girl, shares her travels through her vlogs and blog posts.
Gallop Around The Globe – Kiara is a passionate traveller since the early age. Always busy dreaming about, planning, researching and organizing her next adventure.
Travel with Mrs. T. – Micheale is an educator for over 25 years, hence she started this blog to inspire, inform, excite, explore, create and communicate.
Foreign Geek – A geek's travelogue and life in between in foreign lands.
Lose the Map – Joanna is a 25 year old actress, writer & frequent traveler.
Andrea on Vacation – Travel blog following Andrea around the globe.
The Touristin – For Dorothée travel is her cure and inspiration.
Philatravelgirl – A girl from Philadelphia living life, earning points, traveling the world.
Mindful Travel – A blog by Sara, blogger and expert on exotic destination, passionate about travel and photography.
The Epic Adventurer – Julia is a professional writer & editor based in London. She writes about independent, sustainable, and culturally-sensitive travel.
Solo Female Traveler – Adventures of a solo female traveling the globe from the Northeast, USA to all over the Middle East.
Blondie Travel Blog – Agata left her home country Poland to to exploring the parts of world she has never been to before.
Sally Around the World – Crazy animal lady and extreme partier… In December 2013 Sally quit her job to travel the world.
Woman Seeks World – Nicole shares her experiences of transforming from unhappy and apathetic rat race office worker, to living her dream traveler.
A Wandering Sole – An explorer, volunteer, runner and Africa enthusiast in search of meaningful connections.
Ms Traveling Pants – Heidi's travels with a touch of sass, fun, and cleverness.
Dream Explore Wonder – Join Aggy, a girl form Indonesia, who travel the world. Great reading, full on insights.
Roam Far and Wide – A blog for dreamers, travel enthusiasts, and those who would like to come along on a virtual journey around the world.
Where in the World – Florida-born, Sydney-based. KP has traveled to 30 countries, studied in 3 and lived in 2 – all before turning 22.
Travel With G – G. is a writer at heart, world traveller and home cook.
Polkadot Passport – Escape into a world of visual memoirs & wandering pondering. Photographed & written by Nicola Easterby, a young, sojourning soul.
J The Travel Authority – Adventures in travel, food, wine and architecture.
Travelosio – Straightforward travel guides, hacks, tips, reviews and recommendations on how to travel more while spending less from Pinay wanderess Sarah.
Totally Sam's World – Pole dancing travel geek Sam on the road.
Sushiyama Travels – Kimi is a curious traveler, mountain child, and avid reader, eater, and adventure seeker.
The Roamantics – Freelance documentary filmmaker Lorna's travel adventures and misadventures.
Lateral Movements – Lauren has a huge experience with working holiday visas. She blogs about working, studying, traveling and living abroad.
Find a Happy Place – The highs and lows of travel, mental health and living a life of no fixed abode.
Eager Journeys – Iga is a wandering journo and photographer, who eagerly travels the world and explores her hometown of Johannesburg.
Choosing Figs – Unable to decide weather to stay or go, Valerie has started to travel the world after she turned 30 and didnt stop since.
Boldly Go Solo – How to set out solo, but not travel alone: Trips, tips and ideas for the active traveler.
Travel Run Live – Janine writes about her travel activities, race recaps, fitness, and her adventures crossing things off the bucket list.
Sara Hardman Travels – Former news journalist experiencing & promoting amazing places.
The Wanderlust Scout – An Aussie travel blogger living in the UK, scouting the best finds across the world.
Travarella – Emme, a 20 something world traveller, adventurer inspiring those who dream of seeing and experiencing the world.
A Life Full of Serendipity – Inspirational travel & lifestyle blog. Stories of travel encounters. Growth through travel.
Mrs Ayla's Adventures – Ayla is a jet setter, adventure seeker and lover of pretty much everything.
Travels Hop Girl – Traveling the world by land, sea, and air looking for fun and unique activities along the way.
The Tech Gypsy – Robyn will teach you how to travel far, travel kindly, travel cheaply and travel well.
Two Feet, One World – A Kiwi, traveller and blogger, always with a smile on her face. A fan of good coffee and beaches in any form.
My Travel Stamps – A travel blog and community dedicated to all things travel related.
Ever the Nomad – Anja is a traveler writer from Chroatia, based in NYC.
There and Back Again Travel – Extraordinary Travel for Ordinary People.
Voyager Vicki – Information and inspiration for cultural travel from world traveler Vicki.
Life's Wanderlust – Mari from Bulgaria explore the unique cultures of the world and share those amazing facts with you on her blog.
ChicaDeeDee – Dannielle is and Expat from New York to England with a wanderlusting heart.
View From the Pier – Meg explores the world's cultural traditions & spiritual practices through travel and photography.
RTW in 30 Days – Jenny McIver is an author, blogger & round-the-world addict. Having completes 9 RTW trips on all 7 continents she called the world her office.
Bamboo Butterfly – A blog about personal transformation, starting with the moment of moving to Taiwan.
Small Crazy – An eccentric, colourful London girl with an adventurous spirit.
Getting Close To – A video blog for travelers run by Dalia. She creates unconventional travel videos to get you closer to locals.
I Put My Life on a Shelf – Long time Las Vegas addict morphing into solo world travel addict.
Flanerie Feminine – A woman's stroll through the paradoxes of urban life. Miret is based in Zurich.
Emily Meets World – A twenty-something science teacher from England on the trip of her lifetime.
Nomadder Where – Lindsay has spent the last seven years documenting experiences for global corporations and non-profits worldwide.
Me Go – Megan's chronicles from two around-the-world trips.
Where in the World Is Rita – A 20-something Portuguese working as an art director and illustrator to support her even bigger addiction: travels.
Psycho Traveller – Down to earth, practical advice on budget backpacking from You Tuber Aly.
Nomadic American – Heather is a twenty-something American girl exploring the world. Currently teaching English in China.
Stepping String – Jenny, girl with itchy feet and an interest in volunteer.
Scarlet Jones Travels – Scarlet shares information and destination reports, plus accommodation, product reviews and travel tips.
Explore du Jour – Follow the adventures of Laura from London, as she explores the world and its beauty – piece by piece.
Life's Great Adventures – Travel blog dedicated to life's great adventures.
My Trip This Year – Leasha is travel blogger and student trying to do both at the same time.
Hello Guanster – Christina is a travel & DIY blogger striving to share awesome content that inspires you to see the world, craft epic things and pursue a happy life.
The Anthrotorian – Lindsay share passion for travel with her passion for anthropology and history.
Notes on Slow Travel – Overland traveler in Asia and South America since 2003.
Midnight Blue Elephant – From her travels Annika collects stories, visuals, souvenirs and the odd elephants for good luck.
Miss Wanderlust – A Canadian girl with a goal to visit 30 countries by her 30th birthday.
Five Feet Flat – Anis from Malaysia quits her job in 2012, curious to know how it would all turn out.
The Touristin – For Dorothée travel is her cure and inspiration.
A Life Less Beige – Nicole is a girl with big dreams on a mission to see the world and make a difference.
Mackenzie on the Fly – A 20-something student about to graduate with a degree with one thing on her mind: Travel.
Travelin' Kait – Teen travel blog by 15 years old Kaitlin, who dreams of being an archaeologist.
Come Away with Me – Jessica is a travel blogger and yoga instructor with a passion to wonder and spread positivity.
My Thousand Worlds – Monika exchanged her office desk for travel adventures in a thousand new worlds.
The Girl in Seat 5A – Lover of travel, photography, food, wine and writing.
Side Tracked Travel – Elisabeth's stories of past, present, and future adventures, destination reviews, historical information, cultural insights, and photography.
Bridge Keeping Traveller – Mariella is interesting in "building and keeping bridges between people, cultures and different ideas". Big fan of Eastern Europe.
Trips That Work – A Russian girl Irina is a travel fanatic, photography enthusiast, animal lover, and a reading junkie.
Sharon Travelogue – An Indonesian student who enjoy sharing the love of traveling, eating, and cooking.
Small World Pursuits – A blog about Alisha's experiences on her volunteer journey around the world.
Innocent Nomad – Follow Emma's journey toward 50 different countries before my 30th birthday.
Rosalind Cummings Yeates – Black American writer musings on how travel, fashion and culture connect.
Road Trips and Train Rides – Pack your bags and take road trips and train rides with Janerma.
Travelling Assassin – This blog is dedicated to the satirical musings and adventures of a girl travelling the world solo.
Girl Unstoppable – Capturing the world with honest and insightful travel writing and photography.
A View to a Thrill – Renee spends most of her time plotting the next excursion to anyplace outside of her zip code.
Traveling Teri – Teri hasn't been everywhere but it's on her list.
My Life Untethered – Alicia showcases that you too can get to know our beautiful planet if you just put down your smartphone.
Travel Enlightenment – Learning more about the culture and meeting many people by traveling slow.
Red Bohemia – A wandering spirit with a love for travel, yoga, books and chocolate.
Sol Beam – A perpetual pilgrim's 7+ year travel journal of soulful travels and living.
Jackie Travels – Firsthand experiences as an American tourist in Europe.
A Chinese Nomad – Julia has just returned from the adventure of her life, travelling around South America, the South Pacific and South East Asia for 12 months.
Living Rootless – A blog about a woman living a portable life. About budget travel, solo travel, and slow travel.
Bisbocci Abroad – Erika is traveling, volunteering and studying around the world, and inspiring others to do the same.
The Compulsive Traveler – Anya was born and raised in Soviet Russia, finish her university in US and is a globetrotter at heart.
Nateniale's Travels – A travel and lifestyle blog by a girl from a small island, Penang, in Malaysia.
Jouljet – A blog from an Aussie girl, trying to make the world a better place.
Sara Sees the World – Sara is a wanderlust college student who wants to share her travels with the world. Her adventure has just begun.
Jet Set Chick – A travel blog all about sharing good food, new places, great service and creating memories.
Completely Gone Nomad – Elles, a 20-something-year-old travel junkie who's 'completely gone nomad'.
Live Wonderful – Danielle, a free-spirited photographer, reckless writer, motivational teacher and fierce friend capturing unique stories and share her experiences.
Global Souls – Unique destinations, solo-luxury experiences, and incomparable culinary delights.
The Hidden Coconut – Chicago-born Stefanie is living in Bangkok from where she blogs and shares incredible adventures.
Travel with a spin – Check out Raluca's blog to inspire and help people travel more.