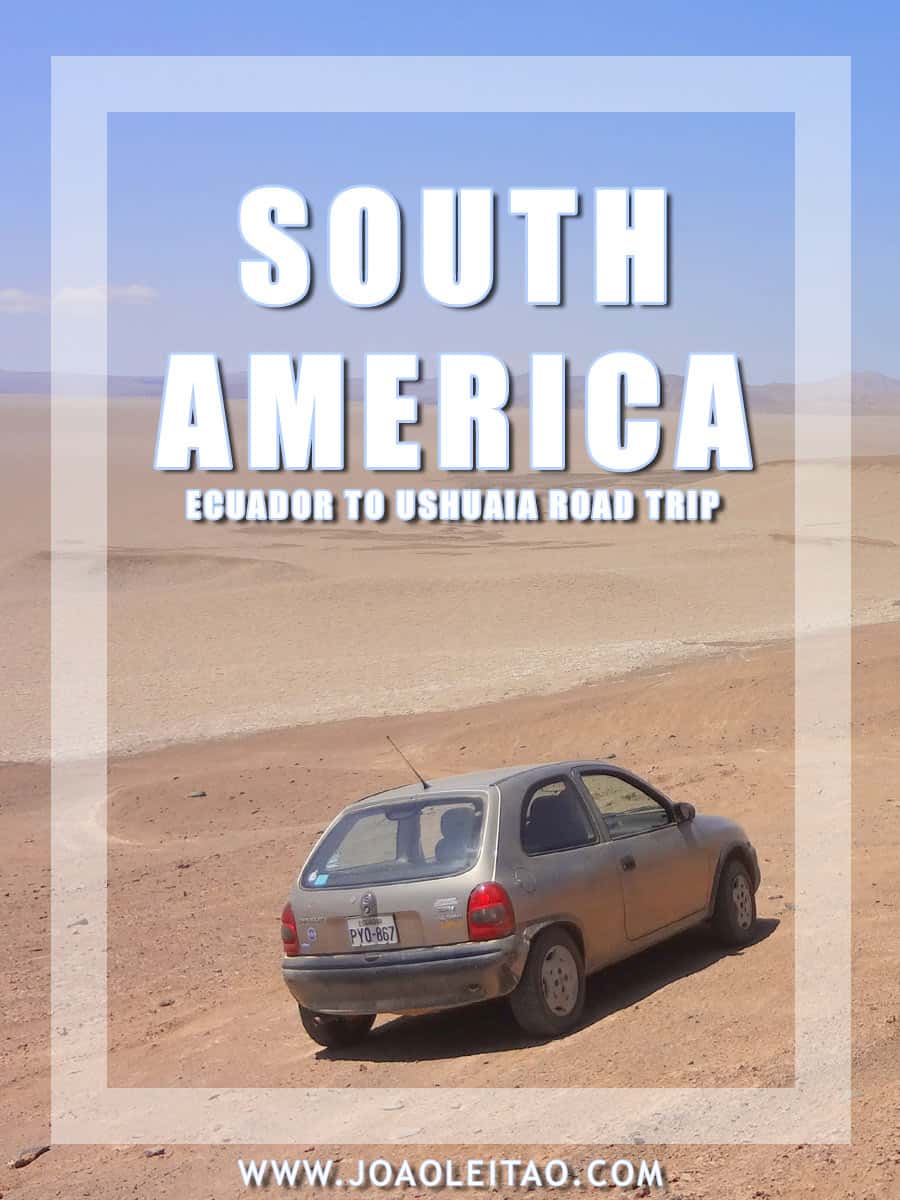 I started Driving in South America after having completed several months going through the jungle and up the Amazon River by boat. I decided to change my means of transportation.
Why?
I bought a car in Quito, Ecuador's capital.
All those months of backpacking, sleeping in hammocks, river boats and piranhas were over. From now on the trip was about road maps, gasoline, car insurance, customs border control, etc…
The trip was taken to another dimension. I could now visit more destinations along the way, because when traveling by boat or by bus, I was not able to visit anything in between.
Being able to drive enabled me to explore many more places since I could stop whenever I wanted.
Indeed the chance of Driving in South America was just the start of a new adventure.
The goal now was to get to the city of Ushuaia in Argentina – the southernmost South American city. Driving all the way from Quito, at the equator line, to Ushuaia in Tierra del Fuego.
There is no really big difference about Driving in South America compared to other countries. Basically good judgment and driving defensively keeps you safe on the road.
Besides having driven thousands of km / miles along the Pan-American Highway I also drove over 2000 km / 1200 miles on the famous Ruta 40 in Argentina.
Distances of South America road trip
(Quito in Ecuador to Tierra del Fuego in Argentina)
Ecuador = 1812 KM / 1125 MILES
Peru = 3830 KM / 2379 MILES
Chile = 4379 KM + 580 KM / 2 720 MILES + 360 MILES
Argentina = 2451 + KM 299 KM / 1523 MILES + 185 MILES
TOTAL = 13351 KM / 8296 MILES
Most beautiful road in South America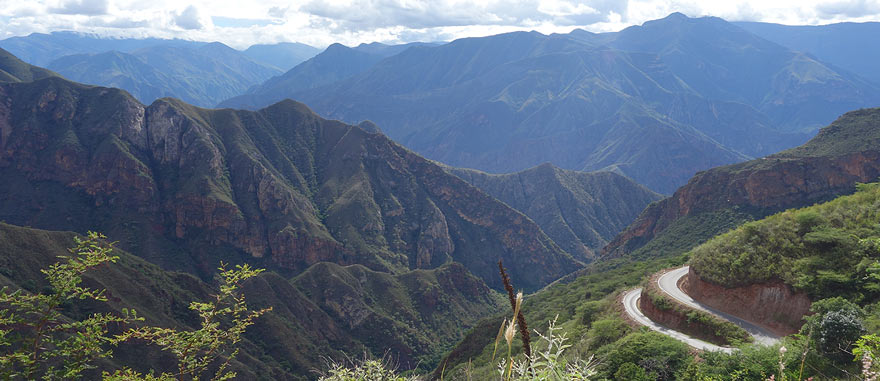 I make a short list of some of the roads that I really enjoyed crossing. Many of these places are amazing and I think I can even pick my favorite:
Leimebamba to Cajamarca – Peru
Other beautiful roads – Driving in South America
Cotopaxi National Park – Ecuador
Machachi to Zumbahua via Guangaje – Ecuador
Sangay National Park to Lake Atillo – Ecuador
Pan-American Highway until Chanquillo – Peru
Arequipa to Tacna – Peru
Iquique to Tocopilla – Chile
Geothermal Park Geyser del Tatio to San Pedro de Atacama – Chile
Valle de la Luna in Atacama Desert – Chile
Antofagasta to Copiapo – Chile
Villa la Angostura to San Carlos de Bariloche – Argentina
Perito Moreno to Cueva de las Manos – Argentina
Driving near Chankillo in the deserto of Peru:
South America self drive detailed itinerary
Driving in Ecuador
Quito, Cotopaxi National Park, Machachi, Lasso, Guangaje, Lagoon of Quilotoa, Zumbahua, El Corazón, Puebloviejo, Guayaquil, Stg. Quito, Licto, Alao, Sangay National Park, Lake Atillo, Alausí, Tambo, Ruins of Ingapirca, Canar, Biblián, Cuenca, Loja, Zamora, Podocarpus National Park, Vilcabamba, Santa Ana, Zumba.
Map of Ecuador road trip
Driving in Peru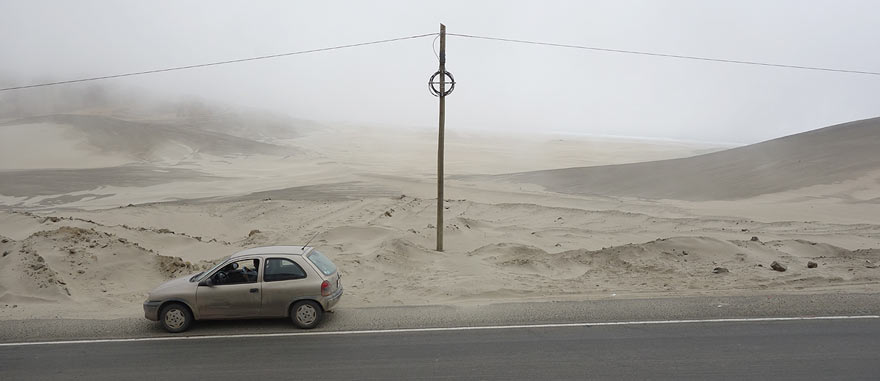 Baños Termales El Almendral, Lamud, Pueblo de los Muertos, Karajía, Luya, Kuelap, Chachapoyas, Revash, Cerro Olan, Leimebamba, Cajamarca, Ventanillas of Otuzco, Cumbria Mayo, Kuntur Wasi, Huanchaco, Trujillo, Chan Chan, El Brujo, Pyramids of Moche, Cerro Sechín, Chanquillo, Paramonga Fortress, Sacred City of Caral Supe, Historic Centre of Lima, Pachacamac, Paracas, Islas Ballestas, Huacachina Oasis, Ica, Ciudad Perdida of Huayuri, Palpa, Nasca, Cerro Blanco, Cahuachi, Chauchilla, Puerto Inca, Toro Muerto, Arequipa, Tacna.
Map of Peru road trip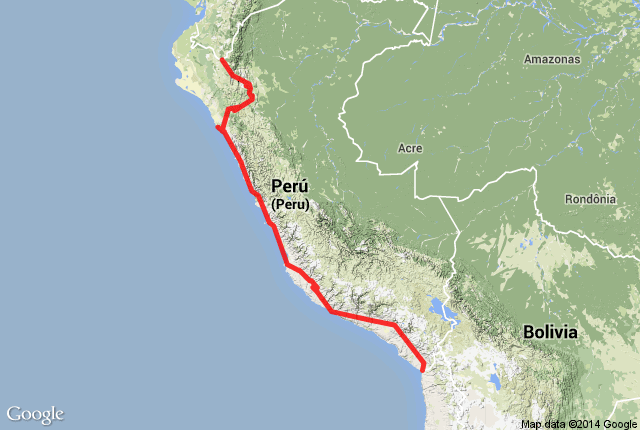 Driving in Chile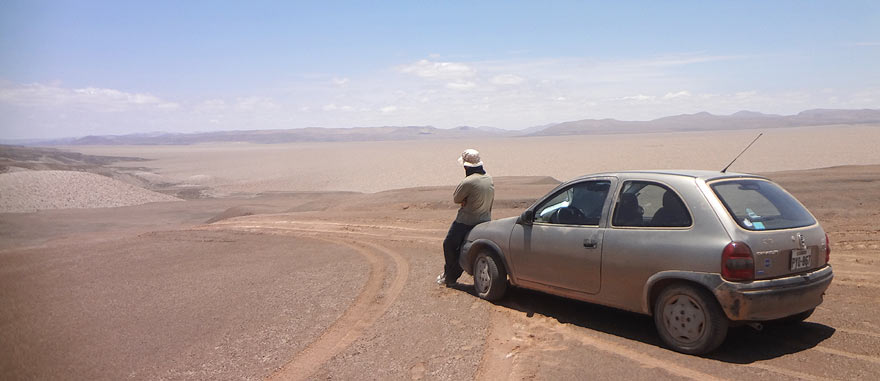 Arica, Geoglyphs of Tiliviche, Humberstone, Santa Laura, Iquique, Punta Gruesa, Salar Grande, Calama, Chuquicamata, Geisers Tatio Geothermal Park, San Pedro de Atacama, Valle de la Luna, Salar de Atacama, Toconao, Socaire, Mano del Desierto, Bahia Inglesa, Valparaiso, San Gregorio, Punta Arenas, Onaisín, Park Pinguino Rey.
Map of Chile road trip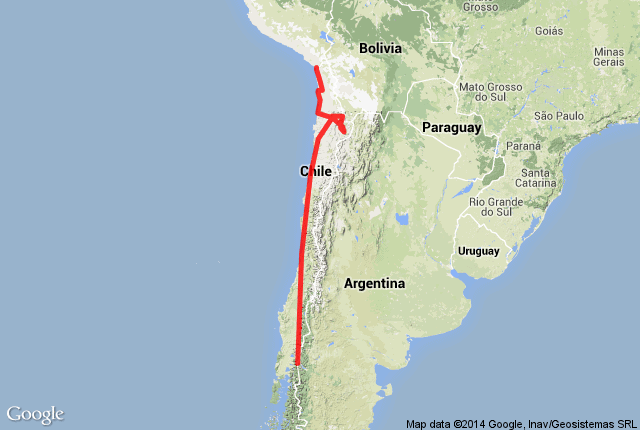 Driving in Argentina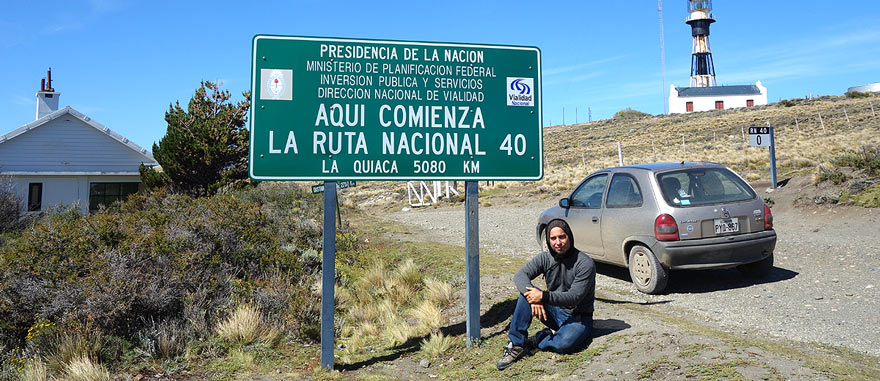 Villa la Angostura, Bariloche, Cueva de las Manos, El Calafate, Perito Moreno Glacier, Río Gallegos, Cape Virgins, Ushuaia.
Map of Argentina road trip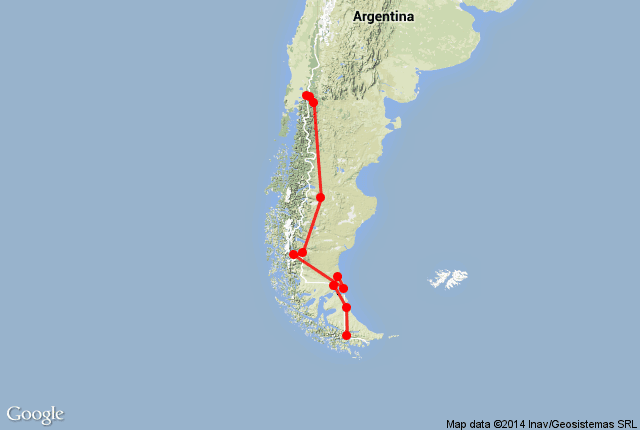 NFor those who like to drive during their travels, I must say that South America is a continent which guarantees excellent overland road memories. No doubt that this whole journey of 13351 KM / 8296 MILES was a unique experience in my life.