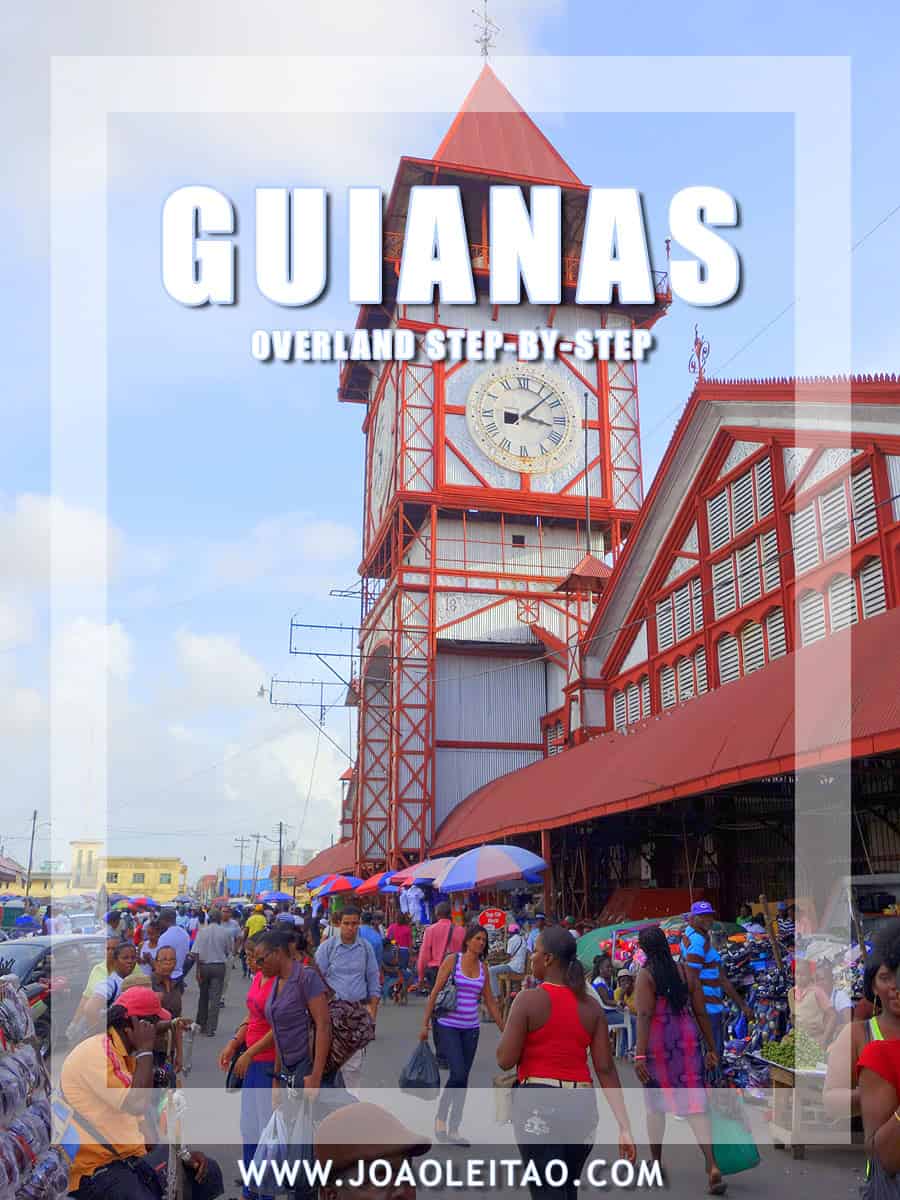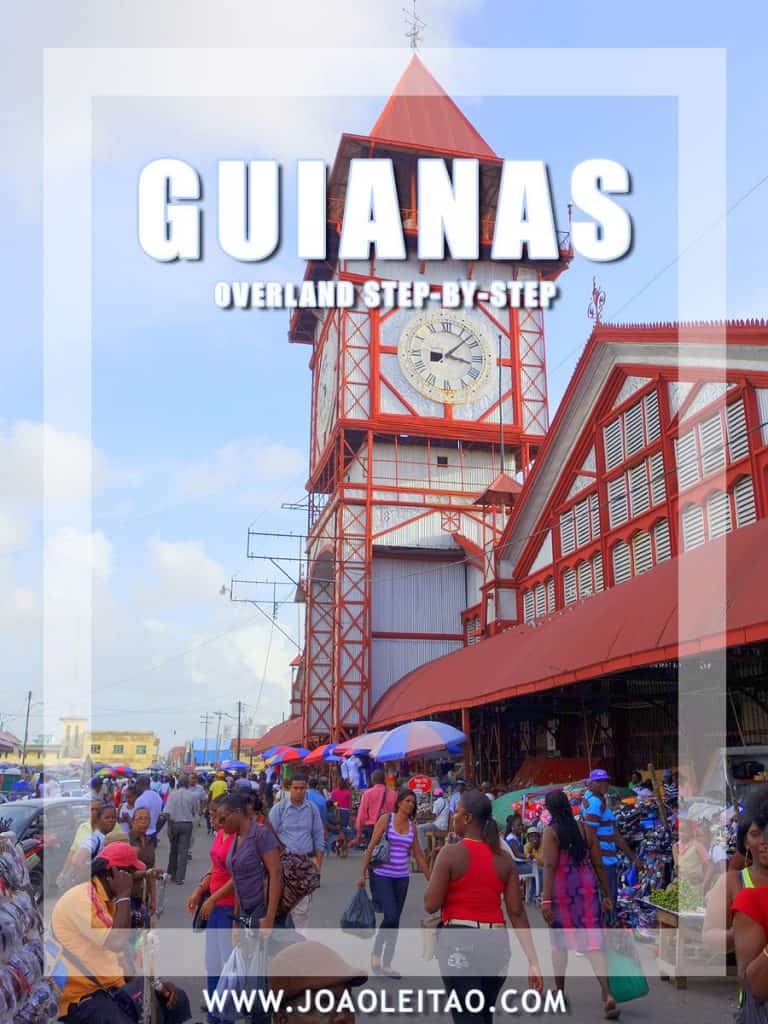 The north-eastern region of South America is commonly called as "The Guianas".
The name Guiana means "land of many waters" and comes from local Amerindian languages.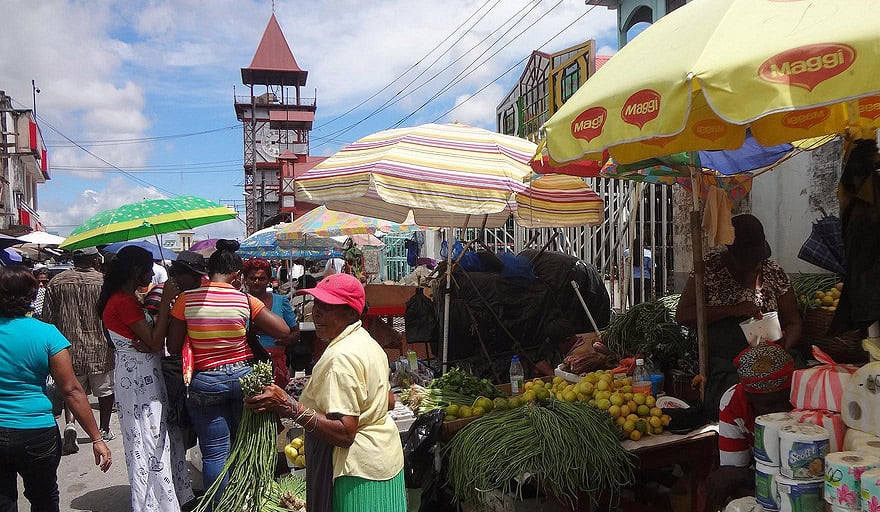 ---
There are 3 main Guianas:
---
Guyana (British Guiana)
Suriname (Dutch Guiana)
French Guiana
---
There are 2 extra Guianas:
---
Brazilian Amapá State (Portuguese Guiana)
Venezuelan Guayana Region (Spanish Guiana)
Georgetown to Macapá by land – Guyana to Brazil via Suriname and French Guiana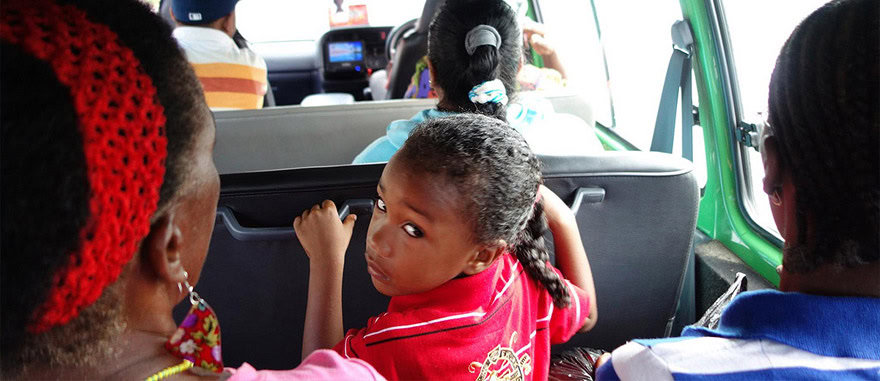 This page is about an overland trip from Guyana's capital Georgetown all the way to Macapá in Brazil, crossing Suriname and French Guiana. I made this trip during the month of July – dry season. The main focus of this travel article is the coastal area of the Guianas, not the other parts deeper in the jungle.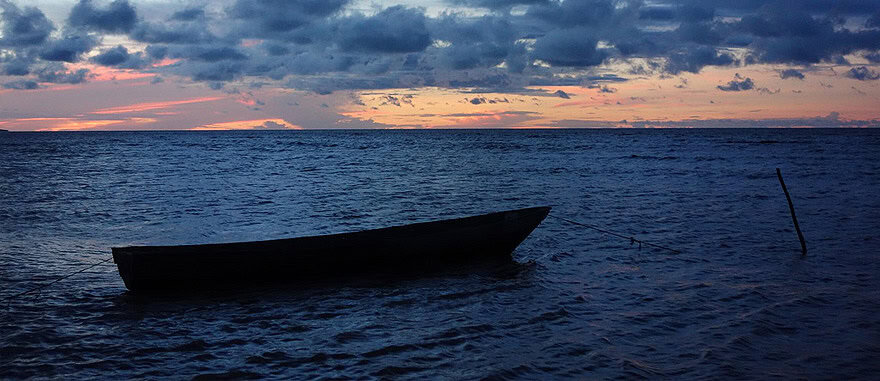 Map and Itinerary
Guyana (Georgetown, New Amsterdam, Moleson Creek), Suriname (Paramaribo, Albina), French Guiana (Saint Laurent du Maroni, Mana, Awala Yalimapo, Iracoubo, Cayenne, Saint Georges de l'Oyapock), Brazil (Oiapoque, Macapá).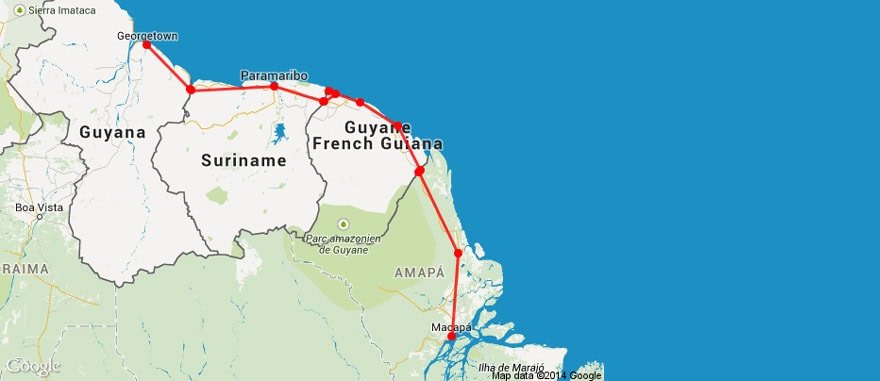 Cities through the Guianas
All the countries within the region of the Guianas are totally different due to the differences in the countries from which they were colonized. Each of the Guianas reflects the architectural colonial style of the UK (Guyana), Netherlands (Suriname), France (French Guiana) and Portugal (Amapá State of Brazil).
Georgetown Guyana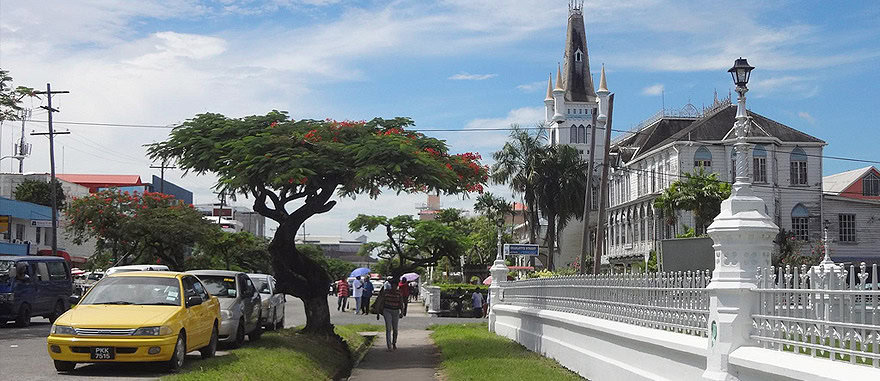 Georgetown is the capital of the Co-operative Republic of Guyana. This city's euphoric streets and colorful markets make you wonder if you're actually in South America or Africa. Georgetown is a blend of British colonial wooden architecture with tropical vegetation. The best monuments and sightseeing places in Georgetown are the Parliament, the Law Courts, the Stabroek Market, the St. George's Anglican Cathedral, the St. George's Anglican Cathedral, the Lighthouse, the Cheddi Jagan Research Center, the All Saints Anglican Church, the river bank of Demerara River, the Umana Yana house and the African Liberation Monument.
New Amsterdam Guyana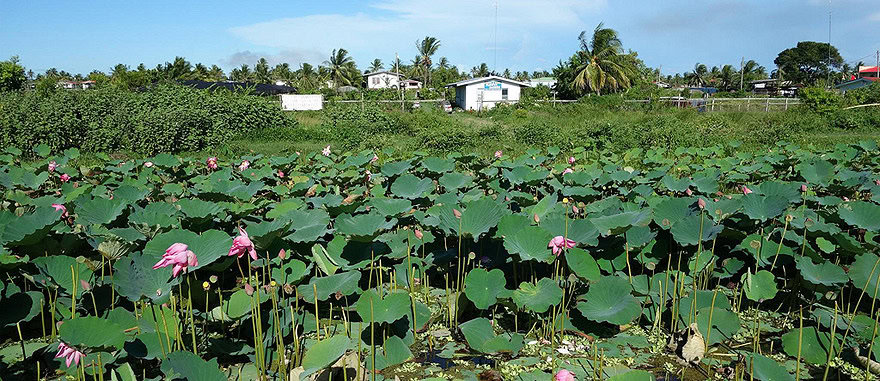 A small peaceful town located on the bank of the Berbice River. There's really not much to do in town than talking with local people and walk around exploring the town center and outskirts. The best monuments and sightseeing places in New Amsterdam are the central market, the water lilies swaps, the boat terminal, the All Saints' Anglican Church and the New Amsterdam Mosque.
Moleson Creek Guyana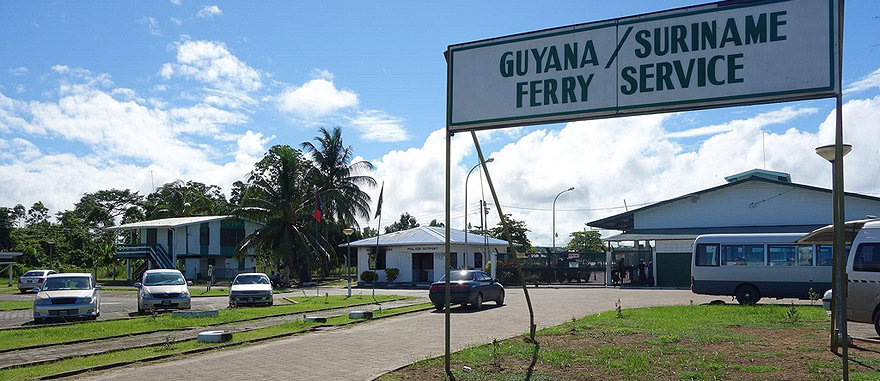 Moleson Creek is the actual ferry terminal from Guyana to Suriname. From here you can take a ferry-boat all the way to the other side of the Corentyne River. Apart from the port, there's nothing here.
Paramaribo Suriname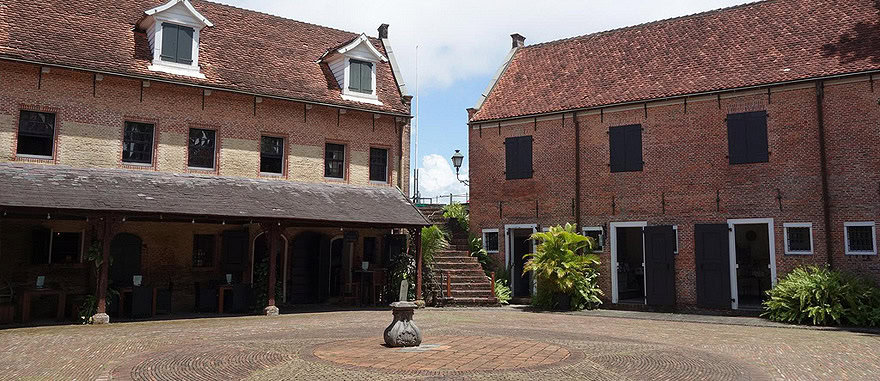 The capital of Suriname, Paramaribo, is a beautiful Dutch colonial UNESCO city and you can enjoy great white wooden architecture, several gardens, and exciting markets. The best monuments and sightseeing places in Paramaribo are the historical city center, the central market, the Fort Zeelandia, the St. Peter and Paul Cathedral, the Royal Palm Gardens, the Cultuurtuin Flowermarket, the Presidential Palace, the Hindu sanctuary, the Neotropical Butterfly Park, the Ahmadiyya Anjuman Mosque, the Pepperpot Jungle Nature Park, the Palmentuim Garden, the 6000 tonne Second World War cargo German ship Goslar in Suriname River, the Waterkant Street and the Neveh Shalom Synagogue.
Albina Suriname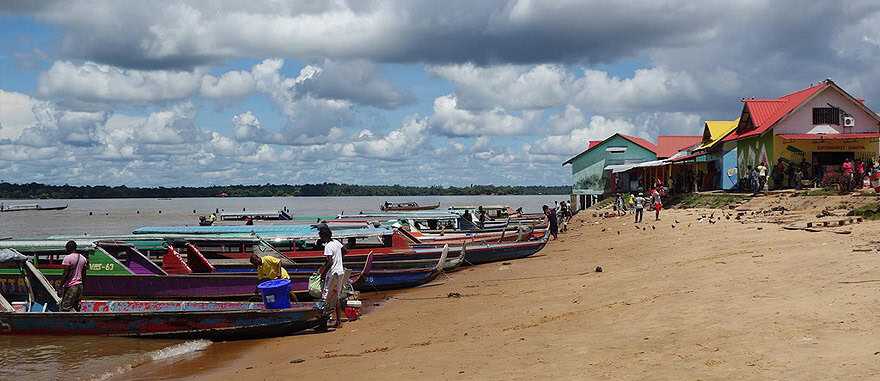 Colorful and cheerful Albina. This is the place from where you get a boat to French Guiana, crossing the Marowijne River. Albina also has boat connection to Galibi to see the turtles, but the guides usually end up taking people to French Guiana as turtles feel less threatened from egg poachers.
While in Awala in French Guiana I saw several boats full of Dutch tourists coming all the way from Suriname. They pay a few hundred euros for this tour all the way from Paramaribo without knowing they could basically do it for free just being on the beach of Awala Yalimapo. The beach of Albina is very beautiful with colorful building and wooden boats called korjaal's.
Mana French Guiana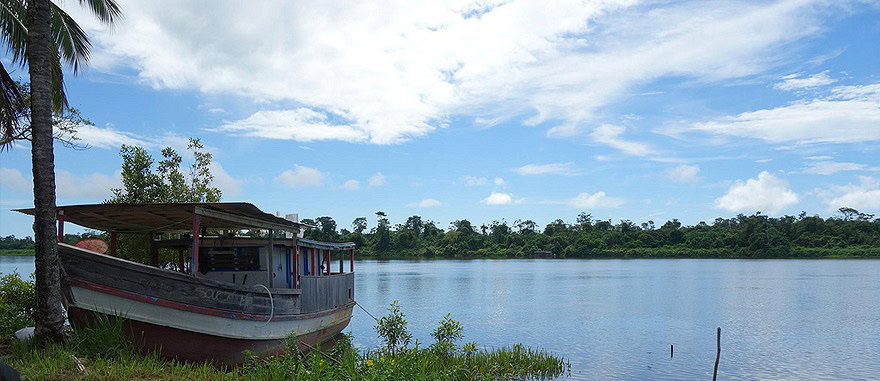 Mana is a small town in French Guiana. The central church and the Mana River banks are very beautiful. Try not to miss the annual festivities of Mana (Fête de la musique à Mana) in the month of June. Music, dance, and food. Book a hotel in advance.
Brazilian Guiana dancers at Mana Patronal Festival
This is the starting point to get transportation furthermore to reach the beaches of Awala Yalimapo to see turtles laying eggs during the night. Be sure to follow the turtle safety rules. On Sunday morning there's a mess inside the historical building of the wooden church of Saint-Joseph de Mana, built in 1829. This part of the French Guiana is the region first rice producer.
Awala Yalimapo French Guiana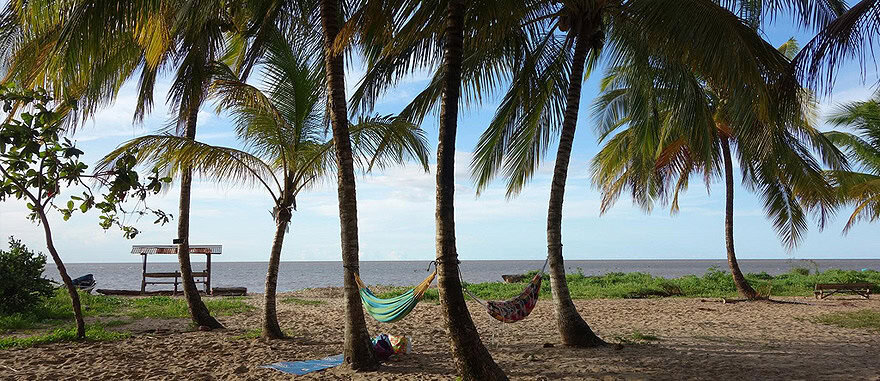 Awala Yalimapo is where the beautiful Amana Natural Reserve is located. The beach itself is very nice and is the perfect spot to relax or just walk along the sand. The village is called Yalimapo but the beach is locally known as Plage des Hattes. The name Awala means "palm tree" and comes from local Kali'na language.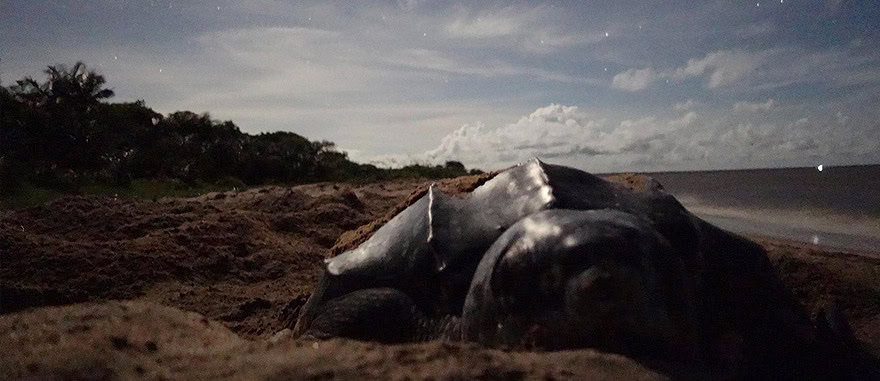 In Awala you can spot turtles laying eggs at night and early morning. To be able to spot turtles there are some safety rules you should know in order to protect the turtles and their nesting process.
Along the 5 KM / 3.1 MI of the Plage des Hattes, huge Leatherback sea turtle and smaller Green sea turtles lay their eggs. From February to July is the best season to spot them.
NOTE: respect the turtles and wildlife. Do not walk on the beach with a flashlight or shine a light in the sea turtle's face. Do not take pictures of the turtles using flashes. Stay clear and out of sight of the turtle until she begins laying eggs, otherwise you may scare her back into the sea. Don't touch the turtles and keep your voice down.
NOTE: Read more Information About Sea Turtles at What to Do if You Encounter a Sea Turtle.
Iracoubo French Guiana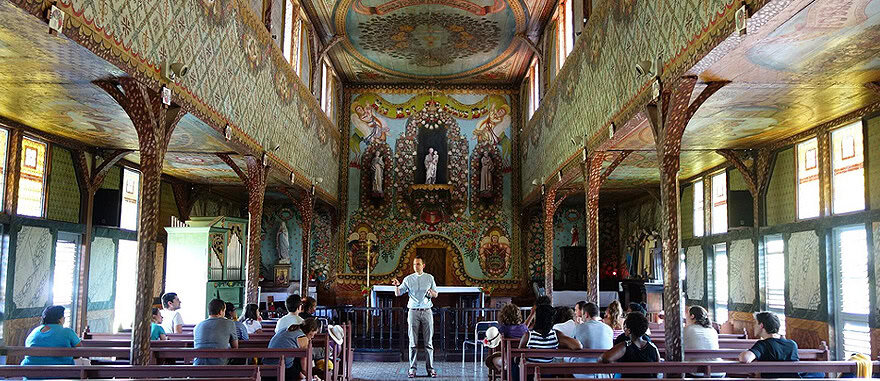 Iracoubo is a small town located halfway between Saint Laurent du Maroni and Kourou. This region is famous for its Amerindian population, but also from its main church. Iracoubo church, Église Saint-Joseph d'Iracoubo, was decorated by the convict Pierre Huguet. The wooden walls of the church's interior are fully painted with Naif style. Very beautiful church not to be missed.
Cayenne French Guiana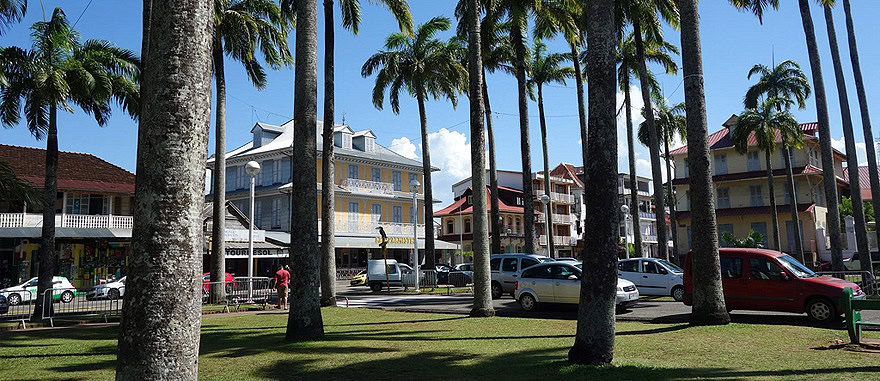 Cayenne is the capital of French Guiana, an overseas department and region of France in the South American continent. Cayenne mixes a bit of tropical looks, French colonial style and beautiful architecture of the créole houses. The best monuments and sightseeing places in Cayenne are the Fort Cépérou, the Montabo Beach, the Place des Palmistes, the Place de Grenoble, the Marché de Cayenne, the Botanical Garden, the Place du Coq and the Cathédrale Saint-Sauveur de Cayenne.
Oiapoque Brazil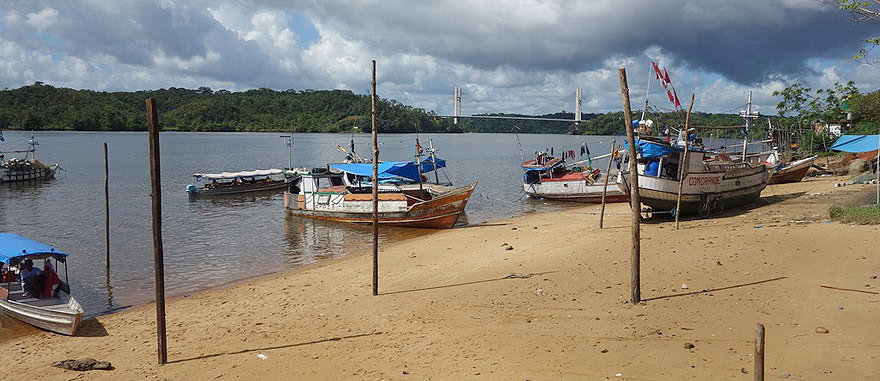 Oiapoque is the first town of Brazil in its northeastern-most part of the country. Small and very countryside looking, Oiapoque is a place not to stay too long as you should keep on going south towards Macapá. The best monuments and sightseeing places in Oiapoque are the Independence Monument, the Sunset over the river Oiapoque, the Central Market. As you enter the country, you should present your passport to the Brazilian Polícia Federal, 10 minutes walk from the port. Try the local famous energetic and nutritious fruit Açaí, sold almost everywhere.
Macapá Brazil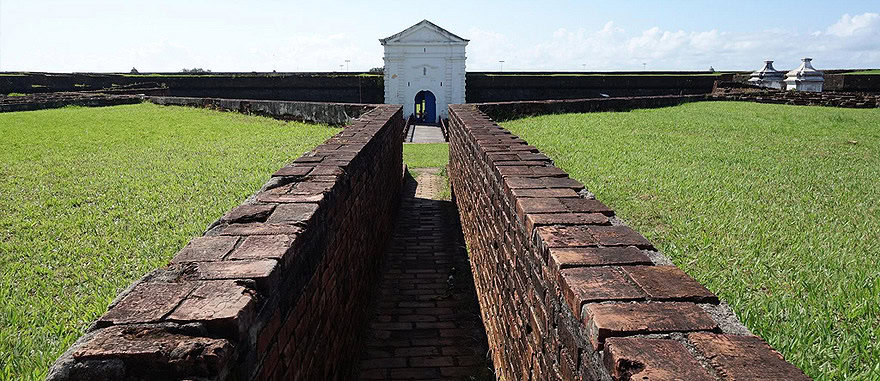 Macapá is the capital and biggest city of the Brazilian Guiana – Amapá State. The city is settled on the banks of the Amazon River and cut by the Equatorian line. Macapá is the only Brazilian state capital that has no road connection to other state capitals around the country. The best monuments and sightseeing places in Macapá are the Fortress of São José de Macapá, the Equatorian Line Monument called Marco Zero, the Pier Trapiche Eliezer Levy and the Igreja Matriz de São José, which is the oldest building in the city. Don't miss Trapiche Eliezer Levy by night while drinking fresh coconut water and eating pineapple with grilled Buffalo mozzarella cheese.
My transportation in the Guianas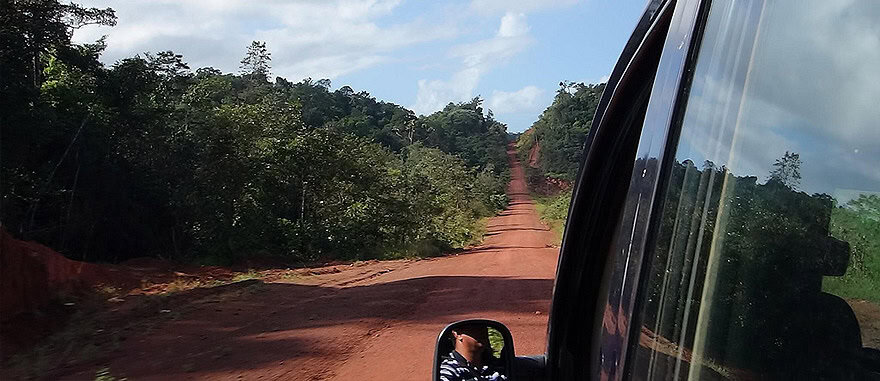 It is very straightforward and easy to travel between the Guianas. Basically, all cities have transportation connections, and between the countries separated by the river, there is always easy boat services from shore to shore.
Taxi Georgetown to New Amsterdam, Guyana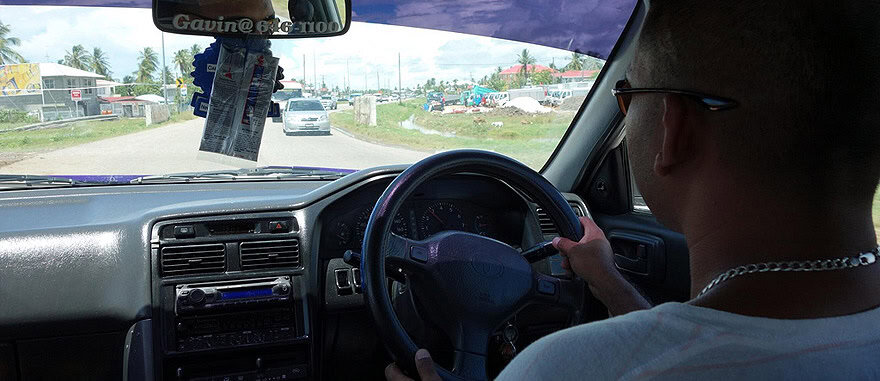 Near Stabroek Market in Georgetown city center, there is a taxi and minibus terminal. From here you can get transportation to New Amsterdam. This 120 KM / 75 MI taxi trip from Georgetown to New Amsterdam takes about 2 hours and costs 4.9€ / $6 US.
Bus New Amsterdam to Skeldon, Guyana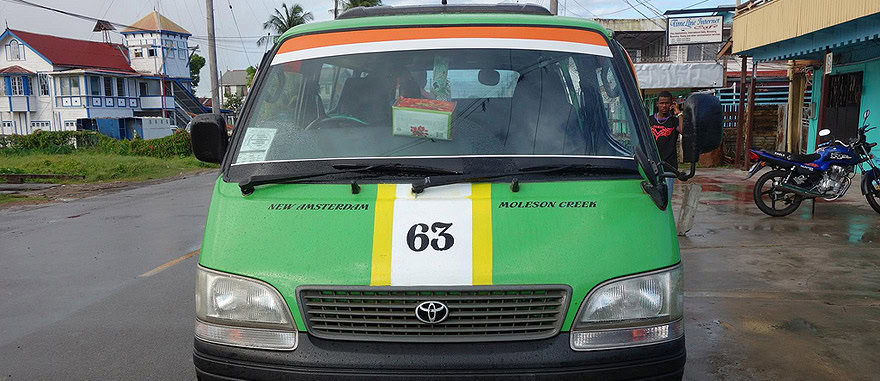 From the city center in New Amsterdam, you can get minivan number 63. Although the van is said to take you all the way to Moleson Creek, it just drops you off in Skeldon (unless you pay a much higher price than just getting a taxi afterward). This 76 KM / 47 MI bus trip from New Amsterdam to Skeldon takes about 1:30 hours and costs 2.2€ / $2.7 US.
Taxi Skeldon to Moleson Creek, Guyana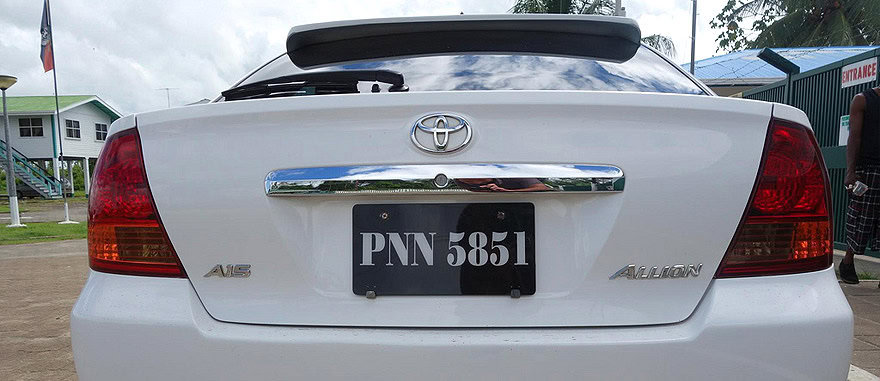 Moleson Creek is the place of the Suriname ferry terminal. You can basically get a taxi to Moleson Creek anywhere. Just flag a car and ask to be taken all the way to the departure boat terminal – Moleson Creek. The guys on the minivan from New Amsterdam will try to get you a more expensive taxi for a commission. You can get it on your own. This 10 KM / 6.2 MI taxi trip from Skeldon to Moleson Creek takes about 15 minutes and costs 1.7€ / $2.1 US.
Ferry boat Guyana to Suriname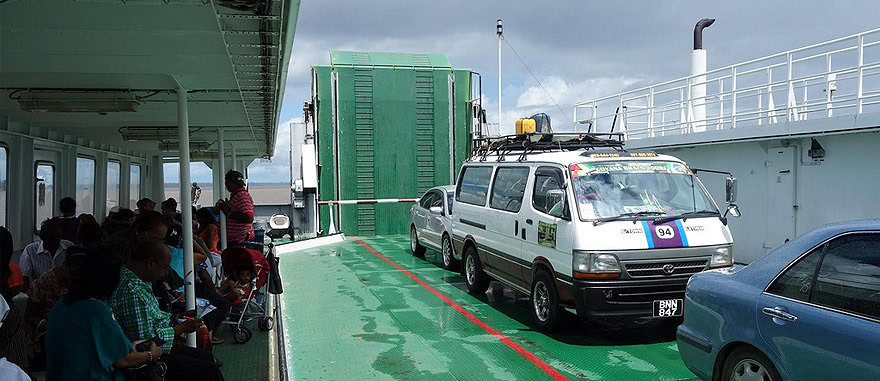 From Guyana, you can take a 2 times per day ferry-boat across the river to Suriname. Ferry schedule: first crossing check-in 6:30 am to 8 am / departure 9 am. The second crossing check-in 10:30 am – 12 noon / departure 1pm. This boat trip from Guyana to Suriname takes about 45 minutes and costs 7.6€ / $9.5 US.
Bus Zuiddrain to Paramaribo, Suriname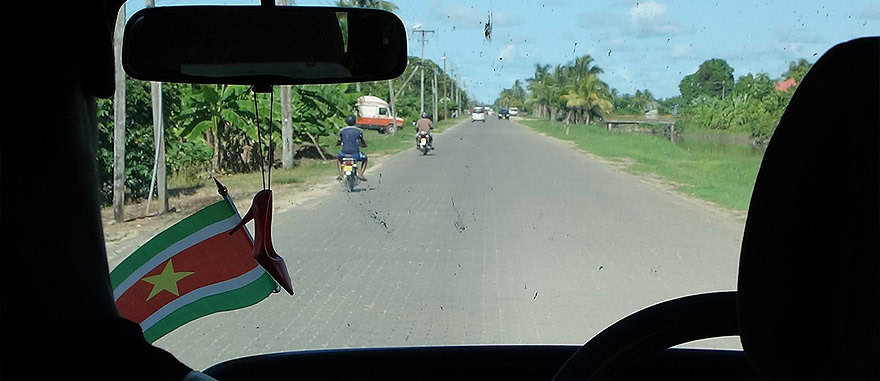 Right after you're stamped in by the Suriname immigration officers, you'll have a couple of minibus drivers getting clients. They are normal guys just trying to fill up their bus and drive to Paramaribo, the capital city of Suriname. You can ask to be taken directly to your hotel without any extra charge. This 252 KM / 157 MI bus trip from Zuiddrain to Paramaribo takes about 4 hours and costs 15€ / $18.7 US.
Bus Paramaribo to Albina, Suriname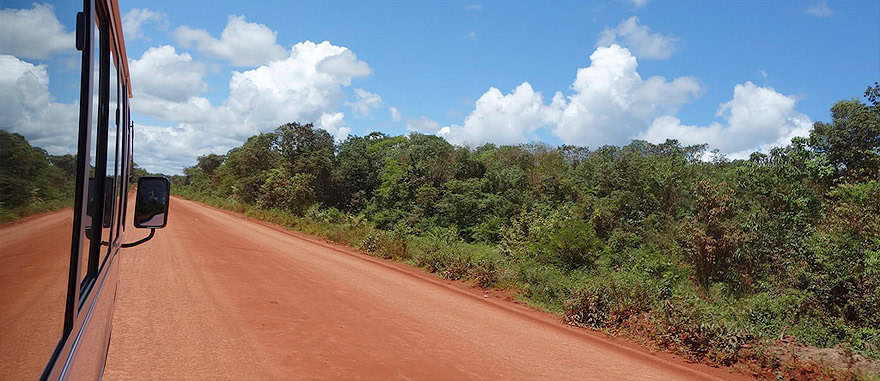 In Paramaribo city center, just in front of the local central market, you have several buses and minivans. Ask around to know exactly the stop from where the buses to Albina are departing from. The trip is very nice with beautiful landscapes and dirt road. This 145 KM / 90 MI bus trip from Paramaribo to Albina takes about 2 hours and costs 7.2€ / $9 US.
Road from Paramaribo to Albina
Speedboat Suriname to French Guiana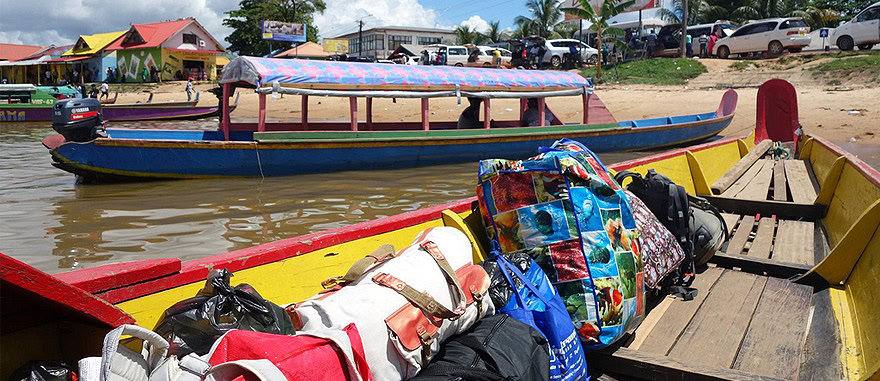 The boats connecting Suriname and French Guiana depart from the beach of Albina. Here, whenever full, speedboats take people across the river. There are also crossings with big ferry twice a day. This boat trip from Suriname to French Guiana takes about 40 minutes and costs 3.6€ / $5.5 US.
Boat ride from Suriname to French Guiana
Hitchhiking in French Guiana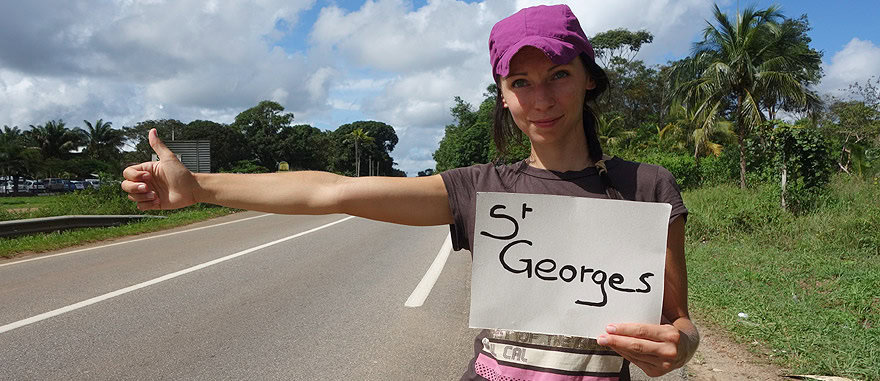 French Guiana is France, European Union – and uses Euro currency. I crossed French Guiana hitchhiking. From border to the border I thumbed my way to several destinations around this overseas department and region of France.
---
Hitchhiking itinerary:
---
Saint Laurent du Maroni to Mana, French Guiana = 41 KM
Hitchhiking Mana to Yalimapo, French Guiana = 18 KM
Hitchhiking Yalimapo to Kourou, French Guiana = 174 KM
Hitchhiking Kourou to Cayenne, French Guiana = 60 KM
Hitchhiking Cayenne to Roura, French Guiana = 30 KM
Hitchhiking Roura to Saint-Georges, French Guiana = 178 KM
Boat French Guiana to Brazil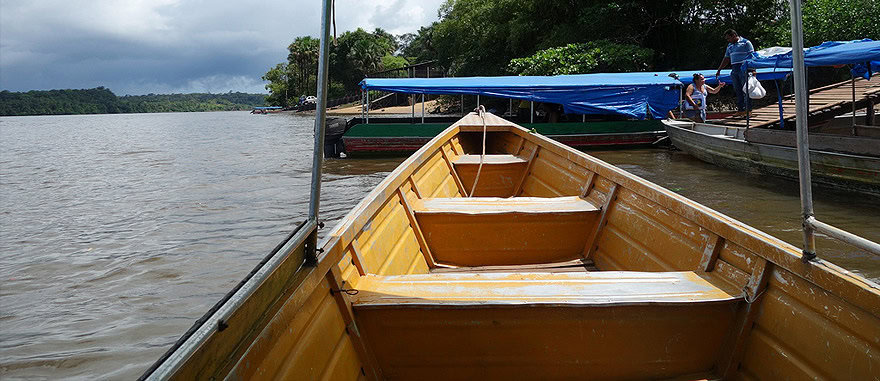 There are fast boats crossing the river from Saint Georges de l'Oyapock in French Guiana to Oiapoque in Brazil during the whole day. You cross the river and pass underneath the huge new bridge. The arrival on the Brazilian side is very nice as you can see the whole city from afar. This boat trip from French Guiana to Brazil takes about 30 minutes and costs 5€ / $6.2 US.
Taxi 4WD Oiapoque to Macapá, Brazil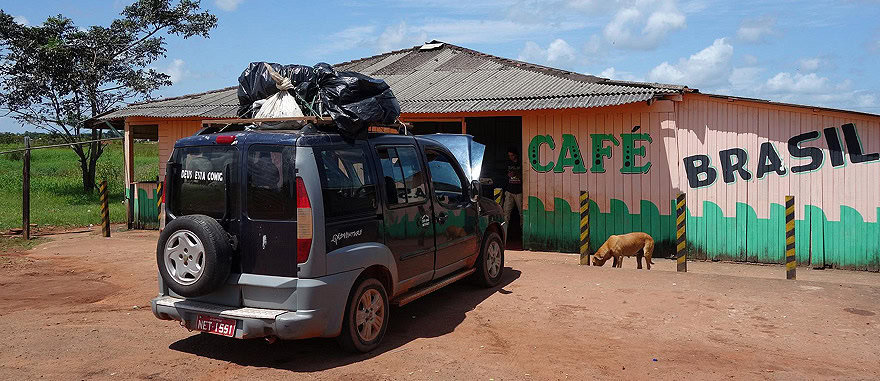 There are three ways to get from Oiapoque to Macapá. By bus, by 4WD, and by van. The problem with the buses is that they don't really have a set schedule and most people don't really know when they leave Oiapoque. The 4WD and vans are leaving Macapá on a daily basis. You can contact Adelson here. I got a shared van with six other people. This 603 KM / 374 MI trip takes about 9 hours and costs 44€ / $55 US.
Dirt road BR156, Oiapoque to Macapá – dry season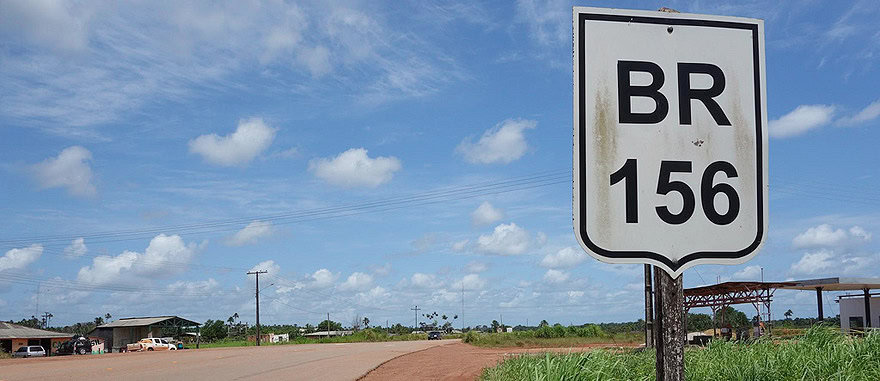 The Brazilian road BR-156 runs from Laranjal do Jari until Oiapoque via Macapá. This 964 KM / 599 MI is one of the hardest roads in Brazil. The BR-156 connects the Amazon River to Oiapoque River.
My accommodation in the Guianas
I will shortly point out the places where I stayed during my overland trip in the Guianas. All the hotels and guest houses are budget options as I tried to get the cheapest yet most comfortable possible. I traveled along with my girlfriend so the prices refer to double rooms.
Rima Guest House in Georgetown, Guyana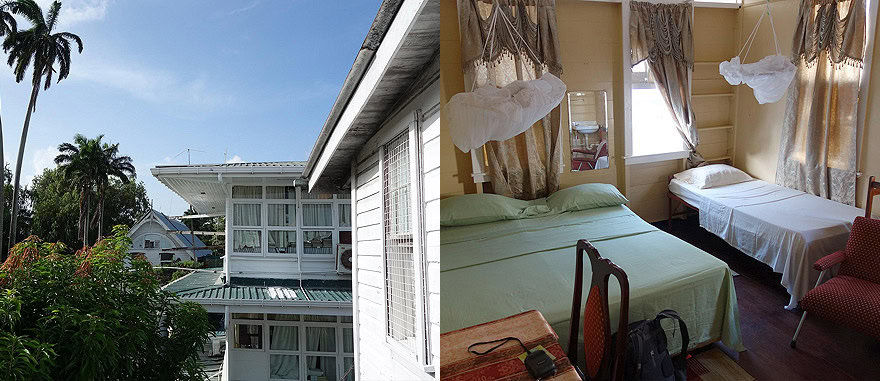 Very nice hotel located 10 minutes walk from Georgetown city center. This guest house is very clean and often accommodates long-term foreign medical students of the local university. Rima Guest House is built on a historical wooden house style of architecture. A double room with shared bathroom starts at 26.4 € / $32 US per night.
Contacts: Rima Guest House, Middle Street, Georgetown, Guyana ● Phone: +592 222-7401
Guest House Deluxe in New Amsterdam, Guyana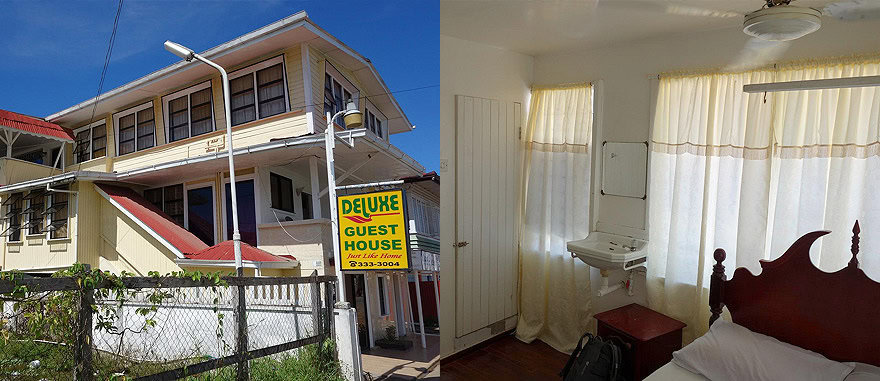 Cheap solution if you want to stay one or two nights in New Amsterdam. Don't expect this place to be very nice, because it isn't. Located in the town center, just across the street from the police station and main avenue. 5 minutes walk from the central market. A double room with private bathroom starts at 18.8 € / $23 US per night.
Contacts: Deluxe Guest House, Coburg Street Nº5, New Amsterdam, Guyana ● Phone: +592 333-3004
Guest House Twenty4 in Paramaribo, Suriname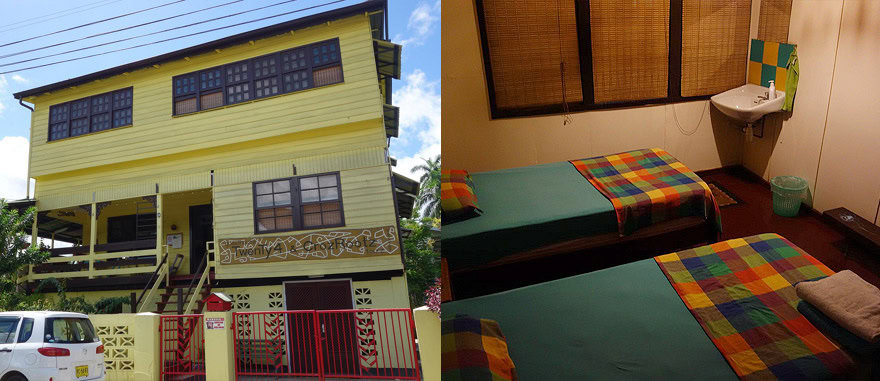 This hotel is OK but I was actually glad that they were fully booked when I decided to extend my stay. I found a much nicer hotel just a few blocks away. A double room with shared bathroom starts at 25 € / $31 US per night.
Contacts: Guesthouse Twenty4, Jessurunstraat Nº24, Paramaribo, Suriname ● Phone: +597 420-751 ● Email: info@twenty4suriname.com ● Website: http://www.twenty4suriname.com
Guesthouse Albergo Alberga in Suriname, Paramaribo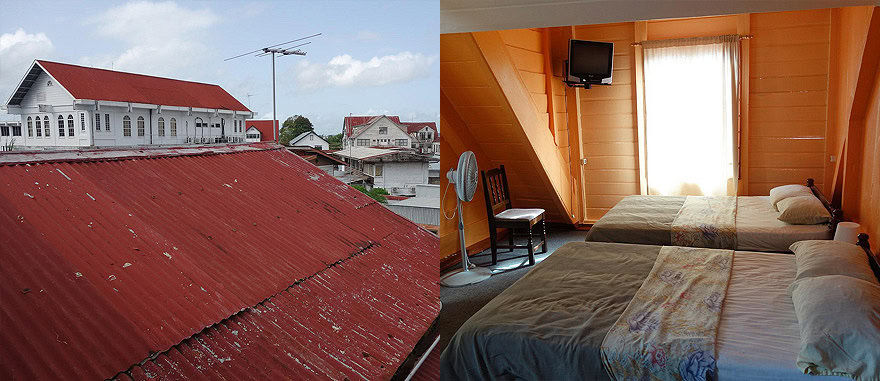 Great place in the historical center of the UNESCO city of Paramaribo. Guesthouse Albergo Alberga has good quality accommodation and a swimming pool. There are different types and prices of bedrooms available. A double room with private bathroom starts at 24 € / $29 US per night.
Contacts: Guesthouse Albergo Alberga, Lim A Po straat Nº13, Paramaribo, Suriname ● Phone: +597 520-050 ● Email: reservations@guesthousealbergoalberga.com ● Website: http://www.guesthousealbergoalberga.com
Catholic mission in Mana, French Guiana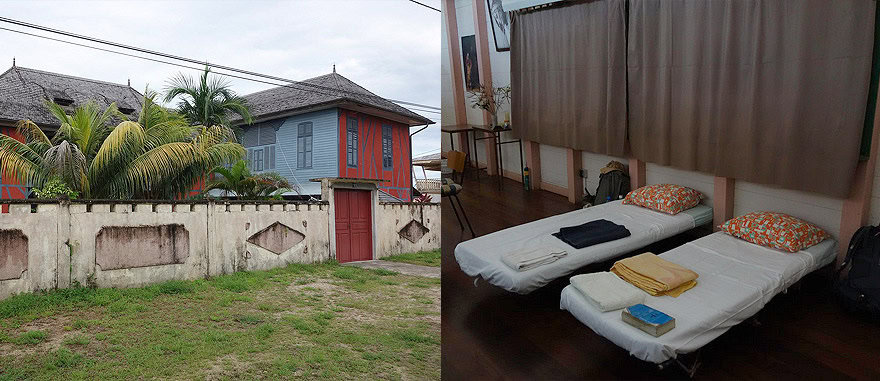 The Catholic Mission in Mana used to have accommodation spaces for tourists. Closed for a couple of years, this is not an option anymore. The only reason I got a place to sleep there was that the Sister taking care of the mission is Portuguese. Friendly and sweet enough not to let us sleep on the street since all hotels were totally fully booked due to the annual Mana festivities. We paid 12.5 € for twin beds inside the school classroom.
Hostel Simili in Awala Yalimapo, French Guiana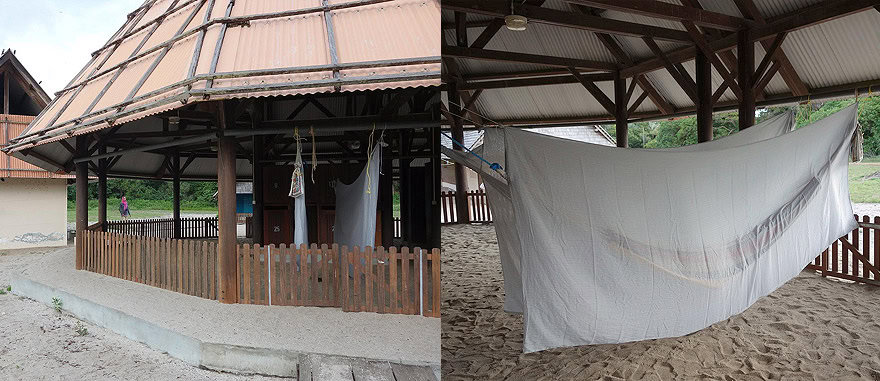 This youth hostel is located right on the beach of Awala on the northern coast of French Guiana. This place is great since you can go out at night to spot big leather-back turtles on the beach. The hostel offers bungalows with private bathrooms and also hammock spaces.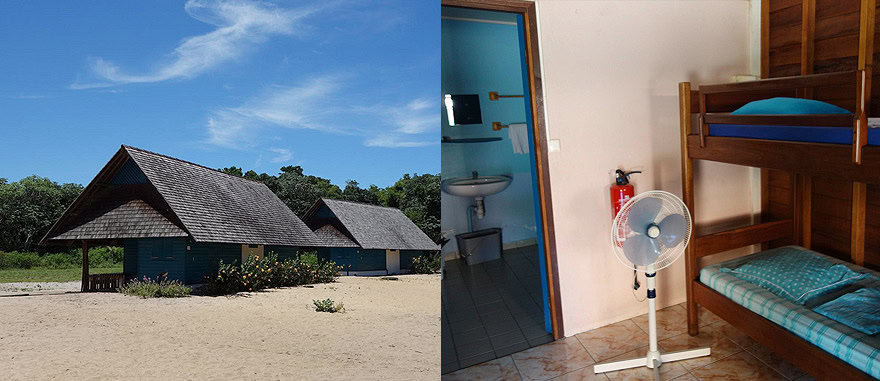 I stayed in both options but I preferred the bedroom since the hammock option is exactly half price of the bungalow. Since we were two, for the same price we had a nice accommodation upgrade. A single person hammock space (hammock and mosquito net included) with share bathroom starts at 15 € / $18.6 US per night. A double room with private bathroom starts at 30 € / $37 US per night.
Contacts: Auberge de Jeunesse de Simili, Zone de Simili, Awala-Yalimapo, French Guiana ● Phone: +33 5943-41625
Couchsurfing in Cayenne French Guiana
I often use a hospitality exchange and social networking website called Couchsurfing. People within this online community exchange accommodation and receive you in their city. I stayed for one week with two guys from France. Luckily one of the guys was working on a turtle conservation group, so we went to Cayenne beach looking for turtles. Accommodation through Couchsurfing is free. I have been a member of Couchsurfing since 2005.
Read my page:
Hotel Real in Oiapoque, Brazil = € 14 double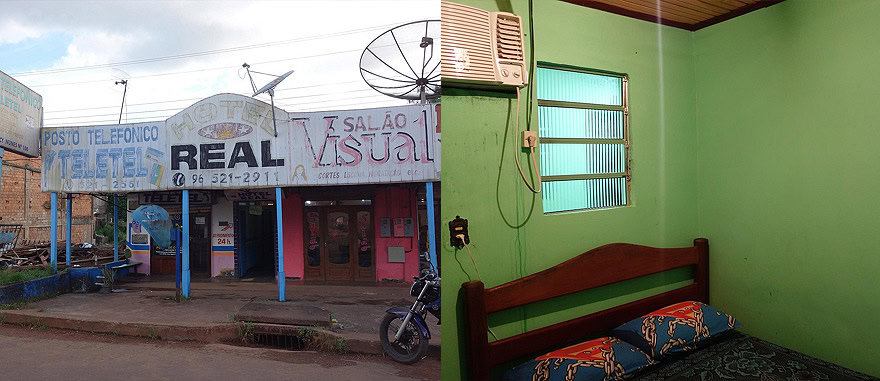 I wanted cheap, so I got cheap. Without a doubt the worst hotel on this trip, Hotel Real is located right in Oiapoque town center. It was clean but very run down. The old ladies from the hotel were very friendly. During the night I had a local young girl dressed in red knocking at my door showing her psychical attributes in case I wanted her to pass the night with me. Obviously, I refused the offer. A double room with private bathroom starts at 14 € / $17 US per night.
Contacts: Hotel Real, Avenida Coaracy Nunes Nº100, Oiapoque, Brazil ● Phone: +55 3521-2911 / +55 9973-1244
Hotel Amazonas in Macapá, Brazil =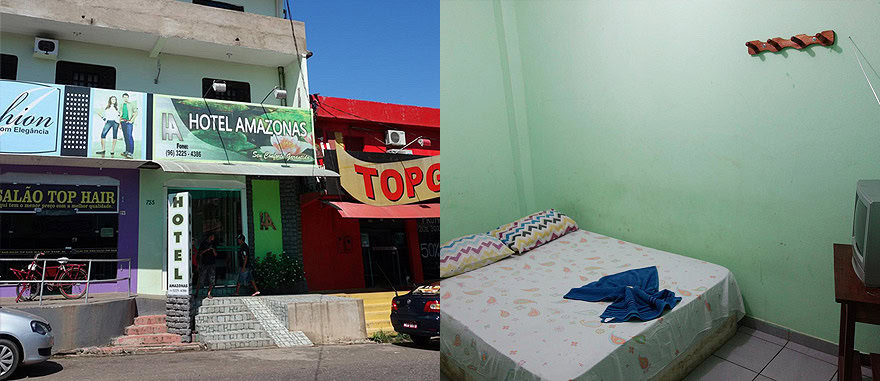 Very nice hotel in the center of Macapá. Decent accommodation at a reasonable price. The upper rooms have a fan and are cheaper as there are more expensive A/C rooms available. Buffet breakfast with fruits, juice, bread, ham, and cheese is included. A double room with private bathroom starts at 16.5 € / $20 US per night.
Contacts: Hotel Amazonas, Rua Tiradentes Nº755 – Central, Macapá, Brazil ● Phone: +55 96 3225-4386