Driving in Iceland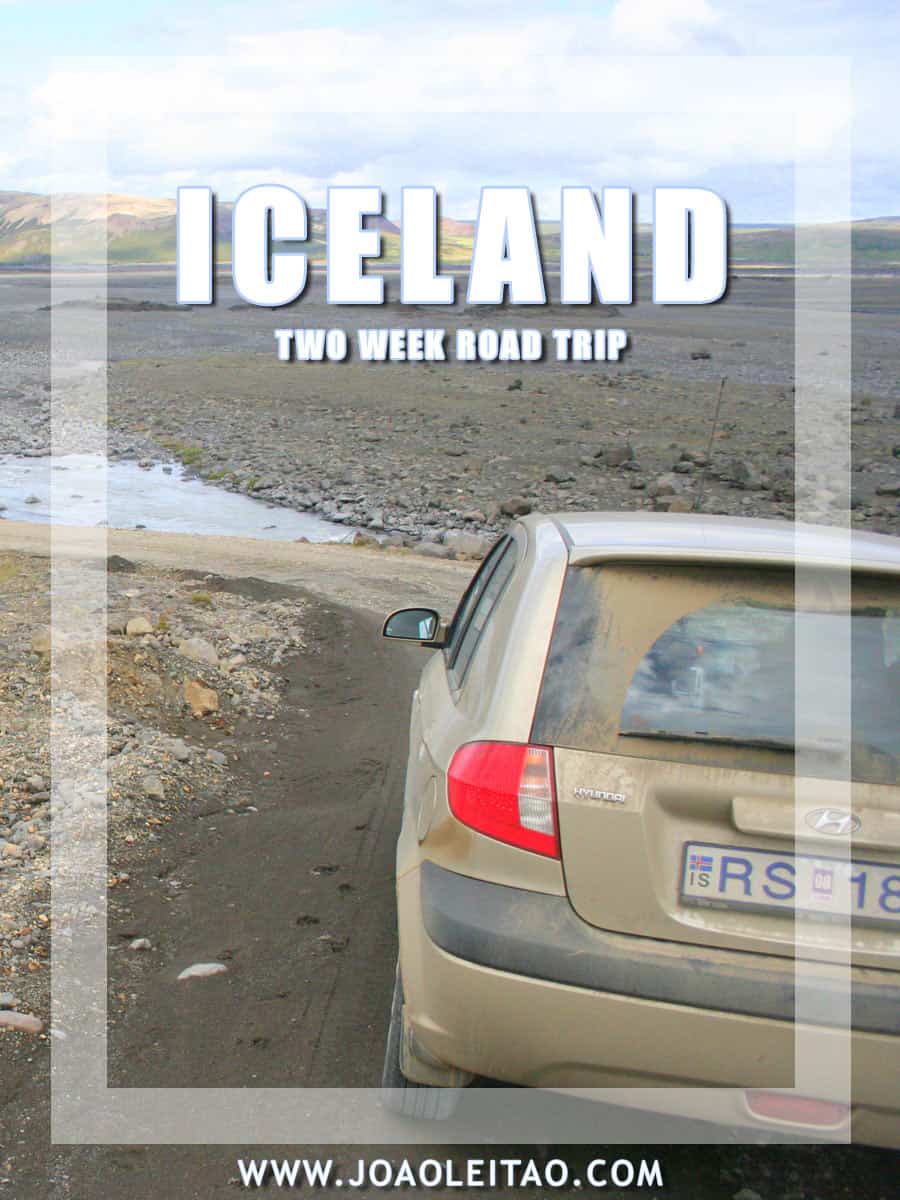 Iceland Road Trip
I spent 15 days exploring Iceland driving on my own.
Iceland is a transcontinental island located in Europe and North America, between the North Atlantic and the Arctic Ocean.
Driving in Iceland is very easy, somehow lonely and introspective. During two weeks I had the opportunity to drive the Iceland's Ring Road + Westfjords and visit many of the best destinations that the country has to offer.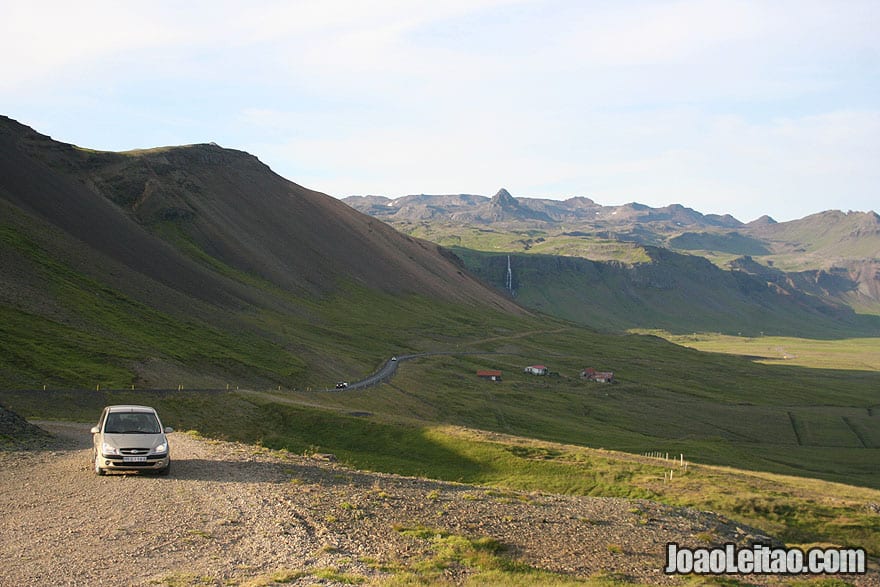 Iceland is definitely not a country to visit if you're in search of history, monuments, and museums. Basically, this is a country for nature lovers.
Iceland is famous for its gorgeous scenery, amazing nature, endless glaciers, fabulous fjords, cliffs, breathtaking waterfalls, geysers and all kinds of other geothermal phenomena.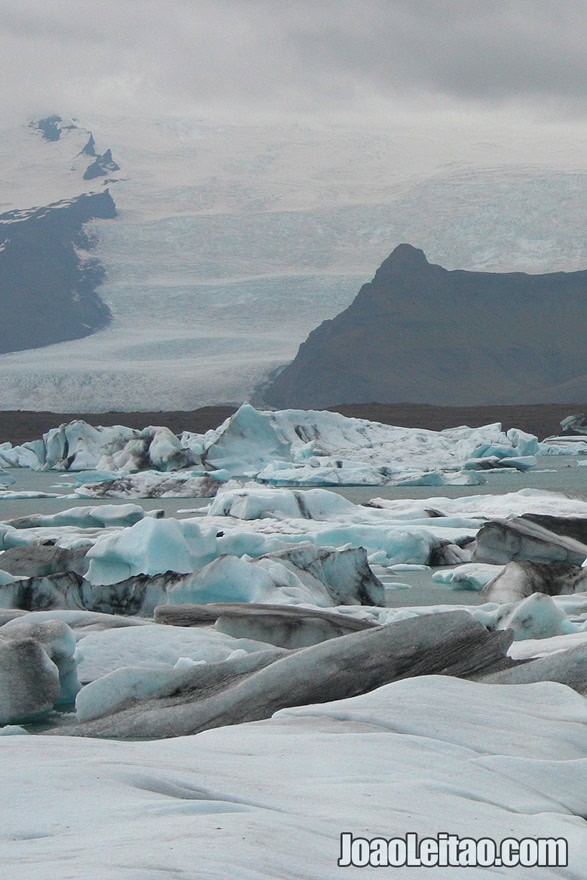 I really enjoyed my trip to Iceland and is actually a country that I am thinking to visit again very soon.
After a couple of days dedicated to visiting Reykjavik, I rented a car and drove about 3000 km / 1900 miles clockwise across the island – the famous Iceland's Ring Road + Westfjords Peninsula.
I didn't previously organize any itinerary, I just bought myself a road map, and went freely exploring the country on my own.
Map of driving in Iceland: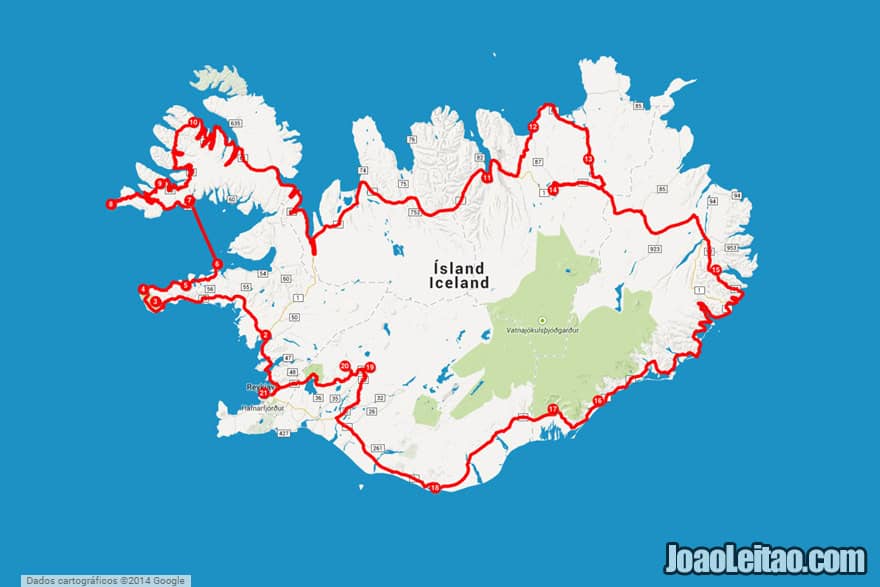 Iceland self drive detailed itinerary:
Reykjavik – Leira – Borgarnes – Grundarfjörður – Setberg – Stykkisholmur – ferry-boat – Brjanslaekur – Látrabjarg – Isafjordur – Sudavik – Holmavik – Akureyri – Gásir – Glaesibaer – Munkapvera – Grund – Saurbaer – Godafoss – Mývatn – Reykjahid – Dettifoss – Hallormsstaður – Reyðarfjörður – Höfn – Jökulsárlón – Skaftafell National Park – Vík – Thorsmork Nature Reserve – Strokkur Geyser – Gullfoss – Thingvellir National Park – Blue Lagoon – Reykjavik
Driving in Iceland Highlights
I know it's hard to decide which are the most fantastic places and put them on a list. There is so much beauty all around that it can't really be measured. But, I tried to organize and give you my Iceland top best places.
1- Very close contact with puffins in Latrabjarg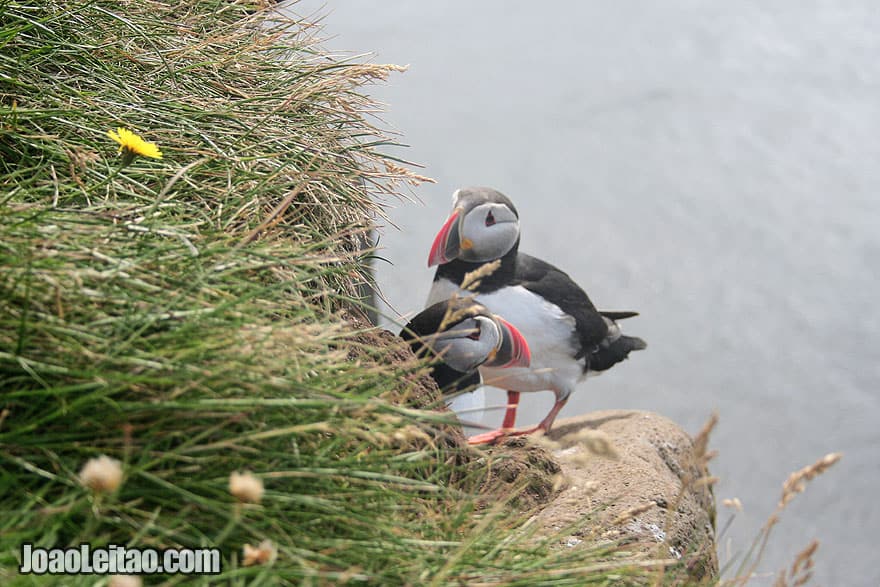 Látrabjarg (Latrabjarg) is Europe's largest bird cliffs.
Visiting Látrabjarg gives you one of the few opportunities in the world to have very close contact with fluffy sea parrots better known as puffins.
[message_box type="error"]NOTE: Puffins are very curious and kind of used to people staring at them. You can get up to 1.5 meters / 5 feet distance if approaching slowly and maintaining a non-abusive low profile attitude. Crawl instead of standing up, don't call the puffins or whistle. If you want to look at them for a while, just choose your spot, crawl, hide behind the vegetation and enjoy this gorgeous animal. Ah, and one last thing: DON'T TRY TO FEED THE PUFFINS![/message_box]
Located in the Westfjords out of Iceland's Ring Road, Látrabjarg can be reached by driving the N60 national road or by taking the ferry-boat journey from Stykkishólmur to Brjanslaekur with a brief stop in Flatey Island.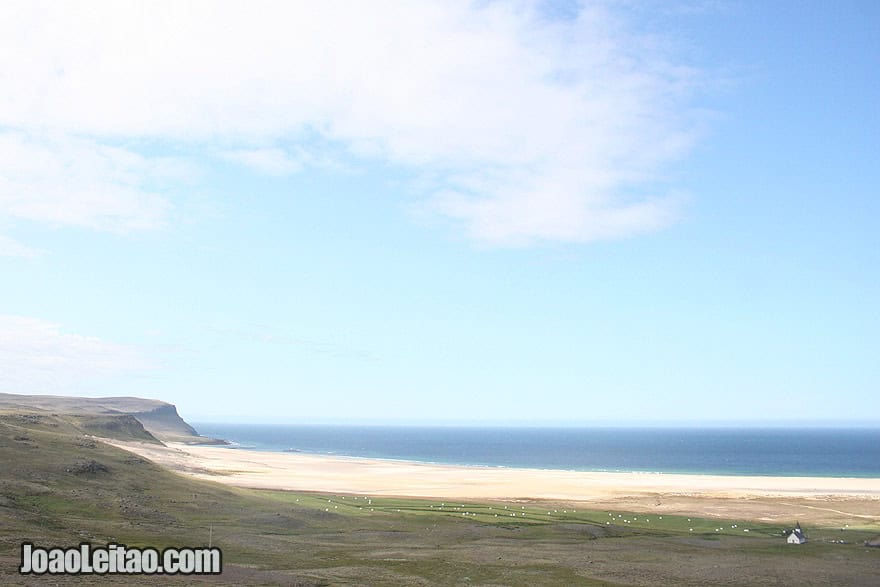 After the N62 take the detour along the N612 road along beautiful white sandy beach landscapes and rocky coast with seal colonies. You can also make a quick stop at the Garðar BA 64 (Gardar), the oldest metal ship in Iceland.
[message_box type="attention"]NOTE: See more animals on my page about Best Wildlife Photos.[/message_box]
2- Visit the impressive Dettifoss – Europe's most powerful waterfall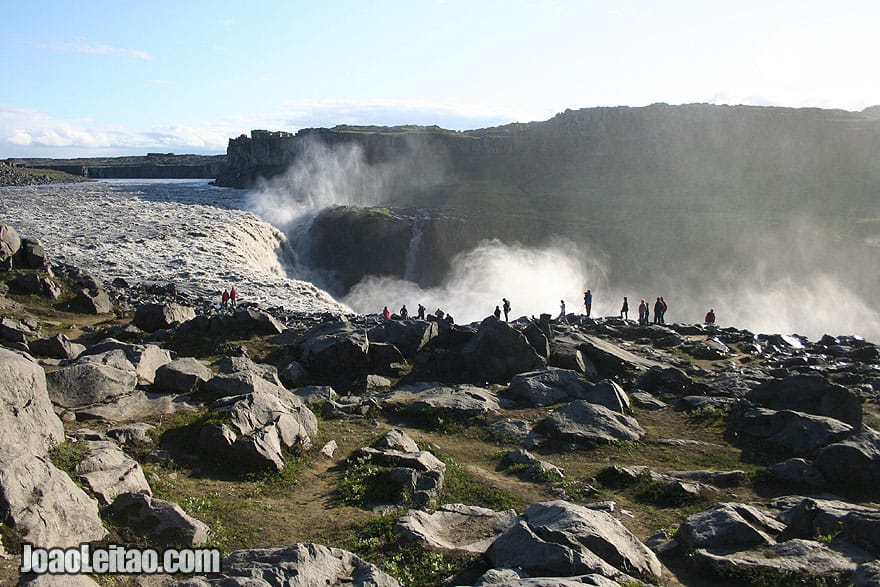 Dettifoss waterfall is located inside the Jökulsárgljúfur National Park in Northeast Iceland not far from Lake Mývatn.
The water that runs in Dettifoss comes from the Vatnajökull Glacier along the Fjöllum Jökulsá River.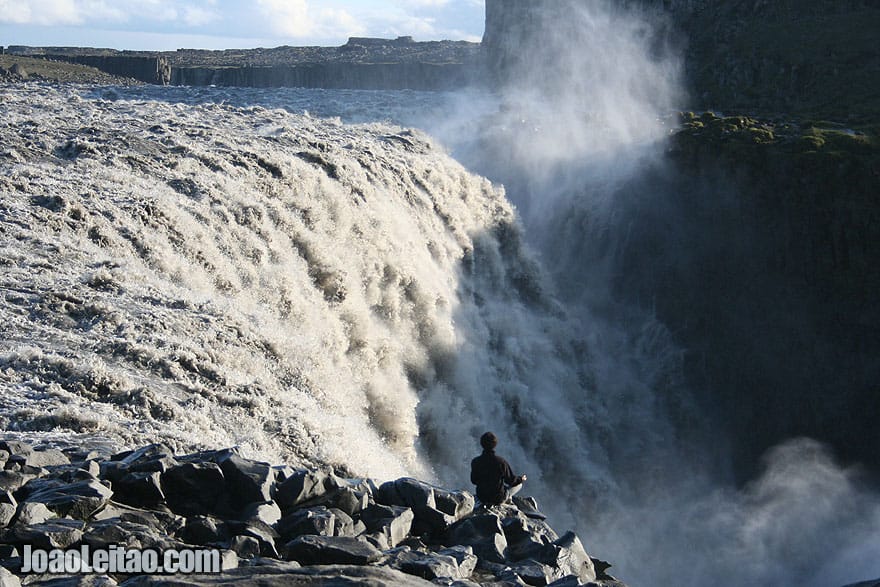 Dettifoss is the most potent waterfall in Europe with an estimated flow rate of between 200 and 500 m3 of water per second.
The Dettifoss waterfall is 100 meters / 328 feet wide with a vertical drop of 44 meters / 144 feet down the gorge.
That's impressive!
3- Snaefellsjokull National Park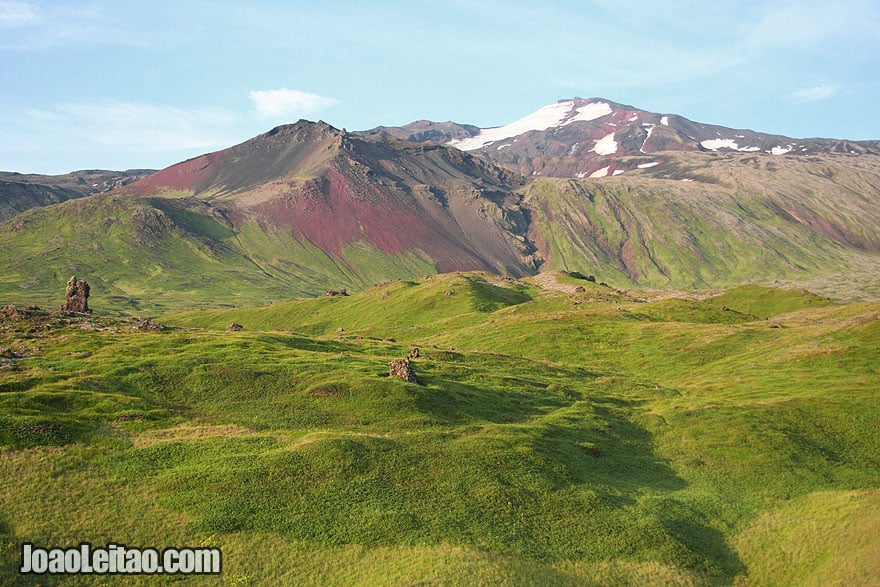 If you happen to have read the book "Journey to the Center of the Earth" by Jules Verne, then you'll recognize these landscapes so well described by the writer. Snæfellsjökull Glacier (Snaefellsjokull) rises to 1446 meters / 4744 feet above sea level, surrounded by a peninsula of stunning landscapes.
In Snæfellsjökull National Park you can also visit the Laugarbrekka monument.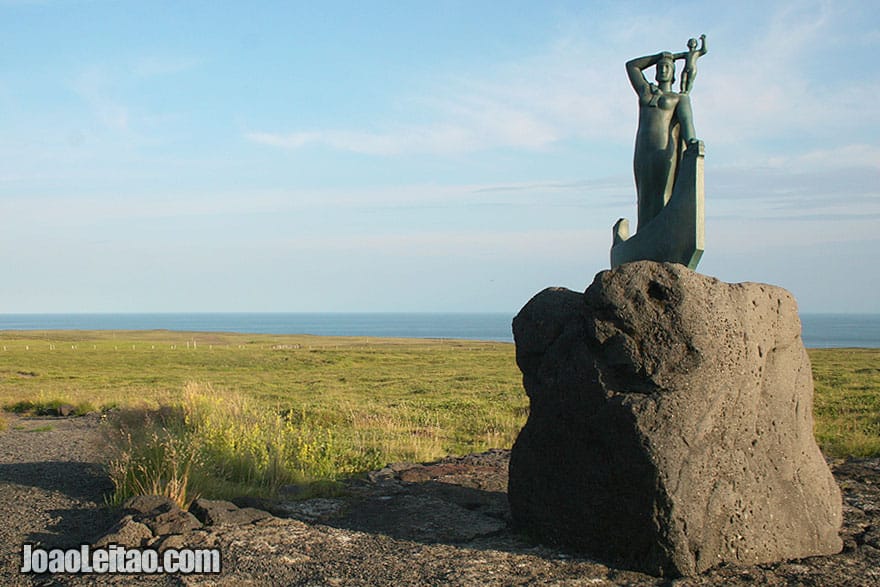 Laugarbrekka is the memorial to Gudridur Þorbjarnardóttir, the first European woman to give birth in the territory of North America. The story goes that by the year 1000 AD, Laugarbrekka was a farm where Gudridur was born before leaving for Vinland (America) with her husband Thorfinnur and where she gave birth.
4- Relax in Kverna farm in Grundarfjordur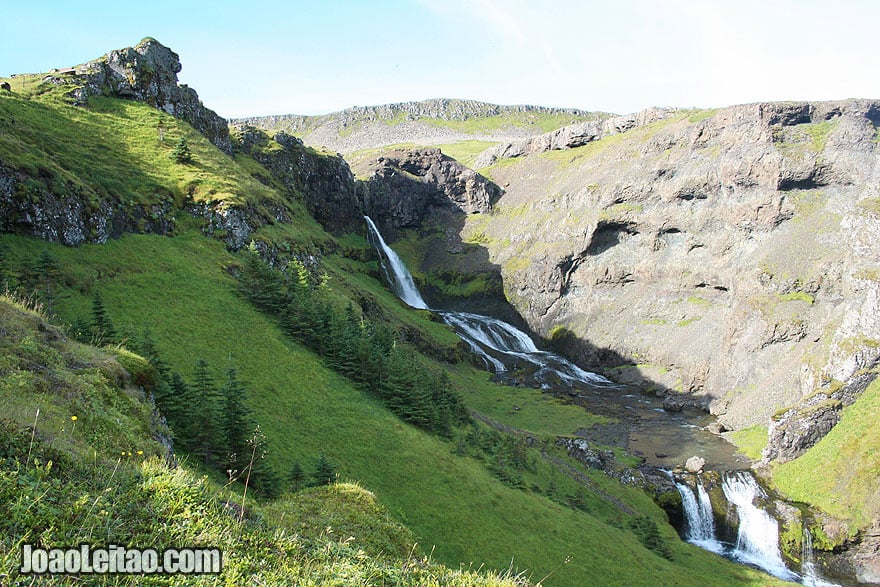 Grundarfjörður is a small fishing village surrounded by mountains and the original entrance of a fjord.
You can do some hiking in the mountains and explore the surrounding villages, waterfalls, farmhouses with horses and enjoy the breathtaking views of a fantastic sunset over Grundarfjörður Bay (Grundarfjordur).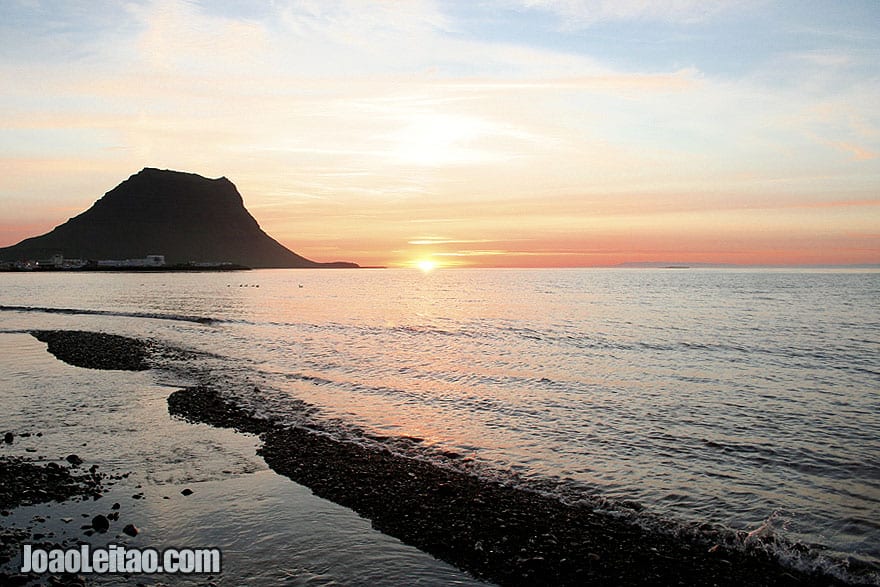 This community blends several types of landscape: sea, fjords, snowy mountains, waterfalls, and farms.
• fjord
a. a long, narrow arm of the sea bordered by steep cliffs: usually formed by glacial erosion.
b. (in Scandinavia) a bay.
5- Jokulsarlon Glacier Lagoon and Iceberg Beach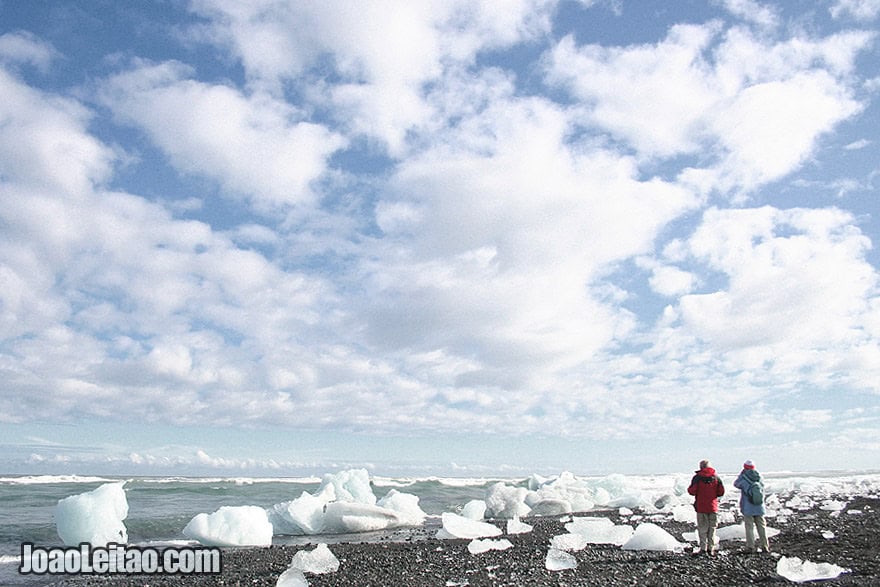 The fantastic Jökulsárlón site is famous for its glacier lagoon and iceberg beach. You can make a tour in amphibious vehicles into the lake, traveling through the icebergs.
Jökulsárlón (Jokulsarlon) fabulous location is on top of the most beautiful things I've seen during the whole trip to Iceland.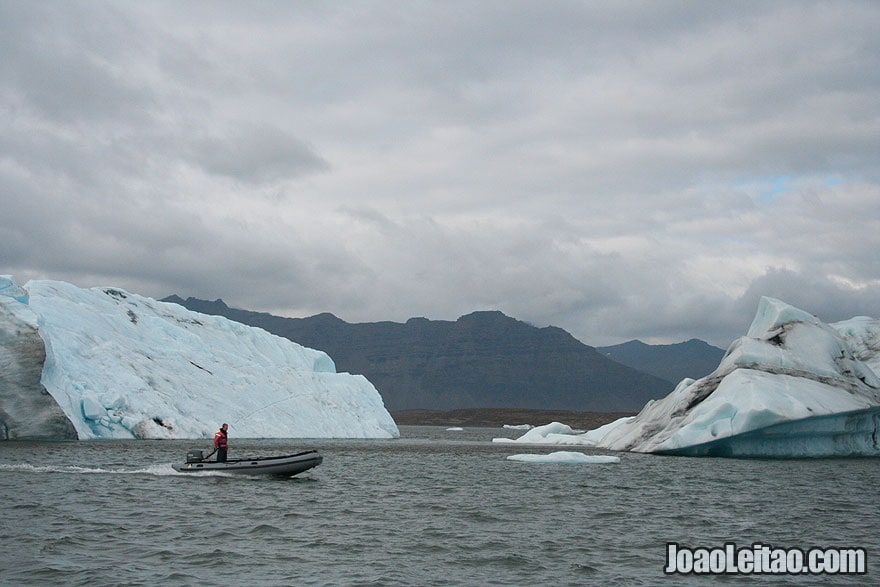 Breiðamerkurjökull glacier (Breidamerkurjokull) ends and melts into Jökulsárlón Glacier Lagoon. Then, the big chunks of ice go adrift into the sea, and most of them get stuck on the beach.
6- Visit the impressive Gullfoss – Iceland's most famous waterfall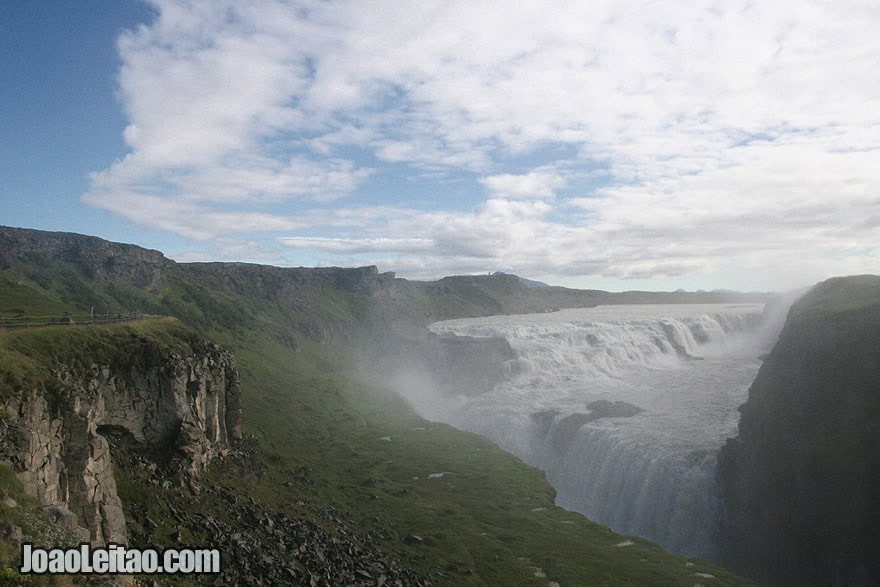 Gullfoss and is an impressive waterfall located in southwestern Iceland. The water of this waterfall comes from the Hvítá River, and the whole scenery is breathtaking along with the mind-blowing surrounding landscape and noise of the water hitting the stones.
7- Whale watching off the coast of Husavik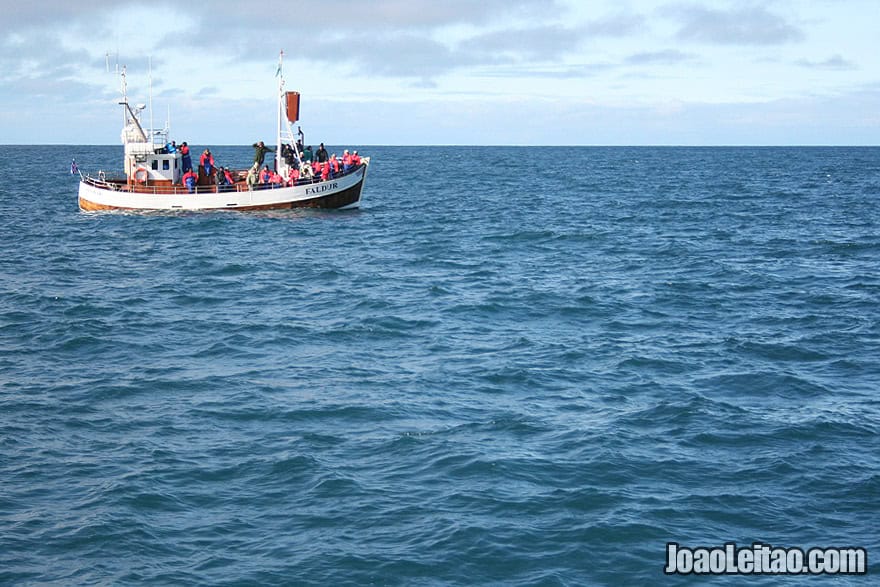 Húsavík is a city located on the shores of Skjálfandi Bay on the northern coast of Iceland.
This is the perfect spot for whale watching in Iceland. There are a couple of companies in Húsavík that offer boat tours. Basically, you're taken out into the open sea in a tiny boat to try to spot some whales.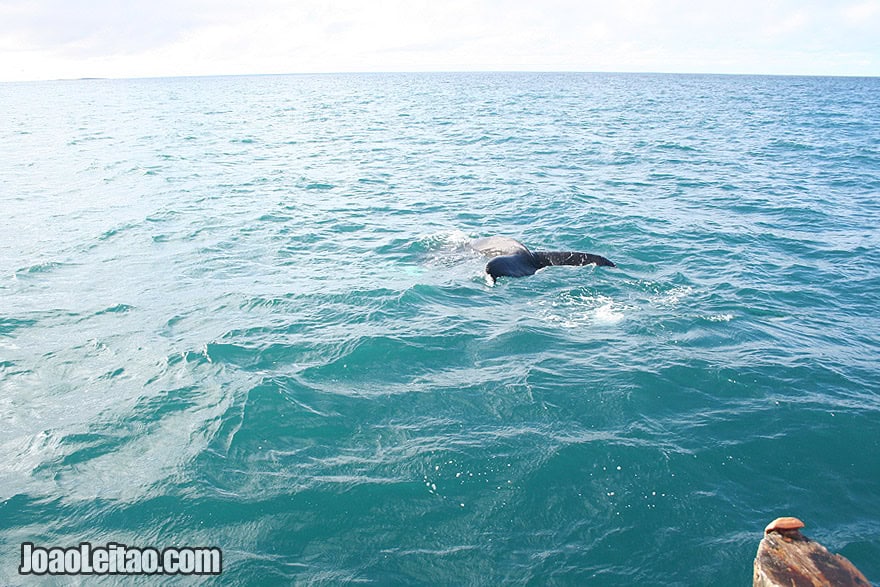 It's fantastic to see how the whale watching industry provides jobs for former whale fishermen, so fishing is replaced by tourism. Don't miss out The Húsavík Whale Museum with many real whale skeletons.
[message_box type="attention"]NOTE: I booked my whale watching trip with North Sailing agency.[/message_box]
8- Eruption of Strokkur Geyser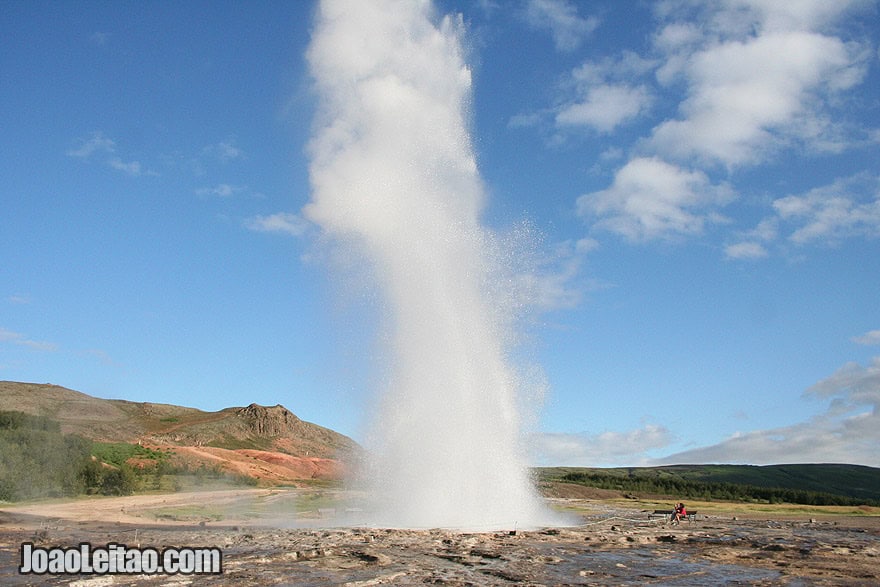 Strokkur is Iceland's most famous geyser.
This incredible natural phenomenon of boiling water erupting up to 12 meters / 40 feet high is amazing to watch.
Strokkur Geyser (Geysir) is located not far from the capital Reykjavik and can be done on the 300 km / 186 mi day trip driving the Icelandic Golden Circle.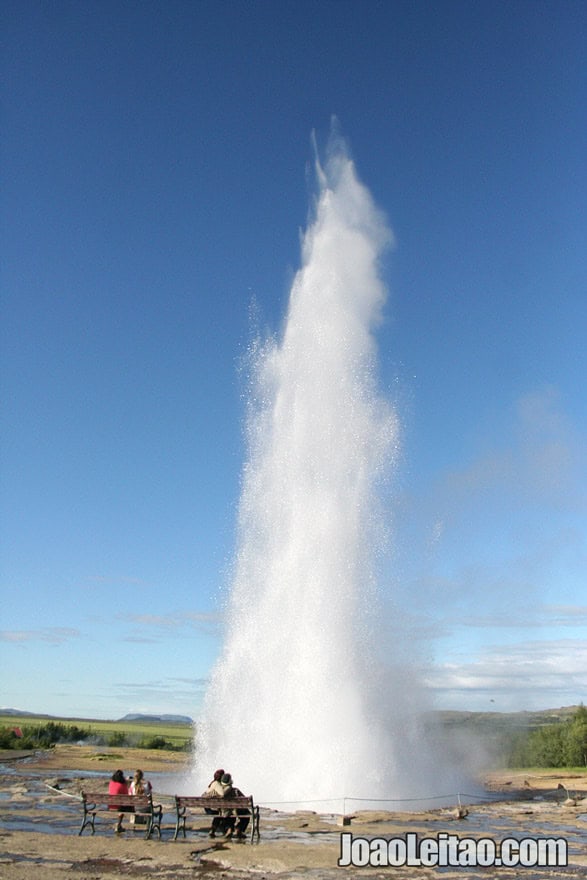 This incredible geyser in Haukadalur Valley was one of the last things that I visited during my trip to Iceland, before visiting the Þingvellir National Park (Thingvellir).
9- Driving gravel road to Isafjordur – the Kingdom of Trolls and Elves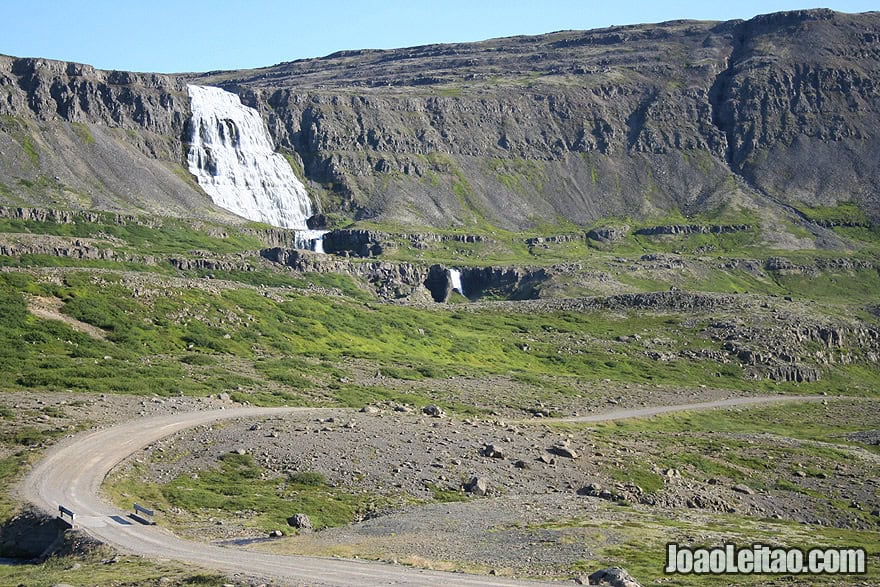 Driving north in the Westfjords up to Ísafjörður (Isafjordur) is quite an adventure.
Like in almost all the northern part of the country, there are no asphalt roads, just deserted, empty mountain landscapes.
In Iceland, most people believe in the existence of elves, trolls, gnomes and hidden beings.
Icelandic folk tales tells that this region is inhabited by trolls and elves (plural of Elf). In Norse mythology, trolls are gigantic man-eating creatures and Elves are humanoid immortal creatures with magical powers.
At a particular part of the road – where it is said to exist elves, my car switched off, all my cameras and cell phone batteries went off. After 10 minutes I was able to turn on the car again and go on my way.
I can't explain this…
10- Bathe in the Blue Lagoon Geothermal Spa and Myvatn Nature Baths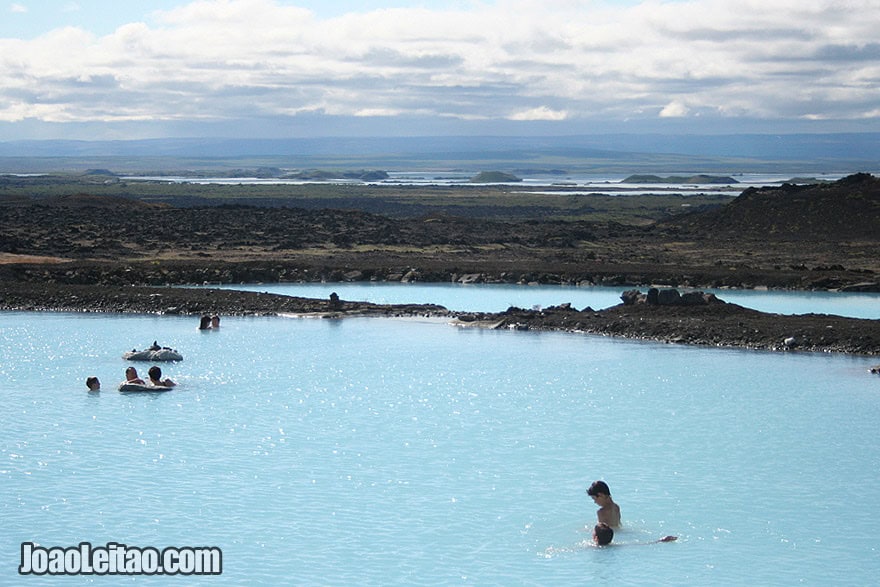 Iceland has two blue water pools.
Probably one of the best experiences I had while traveling in the country was to bathe inside the famous hot spas of Blue Lagoon and Mývatn Nature Baths.
Both these places are perfect to stay for a few hours soaking yourself in warm geothermal seawater.
Enjoy and relax while your body naturally deep cleanses.
In the Blue Lagoon, you can apply the white silica mud in your body to fully complete the particular natural body treatment.
[message_box type="attention"]NOTE: Visit the official websites of Myvatn Nature Baths and Blue Lagoon to have more information about these geothermal natural pools.[/message_box]
11- See the active Krafla lava fields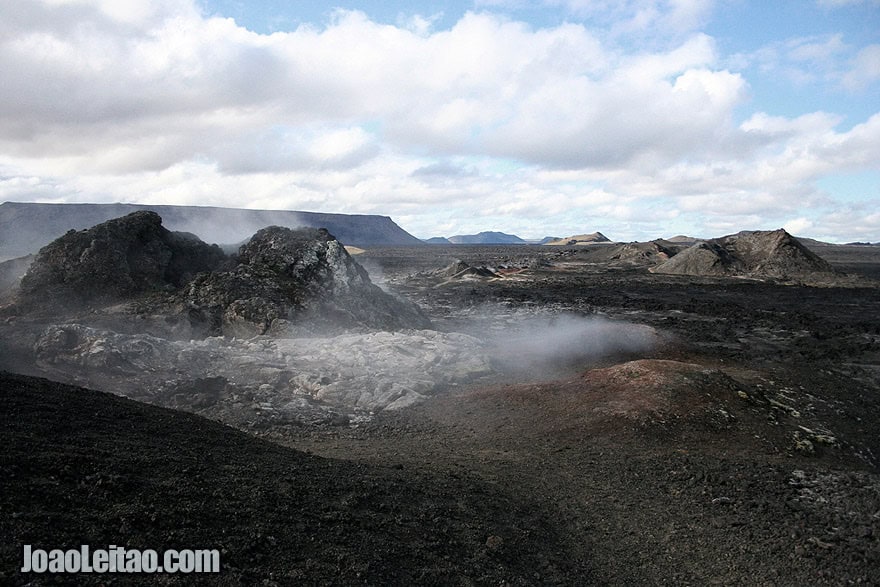 Krafla is a volcanic system with a diameter of about 20 km / 12.4 mi located in Mývatn region.
It's possible to hike inside Krafla's several volcanic craters filled with water, explore impressive lunar landscapes with active lava and spot large dry lava rivers.
12- Gravel road driving in Thingvellir National Park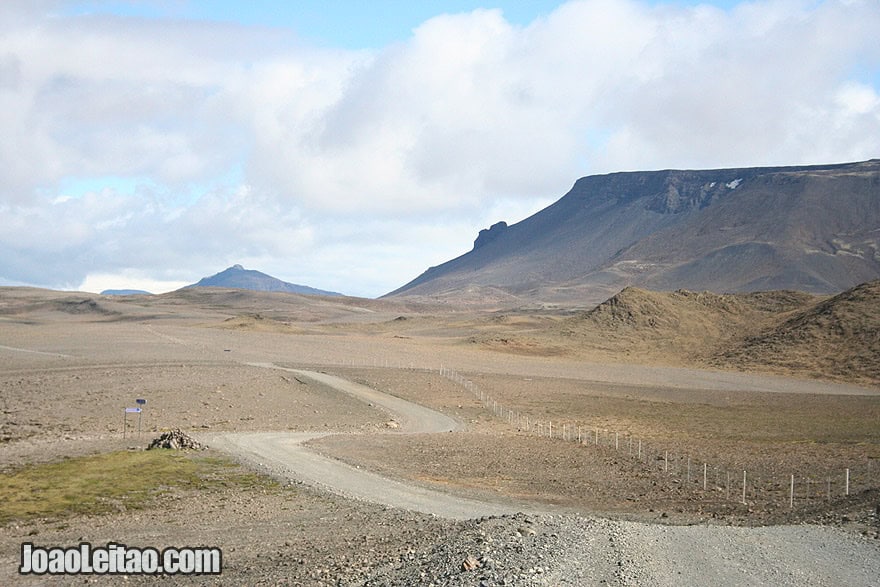 I drove the whole length of Thingvellir Park road from Þingvellir until Reykholt crossing between the Ok Volcano and Þórisjökull Glacier (Thórisjökull).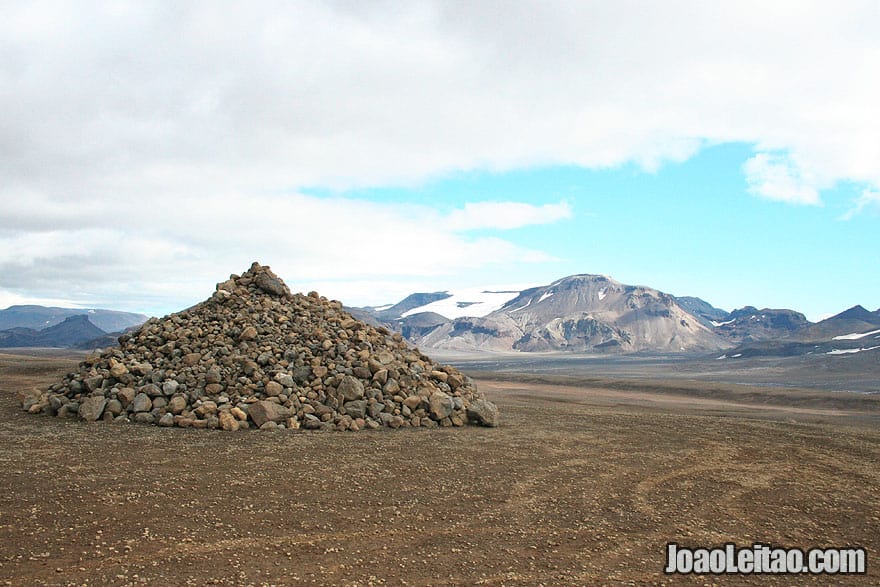 The whole landscape is very desert like and offers great hiking possibilities. During the Summer, the gravel tracks are perfectly passable with a standard 2WD.
[message_box type="attention"]NOTE: Visit the official Thingvellir National Park website for further information about this place.[/message_box]
13- Sunrise at the black sand beaches of Vik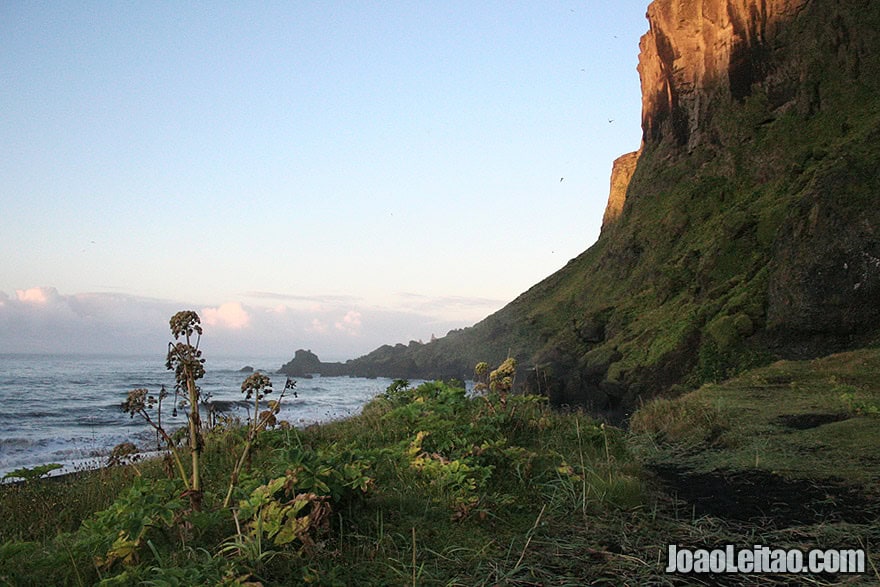 Vik is the southernmost village in Iceland.
Its breathtaking black sandy beach surrounded by cliffs is unique in the country.
An Icelandic folk tale tells that the three rocks on the sea are two elves who were turned to stone by the sunrise's rays when pulling a boat to shore.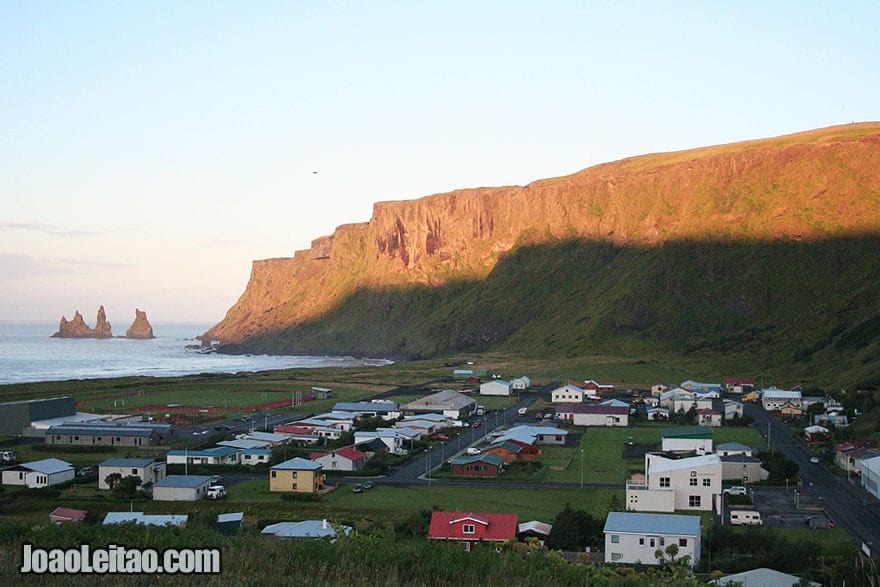 Vik panoramic view from the church and cemetery are not to be missed.
14- Hiking in Vatnajokull National Park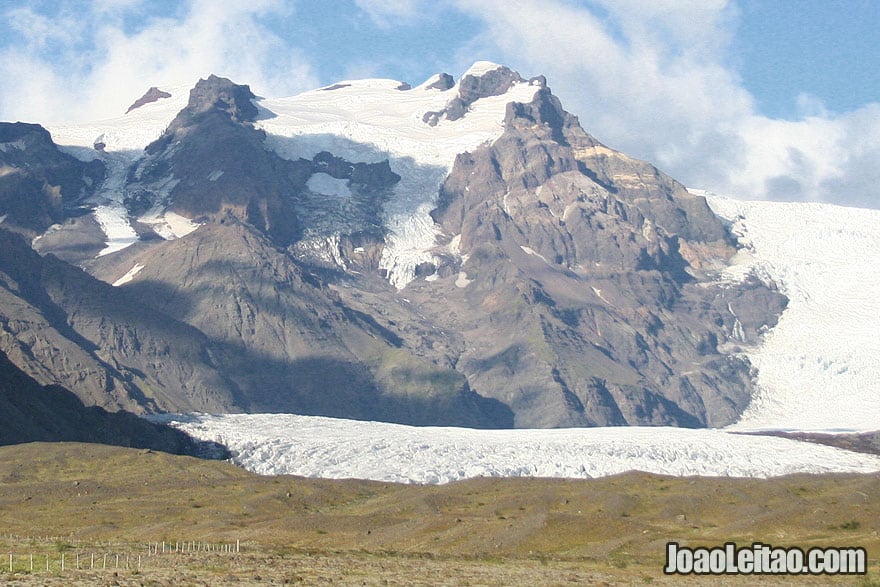 Since 2008 Skaftafell National Park is under the jurisdiction of Vatnajökull National Park (Vatnajokull).
Vatnajökull National Park provides great trekking opportunities.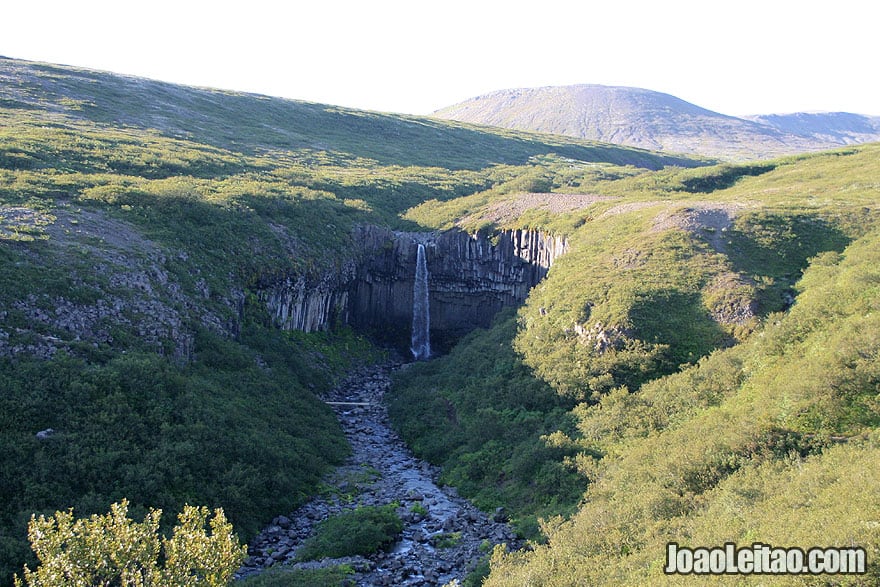 [message_box type="attention"]NOTE: Visit the official Vatnajökull National Park website for further information about this place.[/message_box]
15- Barnafossar Waterfall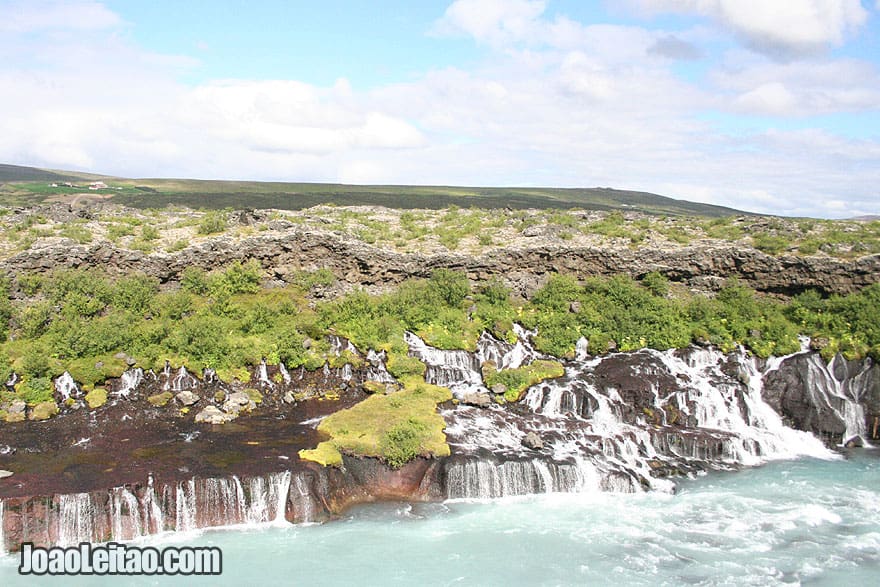 Barnafoss Waterfall gets water from the Skjálfandafljót River.
Icelandic folk tale tells that there was a natural rock bridge, but after two children had fallen their mother laid a curse that made an earthquake that toppled the bridge.
The natural colors of this place are amazing, and even with two buses with Japanese tourists visiting at the same time as I did, Barnafoss didn't lose its charm and beauty.
16- Glaumbaer Historic Turf Farm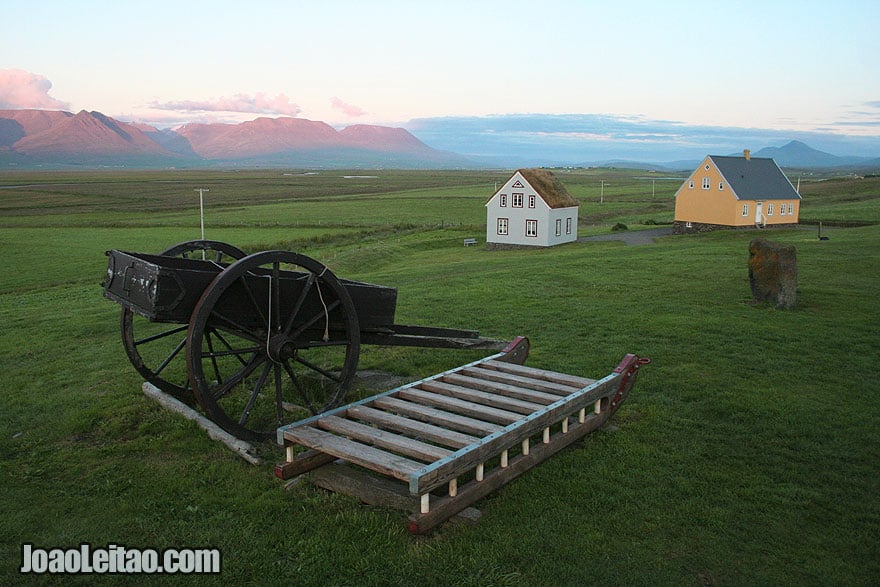 The Glaumbær (Glaumbaer) old turf farm gives you an idea of how a typical Icelandic farm from the early 19th century looks like. Apart from several timber buildings, you can also visit the turf constructions.
Turf is a plant compound mixture of various materials such as moss, soil, leaves and pieces of wood all partially decomposed and molded into small bricks. This material is an excellent insulator from the cold.
What to know before you hit the road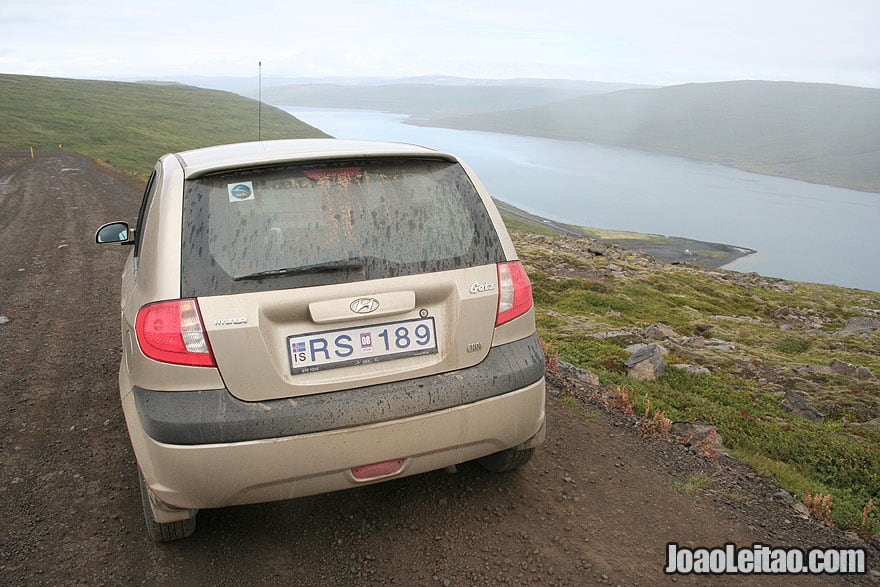 Buy a Map or Road Atlas;
Icelandic people do follow road rules;
Renting a car or 4WD is quite easy and many companies offer competitive Scandinavian standard prices;
Route 1 is known as the Ring Road and circles the whole island. It has 1332 km / 828 mi length and is open year round, even during Winter season;
Although there are many gas stations around the country, always fill up the deposit when you're reaching half-tank level;
Only drive during the day;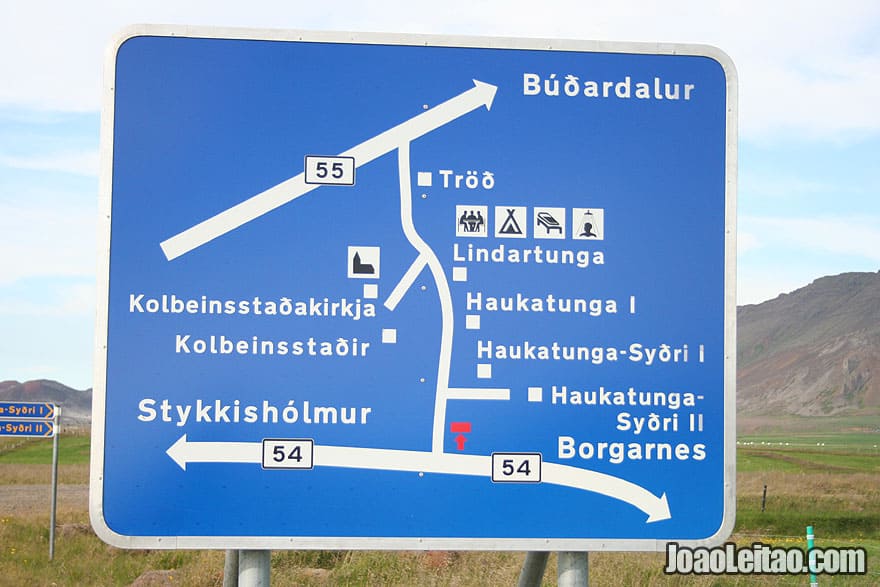 Speed limit in Iceland is 30-50 km/hour in urban areas, 80 km/hour on gravel roads and 90 km/hour on asphalt roads;
Minimum age for car rentals in Iceland is 20 years old for passenger cars and 23 years old for 4WD;
Some parts of the country don't have asphalt so expect to drive in gravel roads;
Reduce speed while driving in gravel roads as they can have potholes or loosen rocks;
All parts of the country are totally accessible with a normal 2WD;
The best time to travel in Iceland is during Summertime;
The use of headlights during the day is obliged by law;
Unless you want to visit deep into central Iceland and the Highlands you do not need to rent a 4WD / 4X4;
Off road driving is illegal in Iceland;
Impassable mountain roads are closed until the beginning of July due to snow and mud;
Watch out for wild animals crossing the road.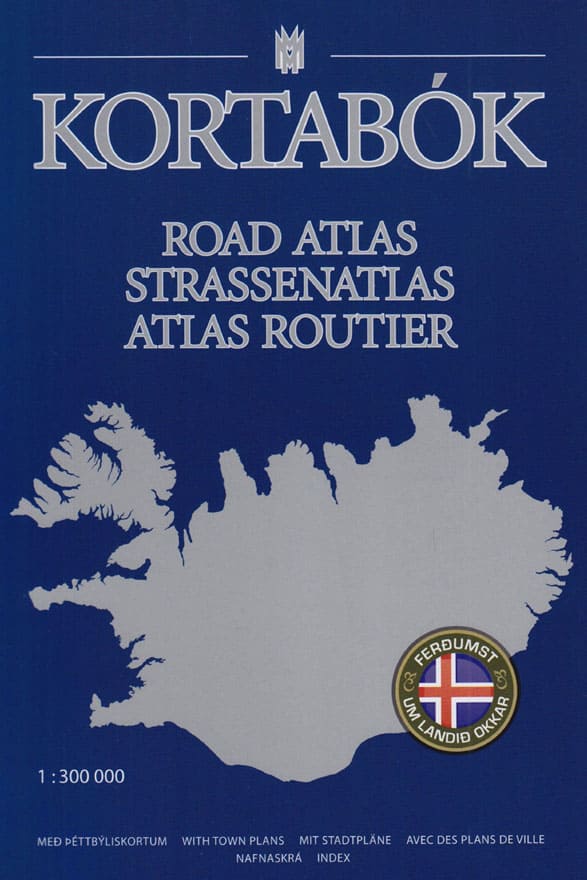 Winter Driving in Iceland – What to know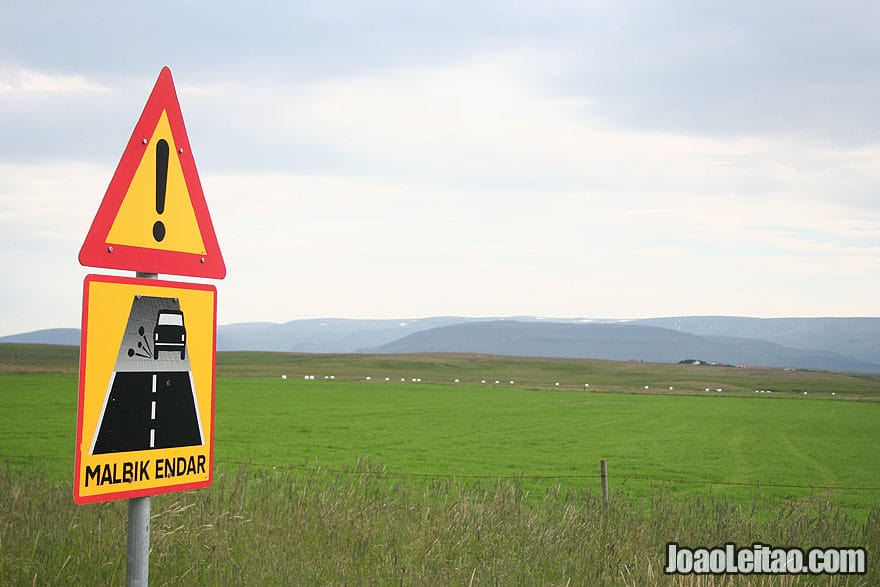 Consider the weather as the Icelandic perfect sunny day can turn out to be very stormy really quickly;
Driving Iceland's Ring Road in winter can be very challenging and you should be prepared for some hardcore dangerous scenarios.
A 4WD is necessary to drive in Iceland during winter months. Some roads can be closed up to 12 hours before someone comes to clean up;
Always have a good sleeping bag, water, and one or two meals with you inside the vehicle just in case you get stuck in the snow;
The car I rented – Hyundai Getz