Visit Djemaa El-Fna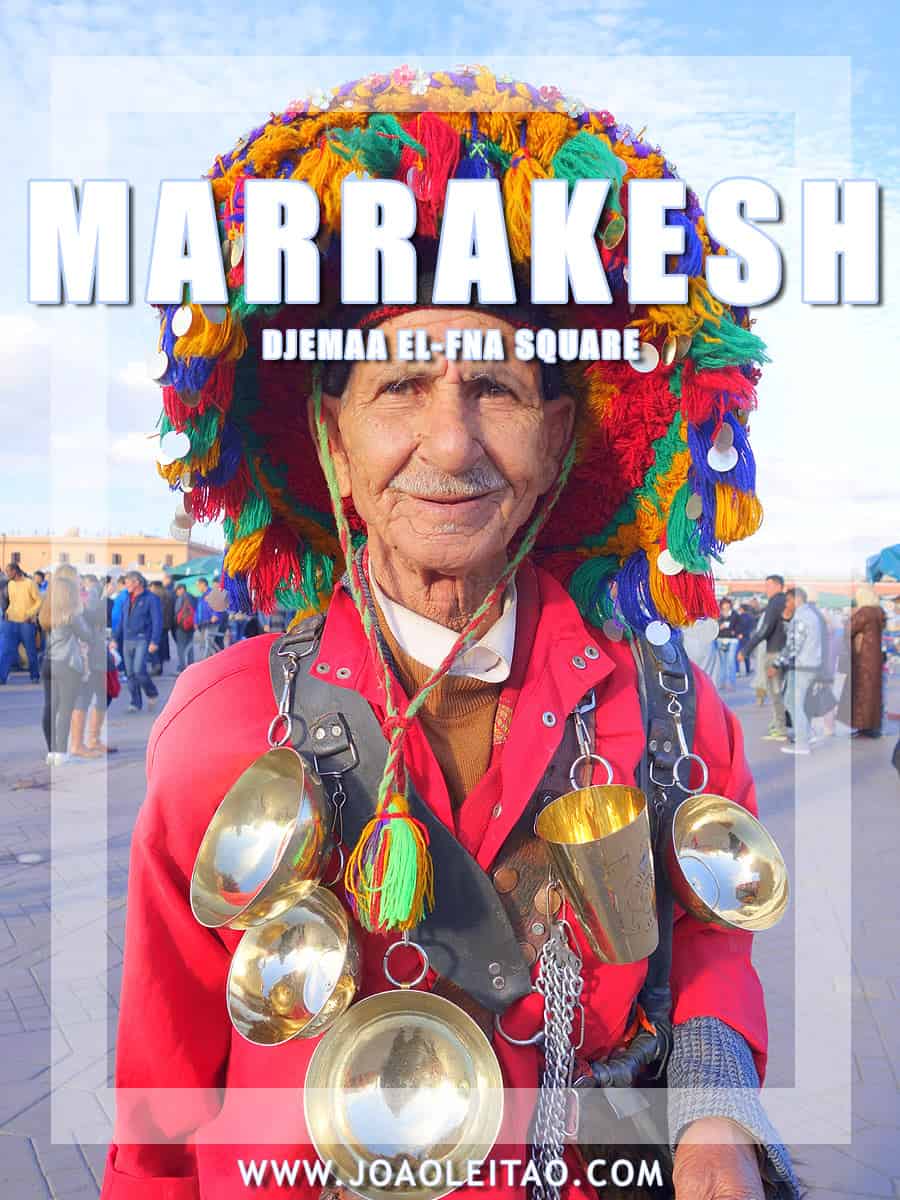 Marrakesh is a fascinating city.
Founded back in 1071 by the Berber Almoravid Sultan Youssef Ibn Tachfine, Marrakesh has one of the most chaotic urban environments on the planet.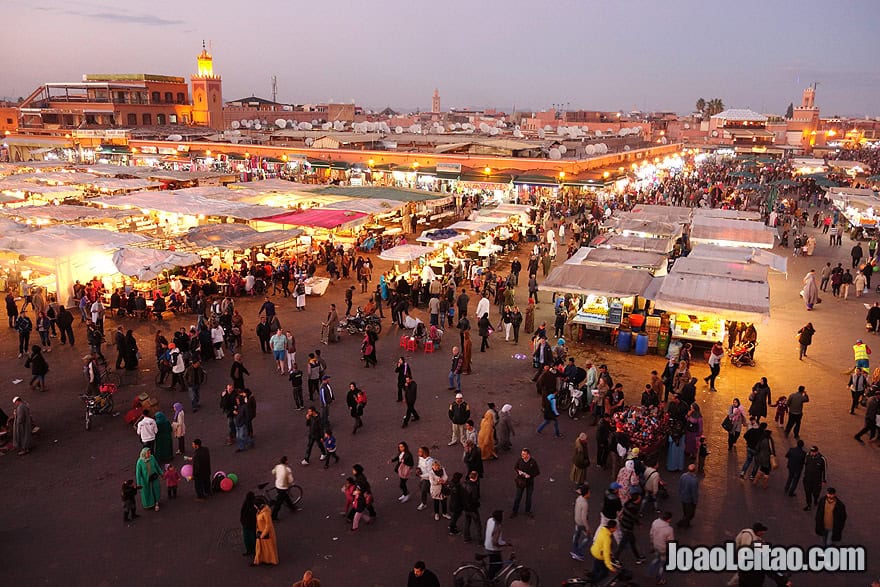 I lived there for one year and have been visiting it for several times since 2001.
Many people tell me they didn't enjoy Marrakesh because it's too touristic and that Djemaa El Fna Square is just made up to get money out of visitors.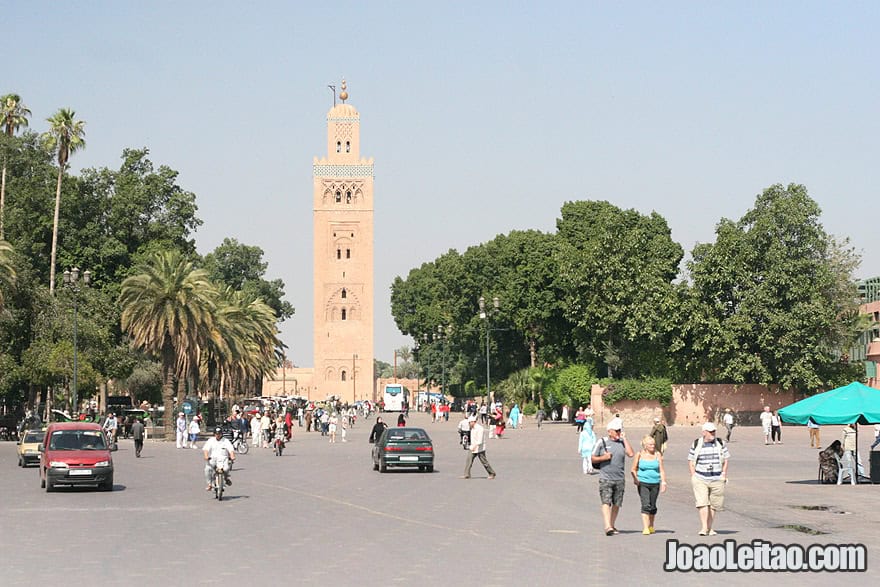 On this page, I'll try to demystify this amazing square and tell you some curious facts to make you understand its history, so that you will appreciate it differently.
Djemaa El Fna? How to understand it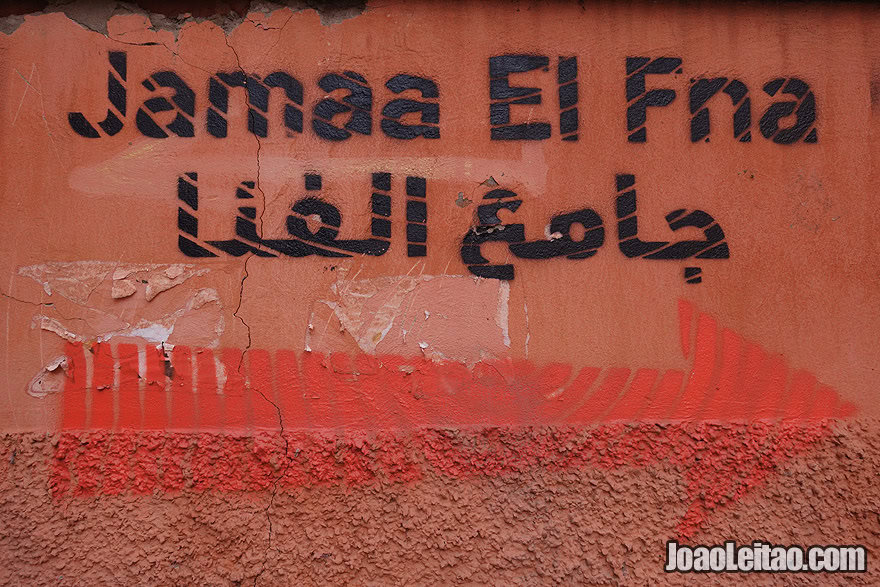 Well, indeed Marrakesh is a bustling commercial city, but we have to realize that Marrakesh has been welcoming foreigners for centuries. It's not just the casual hippy trail city, nor did it start to receive travelers since the 1970's. We are talking about 700 years of history concerning foreigners: either tourists, students, pilgrims, businessmen, traders.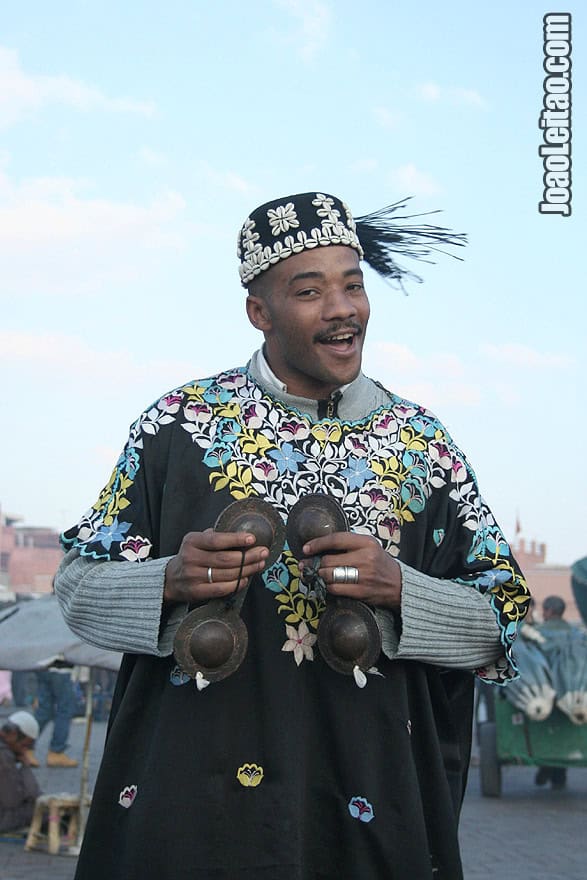 But where have all these people come from?
The city became the capital of the Almoravid Emirate, which stretched from the shores of Senegal to the center of Spain and Portugal and from the Atlantic coast to Algiers.
Marrakesh prestigious Koranic schools received Muslim students from all around North and West Africa, Andalous, the Middle East and Central Asia.
The Zaouias of the 7 Saint of Marrakesh receive Moroccan pilgrims all the year round.
Commercial hub that receives businessmen and traders for ages.
For centuries, the old city souks received businessmen and traders. The famous Djemaa el Fna (Jemaa El Fna) square was always filled with street performers, musicians, acrobats, snake charmers, monkey traders, storytellers, dentists, henna tattoo artists, restaurant stalls, tea carriages, medicine men, you name it!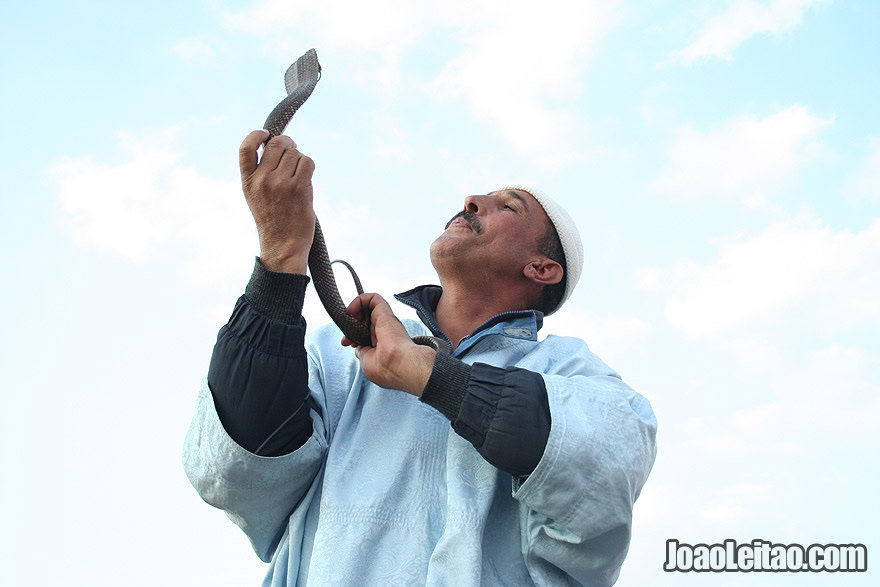 Being the capital of Morocco during the 12th and 13th centuries, Marrakesh was, for a long time, a major political, economic and cultural center of the western Muslim world.
In the past, Morocco was known in the East under the name of Marrakesh.
Morocco, the name itself comes from the Portuguese mispronunciation of Marrakesh, as in "Marrocos."
Place Djemaa El Fna is included in the list of Masterpieces of the Oral and Intangible Heritage of Humanity by UNESCO.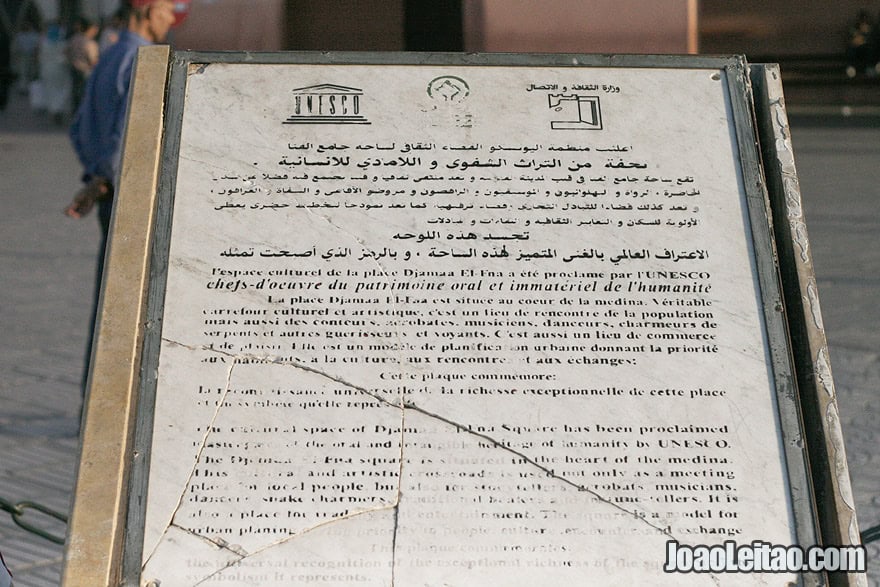 Juan Goytisolo, a Spanish novelist, and poet, gave a speech during the event of the first day of inclusion of Marrakesh as a UNESCO World Heritage site. Here is an excerpt of his speech, which reveals the authenticity of this eye-popping square:
"The spectacle of Djemaa El-Fna is repeated daily and each day it is different. Everything changes — voices, sounds, gestures, the public which sees, listens, smells, tastes, touches. The oral tradition is framed by one much broader — that we can call intangible. The Square, as a physical space, shelters a rich oral and intangible tradition."
The reason for this is that Djemaa El-Fna is indeed different from every other place you will ever visit. It is a legitimate open-air theater, an outdoor circus, an open-air concert hall, an open-air scene of… insanity…
Djemaa El-Fna Video
On this video, you will meet the real Djemaa El-Fna square, its sounds, and unique street performers.
Who will you find in Djemaa El-Fna
I will promptly make a list of several people you will encounter on Marrakesh main square.
1. Musicians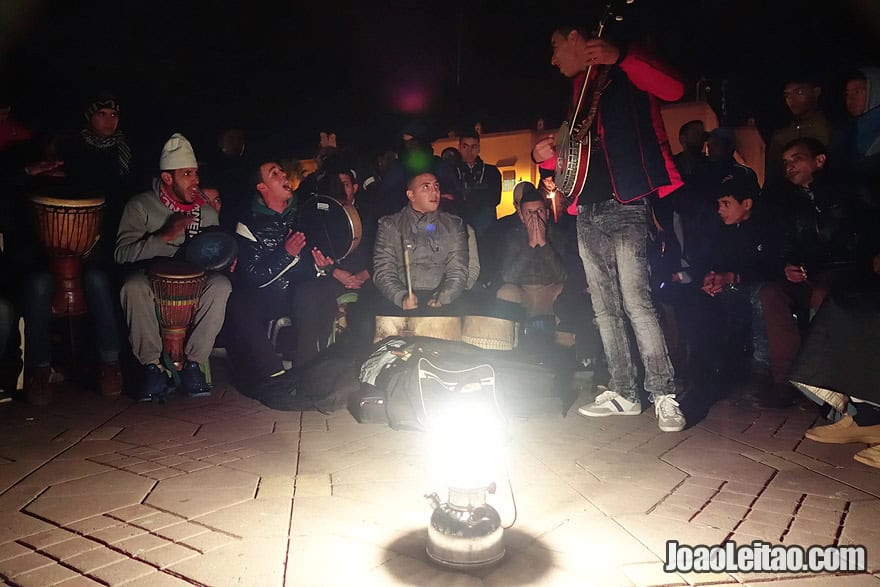 2. Snake charmers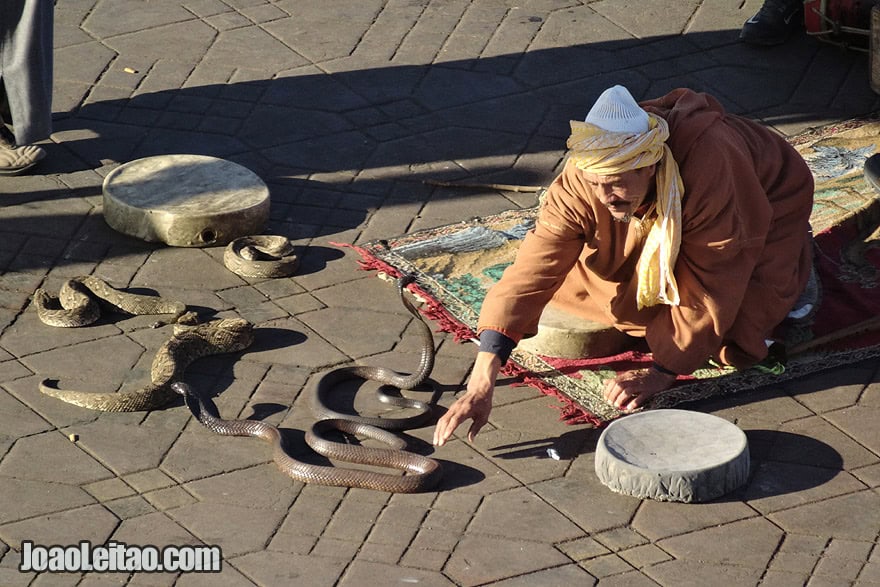 3. Fortune tellers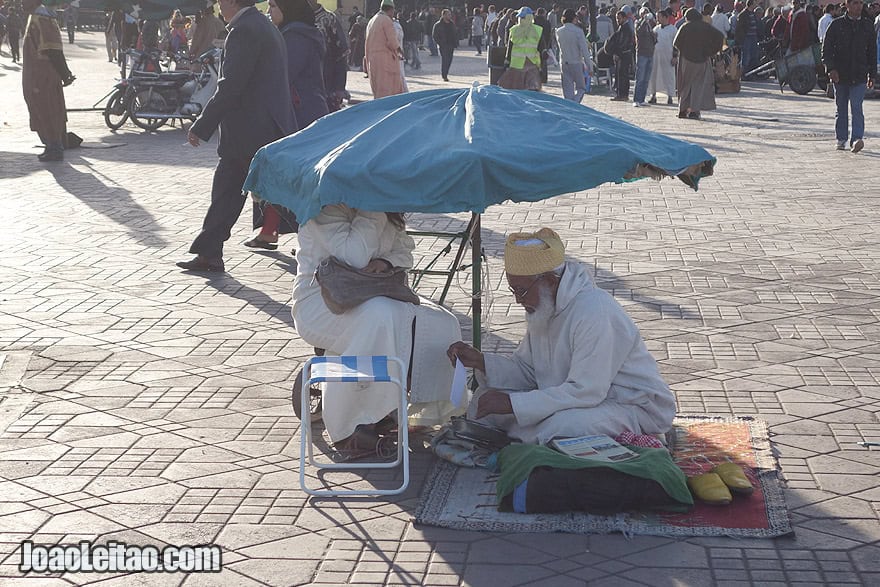 4. Tea with spices stand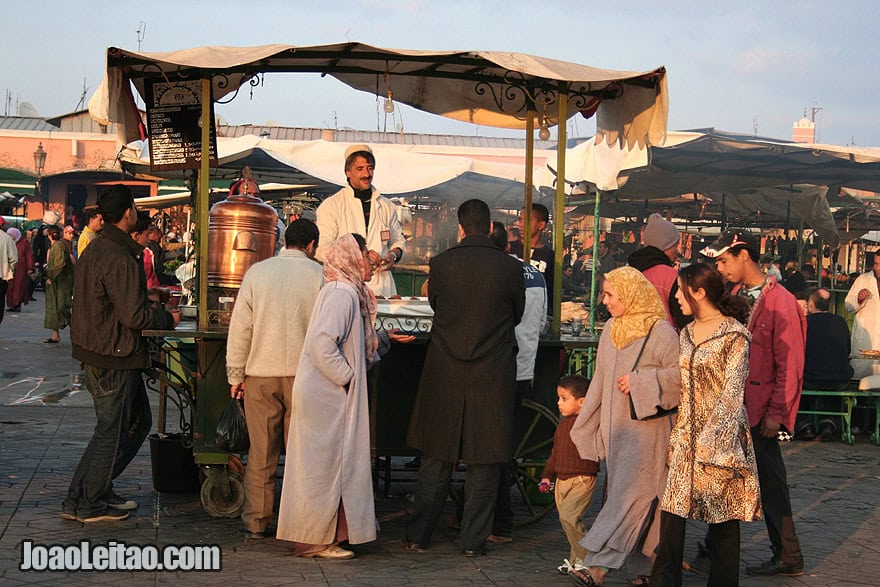 5. Orange juice stands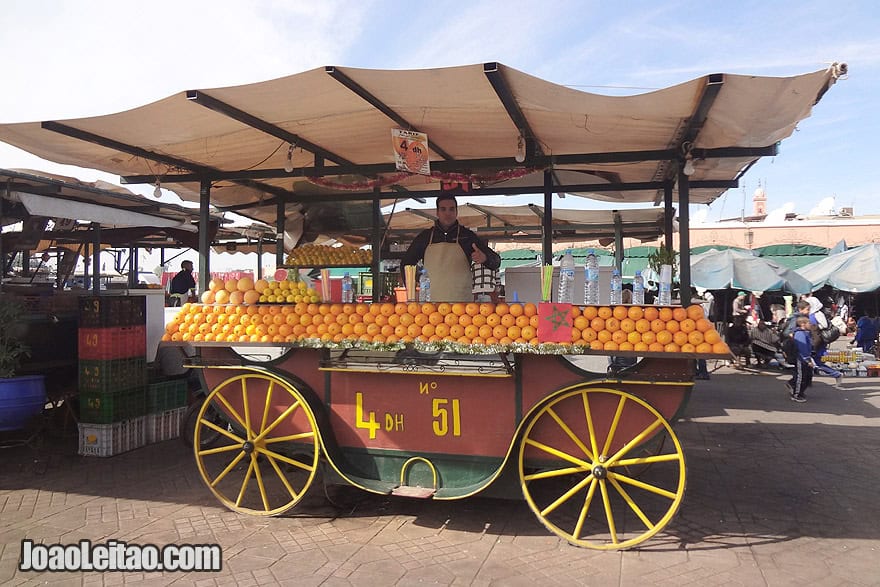 6. Water sellers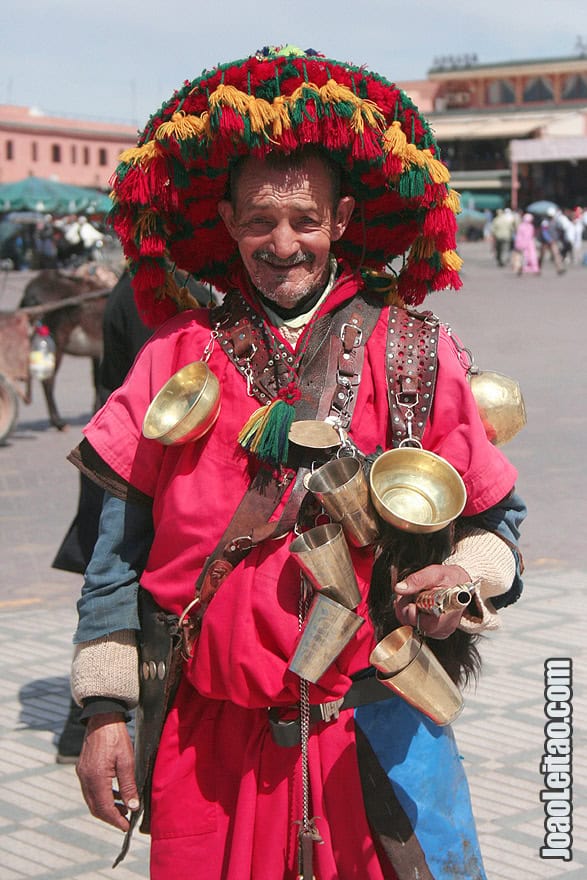 7. Boxing fighters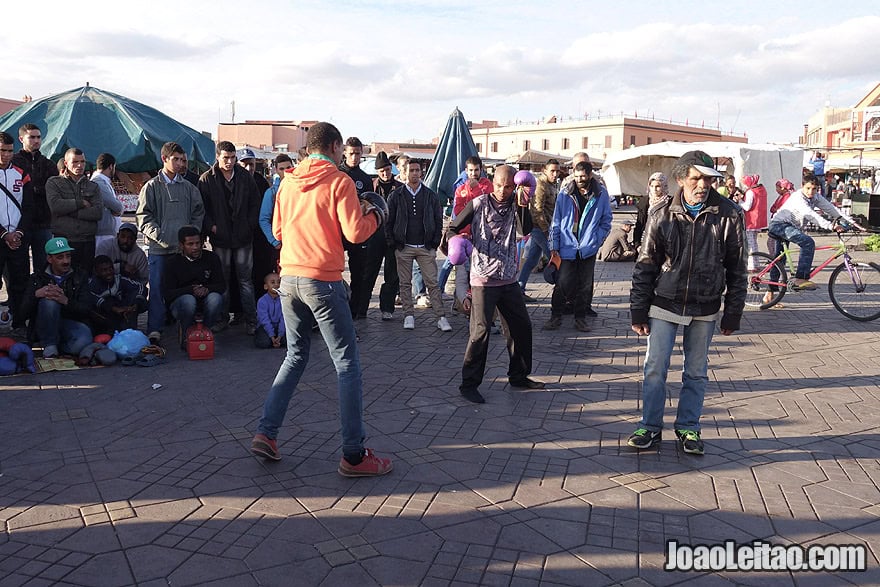 8. Acrobats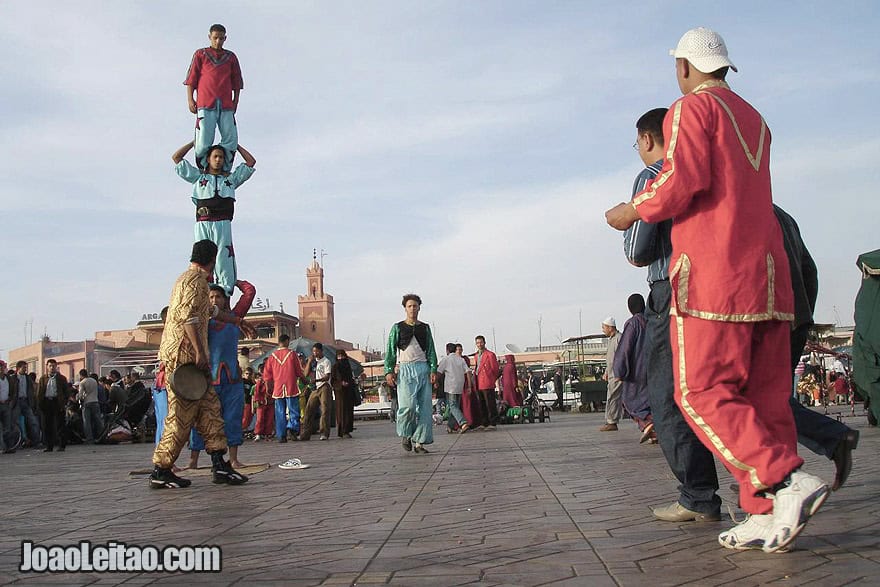 9. Dentists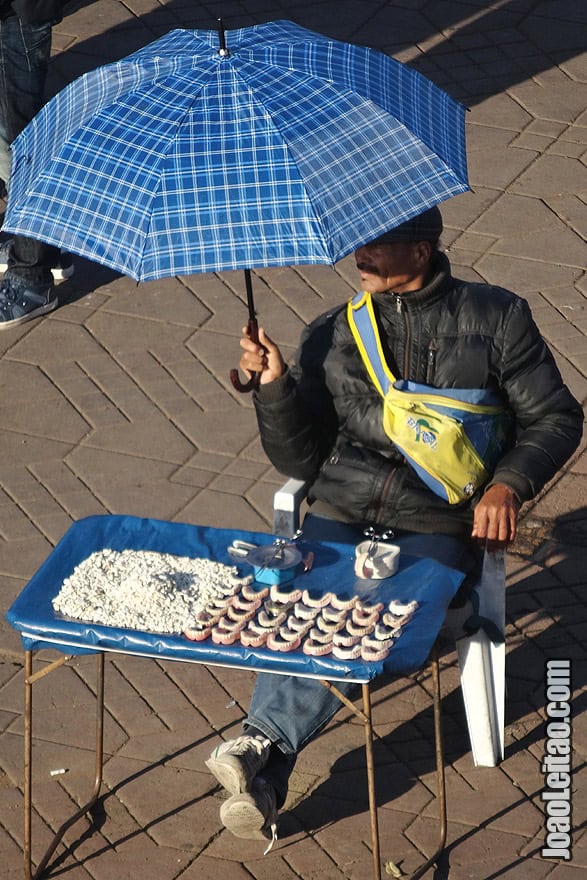 10. Solo musicians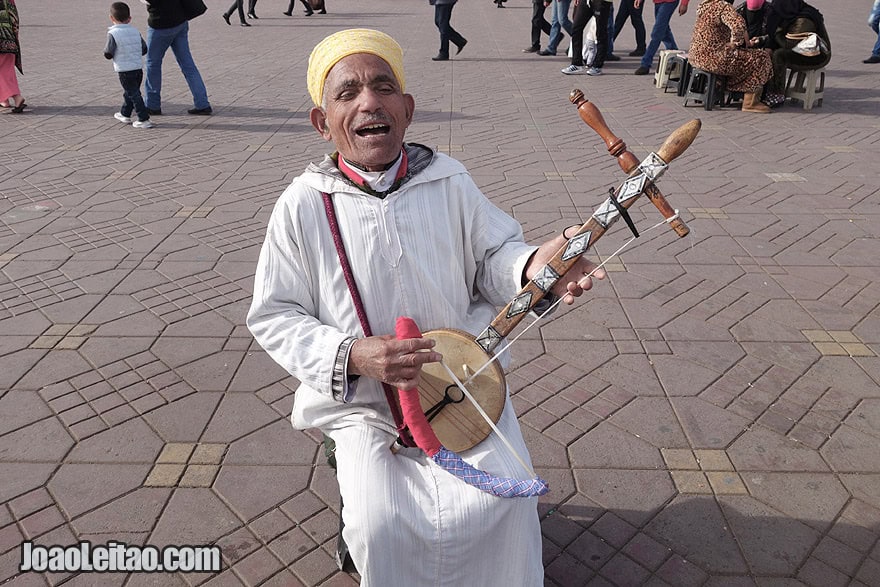 11. Belly Dancers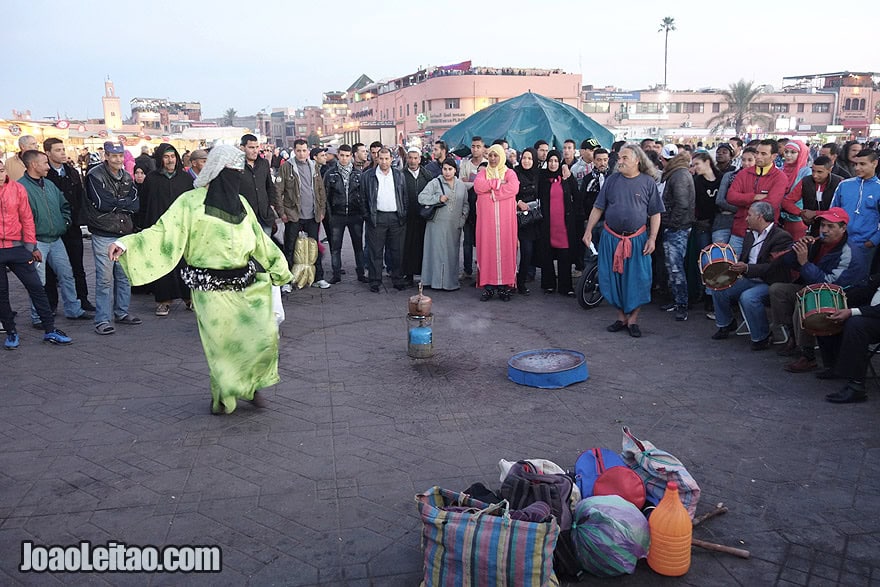 ATTENTION: these women are not who you think they are. Proceed at your own risk.
12. Henna tattoo artists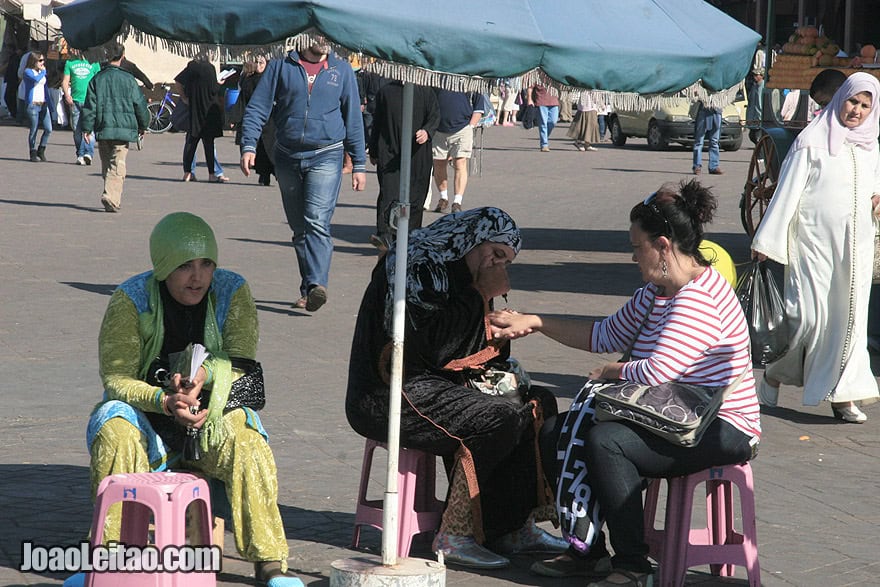 And afterwards your hands will look like this: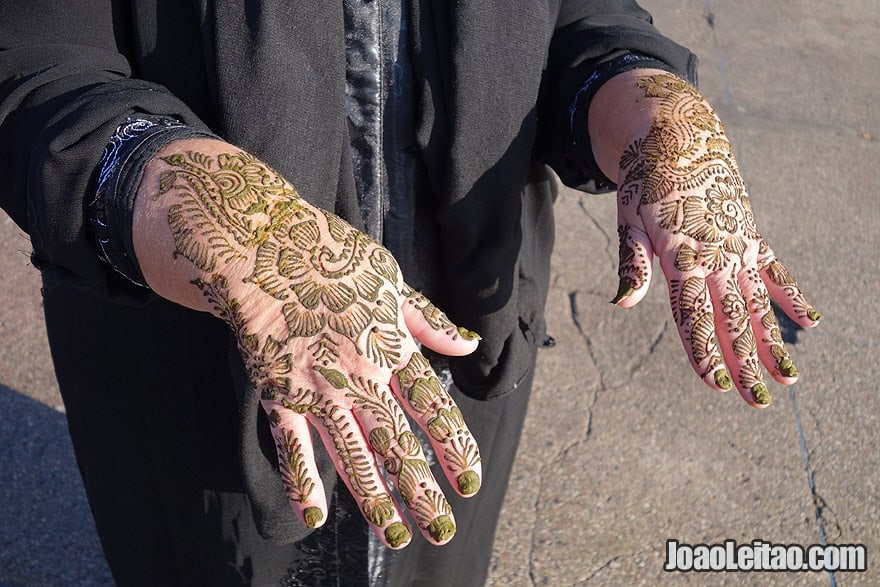 13. Mint tea stand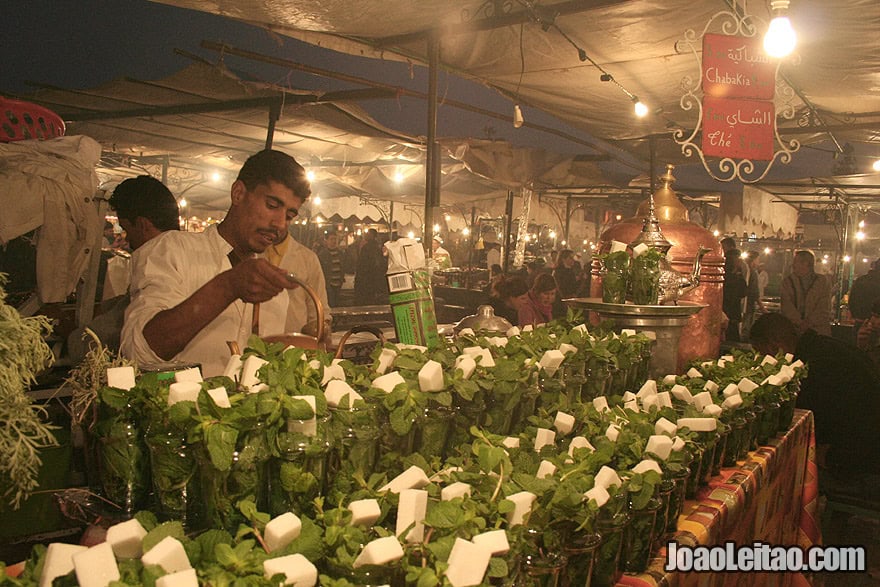 14. Drawing artist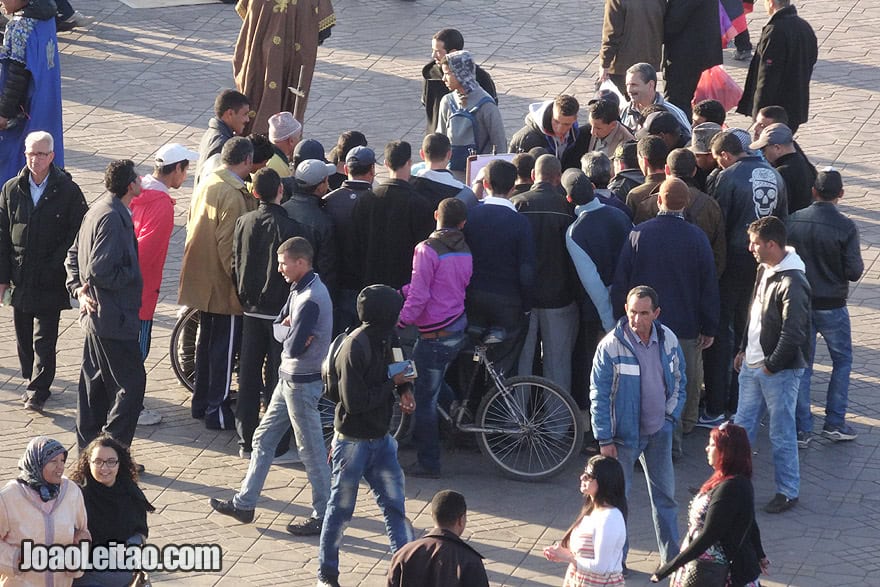 15. Nuts and dried fruit stand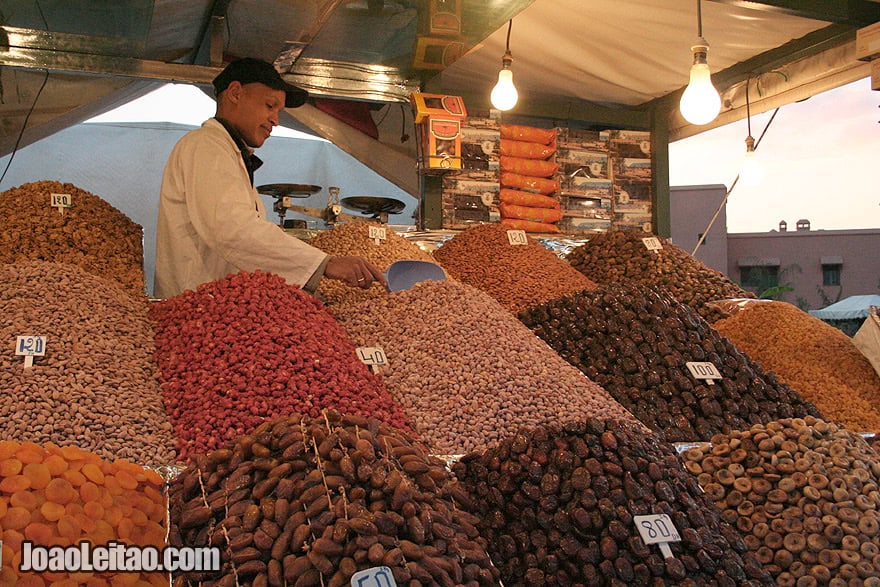 16. Man with dog on a bicycle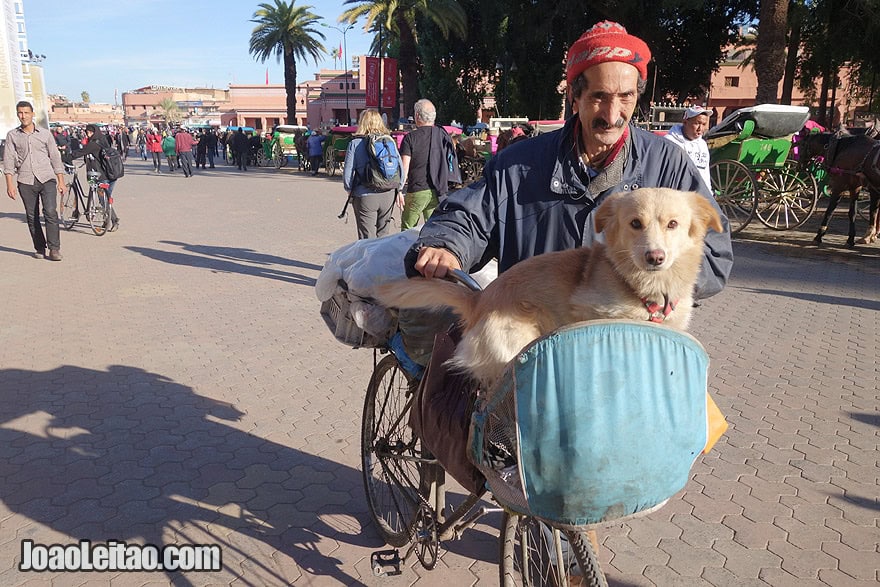 17. Police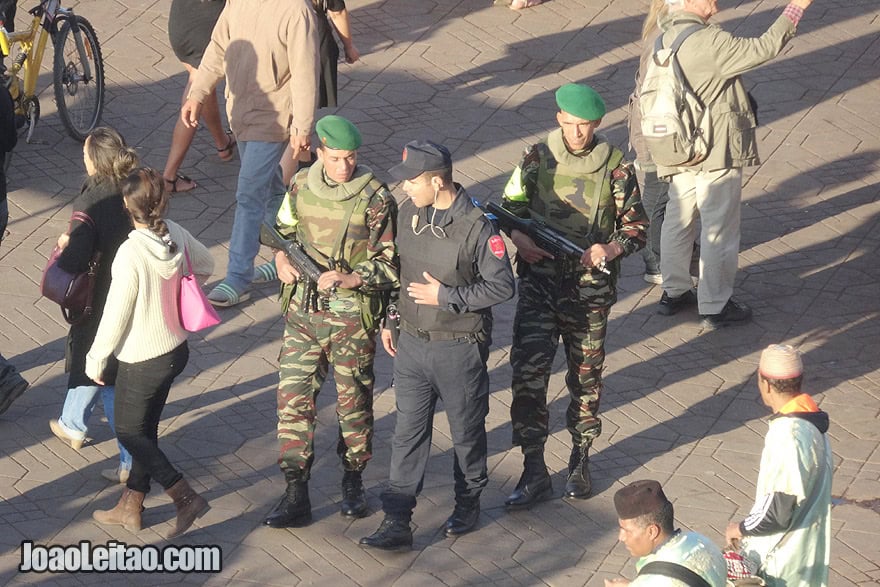 18. Restaurant stalls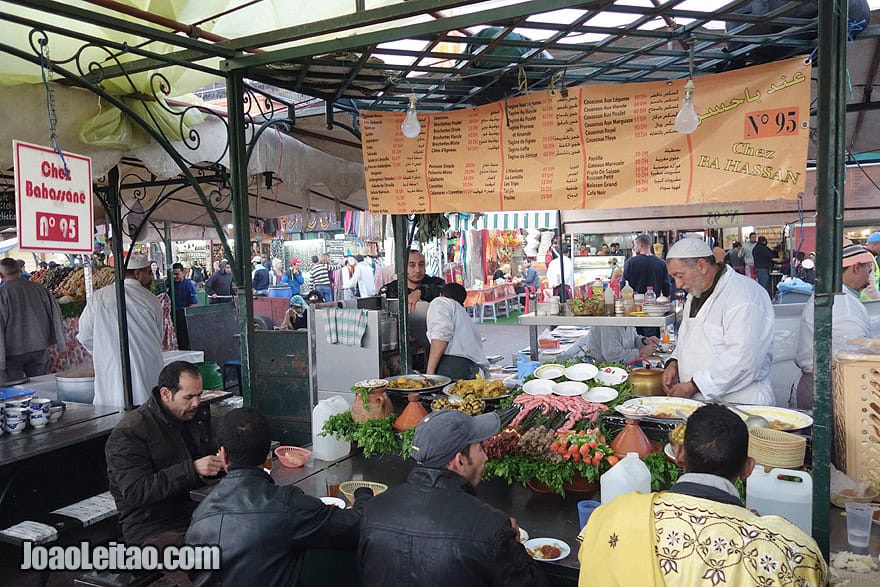 19. Story Tellers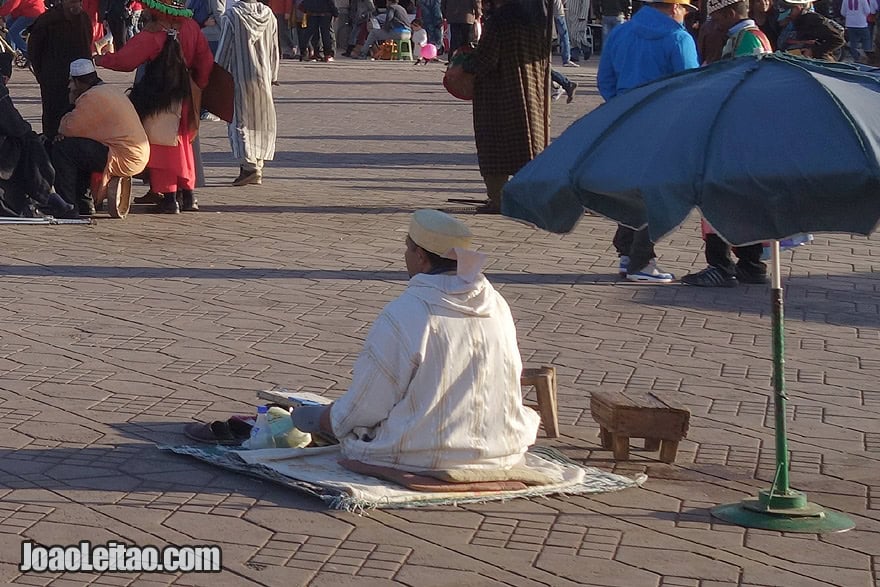 20. Monkey Handlers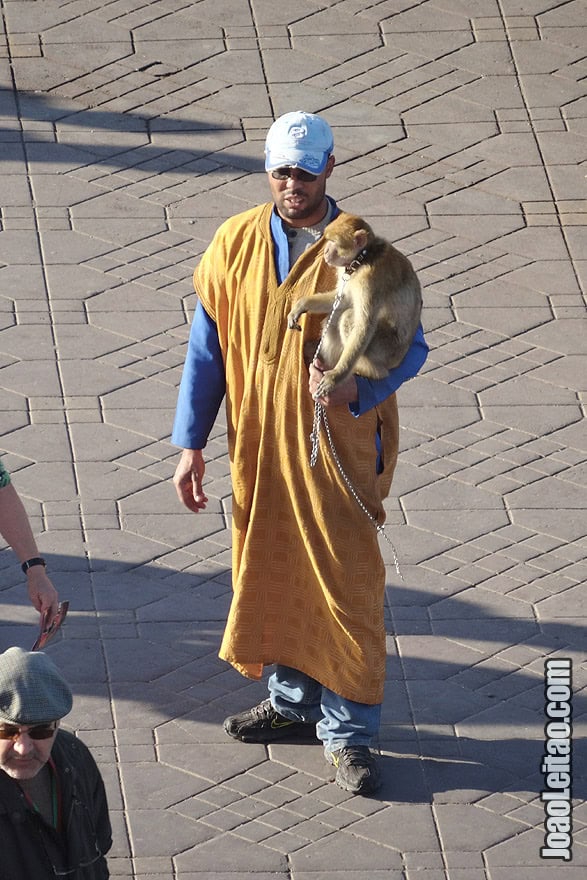 21. Gnawa Dancers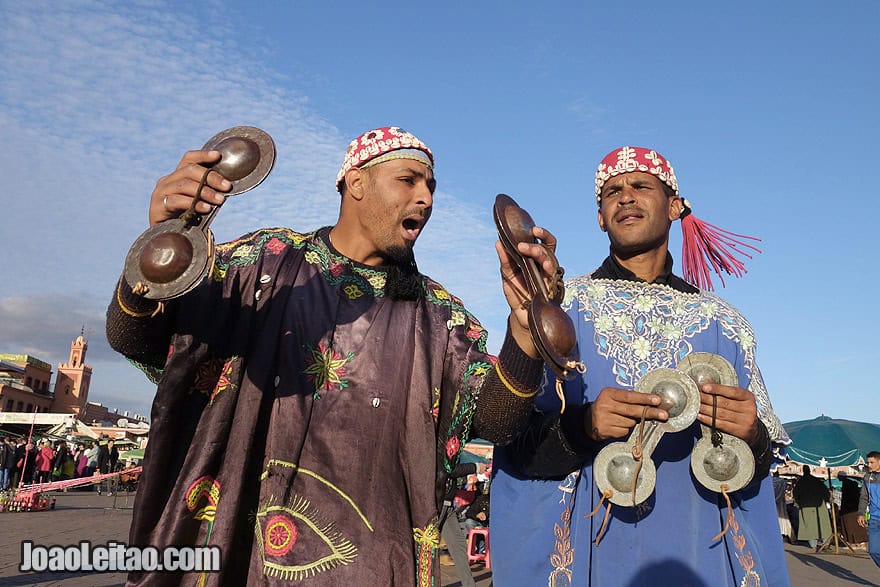 22. Horse "Calèches"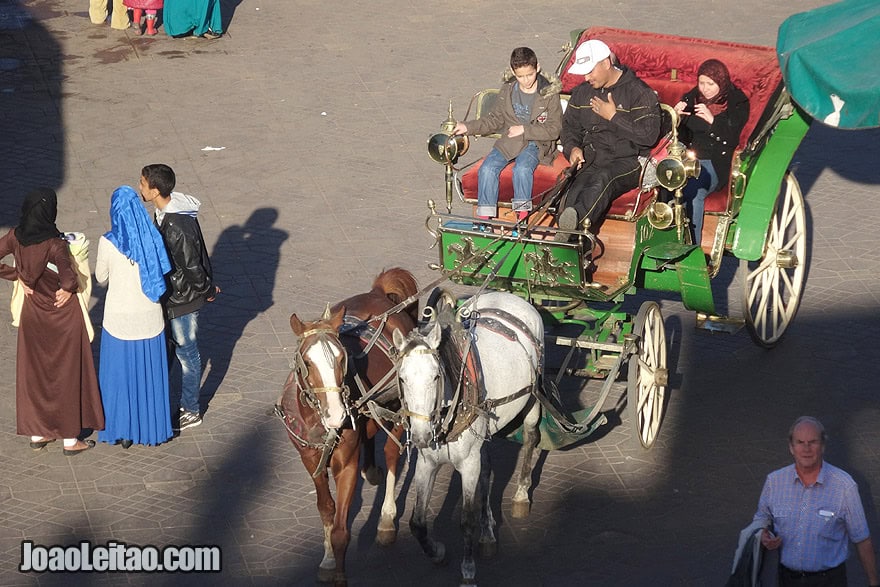 Djemaa El-Fna Stories
What is this man doing with your money?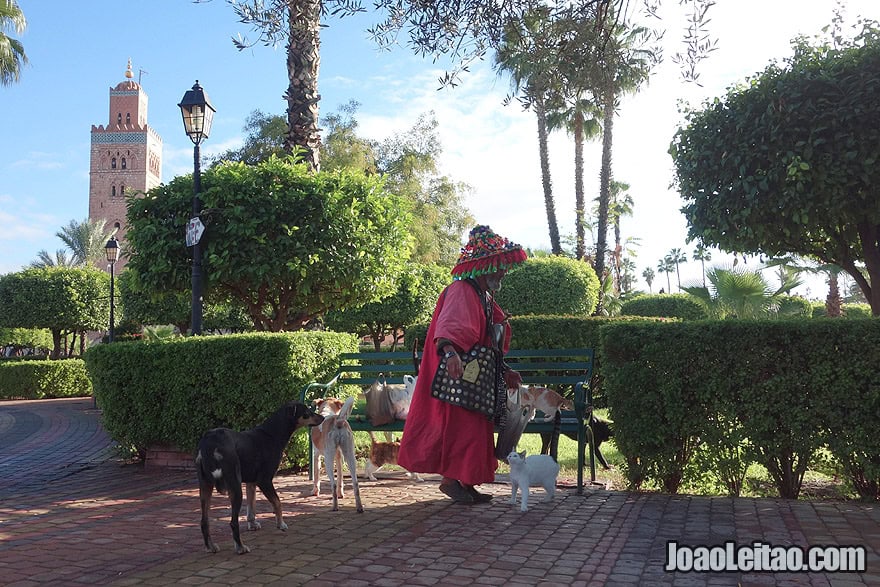 The other day, I learned a lesson.
In Djemaa El-Fna you can find the popular photogenic water sellers. They do sell water as many Moroccans do support them, but they are one of the city's major tourist attractions. If you want a picture, you have to pay.
How much?
Well, it all depends on you, but from 5 DH up to 20 DH is OK.
The other day, early in the morning, I was walking down from my hotel when I saw one of the water sellers carrying a bucket and a heavy plastic bag. He started feeding the stray cats near Koutoubia mosque.
I followed him to the Koutoubia garden, where literally dozens of stray dogs came to be fed, by this poor man.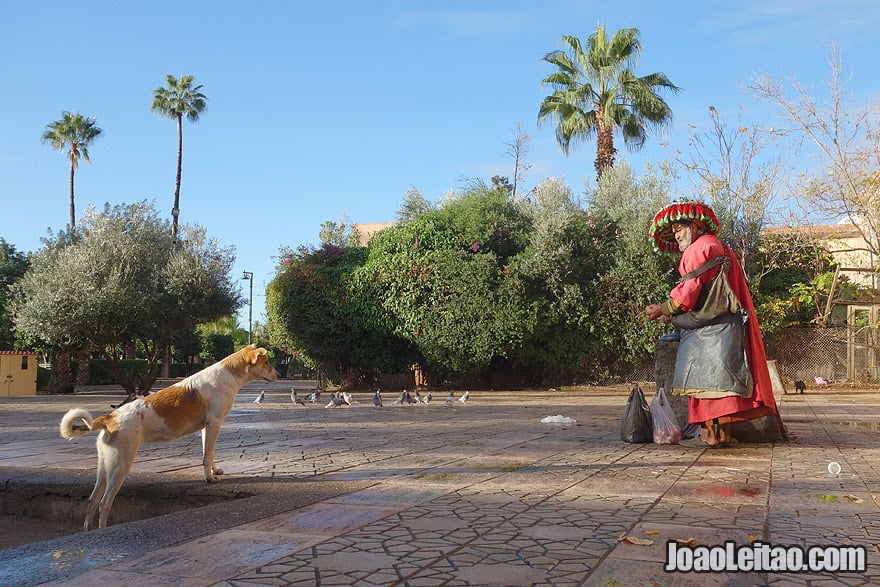 I talked to him, and he told me:
"I am a simple person, I don't have a family, so the money I earn working in Djemaa El-Fna is mostly spent buying meat to feed these poor animals. They are also made by God."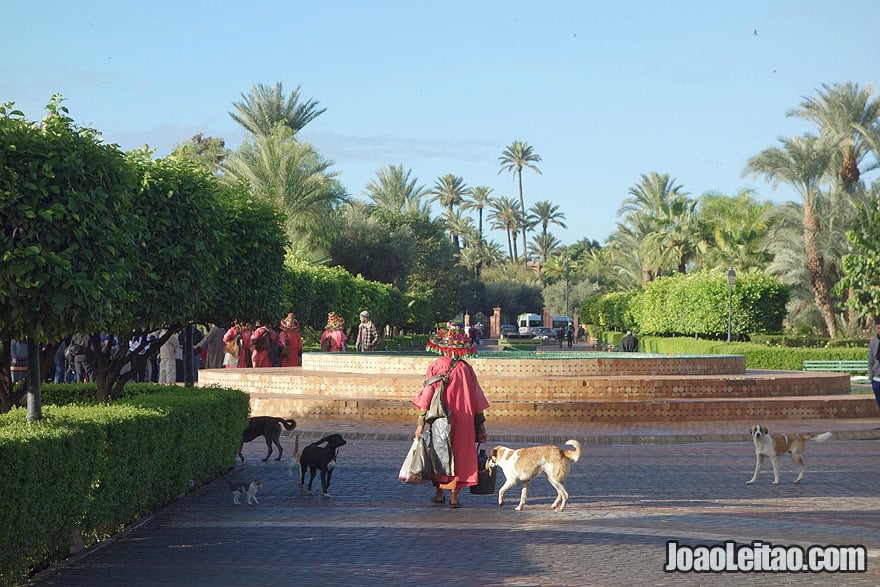 So, every single morning of his life, this person so often criticized for asking money for pictures, dedicates himself to the hopeless stray animals of Marrakesh.
How about that?
Money vs Photo – the hard truth to know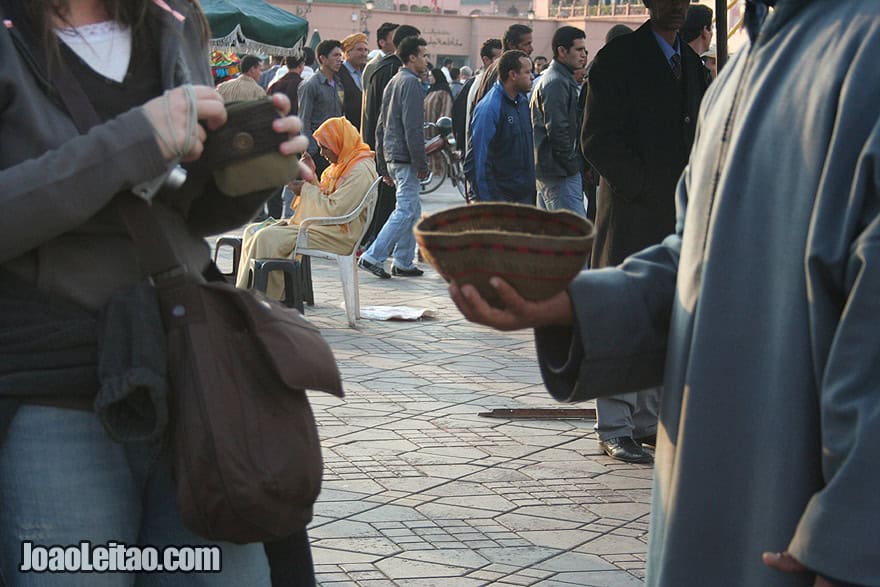 On the other day, while speaking to a friend that came to visit me here in Morocco, he was happily telling me about his amazing trip to Australia. While talking about Sydney, he highlighted the lively ambiance, relaxed people, and many street performers.
I asked him: "Did you give them some money?"
He said: "Oh yeah, this man playing with fire I even gave him 5 dollars!".
SO, this is the guy who first told me that he hated Marrakesh and all those people asking him for money in Djemaa El-Fna.
For my friend, they are nothing more than hustlers whereas, in fact, they are nothing more than street performers.
So, what is the difference between visiting London, Rio de Janeiro, Sydney and supporting artists, and giving some coins to the guys in Djemaa El-Fna? Is it worth getting angry?
Well, I let this question out in the open for you to think about.
Jemaa el Fna Q&A – Questions and Answers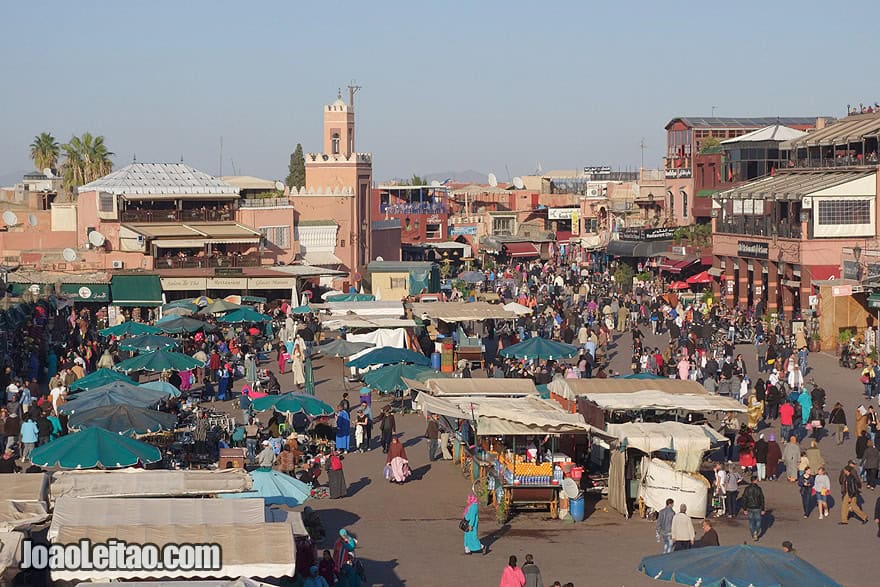 Is the square safe by night?
Yes, apart from pickpockets, the square is very safe.
Is there any police?
Yes, apart from the dozen undercover policemen, the main police station of Marrakesh Medina is also located in Djemaa El-Fna. Several police vans are also parked near the Bank al-Maghreb.
Are there pickpockets?
Yes, apart from the dozen undercover policemen, the main police station of Marrakesh Medina is also located in Djemaa El-Fna. Several police vans are also parked near the Bank al-Maghreb.
Are those real snakes?
Yes, those are real snakes. Most snakes are either with broken teeth, or their venom is taken out. But I know that every couple of years, some snake charmers die due to their profession.
Is it OK to make a picture with a snake?
Yes, it's ok. It's safe. But, you're using a scared and "circus" animal for your profit. Supporting animal abuse should be avoided anywhere in the world.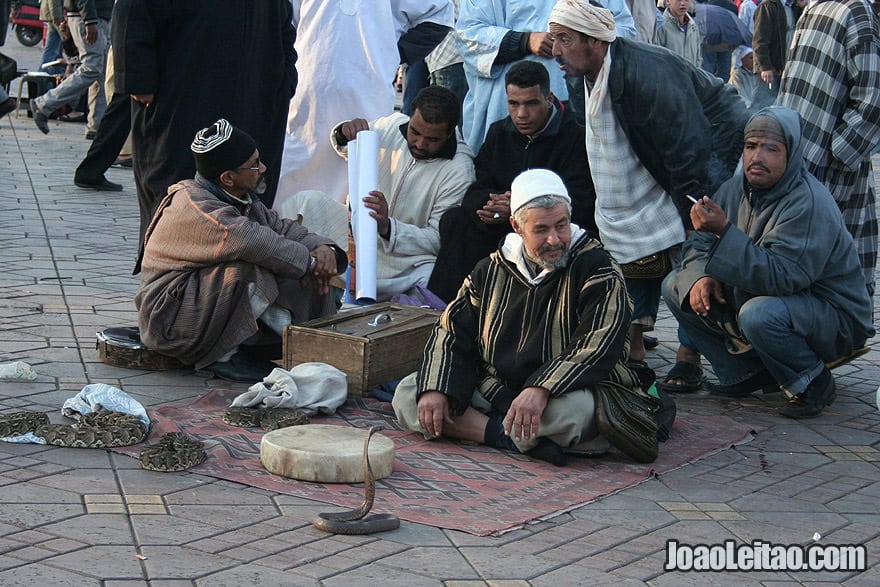 How much should I give to the snake charmers?
Make your picture and give them 5 to 10 DH. If they ask 100 DH, just say no. If you give 20 DH, expect to be invited to a tea, or seat near them and make all the pictures you want. Give them 50 DH, and you'll be the king.
Will the monkey guy hit me if I don't give him money?
No, not at all. Just say no, and go away, or, say yes, make your picture and give him 5 to 10 DH. If he asks 100 DH, just say no.
Some people do look strange and crazy. Are they OK?
No, they are not OK. Some people in Marrakesh and in Djemaa El-Fna are alcoholics or mentally very unstable. But the majority of individuals are quite reasonable and sane, don't worry – but leave the crazy ones alone.
Is it safe to make a henna tattoo?
It depends. Regular brown henna is OK, but never make a tattoo with black henna. It's made of a mix of chemical substance that can be very harmful and burn your skin.
What should I do to get a seat near the musicians?
Musicians are there to get money but, above all, to have fun. If you get to the group, they will ask you for some change. Give up some 5 or 10 DH, and ask to be seated. You'll be close to the musicians and other Moroccans who are there just to have fun. Once in a while, throw 2 DH to the floor when the chief performer asks people for money. They usually only start playing when they make a certain amount of money. Usually 20 DH.
Should I pay the musicians or leave?
If you want to have a splendid time, pay 2 or 5 DH and stay listening to some good music. If you go there and decide not to pay, you'll eventually go away and miss a great show. If you don't have any coins, just look the guy in the eye and tell him the truth.
Are those women belly dancing actually hitting on me?
No, they are not women. Yes, they are hitting on you. They will kiss you!
Where can I go to observe Djemaa El-Fna, comfortably and without any hassle?
You can go up the terrace of Le Grand Balcon du Café Glacier, which has undoubtedly the best view over the square. For the second best view go on the terrace of Café de France. You have to consume either Coca-Cola, a bottle of water, mint tea or orange juice to get in. Entrance drink costs 15 DH. You can seat as long as you like. If there's no table just wait until someone eventually goes away.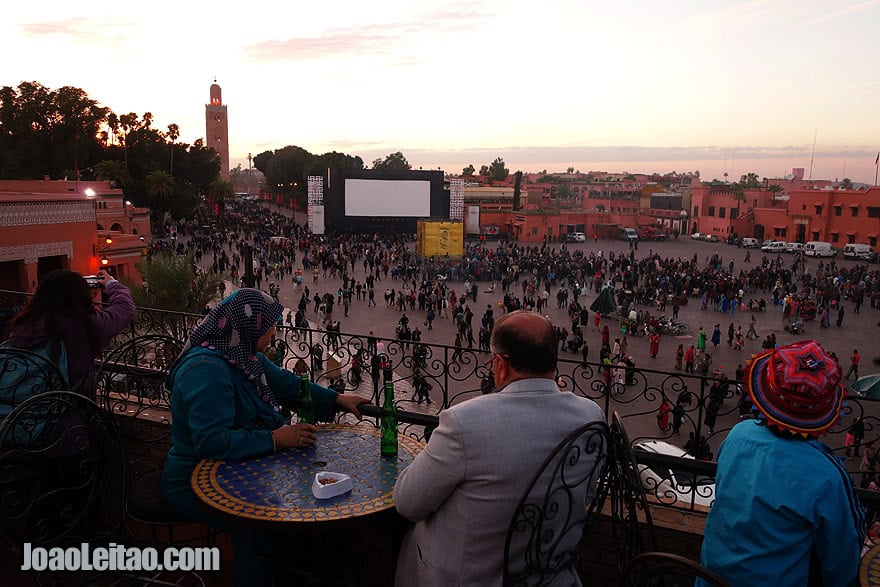 How much should I give to the Gnawa musicians?
These young guys can be as friendly as rude. Be nice to them from the beginning, and you'll make great photos and videos. For a one-to-one show, give from 10 to 20 DH. Maybe if they are two, give 10 DH each and say you can't really give more. Smile and try to make a conversation and they will soon forget about the commercial side of their daily life. If they ask 100 DH, just say no.
Can I drink the water sold by the water seller?
Basically, it's treated city tap water. Some people can deal with it, and other people cannot. I advise you not to drink this water since the cups are used by dozens of individuals daily. Plus, the water is contained inside the animal skin, so watch out some nasty bacteria.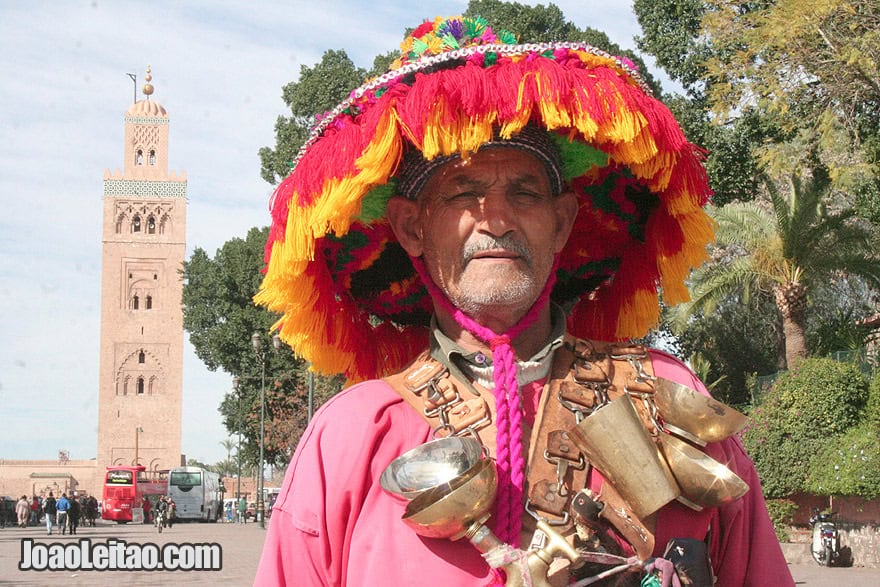 How much should I give the water seller for a picture?
Make your photos and give him 5 to 10 DH. If they ask 100 DH, just say no.
Is it safe to eat in Djemaa El-Fna restaurants?
Yes. Most restaurants are OK. Try number 1 – Aicha. A great variety of tasty food.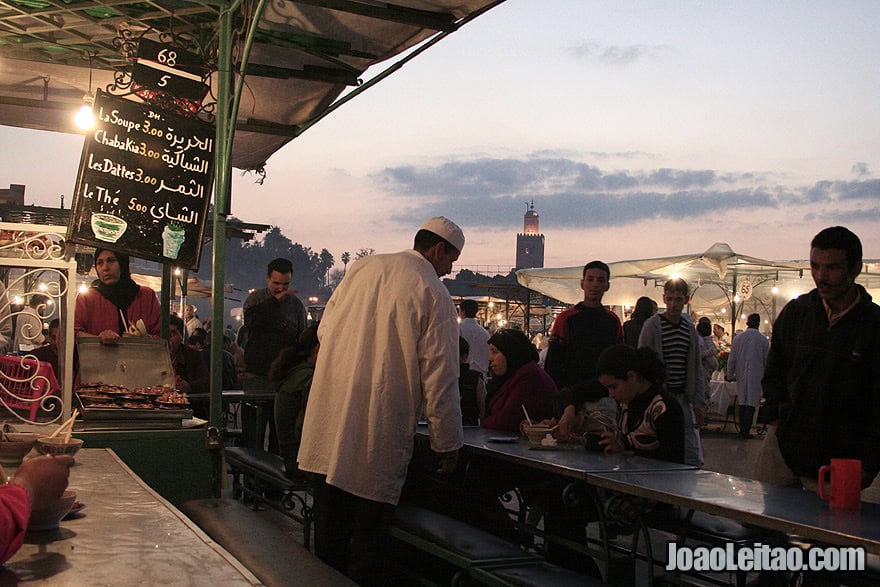 When do the restaurant stalls open?
They open around 5 pm and close around 12 am.
Can I make photos of people?
Yes, you can make photos of people, but you should definitely ask for permission first. Djemaa El-Fna performers are expecting tip over photos. So have some change ready.
I lost my wallet, what should I do?
Well, forget about it. But you can always go to the tourist police office to fill in a report. You should be very careful with your wallet and documents. Keep them tight and close to you. Never keep them in the back pocket of your jeans.
What are those shell type of animals people are eating?
They are common snails cooked with local spices. Each stand has its own secret recipe.
Does Djemaa El-Fna sleep?
Yes, most activities only start in the afternoon. Musicians are there a bit before sunset until late at night.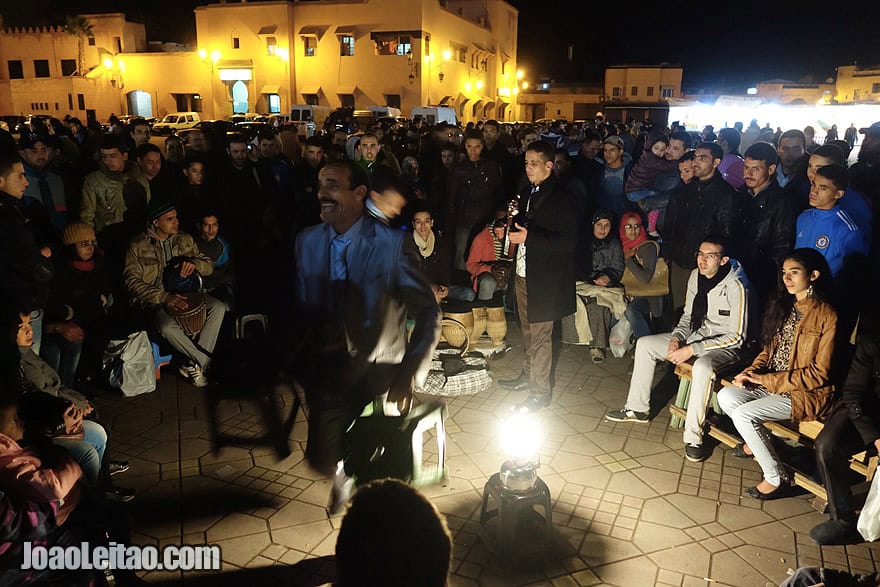 I am a woman, do people come close to me?
Sometimes, while you watch the shows in Djemaa El-Fna, you will possibly attract men that approach you just to be close. They might try to touch you. This is why you should always keep safe and fight back. If you notice, Moroccan women are either sat down near the musicians or in the company of a male. This is not something that will happen, but just keep this in mind. Ah – very important: dress appropriately and do not show your skin. This will keep male eyes away from you.
How should I prepare myself before going to the square?
Use your wallet and documents on a hard to get part of your body. Don't wear your backpack with valuable things on your back. Take coins with you. Don't keep the coins near the rest of your money. Just keep them separately and take out one by one.
How can I take the most out of Djemaa El-Fna?
If you want to have the best time of your life, go to the bank and exchange 100 DH into 5 DH coins. Take your time, and enjoy all the shows. Talk to people, ask them to perform for you, give some coins back, interact, sit down, clap and sing… and… welcome to Djemaa El-Fna, the heart of Marrakesh.
Do they add sugar to the orange juice?
During the oranges season, they don't mix the juice with water. But when they do so, maybe they add some sugar to the mix. That is why you should always ask for pure. Moroccan oranges are really sweet, and sometimes they do taste like they are sugar added. But they are not.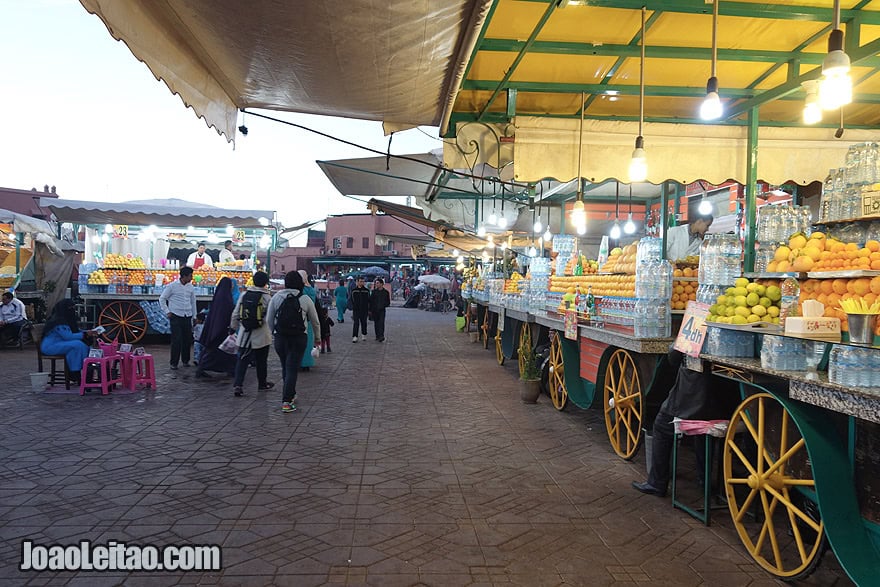 What should I not do while in Marrakesh?
You should not try to make pictures of people without paying. They can turn aggressive. If you want to make pictures, talk to the guy first, give him some coins, and he will relax while you have time to make all the photos you wish.