Visit Jebel Adad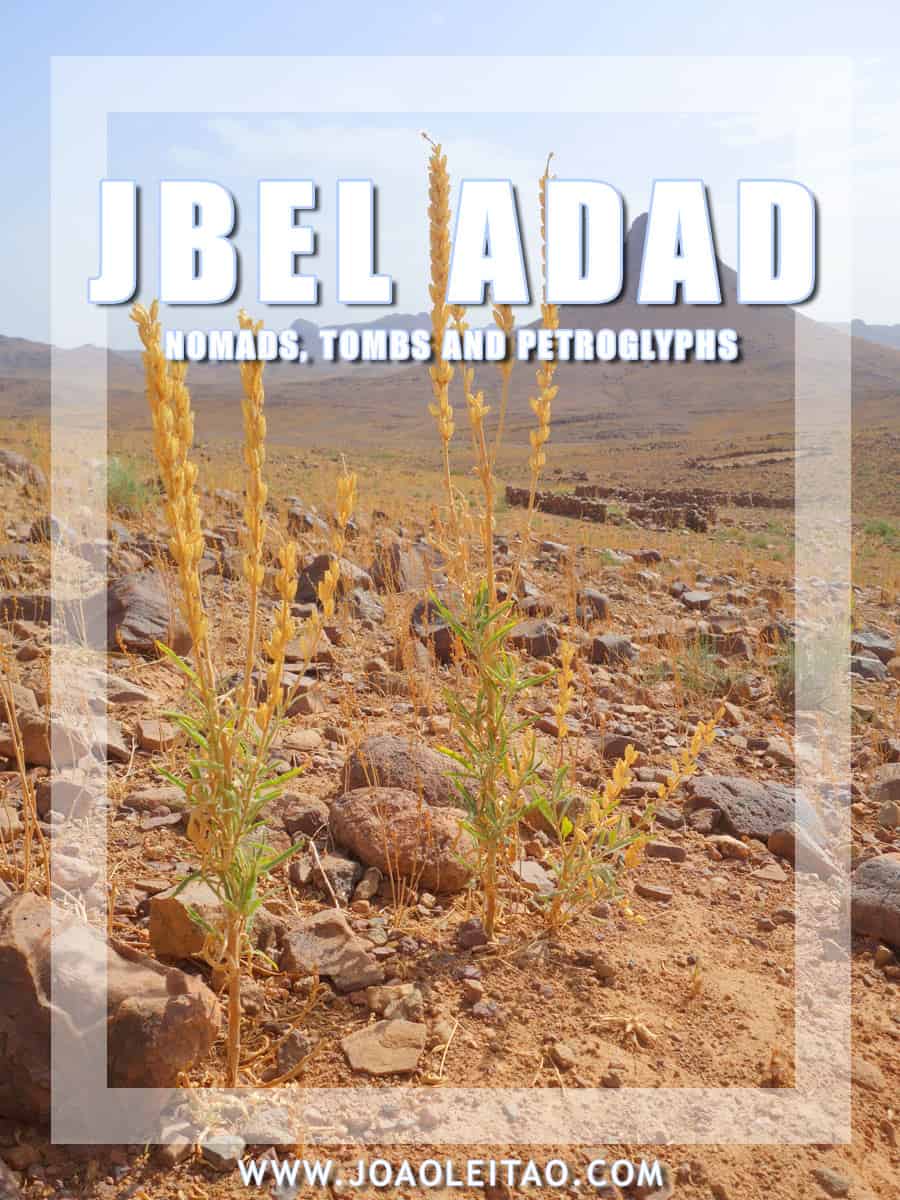 Ouarzazate is a famous south Moroccan destination.
Often called as the "The door of the desert," Ouarzazate is the starting point for several desert tours, the route of the 1001 Kasbahs, the Rose Valley and the UNESCO site of the Ksar of Ait-Ben-Haddou.
The region around Ouarzazate offers lush landscapes with villages camouflaged in the arid scenery of the mountains and with hidden oasis covered with palm trees.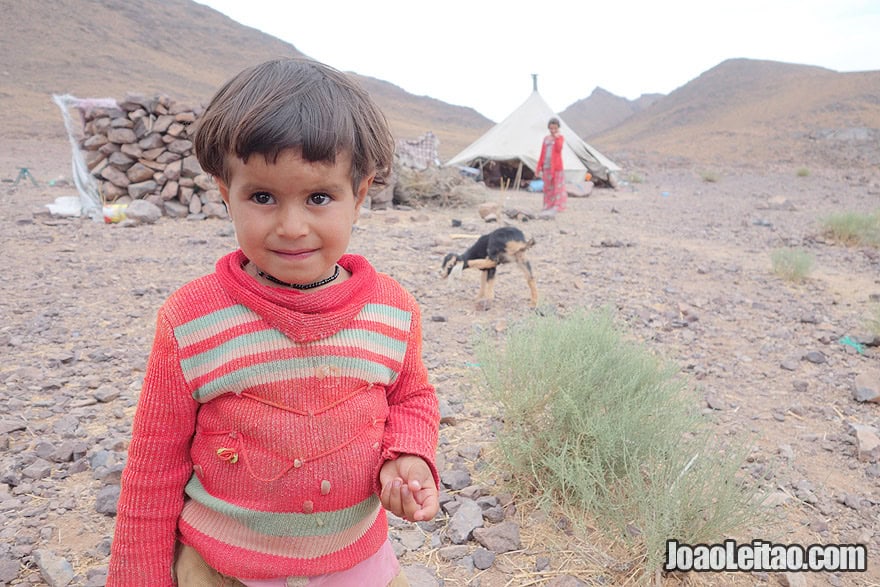 Seven months per year, Ouarzazate is surrounded by the 4000 m / 13123 ft High Atlas snowy mountains.
The uniqueness of its landscape provided the backdrop for many films, some of them historical as Lawrence of Arabia, The Mummy, The Kingdom of Heaven, Gladiator and Game of Thrones – Season 3, among others.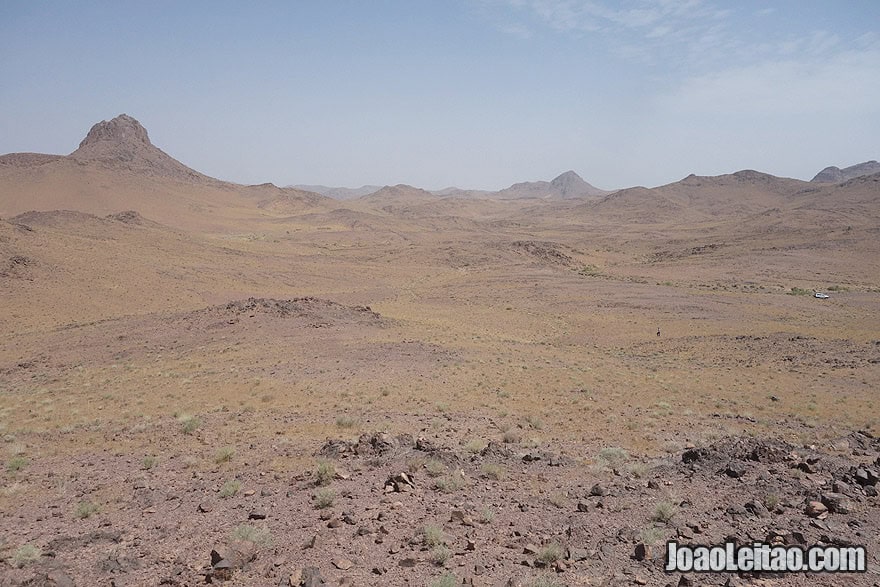 Still, beyond all these famous sites, Ouarzazate has much more to offer, and many hidden gems are reachable within 20 minutes from the city center.
Although I have been living in Ouarzazate for a few years now, the region keeps on surprising me for its beauty and for some interesting things to visit.
Just recently I engaged myself on exploring the fantastic pre-Islamic site of Jbel Adad. Located in the foothills of a huge rocky mountain called Jbel Adad (literally Mountain Finger), the landscape is made of volcanic rock, resembling some Lava Fields in Iceland.
Jbel Adad is located right on the northern slopes of Jbel Saghro Mountain, which geographically corresponds to the connection between the High Atlas and the Anti-Atlas.
What to do around Jbel Adad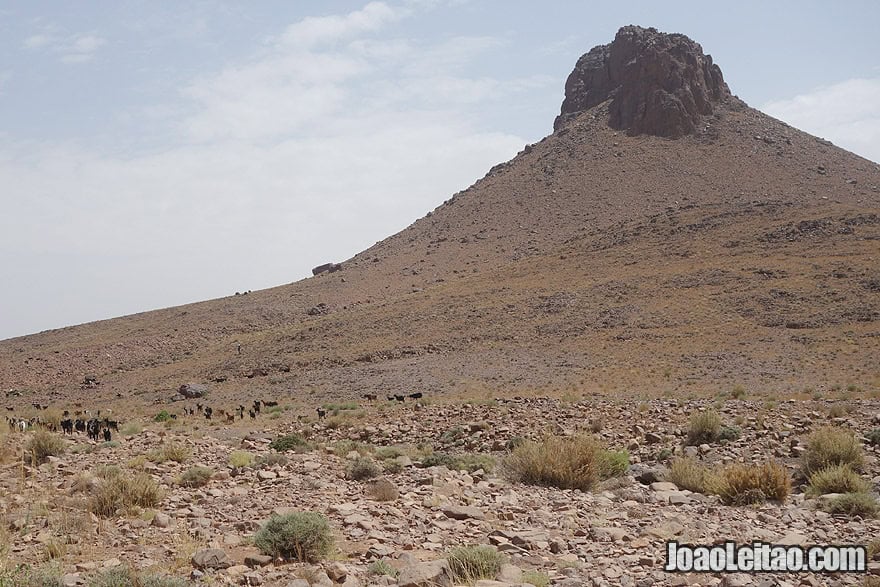 Jbel Adad is located in a severe desert environment. Still, some people and a small variety of wildlife survive. On this page I make a small description of the things to do around the pre-Islamic site of Jbel Adad, where we can find old tombs structures and petroglyphs.
1. Pre-Islamic tombs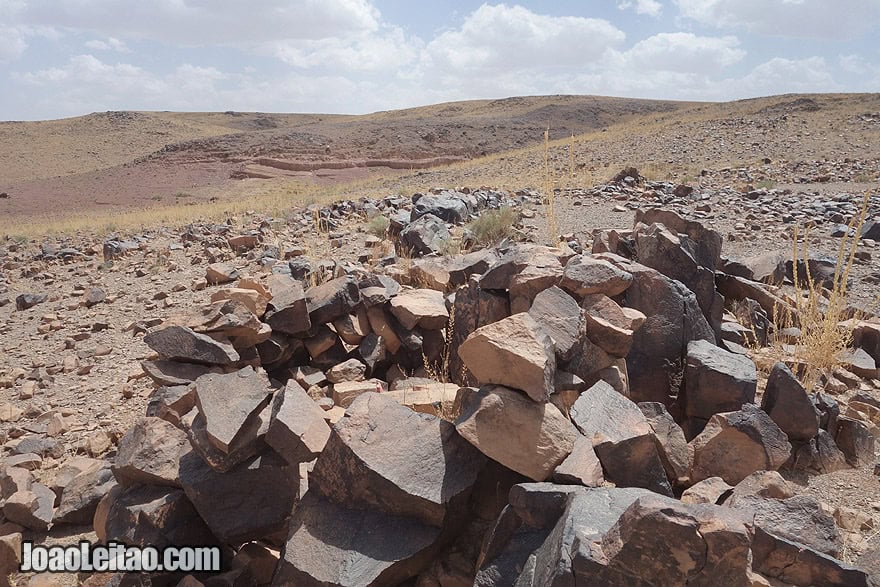 There are several pre-Islamic tombs around Jbel Adad. All around the surrounding hills, huge standing stones limit small reliefs of large rocks and several oval structures, sunk into the ground. Several other concentrated stone structures could be tombs, but we can't tell.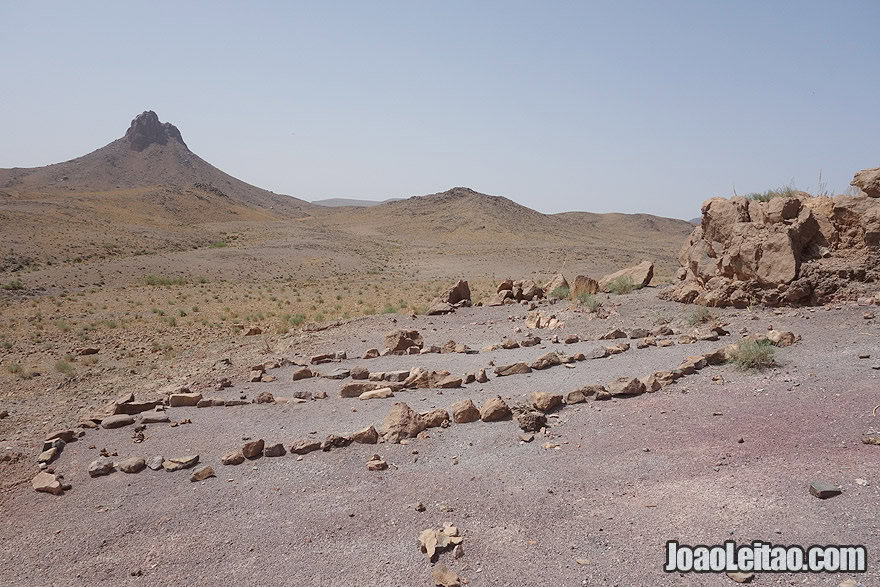 These are known to be pre-Islamic since Muslims bury their dead with the head pointing towards Mecca in Saudi Arabia. On the northern part of the mountain there are some small tombs, but further south, on the way to the petroglyphs, there are relatively high rock structures with about 1 m / 3.2 ft high.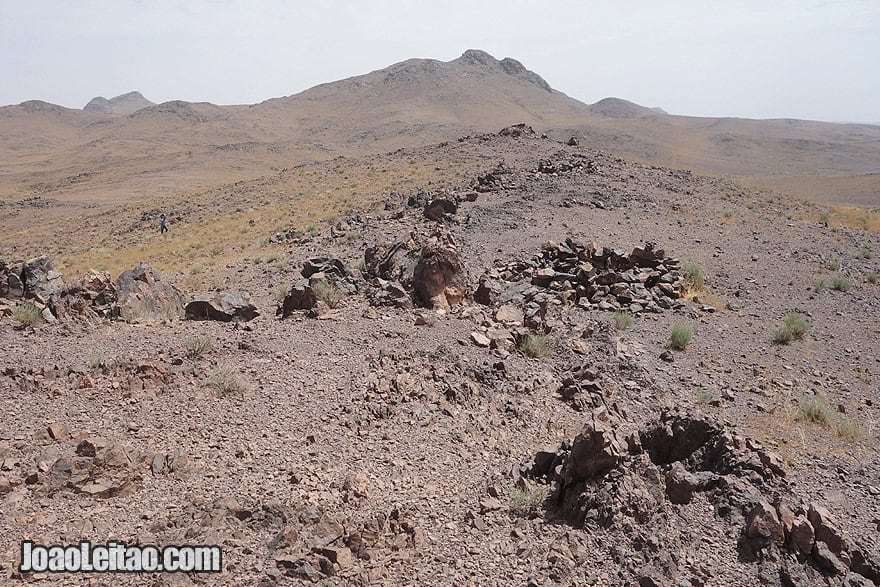 Many of these tombs are spread around a big area, so either you spend a few hours walking, or, you just drive from site to site.
2. Azib N'Oudad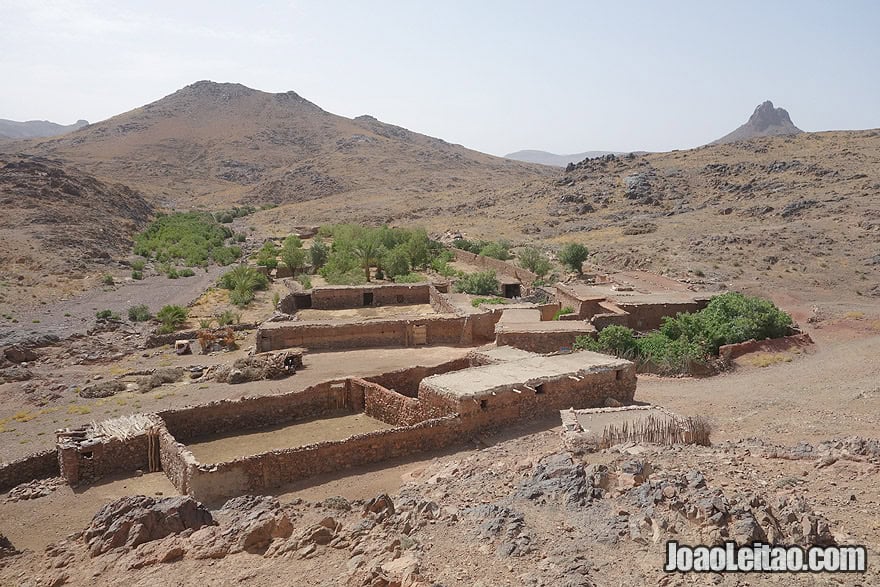 Two families live in the little oasis settlement of Azib N'Oudad. This place literally means "Sheepfold of the Fingers." Indeed several sheepfolds can be found around this oasis.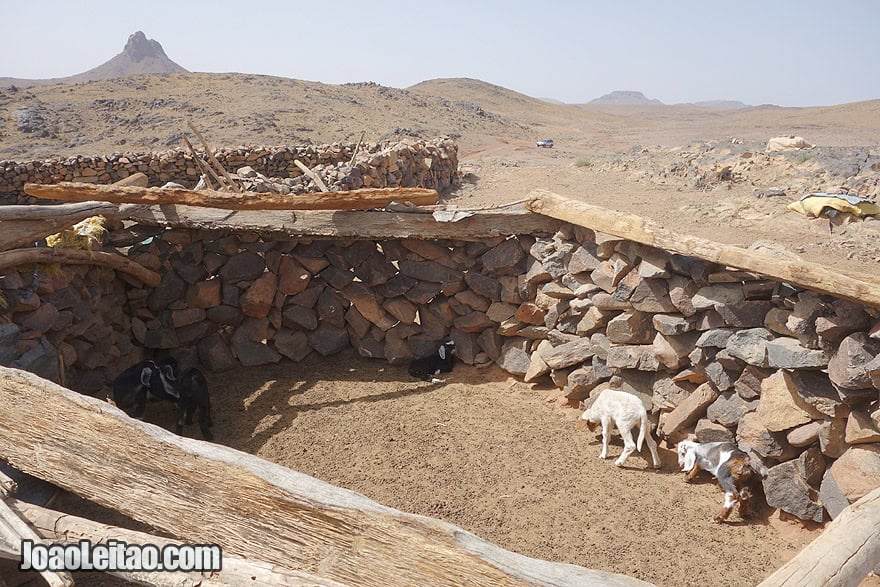 There are a few houses and a water well with fresh drinkable water year-round – even in the hottest summers of 52º C / 125º F.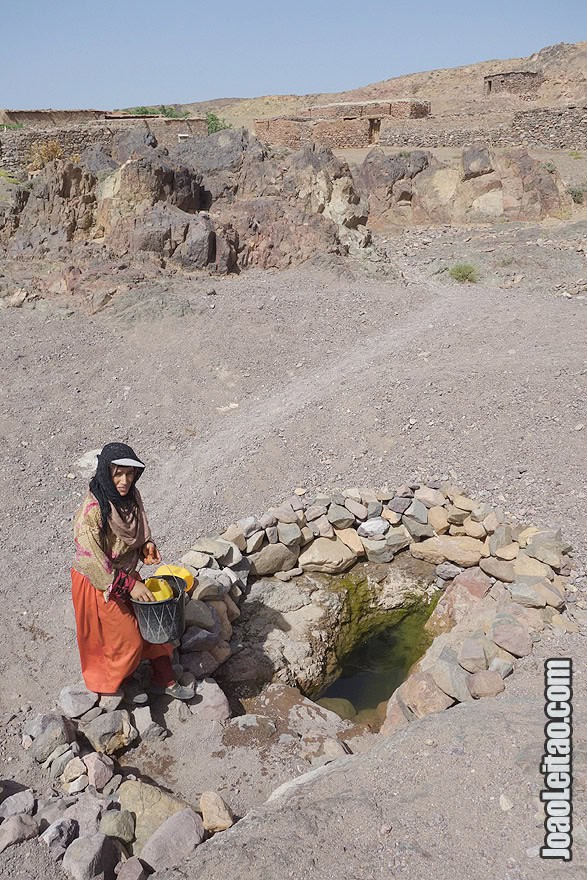 When I was there, I helped a lady carrying some buckets of water from the well to her house.
3. Petroglyphs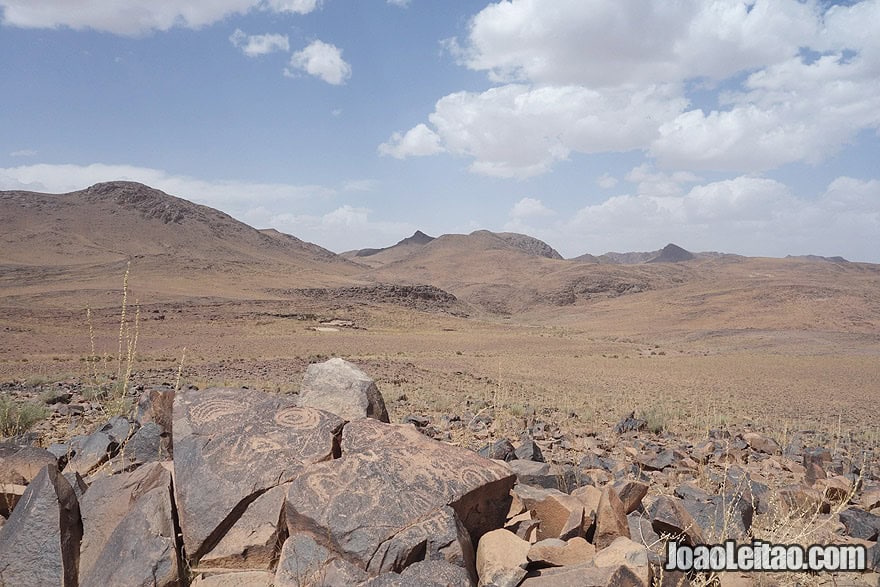 I have a personal obsession with rock art in general, no matter if it is pictographs, petroglyphs or earth figures such as geoglyphs or intaglios. Near one of the nomad camp of Jbel Adad, there is a fabulous example of petroglyphs.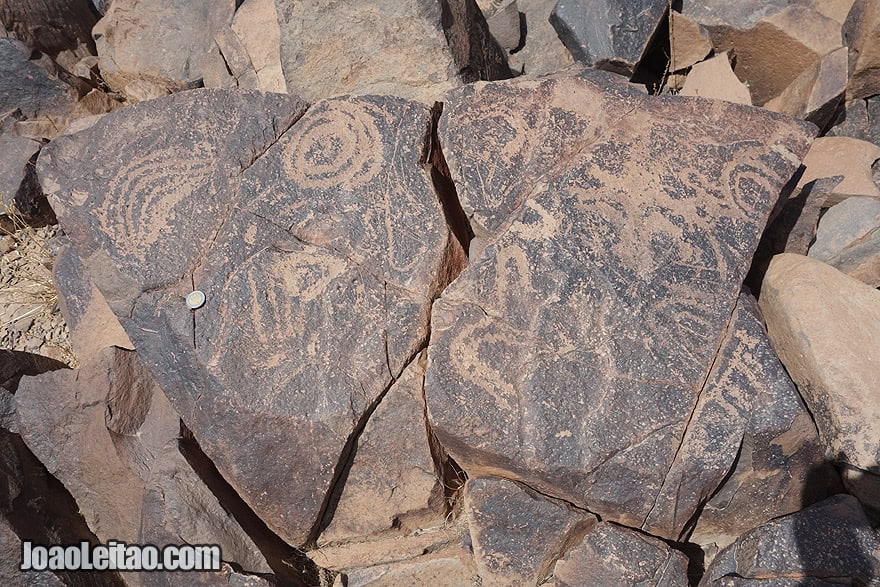 Although we can also find other geographic patterns such as grid lines in the nearby hill, these, in particular, are amazing. I had to come to this place a second time since I didn't find the petroglyphs on the first day.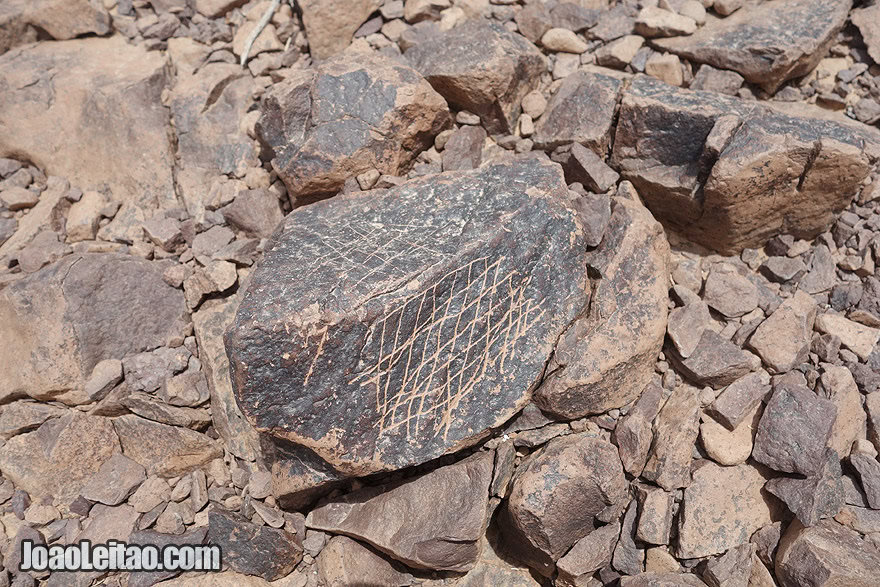 Rock art is usually divided into three types: petroglyphs, which are carved into the rock surface; pictographs, which are painted onto the surface; and earth figures, engraved into the ground.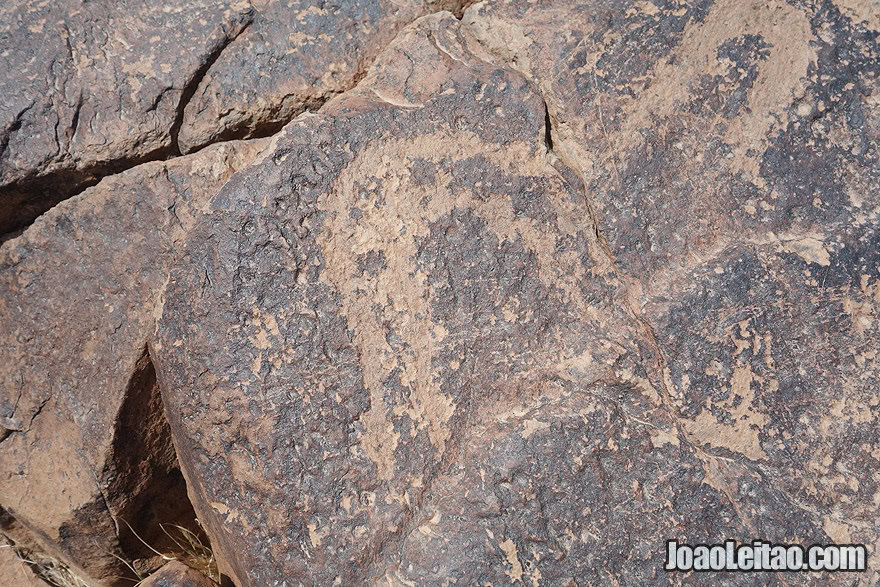 The location of these petroglyphs provides incredible views over the surrounding desert mountains. There is one of the engravings that beautifully portrays a camel eating / drinking water.
4. Drink tea with a nomad family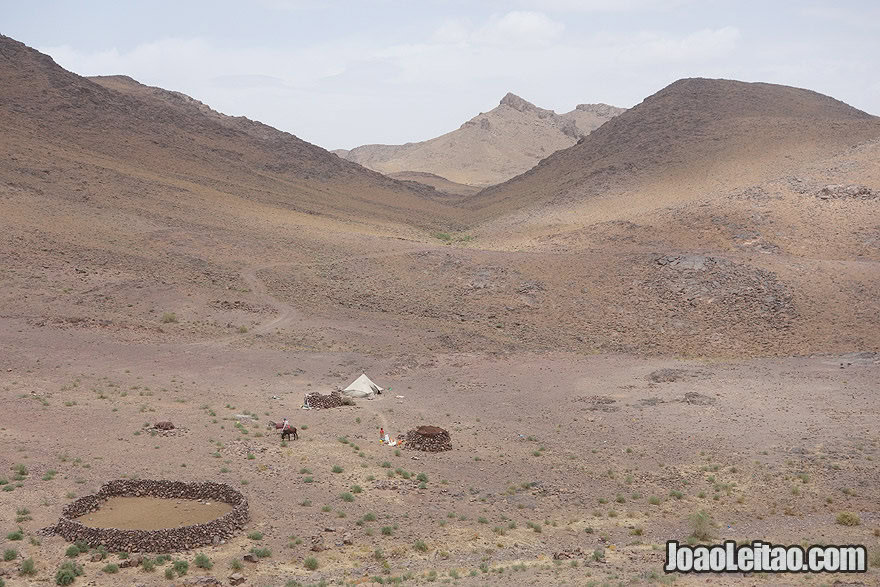 Nomadic herders are thought to have existed in North Africa from around 4000 BC.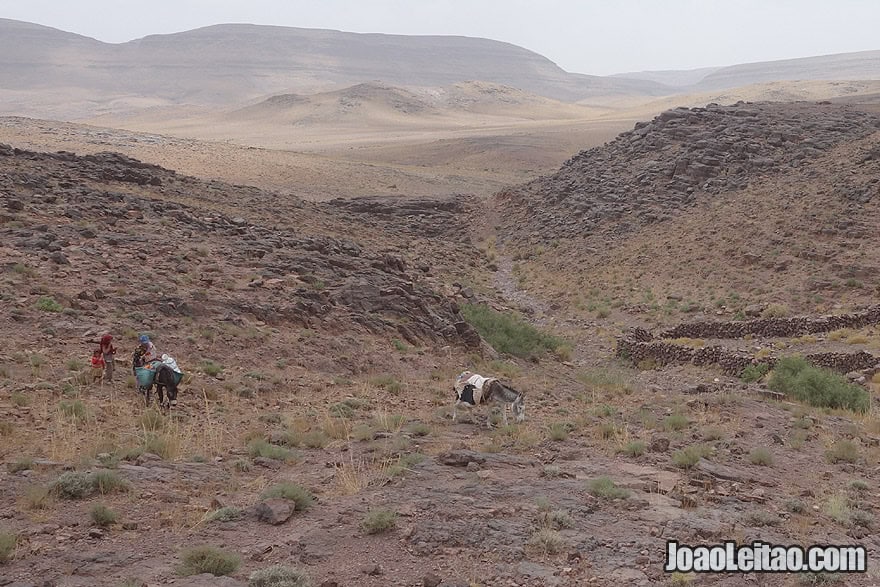 Today, this way of life persists, and around Jbel Adad still live half a dozen Amazigh (Berber) nomad families. Daily life is rough due to the harsh mountain desert environment of southern Morocco. Daily tasks are strictly divided among the members of the family.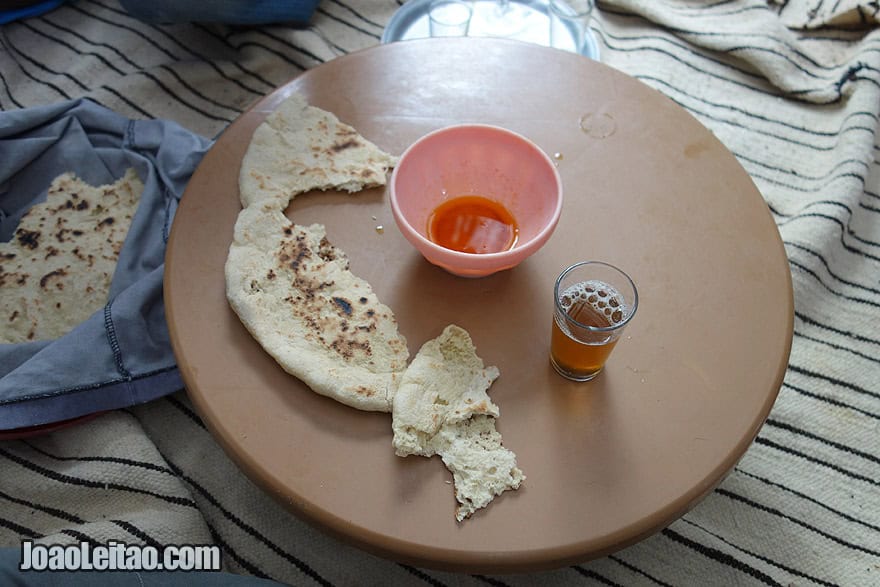 While the men go to herd the goats in the mountain from early morning until sunset, the women take care of the kids, pick water at the nearby oasis and prepare the food.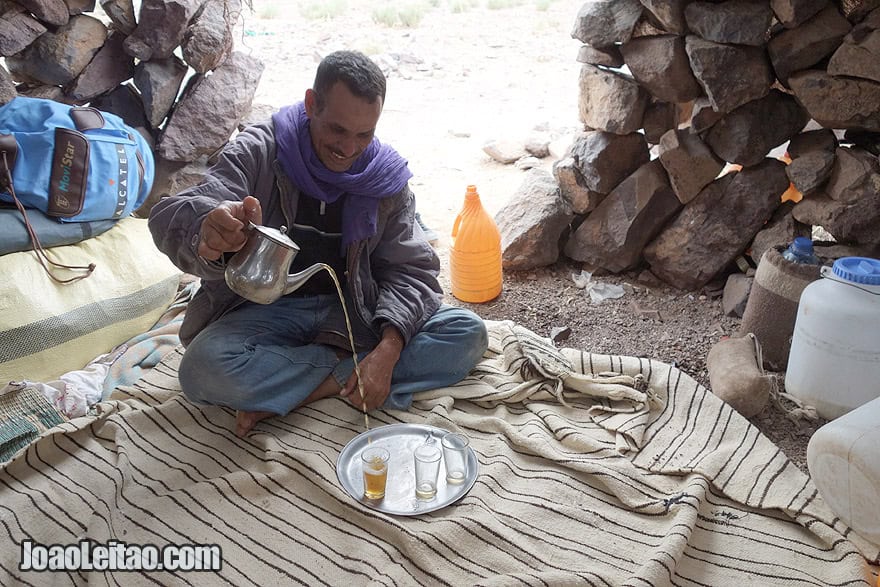 5. Rocky Canyon Oasis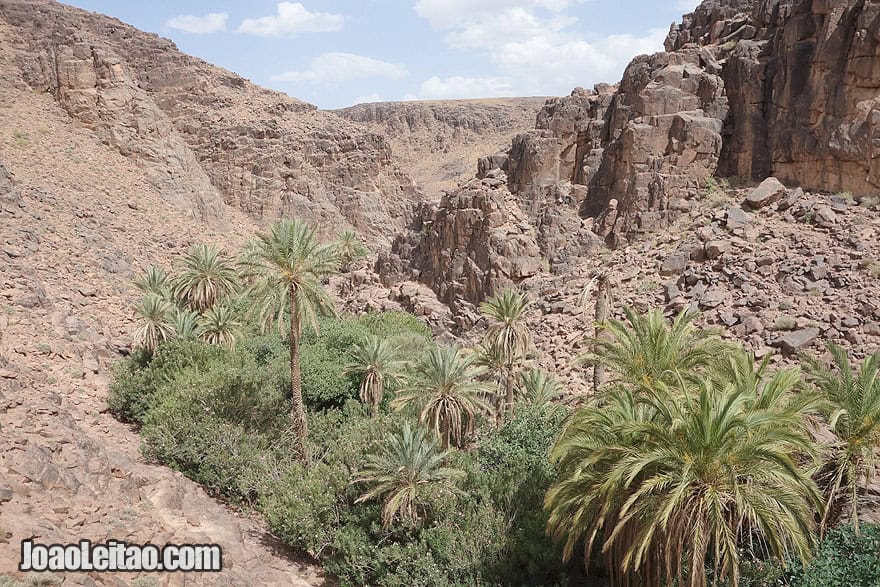 Just a 20-minute walk into the rocky gorge we can find a beautiful greenish oasis. There are a water well and plenty of fig trees year round, and several nomad families get together every two days, to fill up their water containers and take water back to their camp.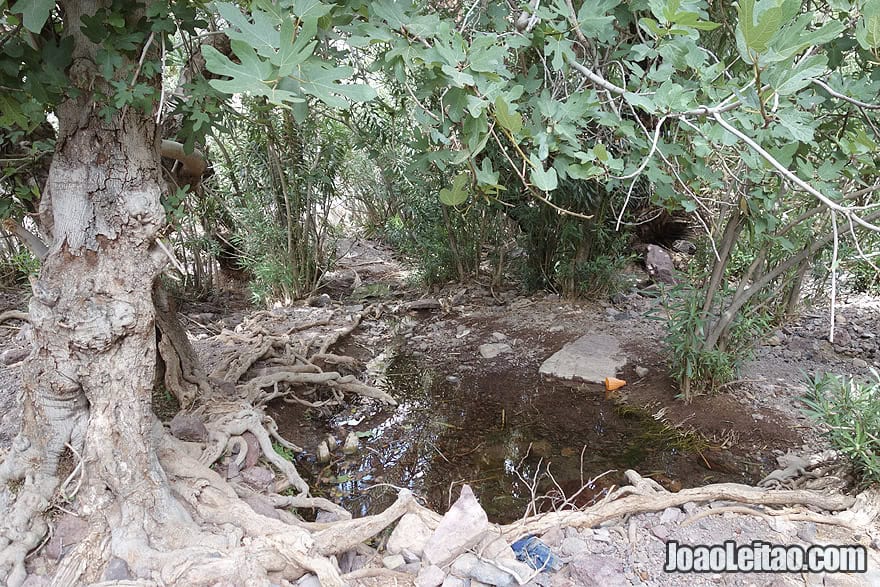 Temperature drastically changes from the moment you get under the shadow provided by the trees. There's a nearby 10 m / 32 ft waterfall that dries up during the summer months.
6. Wildlife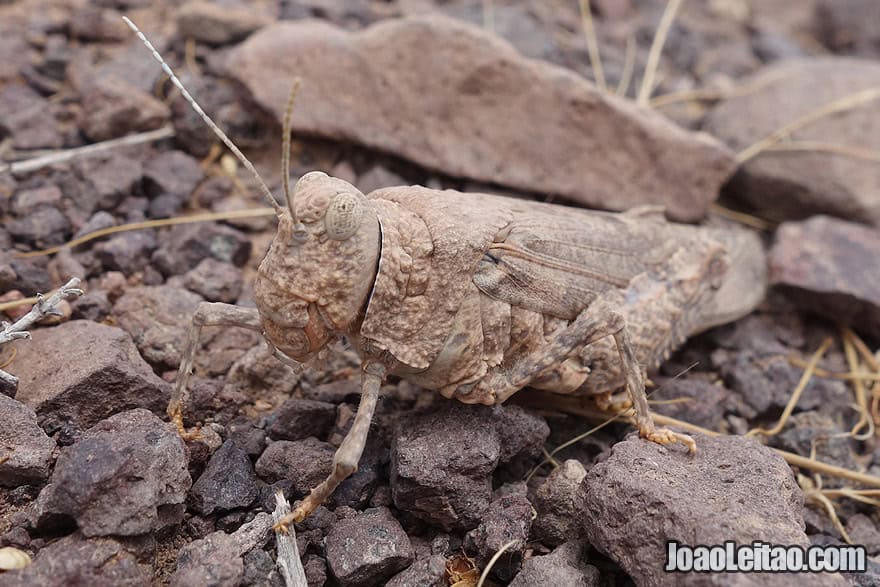 Apart from camel and goat herds, you'll probably notice some curious Rainbow-Agama lizards. If you're lucky you can spot wolves, especially around dawn – a nomad told me.
Inside the rocks, there are many rainbow agama lizards.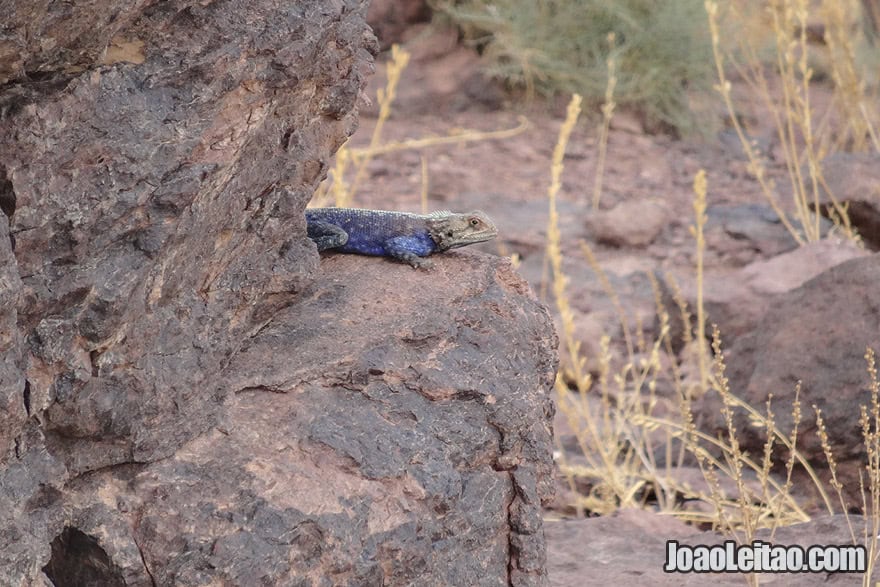 Morocco is a birdwatcher's paradise. Even in desert areas, we can spot different bird species. Jbel Adad is also good for bird watching. I had three desert Dunn's Lark birds following me while I was searching for the petroglyphs.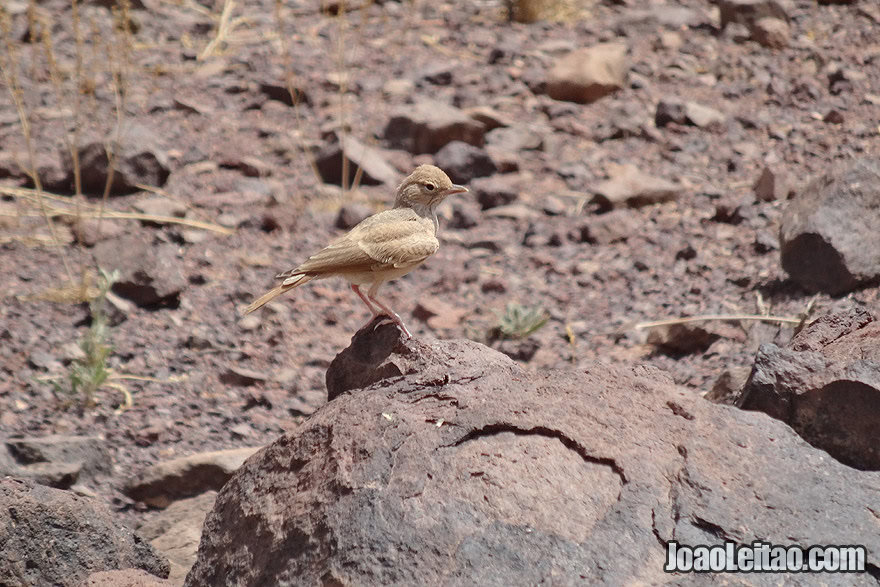 And of course, the best "animal" experience you can have while visiting Jbel Adad, is to interact with the goats. The little ones will want to suck your finger.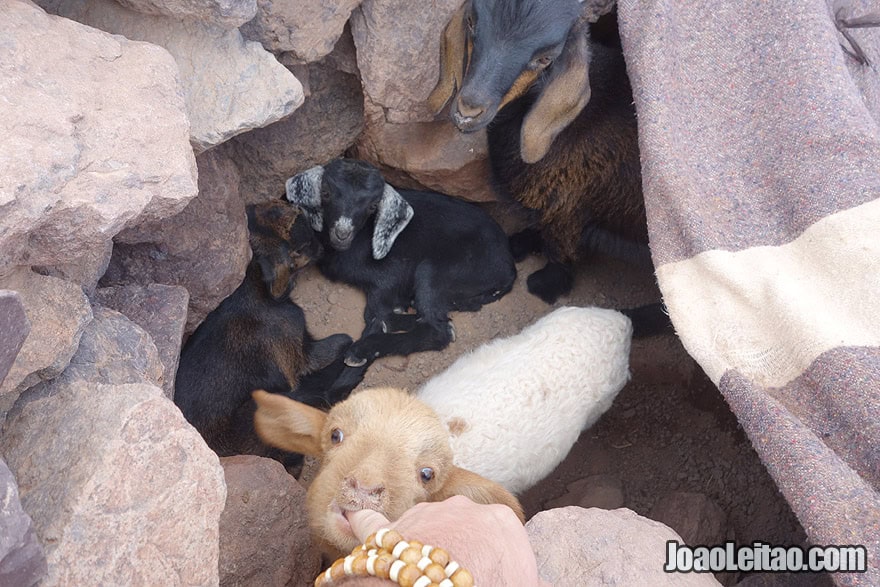 7. Trekking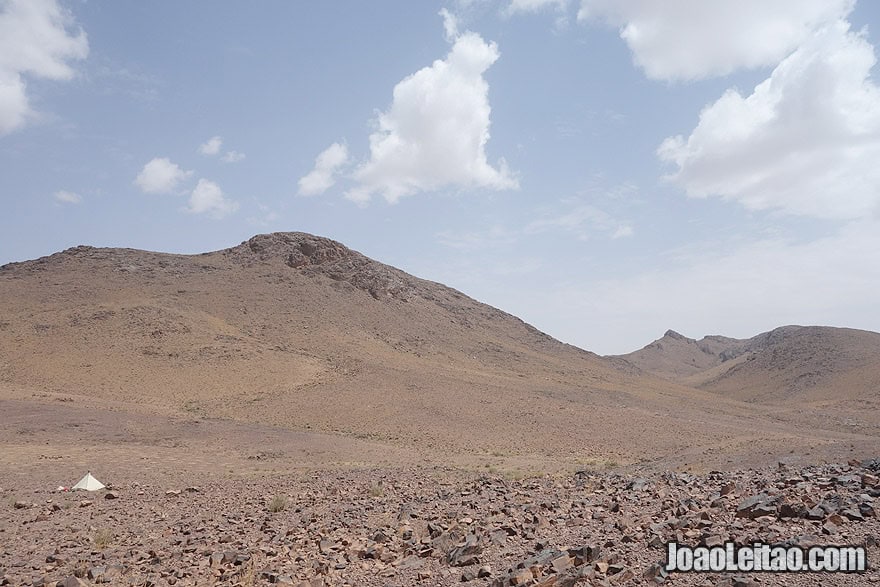 You can walk all the way to this mountain, coming from Ouarzazate. Take into consideration that you shouldn't hike in the desert during summer months as temperatures are extreme. Two or three days are enough to walk 30 km / 19 mi from Ouarzazate, set your tent and explore the region for one or two days, and return.
You can also drive, enter the tracks to reach the nomad camp, and from there explore the area during the day. Inevitably, nomads will invite you for a cup of tea, bread and melted butter with honey.
Remember that, if you're a man, you shouldn't try to interact with a nomad woman on her own. If you want to be invited for a cup of tea, you'll have to wait until her husband or brother arrives. If you're a woman, indeed you are free to interact with the woman and the little nomad girls.
8. Native flora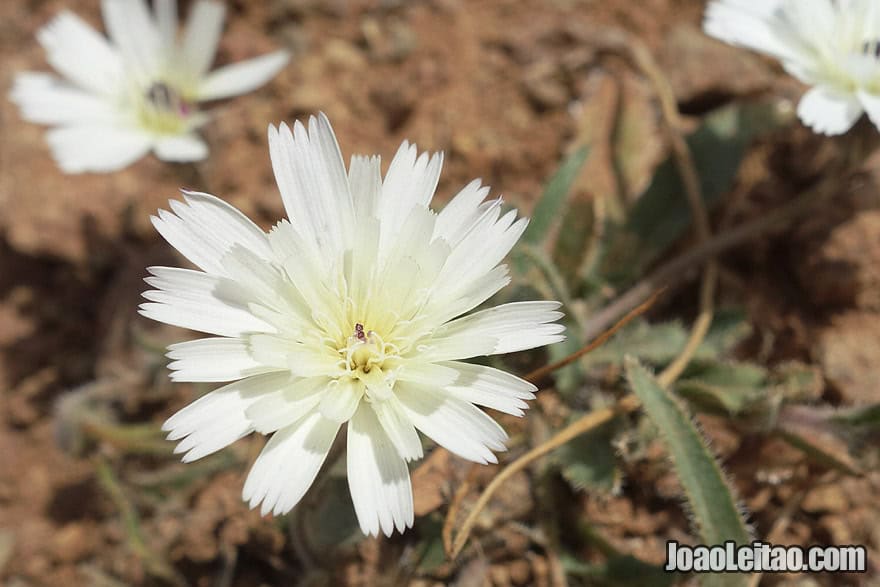 Although all this region is deserted, some vegetation thrives and gives some colored tones to the monotonous volcanic rock.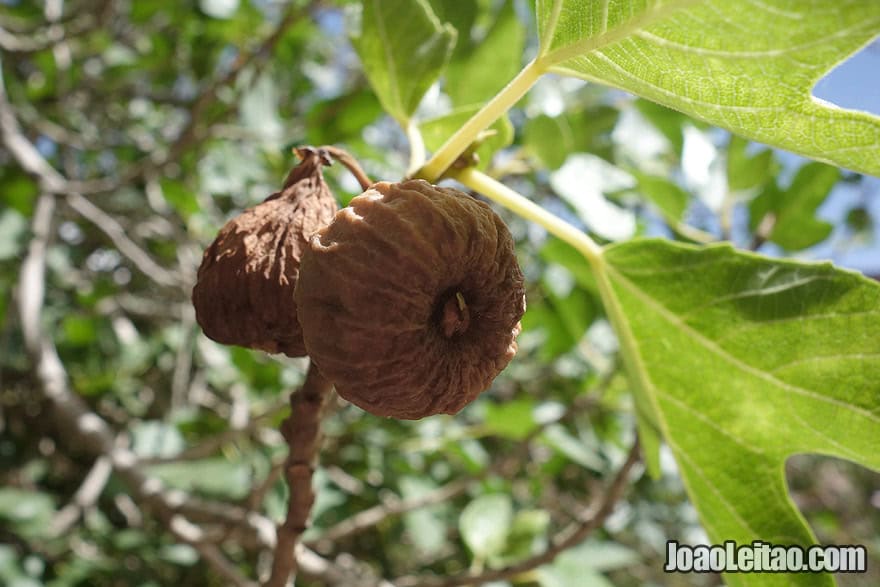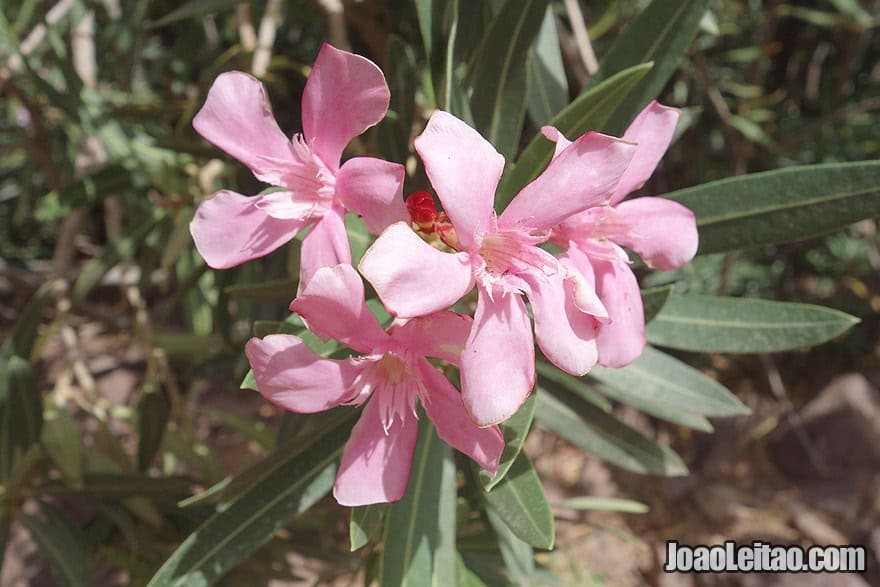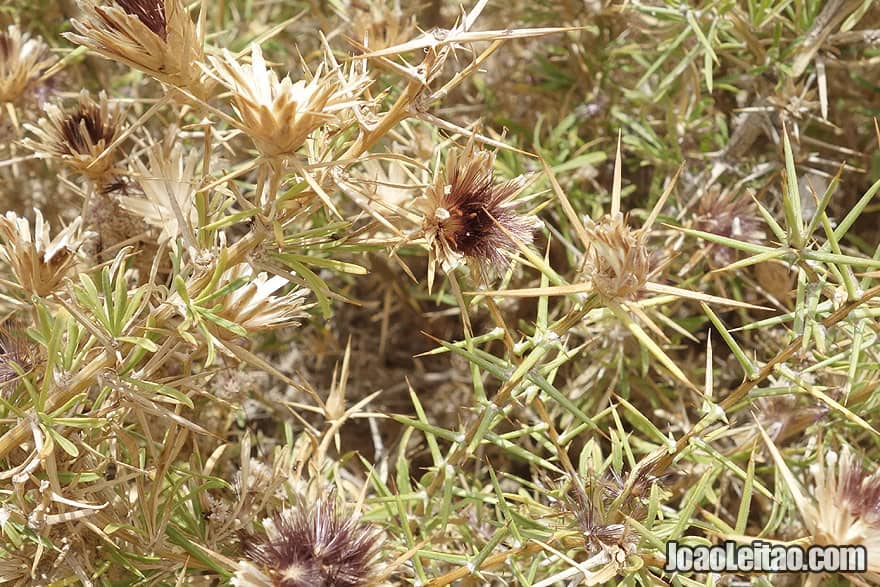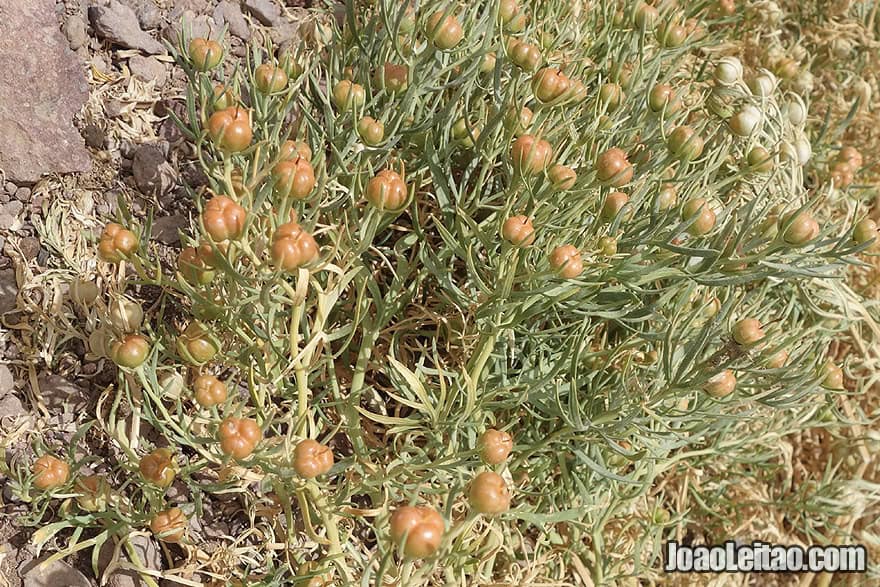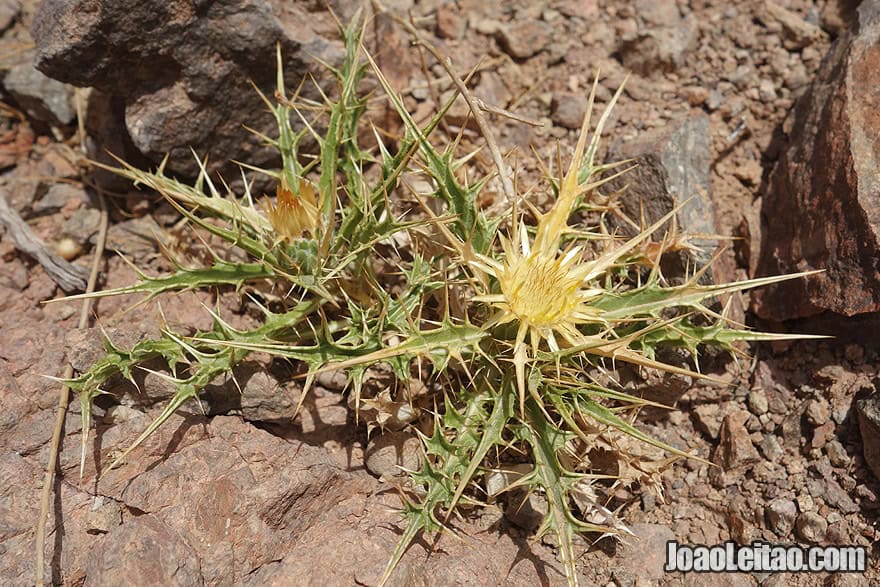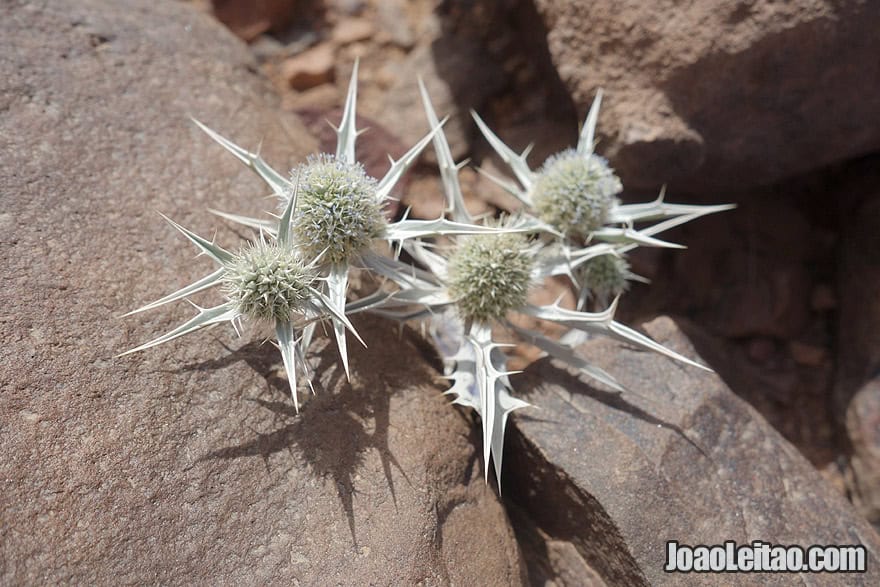 Read my page: