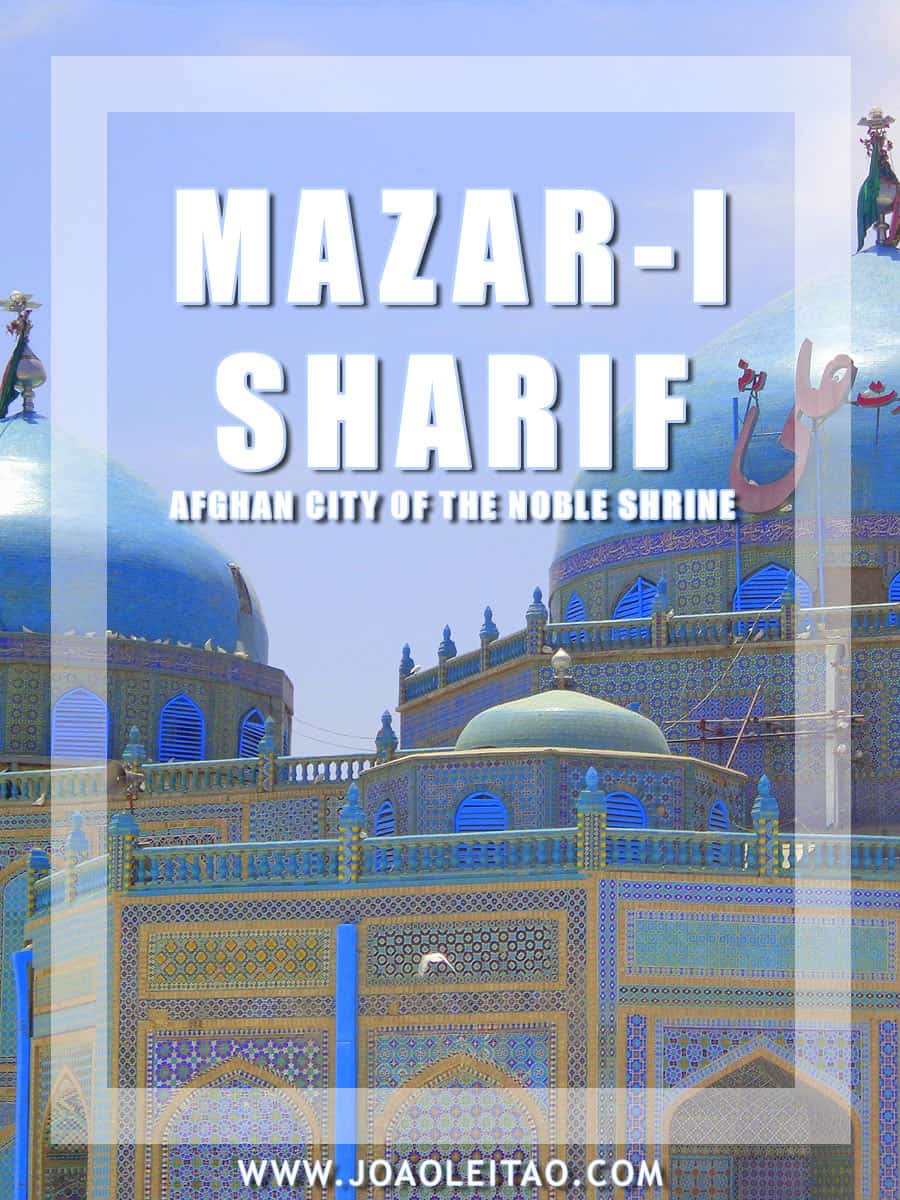 Mazar-i-Sharif is a Shiite Muslim holy city located in northern Afghanistan.
Without a doubt that Mazar holds its international recognition due to the famous Shrine of Ali – also known as the Blue Mosque.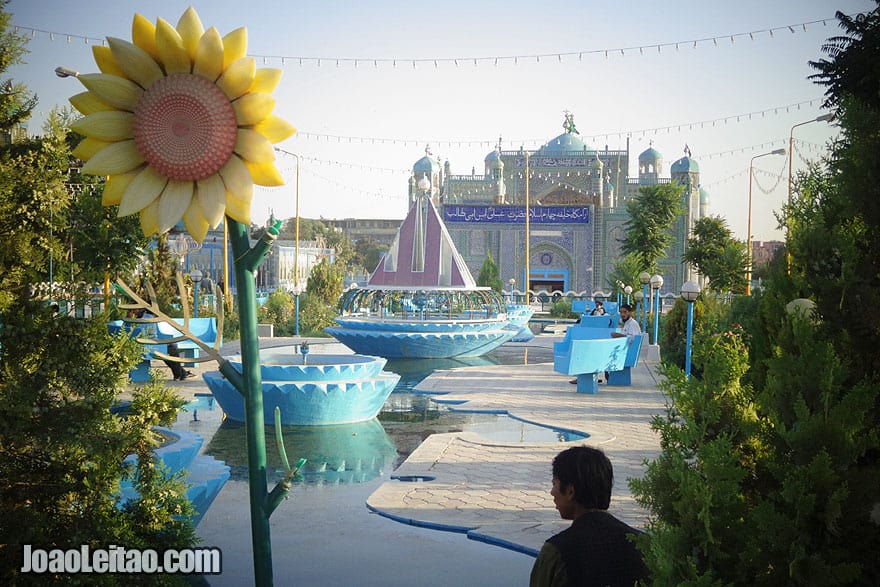 The population of Mazar-i-Sharif is a mix of ethnic Hazara, Pashtun, Tajik, Turkmen and Uzbek, combined to establish Afghanistan fourth largest city.
People, in general, are very welcoming, curious and friendly. I had a great time exploring the city. If you visit Mazar-i-Sharif, this city will stay on top of your travel achievements.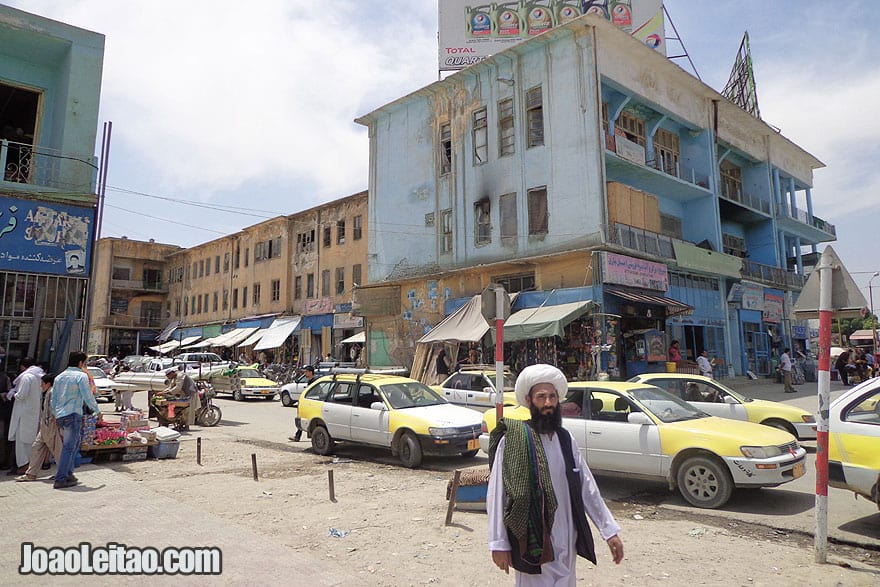 Apart from visiting the Blue Mosque, one can explore the city center, the various gardens, the local Bazaar (market), buy some fabulous Afghan rugs in the endless carpet shops, and hang out with Afghans as they consecutively invite foreigners to drink fruit juices and Afghan tea. Afghans are indeed one of the most hospitable people I've ever had the chance of meeting.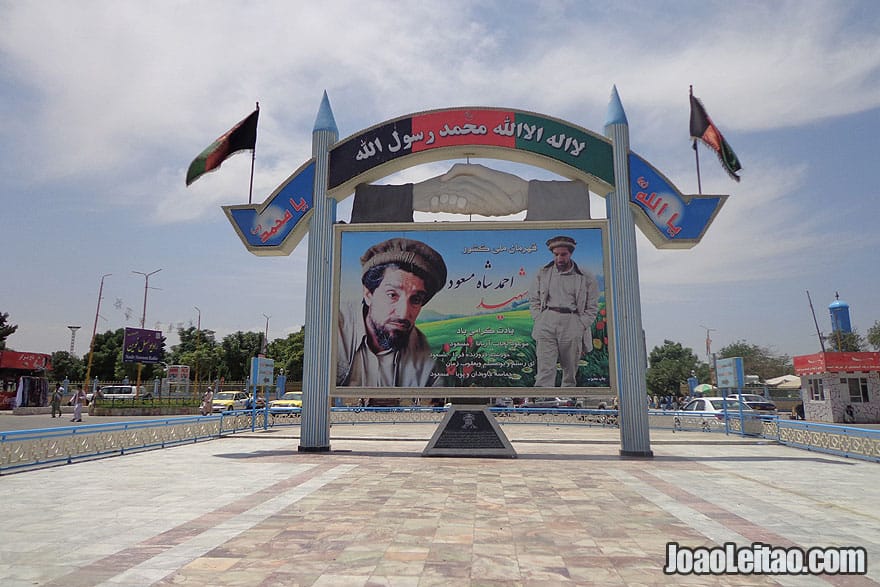 In front of Hazrat Ali Shrine, there's a memorial monument of Ahmad Shah Massoud, Mujahadin leader, and Afghan National Hero.
NOTE: On November 9th, 2001, after a few years under Taliban control, Mazar-i-Sharif was finally recaptured by the Northern Alliance with the help of the United States of America. Since then there have been several Taliban attacks to regain control of the city. You ought to check security announcements to make sure the region is safe to travel to. The city is free from danger, but the problem is how to get there.
What to do – Visit Mazar-i-Sharif
1- Blue Mosque – The Shrine of Ali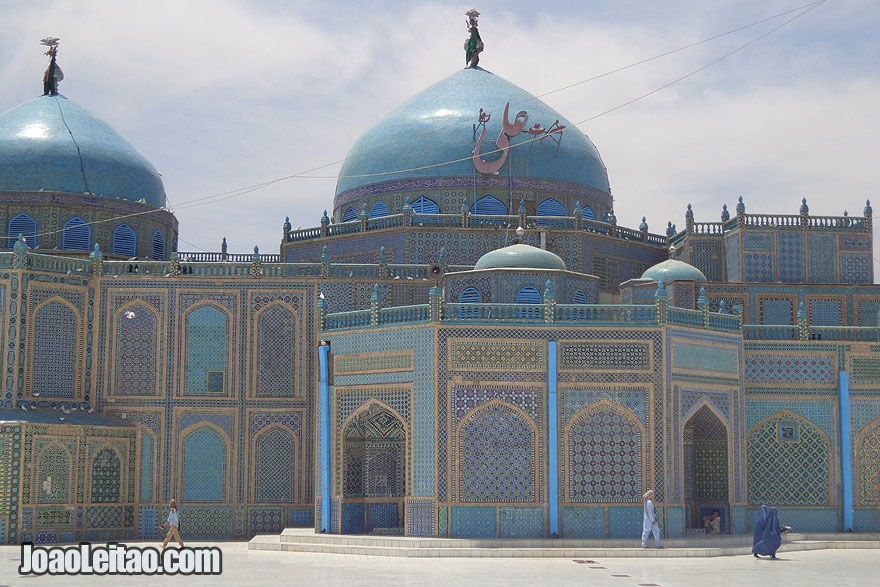 The name Mazar-i-Sharif means "The tomb of the magnificent," as some Muslims believe that the Blue Mosque holds the remains of Ali, the cousin, and son in law of Muhammad – the prophet of Islam.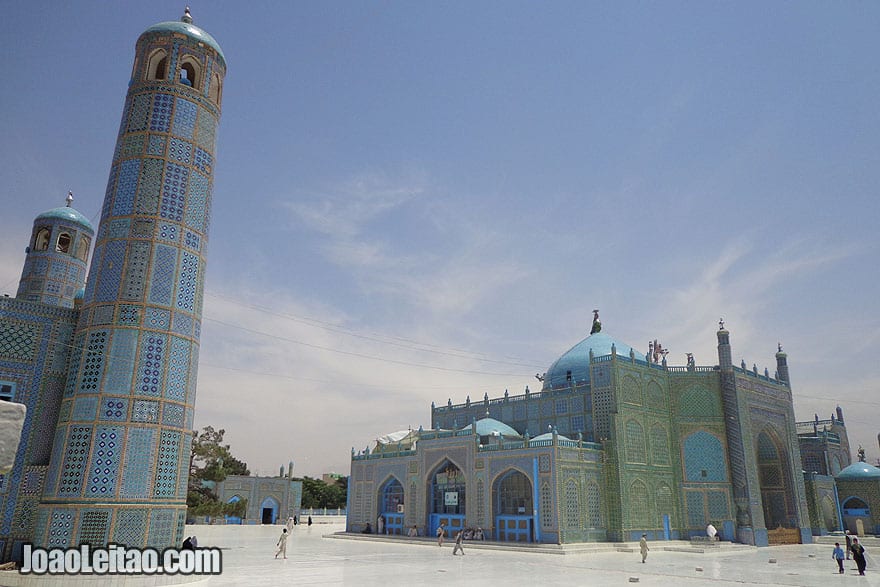 View of the Shrine of Ali in the afternoon. During the day, the mosque blue tiles change color.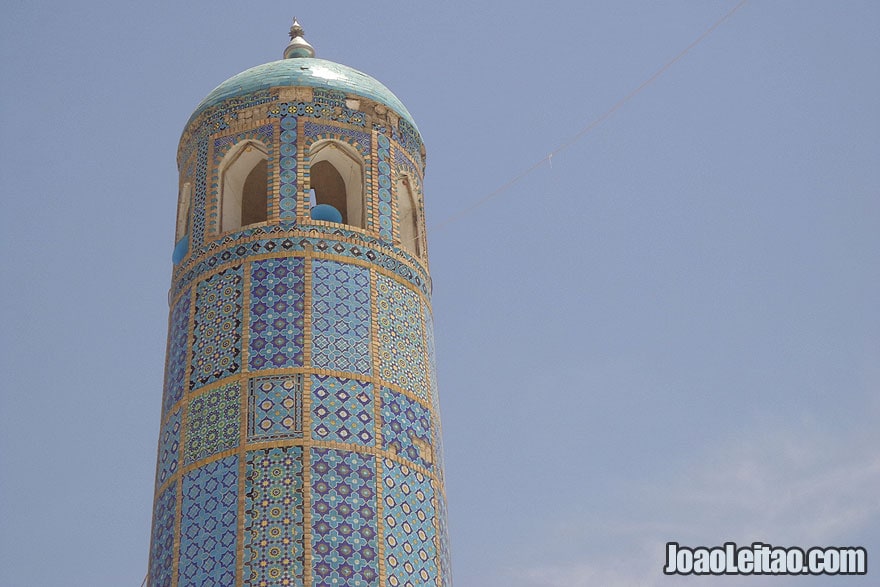 During every Afghan New Year – the Nauroz – countless pilgrims come to Mazar-i-Sharif to pay respect to Ali and participate in the festivities and religious ceremonies.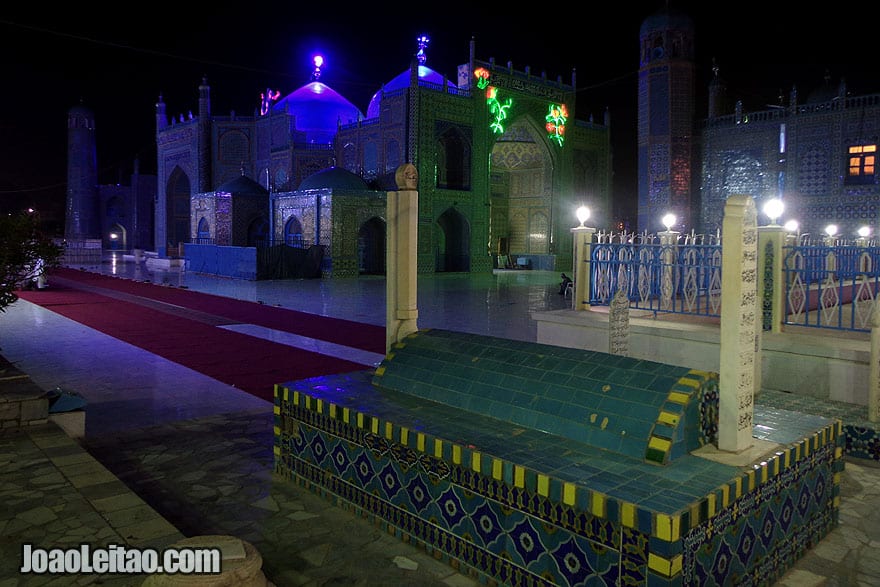 Because of the beauty of this building I decided to make a photographic record at three different times of day: morning, noon, and night.
2- Mazar-i-Sharif central Bazaar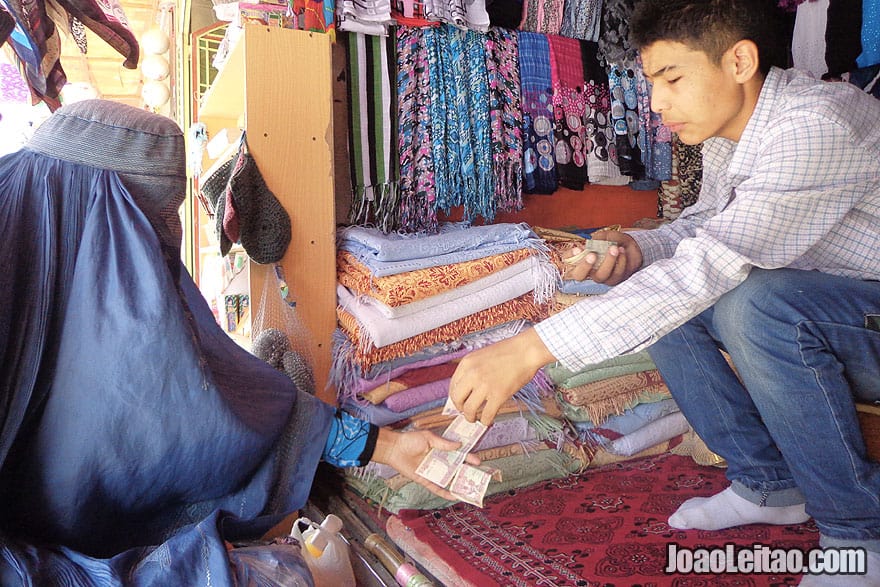 Woman with Afghan Burqa in Mazar-i-Sharif bazaar – the central market.
In Mazar-e Sharif city center there are two primary markets which are always crowded.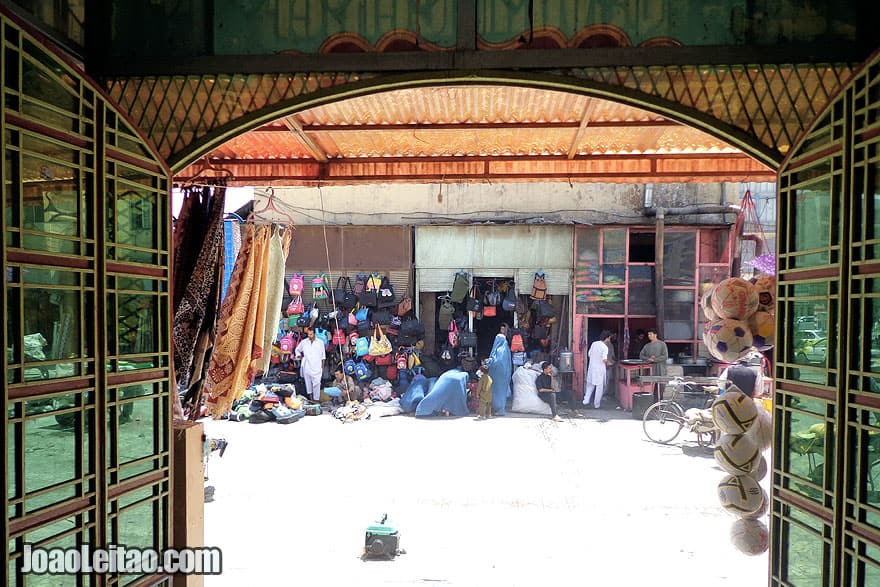 Women shopping in Mazar-i-Sharif Central Market.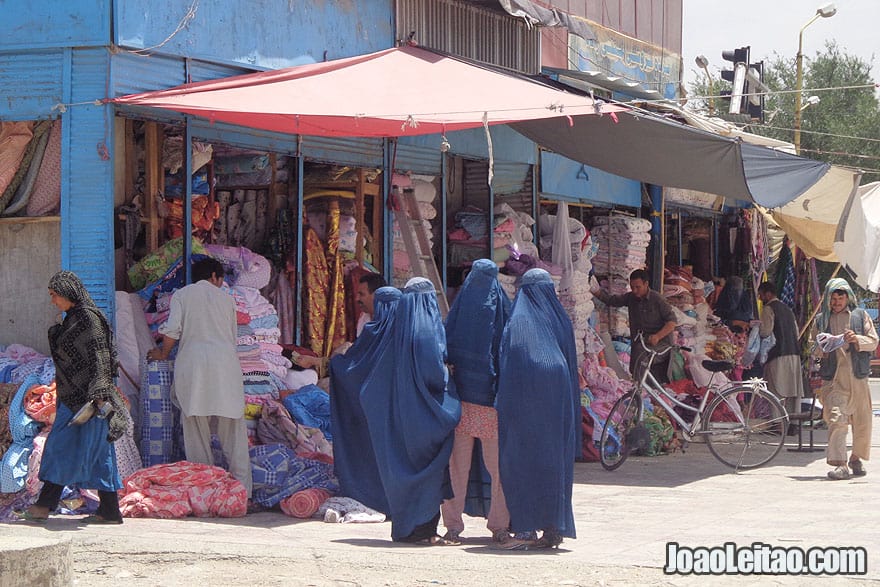 This is a very busy part of the city. I explored these markets and walked along the streets where shops and stands sell a little bit of everything.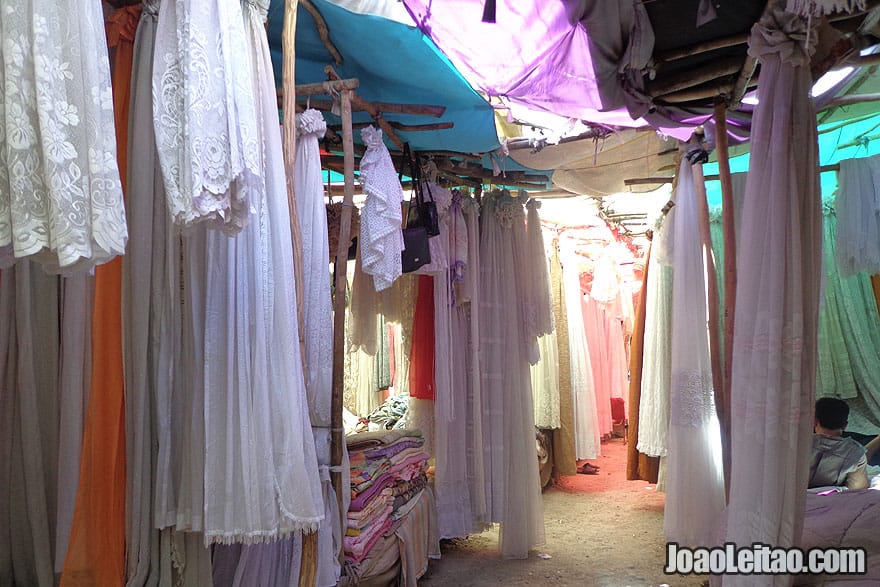 3- Buy carpets in Mazar-i-Sharif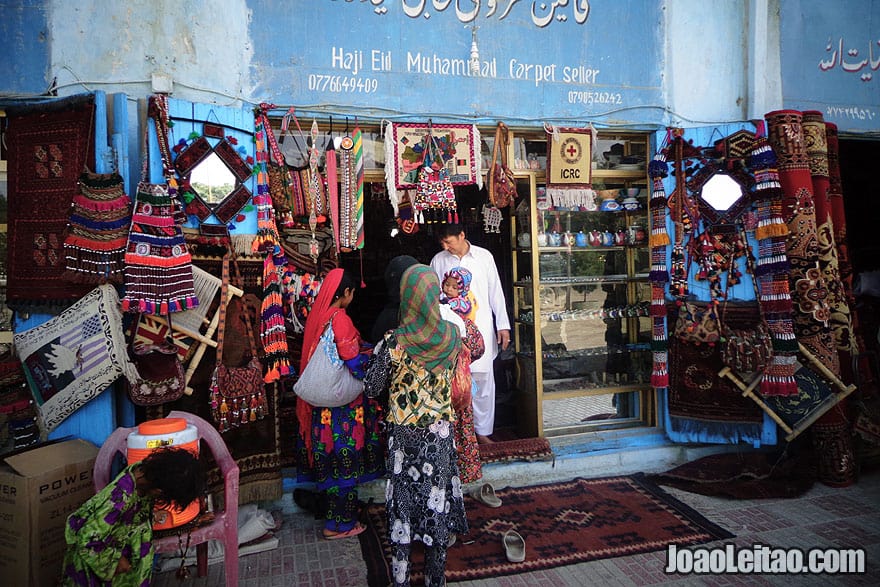 For connoisseurs of carpets, Mazar-i-Sharif is a paradise to buy a rug from Afghanistan at a decent price. Compared with neighboring countries such as Uzbekistan where prices are sky high, Afghanistan, on the other hand, has very affordable prices for carpets.
In Mazar-i-Sharif, I took the opportunity to buy some carpets and articles in a shop in the city center, not far from my hotel and the famous Blue Mosque.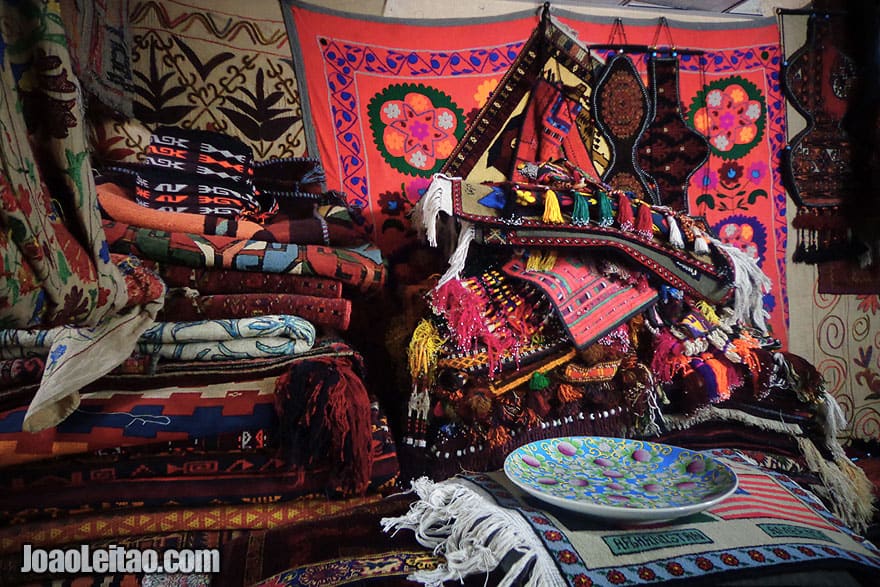 My shopping list was: 1 carpet Herat style, 1 carpet Mazar style, 2 door top decorations, 1 piece of fabric, 1 colorful fabric 400cm x 60cm. All this cost me 150 euros / 170 dollars.
The carpet shop owner didn't speak English, so the whole deal and haggling were done in Russian. This guy of Hazara ethnicity had lived in Moscow for 7 years and spoke Russian perfectly.
Fascinating was that during the entire time I was in the carpet shop, lots of people came to see things and ask prices. Afghan are buying carpets, and this shop has a huge number of local customers since there are no foreign tourists in Afghanistan.
Where to sleep in Mazar-i-Sharif
Barat Hotel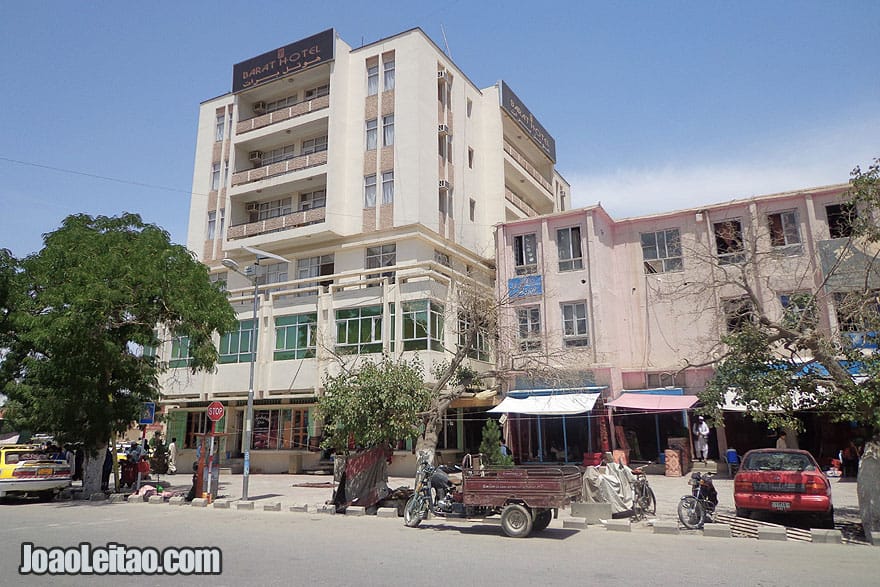 When I arrived in Mazar-i-Sharif, I did not know where I was going to sleep.
As I reached the city by car, my first concern was to find accommodation as close as possible to the Shrine of Hazrat Ali.
When I got close to the shrine in the Martyr's Square, I just looked for any hotel signs and the first found was the first where I checked in.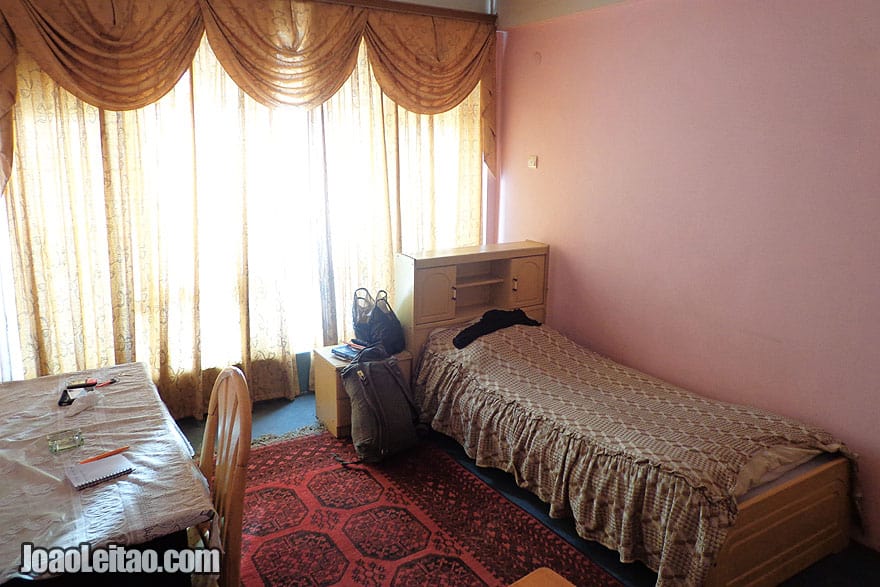 The Barat Hotel is right opposite the mosque, and I had a phenomenal view of the city and the sanctuary. Amazing.
When I entered the hotel, I was taken to some new rooms, all equipped with air conditioning, TV, and en-suite bathroom, but the price was $ 80 dollars. I said I wanted something cheaper and finally got another bedroom, on the upper floors, for $ 30 dollars per night.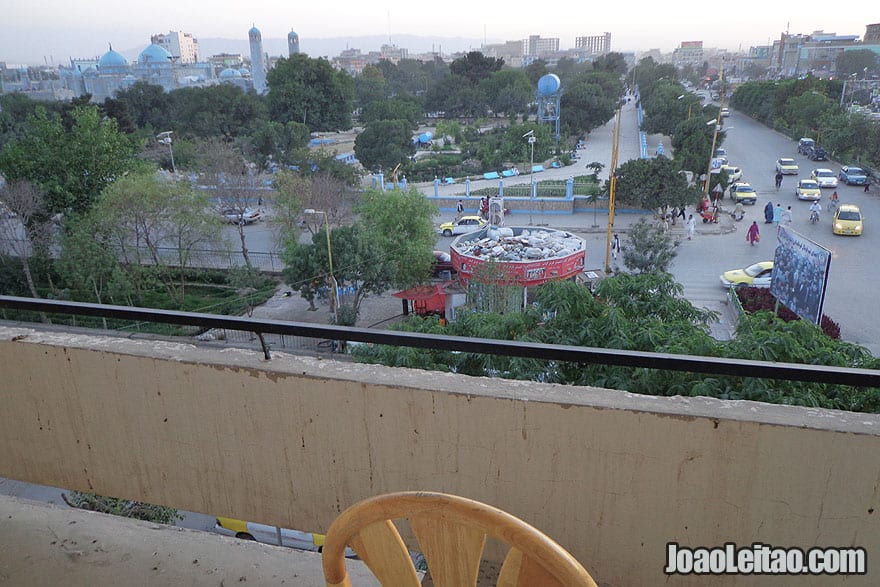 My room was better because the others had no view. So I got a simple room, old furniture, clean sheets, a fan, and a balcony to the street, on the 4th floor.
Spectacular view.
View from the window of Barat Hotel
Contacts: Barat Hotel, Chowk-e Mukharabat, Mazar-i-Sharif Afghanistan ● Phone: 070 502 235.
Tips and tricks about Mazar-i-Sharif
Fresh fruits in Mazar-i-Sharif. Keep yourself hydrated and with your daily dose of vitamins by drinking and eating fruits. In Mazar-i-Sharif, there are plenty of fruit stalls and juice shops.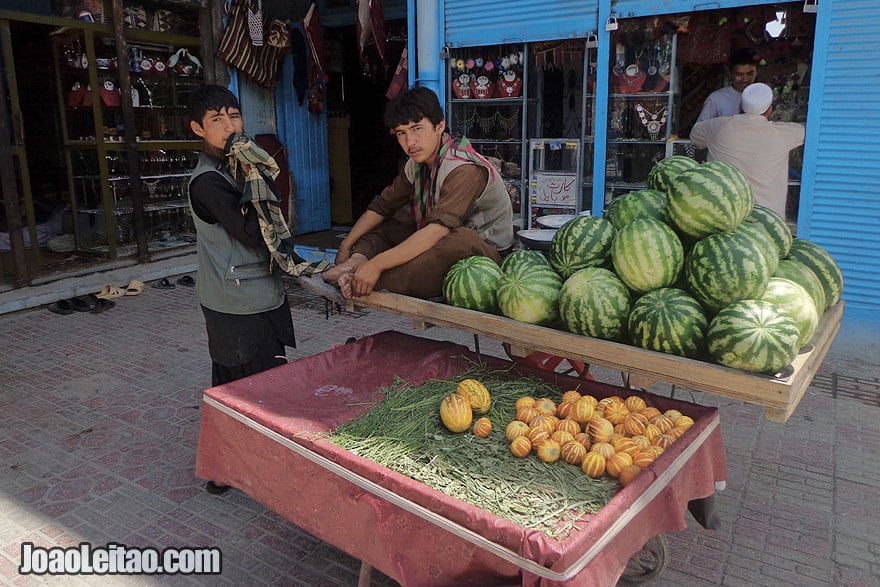 Afghan boys selling fruits on the street.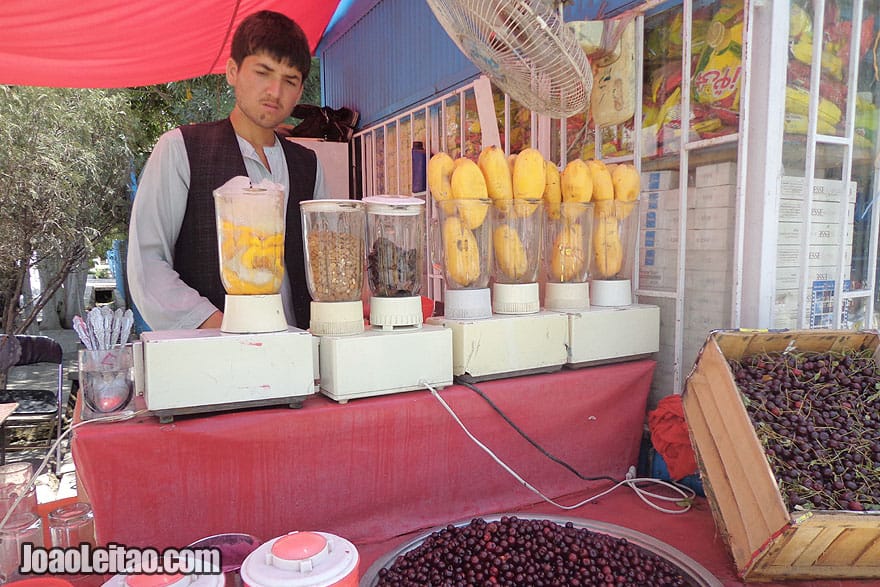 Buying a phone SIM card in Afghanistan is very straightforward and practical. You just need to have an unlocked phone that supports all kinds of SIM cards from various phone companies. You can buy a SIM card at any Afghan city.
The Afghan scarf, called Shemagh or Keffiyeh, is very cheap in Mazar-i-Sharif. There are plenty of colors to choose from.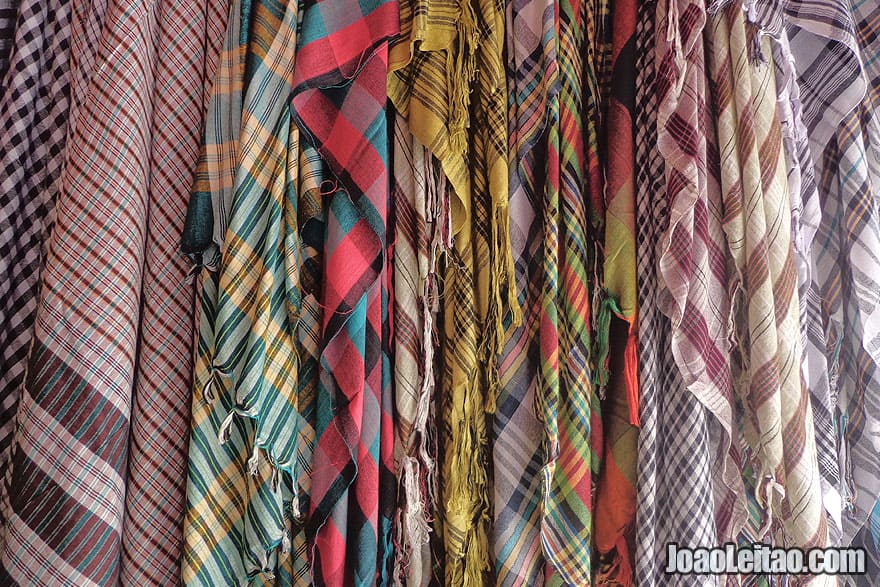 Although people are very friendly, decades of war also made Afghans a bit suspicious. Always smile to people that smile at you. Don't engage conversation or talk to people that give you strange looks as they might be Taliban supporters.
During the night there are some restaurants with excellent ambiance and friendly people.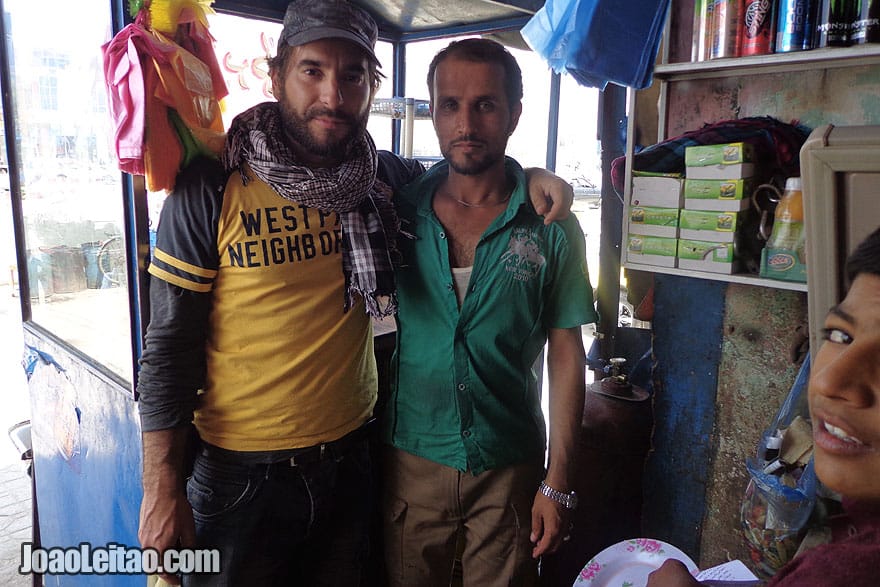 If you're invited to a glass of juice, you should not refuse as it will offend most Afghans. Even if you don't speak the language and have an awkward moment with someone you don't know, just enjoy the moment and try to have fun. Gesticulate, smile, evoke internationally similar words such as football, music, Islam, brother.
The origin of the word brother comes from Old Persian. Afghan Pashto language is an Eastern Iranian language.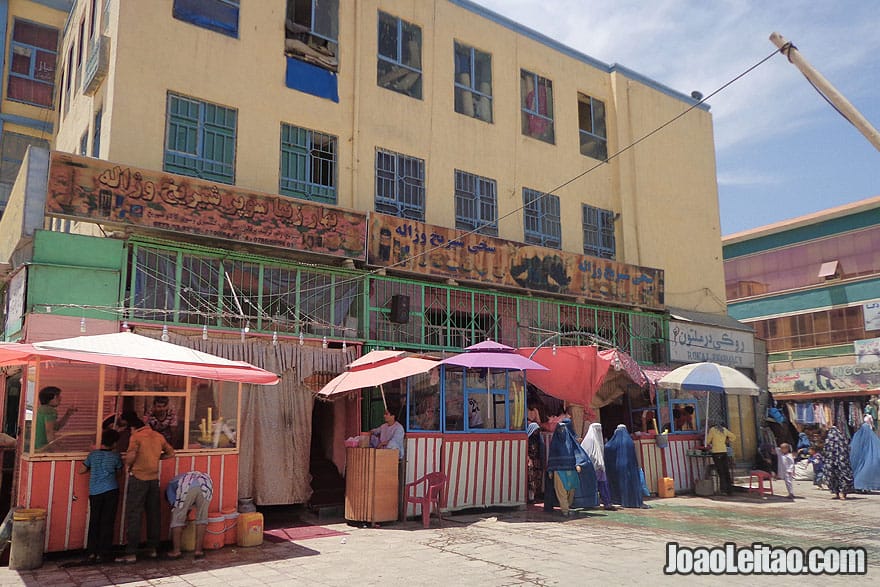 Dress discretely. Afghans don't really show much skin, so even during summer time use long sleeves.
If you're traveling on a budget, you can always discuss prices of accommodation. Also, hotels will usually show you their most expensive, yet best rooms. Try to ask for a room upgrade, without AC, and the price range will definitely go down.
There are plenty of street restaurants in Mazar city center. They are very cheap and offer tasty Afghan dishes.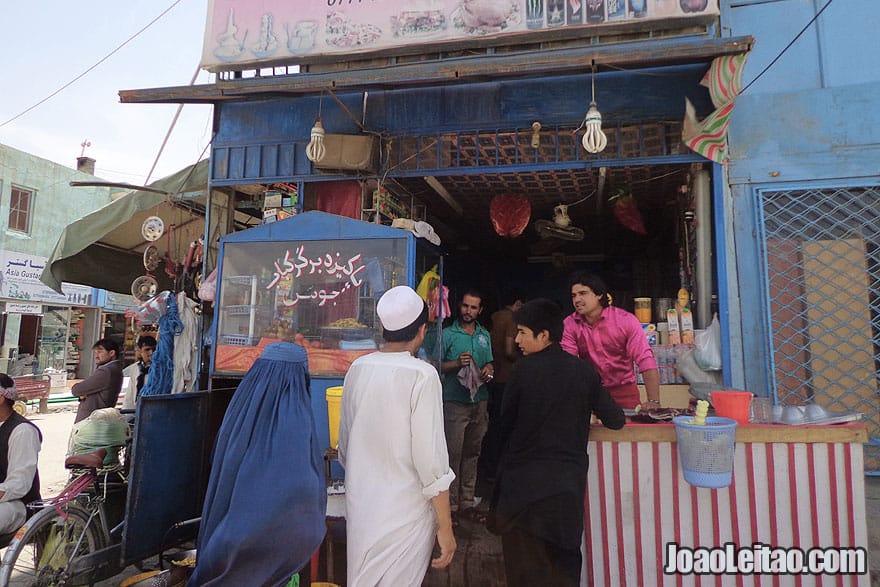 On the streets of Mazar-i-Sharif there are guys selling phone cards, cigarettes and exchanging money.
If you want to avoid taxis you can always get around the city using the local and friendly moto-taxi or tuk-tuks.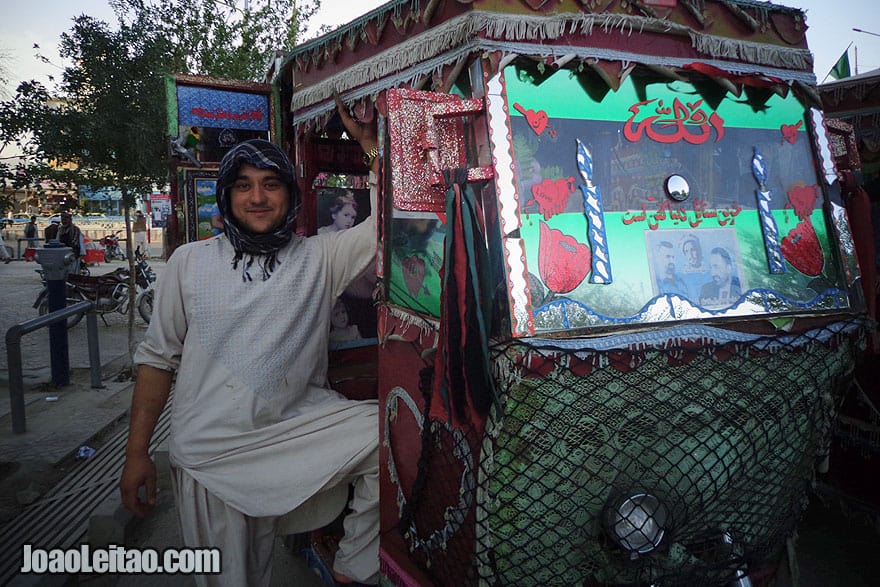 Exchanging money on the streets is very straightforward, safe and the exchange rate is probably the best you'll find. Ask money exchange guys before deciding to trade a lot of money. Maybe the next guy on the street has a better rate.
The notes available in Afghanistan range from 10, 20, 50, 100, 500, 1000 to 5000 Afghanis.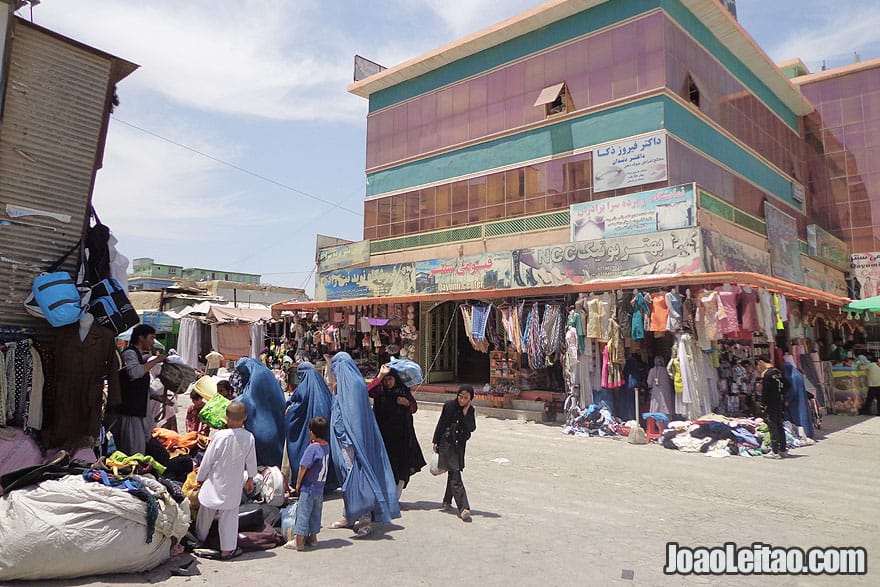 To travel to Mazar-i-Sharif and visit the city is safe, but check out security alerts for the road from Kabul or Herat.
I traveled to Afghanistan driving on my own.
Read the page: Driving in Afghanistan – Survival guide to drive in Afghanistan. All you need to know about car travel in Afghanistan. Visas, car permit, safety, accommodation, money exchange.
While visiting the Blue Mosque religious complex, maintain a low profile. Take your time, sit down and enjoy. You can make as many pictures as you want, but, just keep it humble and simple.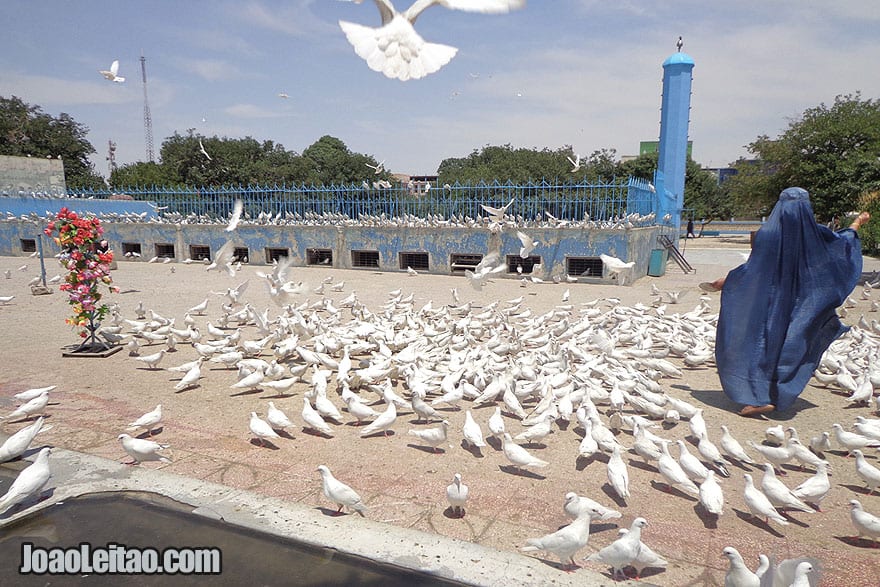 You'd better not to discuss politics and religion. Unless you're actually really into it and know how to talk about it without arguing or attacking other people's beliefs.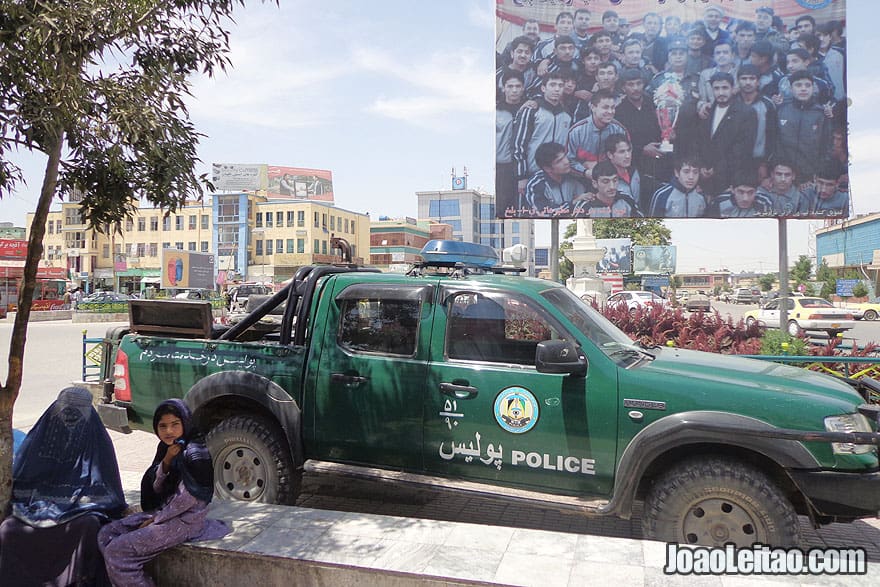 Whatever happens never get angry, swear or hit anyone. Always keep calm and if something serious comes up, try to call the police or just ordinary people from the streets. Afghans are a very honorable people, so they will try to solve the issue without fighting. But if you engage in a fight, they will probably kill you.
Read the page: