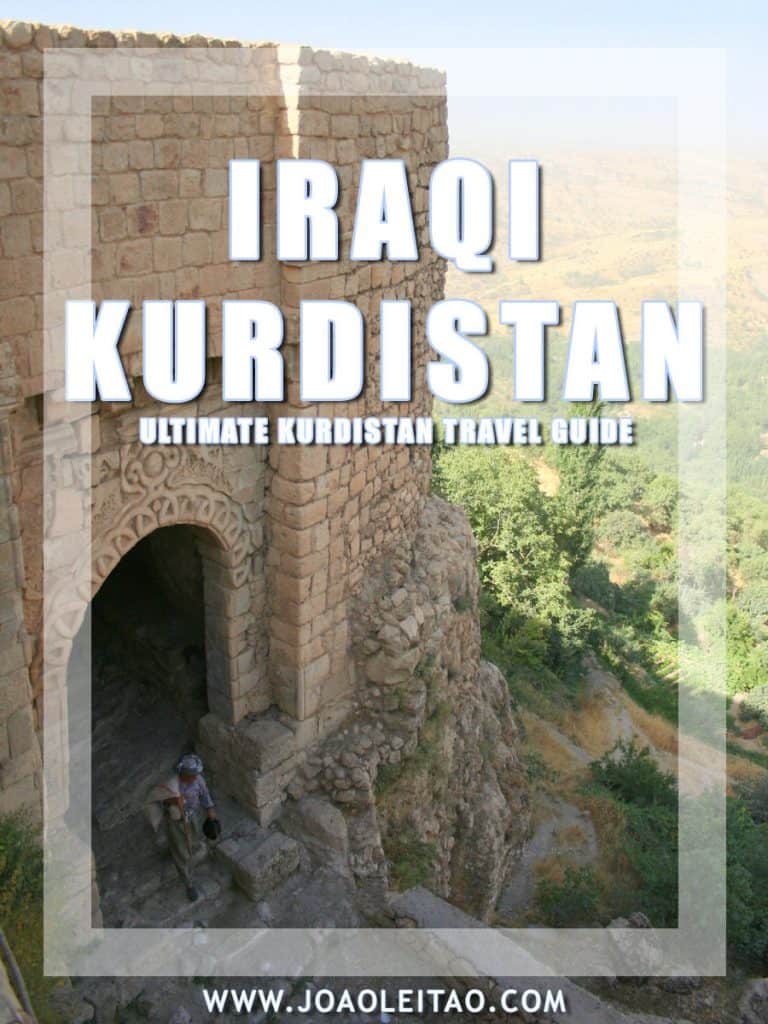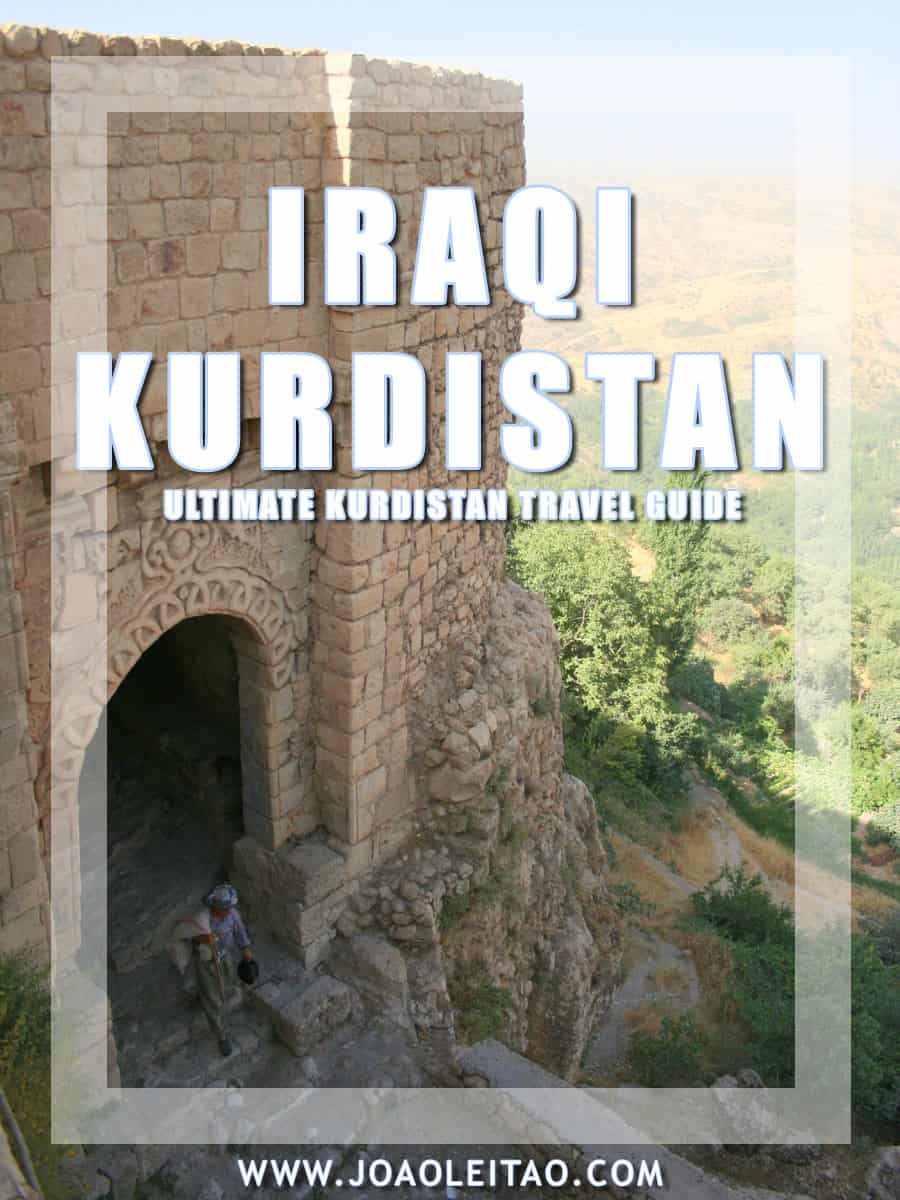 Welcome to my page with information about traveling in Northern Iraq, aka Iraqi Kurdistan.
Many people ask me why I visited Iraq and why I chose this country as a summer holidays destination.
Most people have an Iraq with war in mind, the only Iraq they have seen on TV.
In fact, many regions in Iraq do live moments of tension and war, but in some areas more than others.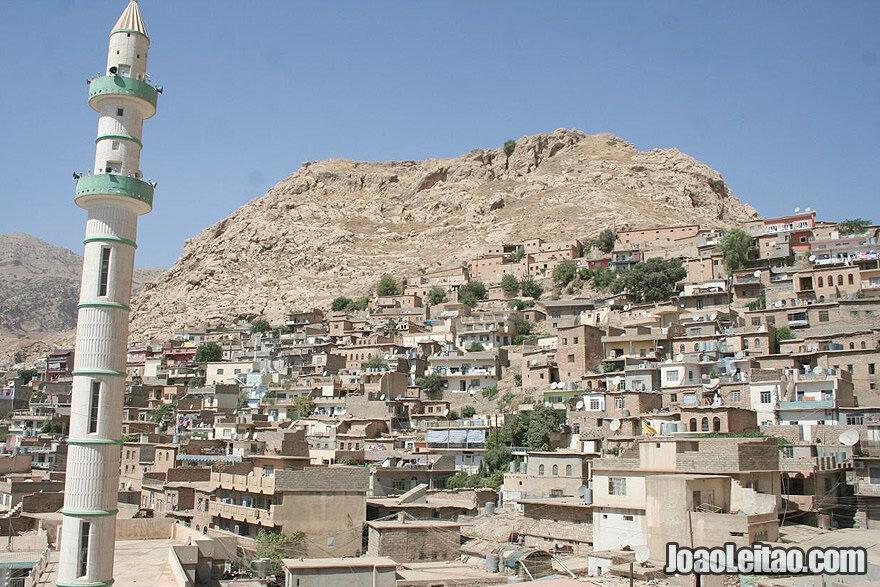 However, there is a different Iraq. The northern part of the country, which maintains a de facto independence since the first Gulf War in 1991, is actually very safe and well protected.
In 2003, Iraqi Kurdistan was included in the new Iraqi constitution as a federal state enjoying the status of a region with its own president and its own parliament.
Iraqi Kurdistan is somehow safe, protected by police and army checkpoints. This area is currently the most prosperous and richest in Iraq with a recent economic boom in terms of infrastructure and human conditions.
This region is located in the north and the only way of access is through Turkey, on the Ibrahim Khalil border. The first Iraqi city after the border is called Zakho.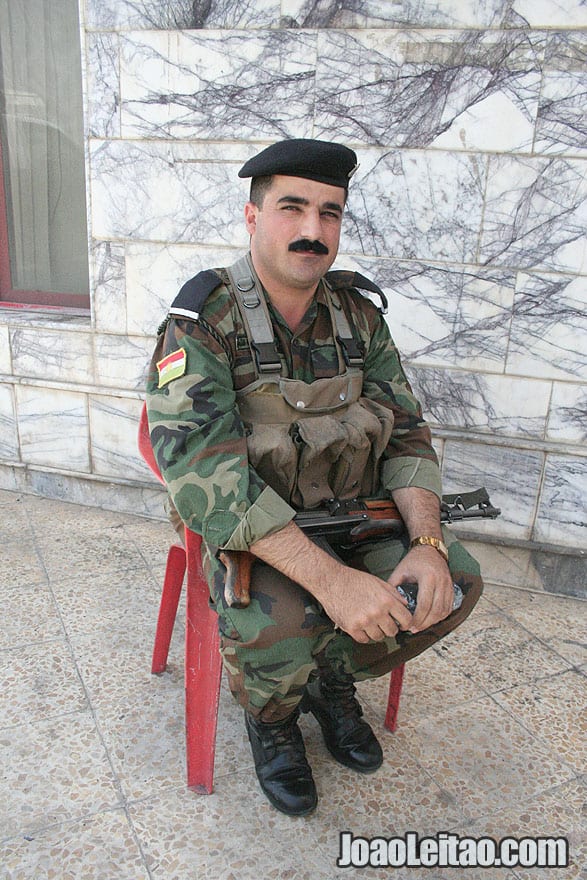 I only intended to travel for 2 days in Erbil (Arbil / Hawler), but I ended up staying for the entire 10 days of my entrance visa.
Again in 2018, I returned to Iraqi Kurdistan and Mosul, where I drove my campervan for one month.
On this page, I try to give you an overview of the country, best travel destinations, my favorite places, where to eat, detailed adventures, hotel reviews, photos and transportation information.
[message_box type="error"]Attention: Middle-east is very unstable and you should know that traveling to Iraq is not 100% safe. This article shares my personal experience. I am not responsible for any misinformation, price change or anything that can happen to you. Be conscientious and travel wisely, as safety should be your number one priority. Please check out updated news and security alerts due to ISIS problem close to the Kurdish region.[/message_box]
Some Kurdish Proverbs to keep you safe on the road:
• A home without guests, a village without shepherds, both are hopeless indeed.
• A shy woman is worth a city, a shy man is worth a goat.
• A thousand friends are too few; one enemy is one too many.
• Deal with your friends as if they will become your enemies tomorrow, and deal with your enemies as if they will become your friends tomorrow.
Guide to Erbil – the capital of Iraqi Kurdistan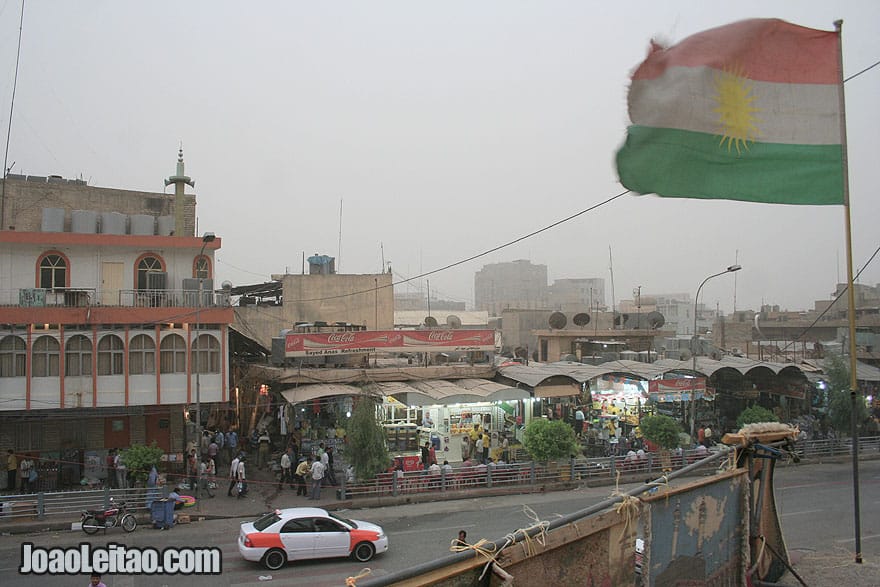 Erbil was my first stop in Iraqi Kurdistan.
The bus driver left me on the highway outside the city.
I took a taxi to the city center and started searching for a place to stay. Finding a hotel in Erbil was my first adventure since it was very hard to get an available room.
Erbil is a fascinating city with lots of history and strong Kurdish tradition. A walk in the city is a fantastic way to understand this Iraqi region unique and special culture.
Erbil has some nice places to visit but bear in mind that the city has strong military protection, so don't be surprised if you are checked while entering some public space like a garden or even a shopping mall.
A walk around Erbil is a great way to get to know the city. Also, one can enjoy the marvelous sunset from the top of the 5000-year-old citadel, visit the several parks and markets and talk with welcoming Kurdish people.
Throughout history, the city of Erbil has been under the rule of many different empires and rulers. Assyrians, Babylonians, Persians, Sasanians, Arabs and Ottomans all marked their presence.
Things to do in Erbil – Visit Northern Iraq
This prosperous city is a mix of markets, carpet shops, a beautiful citadel, several huge mosques and a few centenary churches. The variety alone is reason enough for a visit.
Erbil Fortress – Visit Erbil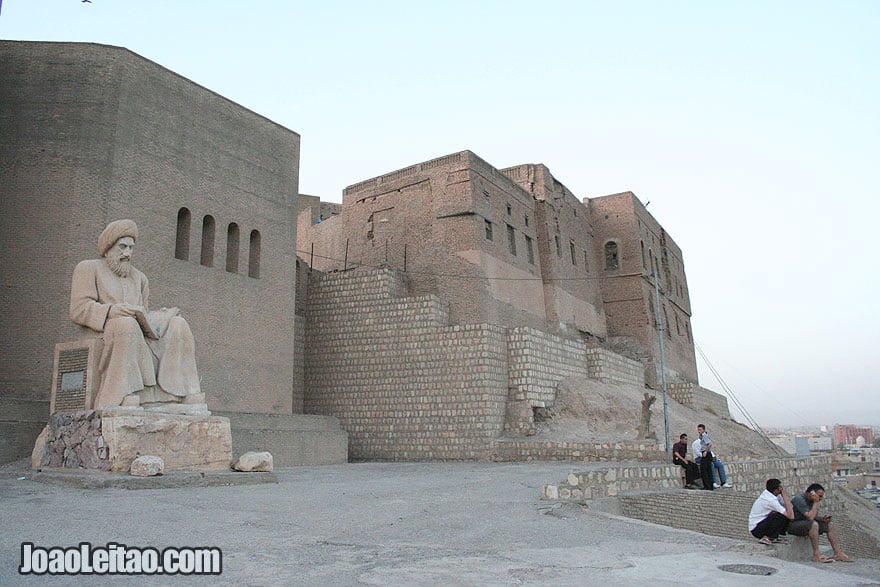 The Citadel of Arbil was just recently added on the list of World Heritage Site by UNESCO and it stands upon the most prominent hill of the city. This is the main core of Erbil's historical center.
The Citadel of Arbil has been permanently occupied since 5000 BC. The importance of this fortress declined after the Mongol invasion of 1258.
Minar Garden – Visit Erbil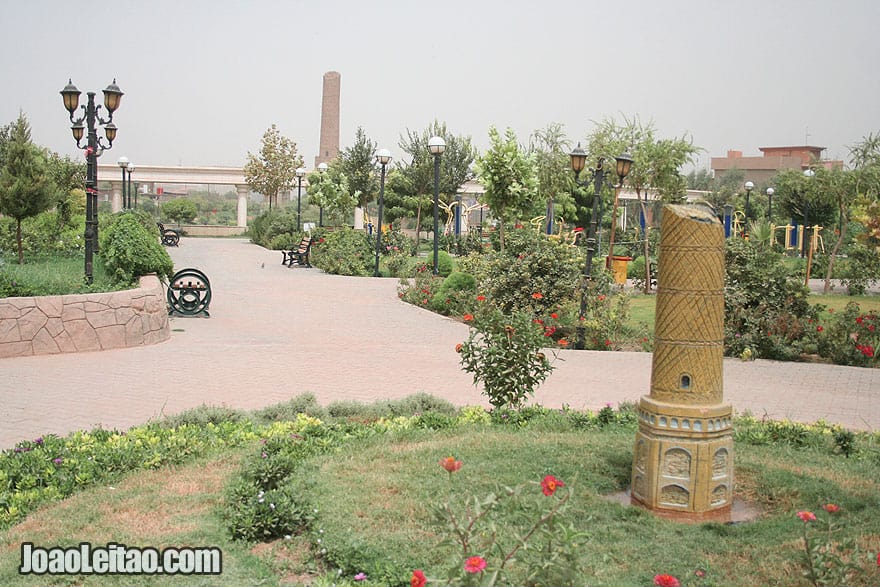 In the city center we can visit the pleasant Minar Garden, also known as the Minaret Park. In this park there is a small art gallery and some artificial waterfalls. However, its most important feature is the 12th century tall minaret 36 meters / 118 feet high.
Qaysari Bazar – Visit Erbil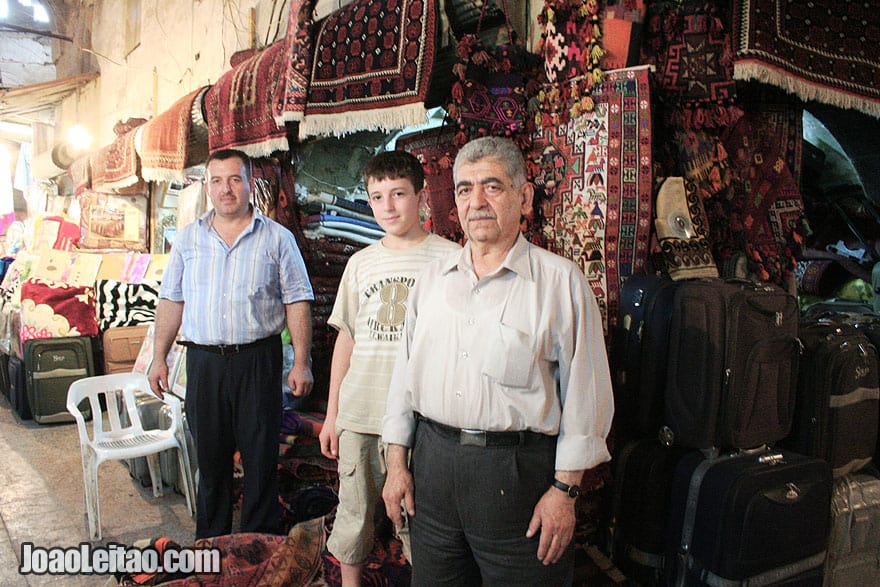 Qaysari Market is where you can shop for some Iraqi carpets and rugs. The Qaysari Bazar is always packed with local people and it's a great way to feel the city's busy life and commercial facet.
Shanidar Park – Visit Erbil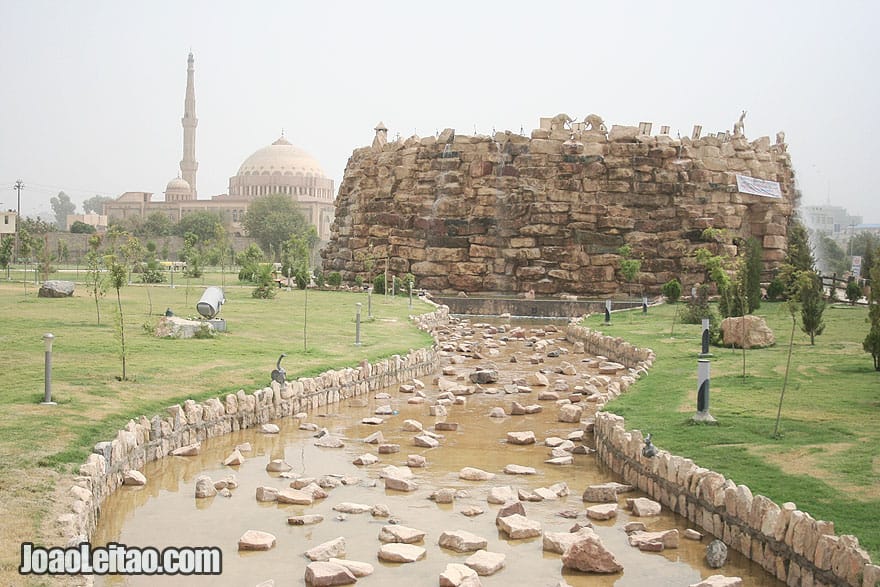 Near the Minaret Park there is another garden. They are actually connected by cable car. Shanidar Park is a place where families gather for some afternoon walks or weekend picnics.
Museums – Visit Erbil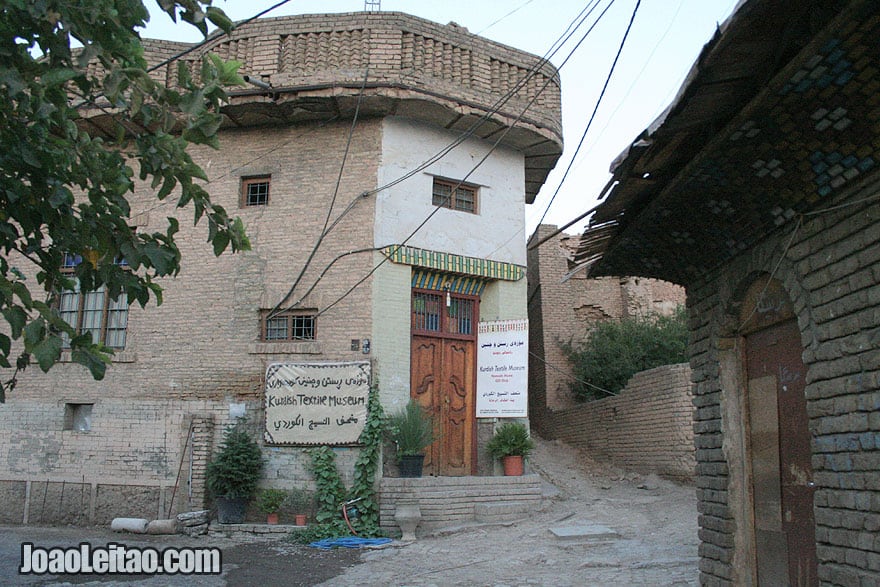 The Kurdish Textile Museum is a non-profit weaving project organization founded by Lolan Sipan in 2004. In this museum you can learn about types of carpets and the history of weaving in the region throughout the centuries. The Kurdish Textile Museum is located inside the Citadel of Erbil.
[message_box type="attention"]Read the page: Kurdish Textile Museum official website.[/message_box]
A visit to Erbil's archaeological museum is a must, since it contains pre-Islamic artifacts and you can have an idea of what the city was like along its existence.
The Syriac Heritage Museum is also known as Ankawa Museum. It exhibits several historical artifacts and documents related to the cultural presence of the Assyrians in the region.
Erbil Civilization Museum is located in Municipality Street, just across Francoise Hareeri International Stadium. The museum collection features more than 700 archaeological artifacts related to different eras such as the Assyrians, the Seleucids, the Parthians and also from the Islamic era.
Where to sleep – Accommodation in Erbil
Shahraban Tourist Hotel in Erbil Northern Iraq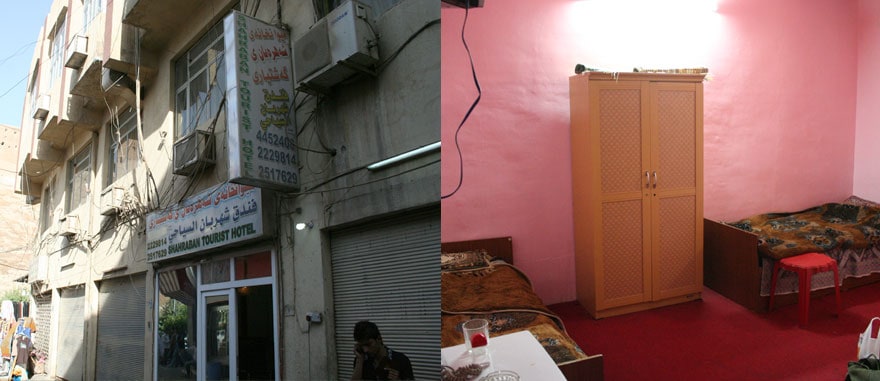 I arrived in Erbil during a huge sand storm. After traveling by bus for 30 hours all the way from Istanbul, I fell into the city as if I had been dropped from an airplane hanging on a parachute.
I was thinking I would quickly find a cheap hotel. Neither cheap, nor expensive. I found nothing. I knew there were about 10 hotels in the center, near the Citadel, where I wanted to stay. So it was just a matter of keep looking.
After searching in 7 hotels (meanwhile my backpack burst and I had to find a man who fixed shoes to repair it), I finally got to a hotel where they told me what I wanted to hear for a long time: YES, WE HAVE A ROOM.
The price was 40.000 dinars for a double room with WC. Nice cozy bedroom with TV, fridge, bath / shower and a bed where I got an itch during the first 15 minutes.
[message_box type="info"]Contacts: Shahraban Tourist Hotel, Qalat Road, Erbil, Iraq ● Phone: +964 445 2408 / +964 222 9814 ● Website: https://plus.google.com/101007760667884781923/.[/message_box]
Van Royal Hotel in Erbil Northern Iraq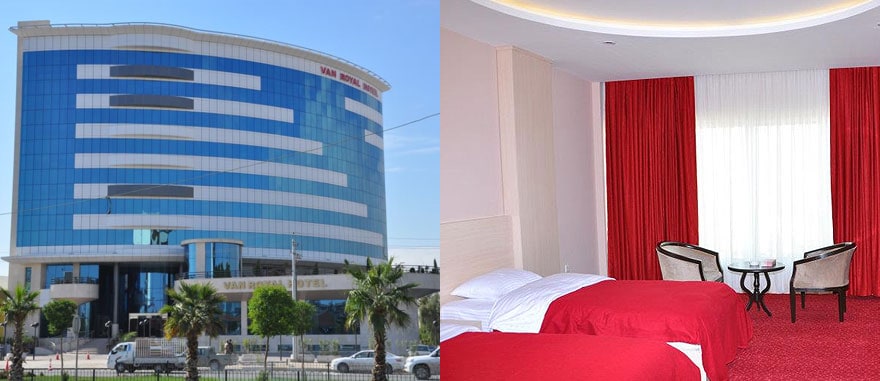 I didn't stay at the Van Royal Hotel but got some good references about it. It is near the city center, only 5 minutes away by car from Erbil Castle. The hotel is new and modern, including an indoor swimming pool. The rooms have air conditioning and modern furniture. They also provide a sitting area with nice exterior lighting coming from the windows, a flat screen TV, a mini bar and free Wi-Fi. The rooftop shows a beautiful view over town. The reception is open 24/7.
The prices in Van Royal Hotel are around 47 € for a single room and 77 € for a double room.
[message_box type="info"]Contacts: Van Royal Hotel, 60m Road Shorish Intersection, Erbil, Iraq ● Phone: +964 66 223 5840 ● Email: info@vanroyal-hotel.com ● Website: http://www.vanroyal-hotel.com.[/message_box]
Guide to Dohuk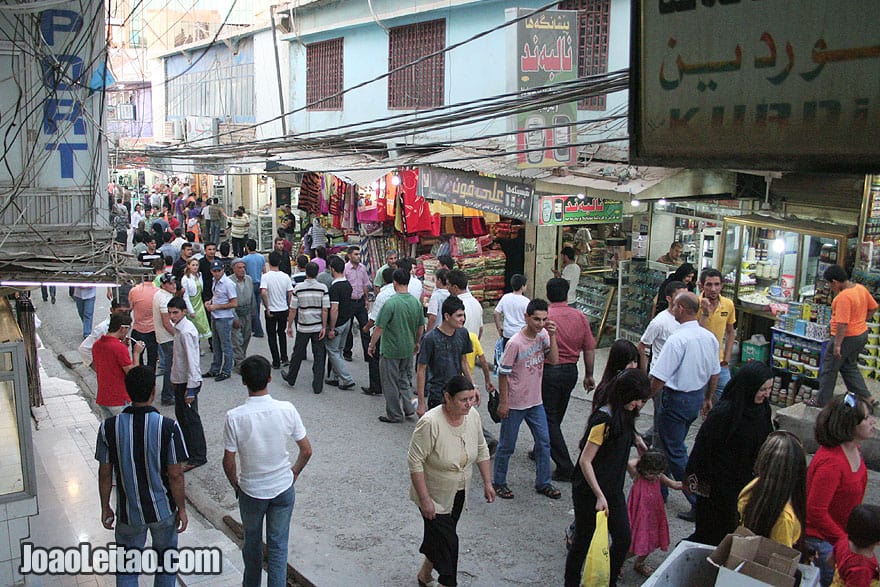 The city of Dohuk is surrounded by mountains along the Tigris River. Dohuk was an ancient Assyrian city that got forgotten in time. It only gained regional relevance again in 1236, when the Kurds came to rule.
Dohuk is another fantastic Northern Iraq city, with very nice people and great places to visit like the Gely, the central market, the various gardens and the Church of St. Ith Llaha.
I was invited to an engagement party in Dohuk, which turned out to be one of the best experiences I had in the country.
Things to do in Dohuk – Visit Northern Iraq
Dohuk is a really energetic city with a population of very friendly people who are curious about foreigners and like to help them out. Engage with these people and take the memories home with you. There are several interesting places in Dohuk, which I visited, like the market, the Church of St Ith Llaha, the gardens and parks, the Gely Valley.
Dohuk Dam – Visit Dohuk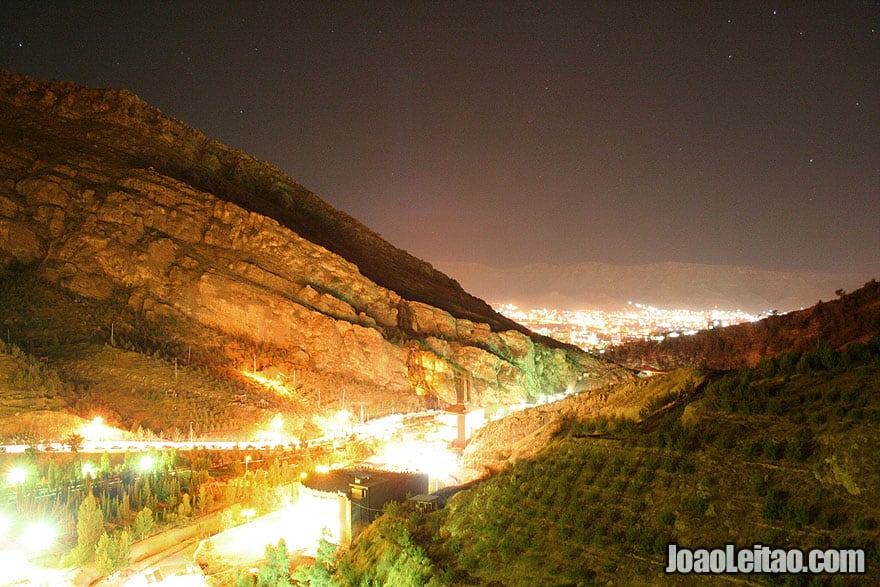 Dohuk Dam is a famous place for weekend family picnics. During the night, many people drive here to enjoy the spectacular view of illuminated Dohuk from the top of the valley. There is also a nice waterfall to see.
Bazaar – Visit Dohuk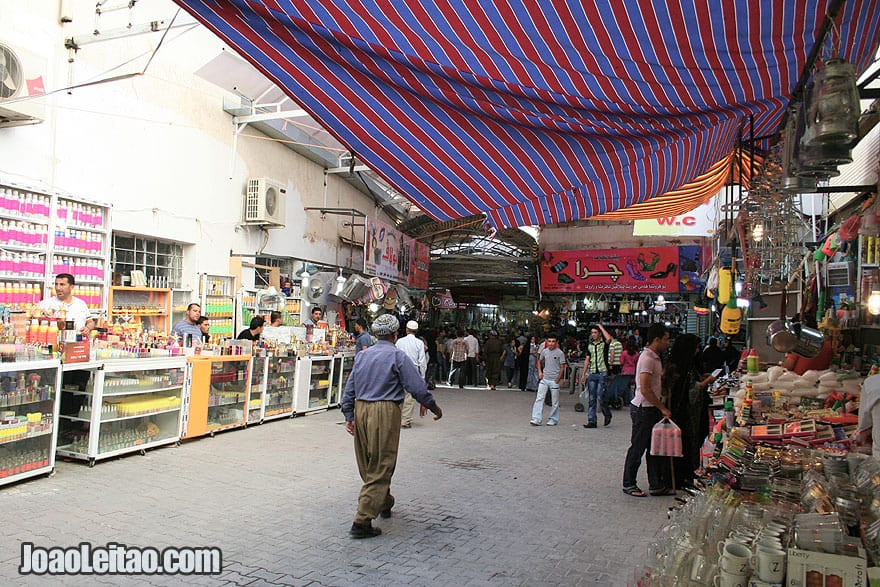 Dohuk Market is a great place to see how local people interact with each other. You will find all types of people shopping in the market and you can literally buy everything here, from modern clothes and cell phones to more traditional goods such as spices, Kurdish clothes and carpets.
Church of St. Ith Llaha – Visit Dohuk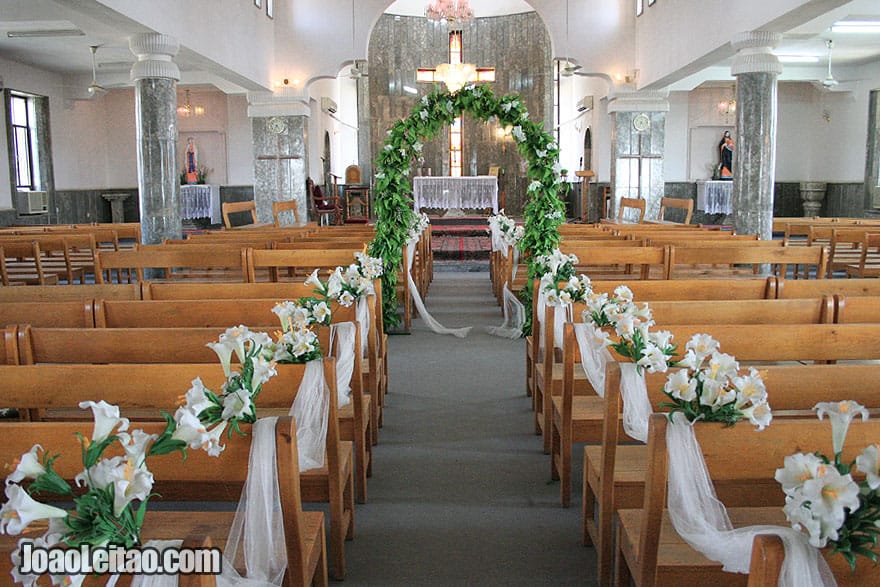 Saint Ith Llaha Church, west of Dohuk, is actually the oldest church in the region, dating back to 500 AD. This church has a simple but beautiful architecture and a blue-and-beige outdoor chapel dedicated to the Virgin Mary. When I was there, the interior was wonderfully decorated with flowers. For me, the highlights are the cross behind the altar and the lamp near it.
Corniche Promenade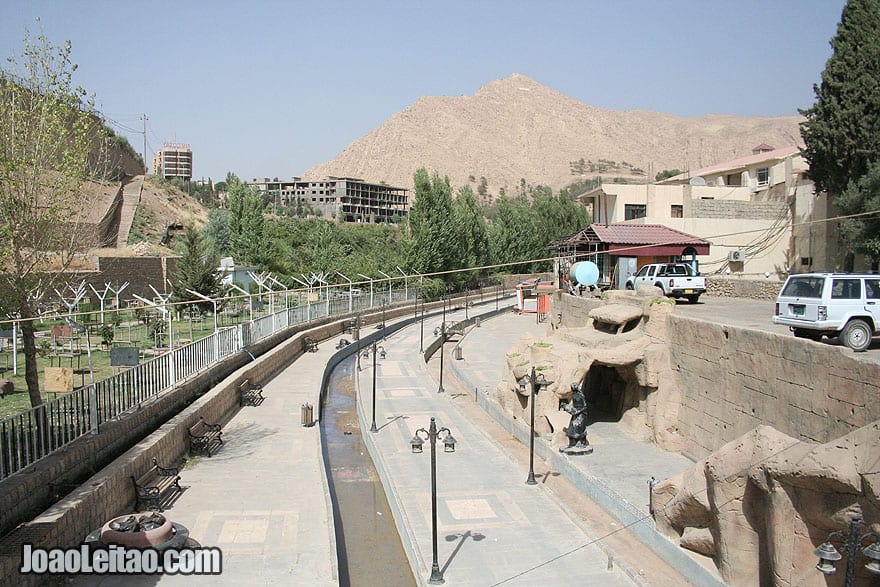 Afternoon favorite spot for families and young couples. The Corniche Promenade invites people to enjoy the tranquility of this part of the city with its amphitheater, gardens and cafés.
Dream City – Visit Dohuk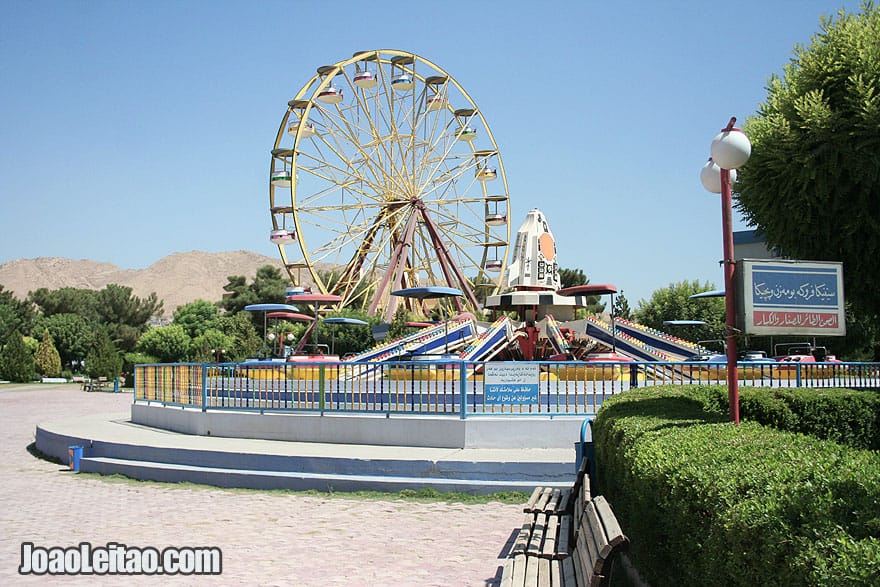 Dream City is an amusement park located on Zakho Way. This is Dohuk's children favorite place.
Where to Sleep – Accommodation in Dohuk
Shemal Palace Hotel in Dohuk Northern Iraq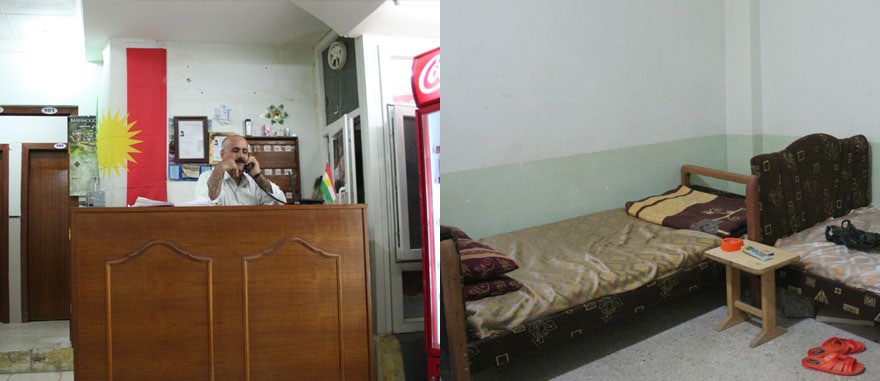 After at least 1 hour in town looking for a hotel with a good price, aka cheap, I found out that all hotels in Dohuk charge at least 25,000 dinars for a double room. So, I first went to Hotel Parlement because I knew they had single rooms for 10.000 dinars.
All the other hotels where I was didn't have single bedrooms. I would have to pay for the room entirely and couldn't really share a double room. So I persisted on my search until I found something within my budget.
On my last hotel, I managed to persuade a man to let me stay in a triple room, under the condition that he could rent the other 2 beds for someone that would also want a cheaper room.
I stayed for two nights, and only one of them did I share the room with a guy from Turkey, who was furious when I told him that smoking in the room was impossible. Since smoking was also prohibited in the reception, the guy had to smoke out on the street. He also wanted the air conditioning on while sleeping, 16ºC inside the room the whole night. I just wanted the ceiling fan working. In conclusion, I made a friend.
1 triple room w/ private bathroom = 30,000 Dinars = 17 EUR 1 double bedroom w/ private bathroom = 25,000 Dinars = 14 EUR 1 bed in a triple room shared w/ private bathroom = 10,000 Dinar = 6 EUR
[message_box type="info"]Contacts: Shemal Palace Hotel, Dohuk, Iraq ● Phone: +964 427 7572 / +964 762 4299[/message_box]
Dilshad Palace in Dohuk Northern Iraq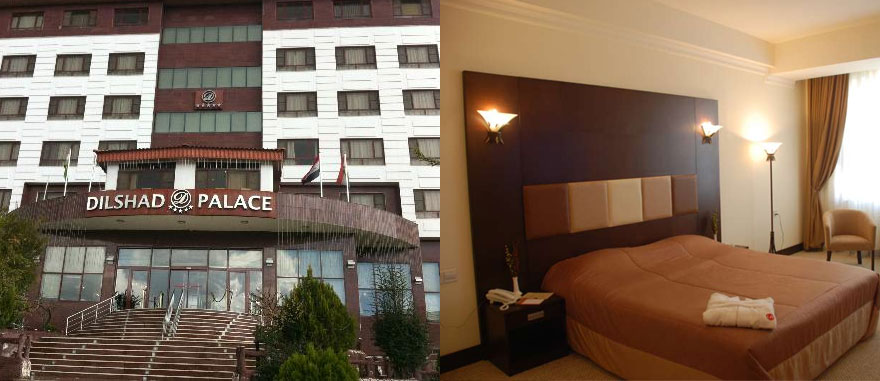 I wanted to stay at the hotel Dilshad Palace, but it was full at the time. I had my eyes set on this one because, like in Erbil, I got a tip about it.
The Dilshad Palace has a swimming pool, a garden, a restaurant and a bar in its common areas. Breakfast is cooked fresh every morning and the food in the restaurant is of Kurdish and Mesopotamian inspiration, even though there are also western options.
The rooms are comfortably decorated and all the air-conditioned units at the Dilshad Palace come with a flat screen satellite TV, a mini bar and a safe. Their en suite bathrooms have bathtubs and the suites have a separate living room. Wi-Fi Internet is free in the rooms and so is parking in the hotel.
[message_box type="info"]Contacts: Dilshad Palace, Dohuk, Iraq ● Phone: +964 445 2408 / +964 222 9814 ● Website: http://www.booking.com/hotel/iq/dilshad-palace.en-gb.html.[/message_box]
Jiyan Hotel in Dohuk Northern Iraq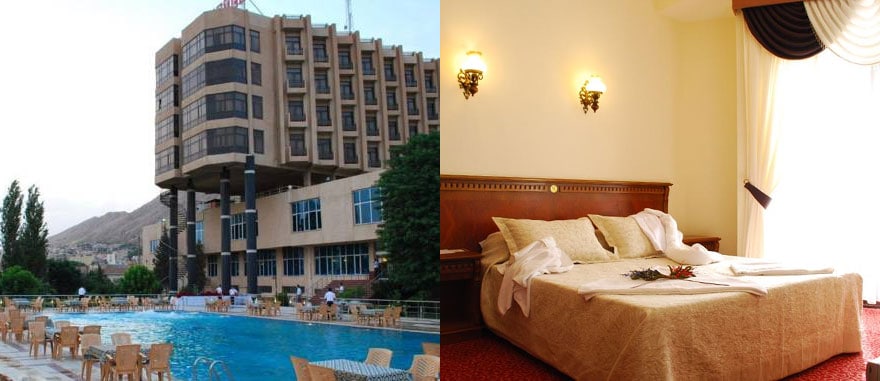 One more option in Dohuk is the Jiyan Hotel, close to Galy Park. This hotel is a great place to relax after a whole day of traveling or walking around the city. There is even a spa with a Turkish bath and some massage treatments.
The rooms and suites in Jiyan Hotel come with their own balcony with a view over the pool and the city of Dohuk. All the rooms have a TV and a mini bar.
Three bars are available for guests, as well as two restaurants. Al Rozh Restaurant serves buffet breakfast, while Newroz Restaurant offers "à la carte" specialties.
[message_box type="info"]Contacts: Jiyan Hotel, Dohuk, Iraq ● Phone: +964 445 2408 / +964 222 9814 ● Website: http://www.booking.com/hotel/iq/jiyan.en-gb.html.[/message_box]
Guide to Amadiyah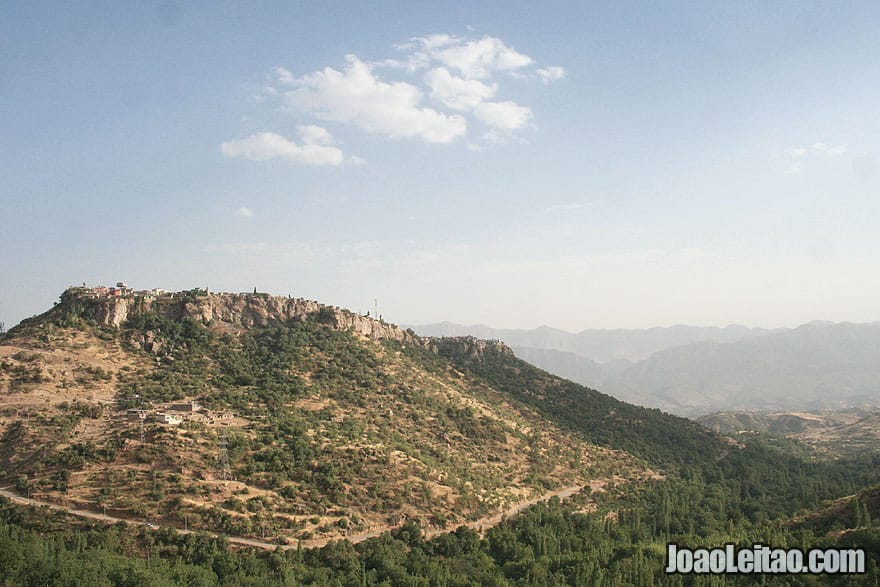 This is an amazing place.
Amadiyah (Amedi) rises itself on top of a rocky hill like an island. It has great views to the surrounding mountains, especially if you can go up the 500-year-old minaret – first you have to search for the guy who has the key. Also, don't miss the Badinan Gate, which is astonishing during sunset.
Things to do in Amadiyah – Visit Northern Iraq
Amadiyah is indeed an historic city with testimonials from the past in which the locals take great pride. Nature also has a strong presence here, with a natural spring making it a good place of relaxation for visitors.
Badinan Gate – Visit Amadiyah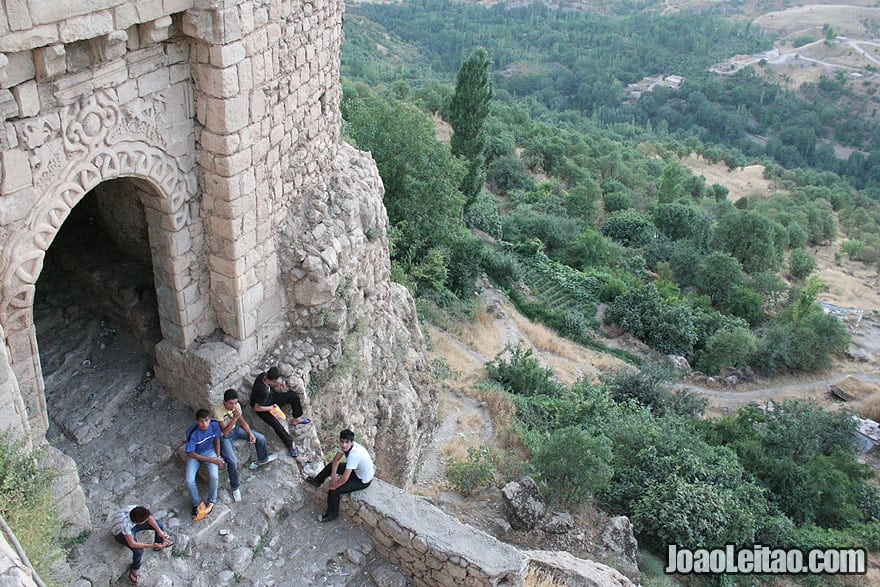 Badinan Gate is located on the east side of the citadel. It is the ultimate witness of the ancient Assyrian fortress which protected people from invaders. Getting there was easy with the help of some people who were proud to see someone interested in the place where they lived. The views from this part of town are great.
Amedi Ramparts – Visit Amadiyah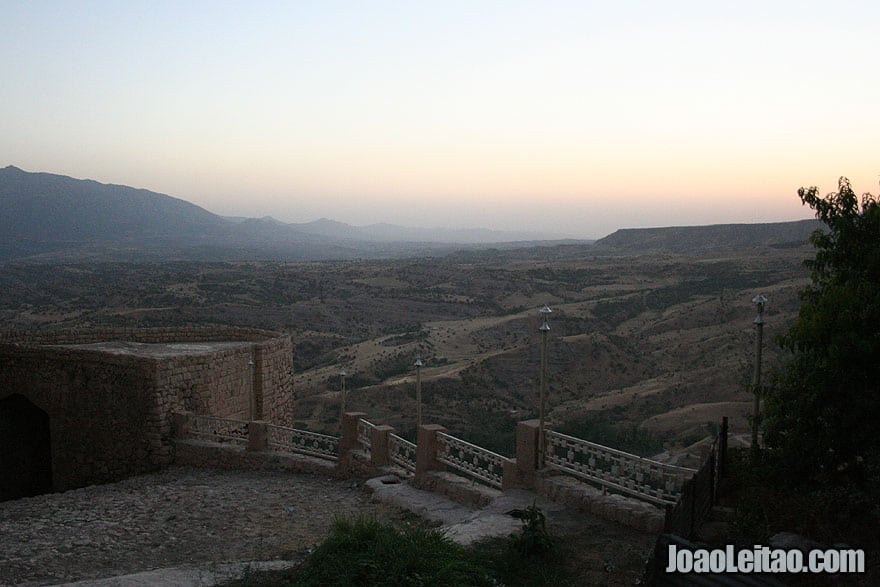 Walking close to the ramparts around town is a great way to discover old streets and corners which lead to somewhere new. Whenever you can, take a peak over the magnificent landscapes of the surroundings from the 1,400m / 4,600ft Amadiyah.
Amedi Bazaar – Visit Amadiyah
Like every other bazaar in the region, the one in Amadiya is a lively place with lots of action going on. This is the "shopping center" Kurdish style. Enjoy the colors and diversity and buy something to eat or take with you home.
Go up Amadiyah's Minaret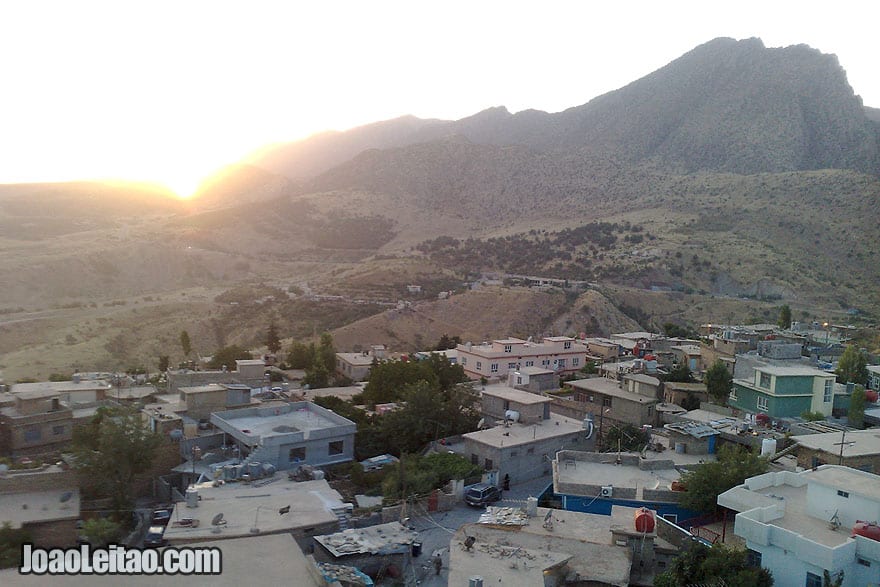 A mosque tower is called minaret. So, if you are able to get the key of the tower, and go up the 500-year-old minaret… That will definitely make your day. The views from above are breathtaking.
Sulav Resort, – Visit Amadiyah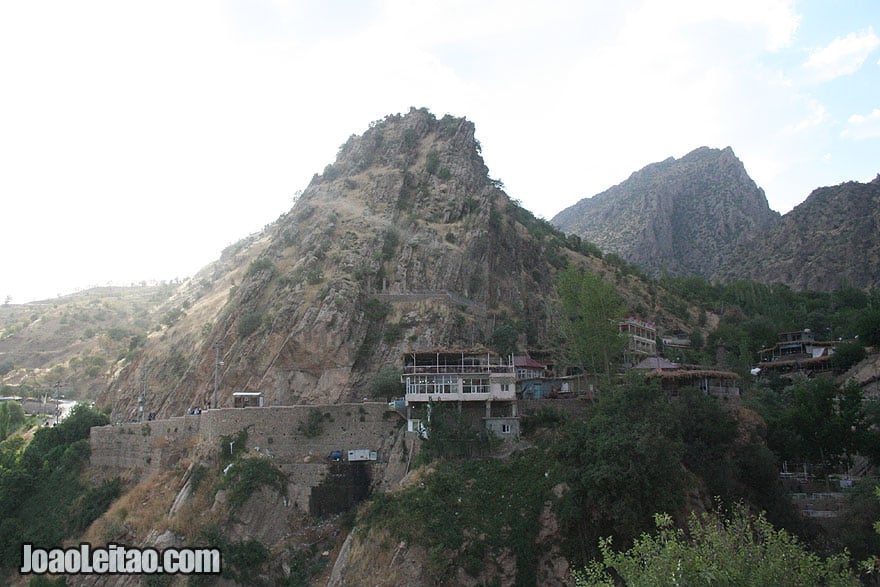 Sulav is a natural water spring that makes a nice fresh river go down the mountain. It has many restaurants and cafés to stay and take a rest while tasting Hookan (or shisha), a stemmed glass-based water pipe for smoking flavored tobacco. Some of these cafés even include chairs inside the river where you can relax at the end of the day. This is also the local people's favorite place to have a picnic with the family and have fun.
Sulav Resort is an entertainment complex at the end of the road from Dohuk, 5km north of Amadiyah. Sulav can be easily seen from Amadiyah and offers amazing views to a very photogenic scenery.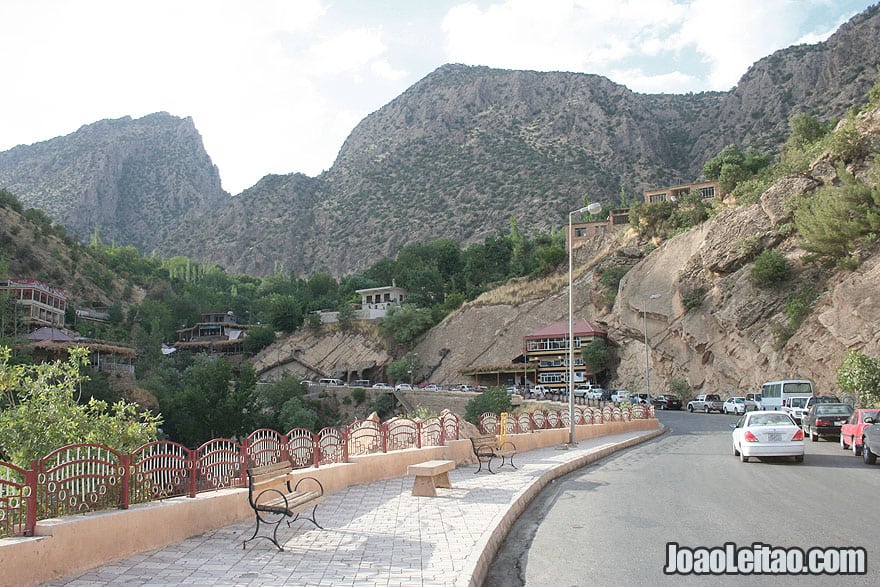 Sulav is visited by lots of tourists from all over Iraq. During the summer, it also receives many Arabs from Bagdad who go north to enjoy a little bit of peace and have a good time with their families.
You can walk along the road and admire the perfect views to Amadiyah on top of the mountain. You can also go up the stairs along the river until you reach the stone bridge and waterfalls. If you like to hike, there are several hiking trails into the valley.
Kani Village – Visit Amadiyah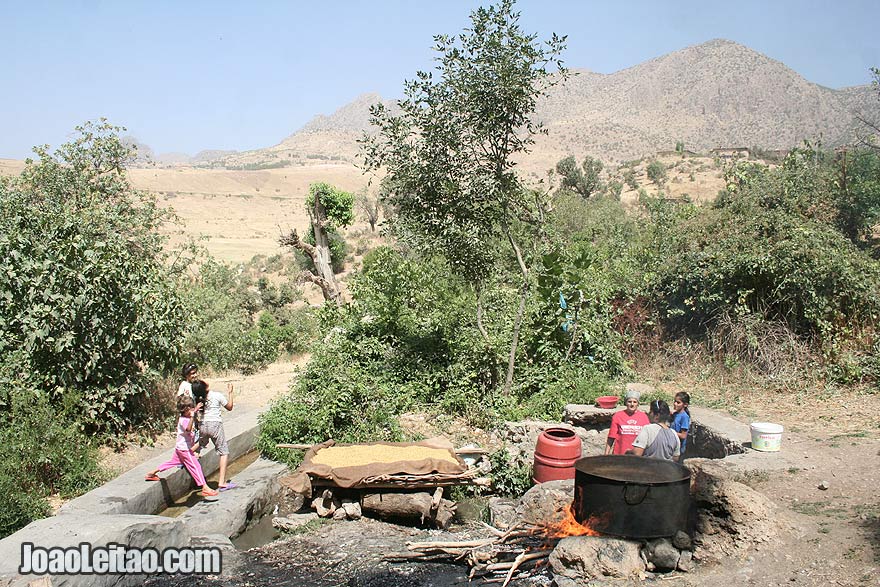 This is a small Christian village a few kms away from Amadiyah. I had the lucky chance of talking with local people while they were parboiling bulgur.
Mar Odisu Monastery – Visit Amadiyah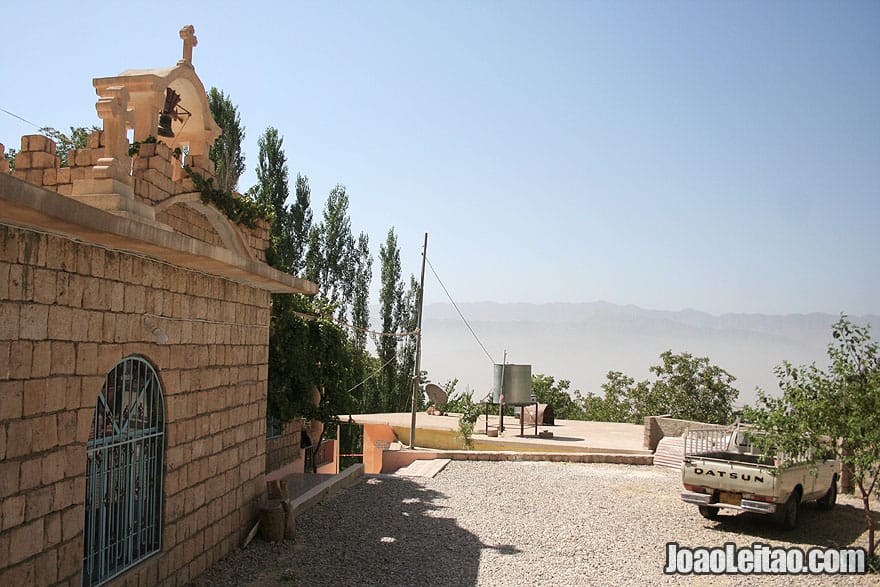 Mar Odisu Monastery is a simple small Christian construction built above the village of Kani and "guarded" by imposing mountains. The history of this important place of cult for Assyrian Christians goes back to the 16th century when it is thought it was already in use.
Still today, many people in the region come to its holy fountain to drink and heal their sicknesses. The picnic area is a good reason to stay for a while enjoying the quiet atmosphere which we can only find in religious sites.
The decoration of the interior of Mar Odisu Monastery is plain but very interesting: a few images, some flowers, laces, beautifully-shaped crosses in a mostly red and white environment.
Where to Sleep – Accommodation in Amadiyah
Sulav Hotel & Restaurant in Amadiyah Northern Iraq
This is a small hotel run by a family. The rooms have balconies and shared bathrooms. The views over Amadiyah and the valley below from the terraced restaurant are special.
[message_box type="info"]Contacts: Sulav Hotel & Restaurant, Sulav, Amadiyah, Iraq ● Phone: +964 0750 72219 55 / +964 0750 712 19 56 ● Email: sulavhotel@yahoo.com.[/message_box]
Guide to Salahaddin
I was left here as I took a taxi from Erbil to the castle and further to Salahaddin. I got some food in the center shops and waited for a shared taxi back to Erbil.
Things to do in Salahaddin – Visit Northern Iraq
Not much to do in Salahaddin except admiring the scenery.
Khanzad Castle – Visit Salahaddin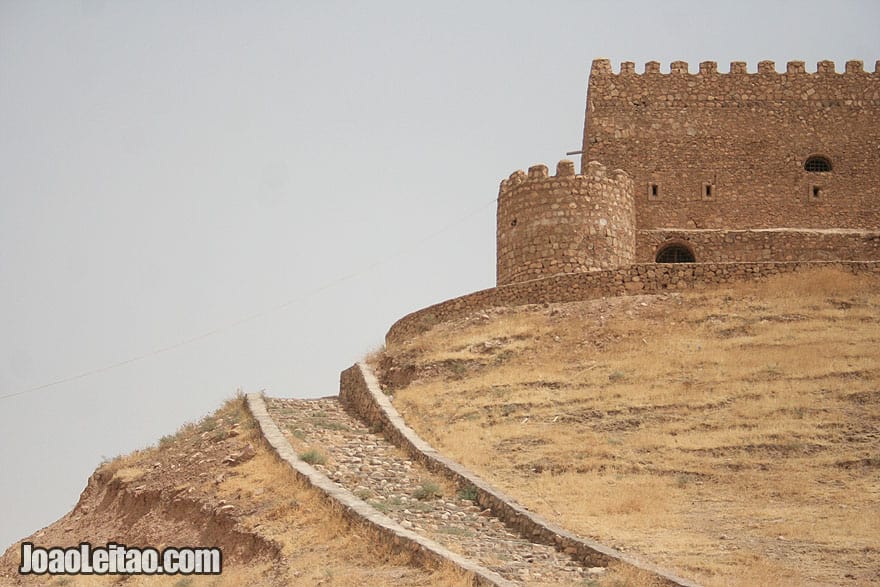 This is a very small fortification on the road to Salahaddin. On top of a hill 20km / 12.4mi distant from Erbil, this stone castle was built during the Soran period (1816-1835).
In terms of being worth to spend taxi money and time to go there… Well, everything in the world is worth it if you enjoy the ride. Surrounding landscapes are really beautiful.
Guide to Barzan
This is the place of the famous Barzani family Memorial Center. You can visit the museum and the religious complex, including the cemetery full of Kurdistan flags and messages for the fighters of Kurdistan Iraq.
Things to do in Barzan – Visit Northern Iraq
Kurdish heroes cemetery – Visit Barzan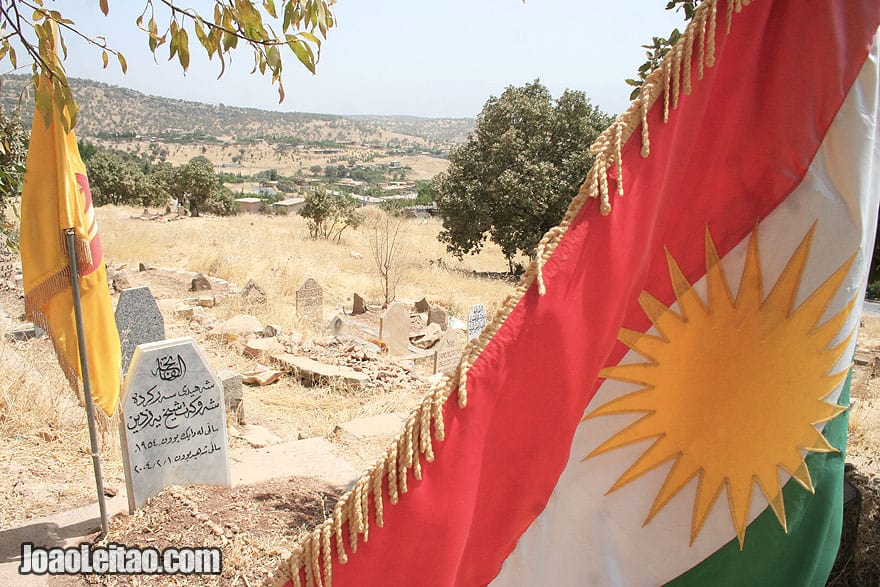 Since Barzan is the ancestral home of the family who dominated Kurdish politics, the Barzani, their chief Mullah Mustafa Barzani is buried here. He is a national hero of Kurdistan for his fight against Baghdad's government and for being the father of the Kurdish independence movement. This man's grave is the reason for a pilgrimage of Kurds wanting to honor him at his last address, on a small hill surrounded by KRG (Kurdistan Regional Government) and KDP (Kurdish Democratic Party).
Guide to Aqrah (or Akre)
I hitchhiked here all the way from Dohuk. The city, once containing a large Jewish population, is amazing, with the buildings on the hill, a huge mosque and striking views. There is also a nice waterfall. People are very friendly and happy that tourists visit their town.
Things to do in Aqrah – Visit Northern Iraq
Old city – Visit Aqrah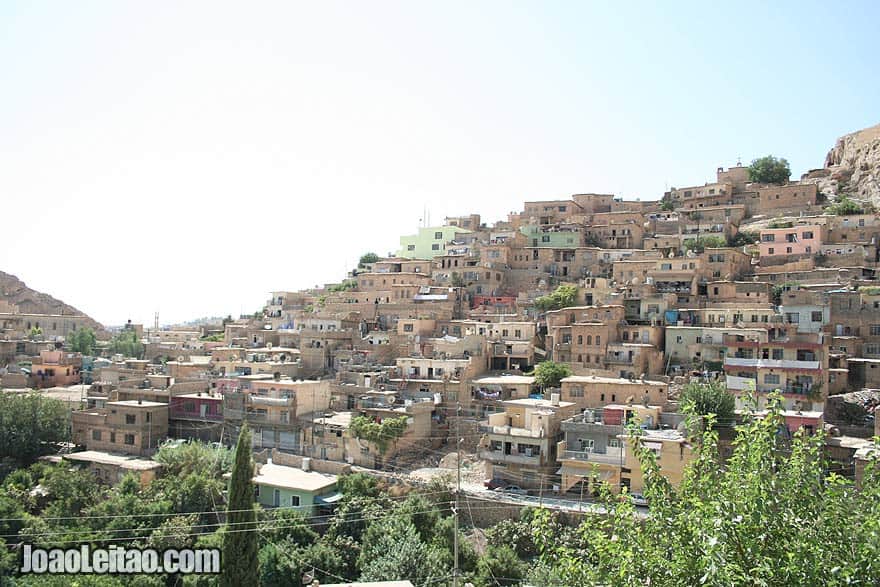 Built on a sharp hill by Prince Zand in 580 BC, the old city of Aqrah (Akre) is best explored walking around town to locate hidden staircases in the tight alleyways. Try to find the water cistern and The Jail (an eagle-like room). The houses are colorful enough to keep you looking for some more.
Aqrah Bazaar – Visit Aqrah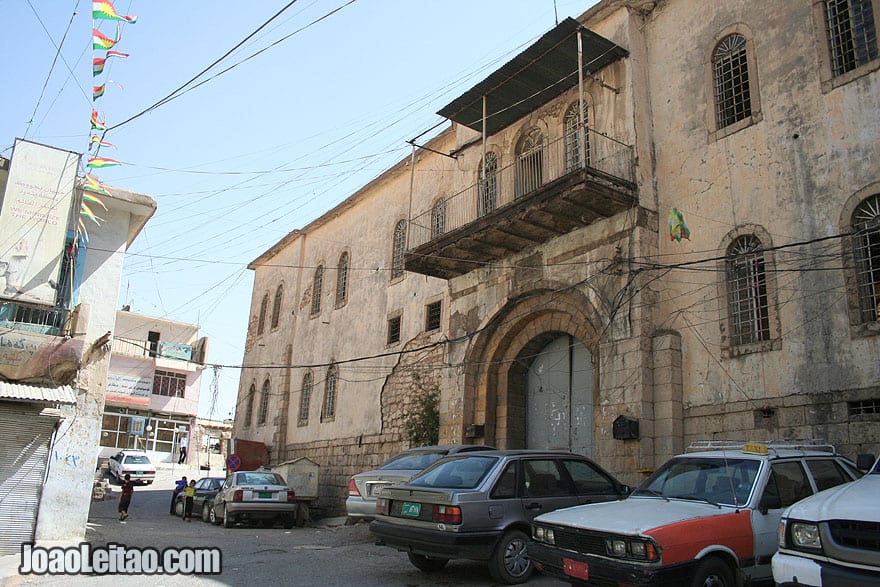 The bazaar in Aqrah is a lively place, the center of life in the city. Resupply and get some smiles from local buyers and sellers.
Sipa Waterfalls – Visit Aqrah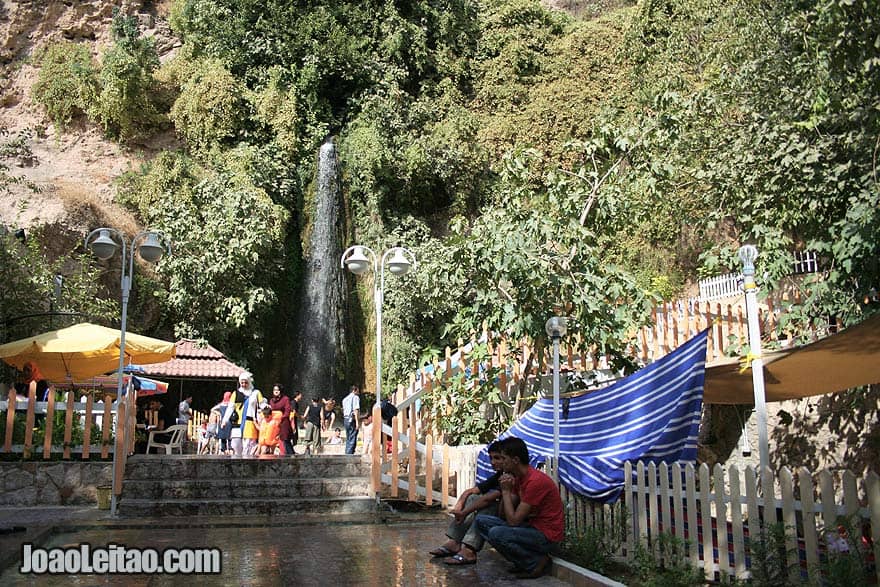 Sipa waterfall is only 1km / 0.62mi away from Aqrah, to the east. The environment, mainly in summer, is refreshing due to the 18-meter-high / 59-feet-high waterfall which forms pools. Further away, to the east again, 13km / 8mi away to be precise, Sipa Bjail waterfall lies in a valley in the center of Bjail village. Several springs feed the waterfall, as well as provide moist for a lot of fruit trees. There are tourist facilities available.
Aqrah Mosque – Visit Aqrah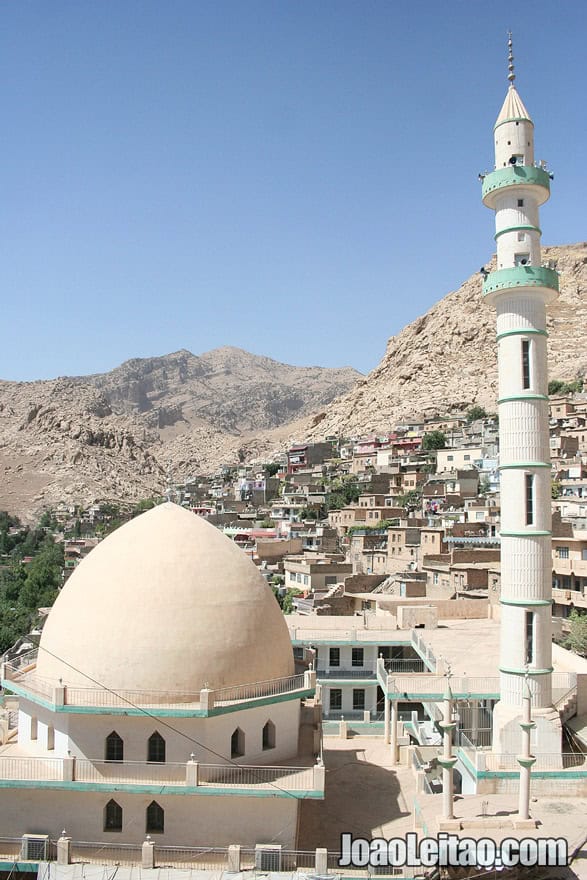 The Aqrah's Old Mosque has a tremendously high minaret in white and green colors. This construction really stands out in the skies of this mountain-surrounded city.
How to get There – Transportation in Kurdistan
You can either fly directly to Erbil from the United Arab Emirates, Georgia, Turkey, Austria, Egypt, Germany, Iran, Lebanon, Jordan, The Netherlands and Tunisia. Or you can take overland transportation from Turkey or Iran.
Bus Istanbul to Erbil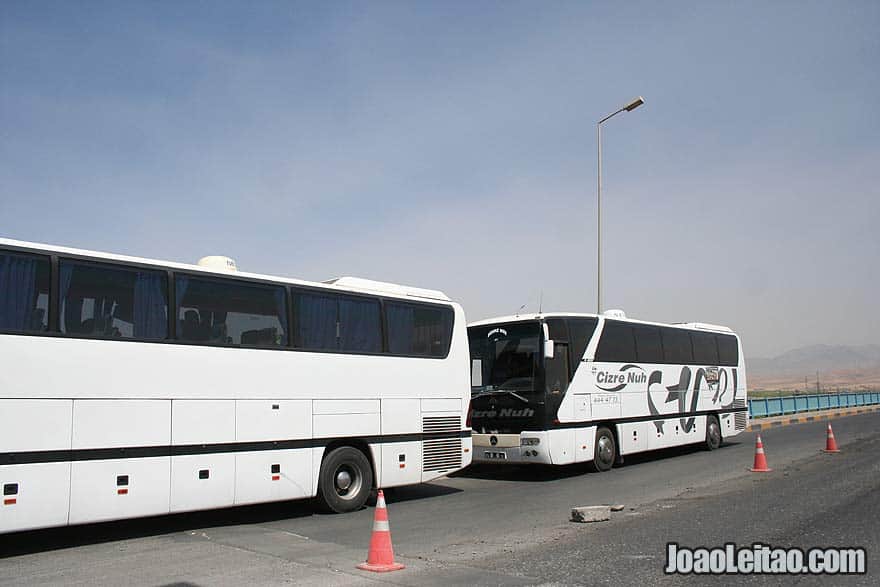 This is possibly the cheapest and easiest way to enter Iraq. The journey is long and takes about 30 hours but is worth it for many reasons. The bus crew will help you out at the Turkish and Iraqi border as they do not want to wait much since the bus is waiting.
The price of the BUS ticket from Istanbul to Erbil was 77 Euros / 110 dollars. I knew about this bus with the help of a Turkish friend. When looking on the Internet we only found information in Turkish language.
There is a bus every Monday and Wednesday at 10 am. Supposedly, the bus leaves Otogar Esenler bus terminal. However, during a phone booking (yes, you have to book it in advance since it's a very busy route), the driver explained us that most people who make this trip live in the city center. For that reason, the bus came and picked everyone up near Aksaray.
The phone for further information is 4444773 BUS Company Ozlem Cizre Nuh.
Along the journey there are several stops for toilet and meals. You can always ask the driver how long the stops last, but they usually take 10 or 30 minutes up to 1 hour.
[message_box type="attention"]NOTE: You can consult the webpage of Esenler Otogari for more information about these buses. [/message_box]
Bus route from Istanbul – Erbil:
(Please note that these times may change. I just write down what happened on my trip)
10:00 – Departure from Istanbul
13:30 to 14:10 – Stop at Duzce
19:00 to 19:30 – Stop at Aksaray
1:30 to 2:00 – Adana
5:45 to 6:00 – Nusaybin
7:30 to 9:00 – Cizre / Jizre the bus had to go to a mechanic
10:30 – Turkish Border
11:30 – Ibrahim Khalil Border Exit / Entry Iraq in Zakho town
15:30 – Arrival at Erbil
Duzce / Koynopli Restaurant stop
1 yogurt + 1 bag of bread + 1 plate of beans + 1 plate of rice + 1 bowl of cucumber and tomato salad olives + water = 14 Turkish Liras = 6.55 Euros
1 bag of fried grain = 1 Turkish Liras= 0.46 Euros
Toilet = 0.75 Turkish Liras= 0.35 Euros
Aksaray Restaurant stop
2 packages of nuts and grape jelly = 3 Turkish Liras = 1.40 Euros
1 fried corn package 500gr = 4 Turkish Liras = 1.87 Euros
Toilet = 0.75 Turkish Liras= 0.35 Euros
Pair of socks = Turkish Liras 2 = 0.93 Euros
Ayran yogurt = 1 Turkish Lira = 0.46 Euros
Taxi from Salahaddin to Erbil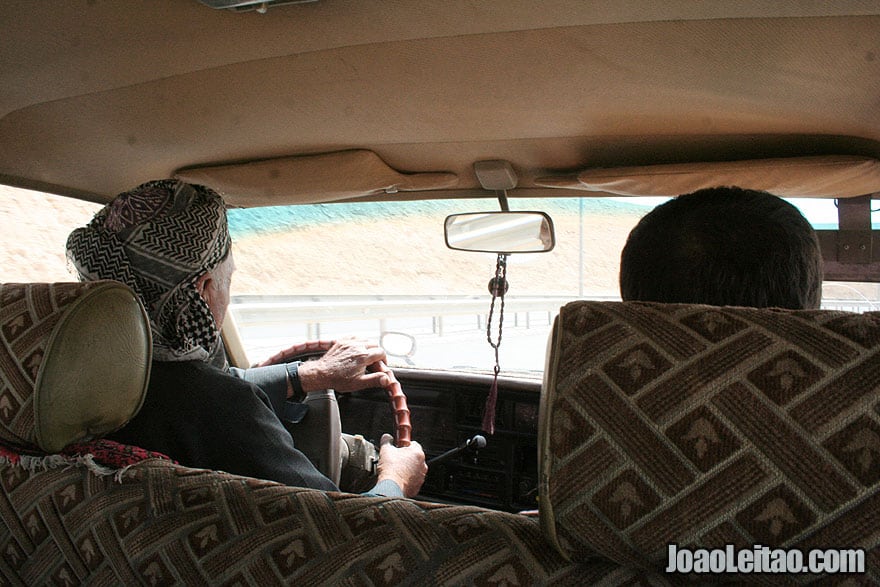 The cheapest way (apart from hitchhiking, of course) to go from Salahaddin to Erbil should be sharing a taxi with local people. Taxis heading out of Salahaddin towards Erbil (aka Arbil, Irbil, Hawler) depart from the last roundabout of the city.
A four people shared taxi from Salahadin to Erbil cost 3000 dinars per person.
You probably have to wait until the taxi gets enough people to depart (no more than four people per ride). My taxi was an old car driven by an old man that wanted to increase the price to take me all alone until he clearly understood I wanted cheap. I waited about 15 minutes until the taxi was full and ready to leave.
Hitchhiking Dohuk to Akre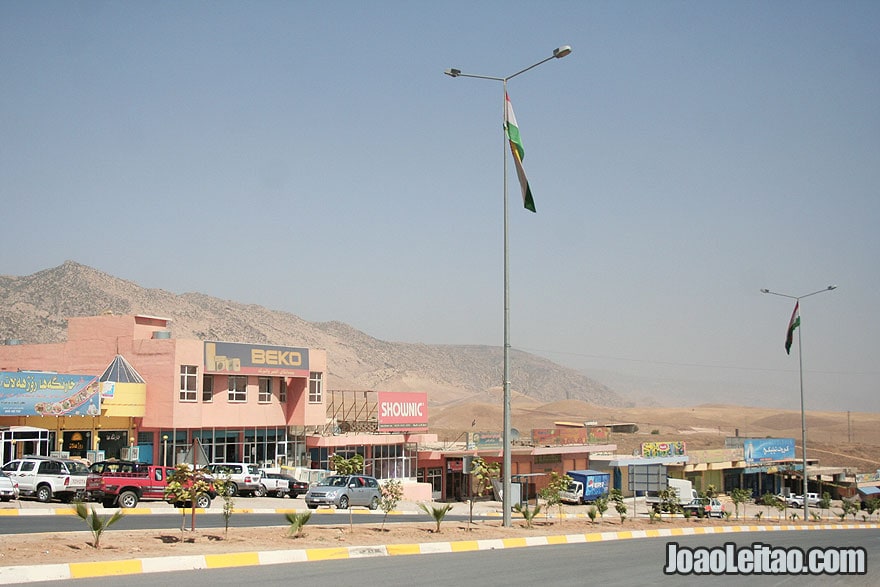 I made three major trips hitchhiking in Iraq and asked for a ride several times both in Erbil and in Dohuk. I met these people randomly in the street while asking them for directions.
After traveling in Iraqi Kurdistan for a couple of days using shared taxis, private taxis and buses, I decided to try hitchhiking to see if I could get into a more personal relation with Iraqis.
People who travel always have something to tell, they are usually about to do something that somehow can be interesting for me to learn a little bit more about "local people daily life".
Hitchhiking can sometimes be a dangerous activity, as we all know. We are going to deal with strange people and travel with them inside their own car not knowing what they can do to us. But the situation also creates fear to drivers, as they don't know who hitchhikers are.
I felt really comfortable and safe with the idea of hitchhiking in Kurdistan. People seemed very friendly all the time and safety was, above all, an achievement for all Kurdistan inhabitants, either Kurds, Arabs or Assyrians.
Yes, you can feel that safety.
Hitchhiking from Dohuk to Akre, Hitchhiking in Iraqi Kurdistan
TRIP 1 – Dohuk to Akre – Hitchhiking Iraqi Kurdistan – Total = 141.6 Miles / 228 KM
Taxi in Dohuk = 3.6 Miles / 5.6 KM
Walking = 4 Miles / 6.4 KM
Hitchhiking Car 1= 2 Miles / 3.2 KM
Hitchhiking Car 2 = 61 Miles / 98 KM
Hitchhiking Car 3 = 71 Miles / 114 KM
While in Dohuk, I decided to visit the Yazidi temple in Lalish. To go to Lalish I had to get the road to Shekhan, in Shekhan District, the Ninewa Governorate of Iraq. The capital city is Mosul but Shekan and Akra District are currently under the Kurdistan Regional Government control.
I took a taxi to one of the ends of the city and walked about 2 miles until someone stopped and gave me a ride. This man was not going out of Dohuk, so he took me 2 miles ahead until the Army checkpoint where I had to show my passport and tell the guard I was actually walking or hitchhiking myself to Lalish. The army guy found this incredible and strange. So, he tried to find me a car with someone who spoke some English.
After many attempts, he finally hooked me up with a guy that was going to Akre, not Shekhan. I ended up changing my travel plans and went all the way to Akre town, a beautiful place. I got a ride back with the same guy 2:30 hours later. Perfect! He actually showed me some waterfalls in Akre and bought me lunch on the road back to Dohuk.
Ismail and Ivan, two very nice guys I randomly met on the street, showed me Kanizark waterfall and water spring. They also bought me an ice cream and some water.
Taxi from Erbil to Dohuk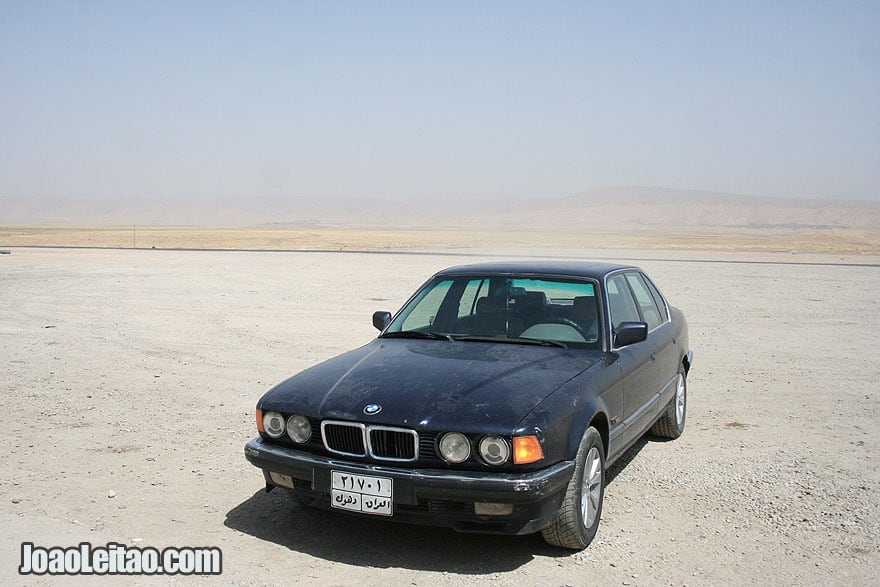 After a couple of days in Erbil, the capital of the Kurdistan Region in Iraq, I decided to take a private taxi as it is one of the safest, most comfortable, and fastest ways to move from city to city.
I took a taxi near the citadel in Hawler (Erbil), and simply said "Dohuk garage". Then the driver took me to an office from where private taxis (BMW, Toyota and Hyundai) take people to several destinations in Iraq.
I noticed that one guy gave money to the taxi driver, a small fee for his work. For sure, there are other companies providing the same service, so it is fair enough he gets something. Since I knew the price of this trip forehand, I was OK for a possible cost increase.
The journey crosses the protected Kurdish zone (road that goes through Ruwia), but does not pass in Mosul. It takes about 2 hours and a half with a stop for tea and to go to the toilet. The car has air conditioning and takes 3 passengers + driver.
The price of the taxi from Erbil to Dohul is 15,000 Dinars = 8.89 EUROS.
The agency's staff was very friendly and exuberantly celebrated my presence playing with me, taking pictures with their mobile phones, taking my camera to take pictures of each other making funny things… Well… Incredible!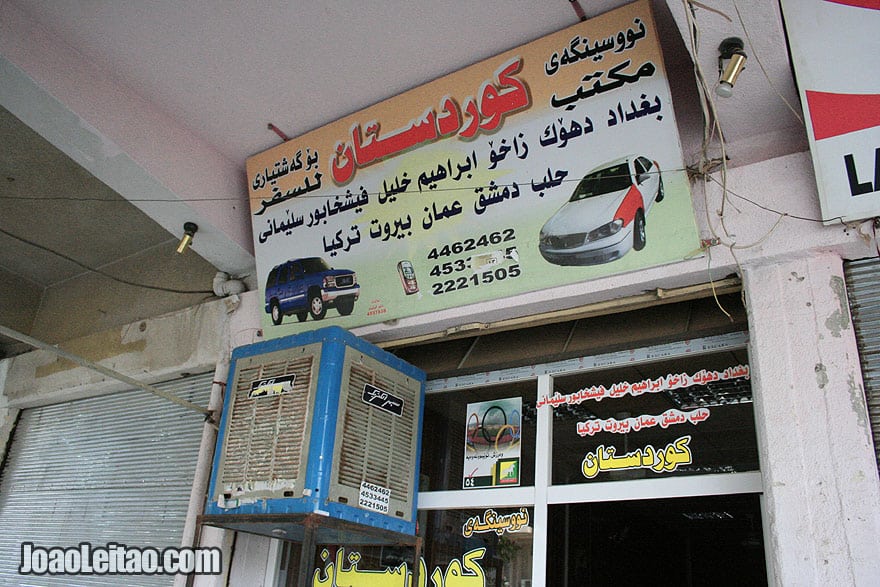 Sign with phone and Company name. You can print this out yourself or have it on your smartphone and take it with you to Kurdistan. Your hotel staff can easily phone them and you can take a quick taxi there.
Bus Dohuk to Istanbul
An easy way to get out of Iraqi Kurdistan is to get a bus to Turkey.
However, it seems that not everything worked fine and my apparently "easy trip out" was transformed into a mess, as the bus didn't arrive to Dohuk. So, the company responsible for these trips got me a taxi to cross the Zakho border and from there another Turkish taxi took me all the way to the city of Cizre, where I would get a bus to Istanbul via Ankara.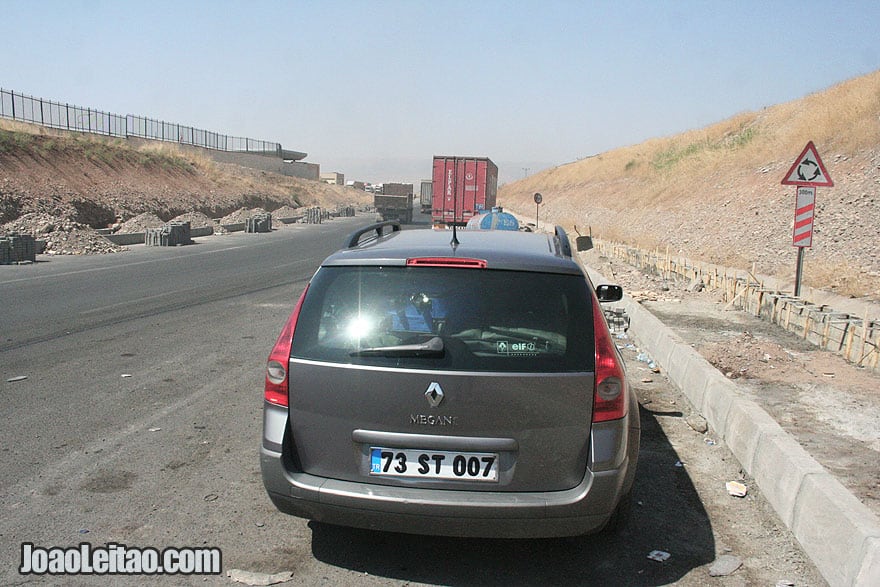 All this was paid by the company. Their bus didn't show up but they assumed their responsibility and made a small group of people to get us out of Iraq and finally put us on that bus to Istanbul.
There is only one weekly bus from this company, Cizre Nuh. The company in charge of bookings in Dohuk is called Piro Group, a consulting and marketing agency. Beware and make the ticket bookings a few days before the day of the bus, otherwise you may not get it.
Buses get out of Dohuk every Friday at 3pm with a fixed price of $95 US dollars = 65 Euros.
What happened was that, because the bus never got out of Kirkuk due to some explosions, the Piro Group company had to try to get people out of Dohuk as early as possible so that they could get a bus from Cizre at 4pm that day.
So, by chance, when I went there at 10am to leave my bag in the office, they told me to wait because a taxi was taking me and a group of Iraqis out of Dohuk towards Turkey in private taxis. Adventure began.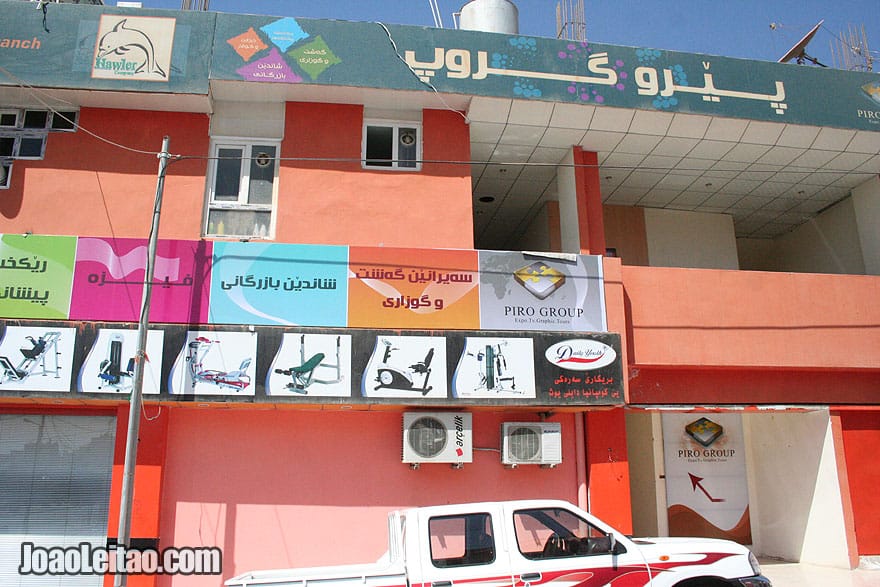 Piro Group – Consulting & Marketing, Dohuk, Iraq
Directions: Take the phone number and check out the picture. If you take a taxi, ask for Piro Sport near KRO
Address: Piro Group office is on Shiran Street near the KRO, Dohuk, Iraq
Telephone: +964-750-4740905 / +964-750-4740906
Email: pirogroup@gmail.com
Money and Visas
Ibrahim Khalil Border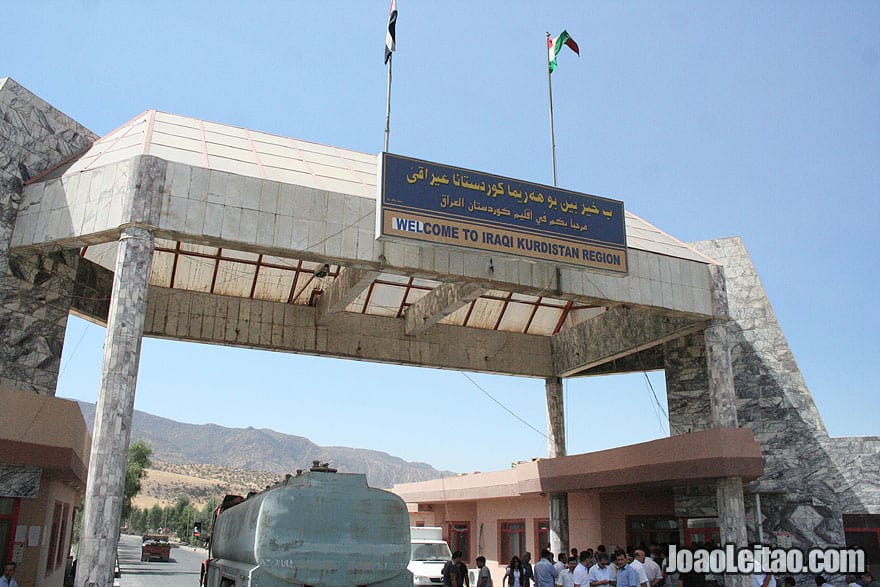 This border between Turkey and Iraqi Kurdistan is also called the Habur Border Gate. It is placed on a bridge which crosses the natural border of river Khabur (or Tigris). Even though we are entering Iraq, the Kurdistan Regional Government is actually in control of the bridge.
The flag of Kurdistan is perfectly visible on the checkpoints where the Kurdish Peshmerga fighters show their authority. At the frontier, the policemen were very friendly and asked me to pose with them for their cellphone cameras. It was like having my own private welcome party.
Visa to the Kurdistan Region of Iraq Republic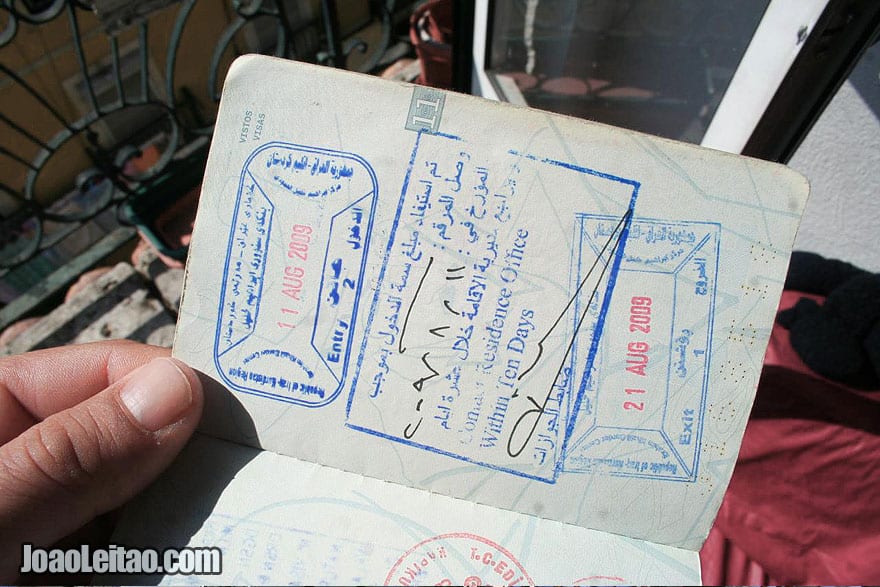 Unless things change, entering the Kurdistan Region of Iraq Republic through the north frontier in Ibrahim Khalil makes it accessible for all travelers of western nationalities to get an automatic and free visa for 11 days.
That was how I got my visa. The bus stopped at the bridge and the driver took everybody's passports except for mine. I was the only westerner on the bus, so I had to go to the border office myself to answer a few questions and take a physical exam to check for H-1 flu.
The border police were very nice and even took pictures with me on their mobiles. It was a great welcoming party.
You need to extend your visa in Erbil in case you wish to stay for more than 11 days. Beware that it is impossible to get a visitor visa to enter the rest of Iraq. If you get caught on the other Iraqi side, outside the Kurdish region, you will be arrested.
Prices and cost of living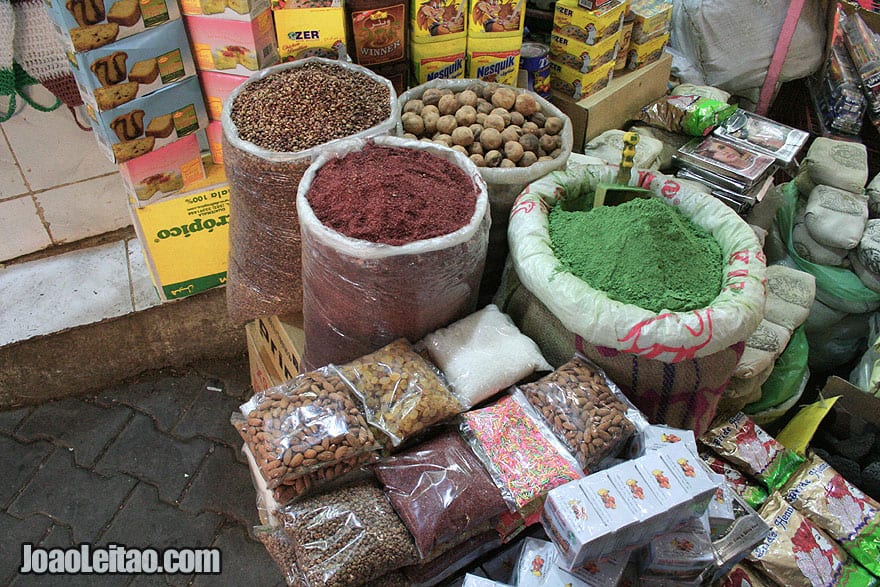 Knowing the price of several items and the overall costs to visit a country gives us a general idea of the amount of money we need to spend while on the road. On this page I make a short list of my expenses while traveling in Iraqi Kurdistan.
1 fruit smoothie = 1000 dinars
1.5l bottle of water = 250 dinars
120gr of honey + honeycomb = 7500 dinars
1 loaf of bread + falafel + salad + potatoes = 500 dinars
1 ice cream = 500 dinars
1kg of bananas = 2000 dinars
1 cup of tea = 250 dinars
½ kg of figs in the market = 1500 dinars
1 big slice of cake = 1000 dinars
Breakfast (3 loaves of bread + sweet cheese + honey + walnuts + tea) = 3000 dinars
Lunch = 3500 dinars
Iraqi Kurdistan Flag = 2000 dinars
1 pair of boxer shorts = 2000 dinars
1 hour of Internet access = 2000 dinars
1 rug 1m x 1,20m = 15 dollars
1 rug 2m x 1m = 45 dollars
City fare on a taxi (Erbil) = 3000 dinars
City fare on a taxi (Dohuk) = 2000 dinars
Other places to explore in Iraqi Kurdistan
Apart from all the places I visited, there are a few more gems to visit in Iraqi Kurdistan. If you have the time, don't miss them.
Erbil and surroundings
Gali Ali Bag
These are the highest waterfalls in Iraq and in all Middle East. Iraqi people love water, and its importance is totally visible in places where natural water sources, river or waterfalls exist. Expect a family oriented place, where people gather to make weekend picnics, take a boat to the small lake and take pictures with the magnificent waterfalls of Gali Ali Bag as scenery.
Ainkawa
Ainkawa is the Christian quarter of Erbil, located on the periphery of the city center. Strolling the streets, you will find diverse churches, restaurants and bars.
Shaqlawa
This town at the green foot of Safeen Mountain is a popular tourist destination for Iraqis because of the cooler air its 1000m / 3280mi above sea level brings. The landscape around is green. The population in Sawlawa is composed essentially by Christians.
Rabban Beya Monastery
It takes a full hour of hiking from Shaqlawa to get to this 4th century monastery built into a rock abyss. The views over Shaqlawa and the valley are supposed to be amazing.
Dohuk and surroundings
Ain Sifni
It is thought that Noah's Ark is kept in the area of this Yazidi community.
Gondik Cave
Behind the village of Gondik, there is a cave with engravings and paintings that allegedly go back to the 3rd century BC.
Delal Bridge
Near the Ibrahim Khalil border crossing, in the town of Zakho, Delal Bridge is thought to be the oldest bridge built with large stones and without machinery in the whole Middle East.
Parastaga Zardasht
Parastaga Zardasht is where you can find an antique Zoroastrian/Mithradate temple recently discovered. To get there, you will have to walk for twenty minutes from Dohuk. Try to pass near the waterfalls in your trek.
Sulamaniyah and surroundings
Sulamaniyah Museum
The second largest museum in Iraq, after the National Museum in Baghdad, holds a collection of artifacts from around the region.
Jewlakan
Jewlakan is the old Jewish quarter in the town of Sulamaniyah, which once had a big Jewish population that mostly emigrated to Israel in 1951. Here, you can cover the narrow alleys looking at the houses made of mud. The synagogues that you will also find have been recently renovated by the government.
Amna Suraka Museum
This museum is a testimony of the terrible treatment the Kurds got during Saddam Hussein's regime. It includes a tour of used interrogation rooms and prisons.
Lake Dokan
Lake Dokan is the largest man-made lake in Iraq. That is why it is so popular for local people trying to relax.
Chami Rezan
These caves are considered the first human ceremonial burial site in the whole world. You need to take a hike to get there. The easy way to visit Chami Rezan is to go on a Kurdistan Tour with the canyon and caves included on its 12-day itinerary around the northern part of Iraq.
NOTE: I've been to Iraq three times. The first time back in 2010, the second time at the beginning of 2016, and the third time just recently in 2018 traveling for one month driving my campervan. Throughout recent years, Iraq has become safer, and there are many areas that can be visited without any issues. If you think you'd like to make such a trip, check out RJ Travel's available Iraqi Kurdistan Tour Packages.
Read my pages:
#Vanlife Iraq: One-month road trip with a Camper Van
31 Lesser-Known Destinations to Visit in Iraqi Kurdistan – Part 1
31 Lesser-Known Destinations to Visit in Iraqi Kurdistan – Part 2