Visit Peru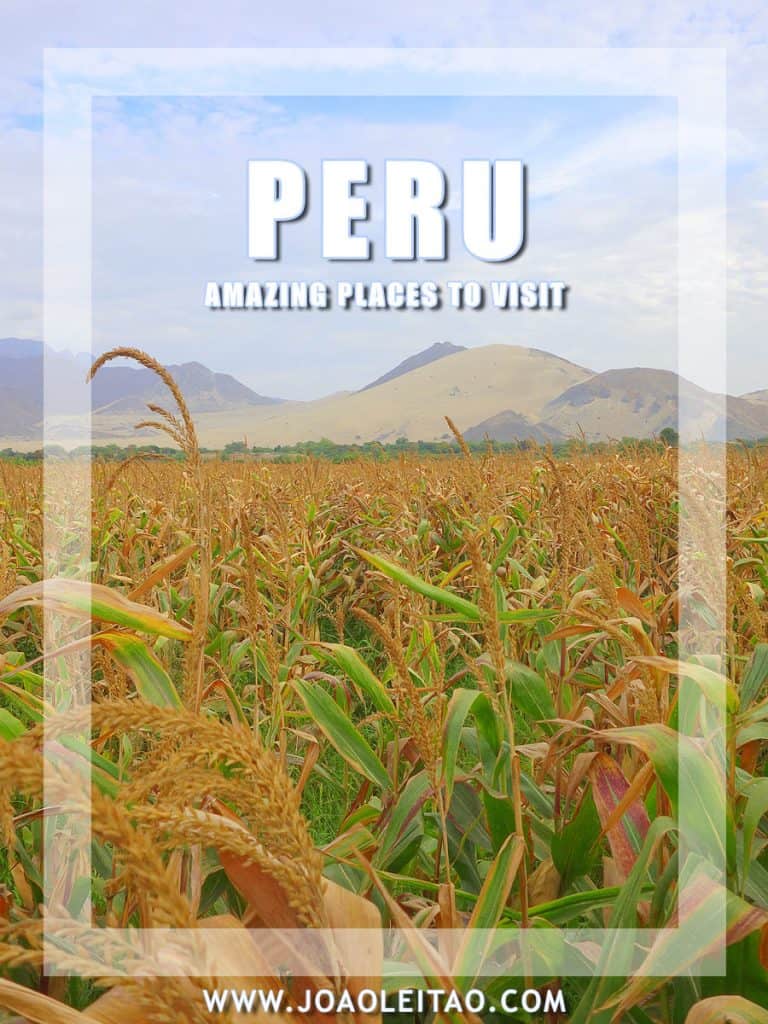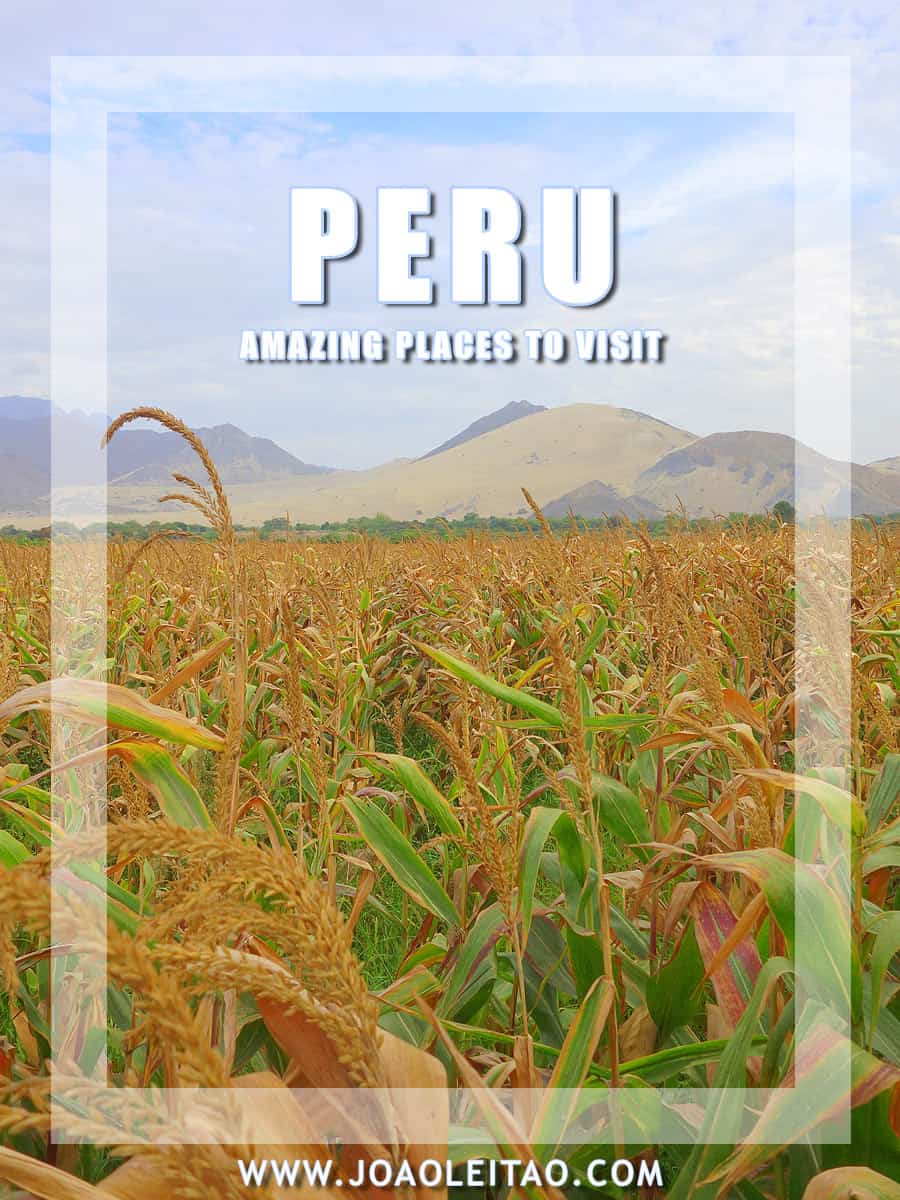 Peru is a country in South America that many people are curious to visit.
The combination of tropical latitudes, vast mountain ranges, several topographical variations and the two oceanic currents, the Humboldt and El Niño, gives Peru a large diversity of climates.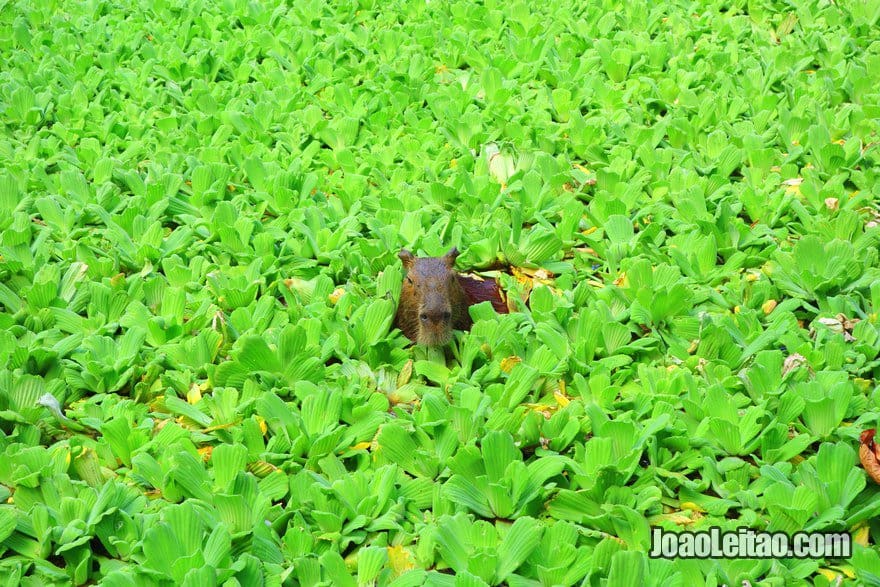 Peru is a country that has jungle, beach, tropical climate, desert dunes, lakes, and mountains over 6000 meters / 19 685 feet high.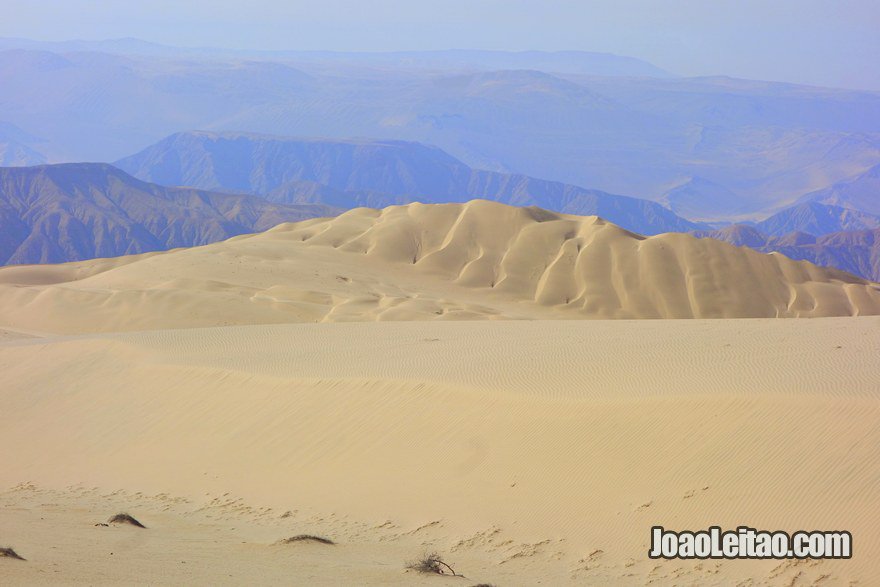 I had the opportunity of visiting Peru three times:
from October 26th until November 16th = 24 days
from December 29th until January 23rd = 26 days
from August 21st until August 30th = 10 days
A total of 60 days.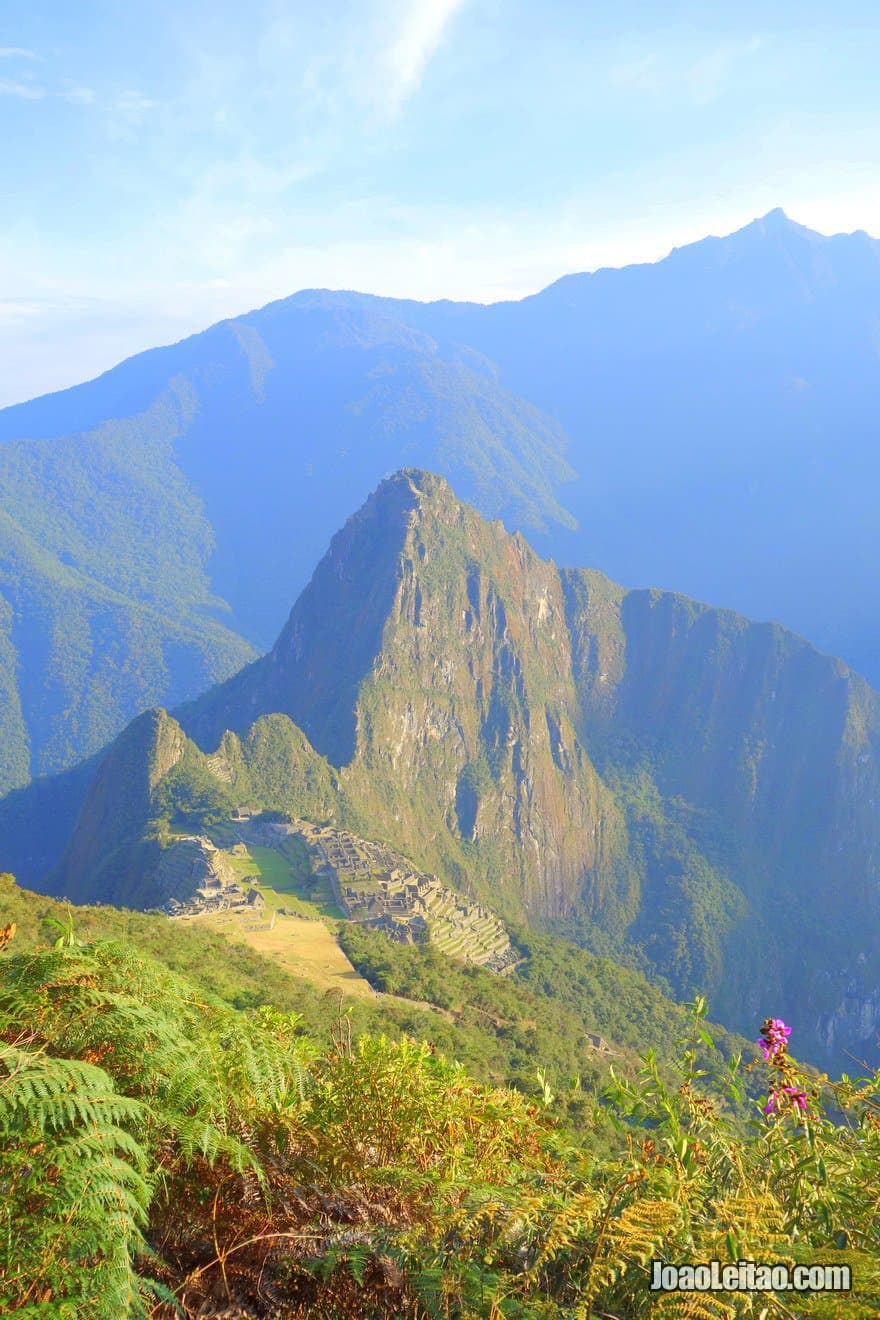 During this time I crossed the country by:
boat, through the Peruvian Amazon, from the border of Brazil and Colombia to Ecuador via Iquitos
driving on my own, north-south – from the border of Ecuador down to Chile
bus, from the border of Bolivia on Lake Titicaca to Chile – passing through Cusco and Machu Picchu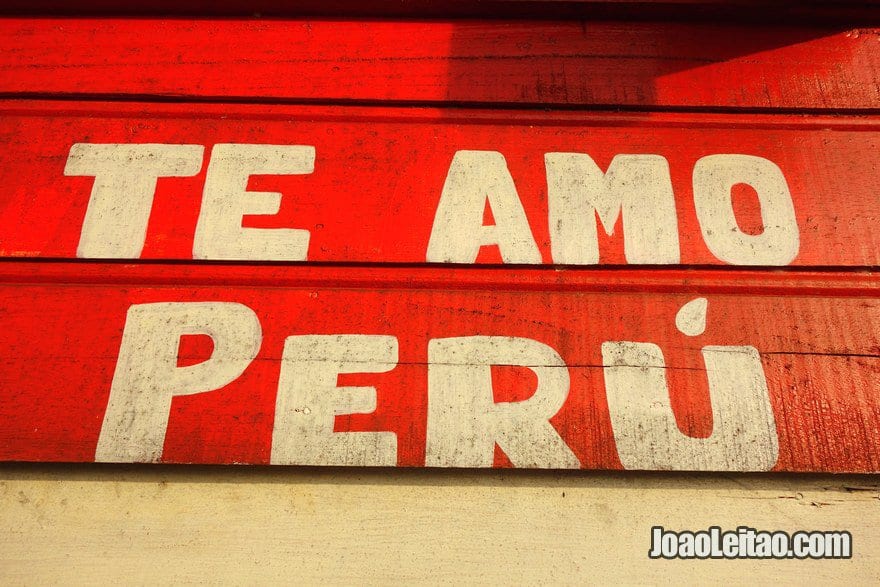 My TOP 11 – Visit Peru
Chankillo Solar observatory and fortress
Petroglyphs of Toro Muerto
11 days boat trip down the Amazon River, Rio Napo and Rio Curaray from Iquitos to the Ecuadorian border
Mausoleums of Revash funerary complex
Nasca region (Ciudad Perdida of Huayuri, Geoglyphs of Pampa del Sacramento, Geoglyphs of Palpa, Nasca Lines, Cantalloc, Los Paredones, Cahuachi Pyramids, Cerro Blanco Dune 2100 meters / 6890 feet, Mummies in the Cemetery of Chauchilla)
Sacred City of Caral Supe and surrounding dunes
Machu Picchu and the Sacred Valley of the Incas
National Reserve of Paracas and Islas Ballestas
Pre-Columbian city of Chan Chan, Religious Center of El Brujo and Huaca del Dragón
Kuelap Fortress
Feeding manatees in the animal sanctuary of Centro de Rescate Amazónico del Perú in Iquitos
79 Amazing Places to Visit Peru
This is a full list of places where I have been during my trip in Peru. At the end of this page you can leave a comment telling me about your favorite place. Thank you.
(This list is in order of visit)
1- Visit Islandia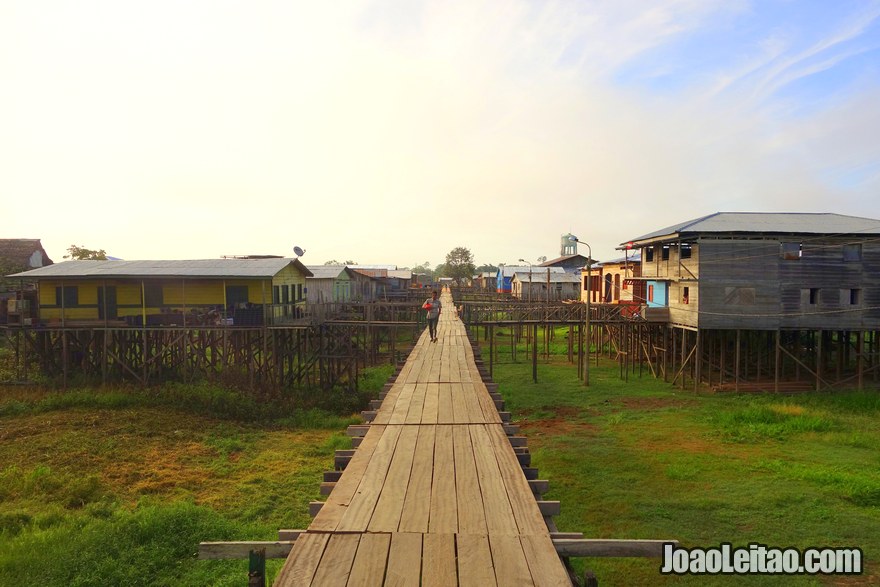 The small village of Islandia is often called as the Peruvian Venice. It is located on the border with Brazil, near the town of Benjamin Constant in the Amazon region. This is a very nice Peruvian jungle type of village with stilt houses. People are very friendly and don't see foreigners that often.
2- Visit Santa Rosa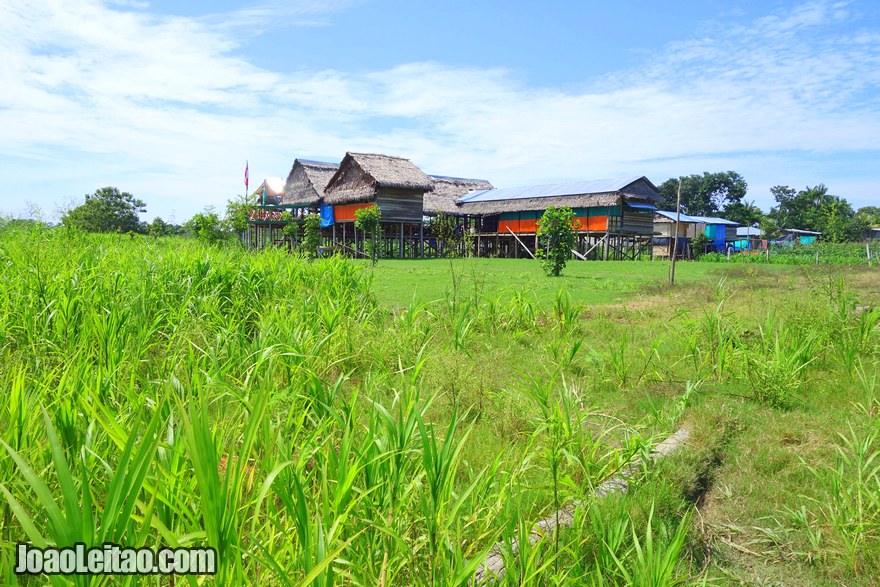 Santa Rosa lies on the triple border of Brazil, Colombia and Peru. This is the place from where you get a 3 day boat up the river all the way to Iquitos. Santa Rosa is not developed at all. Apart from a small village center where a few hotels, shops and the immigration office are located, all you have are jungle type of stilt houses.
3- Visit Caballo Cocha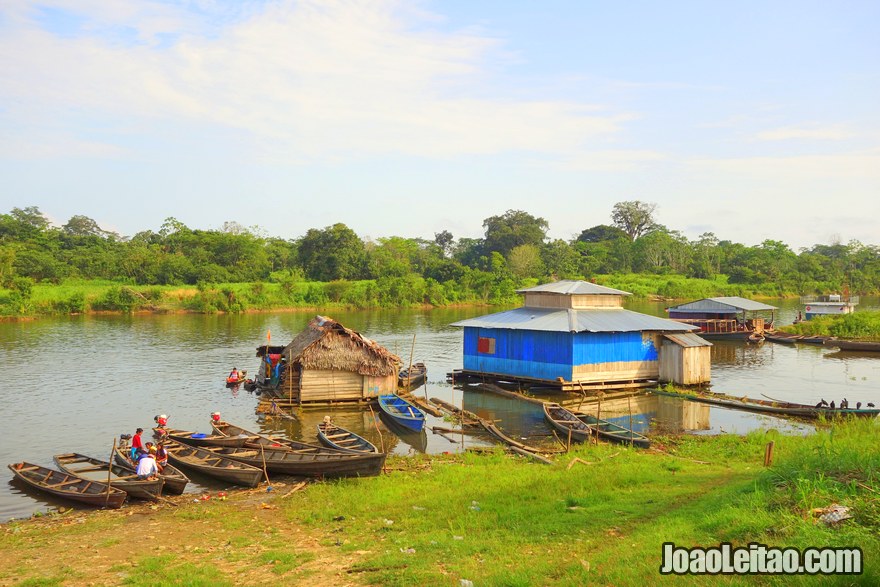 Caballo Cocha is a little town in the Peruvian Amazon Loreto region. It was settled by European missionaries many centuries ago. There are flights from Caballo Cocha to Iquitos three times per week. You can also reach Caballo Cocha by boat from Iquitos, down or up the Amazon river.
4- Visit Iquitos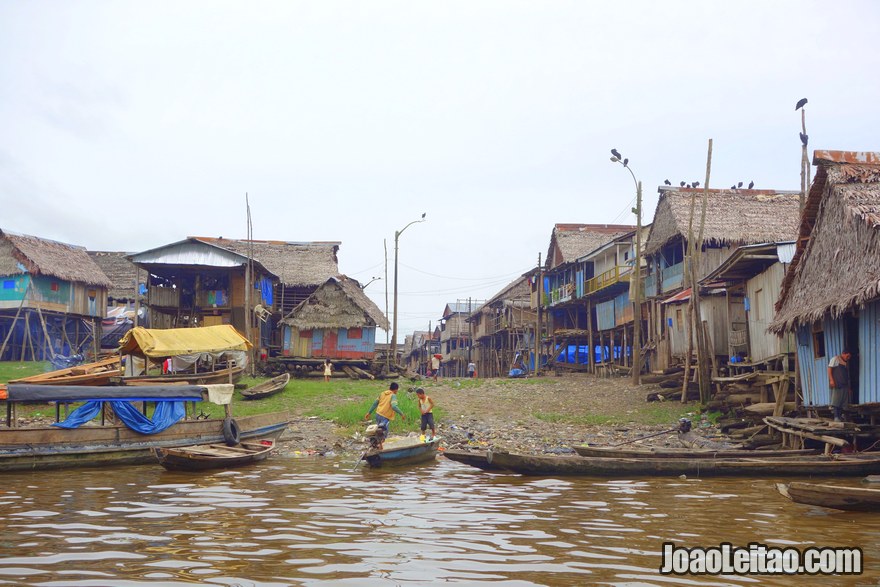 Iquitos is the capital of Loreto region and the biggest city in the Peruvian part of Amazon rainforest. It is not connected by land to any other place, so the only way to get there is by air or by a few days boat trip along the Amazon river. You will see heaps of "motocarros" (tuk-tuk) but only a very few cars in Iquitos busy streets. Not to be missed are the Barrio de Belén district and Iquitos market, which is the largest traditional market in the Peruvian Amazon. In the city center, the most important monuments and sightseeing points are The Plaza de Armas, Iglesia Matriz and Casa de Fierro.
5- Visit Quistococha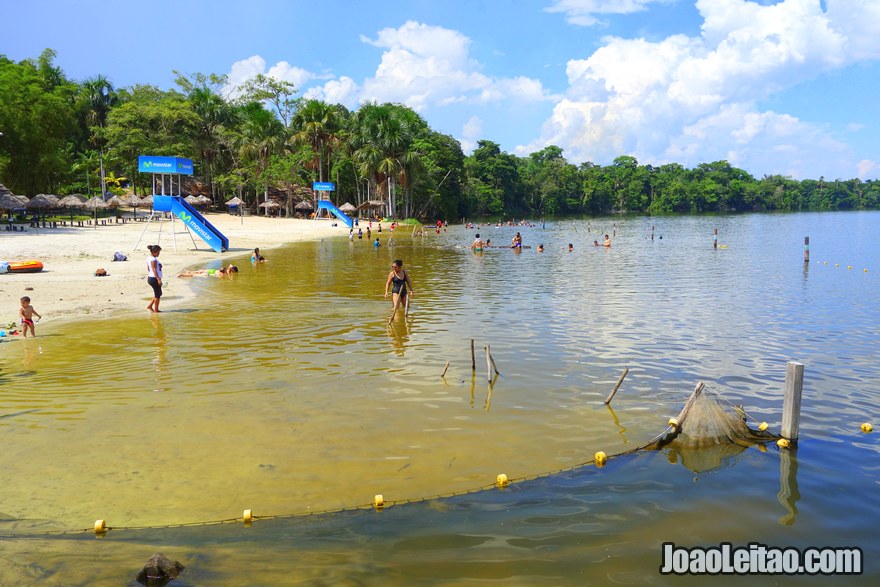 The Laguna de Quistococha is located near Iquitos and serves as a recreational place for locals. On the spot, apart from a pleasant sandy beach, there is a very sad zoo with collections of jungle animals, which are kept in rather poor conditions, except for capybaras that look happy and settled.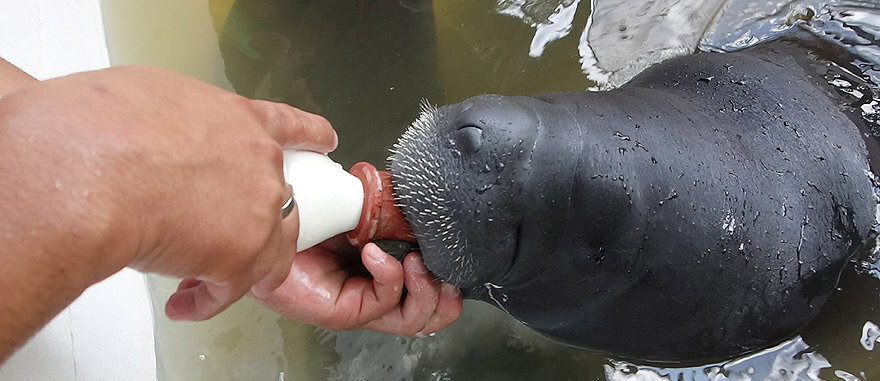 Very near Quistochoca there is the animal shelter and sanctuary of Centro de Rescate Amazónico del Perú. Here, hurt animals are taken of care before returning to their natural habitat. You can feed baby manatees by yourself.
Video of feeding orphan manatees:
6- Visit Bellavista Nanay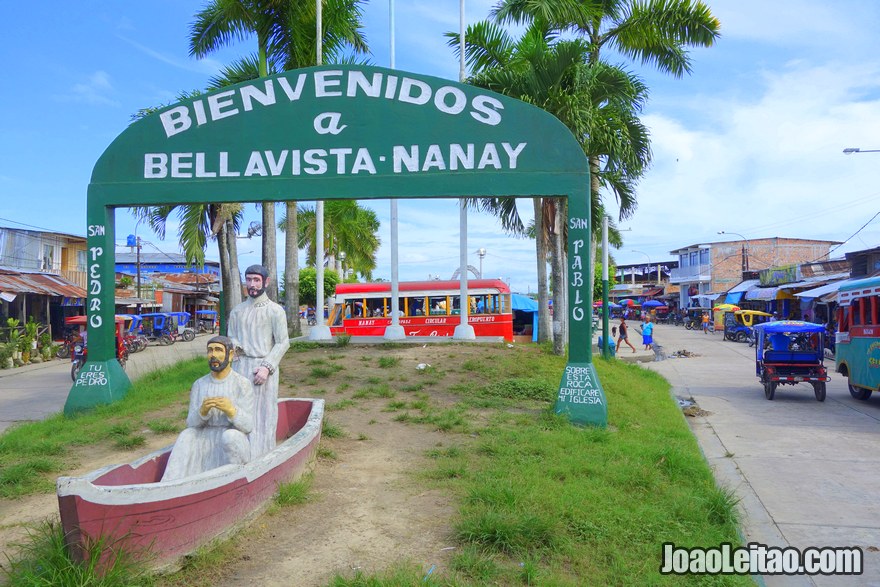 North of Iquitos lays a port town called Bellavista Nanay. You can see and eat a whole range of exotic delicacies and local food in Bellavista Nanay's market. During the weekend this place is full of people having lunch. Dozens of little street food vendors grill fish, alligator and turtle on site. Boats to Padre Cocha leave from the port in Bellavista Nanay.
7- Visit Padre Cocha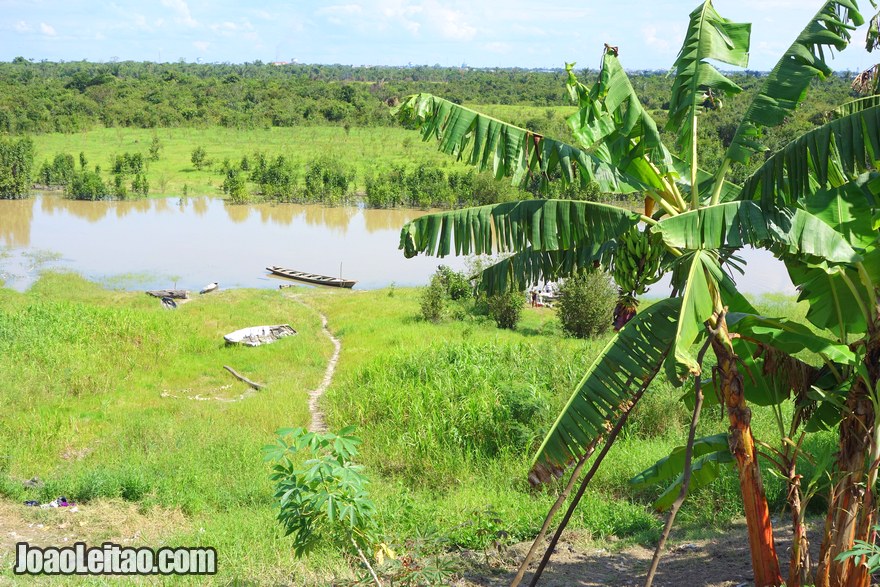 The village of Padre Cocha is located on the banks of the Nanay River. Padre Cocha is 20 minute boat ride from Bellavista Nanay's port and can be visited on a day trip out of Iquitos.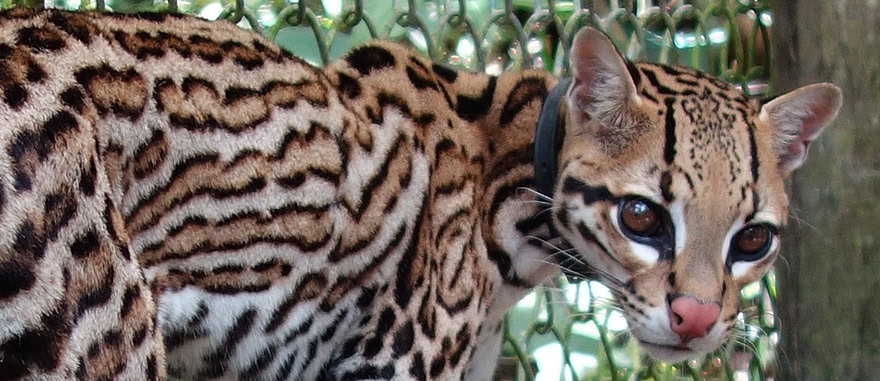 In Padre Cocha you can find the fantastic Amazon Wild Life Animal Orphanage and Pilpintuwasi Butterfly Farm, a non-profit organization founded by an Austrian woman, which helps animals rescued from the hands of poachers.
You can read more about: the Amazon Animal Orphanage and Pilpintuwasi Butterfly Farm in Padre Cocha http://www.amazonanimalorphanage.org/
8- Visit Napo River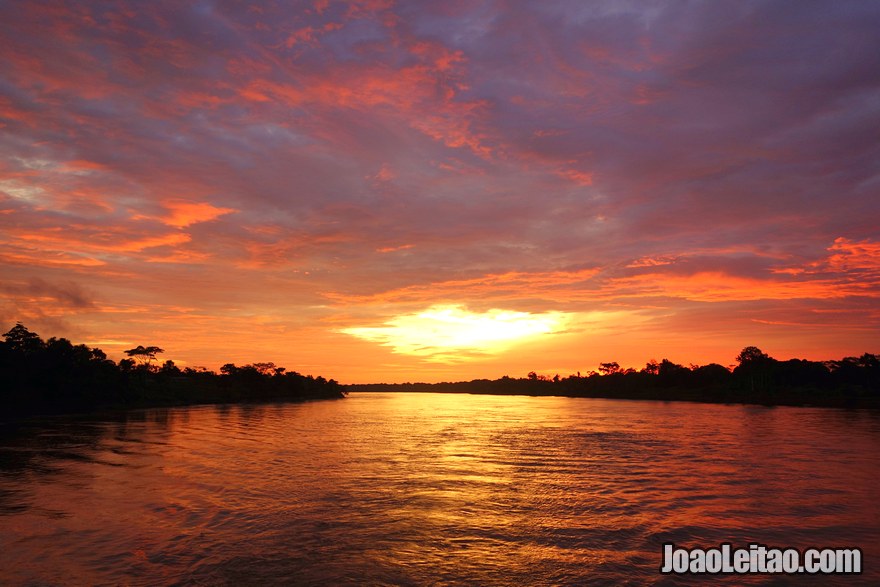 Follow the steps of the first Amazon River explorer, the Spaniard Francisco Orellana, who cruised all the way from the Atlantic Ocean to El Coca in Ecuador. It was previously thought that the Napo River aka Rio Napo, was a continuation of the Amazon River. The boat trip from Iquitos to Cabo Pantoja (border with Ecuador) can take up to 11 days.
9- Visit San Luis de Tacsha Curaray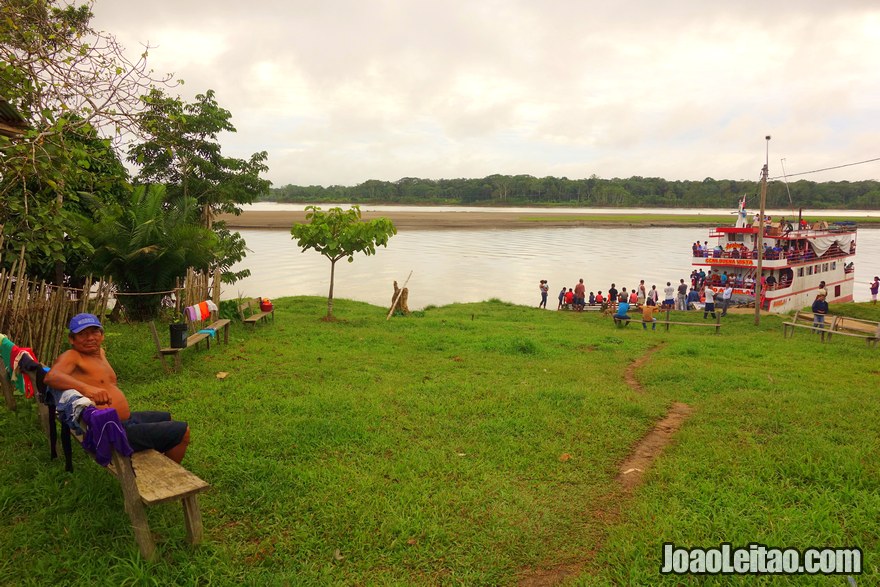 The small village of San Luis de Tacsha Curaray is one of the stops for boats that travel along the Napo River. The arrival of the boat is a big day for villagers, as some of their life basic supplies relies on them. People in this peaceful jungle community are very friendly and you can stroll along the main street with wooden houses.
10- Visit Baja de Santa Clotilde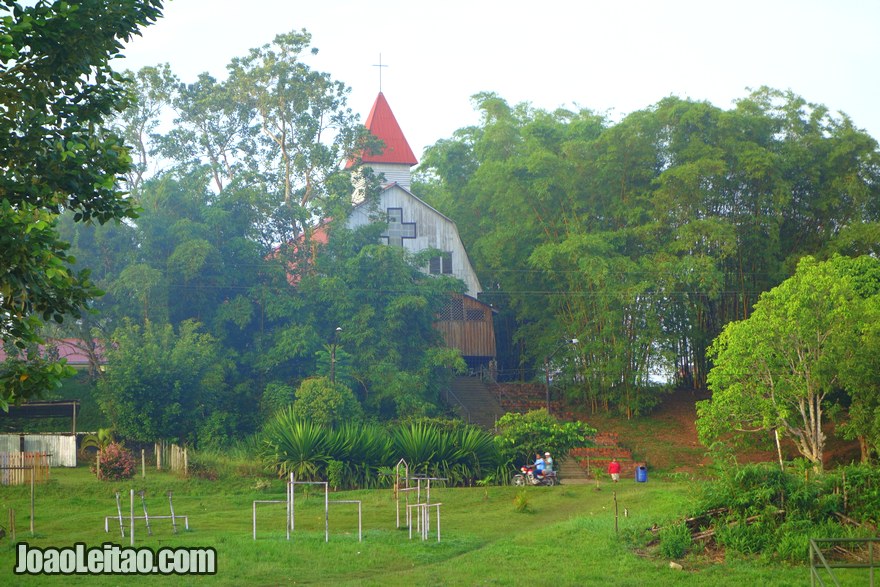 Baja de Santa Clotilde is located half way between Iquitos and the border town of Cabo Pantoja. Santa Clotilde is the main village on the route to the border with Ecuador. This peaceful village has a very nice river bank market, an incredible church and a little square with the statue of Santa Clotilde – the village Patron Saints. The village wooden church is probably one of the most beautiful in the Peruvian jungle. Every 10 or 15 days, the most waited moment for the local population is the arrival of the cargo / passenger boat.
11- Visit Curaray River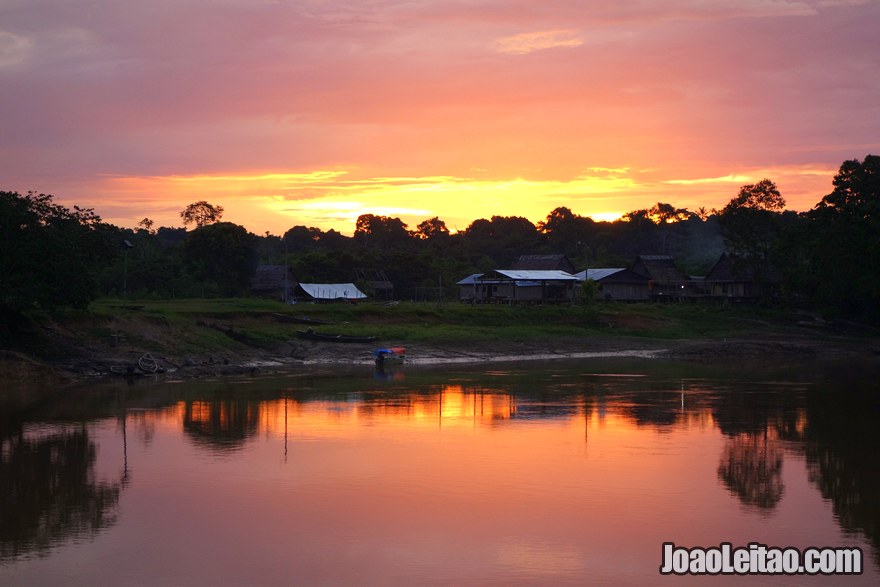 For those crossing the northern part of the Peruvian jungle, the Curaray River promises great memories and unforgettable scenes within the Amazon basin. This is a very beautiful part of Peru, home of Kichwa and Huaorani indigenous people.
12- Visit Buena Vista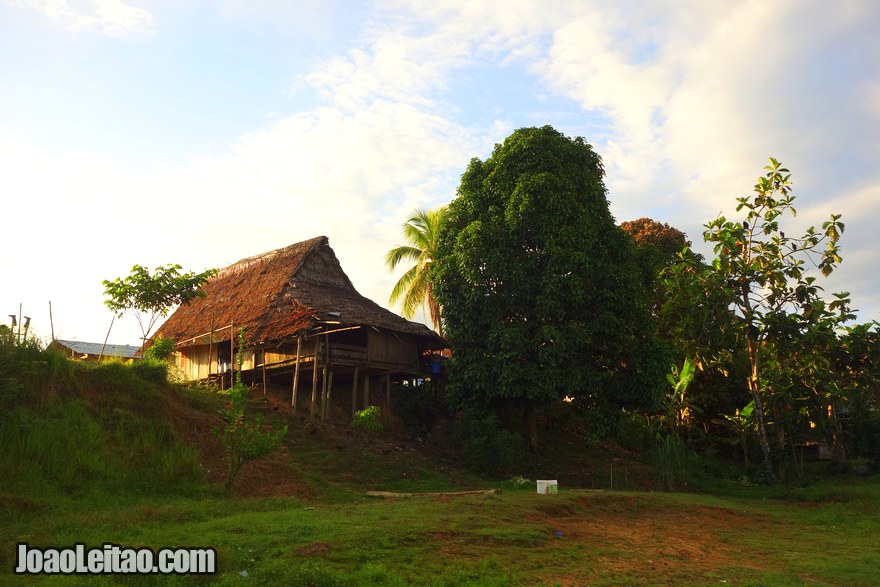 The jungle community of Buena Vista lays deep inside the Peruvian Amazon Rainforest. I was lucky that my boat made a 3 day detour to reach this place and deliver goods. It was also the village where our captain was from, so while he was visiting his family, we had plenty of time to look around. The local school is well worth a visit as they have a very interesting project to revive the nearly extinct indigenous Arabela language.
13- Visit Torres Causana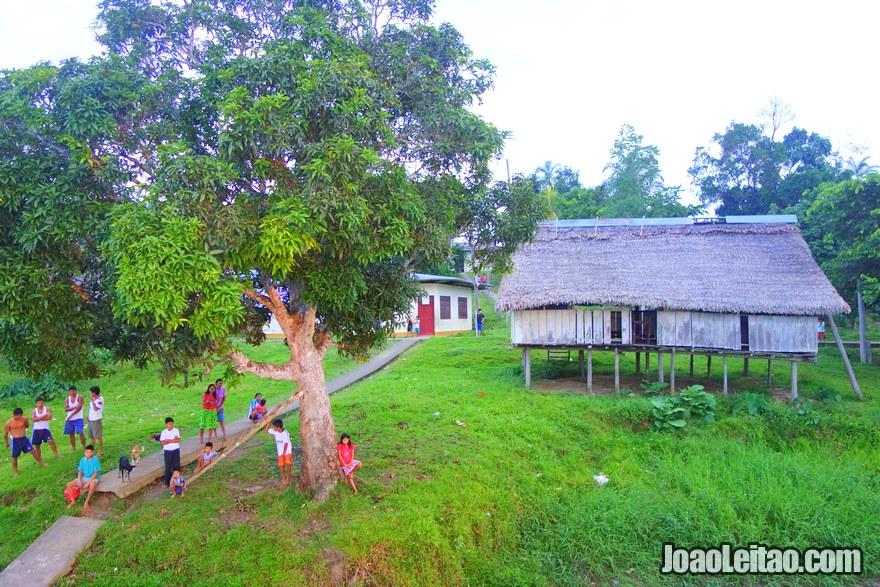 Located along the Napo River, Torres Causana village has beautiful stilt wooden houses. You can go up the hill to enjoy the views over the Amazon. The village has a few small shops and two churches and people are quite curious and friendly.
14- Visit Tempestad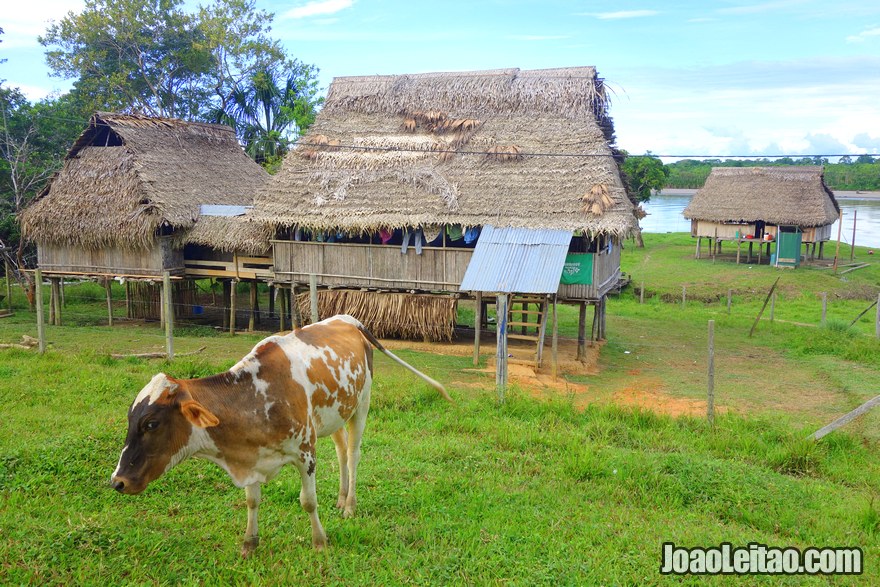 As the boat approaches the shores of Tempestad, all villagers, dogs and curious cows, come to greet the boat arrival. Tempestad has many wooden stilt houses, cows, some government buildings, a soccer pit and very welcoming people. That's all about it.
15- Visit Cabo Pantoja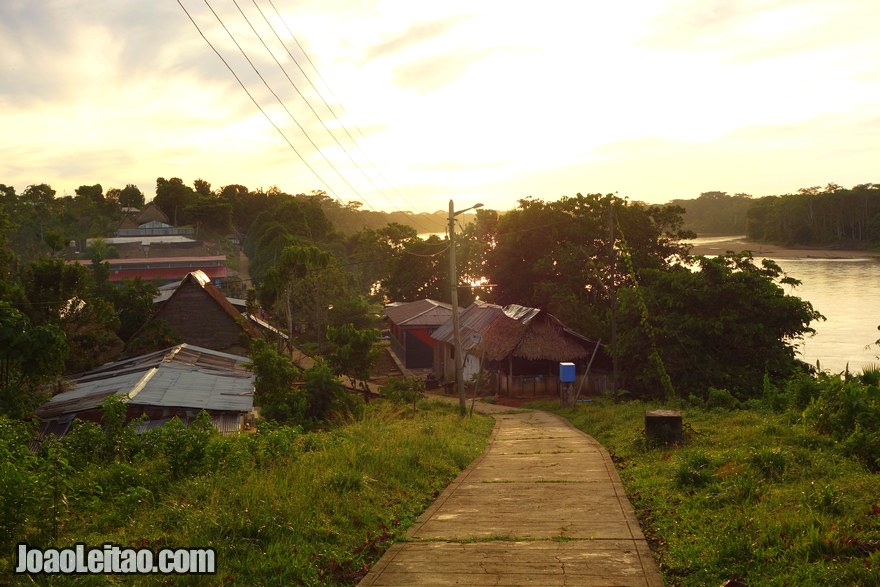 Cabo Pantoja is a Peruvian village at the border with Ecuador. The nearby hill is occupied by a military base. The actual land of the army base used to belong to Ecuador, but due to some heavy fighting between the two countries, now it belongs to Peru. The Ecuadorian village was moved further up the Napo River to Nuevo Rocafuerte. Pantoja is the place for immigration procedures (where you get your passport stamped) coming in on out of Peru. Small boats roam up the Napo to Ecuador and a bigger boat goes down all the way to Iquitos every 10 days.
16- Visit La Balsa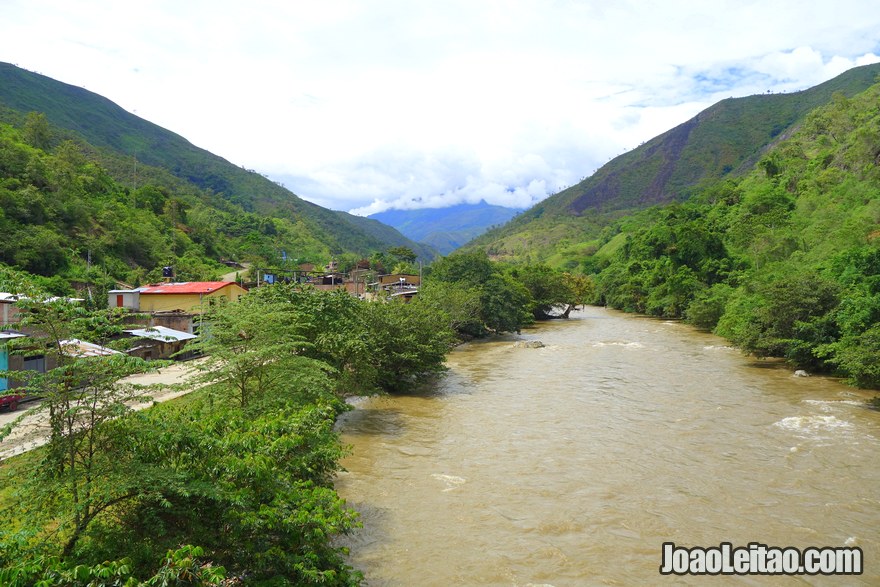 Balsa is known as the most remote and relaxed border crossing between Peru and Ecuador. The two countries are separated by a river and you cross the bridge to reach the other side. Hassle free, no crowds, easy and friendly immigration officers. Quick border crossing.
17- Visit Pucapamba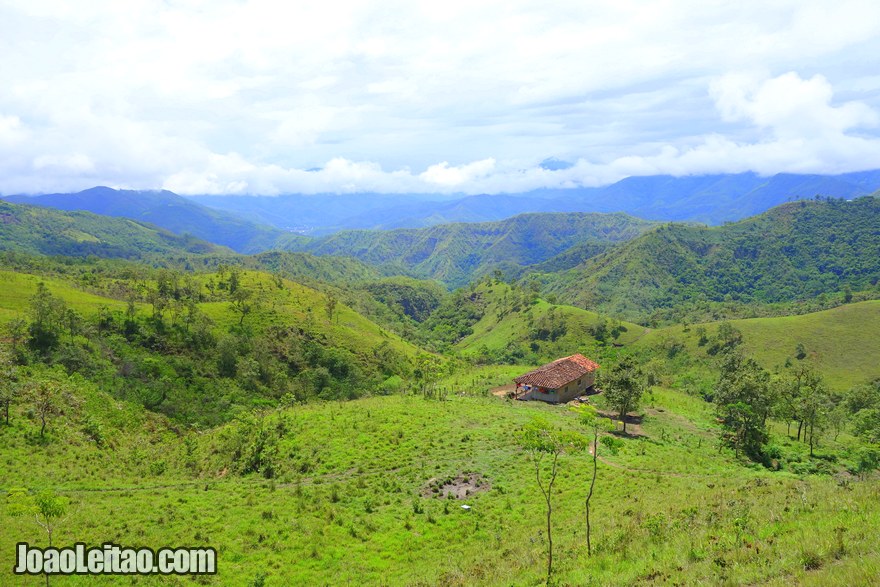 Pucapamba region of Peru near the border with Ecuador has great landscapes and rural mountain beauty. Green mountains, valleys and an astonishing river crossing.
18- Visit Baños Termales Almendral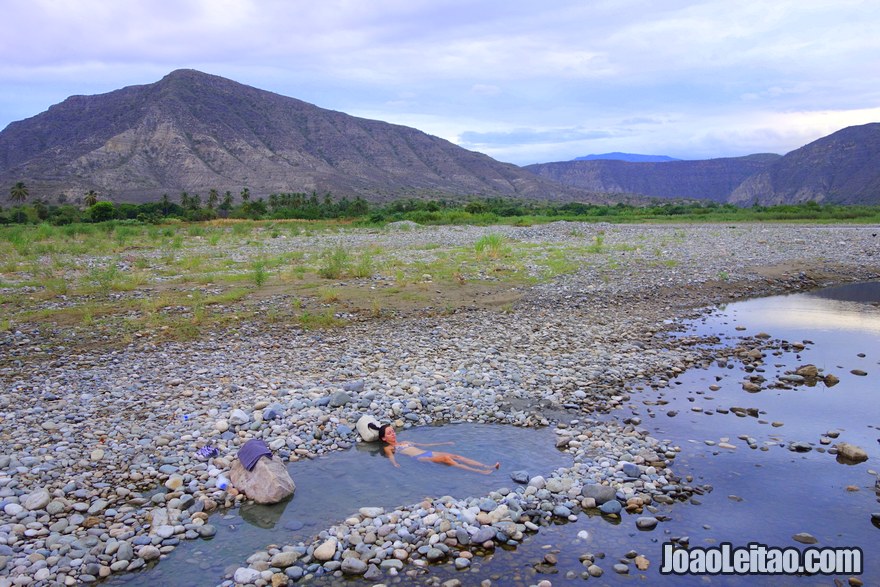 Baños Termales del Almendral are hot springs with sulfur water, located in the region of Jaén. The whole place is very wild, and apart from some basic facilities, there are no man made constructions around the area. The actual pool consists of a natural river bed made of rounded river stones and flowing water. You can camp and enjoy the nature.
19- Visit Alva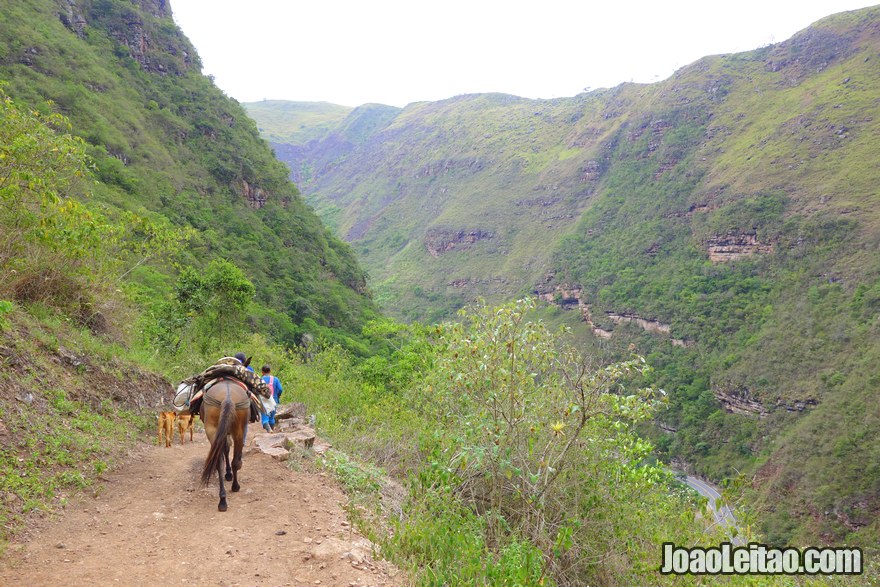 In the historical and cultural landscape of Alva there are some ruins of an ancient settlement and very old rock paintings. Local people cross these mountain tracks on their way to the nearest city. Hiking in the mountain takes them around 6 hours to get to the main road. Then, they tight their donkey to the tree and hitchhike to the market where they will buy basic goods like flour and sugar.
20- Visit Catarata Gocta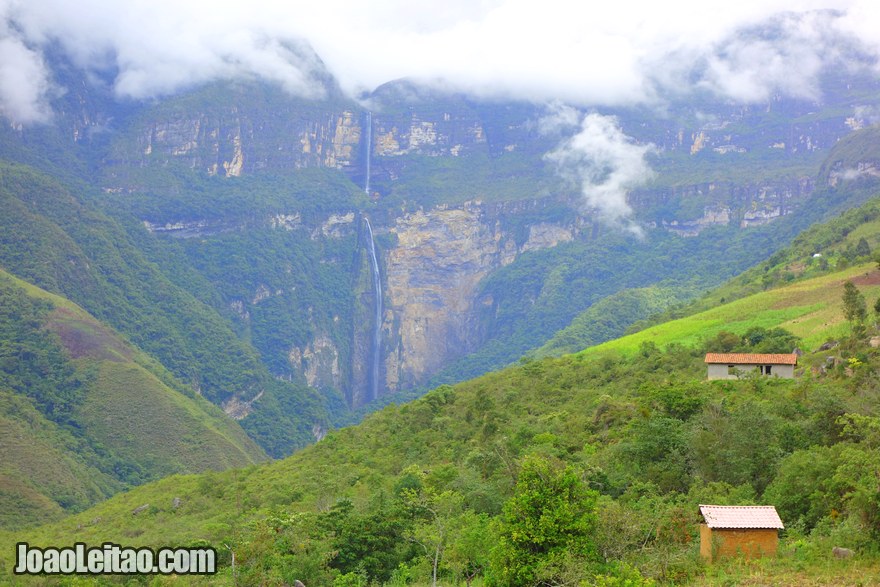 Gocta waterfall, also known as La Chorrera, is located in Chachapoyas region. Gocta is 771 meters / 2530 feet high, making it the fourth highest waterfall in the world. The hike to the bottom of La Catarata Gocta takes around 2 hours.
21- Visit Pitaya Petroglyphs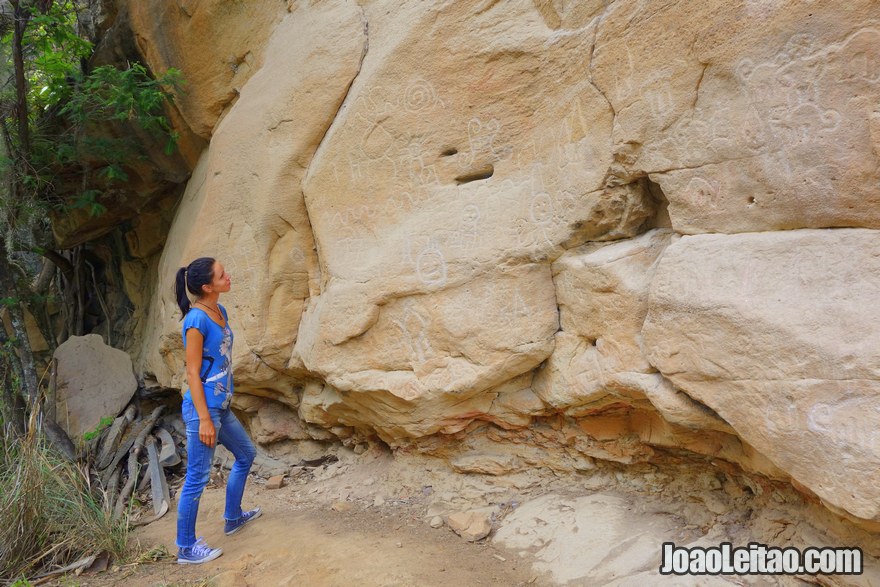 The Petroglifos de Pitaya are located aside of the road, 20 km / 14 mi from the city of Chachapoyas. These 3000-year-old petroglyphs are made with scraping technique. There are over 30 rock engravings representing local flora, fauna and hunting scenes. The Pitaya Petroglyphs are free to visit.
22- Visit Karajia Sarcophagi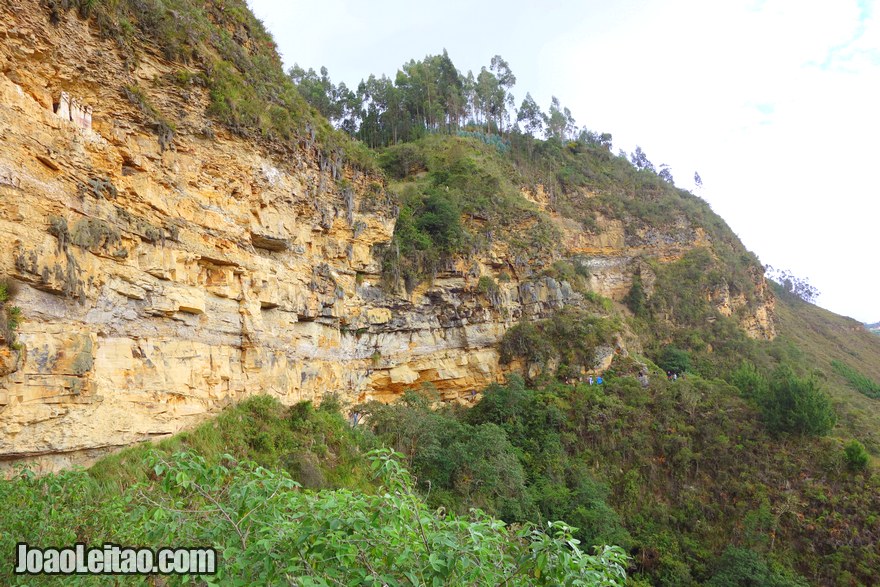 The mysterious sarcophagi of Karajía are located in the northern part of Peru. According to the funerary tradition of the Chachapoyas, coffins with mummies of famed warriors were placed on a high mountain cliff overlooking the valley. The Karajia sarcophagi are known locally as Purunmachacos. These thousand-year-old sarcophagi are impressive and definitely worth a visit.
23- Visit Lamud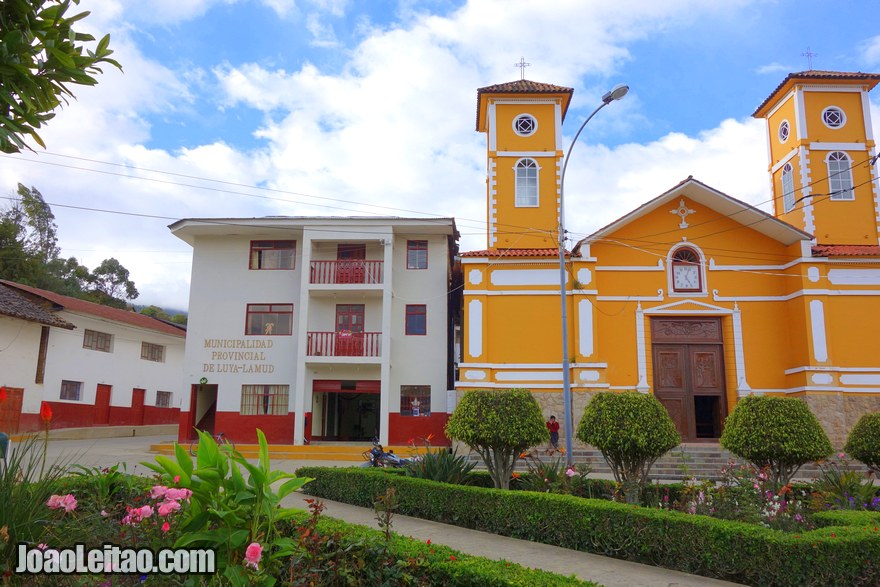 Lámud is a small town located in the Peruvian Amazonas region (not to be confused with the name Amazon). Lamud serves as base to explore the area of the Pre-Inca Chachapoyas culture, with many historical heritage, like caves, ruins and the impressive Pueblo de los Muertos. Lamud is built with Spanish colonial architecture style, with a beautiful main square with a church and other colonial buildings.
24- Visit Pueblo de los Muertos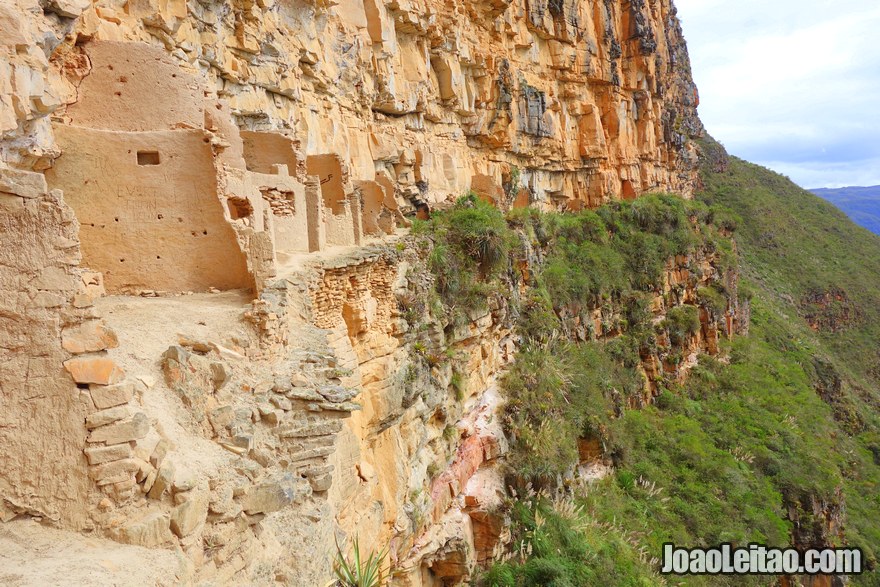 The impressive Pueblo de los Muertos literally translates to City of the Dead. The ruins of Pueblo de los Muertos niche tombs are built of stone and adobe bricks. Located on a rocky cliff at 2329 meters / 7641 feet, it takes about 1:30 hour to reach them. It is said that some of the tomb's walls had designs exactly like the Egyptian hieroglyphics. Not many people visit the place since it is a bit hard to get there.
25- Visit Luya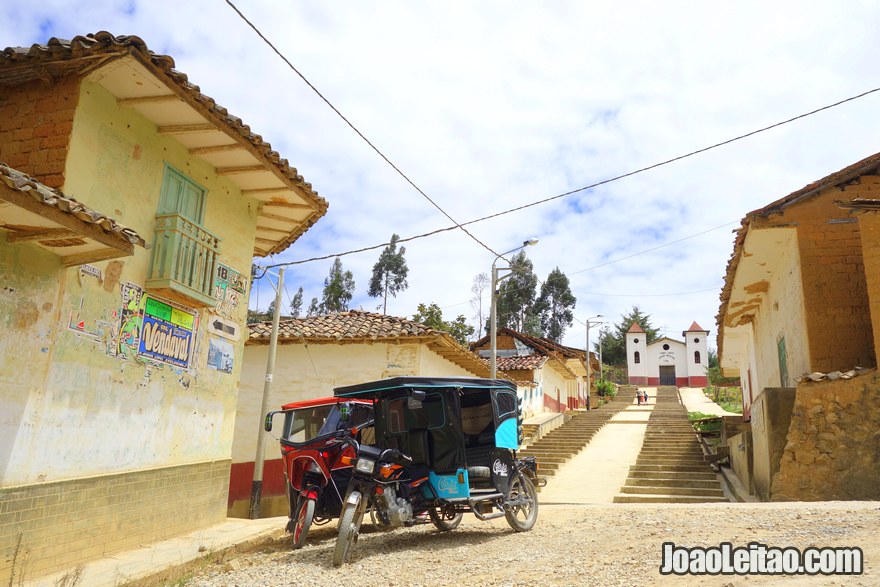 The town of Luya in northern Peru is located somewhere between the Peruvian rainforest and the highlands. Luya is a small pretty town with colonial architecture style. Enjoy the peaceful way of life of locals, while sipping a glass of fresh fruit juice and eating a slice of homemade cake in the town's market. Luya serves as base to reach the sarcophagi of Karajia.
26- Visit Chachapoyas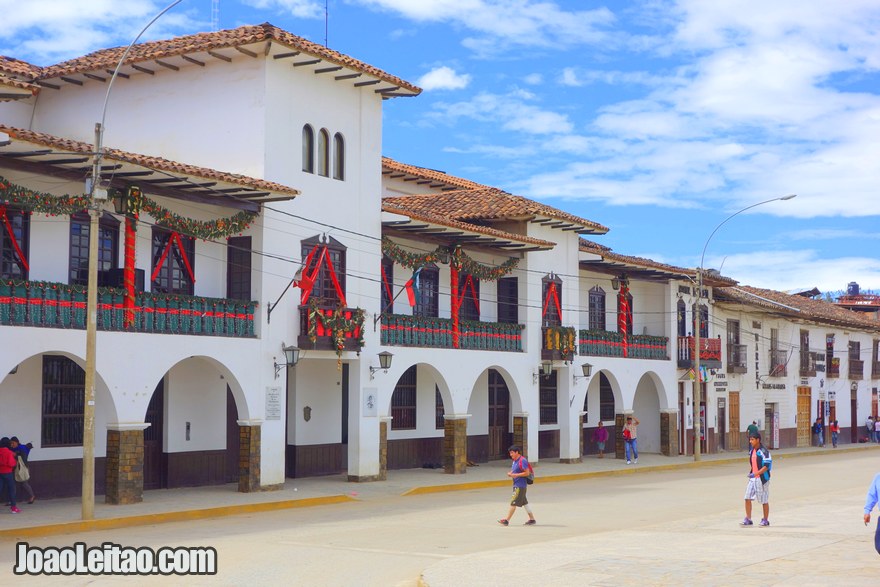 Chachapoyas is the capital of the Region Amazonas. Laid-back Chachapoyas is the region's most authentic Spanish colonial city. Chachapoyas surroundings are full of amazing landscapes and archaeological treasures.
27- Visit Kuelap Fortress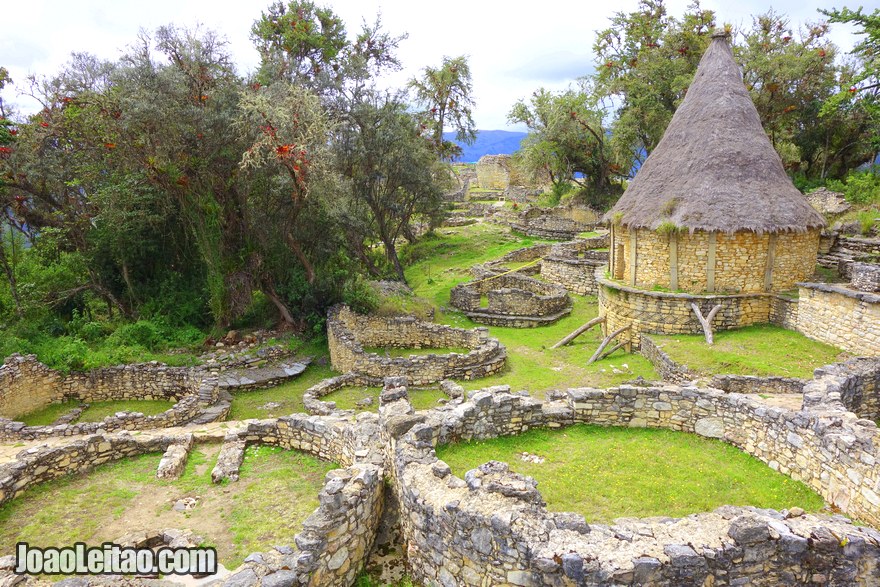 The Fortress of Kuelap, in northern Peru, is a massive ancient stone city built on top of a mountain at 3000 meters / 9842 feet. Its strategic position guarantees excellent views of the surrounding mountainous area. Kuelap is the largest stone structure of South America and it is said to have been built around the 7th century BC.
28- Visit Revash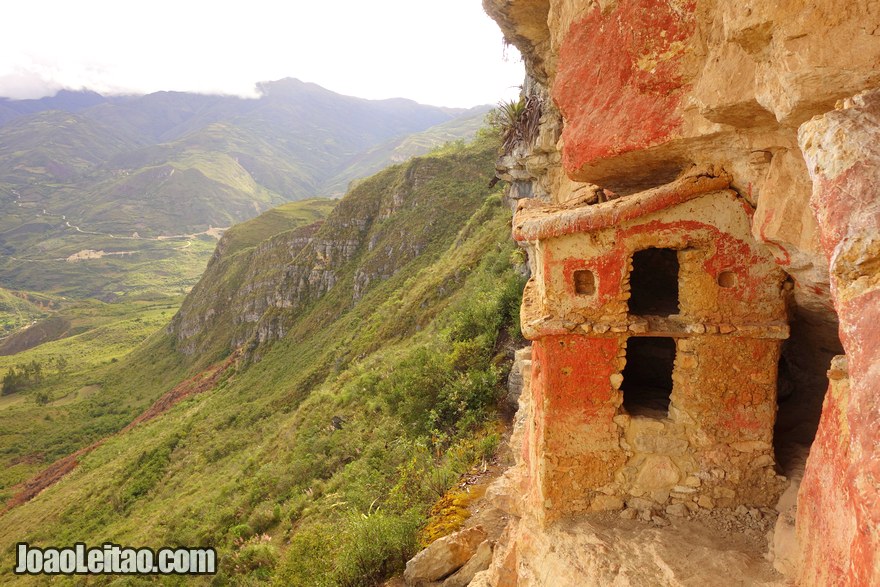 The incredible funerary complex of Revash is built into the side of a rocky cliff 2800 meters / 9186 feet high. The location, architecture and original paintings of this necropolis are astonishing. This is one of the best places to visit in Peru. Bonus – because it is very hard to get there, you can have the place just for yourself.
Video of walking in Revash necropolis:
29- Visit Duraznopampa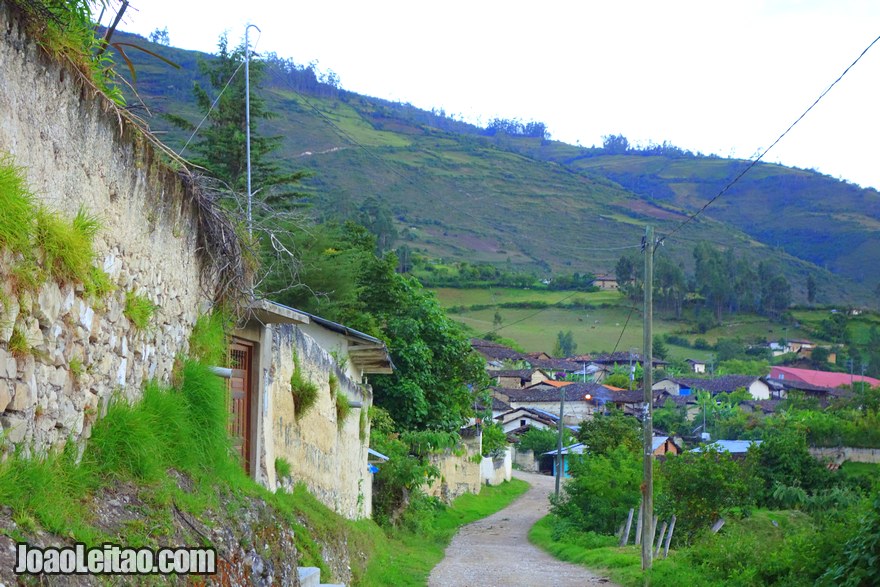 Peaceful mountain village of Duraznopampa on the way to Cerro Olan. I was lucky to see the Ritual of the Yunza (or Umisha) that marks the start of Carnival season. Duraznopampa village gathered around an artificially planted tree decorated with gifts and sweets. Married couples begin to chop the tree with a machete – one strike at a time per couple. Whoever makes the final chop that leads to the fall of the tree will be in charge of the festival the upcoming year.
30- Visit Cerro Olan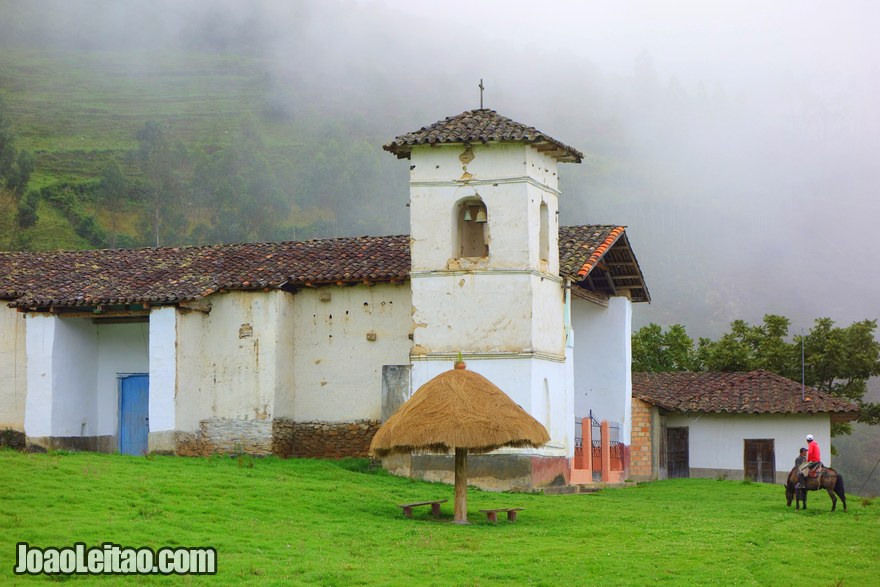 In the mountains of northern Peru there are plenty of hidden treasures from Pre-Inca times. Nearby San Pedro de Utac village is the starting hiking base to find the Cerro Olán ruins of ancient towers that are said to have roofs like medieval European castles.
31- Visit Leymabamba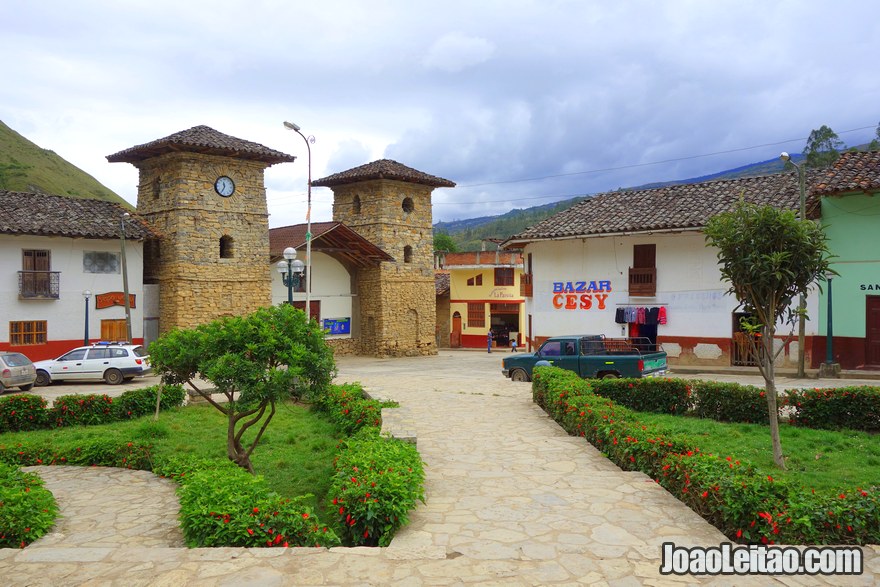 Leymabamba holds a famous museum also called as The Mummy Museum. This museum displays more than 200 mummies and many other funeral artifacts. Leymabamba also serves as base to visit the Lake of the Condors or Revash Necropolis. The town center is very beautiful with a nice busy market, colonial architecture and a main stone church.
32- Visit Rio Maranon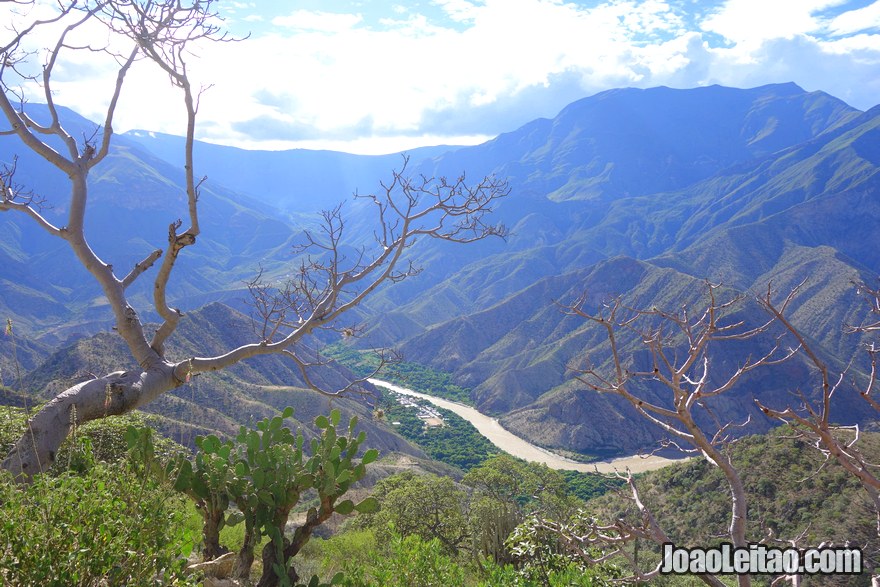 The Rio Marañon is one of the principal sources of the mighty Amazon River. In its most beautiful part, between Leymabamba and Cajamarca, Marañon River is meandering calmly through diverse landscape, changing from high altitude rainforest into deserted mountains. Truly amazing place.
33- Visit Cajamarca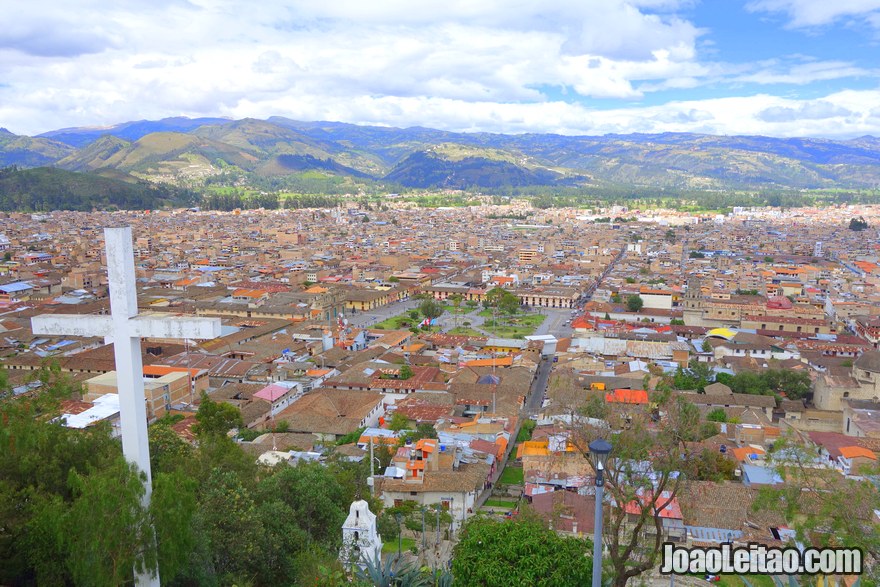 The ancient city of Cajamarca is located on a valley inside the Andes Mountains. The history of Cajamarca dates back 3,000 years and spans cultures from Huacaloma until the Incas. Cajamarca was a very important city for the powerful Inca empire. Here, the Spaniards executed the last Inca Emperor. Carnival in Cajamarca is listed among the most colorful carnivals in Peru. The busy food market near Plaza de Armas is a great place to eat good and cheap. Cajamarca is a UNESCO World Heritage site.
34- Visit Ruta del Agua Cumbemayo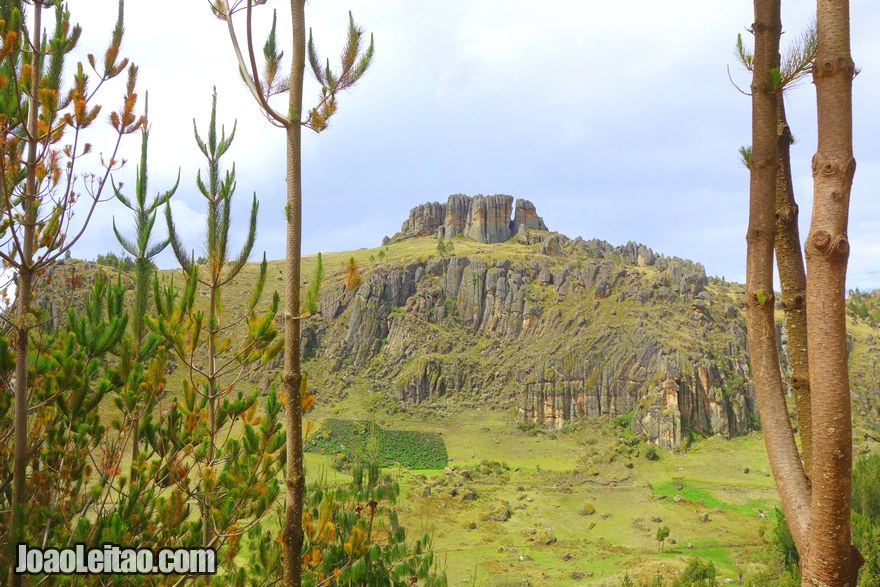 Pre-Inca Cumbemayo Aqueduct is the biggest man made stone work in South America. You can hike among amazing water channels carved in the natural volcanic rock. The archaeological complex of Cumbemayo, built at an altitude of 3300 meters / 11000 feet, is located 19 km / 14 miles away from Cajamarca.
35- Visit Ventanillas de Otuzco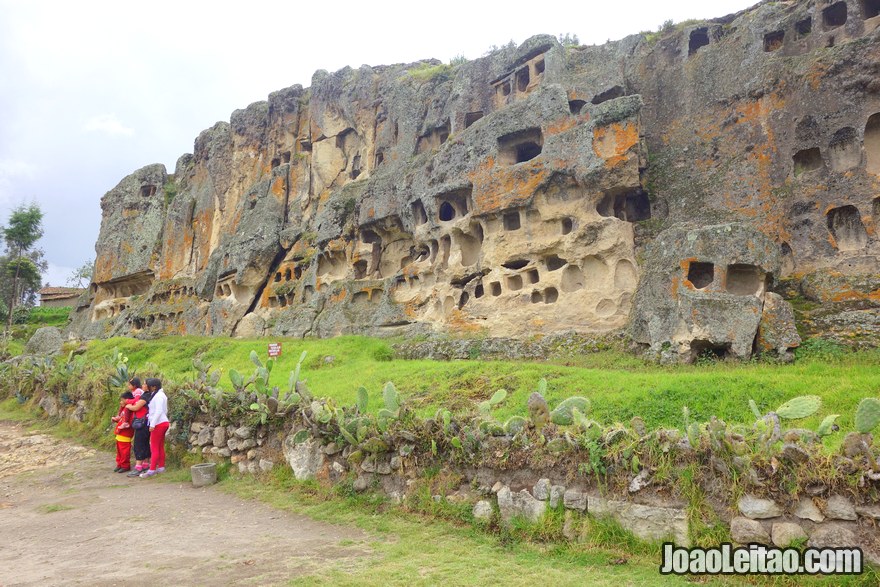 Ventanillas de Otuzco is another Pre-Inca treasure near the historical city of Cajamarca. Otuzco is a burial place from the Caxamarca culture. The cemetery consists of burial niches carved into the side of a rock. A system of tunnels discovered behind the niches created the myth of a secret tunnel connection between Cajamarca and Cusco near Machu Picchu.
36- Visit Kuntur Wasi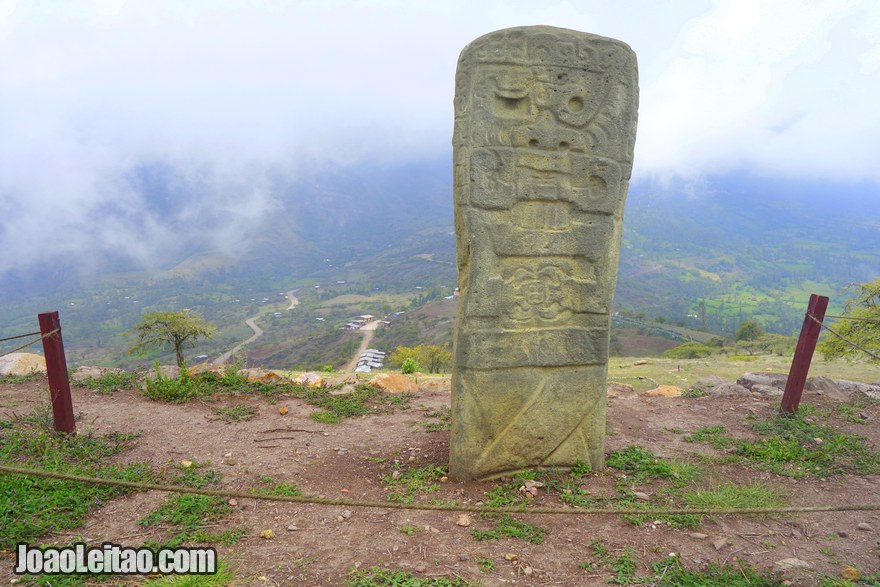 Kuntur Wasi temple and tombs date back from 1200 B.C and were continuously occupied during 1000 years. The archaeological complex and ceremonial center of Kuntur Wasi is located 70 km / 43 miles away from Cajamarca. Kuntur Wasi in Quechua literally means House of the Condor.
37- Visit Trujillo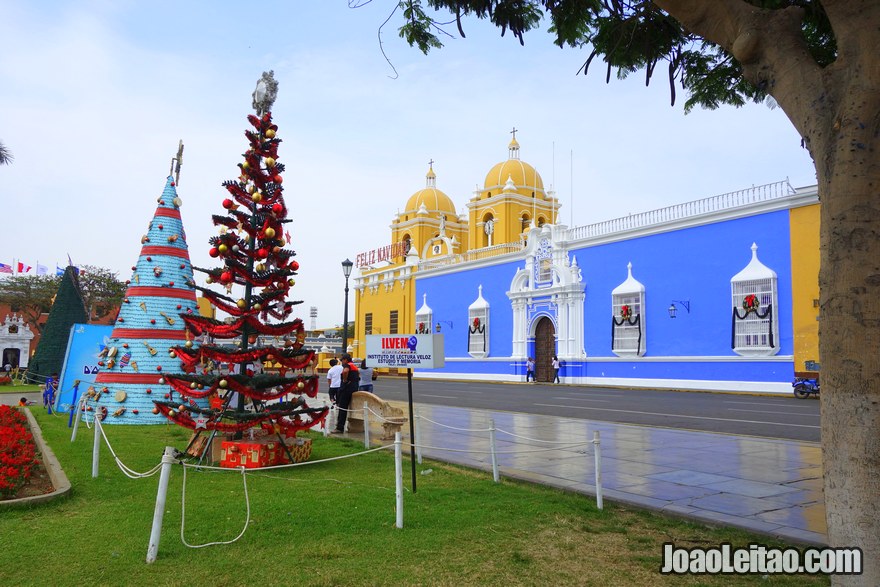 Trujillo is located on the Pacific coast of Peru. Known as the City of Eternal Spring, Trujillo's historic city center has one of most beautiful Plaza de Armas and colonial buildings in the country. Trujillo is a UNESCO World Heritage site.
38- Visit Huaca del Dragon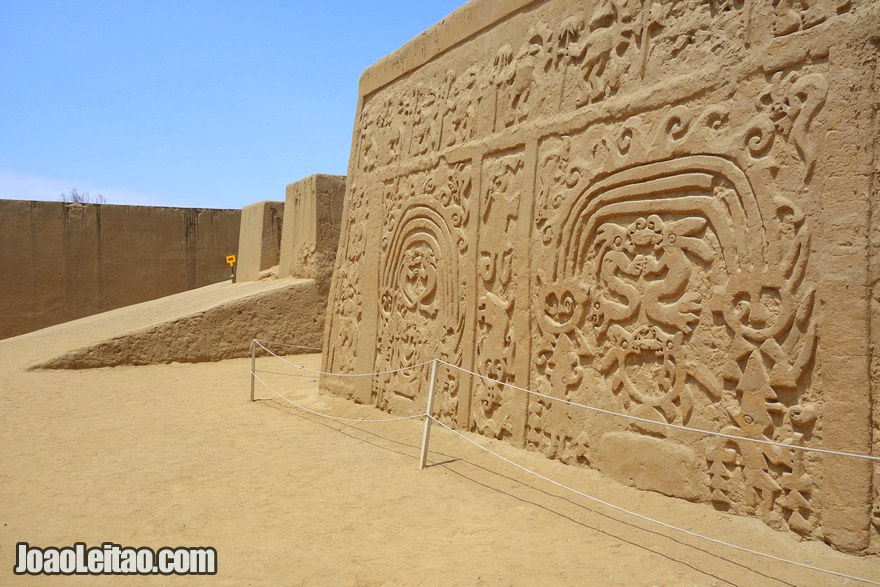 Huaca del Dragon pyramid is an archaeological site that used to serve as a ceremonial and religious center by the Chimu culture. The main platform of Huaca del Dragon is richly decorated with clay friezes. This large adobe construction in Trujillo is also known as Huaca del Arco Iris.
39- Visit Huaca Esmeralda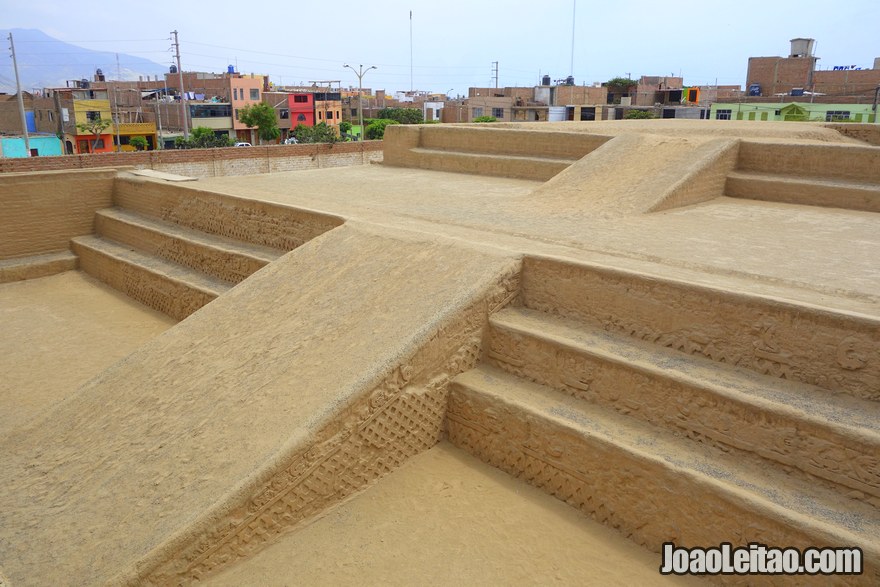 Huaca Esmeralda pyramid has two levels and a ramp decorated with geometric and zoomorphic clay murals. This ceremonial center belongs to Chimu culture and probably has some links to the nearby site of Chan Chan. Huaca Esmeralda is located in Trujillo and is totally surrounded by households.
40- Visit Chan Chan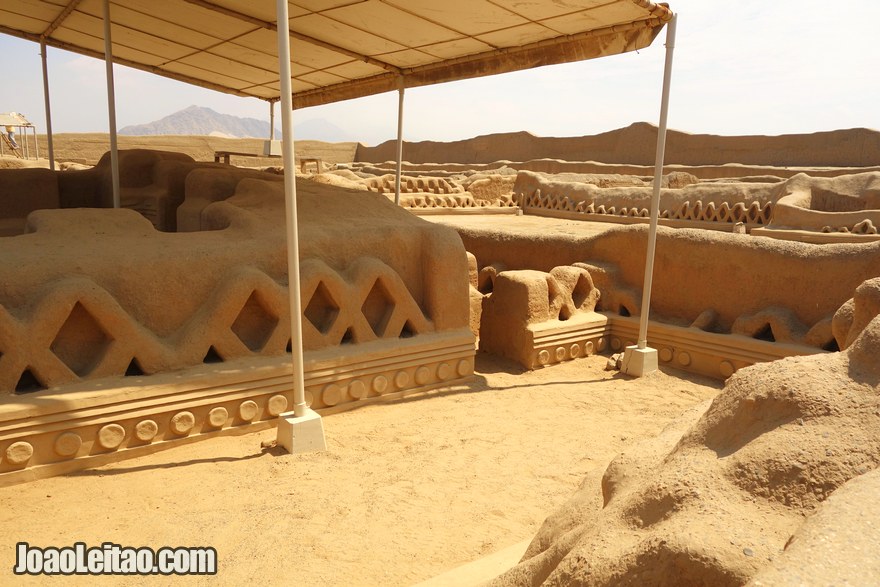 The ruins of Chan Chan are one of the most impressive sites I visited in Peru. Unique in terms of size, structure and historical importance, Chan Chan was the capital of the Chimu Kingdom. Apart from being the largest adobe city on earth, it is also the biggest city in Pre-Colombian America. Chan Chan Archaeological Zone is a UNESCO World Heritage site.
41- Visit El Brujo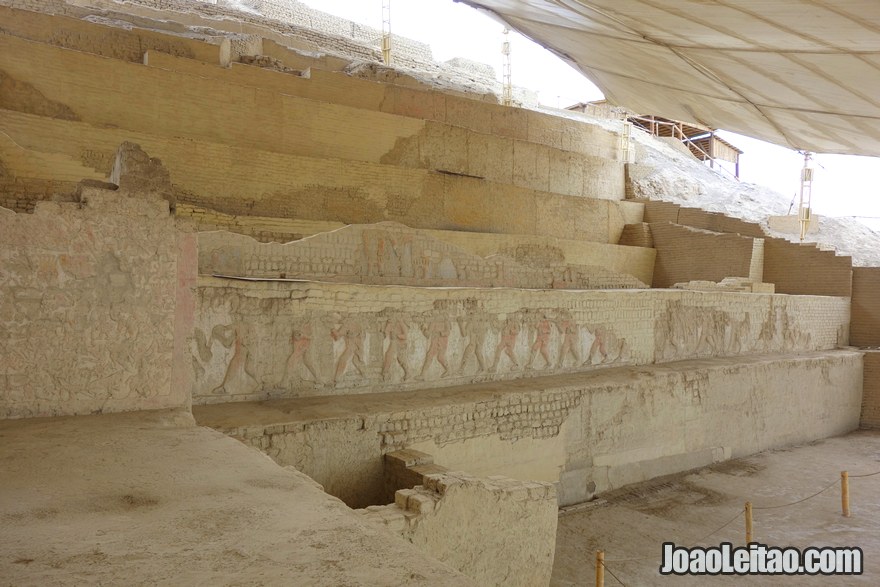 The Archaeological complex of El Brujo was an important religious center for Moche culture 2000 years ago. El Brujo is famous for its polychrome reliefs and mural paintings of naked prisoners being led by Moche warriors and most recently discovered, a mummy of a woman with tattoos. The mummy was named Lady of Cao and is displayed in the modern museum complex.
42- Visit Huanchaco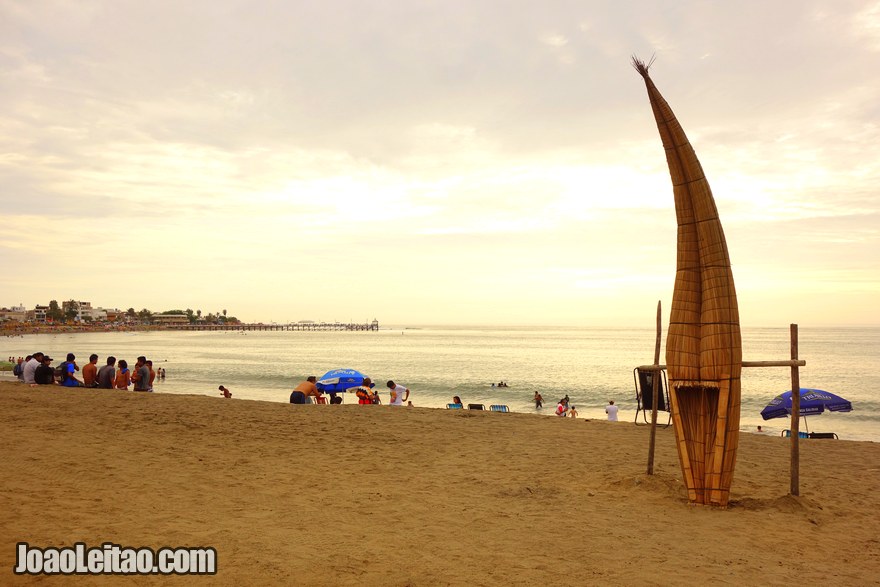 Huanchaco is famous for its beaches and totora boats called Caballitos. The small fishing town of Huanchaco is located 12 km / 7.4 miles away from Trujillo and is a year round surf destination.
43- Visit Huacas de Moche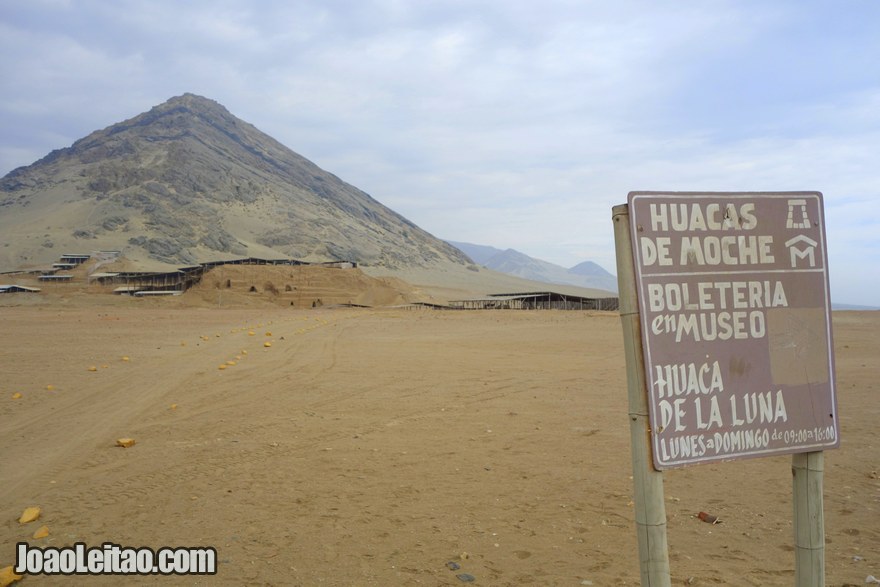 Outside Trujillo you can visit the fabulous pyramids of Huaca del Sol and Huaca de la Luna. The Huacas de Moche archaeological complex is surrounded by nothing but barren desert. Between 200 and 700 AD, Huaca de Sol was probably the biggest man made structure in the American continent.
44- Visit Cerro Sechin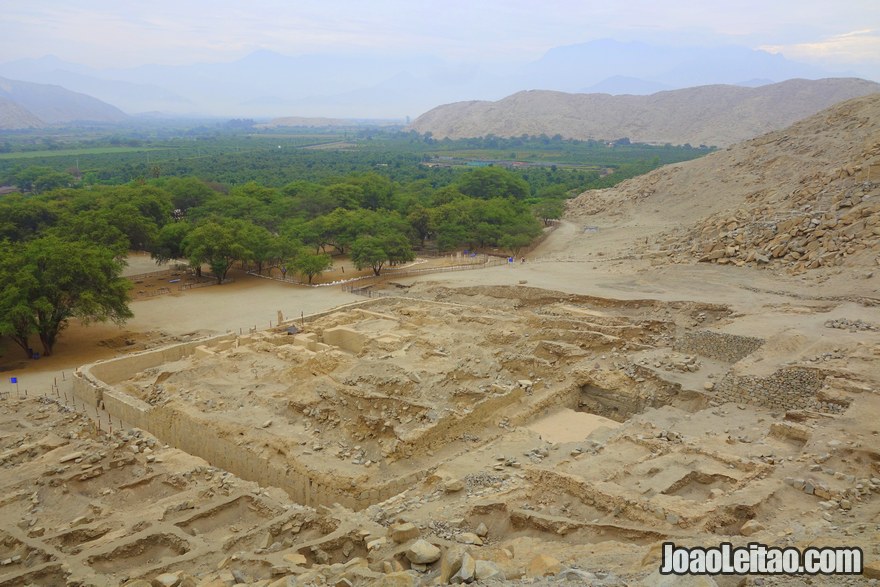 The 3500-year-old Sechin Archaeological Complex is one of the oldest sites in Peru. Cerro Sechin best known features are armed men engraved in stone slabs. From the top of the ceremonial center you can enjoy great views over the Casma Valley.
45- Visit Chankillo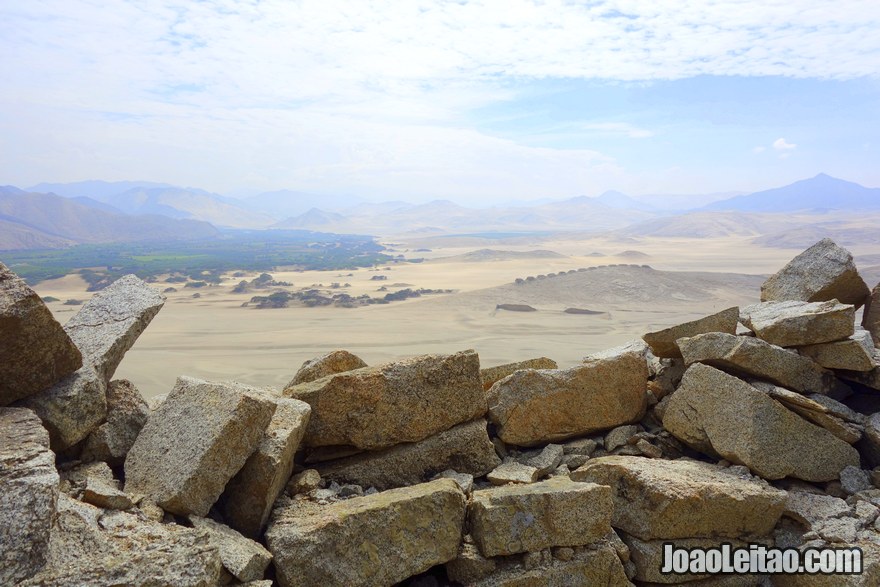 The solar observatory of Chankillo in Casma-Sechin desert is the oldest solar observatory in the Americas. Chankillo Archaeological site consists of ruins of a fortress on top of the hill, and thirteen observatory towers down in the desert sands. This site dates from the 4th century BC and is my favorite place in the country – YES my TOP 1 best place in Peru! Very hard to reach, this place is not yet prepared to receive tourists. Wild. The real thing.
If you're curious about Chankillo watch the movie: Chankillo, Peru: A Virtual Visualization by the World Monuments Fund.
46- Visit Fortaleza de Paramonga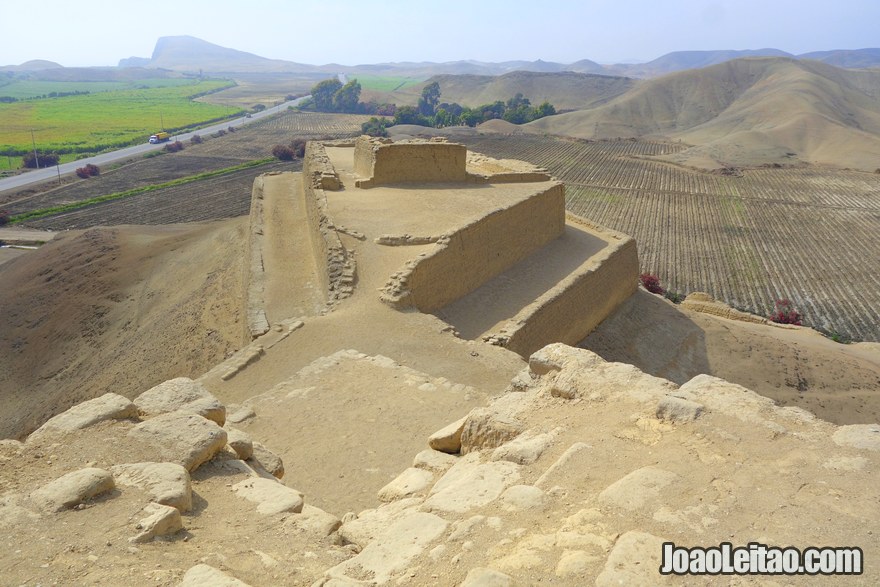 Easily seen from the Pan-American Highway, the adobe Fortress of Paramonga is worth a hike up as views from top are spectacular. From 1200 to 1400 AD Paramonga was an important city of the Kingdom of Chimu.
47- Visit Sacred City of Caral-Supe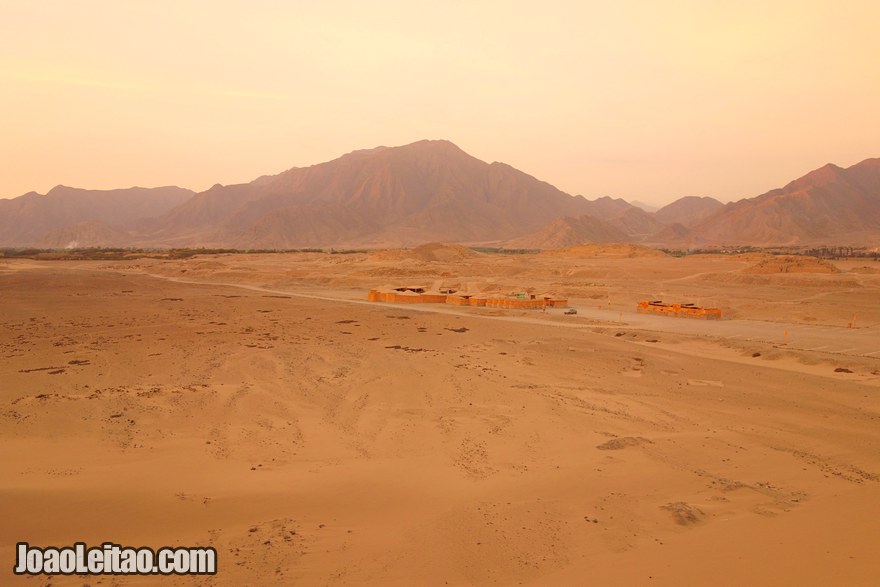 Caral Supe is the oldest city in the American continent. It is as old as the Giza pyramids in Egypt. The Ciudad Sagrada de Caral-Supe Archaeological Complex is located in a dry deserted valley about 200 km / 124 miles north of Lima. Explore the incredible ruins and climb the nearby sand dunes to enjoy the sunset over one of the World's oldest cities. The Sacred City of Caral-Supe is a UNESCO World Heritage site.
48- Visit Lima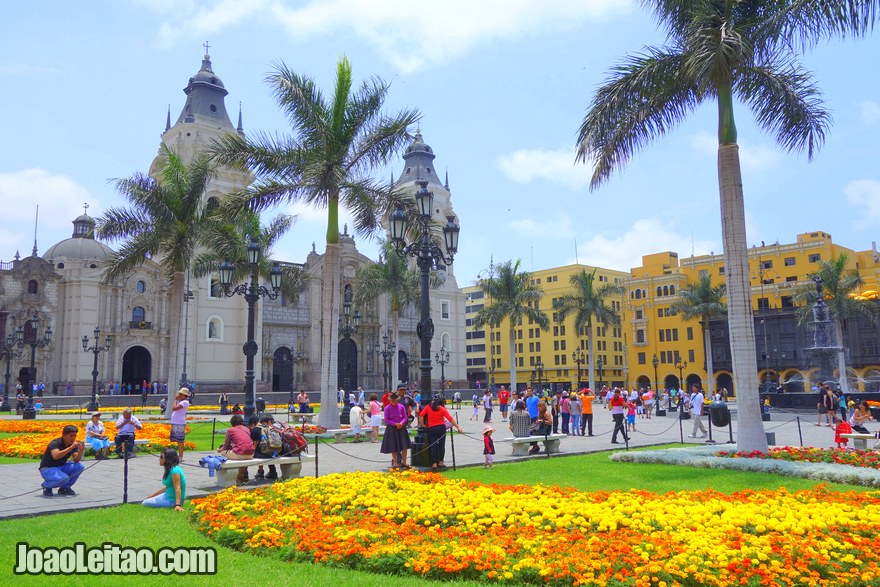 Lima, the capital of Peru, is also called City of the Kings. During colonial times Lima was the most important city in the Americas. The wealth of the city was enormous. Lima splendid museums and historic center are well worth a visit. The Historic Center of Lima is a UNESCO World Heritage site.
49- Visit Pachacamac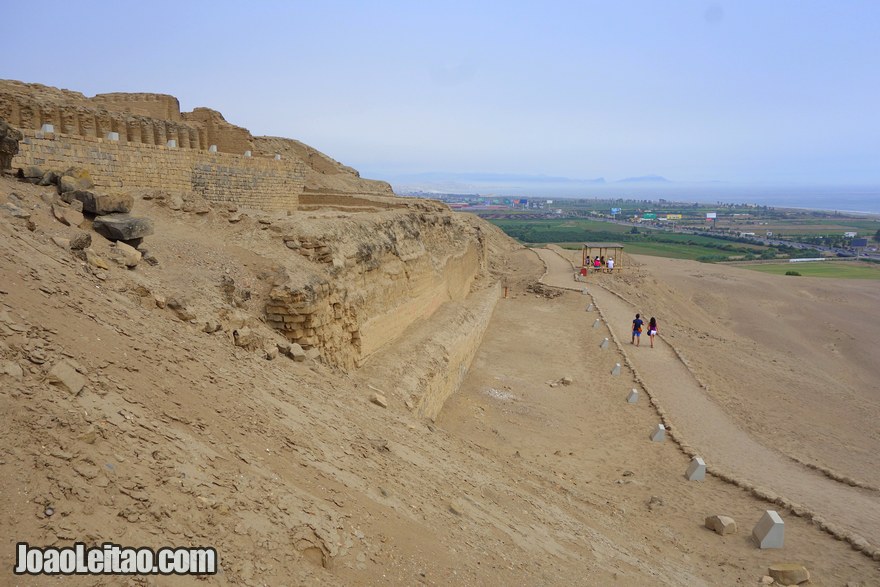 In pre-Columbian times, around the 3rd century AD, Pachacamac was an important religious center. The Archaeological Complex of Pachacamac has many remains of temples, pyramids, houses and a cemetery. Pachacamac means Lord of Earthquakes.
50- Visit Paracas National Reserve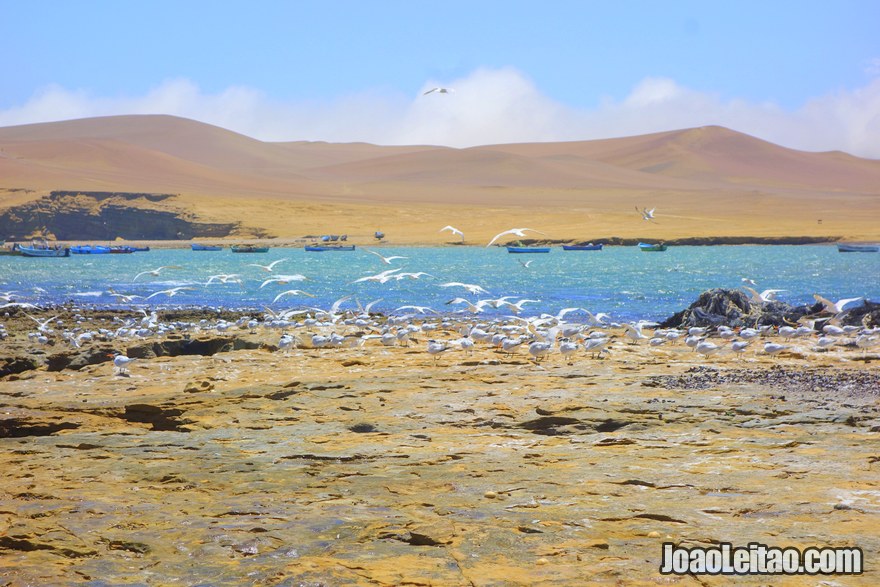 Paracas National Reserve is all about boundless deserts, spectacular cliffs, wild beaches and wild life. The Reserva Nacional de Paracas is the oldest marine reserve in Peru. The Paracas protected zone includes Paracas Peninsula and part of the coastal area.
51- Visit Playa Roja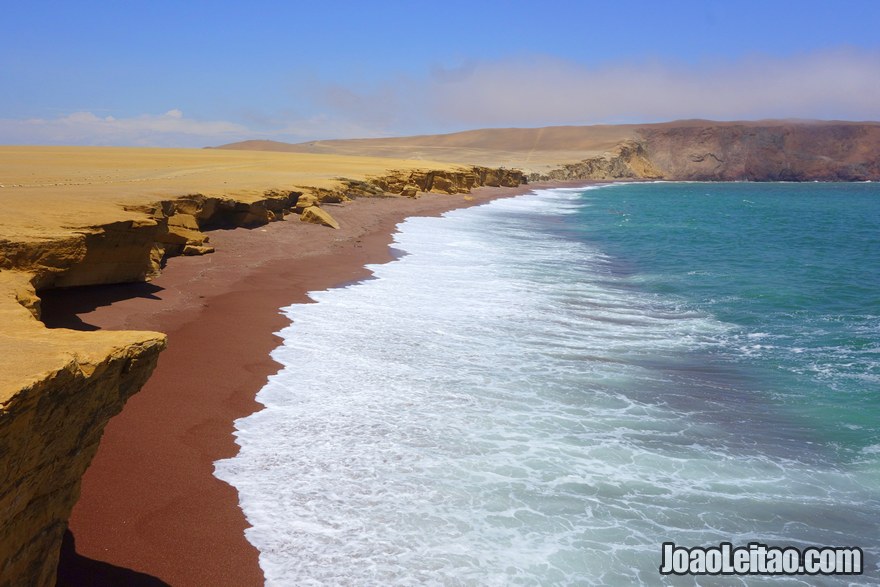 Playa Roja beautiful contrast of the blue Pacific Ocean water and red sandy beach is remarkable. Due to its reddish sand color, Playa Roja (Red Beach) is one of the most beautiful sites to see in Paracas National Reserve. Enjoy the tranquility of the place, beach hike or bird watching.
52- Visit Bahia de Lagunillas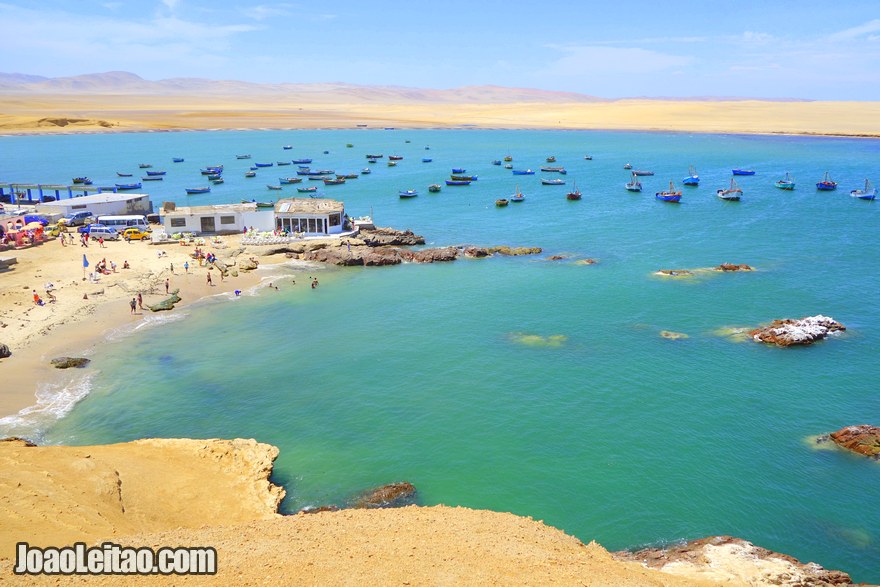 Lagunillas Bay is a tiny fishermen settlement that supplies the nearby city of Paracas with fresh fish. Climb to the top of the hill and enjoy watching pelicans fishing and fishermen working. Restaurants here are famous for its excellent fresh grilled fish.
53- Visit Playa la Mina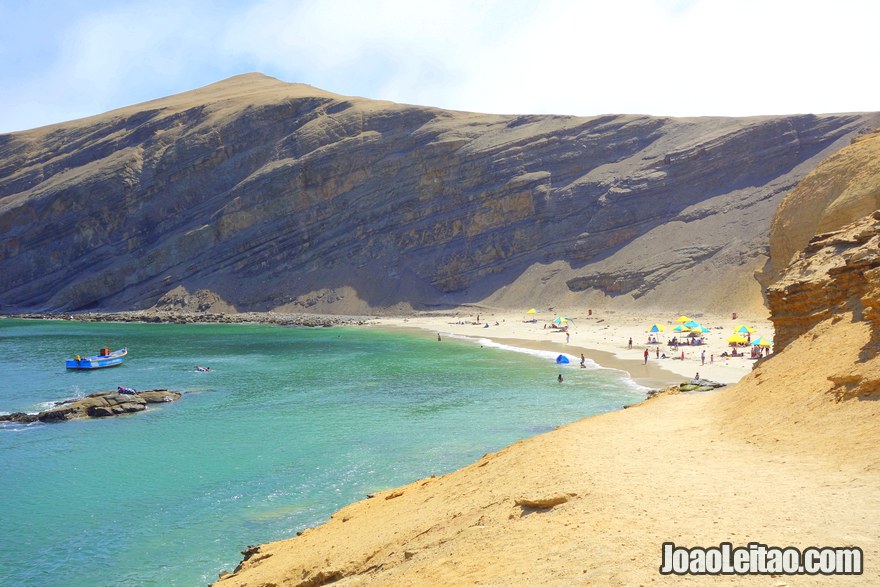 Playa la Mina is a great place to spend a day swimming in its clear and calm waters. You can also explore the nearby rock caves and enjoy spectacular views.
54- Visit Paracas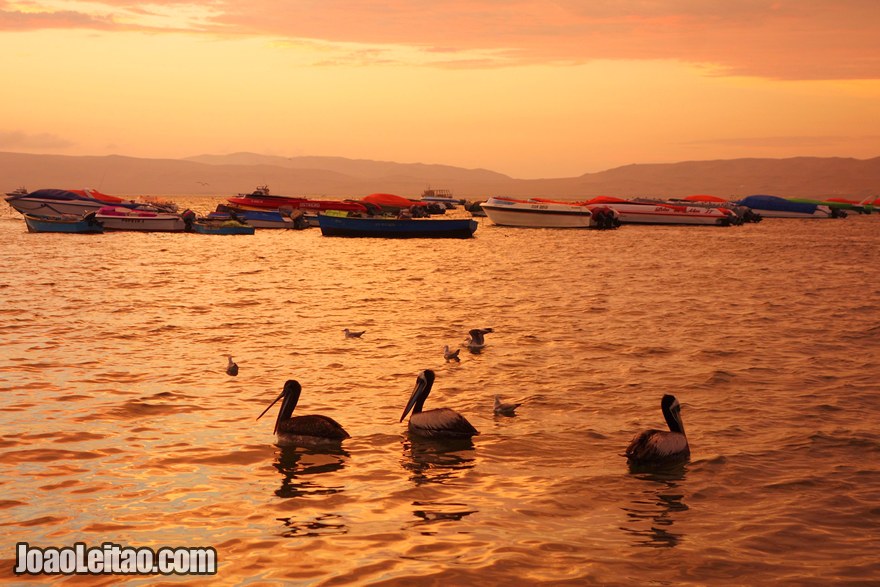 Paracas means sand rain in Quechua. The small Paracas town serves as base to explore Ballestas Islands and Paracas National Reserve. Paracas has a nice waterfront street with restaurants and wandering pelicans.
55- Visit El Candelabro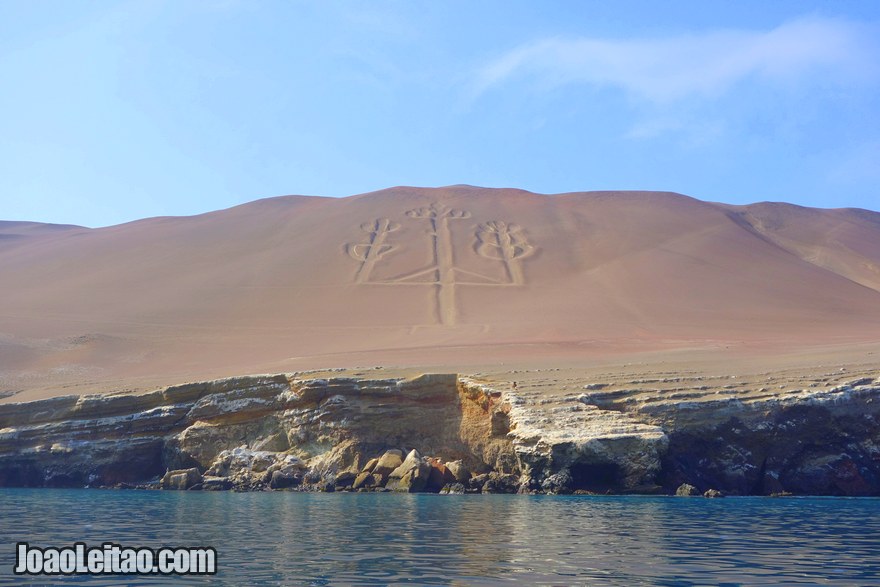 The 181 meters / 595 feet tall prehistoric geoglyph is one of the most incredible sites in Peru. The Candelabro made by the Paracas culture is only possible to be seen from the sea, on the way to Islas Ballestas.
56- Visit Islas Ballestas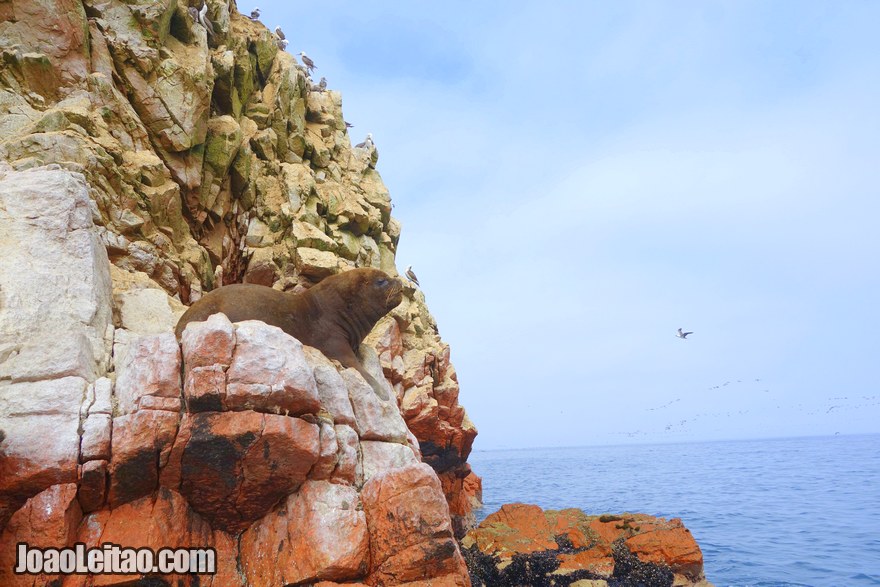 The natural beauty of Ballestas Islands landscape is breathtaking. Absolutely spectacular rock formations and abundant wildlife will make your 2 hour boat tour worth it.
Although these islands are nicknamed "the poor man's Galapagos", even in Galapagos I haven't seen such an abundance of birds! You can easily spot fur seals, sea lions, blue-footed boobies, cormorants, dolphins and Humboldt penguins. Ballestas can be visited by boat departing from Paracas town.
57- Visit Huacachina Oasis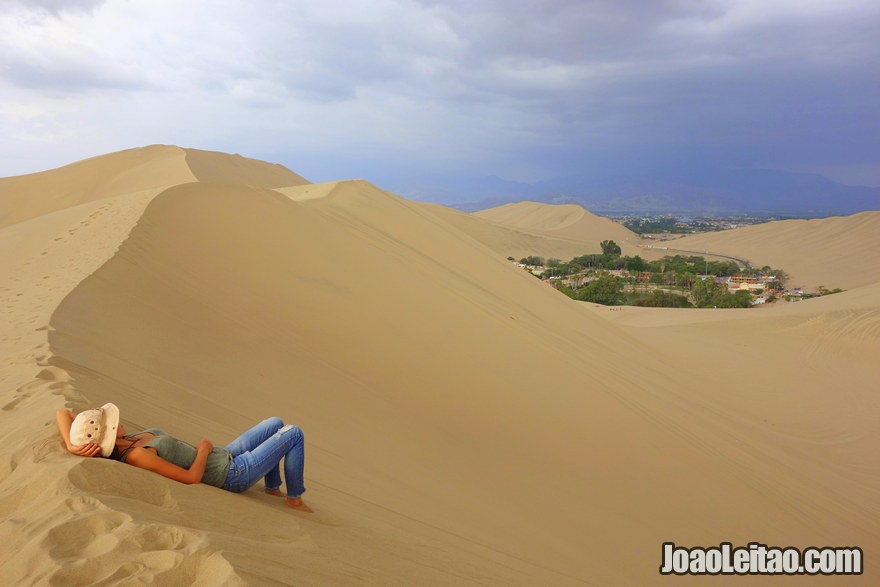 For something unique in Peru, you can visit the oasis of Huacachina. Located inside Ica's Desert, Huacachina Oasis is bordered by palm trees and surrounded by giant sand dunes. The most famous Huacachina tourist activities are dune buggy and sand-boarding. Don't forget to get a package deal in your Huacachina hostel as you can get accommodation, sand-boarding and buggy dune bashing at a much lower price than buying everything separated.
58- Visit Ica Museum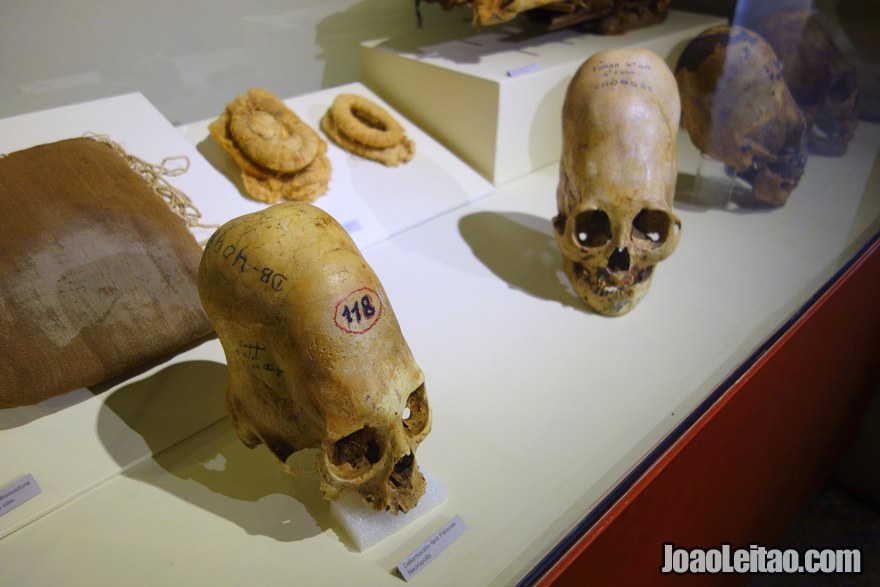 Even if you are not into museums you can't skip Ica Museum. This small and run down museum has an absolutely fascinating exhibition of mummies and enigmatic deformed skulls. Although these skulls are said to belong to the ancient Paracas people, some researchers contest that they are not human. Decide for yourself.
59- Visit Ciudad Perdida de Huayuri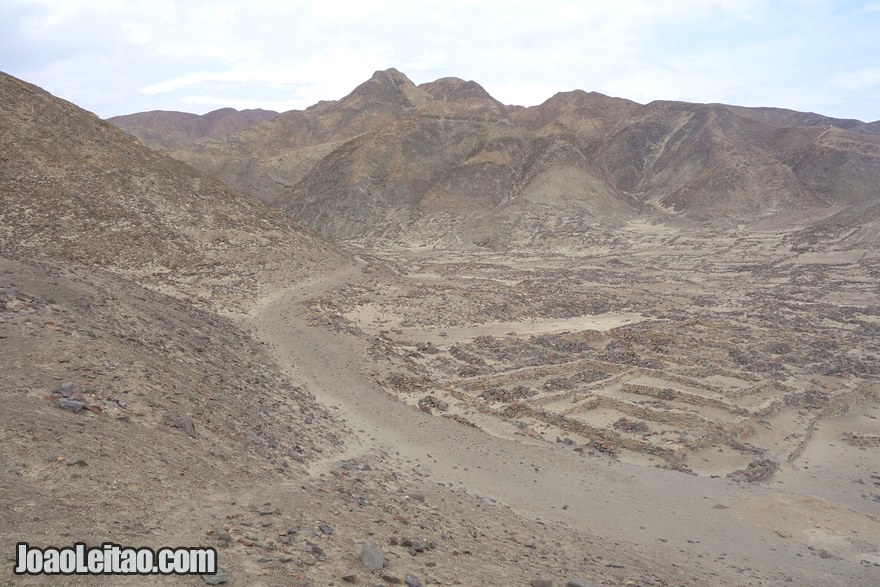 The Lost City of Huayuri dates back from 1200 and 1400 AC. Located in the ravine of the Santa Cruz River, away from any tourist itinerary, Huayuri is a bit hard to find but will amaze its visitors. The whole site of Huayuri is in very raw conditions as little rebuilding has been made by archaeologists. You can explore the immense sea of stones and find many artifacts on the ground, like pottery or fabrics pieces.
60- Visit Pampa del Sacramento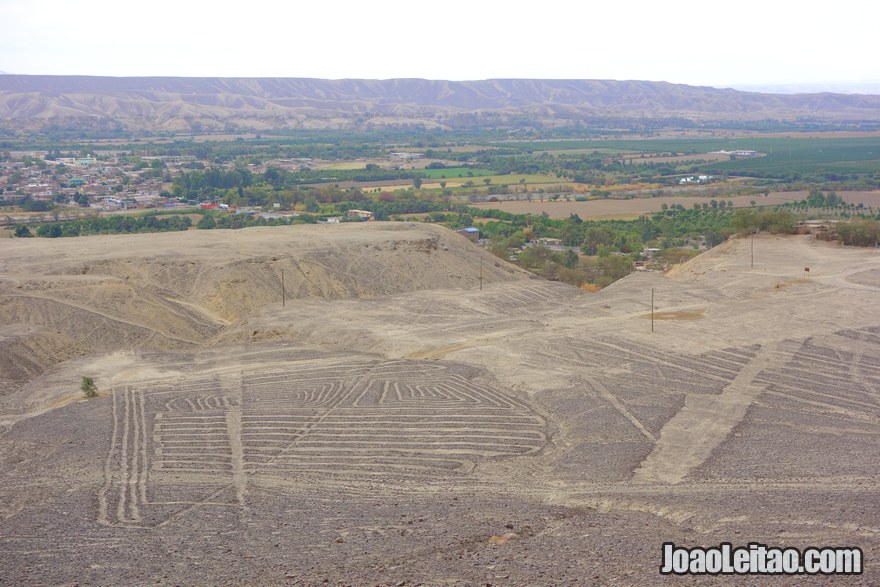 The Geoglyphs of Pampa del Sacramento were the first Peruvian geoglyphs that I visited. You can go up the hill to an observation deck and view the Pampa Geoglyphs from above.
61- Visit Palpa and Nazca Lines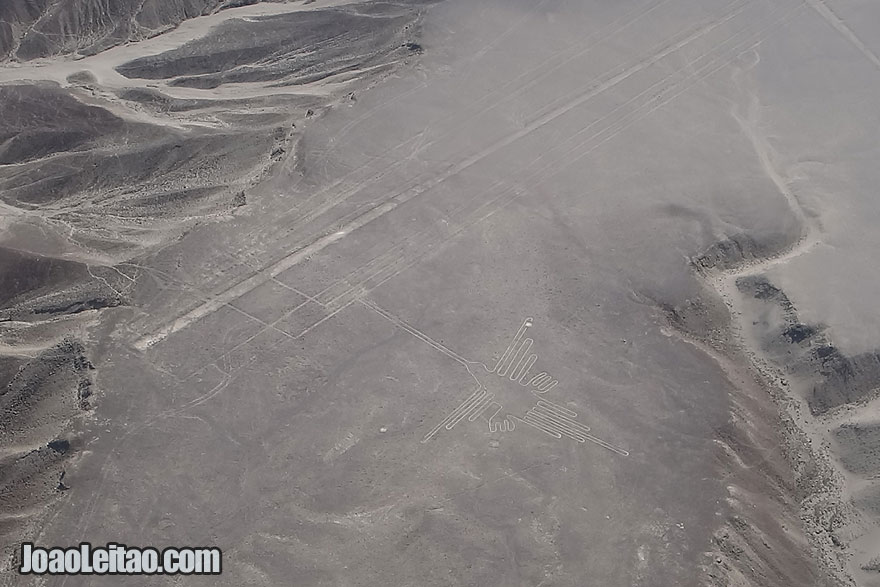 The Geoglyphs of Palpa and the Geoglyphs of Nazca are very enigmatic. The Nazca lines are best spotted on a 35 minute flight over the Nazca desert.
Video of flying over Nazca Lines:
This flight costs around €60 / $80 US but is worth spending.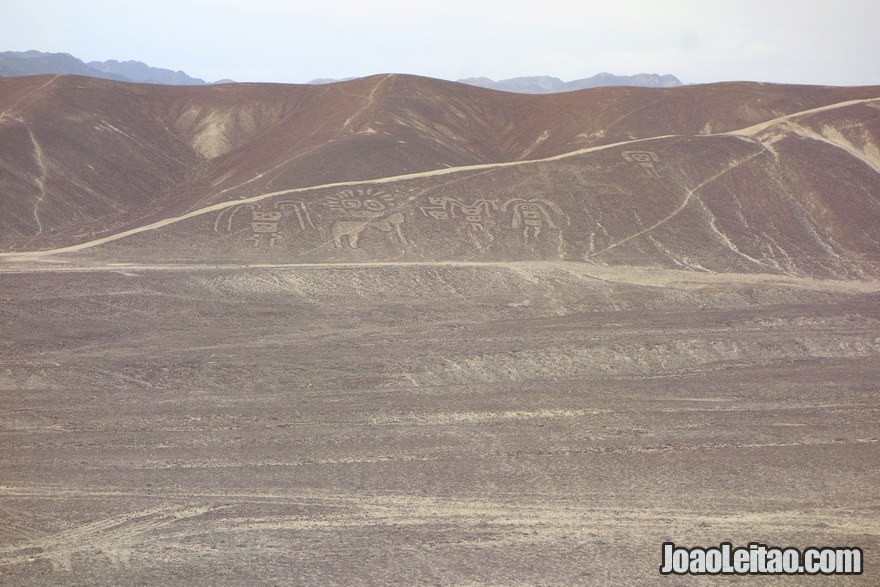 Palpa Geoglyphs can be seen from above from a special viewing platform. The Lines and Geoglyphs of Nazca and Pampas de Jumana are UNESCO World Heritage sites.
62- Visit Cerro Blanco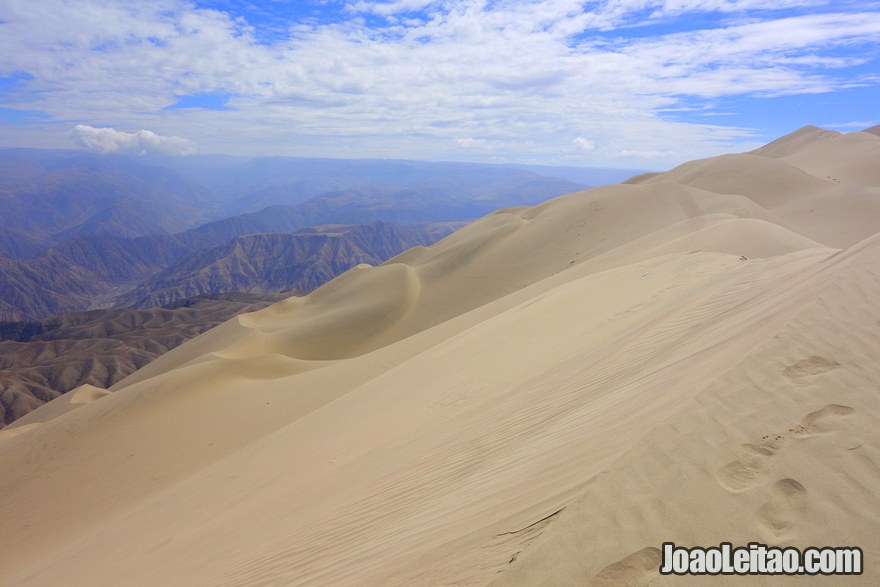 Climbing the Cerro Blanco, the highest sand dune in the world, was one of my trip's highlights. Up to an altitude of 2100 meters / 6890 feet, the top can be reached on a hard 5 hour trekking. To return is much easier as you sand board your way down.
63- Visit Cantalloc Aqueduct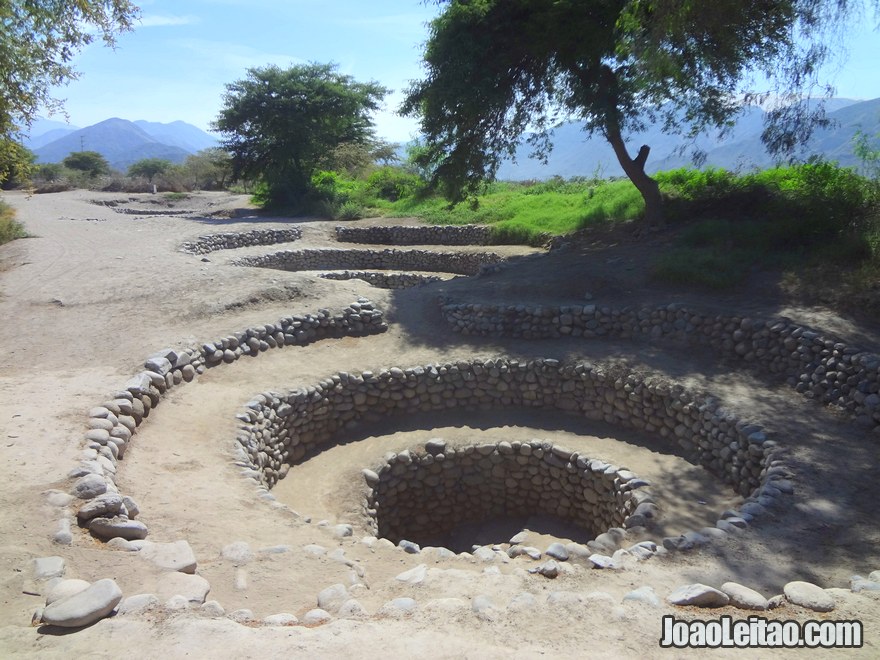 The impressive system of Cantalloc Aqueduct was built by the Nasca people more than 2000 years ago. Cantalloc consists of a system of underground channels and stone lined wells. The Acueductos de Cantalloc are still in use and serve a small community of local farmers.
64- Visit Los Paredones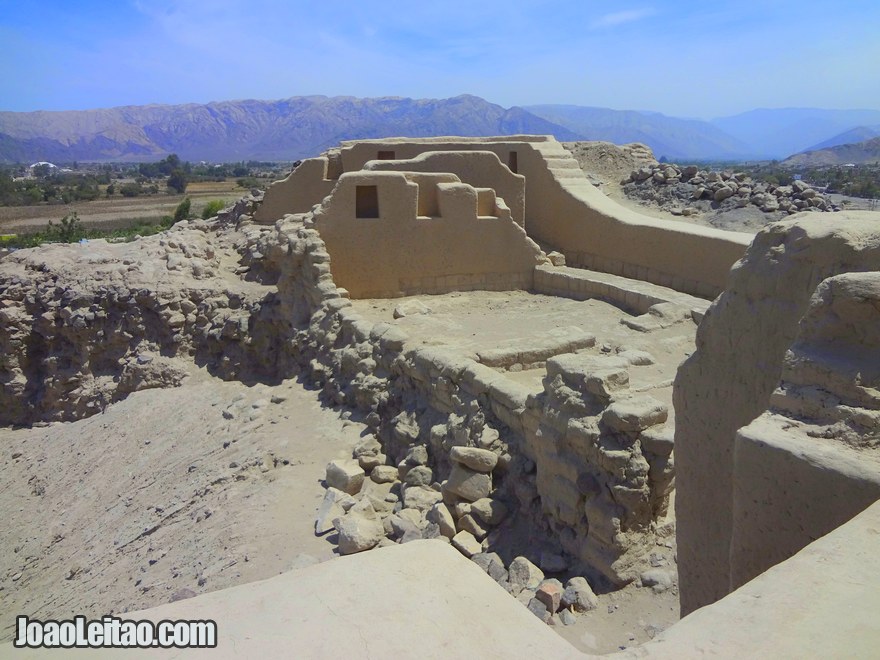 Los Paredones are ruins of an old Inca Empire administrative center. Los Paredones architecture is based on the use of rectangular bricks with carved stone base. The archaeological site Los Paredones is located near Nasca city.
65- Visit Cahuachi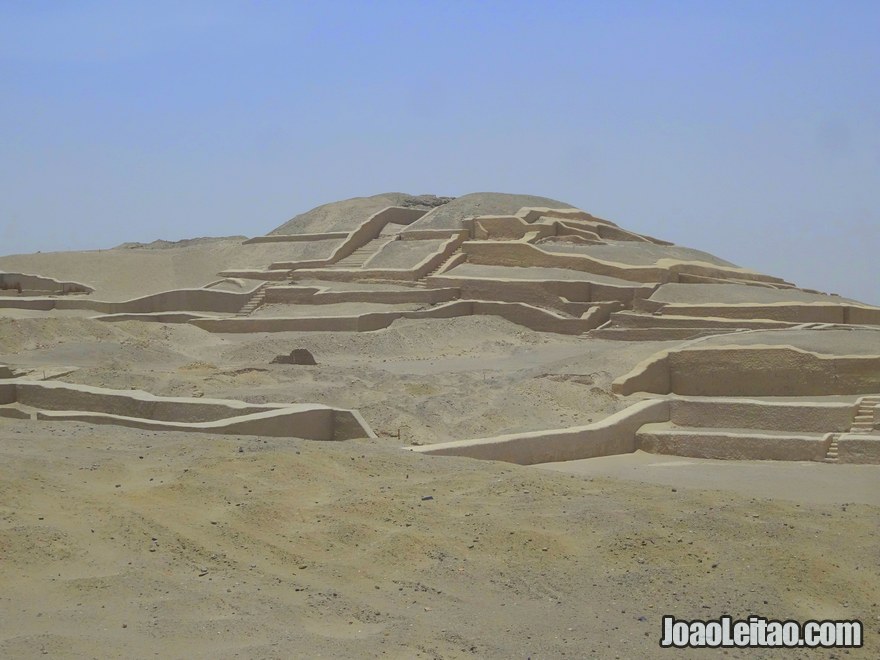 The Ceremonial city of Cahuachi, built by the Nazca civilization, dates back from 400 BC. Cahuachi was the biggest adobe ceremonial center in the world. This archaeological site with ancient pyramids is located in the Nazca Valley.
66- Visit Chauchilla Cemetery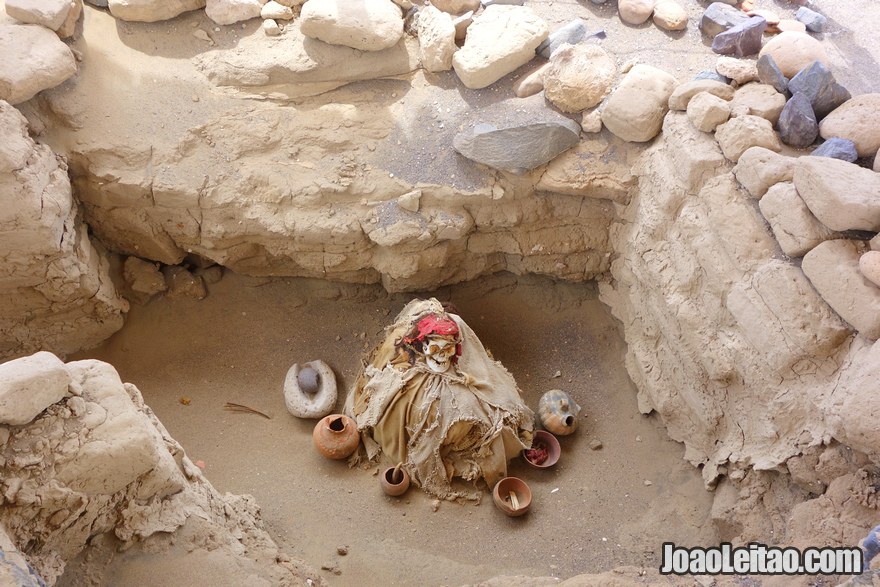 The Cemetery of Chauchilla is a huge burial site of Nazca culture. It is one of the very few cemeteries in Peru, where you can see mummies in their original tombs. The arid climate remarkably conserved the mummies. Some of them still have their clothes, pieces of skin or the famous Nazca dreadlocks hair style.
67- Visit Quebrada de la Vaca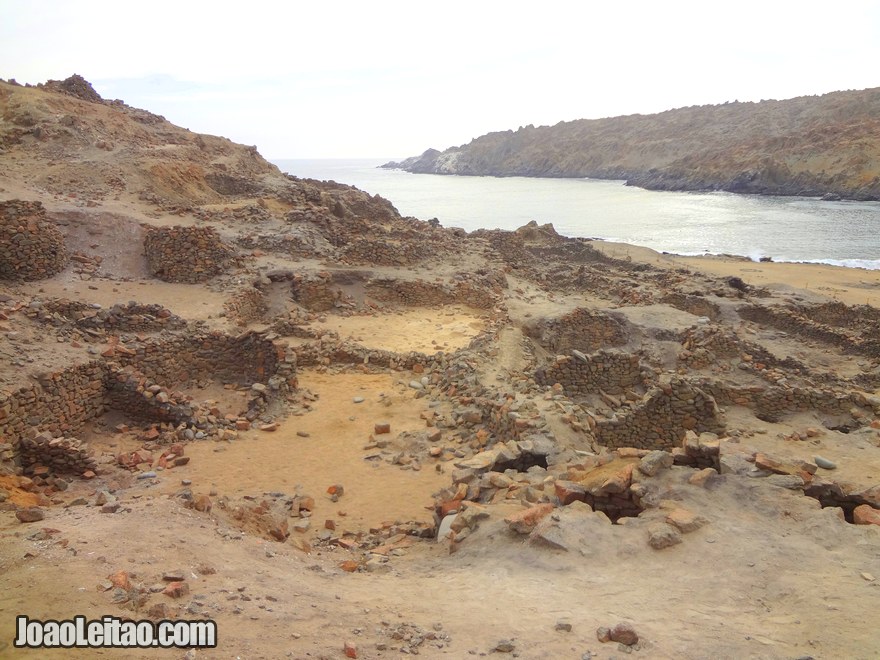 The Quebrada de la Vaca is usually known as Puerto Inca. Quebrada de la Vaca ruins were a very important port for the Inca Empire. You can still see remains of shells on the ground and the original Inca trail running up the mountain leading to Cuzco.
68- Visit Toro Muerto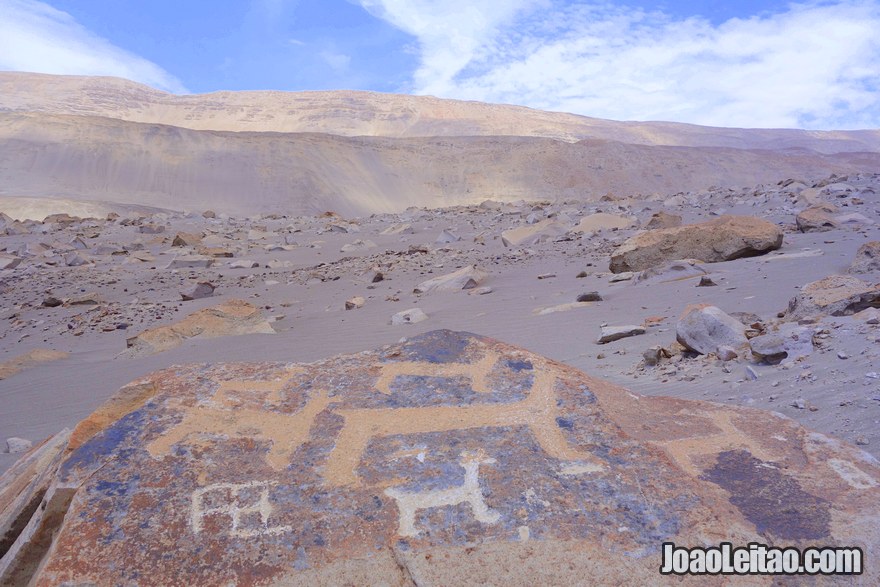 In my opinion, Toro Muerto is one of the highlights of Peru. Toro Muerto has a large collection of 7000 ancient petroglyphs scattered through a beautiful deserted landscape. Toro Muerto is the world's largest field of petroglyphs, covering the area of 5 square km / 3 square miles.
69- Visit Arequipa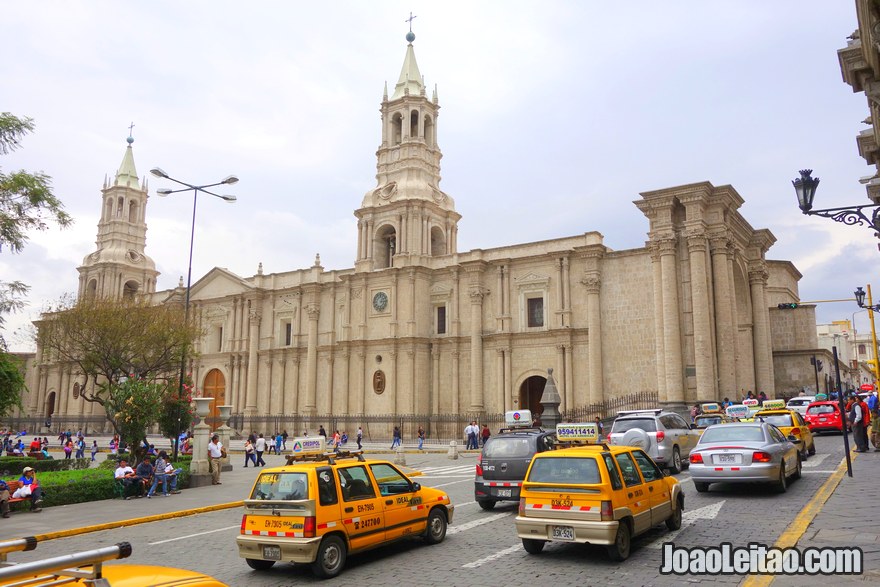 The City of Arequipa is named "White city" as most of the colonial buildings are made of light color stone. The most visited sites in the city are the Santa Catalina Monastery and the beautiful historic center. Don't miss the impressive volcano called El Misty, overlooking the city. The Historical Center of the City of Arequipa is a UNESCO World Heritage site.
70- Visit Tacna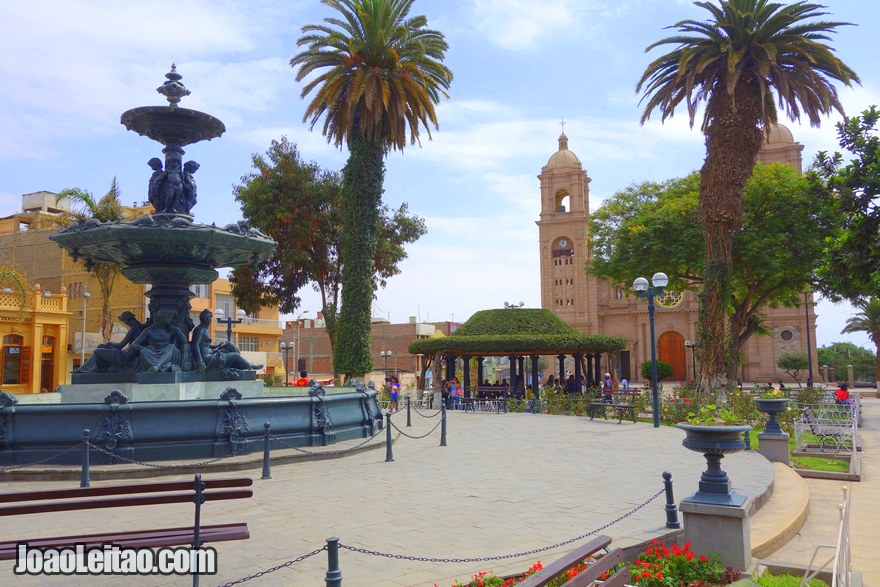 Tacna is the last city in Peru before crossing the border to Chile. Although Tacna played an important role in Peruvian history, there is nothing spectacular about it nowadays. The city is clean, safe and its most important sightseeing sites are the Battle of Tacna Monument, Ferroviaria Railroad Station, Tacna Cathedral and Tacna Ornamental Fountain in Plaza de Armas.
71- Visit Puno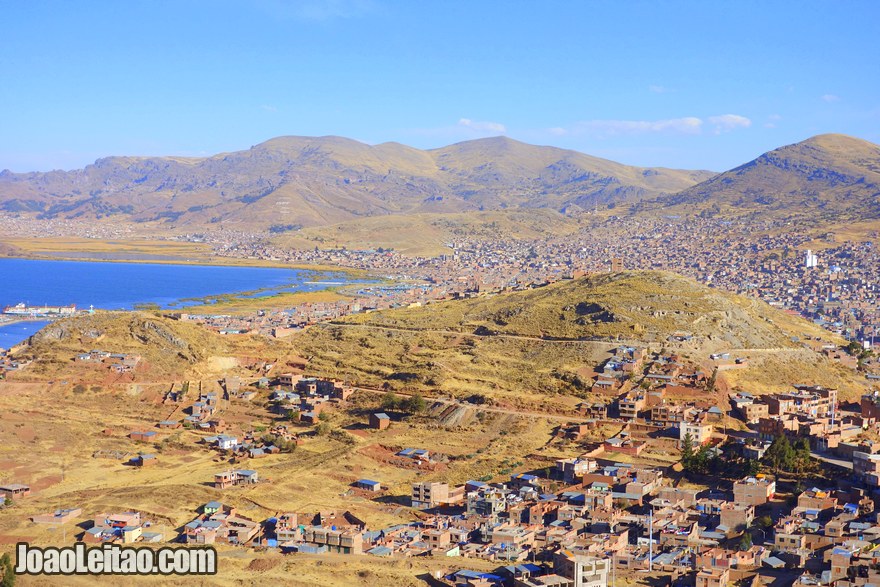 Puno is located on the hill along Lake Titicaca, at the altitude of 3872 meters / 12350 feet. The city is big, dusty and looks a bit like it is under permanent construction. It is a gateway to explore the floating islands of Lake Titicaca. The cathedral San Carlos Borromeo is worth a visit.
72- Visit Uros Islands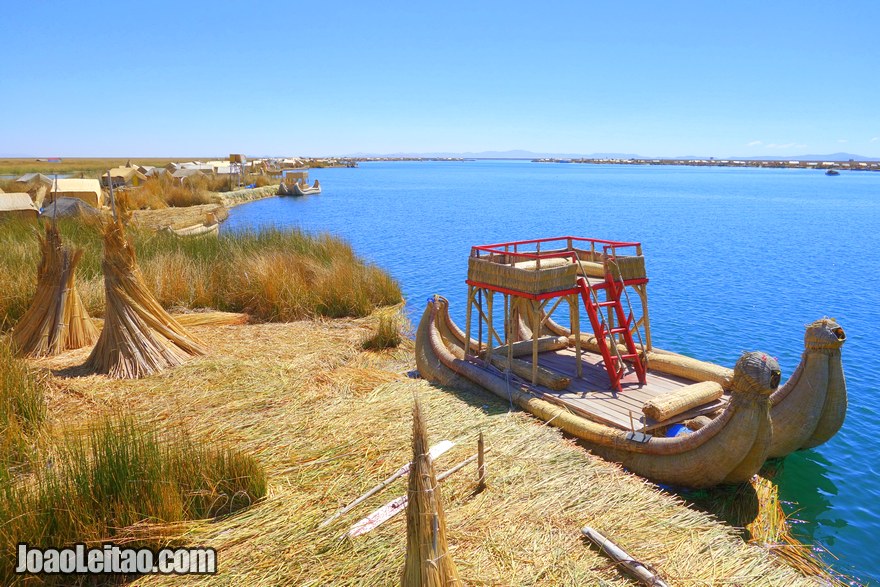 The Floating islands of Lake Titicaca, also known as Uros Islands, are artificial islands with traditional houses from the Uros people. Each family owns their own island and everything is made of totora, locally harvested on Lake Titicaca.
73- Visit Sillustani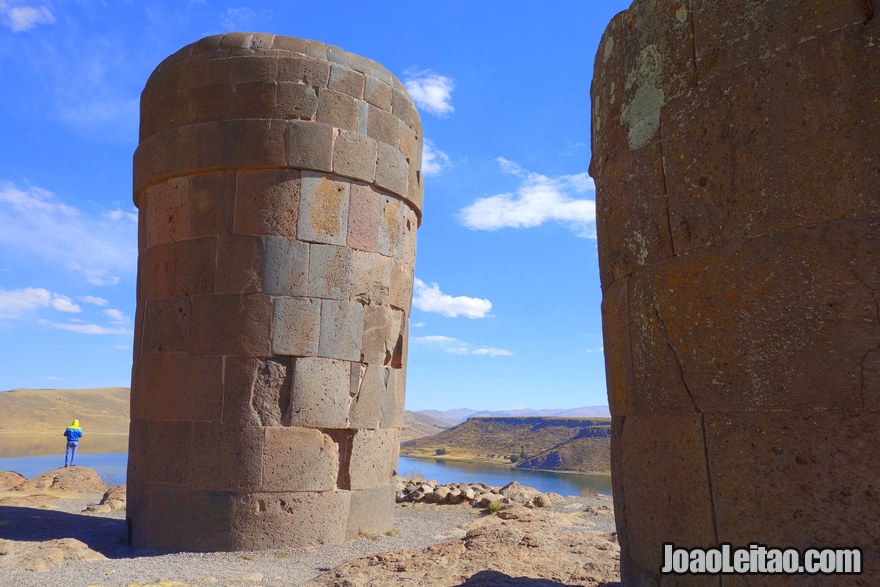 Sillustani Pre-Inca necropolis are huge cylindrical towers, called chullpas. The burial towers of Sillustani are overlooking Lake Umayo. This is an amazing site with great landscapes and interesting history.
74- Visit Cusco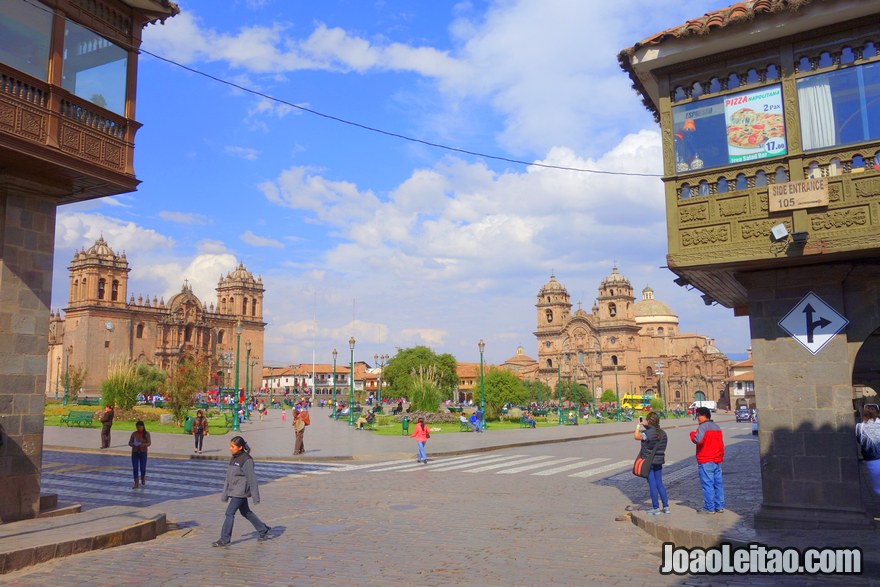 Cusco is the second most visited city in Peru. Cusco itself has so much to offer and, additionally, it is the gateway to start exploring the Sacred Valley of the Incas and Machu Picchu. Cusco has a very pleasant city center with lots of history, monuments, churches and museums. Cusco is located at 3400 meters / 11200 feet, so you'd better take it slowly and adapt to high altitudes. The City of Cuzco is a UNESCO World Heritage site.
75- Visit Nevado Verónica Mountain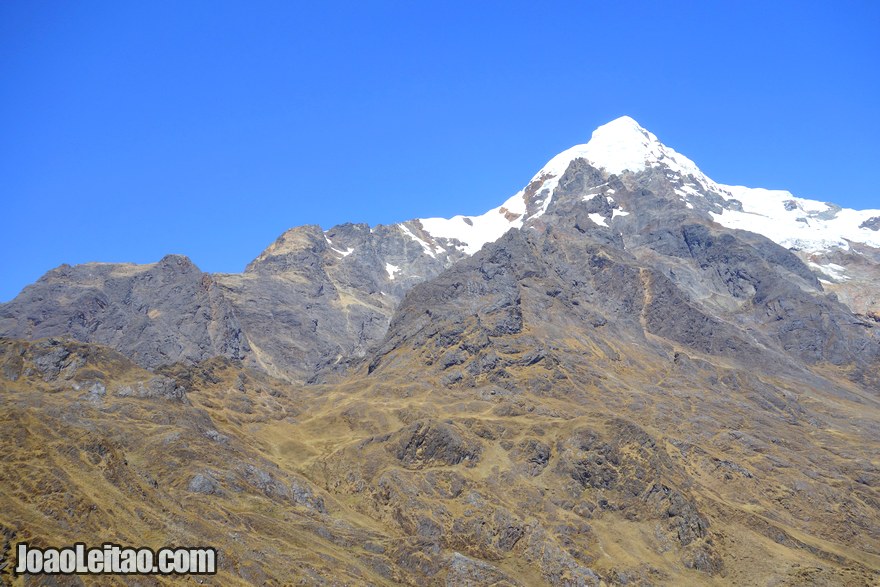 The road from Cusco to Ollantaytambo is fun and beautiful with plenty of photo opportunities. One of the highlights of this road is Nevado Verónica Mountain with 5682 meters / 18494 feet high. Nevado Verónica is the highest peak of the Cordillera Urubamba in Peru.
76- Visit Aguas Calientes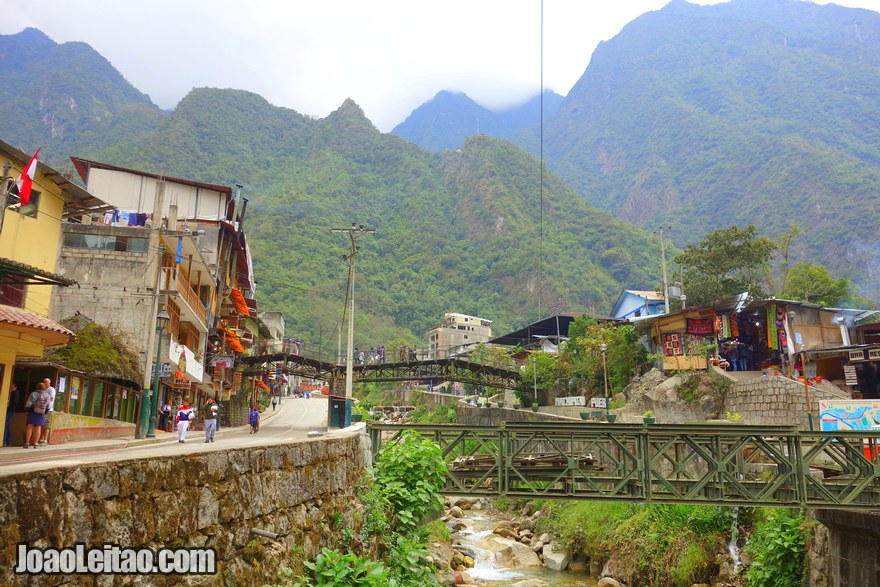 Aguas Calientes is the starting point to visit the Lost City of the Incas – the famous Machu Picchu. Aguas Calientes is full of hotels, souvenir stalls and restaurants. If you have extra time in Aguas Calientes, there are some hot springs and mountain hikes to do in the area.
77- Visit Machu Picchu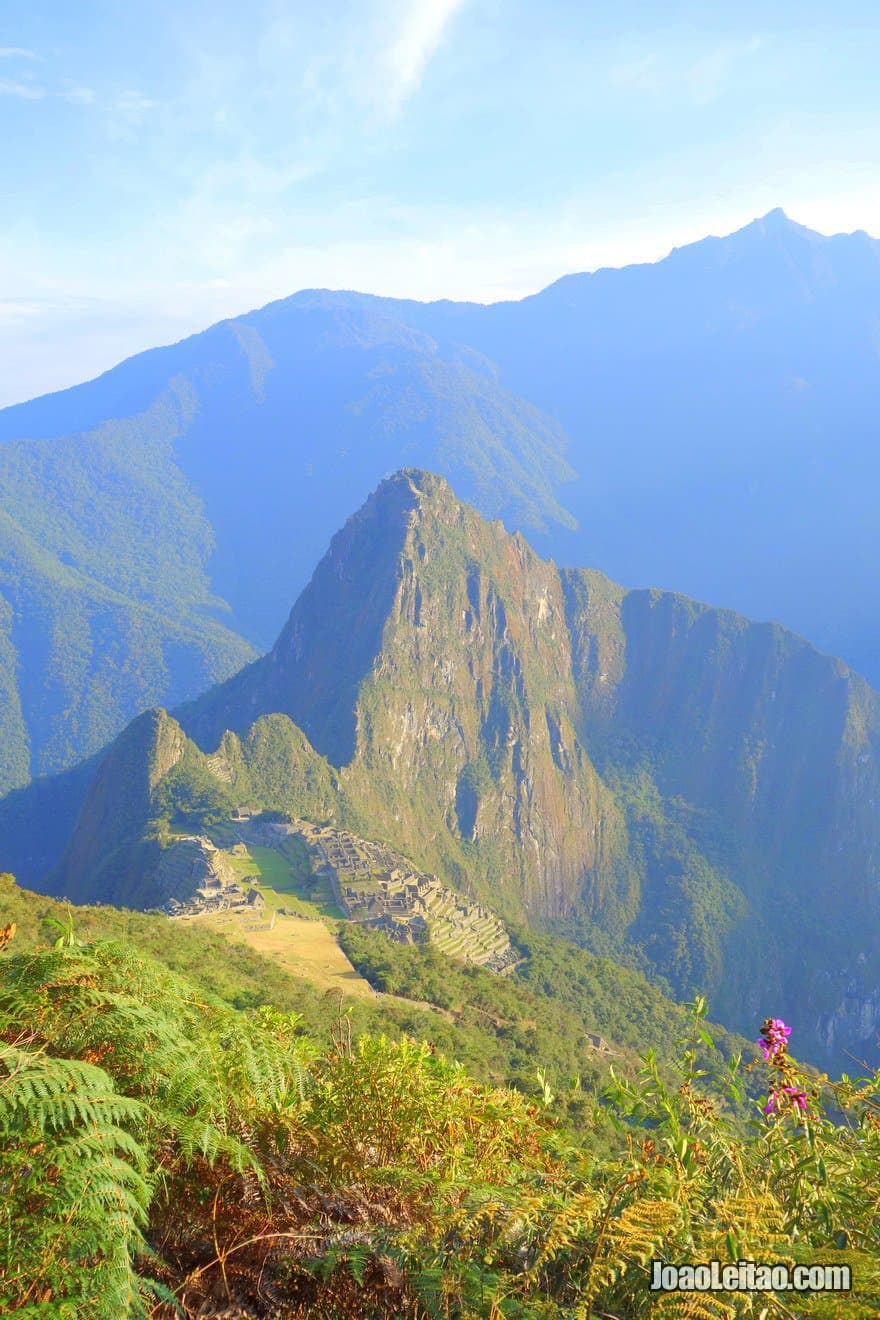 Machu Picchu is truly an amazing place. Far more impressive than any photographs, Machu Picchu will remain in your memory for ever. Located at 2340 meters / 7680 feet above sea level, the sacred site of Machu Picchu was built around the 15th century. For the best views go up to the top of Mountain Machu Picchu. Machu Picchu is surrounded by surreal mountain peaks. The Historic Sanctuary of Machu Picchu is a UNESCO World Heritage site.
78- Visit Sacred Valley of the Inca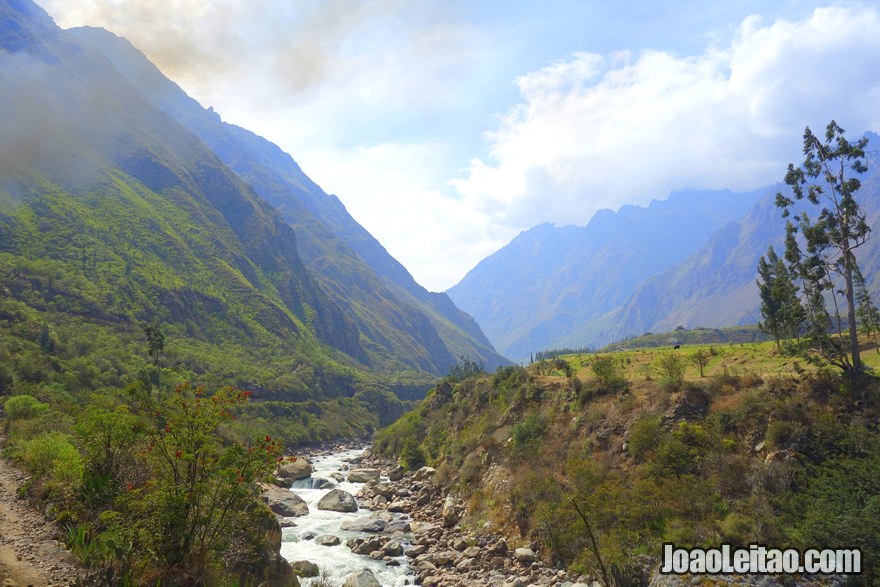 The epic Valle Sagrado de los Incas offers great views and an amazing opportunity to visit Peru's most wanted region. The most famous ruins, along the Sacred Valley of the Inca, are Ollantaytambo, Pisac and Moray. You can hike through the valley following the tracks of the famous Inca Trail (book well in advance), go by train or by car. For its picturesque villages, local markets, mountain scenes and history, The Sacred Valley of the Inca is worth a few days of exploration.
79- Visit Ollantaytambo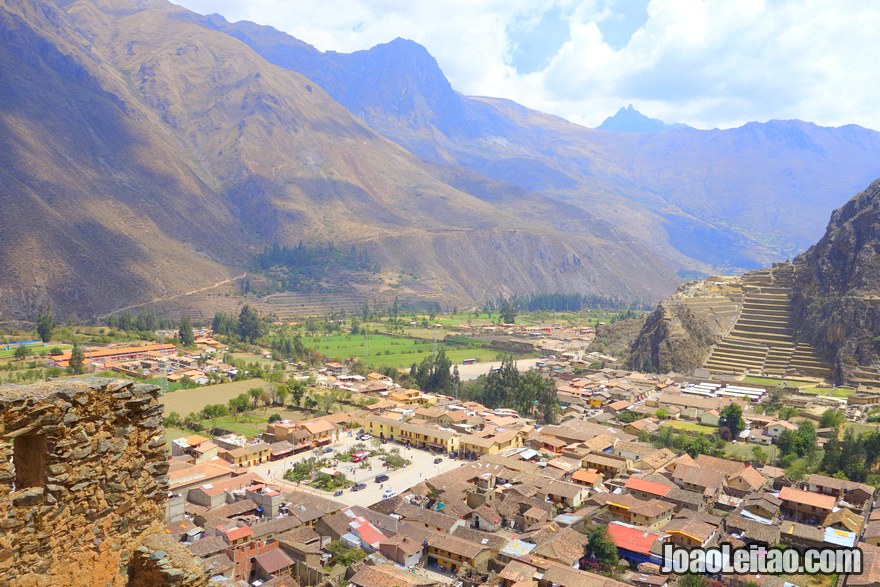 The Inca trail starts at Ollantaytambo, which is a charming little cobbled street town with some fascinating ruins up the mountain. You can visit the Inca fortress, temple and terraces. The wild ruins of Pinkylluna (Inca granaries) have free entrance and almost no tourists. From both sides of the ruins you have outstanding views of Ollantaytambo Valley and surrounding mountains.