Visit Somaliland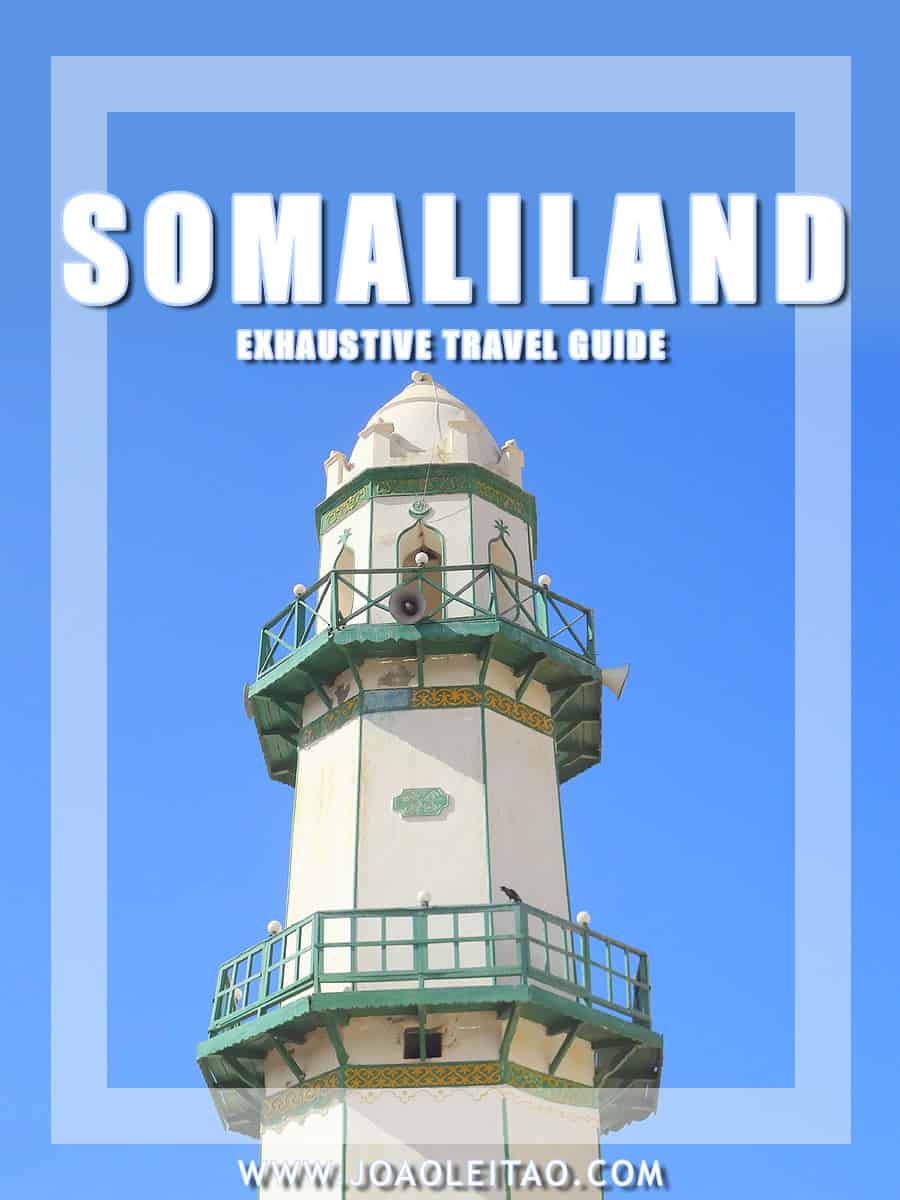 A Travel Guide to Somaliland?
Never heard about this country?
Well, that's because it doesn't really exist. Yet…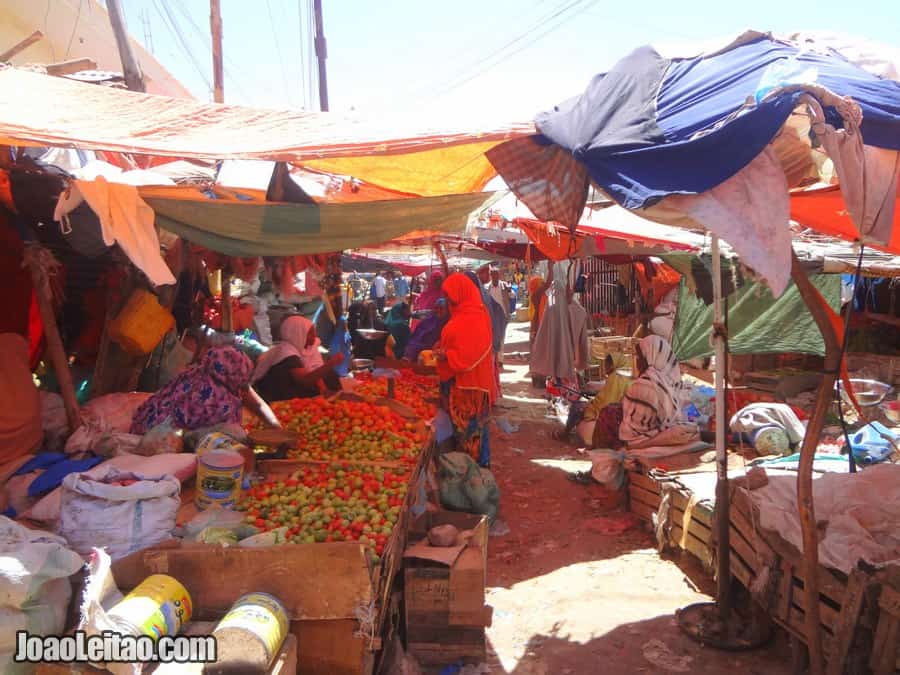 Somaliland is a self-proclaimed country that technically, and according to the United Nations, is located in the most northwestern region of Somalia.
Although it's not internationally recognized by the UN, it has protected and delimited land borders, its own military, its own president, its own currency, its own police. And it also proudly holds democratic elections since 1991.
Basically, this country "that doesn't exist" runs better than 2/3 of other African countries. This is a national pride and an example to the World. But even so, the United Nations (UN) doesn't recognize it as a sovereign state.
Somaliland borders Ethiopia, Djibouti and another region of Somalia called Land of Punt, or Puntland, famous for having over 400 people kidnapped and held captive by pirates in the Gulf of Aden.
Having read this, you should now really want to travel to Somaliland, right?
But don't worry, I spent a week there. Everything was very quiet, no problems. I really loved it and wish to go back.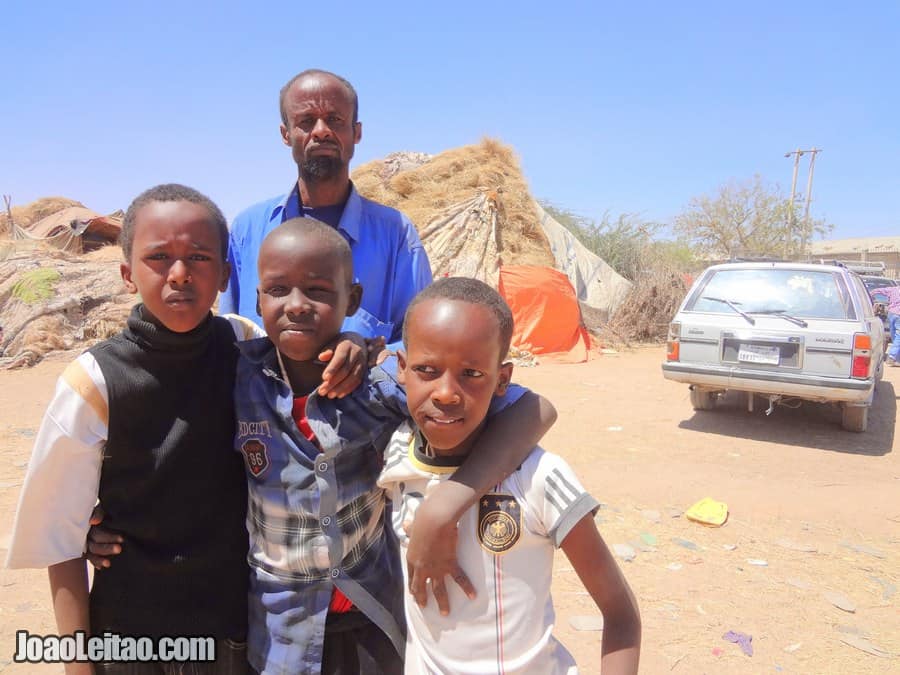 I entered the country through Wajaale, then visited the capital Hargeisa, further more the fantastic Laas Geel rock paintings, then the coastal town of Berbera and finally I got the plane back to Ethiopia.
One thing that is noticeable as soon as you enter Somaliland is that all commercial buildings are decorated with hand painted murals. The billboard industry is not at everyone's reach, so it is easier and cheaper to pay an artist to paint the front of shops, supermarkets and restaurants. Very nice.
Guide to Hargeisa – the capital of Somaliland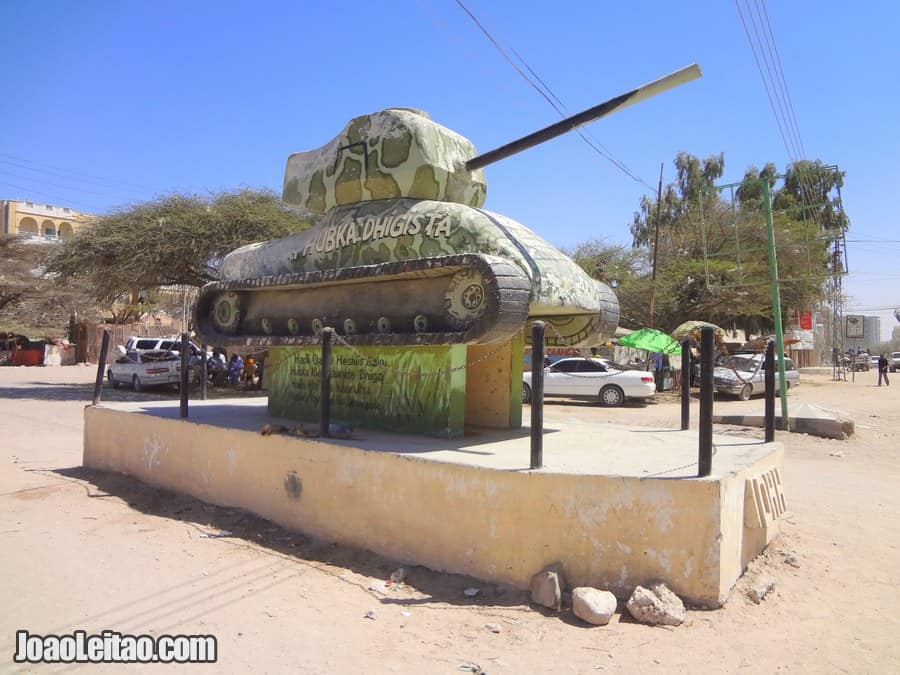 Hargeisa is the capital of the self-proclaimed country of Somaliland. Hargeisa is a city full of lively streets, a bit dusty, and where Islamic sharia law prevails due to people having strong Muslim beliefs.
Hargeisa is a mixture of women completely covered with colorful clothes, Japanese cars, camels and goats roaming freely on the streets, dust, sand, rubbish, street money dealers and loud speakers reciting the Quran virtually throughout the whole night and day.
The city has many stalls and shops open 24 hours a day. Hargeisa has a certain kind of charm, it's a different type of city in a region that has been struggling for its independence for some decades now.
Hargeisa has about 1 million inhabitants but the city seems smaller than it really is. There are two or three large buildings in the center but everything else is mostly one or two floors high.
Hargeisa is not exactly the kind of city you need several days to visit. This self-proclaimed capital of the region over Northwest Somalia actually doesn't have a big list of monuments, or museums, or great tourist attractions and sightseeing places. But indeed it is a culturally, politically and historically interesting travel destination.
Anyway, I can make a short list of interesting things to do in Hargeisa, the capital of Somaliland, which will keep you busy for a couple of days.
Things to do in Hargeisa – Visit Somaliland
1- Bacadlaha Market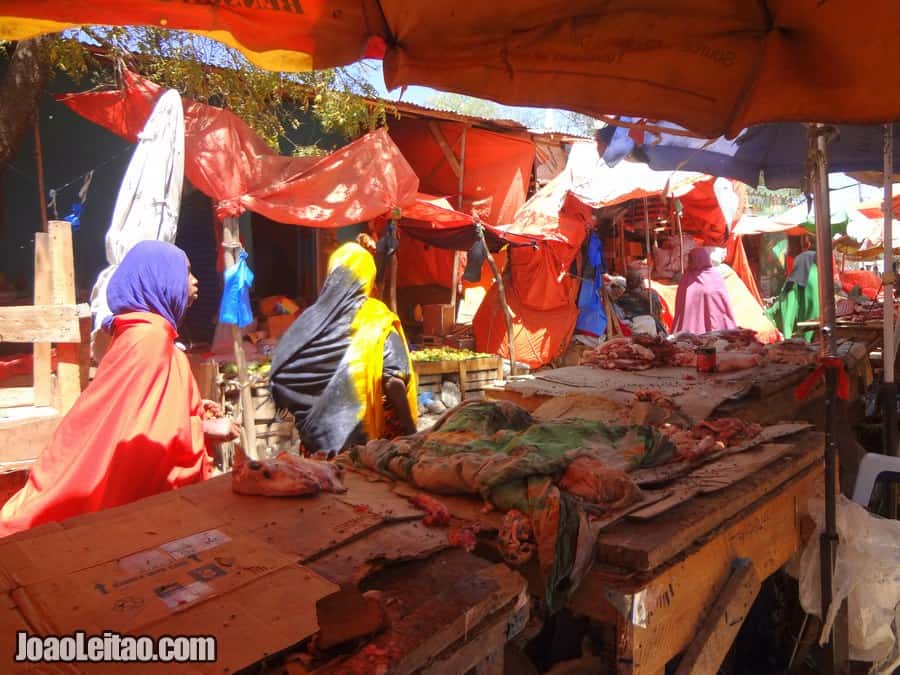 Bacadlaha Market is a huge permanent street market in the city center of Hargeisa, south of Independence Road, starting at the Telesom building.
Here, right on the streets, there are hundreds of stalls with clothes, fruit, vegetables, meat, shoes, housewares, fabrics and carpets. Amidst this confusion, the color of the clothes of Somali women, who are almost completely covered up, contrasts with the dust on the floor.
The Bacadlaha Market in Hargeisa is one of the most interesting things to visit in the city. Basically it is a whole city block with tents, shops, stalls, hawkers and confusion.
When I was here, I once witnessed a fierce fight between two women… One of them punched the other with a stone in her hand.
In this market we can buy anything we find on display in the different sections. So, we have the clothing area, the fruit and vegetables area, the meat area, the cereals area, etc..
I would strongly recommend taking the time to explore this part of Hargeisa. Be discreet when taking pictures because most people are very suspicious. Whenever you take a photo, someone tells you something. Just smile and point to something abstract or a house.
2- Camel Market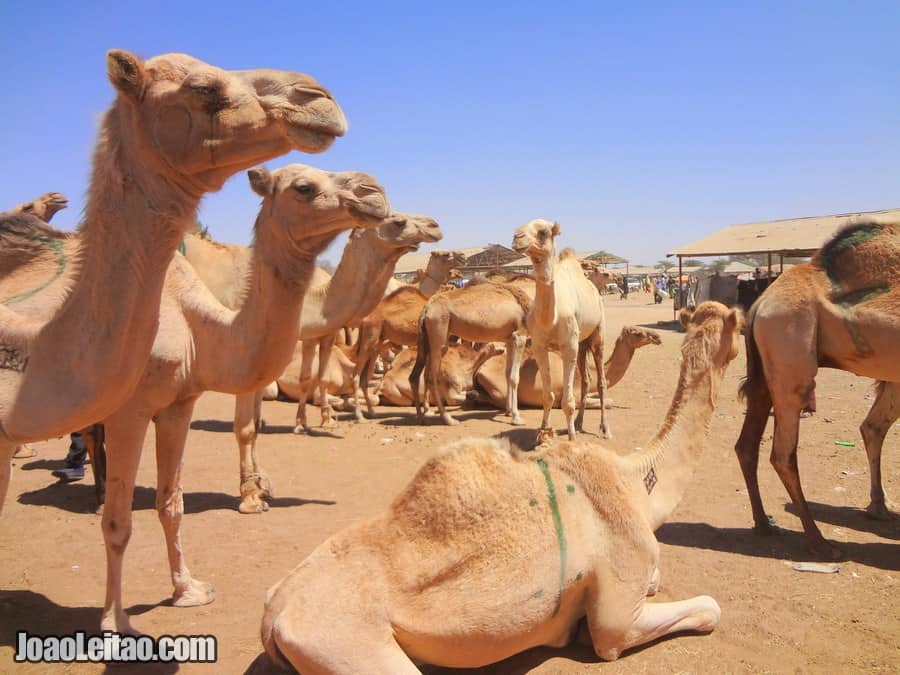 One of the things that is worth visiting in Hargeisa is the cattle market, where they sell goats, camels and cows.
The area of the camel market is very interesting because it is full of camels standing in the same place. All of them will stare at you and look very curious. Yes… camels, like cows, are very curious animals.
I really liked Hargeisa's camel market mainly because nobody cared too much about my presence. I passed a bit unnoticed because I think there are many Arabs from the Gulf going there to buy camels. In fact, many people came and talked to me in Arabic thinking I might be from the United Arab Emirates.
At the entrance of the market, on the right side, you can see the camels (dromedaries). Each of these animals can cost up to 1730 euros / 2000 dollars. Cows can cost up to 433 euros / 500 dollars.
The camel market is located across the river Waheen. Here, people sell animals and straw. You can visit the market at ease as people are very friendly. Unlike Bacadlaha Market, many of the people here actually want to be photographed. You can also visit the area where they sell cows and where the animals are unloaded from the trucks coming from Berbera and Sheekh.
3- MIG War Monument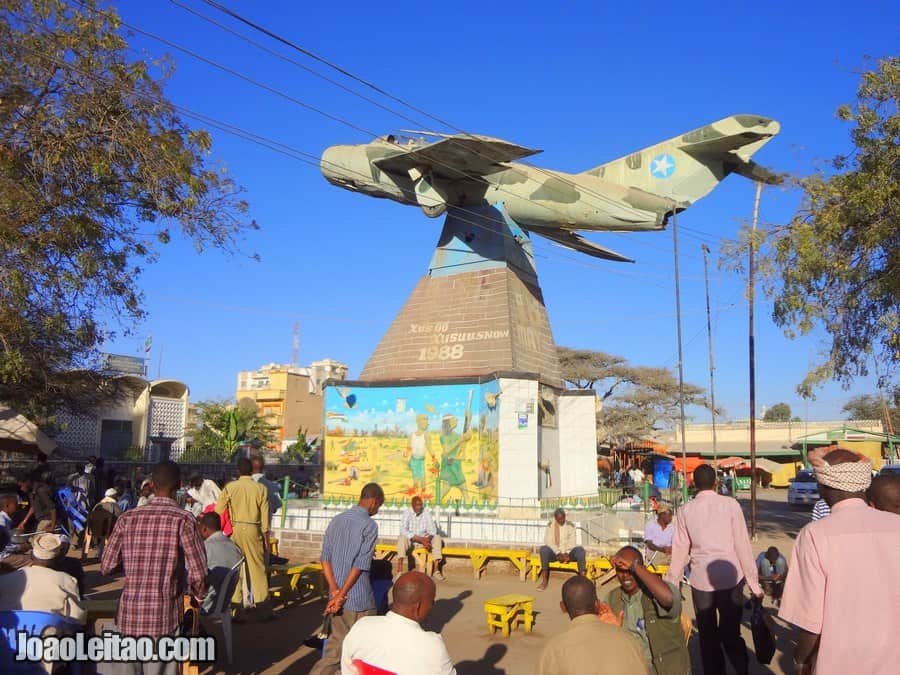 This war memorial commemorating May 28th is situated in the center of Hargeisa. Basically, it's a true MIG airplane put on top of a pillar.
This aircraft belonged to Somalia Air Force. Around the plane, there is a tea house where many men hang out to talk and drink tea during the whole day.
Where to eat in Hargeisa, Somaliland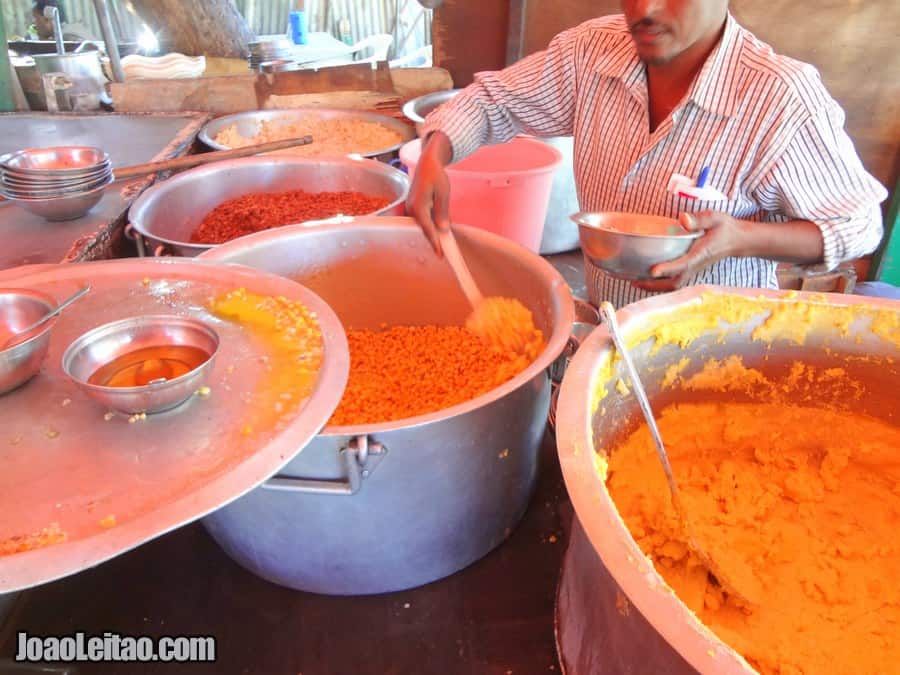 Restaurants in Hargeisa are very easy to find and provide a very nice hot meal.
In fact, I was personally very surprised by the amount of restaurants scattered throughout the city which offered a great variety of menus.
In the city center, along Independence Road, near Ali Matan Mosque and Oriental Hotel, there are many restaurants that serve full meals costing from 4000 to 15000 shillings, depending on the menu you choose.
There are various dishes of pasta with meat, salads and vegetables, yogurts and milk, and mixtures of cereals.
I ate in two different street restaurants, but I also ate a couple of times at the Oriental Hotel restaurant, which serves very good food as well.
Spread around the city, there are also fruit stalls and street vendors selling meat or lentils samosas.
Talk to local people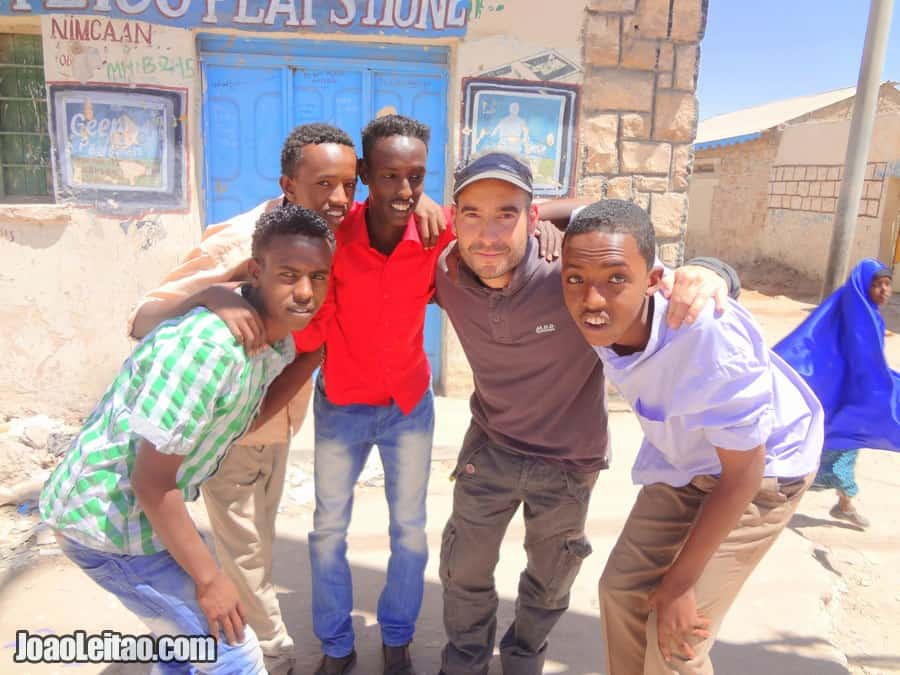 People of Hargeisa, and Somaliland in general, are very communicative and curious to know where tourists come from.
Wounded in their national pride, because no one recognizes their independence, Somalilanders come to us on the street saluting us, asking where we are from, what religion we have, whether we like the country or not, if we find it safe, etc..
Many people will come to you just to talk. Actually, they do not want anything in return. Holding a conversation and even accepting an invitation to drink tea with some locals is something that I totally recommend. Invitations are authentic and typical of the hospitality of the Somaliland people.
If you are chatty and friendly, soon you'll have friends in a restaurant, at the corner store, in the exchange money place, at the market… Engaging in a conversation is that easy. Even with the lady who sells bananas.
Where to Sleep – Accommodation in Hargeisa
Oriental Hotel in Hargeisa Somaliland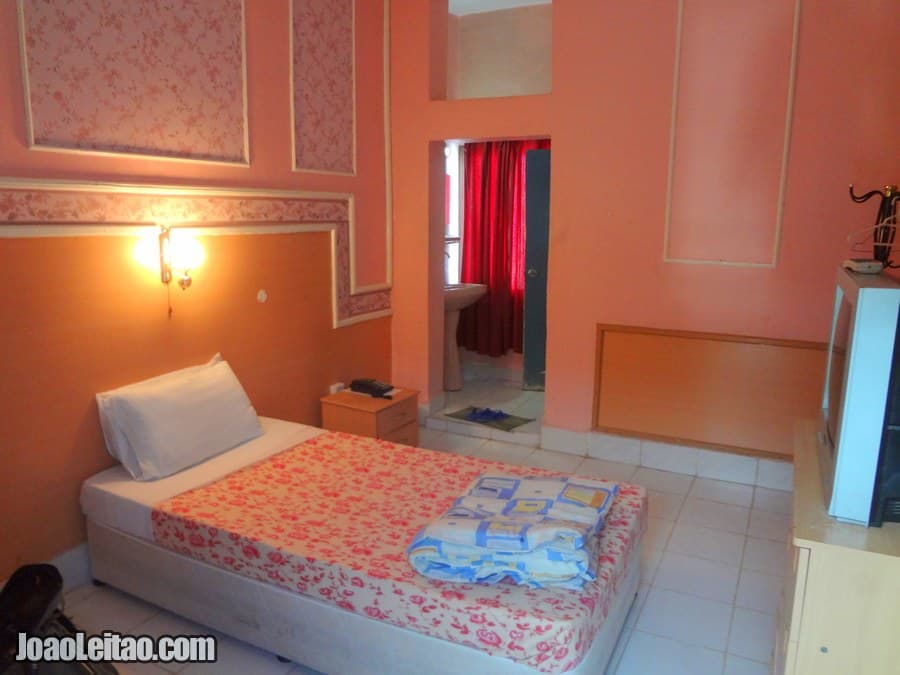 The Oriental Hotel is located in the center of Hargeisa, in a parallel to Independence Road, the main street.
I stayed in this hotel for three nights. The conditions are very good, the private bathroom / en-suite rooms are clean and have a TV and WIFI Internet.
The price per night is 13 euros / 15 dollars and includes breakfast.
There are other hotels in Hargeisa. To be honest, when the taxi dropped me off in the city center, I walked for 5 minutes and went into the first hotel I saw. In this case, it the Oriental Hotel Hargeisa happened to be the first one I spotted. From the hotel's terrace you can take photos of the streets full of people.
The restaurant of the hotel serves meals with Indian flavors for about 4.3 euros / 5 dollars. Breakfasts are great. I always ate beans with bread, fried eggs, strawberry jam and drank Somali tea with milk. This really boosted my energy for the rest of the day.
[message_box type="info"]Contacts: Oriental Hotel, Center Hargeisa, Somaliland ● Phone: 25 22 51 49 99 ● Email: info@orientalhotelhargeisa.com ● Website: http://www.orientalhotelhargeisa.com ● The hotel visit card looks like this.[/message_box]
Guide to Laas Geel – 9000-year-old rock paintings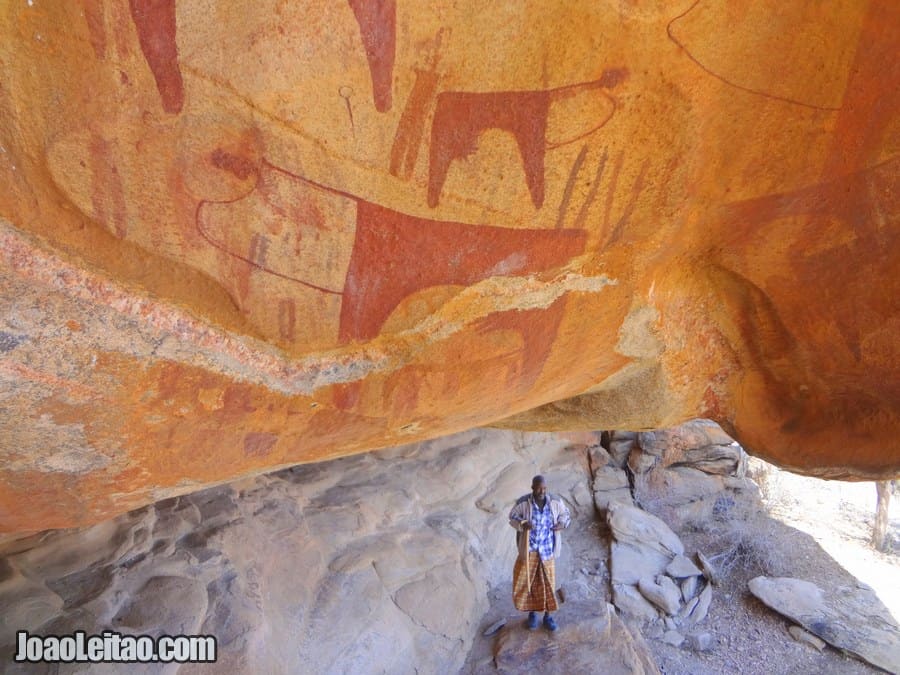 Located 50km / 31mi from Hargeisa, in the middle of the desert and surrounded by rocky mountains, Laas Geel is a set of several rocks and caves where rock art paintings are extremely well preserved. The humans and animals, portrayed with different colors inside, were made 9000 years ago! It's a fascinating place in this region of the Horn of Africa.
For me, it was rather surprising that in this trip to Somaliland I would visit and witness one of the most beautiful places I've ever seen in my life.
Yes… in Somaliland – Somalia.
Imagine a set of 9000-year-old paintings depicting men and women, dogs, many cows, giraffes, all drawn on the rock surface, practically outdoors, but in excellent condition!
To get to Laas Geel you have to get a permit that costs 22 euros / 25 dollars. You also need a taxi with a private military armed escort to protect you. This escort costs 17.3 euros / 20 dollars, the taxi from Hargeisa from 60.5 euros / 70 dollars to 108 euros / 125 dollars.
I got to Laas Geel doing a stop on a taxi trip which took me all the way to the city of Berbera, on the Gulf of Aden, departing from Hargeisa.
There are several places hiding these paintings, all being separated by about seven hills and caves to visit, but we have to do a little bit of trekking to get there.
A visit to Laas Geel can only happen if you are followed by a mandatory guide, a nice gentleman who takes us through the mountains. He does not speak English, except the words "man", "cow", "dog". You can give him some tip in the end.
There is no doubt in my mind that if this rock painting site was located in an internationally recognized country, it would be on the World Heritage list by UNESCO.
At the entrance of the complex, there is a small house with a few panels explaining the history and cultural significance of Laas Geel.
At the end of the visit, you can sign the guestbook. I was the third Portuguese to sign it.
Another interesting fact is that this site was only found in 2003. Thus, a very recent discovery.
If you are in this region, do not miss the opportunity to visit this special place.
Besides Laas Geel, near Dhubato, Somaliland has some other fabulous locations with ancient villages, rock art, and megalithic sites: Dhagax Khouré, near Hargeysa; a few other examples in Massif Daimoleh and in the Mountains Goolits; Iskudar; Raari; Guideys; Cagarey; and Go'o.
[message_box type="attention"]Read the page: Laas Geel – Incredible 9000-year-old rock paintings in Somaliland.[/message_box]
Guide to Berbera – beach city and commercial hub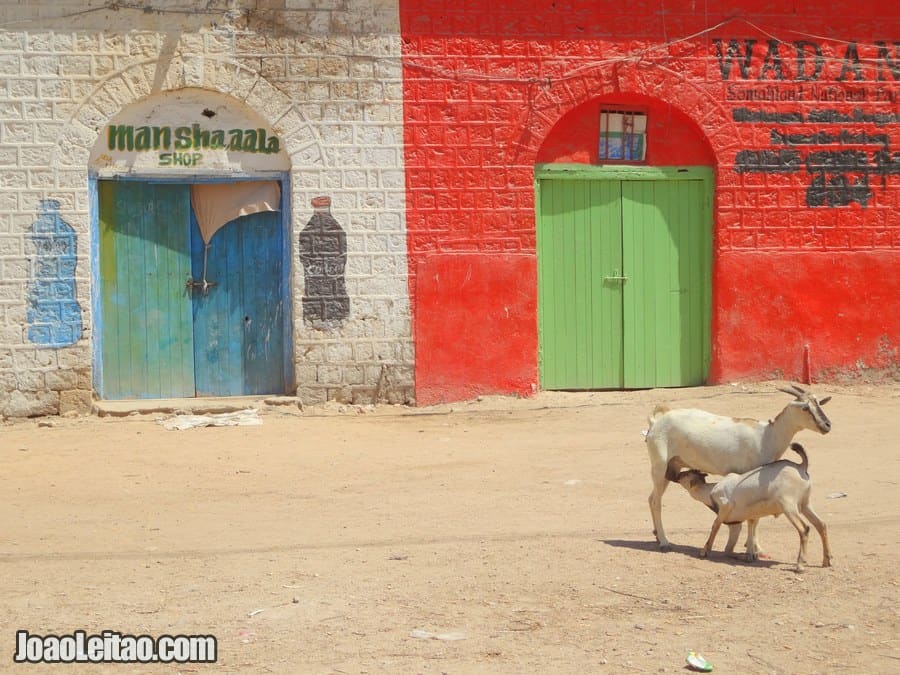 Berbera is the second most important city in Somaliland, located on the Gulf of Aden. In the center of Berbera, we can find several destroyed buildings, the fishing port, a few ancient mosques, the market area and some abandoned old sunk boats on the beach near the port.
Baathela Beach in Berbera is worth visiting. Actually, if you want a few days to recover from your overland trip, then this is a nice choice. This beach is 5km / 3.1mi away from Berbera center. It has transparent blue water, yellow sand and no one to be found except for some families who go there during the weekend. On the beach, you can see dolphins, crabs, and groups of Ibis birds.
Having great geographical importance due to its port location, Berbera attracted many Ethiopian, Sudanese and South Sudanese companies and businessmen. They absolutely need to use this port to import various products since the countries they come from are landlocked. Therefore, this is a port city with a strategic regional importance.
Berbera was once a very developed city but after the war, it never fully regained its charm and influence.
Gradually, local authorities continue to work to make it a better city, more developed, in order to attract more foreign investment.
I've wandered all over the Berbera – the center, the beaches, near the lighthouse, the commercial port, within the grounds of the Petroleum Ministry and even went inside the City Hall for an "interview" with the mayor of the city.
Things to do in Berbera – Visit Somaliland
1- Baathela Beach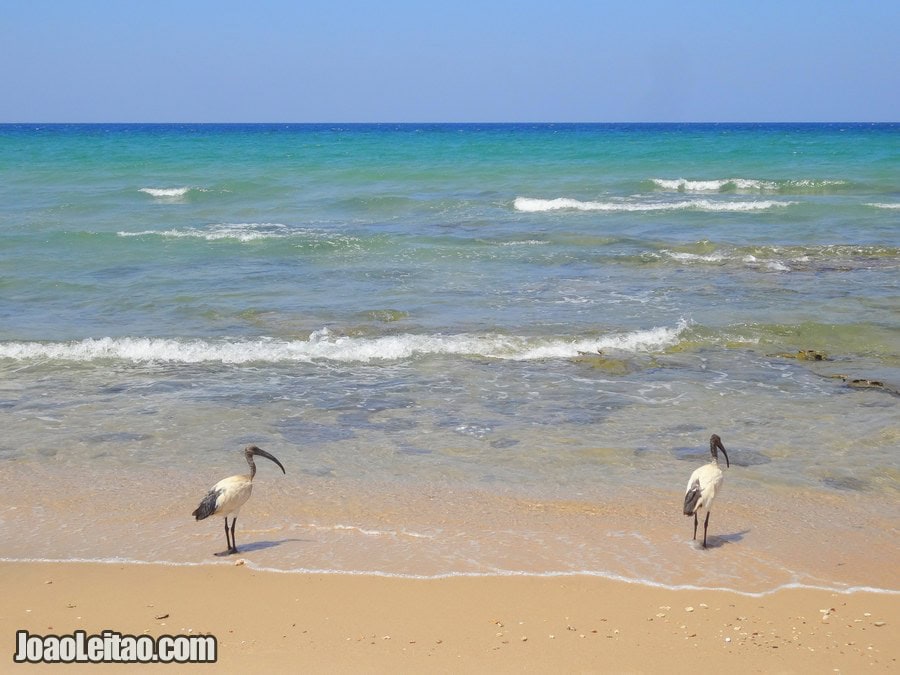 This beach, located about 5km / 3.1mi from Berbera city center, is an excellent spot to rest for a few days. If you have been traveling for long and if you're in need of a place to stop and organize yourself while getting some rest before returning back on the road, this is it. The beach has dolphins in the water during sunrise, there are always many crabs and sacred Ibis walking around.
2- Buildings in the city center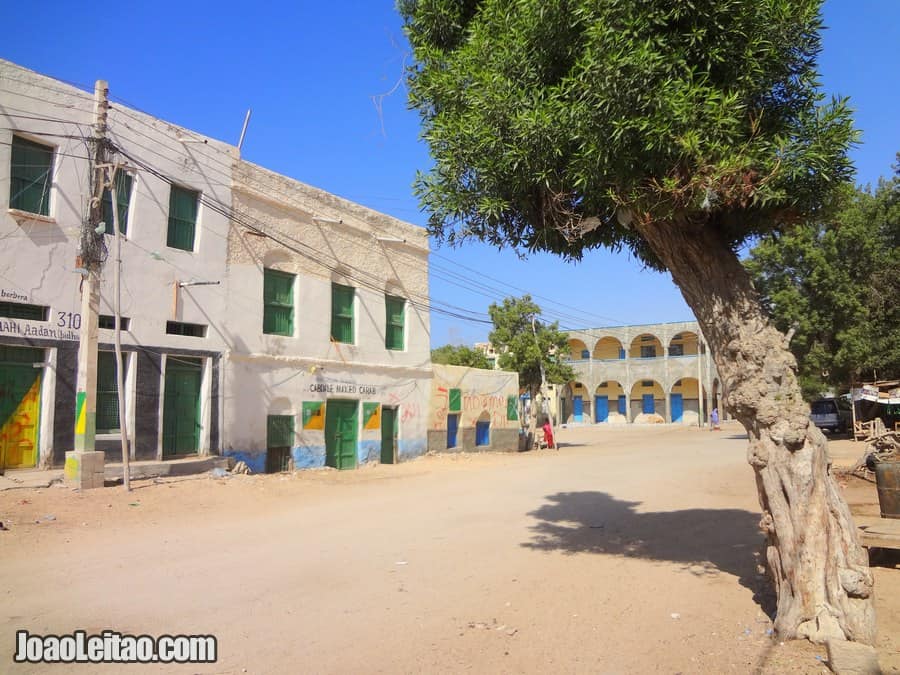 Berbera was once a very important city with an excellent cultural and economic development. Then, there was the war and the city became almost completely destroyed. There are several beautiful buildings in the city center in a very peculiar and interesting architecture which make a walk worthwhile.
3- Old mosques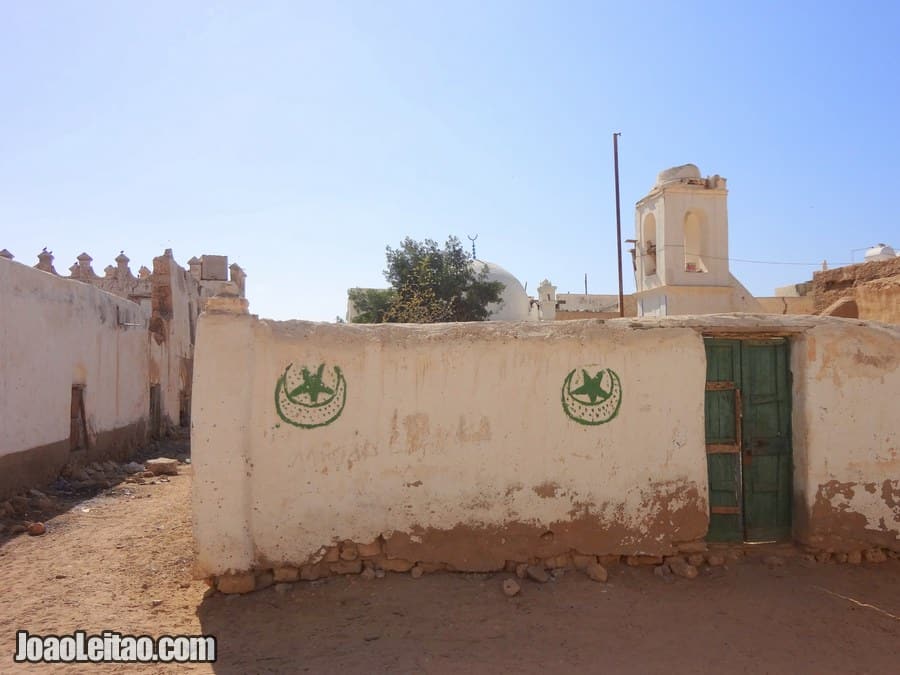 In Berbera, there are several mosques with more than 300 and 400 years old. The best known are the Turkish and the Indian Mosques. These have been built with fine architectural features, including a rounded minaret. Their color is, of course, white with green decoration – the color of Islam.
4- Drink tea and chew qat on the street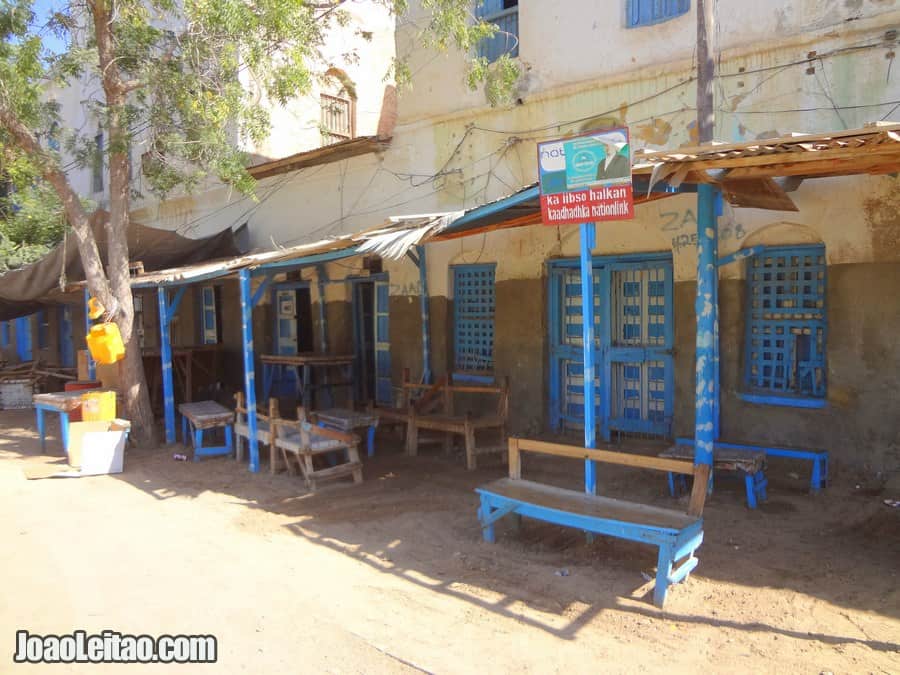 There are plenty of tea houses where the locals of Berbera sit to drink tea and chew qat leaves. The Qat is a narcotic used by several people in countries like Yemen, Ethiopia, Kenya, and Djibouti.
If you come to one of these cafes and order a Somali tea (it costs 500 shillings), you will soon be invited to join a group of friends who will ask endless questions, try to communicate with you and… offer you qat to chew.
5- Harbor and Port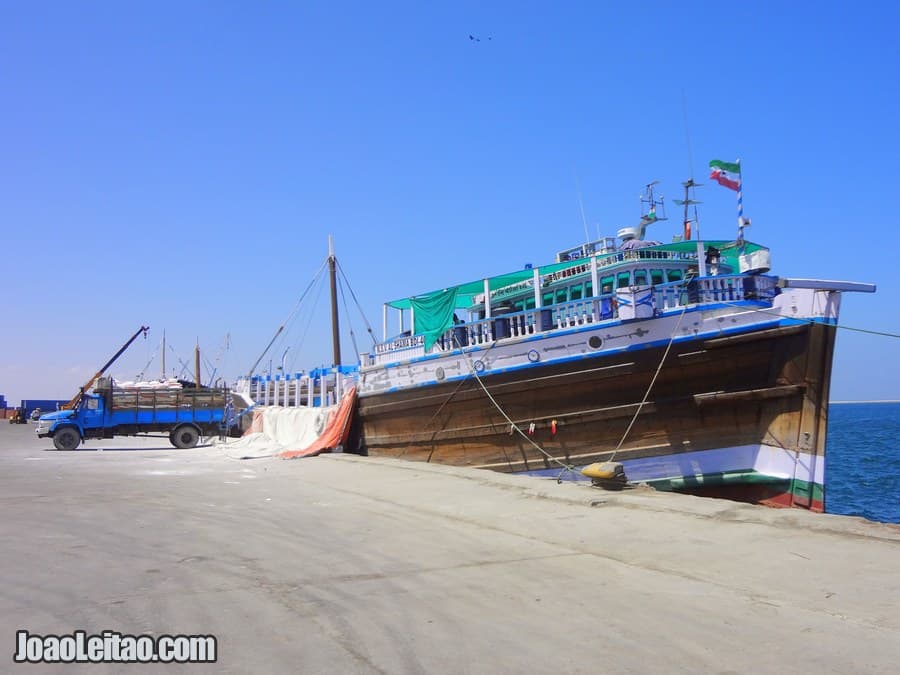 I had the opportunity to meet someone from the City Hall that took me visiting the important import/export city port.
Only after a visit to the port do we realize the vital role of Berbera in Somaliland (and other countries such as Djibouti) to feed the flow of goods and commodities through the sea to Ethiopia and South Sudan. These are really dependent on this key position.
I was very lucky to get the permission from the Mayor of Berbera to visit the port. I also had a guided tour by the Minister of Social Affairs, who took me on a visit to the same place. Everyone was very friendly and polite. Somalilanders are indeed very cordial people.
I met all the most important people in the port, from the director to the head of the main services and chief guards for protection and security. I walked into the warehouses, near the gate and in the area where unloading/uploading of goods from boats takes place.
5- Lighthouse Beach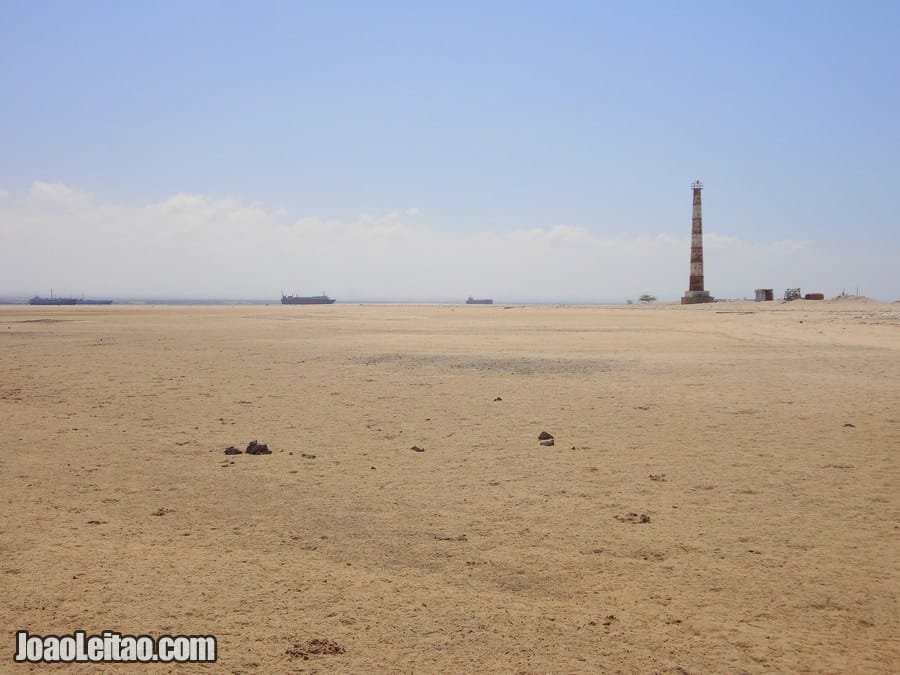 In the city of Berbera, on the opposite side of the harbor, there is a huge beach with a lighthouse on the very tip of the cape. I asked my friend to take me there by 4WD and he did. He had never been there before either.
At the beginning of the road, there were a few camels sleeping. Unfortunately, the whole beach is full of garbage and should be cleaned. Hopefully in the near future, as the country is increasingly developing. The beach landscape is wonderful and you can enjoy the view over the Gulf of Aden and the bay of the Berbera port.
Where to Sleep – Accommodation in Berbera
Hotel Maan-Soor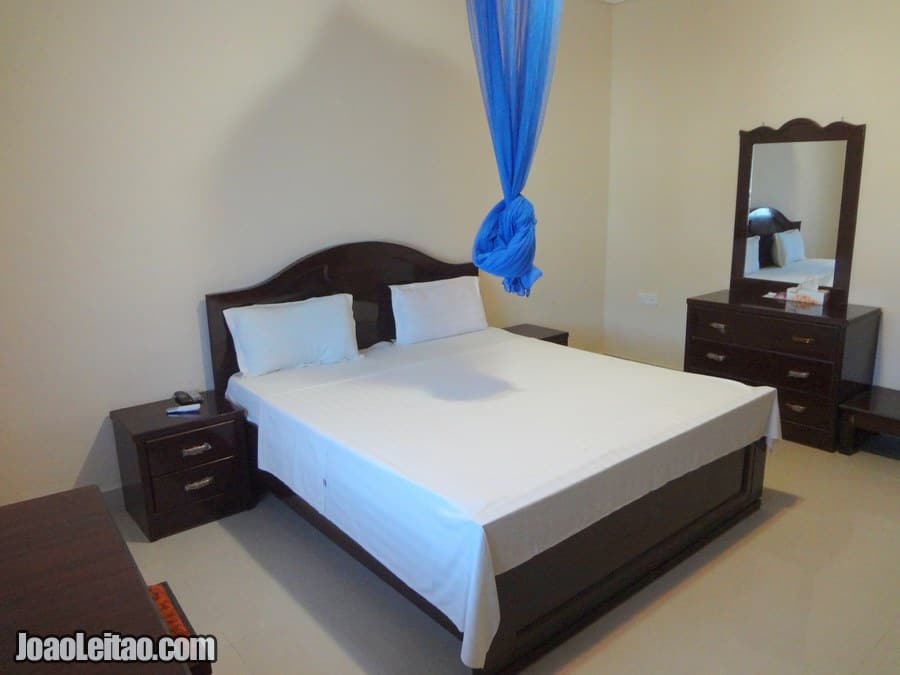 Hotel Maan-Soor is a hotel located in front of Baathela Beach, 5km / 3.1mi from the center of Berbera, on the Gulf of Aden.
This is the best hotel in the city and it has several spacious bungalows built in front of the beach.
The hotel also offers diving services, allowing you to rent equipment for 43.2 euros / 50 dollars.
The price for a room with en-suite bathroom, satellite TV, air conditioning and breakfast is 43.2 euros / 50 dollars per night.
I stayed 3 days in this hotel, preparing myself for the ten-day trip around Ethiopia yet to come. I needed to organize myself, wash all my clothes, write for my travel blog, rest, sleep and of course enjoy the beach.
My room was brand new, with excellent equipment and furniture – still smelling new.
The hotel has a restaurant serving really tasty food. Breakfast is very good and basically, we can choose what we want from the menu. There are also various dishes of vegetarian food, meat or fish, as well as juice and soup.
[message_box type="info"]Contacts: Hotel Maan-Soor Berbera, Baathela Beach, Berbera city, Somaliland ● Phone: 42 44 240 ● Email: maansoorhotelberbera@hotmail.com ● Website: http://www.maan-soor.com/ ● The hotel visit card looks like this.[/message_box]
Hotel Yahye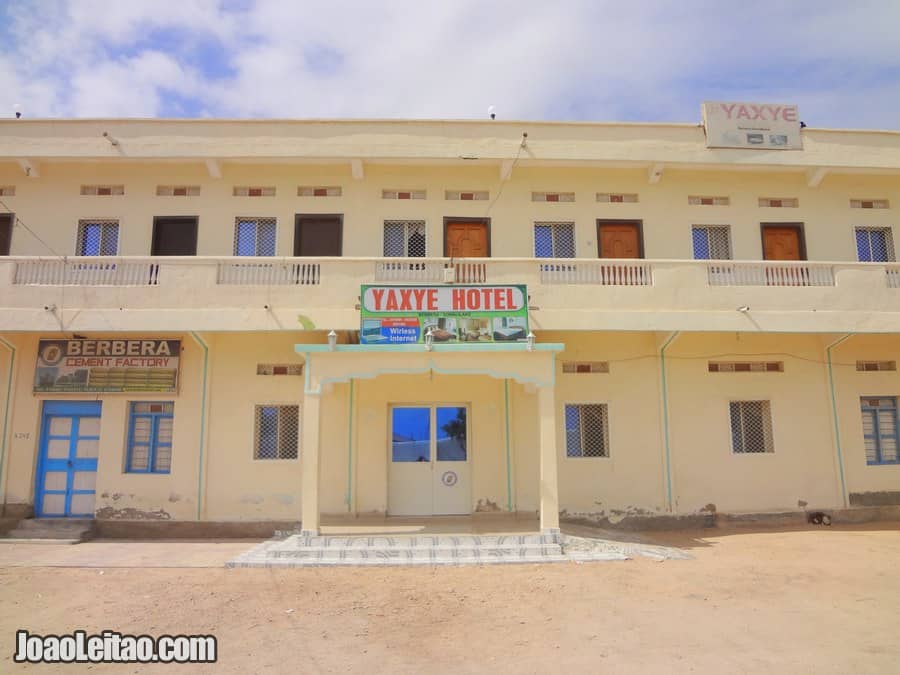 This hotel is located in Berbera city center. I had stayed 3 nights in the above-mentioned hotel on the beach before, a bit away from the heart of Berbera, and decided to sleep one night in the center to experience the city life as well.
After unsuccessfully looking for an available room at Esco Hotel and Hotel Al Madinah, I went to Hotel Yahye.
Here, I finally found a single room with a fan and free WIFI Internet access. I was very happy because, besides being located right where I wanted, it was clean enough.
The price for a room is 6 euros / 7 dollars per night. Prices vary depending on the season and room type. A single room with en-suite bathroom costs 8.6 to 21.6 euros / 10 to 25 dollars in the high season.
[message_box type="info"]Contacts: Yahye Hotel, Berbera – Somaliland ● Phone: +252 2 4162759 / +252 2 740577 ● The hotel visit card looks like this.[/message_box]
Where to eat – Restaurants in Berbera
There are plenty of choices if you want to eat out at a restaurant in Berbera. I was in a few different ones.
Restaurant Hayat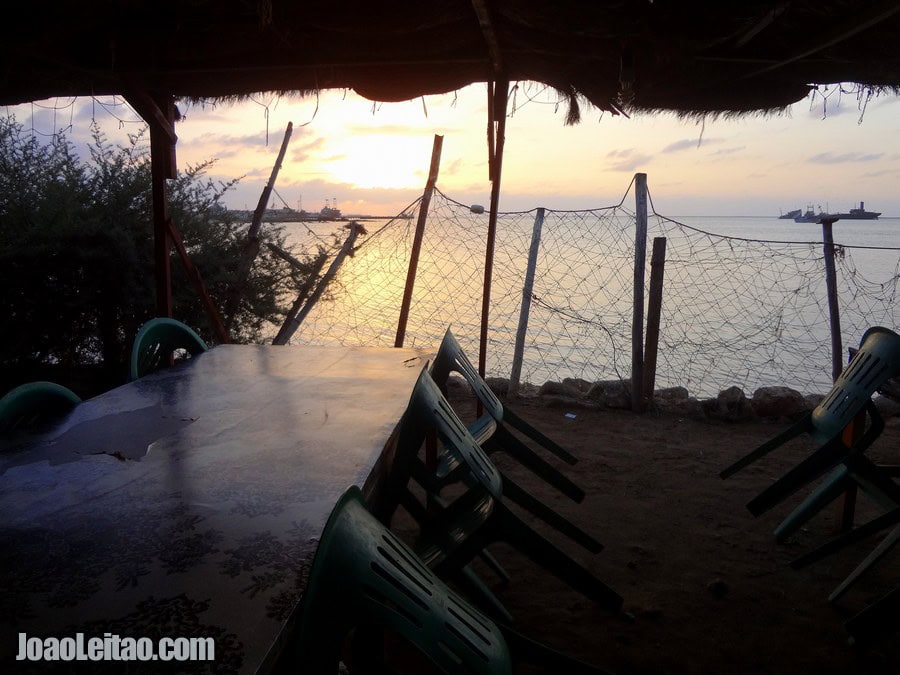 Hayat Restaurant is located in the city center, about 200 meters from Hotel Esco, a bit further down the road. The dining rooms have great views over the harbor.
This restaurant has a variety of Somaliland dishes from fish and meat to fava beans (foul) for vegetarians. A full meal costs 2.6-4.3 euros / 3-5 dollars depending on what you eat and drink. This restaurant fills up at lunchtime.
Guide to Wajaale – border town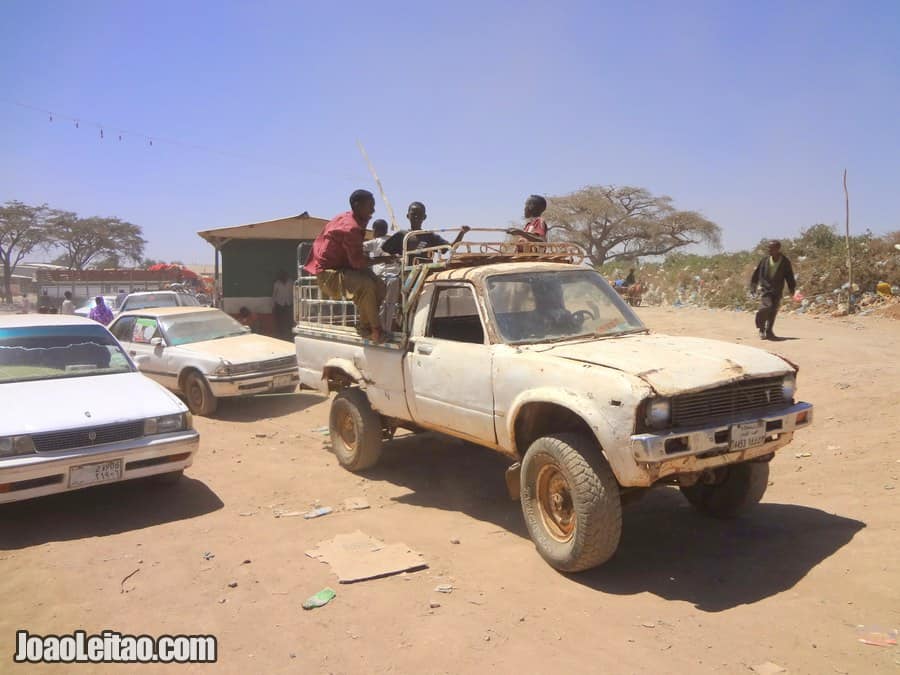 Wajaale is a border town between Ethiopia and Somalia. Yes, it has what you think – garbage, dust, poverty, armed police, and military. But also… very friendly and curious people.
When I got to the city on the Ethiopian side, I immediately saw huge piles of garbage. However, when I crossed the zone between the two borders, "no man's land", I was stunned by the amount of trash.
I got a taxi from Wajaale to Hargeisa after passport formalities with Somaliland border police. While crossing the city I truly realized what a scenery of poverty, destruction, and waste is like.
You don't really need to stay here, just get your transportation and head to Hargeisa.
How to get there – Transportation in Somaliland
You can either fly directly to Somaliland from Addis Abeba or take overland transportation from Ethiopia or Djibouti.
Taxi Wajaale to Hargeisa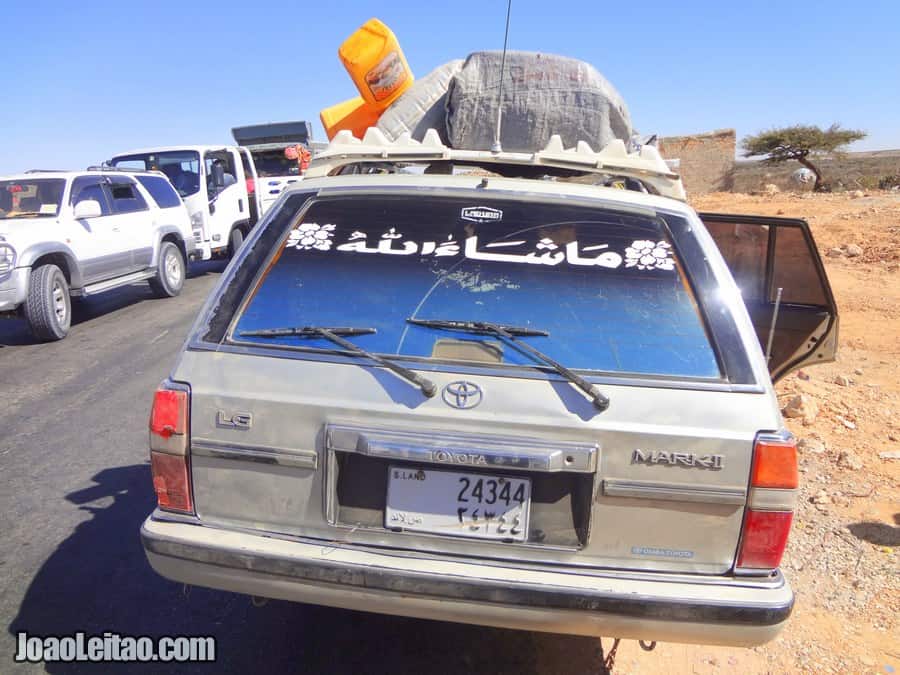 There are minibusses available to take you from the border with Ethiopia to Hargeisa. Nevertheless, the simplest way to do it is to take a 3-hour trip shared taxi from Wajaale to Hargeisa. This was my option.
So, I went into a car that normally takes only five people but in Somaliland takes 10. Three in the front (driver included), four in the back seat and three in the trunk.
The beginning of the trip crosses the slightly destroyed city of Wajaale, with dismantled cars and huge garbage piles. After many kilometers of dust and dirt tracks, we finally reached the paved road to the capital – Hargeisa.
The price of this taxi was 120 Ethiopian Birr, about 6 euros / 7 dollars. There is a stop to eat at a road restaurant. Along the journey, there are at least five police checkpoints for document control. For foreigners, the police just want to see the entry passport stamp and the Somaliland visa. Easy.
Taxis in Hargeisa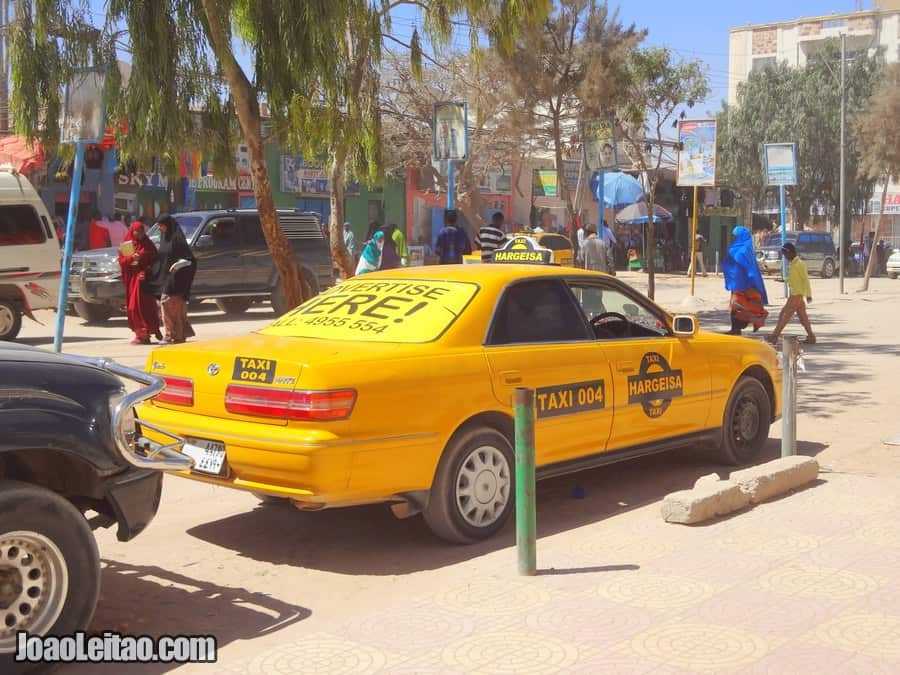 It's very easy to get a taxi in Hargeisa. Compared to other prices in the region, taxi transportation in Hargeisa is a bit expensive. A trip around downtown can cost from 15,000 to 40,000 shillings (about 1 to 3 euros). I got a taxi from the hotel to the camel market, on the other side of the river, and paid 20,000 shillings.
Taxi Hargeisa to Berbera via Laas Geel, Somaliland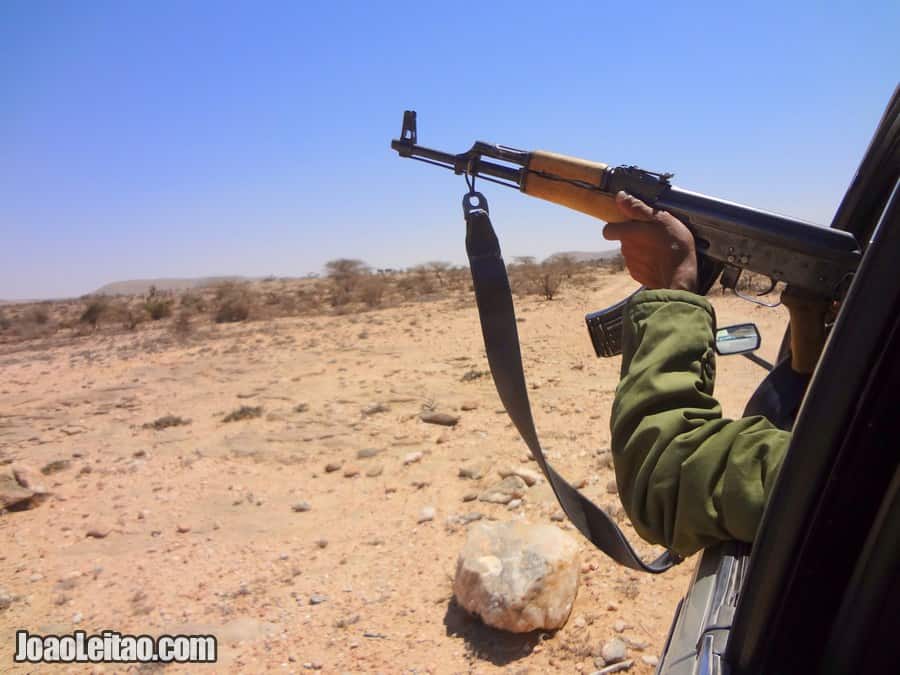 I took a private taxi from Berbera to Hargeisa, passing through Laas Geel rock paintings.
The taxi picked me up at the Oriental Hotel front door in Hargeisa and left me at the door of Man-soor Hotel in Berbera. The road is made of tarmac except for the 14km / 8.7mi off-road track near Laas Geel. Along the way, we stopped to eat at a roadside restaurant. We were served spaghetti with vegetables, meat or fried fish.
This whole area to Berbera is very dry. Through the rocky mountains, you see lots of camels and small poor villages. In Laas Geel, the driver and military go to sleep and you are taken to visit the paintings accompanied by a mandatory local guide.
Bring two bottles of water and some bananas for the trip. Leaving at 9 am from Hargeisa, it is expected that arrival at Berbera should be at around 4 or 5 pm.
At the reception of Oriental Hotel in Hargeisa, they sell tours and can hire you a taxi with English speaking guide and armed escort. They also get the entry permit in Laas Geel. If you don't have time to do things for yourself, or you just don't want to bother, then you can make this trip for 170 euros / 195 dollars. They organize and prepare everything for you. You just have to be ready the next morning. This was what I did. Easier.
If you want to do everything on your own, then the price of this service is usually 43 euros / 50 dollars for the taxi, driver and fuel; 17 euros / 20 dollars for compulsory army escort; and 22 euros / 25 dollars for Laas Geel entrance permit, which you have to get at an office somewhere in the city.
Berbera Airport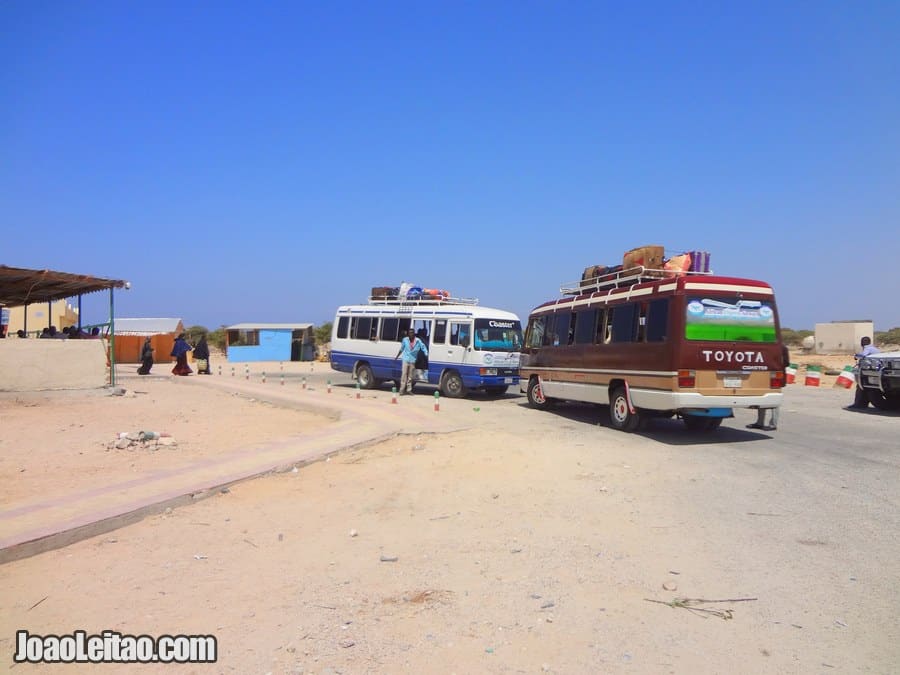 Berbera Airport is the second most important airport in the region.
At the time I flew from Somaliland to Addis Ababa in Ethiopia, the Berbera airport was replacing Hargeisa's (the capital) due to reconstruction and upgrade.
The airport is about 9km / 5.6mi from the city center. I didn't have much Somaliland money left, so I decided to walk down the road almost 14km / 8.7mi. I got a ride hitchhiking after a 30-minute walk under the sun.
There are 4 airlines that operate in Berbera: African Express Airways (flights to Aden, Bosaso, Dubai, Galkayo, Mogadishu, Nairobi-Jomo Kenyatta, Riyan/Mukalla, Sharjah, Wajir); Daallo Airlines (flights to Djibouti, Dubai, Mogadishu); Ethiopian Airlines (flights to Addis Ababa); and Jubba Airways (flights to Bosaso, Djibouti, Dubai, Jeddah, Mogadishu, Nairobi-Jomo Kenyatta).
Airplane Berbera to Addis Ababa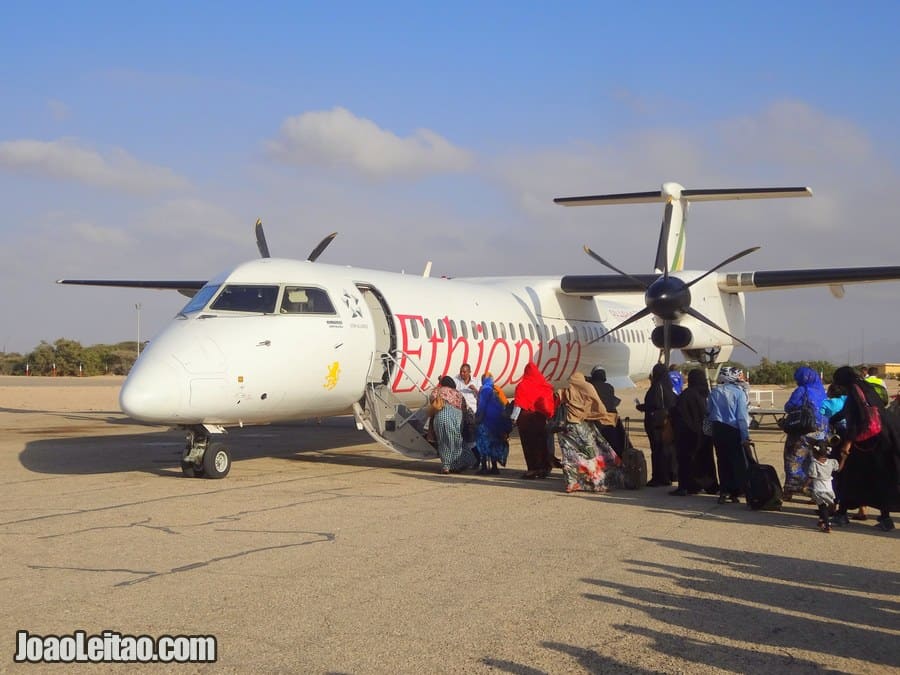 It's possible to fly from Berbera to the capital of Ethiopia – Addis Ababa.
I bought the ticket at the Ethiopian Airlines office in Hargeisa. It was sold by a very friendly gentleman who patiently explained to me the different rates and times of the journey between Somaliland and Ethiopia.
There are two types of schedules for the trip Berbera – Addis Ababa. On alternating days of the week, there is a plane leaving at 9 am and another one at 5 pm.
I got a plane ticket for a Tuesday, which cost me 202 euros / 234 dollars.
This is the quickest way to return to Ethiopia after being in Berbera or Hargeisa since the overland journey takes several days. You can compare both journeys here below.
---
My overland itinerary to reach Berbera from Addis Ababa:
---
Addis Ababa -> Harar = 15 hours bus ride
Harar -> Jijiga = 2 hours bus ride
Jijiga -> Wajaale = 1 hour bus ride
Wajaale -> Hargeisa = 3 hours of shared taxi
Hargeisa -> Laas Geel -> Berbera = 7 hours private taxi with army escort
Total = 28 hours
The plane Berbera to Addis takes only one hour…
Money and Visas – Formalities in Somaliland
Somaliland Visa in Addis Ababa, Ethiopia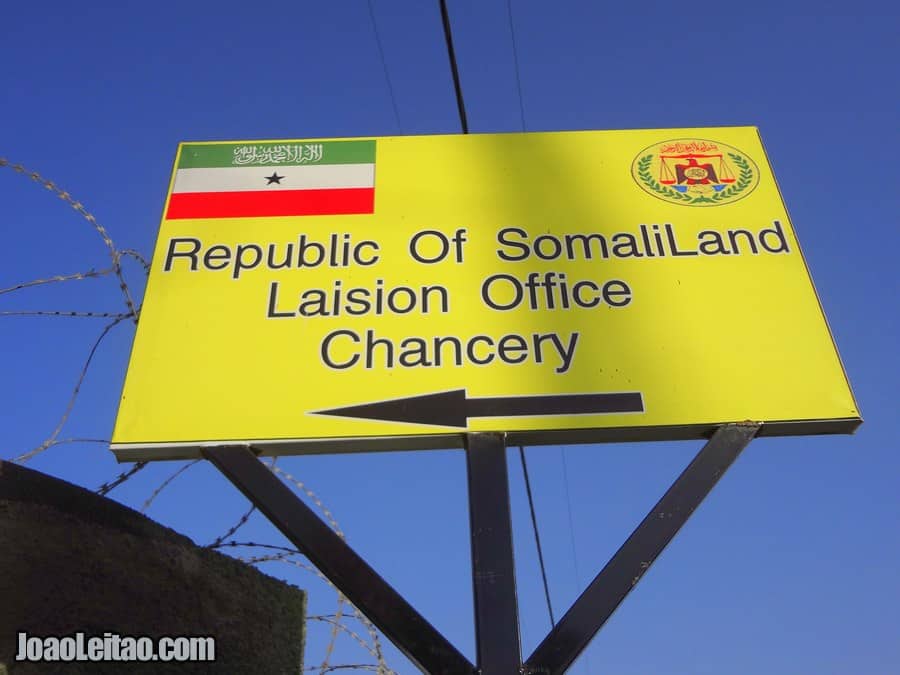 The visa for Somaliland is very easy to get in Ethiopia. Just go to Somaliland Embassy in Addis Ababa, take 35 euros / 40 dollars, 2 passport photos, 1 photocopy of your passport. The embassy opens at 8:30 but the Ambassador usually arrives at 9:00 or 9:30. You will have to fill out the visa application form, pay, and wait for about 15 or 20 minutes.
My visa took about 30 minutes to be issued. The embassy staff was very friendly. Right now, the Embassy of Somaliland changed its location to a perpendicular road to Zimbabwe street.
Prices and cost of living in Somaliland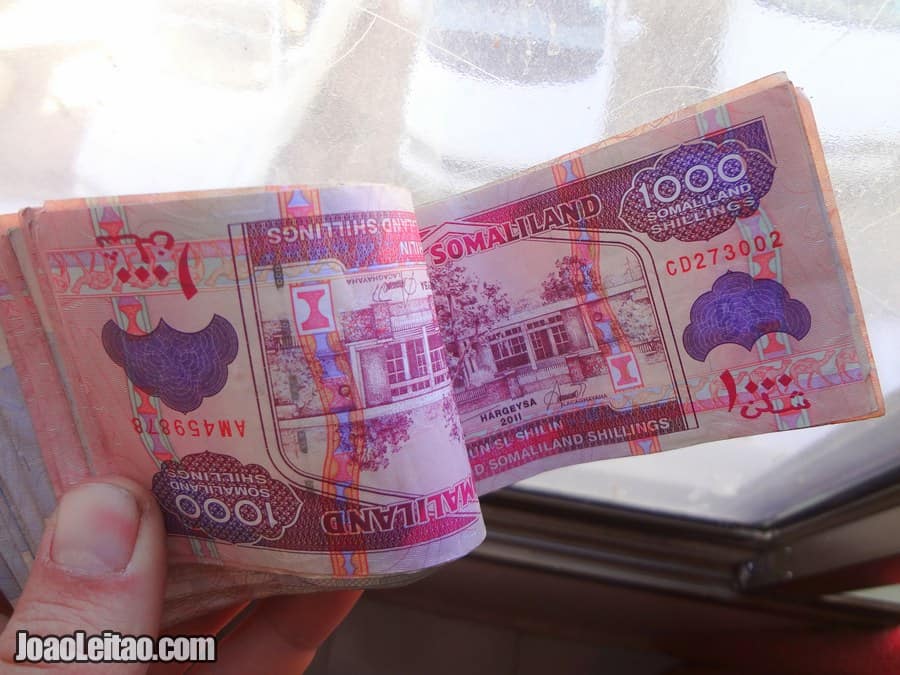 Knowing the price of several items and the overall costs to visit a country gives us a general idea of the amount of money we need to spend while on the road.
On this page, I make a short list of my expenses while traveling in Somaliland.
In general, I found the country very cheap. When changing money one gets a lot of notes of Somaliland shillings. In February 2013, 1 Euro = 8100 shillings and 1 dollar = 6000 shillings.
---
Prices in Somaliland:
---
Shared taxi from Wajaale (border of Ethiopia) to Hargeisa = 120 birr / 5.1 euros / 5.9 dollars
Taxi from downtown Hargeisa to camel market = 20.000 shillings
Meal in Hargeisa street Restaurant = 4000 shillings
Water bottle 1.5 Lt = 3500 shillings
Water bottle 0.75 Lt = 2000 shillings
Bananas (big size) 1 piece = 1000 shillings
Bananas (small size) 1 piece = 500 shillings
Hotel Oriental in Hargeisa = 15 dollars per night with breakfast included
Food at Hotel Oriental Restaurant = 4 to 5 dollars per full meal
Armed guard / military protection = 25 dollars per day
Entrance to Laas Geel = 25 dollars
Private taxi from Hargeisa to Berbera via Laas Geel = 50 dollars
Maan-Soor Hotel in Berbera = 50 per night with breakfast included
Food at Maan-Soor Hotel Restaurant = 4 to 5 dollars per full meal
Somali tea on the street = 500 shillings
Beans and Rice at Hayat Restaurant in Berbera= 15.000 shillings
Airplane Berbera to Addis Ababa in Ethiopia = 202 euros / 254 dollars
Exchanging money on the street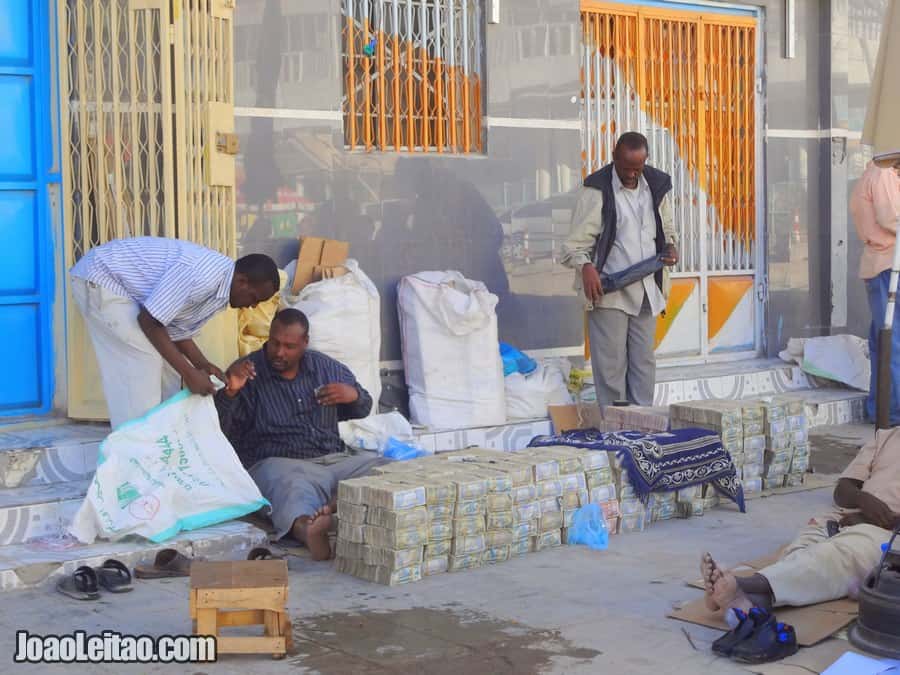 Exchanging money on the streets of Hargeisa is very safe. The interesting thing here is that, as the value of the Somaliland currency is very low, we get a lot of notes on this process.
I exchanged 1 note of 200 Euros for 1620 notes of 1000 Somali Shillings!
This exchange process is done on the streets, in the city center. Some money dealers even spend 24 hours a day on the streets to exchange money. In the morning, when they return to work, they bring the money on a wheelbarrow. At the time I was in Hargeisa 1 Euro was equivalent to 8,100 Somali shillings (February 2013).
[message_box type="attention"]Read the page: Photos of People from Somaliland.[/message_box]