Visit South Sudan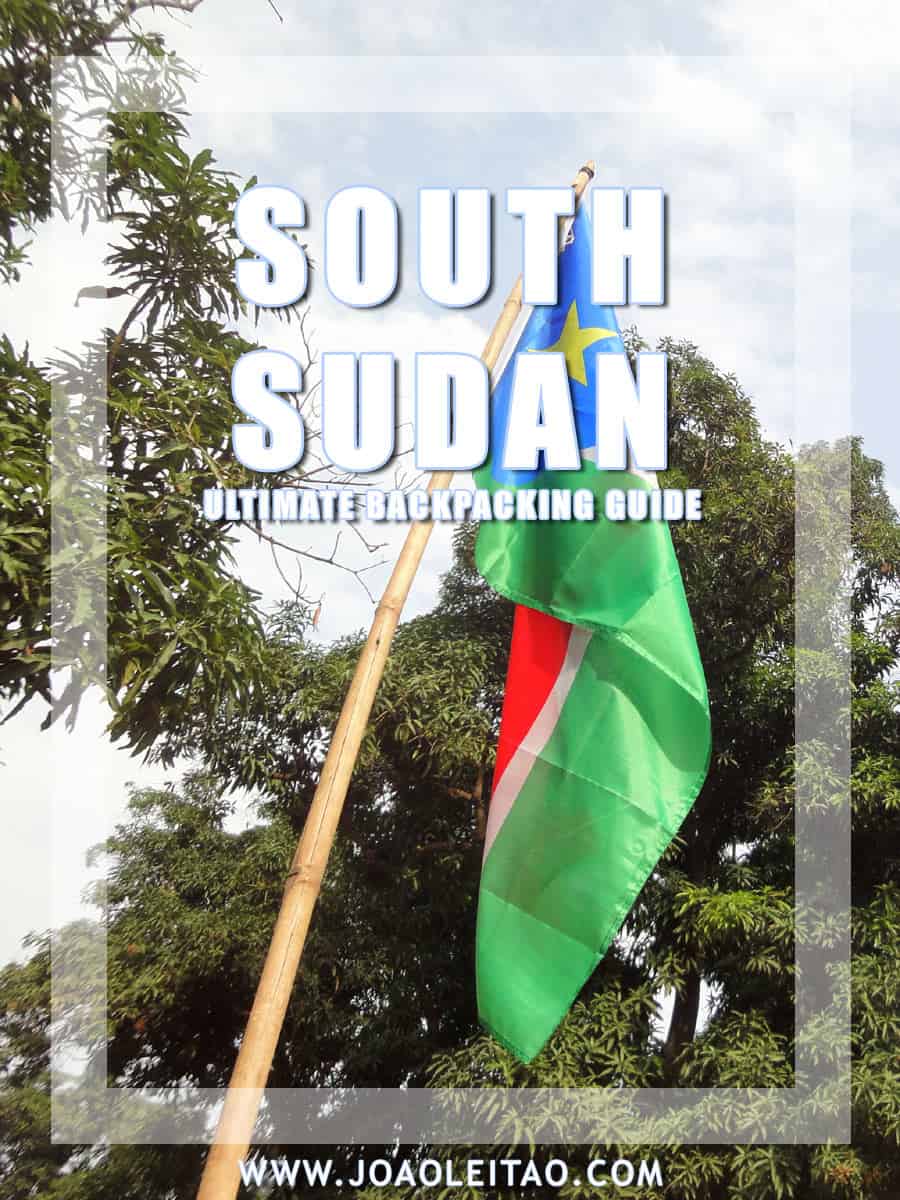 South Sudan was internationally declared independent at midnight on the 9th of July 2011. At this time all South Sudanese celebrated and ended 20 years of struggle against the regime of the northern capital Khartoum in Sudan.
Scattered throughout the city of Juba, huge billboards, posters, banners and advertisements, congratulated the new country, its president Salva Kiir Mayardit, and the martyr of independence Dr. John Garang Mabior.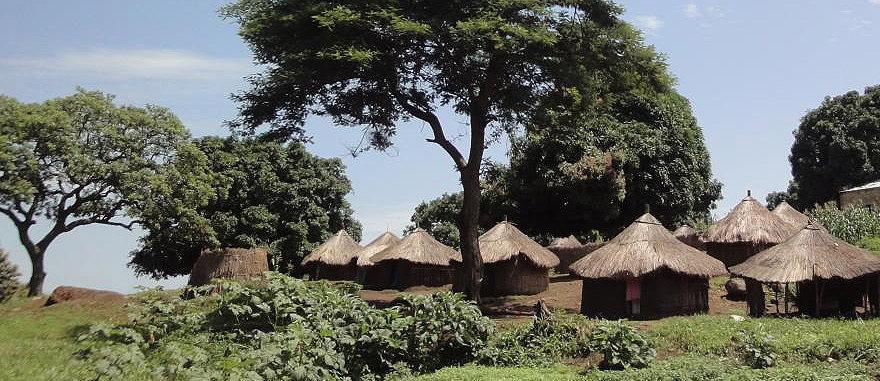 In many places around the city of Juba and even a few days after independence there were a lot of people celebrating and dancing on the streets. Happiness was visible in the expressions of the people all South Sudan.
Video of people celebrating Independence Day
I had the opportunity to travel to South Sudan during the early days of its independence. The reason why I went to East Africa at this time was exclusively to watch the celebrations of the new country.
Land borders were closed on the 8th and 9th of July due to South Sudanese national security. Borders re-opened in the morning of the 10th of July. I was there waiting to cross the border along with a few hundreds of other Africans. So, I was technically the first westerner, the first European, the first Portuguese, and the first travel blogger to enter the new country of South Sudan as a state through a land border.
The police officer stamping my passport told me:
"Congratulations, you are the first Portuguese to enter the new South Sudan."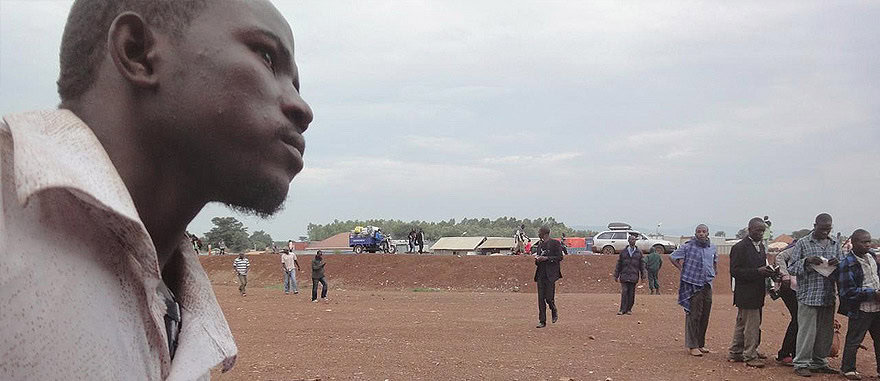 I got my South Sudan travel permit at Nimule border, because at the Nairobi Embassy they didn't want to issue me anything as the independence day was so close. I tried my luck and got a bus from Kampala in Uganda, all the way to Juba, the capital of the yet to come Republic of South Sudan.
Guide to Juba – the capital of South Sudan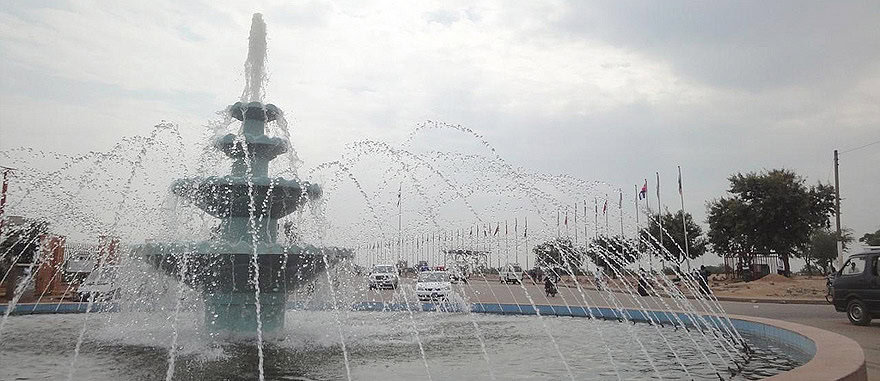 Juba is a very strange city because it's very small and all major buildings and infrastructures you would imagine existing in a capital, don't exist yet. Much still remains to be built in terms of government infrastructure. In the long run they will build it, I guess.
The city of Juba is divided into three main areas: the center called "town", the area of the United Nations and the Presidential Palace. But there are other areas like Kololo, where the UN offices and some European embassies such as the French Embassy, the Italian Embassy, Dutch Embassy and British Embassy are located. This place of the EU embassies is called the "European Union Compound." All buildings are made of prefabricated materials.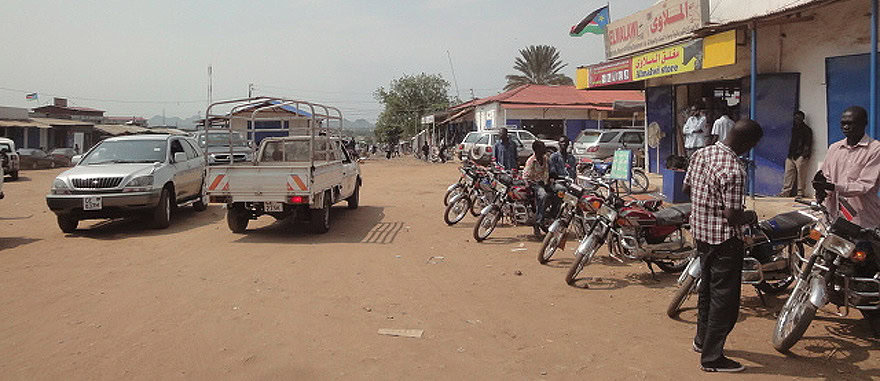 You can visit the area of the South Sudanese Parliament, the Avenue of Nations, where the celebrations of independence took place, the square of Independence, with a set of a few dozen flags, and you can see the statue of Dr. John Garang. Here I think there will be a project to build a park celebrating the independence of South Sudan. The Mausoleum of the former President of the Government of Southern Sudan Dr. John Garang of Mabior is located near the Avenue of Nations, just down the street.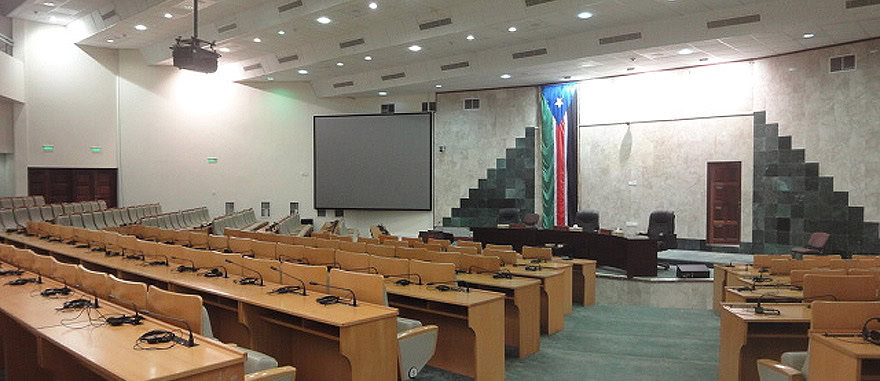 If you want to explore out of the city and walk outside Juba, exit heading west on the road to Yei and you can walk around the villages with huts and their very friendly people. Be aware of the fact that South Sudan was in conflict for decades, so this whole area is a region strongly affected by war. Pay attention to the people and the police and do not take pictures of places associated with the security forces and be always very discreet.
During the celebrations of the independence of South Sudan in Juba, the streets were full of panels and commemorative billboards. Many banners, panels, posters, all exhibited political messages in honor of war heroes and personalities.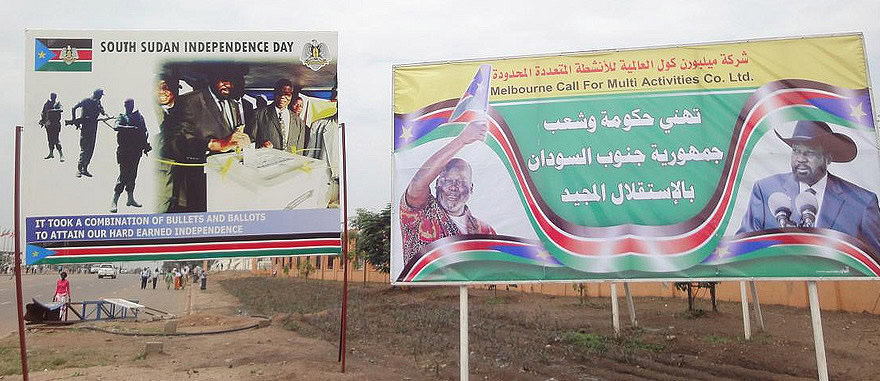 If you want to explore further near the river, you can walk down the banks of the Nile River and the bridge that leads towards the bus station. In this area there are some villages with happy kids playing.
Things to do – Juba Travel Guide
1- All Saints Cathedral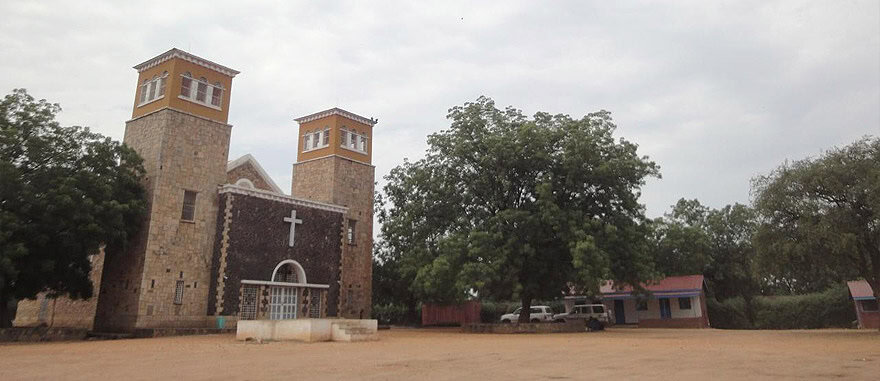 You can visit the All Saints Cathedral between Lanya Street and Gombura Street. This church is the main place for religious worship in the city. Sunday mass is usually full of people and can be an interesting event to be part of.
2- University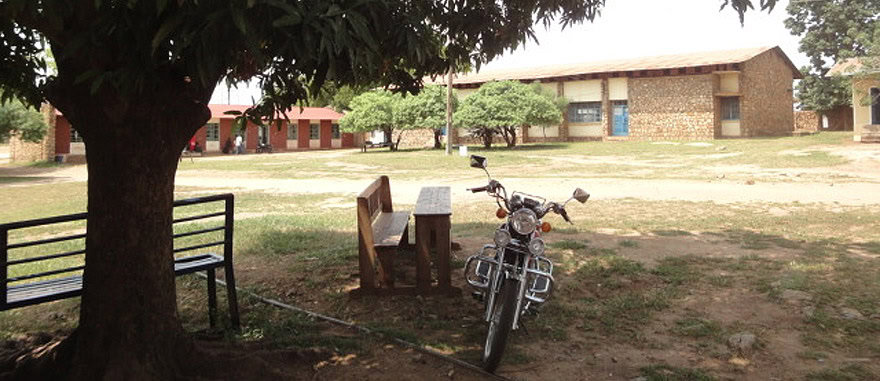 If you're interested in visiting the University of Juba you will find out that both students and teachers might be very welcoming. When you arrive at the main gate you have to greet all those present and ask permission to visit the premises. I was able to get to know the music department where I had the opportunity to sit and chat a bit with officials and teachers.
3- Konyo Konyo Market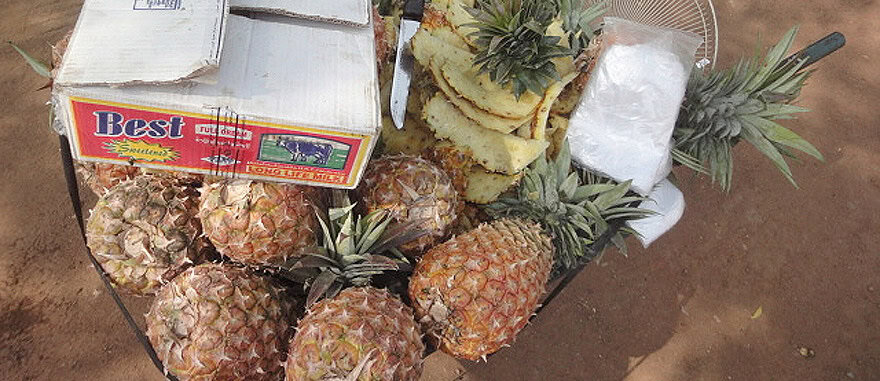 Certainly not to be missed in Juba is the market called Konyo Konyo, a chaotic place, with a lot of people, fruit stalls and confusion. You can buy a little bit of everything and this is where most of the people from Juba come to get their daily groceries.
4- White Nile River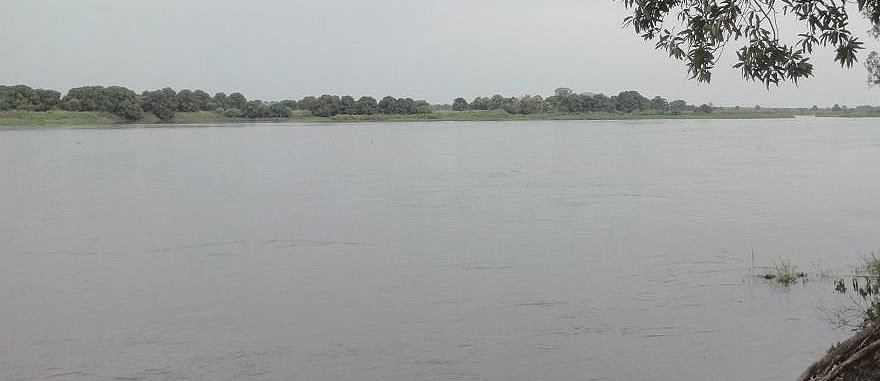 You can walk along the river bank and enjoy the beauty of the White Nile River in this part of Juba. Beware of mosquitoes in the evening. There are many fishermen on small boats, and boats that transport goods from one place to another. The Juba river is very beautiful with a smooth current and fishermen boats cruising.
5- Mausoleum of Dr. John Garang Mabior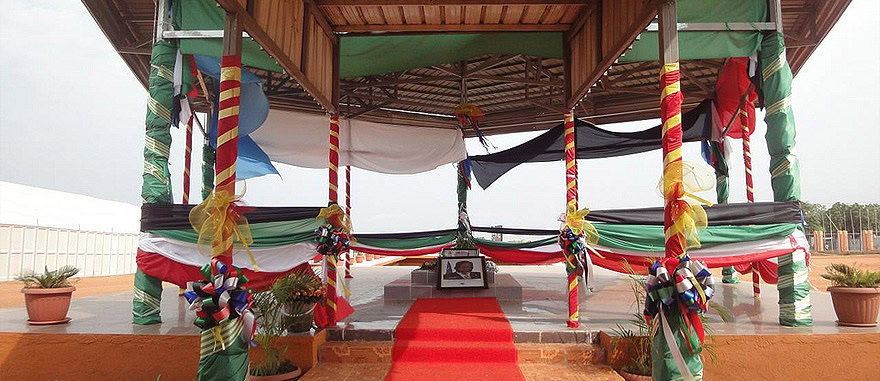 On the Avenue of Nations where the big celebration festival of independence took place, you can visit the Mausoleum of former President of the Government of Southern Sudan Dr. John Garang of Mabior. You can enter and pay homage to this important figure for the politics of South Sudan.
The entrance has a big gate and there are several military guarding the facilities. Greet everyone and introduce yourself before entering. You can sign the visitors book that is on the table. Inside the mausoleum there are many flags of South Sudan and a photo of the former president.
6- Residential Neighborhoods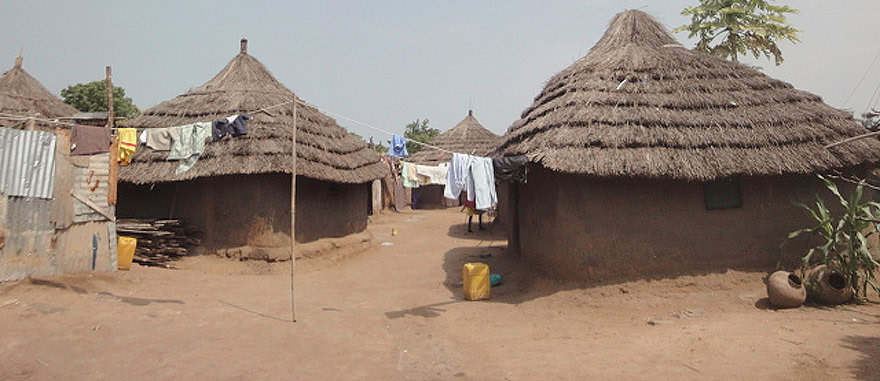 There are still many neighborhoods around Juba with small hut style houses that are very interesting to visit. Remember that these are private residential areas, you can walk but show sympathy and respect for local people. You will undoubtedly be welcomed, but you should be prudent to take pictures of people, and of course avoid taking pictures into the backyards of people's houses.
Where to Sleep – Accommodation in Juba
Hotel Nile Resort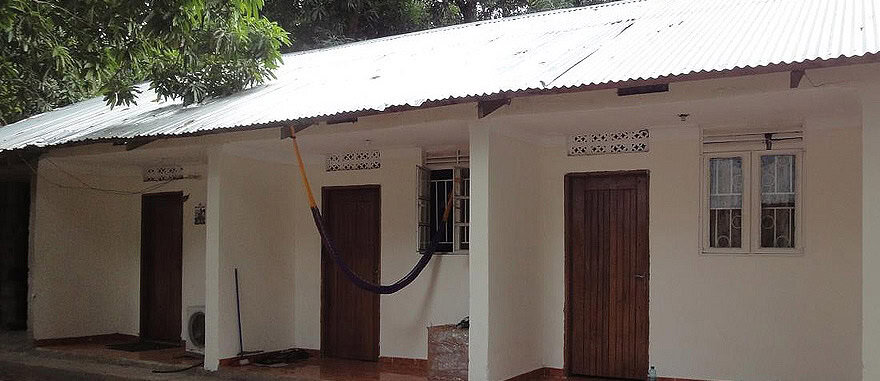 If you want to stay close to the River Nile with a beautiful landscape to see the river, you can stay at Nile Resort Hotel in Juba. This place is old and precarious, but yet an alternative to sleep in Juba.
Beside the hotel there is also the Nile Resort Bar / Restaurant with free Wireless Internet. This place is called Oasis and you can even enjoy live music weekend nights. You can also eat there as it has restaurant service. A plate of my favorite food in East Africa – beans and rice or chapat, a kind of Indian bread – costs 2 pounds.
The price per night per person of a single room is $50 dollars. A double room costs $100 dollars. You can also rent a room with en-suite bathroom for $600 dollars a month. There are also outdoor tents that you can rent for a cheaper price, but be careful when leaving your things there.
Watch out for malaria mosquitoes in the river bank. Protect yourself with long clothes and insect repellent.
Contacts: Hotel Nile Resort, Garden Plot 22, River Nile Basin, Juba, South Sudan
Hotel ECS Guest House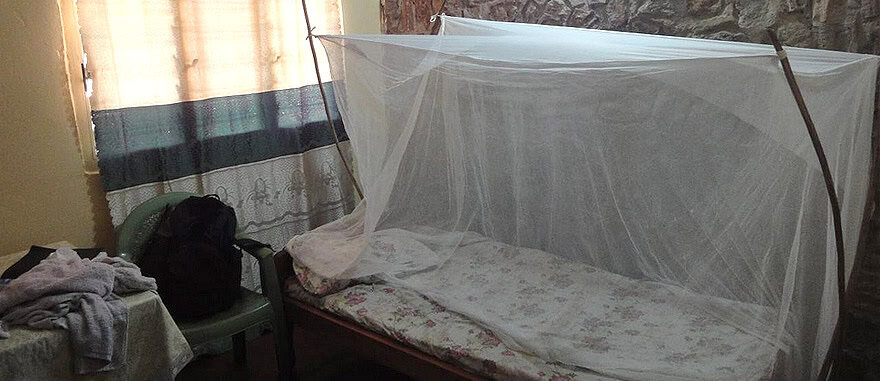 Prices for accommodation in Juba are very expensive, and it is really difficult to find hotels in the city for less than $50 dollars per night.
While in Juba I also took the opportunity to explore other Juba hotel options. One of the hotels I visited was quite near the All Saints Cathedral. This is a better alternative to the hotel where I stayed.
In this Hotel in Juba you have single and double rooms for $50 dollars per person and you can access all the necessary hotel amenities and can still get price for bed and breakfast or even half board.
The hotel ECS Guest House is adjacent to All Saints Cathedral in Juba. It has a reception, a restaurant with local breakfast, and different types of bedrooms.
Contacts: Hotel ECS Guest House, All Saints Cathedral compound, Juba, South Sudan
Hotel VIP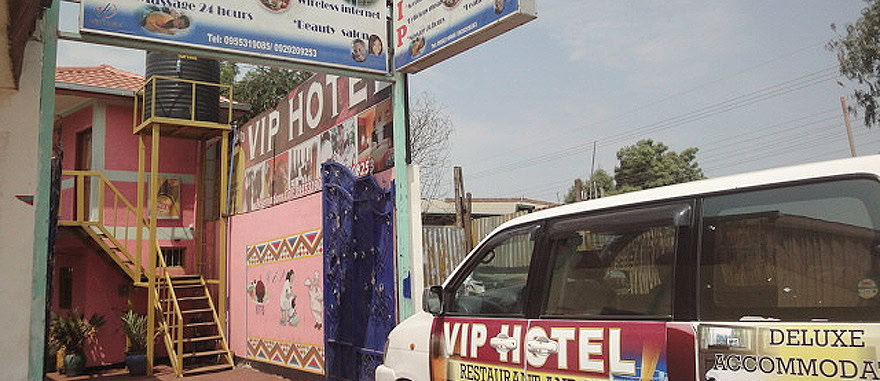 This is one of the newest hotels in Juba and has just been finished and has better facilities than many other hotels in Juba.
This hotel is located in a busy Juba street, and it has a restaurant, massage parlor and hairdresser. There is wireless internet in the hotel. The price of a room with breakfast is $100 per night.
The hotel is small so it has a private indoor patio with security the whole time. A meal costs about 20 pounds, a fruit juice costs 5 pounds. A full body massage done by an Ethiopian lady costs 70 pounds. At night there is live music with Ethiopia girls dancing.
Contacts: VIP Hotel, Gombura Street, Juba, South Sudan ● Phone: (+211) 0955-203834, 0955-319085, 0929-209253.
Where to eat – Restaurants in Juba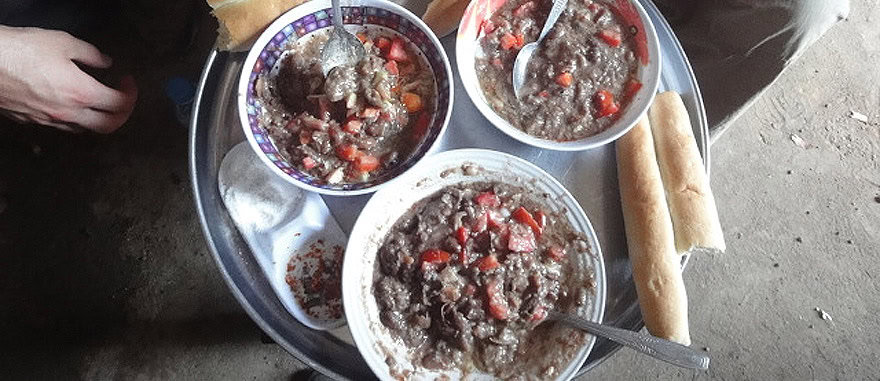 In Juba there are many places to eat. Most hotels have restaurants open till late. There are also inexpensive options for eating on the streets.
There are also several restaurants scattered throughout the city where you can find the best and cheapest food in Juba. Here in these places and with very little money you can eat traditional food of South Sudan and have direct contact with local people in their daily life.
Throughout the city there are small handcarts with pineapple that come from Uganda. You can also find small bean cakes and pies on street vendors near the Konya Konya market.
How to get there – Transportation in South Sudan
Bus from Kampala to Juba, Uganda to South Sudan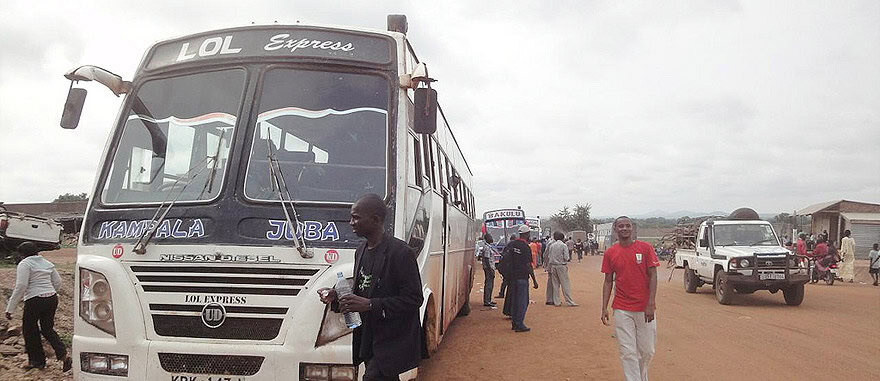 The connection between the two capitals, Uganda and Juba, is very easy. There are several companies with night and morning buses to and from Juba. After some research I found that this route between Kampala and Juba is actually one of the most dangerous of all East Africa. Almost every week there are deadly accidents involving buses and passenger cars.
Just 2 weeks before I passed, there were two buses colliding front to front on the road before reaching Juba. 60 people died. I just want to say that it's very important to choose a reliable and safe bus company to reach Juba.
After asking several people, all of them advised me LOL Espress bus company, and I could report that the driver was actually very responsible and that he took care of passengers, and paid extreme attention to the road.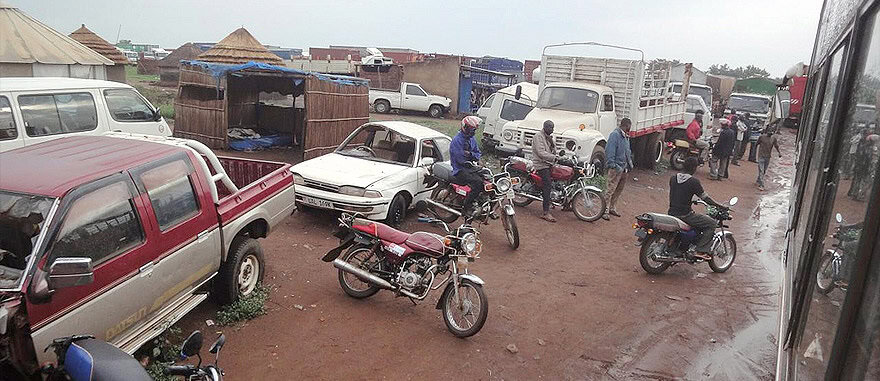 Well, actually I took two buses from the same company because, in the South Sudanese border, my bus left without me. It took me too long with the formalities of visa application, passport registration, etc…
Since there were two buses from the same company to do the same route with a difference of 20 minutes between them, I got a ride on the next bus without paying anything. Since I traveled light, with my 9 kg / 19 lbs backpack, I had it with me all the time.
The border crossing out of Uganda had a big line of people waiting.
Contacts: LOL Express bus company in Kampala Uganda – D&J Shopping Arcade, PO Box 39123 K'la Plot 15 Wilson Street, Rm 10 & 11 Arua Park Kampala Uganda ● Phones Kampala: 0714 108026 / 0774 258656 ● Phone Juba: +249 955 046 470 ● Phones Nairobi: +254 722 542 025 / +254 723 259 086.
Transportation around Juba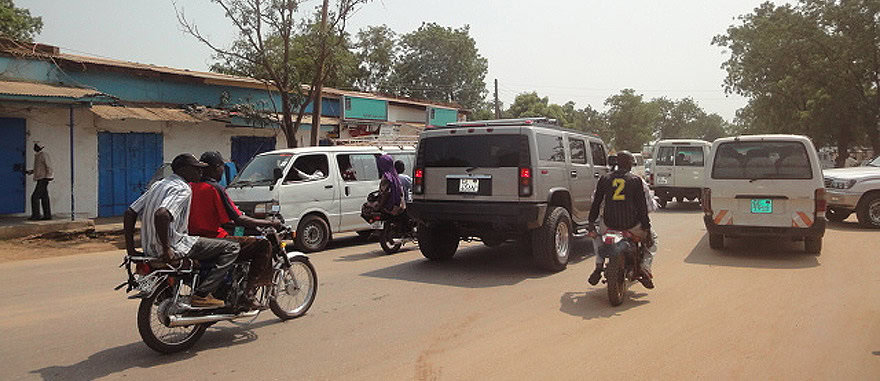 Undoubtedly the best way to go from one place to another in Juba is by motorcycle taxis called Boda-boda. There are also taxis (vans) which cost one pound per trip. Boda-boda bikes cost between 3 pounds for a short trip or up to 5 or 6 pounds for a long trip from one end of town to the other.
From the bus station to the city center you can try to pick up a boda-boda for 10 pounds. It will be difficult to bargain prices. Or you can even leave the bus station and get a "taxi van" for 1 pound. You have to ask the driver if he goes to the city center or to All Saints Cathedral, depending on where your hotel is located.
Life in Juba is more relaxed and people don't drive that fast like in other African capitals, such as Nairobi or Kampala. So boda-boda drivers are actually very easy going boys.
Hitchhiking from Juba to border with DR Congo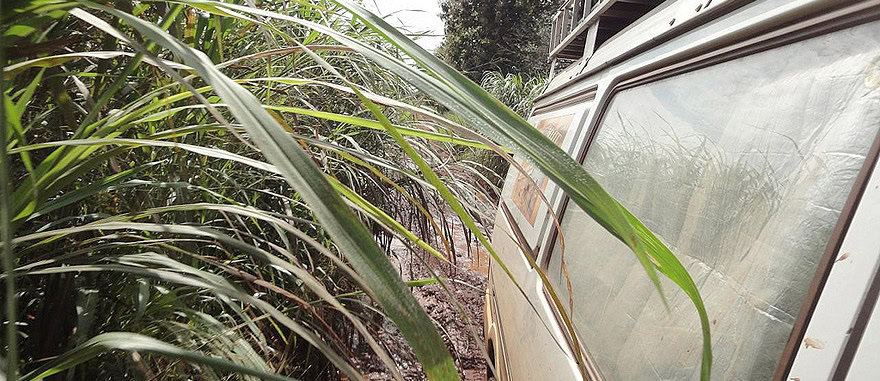 I love to hitchhike.
Although hitchhiking might be a risky way of traveling, I often decide to follow my instinct and get a ride on local people's car or even with another Westerner traveler on the road.
In Juba, I met an Estonian guy named Tarmo Tamming in the Hotel Nile Resort. He was traveling with his Mazda van around Europe and Africa on a 2 year trip.
He started his trip through several European countries till Turkey, then drove by Syria, Jordan, Egypt, Sudan, Ethiopia, Somaliland, Djibouti, Ethiopia again, Kenya, Uganda and finally South Sudan. This very friendly guy gave me a ride to go with him all the way to the Democratic Republic of the Congo.
Road from Juba to border with DR Congo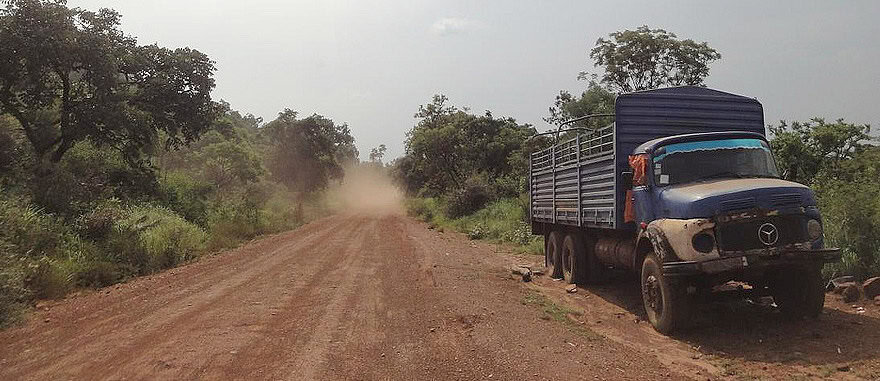 Tarmo and I were attempting to enter the Democratic Republic of the Congo, driving on a very bad road. Actually we didn´t know if we could get into the Congo or not. We were just trying.
When we were already on the road, we were stopped and searched by the police in Ganji. We were detained and went inside a police hut, where they copy and pasted all our SD Card pictures to their personal computer. Ganji police was very hostile and extremely suspicious about us. We were taken to the police station under pressure and questioned. Everything went well after an hour and a half. From Ganji we drove to Yei where we slept.
Video of the road from Juba to Yei in South Sudan
From now on we knew that from Juba we should stop at all the police stations to give the authorities the knowledge of our presence in the region. Thus we would avoid ever again being held or arrested like we did.
The way from Ganji to Yei was normal dirt road but with many military and armed police pick-up trucks. A somehow intimidating scenario as guns could be seen everywhere.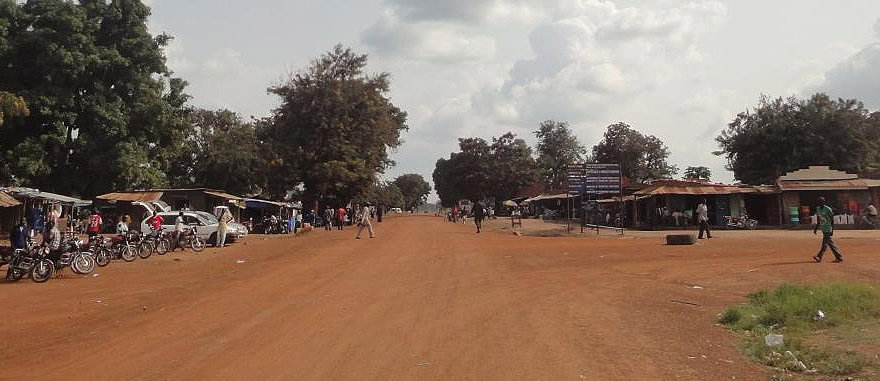 We slept inside our van in Yei's police compound. The police in Yei were nearly all drunk, but their sympathy and friendliness was undeniable. They helped us to register with the police and gave us a place to park the van and sleep.
The night in Yei was very strange and we had the impression of being in a very, very insecure place, due to the attitude of some policemen and the general atmosphere and energy of Yei. It was also very strange the fact that in the prison building just aside our truck there were some prisoners who spoke to us and said "please help us because we're stuck here without a reason". No comment on that situation.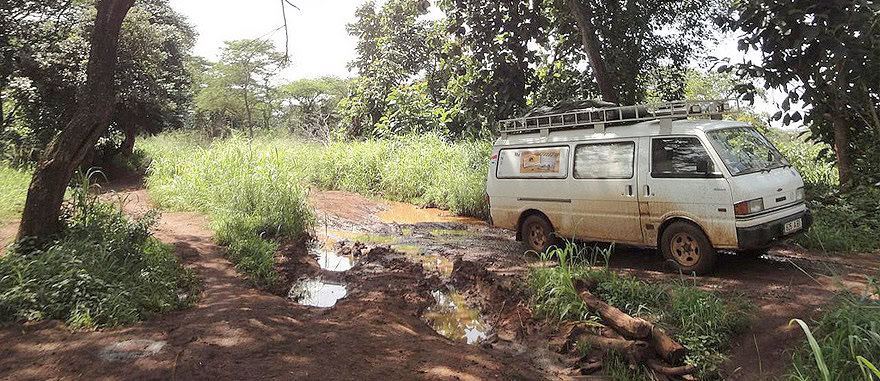 In the morning we traveled towards the border with the Democratic Republic of the Congo but we almost had to turn back. Road conditions were getting worse with lots of mud. We didn't know if it would be passable with a 2WD van. Miraculously, we found an African NGO 4X4 with a lady from the Congo that said the road would be better. We got inspired to keep on driving to the Congolese border.
The road to the border of the Democratic Republic of the Congo was done through jungle dirt road full of potholes and mud, and a beautiful landscape with houses of straw and mud.
Along the way there were lots of people carrying things on the road from village to village. Many motorbike taxis passed by as well.
Later we reached the small village of Lasu, the little border village of South Sudan, where we stamped our passports out of the country.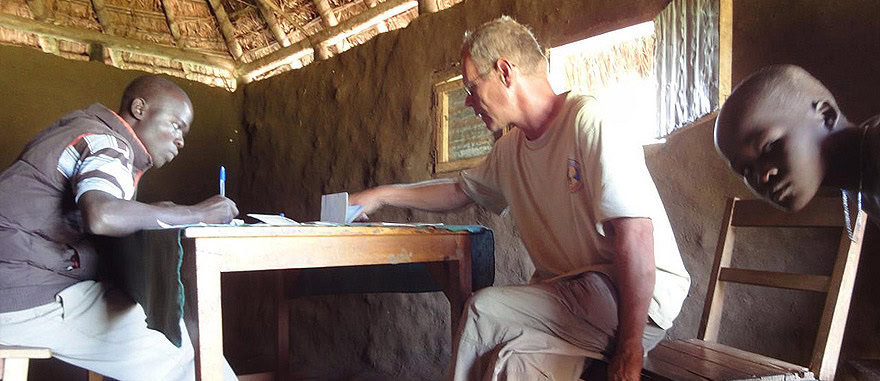 The guy who deals with passports and stamps is very young and friendly – a very nice guy. He asked us for 100 pounds, but I bargained for 10 pounds.
We went to the South Sudanese Military Post to check the van and finally left South Sudan. We crossed the "no man's land" through the jungle and bushes by the entrance gate of the border area of the DRC or the Democratic Republic of the Congo.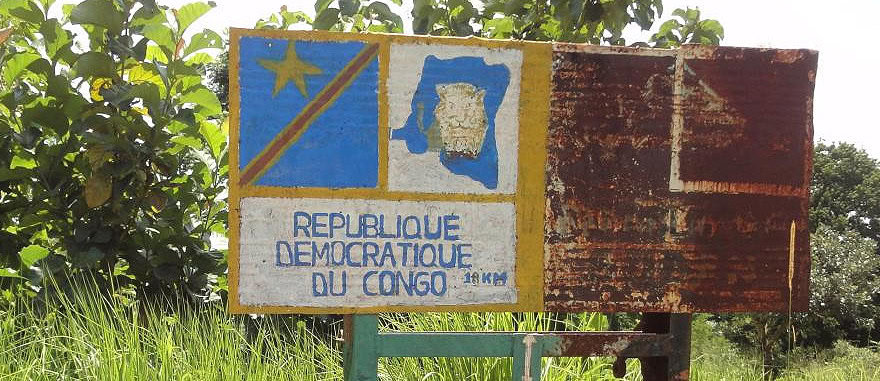 [message_box type="attention"]Read the page: Tarmo's incredible travel blog http://tarmotamming.blogspot.com[/message_box]
Money and Visas – Formalities in South Sudan
South Sudan Visa in Nairobi, Kenya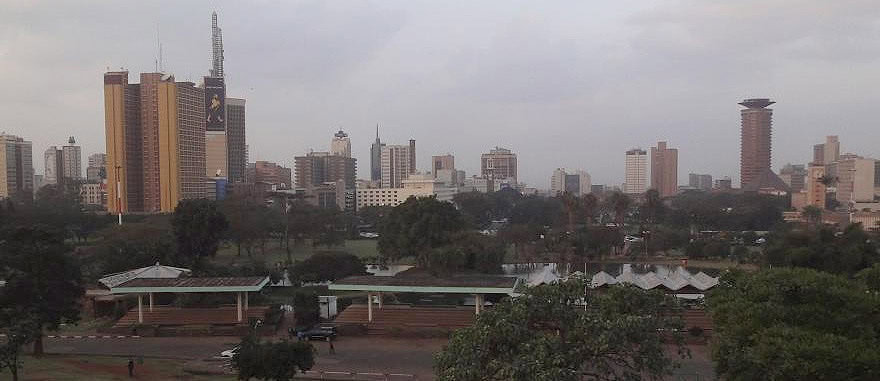 Getting a South Sudan visa is fairly easy.
You can get your visa at the Nairobi South Sudan Embassy or even in Kampala – Uganda.
Without doubt the fastest way to cross the border is to get your visa for South Sudan in Nairobi, because then you won't have to wait and spend a lot of bureaucracy with a lot of people and confusion at the border.
In my case I tried to get the visa in Nairobi, a few days before independence, but they closed the border and stopped issuing visas or travel permits for national security reasons, during the days close to the independence.
Contacts: P.O. Box 73699 – 00200 Bishop Gate, 6th Floor 5th Ngong Avenue Bishop Road, Nairobi, Kenya ● Phones 254 20271 138 214 / +254 729 790 144 ● Email: info@rssembassy-ke.org ● Website: http://www.embassyofsouthsudankenya.com/.
South Sudan Visa on Arrival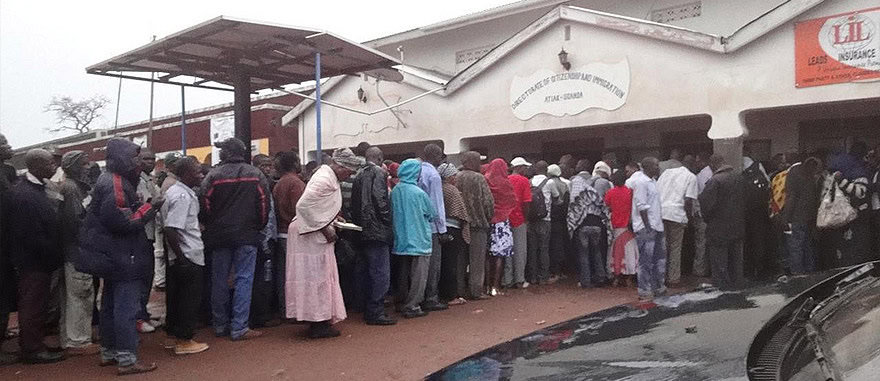 You can still try to do it at the border. The only drawback is that it takes a long time and your bus will probably leave without you – that happened to me. Also, please pay attention because I heard that the Nimule border is no longer issuing visas on arrival to Westerns. You can always try your luck if you're far from the capitals.
Step-by-step South Sudan Visa at the border of Nimule
When you reach the border, try to be among the first to leave the bus and go straight to the immigration office.
First you need to register your passport at the Immigration Office, so you go straight to the registration cabin. If you get lost just ask the police and they will give you the necessary instructions.
Registration of the passport in the house next to the stamp passports zone. Carry a photocopy of your passport and $5 dollars or 10 pounds. The guy is very slow and you will probably have to wait for him. You can make photocopies at the border but it will be better if you already have them.
Someone will take you to the area of visas, where you will fill in a form. You will also need a photo. If you do not have one, you can also do it at the border. Here you will have to pay $50 dollars, and receive a paper called "South Sudan travel permit". You will also receive a receipt of your visa that will be stapled to your travel permit.
Take all the papers to the next office. Here you will have to fill in another form, delivering another photograph, and finally get your travel permit.
Take your travel permit to the tables at the entrance of the building where you have to stamp ur passport. There are two tables, one to stamp your passport, the other to stamp your travel permit.
After all this, my bus had already gone. I had to get inside another one from the same company. It was actually good as my previous bus broke down a few dozen kilometers further on the way. I went to Juba sitting on top of the luggage in the front area near the bus driver.
Prices and cost of living in South Sudan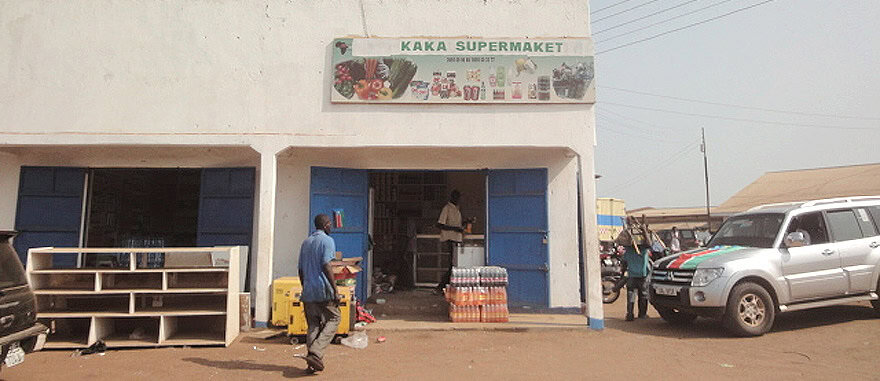 At the time I visited South Sudan, the exchange rate of the Sudanese Pound was at $1 dollar = 3.2 South Sudanese pounds. You could get up to 3.3 pounds. In Juba there are plenty of small shops and supermarkets to buy a little of everything. There are still some typical markets with lots of fruit and veggies.
---
Prices in Juba – South Sudan Travel Guide:
---
Boda-boda moto taxi (long ride) = 5 pounds
Bottle of water in restaurant = 2 pounds
Bottle of water in street shop = 1 pound
Can of fruit juice in street shop = 2 pounds
2 boiled eggs + plate of beans in restaurant = 2 pounds
2 chapat bread + fried rice with onions in restaurant = 5 pounds
Hotel ECS Guest House = $50 dollars
Hotel Nile Resort = $50 dollars
Bunch of bananas in Konyo Konyo market = 5 pounds
Water 1.5 lt = 2 pounds
Bean samosas = 2 for 1 pound
1 litre Diesel = 5 pounds / lt
Street food (smashed fava beans with onion and tomato) = 5 pounds
Big pineapple = 9 pounds
1 slice of pineapple = 1 pound