World Tourism Forum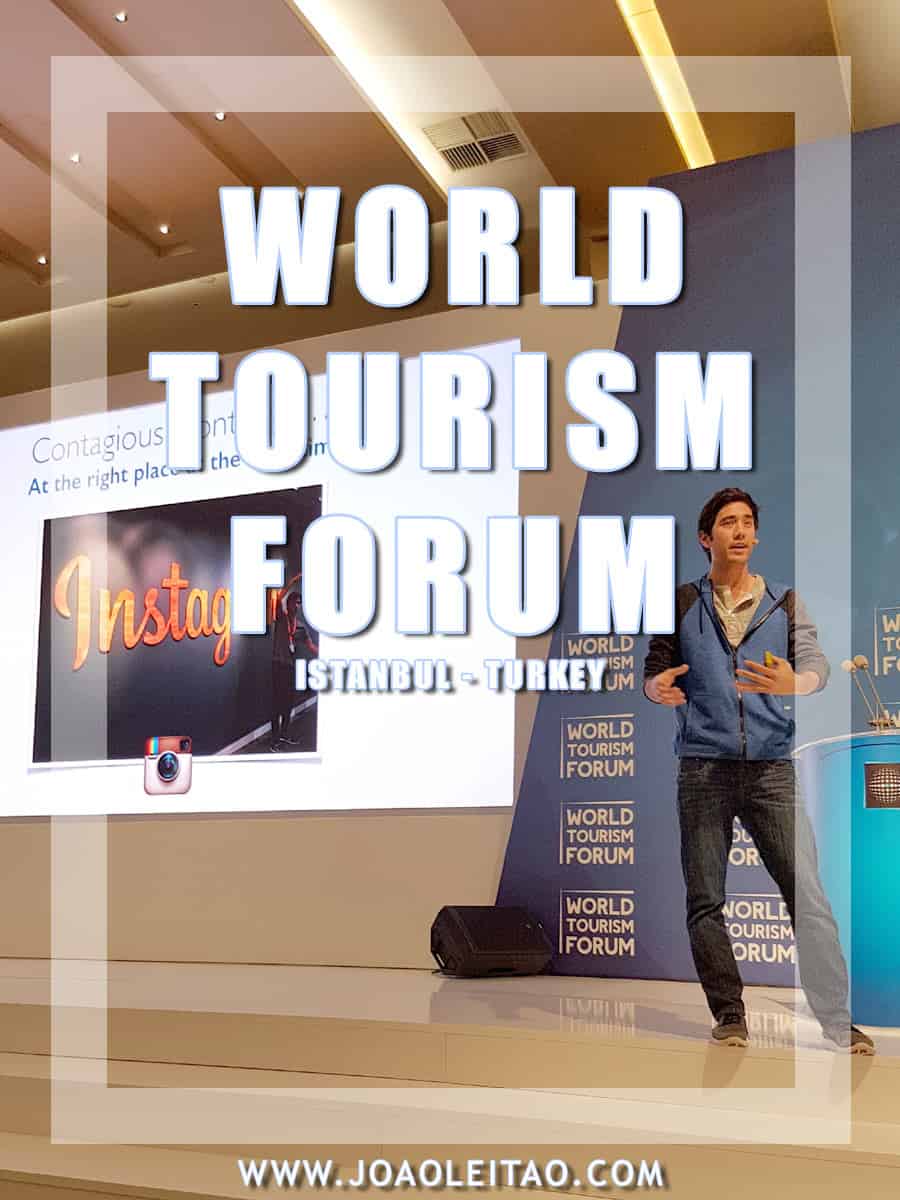 From February 15-18th of 2017, I attended the World Tourism Forum in the beautiful city of Istanbul. Tourism is one of the world's most rapidly developing industries and, by all means, governments and travel-related organizations need to be updated with tourism perspective enhancement as well as new ideas towards markets and travel objectives.
"The World Tourism Forum is a global organization holding tourism events in different parts of the world, to further boost global tourism."
On this page, I will explain my participation in the World Tourism Forum as a travel blogger and influencer. With this, I will try to illustrate the event for those bloggers unable to attend the event while also giving personal insight as to why I think such forums are influential in developing the market and business relations.
At the @wtourismforum in Istanbul #travel #worldtourismforum GOOD MORNING pic.twitter.com/lVhPvrXXV3

— ? Nomad Revelations (@joaoleitao) February 16, 2017
Start of @wtourismforum in #Istanbul #worldtourismforum #Travel pic.twitter.com/d6EKxTS1ve

— ? Nomad Revelations (@joaoleitao) February 16, 2017
The World Tourism Forum is an important place to:
Discuss the industry with top influencers, leading CEOs, experts, journalists and academics
Meet Heads of State and Foreign Ministers and government tourism representatives
Actively engage with people from the tourism industry and international organizations
Establish friendships with travel bloggers, vloggers, photographers, journalists and people having similar interests
The ministers' participation at GlobalMeeting 2017: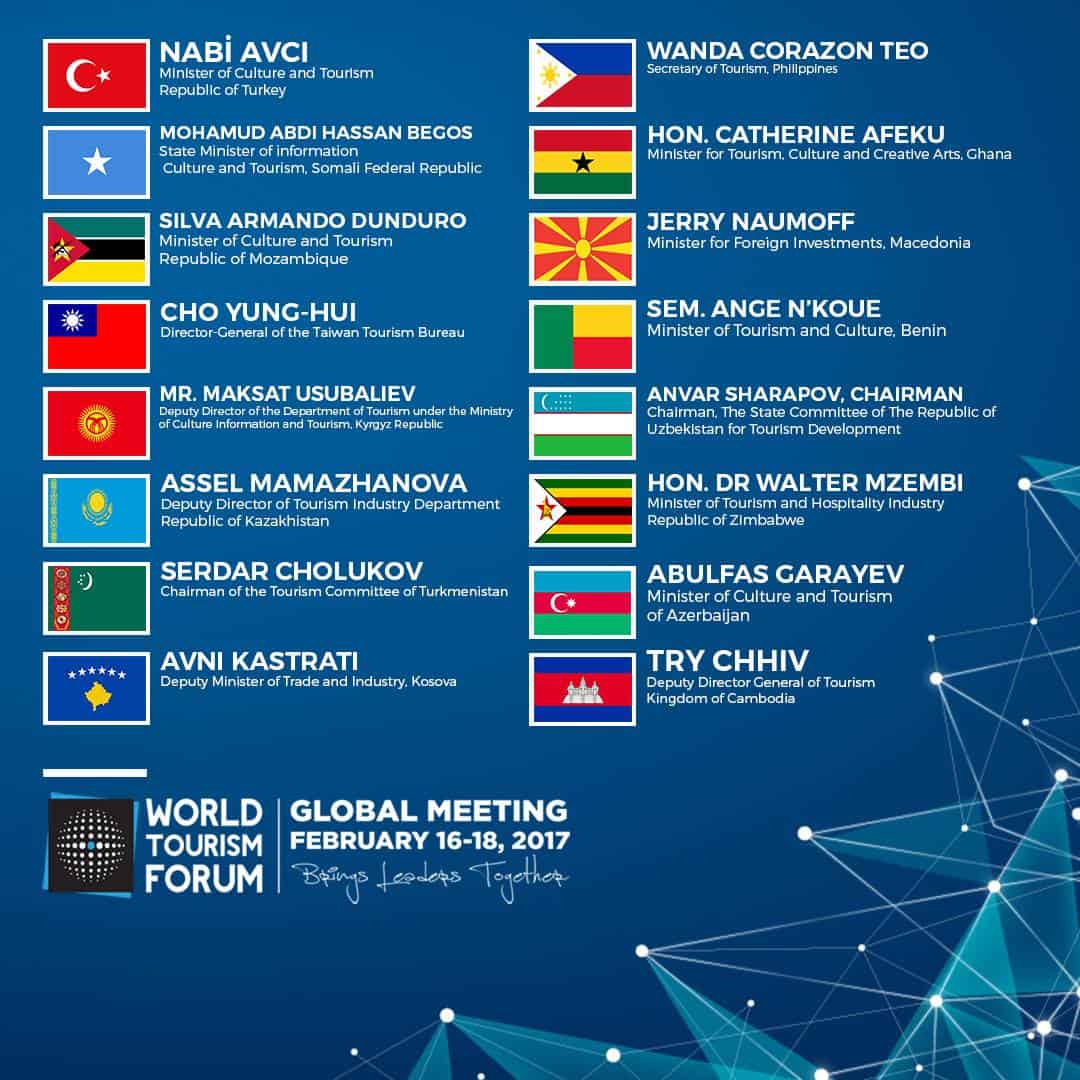 The World Tourism Forum was established to fill a gap in the international tourism industry and is, nowadays, considered to be one of the major events of this kind globally. My understanding of its aim stems from what I observed to be the primary goal of the Forum: To focus on long-term, global tourism solutions and connect people with common interests while motivating them to work together to create relationships improving business and industry influence.
Here, I would like to share a rather humorous story: Shortly after exiting the airplane in Istanbul, I met a friendly World Tourism Forum representative awaiting my arrival to drive me through the airport. Funny enough, after waiting another 20 minutes for the second passenger they were expecting to retrieve, we questioned what to do since no one else showed up. Deciding to have a look through their papers, I realized the two people they were expecting were me and, well… just me! Since my name, João Pedro dos Santos Jesus da Silva Leitão, is rather extensive and was written on two lines, they thought two people were coming. Nah, just me and my kilometer-long name!
World Tourism Forum Istanbul – Feb 2017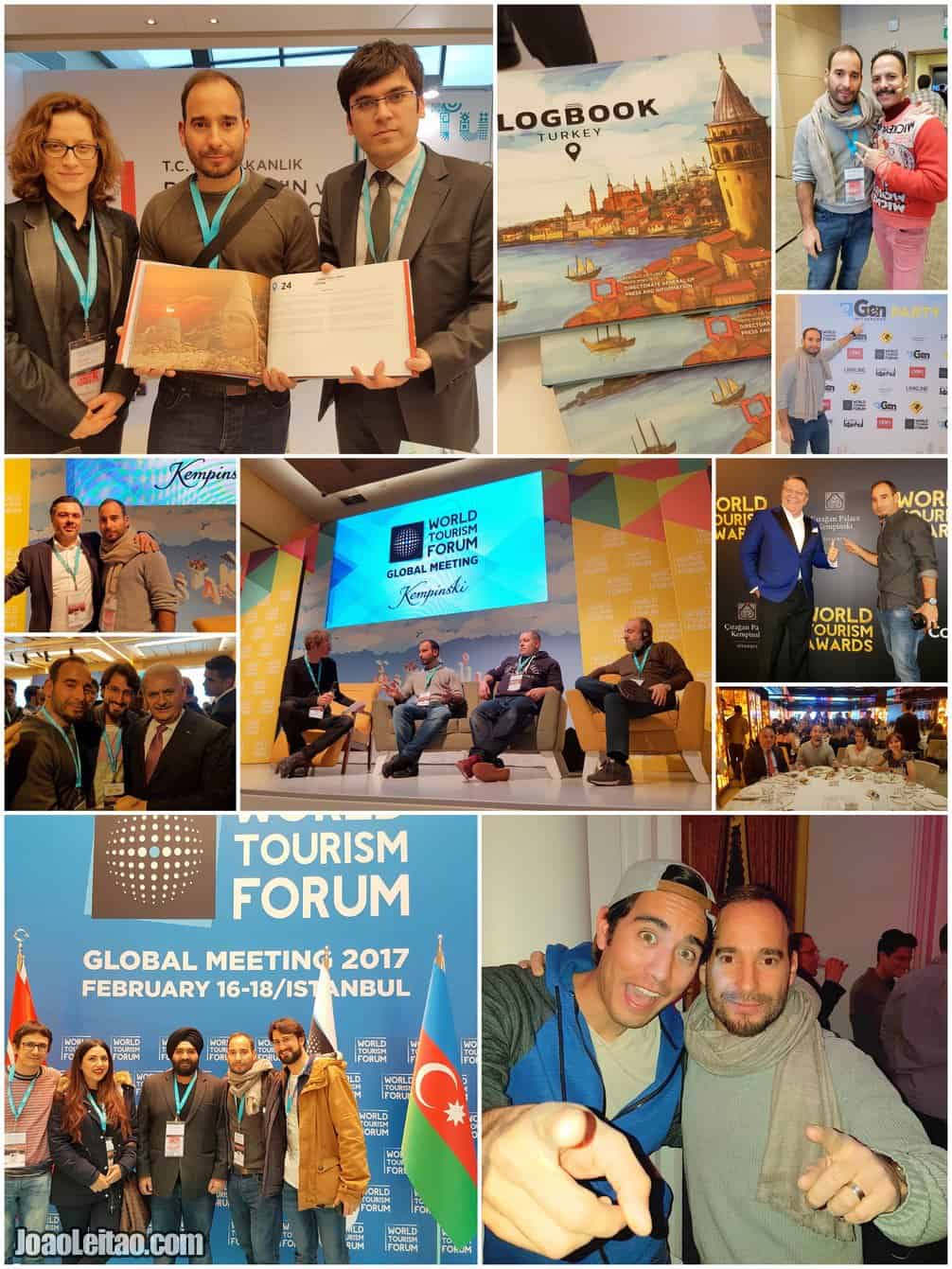 My acceptance of Blogger Casting's invitation to attend the World Tourism Forum was triggered by my need to meet other fellow travel bloggers. Although I have been blogging since 2006, in Portuguese and under the title João Leitão VIAGENS, the emergence of my English adventure travel blog came as a surprise to many readers, back in 2013. So, my interest in meeting people is crucial for long-term online connections and, since I've gained a rather dynamic social media presence, I wanted to meet some of the bloggers I interact with online on a daily basis.
---
World Tourism Forum 2017 Social Media Influencers Promo video:
My 2017 World Tourism Forum Istanbul highlights:
Meeting the Turkish Prime-minister, Binali Yildirim, face-to-face and for a quick chat.
Working along with other respected travel bloggers and vloggers/Youtube broadcasters.
Establishing a personal and working relationship with Tugçe Yilmaz and Murat Ozbilgi from Gezimanya and Blogger Casting.
Briefly meeting with the renowned Zach King.
Being one of the panelists discussing Travel Photography, along with Conor MacNeill and Mehmet Kirali.
Staying three nights at the lovely W Istanbul Hotel Bosphorus.
Attending the E-Gen Influencer Party and its invitation-only Gala Dinner hosting distinguished guests from around the world, at the fabulous Çiragan Palace Kempinski.
With Turkish Prime Minister @ByegmENG and blogger @atomarpormundo at @wtourismforum in Istanbul #travel #worldtourismforum pic.twitter.com/KWDCGRnMRu

— ? Nomad Revelations (@joaoleitao) February 16, 2017
Really nice to meet @FinalCutKing at @CPKempinski hotel in Istanbul » thanks man! #worldtourismforum @wtourismforum #travel pic.twitter.com/LteS42CepT

— ? Nomad Revelations (@joaoleitao) February 16, 2017
Inspiring energy from @RalphRadtke General Manager of @CPKempinski – The only Ottoman Imperial Palace & #Hotel on the Bosphorus – thank you! pic.twitter.com/rsToV5z9Tj

— ? Nomad Revelations (@joaoleitao) February 17, 2017
Day 1 – Global Meeting 2017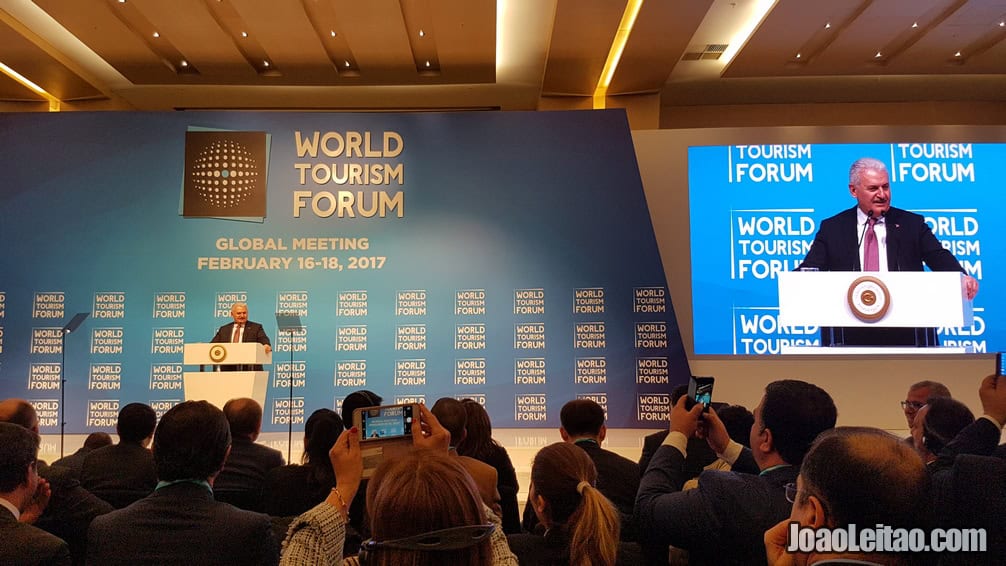 The World Tourism Forum is the meeting point for people interested in understanding the development of global tourism trends. Global Meeting 2017 hosted a large number of travel influencers, industry executives, travel bloggers, vloggers, investors and public authorities from around the world.
This being the Forum's orientation day, most people were simply learning what to do, where to go and which speeches to attend. It was somewhat difficult to manage finding the various panelists in all their different conference rooms, so unless a person conducts some preliminary organization and planning, he or she could miss some interesting talks!
The most important speeches of the day:
Bulut Bagci – President of Executive Board of the World Tourism Forum
Binalu Yildirim – Prime Minister of the Republic of Turkey
Dr. Michael Frenzel – UNWTO and former Chairman of the World Travel & Tourism Council
David Miliband – The President and Chief Executive of the International Rescue Committee IRC
Day 2 – Global Meeting 2017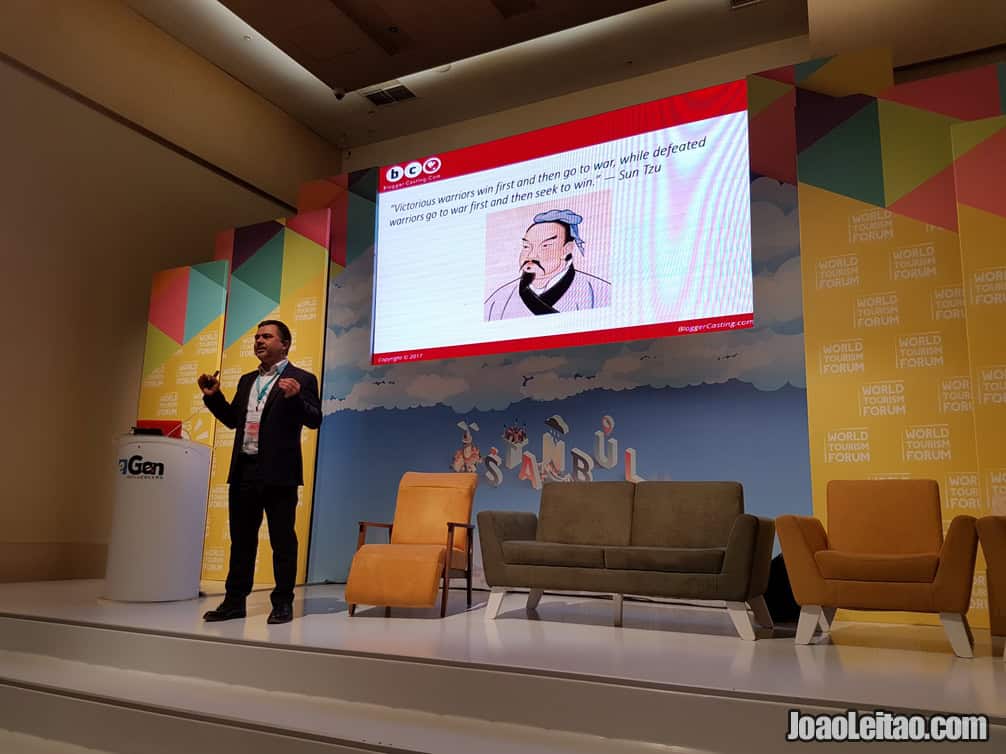 The morning began with a wonderful and informative speech by Zach King, the famous online video broadcaster (Vine/Youtube/Instagram).
In Istanbul with @FinalCutKing at @wtourismforum #worldtourismforum #travel pic.twitter.com/Vi3LNPi59G

— ? Nomad Revelations (@joaoleitao) February 17, 2017
After discussing his early life and career stories, he shared some aspects of how he creates his broadcast content. He pointed out that before he creates a video, it has to fit within Zach King's Universe and be in his own Voice. Zach King's story concept is a result of "Real Life" with a personal, magical twist.
Talking about video making with @FinalCutKing at @wtourismforum #worldtourismforum #Video pic.twitter.com/G3Qf677xcb

— ? Nomad Revelations (@joaoleitao) February 17, 2017
Also an important citation in his speech was how acquisition of effectual, contagious content is a result of being at the right place at the right time and that growing large audiences means appealing to universal themes, why he tries to create films absent of language barriers.
It was a full day of meeting people and attending talks. For my own interests and while taking part in the E-Gen Influencers group, I had high expectations since I could personally listen to top influencers, be informed about their work, while also being inspired from understanding their lifestyles and positive attitude towards life.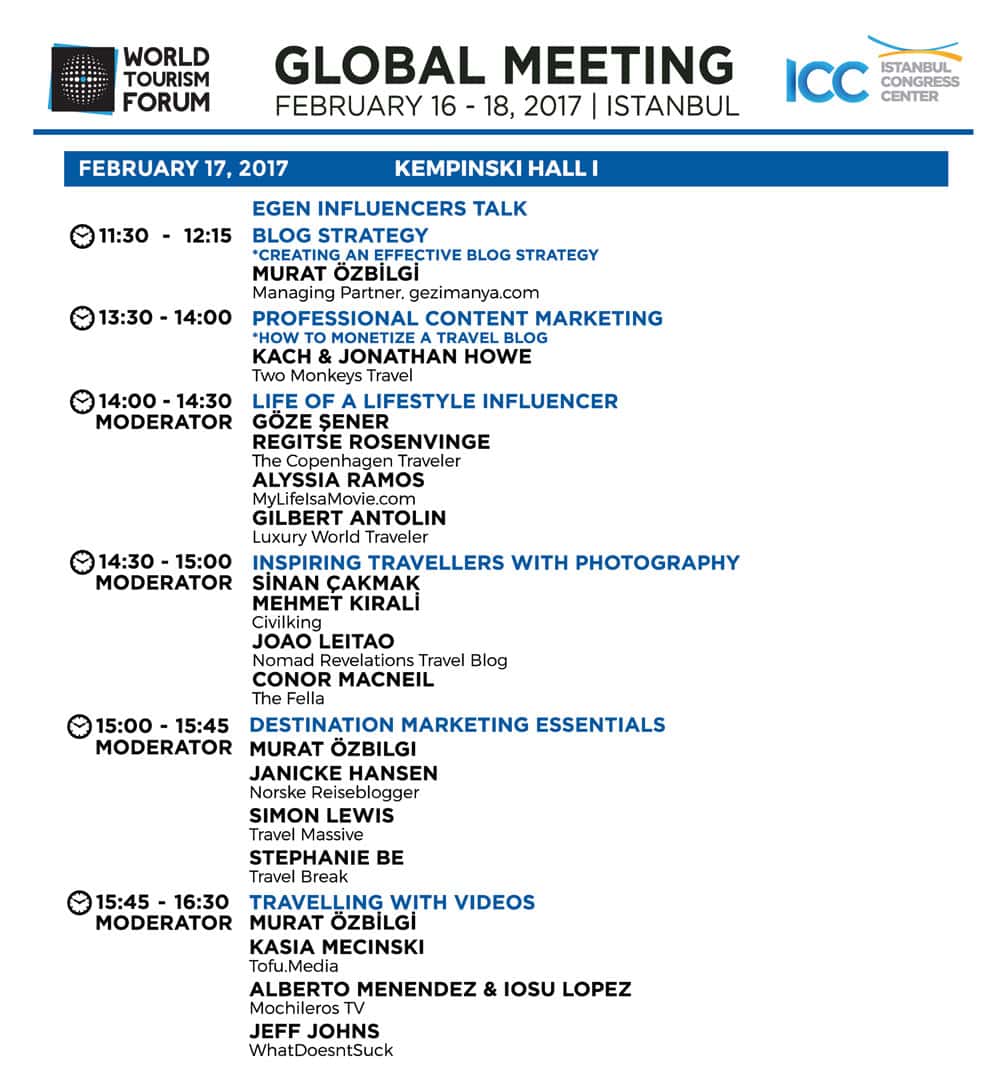 I also had a long discussion with Dr. Mickey Mehta, a global leading holistic health and wellness guru from India, later attending an interview with the inspirationally positive and friendly teacher. I think he got me Mickeymized!!!
Interview with Dr. Mickey Mehta @mickeymehta ?❤️ Global Holistic #Health Guru at @wtourismforum in Istanbul ?? Turkey #worldtourismforum pic.twitter.com/bYisnbNXMK

— ? Nomad Revelations (@joaoleitao) February 17, 2017
Very nice to chat with famous Dr. #MickeyMehta @mickeymehta ?❤️ Global Holistic Health Guru @wtourismforum Istanbul ?? #worldtourismforum pic.twitter.com/fU3OOQYEn0

— ? Nomad Revelations (@joaoleitao) February 17, 2017
E-Gen Influencer Sessions – Feb 17 2017 at Kempinski Hall I
11:30 BLOG STRATEGY – "Creating an effective blog strategy" by Murat Ozbilgi, Managing Partner of Gezimanya.
13:30 PROFESSIONAL CONTENT MARKETING – "How to monetize a travel blog" by Kach & Jonathan Howe from Two Monkeys Travel.
14:00 LIFE OF A LIFESTYLE INFLUENCER – moderated by Goze Sener. Panelists Regitse Rosenvinge from The Copenhagen Traveler; Alyssia Ramos from My Life's A Movie; and Gilbert Antolin from Luxury World Traveler.
14:30 INSPIRING TRAVELERS WITH PHOTOGRAPHY – moderated by Sinan Çakmam. Panelists Mehmet Kirali from Civilking; João Leitão from Nomad Revelations Travel Blog (Yes, that's me!); and Conor MacNeill from The Fella.
15:00 DESTINATION MARKETING ESSENTIALS – moderated by Murat Ozbilgi. Pannelist Janicke Hansen from Norske Reiseblogger; Simon Lewis from Travel Massive; and Stephanie Be from Travel Break.
15:45 TRAVELING WITH VIDEOS – moderated by Murat Ozbilgi. Panelists Kasia Mecinski from TheUwagaPies; Alberto Menendez and Iosu Lopez from Mochileros TV; and Jeff Johns from What Doesn't Suck?.
---
You can view the full 2017 Global Meeting list here:
---
BLOGBOOK Turkey
Represented as one of selected bloggers published in the 2017 BlogBook Turkey almanac, the book was made possible through sponsorship by the Prime Ministry of the Republic of Turkey's Directorate General of Press and Information as well as various companies and destination promotion offices. This elegant, annual edition will be distributed to industry leaders of the world, such as cultural and tourism ministries of multiple countries, C-level executives of international companies, various NGOs as well as academicians.
#worldtourismforum stand of DGPI where "Turkey Awaits You" Booklets are presented is drawing great interest from local & int'l participants. pic.twitter.com/KhC4cJRESM

— Turkey PM Press&Info (@ByegmENG) February 16, 2017
Happy to be featured on BlogBook from @wtourismforum Istanbul #WorldTourismforum along with other #travel bloggers » thanks @bloggercasting pic.twitter.com/BkEDhwf9Zu

— ? Nomad Revelations (@joaoleitao) February 16, 2017
Travel Photography Talk with João Leitão, Conor MacNeill and Mehmet Kirali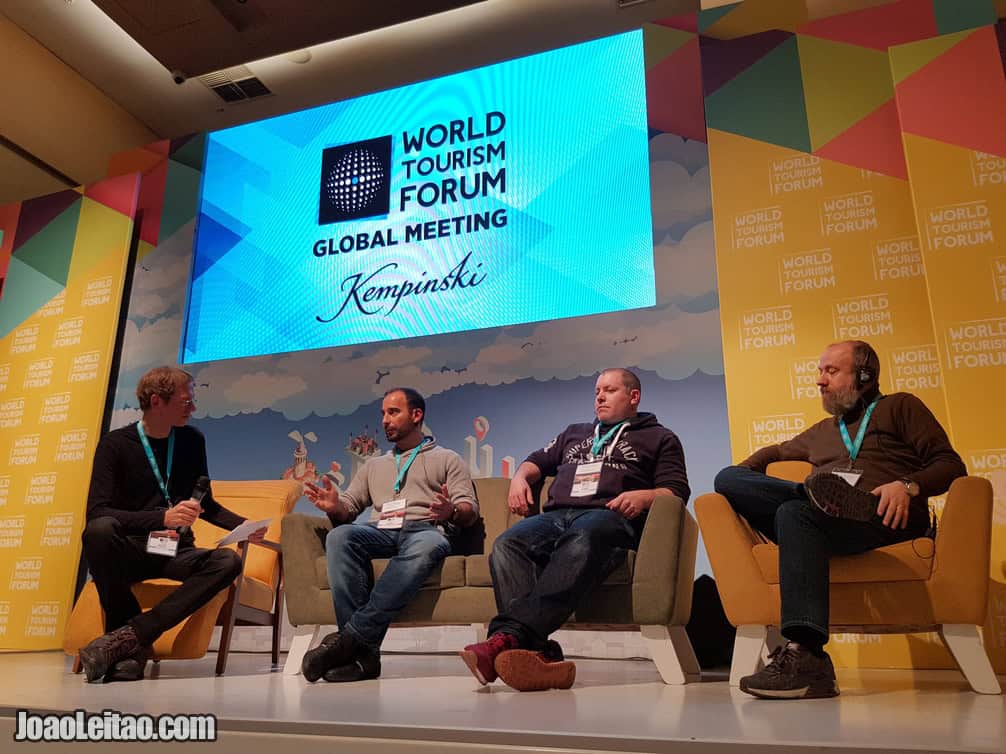 As many of you may have noticed, I was also one of the panelists of the E-Gen Influencers Talks on February 17 at Kempinski Hall, in the Istanbul Congress Center. I must admit, it was a great experience to share my love for photography while also having the opportunity to chat with famous photographers such as Ireland's Conor MacNeill and Turkey's Mehmet Kirali. Entitled "Inspiring Travellers with Photography", we shared our thoughts on different topics concerning photography through the moderator, Sinan Çakmak, a famous Turkish photographer.
Join me talking "Travel Photography" » 17 FEB 14:30-15:00 » Kempinski Hall Istanbul ??TURKEY ?? » @wtourismforum #worldtourismforum #travel pic.twitter.com/KJtZEX0y1o

— ? Nomad Revelations (@joaoleitao) February 14, 2017
My perspective on photography is the same for traveling, for relationships, blogging, cooking and work, or about all facets of life in general. I believe one must live with passion and follow an emotionally directed path towards creative thinking. Creating a dynamic atmosphere within the conversation, I shared some of my methods of thinking during a short question-and-answer talk. The audience's feedback was wonderfully positive and I think I contributed to inspiring people not only to focus on travel blogging for fame, money and business endeavors, but also for the love and passion of what we do.
Travel Photography talk » 17th FEB 2017 14:30-15:00 » Kempinski Hall Istanbul TURKEY ???? » @wtourismforum » #worldtourismforum #travel pic.twitter.com/FuLov617mC

— ? Nomad Revelations (@joaoleitao) February 14, 2017
As humans, we are able to concieve imagination and creativity. Through this concept, we are all artists predisposed with the power to create art. I feel this to be key to long-term business success. If you love what you do, you will do it forever… and if you do it only for money, you'll end up lacking and sad about a resultant empty life.
Talking about Inspiring Travelers with Photography at @wtourismforum Istanbul ?? Turkey with @joaoleitao and @thefella #worldtourismforum pic.twitter.com/1d3515lNTE

— ? Nomad Revelations (@joaoleitao) February 17, 2017
The quality of your work as an artist and creator can be measured and appreciated, or detested by others, but the artistic motive and full deliverance applied to your work must never be questionable. The main point is: We should try to make money through what we are passionate about and not try to love that which only offers money.
"He who runs with pleasure never gets tired."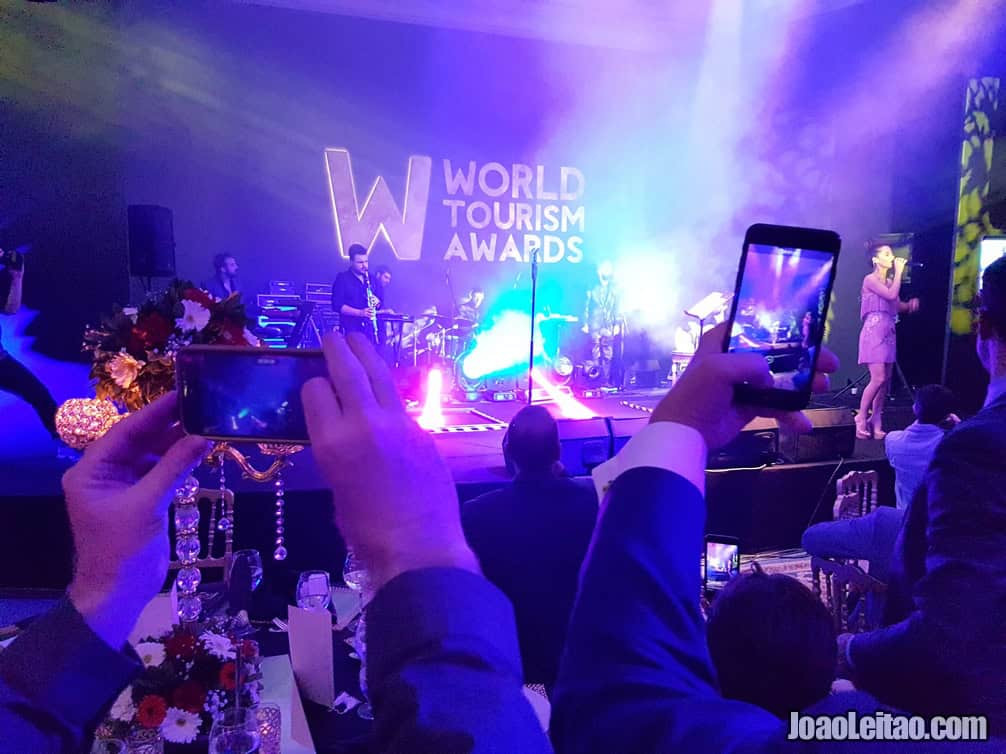 Contacts
World Tourism Forum Head Office:
Blogger Casting:
Visit Izmir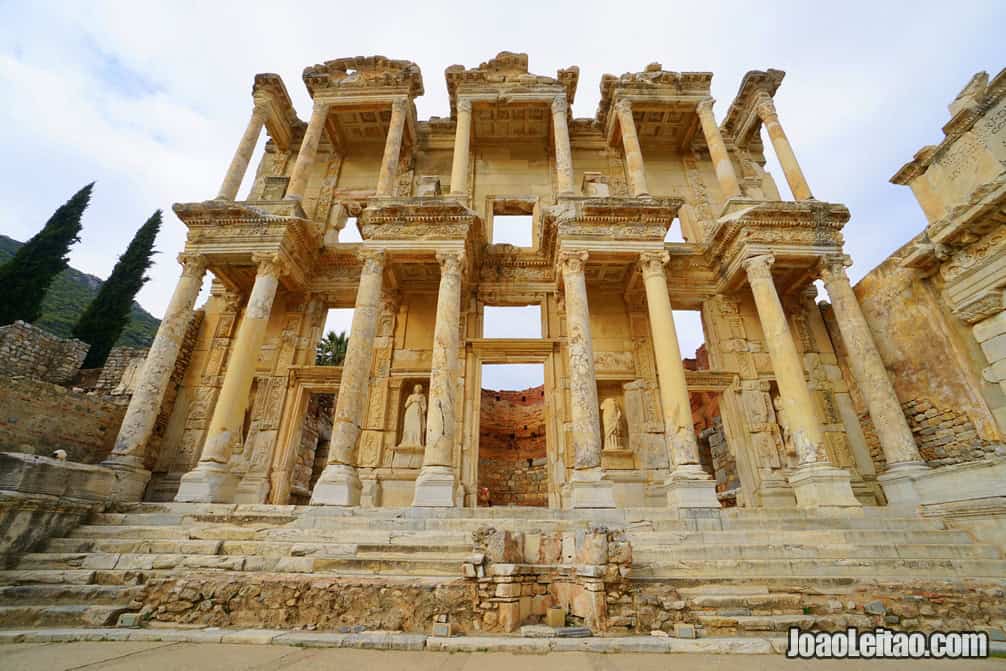 Proceeding the World Tourism Forum, and by the invitation from the City of Izmir via the Izmir Development Agency, I had the opportunity to visit several sites within Izmir Province. After three days of touring the region, I can say I was amazed by the vast quantity of sites to visit. In addition to Bergama, Pergamon, Sirince and Izmir, I also enjoyed a guided tour of the historic Greco-Roman city of Ephesus.
Read my page:
The Greco-Roman city of Ephesus: a magnificent return to the past
---