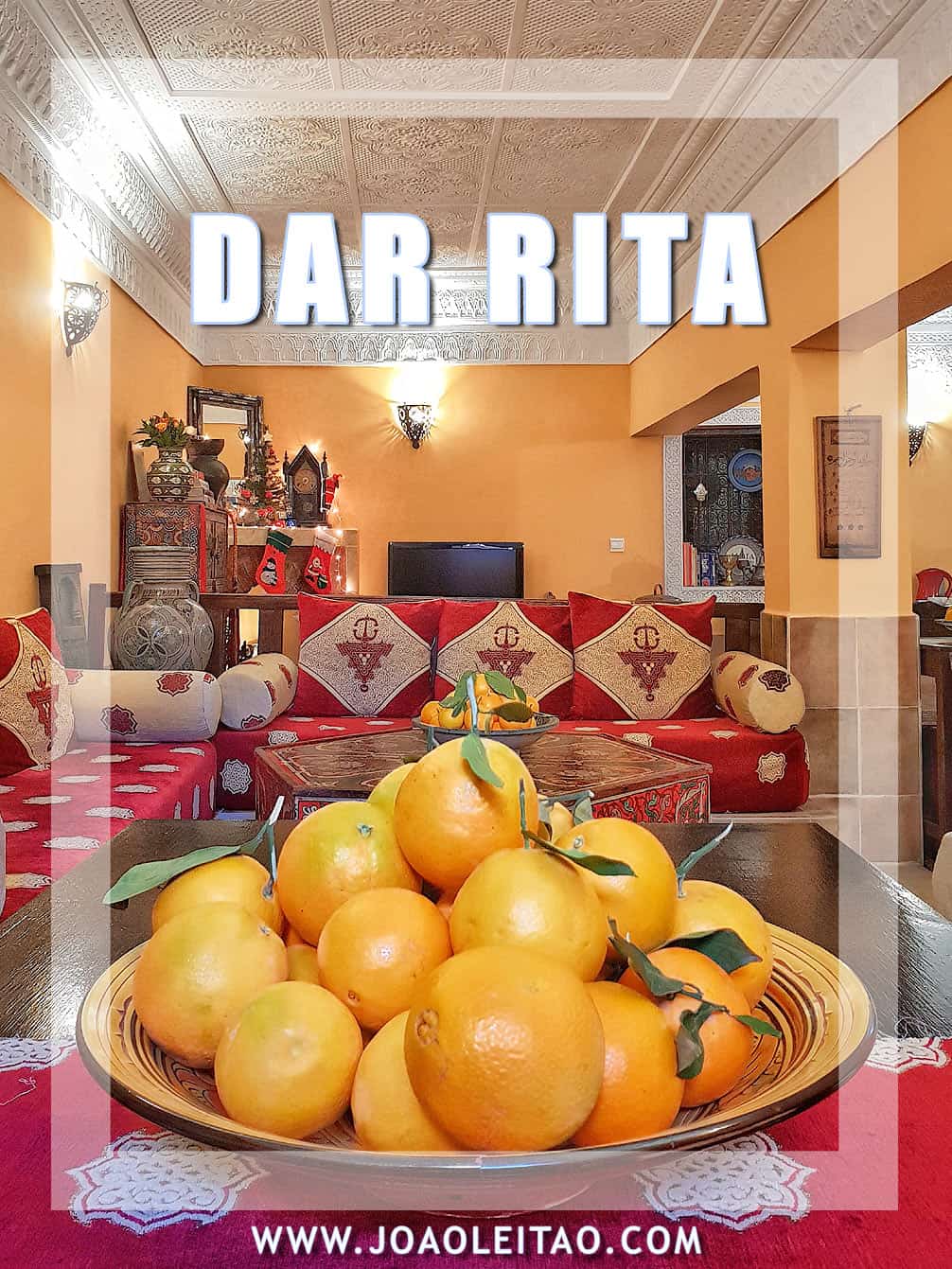 Many of you might wonder what is that I do in Morocco. I moved to this north African kingdom back in 2006, and since then that I work in the tourism business.
In January 2011, along with my sister as business partner, I opened a hotel called Dar Rita, in the city of Ouarzazate.
When I invited my sister to join me in Morocco, I didn't quite know what kind of business we would end up with. But due to a great opportunity, we finally bought a building that was totally rebuilt to host a small boutique guest house.
Ouarzazate is known as the Moroccan capital of cinema, with two major film studios where movies such as the Gladiator or Kundun were made. But Ouarzazate has a lot more to offer in addition to this appealing movie-related frenzy.
Ouarzazate has a lot of kasbahs, oasis and palm tree fields, fascinating markets, and many other destinations to visit in the region including the Fint Oasis and Ksar of Ait Benhaddou, a UNESCO World Heritage Site.
My Hotel in Ouarzazate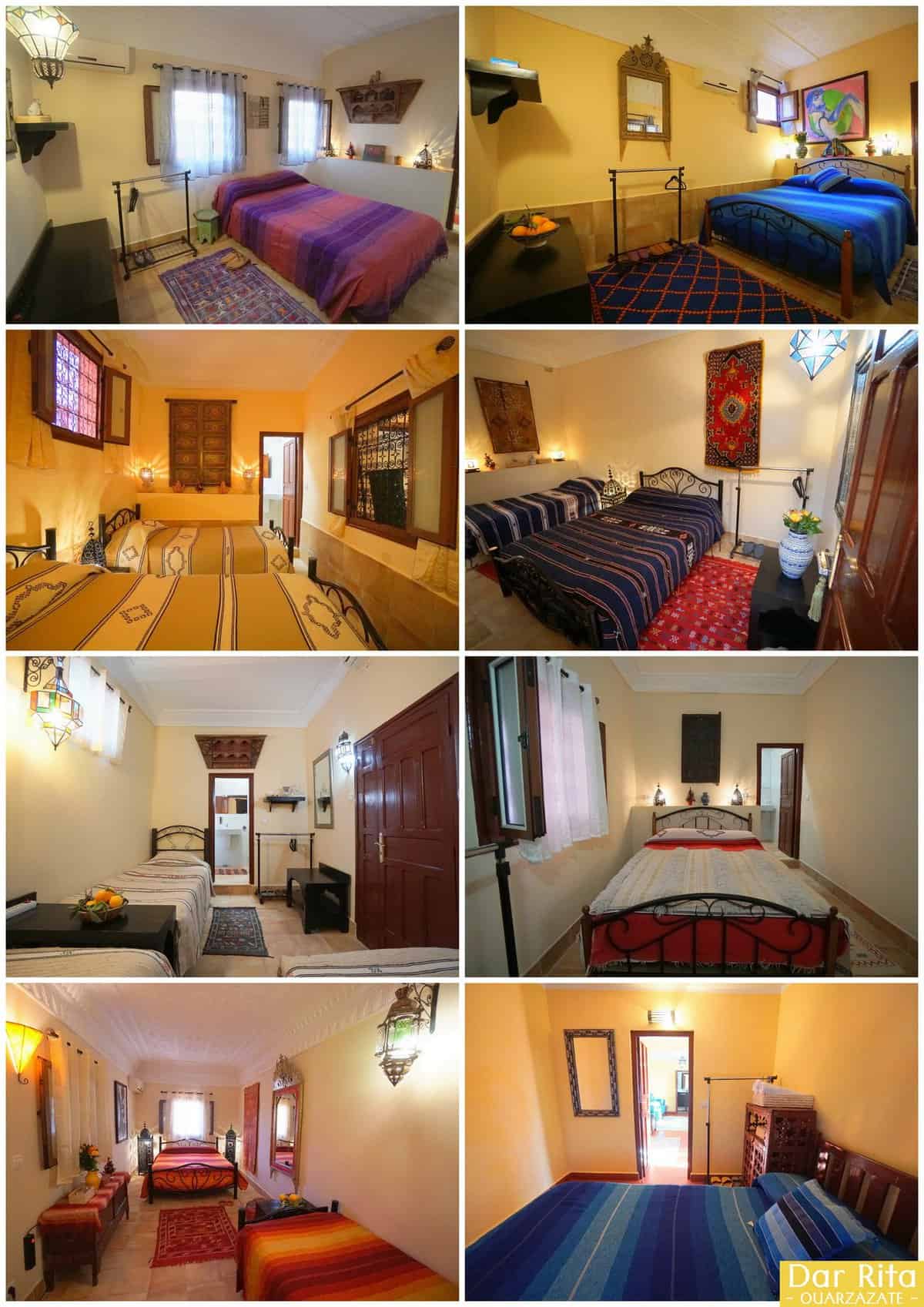 Dar Rita is a riad-style hotel in Morocco with fully equipped rooms that include a private bathroom, air conditioning, and free WiFi.
This is the perfect getaway for people who don't have a lot of time to travel in Morocco and want to visit a place for two or three days and want to explore other places other than Marrakech.
Dar Rita has double rooms, triple rooms, single rooms, which can be turned into quadruple rooms to accommodate large groups who want to rent the whole house. The price for this hotel in Morocco is 30 Euros per person, with breakfast included.
This is one of my favorite hotels in Morocco, and Ouarzazate is definitely a destination you can't miss. You can rent a car in Marrakech or catch the bus to Ouarzazate. Have a nice trip!
Contact information
Dar Rita
Address: Rue de la Mosquée 39, Hay Tassoumaat Ouarzazate, Morocco
Telephone: +212.654.164.726
Email: darritamaroc@gmail.com
Website: www.darrita.com

3 nights FREE hotel for Travel Bloggers
Are you a travel blogger? Are you setting up and organizing your trip to Morocco?
Do you want to stay 3 nights for free on a cozy, comfortable and beautiful Moroccan guest house? DAR RITA is located in the city of Ouarzazate – the Gates of Sahara.
This guest house is offering 3 nights free to all travel bloggers in the world. This giveaway prize is worth 135 Euros / US$150.
Why am I sharing this on my blog?
Well, the hotel is mine. I am DAR RITA's owner. Being a travel blogger for many years made me understand the importance of getting in touch with other bloggers.
Ouarzazate is an amazing region so I do this to promote it. I also love to get freebies, so I'm sure this "giveaway" will be interesting for you.
Ouarzazate? Ouar-is-that???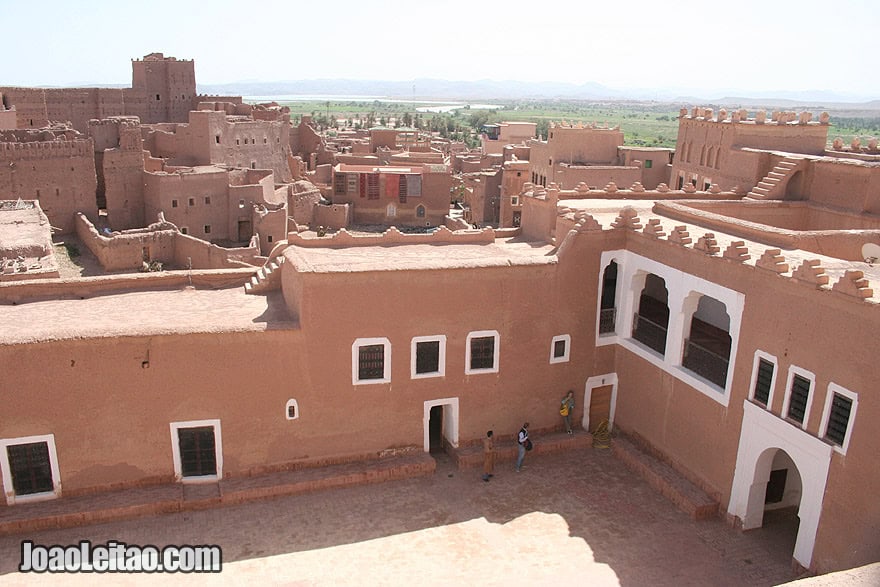 Ouarzazate is in south Morocco between the High Atlas and Sahara desert. It is called the "Gate of Sahara". The city is the starting point for tours in the desert and to the route of the 1001 Kasbahs. The region around Ouarzazate offers lush landscapes with villages camouflaged in the arid scenery of the mountains and with hidden oasis covered with palm trees.
For a long time, Ouarzazate was a small crossing point for sub-Saharan African traders on their way to northern Morocco and further more north to Europe.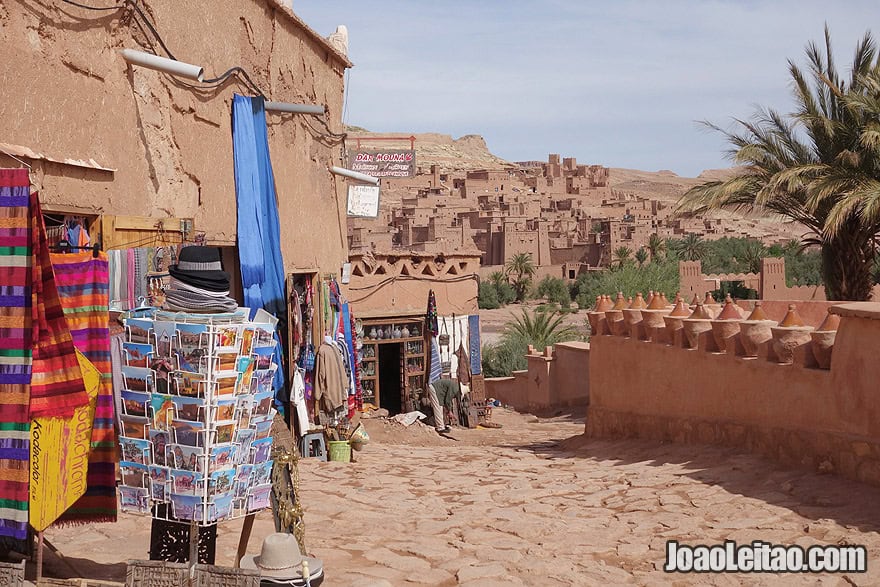 The fortified village Ksar of Ait Benhaddou, west of Ouarzazate, is a UNESCO World Heritage Site. The valleys of Drâa and Dades, with their large canyons, are another of the great attractions within Ouarzazate range.
What to see in and around Ouarzazate: Kasbah Tifoultoute, Kasbah des Cigognes, Kasbah Taourirt, Film Museum, Atlas Film Studios, CLA Film Studios, Sunday market (souk), Lake Ehdabi el-Mansour, Fint Oasis, Tassoumaat neighborhood, Ksar of Ait Benhaddou, Rose Valley and Berber villages, Telouet Kasbah in the Atlas Mountains, Gorges du Dades Canyons, Gorges du Todra Canyons, Gorges du Mgoun Canyons, Fint Oasis and River, Skoura Palm Grove, Taznakht Carpet Village, Jbel Adad Petroglyphs, Toundoute Village with kasbahs and Dinosaur location, Agdz Palm Grove, Zagora, Tinfou Dunes, etc.
Hollywood vs Ouarzazate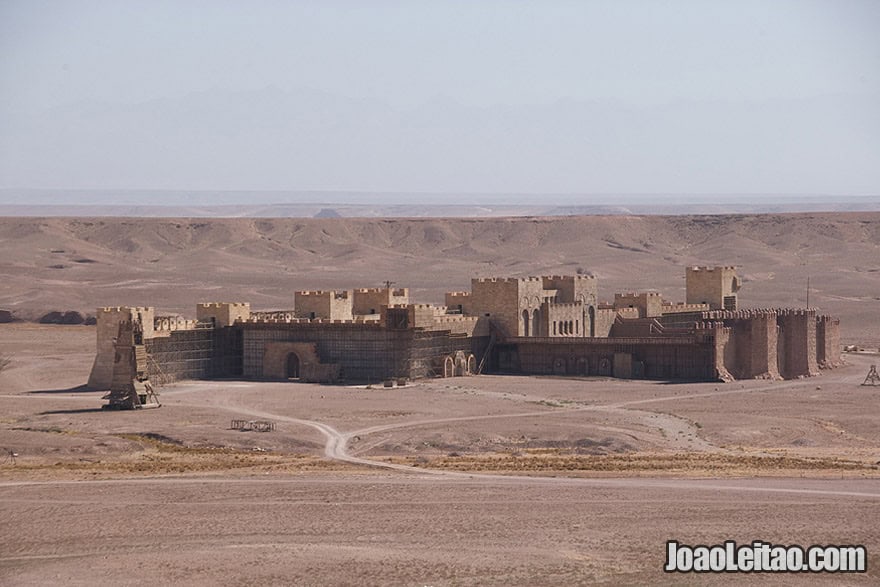 The uniqueness of its landscape provided the backdrop to many films, some of them historical as Lawrence of Arabia, The Mummy and Gladiator, among others. Ouarzazate holds the headquarters of Atlas Corporation studios and also a museum of cinema.
Did you watch this movie – Kingdom of Heaven?
Well, the city castle and all the desert landscapes are from Ouarzazate. Jerusalem castle set is just 3KM from DAR RITA, out in the open of the biggest cinema studio in the world.
And did you watch Game of Thrones, Season 3?
Game of Thrones was filmed in Ouarzazate city studios, in Fint Oasis and in Ksar of Ait Benhaddou.
What to do for 3 days in Ouarzazate
Ouarzazate and its surrounding can get you busy for many days. So it is easy to be entertained for 3 days.
Day 1 – Arrival in Ouarzazate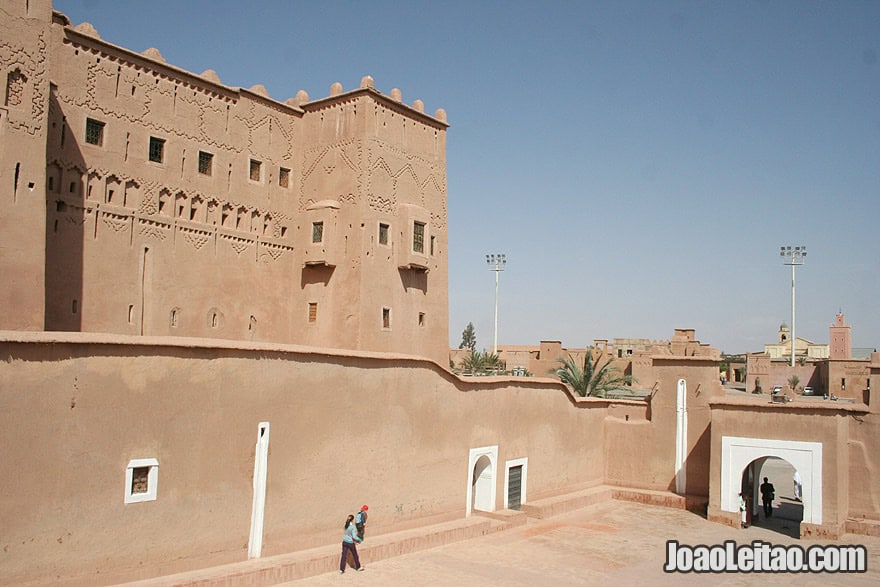 If you arrive by Supratours bus from Marrakesh, you'll get to Ouarzazate around 1pm. If you get from Supratours Bus coming from the desert, you'll get to Ouarzazate around 4pm. So, if you arrive by bus, you can set up in the hotel, go out to have lunch and spend the afternoon exploring the city center, the Kasbah Taourirt and the Cinema Museum. 1st night at DAR RITA.
Day 2 – Ouarzazate Main historical sites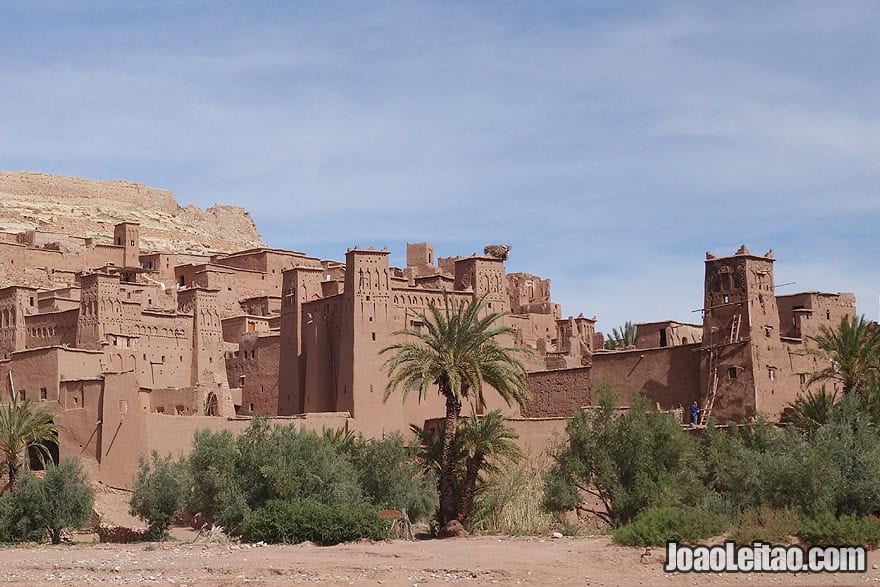 On the second day you can visit the two Cinema Studios, Kasbah Tifoultoute, Ksar of Ait Benhaddou and Kasbah des Cignognes. This will be a full day. You can either get a taxi to see all this or rent a car. Renting a taxi to take you to all these places will cost you from 200 to 250 DH. Driver, car, fuel and waiting included. 2nd night at DAR RITA.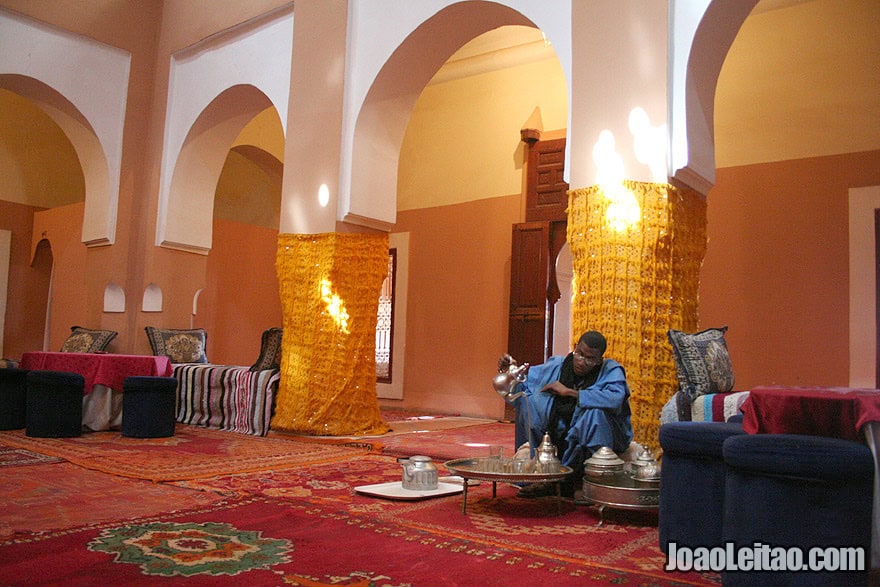 Day 3 – Ouarzazate and Oasis Fint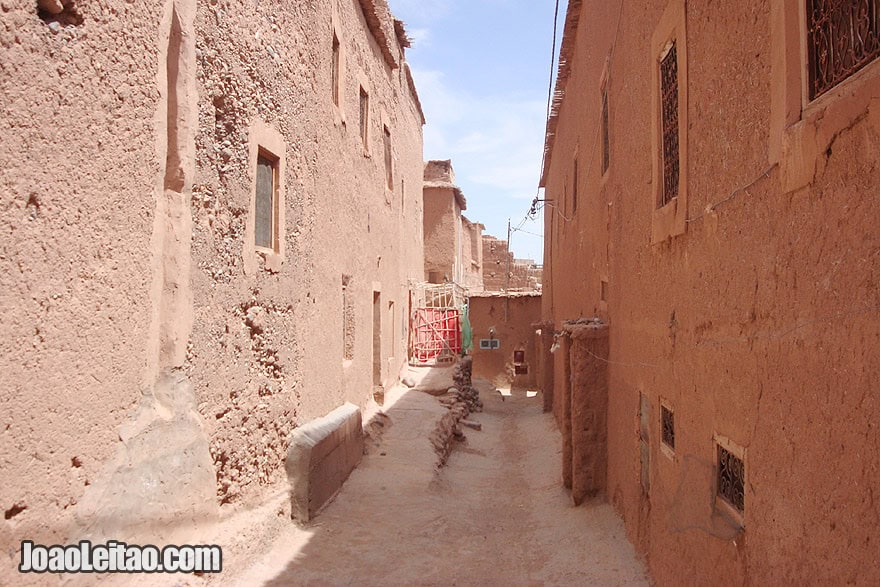 In the morning you can explore around Tassoumaat district, and after lunch you set your things to explore Fint Oasis, located just 10 km away from the city center. This is basically the most beautiful oasis in south Morocco. 3rd night at DAR RITA.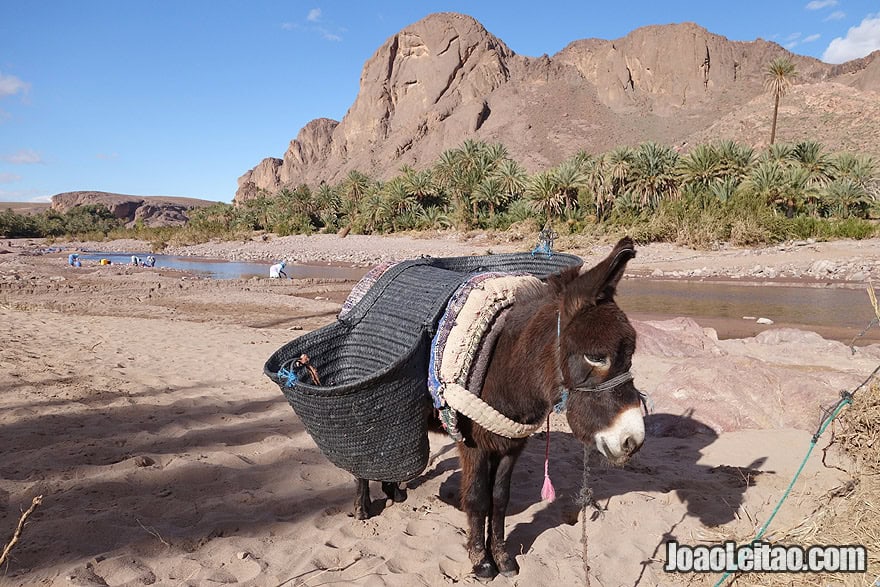 Q&A about Ouarzazate
Where is Ouarzazate located?
Ouarzazate is a famous city in south Morocco. Located just 200 KM of Marrakesh – on the other side of the Atlas Mountains Range. Ouarzazate is half way from Marrakesh and the Sahara Desert dunes of Erg Chebbi.
How much is the bus to Ouarzazate?
Supratours BUS ticket from Marrakesh to Ouarzazate costs 90 DH. Visit the Supratours website for exact information. Supratours BUS ticket from Ouarzazate to Erg Chebbi Dunes costs 200 DH
I'm traveling with someone else, what should I do?
It's OK, I mean where one sleeps there is always room for two. I'll give you a double bed anyway, even if you come alone. So your partner is more than welcome without extra fee. Breakfast is plenty for two as well. This is not a problem. If you wish a twin room with 2 beds, I can also get that. No worries.
What if I'm renting a car? Can I also go?
If you come with your own wheels – by rental car, you will probably get to Ouarzazate before sunset, because you will visit Telouet and Ait Benhaddou on your way. You just need to be a travel blogger to get this freebie. You can park your car on the petrol station near our hotel. This will cost you 20 DH per day, or you can just leave the car parked on the big avenue near the police station for free.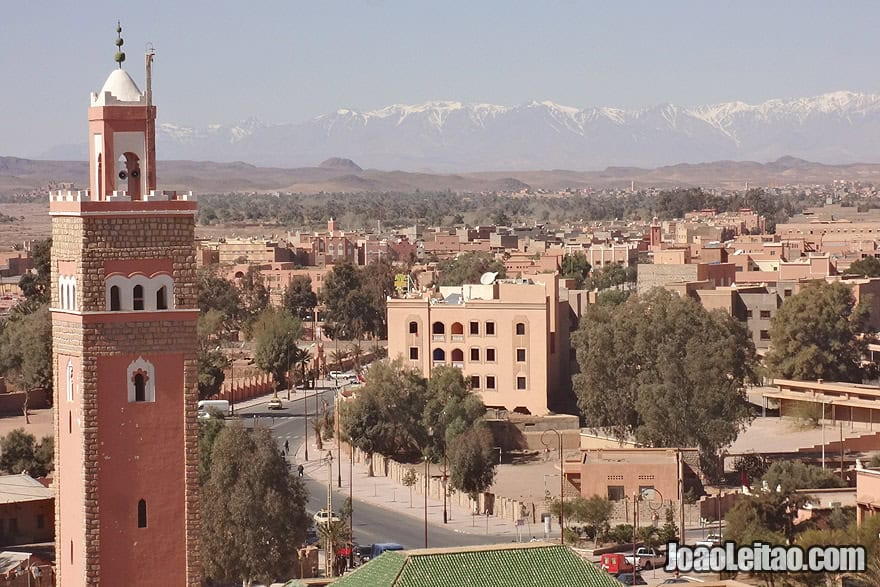 Is Dar Rita located far from the city center?
DAR RITA is located in the old neighborhood of Tassoumat, located exactly 1.9 km / 1.1 mi from the city center. This will take you around 7 up to 10 minutes walk. You can alternatively take a 2 minute taxi that cost 4 DH per person.
Is Ouarzazate a safe city?
Actually, Ouarzazate is one of the safest cities in Morocco. Crime is practically non-existent. DAR RITA's hotel is located just in the back of the main city police headquarters. When you arrive at DAR RITA, you'll have to fill up a client's form, with your personal details. This form will be delivered to the tourist police.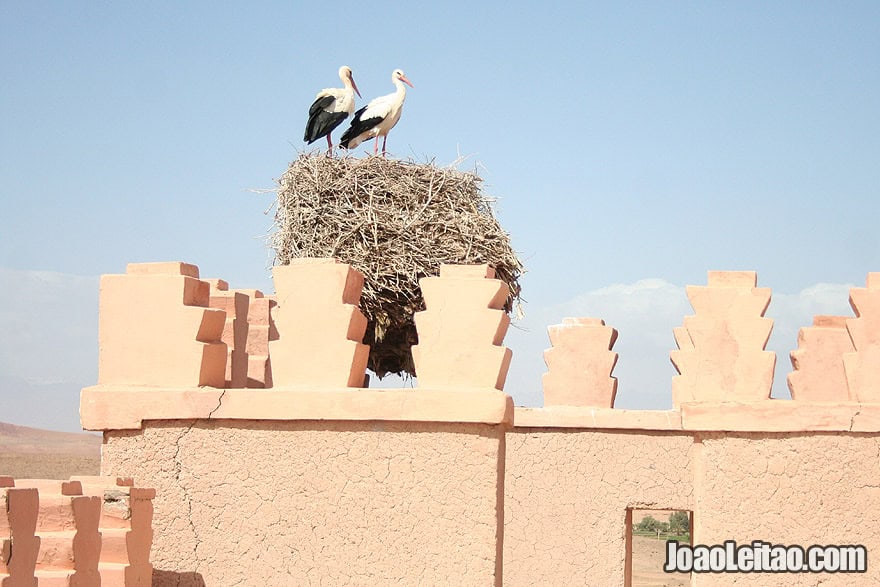 Can I eat cheaply while in Ouarzazate?
Yes, you can eat a full lunch at Restaurant Bahja for 15 DH vegetarian, or 25 DH for meat. Near DAR RITA, there is a man grilling meat every afternoon and you don't pay more than 10 DH. There are also plenty of other restaurants where you can get tasty pizza for 20 DH. You can also choose many other places where you can eat Moroccan soup for about 4DH
Do you have special prices if I want to stay longer than those 3 days?
DAR RITA is the perfect comfortable place to update your blog, download pictures, write about your adventures, wash your clothes, relax on the terrace, etc. I can offer you weekly prices with a 50% reduction of the normal price.
Travel bloggers staying at Dar Rita