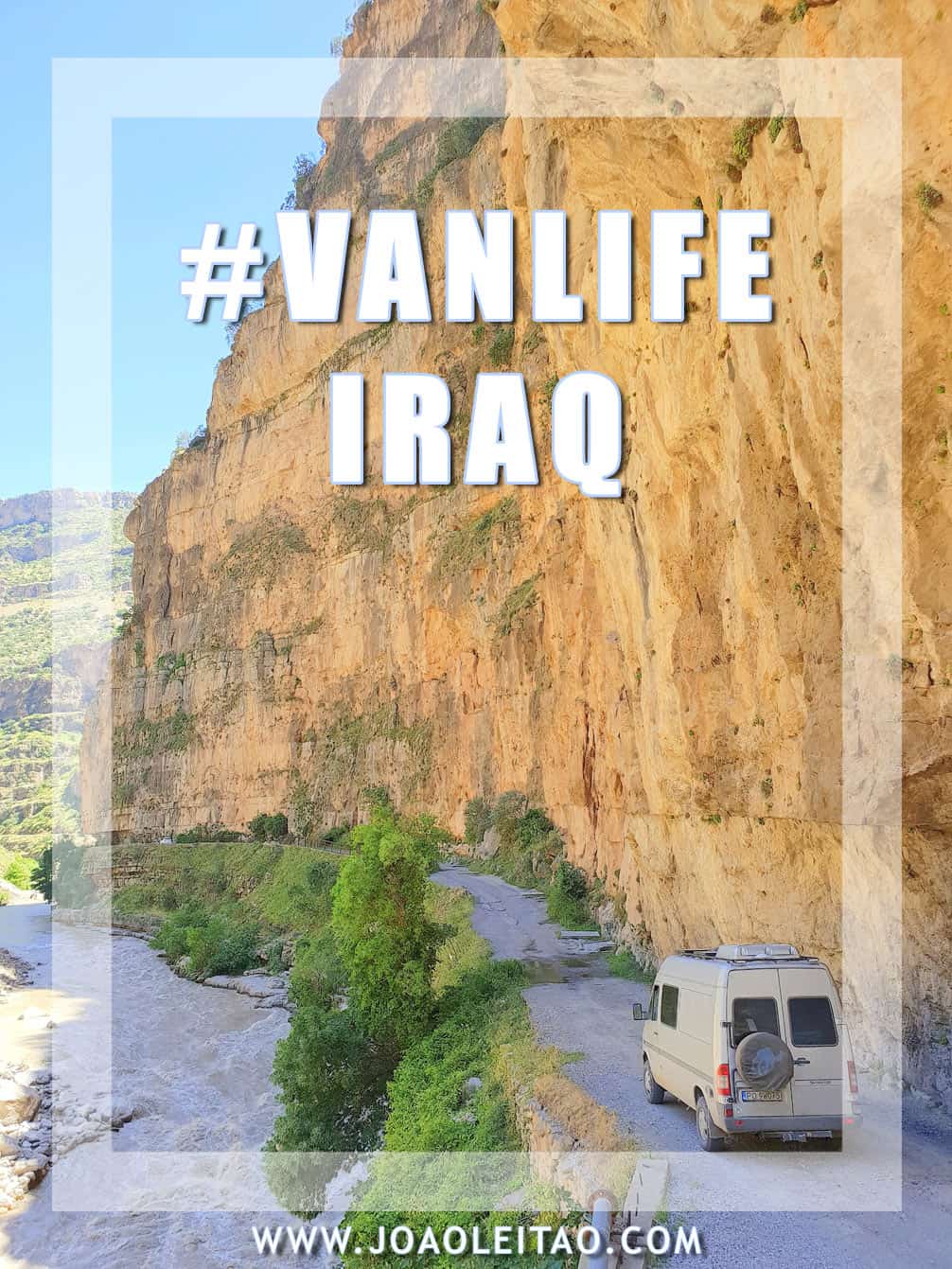 Ok, I have to admit that I realize you might think that the idea of traveling in Iraq might sound a bit mad and how this article's title "One-month road trip in Iraq with a Camper Van" sounds even crazier.
Being fascinated by its history and culture, I traveled three times to Iraq so far, and I can't get enough of it. During my one-year van life trip across Central Asia and the Middle East, I decided to return to this ancient country and visit some places where I haven't been previously.
#Vanlife Iraq
For a long time forgotten, Iraq is now a mysterious country since we don't hear people speaking about traveling there that often (due to the lack of security). Before the American invasion of its territory, Iraq was safe and had thousands of western tourists visiting it every year.
Unfortunately, nowadays Iraq is a political mess and the presence of radical militant Islamic groups that took advantage of the political and security void, made the country a no-go destination for the most of its north and center territories.
Most of my camper van trip was in the Iraqi Kurdistan, although I also drove and visited places in the Khanaqin District and Kifri District of Diyala Governorate, and Tel Keppe District of Nineveh Governorate.
Some destinations on this page are located on disputed areas and under the control of the central government in Baghdad. Technically and by the Iraqi constitution, they don't belong to the Kurdistan region, and are indeed controlled by the Iraqi Army and not by the Kurdish Peshmerga army. Because these regions are a kind of buffer zone, check-points are not as tight, and I was authorized to pass through driving my camper van. In some regions of Diyala, I was 15 km away from the line of fire against terrorist groups.
How is Iraqi security situation nowadays?
Along the road, dozens of checkpoints controlled by the Iraqi military or Kurdish Peshmerga try to maintain the country as safe as possible.
All areas controlled by the Kurdish Peshmerga are almost totally safe, while other regions controlled by the Iraqi military lack some security due to the terrorist threat of militant Islamic groups still roaming the area.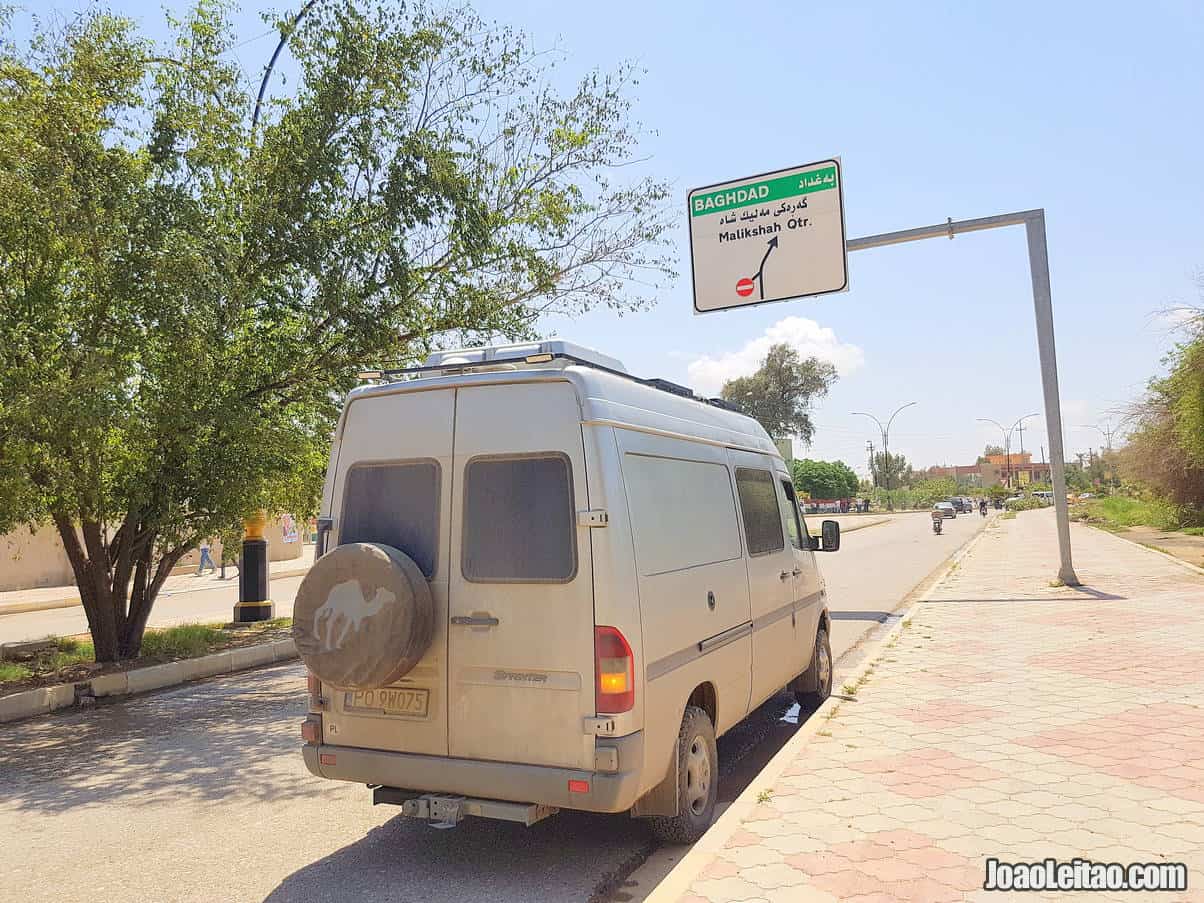 One example is the city of Khanaqin, inside one of Iraq's most dangerous regions (Diyala Governorate), where checkpoints are controlled by Iraqi forces. This city can be visited but it is a bit dangerous as recent news point out.
Khanaqin was one of the highlights of my trip due to the Arab / Kurd mix and also of its fascinating bridge and nearby mausoleums.
Also read about when I visited Baghdad:
Visit Baghdad – City Adventure Guide to the Capital of Iraq
Any incidents or dangerous situations in Iraq?
Security problems
I actually only had one strange incident during the whole month.
It was already pitch black outside in Qiz Qapan Tombs parking lot where I decided to spend the night. A team of Iraqi Army and Peshmerga forces came to knock at the van's window. They wanted to see our passports and told us the security situation in that specific area was very precarious.
They were very worried about the situation.
While they were talking to us, there were some noises and voices up in the nearby caves, and for sure there were some people hiding in the rocks. They cut the conversation short and ran with their guns and flashlights.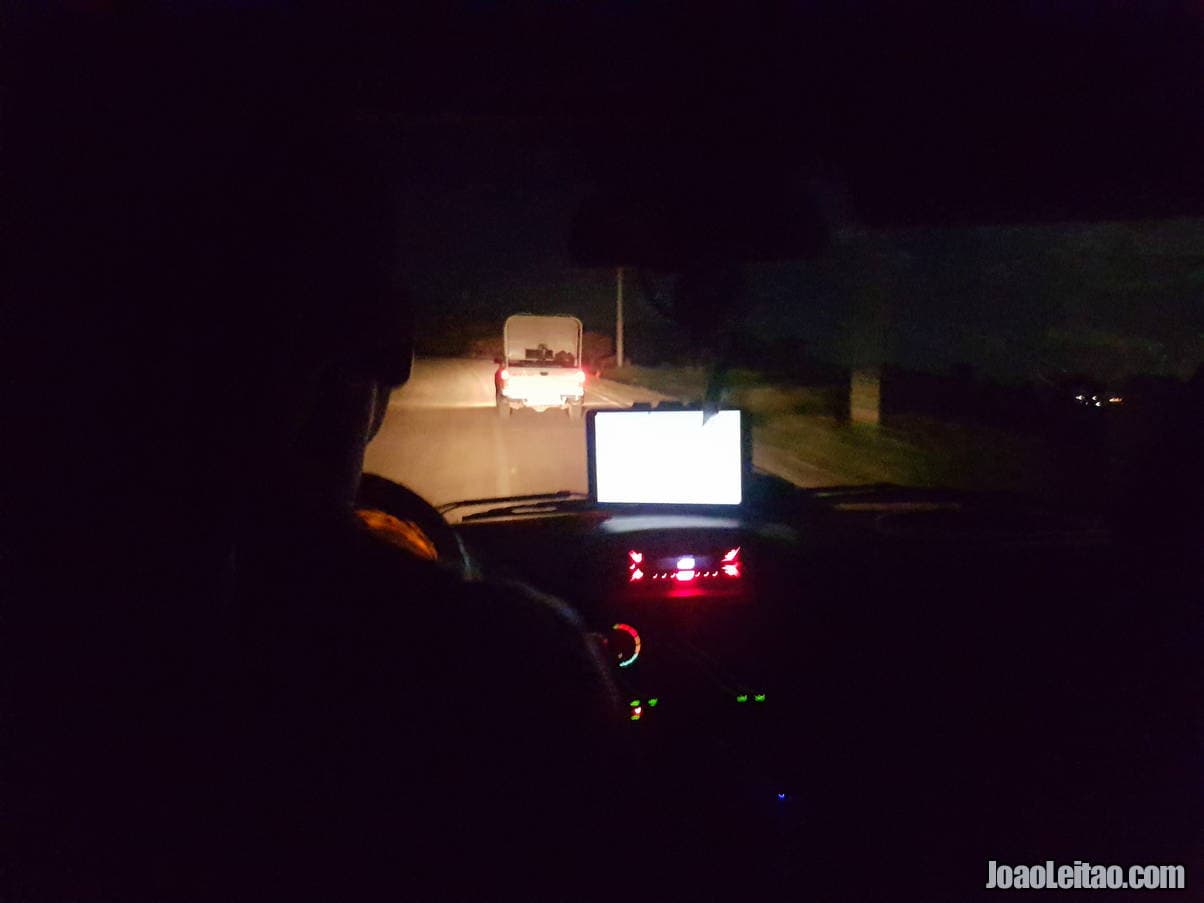 During an express evacuation of the premises, and going back to the main road at night, I heard some shots and they were pointing their flashlight and rifles into the fields.
We were taken away to a safer place. They said it was too dangerous because of the proximity of Kirkuk and some known local bandits.
We slept near a petrol station, on the spot of the picture below.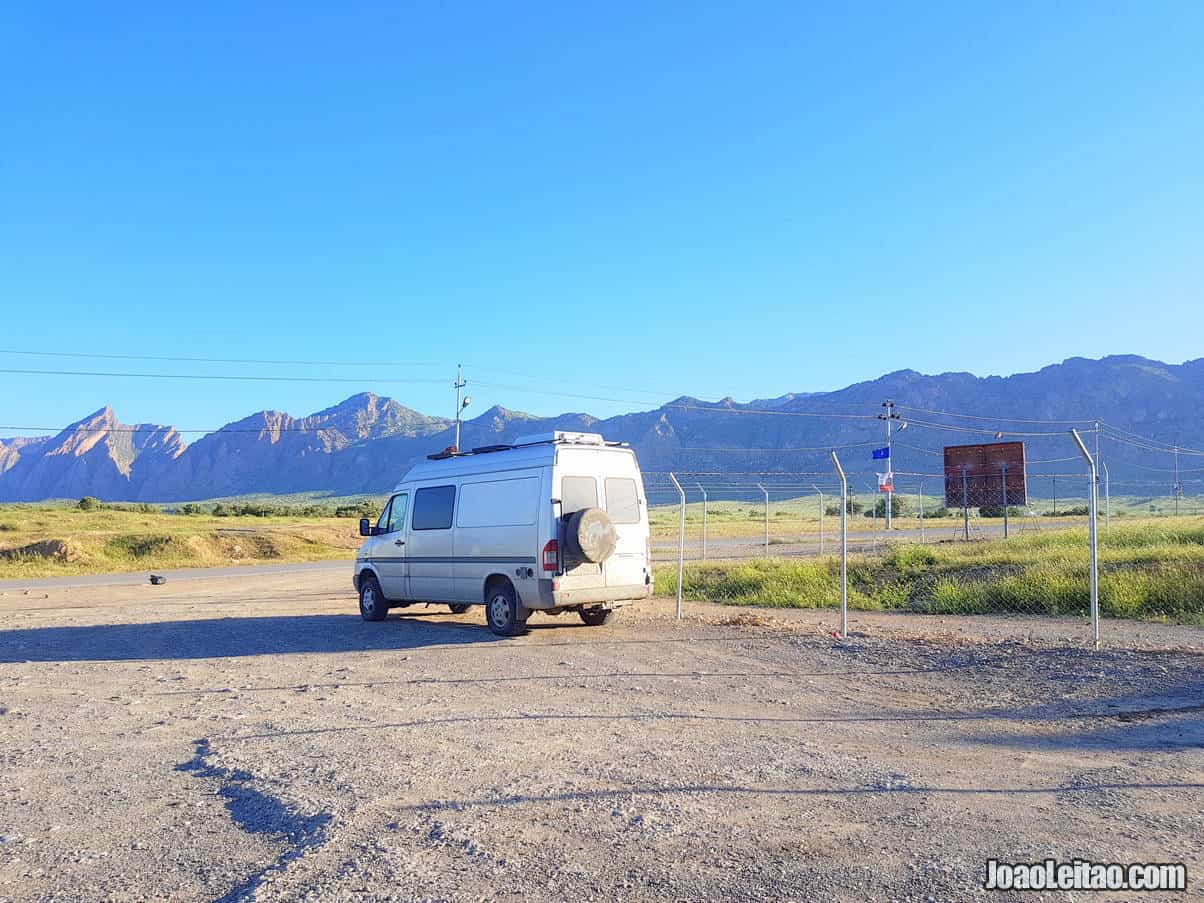 My itinerary in Iraq
Iraq Road Trip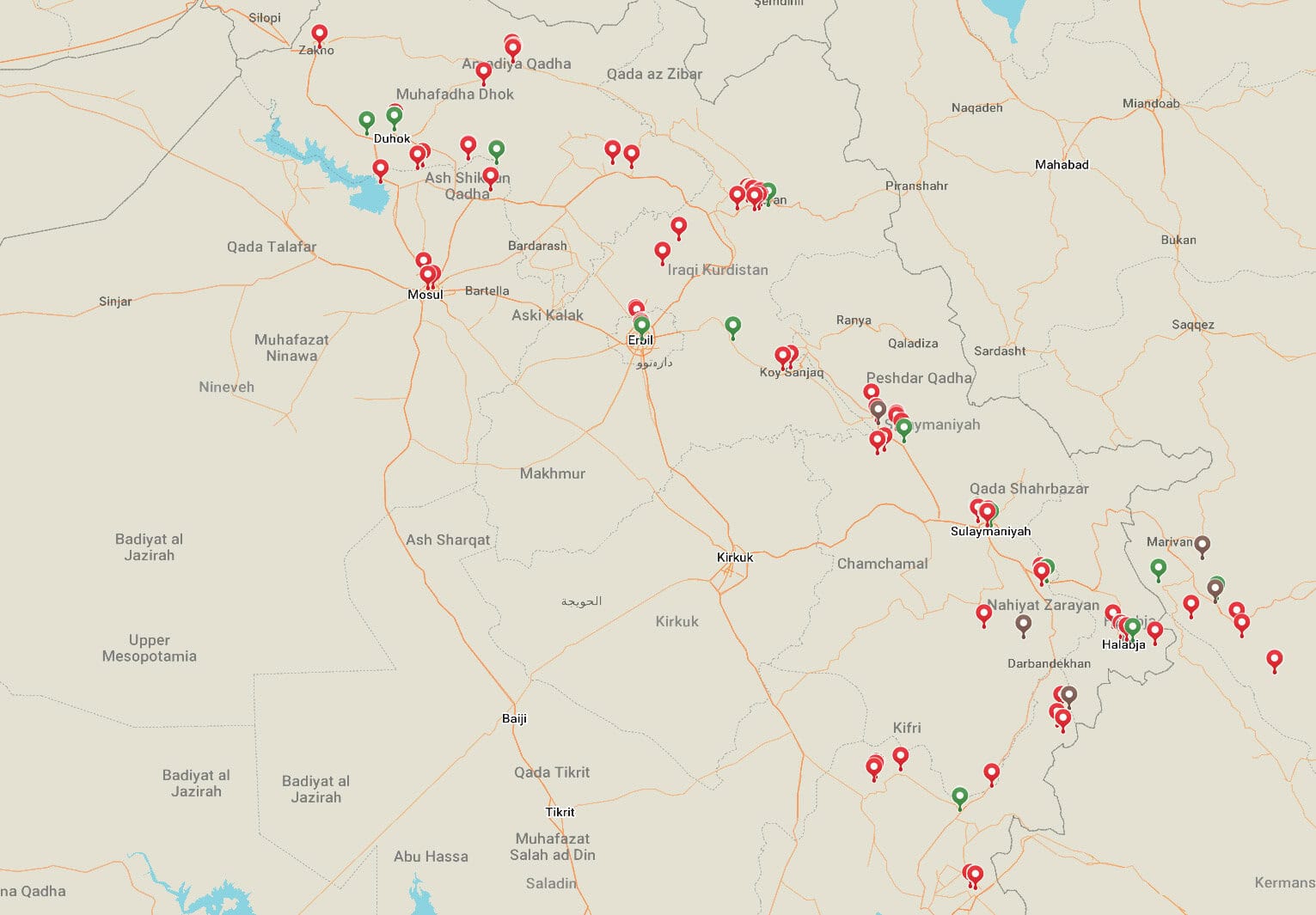 Start: Iranian border
Bakrawa Archaeological Site
Halabja
Hawar
Halabja
Kalar
Khanaqin
Mound Tomb of Sarqala
Kifri
Bawa Shaswar Dam
Kifri
Kalar
Tazade village
Sartak Canyon
Bamo Mountain
Tomb of Sheikh Jibril in Shahbazi
Darband Belola Rock Relief
Chami Dewana picnic site
Darband-i Gaur Rock Relief
Tepe Yasin
Bestansur Tepe
Zerin Jo
Sulaymaniyah
Qiz Qapan Rock Tombs
Khardaluk
Chami Razan
Timar village
Jasna Cave and Waterfall
Dokan
Bendava Dukan Dam
Koya
Shrine of Marbina Qadisha
Degala
Erbil
Mosul old city (not with camper van)
Dera Castle
Rawanduz
Bekhal
Korak Cable Car
Gali Ali Bayk
Gali Zenta
Akre
Sennacherib's Aqueduct at Jerwan
Neo-Assyrian rock reliefs at Khaniss
Lalish
Rabban Hormizd Monastery
Alqosh
Mosul Dam near Bilursat
Dohuk
Saddam Hussein Palace in
Gara Mountain
Sulav
Amedi
Zakho
End: Turkish border
Map of camper van trip in Iraq
Total KM: 1638 km (1018 mi)
Top 12 Favorite places
Also read my pages about all the places I visited during this trip:
Kurdistan Region of Iraq Unknown Destinations Part-1
Kurdistan Region of Iraq Unknown Destinations Part-2
Driving in Iraq – What to know
Driving in Iraq and entering with your own car is very easy. You don't need to bring any special paper. You just need a custom clearance document that you buy at the border.
Roads in Northern Iraq are mostly in very good conditions. Some secondary roads have a bit of pot holes, but are totally OK.
Also read about another time I drove in Northern Iraq:
Driving in Iraq – Amedi to Barzan Road Trip

Check-points – and now what?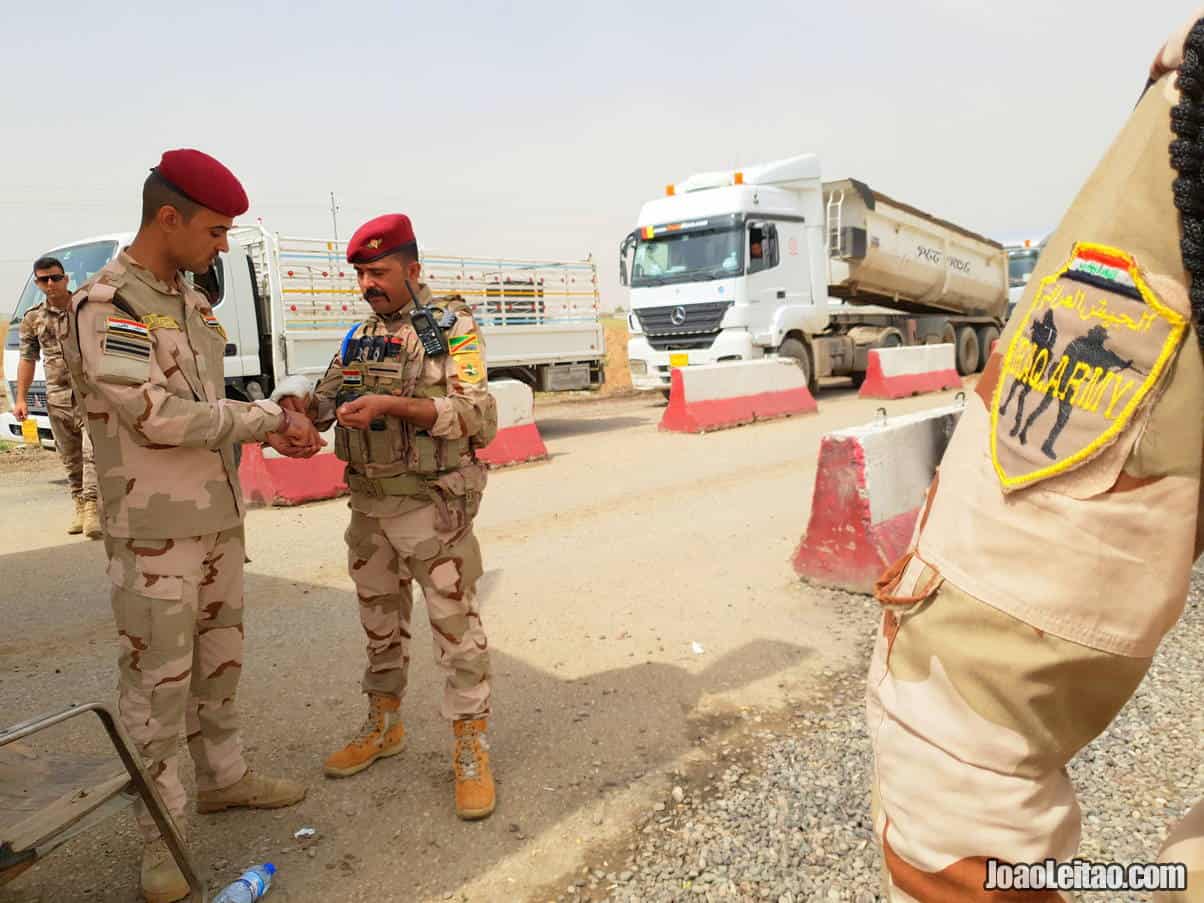 You will encounter multiple check-points;
You'll be stopped by the Peshmerga forces, by the police forces, and in some areas also by the Iraqi Army;
Be cordial, show your passport and smile. They are doing a tough job and deserve ultimate respect;
When stopped, always have your hands where they can see them;
Don't act suspicious or afraid;
If you're driving during the night and you encounter a check-point, switch on your cabin light so that they see you instantly;
Entering major cities like Sulaymaniya and Erbil, or into regions controlled by the Iraqi Army such as Diyala or Mosul, they will want you to open your van and check out what is inside.
NOTE: I've been to Iraq three times. The first time back in 2010, the second time at the beginning of 2016, and the third time just recently in 2018 traveling for one month driving my campervan. Throughout recent years, Iraq has become safer, and there are many areas that can be visited without any issues. If you think you'd like to make such a trip, check RJ Travel available Iraq Tours.