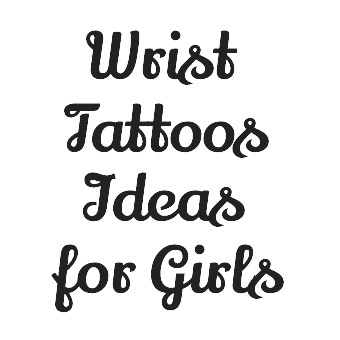 Small wrist tattoos designs are extremely popular among men and women. Its very pretty, not difficult to cover if you need, easy to heal and you can look at it all the time!
What is also very important is that its not painful. Well, at least comparing to other parts of the body.
With a good idea wrist tattoo can turned into a little piece of body art.
The wrist is the perfect part for every type of tattoos: scripts, names, quotes, tribal, ornaments, Celtic bands, symbols.
For women, wrist tattoos are like jewelry, can make them looking even more feminine, adding charm and style.
Also growing in popularity is having both wrists tattooed with matching motive.
Basic Styles of Wrist Tattoos are:
bracelet wrist tattoos, is a wristband that encircles whole wrist. Great for tribal, rosaries, inked bracelets or floral ornaments,
inner wrist tattoos, use for names, dates, initials, symbols or small designs. Suit best for those who have to have it covered during work hours
side wrist tattoos, the most often use to ink some symbol, like star, tune, bird or a single letter. Easy to cover, unless it is extending to forearm.
pair of wrists tattoos, both wrists tattooed with logic sentence or design.
On this page you have some examples and ideias of stylish wrist tattoos.
Stylish Wrist Tattoos Ideas for Girls