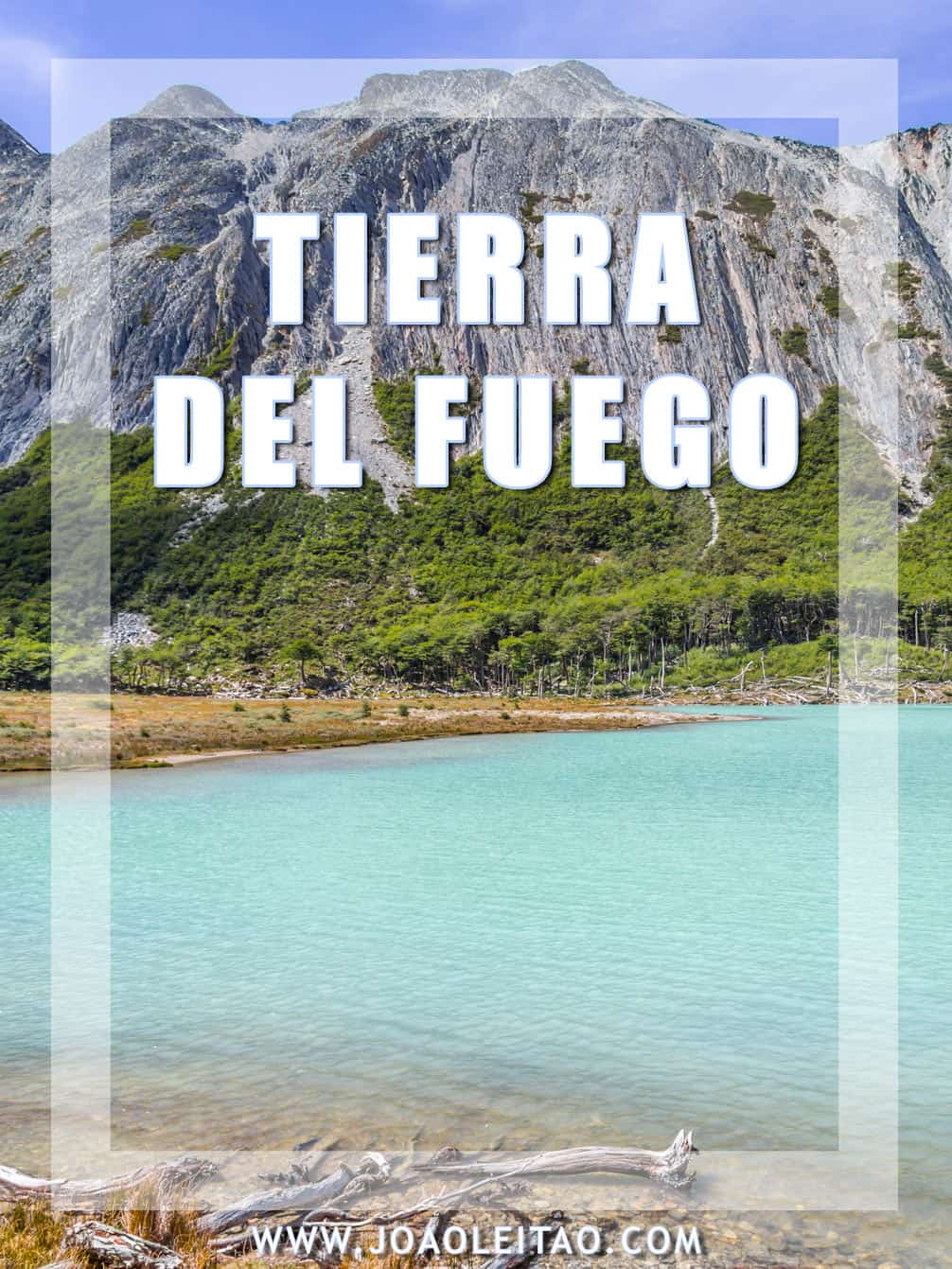 Tierra del Fuego is an archipelago that doesn't look like a group of islands at first glance. When we think of South America and visualize its southernmost tip in our minds, we usually don't think of islands.
Tierra del Fuego is a group of islands of different sizes, separated from the mainland and Patagonia by the Strait of Magellan.
It's a land at the end of the world, remote, isolated, scarcely populated and with extreme weather. In the past, it was a coveted destination among explorers.
---
Why "Tierra del Fuego" (Fire Land)?
Portuguese explorer Ferdinand Magellan traveled here in 1520 on his way to travel around Cape Horn, the southernmost part of the Americas, and he named it "Tierra del Humo" (Land of Smoke). The reason was the smoke rising from the many fires lit by native Americans who lived there. Later, the King of Spain changed it to the more poetic name we call it now: Tierra del Fuego (Land of Fire).
---
Weather
Because Tierra del Fuego is south of the equator line, its seasons are reversed when compared to the ones in countries of the Northern Hemisphere like Portugal. That means that when it's summer here, it's winter there, and vice-versa.
Its latitude, like it happens with countries in the further north like Sweden, Norway, or Finland, means extremely different sunlight hours: in the summer, from December to February, days are almost 17-hours long while in the winter, from June to August, it's down to seven hours.
Rainfall is high all year long, with an average of 146 days of rain and 200 days of cloudy skies.
The coldest weather is between July and September, with temperatures below zero and some snowfall.
However, if you choose this time of year to travel here, don't be fooled by the average minimum temperature of minus 10 degrees Celsius. The frequent winds are ice cold, and it will feel a lot colder than it actually is.
---
How to get to Tierra del Fuego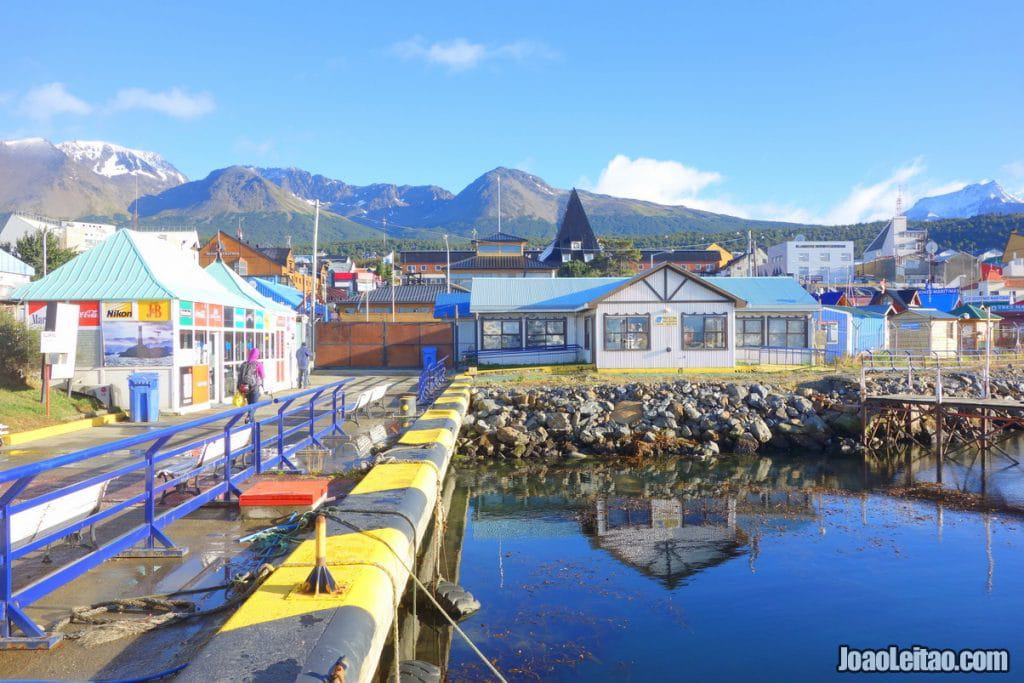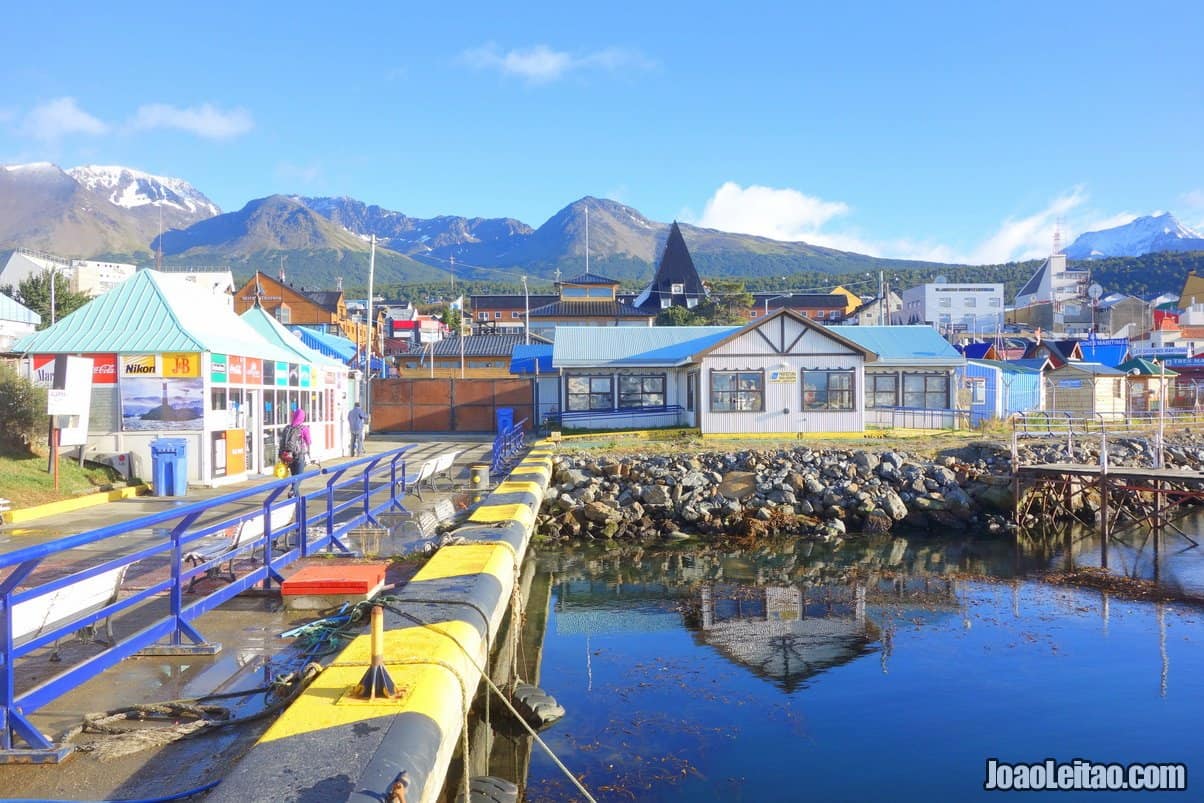 By Air
Three airlines fly to Tierra del Fuego: Aerolineas Argentinas, Lineas Aereas del Estado, and LAN Chile. There aren't many routes, though. Flights depart from Buenos Aires and other Argentinian cities and Santiago in Chile, mostly to Ushuaia and Rio Grande, in Argentina, and to Punta Arenas, in Chile.
Flights from northern Argentina take three hours and offer you the possibility of fabulous views, including a unique perspective of part of the Andes.
There are flights all year long, but in the winter they're less frequent, sometimes only once a day, more expensive, and tend to be delayed or even canceled. In the summer it's the complete opposite, flights are more frequent, cheaper, and they're almost always on time.
By Sea
You can reach Tierra del Fuego by sea on cruise ships that include this destination in their itinerary, especially Ushuaia, between September and April. There aren't regular transportation services from other regions, but there are ferries that connect the islands of Tierra del Fuego to the mainland.
By Land
All the places here are very far apart, but you can travel by bus between them. Expect long trips but if you travel at night, take the time to catch up on sleep, and if you travel by day, you have the beautiful landscape around to entertain you.
There is one important decision to make when you decide to travel to Tierra del Fuego by land. Either you do it all at once, with just one stop at Rio Gallegos to switch buses, and travel for two days between Buenos Aires and that city in Patagonia, plus 13 more hours until Ushuaia. Or, you split the trip into smaller chunks, enjoying it, and stretching it for nine days.
If you're not interested in exploring the country until you reach Tierra del Fuego and if you don't mind the non-eco-friendly side of air travel, you can always fly there, considering you'll spend the same amount of money.
---
Visas
Tierra del Fuego belongs to two countries, Chile and Argentina, so you need to look into the paperwork to enter both countries. Fortunately for the Portuguese and Brazilian citizens, the process is simple.
Although Chile is not part of the Mercosur, Brazilians don't need to carry a passport, though they should for security reasons. If you do have to travel with identification, carrying your birth certificate is enough.
Portuguese don't need a visa, just the passport, and they're allowed to stay in the country for 90 days.
U.S., Canada and Australian Citizens need a visa to enter Brazil. If have a European Union or Brazilian passport, you won't need visas for this trip.
Europeans don't need a visa to travel to Brazil or Chile. All you need is a passport valid for six months from the entry date in each of those countries.
Make your Brazilian visa online
---
Best Time to Visit Tierra del Fuego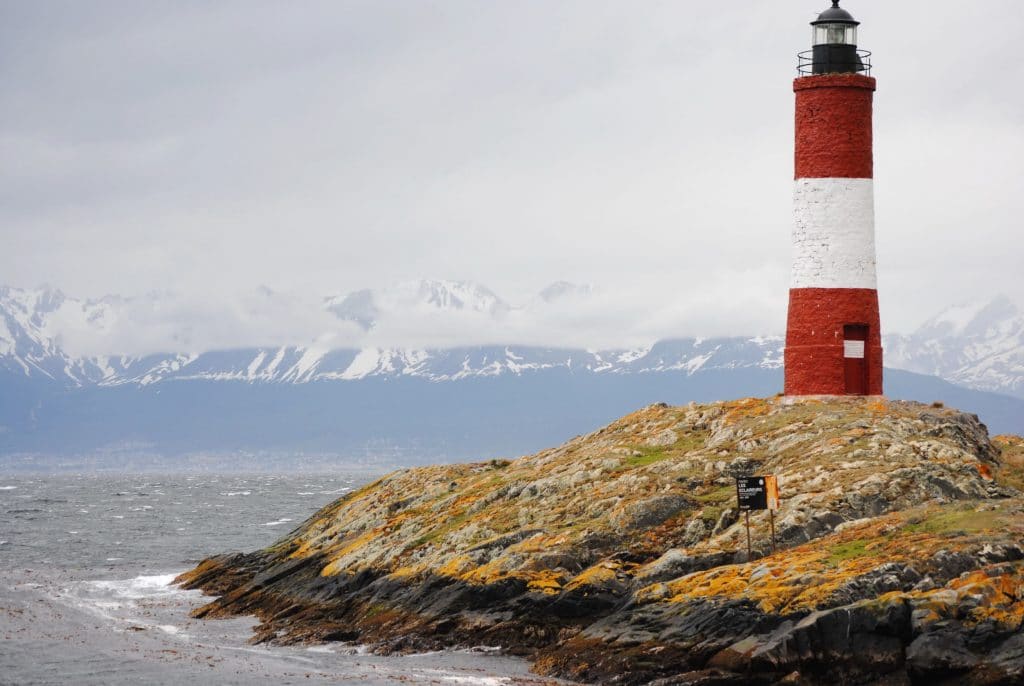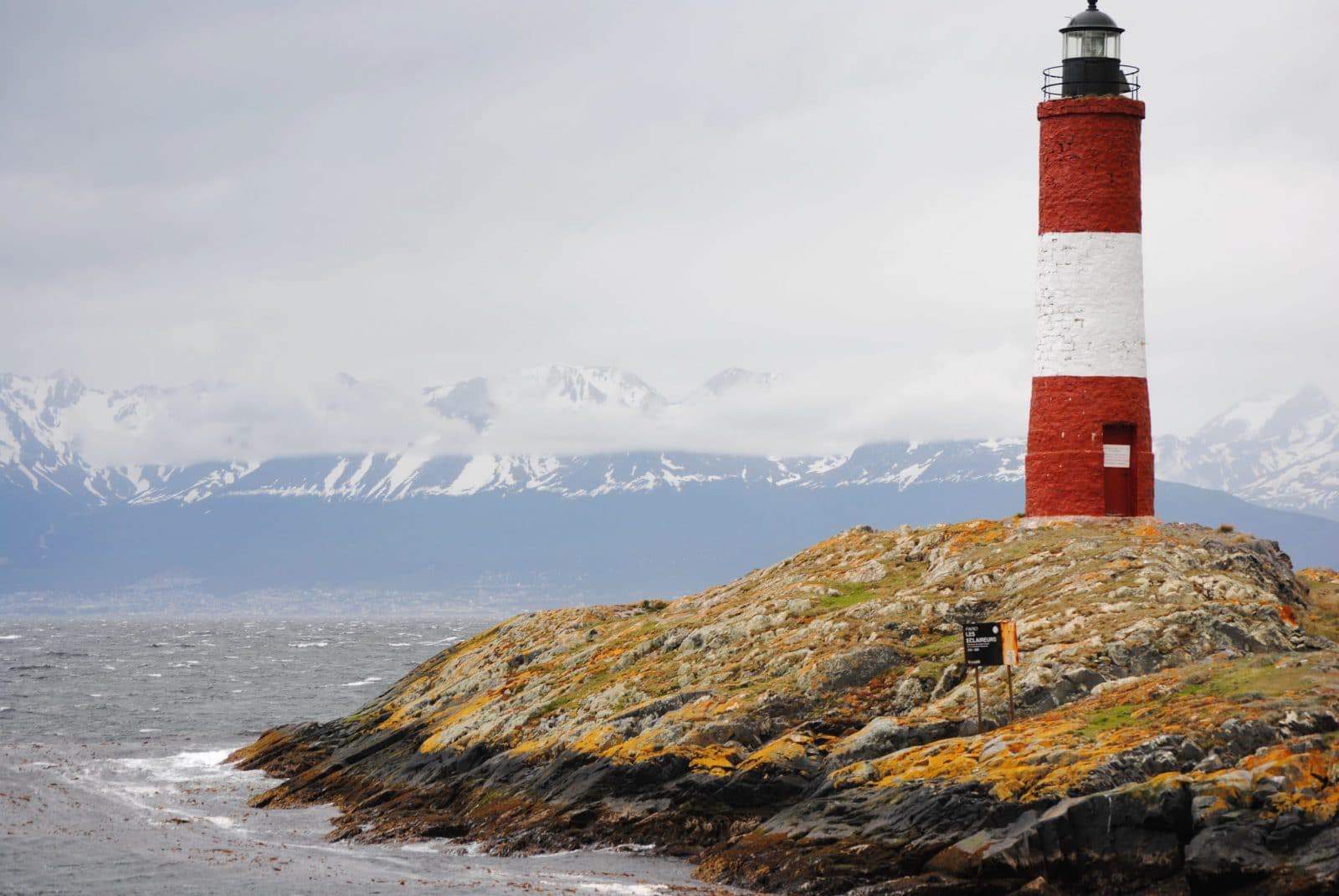 Summer is the best time of the year to visit Tierra del Fuego. Remember that I mean the summer in the southern hemisphere, December to February. It rains a lot at that time of year. Well, rainfall is frequent here anyway except snow is replaced with rain this time of year. Chances of running into problems with transportation are lower than in the winter when trips are frequently delayed or canceled due to the weather.
Local animals are also more active this time of year, and it will be easier to spot sea lions, whales, and migrating birds in the summer.
Also, keep in mind that some of the best trips to take in Tierra del Fuego are only allowed in the summer. However, if you like winter sports, you might want to take advantage of the great-quality snow in the ski resorts of Ushuaia.
---
Renting a car vs using public transportation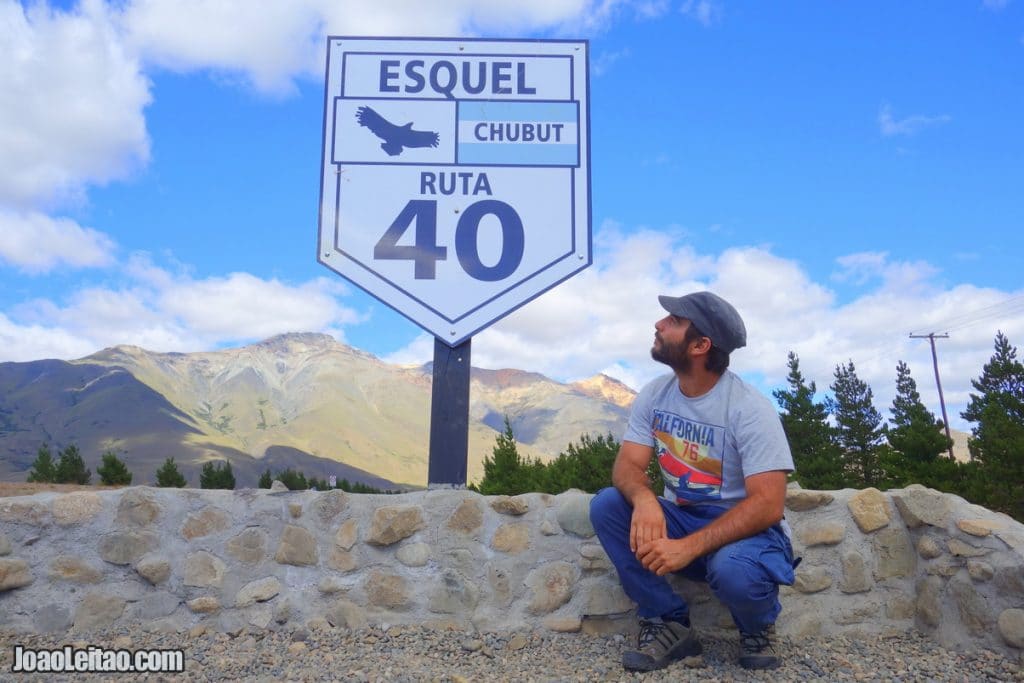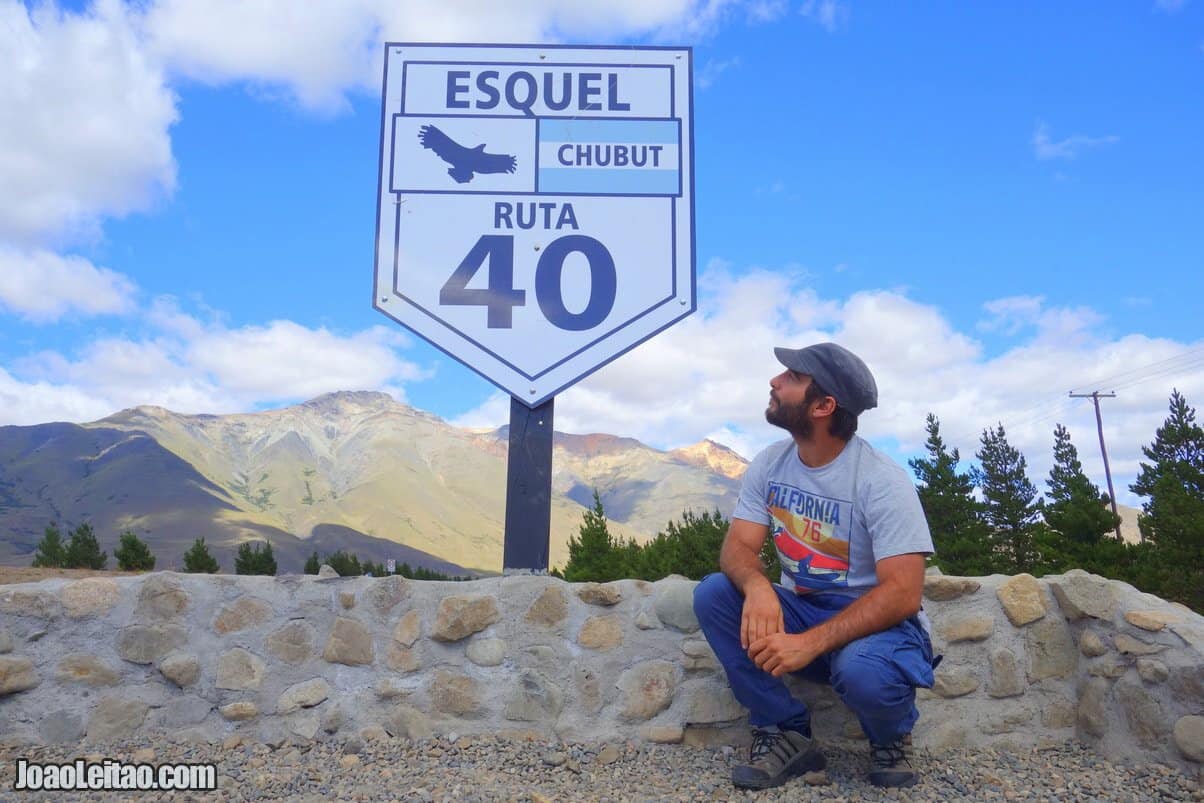 There are pros and cons of renting a car for this trip. If you do it, you can take detours and reach places that you wouldn't be able to unless you hire tours and guides. And you won't depend on buses' schedules and availability.
However, if you're traveling alone, this could be an expensive option, with all the risks and added responsibility it brings. For example, handing over the car in a different city from where you picked it up will cost a lot and crossing the border with a rental car might become even impossible to afford, but that's something you need to clarify with the car rental company.
Public transportation, on the other hand, makes everything simpler. You can choose to travel only by night to catch up on sleep. Or you can use that time to relax, read, write, edit photos, or simply enjoy the view, which is something you won't be able to do when driving.
But, of course, you won't be able to do everything you want. You won't be able to stop whenever you want or take that detour to check out that point of interest. You'll travel to Tierra del Fuego to enjoy nature and to do it you'll depend on guides. Some of the activities you want to do the most will always need to be outsourced, though.
---
Travel Insurance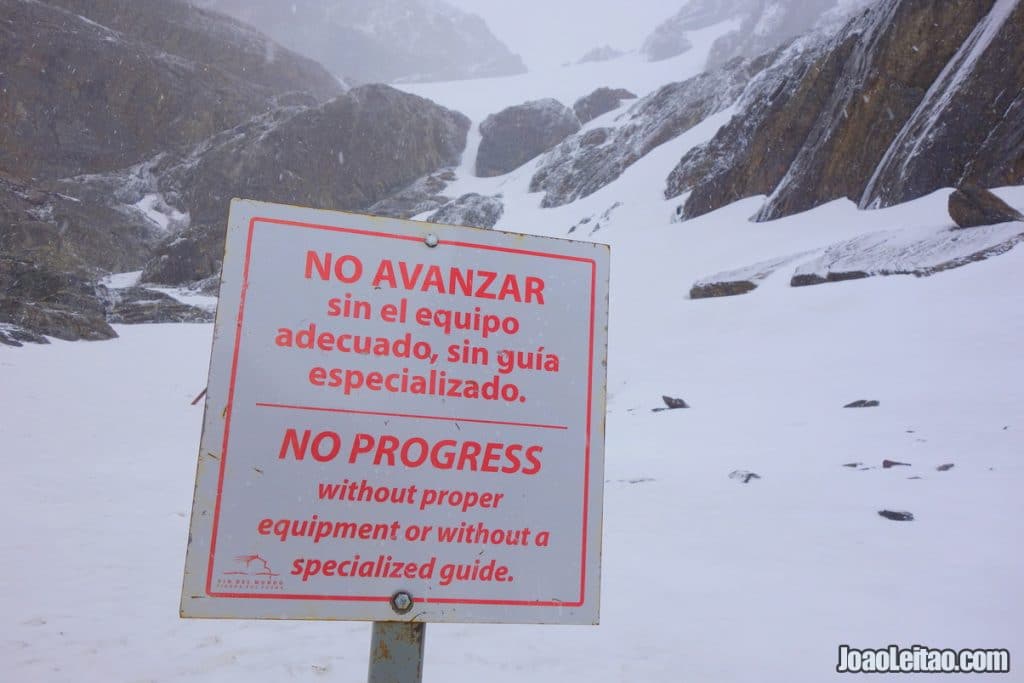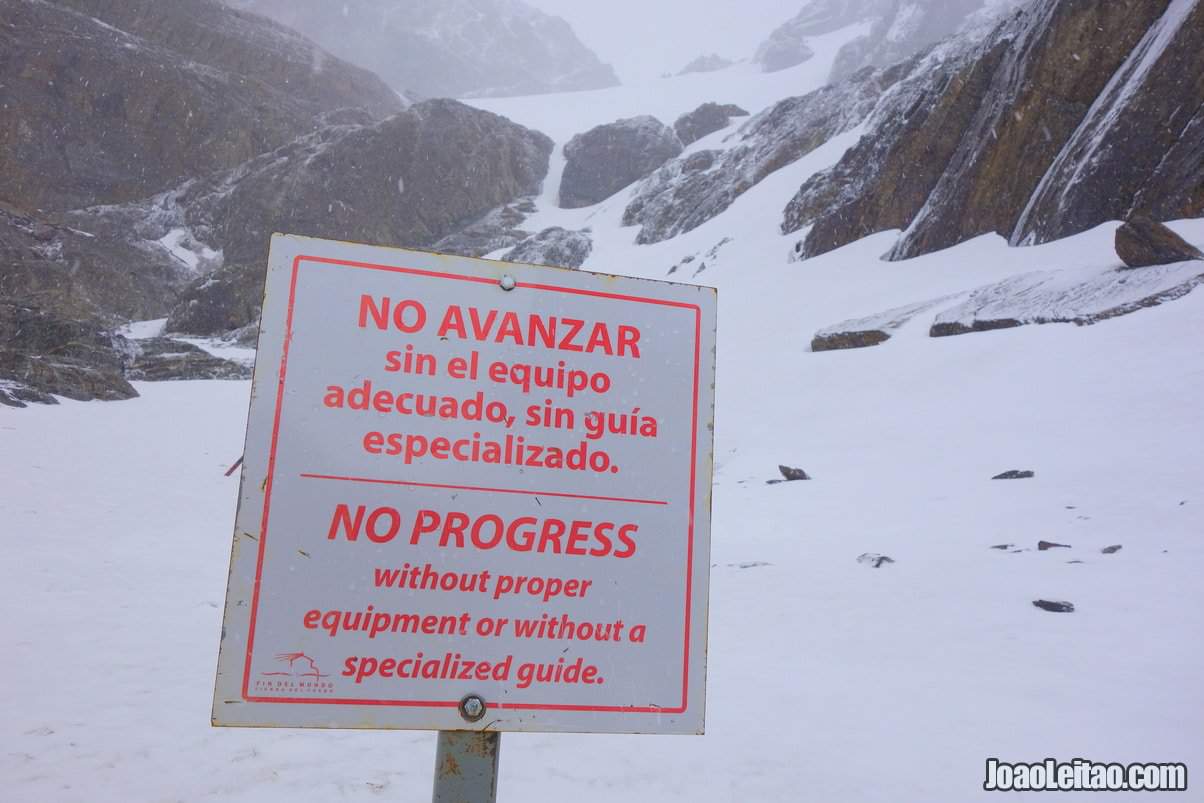 If on other trips it's a good idea to travel with the right travel insurance, when it comes to Patagonia, because of its remoteness, it's particularly important. In case of an accident or an emergency, the costs to evacuate are very high.
Medical assistance in Chile and Argentina are okay but the remoteness of the places you'll be traveling to require a good health insurance that covers evacuation expenses.
---
East Patagonia & Tierra del Fuego Itinerary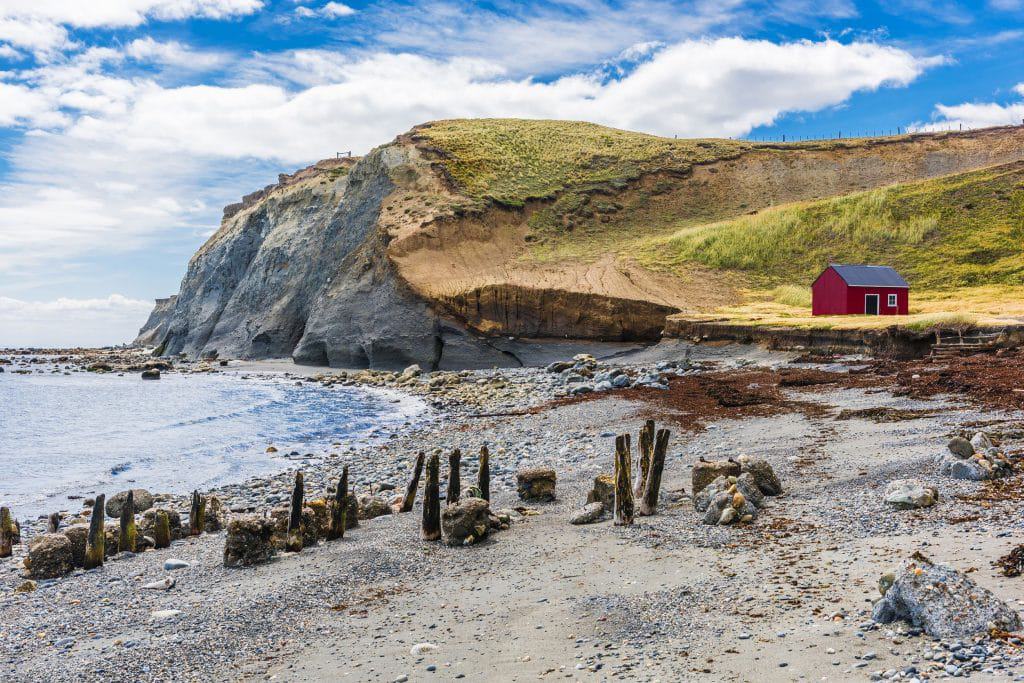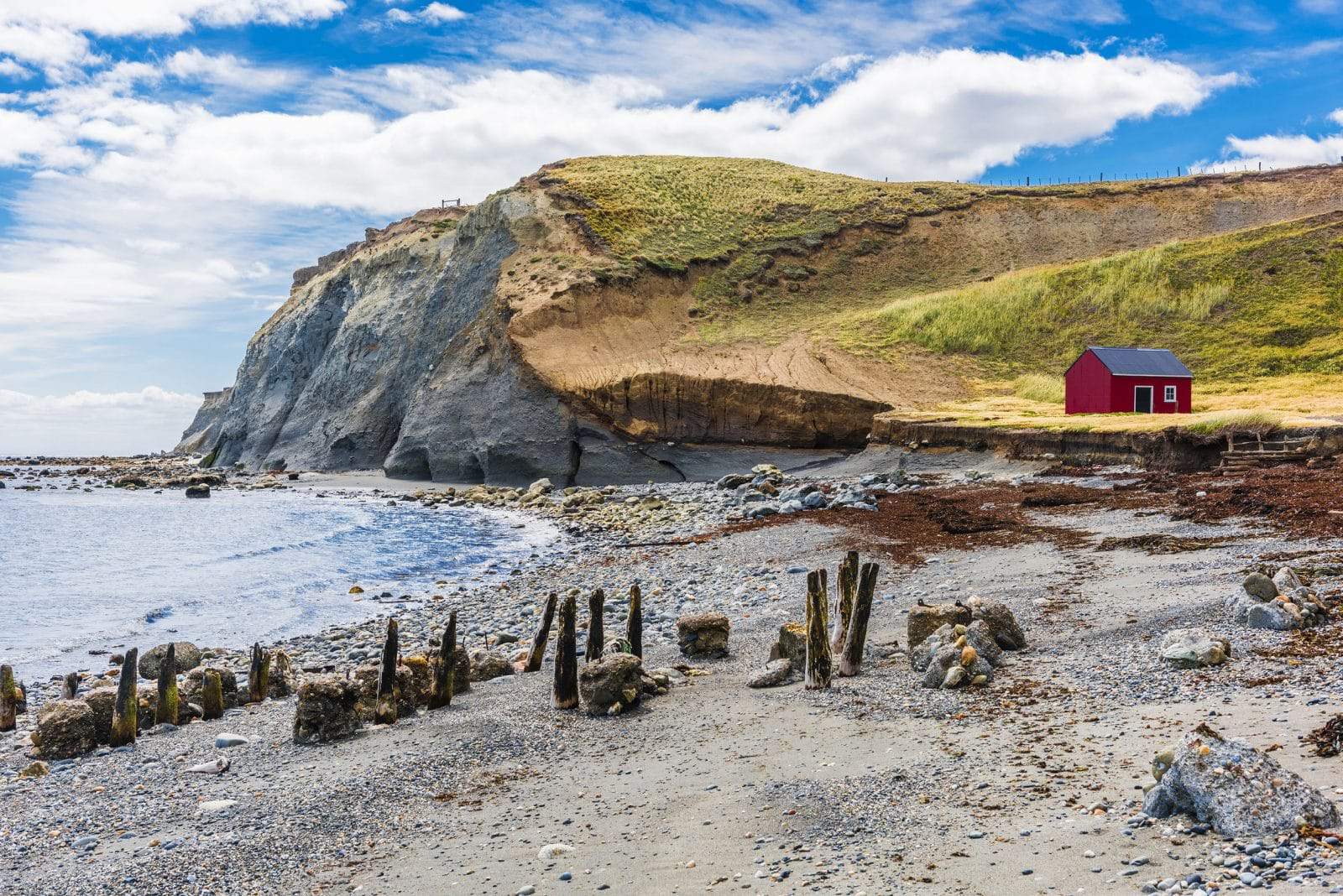 There are many approaches to this trip and a lot of possible itineraries with multiple combinations that depend on whether you're renting a car or taking public transportation.
This itinerary I'm sharing with you is just one of the possible ones but, I hope, it's the most optimized and the one that costs less and wastes less time too.
---
First Stage – Buenos Aires to Bahia Blanca
Buenos Aires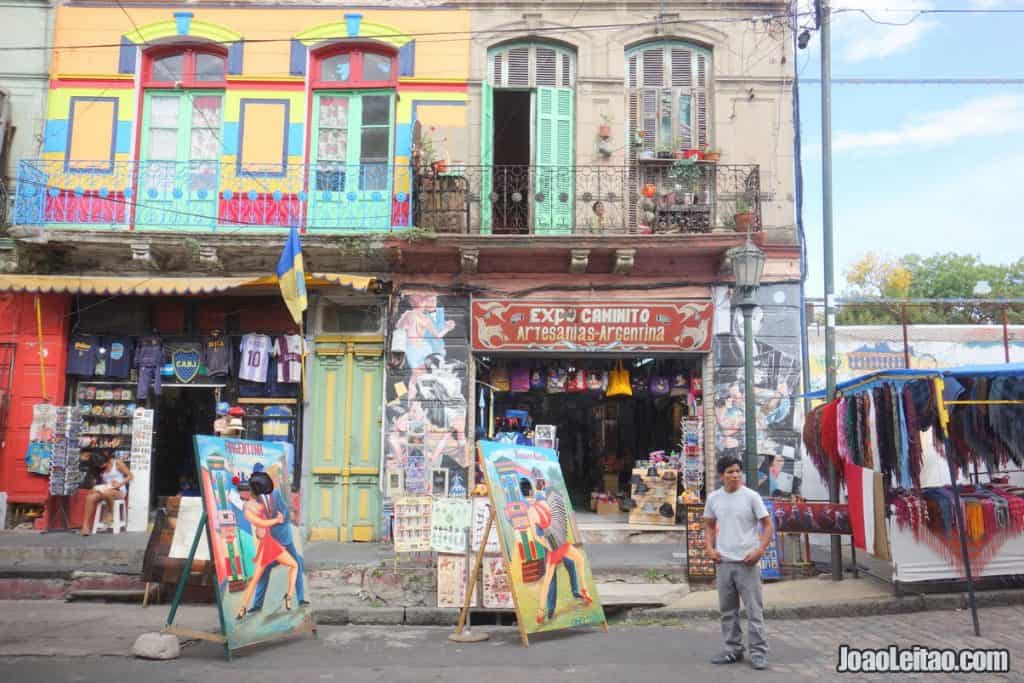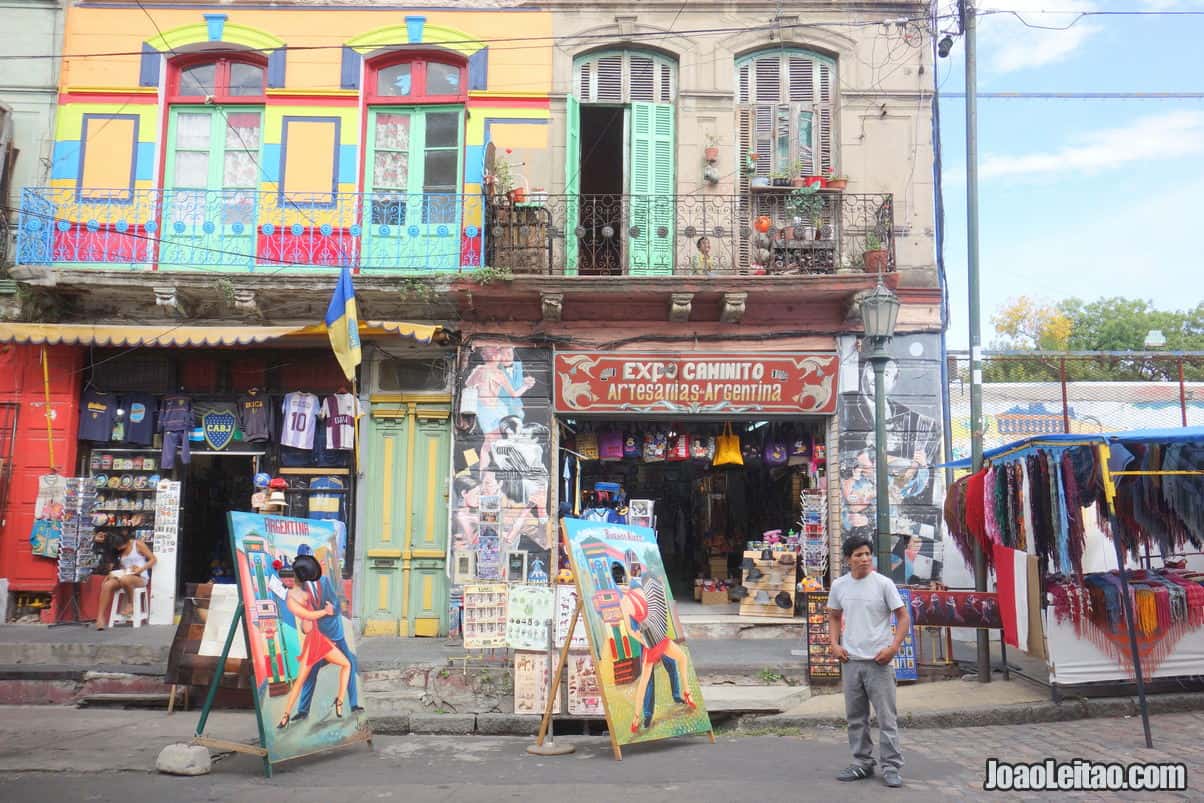 The capital of Argentina is the obvious point of departure. It's well connected to the rest of the world, and you can get there easily, spend a few days exploring the city and prepare for the big trip. This is the place where you want to buy all the supplies and do some last-minute shopping before the big adventure. And then, once you're done, off you go!
As you leave the center of Buenos Aires behind, the urban landscape begins to change. It takes a while to see all the transformations because the Argentinean capital is massive, but then suddenly you're traveling through the countryside.
It's about a ten-hour trip on an Andesmar bus that will cost you 770 Argentinian pesos (about 45 euros). Ground transportation isn't cheap, but they're of excellent quality.
Bahia Blanca is a quiet city that rarely gets foreign tourists. You can stay there for a few hours, exploring the historic center, relaxing at one of the cafes, and eating a good meal for a reasonable price.
---
Second Stage – Bahia Blanca to Puerto Madryn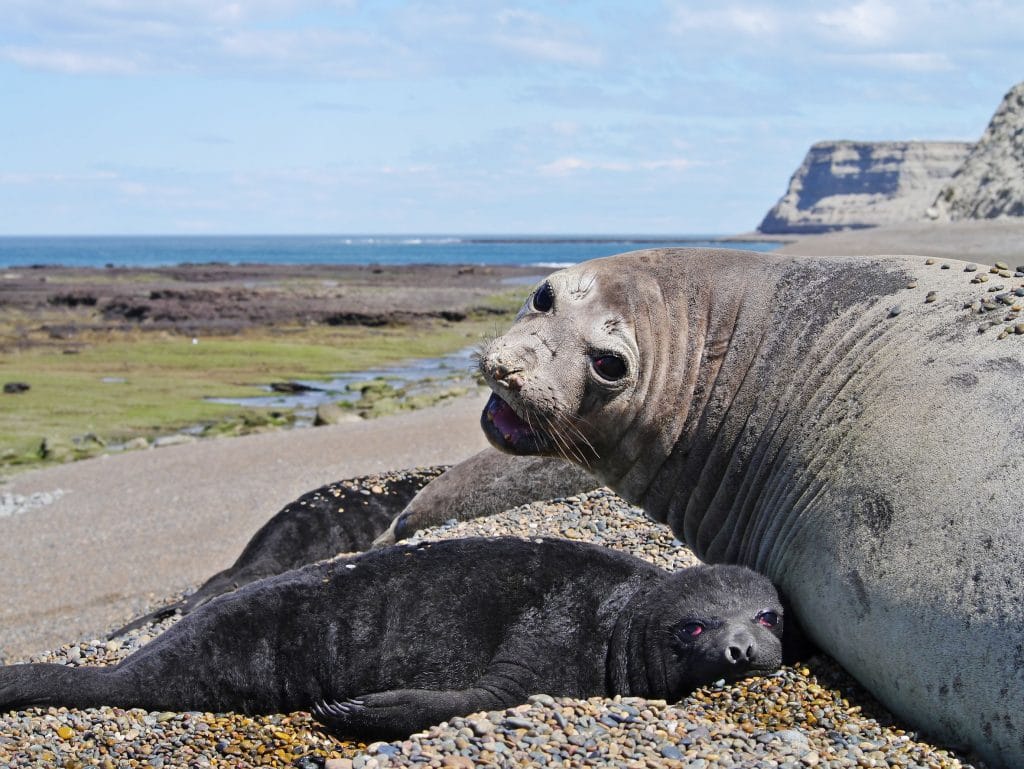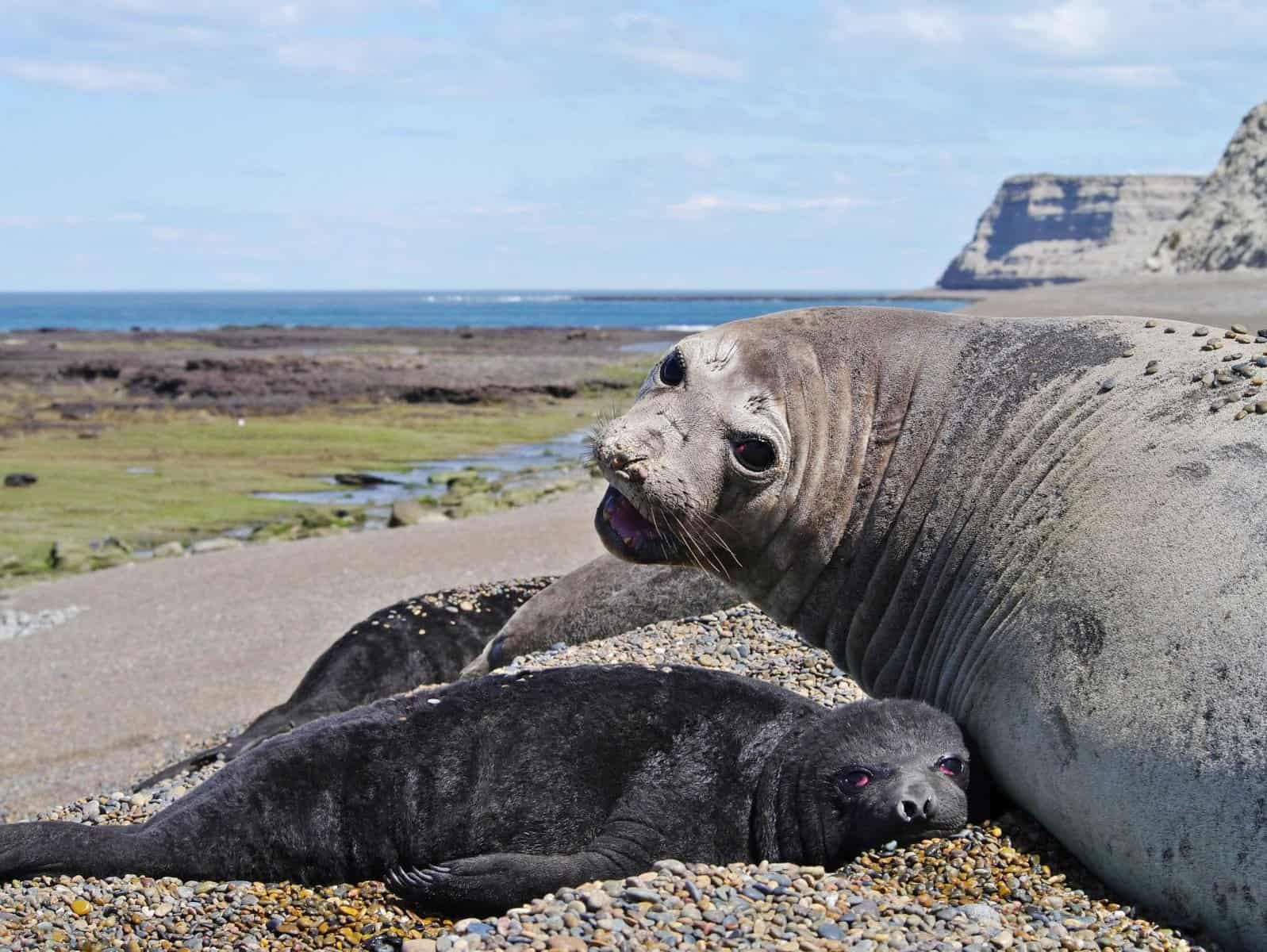 It's another 10-hour journey, but you can do on an Andesmar bus with a sleeper seat that will cost you 1025 Argentinian pesos. Once again, it's not cheap, but it's comfortable and will save you a night at a hotel.
I suggest you stay in Puerto Madryn for one or two nights, take a break from the road, relax, and change the scenery from being stuck inside a bus for hours.
The city is friendly and lively. It's also the perfect place for diving and spotting sea lions, penguins, and dolphins.
---
Third Stage – Puerto Madryn to Comodoro Rivadavia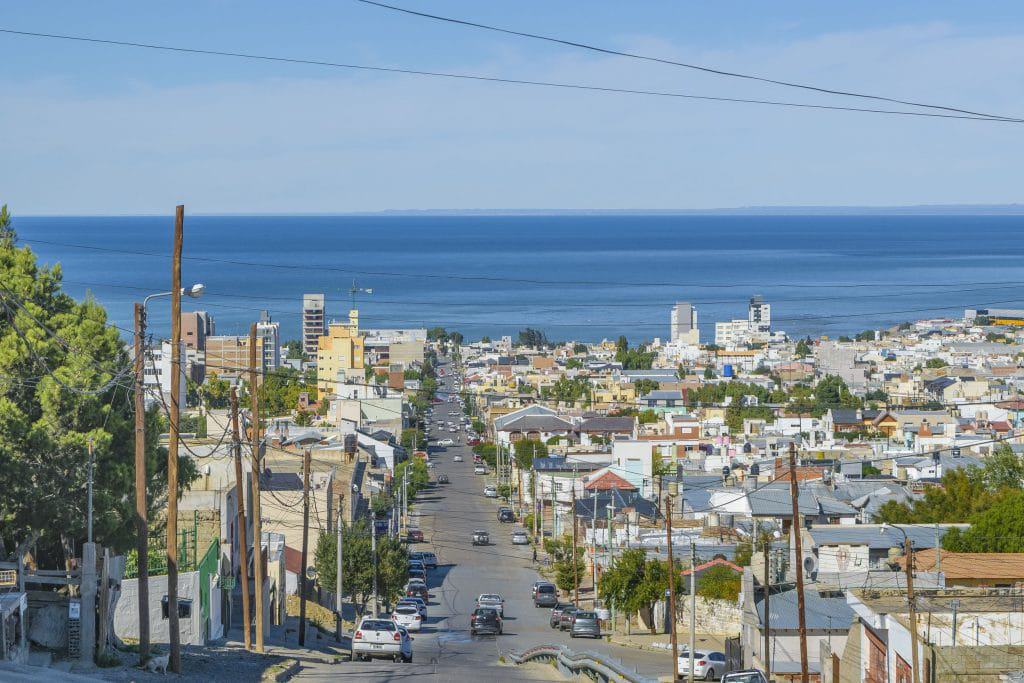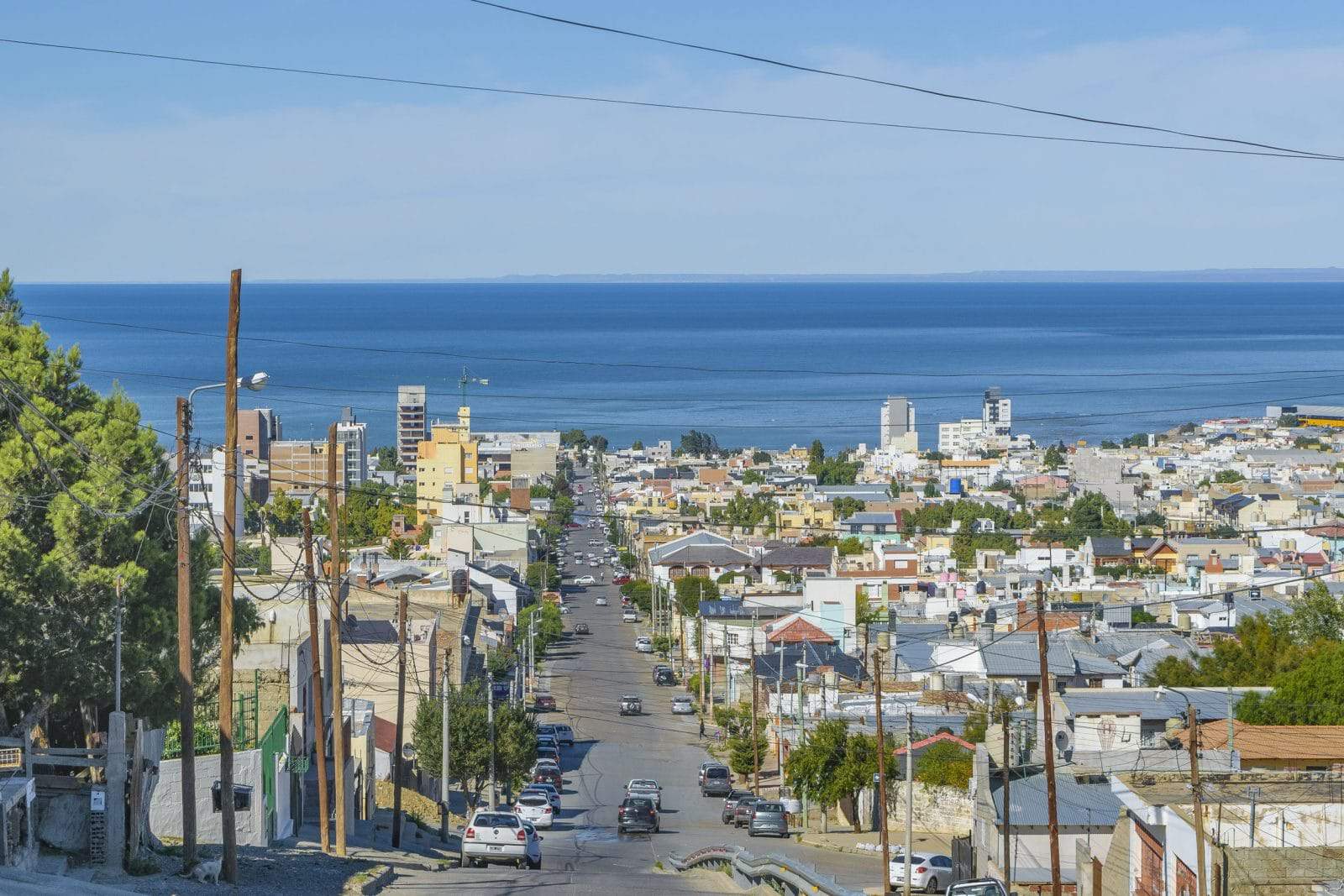 You can travel the six hours between both cities on a Central Argentino bus that will cost you 600 Argentinian Pesos. This is the time you'll start to wonder if traveling by air to Tierra del Fuego wasn't a better idea.
Outside, the landscape despite being beautiful becomes dull. It's classic Patagonia, with extensive, dry, deserted plains.
Comodoro Rivadavia is not one of the most beautiful cities in the world. It's functional, with a lot of factories, a very active port, but overall it looks deserted, and the side streets don't look safe. Maybe the best is to find the main street where it's livelier and where there are more shops to make it feel a bit safer.
---
Fourth Stage – Comodoro Rivadavia to Rio Gallegos
For the fourth stage, you can travel at night on an Andesmar luxury bus. It has high-quality chairs that almost become a bed and curtains that allow forming a cocoon around you, so in a way, you have some privacy from other passengers. It's a 12-hour trip, but you can try to sleep through it. You'll be in Rio Gallegos before you know it and spent 1320 Argentinian Pesos.
Rio Gallegos doesn't have much to see but has a nice vibe so you can choose to stay here for a couple of days. Explore the city, discover local street art, and mingle with the locals who seem to love their city genuinely.
---
Fifth Stage – Rio Gallegos – Ushuaia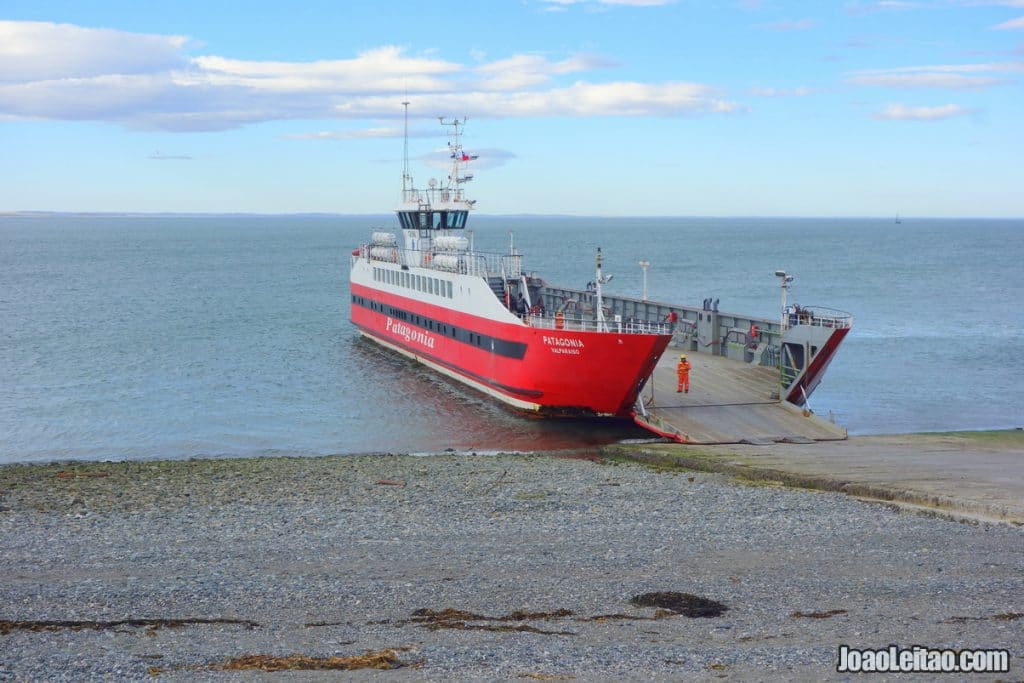 It's the end of the long journey from Buenos Aires. You'll have another 12-hour bus trip ahead, but this time you can't travel at night and sleep.
Because there are passengers traveling across the border, the trip has to be done during the day. For this trip, you will add 785 Argentinian Pesos to your expense list.
Outside, there's still plenty of Patagonia to see. The landscape changes a little, becomes more rugged. You're fast approaching the border with Chile. Crossing the border is usually smooth, and travelers soon find themselves in a new country although the landscape seems the same.
Ahead, you'll see the first sign of arriving in Tierra del Fuego: the bus boards a ferry and you're about to enter the archipelago.
You're back in Argentina and must change buses in Rio Grande. Ironically, after all these kilometers, it's the most scenic part of the trip, and I recommend grabbing a seat by the window on the right side of the bus.
---
Ushuaia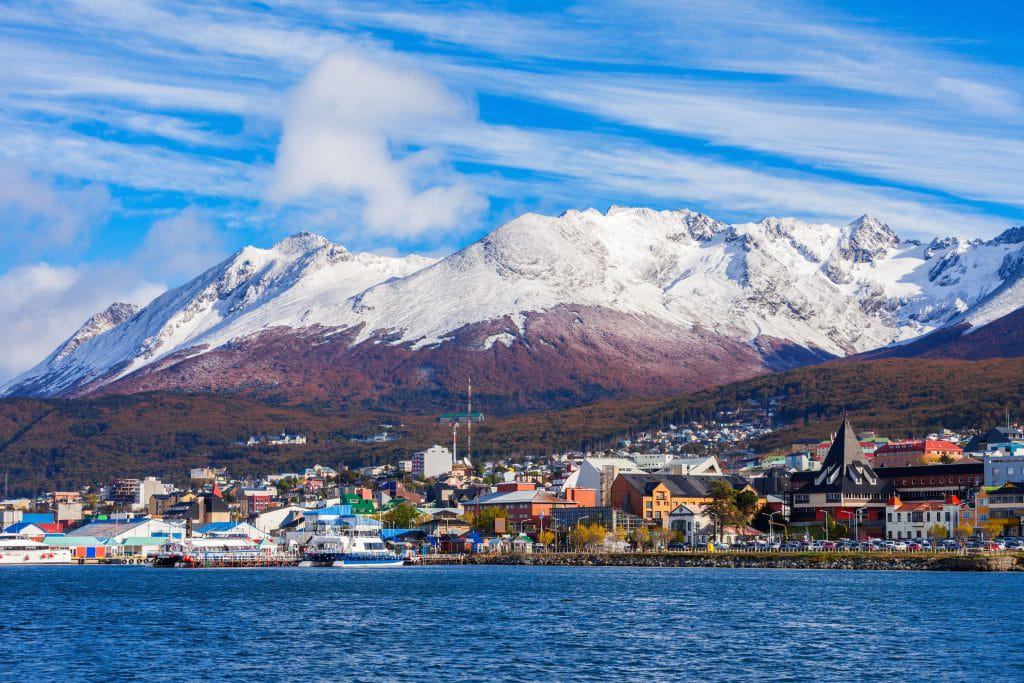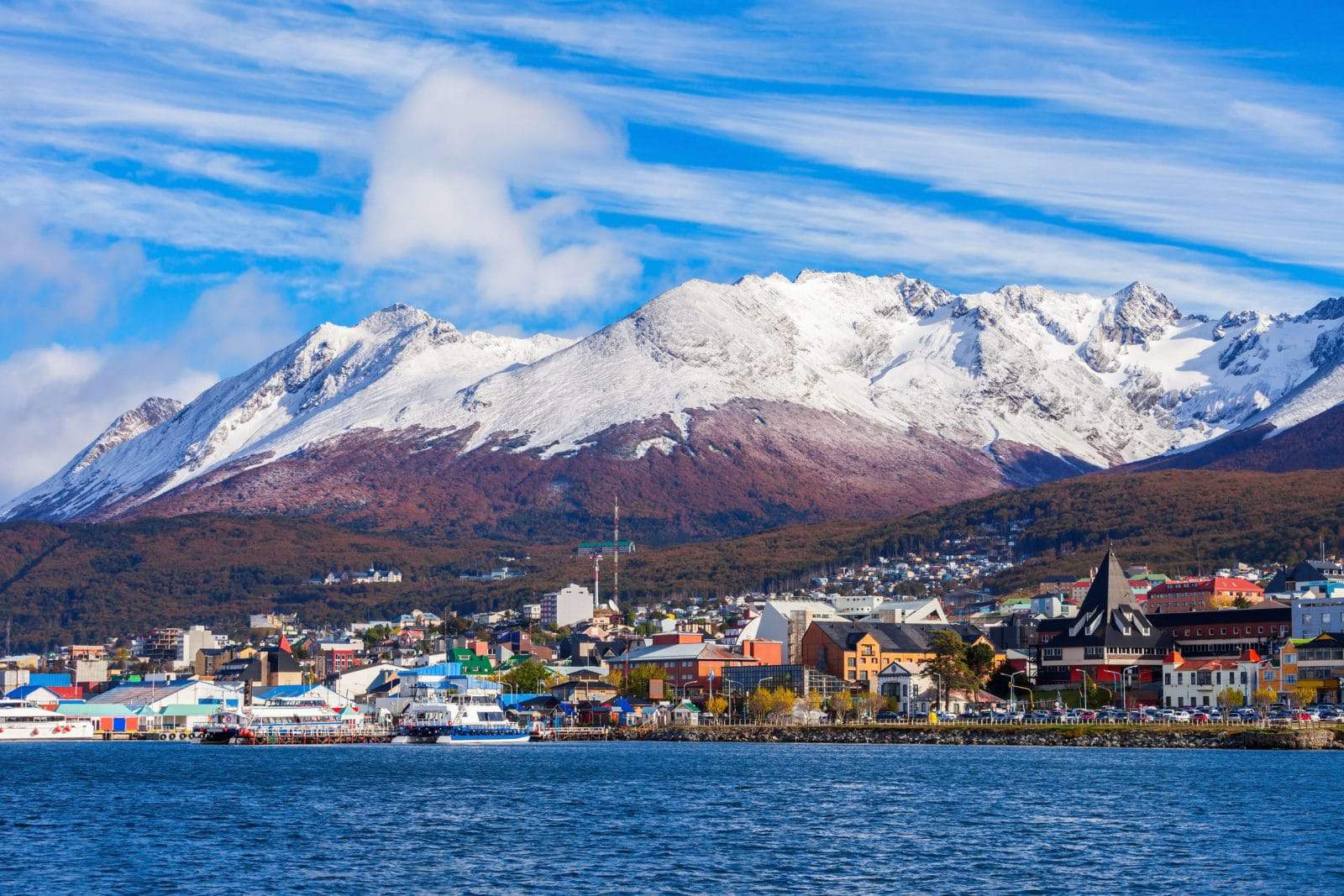 Ushuaia translates into "the bay stretching out west" in the native language spoken by the Yamana, a community now extinct.
Argentinians call Ushuaia "Fin del Mundo" (the end of the world), which is not just a figuratively way to describe the city's remoteness. Ushuaia is, in fact, the end of the inhabited world, in the south at least.
Despite its small size (56,000 people), it's the southernmost city in the world. Chileans have a different opinion because their Port Williams is further south but only has 2,000 people, so most people hardly call it a city.
Ushuaia resembles the lands up north, Greenland, Newfoundland, Iceland. But here, despite the similarities in landscape, people speak Spanish.
Ushuaia lives off tourism. It was once known as the base for missionaries that stopped having a purpose once the tribes of Selk'nam and Yaghan became extinct in 1930. It was also known for the penal colony established there and later the military base of the Argentina Navy.
Tourists are drawn here for the natural beauty, the privilege of reaching the southernmost city in the world, and the possibility to arrive in Antarctica. That influx of tourism has brought life to the city.
There isn't much to do in Ushuaia except feeling its unique atmosphere.
Even so, the bored traveler can visit some museums such as the old prison, where one of the wings was transformed into an art museum and the other into the Maritime Museum.
You can also visit the Museo del Fin del Mundo (Museum of the End of the World) with exhibitions dedicated to ethnology, natural history, and local history.
The Beban Manor was the home of one of the first people in Ushuaia and is now a free museum depicting the daily life of the Beban family. It's close to the city center and within walking distance.
The best way to get an overview of the city is to get on a bus. Luis Votto imported a double-decker bus from London in the late 1990s and drives it around Ushuaia. It goes by San Martin street, the historic center of Ushuaia that stretches from the old prison to the cemetery, where most of the shops and public offices are.
Then it continues to streets Yaganes and Gobernador Paz, which until the 1960s was where the city ended in the north and where one if the first people of Ushuaia lived. His name was José Canga Quiñones, and he was a renowned carpenter who built many of Ushuaia's old houses. You'll also visit the Parque del Centenario that has excellent views of the city.
The Beban Manor is another one of Ushuaia's points of interest. It's a beautiful building made by a Croatian merchant that now houses a cultural center.
The old cemetery, the Monument to the Fallen in Malvinas, the first Salesian church, and the former headquarters of the government in front of the port are some other must-sees.
Be careful with accommodation in Ushuaia and book as soon as possible. During the high season, from November to March, most hotels are sold out. Booking.com doesn't show the cheapest options and doesn't list any of the hostels in the city. Contact Antarctica Hostel or Oshovia Hostel and see what they have available.
---
Day Trips from Ushuaia
El Tren del Fin del Mundo is a popular attraction in Ushuaia. Now used as a tourist train, it was established in 1909 to serve the prison of Ushuaia (1884).
The prison closed in 1947, and two years later a violent earthquake destroyed part of the railroad. The government repaired but the railroad had lost purpose, so it closed in 1952. It was restored in 1994, and now trains take tourists on tour around Ushuaia, entering the National Park, and returning three hours later.
---
Martial Glacier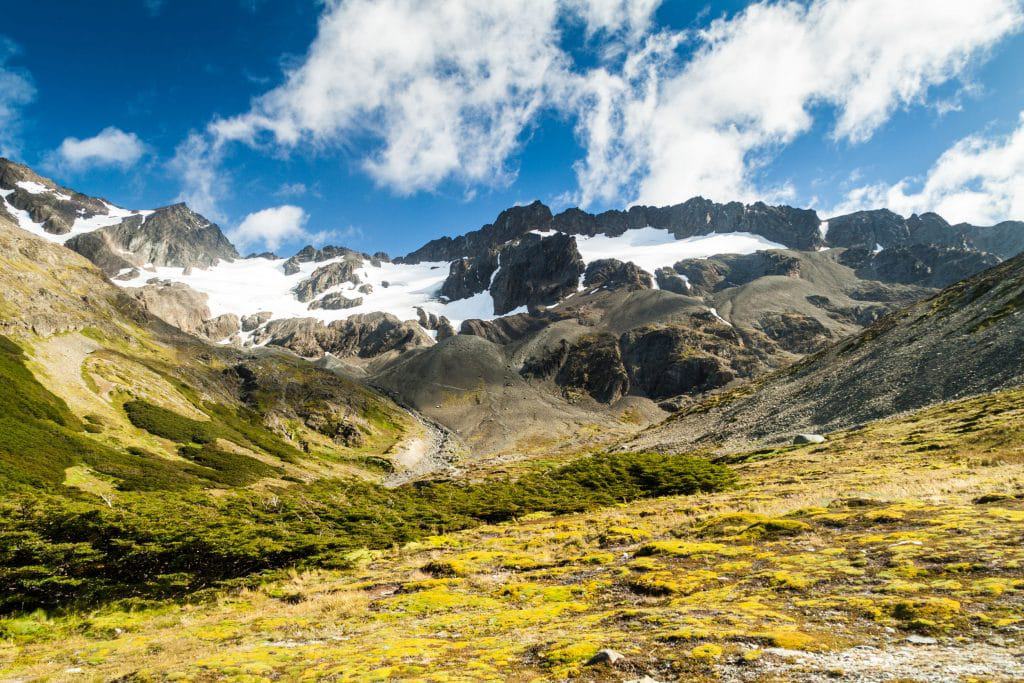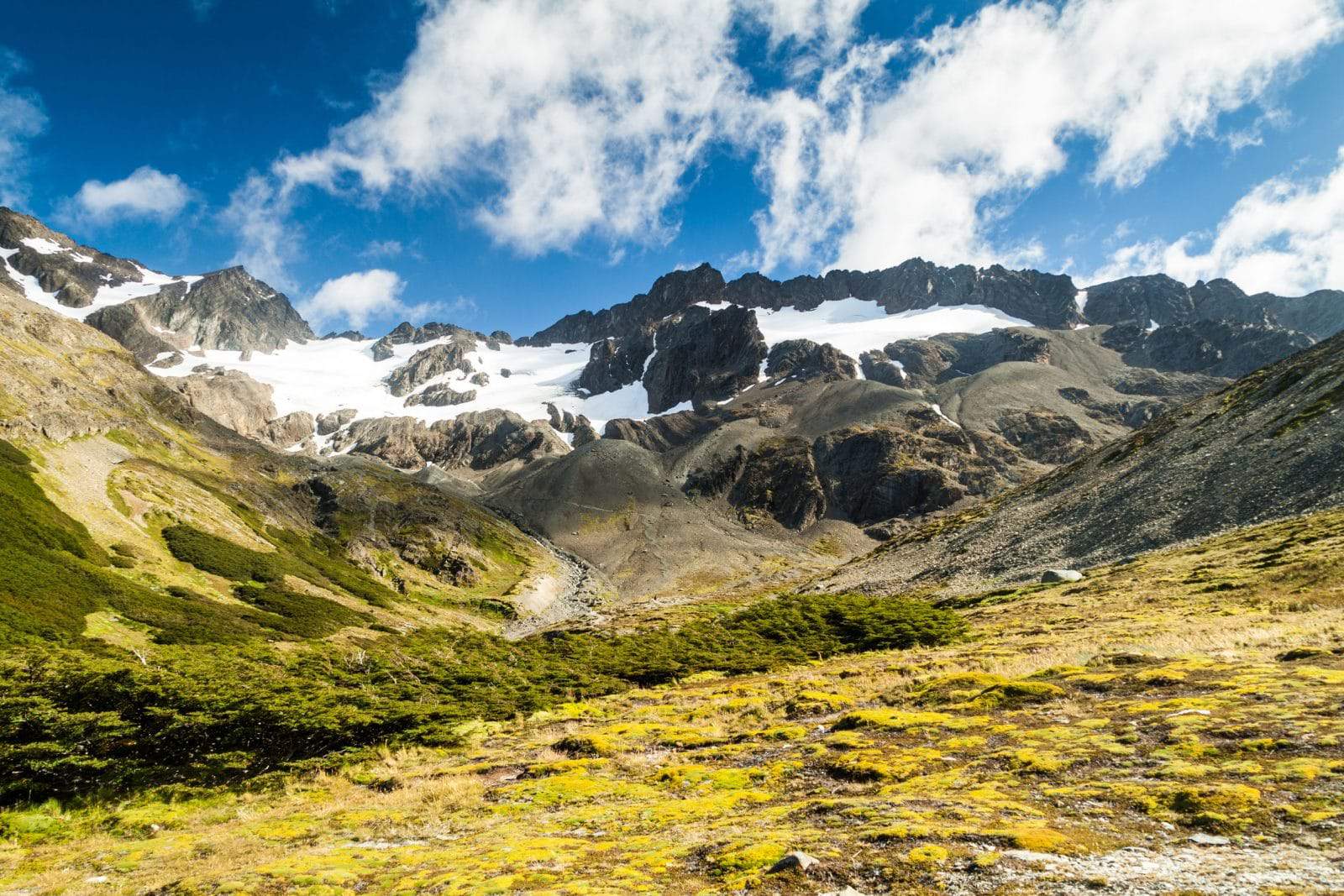 Martial Glacier is not far from the city and is like the consolation prize for those who couldn't make it to the famous Perito Moreno glacier, near El Calafate, which is harder to get to and more expensive. To get to Martial Glacier in Ushuaia, you need special gear and a guide. You can travel the trail independently on your own, but I don't recommend that option.
The trail starts within 40-minutes walking distance from the center of Ushuaia. You'll cross thick forests, crystal clear creeks, and bridges before finally reaching the base of the Martial. It's a wonderful experience for which you need to be well prepared.
---
Alvear Glacier
This glacier is 26 km from Ushuaia and is 1,400 meters tall. It's an eight-hour hike to get there and only possible to visit in the summer.
The trail starts at the Altos del Valle winter resort and goes through the forest and up the mountain.
You'll have great views over the valley with condors flying above you. Then you reach the Equivocado hill, and this is where the fun begins. You'll reach the glacier after four hours of hiking alongside the Cotorras river and its waterfalls. Those who have the right gear (ice clamps) can continue their trip a little further.
I advise you to get information at the tourism office about the Alvear Glacier camping site. You might be able to spend the night there and hike to the gorgeous Alvear lagoon the next day. If not, just hike back the same trail and return to your hotel.
---
Laguna Esmeralda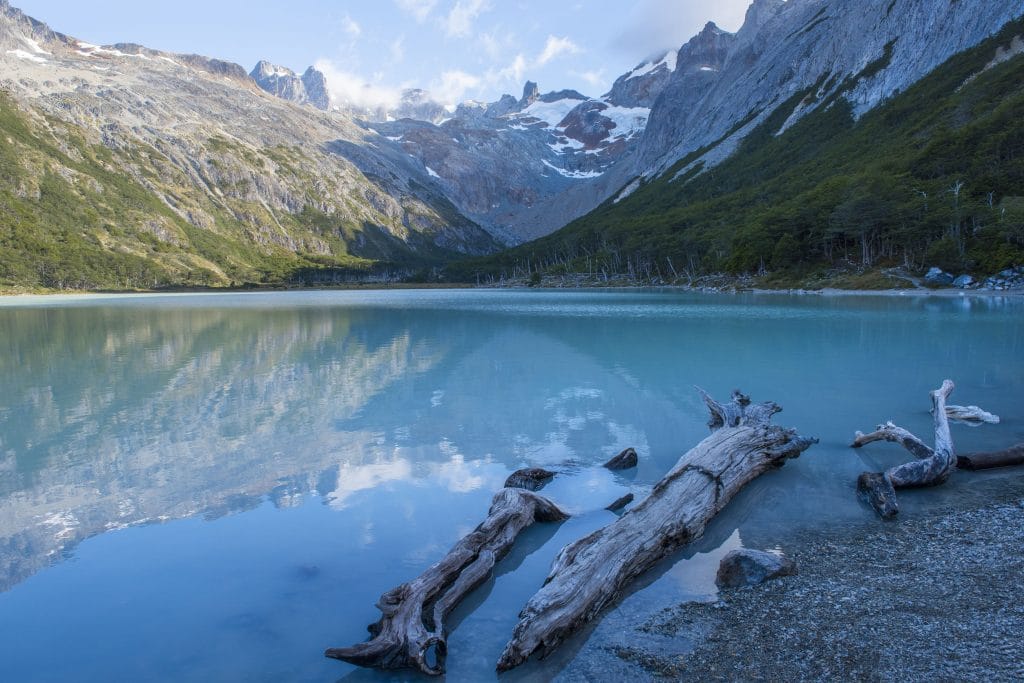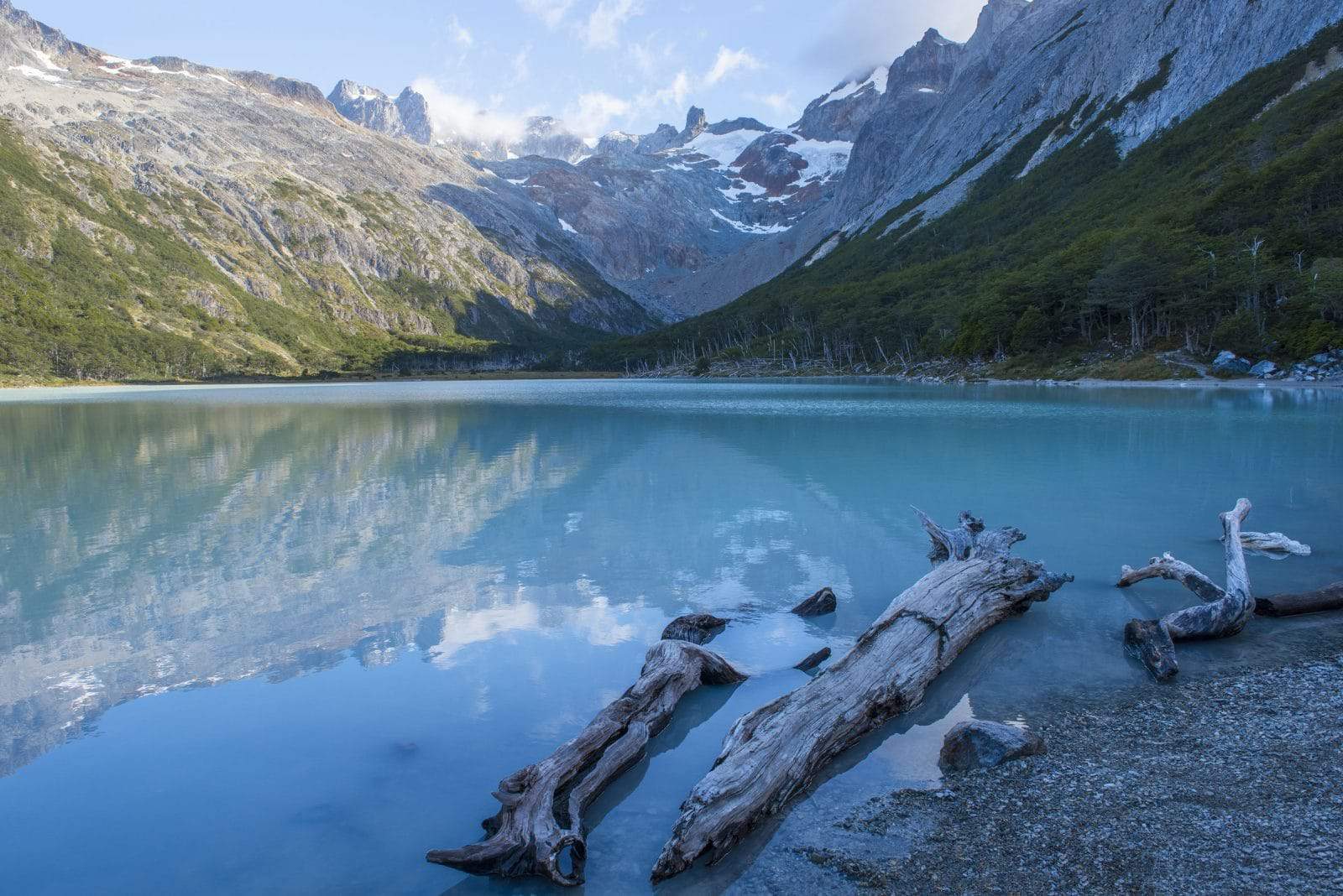 Another option for a half-day trip outdoors is going to Laguna Esmeralda. You can take a bus for 170 Argentinian Pesos and stay for about five hours, which is enough to explore the lagoon on your own.
It's a gorgeous trip that starts at Valle de Lobos (Valley of Wolves), always with great views of the local landscape. You'll travel through forests and creeks before arriving at the beautiful Laguna Esmeralda. It's truly a piece of heaven on earth.
---
Martillo Island and the Penguins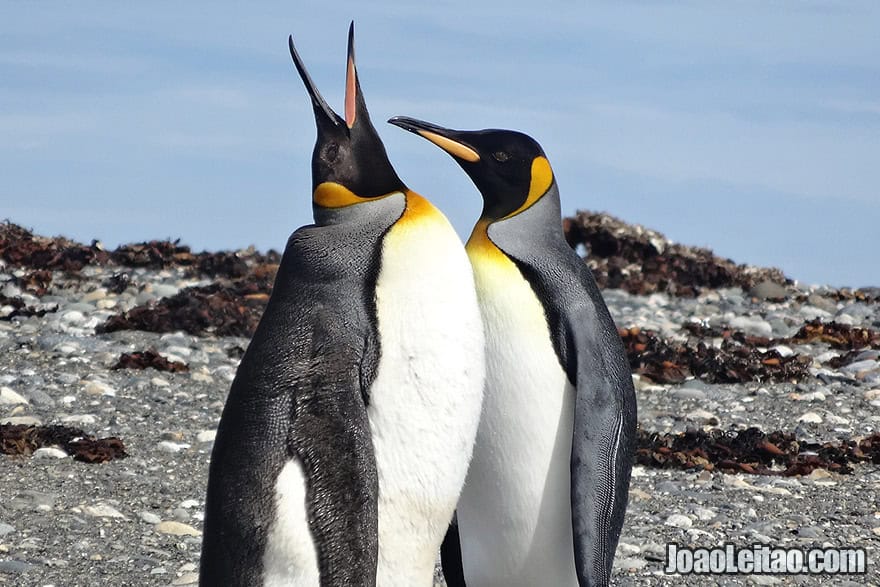 This is a small extravagance because it's not cheap to do it, but it's a good substitute if you couldn't get a ticket for a cruise to Antarctica. It's a half-day trip, six hours maybe, and you can get there on the touristic catamaran (60 Euros).
If you don't mind spending a bit more, look for options in Ushuaia for hiring a small private boat. If you're lucky, you might find a small sailboat with room for half a dozen passengers, and it's a much better option for bird-watching.
The colony of King Penguins is impressive and seems to stretch to infinity. These birds, almost one meter tall, with white chests, orange necks, black heads, and gray backs fill the beaches. It's a real show of color! As a bonus, you might be able to spot some sea lions.
---
Other Cruises in Beagle Channel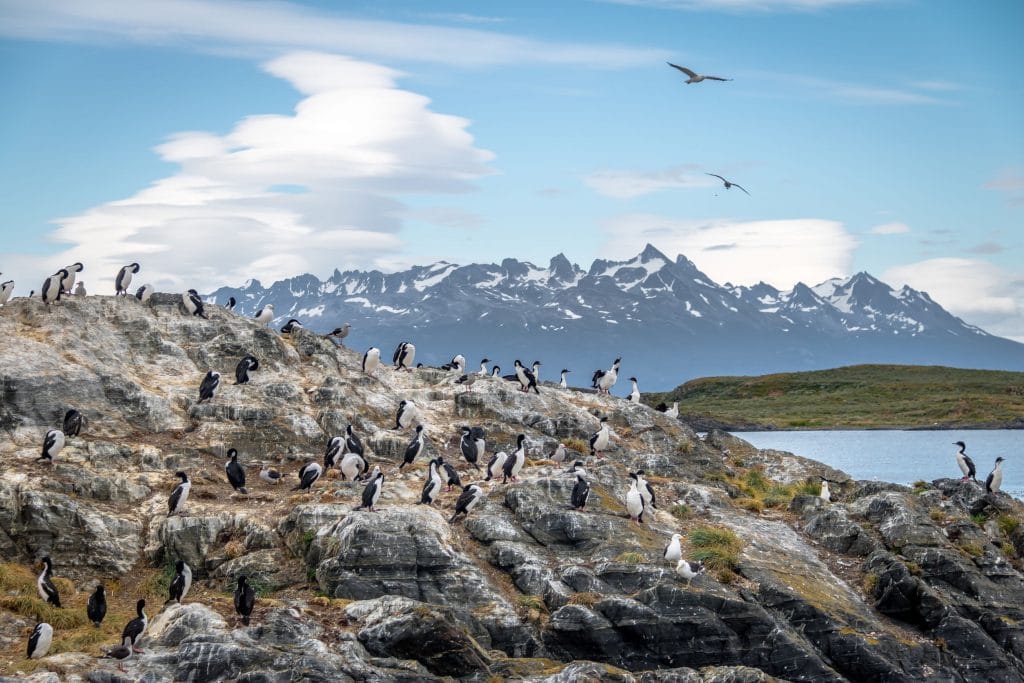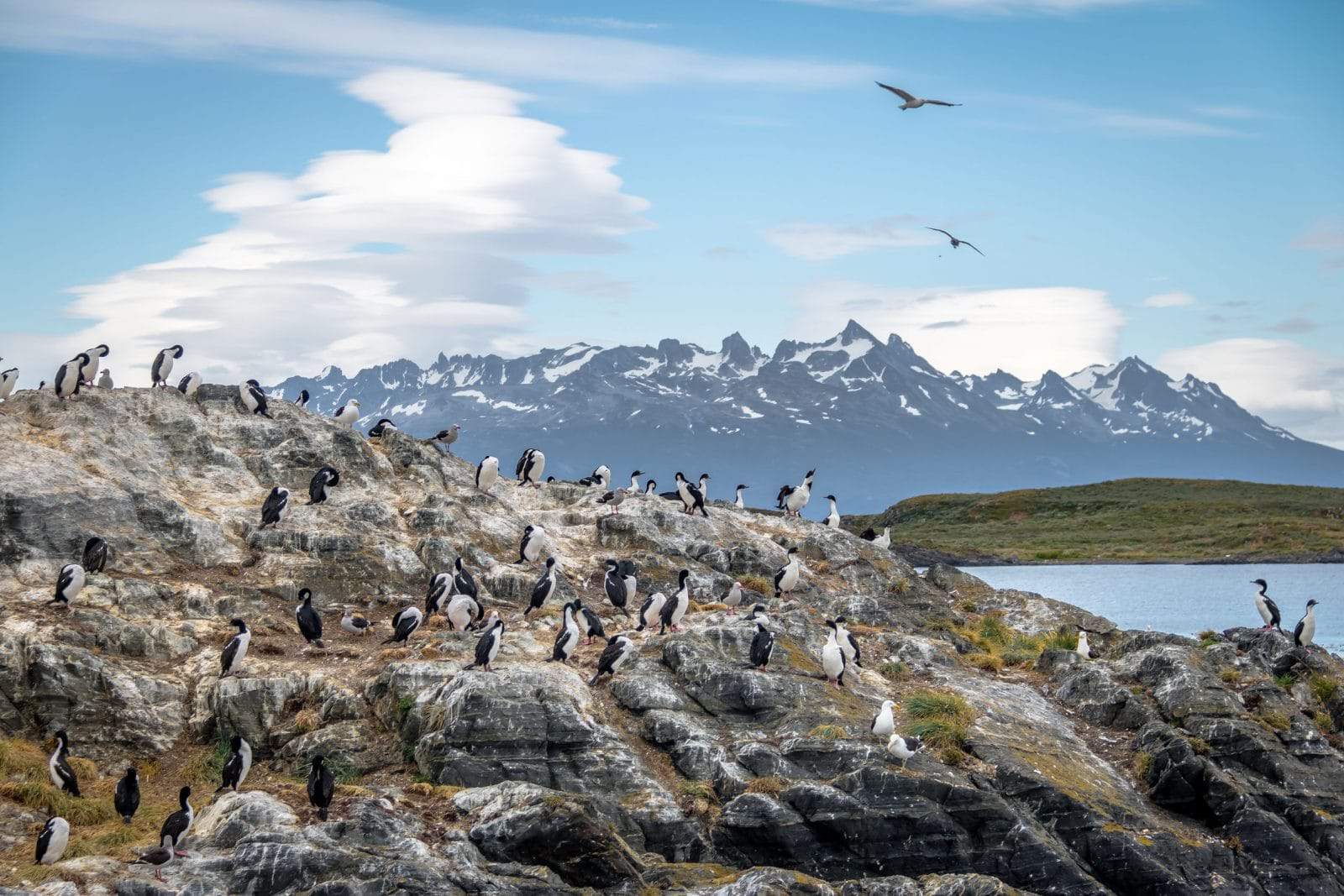 In addition to Martillo Island, there are other trips you can take in the Beagle Channel, that body of calm waters named after the ship Darwin traveled on here.
Isla de Los Lobos' main attraction is the sea lions, hence the name, and bird enthusiasts will want to go to Isla de Los Pájaros (Birds Island) to see the Great Cormorant and other species nesting there.
If you're interested in that type of building, try choosing a trip that takes you near the Les Eclaireurs lighthouse, built in 1920 and still being used on an islet in the middle of the Beagle Channel.
---
Tierra del Fuego National Park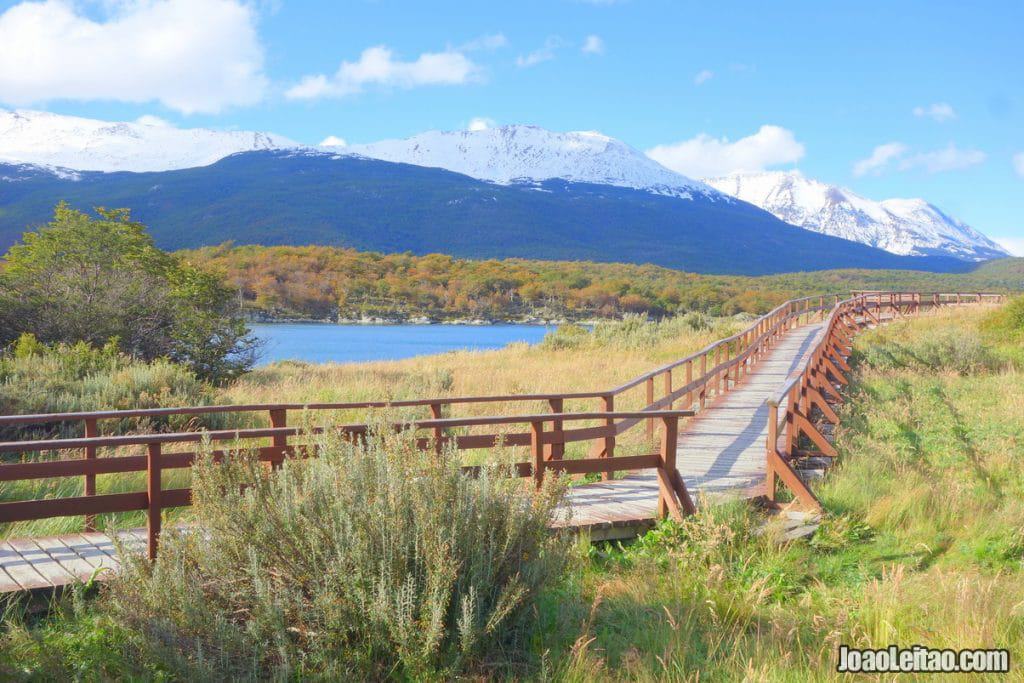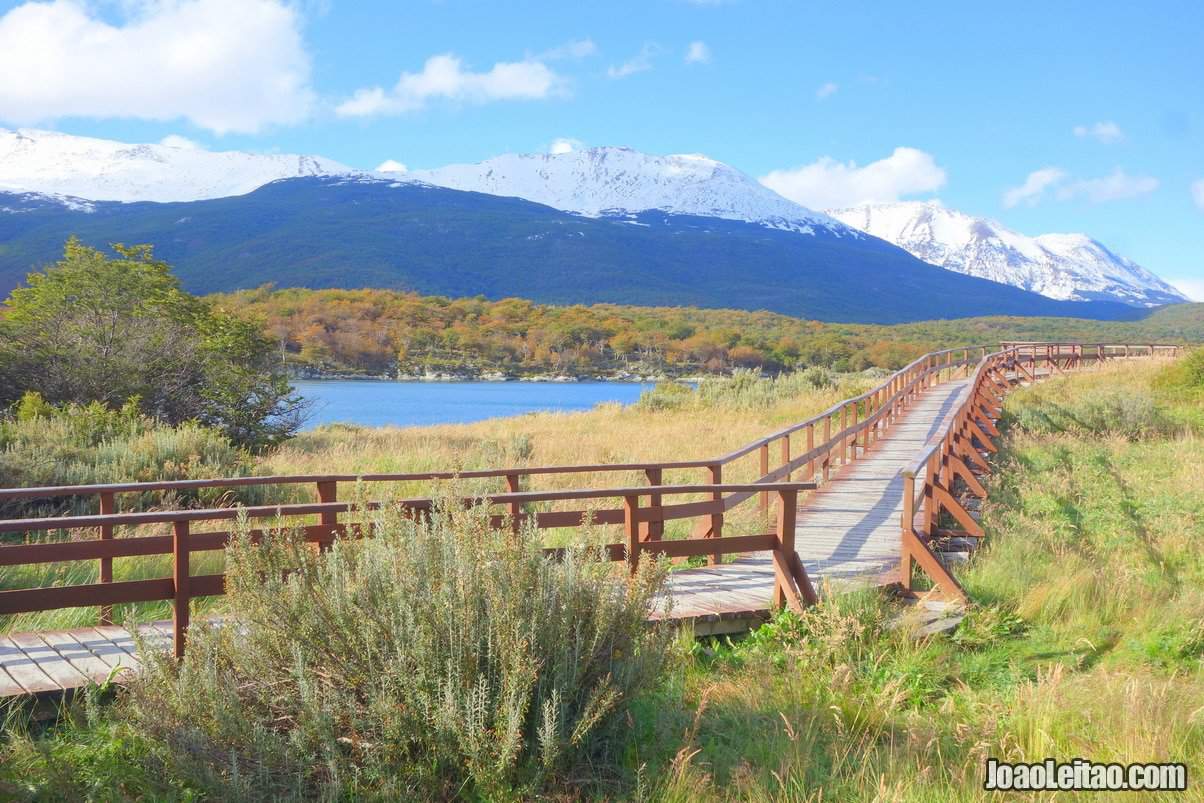 The borders of this Argentinian National Park start about 12 km north of Ushuaia, easy to reach by the Rota Nacional 3 road. The ticket costs 210 Argentinian Pesos (about 12 Euros) and is valid for two days. If you want to stay longer and camp, for example, you have to buy a new ticket every two days.
There are several well-marked hiking trails, some of them easy and within reach from the main road like the Beaver Trail, which is 400-meters long and where you can see the artificial lakes created by these animals. Or a 500-meter trail that takes you to a viewpoint from where you can see all of the Lapataia Bay.
If you want to stay here for a few days, there are plenty of longer hiking trails to keep you busy.
For fantastic views, climb the Cerro Guanaco. It's an 8km hike, both ways, that takes up to almost 1,000 meters above sea level. If you need a few more examples of hiking trails, there's the 10-kilometer Hito XXIV trail along the north shore of the Roca Lake. The 5 km long Pampa Alta trail connects the Pipo and Enseada camping sites, and has amazing views of the Beagle Channel.
It's easy to reach the park from Ushuaia on one of the many buses connecting both. A roundtrip ticket costs about 210 Argentinian Pesos. But note that you have to return on the same bus company you traveled to the park, and not pick different companies. All buses pick up and drop off the passengers at their hotel. Tickets can be purchased at the hostel or the tourism office in Ushuaia.
There aren't any restaurants in the Park, but there is a convenience store that serves light meals, like hamburgers. It's called La Confiteria, and it's where the buses from Ushuaia arrive and depart.
---
Bahia Lapataia (Lapataia Bay)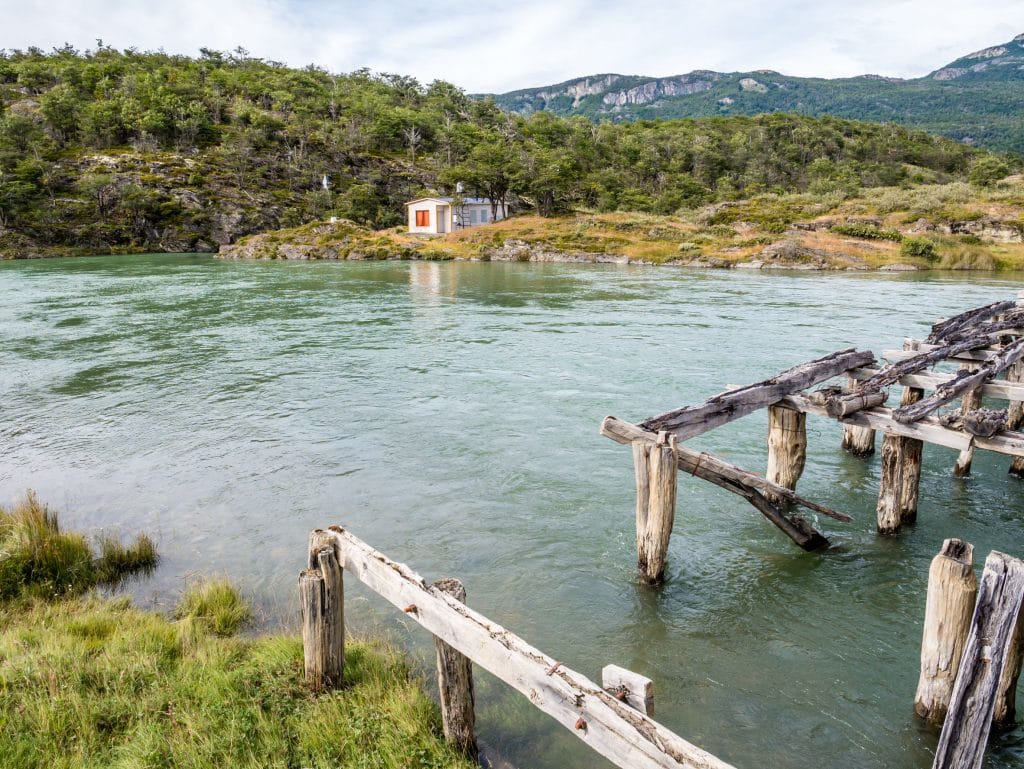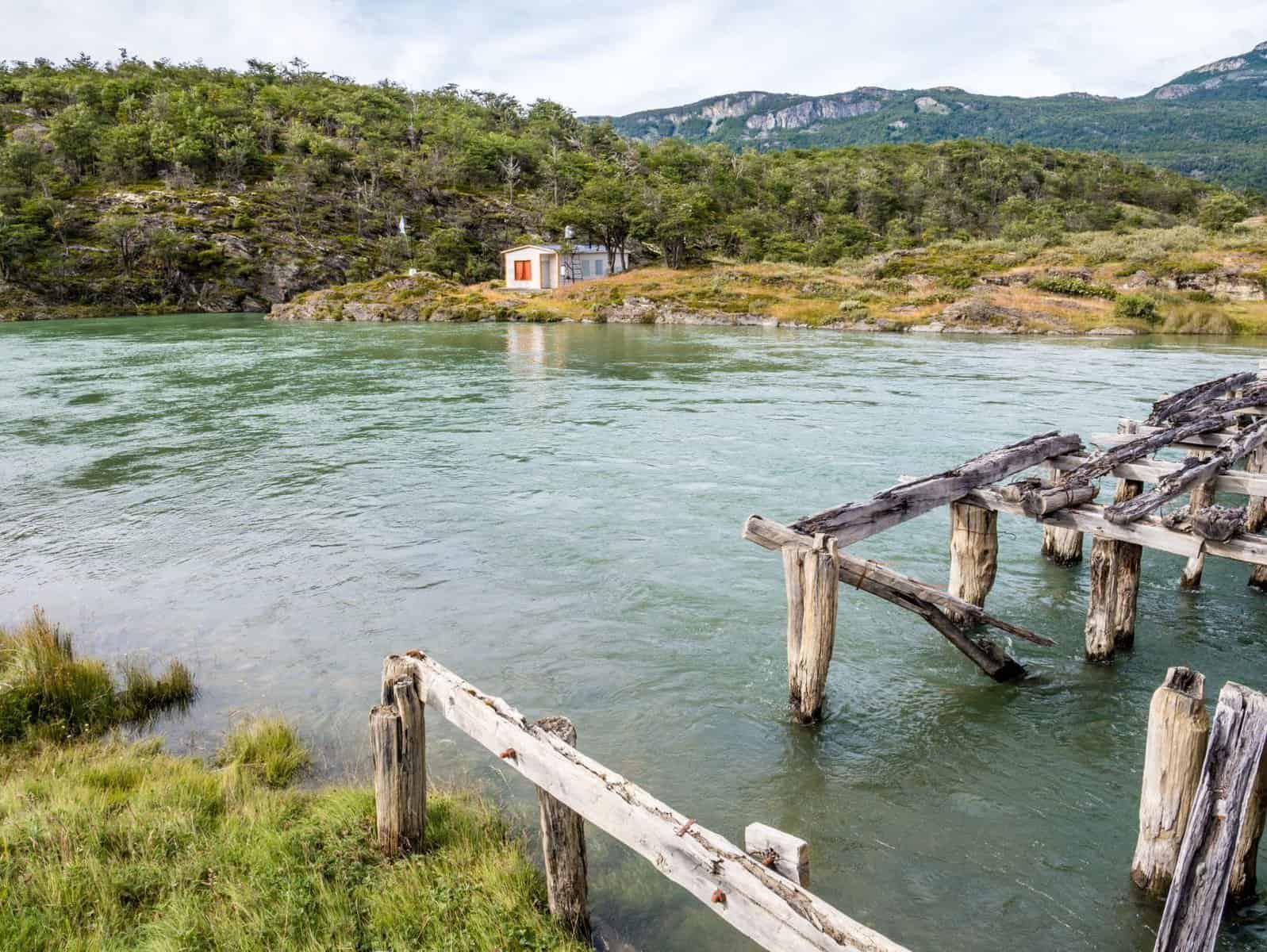 Lapataia Bay is at the end of the Rota Nacional 3 road, which is actually the end of the famous Pan-American Highway that starts in the north of Alaska and travels down here, only interrupted at the Darién Gap, at the border between Panama and Colombia.
Bahia Lapataia is a fjord connected to the Beagle Channel where the first people of Tierra del Fuego lived. It's actually inside the National Park, but its peripheral location grants it a special status.
Buses travel frequently from Ushuaia here in the summer. They depart from Avenida Maipú every hour, starting at 9 am. A roundtrip ticket costs USD 18, and you can purchase them at travel agencies in the city.
If you want to extend your trip, you can take the Senda Costera trail that starts where the bus drops off the passengers and stretches for 10 km, one way. The trail follows the coastline, crosses the Lapataia River, passing by beautiful pebble beaches and ending at the Zaratiegui Bay. If all goes well, you can take a boat here back to your starting point.
If you don't wish to get too far, climb up to the Lapataia viewpoint through the Paseo del Turbal trail (2 km) or the Paseo de la Isla trail (600 m).
---
Valley of Wolves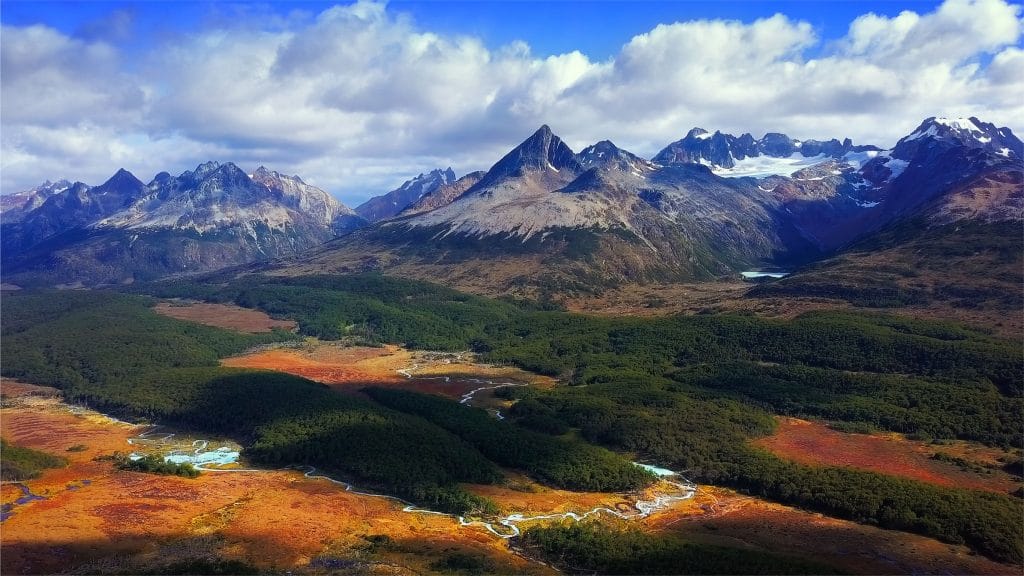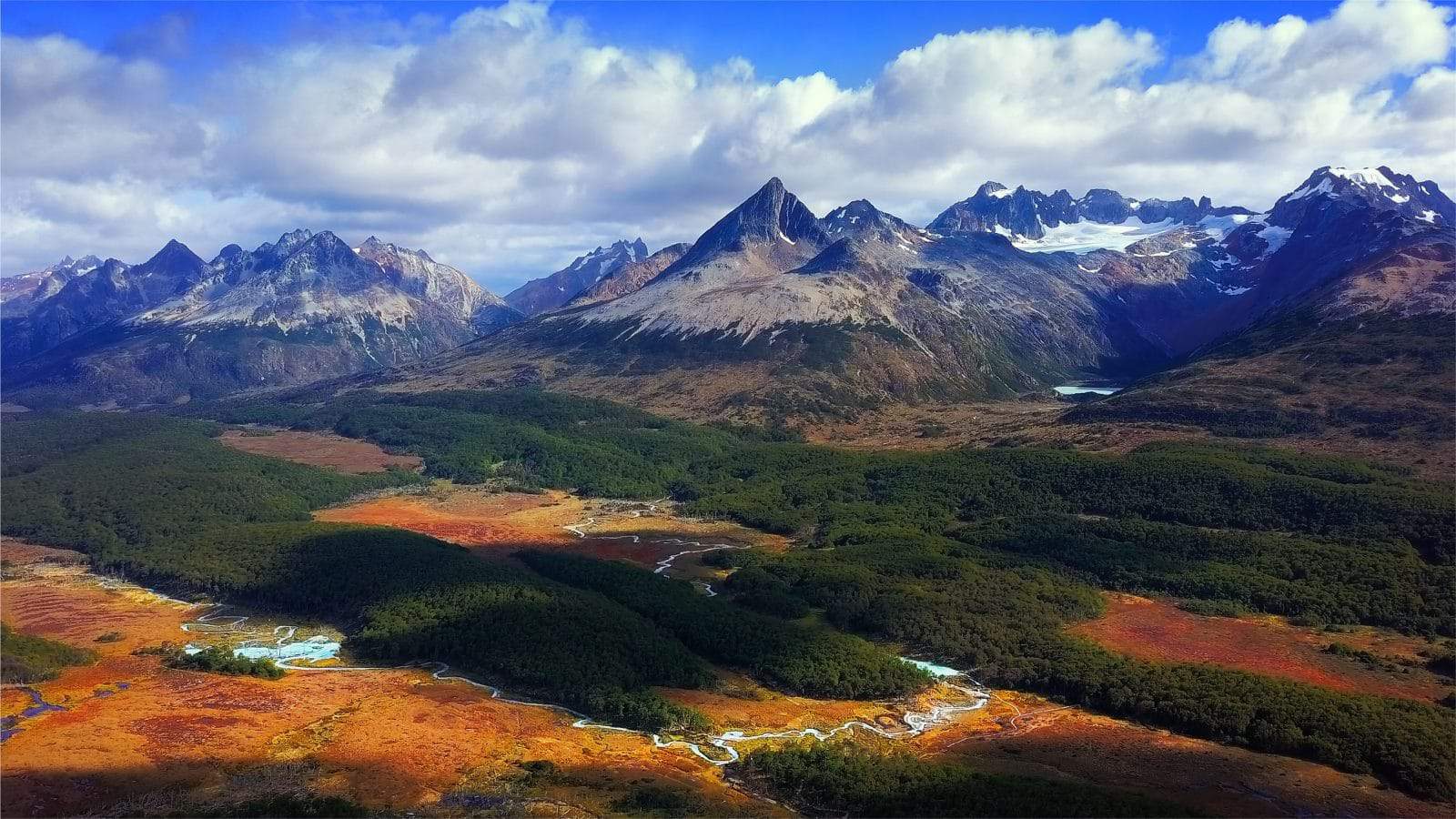 It's a 30-minute drive from Ushuaia and winter is the best time to visit. Here you can try some winter sports, especially if you're a beginner without much practice skiing, including snowshoeing through fresh snow and driving around in snowmobiles. But the biggest attraction is Gato Curuchet and his dogs. He's the owner of the resort, an Argentinian from Buenos Aires who wanted to live in Alaska but ended up in Ushuaia. Here he breeds Siberian Huskies and Alaskan Malamutes and offers tours on sleds pulled by his dogs.
---
Cerro Castor
Just like Ushuaia is the southernmost city in the world, Cerro Castor is the southernmost winter sports resort.
It's 26 km northwest of the city and has 24 tracks for skiing, open from mid-June to October. Usually, the snow is good quality, and in the chance of low snowfall, or none at all, the resort is equipped with artificial snow cannons to solve that problem.
Just like in neighboring Valley of Wolves, in addition to skiing, you can snowshoe, ride a snowmobile, ice skate, and take rides on dog-pulled sleds.
---
Haberton Resort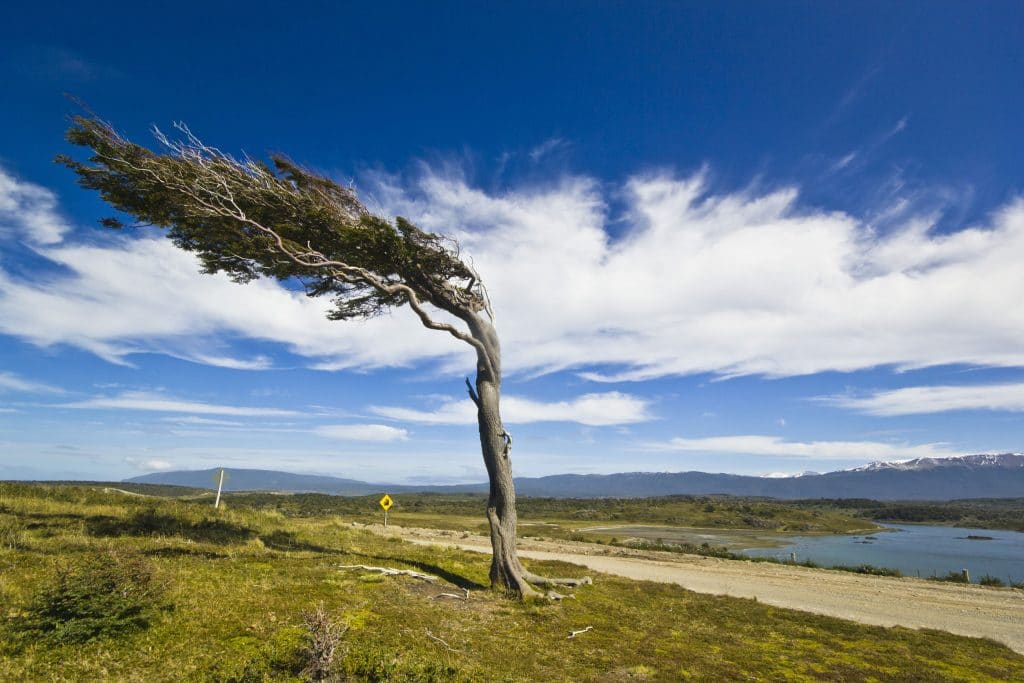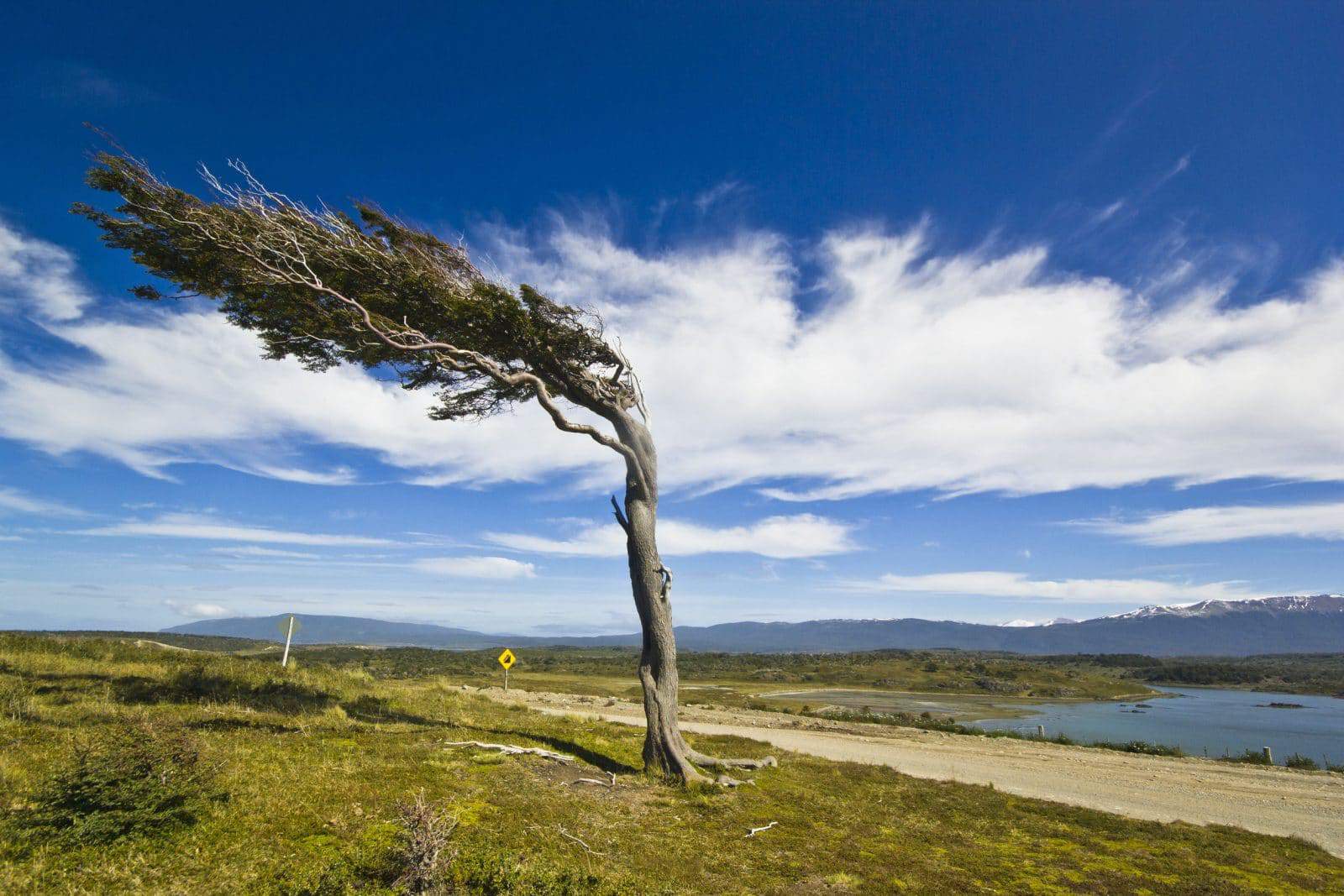 It's not easy to reach Haberton Resort. It's an 85-kilometer drive from Ushuaia, and it's best to spend the night there before returning to the city the next day.
It's a typical Argentinian ranch, the first of its kind in Tierra del Fuego, founded by Reverend Thomas Bridge in 1886. He was the first European to learn the natives' language and published a sort of simplified dictionary. In Buenos Aires, he asked the government to own some lands and was granted a vast property for free where he kept sheep and exported wool to the United Kingdom.
It's open between October and April with guided tours and walks through the property, that includes the Acatushun Museum.
The ranch is the perfect spot for birdwatching, and you might even spot an eagle or a condor, the largest flying bird in the world with a wingspan of 3.20 meters.
You can spend the night at the resort, at the Shepherd's House, a beautiful house that costs USD 220 or at Foreman's House Hostel, which is a bit more affordable (USD 50). These prices include breakfast (and lunch if you're staying at Shepherd's House) and a guided tour of the farm. If you're on a tight budget, the managers, who are the descendants of the founder, allow you to camp on the property for free. Just email them at turismo@estanciaharberton.com.
---
Fagnano Lake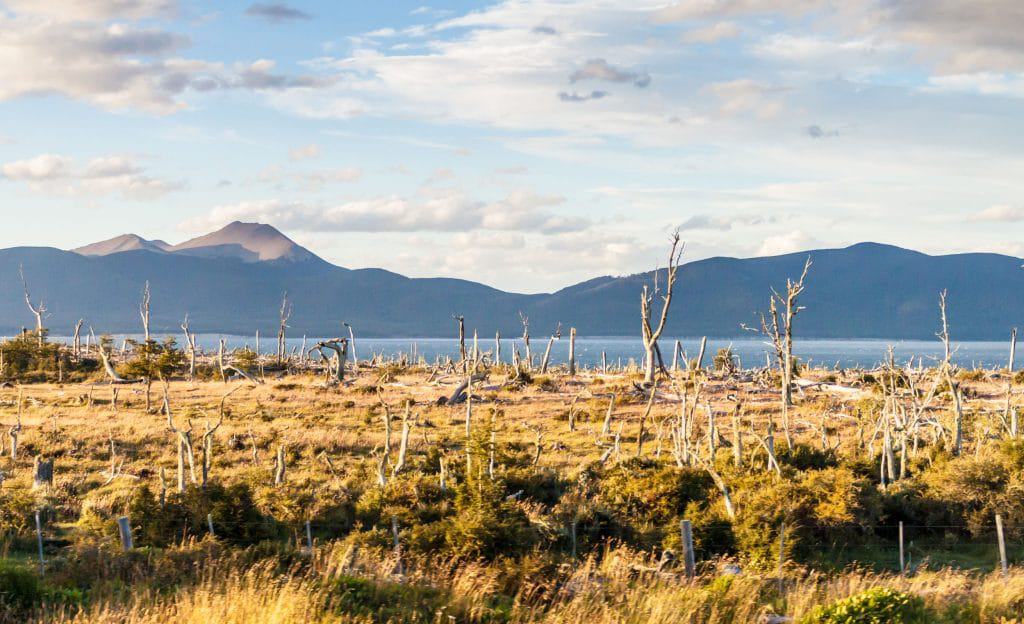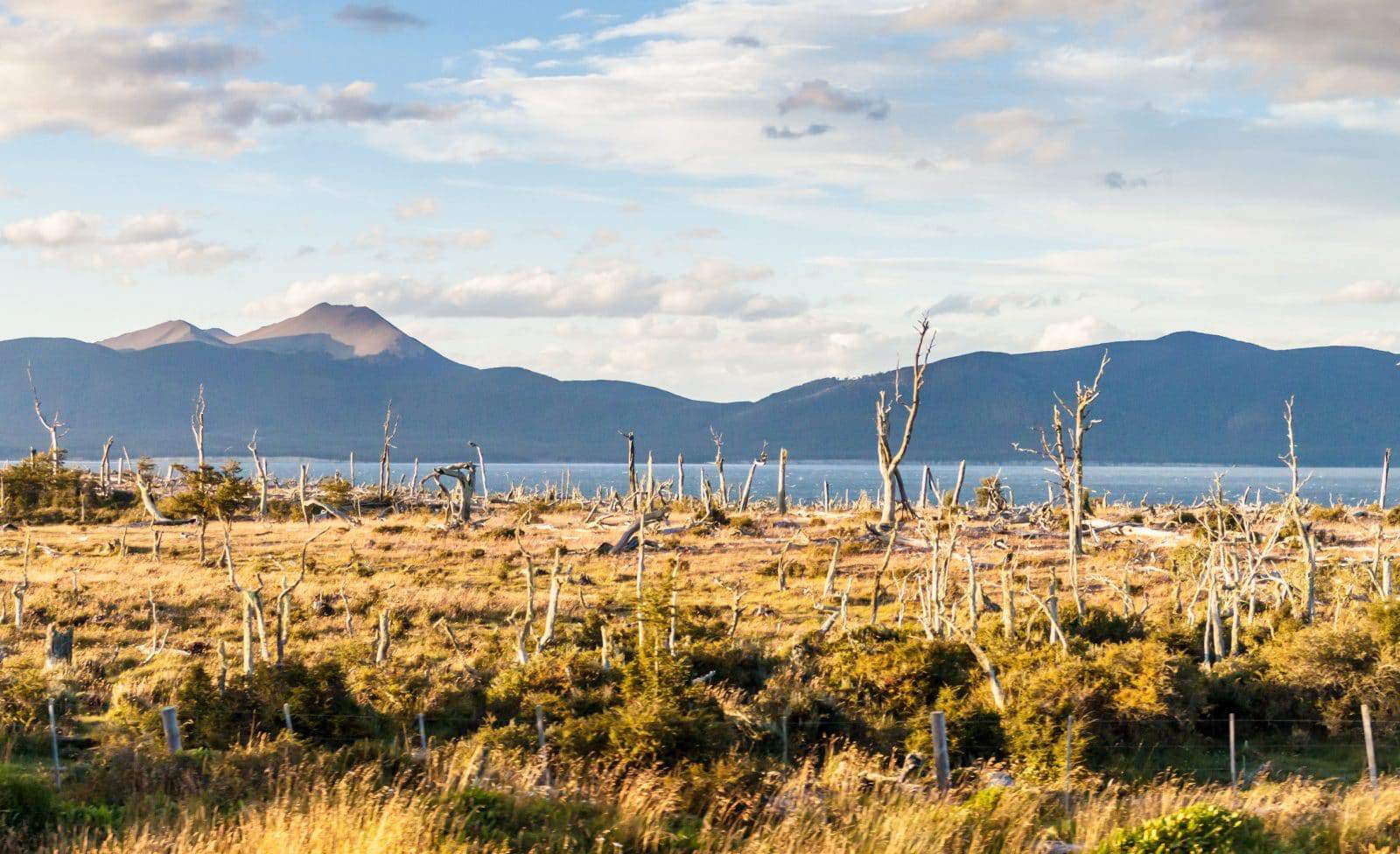 This 100-kilometer long lake is truly a remote place. Like the end of the world at the end of the world. You need a jeep to get there, traveling across the Andes and the Garibaldi Pass. But the final reward is worth every bump on the road: you'll either stay at a shelter, which is no more than a simple wooden cabin, or camp nearby.
From there you can go on some hikes, taking in the beautiful landscape and trying to spot some of the few animals that live there: wild horses, guanacos, gray foxes. Cerro Cabras is your end goal, hard to reach but rewarding once you see the wonderful views from the top of the hill.
---
Rio Grande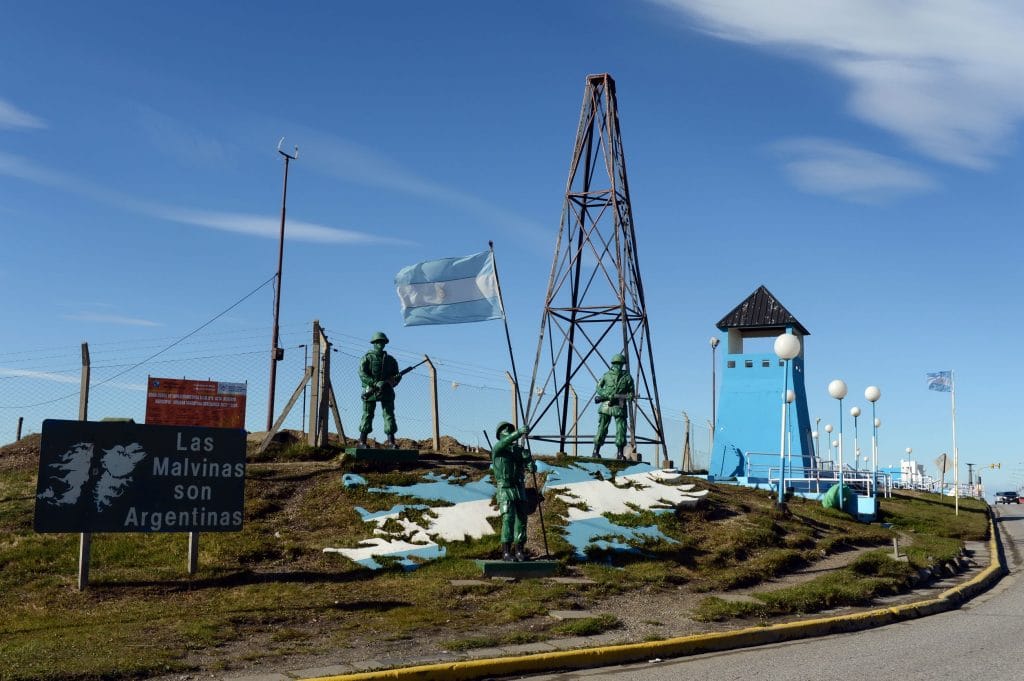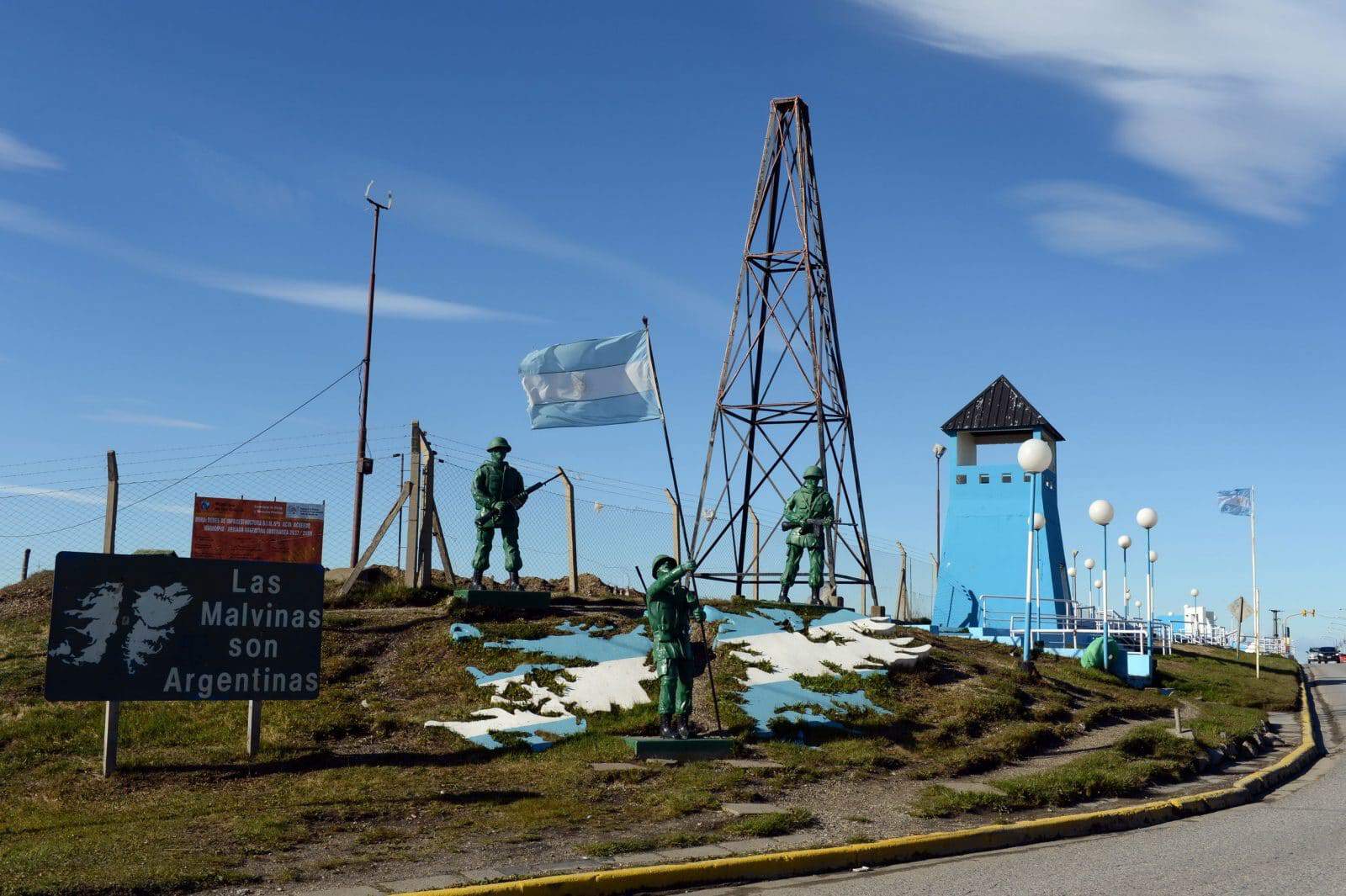 Is a city with about 60,000 people 150 km north of Ushuaia, on the South Atlantic shore. It's off the path for tourists traveling to Ushuaia, which makes it an interesting destination. It's the region's economic capital, and must-sees aren't evident. But it's always interesting to watch people going about their lives in an authentic place, how they live and make a living.
A sheep breeder called José Menendez founded the city. In 1893, Salesians built a mission there in a failed attempt to save the Selk'nam from extinction.
Nowadays it's a business center, an important distributor of fossil fuel and a testimony of the Malvinas War, with many monuments honoring the Argentinian military who died in that conflict.
---
From Tierra del Fuego to Antarctica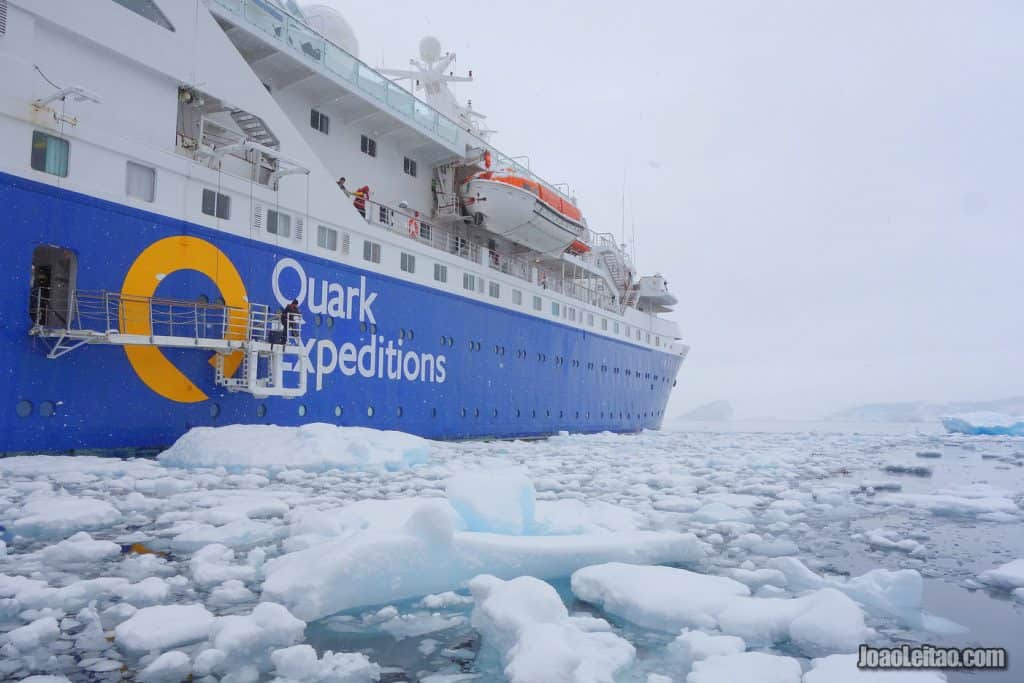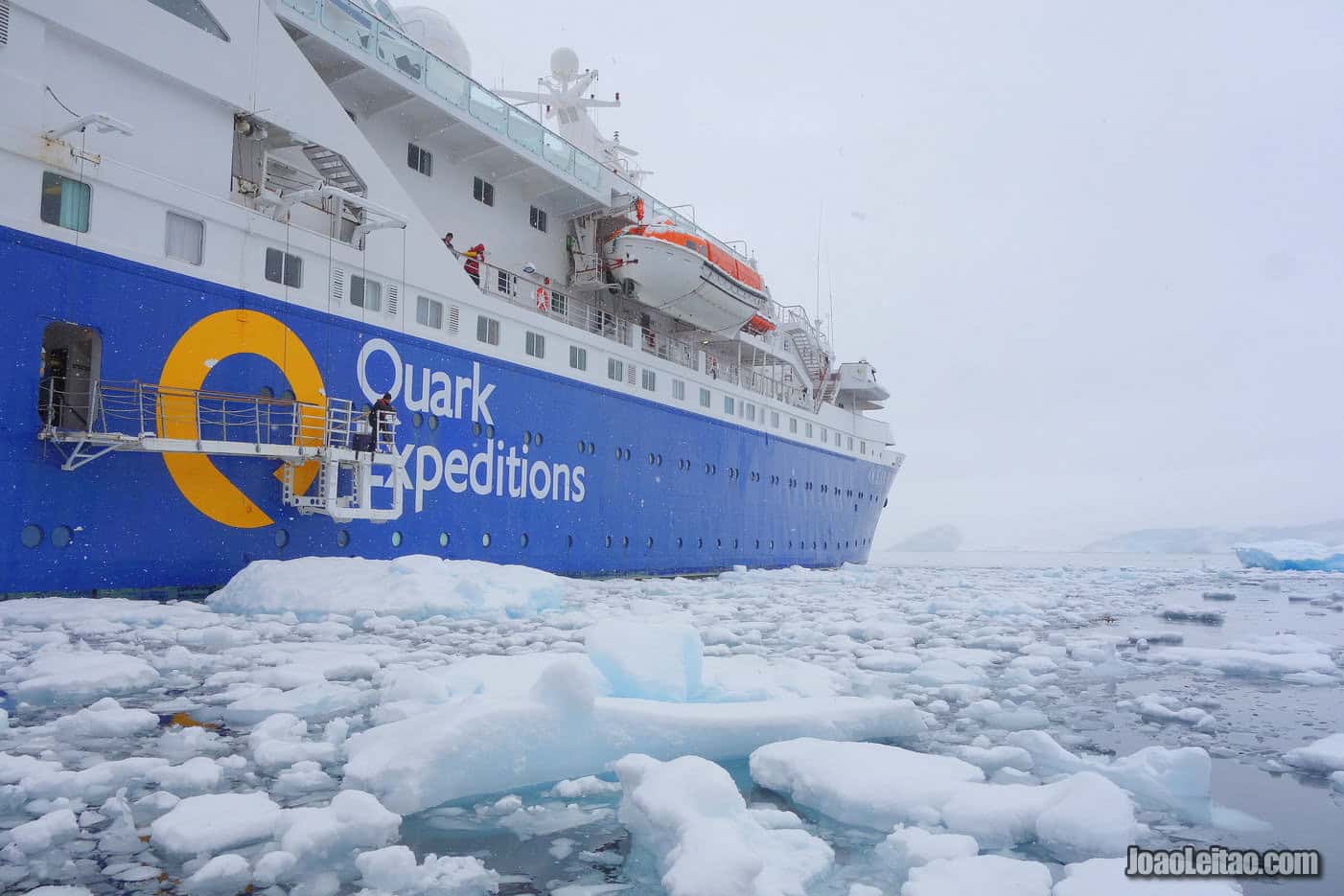 Most people who travel to the end of the world are not only interested in the beautiful landscapes of Tierra del Fuego, but on a bigger reward. To visit the frozen continent, Antarctica, the land of the South Pole.
It's not a cheap whim, and you can only travel there between November and March when it's summer in the southern hemisphere. There are trips departing almost every day, and if you want to do this, I advise to take care of everything in Ushuaia.
Prices are usually better there, and you can study all offers carefully. Set aside about USD 3,500 until 10,000 for a one-week trip with some stops to enjoy the landscapes of Antarctica.
I stayed approximately 2 weeks in Ushuaia until I finally got my last-minute Antarctica cruise. Totally worth the time. In Ushuaia. Now what?