Let's interview the full-time travel blogger Tom Grond and learn about his fascinating journeys. Tom is the author of the travel project Travel Tom Tom. He lived in the Caribbean for 6 months when he was 20. Also interesting to mention is that in 2019, he was the first European tourist to visit Busra – Syria, after 9 years of civil war.
---
Tom Grond
---
| | |
| --- | --- |
| Full name | Tom Grond |
| Place of birth | Netherlands |
| Year of birth | 1984 |
| Occupation | Full-time travel blogger |
| Home | Fully nomadic since December 2012, more than 2,600 days. |
| Visited countries count | 106 countries |
| Continent count | 6, not been to Antarctica |
| Favorite way to travel | Wow, difficult one, I love train travel, but hardly ever do it. The closed compartments and sitting warm and safe behind the window and watch the world pass by feels amazing. I really wish to do more train travel in the future. Must say road trips are absolutely amazing as well, the freedom is unrivaled. |
| Favorite food | I should actually say street food, but a lot of street food isn't particularly nice. But I still am a fan of trying everything. Must say though the most surprising food culture I think still is India. Damn these people can make tasty food and it is so different from North to South. A good South African Braai isn't bad either. |
| Favorite color | Don't have a favorite color! |
| Favorite band | To be honest Im not someone that listens to one band in particular, but love new trendy music as well as bachata or other Latin music. But 80's and 90's are also a favorite. |
| Favorite fruit | I am torn between all kinds of berries or mango. Let me then choose blueberries! |
| Favorite book | I never read books! |
| Live to travel or travel to live? | I travel to live |
| Fell in love with someone on the road? | Yeah it happens of course, but it fades away when reality kicks in. I would not wanna change my life drastically at the moment so may be the love for traveling is always stronger. So far… |
| Fluently spoken languages | Limburg, Dutch, German, English, and Spanish |
| Favorite hotel | Wow difficult question, but definitely one in the Maldives. Through my blog and social channels I have been able to stay in more than 10 luxury 5 star resorts in Maldives and one was even more amazing than the other. Let's say Anantara Kihavah because I stayed there for 8 days for a modeling shoot. |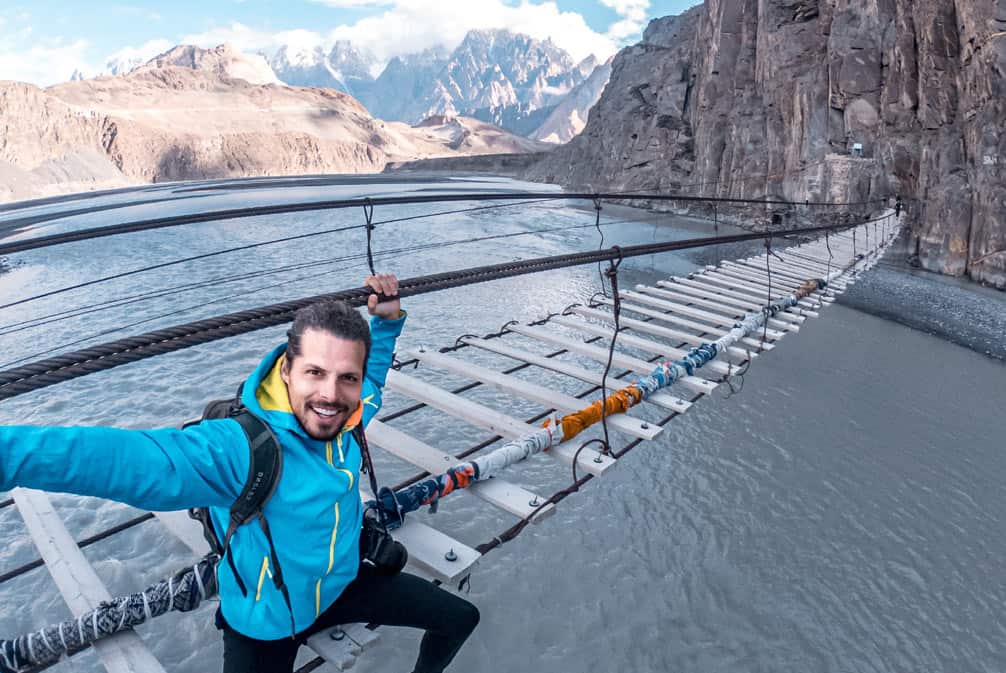 ---
Quick Top 3
---
Wish list
---
Will go back to
Syria
Pakistan
Never again to
To be fair, I would never say never and write a country completely off. But I wouldn't quickly return to Honduras and Senegal (at least Dakar). Australia is definitely not my favorite country for traveling (boring) but would definitely return to Australia at any time!
Best food
India
Argentina
South Africa
Beautiful women
Colombia
Brazil
Serbia
---
Interview with Tom Grond
---
What is your relation with traveling? What do you want to find or what are you searching for while visiting other countries?

I don't feel like one of those travelers that are searching for answers in their lives or searching to find themselves. Traveling came into my life as a young kid as I was born right on the border of Germany, The Netherlands, and Belgium. Within less than 30 minutes walking, we would enter a different country where they would speak a language I had no clue what they were saying. It was either French or German, but as a kid, it all sounded like Chinese. This way, I was spoon-fed with the urge to discover the unknown: new territories, learn a new language, meet new people. And I can tell you it never gets boring! Am I addicted to traveling? Maybe!

Many travelers are strongly affected by previous journeys, certain people they met, the different cultures they encounter, and special experiences on the road. What is your most memorable trip and why? You can write about more than one trip if you wish.

Undoubtedly one of the trips where it all started for me was to move to the Caribbean for 6 months when I was 20. There I learned that life wasn't only about doing what society expects of you. For Caribbean people, life is meant to be lived, before anything else. This trip got me thinking about my life at University and what I really wanted.

That is why when I came back from the Caribbean, I saved up as much money as I could, and I booked an around the world ticket for 1 year. Before I knew a year ended and I had to return to the Netherlands again.

My first big trip was one of 52 weeks, through almost 30 different countries, and I didn't feel like going home yet at the end.

A most recent example is my trip to Syria. I was one of the first people to return back to Syria after they reissued tourists visas back in 2019. At Busra in South Syria, I was the first European tourist in 9 years. My journey through Syria, a country entirely torn by war, made obviously a deep impression.

Some people need to be encouraged to leave home, to lose their fear of traveling. What advice can you give to someone who wants to start traveling but doesn't know how, when and why?

I totally understand because, on my first trip around the world, I felt the same. After 3 days, I thought to my self, why am I doing this. Your first trip abroad is gonna be life-changing, but you gotta get through those awkward early couple days. You will learn fast and trial and error, but you gonna love it. Nothing in life comes easy, but once you get through those days, a whole new world will open up for you.

Have you lived in a different country for more than six months? If so, where was it, and what were you doing there. Also, tell me what you learned from your experiences abroad.

Haha coincidentally already answered this in question number 1. I also lived/traveled in Thailand for about a year in total, but over a couple years. As a backpacker, Thailand was one of the most convenient and easy countries, and also affordable for most Westerners. Therefore I chose to reside in Thailand and make it a base to travel around East Asia. I would also always encourage first-timers to travel to Thailand.

Choosing a favorite landscape can be very difficult. But try to choose a landscape that will remain in your memory forever. What did you feel at that time?

I cannot choose one, I have to go for two different ones.

Sailing in Raja Ampat

I had never been on a sailing trip before, but being out on the ocean so far away from civilization was absolutely amazing. It is hard to describe the serenity and the vastness but, at the same time, the nothingness. Pure bliss!

Top of Huayana Potosi 6.088 m (19.975 ft.)

Climbing a mountain is by far the absolute most challenging thing I have ever done, but standing on top of a mountain that took me 4 days to conquer was unbelievable. I literally felt so small in this world that it made me realize that we humans are nothing, and nature is everything.
---
Follow Tom
---
---
Do you want to be interviewed?
Want to be included in my traveler's interview archive? Please feel free to send a quick message to my WhatsApp +212696132468 – so that I send you the file. If I find your profile interesting and adequate for my blog, I will publish it.