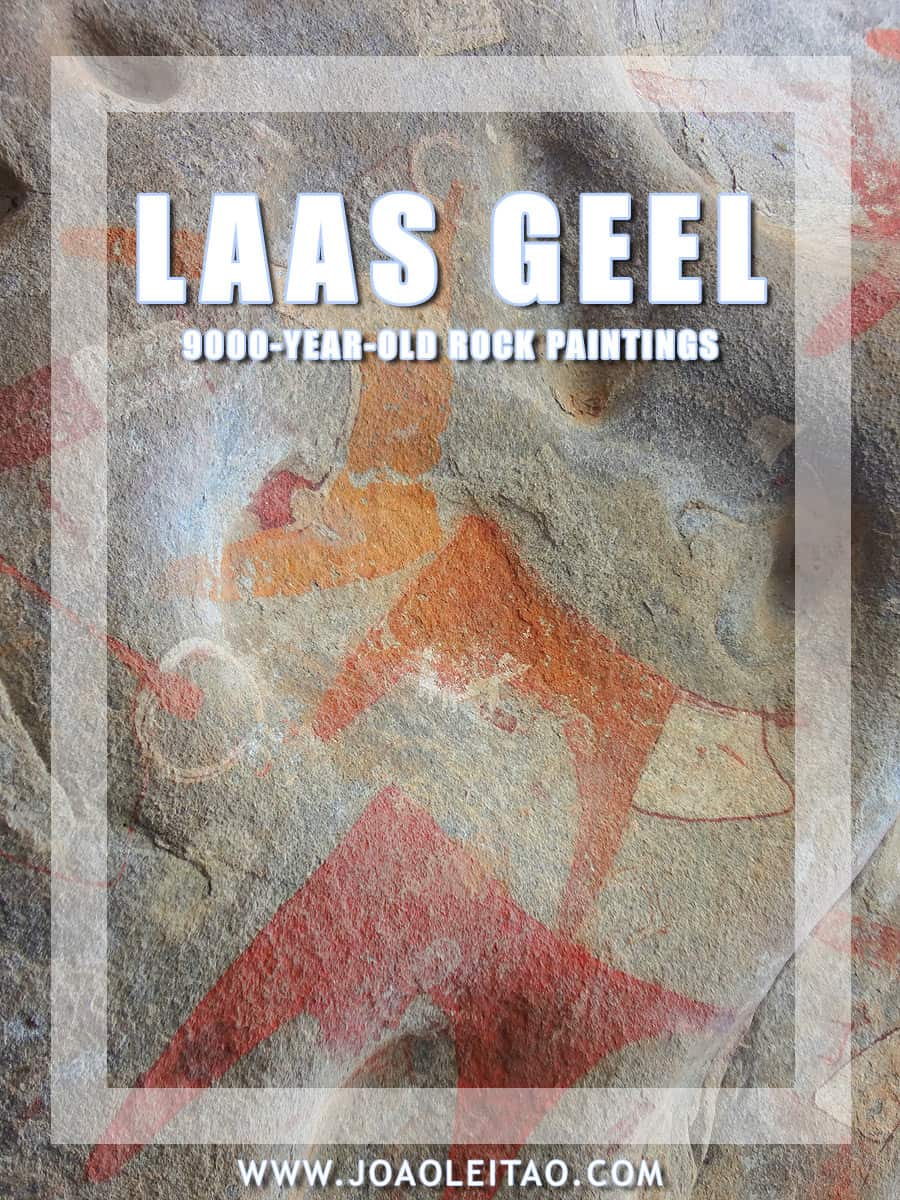 I entered Somaliland on foot, coming from Ethiopia through the Wajaale border. After exploring the capital Hargeisa, I went further north to the coastal town of Berbera. After staying a couple of days on the beach, I finally got the plane back to Ethiopia.
Somaliland is a self-proclaimed country that technically, and according to the United Nations, is located in the most northwestern region of Somalia.
Although it's not internationally recognized by the UN, it has protected and delimited land borders, its own military, its own president, its own currency, its own police. And it also proudly holds democratic elections since 1991. People of Somaliland are very friendly, and I felt very safe during my stay.
I have a particular obsession with rock art in general, no matter if it is pictographs, petroglyphs or earth figures such as geoglyphs or intaglios. On my way from Hargeisa to Berbera, I made a small effort to visit the wonderful Laas Geel rock paintings archaeological site.
Located 50 km / 31 mi from Hargeisa, in the middle of the desert and surrounded by rocky mountains, Laas Geel (also written Las Geel or Laas Gaal) is a set of several rocks and caves where rock art paintings are extremely well preserved. The humans and animals, portrayed with different colors inside, were made 9000 years ago! It's a fascinating place in this region of the Horn of Africa.
For me, it was rather surprising that on this trip to Somaliland I would visit and witness one of the most beautiful places I've ever been in my life. Yes… in Somaliland – Somalia.
Imagine a set of 9000-year-old paintings depicting men and women, dogs, many cows, giraffes, all drawn on the rock surface, practically outdoors, but in excellent condition!
To get to Laas Geel, you have to get a permit that costs 22 euros / 25 dollars. You also need a taxi with a private military armed escort to protect you. This escort costs 17.3 euros / 20 dollars, the taxi from Hargeisa from 60.5 euros / 70 dollars to 108 euros / 125 dollars.
A visit to Laas Geel can only happen if you are followed by a mandatory guide, a man who takes us through the mountains. He does not speak English, except the words "man," "cow," "dog." You can give him some money in the end. Several sites are hiding these paintings, all being separated by about seven hills and caves to visit, but we have to do a little bit of trekking to get there.
There is no doubt in my mind that, if this rock painting site was located in an internationally recognized country, it would be on the World Heritage List by UNESCO.
At the entrance of the complex, there is a small house with a few panels explaining the history and cultural significance of Laas Geel.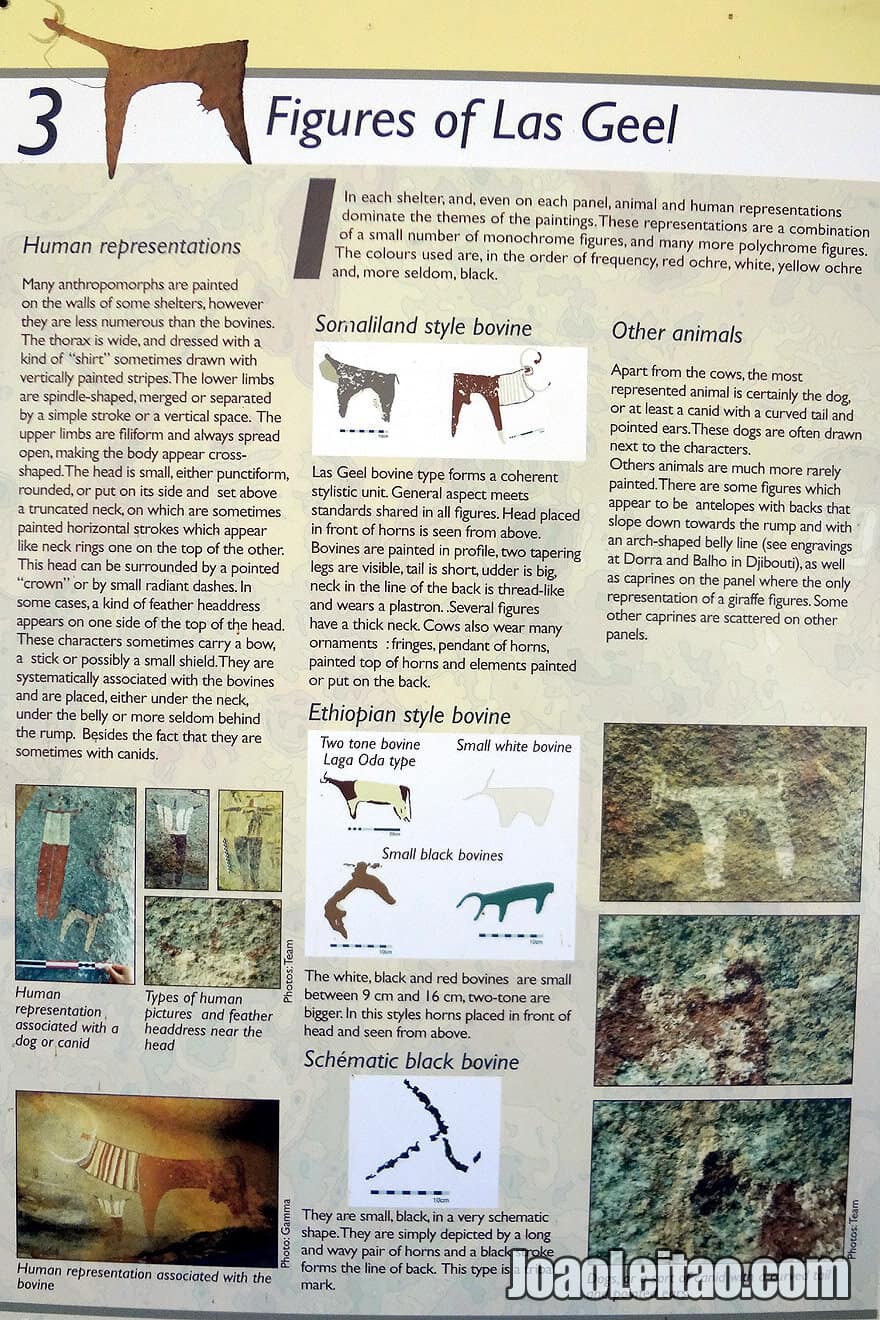 At the end of the visit, you can sign the guestbook. I was the third Portuguese to sign it. Another interesting fact is that this site was only found in 2003. Thus, a very recent discovery. If you are in this region, do not miss the opportunity to visit this unique place.
Besides Laas Geel, near Dhubato, Somaliland has some other fabulous locations with ancient villages, rock art, and megalithic sites: Dhagax Khouré, near Hargeysa; a few other examples in Massif Daimoleh and in the Mountains Goolits; Iskudar; Raari; Guideys; Cagarey; and Go'o.
---
Taxi from Hargeisa to Berbera via Laas Geel
---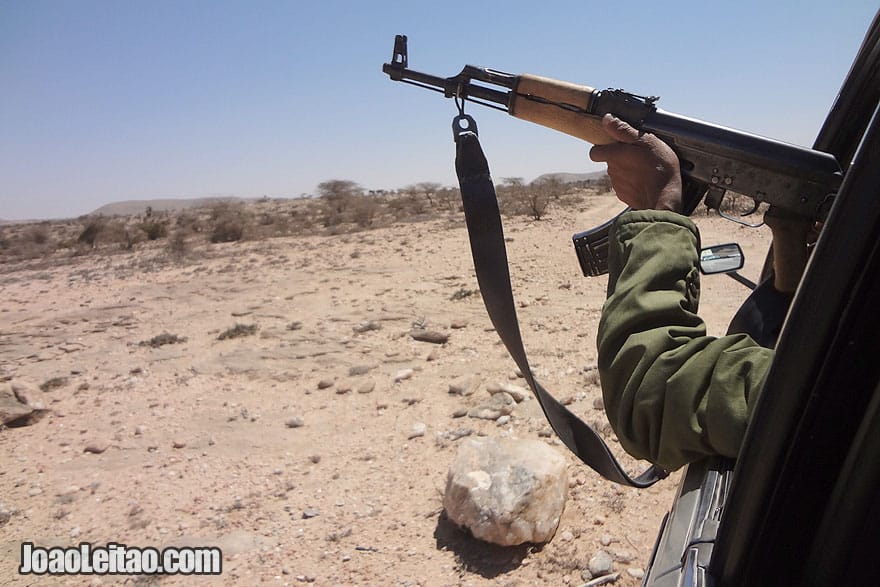 I took a private taxi from Berbera to Hargeisa, passing through Laas Geel rock paintings. The taxi picked me up at the Oriental Hotel front door in Hargeisa and left me at the door of Man-soor Hotel in Berbera. The road is made of tarmac except for the 14km / 8.7mi off-road track near Laas Geel. Along the way, we stopped to eat at a roadside restaurant. We were served spaghetti with vegetables, meat or fried fish.
This whole area to Berbera is arid. Through the rocky mountains, you see lots of camels and small, poor villages. In Laas Geel, the driver and military go to sleep, and you are taken to visit the paintings accompanied by a mandatory local guide.
Bring two bottles of water and some bananas for the trip. Leaving at 9 am from Hargeisa, it is expected that arrival at Berbera should be at around 4 or 5 pm.
At the reception of the Oriental Hotel in Hargeisa, they sell tours and can hire you a taxi with an English speaking guide and armed escort. They also get you the Somaliland government entrance permit to Laas Geel. If you don't have time to do things for yourself, or you just don't want to bother, then you can make this trip for 170 euros / 195 dollars. They organize and prepare everything for you. You just have to be ready the next morning. This was what I did. Easier.
If you want to do everything on your own, then the price of this service is usually 43 euros / 50 dollars for the taxi, driver, and fuel. 17 euros / 20 dollars for compulsory army escort. 22 euros / 25 dollars for Laas Geel entrance permit, which you have to get at an office somewhere in the city.
Read my page: Somaliland Travel Guide