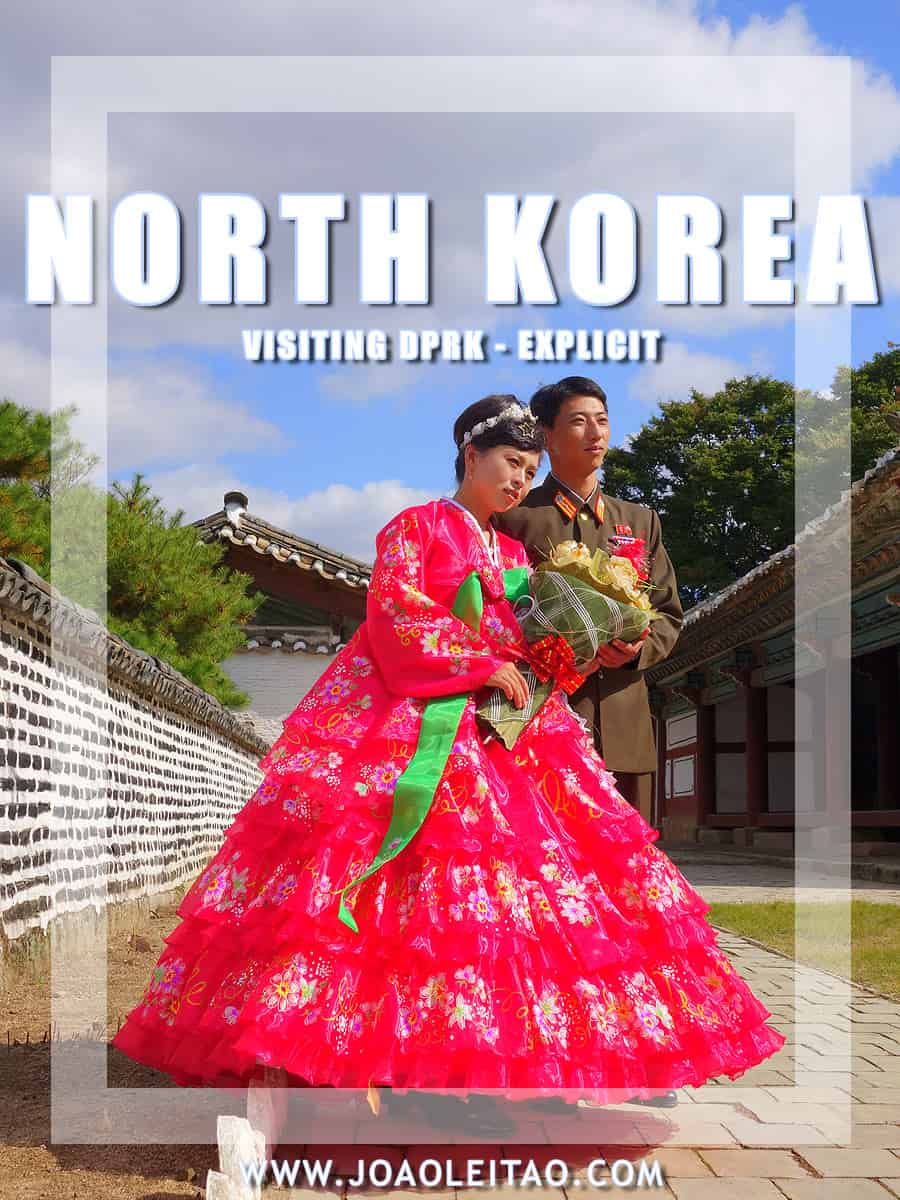 People often point out reasons to dislike North Korea. Personally I only travel to enjoy places and things such as colors, people, little details, architecture, sounds, tastes, sunsets, smiles, etc.
Because I never travel to dislike or criticize, on this page I will show you 88 images – photos – reasons that made me like the Democratic People's Republic of Korea.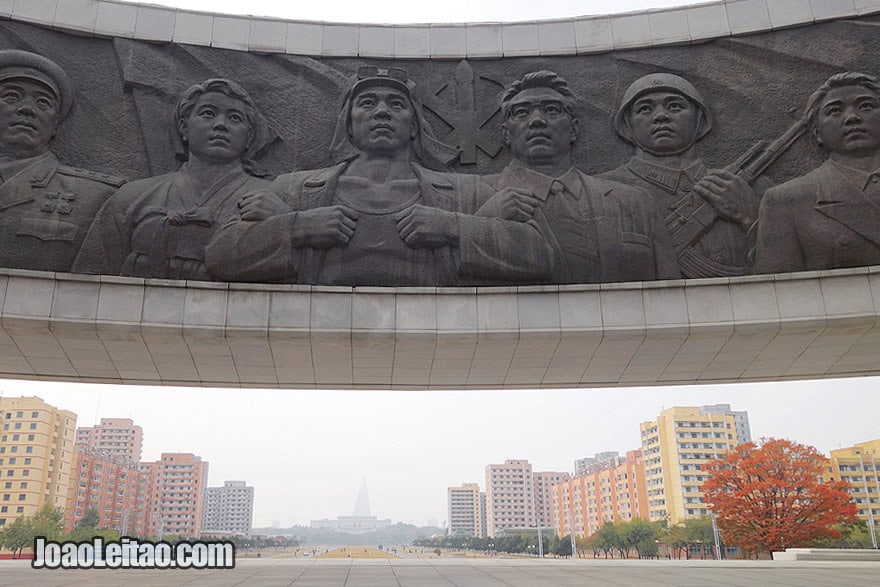 Whatever reasons you might have to criticize DPRK, I invite you to indulge yourself to discover one of the least visited countries in the world.
DPRK is indeed a fascinating destination with a very beautiful culture and ancient history. I hope to come back once again soon. You can visit North Korea on a budget with the help of diverse tour operators that frequently offer quite interesting itineraries.
Also read my page: Visit Pyongyang – A different look at North Korea's capital.
NOTE: this page is not politically biased nor am I writing on behalf of someone or any government. This page is about DPRK traveling and tourism. The reasons why I enjoyed my time in North Korea are immense – the same way I have many reasons to enjoy all the other more than 120 countries I have visited.
---
What does North Korea look like?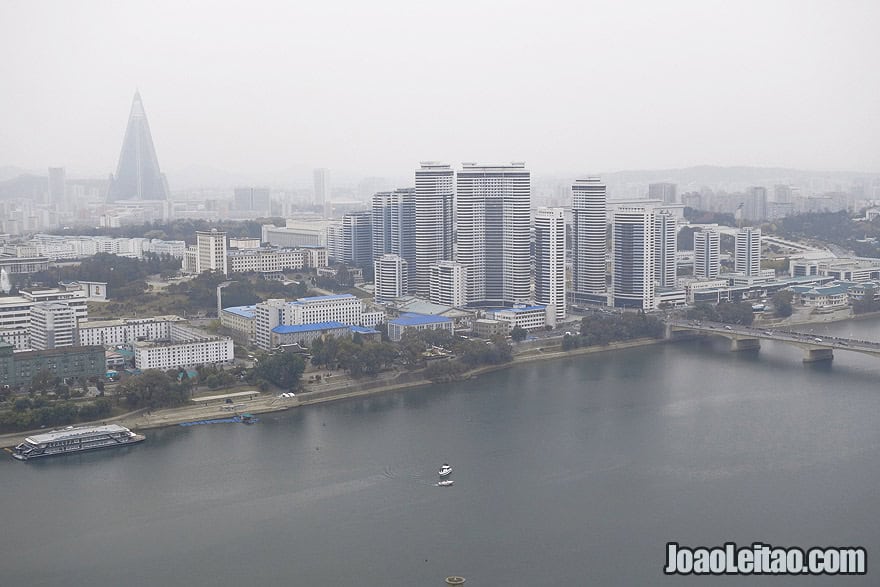 DPRK cities were heavily bombed and turned to rubble by the US during the Korean War. Most of the infrastructure in the country is built in a socialist Soviet architecture style, also called as Socialist Classicism or Stalinist architecture.
Some buildings were done in Korean architecture style as well. As in many countries in the world, cities are more developed than countryside villages. In the mountains many wooden Buddhist monasteries survived the war.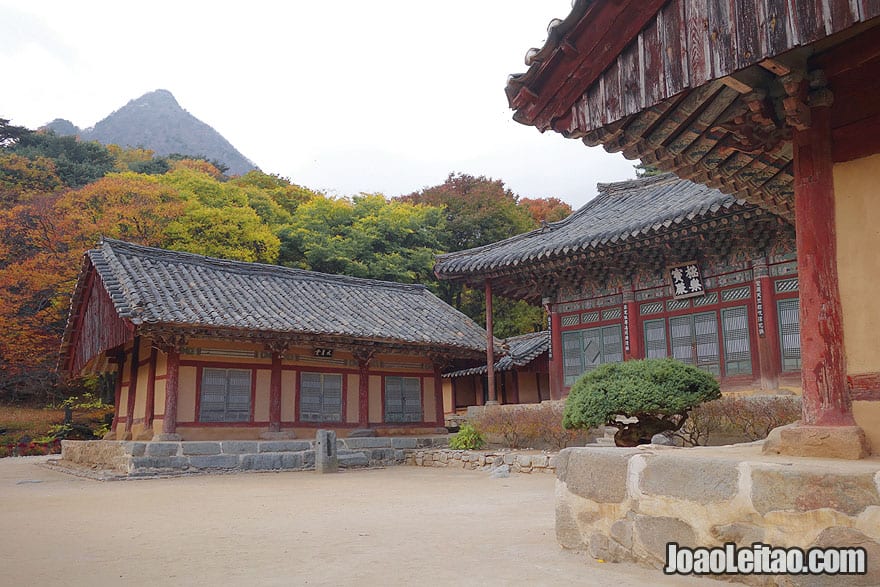 In terms of present development, and in my modest opinion, DPRK resembles a mix of many countries in Central Asia like Uzbekistan or Tajikistan, or, it even gives you a glimpse of how some socialist countries in Central and Eastern Europe such as Poland, Russia and Moldova used to be many years ago.
---
Visit North Korea
1. Air Koryo Korean Airways red carpet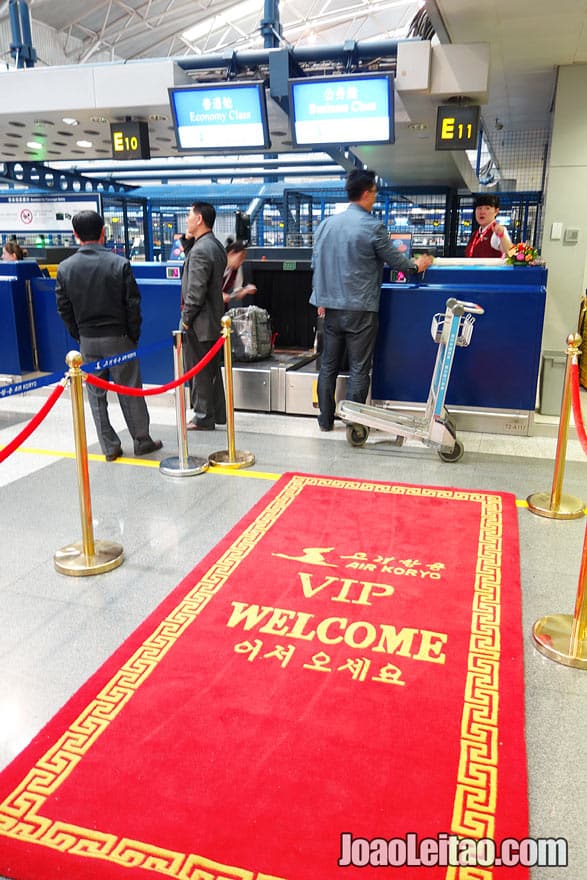 Air Koryo red carpet at Beijing airport – welcoming detail. Air Koryo Korean Airways is the national airline of North Korea.
---
2. Outside Train Station in Pyongyang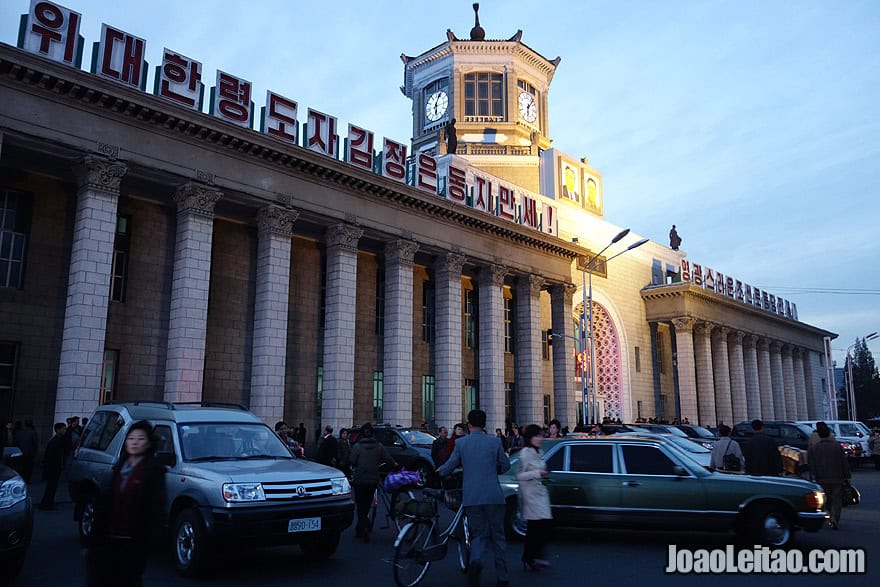 Train Station in Pyongyang – this station serves most of the biggest cities in DPRK and also two international night connections to Beijing and Moscow.
---
3. Bedroom at Yanggakdo International Hotel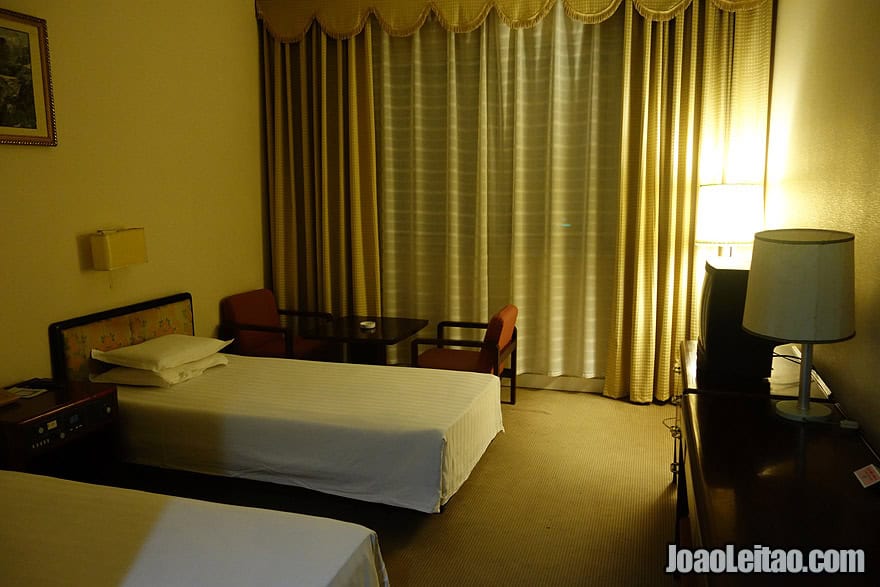 My room in Yanggakdo International Hotel – very comfortable and high quality accommodation while in Pyongyang. TV, air-con, private toilet.
---
4. Yanggakdo International Hotel welcome card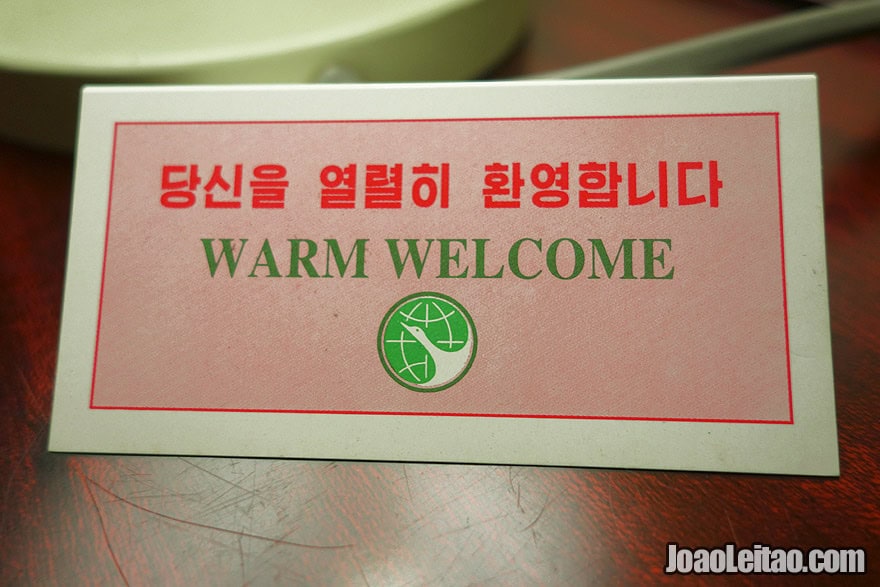 Warm Welcome card in Yanggakdo International Hotel bedroom.
---
5. Pyongyang view from hotel window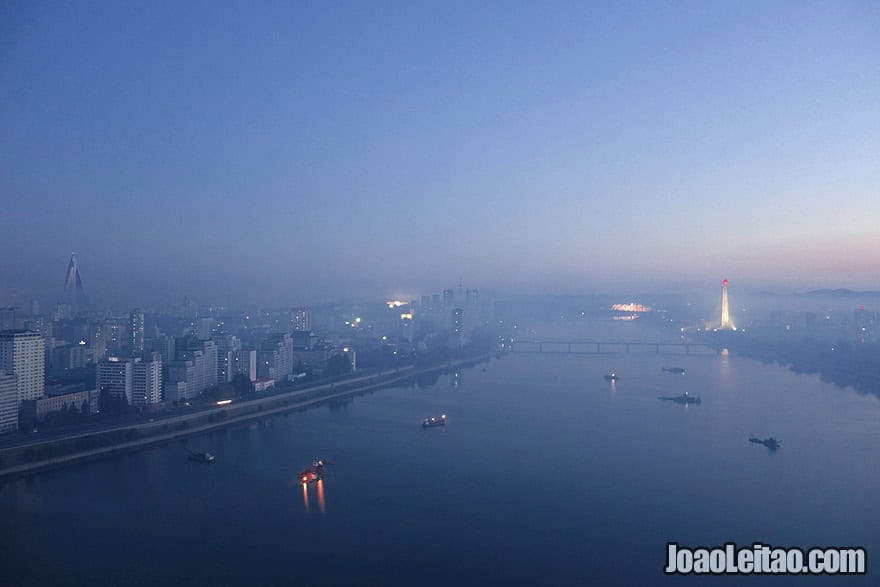 My bedroom window view from the 29th floor at the Yanggakdo International Hotel in Pyongyang.
---
6. North Korean donuts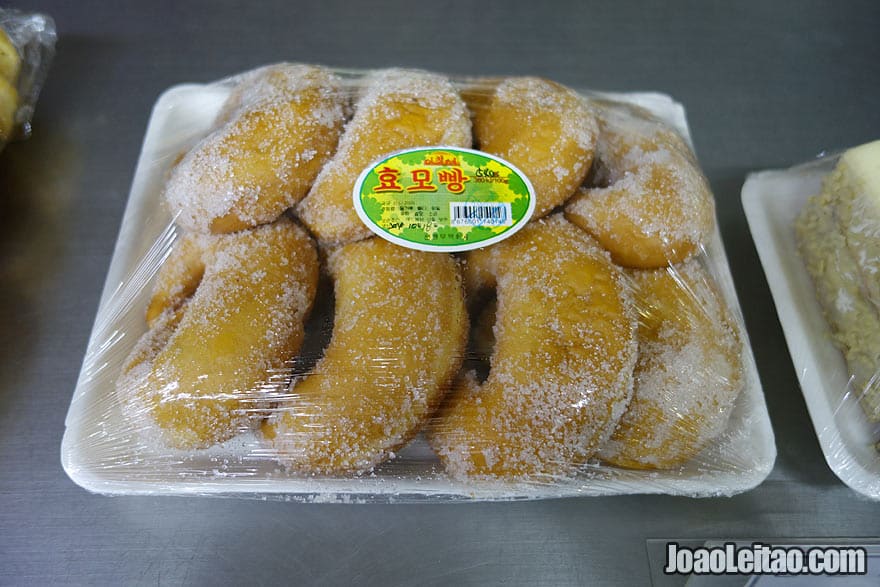 You can get these tasty North Korean donuts topped with sugar.
---
7. Socialist Art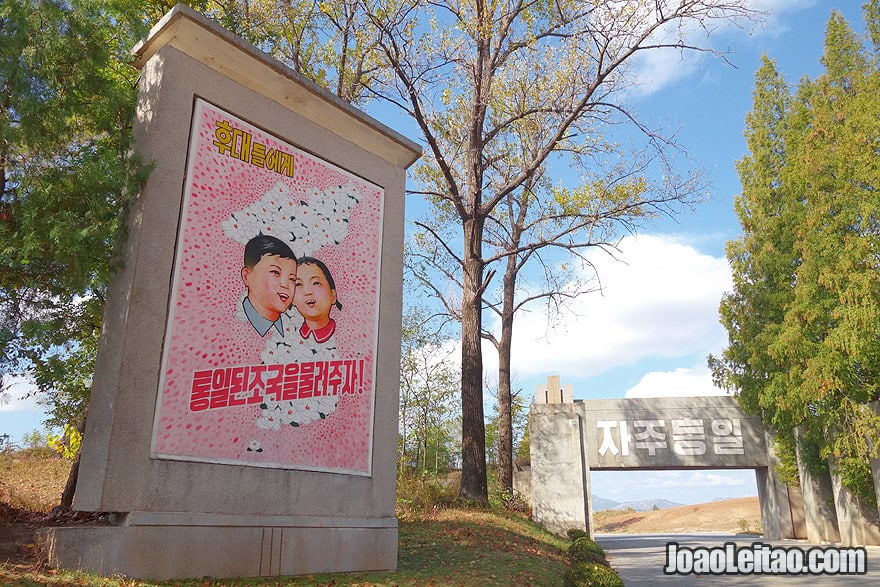 Socialist Art in North Korea. You can enjoy very nice hand-painted billboards depicting social, cultural, political and military aspects of Korean life.
---
8. Sending postcards from DPRK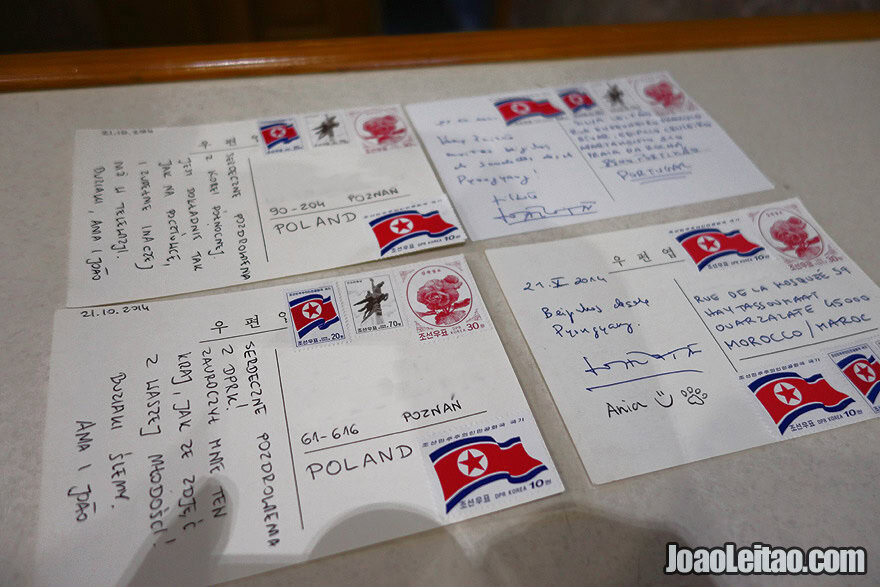 You can send postcards from DPRK back home to your family and friends. North Korean postal service sends to all countries in the world.
---
9. Political hand painted posters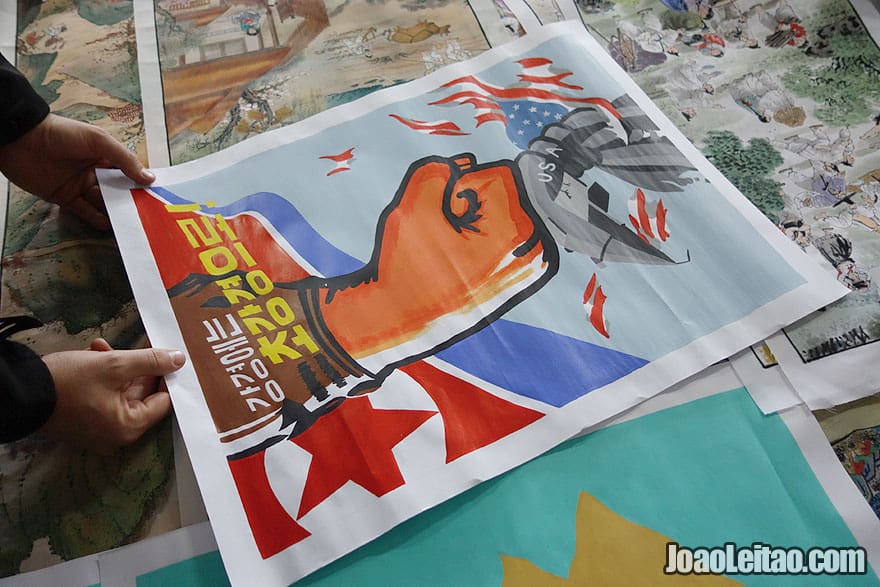 Political propaganda hand painted poster. I love these paintings depicting the enemies of North Korea.
---
10. People working on the fields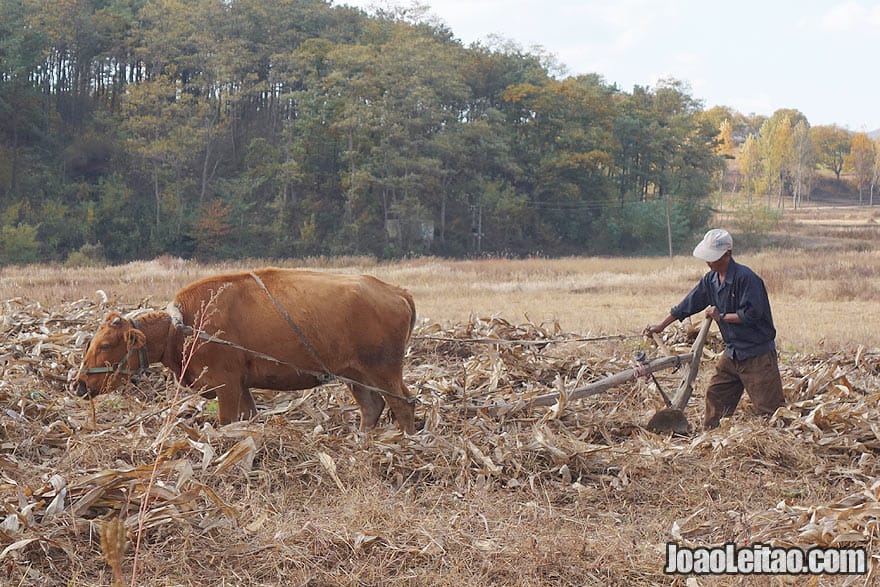 Agriculture in North Korea is booming, all the fields are harvested and cropped during the season. I was surprised with this scenario. Interesting on this picture is that we can see a traditional way of agriculture – with a cow pulling a plow like in Portugal, my country.
---
11. Shopping for food and exotic products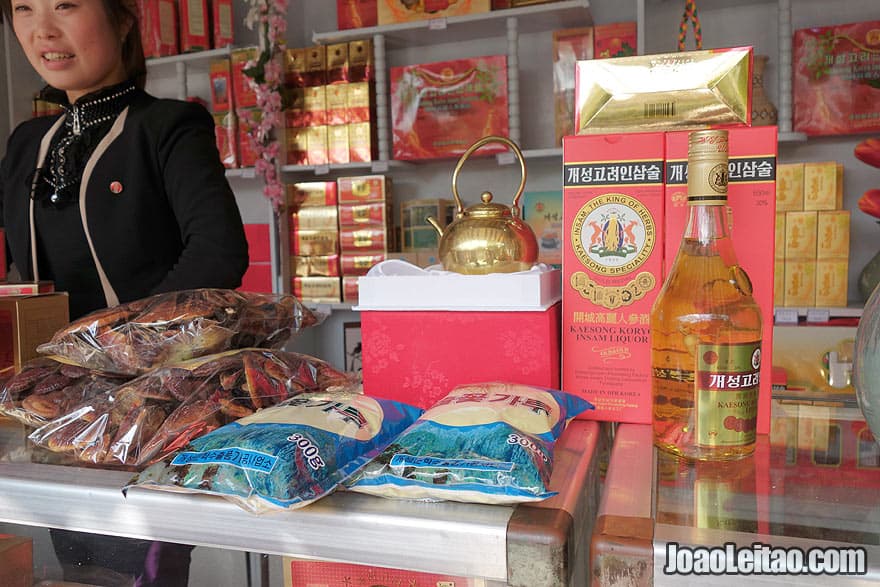 Shopping for food in North Korea is a must. Probably the most famous product of the country is the well-known Ginseng root. Exotic liqueurs, cookies and mountain mushrooms are also available.
---
12. Korean calligraphy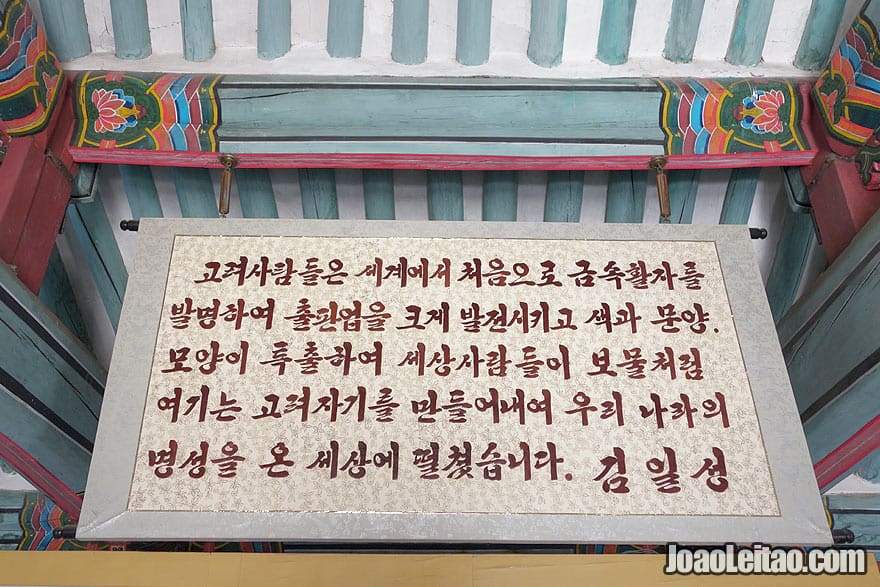 Korean calligraphy is very beautiful and full written panels create an intense yet balanced script.
---
13. Temple Complex of Songgyungwan in Kaesong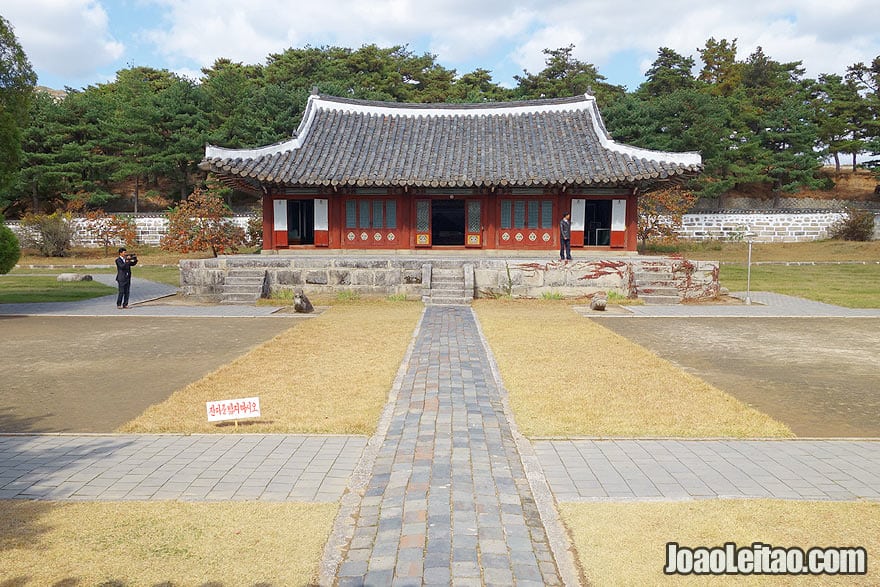 Visiting the Temple Complex of Songgyungwan in Kaesong, where the Koryo Museum is located, will give you a more accurate idea of the history of Korea.
---
14. Victorious War Museum gate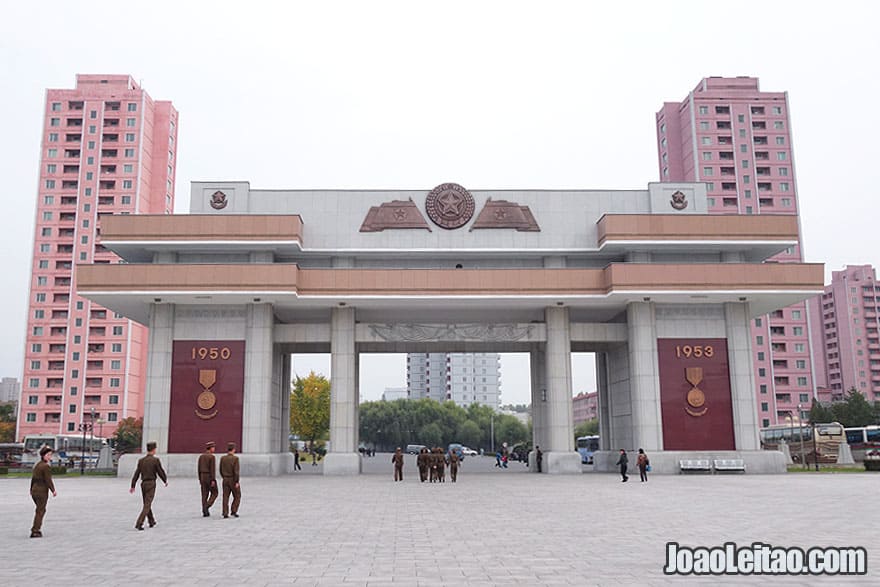 Victorious War Museum impressive entrance gate in Pyongyang.
---
15. DMZ – Korea's demilitarized zone
In Panmunjom you can visit the complex of the Korea's demilitarized zone often called as DMZ. On the picture you can notice a line crossing the blue buildings. That is the actual border line between the two countries.
---
16. Dragon Mountain pic-nic park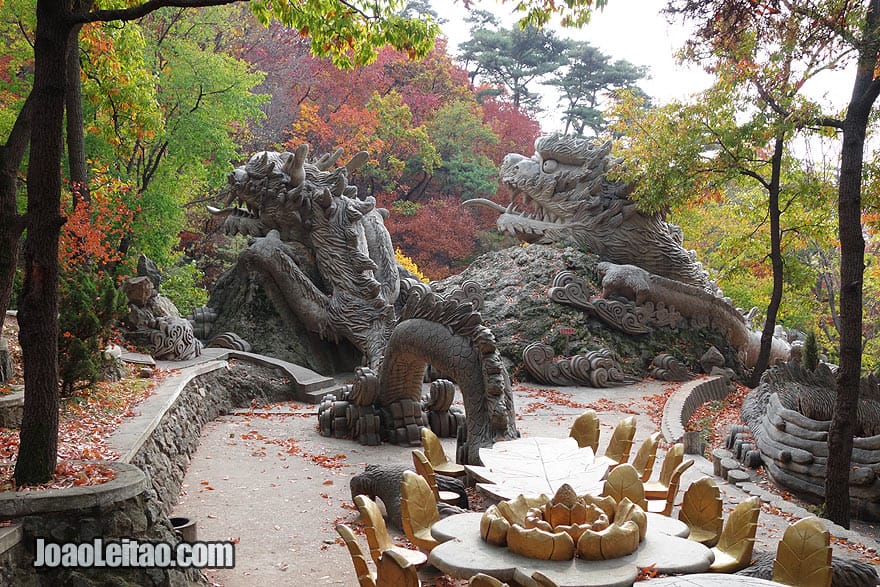 The park in the Dragon Mountain has a huge dragon sculpted in the pic-nic area.
---
17. Conference Table room in DMZ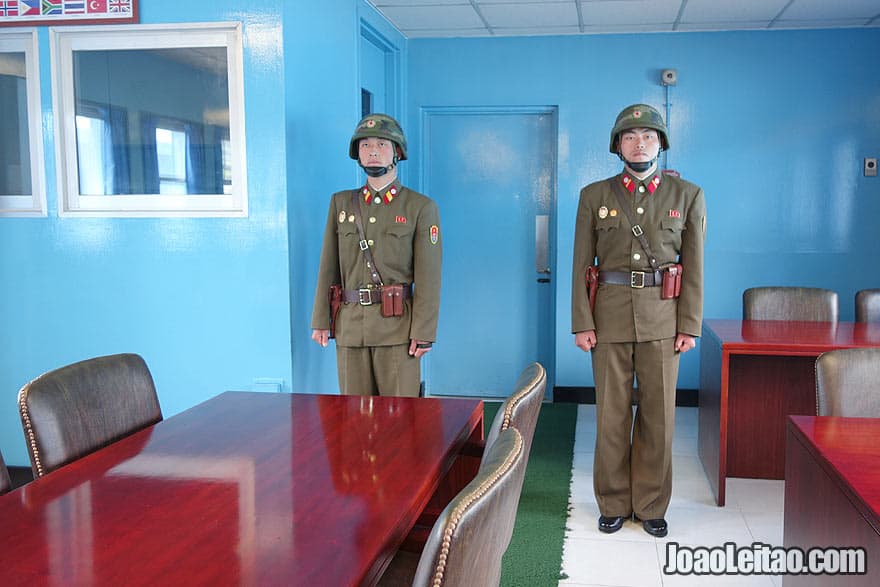 You can visit and go inside the building of the DMZ and sit down at the Conference Table in the border of South and North Korea. Two North Korean soldiers stand guard in the conference room inside the demilitarized zone.
---
18. Panmunjom and Korean War armistice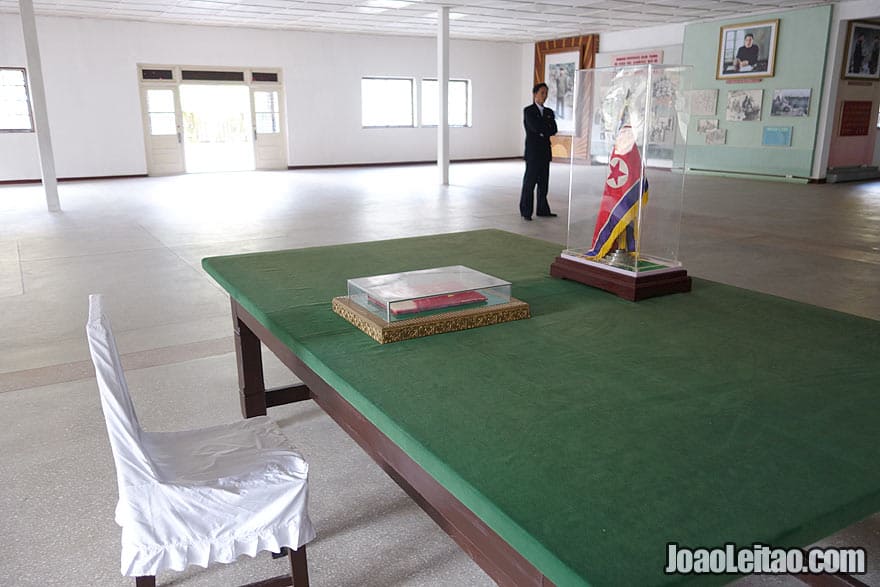 You can visit the Panmunjom where the Korean War armistice was signed on July 27th 1953.
---
19. Agriculture and rural life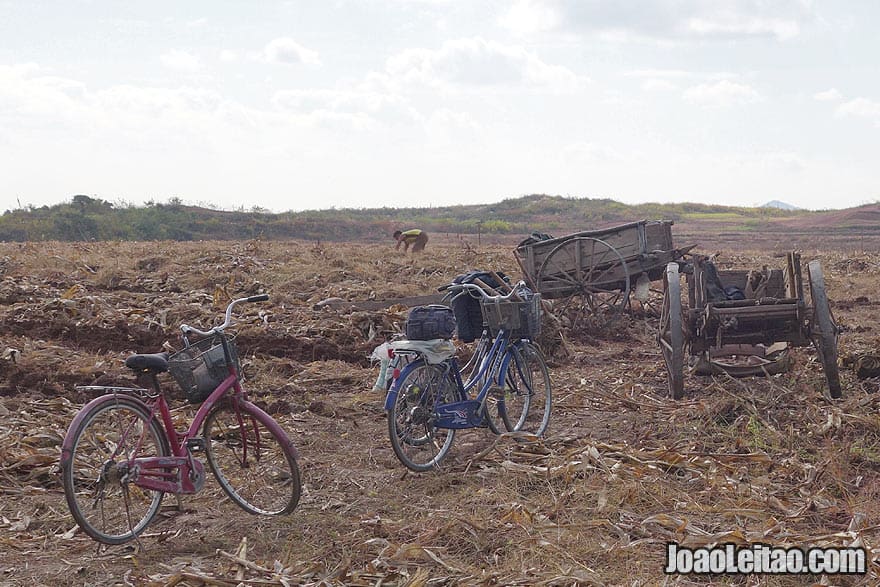 North Korea is a very non-mechanical country. Like in many parts of Morocco – where I live, cropping and taking care of the land manually is a part of daily life.
---
20. Pagoda in Songgyungwan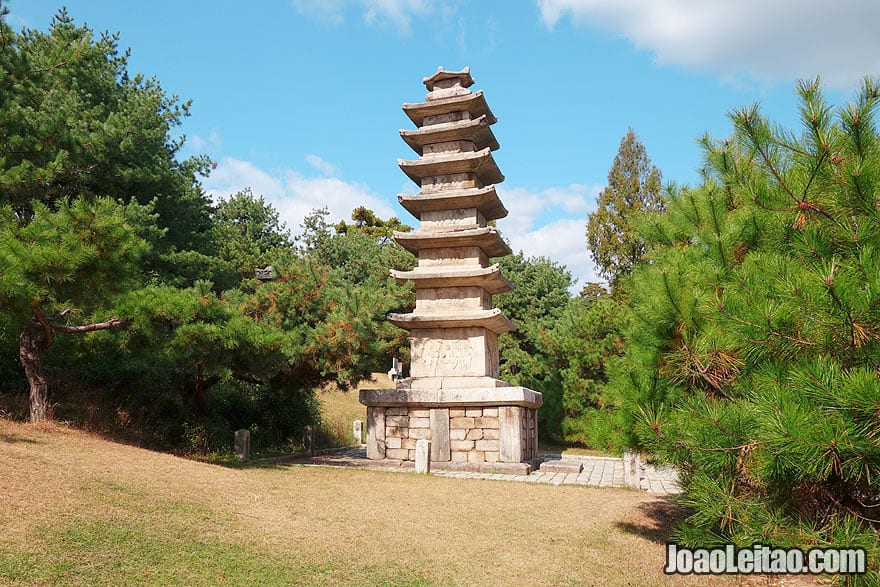 Beautiful stone pagoda in the Temple Complex of Songgyungwan.
---
21. Dogs in DPRK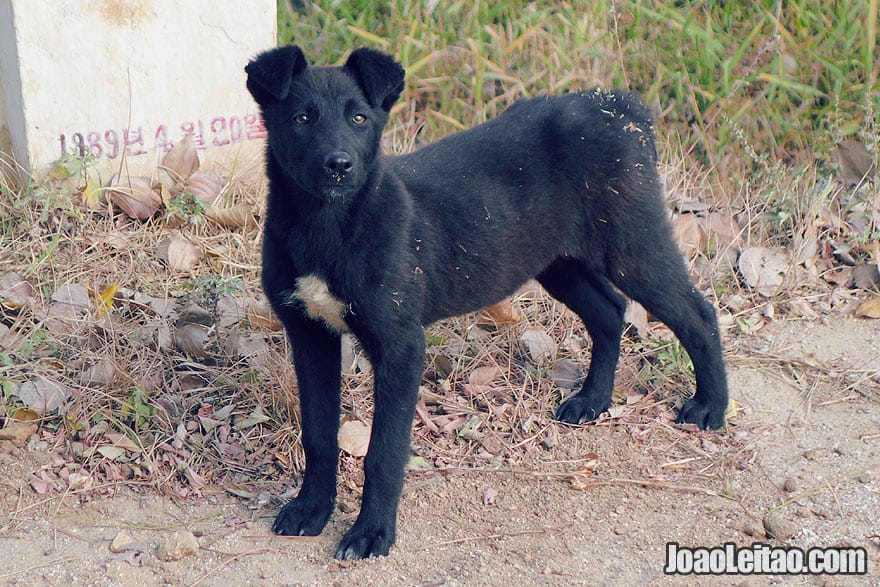 Although dog meat makes part of the national DPRK recipe book, there are many cute puppies around the country.
---
22. Traditional Korean Pansanggi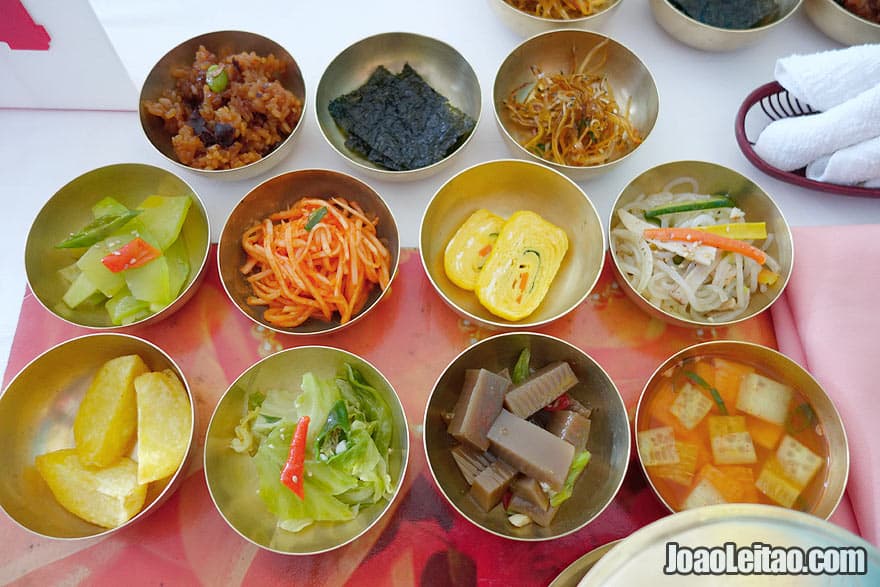 Traditional Korean pansanggi is a set of dishes for a table that ranges from 5 to 11 different dishes without counting boiled rice and soup.
---
23. Guided tour with a Korean War veteran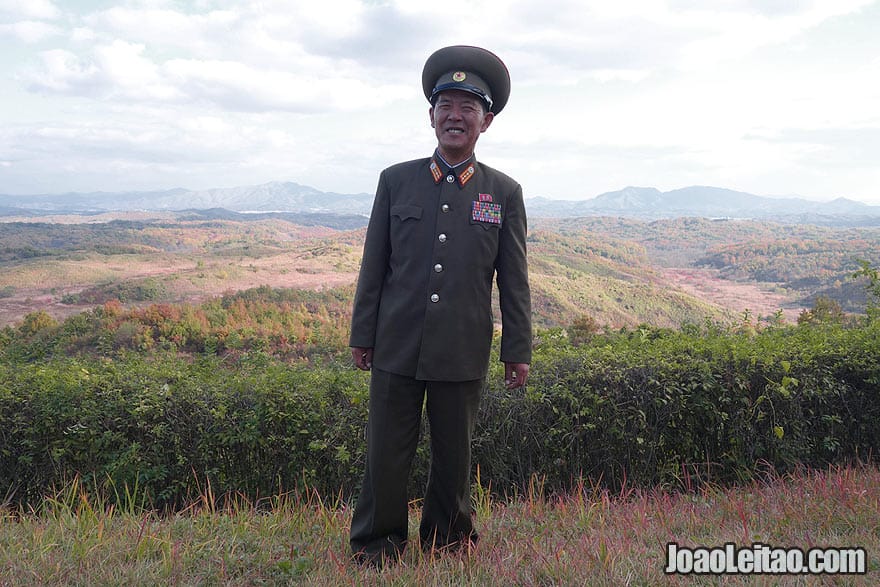 You can meet this North Korean retired officer that explains to you about the Korean War and the separation wall.
---
24. Korean separation wall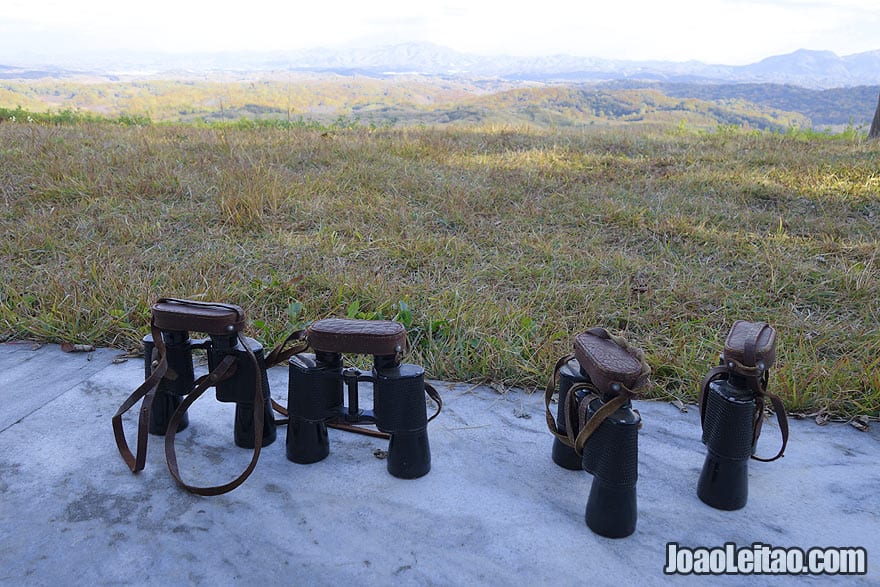 In the Korean separation wall, from the Northern side you can use binoculars to inspect the South Korean bases.
---
25. North Korea villages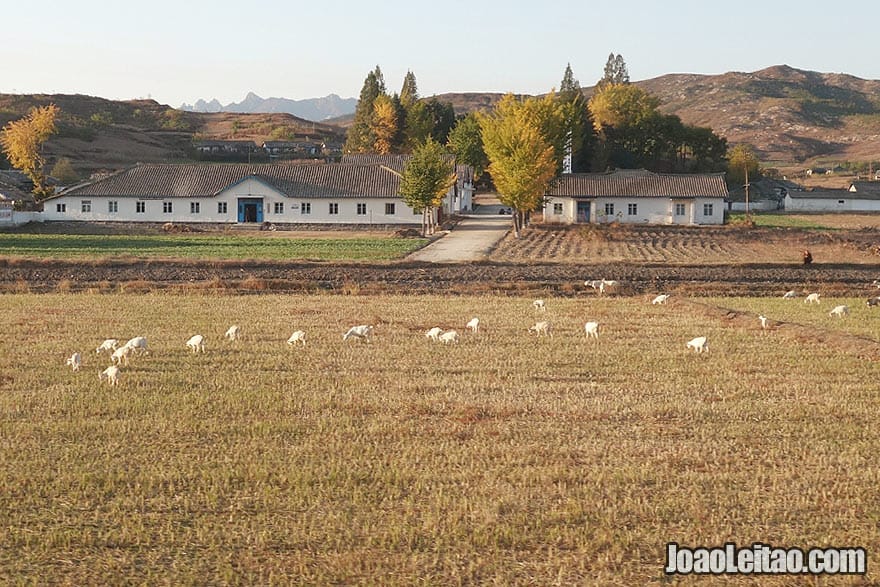 Villages and countryside in North Korea are simple, clean and very rural. They clearly remind me of Uzbekistan or even Alentejo, a province of Portugal.
---
26. Pyongyang by night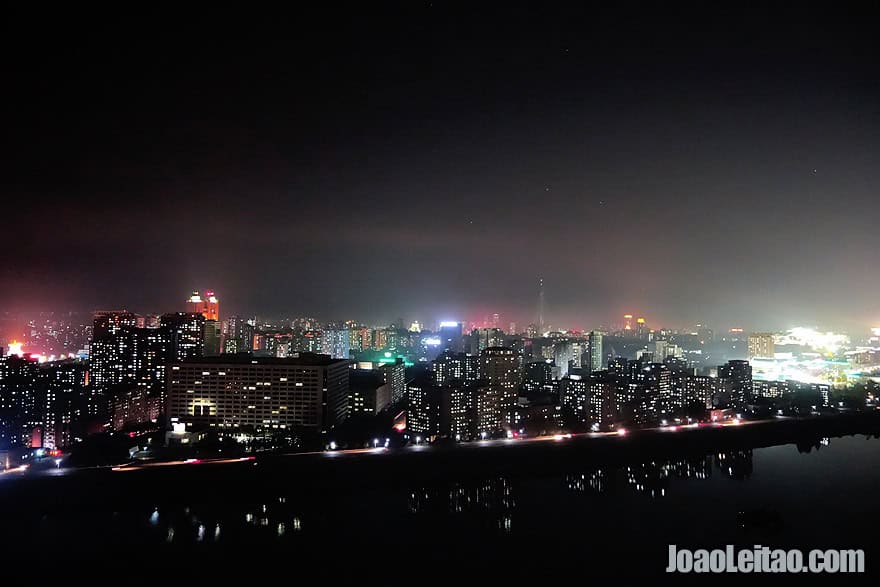 The upper view of Pyongyang by night is amazing.
---
27. Organization, cleanness, order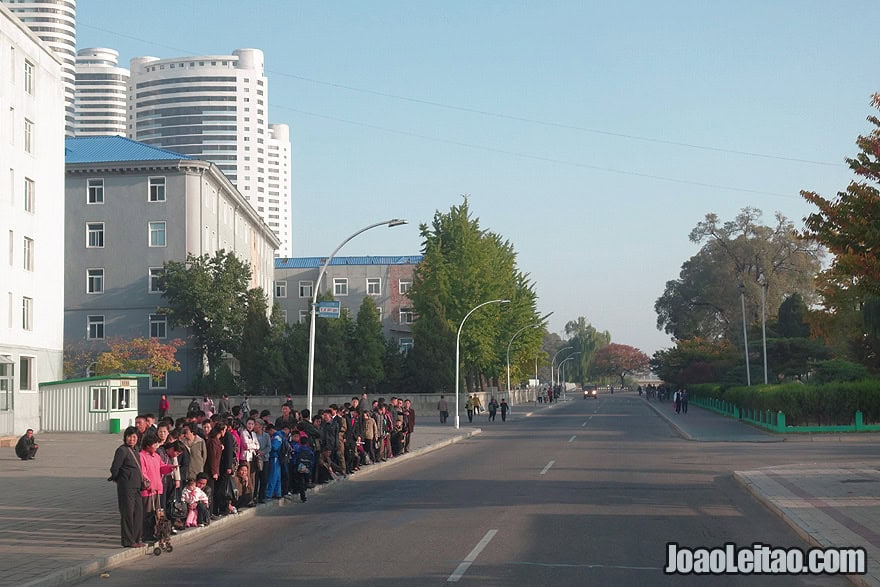 Organization. The country is very organized and everything goes by the rules. People line up to take the tram, which is completely opposite to neighboring China, for example – where people fight each other to get into public transportation.
---
28. Kumsusan Palace of the Sun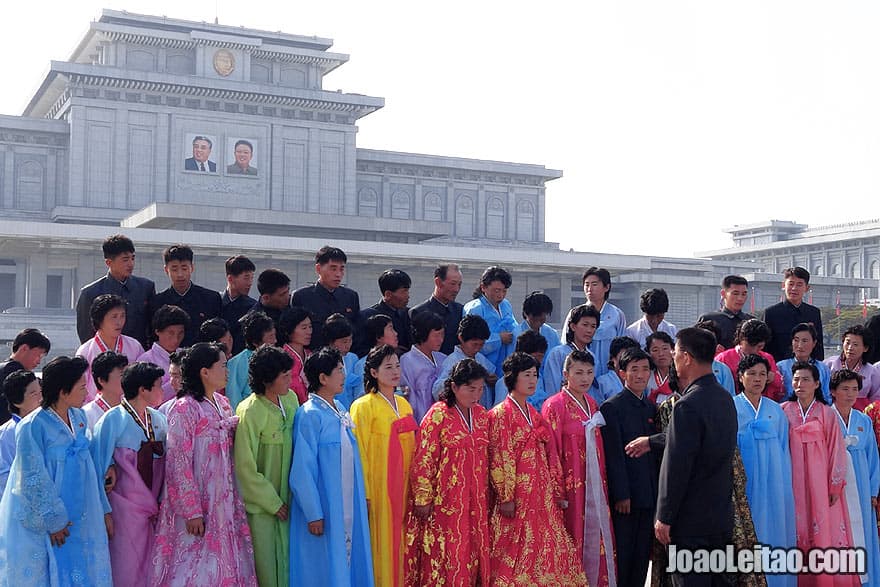 The Kumsusan Palace of the Sun located in Pyongyang is the actual memorial place for Kim Il-sung and Kim Jong-il – former leaders of the DPRK. Many people come here to pay their respect to them.
---
29. Juche Tower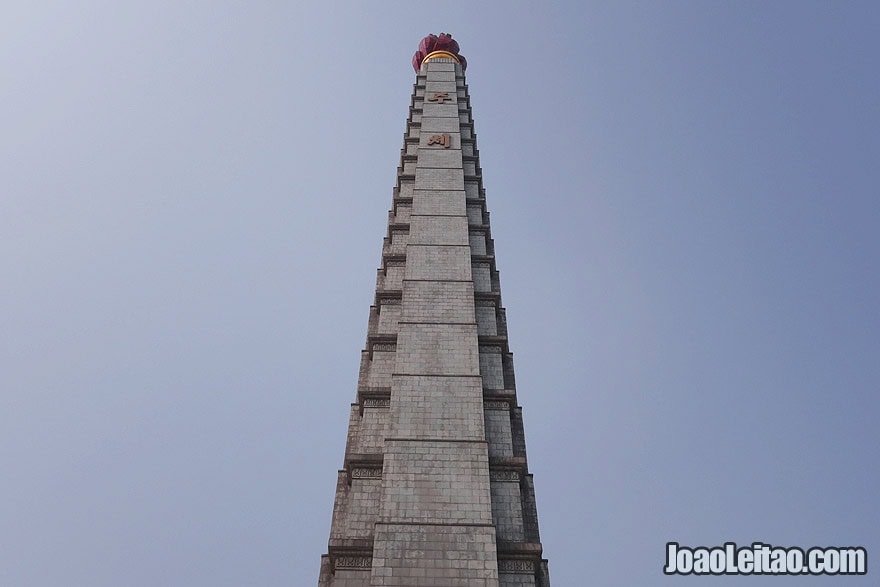 The 170 meters / 560 feet Juche Tower is great. You can go up in an elevator and enjoy amazing views over Pyongyang.
---
30. Downtown Pyongyang skyline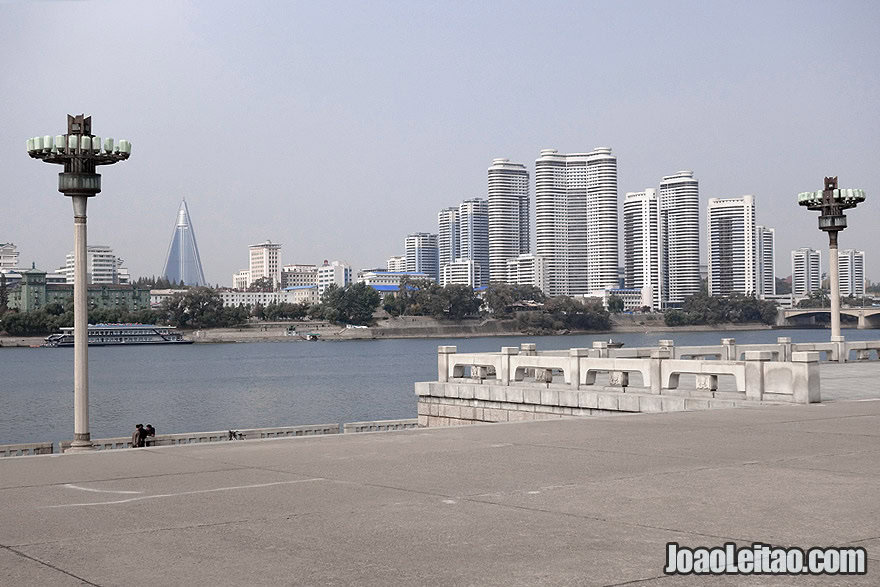 Modern Downtown Pyongyang has a lot of new buildings.
---
31. Workers Party Monument in Pyongyang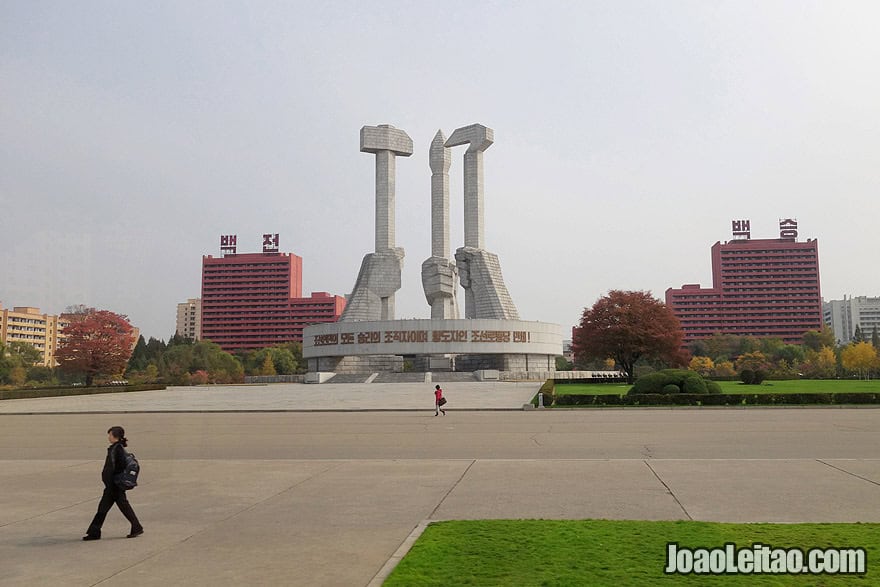 The Workers Party of Korea monument was erected in October 1995. The monument depicts a hammer, a sickle, a brush seized by a worker, a farmer and an intellectual. The belt represents the unity of the leader, the party and the people.
---
32. Kim Il-sung and Kim Jong-il painting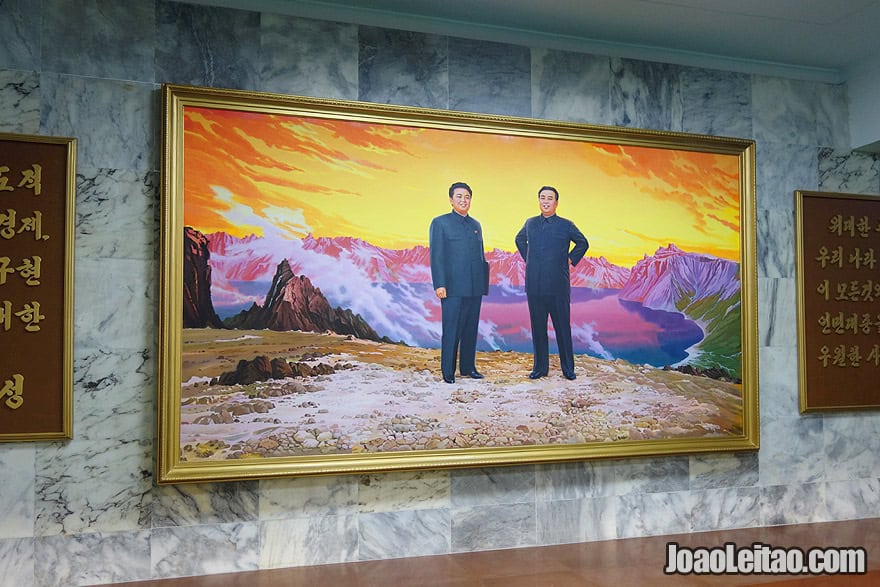 This is a famous painting of the leaders of the Democratic People's Republic of Korea, Kim Il-sung and Kim Jong-il.
---
33. Kim Jong-un haircut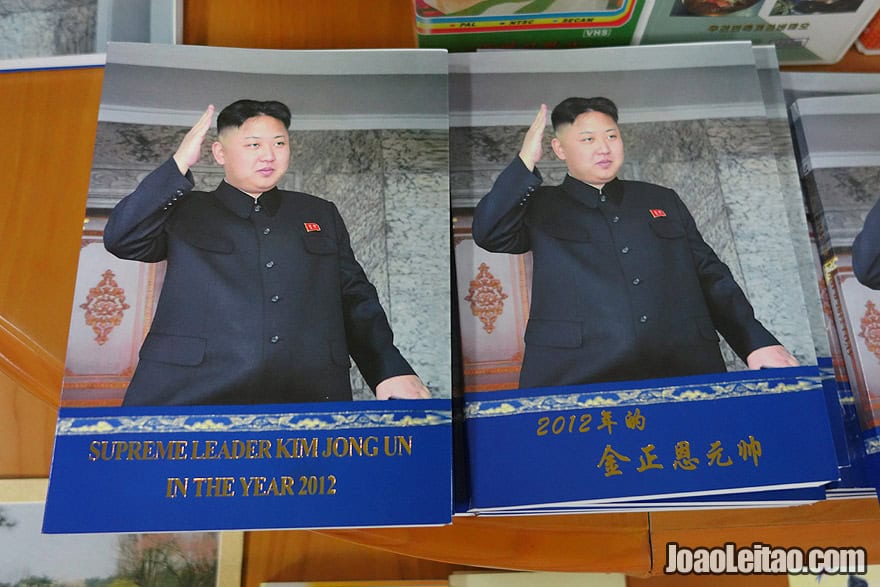 Supreme Leader Kim Jong-un modern haircut is very stylish. It seems that Kim Jong-un actually cuts his hair by himself.
---
34. Socialist Classicism buildings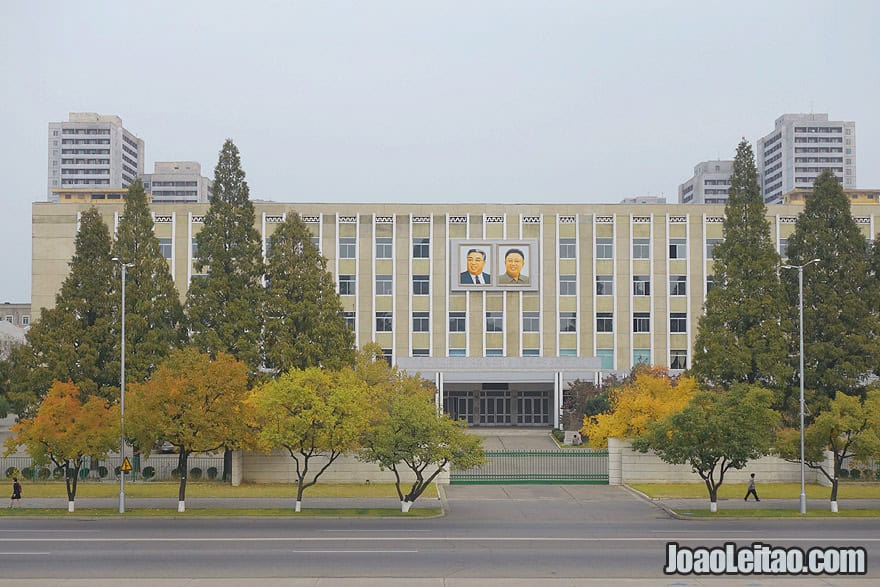 Socialist Classicism buildings in Pyongyang. The capital of DPRK has many great examples of functional Socialist architecture.
---
35. North Korean young soldiers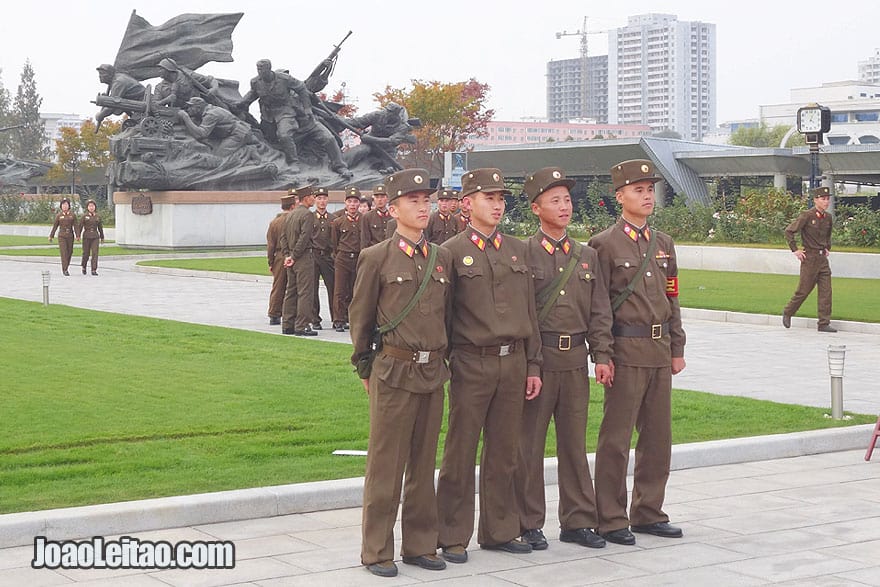 North Korean young soldiers in the Victorious War Museum in Pyongyang.
---
36. Wooden painted ancient buildings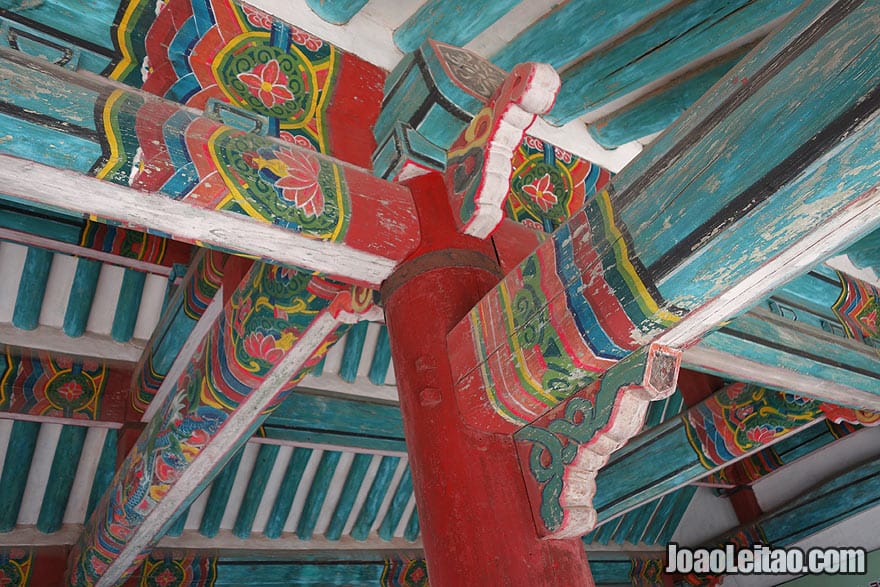 Amazing wooden painted building. North Korean still has great examples of ancient architecture where painted wood depicts amazingly colorful designs.
---
37. Pyongyang's Arch of Triumph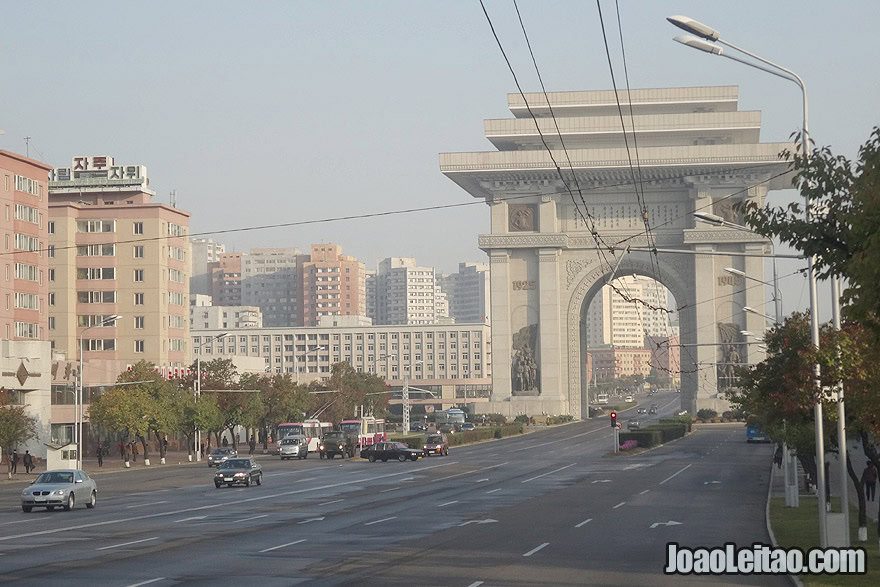 The 60 meters / 197 feet Pyongyang Arch of Triumph is the second tallest triumphal arch in the world and was erected to commemorate the Korean resistance to the Japanese invasion.
---
38. Pyongyang-Kaesong highway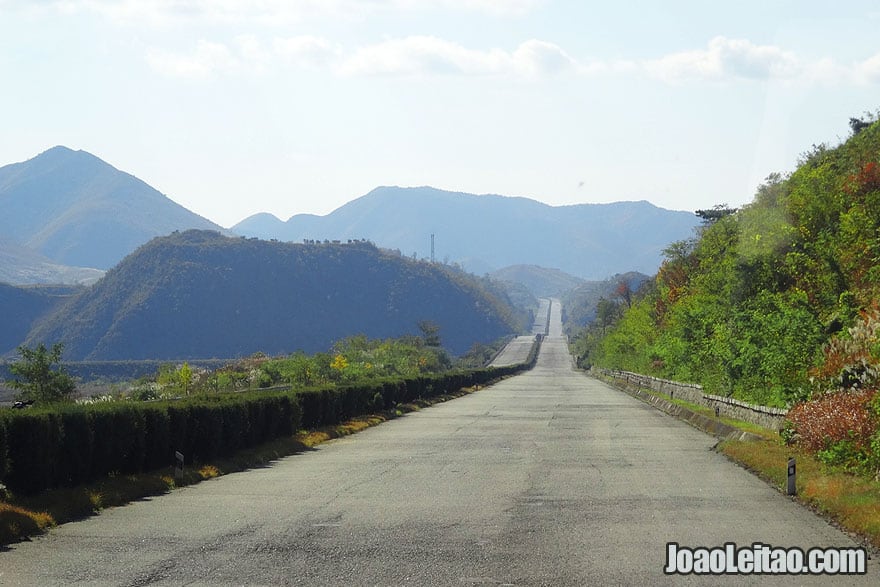 Highway road system in North Korea. Although there are not many cars in the country, there is a good highway system. The picture shows the Pyongyang-Kaesong freeway.
---
39. US vehicles exhibit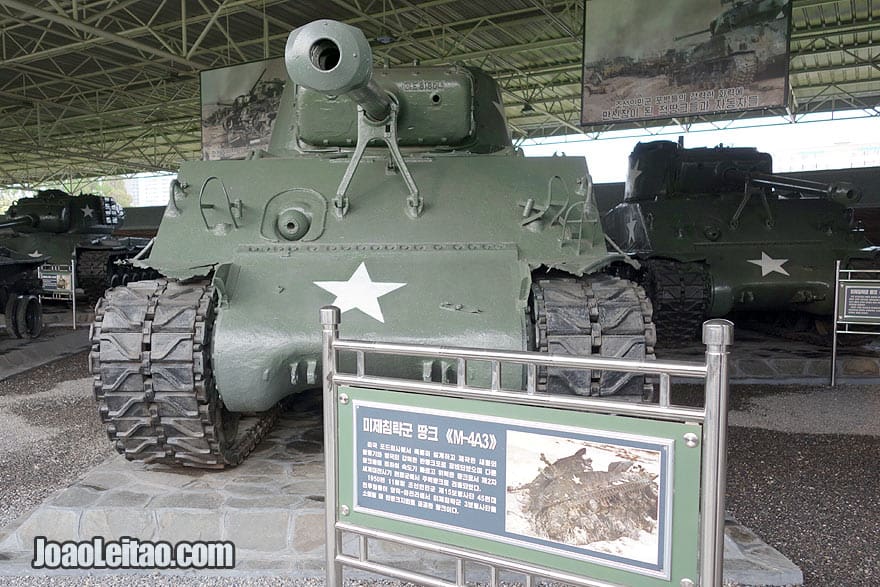 US vehicles from the 50's. In the Victorious War Museum in Pyongyang you can see several types of tanks, 4X4 and airplanes from the times of the Korean War.
---
40. Sunset over Ryugyong Hotel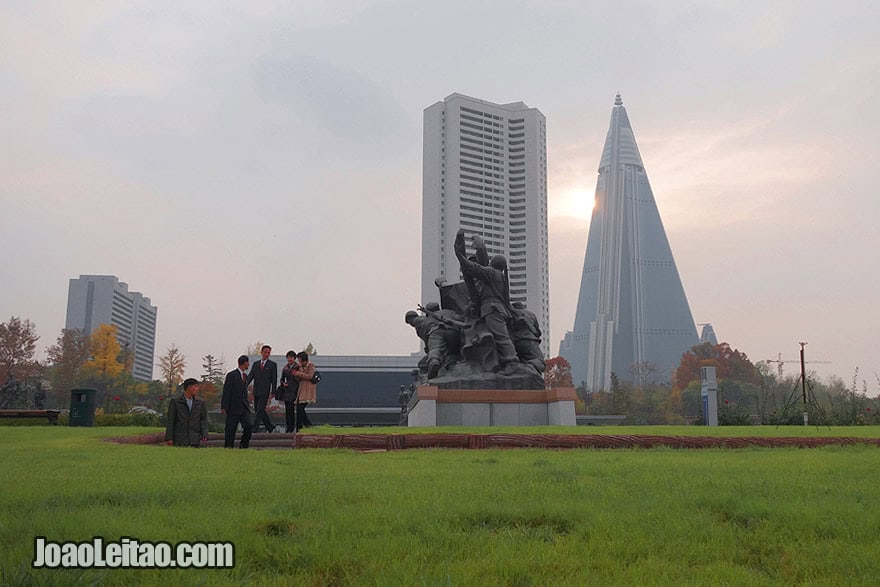 Sunset over Ryugyong Hotel and the Victorious War Museum's sculptures.
---
41. Socialist five star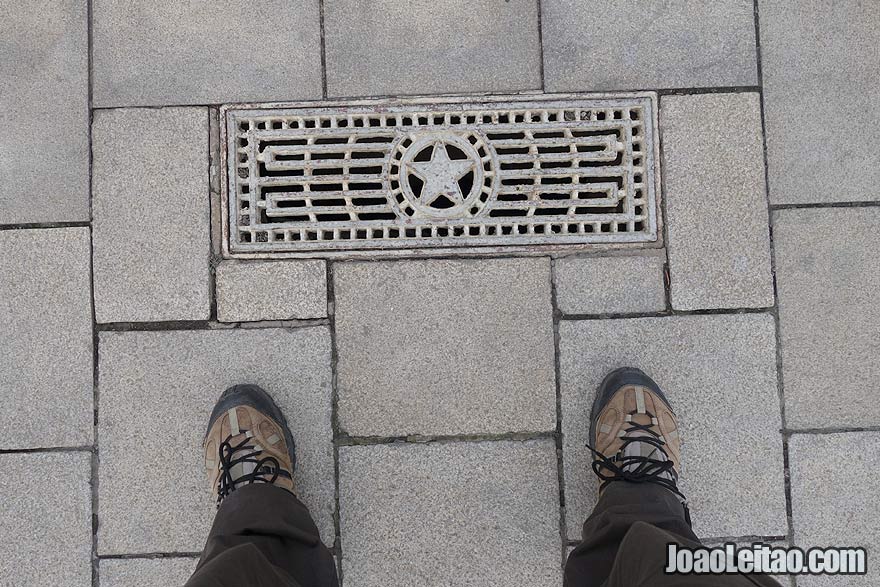 The Socialist five star design is present everywhere.
---
42. Victorious War Museum in Pyongyang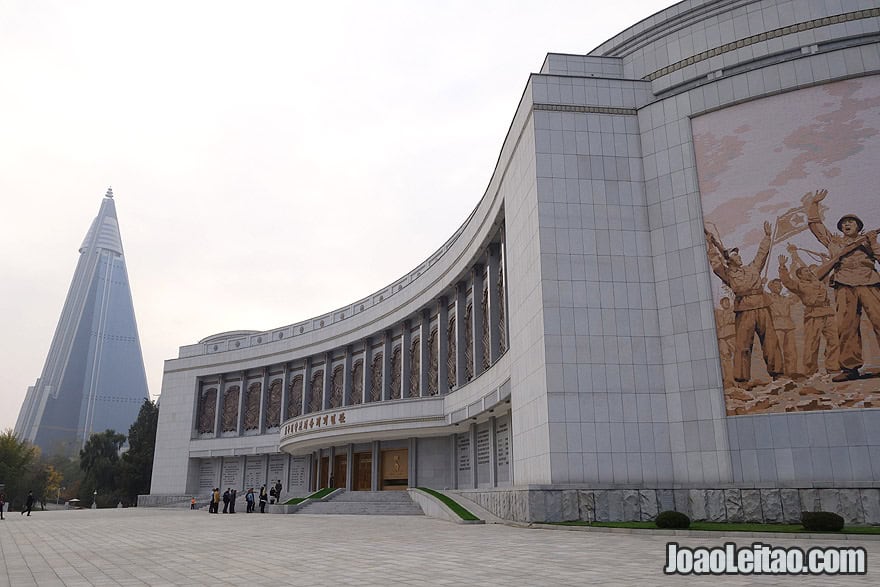 The Victorious War Museum in the capital of DPRK is a must-visit place and will help you understand a bit more about the Korean War conflict.
---
43. Kim Il-sung statue in Kaesong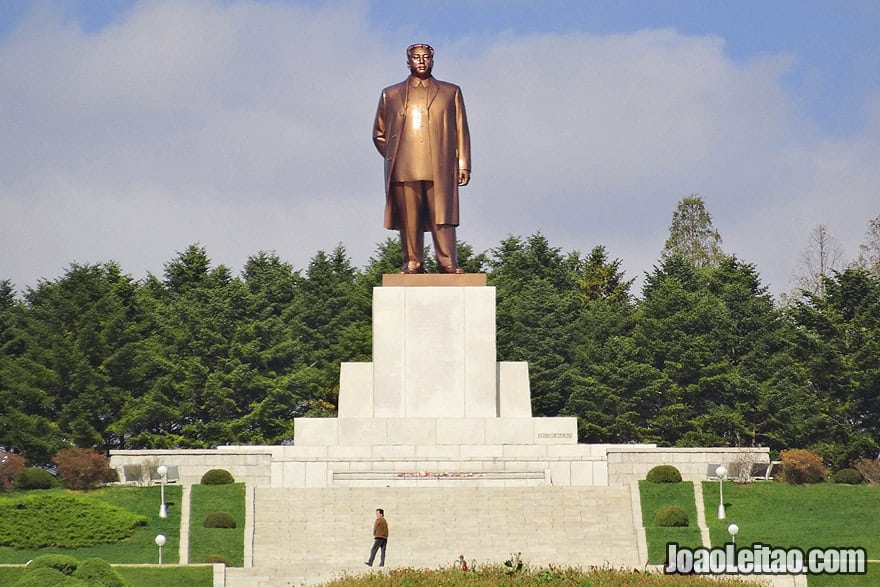 The enormous statue of the Leader Kim Il-sung in Kaesong.
---
44. Colors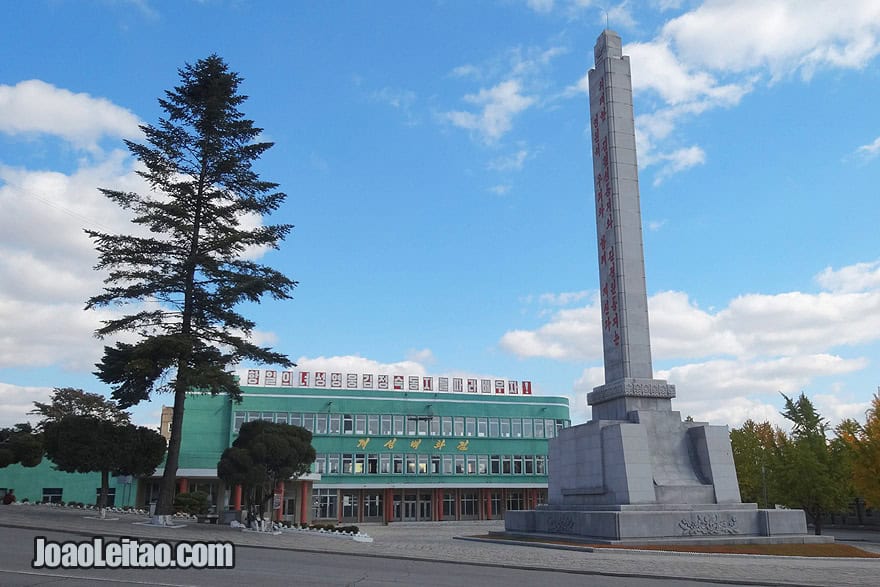 Colorful North Korea. Highly color contrasts of buildings are normal urban design practice.
---
45. Pyongyang Ice Rink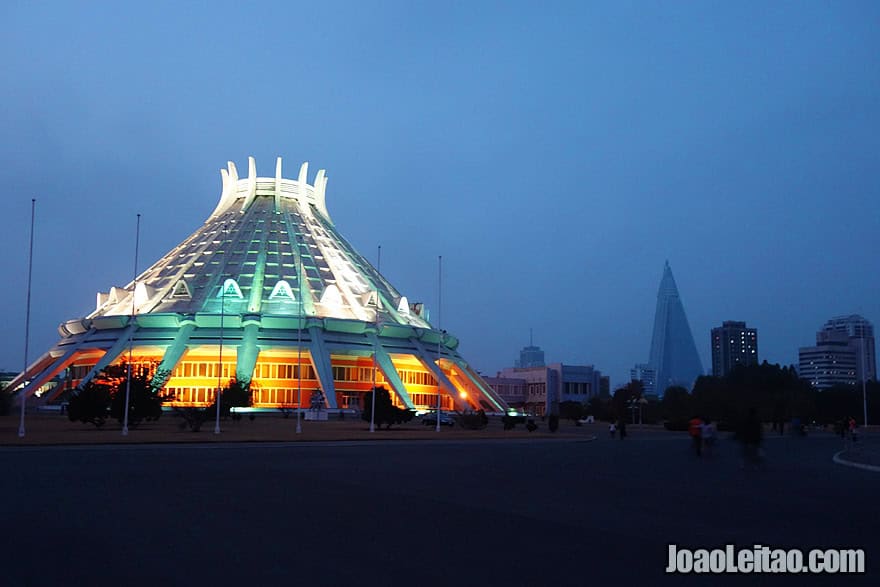 Pyongyang Ice Rink located in the city center.
---
46. Korean Cold Noodles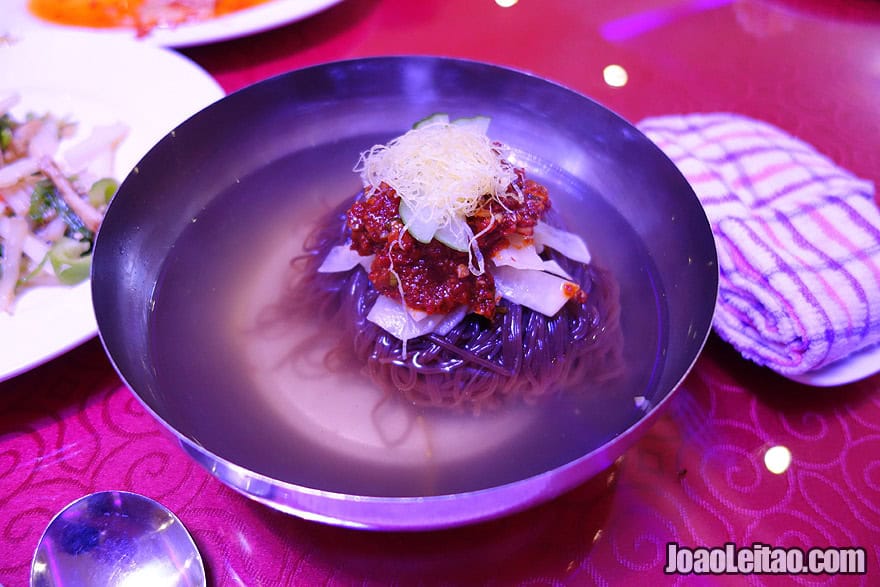 Korean Cold Noodles are strangely tasty.
---
47. Threshing grains on the road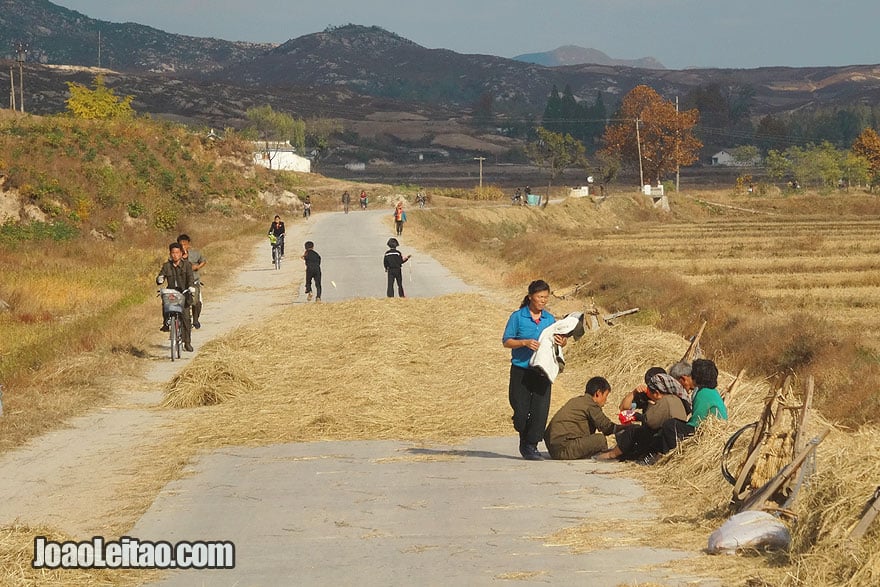 In DPRK countryside, people use the road asphalt for threshing grains.
---
48. Triumphal Arch of Pyongyang by night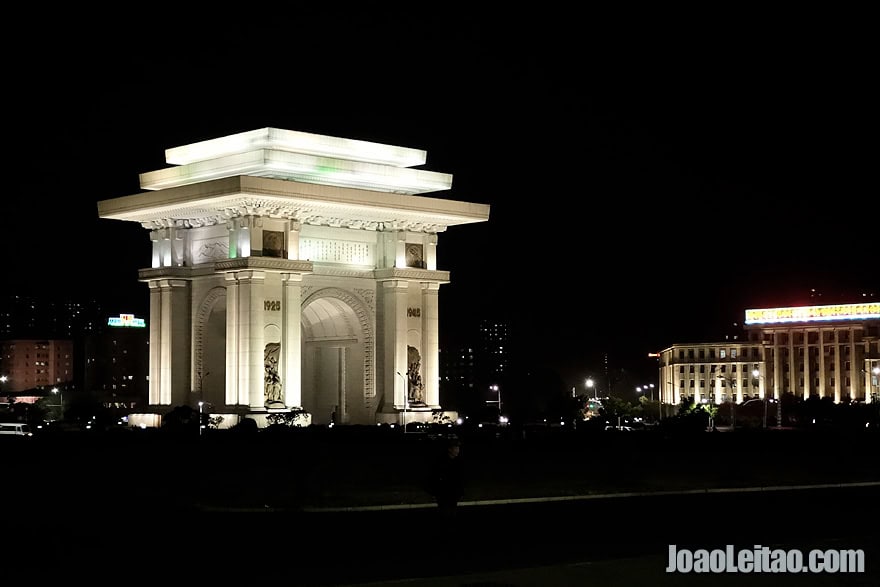 The Triumphal Arch of Pyongyang by night is amazing.
---
49. Downtown Pyongyang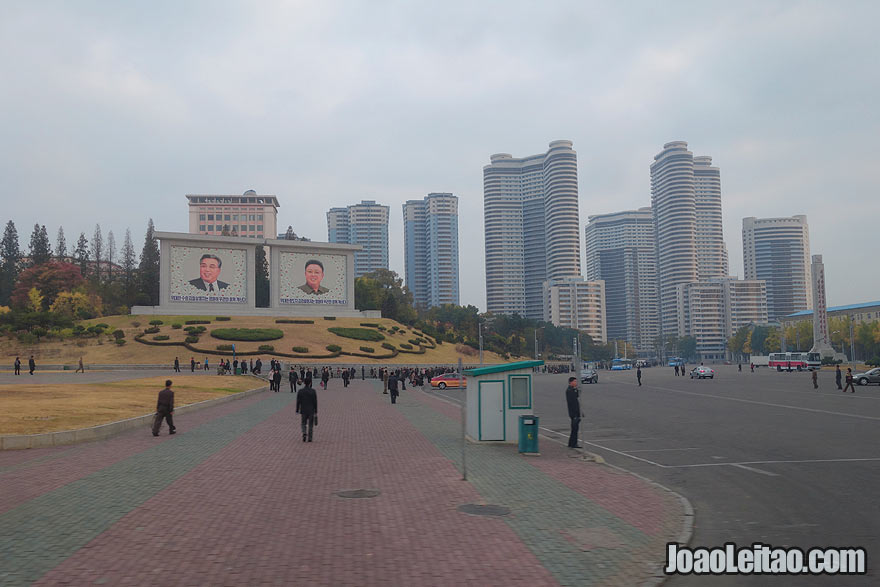 Downtown Pyongyang is clean, modern and colorful.
---
50. Mansudae Fountain in Pyongyang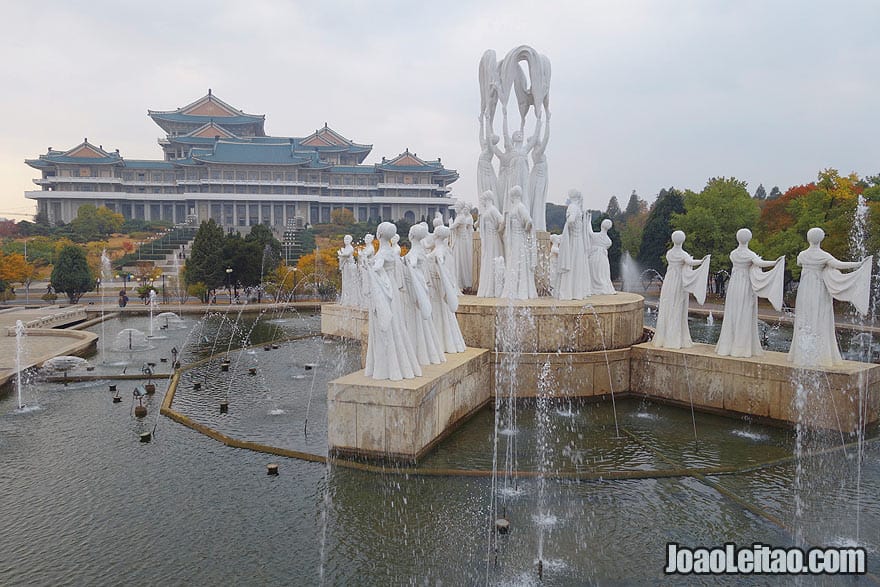 The Mansudae Fountain is dedicated to Kim Il-sung. This fountain is located right in front of the Grand People's Study House in Pyongyang.
---
51. Grand Monuments on Mansu Hill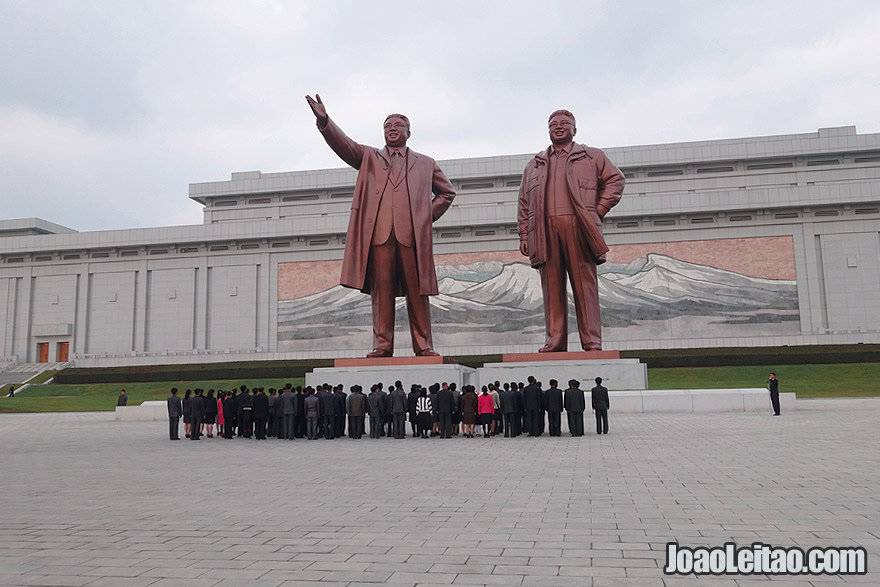 You can buy flowers and respectfully bow before the giant statue of the late leaders Kim Il Sung and his son Kim Jong Il on Mansu Hill.
---
52. South Korean military bases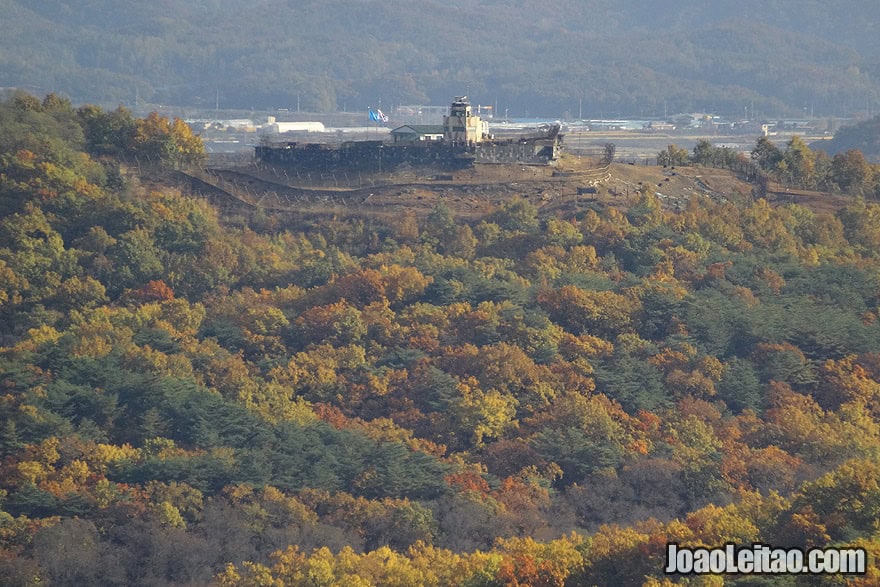 From the DZM you can spot the South Korean military bases and the separation wall.
---
53. Kim Il-sung mural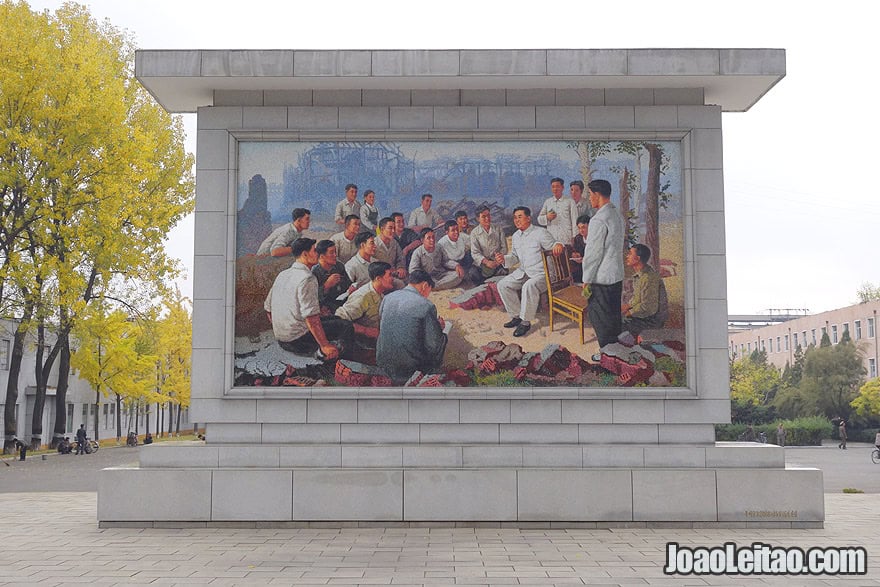 A very beautiful mural in Chollima Steel Factory depicts the DPRK leader Kim Il-sung talking to workers. The actual stone where he sat is still in the same place.
---
54. Juche friendship's wall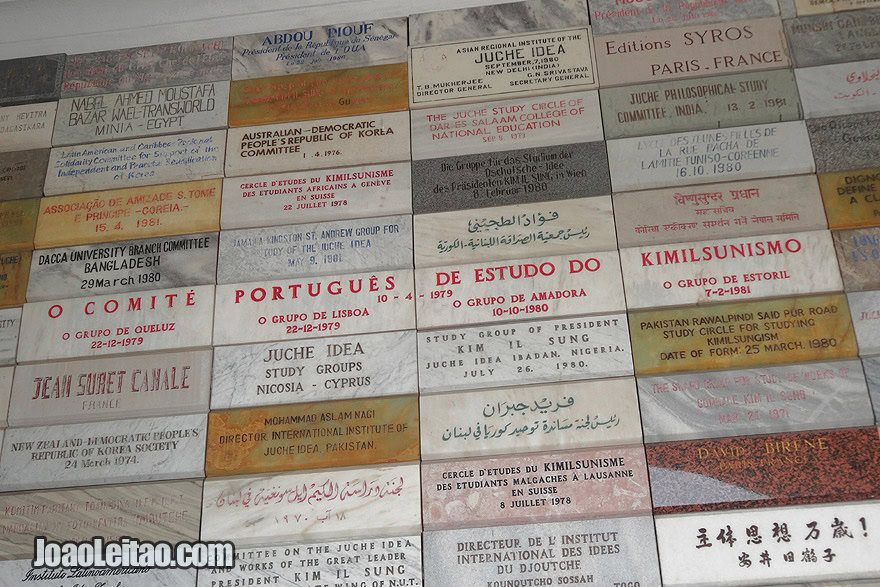 It seems that Portugal is the country that has more commemorative plates on the Juche friendship's wall in the Pyongyang's Juche Tower. You can read "O Comité Português de Estudo do Kimilsunismo".
---
55. Socialist DPRK posters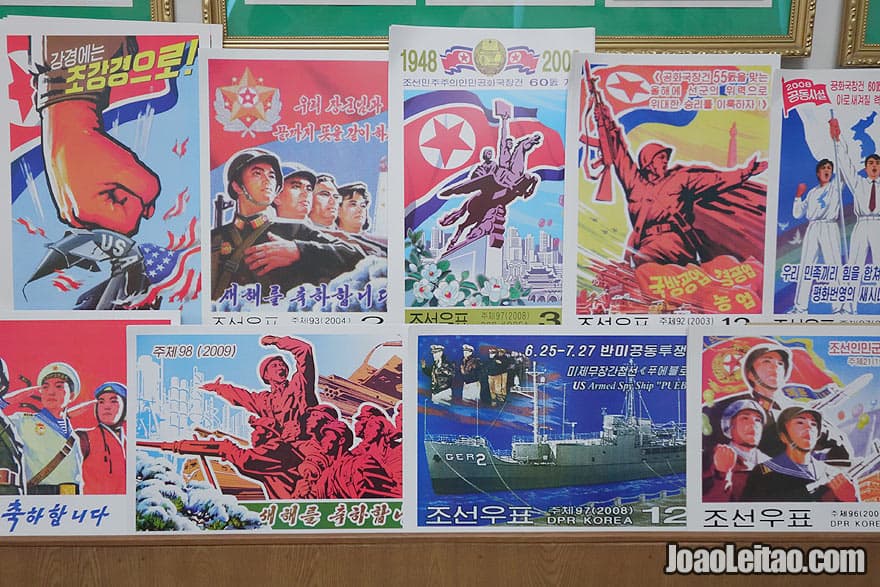 You can buy very nice socialist art posters from the DPRK.
---
56. Chollima Steel Factory Complex in Nampo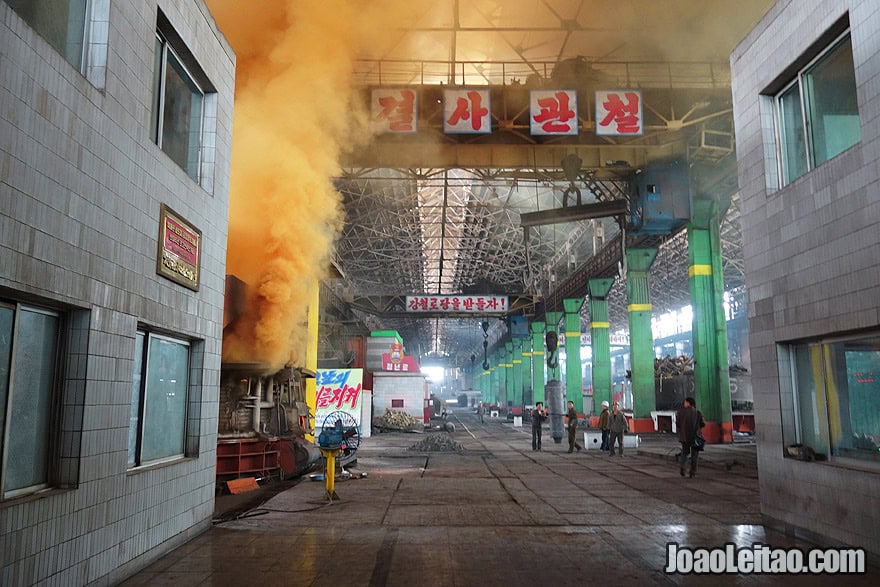 Visiting the Chollima Steel Factory Complex in Nampo city. You can tour around a real steel factory and see how workers handle this hard job.
---
57. Korean Koryo architecture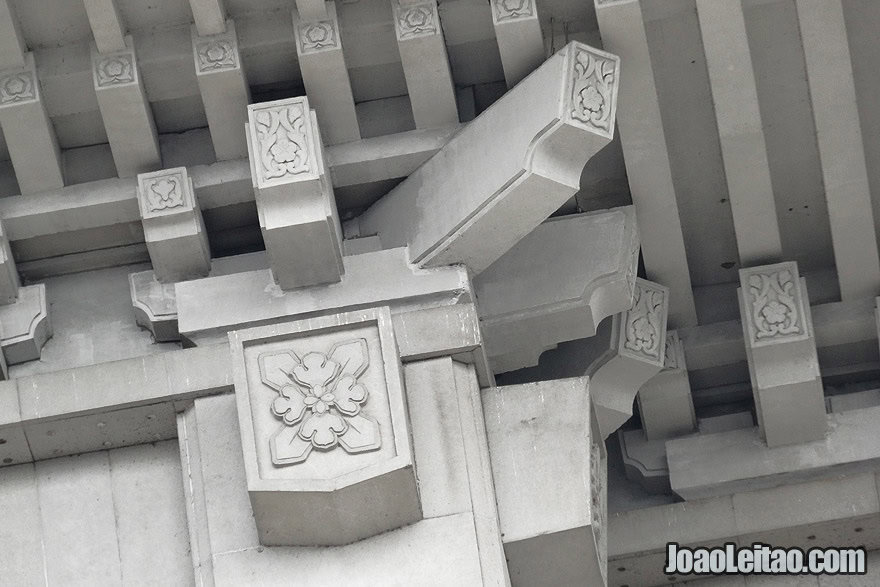 Stylized and sober details in Korean Koryo architecture.
---
58. Korean children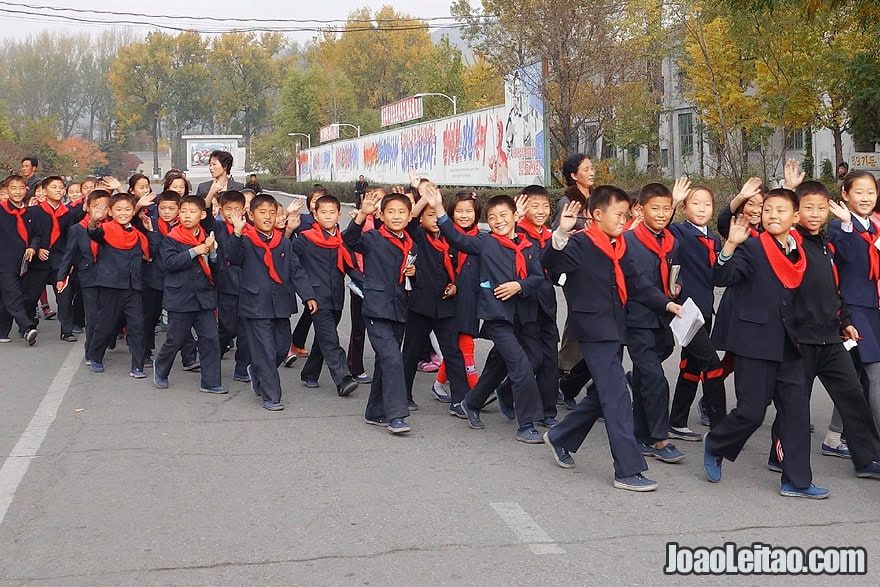 Korean children are so friendly, curious, cute and welcoming.
---
59. North Korean family life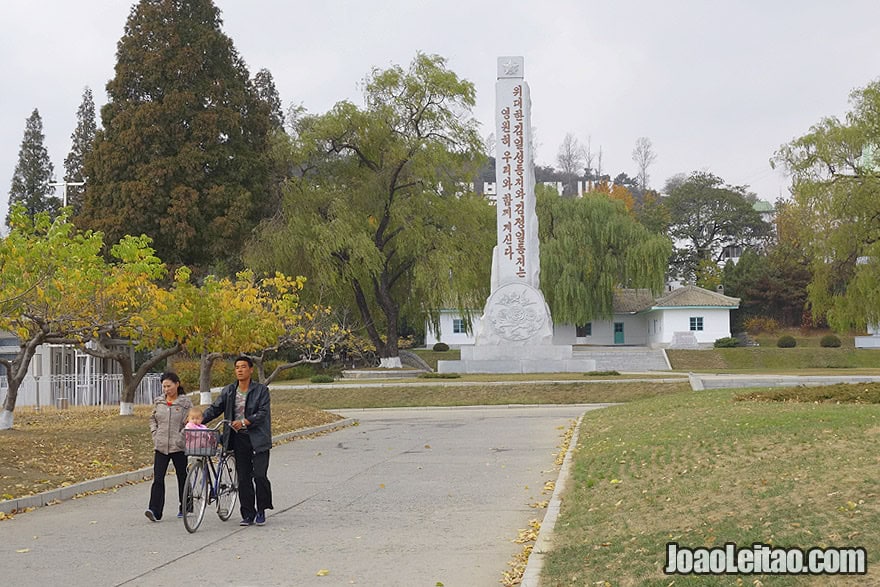 Koreans are very family oriented and from early age they engage themselves in family life.
---
60. Kaeson Youth Park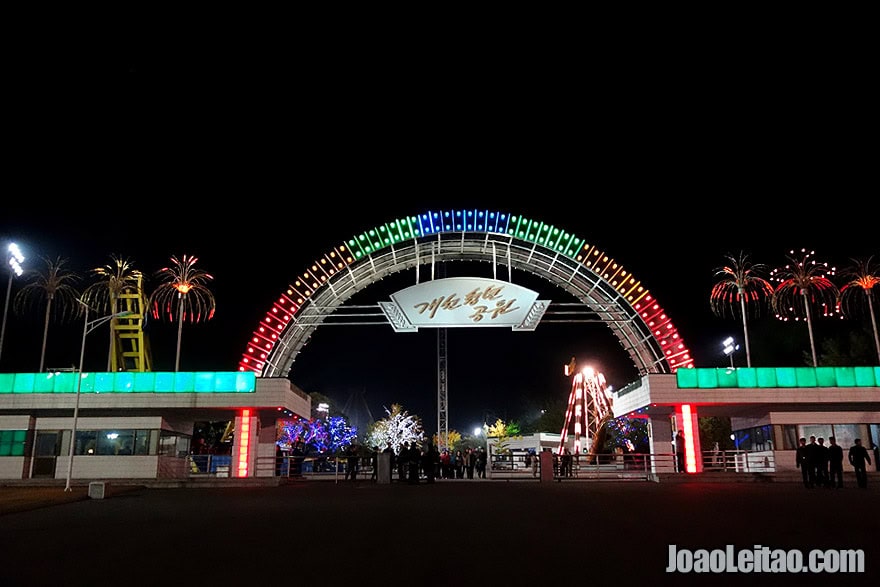 Kaeson Theme Park is located in Moran Hill. Completed in 1984 it has at least 10 different varieties of machines. The Buddhist Temple Ryonghwa is also located in this park.
---
61. Couple walking near the Tower of Juche Idea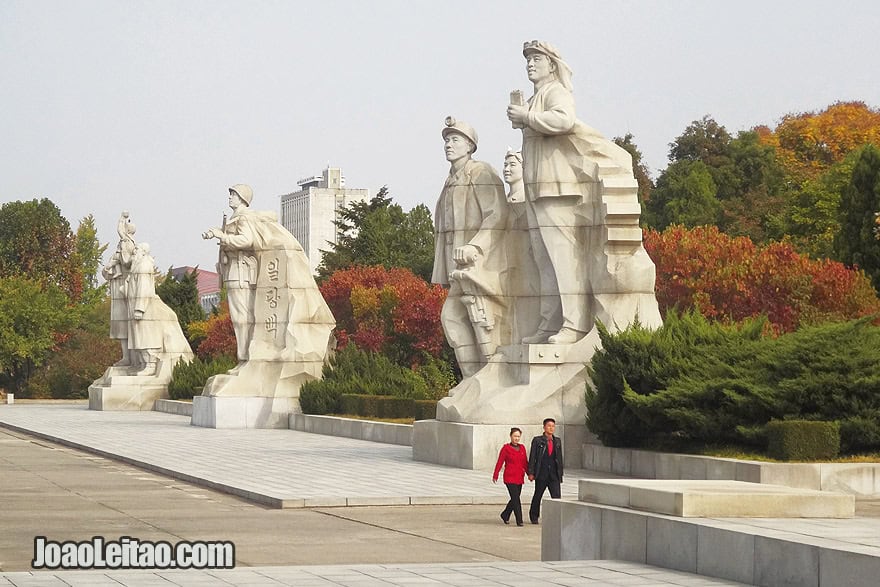 Couple walking in the Tower of Juche Idea complex in Pyongyang.
---
62. Autumn in DPR Korea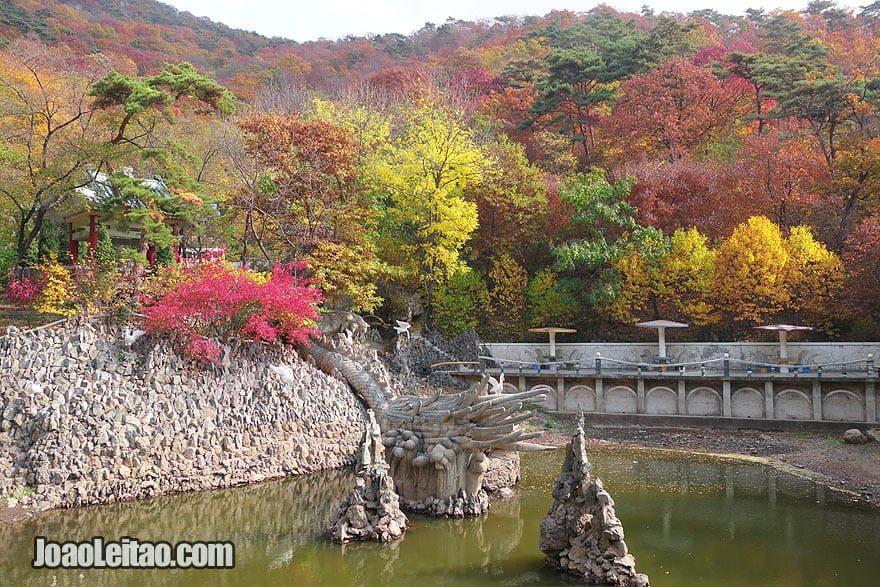 I traveled to DPRK during the beautiful Autumn season when all the trees have amazing different colors.
---
63. Korean people singing and dancing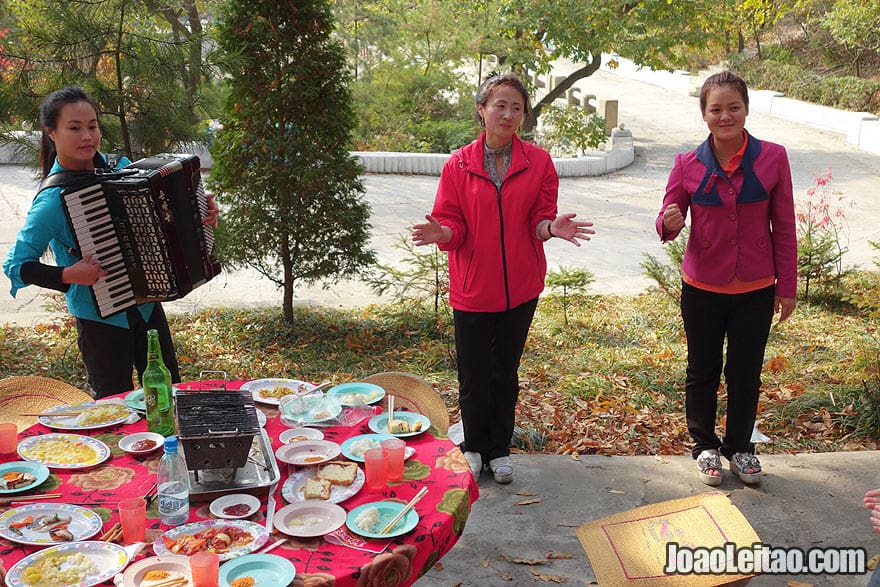 Korean people love to sing and dance. Apart from the national addiction called Karaoke, Korean men and women love to dance, sing and have fun.
---
64. Kim Il Sung native home in Mangyongdae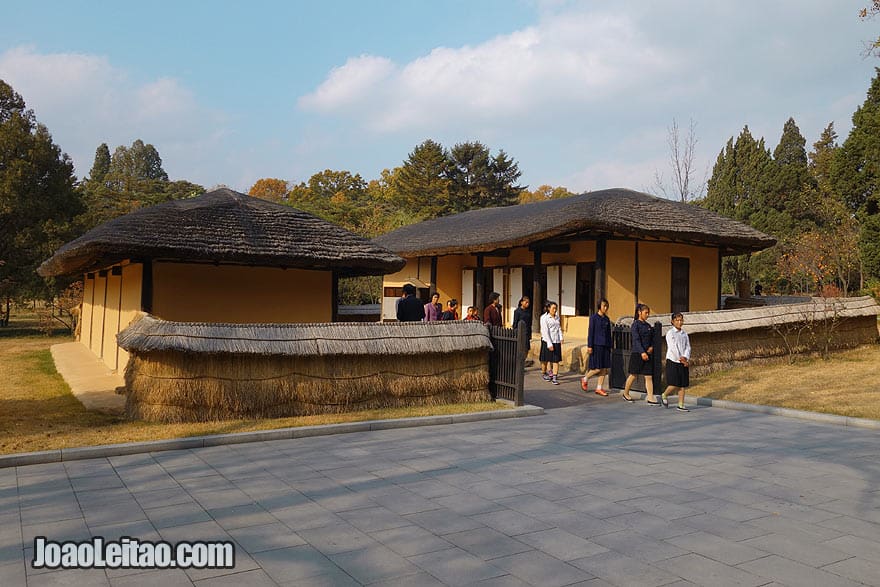 President Kim Il Sung native home in Mangyongdae. The house is made of traditional straw-thatched construction.
---
65. North Korean ice-creams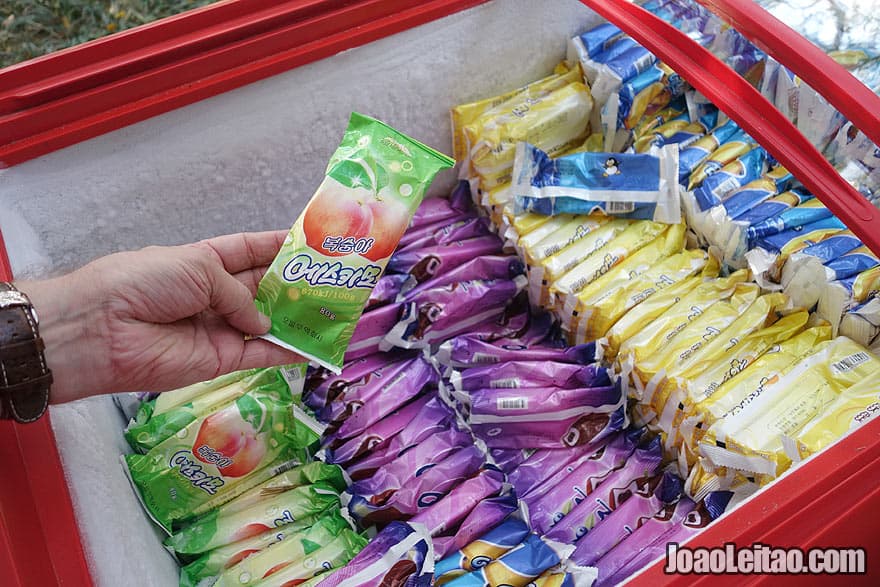 North Koreans love ice creams and you can notice people buying them on a daily basis.
---
66. Snow – Winter mural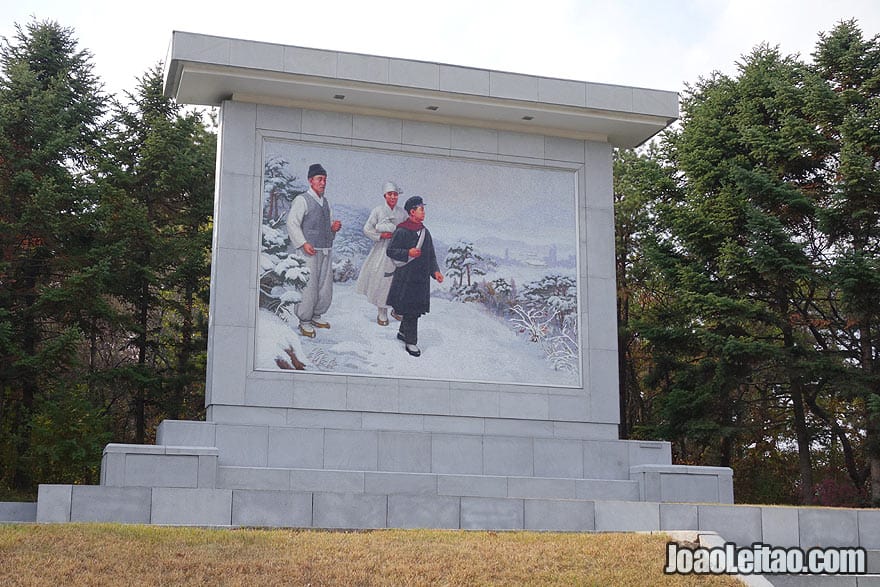 This mural with snow is probably one of the most beautiful I've seen in DPRK. I guess I'm attracted to the contrast of the white snow and the blue coat of the middle figure.
---
67. Inside Pyongyang Train Station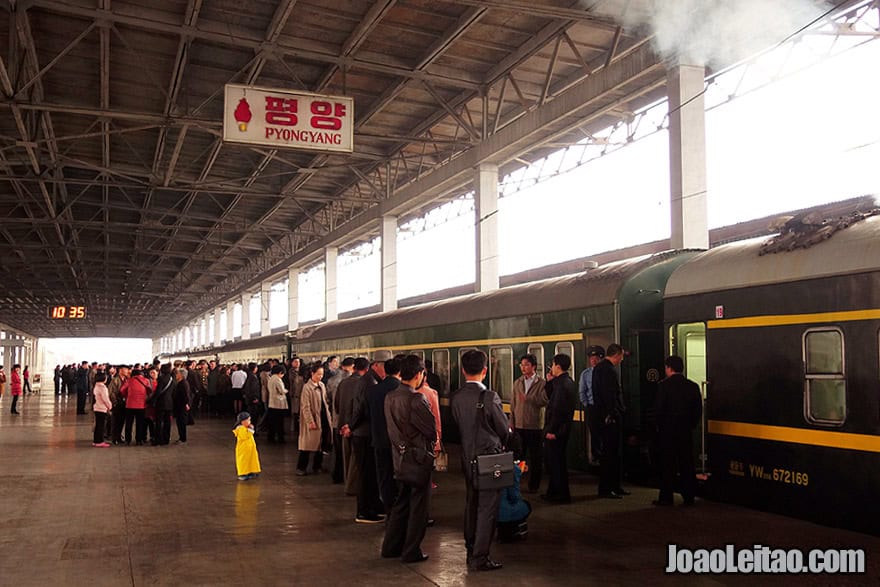 Inside Pyongyang Train Station it is amazing. It seems a trip back in time.
---
68. Sunset in Sariwon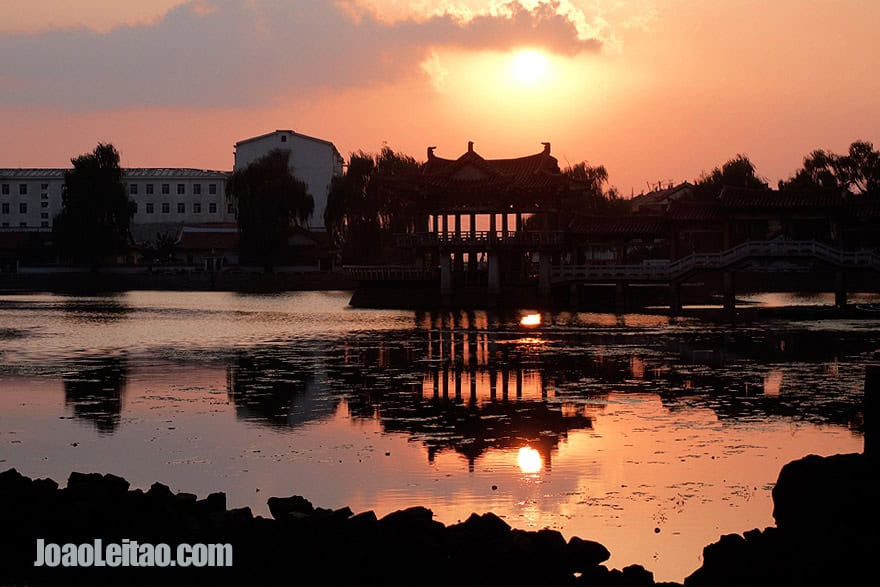 Sunset in Sariwon. Amazing strong red colors with the nice reflex on the lake.
---
69. 1700-year-old Anak Tomb No.3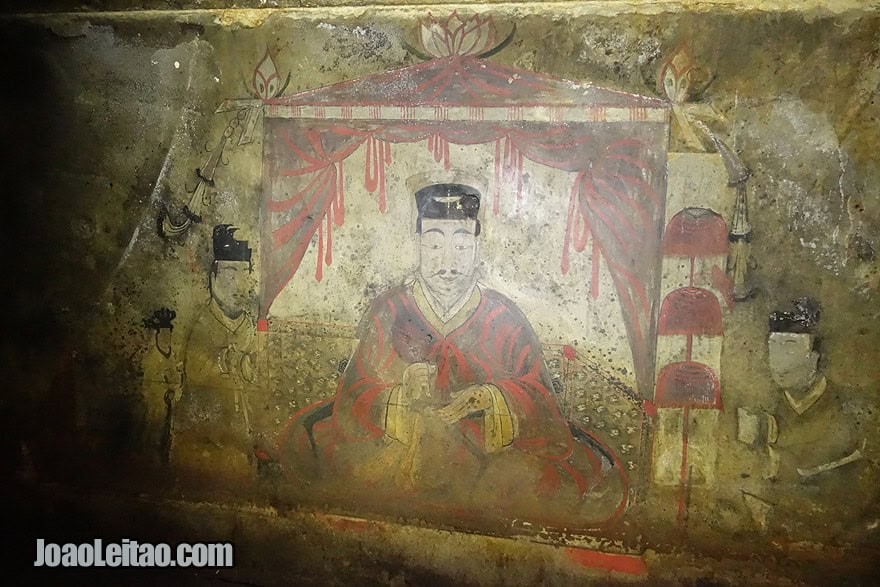 The King Kogukwon's mausoleum often called as the Anak Tomb No.3 has 1700-year-old frescoes. This UNESCO site was one of the highlights of my trip to North Korea.
---
70. Korean food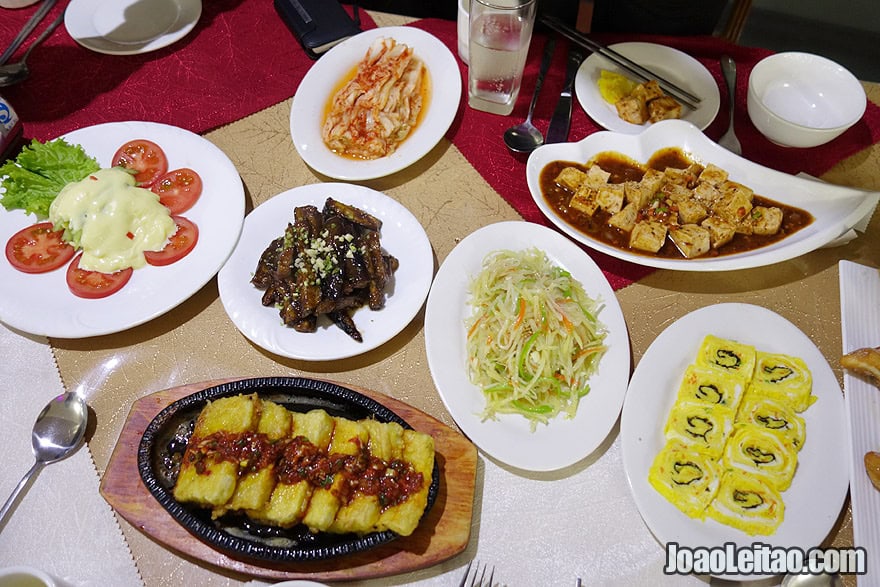 Korean food is quite tasty, healthy and with a great variety of products.
---
71. Samsong Temple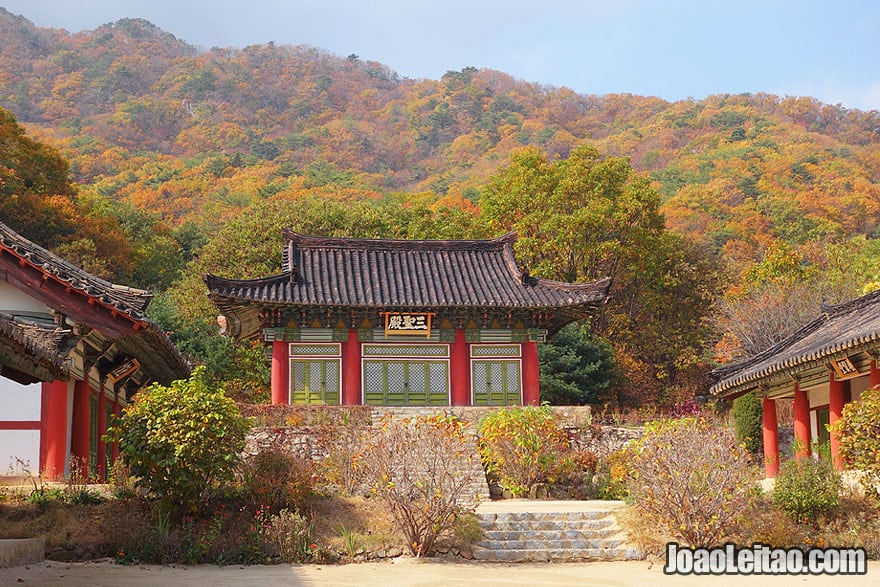 Samsong Temple was built at the end of Koryo dynasty to hold memorial services for Tangun, founder of Gojoseon, the first Korean kingdom.
---
72. Pyeonghwa Motors car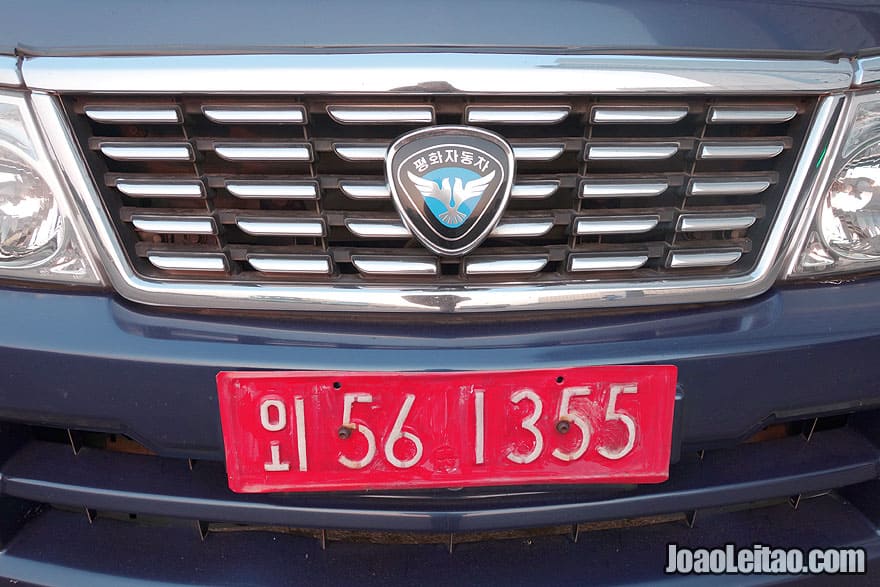 North Korean made Pyeonghwa Motors car.
---
73. Mt. Kuwol Natural Park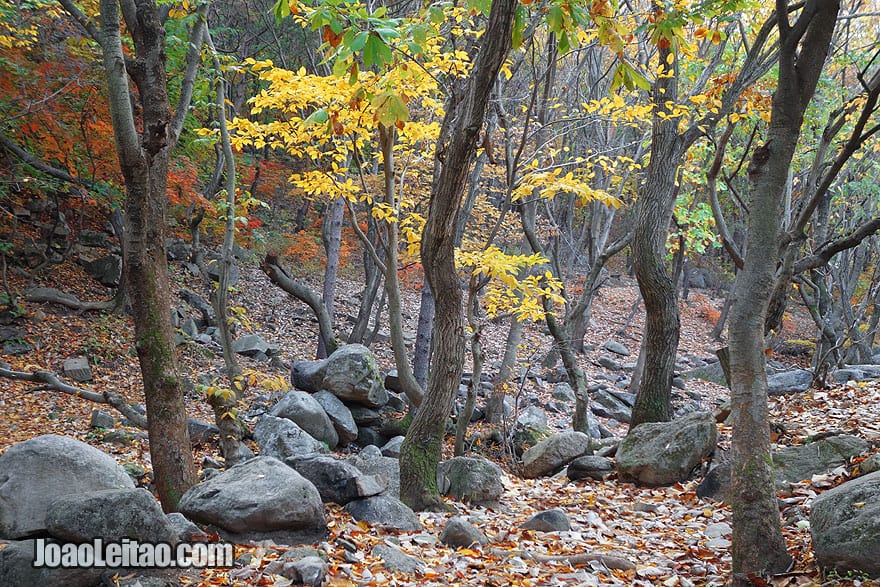 Forest in Mt. Kuwol Natural Park. In addition to an incredible nature of the beautiful Mt. Kuwol Natural Park there are still several Buddhist monasteries and many tombs of kings of ancient Korean dynasties.
---
74. Mt. Kuwol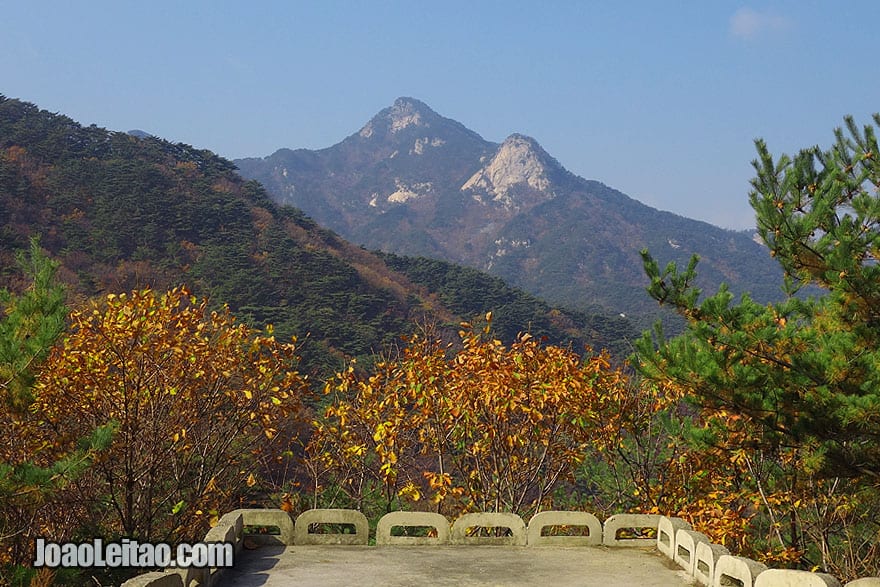 Mt. Kuwol literally means Mt. September because it is particularly beautiful in this month of the year.
---
75. Traditional Korean women dresses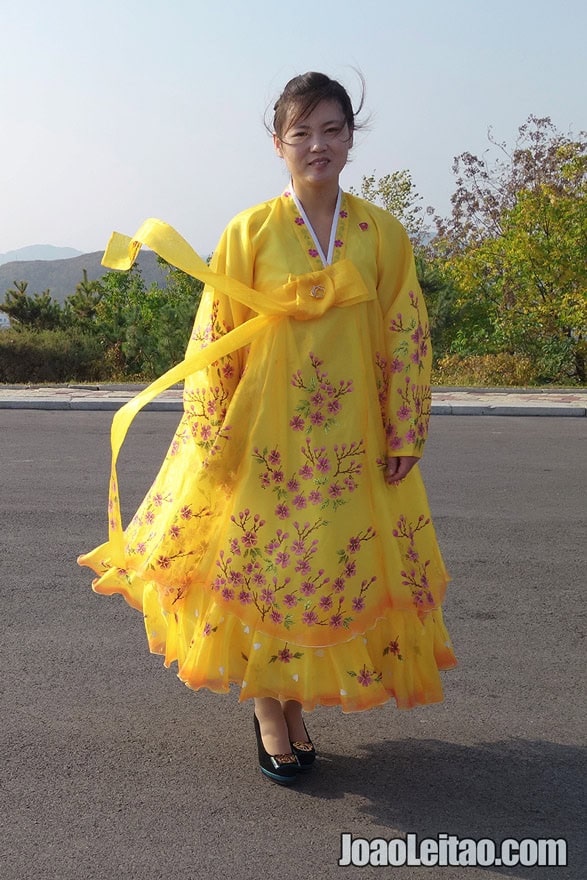 Beautiful yellow traditional Korean dress.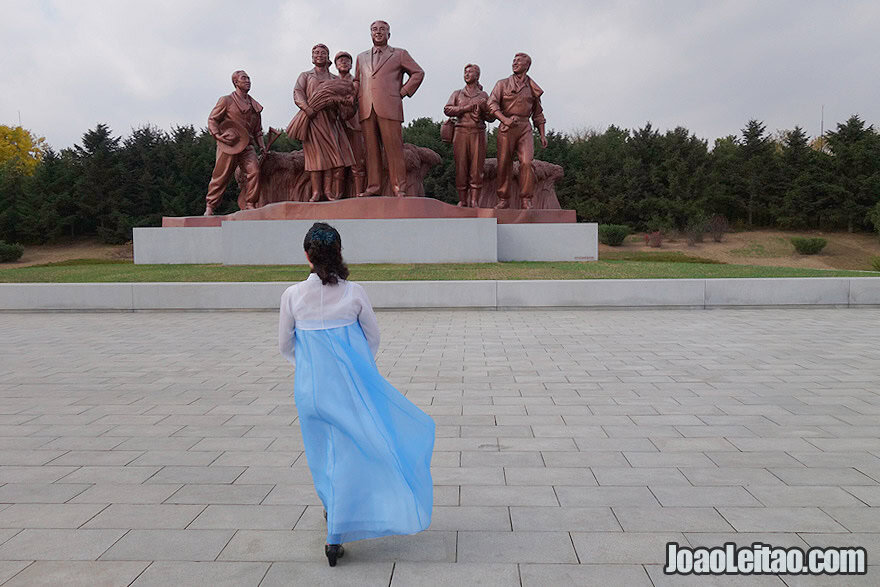 Woman with a traditional Korean blue dress and statues with the past leader Kim Il-sung.
---
76. Woljong Temple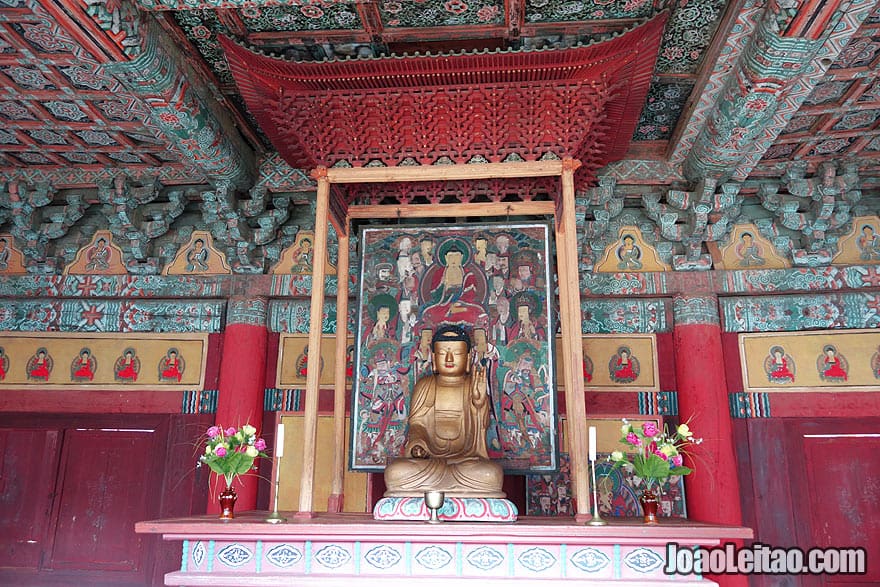 The Woljong Temple is undoubtedly the most impressive Buddhist temple in North Korea. Wooden architecture and murals dating from the ninth century. I had the opportunity to attend a private Buddhist ceremony given by the monk who takes care of the temple. Fascinating place.
---
77. Kim Il-sung Square in Pyongyang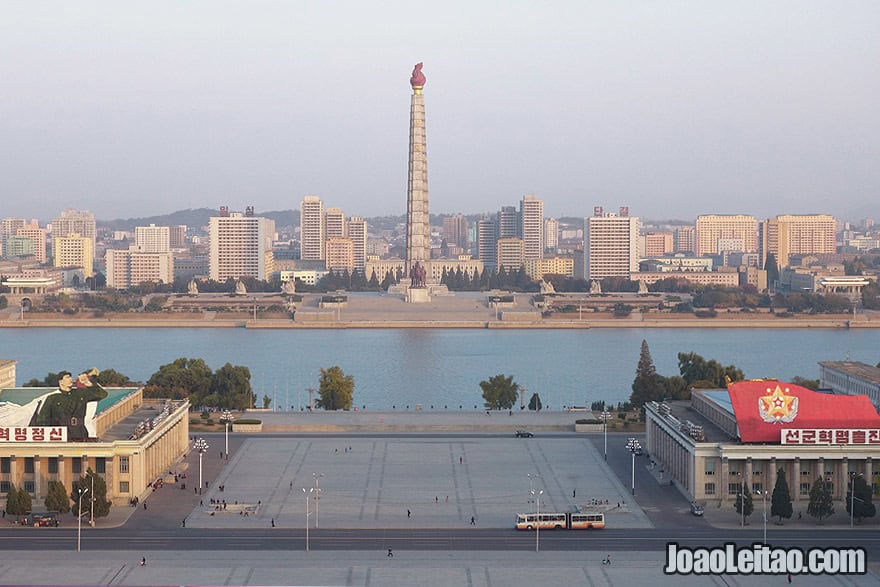 Kim Il-sung Square is the main square of the country where political events, mass demonstrations, important meetings and parades are held on official holidays.
---
78. Pyongyang Metro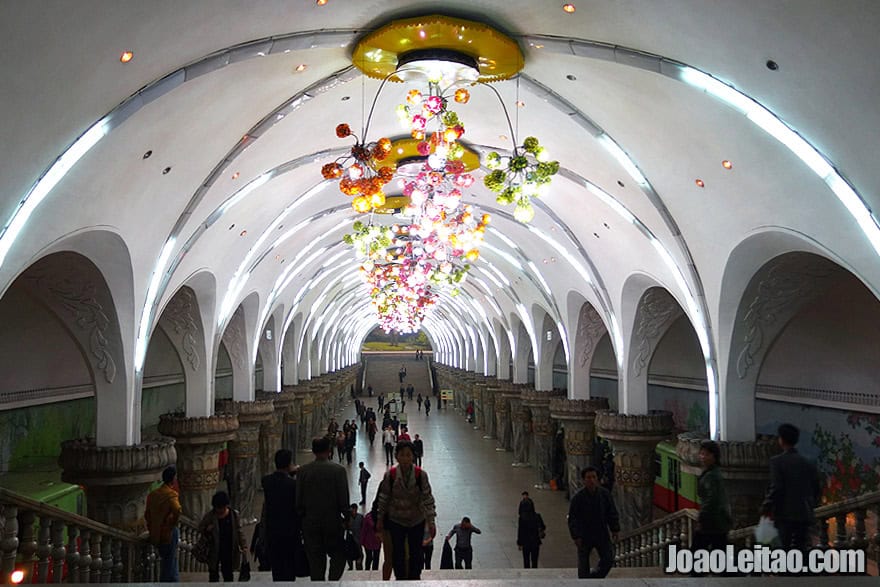 Pyongyang Metro is the deepest subway system in the world, 120 meters / 394 feet below ground and can therefore be used as a shelter in case of armed conflict. Some of the subway stations are breathtaking.
---
79. U.S. ship Pueblo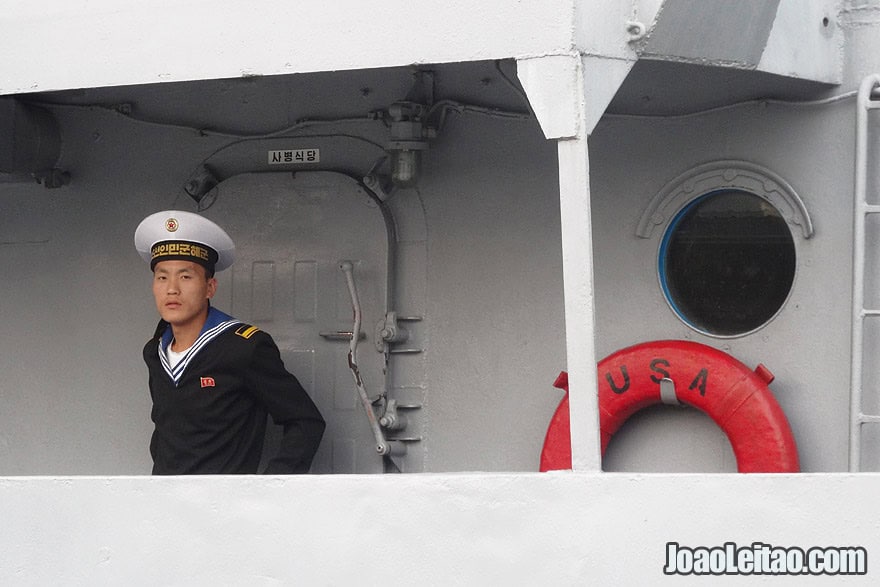 In the Victorious War Museum you can visit the U.S. ship Pueblo, seized by North Korean naval vessels.
---
80. Taedongmun Gate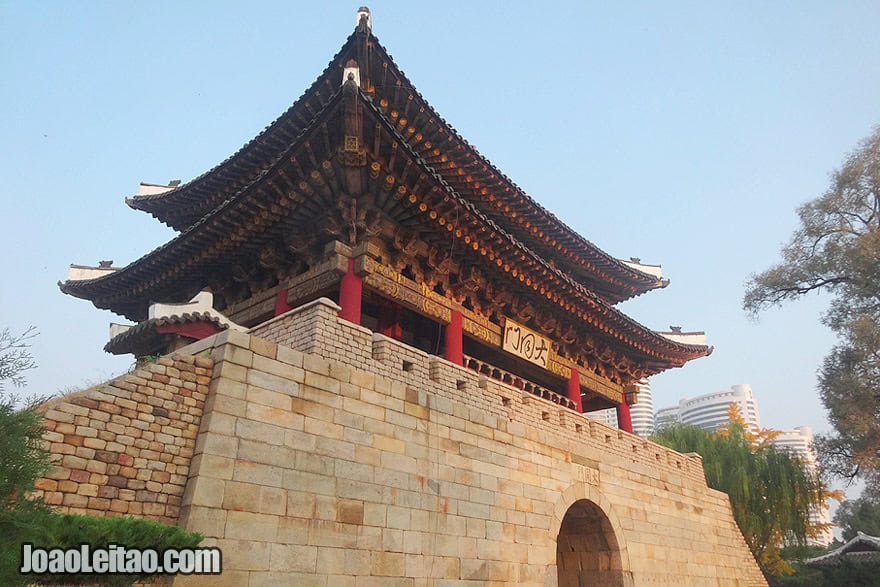 Taedongmun Gate built in mid-6th century was the East gate of the walled city of Pyongyang.
---
81. North Korean war memorials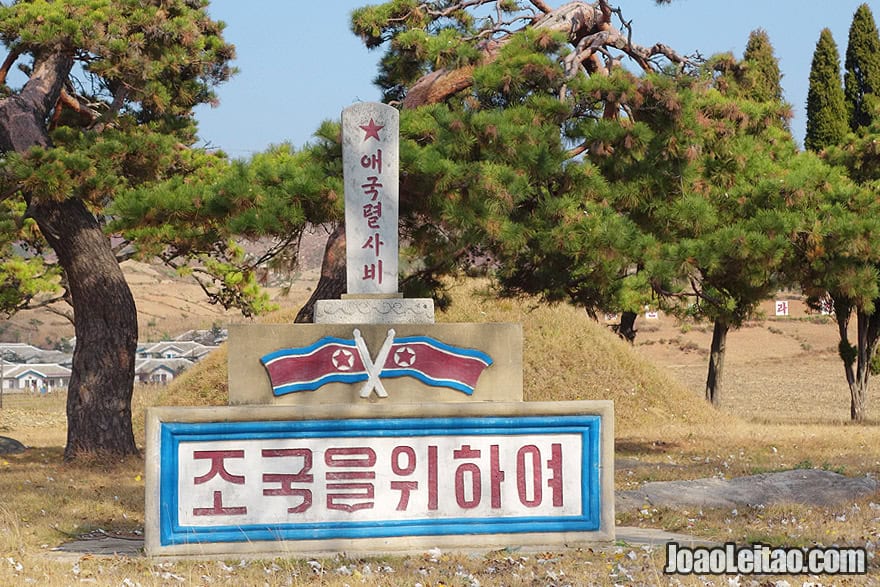 Many war memorials are spread around the rural areas of the DPRK.
---
82. Sariwon City Folk Museum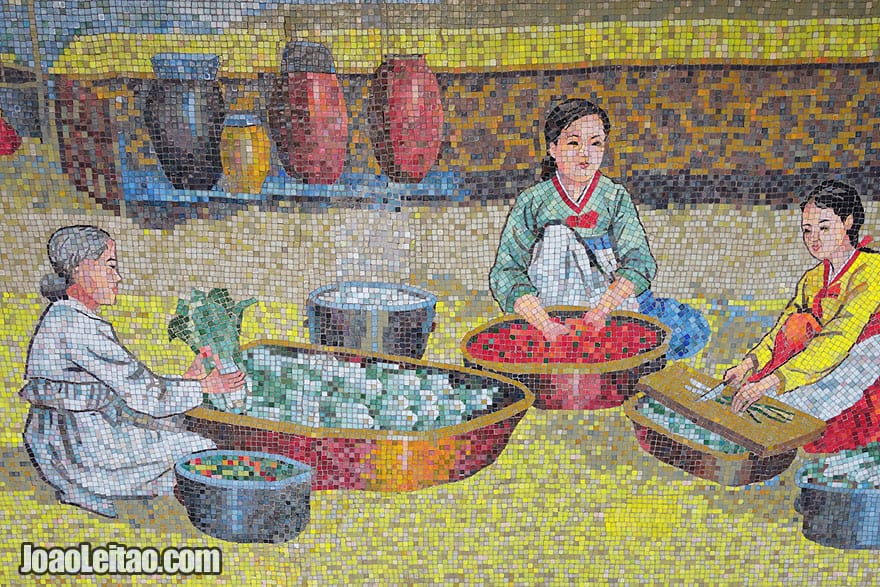 Mosaics depicting Korean traditional life, with women cooking vegetables. This set of mosaics can be found at the Sariwon City Folk Museum.
---
83. Yellow Sea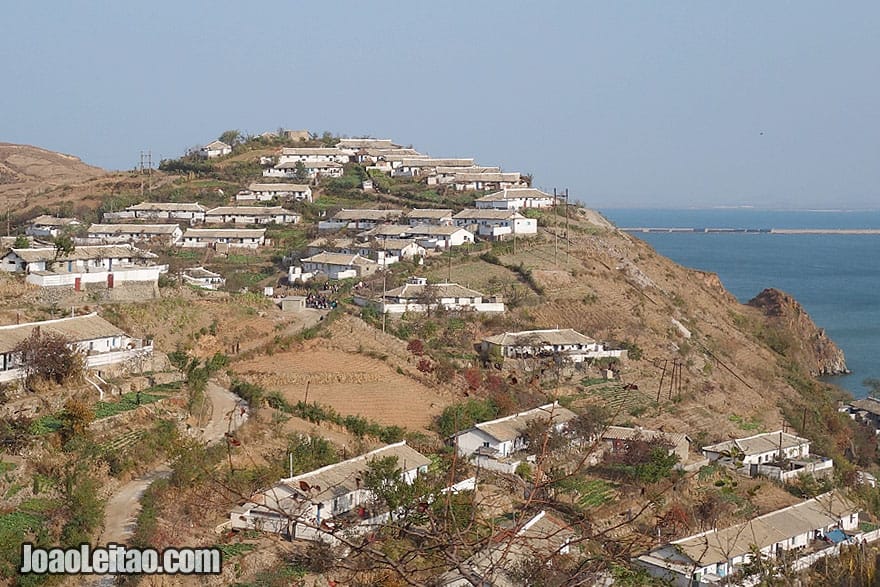 Yellow Sea Village just near the West Sea Barrage.
---
84. Traffic Police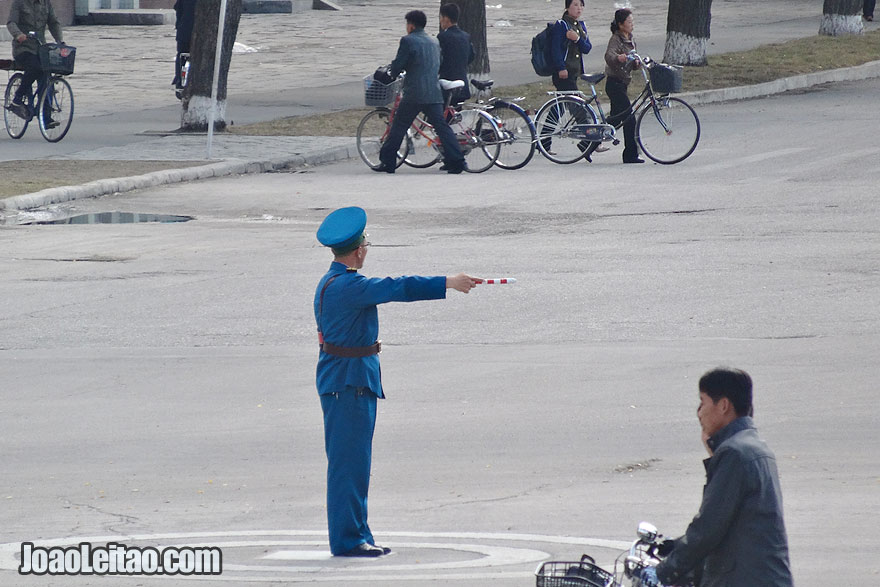 Traffic Police in North Korea are always very active and maintain road order.
---
85. Taking photos with DPRK officials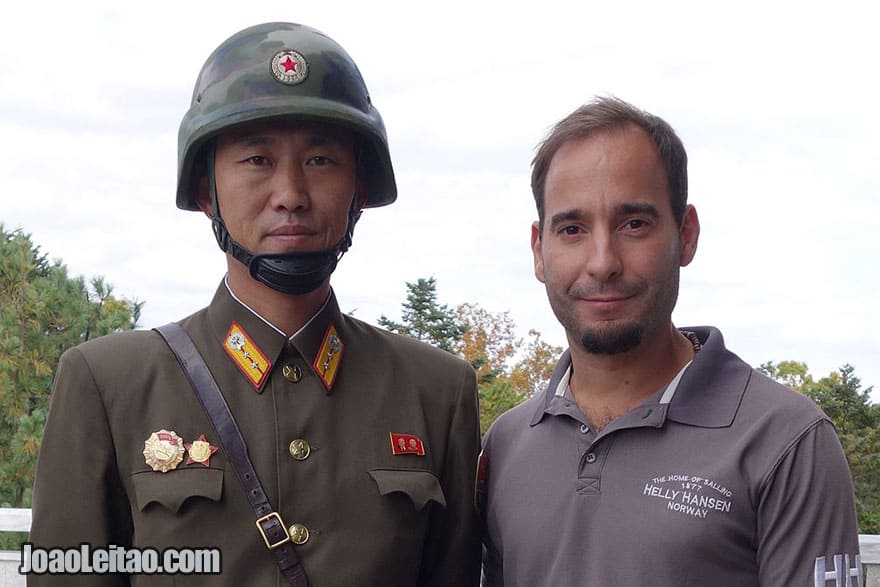 Taking photos with DPRK officials
---
86. Marriage celebrations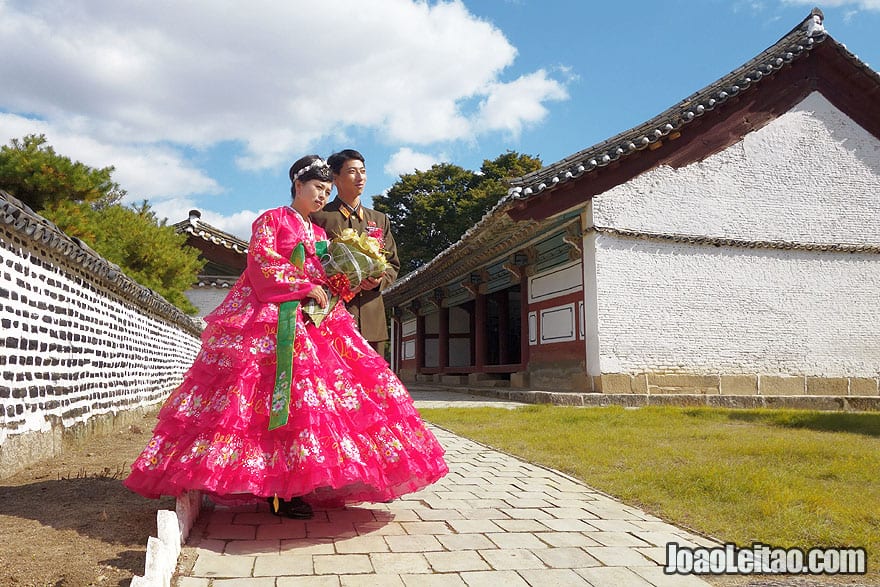 During weekends many couples profit from the good weather to make pics of their most memorable day. Marriage celebration and family photos.
---
87. Train from Pyongyang to Beijing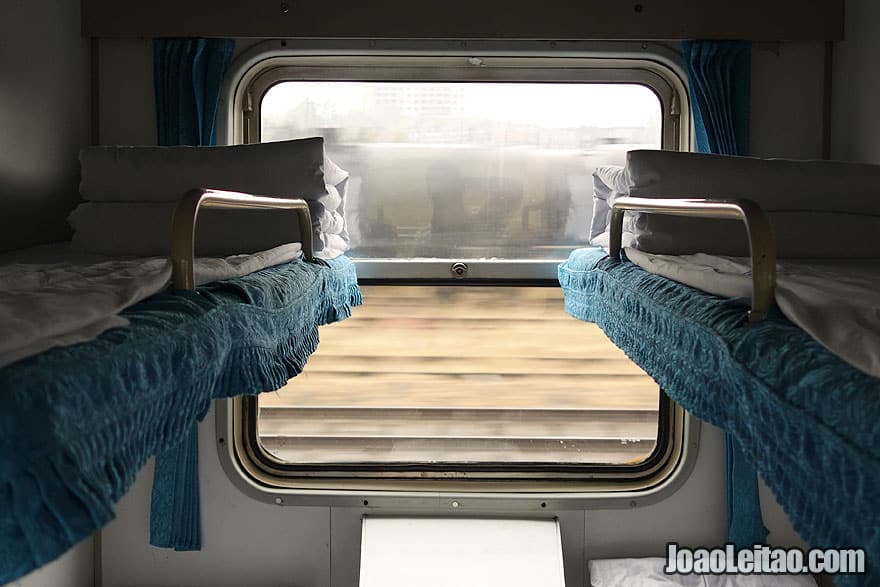 The train from Pyongyang to Beijing takes about a 24-hour journey from the capital of DPRK to the capital of China. The landscape of North Korea is very beautiful and less industrialized than China.
---
88. Korean STOP road sign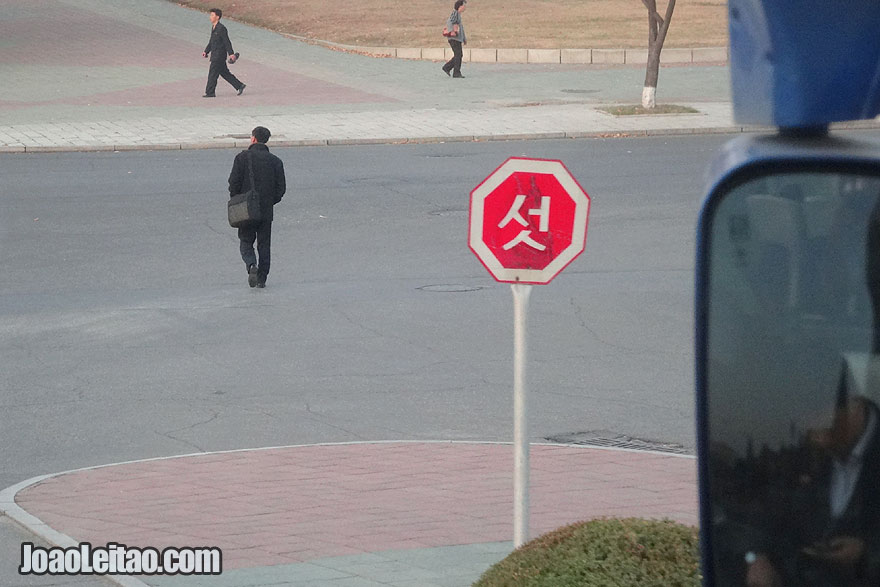 Korean STOP road sign.
Is it possible to travel in North Korea? Yes, the country is open to tourism and many companies do organize guided tours.