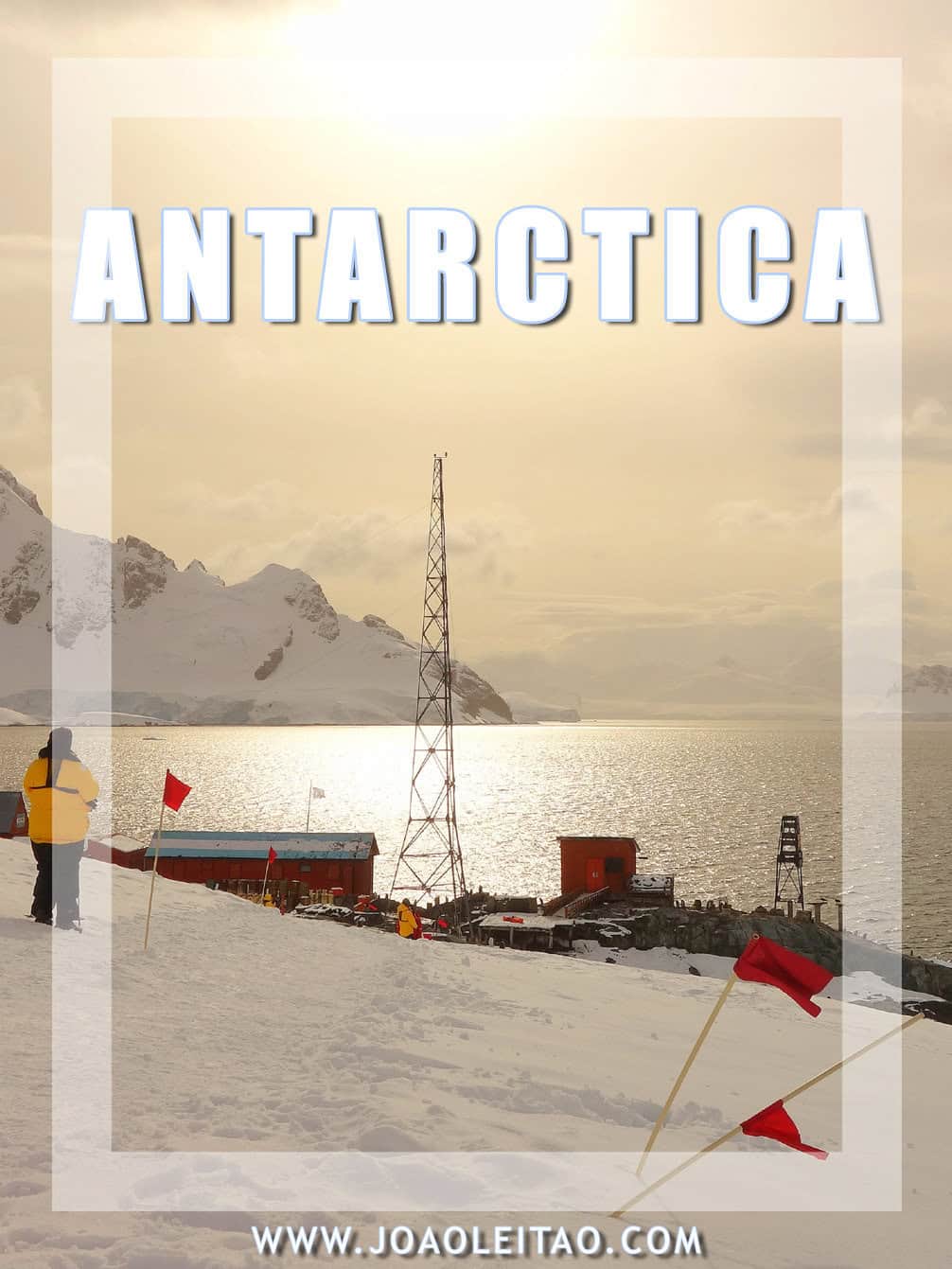 If you visit Antarctica it will be one of your best travel experiences. Antarctica is an astounding travel destination, though most people would love to go there but don't know what experiences are possible within the Antarctic Continent itself. Traveling 15 days in Antarctica gave me an excellent insight into its geography, regional flora and fauna, and its history. On this page, is a list of Antarctica's Best Destinations. You can also check my other page about What To Do In Antarctica.
---
Places to Visit in Antarctica
---
Cross the Drake Passage
---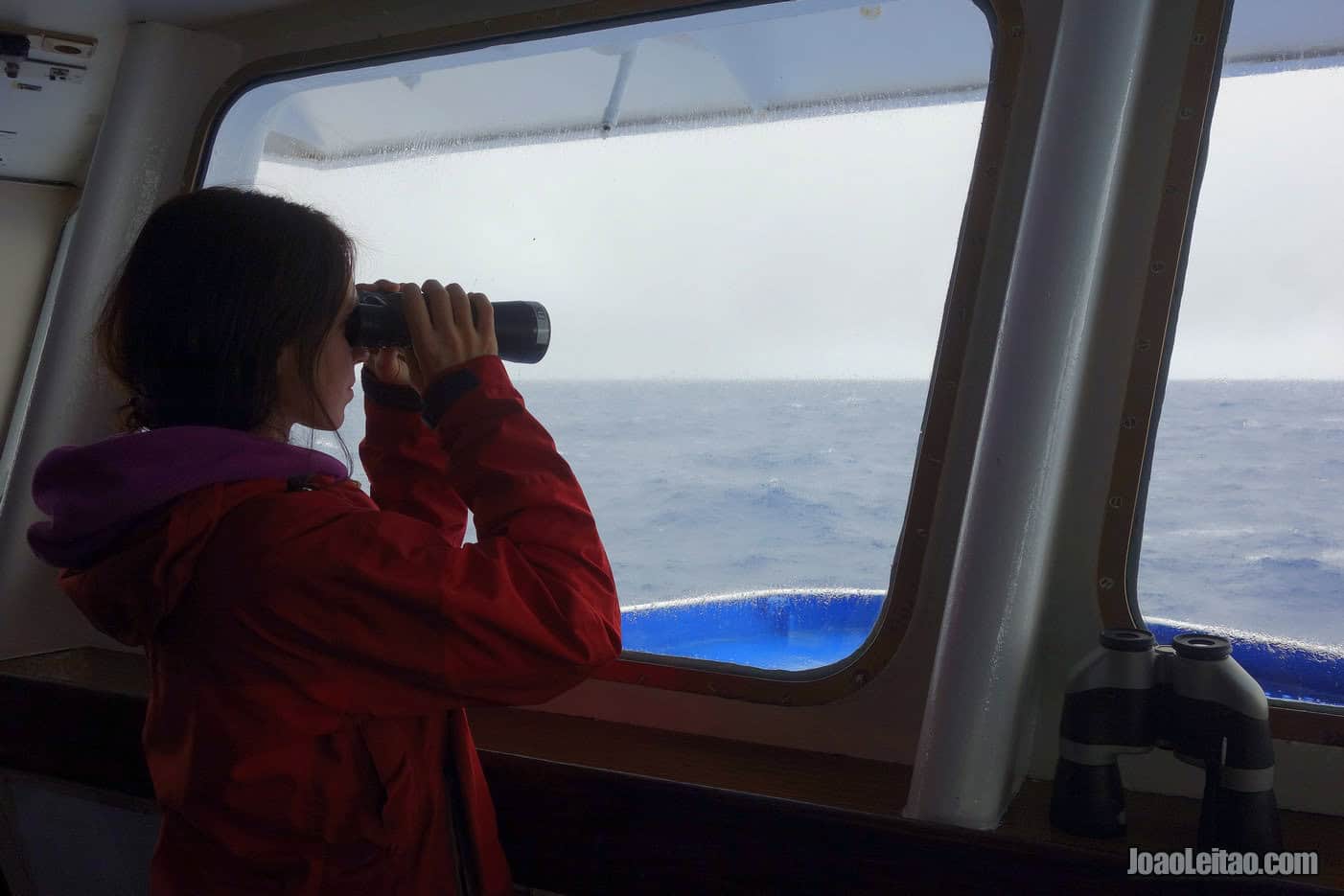 The Drake Passage, part of the Southern Ocean that separates South America from Antarctica, is infamous for bearing the worst weather conditions of the maritime world. Often susceptible to 10 meters / 32-foot waves, traversing the Passage will require two days of your journey.
This is the name of the vast ocean that separates South America from the edge of Antarctica. If you're traveling only by sea, you'll have to travel here. It typically takes two to three days to cross. The sea is frequently rough here, with frequent 10-meter high waves. Many sailors say the Drake Passage is the most turbulent sea in the whole world.
If the idea of facing this part of the trip scares you, contemplate flying directly to Antarctica and boarding the ship from there. Of course, it will be more expensive but will allow you to avoid an uncomfortable trip and save time.
---
Cross the Antarctic Circle
---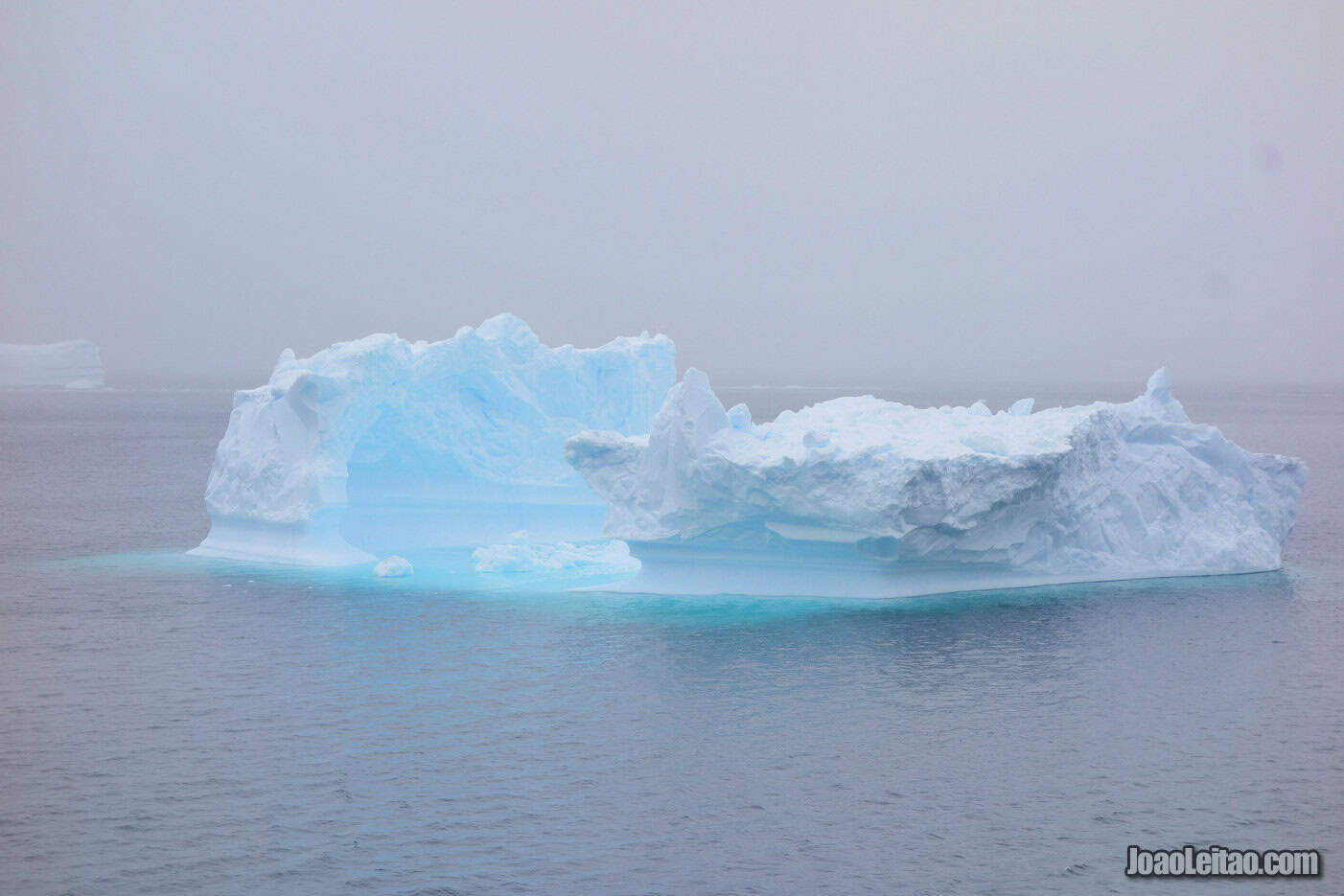 The Antarctic Circle is the imaginary line commencing at 66° South latitude, where the Antarctic continent begins and sun-seekers can enjoy solar splendor for 24 hours, once per year.
If you see a mention to a crossing the circle trip and you don't know what's it about, it means that the Antarctica Cruise Ship includes a trip to cross the Polar Circle, much further south from where most commercial cruises to Antarctica will reach.
---
Horseshoe Island
---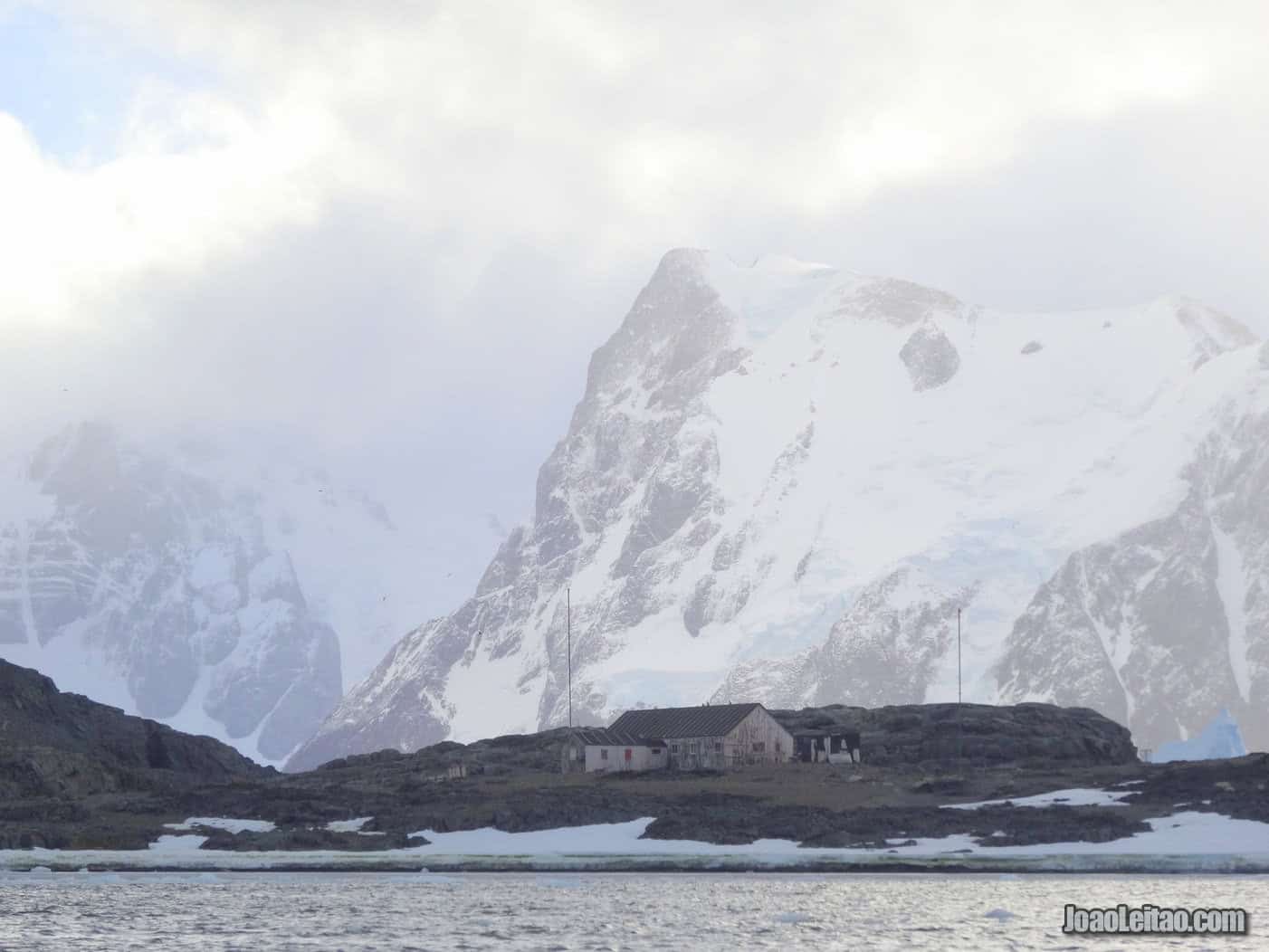 Horseshoe Island is located south of the Antarctic Circle, at 67 ° 51'S 67 ° 12'W. The island has an English base called Base Y, or Horseshoe Base, which has been inoperable since 1950. Horseshoe Island provides a habitat for a multitude of species including Adélie penguins, Leopard seals, Antarctic fur seals, Sea lions and Crabeater seals.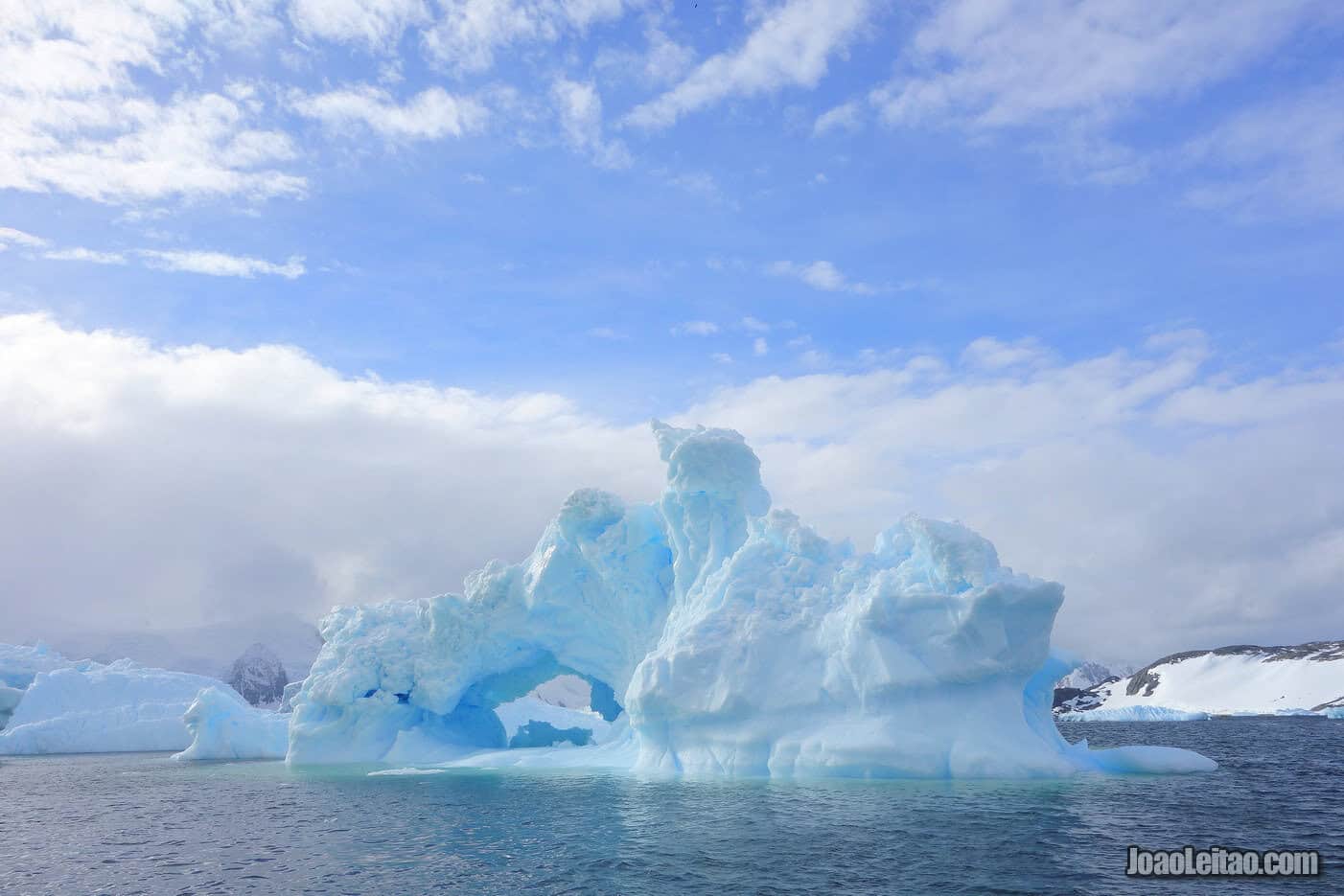 John Rymill first spotted Horseshoe Island between 1936 and 1937. It's about 12 km long and 6 km wide, located slightly below the Antarctic Polar Circle. It's a great place to see local wildlife, such as Adélie penguins, leopard seals, crabeater seals, and sea lions.
Station Y, an English scientific base, was built on the island in 1955 and abandoned in 1960, although they keep maintaining it in case they need to reactivate it. Several geological and meteorological studies took place at the base when it was active, as well as topographical surveys that required field trips that could last for months. Scientists had to travel to remote locations, hundreds of kilometers away, at a time when they could only travel on dog sleds.
The station has been a Historic Site or Monument in Antarctica (HSM 63) since 1995. Sally Cove is the recommended spot for disembarking on the island, south of the shelter near the old base.
null
---
Adelaide Island
---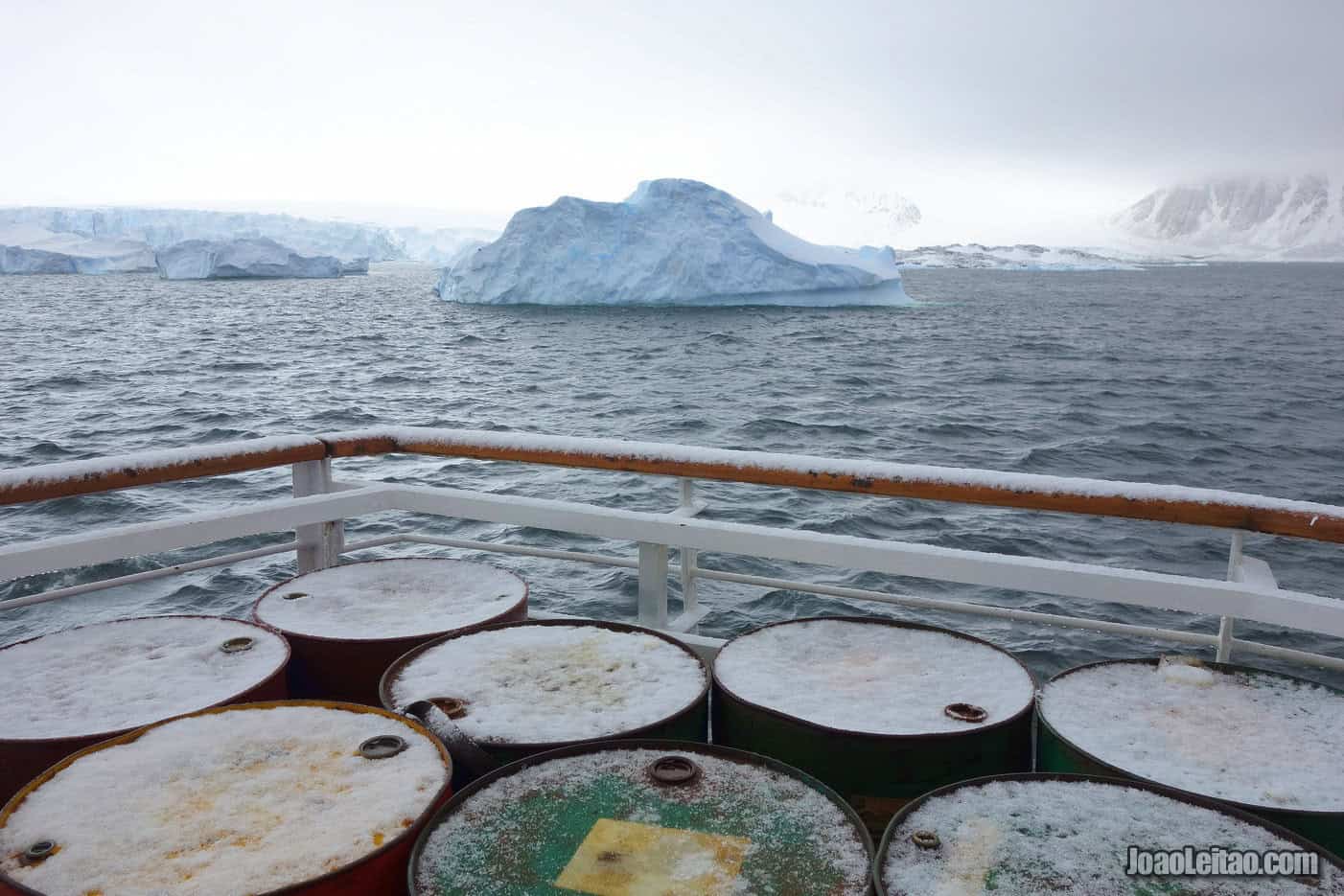 Adelaide Island, north of Marguerite Bay (or Margaret Bay) is 120 km long and was discovered by Biscoe's expedition in 1832. It was revisited later by Jean-Baptiste Charcot, who named the island. The origin of the name, though, is not entirely clear. It's either a reference to the Adélie penguins that live there or a tribute to the Queen of England at the time.
Only the cruise ships crossing the Antarctic Polar Circle will reach this island, where travelers can visit two polar stations: Station T (closed in 1976), and the most recent one, Rothera Research Station, inhabited all year long although in the winter there's never more than 20 people living there. That station was built in 1975, and a landing strip was added later, turning the island into a logistics facility for the area. null
---
Stonington Island
---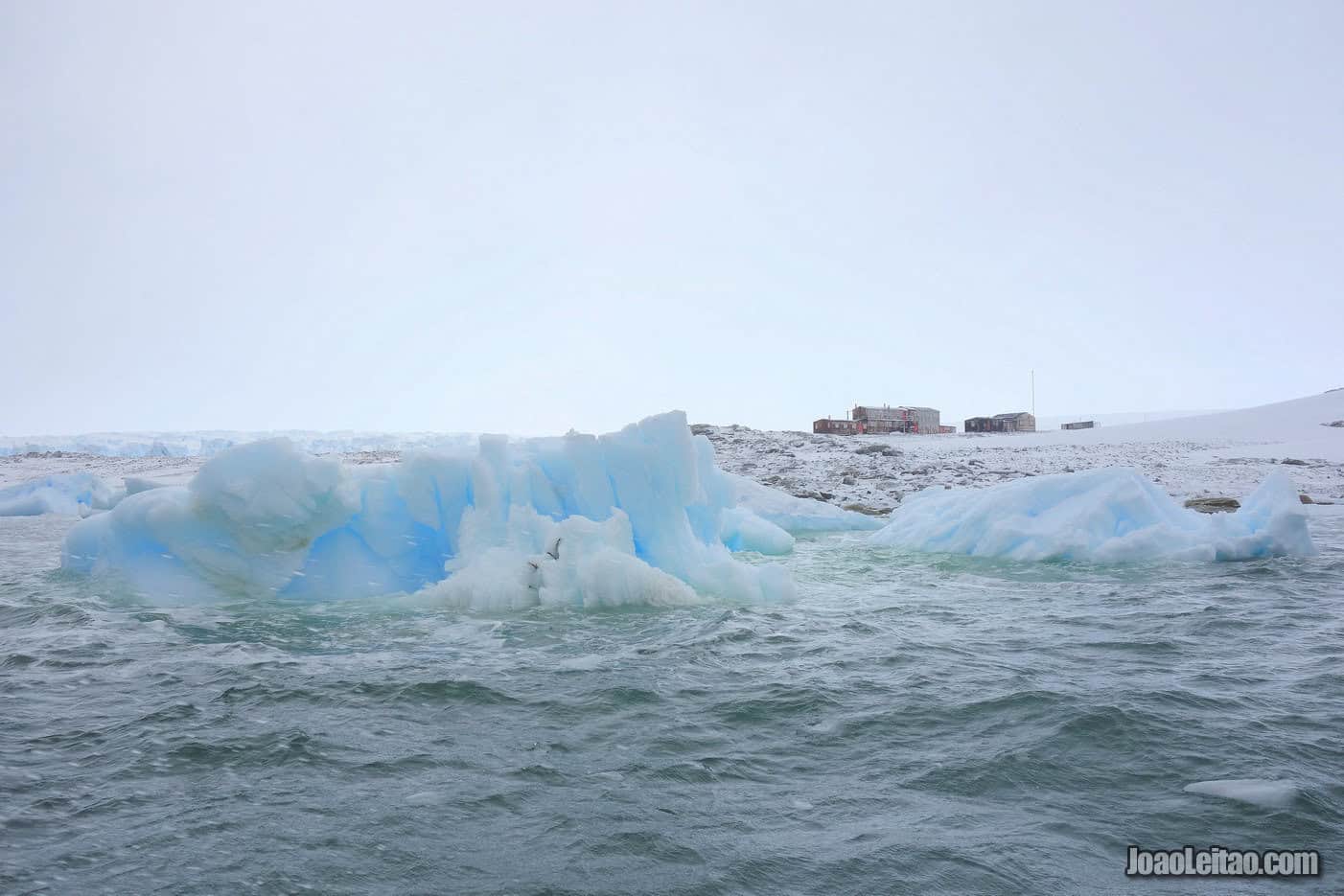 Also located below the Antarctic Polar Circle, it's not too far from Horseshoe Island. The island has two scientific stations, one American and one British.
Stonington Island is located in Marguerite Bay, below the Antarctic Circle at 68 ° 11'S 67 ° 00'W. The island has two bases, an American base called East Base and a British base called Base E. Both bases were operational in the 1940s. On Stonington Island, there are also large colonies of South Polar skuas, Adélie penguins, Antarctic Terns and Imperial Shags.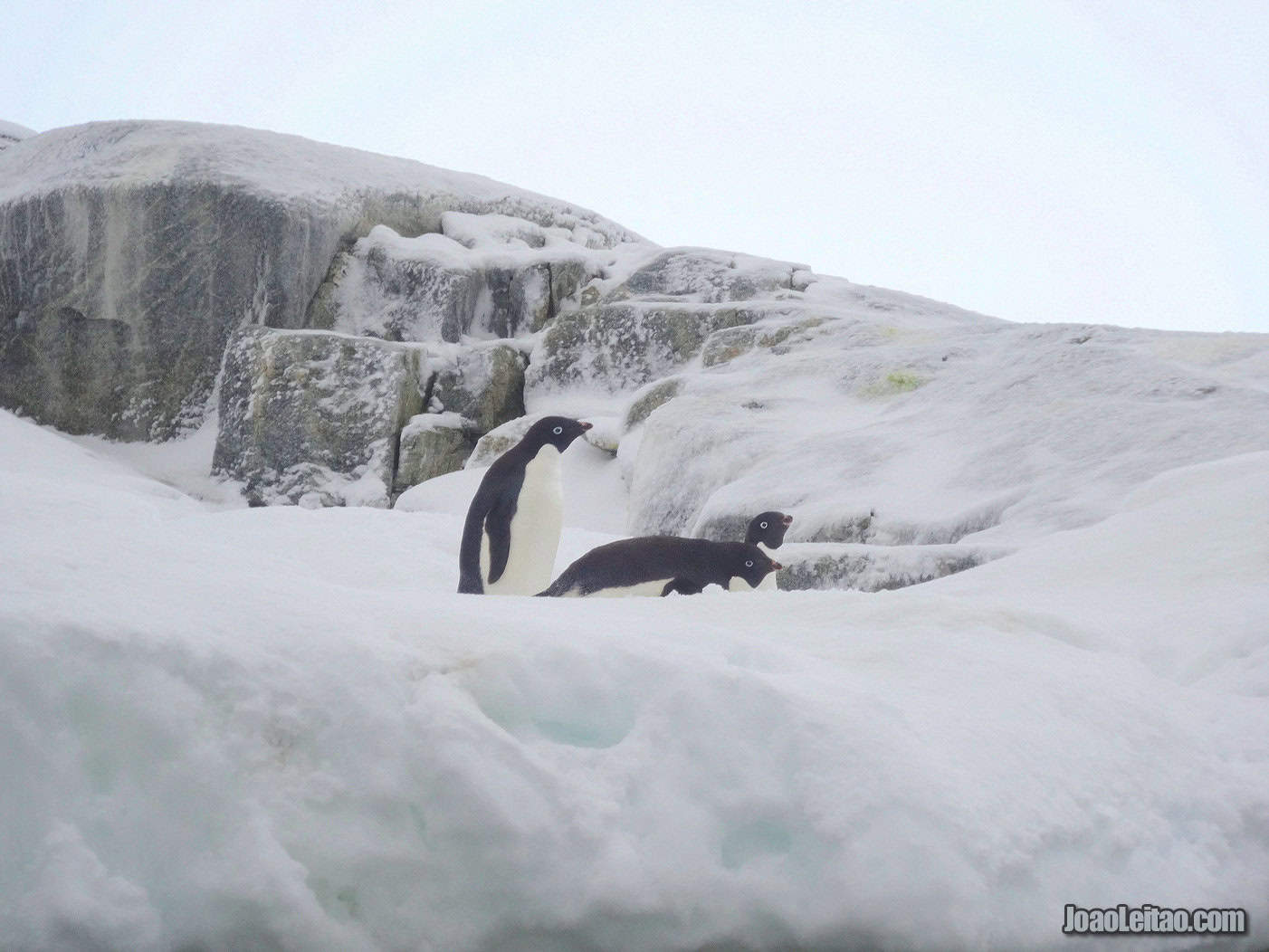 East Base was built on Stonington Island in 1939 by US Antarctic Service Expedition, and it was one of the first American bases on Antarctica. It was abandoned shortly after and reactivated between 1947 and 1948 by American Finn Ronne Antarctic Expedition. It's now completely ruined but with some unexpected attractions for those who manage to reach there, like the tombs of Thomas Allan and John Noe who died in 1960 when they were outside the station. Supposedly, you're only allowed in the main building.
The British base built in 1946 was named Station E. It closed in 1950 due to difficulties in bringing supplies by boat and in contacting the outside world. It reopened between 1960 and 1975. Its best times were from 1948 to 1949 when it was under the command of Sir Vivian Fuchs, a remarkable polar explorer.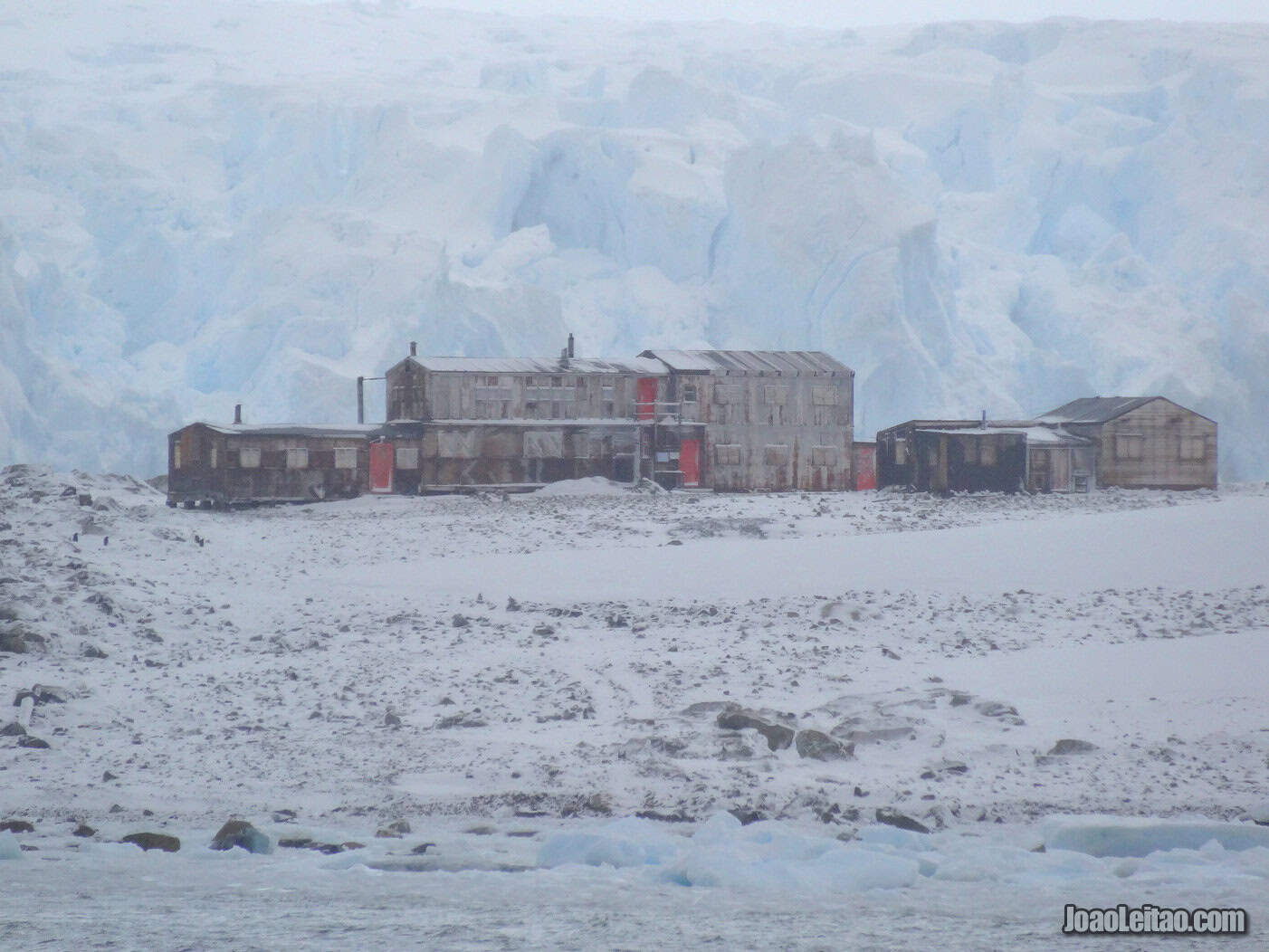 Scientists based here traveled hundreds of kilometers to map Antarctica and provide the first real image of the frozen continent. Today, you can only visit part of the facilities, the main building, and the generator room.
It's been a Historic Site or Monument in Antarctica since 1995 (HSM 64), run by the Antarctic Heritage Trust.
Rich in wildlife, the island is an excellent place for birdwatching, specifically to see the South Polar skua, the Antarctic tern, and the imperial shag. You can also spot some Adélie penguins here.
Fishtrap Cove is the recommended spot to get off the ship, south of both bases.
Antarctic Heritage Trust official website
---
Detaille Island
---
It's a small island located on the west part of the Arrowsmith Peninsula. It's reasonably sheltered from bad weather, but the large quantity of floating ice makes it difficult for ships to get closer. Chances of visiting this island are dim and only the cruise ships crossing the Antarctic polar line might be able to reach here.
If you do reach, you'll have a great time seeing the resident colony of Adélie penguins and exploring the former British polar base Station W. Although it looks as if it's been active until recently, it was abandoned in 1959 because it was challenging to have supplies reach there by sea.
At the time, the team stationed here left in a hurry pressured by the lack of supplies and by the feeling that if they didn't go then, they might be stuck there forever. They crossed the 50 km of ice between them and the ship, leaving most of their stuff behind. Visiting these facilities is like traveling back in time.
You can see the old kitchen, canned food, scientific supplies, books, clothes. The old station is currently managed by the United Kingdom Antarctic Heritage Trust and has been a Historic Site and Monument (HSM 83) since 2009.
About 1,000 Adélie penguin couples live on the island, although you won't be allowed near them. You can, however, observe the penguins from a safe distance.
---
Port Lockroy in Goudier Island
---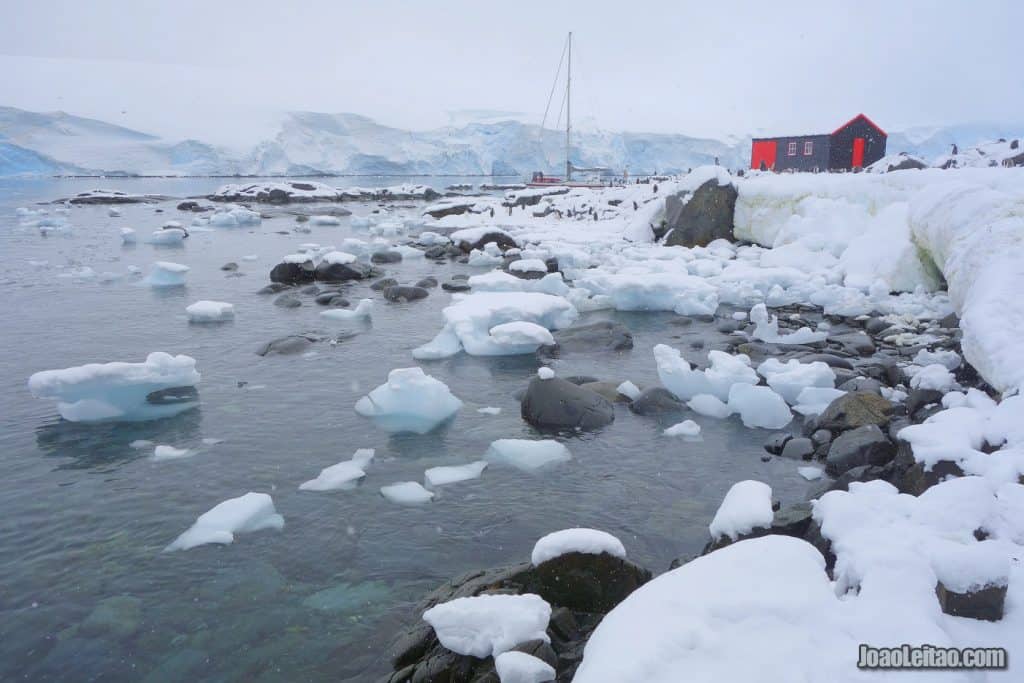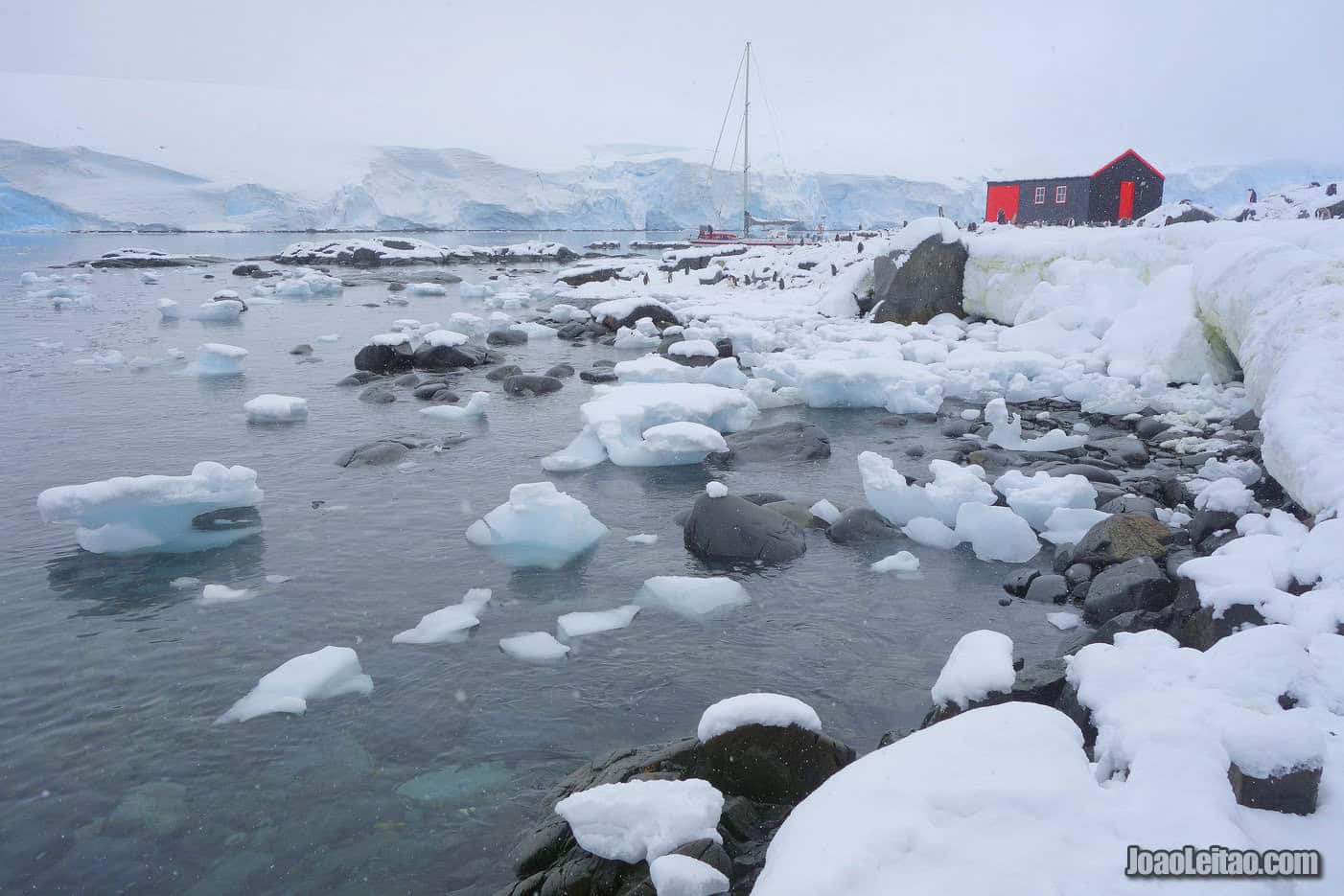 Discovered by the French Antarctic Expedition of 1903-05, Goudier Island is located in the Palmer Archipelago, at 64 ° 50'S 63 ° 30'W. The island hosts a natural harbor, Port Lockroy, belonging to the British Antarctic Territory, and it also holds the famous research Base A, which has the only postal service in Antarctica. There are many Gentoo penguins to see, dispersed everywhere, and you can also visit a very interesting museum and a delightful souvenir shop. Going to Port Lockroy is one of the best things to do In Antarctica.
Goudier Island is part of the Palmer Archipelago, where you'll find the biggest souvenir shop in Antarctica and a British post office. All part of Station A that was converted into a museum.
You'll see a representation of life in the early days of the Antarctica base. There's a workshop, a kitchen, a communications room, a dorm, a living room, and a lab.
The base was built by the British in 1944, in the middle of World War II, under the mysterious Operation Tabarin. The British needed to establish a solid presence in Antarctica at a time when they feared Nazi Germany was going to use that area as their base. After the war, the bases were refurbished for scientific projects, but most of them were abandoned shortly after. Station A closed in 1962 but was recovered by the British Antarctic Heritage Trust in 1996, that turned it into a museum.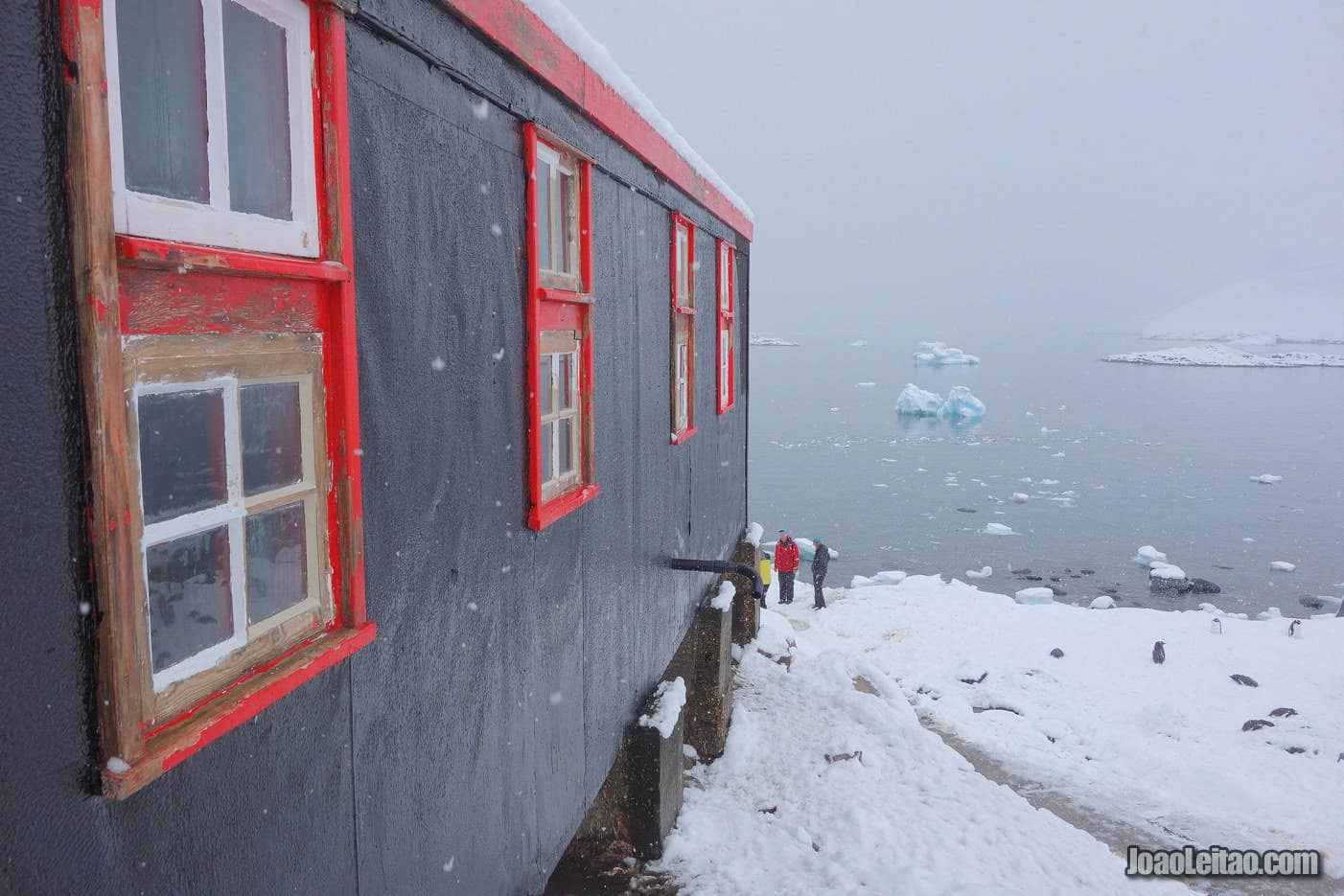 The base-museum is also known as Port Lockroy, although this is the name of the neighboring bay.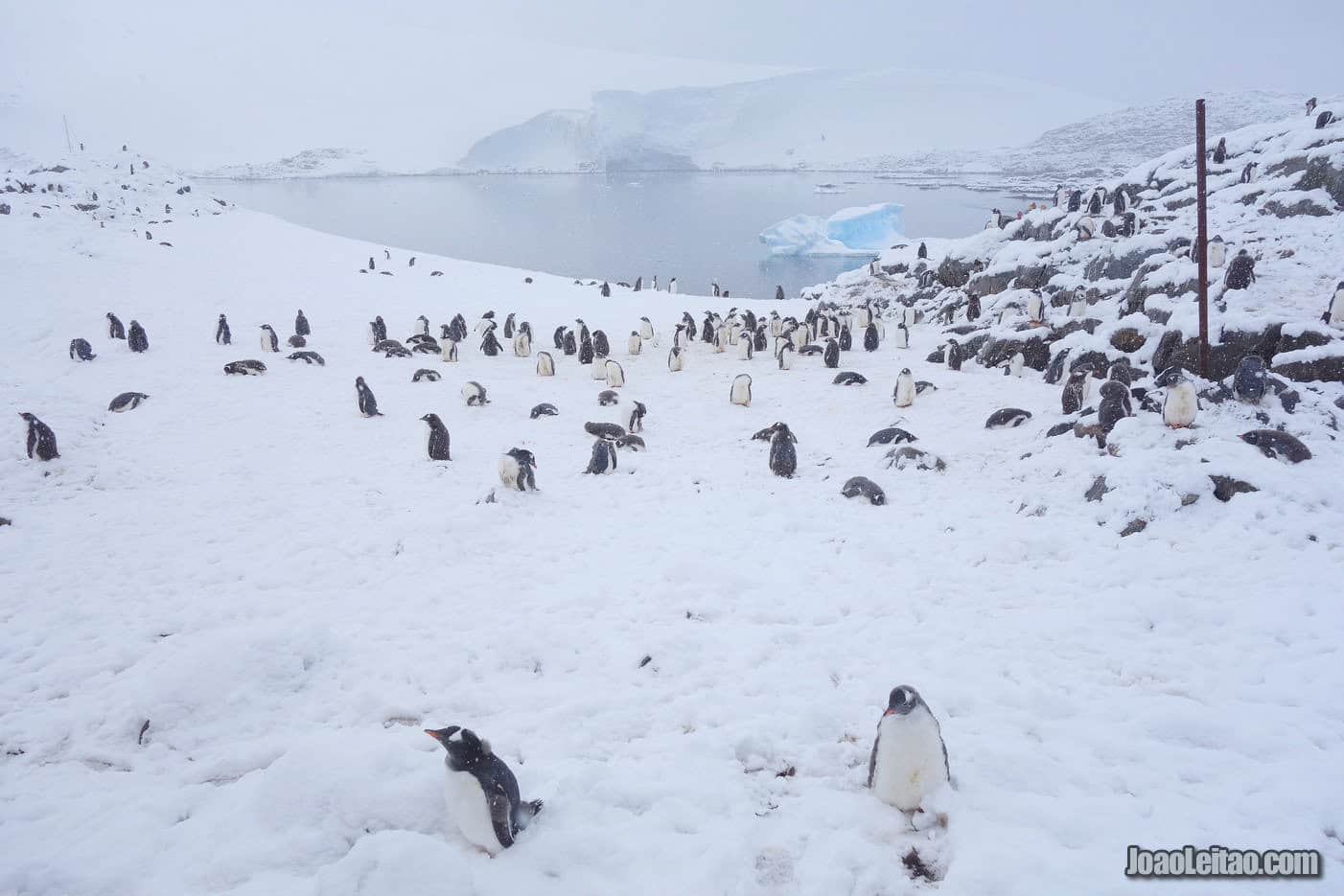 There's a large colony of gentoo penguins on Goudier Island that, according to scientific studies, don't react negatively to the constant groups of tourists and have a higher success rate in breeding when compared to areas without humans. It could be due to the impact visitors have on the presence of skuas, a predatory bird that eats penguin eggs and chicks.
British Antarctic Heritage Trust official website
---
Petermann Island
---
Discovered by the German Antarctic expedition of 1873, Petermann Island is located in the Kiev Peninsula, at 65 ° 10'S 64 ° 10'W. Beautiful and with its abundance of marine life, the island hosts an estimated 3000 pairs of Gentoo penguins (plus their offspring) as well as some Adélie penguins, Imperial Shags, South Polar skuas and Wilson's storm petrel. Petermann Island also has incredible, scenic views and even a small, closed Argentine base.
Read my page: Penguin Stories of Antarctica – Surviving Petermann Island
---
Jougla Point
---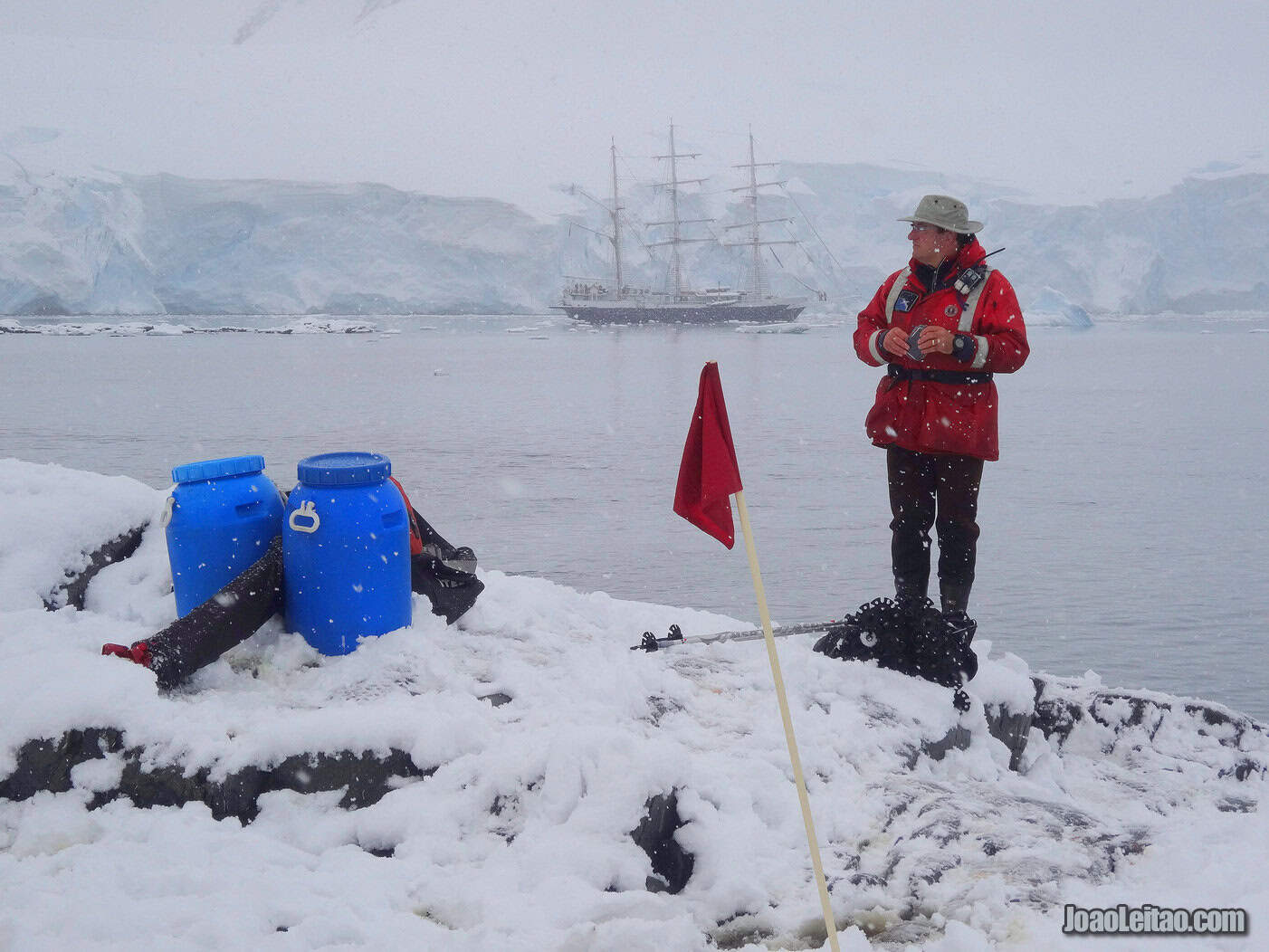 Jougla Point is located in Palmer Archipelago, at 64 ° 50'S 63 ° 30'W. Forming the western entrance to the natural harbor of Port Lockroy, Jougla Point also has a large colony of Gentoo penguins, some Weddell seals and several remnant whale bones.
Located on the Palmer Archipelago, this is the access point to nearby Port Lockroy, a great spot to watch gentoo penguins and Weddell seals. Here you'll also see impressive whale carcasses that are great for photos, particularly with the Wiencke Island mountains in the background.
It was discovered and mapped by the French expedition that traveled in Antarctica between 1903 and 1905, led by Jean-Baptiste Charcot.
---
Neko Harbour
---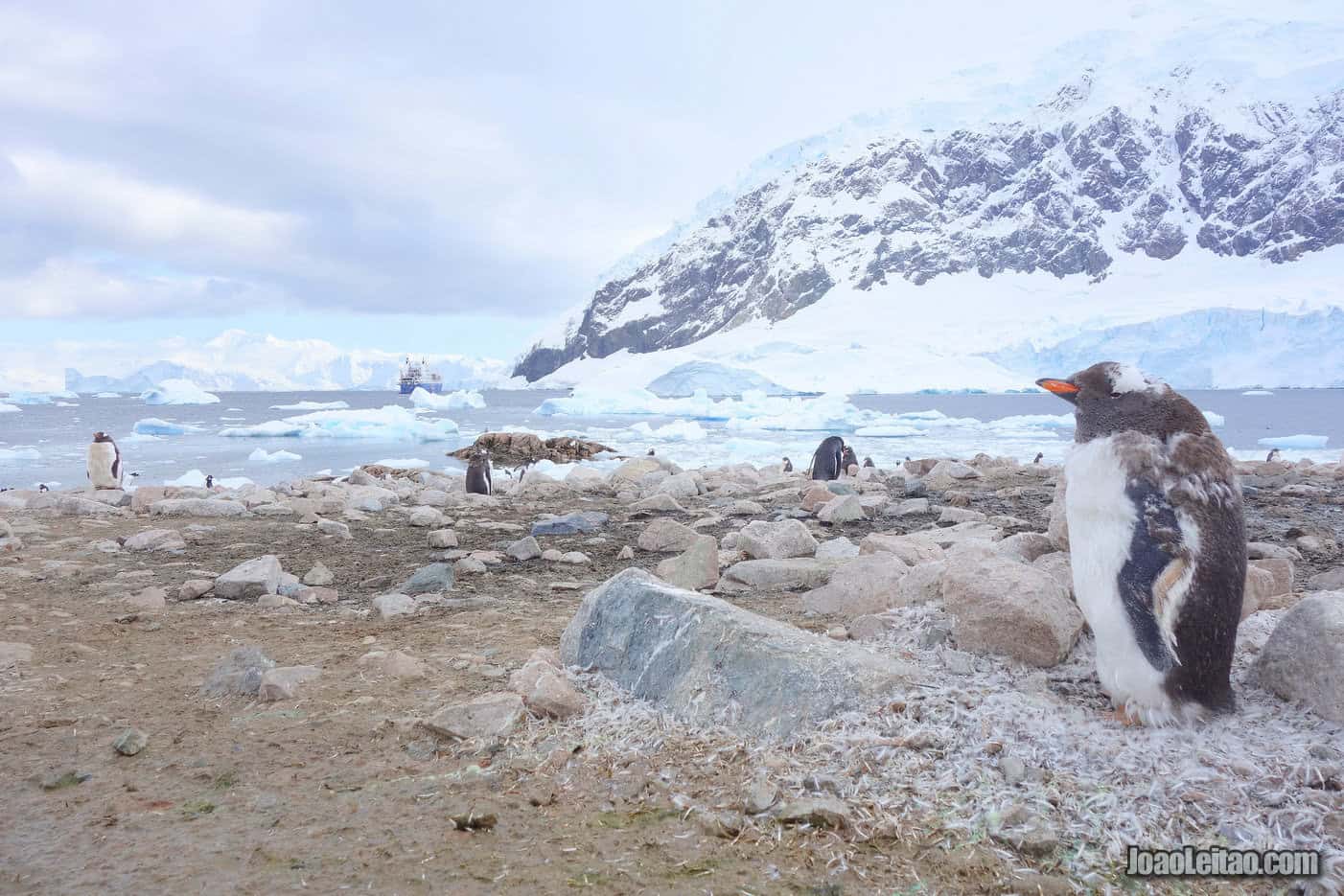 Discovered by the Belgian Antarctic Expedition of the early 1900s, Neko Harbour is located in the Andvord Bay on the Antarctic Peninsula, at 64 ° 50'S 62 ° 33'W. Here was most likely the most beautiful view I've seen in the whole of Antarctica. In addition to seeing its large colony of Gentoo penguins, you can also trek up the mountain to be dazzled by the fantastic bay views of synthesized glaciers and icebergs within Neko's waters.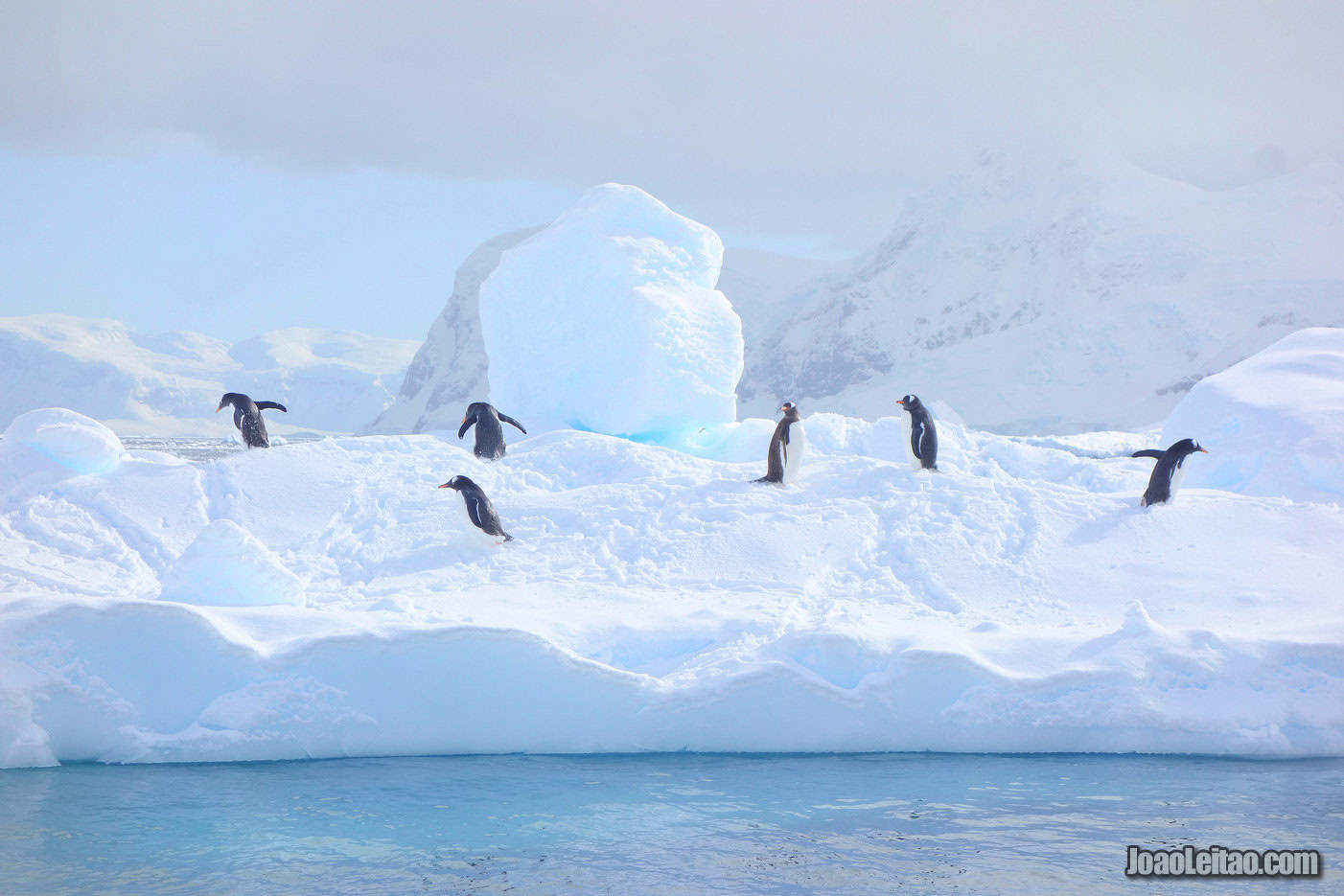 Neko Harbor is located on the Andvord Bay and is one of the main points of arrival in Antarctica, considered by many as one of the most beautiful ports in the world. You'll be able to see the grand Mount Français (2,760 m) from here.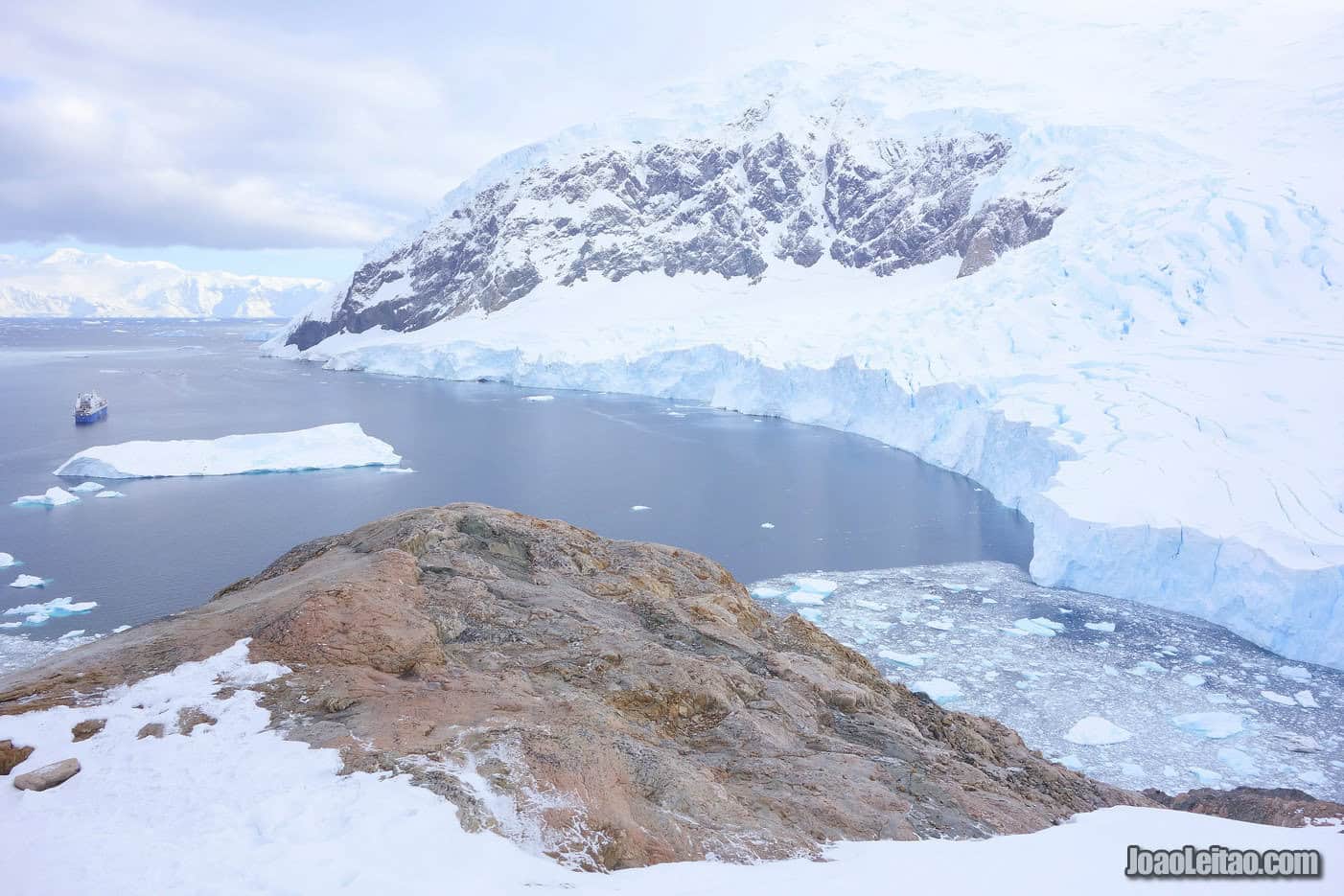 It was discovered by the 1897-1899 Belgian expedition, led by Adrien de Gerlache, and was named after a Norwegian whaler ship that worked there between 1911 and 1924.
Around 30,000 people visit every year and, alongside Andvord Bay, this is one of the most popular destinations in Antarctica.
The background makes up the perfect picture. The frozen mountains, the glaciers leaning towards the sea, the around 250 families of gentoo penguins that live there. You'll also be able to spot some Weddell seals near the port, a little further up, and on the pebble beach. On Neko Harbor, you can also see sea lions and different whale species, such as the Antarctic minke whales and humpback whales. There are also a lot of skua birds, who prey on penguin eggs and chicks, to the despair of the resident penguin community.
---
Paradise Harbor
---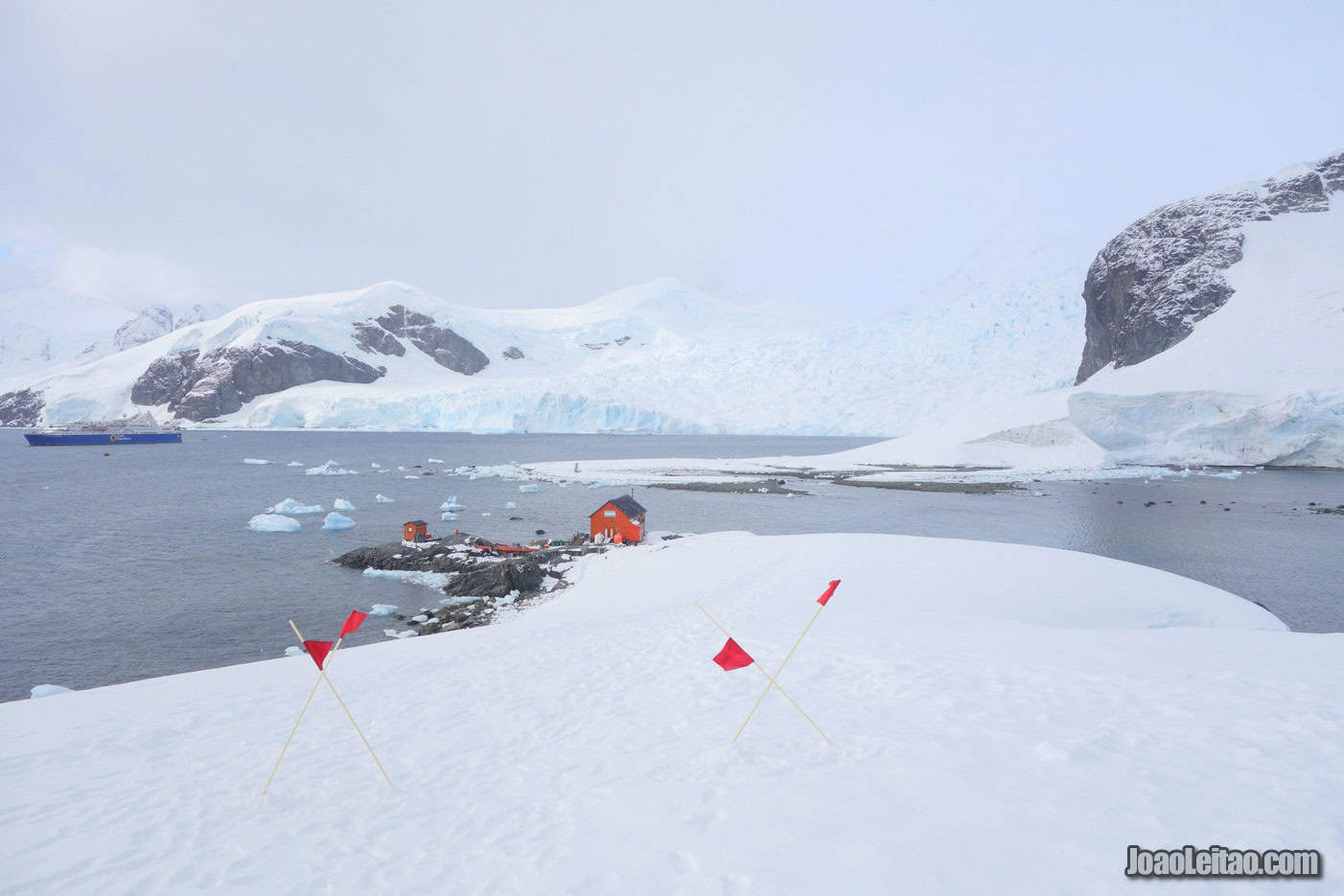 Paradise Bay is located on the Antarctic Peninsula, at 64 ° 49'S 62 ° 52'W. The bay's entire expanse is serene and beauteous, providing a quiet area for boats to be sheltered from the strong tides of this Antarctic region of the Lemaire Channel. Here, there are also colonies of Gentoo penguins, Imperial cormorants, Crabeater seals and Leopard seals.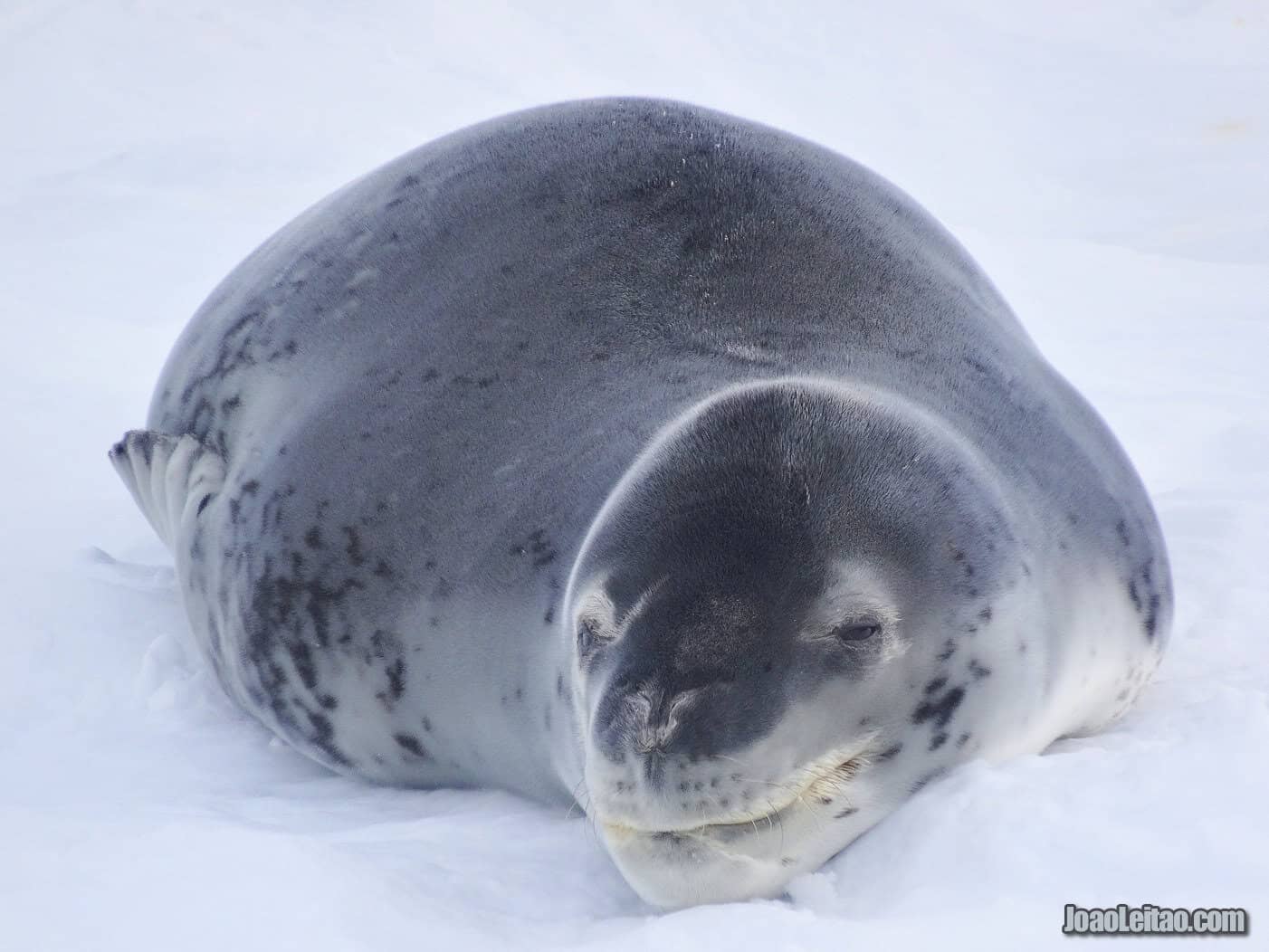 Paradise Harbor is famous for the immense icebergs that appear to be leaving the harbor, in different shapes and shades of white and blue.
It's a great place to visit and observe diverse wildlife that includes penguins, seals, and plenty of birds.
The area is wonderful, peaceful, and beautiful, doing justice to its name. Unfortunately, it's not always possible to go on land, but even in those situations, it won't be a lost opportunity.
You'll have high chances to spot some humpback whales at the Lemaire Channel and Ferguson Channel that access Paradise Harbor.
---
Almirante Brown Antarctic Base
---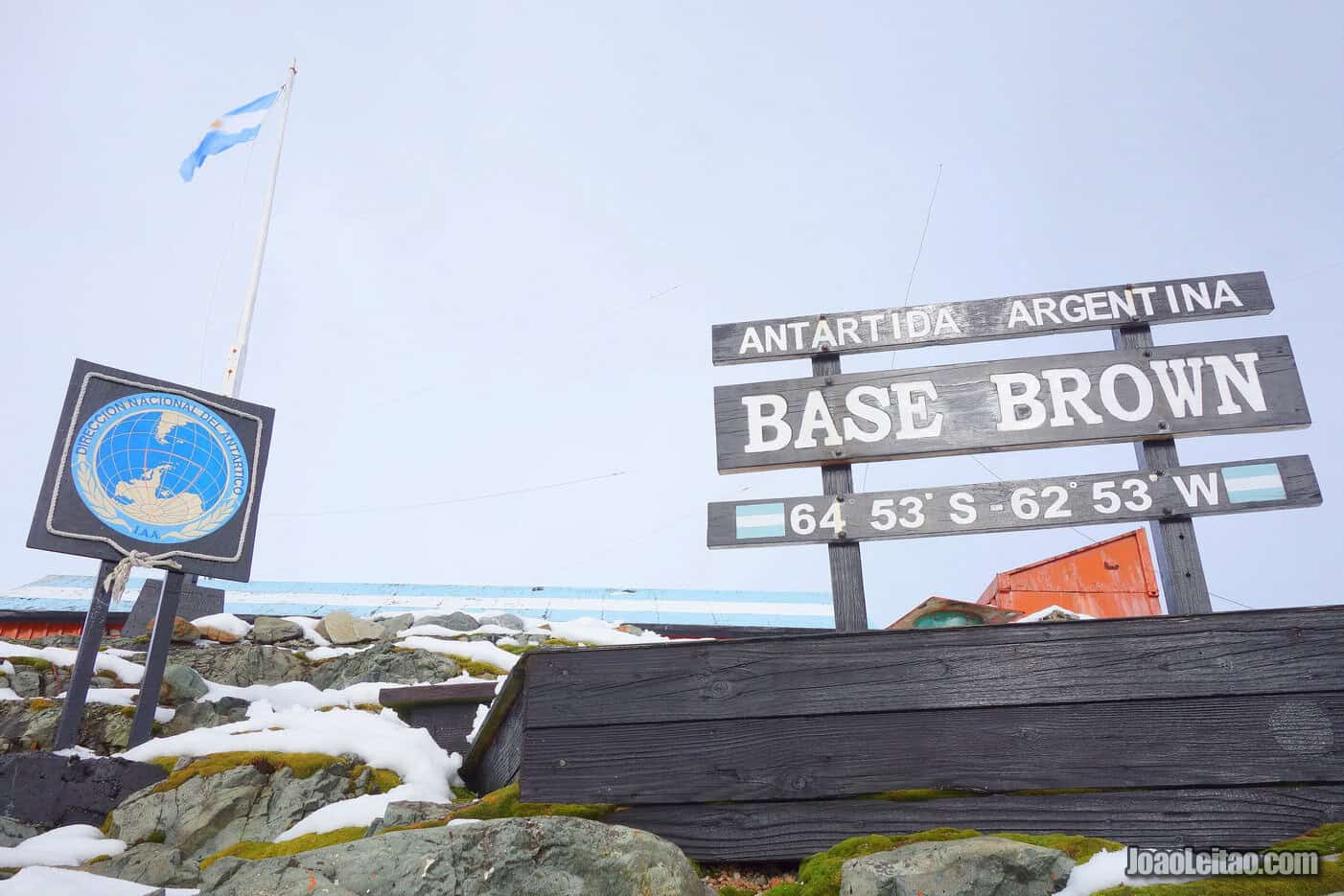 You'll disembark the ship near the Brown base, an Argentinian scientific complex built in 1951 that is only active in the summer. One of the best spots to get an overview of Paradise Harbor is above the base. You can slide down the ice on your way back.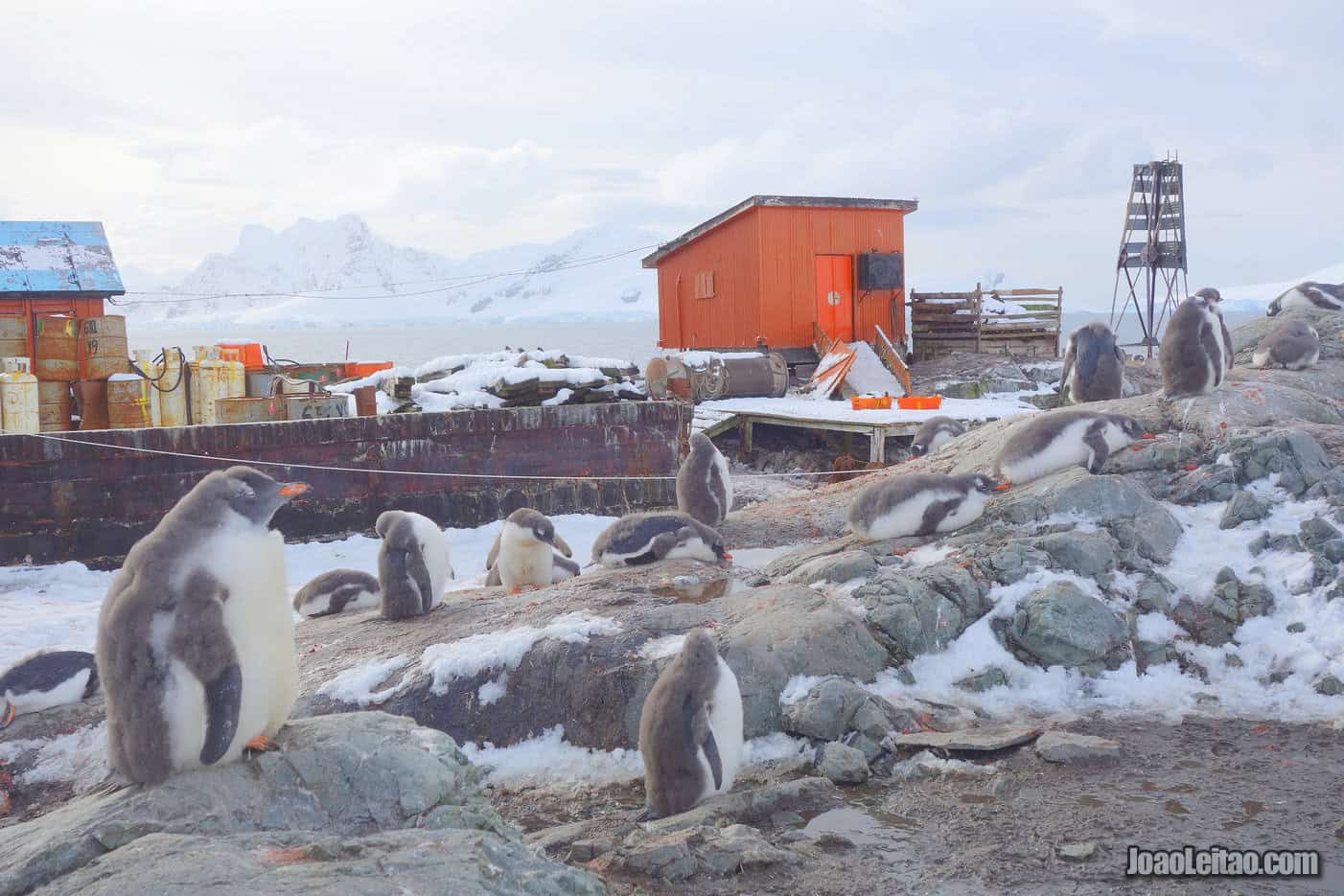 The area is full of gentoo penguins, some crabeater seals, leopard seals, and imperial shags.

At Almirante Brown Antarctic Base, or Brown Station, I had the opportunity to explore this Argentine research base located at 64 ° 51'S, 62 ° 54'W in the Antarctic Peninsula. In addition to viewing the vast population of Gentoo penguins, you can climb up the hill and enjoy spectacular views of Paradise Harbor, the base and the surrounding, snow-covered mountains and glaciers.
---
Portal Point
---
On the Recus Peninsula, on the east coast of Graham Land, Portal Point is a spectacular place. The British built a shelter there in 1956, using it as an entry point to the peninsula, hence the name Portal Point. Those operations were short-lived, and the shelter was abandoned in 1958, completely dismantled in 1997, and transferred that same year to Port Stanley (Falkland Islands) where it became a small museum.
You get off the ship at a place surrounded by beautiful glaciers moving towards the ocean. There's a small hill you can climb.
Not too far from there, there's a group of rocks called Hydrurga Rocks because of the resident leopard seals (Hydrurga leptonyx). The highest cliff is 25 meters high, and there are plenty of opportunities for wildlife spotting in this area. The seals are joined by chinstrap penguins and other birds that mate there.
---
Danco Island
---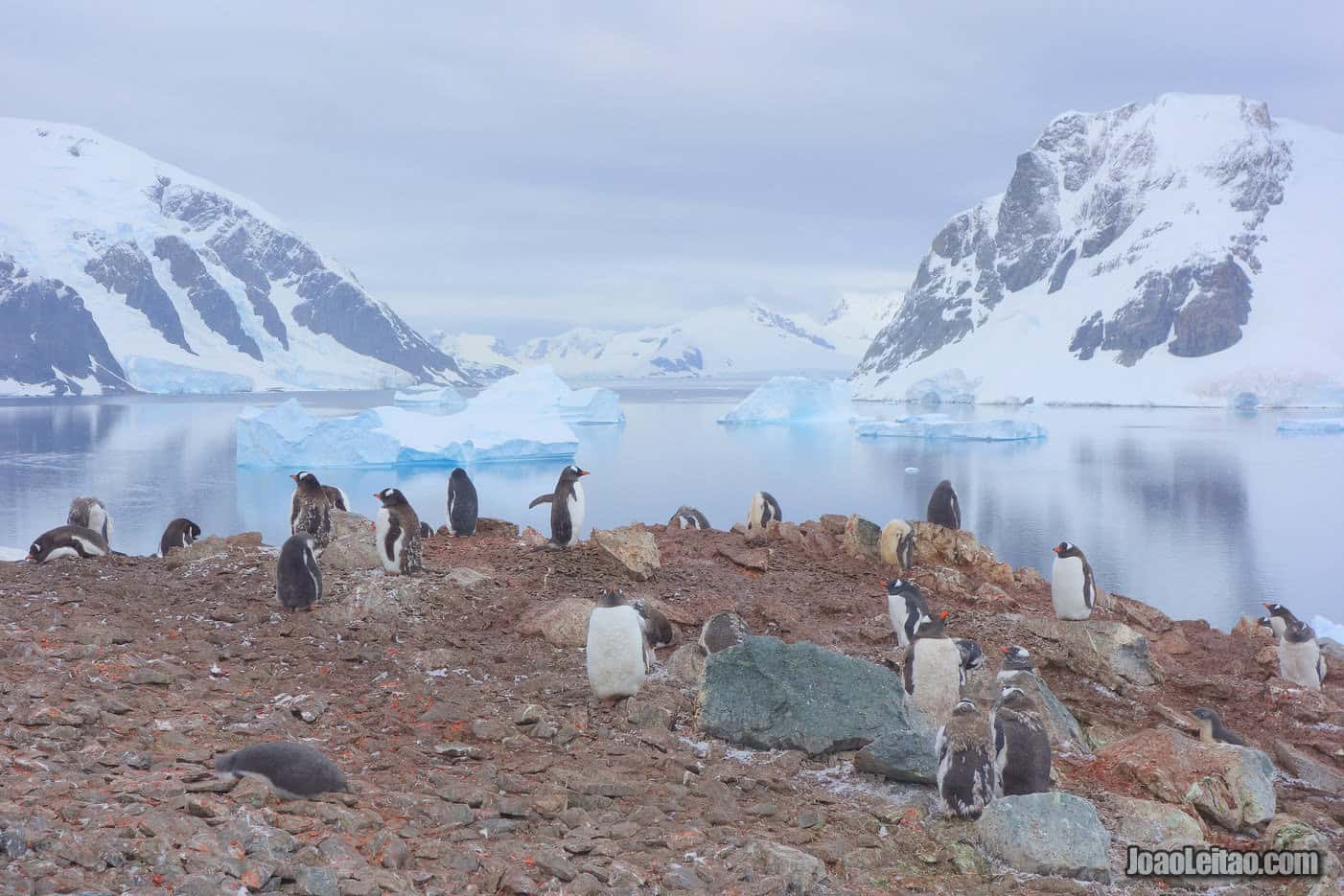 Discovered during the Belgian Antarctic Expedition of 1887-99, Danco Island is located in the Errera Channel, at 64 ° 44'S 62 ° 37'W in the Antarctic Peninsula. A beautiful place, Danco hosts many Gentoo penguins in the foreground of its scenic views rising towards rocky peaks.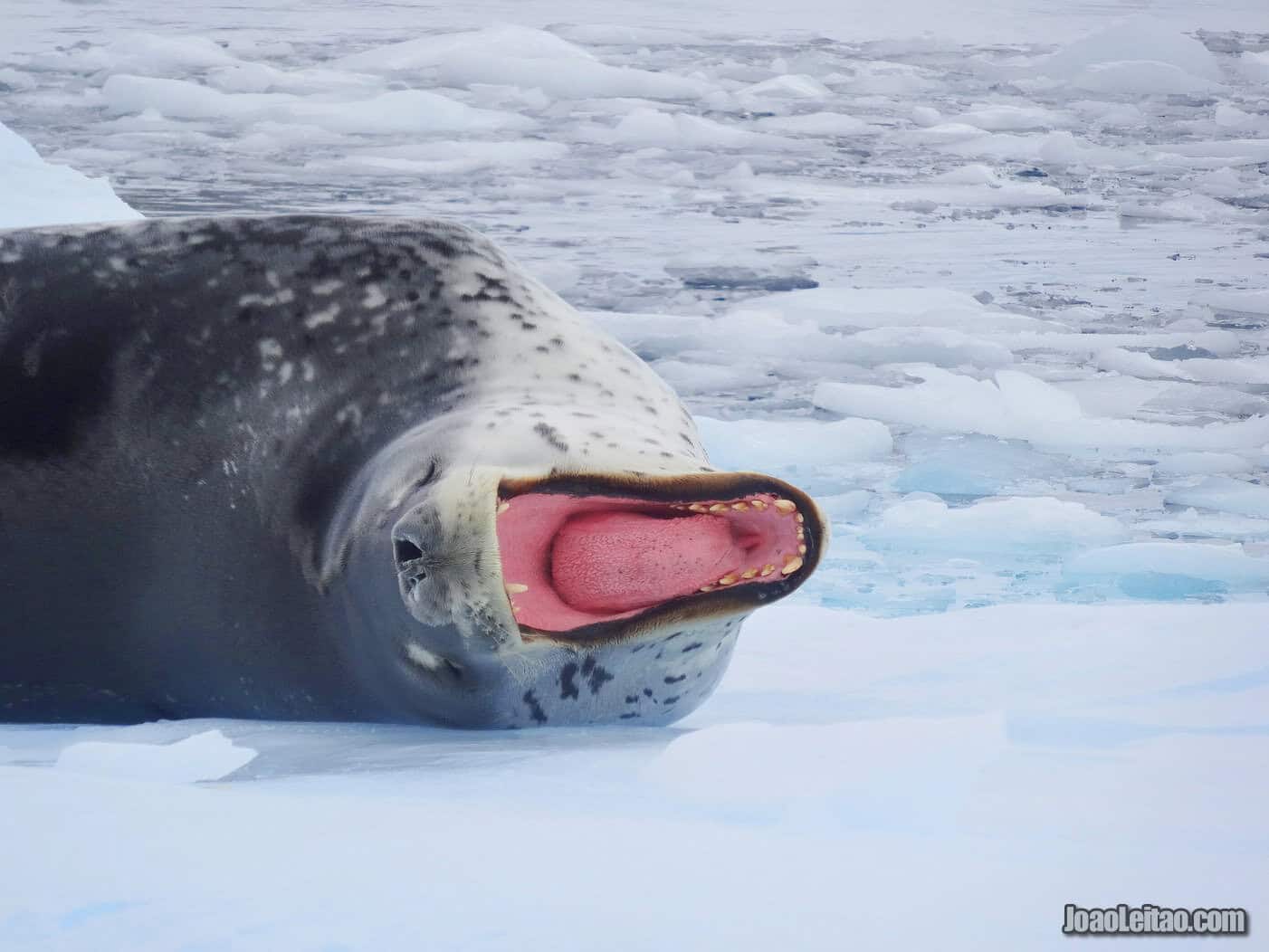 This two-kilometer-long island is located on the south part of the Errera Channel, on the west coast of Graham Land. The Belgian expedition in 1897-1899 discovered it and named it in honor of Emile Danco, a Belgian explorer that died on that journey.
If you have the chance, climb to the top of the highest point on the island. Although it's only 130 meters high, it's hard to climb when you're in full gear ready to explore the Antarctic lands. It's worth the climb, though, for the fantastic overview of the island you have from the top.
There used to be a British base on the island, Station O, built in 1955 and only active for four years. Up until 2004, it had a cabin that served as a refuge for adventurers who got that far, but it was dismantled and removed that year. There's nothing left but a plaque and the six concrete blocks that used to be the foundations.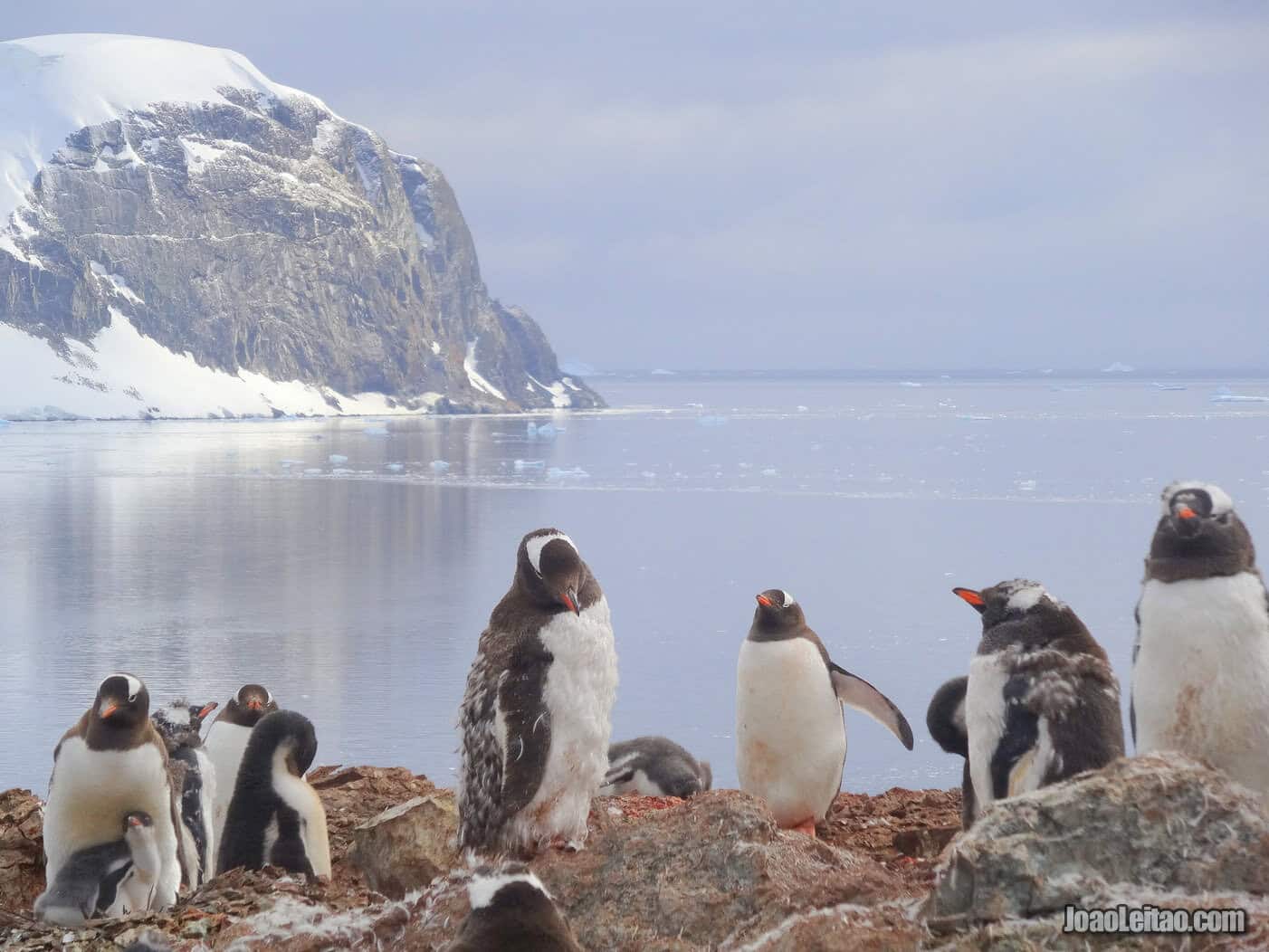 It's great if your trip organizers include a rigid inflatable boat (RIB) tour around Danco Island because it's one of the most beautiful tours in all of Antarctica.
Wildlife enthusiasts will be thrilled. There are usually 2,000 families of penguins breeding in Danco, on the north side slopes. There are also Weddell seals on the rocks and beaches. There are good chances to spot whales when traveling to Danco, especially at the end of the summer.
---
Wilhelmina Bay
---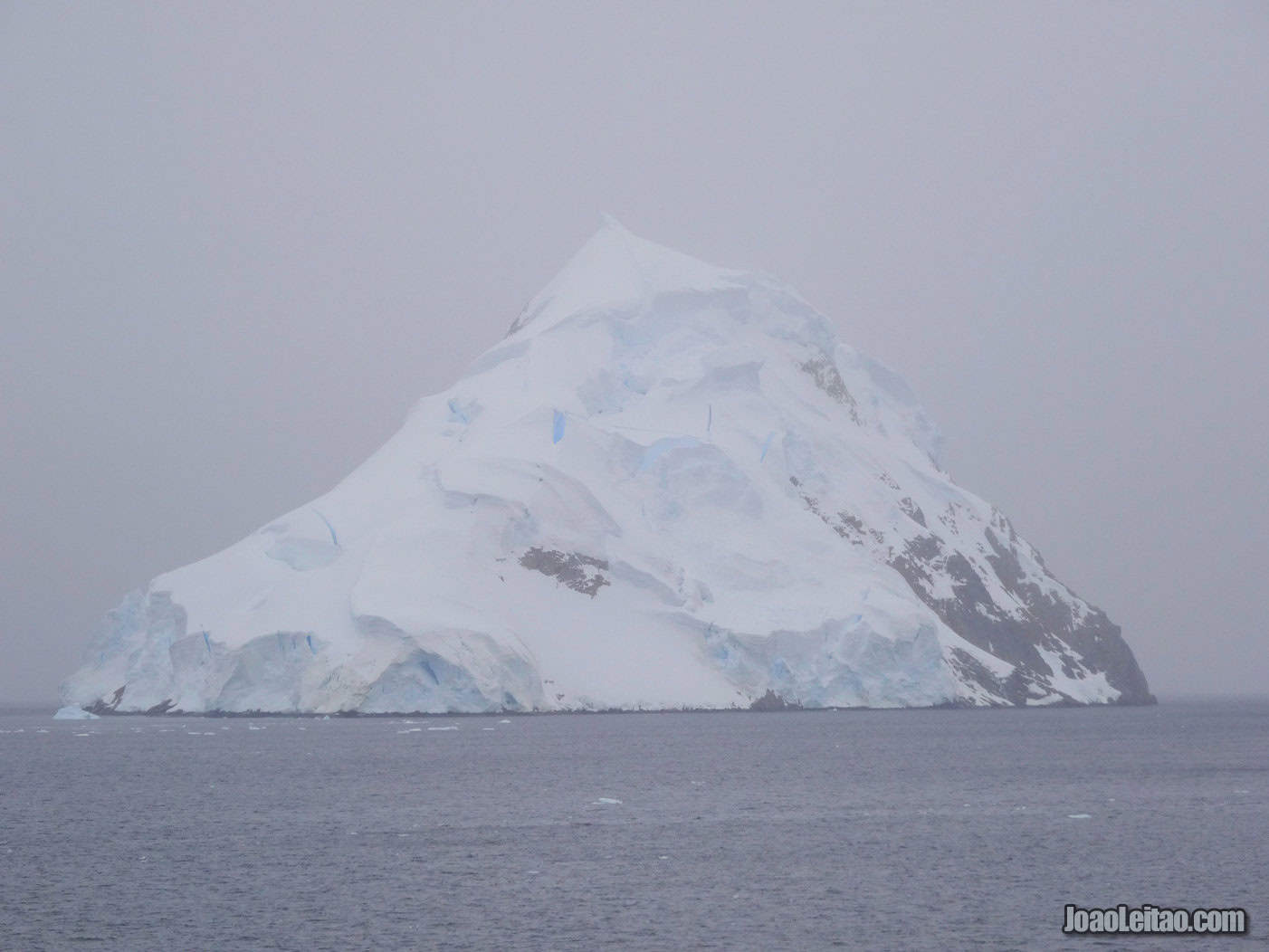 Also discovered during the Belgian Antarctic Expedition of 1887-99, Wilhelmina Bay is located in the Reclus Peninsula, at 64 ° 38'S 62 ° 10'W. With many humpback whales coming very close to the zodiacs (speed boats), Wilhelmina is one of the best places for whale watching in this region of Antarctica.
Wilhelmina Bay is on the Reclus Peninsula, between the Gerlache Strait and the coast of Graham Land. Like many other beautiful places in the easiest-to-reach part of Antarctica, it was found by the Belgian expedition that happened in the late 1800s. It was named after the Dutch queen, Wilhelmina, who unlike the Belgian government funded the expedition of Adrien de Gerlache aboard the ship Belgique.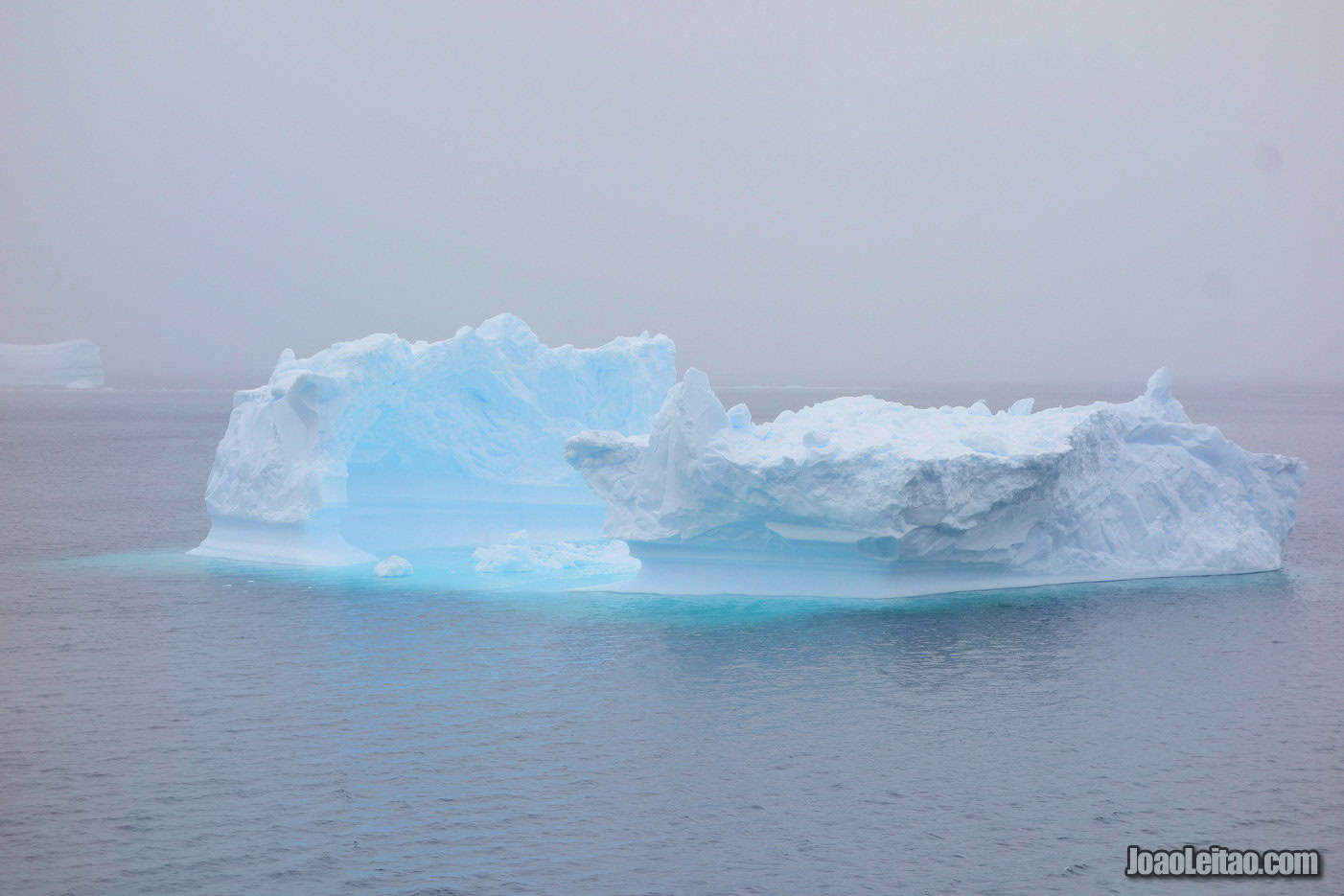 The scenery is breathtaking, with icy cliffs over deep-blue waters and clear ice glaciers. There's a rock formation that is as impressive as it is geometrically precise, in the shape of a pyramid touching the sky.
This is one of the best places for whale watching, so much so that people sometimes call it the Whale-mina Bay. That is due to the abundance of krill, the whales' top food.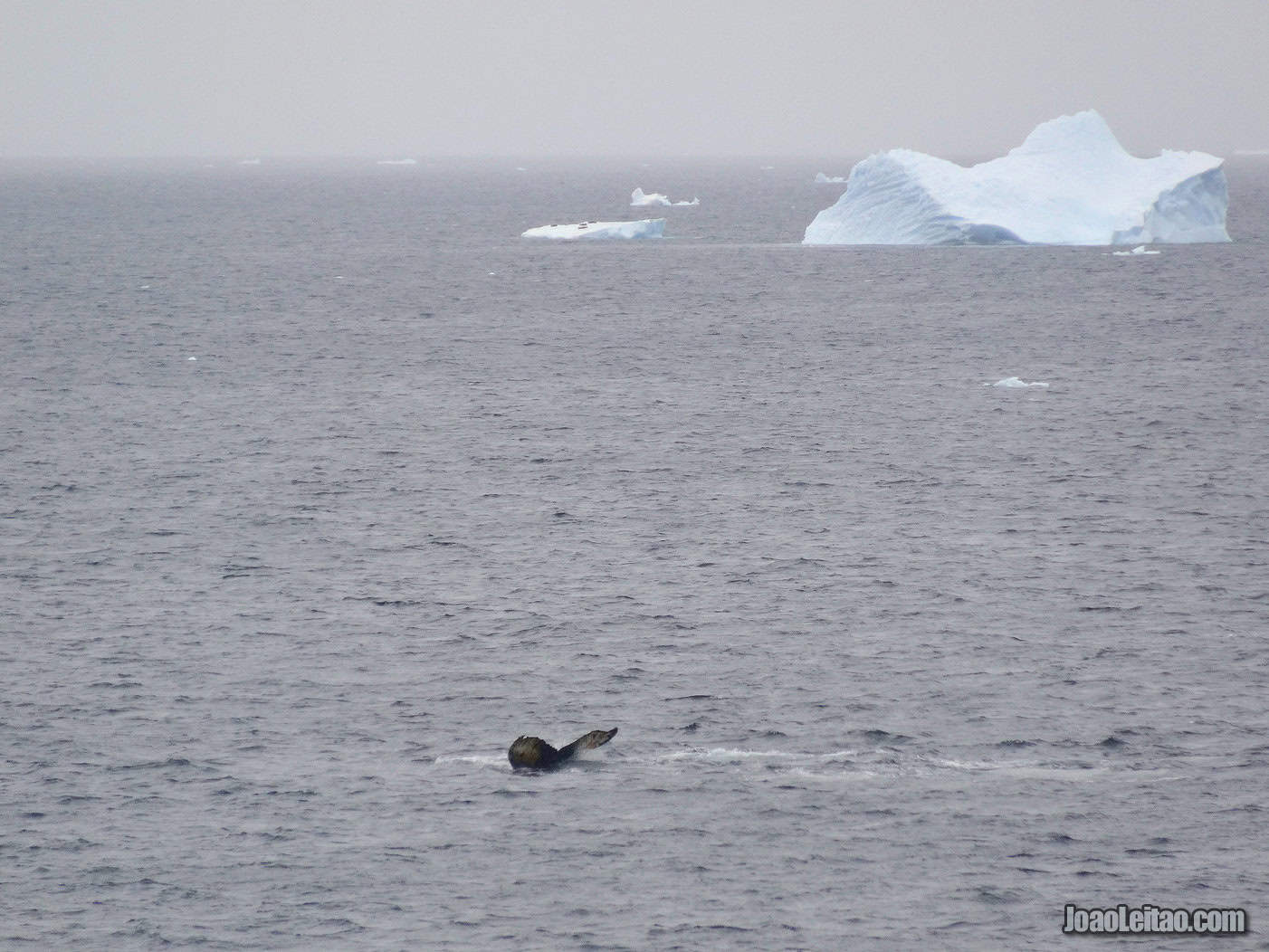 In 1914, there were 16 ships on Antarctica processing whales caught by smaller boats. Guvernøren was one of those ships. The Norwegian ship burned down on 27 January 1915 at Wilhelmina Bay, turning into a giant torch because of the 16,000 barrels of whale oil aboard. All 85 crew members survived, but the structure of the ship remained. It's one of the best things to photograph: the ship's dark hull, covered in a thick layer of rust, contrasting against the overpowering white of the landscape and the deep blue waters. This shipwreck site is also an excellent place for diving.

---
Cuverville Island
---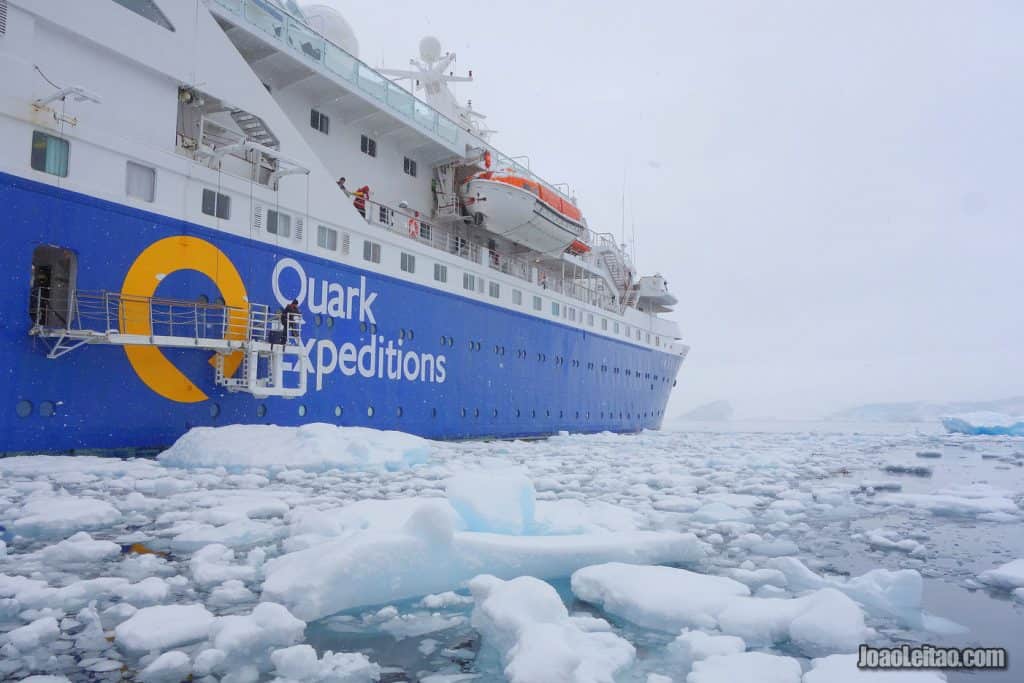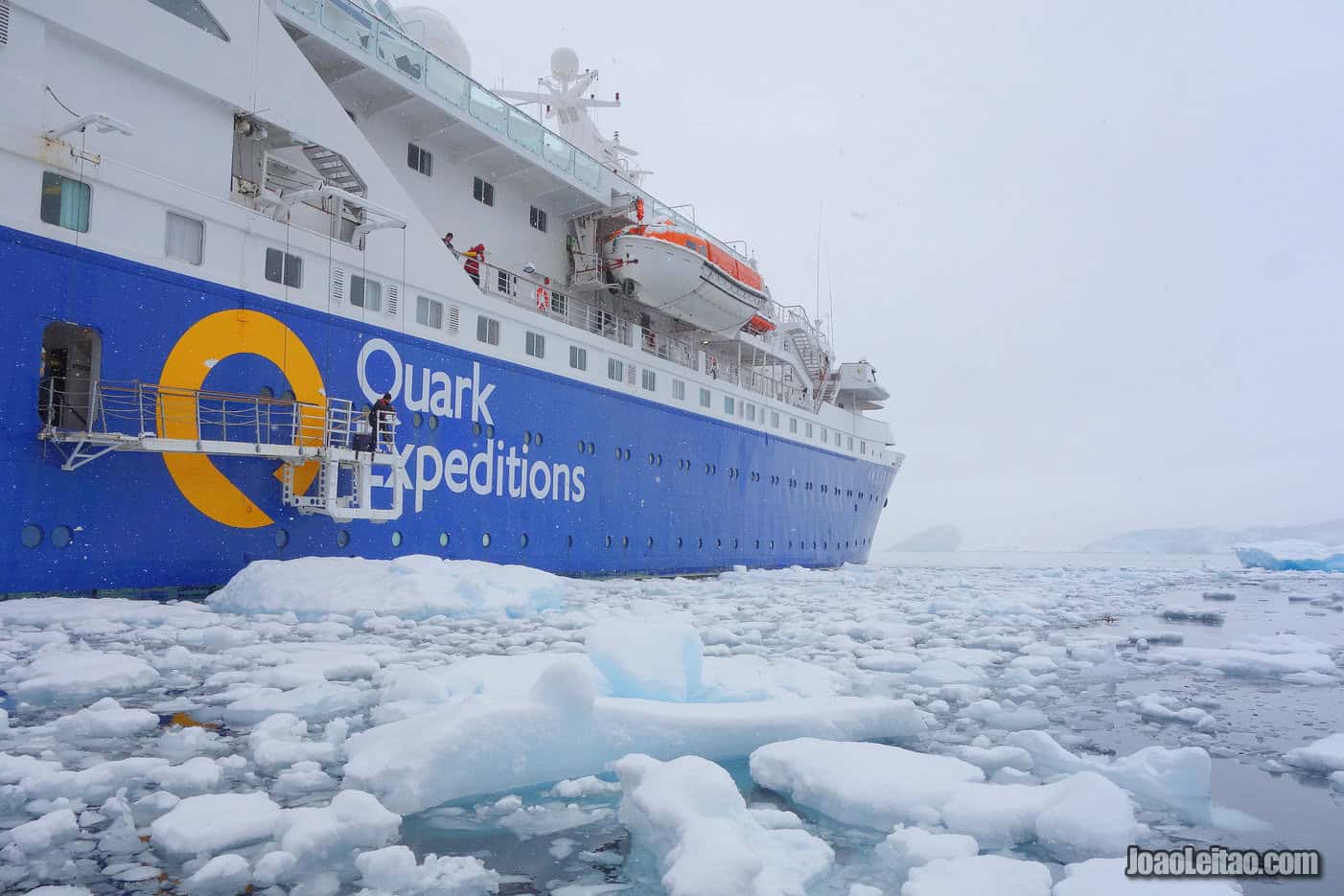 Also discovered during the Belgian Antarctic Expedition of 1887-99, Cuverville Island is located in the Errera Peninsula, at 64 ° 41'S 62 ° 38'W. With about 6500 pairs of penguins (plus their offspring) waiting to be photographed, the island is famous for having the largest colony of Gentoos in the Antarctic Peninsula region.
This island on the Errera Channel is one of the places discovered during the Belgian expedition of 1897-1899. It was named after J.M.A. Cavelier de Cuverville (1834–1912), a French Navy officer.
No one lives or comes here, except for the occasional tourists. A team of the Scott Polar Research Institute was stationed here between 1992 and 1995 to measure the impact of tourists on local wildlife. They concluded that if tourists followed the International Association Antarctic Tour Operators code of conduct, their impact on wildlife was small.
The island is 2.5 km long and 2 km wide. I suggest a rigid inflatable boat (RIB) trip around the island, with good chances to see whales and floating icebergs that frequently crash on the island and get stuck.
The landscape is impressive. The island is quite high above sea level, close to 250 meters, with only one ideal place to disembark safely.
It's famous for the vast resident colony of gentoo penguins, with close to 6,500 couples, but you can also spot other bird species, Weddell seals, and leopard seals.

---
Deception Island
---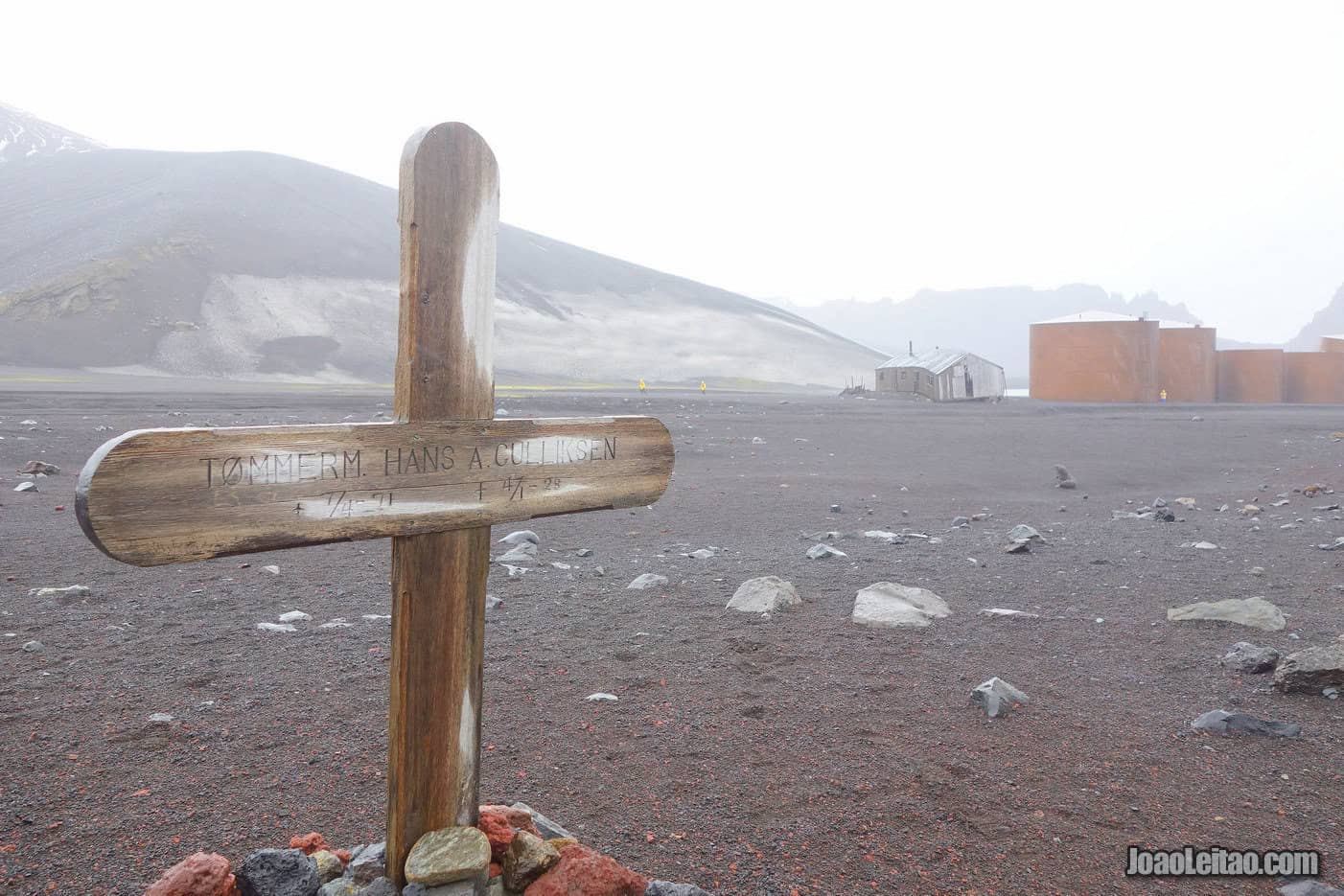 Given its name, Deception Island, located in the South Shetland Islands at 62 ° 60 ° 58'37S 39'00W, is ironically the most secure of all the Antarctic ports. The island opens to a collapsed volcano crater, giving passage to its interior entirely surrounded by land, while also providing a safe vessel haven. Deception Island has several old oil-processing factory buildings from its most prevalent whale and seal hunting days. On the island, one can now find thriving Antarctic fur seals as well as Chinstrap and Gentoo penguins.
This island, discovered in 1820 by captain William Smith, is part of the South Shetland Islands archipelago and has one of the most sheltered ports in the frozen continent.
Whalers enjoyed the sheltered port and installed one of the biggest whale processing centers in Antarctica, today a reminder of the slaughter of these peaceful animals that grew to giant proportions from the 1920s. The Great Depression (1929-1939) caused the prices for whale products to drop, especially the oil, and the center was abandoned and left in ruins. The British established, then, a military base in the area, as part of a bigger plan that started during World War II. That was also abandoned in 1967 after a violent volcanic eruption. From that moment on, people came to Deception Island purely for scientific reasons.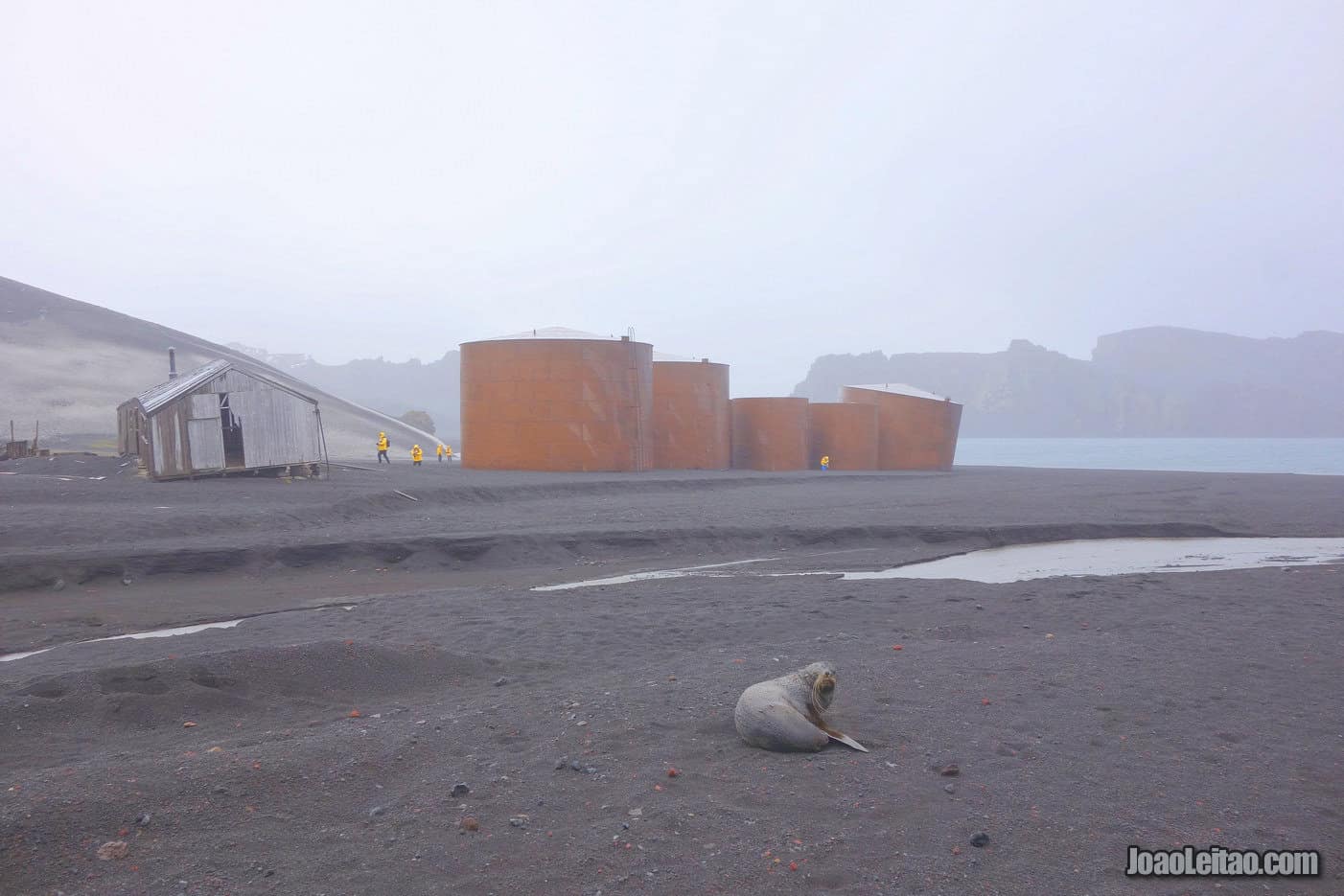 One of the island's main attractions are the geothermal fountains, a reminder that the existing volcano might erupt at any time like it did in 2017. It's smaller than Mount Erebus, which is always active, but it was responsible for the biggest eruption in Antarctica that we know of.
The volcanic activity under the ice is the main topic of the scientific missions established in Deception by Argentina and Spain.
Visitors to the island will likely see Antarctic sea lions, chinstrap penguins, and gentoo penguins, but the island's wildlife diversity is not what attracts tourists the most.
---
Orne Harbor
---
This cove is a safe harbor for ships and was first mapped by the Belgian expedition in 1897-1899. It's about 1.5 km in length and one of the usual stops for cruise ships traveling to Antarctica.
It was most likely named by Norwegian fishermen, since it was first mentioned by Scottish geologist David Ferguson, who explored the area aboard a Scandinavian whale ship called Hanka, in 1913.
If you get off on this island, you can climb Spigot Peak. Although not particularly high, it's 285 meters tall, climbing it can be a challenge because it's slippery and you'll come across seals occasionally on your way up.
Tourists usually visit the resident colony of chinstrap penguins, although the island is not particularly diverse when it comes to wildlife.
---
Half Moon Island
---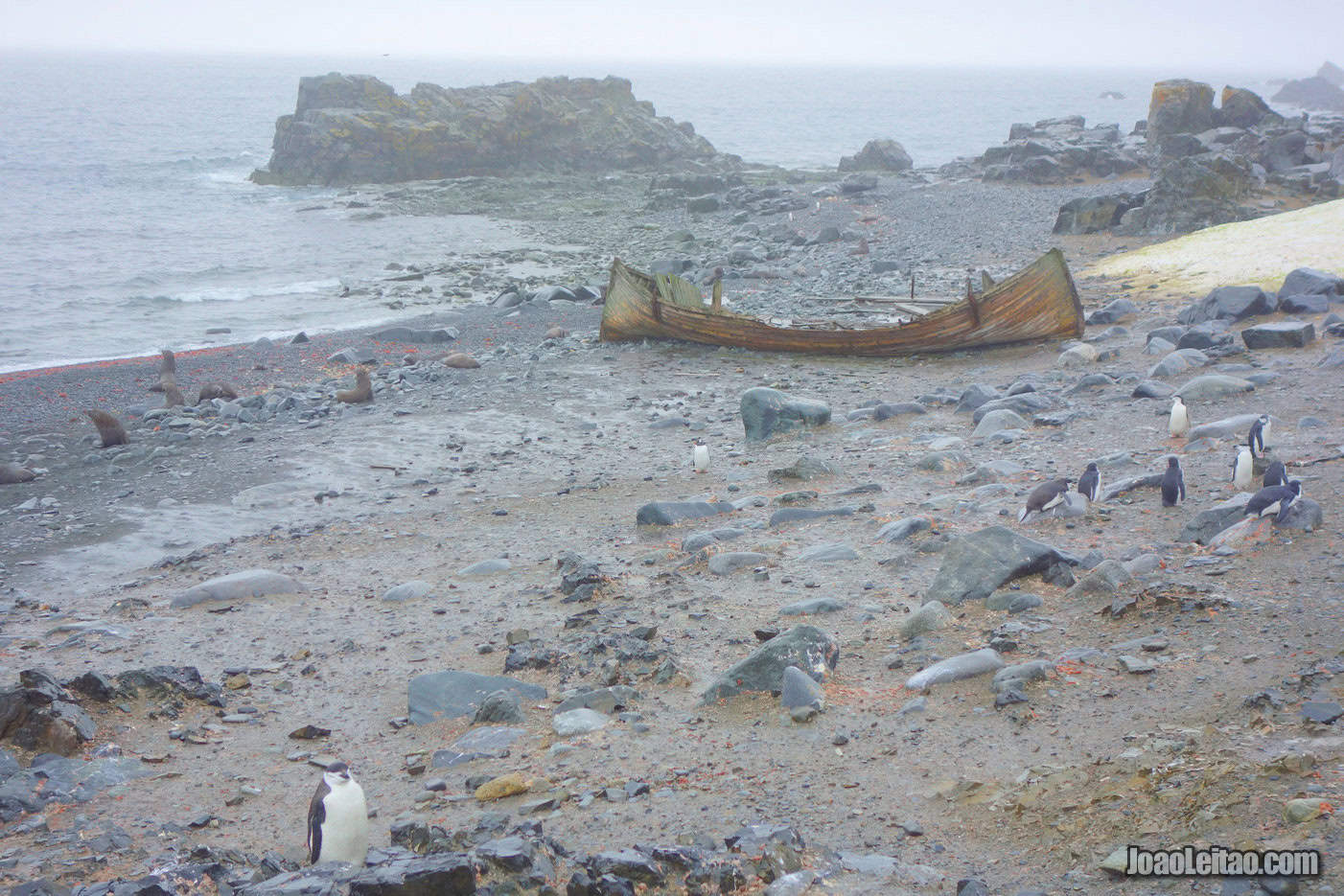 Half Moon Island is located in the South Shetland Islands, at 62 ° 35'S 59 ° 55'W. The island has an Argentine base that operates only during the summer months. Along my 5 km / 3 mile trek, from one side of the island to the other, I discovered Half Moon Island's various types of rare plants, an important colony of Chinstrap and Gentoo penguins, as well as its many Antarctic fur seals.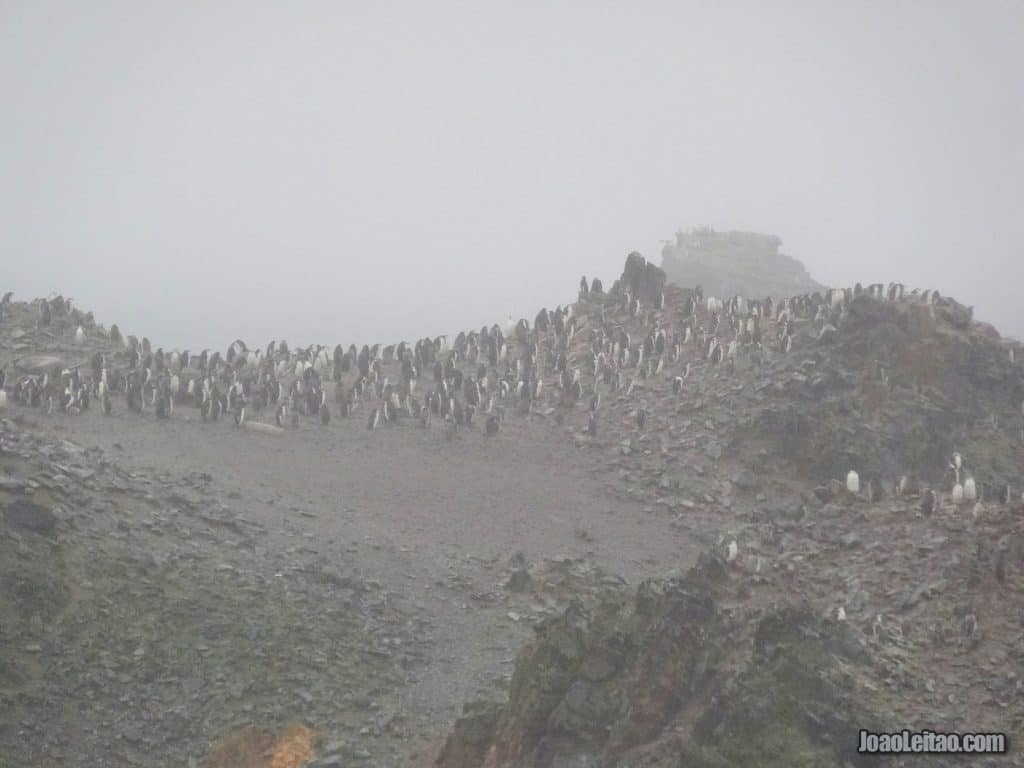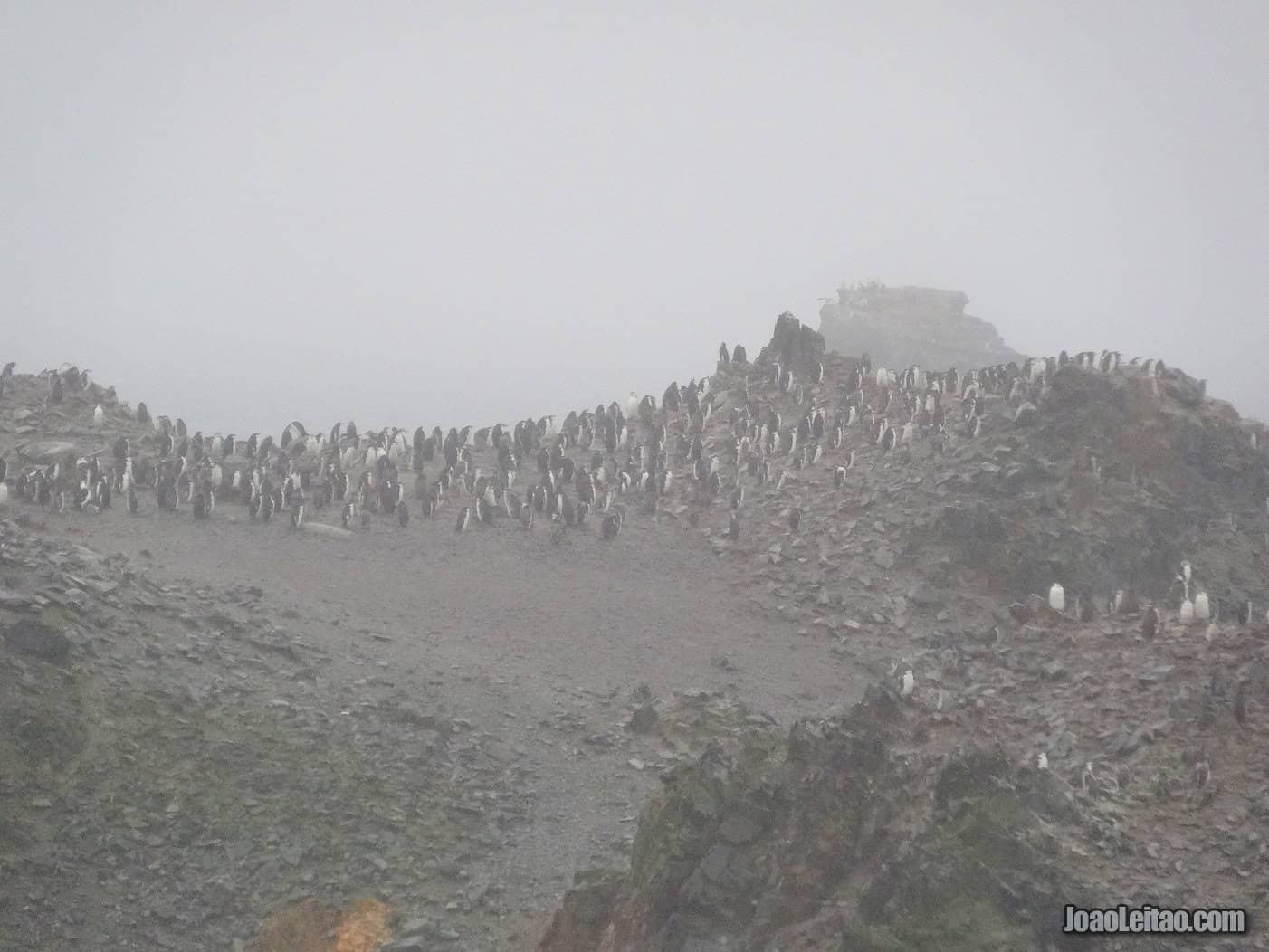 Half Moon Island is part of the South Shetland Islands archipelago, a short distance away from the Burgas peninsula.
There's an Argentinian scientific base on location, that was once a naval military base in 1953. The station closed in 1960 and reopened in 1988. It's still active but mostly during the summer.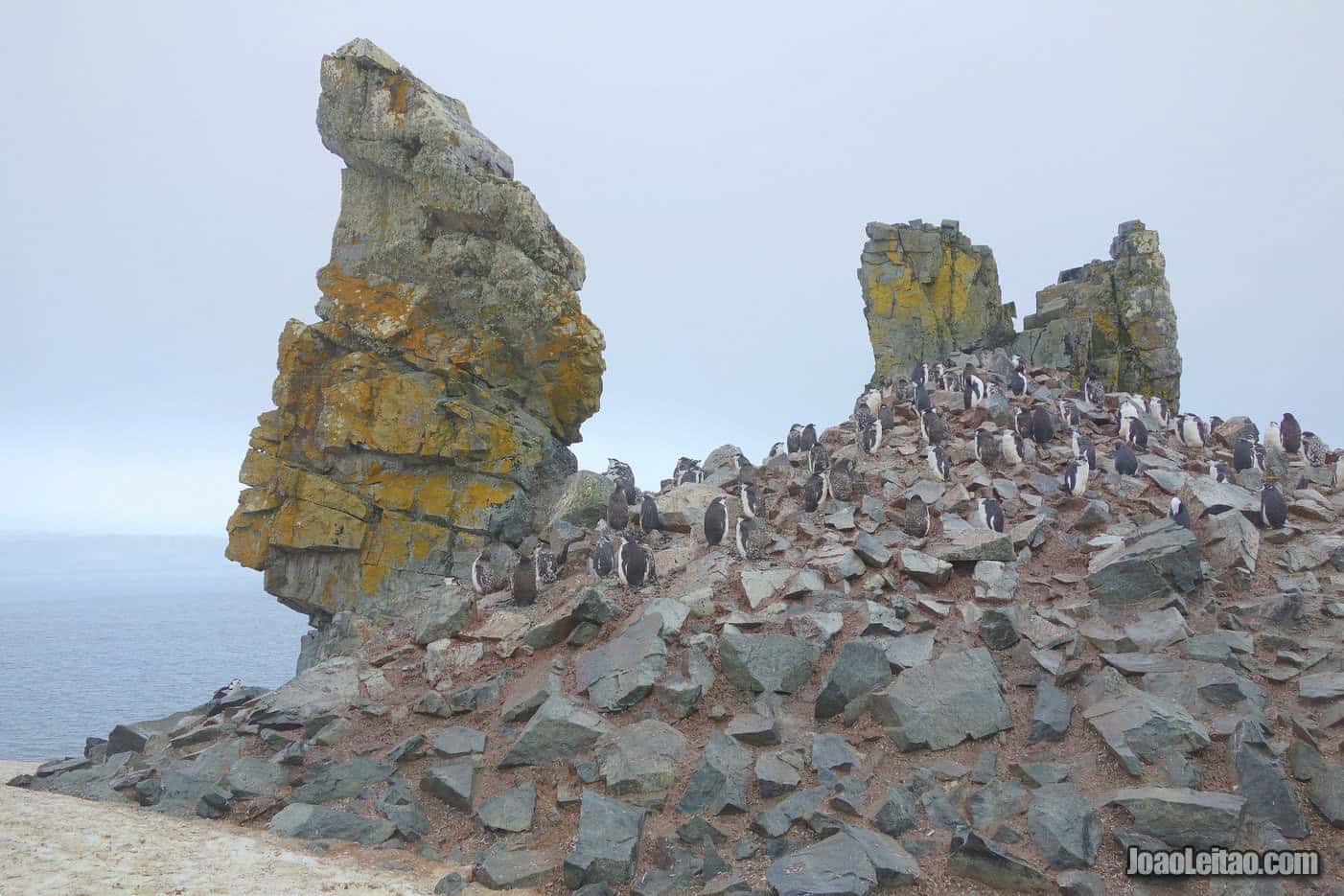 This island is one of the frequent stops for tourists in Antarctica, who get off the ship on the pebble beach. A tricky thing to do, sometimes, considering the strong waves.
There's a 2 km walking path on the island where you can experience a closer connection to the resident wildlife.
If you'd like to take a long walk, there's always room to extend your activity, with high chances to spot chinstrap penguins (there are about 3,000 couples on the island), gentoo penguins, Weddell seals, Antarctic sea lions, and skua birds. It's also possible to cross the island's 5 km width on foot.

Read my page: Visit Half Moon Island – Forsaken humid Antarctica
---
Hope Bay
---
Hope Bay, on the Trinity Peninsula, was discovered in 1902 by a Swedish expedition led by Otto Nordenskiöld. There's a large Argentinian military base stationed there and a group of families living in a small community. There are 43 buildings and, in the summer, there are close to 100 people living there. Fun fact: the first human being of Antarctica was born there, at Esperanza Base, on 7 January 1978. The wife of an Argentinian naval office gave birth to a boy on that day, Emilio Palma. The first Catholic chapel and the first school of Antarctica are also here at this base.
But there was a British base there before the Argentinians, called Station D. The first British attempt to establish a base in Antarctica happened in 1944, but the weather delayed the project for one year. In 1948, two residents were killed in a fire. New buildings were made in 1952, and they transferred the base to Uruguay in 1997, under the name Teniente Ruperto Elichiribehety Uruguayan Antarctic Scientific Station.
Here you can visit the ruins of a shelter built by the Swedish who discovered the bay at the beginning of the 20th century. Restored in 1966, the structure was classified as a Historic Site or Monument (HSM 39).
But other communities live at Hope Bay besides the human one, such as the 125,000 couples of Adélie penguins. For scientific reasons, access to the grounds where this colony lives are forbidden to tourists. But, there are always some of these penguins and other species venturing out into the areas opened to the public, including chinstrap penguins.
Getting off the ship here is complicated, but the hospitality of the Argentinians living there will make you forget any less pleasant memory of your arrival. null
---
Observing Wildlife in Antarctica
---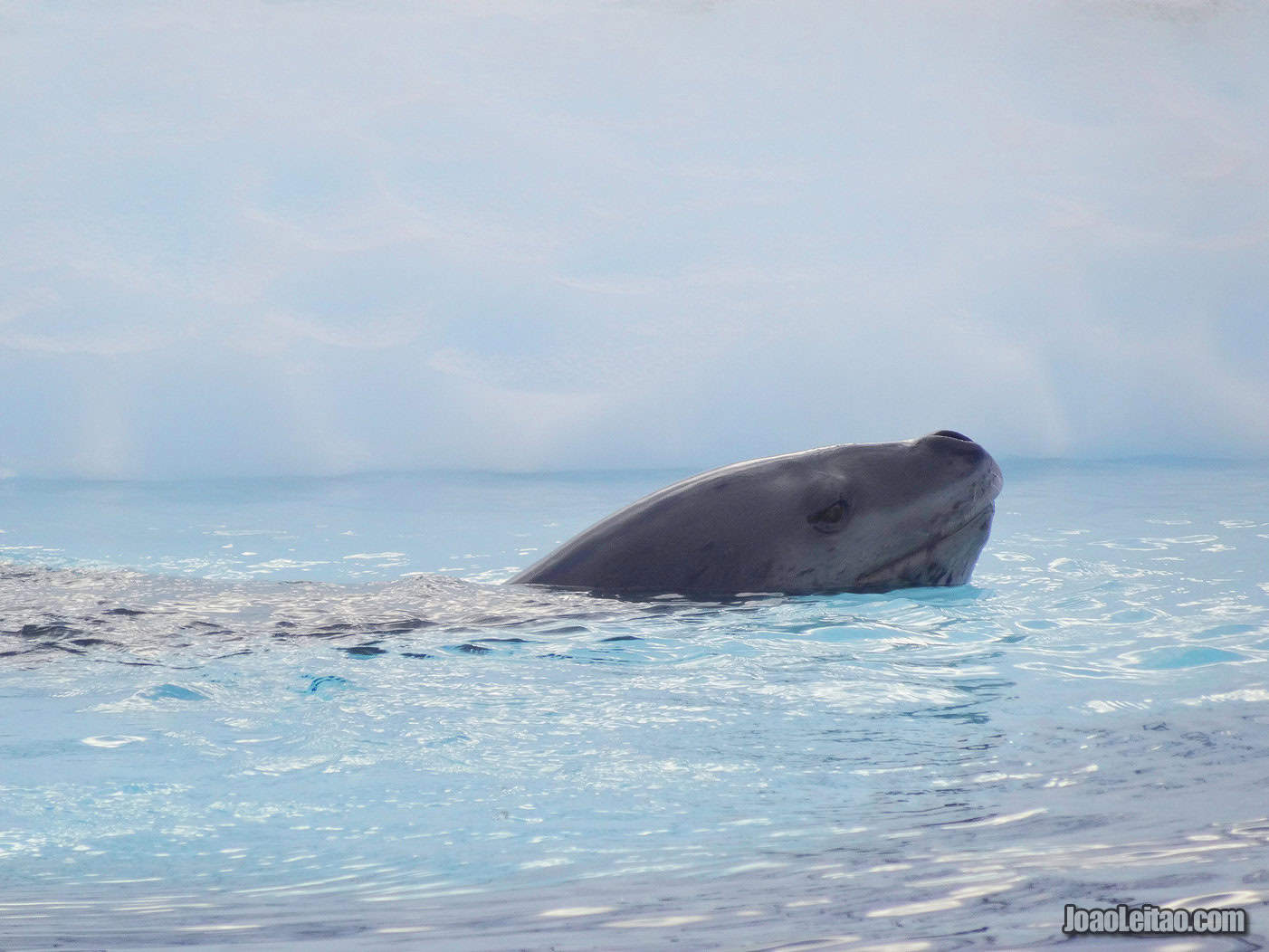 For the inexperienced bystander, perhaps wildlife in Antarctica is dull. But it's not. It's in fact quite spectacular! Penguins and more penguins, seals, and birds. Whales and orcas swimming nearby. And this is it. How many times have you had the chance to see one of these animals in their natural habitat, completely free?
To top all that, the Antarctic animals are laid-back, they don't fear humans, and you'll have plenty of opportunities to get close to them, which only increases your chances of a great photo and memorable experiences.
If you're physically fit and able to spend a small fortune, you can travel there overland, as long as you remember and respect the weather shifts that might postpone or even prevent this adventure from happening.
---
Best Destinations in Antarctica
---
I asked other travel bloggers about their favorite places in Antarctica. Read about the places other travelers like to spend their holidays.
---
Antarctica – by Mapping Megan
---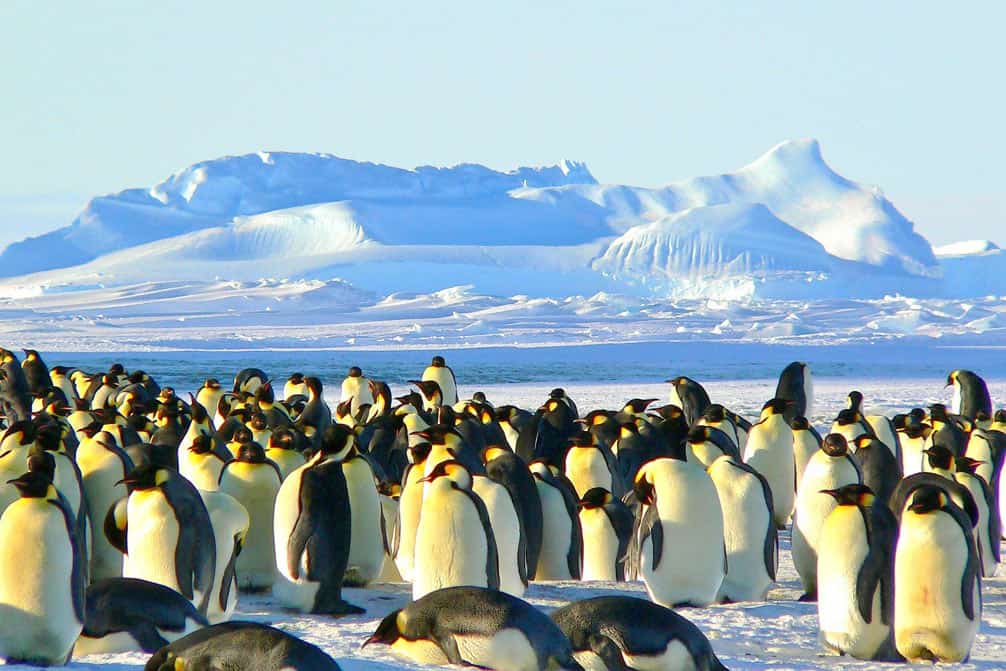 Antarctica is one of those once in a lifetime destinations and one which quickly becomes the favorite destination of all travelers who make the journey. And with spectacular glacial lagoons, dramatic icebergs, vast areas of remote wilderness, breaching whales and deep-diving seals, it's not hard to understand why … Antarctica really is the final frontier!
One of the most remote continents on our planet, Antarctica is unlike anywhere else on earth (maybe Greenland), and is absolutely pristine. It's still largely untouched, unspoiled, and unexplored (even though some 30,000 travelers visit every year), and is absolutely unbelievable.
There is no other place on earth you can take a paddleboard or kayak between giant ice-bergs, phenomenally steep cliffs, ice shelves and stunning mountains. No other place on earth where you can step out of your boat for hikes through ice fields, and close up encounters with rare wildlife who are not afraid of people.
We live in a day and age where it's hard to enjoy a unique adventure because everything seems to have been already done. But Antarctica still offers that sense of adventure – of butterflies in your stomach, of extreme exhilaration and thrill. We booked with a company who limit their ships to 110 passengers; Antarctica is better experienced when you're not crammed on a ship with 500 + other people.
Follow Mapping Megan
» Blog Mapping Megan
» Twitter Mapping Megan
» Instagram Mapping Megan
---
Antarctica – by Two Monkeys Travel Group
---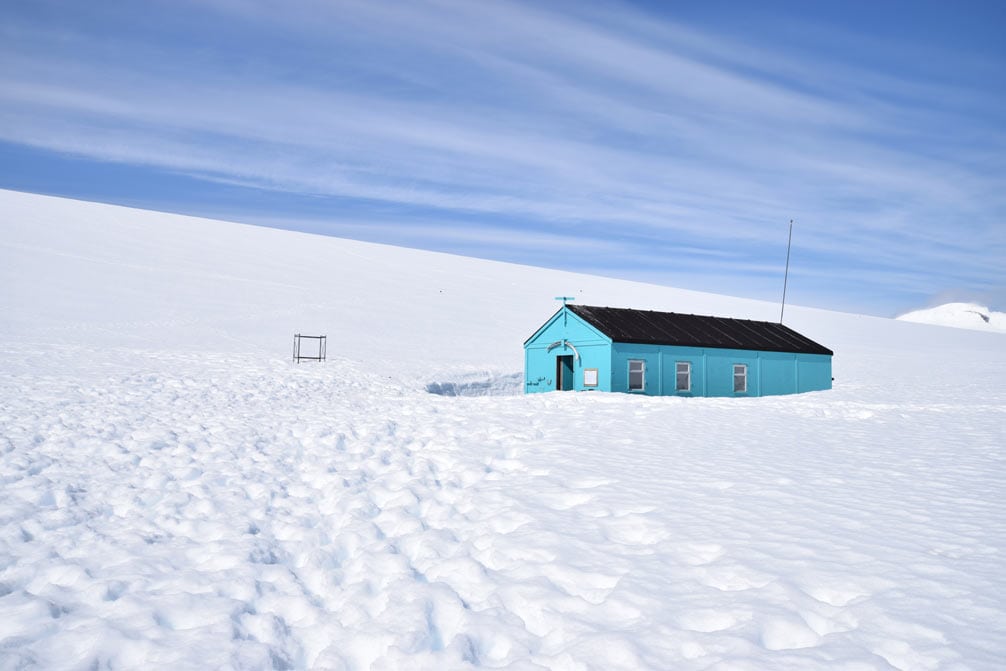 There are many reasons that a destination could be off-the-beaten-path; inaccessibility, danger, a general lack of awareness, environmental protection, cost, or a massive combination of all of them! The latter is definitely true of Antarctica and aside from the cost, these are all the more reason to want to go there. I believe that for people who love travel, they are actually in love the feeling of adventure and reaching hard to reach places.
Just several weeks ago, we were finally able to realize our dream to visit the last true wilderness in the world, Antarctica. The options for getting to Antarctica are seriously limited; be a self-funded polar explorer; become a polar research scientist, or pay for an expedition cruise with an Antarctica Cruise operator. We went with Hurtigruten because they focus a lot on having lots of landing time on the islands and the Antarctic mainland, rather than just cruising around looking at it all from a balcony. Having traveled there and back it's clear to see why so few people do.
Our adventure took us through the Chilean fjords for two days, around Cape Horn and then two days across the notoriously dangerous Drake Channel, before we could get anywhere near Antarctica. For days we explored seemingly alien landscapes like the volcanic Deception Island and the fields of floating sea ice around Neko Harbour, always taking the time to stop, stand and look at the isolated wilderness, completely inhospitable but so beautiful at the same time. There really is no place on Earth like Antarctica?!
Follow Two Monkeys Travel Group
» Blog Two Monkeys Travel Group
» Twitter Two Monkeys Travel Group
» Instagram Two Monkeys Travel Group