Visit Iran: 80 Amazing places to Travel & Discover Iran
If you arrived on this page, I am sure you are curious and whiling to visit Iran right?
So, let me tell you from the start, that Iran is an amazing country.
Do you have any doubts about it?
I know that the general opinion in the West is that Iran is a dangerous country.
The NEWS in Europe and the US tell us about a different Iran. They describe a place full of violence that makes us believe the country is populated with mad, unfriendly and ferocious people.
Well, we got that wrong…
---
Why?
---
First: Iran is one of the safest places I've ever been to. Crime is much lower than in most European countries and the U.S.A.
Second: Iranian people are among the friendliest and most hospitable in the World;
Third: Iran is quite developed, clean, and its population are well educated and have cultural / political awareness.
I'm sure that your opinion about Iran will change after you check out these 79 reasons and places that will make Iran your next travel destination.
✕
NOTE: I visited Iran three times already. First time in 2004, when the country was totally unknown to westerners. The second time was in 2012 when I traveled with my wife, and we left Iran with the desire of coming back soon. And we did. In early 2018 we explored Iran for two months, driving our own campervan – YES! #VANLIFE in Iran is possible! Expect some future blog posts about it soon.
Visit Iran1- Arg-e Rayen Citadel in Rayen2- Ali Qapu Palace in Isfahan3- Golestan Palace in Tehran4- Naqsh-e Khostam5- Alis Non-Alcoholic Malt Beverage6- Amir Chakmak Mosque Complex in Yazd7- Architecture in Tehran8- Arg-e Bam Citadel in Bam9- Ateshkadeh Zaroastrian Fire Temple in Yazd10- Bastani Traditional Restaurant in Isfahan11- Market Bazar-e No in Shiraz12- Market Bazar-e Vakil in Shiraz13- Begh-e Melli Complex in Tehran14- Boat Bandar Abbas to Qeshm Island15- Iranian Breakfast16- Busy Streets in Tehran17- Caravanserai and Textile Museum in Meybod18- Zoroastrian Shrine in Chak Chak19- New City Center in Bam20- Iranian Craftsmen21- Eat Fresh Blackberries22- Fatima Masumeh Shrine in Qom23- Fortress Arg-e Karim Khan in Shiraz24- Jameh Mosque in Isfahan25- Fresh Fruit Juices26- Gold Markets in Tehran27- Vank Cathedral in Isfahan28- Iranian Ice Cream29- Ice House in Meybod30- Imam Khomeini Mosque in Tehran31- Imam Reza Shrine and Mosque in Mashhad32- Imam Square in Isfahan33- Iranian Food34- Iranian Sweets35- Jameh Mosque in Yazd36- Jamkaran Mosque in Qom37- Aliqapu Bazar Artistic Complex in Isfahan38- Old Village in Kharanaq39- Malek National Library and Museum in Tehran40- Mausoleum of Imamzadeh-ye Ali in Shiraz41- Melli Park in Shiraz42- Old City in Meybod43- Modern Art Sculpture Gardens44- Naqsh-e Rajab45- Narein Castle in Meybod46- National Museum of Iran in Tehran47- Nazar Garden and Pars Museum in Shiraz48- Old Post Office in Meybod49- Pasargadae50- Peace Museum in Tehran51- Friendly Iranian People52- Persepolis53- Persian Calligraphy54- Persian Gulf Coast in Bandar Abbas55- Iranian Pic Nic56- Pigeon Tower in Meybod57- Faloodeh Dessert in Shiraz58- Empty Beaches in Qeshm Island59- Shahr Park in Tehran60- Sheikh Lotfollah Mosque in Isfahan61- Shohada Martyrs Museum in Tehran62- Si-o-se Pol Bridge in Esfahan63- Iranian Souvenir Shops64- Iranian Street Falafel65- Tea Houses in Isfahan66- Central Market Bazar in Tehran67- Tomb of Aramgah-e Hafez in Shiraz68- Towers of Silence in Yazd69- Iranian Traditional Hotels70- Traditional Iranian Carpets and Rugs71- Traditional Iranian Puppet ShowsTraditional Iranian Puppet Show in Golestan Palace, Tehran
72- Iranian Religiousness and Spirituality
73- Vakil Mosque in Shiraz
74- Iranian Street Wall Art
75- Water Museum in Yazd
76- Old City in Yazd
77- Zaid Mosque in Tehran
78- Ziai Ye School in Yazd
79- City Center in Shiraz
Some ideas about Iran to be taken in consideration
Everything Western TV says about Iran is mostly propaganda and do not correspond to the real Iran.
People are more friendly than you think.
The country is more developed than you think.
Iran is relatively cheap.
Iran will be one of the safest countries you've ever been to. Crime is almost non-existent.
Women travelers have to cover their hair while in Iran.
All countries in the world can get an easy 30 day Iranian Visa on arrival at any international airport. However, this rule does not apply to nationals of the following countries: Afghanistan, Bangladesh, Canada, Colombia, India, Iraq, Jordan, Kazakhstan, Kyrgyzstan, Pakistan, Somalia, Tajikistan, Turkmenistan, United Kingdom, United States and Uzbekistan. Visa exemption countries are Azerbaijan, Bolivia, Malaysia, Sri Lanka, Syria, Turkey, and Venezuela. Entry is banned to Israeli nationals.
It is very easy to get a visa extension while already in Iran. You can get up to two extensions and stay maximum three months.
Also that you should know about Iran,
Iranian sites inscribed on the World Heritage UNESCO list
Armenian Monastic Ensembles of Iran, Bam and its Cultural Landscape, Bisotun, Golestan Palace, Gonbad-e Qābus, Masjed-e Jāmé of Isfahan, Meidan Emam, Esfahan, Pasargadae, Persepolis, Sheikh Safi al-din Khānegāh and Shrine Ensemble in Ardabil, Shushtar Historical Hydraulic System, Soltaniyeh, Tabriz Historic Bazaar Complex, Takht-e Soleyman, Tchogha Zanbil and The Persian Garden.
Iranian sites submitted on the Tentative List of UNESCO
Alisadr Cave, Arasbaran Protected Area, Bastam and Kharghan, Bazaar of Qaisariye in Laar, Cultural Landscape of Alamout, Damavand, Firuzabad Ensemble, Ghaznavi- Seljukian Axis in Khorasan, Hamoun Lake, Harra Protected Area, Hegmataneh, Historic ensemble of Qasr-e Shirin, Historic Monument of Kangavar, Historical Ensemble of Qasr-e Shirin, Hyrcanian Forest Caspian Forest, Jame' Congregational Mosque of Esfahan, Jiroft, Kaboud Mosque, Kerman Historical-Cultural Structure, Khabr National Park and Ruchun Wildlife Refuge, Khorramabad Valley, Kuh-e Khuaja, Lut Desert the vicinity of Shahdad, Nasqsh-e Rostam and Naqsh-e Rajab, Persepolis and other relevant, Qanats of Gonabad, Qeshm Island, Sabalan, Shahr-e Sukhteh, Shush, Silk Route also as Silk Road, Susa, Tape Sialk, Taq-e Bostan, The Collection of Historical Bridges, The Complex of Handmade Settlements in Iran Maymand Village, The Complex of Izadkhast, The Cultural Landscape of Uramanat, The Cultural-Natural Landscape of Ramsar, The Ensemble of Historical Sassanian Cities in Fars Province Bishabpur Firouzabad Sarvestan, The Historical City of Masouleh, The Historical City of Maybod, The Historical Port of Siraf, The Historical Structure of Yazd, The Historical Texture of Damghan, The Historical Village of Abyaneh, The Historical–Cultural Axis of Fin Sialk Kashan, The Natural-Historical Landscape of Izeh, The Zandiyeh Ensemble of Fars Province, Touran Biosphere Reserve, Tous Cultural Landscape and Zozan.
Booking Online Kit
«
Booking accommodation?
Find the best hotel deals with
Booking.com
»
«
Rent-a-car?
I always get rental cars through
Rentalcars.com
»
«
Better safe than sorry?
Get your travel insurance from
Worldnomads.com
»
«
Join a group!
7 days in Morocco 430 euros from Marrakech to Sahara Desert with
Marrocos.com
»
«
Jump the line and get tickets online?
Plan your trip in advance at
Ticketbar.eu
»
«
Internet on the road?
Get your 3G & 4G hotspot from
SkyRoam.com
»
The Author of this Blog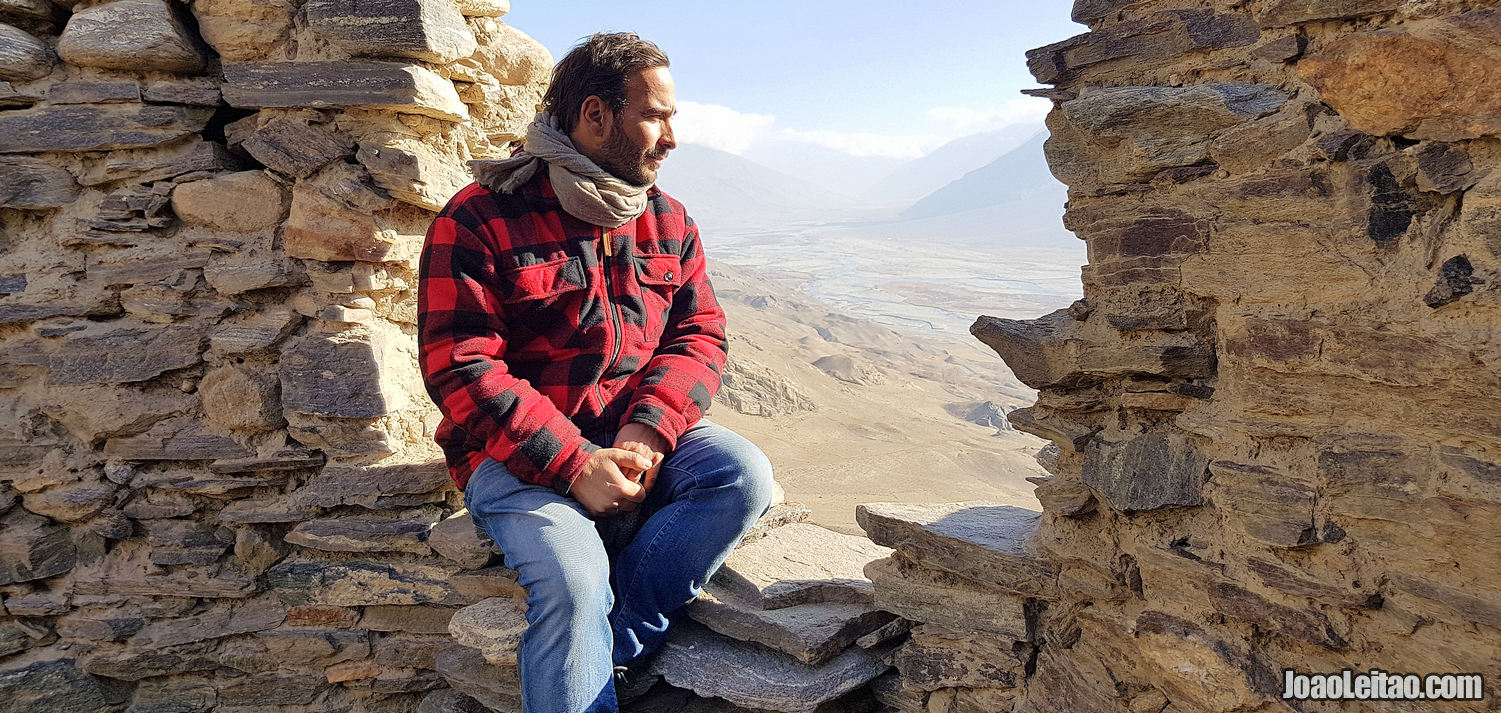 HI! I'm João Leitão. Traveling independently since 1999, I explored more than 130 countries and territories in Africa, Antarctica, Asia, Europe, North & South America and Oceania. Welcome to my
adventure travel blog
, where I gathered useful information and inspiring narratives to motivate you to travel more. Follow on
Facebook
,
Twitter
,
Instagram
,
Pinterest
e
YouTube
.
« Follow Nomad Revelations on Instagram @joaoleitaoviagens »