Cycling in the Sahara Desert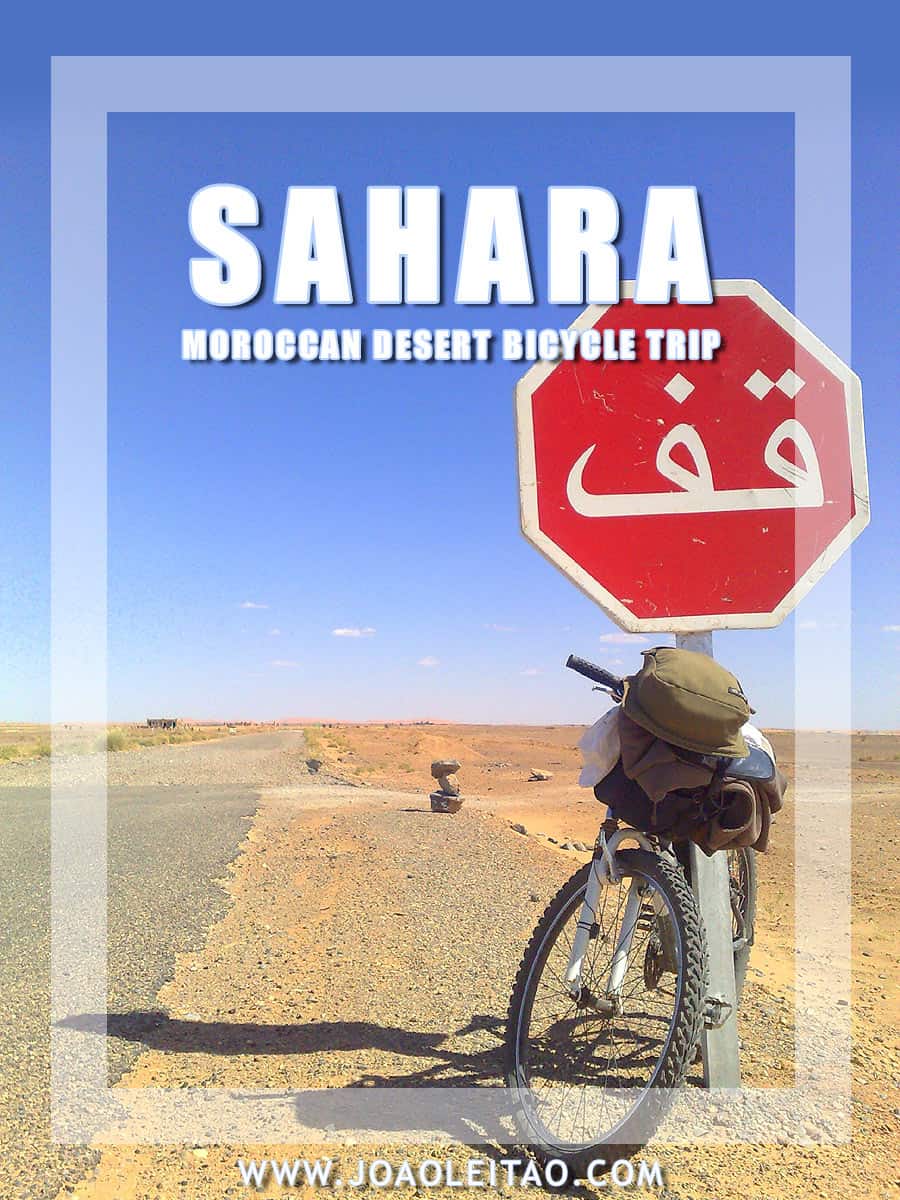 Traveling slowly, humbly and with the simple company of a bicycle can be very rewarding.
A few years ago I decided on biking the Sahara Desert tracks from Erfoud all the way to Erg Chebbi Dunes.
Erfoud is a Moroccan desert city where I lived during 4 years.
This city is the entrance point to reach Erg Chebbi Dunes also known as Merzouga Dunes.
A small section of the itinerary is done on asphalt but quickly the road changes to rough desert tracks, sand and rocks.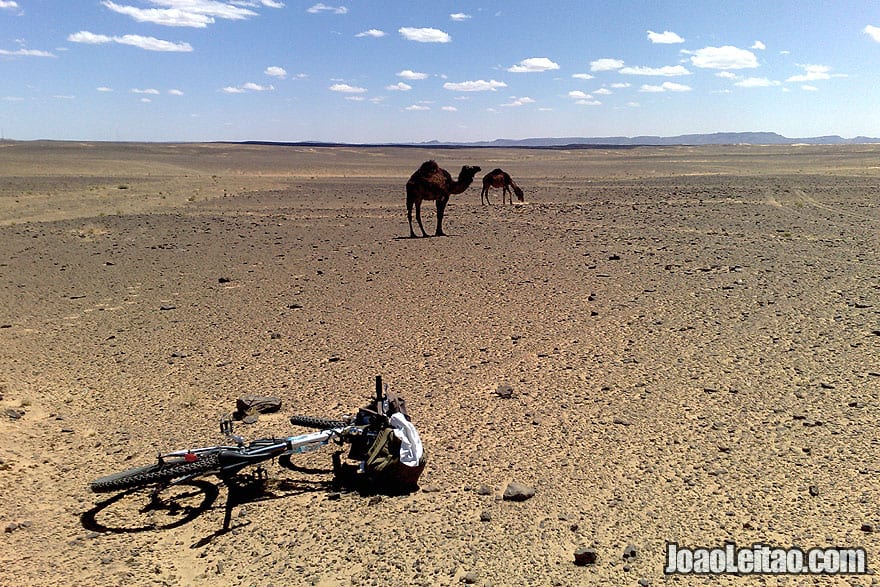 Erg Chebbi Dunes are located on the southeastern part of Morocco just aside the Algerian border.
From my house and back the trip was roughly 100 km / 62 miles.
When biking Sahara Desert, the weather conditions can be very tough due to the dry air, strong direct Sun, harsh terrain and strong chilly winds.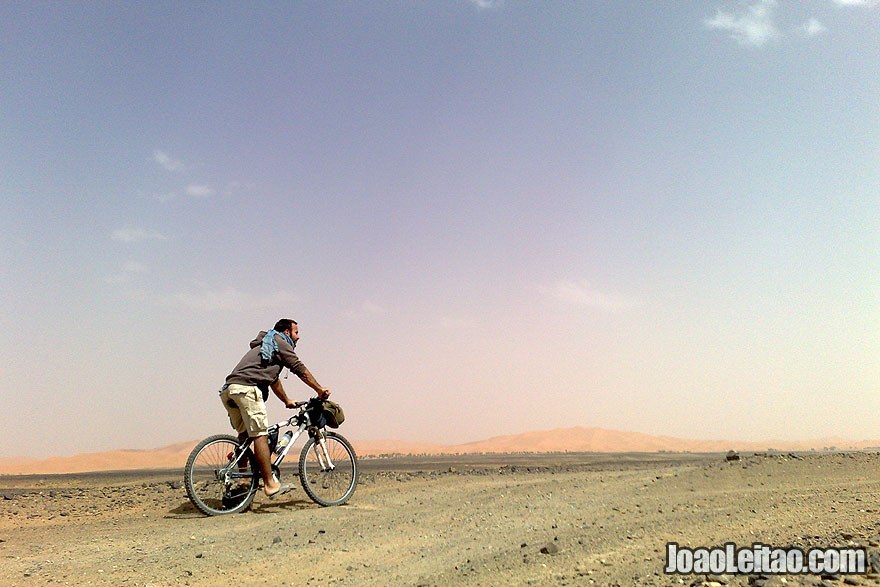 This trip is not as easy at it seems, because it is very easy to dehydrate, get thirsty and tired. Exhaustion and fatigue strike fast. But the exoticism of the travel is remarkable.
Traveling with a mountain bike in Sahara Desert, along with dunes and camels is a fantastic way to enjoy life while traveling independently in Morocco.
The reason of this page is to motivate you to discover the region where you live. Usually we have so many nice places around our home, that we can just go and enjoy traveling with bicycle – relaxing and enjoying life.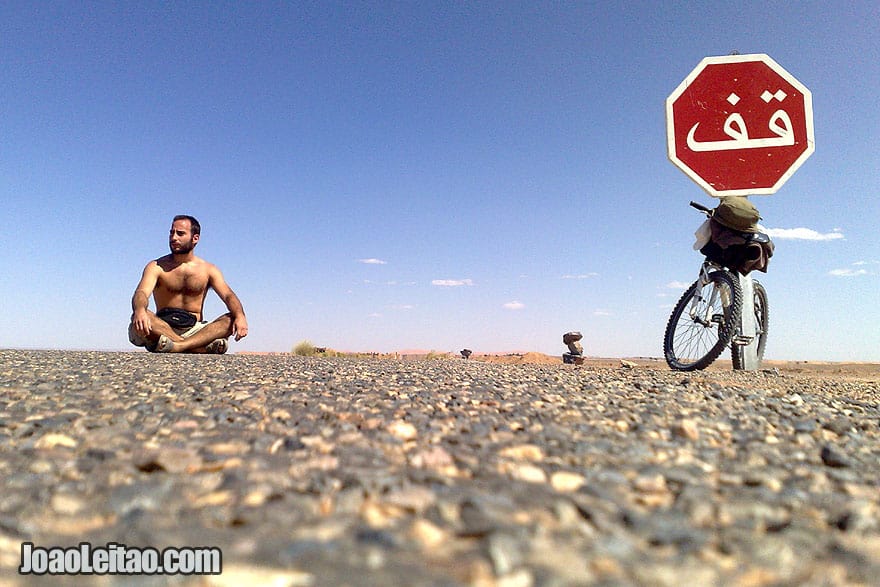 NOTE: these pictures were taken with my old cell phone so don't expect the best quality.
Map and Itinerary
Section 1 – Erfoud to Carrière de fossiles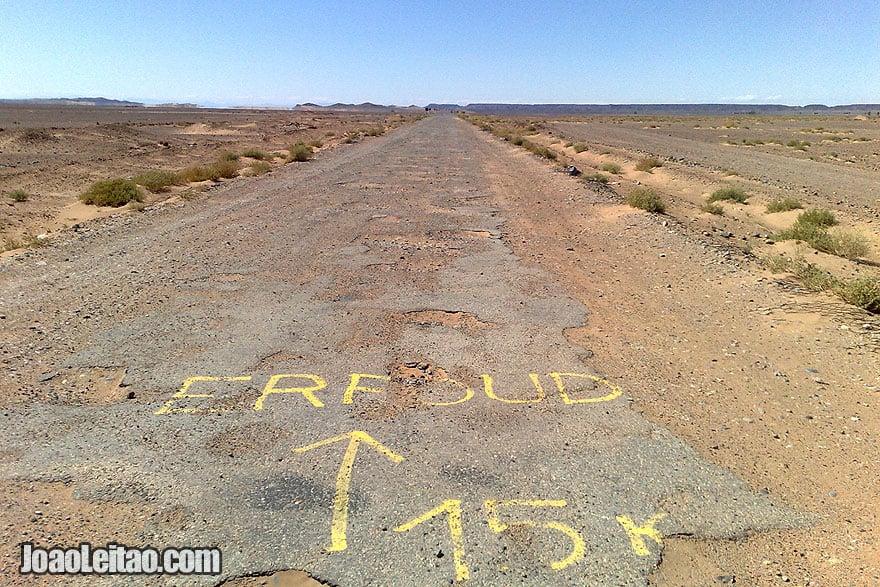 Approximately 15 km of asphalt until reaching Erfoud's "Carrière de fossiles" – one of the most famous Morocco's fossil beds. This segment of the road is very beautiful because it mixes red color rocky mountains and sand. Erfoud is famous for its many marine fossil quarries, because they contain fossilized colonies of invertebrate mollusks of incredible diversity. More than 500 million years ago in the Paleozoic era, the sea covered much of the globe including Morocco and the region of Erfoud.
Section 2 – Carrière de fossiles to Derkaoua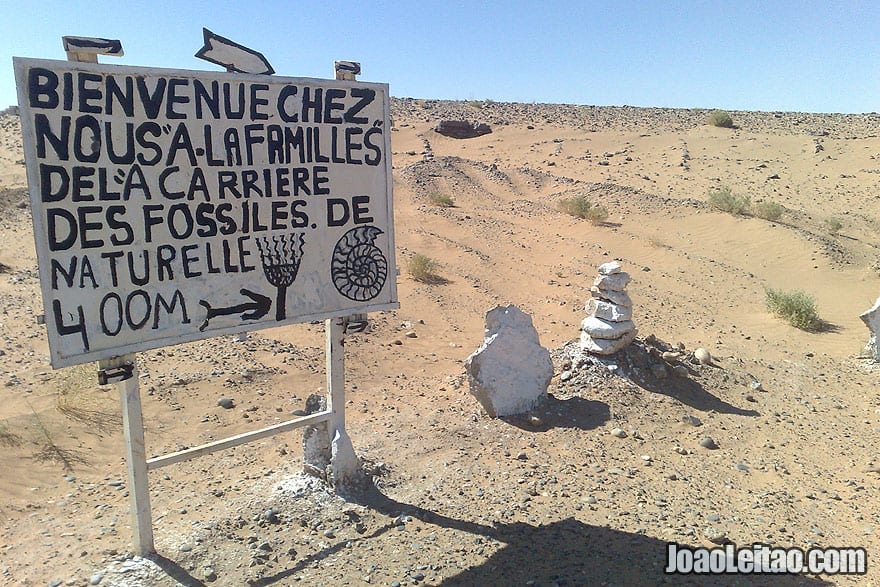 Desert tracks with some deep sand. Some nomad children selling local handicraft. Two water wells and a few camels.
Section 3 – Derkaoua to Hotel Auberge Café du Sud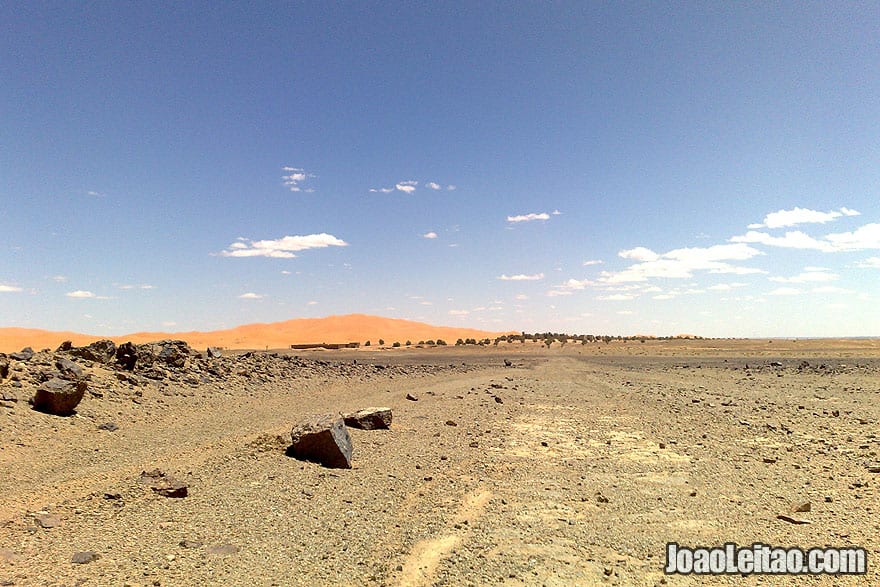 Mix of rocks, desert tracks, volcanic cobalt landscape and camels.
Desert Biking in Morocco
Now, some pictures from the whole trip.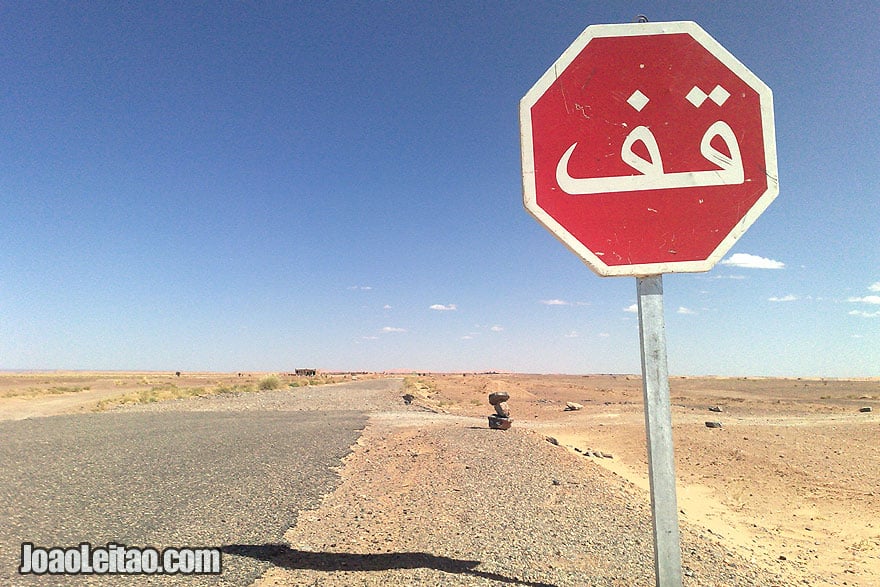 In the middle of nowhere, just when the asphalt ends, there's a stop sign written in Arabic.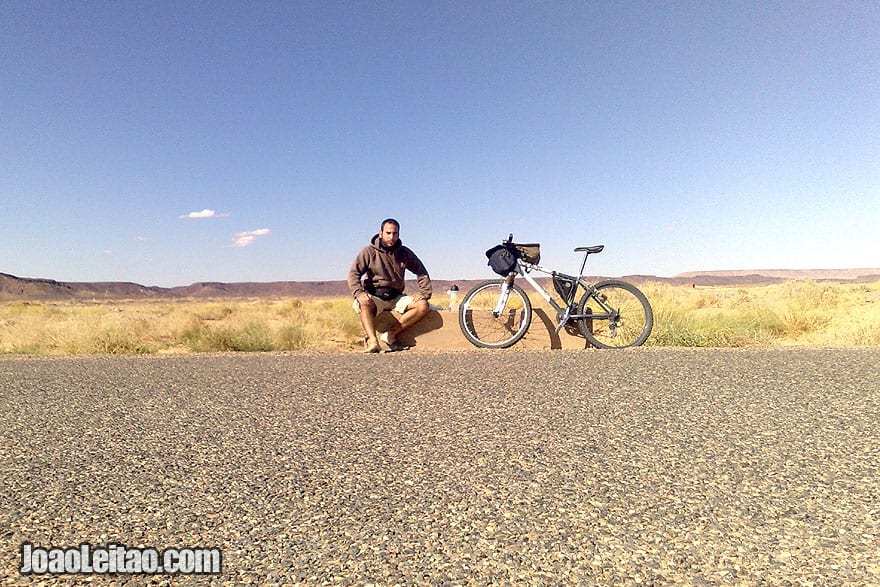 While biking Sahara Desert it is very important to keep up with water and energy loss. After the first section of my trip, I stopped to eat some fresh dates and drink some water.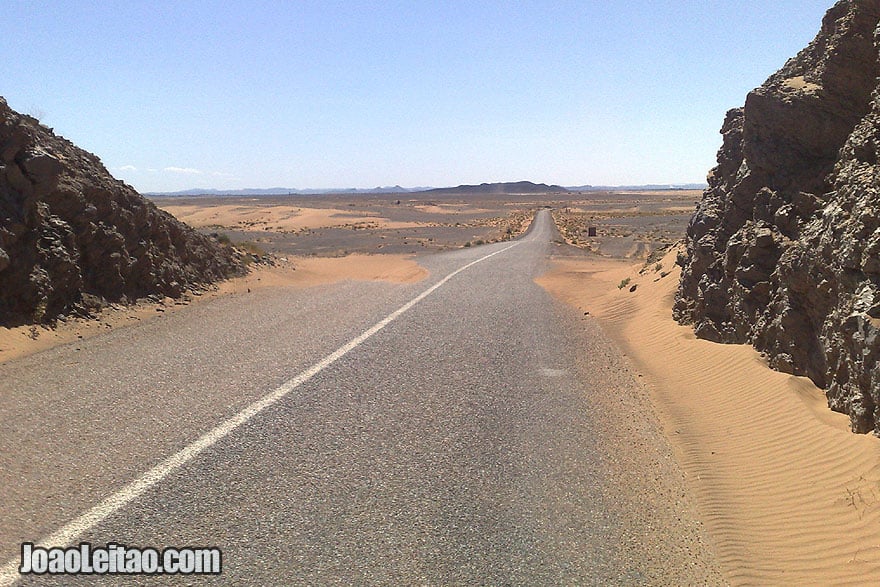 Road from Erfoud to Merzane (Derkaoua).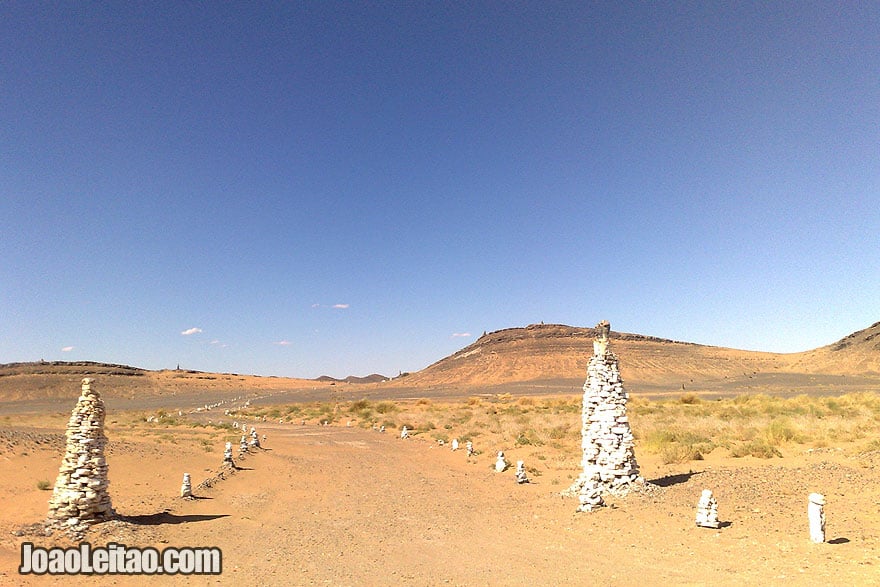 Desert Tracks from Erfoud to Fossil beds.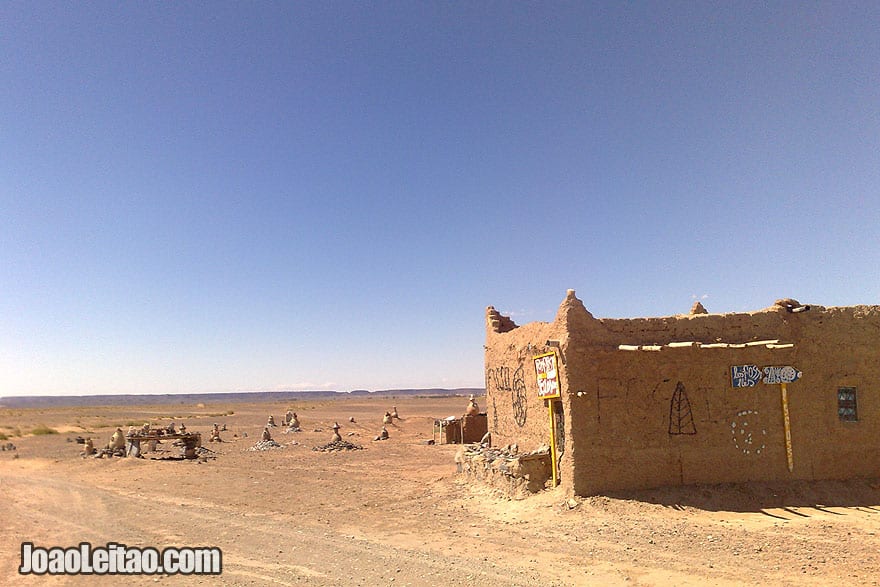 Mud house in Sahara Desert. This is a small shop selling fossils like trilobites, ammonites, orthoceras and crinoids.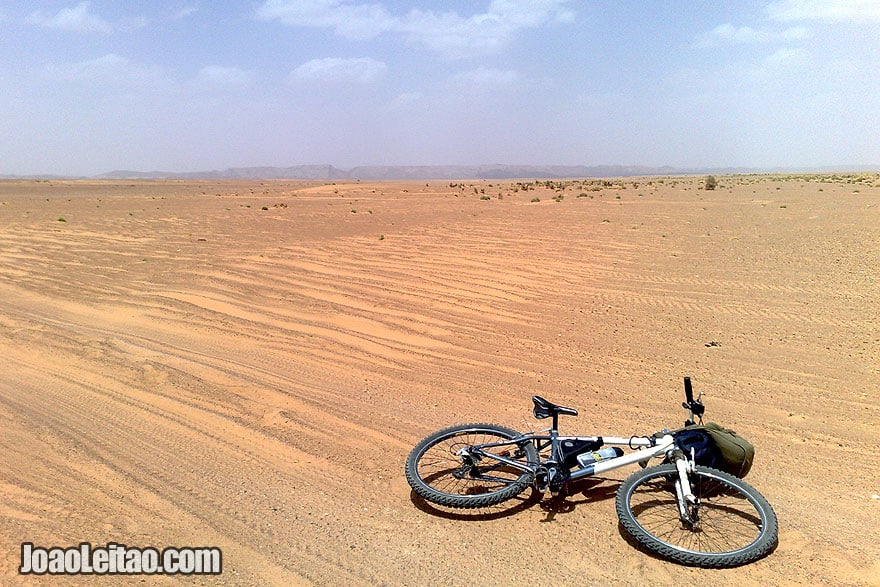 Travel by bicycle in Morocco is an amazing experience. Biking in Sahara Desert is a hard yet fulfilling experience. This part of the road has a lot of sand. Sometimes it is just better to walk along with the bicycle by your side.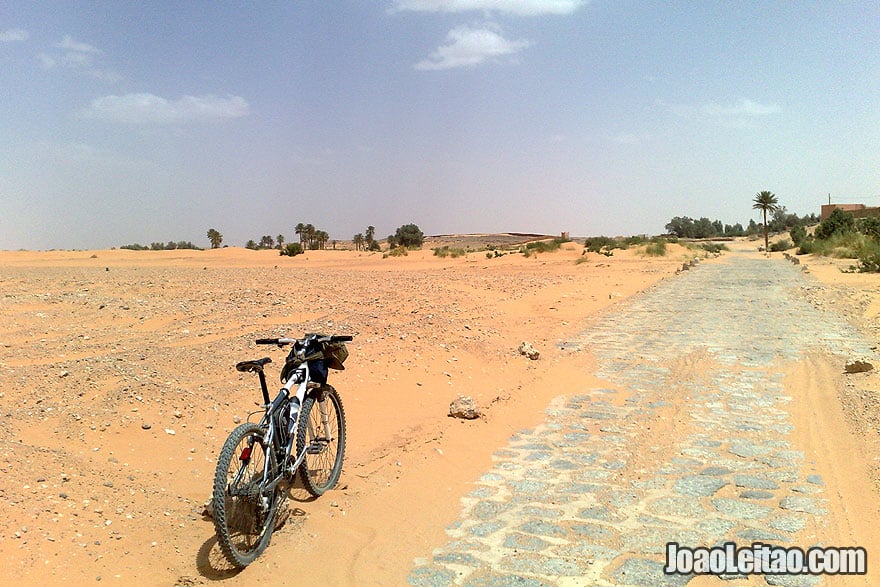 Road just before reaching Derkaoua oasis.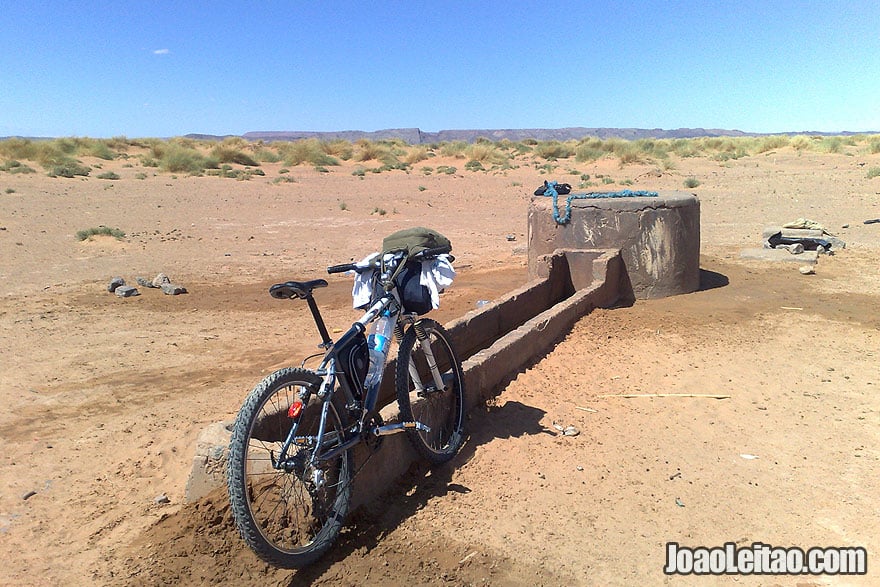 Sahara Desert water well. This well is maintained by desert shepherds as they use them to give their thirsty camels something to drink.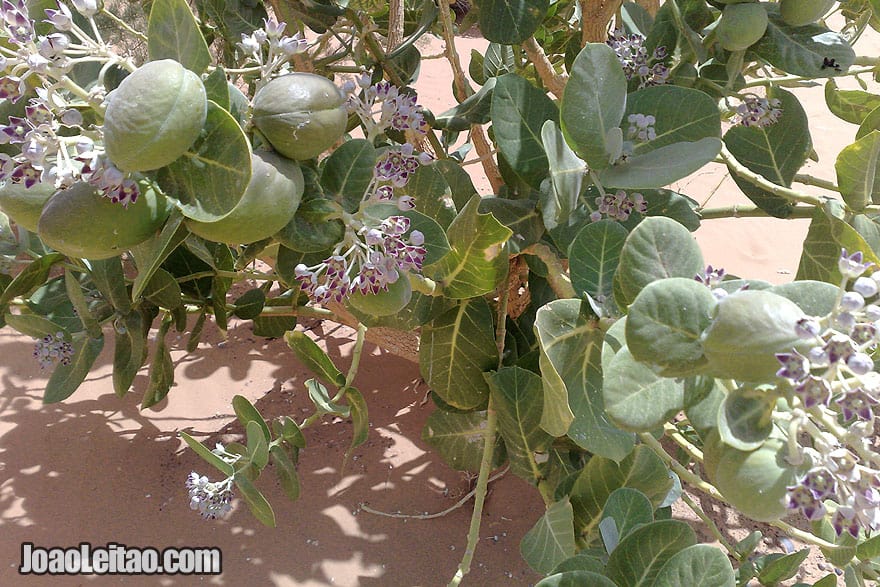 Sahara Desert vegetation.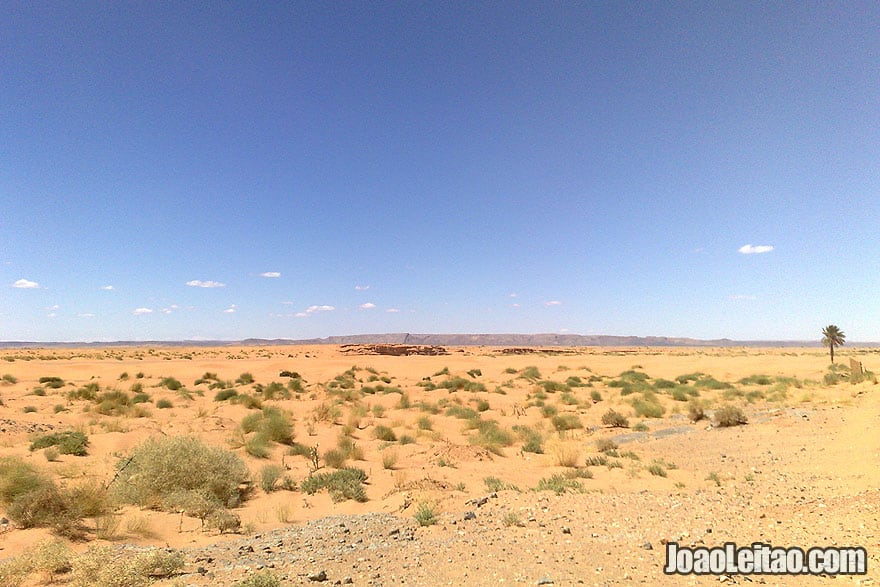 Merzouga desert tracks. On this picture you can notice some purple rocky mountains on the horizon. Those belong to Algeria, and are the actual natural border with Morocco.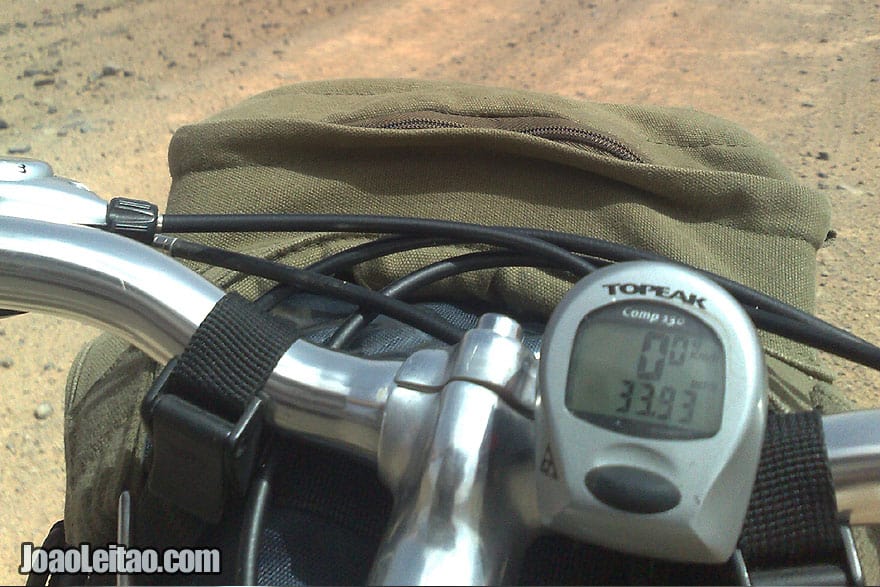 Part of my bike equipment consists of a nice and simple odometer / speedometer; this way I can entertain myself following how fast I go and how many KM I've accomplished.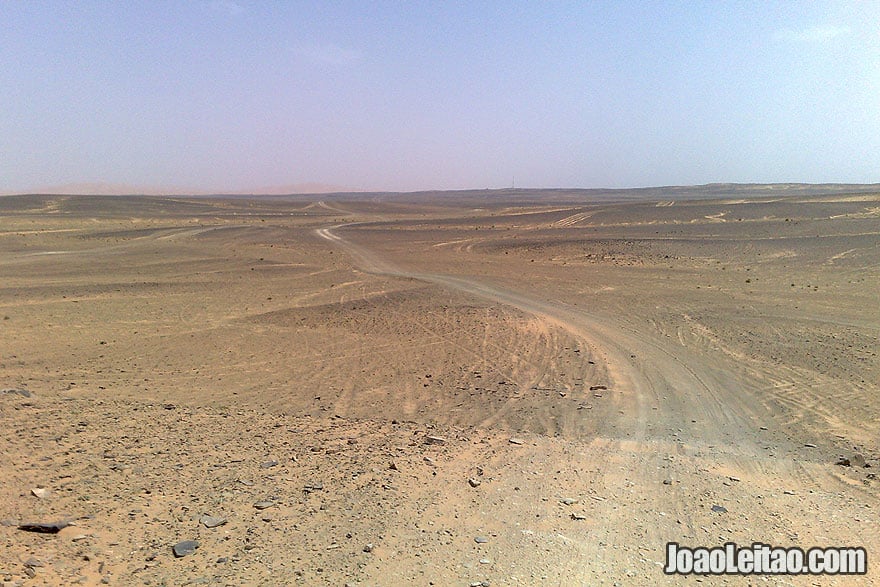 Erg Chebbi Dunes and tracks. The enormous quantity of orange sand starts to be noticed on the horizon.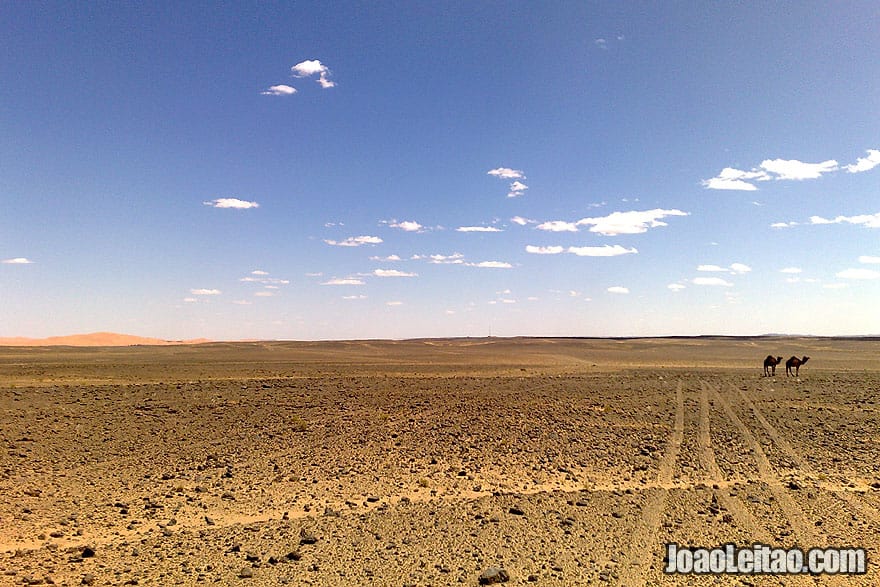 Camels on the tracks to Merzouga Dunes.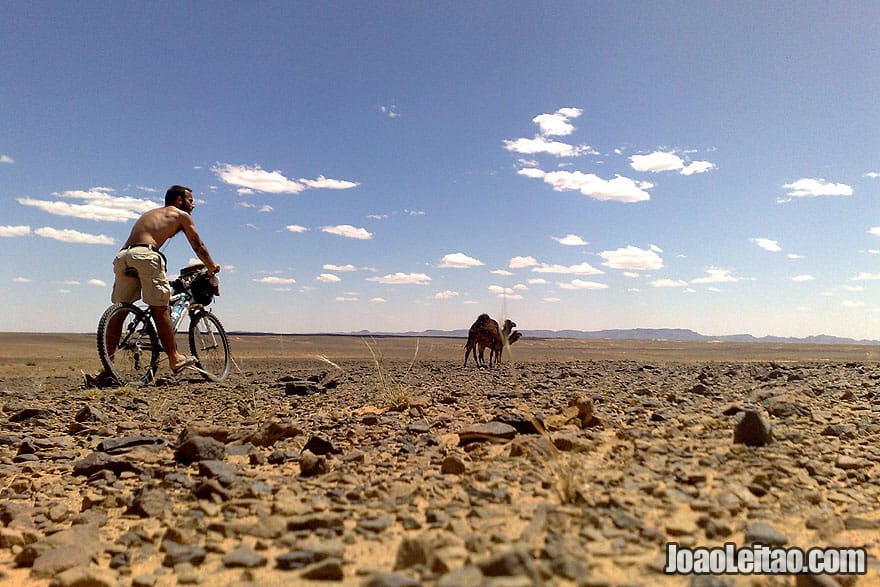 Biking Sahara Desert along with camels.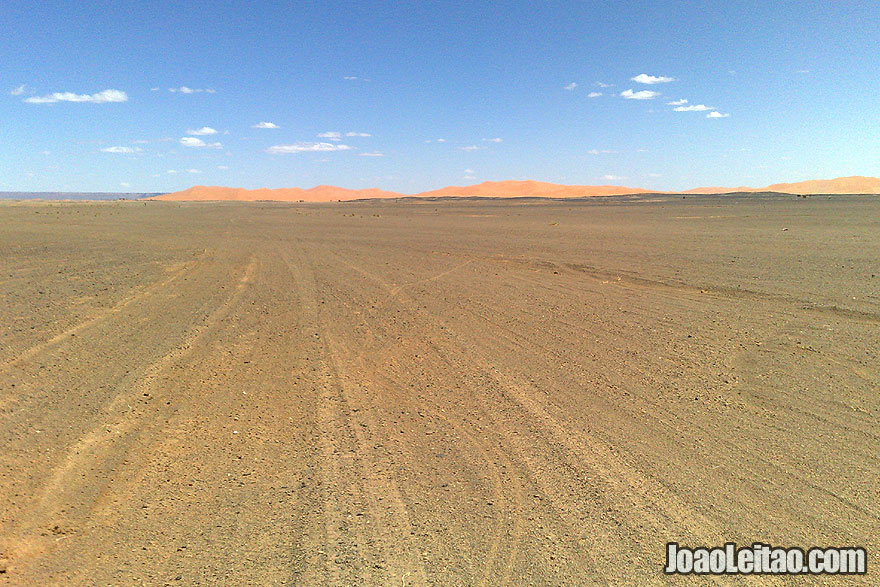 Erg Chebbi Dunes and tracks.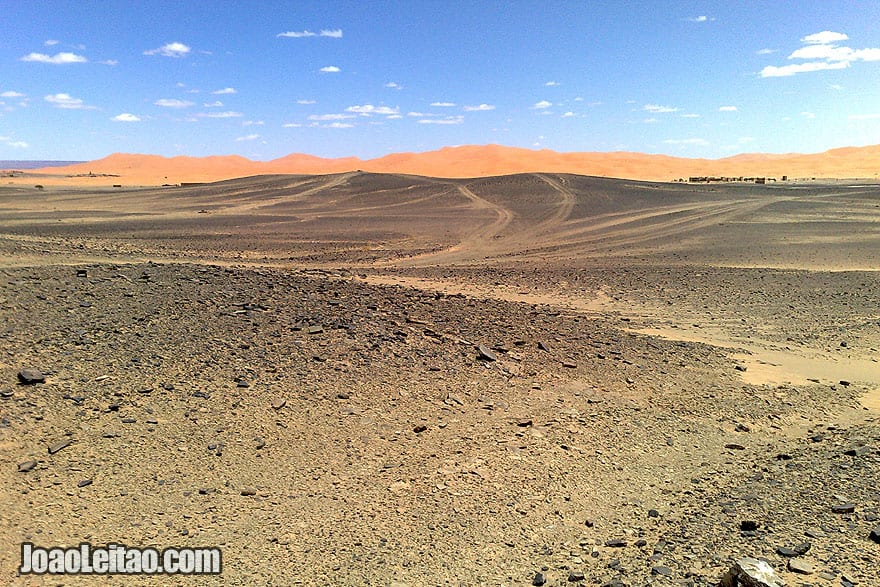 Erg Chebbi Dunes and tracks.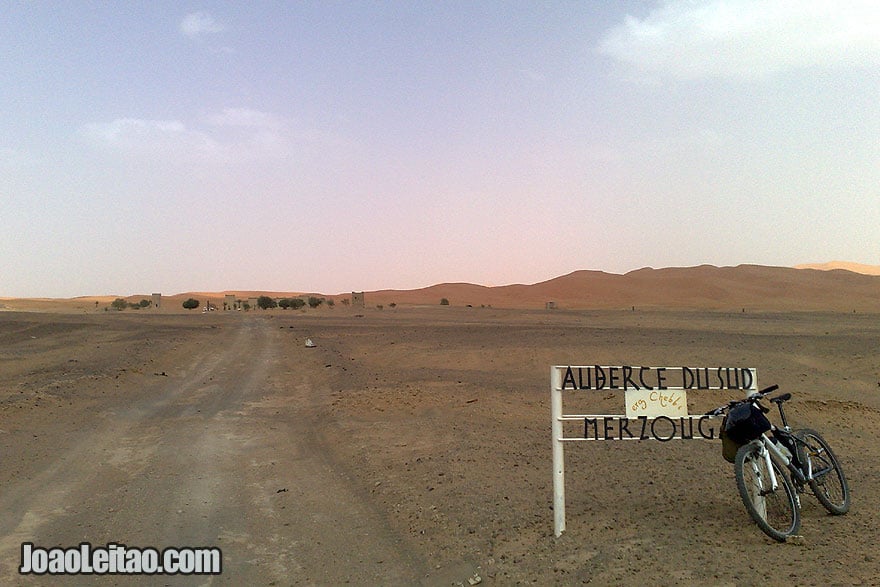 Road sign of hotel Auberge Café du Sud.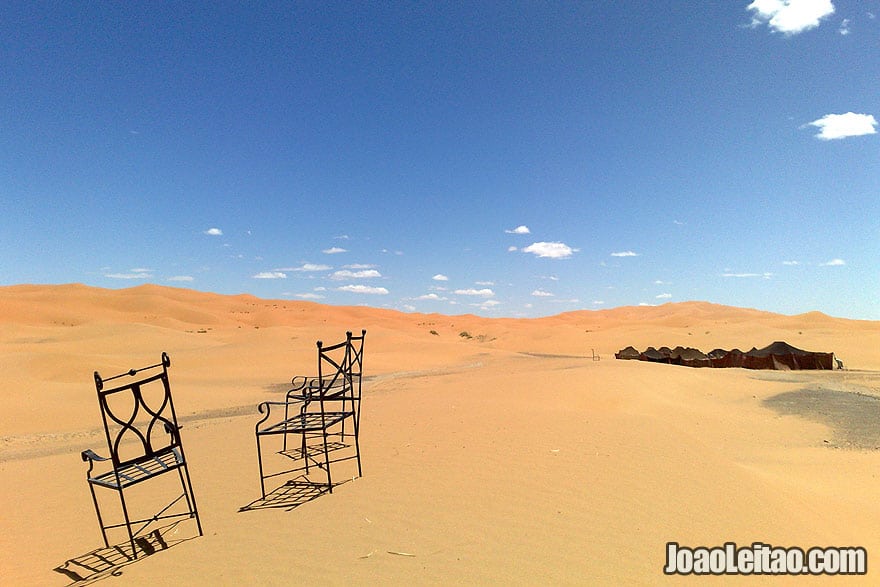 Dunes in front of hotel Auberge Café du Sud. In terms of services, this hotel in Morocco offers you accommodation, swimming pool, camel trekking experiences, exclusive luxury bivouacs (Berber camps) in the dunes and restaurant.
Read my page: